Consumer Complaints and Reviews

Never been treated so badly. Threaten to be stabbed with a knife by server. Always help them so not sure why. Even customers love me. But manager said I asked for it?? Verbal abuse. Customers always walking out. So I have no proof of this so I excused myself from this place. But think it's important to tell someone. Thank you.

I was in Denny's at the Altamonte Springs Florida location getting lunch with my family. We were greeted with so much warmth and pleasure by this young lady named Elenie or so I think that was how you spelled her name. She seated us, introduced herself and then began to take drink orders. She came back with our drinks and asked if we were ready to put in our food order. She asked if we wanted any cheese on or meals or if we wanted desert once we were finished eating. She was so so pleasant. I LOVED the service we had while she was serving us. She was very attentive and very sweet, always smiling and always making sure we had anything we needed. She is an outstanding person and Denny's is lucky to have someone like that!! I will be coming back to this location because of how wonderful she was and I will be bringing more family and friends so she can continue to be our server! She's such a sweetheart.

I and two other people went Denny's in Neosho MO on Feb 26 2017 and lady told us that she was taking any more customer then we walk out. My girlfriend call the Springfield Denny's to see if she was able to that. When I went back to go the restroom the lady told me to leave and then follow me outside and wrote my tag number down for no reason.

Ordered my food for take out, and my food was ready when I got there. Cashier wanted a tip, but refused because I didn't know who to give the tip to. Got back to motel, the $10 Philly was horrible because the bun was soggy and the sandwich just broke apart, what a mess. I ate the sandwich with a spoon because it was unbearable to eat it the normal way. No revisit for me.

On Monday, 1/16/17 at 9:55 p.m. I called in an order for a salad. Bernanett was whom I spoke with told me it would be 20 minutes. I asked her if it would be ready by the time I arrived. She then said it would be 25 minutes and she would get it started. I thank her. My past experiences my orders have not been ready when I arrive. Actually I gave them about 5 minutes more. Upon arriving the host, Gina was going over receipts before she acknowledged me. I told her that I was there to pick up an order and gave her my name. She goes to the kitchen, on the way back she stops and speaks with a customer at the counter instead of letting me know what was happening.
I looked at her and she didn't give me a glance. So I walked over and asked about my order. Gina replies: "Oh they are getting it ready." I then told her to forget it and that I didn't want it anymore and left (I was on my way to work). What kind of personnel do you hire? I understand that in a small town like this it's hard to find good help BUT PLEASE train them to be professional. If we are given a certain amount of time that the order will be ready, HAVE IT READY!! I have been in your restaurant when people have walked out because of quality of service and the wait period. I'm hoping this matter will get resolved one way or another. Oh this happened in Pecos, Texas. Thank you.
How do I know I can trust these reviews about Denny's?
718,857 reviews on ConsumerAffairs are verified.
We require contact information to ensure our reviewers are real.
We use intelligent software that helps us maintain the integrity of reviews.
Our moderators read all reviews to verify quality and helpfulness.
For more information about reviews on ConsumerAffairs.com please visit our FAQ.

My experience at Denny's city of commerce - there was a young woman at the cashier. She didn't speak English at all and it is hard to communicate with someone does not speak English. They need someone to speak English and Spanish because the cashier did not understand me. I wanted to split the bill with my mother and I told her to split the bill and she didn't understand me and cashier added it up all together on one bill receipt for our meal on my mother credit card.

The Denny's in Moses Lake, WA is a complete joke. The morning cook is James, wears a name tag that says Mickey. From the day the Denny's opened in 2016, he has constantly discriminated. I have complained at least 100 times to management, and corporate and nothing is done about it. Monday, January 2, 2017 the cook proceeded to refer to me as the **, and do the same things to trigger my PTSD. I left without incident after paying. When I returned 2 days later, I was informed that my fiance and I are kicked out because we complained. My hopes are that they have a different outlook after my attorney has spoke with them.

The girl at the cash register was very nice, but a second after I took out my credit card I handed her my A.A.R.P. card for the discount... "Oops I don't know what to do because I just pushed the card through, sorry." she said, and I asked for the manager. So the girl didn't know what to do, and then the manager said there was nothing he could do. Well he could have reversed the charge, and then given me the discount. He could have done something about it, he just didn't care to do his job. Also my bacon that is ordered to be crisp, should not come to the customer like it was boiled.
Yes, this is the first time I've been here in over twenty years, because when I went on vacation years ago with my entire family, we gave our order to the waiter and I asked the him to hold off putting it in for about three minutes until the prices dropped for the morning specials. Well, he put the order in immediately, and I was charged quite a bit more for their lack of consideration.

I would not recommend the Denny's in Traverse City as it stands. They served me raw pancakes for breakfast. I didn't realize it until it was later in eating them because they had a pumpkin cream cheese filling. I complained about the pancakes. The waitress did offer something else, but I really didn't trust them at that point. They then argued with me defending the fact that they were raw, and that people sometimes like them that way. One person at the desk said that I should give them another chance because she would do that. Oh really? Unfortunately first impressions are lasting with a brand new business, as they opened a week prior. So they gave me 15 percent off my bill. That was an insult as far as I am concerned. I asked to speak with the manager while all of these conversations are going on at the desk about the pancakes.
The staff said she could not come out because she was busy counting money and could not be disturbed. She later did call me and hung up without leaving a message. I wasn't sure who was calling but called the number back and discovered it was Denny's. I tried calling her with the staff redirecting my call so she would answer it. She did not want to be bothered and outright lied on the phone. There was no argument, or much if an exchange, but she stated that they gave me 15 percent off so that should win me back. I said it didn't. She said she would call me back so she could take my address down and send me a coupon for a entree. She never called and her tone gave her away in that she had no intention of doing anything.
I wouldn't recommend this restaurant to anyone. Their manner of handling a complaint was beyond poor. Their staff arguing with the customer after they made a mistake added to the problem. Their manager who apparently does not want to deal with problems compounded all of this. In the past I ate at Denny's in Grand Rapids MI and didn't care for their food. This confirms what I thought of before: don't waste your money there. There are plenty of other places to eat out at in Traverse City.

So surprised to read so many negative reviews of Denny's. Both locations, at least here in Flagstaff, are terrific. The food is fresh, tasty and affordable and does not have that "pre-made and shipped-in" aftertaste. The full plate-banana split is decadently delicious and their 2-4-6 menu (especially the Biscuits and Gravy), at times, is "just enough." From what I've seen, Denny's is striving to do everything as right as possible; but, I understand that there are locations with poor management that might not 'meet the bar.' But if you're in Flagstaff or Camp Verde, you won't be disappointed.

I will never go to Denny's again. They are very consistent at not giving you your whole order. Then when you call to go back... they have an attitude & give you undercooked meat at bread instead of toast... dining in can't be much better because when I went back to pick up the rest of my order people left because they saw several open tables but no one would seat them. I gave Denny's way too many chances. management gave me a $10 gift card one time so I gave them a few more chances... but NO MORE!! They are very consistent at giving me INCOMPLETE orders & UNDERCOOKED FOOD!!! 2 THUMBS DOWN DENNY'S! Never never again will I go to Denny's.

The waitress at Denny's South in Rochester, MN must hate her job and should not be in customer service! She always makes us feel bad for inconveniencing/annoying her and scolds us when we politely ask for something. We always give a 15-20% tip so it can't be because we're poor tippers.

If their staff at my location (Roanoke, VA) doesn't want to seat customers and wait on them, I suggest Denny's considers shutting down. This is the closest Denny's to my location. Several times over past month I have attempted to dine there but am ignored, never seated and thus leave without being seated. Yet, staff there has full view of customers waiting to be seated. Even at the entrance podium. This facility is a "blister on the ass of profit" perhaps by corporate design as staff there shows little if any interest in serving customers. I have been a regular there for past 5 years, but no more.
In general, Denny's local staff has always demonstrated a negative attitude toward service. But recently, has progressed toward not even seating customers. Apparently hoping we would just go away. So I have on my last few visits in full view of staff watching me walk out the door after waiting 5-11 minutes without being acknowledged I am standing there, politely waiting for a table. No more... Have a nice day. Without me of course. Your wishes are my motivation. Side note: Denny's website will not allow one to complain without a sales receipt (store number needed). Very clever. "Hear no evil" policy. Denny's corporate should be admonished by investors if any out there to resign.

Denny's, 4330 Fox Valley Center Dr Aurora, IL 60504. I have been going to this location for over 10 years. When I think of the ordeals that I have witnessed over those 10 years, I simply feel amazed. I hardly can believe that the restaurant is still open. I imagine that part of the reason must be that the patrons cannot be regulars. Please allow me to explain what prompted this letter. I work and live locally. Being that my job is in an office, we like to go out to lunch. I feel very fortunate that in the Naperville area, there are a plethora of restaurants, diners and fast-food establishments, to choose from. I want to be clear, as a customer, we do actually choose. Unfortunately, I am choosing to no longer to be a Denny's customer. Each time my friend and I choose to go to Denny's, I always leave upset and frustrated.
Our waitresses, they are wonderful, once they actually have time to come to the table to offer a beverage. Efficient, kind and smiling. After we order, I think that perhaps, this time will be different. Then I take a look around and see it is the same old scenario. Dirty dishes on the table, sitting and waiting for our waitress to clear. Listening to the waitress update the other customers that sat down before us, which their order will be out anytime. Overhearing another waitress apologize and make excuses for the kitchen that they are short staffed. Like I said, I was what would be considered a regular so being short staffed in both the kitchen and on the floor is not a bad day, it is a regular day.
My last visit was just yesterday, September 1, 2016. When we walked in, we waited to be seated several minutes. This is unusual since we take our lunch between 11-12 in order to avoid the rush, but no big deal. We waited, and waited. Looking around, I can see that our waitress is training a new waitress. I can also see that there appears to be 3 waitresses, including a trainee, which is servicing 3 different sections. I have never been a waitress, but I knew that we would not make it back to work by noon even though our office is 1.6 miles from your establishment.
When the trainee brought our drinks, a Coke and an iced tea, we were happy. Then we waited and waited. Finally, we place our order, but before doing so, we let the waitress know that we were on our lunch and had to get back. This was after being there for hour. She apologized and mentioned that the manager is helping out as well, and that she would let them know that in the back.
11:45 or so, we get our lunch. At 12:00:18, we paid our bill. We were used to it. Being late whenever we decide to go to Denny's. I have just had enough. Having many years in being a manager, I know why we continue to have the same experience. Short staff and no support for the staff--BAD MANAGEMENT. I don't understand it. Why wouldn't a bus person be hired so 1) the customers would not have to look at a dirty tub of dishes or a mess made at the table, while they are having their meal, and 2) to free up the wonderful waitresses that you have? I don't understand why there would not be one or two more people available to help out when there are trainees or perhaps and especially busy day? Someone to help at the register and while they are waiting on paying customers they could clear dishes? Or how about a dedicated person to scrub that place down. It was just remodeled and it is just filthy.
I used the ladies bathroom while waiting for my lunch, and when I walked into the bathroom, the stale stench of urine just permeated. When I sat back down, I told my friend that this would be the very last time I will ever come here. It is sad, it really is. This location has some really great waitresses and the cooks do a good job as well. However, it is obvious that the management is lacking, and I mean upper management. I imagine that the location manager has been given strict guidelines in terms of over scheduling. That is a mistake. Filthy bathrooms and floors, dirty dishes just sitting on top of tables in the dining room, customers waiting and waiting. It is obvious that Denny's VIPs and Executives do not care. Therefore, I do not care to eat lunch or dinner there ever again.

I have enjoyed the milkshakes here, they are great and reasonable. But for some reason the last 5 times instead of getting the full milkshake with the left over tin with the extra in it they have given me a cheap ass to go cup like medium size. I never ordered a to go anything. And what they throw the extra away.

Called to place a pickup order at 12:18AM. Called several times, no answer. 4th attempt, phone answered, asked "If I could hold". Answer, "yes." Still on HOLD TEN MINUTES LATER I gave up, got into my car and drove to Denny's. There were 5 people in the restaurant. Placed an order for a club sandwich and it was served pretty quickly. Tried to pay at the register, but no such luck. After fiddling with the cash register for a good 5 minutes, waitress goes to get some help. Help arrives. They had not put a cash drawer in. Really.
But wait... You have got to hear the real reason I am writing! It seems that when I got tired of waiting on hold, I forgot to hang the phone up and when I got back home, I WAS STILL ON HOLD. YES!! Still on hold. I could still hear the people in the restaurant. I may wait for a lot of things in life, but I will surely never wait for a Denny's waitress ever again. I will eat out of a vending machine before I will ever step foot into another of their restaurants. I just want to see how many social media outlets I can share my story with. I have the entire 1 hour and 9 minute call recorded. I'll have to listen to it to see if I can hear myself complaining about being on hold for so long after I gave up and drove to the store. Maybe we can make something good for Youtube!

I go to Denny's in Carol Stream Illinois about 4-5 times a month. I have 4 daughters. I have always go using a coupon for 20% off my phone. Well today they would not let me use my coupon. First they said it was expired which it was not. I made the image clear and then they said it had to be printed out. I said I always come here and use my coupon. Still refused. So I just paid the bill. But before I left I heard her tell the couple sitting down about using a coupon from online. Really rude. Deny me with my kids but okay for a couple to use.

I want everyone to know that the air conditioner isn't working well at Denny's in Rosenberg, TX. How can they be working in those conditions when it's so hot outside!! I can't see how the owner of this Denny's care about his customers and most of all his employees!!!

Well, we have been going to the Denny's for a long time, today we all went as a family and the food was horrible. Cold and dirty and a guy was cleaning a booth with knifes from the kitchen. No Manager. And for 35.20 it was not worth it. I am thankful no one got sick. I will never go there again!

I tried Denny's for the first time a few years ago when our family went to Los Angeles CA. Food was pretty good, there was a great selection & the serving was pretty satisfying, but the best part was that it is open 24 hours. We were tourist back then, our flight arrived at around midnight (or at least late at night) and we were pretty hungry. We stayed at Day's Inn (if memory serves me right) but the cafe near the lobby was closed. For a tourist arriving in the middle of the night, hungry, Denny's is a life saver. Good food available anytime. Thanks Denny's.

Excellent service 9.9 out of 10 times, milkshakes are still awesome. Now as for Cooks, they are always going to be one of those type of hit or miss type of professions. For the most part Denny's is still one of the only places you can count on to open 365/24/7, with fair prices for the quality of food. With that being said, and knowing how people think "based off of what I have read", Denny's has unfortunately received bad reviews because most people tend to go the extra effort to complain rather than praise. DENNY'S IS STILL ABOUT AS AMERICAN YOU CAN GET FOR QUICK, SOLID, AND RELIABLE FOOD CHAINS OUT THERE.

I am a truck driver and have ate at restaurant numerous times over my 12 years with my current company. The last time I was here was about 1 month ago with a dry salmon dinner. This time I ordered the slow cooked pot roast which I have had before here. When I received it it contained three scoops of mashed potatoes and large piece of garlic toast, some vegetables and a small portion of roast beef. The price for this is $9.50. The roast beef looked like ground meat packed together and put onto the plate. I called for the manager and I asked what I was paying for. He stated that it was proportioned to 6 oz of meat. If I would have had a scale, I think it would have been less. Either way I had them take it back and so I ordered a good American Hamburger with fries. This will be my last visit to any Denny's anywhere.

We went to Breakfast April 30th, 2016 at Denny's Restaurants. The stomach got sick - the whole family (3 adult 1 kid).

My daughters and I try to patronize different food establishments once a week. Two weeks ago, I suggested the Denny's on Harbison Boulevard in Columbia, SC. I was aware of the past controversies regarding racial discrimination toward customers but surmising that those issues were resolved, decided to visit this established. I entered before my 11 and 15 year old daughters. I look caucasian, but my daughters are clearly mixed race. I was immediately seated on the right side of the establishment, then my kids came in. The right side, as you enter, was full of caucasians.
As each African-american entered, they were seated far back in the left side. It was very obvious what was happening. There were tables and booths open on the right side, which was bright and sunny. So, why were the people of color relegated to the left? I do have to say that the food was great, as were the food and service. It was interesting that as were driving home, my 15 year old asked if Denny's was the company that got in lots of trouble several years ago for racial discrimination against customers. Some things never change.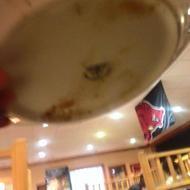 Tonight's service was horrible as hell at the Denny's in Springdale AR. Look at this plate, who the heck serves a dirty dish and have the guts to say it just came off the grill, the manager departed for the back and you can hear her and her staffs laughing. Didn't know you can put plates on a grill. FML!! From the manager to her staff on this shift were very unprofessional and rude. The other server look dumb like he has no high school education and the other dude looked like some kind of pot head. Only if there was an option where you can click "NO STAR" these idiots on this shift don't even deserve a star. Didn't even bother sitting, threw 20 bucks on the table and left to see how these morons would react! See how would they feel if they were in my shoes!!

I was visiting the Denny's in Lathrop CA. with a few of my buddies. Everything was great until I had to sent my food back twice. I eventually decided I wasn't going to eat and asked our server who was very nice, helpful, professional and very apologetic to please have the food taken off our bill since I didn't even touch it. She was more than happy to do so. She told us she would have to get it ok'd by her manager but it shouldn't be a problem. When our server returned she informed us that her manager refused to take it off the bill. So I asked to talk to the manager. She immediately came to our table. She immediately blamed the server by saying the server was a liar and that she has had issues before with the server about lying but she would remove the item off my bill.
When our server returned to our table I told her what the manager had said about her and it about put her in tears. This server was an amazing server with a great personality. And this was no fault of hers. I have been to this Denny's quite a few times and have heard the way this manager talks to her employees and it discusses me. She has no place in this company. If I was the server who waited on us I would be suing this manager for defamation of character. I left the server my phone number and told her if she decides to take legal action and needs a witness to call me. I will never eat here again.

After church Sunday Feb 21, 2016, 6 of us went to Denny's to have lunch. We arrived at one o'clock got our food at two thirty (230). A ninety year old was with us ordered nachos and cheese and we were done eating and she still did not get hers. They finally boxed it up and brought it to table to take home. We ask for manager who was not helpful and disturbed with us for complaining. We did not want our meal free. We just wanted to know why it took so long for our food. Even the waitress was upset about the wait. They were not that busy to explain why this happened. You will have to make adjustments before our church group goes again. Food was good but terrible long wait. Thank you. Manager said they were short 2 people in kitchen. They should have made a schedule change.

I was with my family, and she walked to us very arrogantly, whilst my friend turned and said "oh no ma'am we still not ready to order." She rudely says "who said I'm here for that. I'm here 'cause your child is very disturbing and you have your feet up on the chair." I was in shock and out of words. Then she walks away. One waiter comes and I asked "who is the manager here?" She jumps again and said loudly "I'm the manager here." I said "I'm not talking to you, I'm talking to him." And she said "if you don't listen to me I will refuse you service." It was so humiliating and obviously I had to get up and tell her what I thought of her while we were walking out without being served since we can't enjoy dinner on valentine's day after being threatened. We walked out! So upset, and so disappointed.

I had hair in my food. The biscuits and gravy was cold. Bad waiter! I can write more but what's the point!! I do not recommend this place!!

I have been going to Denny's for breakfast for years. Recently I had a Gastric Bypass. I always go with at least 1 or 4 people, and started ordering from the kids menu. I had a Gastric bypass and can't eat a lot. When I got there the first thing the waitress told me that there is a new manager and he wants kids only to eat from the kids menu. I told her about my current situation and ask to see the new manager Manuel **. He apologized and said that it was the head boss Angetio or Angel **. He told me to eat from the senior citizen menu. That is the same thing except that it came with toast and it was $3 more.
I told him I don't eat toast and that I was not going to order extra food to throw it away. In front of my company he asked if I had a problem economically. I said, "No." Is the principle. Why should I order from a senior menu when I'm not a senior but can't order from the kids menu when I'm not a kid. He was rude and disrespectful. I told him that, "I nor anyone I know will visit Denny's again." I also told him, "You prefer to lose money for your company than to make money." A very dissatisfied x customer. In Ponce P.R.
Denny's Restaurants Company Profile
Company Name:

Denny's

Website:

https://www.dennys.com/