Consumer Complaints and Reviews

I finally succumbed to John Schnatter's blow hard message of "Better ingredients, better pizza" so I finally ordered one from the store in Bellevue, Tennessee. For $16+, the "all meat pizza" probably didn't have a dollar's worth of stuff on it. I sent Papa John's Corporate an email complaining. No response. I'm done with Schnatter and his lousy pizzas. (Peyton, how can you?)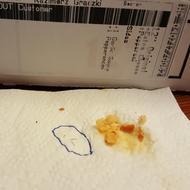 On 4/7/17 I've purchased 2 pies from Papa John's location at Far Rockaway, 4901 Beach Channel Dr, NY 11691 tel 718-945-7272. As soon as we got home all 3 kids age from 10-14 and myself started to eat. A few moments later I was alerted by my daughter that she had pulled out her mouth long/sharp metal shaving and placed it on white (NOT Papa John's) napkin and breaking it into 3 pieces. As soon as I found out about these findings I have called Papa John's store and requested to speak with Mgr. Person (**) was talking to me stated - "it must be from a can"- asked for pizza back with metal shavings so he could (sent it to his office fro inspection) and offered a replacement.
I contacted local authorities and EMS since they have more experience with this type of dangerous situations, as well I contacted my son's friend mother so she could talk to her son. After assurance and instructions from EMS personnel, I went back to the store. As promised over the phone, pizza pie was handed to me but Mgr had said through the employee that he has no time to talk to me and will call me later.
My persistent finally paid and Mgr had come to talk to me quickly pushing conversation away from the front desk to the front of the store. Quickly he started denying talking to me and any knowledge of metal shavings in my pies. He insinuated the pizza was in my possession between time WE picked it and home - he said about us making stops??? On our way home, then he stated that- "Papa John's DOES NOT USE ANY METAL CANS for their pizza sauce -but plastic bags".
I asked for Mgr full name and refund, he provided his but had mentioned but NOT disclose another "2" mgr's so I asked him if he was the one present at the time I made a call and he admitted to that as well return my cost of original order. I walked out the store just to calling him back and coming for brought leftover alongside with metal shavings we have found, while on the phone Mgr. ** stated - it's in the garbage (apparently there was no intention of inspecting it). As I walked back to the main counter I spotted/observed rack filled with metal cans in the back of the store. I have asked for pizza leftovers alongside with metal shaving for evidence just in case my kids got sick and it was necessary to know what foreign material there were in the pizza.
Mgr, ** finally got clear plastic bag vigorously shaking it down as he walked toward me. When I asked him about this metal cans I saw in the back he was speechless. Later that night I called my children pediatrician just to make sure and what symptoms I should pay close attention to. We will NOT buy from this place - especially when this rude and unsympathetic mgr work there! Upon arrival at home, I took some pictures and retrieved evidence from a bag.

The last two times we ordered pizza at Papa Johns in Laguna Niguel it was so dry we couldn't even eat it! I don't know if they changed owners, but it's awful!!! We've prev. ordered pizza from them for years and it was really good, but something happened. Last month we also got a terrible pizza, we gave them the benefit of the doubt, things happen, but two times in a row is just bad pizza. We will NOT be going there again and that's too bad because they are very close to our home. Sorry did not get a receipt.

In Kingston Tennessee Papa John's pizza was burnt! And the toppings around 3/4 of it was missing, I called manager and he said pan pizzas are well done, it was BURNT!! And he said "oh well. When you want another pizza it will be free", NO WAY will I ever go back there, it looked like they first threw it on the floor and then picked it up and put it in the box. AWFUL!!!

The pizza which we received was not hot (literally cold). This is not the first time it is happening, even last couple of orders we had a same issue. Please take care of this issue, so that customers get hot pizzas on time.
How do I know I can trust these reviews about Papa John's?
765,713 reviews on ConsumerAffairs are verified.
We require contact information to ensure our reviewers are real.
We use intelligent software that helps us maintain the integrity of reviews.
Our moderators read all reviews to verify quality and helpfulness.
For more information about reviews on ConsumerAffairs.com please visit our FAQ.

I ordered a small but very little cheese sauce pepperoni flatbread. Well when I got it it looked fine. They covered it with a lot of pepperoni. As I was breaking it apart it's seem doughy so I proceeded to eat it. As I was chewing the cheese was so much that I actually thought it was dough. I told him I could not eat a lot of cheese. As I was chewing and swallowing I actually threw up. It was covered with thick cheese. The flatbread was nowhere to be seen. It was horrible. When I removed most of the pepperoni there was only cheese and sauce. I couldn't continue eating it. It probably most definitely make me sick.

Always bought my pizza at Papa John's on 33rd Street in Baltimore, MD. No more. This time, and the last time, the sauce tasted like ketchup with no flavor and the regular crusts were as thin as the thin crusts used to be! What happened! Is this the Peyton Manning effect? Bye bye, Papa John's!!!

I placed an order for a large pepperoni and mushroom pizza from the Papa John's on 8270 S. Houghton Rd #110, Tucson, AZ 85747. What arrived was a severely sloppy pie that was obviously severed by an angry or careless employee (see pictures below). I drove back to store and spoke to the manager who was actually the one making the pizzas in the back and he offered to re make it. I declined and asked for my money back. Refund never posted back to my CC and will be disputing it with my CC company. I will never be a patron for such business again. Lastly, when I told the manager I would be contacting headquarters he laughed and stated "all they're gonna do is forward me the email for me to call you back and offer you a free pizza". I am speechless and upset. Wasted my time, tip to driver, gas to drive back and return and ended up figuring out dinner once again. Unacceptable under every and any circumstance.

Upon request of sanitary products (napkins) to keep my hand clean, also some hot peppers for extra flavors I was told there was an extra charge for napkins and hot peppers and any extra sour cream or ranch dressing needed for my chicken wings. The pizza itself was missing the extra sausage and pineapple I requested. I paid almost $30.00 US dollars which compared to Little Caesar's would have cost me only 16.00 US dollars. Do not buy Papa John's anymore, they are thieves and do not care about customers, Only care about stealing money and their business. One star for their review, listen to me, do not buy anything from them!!!

I placed an order by phone at the S Dixie and 193rd street store February 3, 2017 at 6:57. Girl took my order and cc info and said it would be anywhere from 45 minutes to an hour. At 8:06 I called to find out where my order was. The young man that answered sounded flustered, couldn't find my order and told me to wait for a manager. Then he came back and said it was on the way and should be to me in about 10 minutes. I called again at 8:37 and was told again, that the there was a delay of 2 hours due to the Heat winning and, again, it was on the way and should be to me in 15 minutes. Had I been told from my first or even second call that there was a 2-hour delay I would've picked it up.
I called again at 9:00 to cancel the order. The young man assured me that it had been cancelled and that my cc would be refunded. I never got my order, was misled on 3 occasions and of course have not received my refund of $28. Having moved here from Colorado and NEVER run into anything anywhere near this problem anywhere else I have to assume it's this store in particular that does not have it together at all. I was absolutely stolen from by this franchise. Extremely disappointed and will never order from Papa John's again.

Oh my god!!! In UK Papa John's pizza is awful!! Especially the service is lowest. Today I ordered a pizza but no delivery. I rang them and demanded refund. But the manager was just shouting on me and no money back to me!!! I do reconnect all of you about this!! They are just conman. Horrible manner of the manager!

Sunday, 29 January 2017. 16:00 to 17:00 hrs. EST. I went online to PapaJohns.com and ordered my X-Large "Meats" pizza and an order of their Stuffed Cheese Sticks, with delivery and tax it came to $30.75. The website said it was going to be 30 to 40 minutes, I live 2 (TWO) blocks away from the store. After 45 minutes I called the store and they said that the delivery "Just went out the door." 15 minutes later, I got a call from my downstairs neighbor saying that the delivery guy was here, according to my downstairs neighbor the driver asked about me and never got out of his car. I called up the store, the man stated that the driver called my cell phone, and he and one other person there called my phone and that it went straight to voice mail, MY phone doesn't "go straight to voicemail" unless it is shut off, which it was NOT and was in my pocket all the time WITH THE VOLUME UP TO MAX!
All the twit could keep saying is that they would cancel my order even as I kept telling them that I just wanted my pizza! The driver came back, and when I said to him "Can I just have my pizza, PLEASE?" he again said that he "rang the bell" which was to the VACANT 1st. floor apartment, and when I reiterated my request he started to get irate and nasty, then told me to "GO ** YOURSELF, **." He got back in his car (which was across the street from my house, and drove away giving me the finger as he drove away.
I got into a HUGE argument with my wife when I started to put on street clothes, she was afraid that the driver would try to start a fight or something worse, I got by her and went over to the store, and asked for the manager. I was told that the manager was "in the bathroom" so I waited. 20 minutes later I started to make a stink about where the manager was, I was told that he was still "in the bathroom" and that my order had been canceled, and "You'll have your money back within 30 days"! I called Corporate Customer service, and spoke to a gentleman named "Zachary" and he told me that I would hear from the General Manager of the store within 48 hours, and if I didn't hear back to then call CS back and they would escalate it up the chain of command. IF, I do not hear from the store I WILL be calling back, and I will be making an UNHOLY STINK. This ISN'T getting dropped! More to come on this!

I have ordered 1st time in Papa John's, Mysore, India for 2 med pizza and I have mentioned to delivery at 9:30 but they delivering at 8:15, but I was not in my delivery address at that particular time. I'm seriously disappointed about the issue and I have informed to customer care but still there is no response from their end & after few time respective manager had called me and I informed the scenario what happened and he has apologized me for that mistake and he had promised that the pizza will be baked new and will be of good taste or else they will money back guarantee.
And after I received the pizza it was too tangy and horrible taste and I communicated same thing to the managing head. He insulted me by telling "Are you expecting cheap pizza." That means Papa John's are preparing cheap pizza or what. I'm really very disappointed about this and he told "You are only one person. We are not bothered about you." Is really very sad that international company like this behaving in unprofessional way to customers.

Please be careful when applying your rewards for discounts at Papa John's. I have noticed twice now that when you collate your order the running total and discounts applied for any rewards utilized is correct. However BE WARNED!! When you click to proceed to the checkout on the next page the price jumps up and some of the discounts are amended. For example my last attempt to order the price jumped from £23.52 - £32.50. Luckily I have taken screenshots this time and emailed them over again, despite bringing this to their attention prior to Christmas. Just keep an eye on the total to be paid/taken from your card especially with the introduction of their conveniently timed "speedipay" button. See first image showing the order and correct running total then see the 2nd image showing new price just prior to checkout!! SpeediPay!! I WONDER HOW MANY PEOPLE HAVE JUST OVERPAID WITHOUT REALIZING JUST LIKE I NEARLY DID!!

I am very distraught that we can no longer order pizza from what I have always thought was the best pizza in the US.. Papa John's. I have had so many issues and kept attempting to get it right each time that I'm tired of trying. First let me say that I lived in Dyersburg, TN for 48 years and Papa John's was our place of choice for pizza. Now we occasionally would visit Domino's or Pizza Hut for deals but Papa John's got most of our money. When we moved to Lexington, TN a few years ago, we were glad to know they had a Papa John's locally. The only problem is that they do not service customers well at all. Here is a list of things we have dealt with in TRYING to give them ample opportunity to fix (and most would have stopped long before we did).
1) They could NEVER get our pizza to us warm... EVER. We live 8 minutes from them and it's ONE TURN! We loved the pizza so much that we started carry outs because they just couldn't get it to us on time. 2) I must have extra sauce on my pizza as I can't stand it dry. On 3 different occasion there was very little sauce and the last time we ordered it had almost NO sauce at all. It was dry as a bone! Can anyone out there eat pizza without ANY sauce... nor can we. We threw both pizzas in the trash. (I actually received an email asking about our order and of course I gave them this information. They never even called me on it!)
3) We almost always added buffalo wings to our order as my wife loved the sauce on their wings. That was until TWICE they delivered them to us WITHOUT ANY SAUCE at all! 4) I called one day to pick up dinner on the way home and there was a car wreck outside the front of the store. I noticed the front door open as the "kids" inside were ooooing and ahhhing at the wreck. So much as they propped the front door open and when I got home with our two pizzas... I had a huge fly right in the middle of MY PIZZA! I called to complain and the manager (who sounded all of 21 years old) listened to my story and then just said "good day." We didn't even get a replacement PIZZA!! I threw mine out as I was sickened by the fly.
We had at least 8 different BAD experiences with pizza at this restaurant so we have just decided to go elsewhere. There is a Domino's almost right across the street so we get our pizza there now. I hate this as we had so many great pizzas in Dyersburg. That just goes to show that not all places are alike. We possibly would return but they would have to be under new management because the kid running that store will never make it.
I would imagine that they (due to all our issues we have had there) probably just think we were trying to get a free pizza or something which we would never do but I have told this story (especially the fly story) to at least 50 people where I work and you should see and hear the responses. And you would be so surprised at how many people that I tell have had similar experiences here. I am tired of calling the local store or sending emails that get LOST to the store as I'm pretty sure they all go to the trash but that's ok. There are three other pizza places in town and so we will just have to adjust!

All of my friends told me that Papa John's had "okay" pizza. Well, they are partially wrong. It was the worst when I ordered for the first time. I had a sleepover and we ordered Papa John's pizza. When it came, we all took a slice and my friend Emma felt something underneath her slice. She turned it over and there was a patch of blue mold on her slice. The rest of us didn't take any chances. We put our pizza back in the box and threw it out. Then, we called the Papa John's pizzeria that we got it from and gave in our complaint, asking for a refund. They said that we couldn't because WE OPENED THE BOX ALREADY. I was so pissed. I am never ordering from Papa John's ever again. Not even after one bite and I have a complaint. They said it was my fault for OPENING THE BOX already. It was moldy! What the hell do they think they are going to do with it? Reuse it? Gross!

I worked at Papa John's for 3 weeks so I was still new. I had made 2 delivery mix-ups and was late once. On my last night someone called in and said I ran them off the road. Which was a lie because I am a very defensive driver. The manager that was there that night was John and from day 1 he treated me different than anyone else. The way he went about firing me was the most unprofessional thing I had ever witnessed and do not believe he should be a manager. He also makes profane remarks in hearing distance of customers.

I ordered a pizza at 9. I was told that it would be a 2 hr wait for delivery. I said "ok I'll pick it up." Got there to pick it up at 9:40 and was they couldn't find it. SMH so said I'l never order pizza from here. East Cleveland has the worst service ever.


Papa John's Broad St, Newark NJ. THE ABSOLUTE WORSE!!!! Ordered a pizza way before closing. Was put on hold when I called to check on the order after 45 minutes of not receiving anything. When I went to the store I was told they were closed. The store closes at 12 am but it was 11:05 pm. I will never go there or order again.

I ordered pizza and wings. It took an hour for delivery. When we started to eat the pizza, it was all doughy. I ordered four toppings on the pizza but it was all uncooked dough. Very disappointed. Usually everything is good. That's why I order from there instead of the four other pizza places close by.

I ordered several pizzas, wings and cookies for my sons birthday party at Papa John's #214 - 911 N CABLE RD in Lima, Ohio 45805-1703. My wife picked it up and brought the items home and several things were missing. I called the store and sure enough the employee said that they forgot to give us the items. That we could come back to the store and pick it up. I said we have a house full of children and that is not an option, that they need to deliver it to us. He put the manager on the phone and I explained the situation to him and insisted he run the food over. He proceeded to tell me that he didn't work for me and that I can get **. I said "did you just cuss me out" and he hung up.
I then called Papa John's customer service and they said that I would hear back from them within 2 business days. Needless to say that they never called back. So 4 days later I called them back and they said the owner must be on vacation or something. So I paid for a product I did not receive and was cussed out by the manager of the store so needless to say I will never buy anything from Papa John's ever again. The customer service is a joke, just excuse makers for their franchises.

I had ordered a pizza on-line today and called the store to confirm. The so called manager Mr. **, was the rudest person I have ever met on-line. He hangs up on the customer. After calling back he continues to argue with me as he cannot locate the order. At that point I gave up and ordered my pizza from pizza hut!!! These people have no manners and no courtesy. The branch is located at 1133 East-West Hwy silver spring MD.

I attempted to order online, the website was not user friendly in the least. I entered the requisite information and was not able to generate any kind of response. I gave up and do not anticipate trying in the future. I will not attempt in the future.

I just ordered a one topping medium pizza and the person on the phone just shouted out the price after taking my order and hung up on me. Now I have a hungry child and a bill for 17.00 dollars and an hour wait. I don't believe a medium pizza with one topping is worth it and would have stated so if the person on the phone gave me a chance. And because of this I will never order papa johns again and that's a shame because I liked papa john's recipe over all the other chains. And just to be a nice guy I still gave the delivery driver a tip. When I should have just sent the pizza back. And just to get all the dumb stuff out the way I did call asking about the specials.

We ordered a pizza online from store #3601 in Prairieville, LA on 9/17/16. Ater waiting 45 minutes, we called the store and were put on hold for 19 minutes and then cut off. We called back immediately. When they answered and asked if we could hold, I said no, I had already been holding for 19 minutes, was cut off, and wanted to know where our pizza was. Nothing was said, I was just put on hold again. After a few minutes, someone picked up and told me our pizza was out for delivery. We got our pizza after one hour and it was ice cold and the garlic butter was missing. The absolute worst pizza ever. This was our first Papa John's pizza and most definitely the last. Pathetic service and horrible food. We will be using Papa Murphy's in the future.

I ordered my medium size pizza and got it 46 min later. But I ordered a medium size pizza with a 2-liter orange crush soda drink. I realize I didn't get the drink so I called and the lady said she will send back the driver with it and I said ok. Now it's passed 1hr and 21 mins and my juice doesn't show up.

We ordered our pizza online - 1 large bacon and 1 large mushroom. We went to pick it up 15 minutes after we ordered when we got it home which is only 1.5 miles away. The pizza was barely lukewarm and literally only 2 pieces of bacon per slice and the mushroom had only 6 mushrooms on it... REALLY. The worst pizza I ever had. The only reason I ordered from them is I got coupons in the mail.. NO THANK YOU. I'LL GO BACK TO ORDERING FROM A REGULAR PIZZA SHOP.. Pizza sucked.

I ordered online, went to store #3905 to pick up, they did not have the right order and threatened me I won't get home. I took a video of the whole thing. Called Papa John's Customer service to file a complaint. They said 24 hrs to 5 days they will get back. It has been 5 days, no one has get back. The Papa John's Waterbury, CT employee threatened me that I won't get home. If the owner does to me, Papa John's is responsible. Papa John's employee used abusive language in their parking lot. 21 Homer St, Waterbury, CT 06704. Papa John's franchise did not respond to me yet.

Poor Customer Service - Store #2336. We place an order online (as we always do) on 08/12/16, and according to the e-mail confirmation, the order would be delivered in 30 to 40 minutes. After an hour (of placing the order), I called Papa Murphy's inquiring about our order, and the women that answered was very rude (this was about 6 pm on 08/12/16), and said we are not guaranteeing any times on deliveries because we are very busy. The pizza arrived at 6:08; which is roughly a half an hour late. The box was hot, so I thought the pizza would still be hot, but it was just lukewarm, and there was very little chicken on our BBQ Chicken pizza. I am very disappointed with this experience at Papa John's. My husband & I have been loyal customers for several years and now I don't know if we will find another pizza place order from.
Papa John's Company Profile
Company Name:

Papa John's

Website:

http://www.papajohns.com/