Consumer Complaints and Reviews

I called tonight at 9:15pm to order 2 pizzas that the store on Eldorado Street in Houston Texas has special for $3.99 each and the guy told me it will be ready at 11pm meaning one hour and 45 minutes for pick up and I said, "No, thank you." IF YOU CAN'T HANDLE THE BUSINESS DON'T DO ANY SPECIAL.

Hi my name is Aman. Am ordered the pizza today and my order arrived in evening but the deliver boy who is working in Domino's and that guy name is Ashish is disappointing me. When I am asked him for a oregano he is not listened me properly and give it me 2 packets of oregano and run away to the place. And one more thing. When he is attended me he on call literally and starting to end he is used his cell phone. I don't know why Domino's hire this type of people. I think we are fool that's why we are paid service tax and the given us THULLU on the name of service. Bad experience.

I wanted to use Domino's coupon to get some kind of deal for chicken and bread. I was confused when I used the 2 for 5.99 deal and I didn't even save 50 cents. So I decided to test out all coupons and see the before and after they are applied. There is really no deal. Turns out the bread and chicken is the same price as the deal. You only save when you buy the pizza. So don't bother using the deals that are non pizza related unless you buy pizza. And don't expect a deal unless you buy pizza. I write this review because I am not a big pizza person but like the other options Domino's provides and hope that one day they actually have coupons for people like me who don't care for pizza but like their other options.

I have been ordering from Domino's for years. Not because I like their pizzas particularly, but my sons do and the price is right. On June 23, 2017 I received an email from Domino's notifying me of a pizza order and paid for it with my credit card I have on file with Domino's.com. I did not order a pizza! The pizza was ordered in Brooklyn, New York. I live in California. I called Domino's Customer Service Phone Number 734-930-3030. I spoke with a nice representative who assured me my account would be credited. She said there have been other reports, but she said, "it's not a Domino's problem. It's a problem with people using the same passwords online." She suggested I change my password, which of course I did, as well as removed my saved credit card information.
Today I checked my bank and NO credit. I called Domino's Customer Service. I was told I should call my bank and report the fraudulent charge. I received several apologies. They were sorry I was given incorrect information, they were sorry this happened to me, they were sorry BUT could do nothing about it except provide me with a reference number (**) to give to my bank. The Domino's Rep assured me he would report it to their Domino's.com online department. He insisted "Domino's does not have a security issue. This is a systemic issue with the internet." He even suggested it was my fault I must have opened an email which allowed my information to be shared! I asked for a credit by DOMINO'S. They refused. "We are very sorry, but we can assure you this is not a security breach with Domino's.com."
I can assure you I have had no other fraudulent charges to my bank account. I have many accounts online - not one other account has been breached! How can Domino's say this is not their problem? I also asked to speak to the manager of the representative I was speaking with. All he was doing was reading from a script and repeated over and over the same information. I was told there was no one else I could speak with, but after insisting on HIS manager's name, I was finally transferred to "Team Leader's" voicemail. Her name is Shelia **, Ann Arbor, Michigan. I did leave a voicemail message. I don't understand how Domino's is getting away with this? This must be stopped! Thank you.

I ordered 2 pizzas at 5:29, the person taking the order said it would take 40 minutes. I waited until 6:15 before calling to find out where my pizzas were. After a 6 minute wait on hold I was told that the delivery person was in my area and I would have my order any minute. At 6:30 I called again and was put on hold, after waiting 8 minutes I called again and asked to talk to the manager. After another 7 minute wait on hold the manager told me that his delivery person said he tried to call me and the person that he contacted told him that "I had been taken to the hospital"? I asked the manager if he believed that story but he just reiterated that that is what the driver told him.
The manager gave me the incorrect number that his driver said he called. He then said that he would redo the order and send it out immediately. That was at 7:00. While waiting I called that number the driver supposedly called and discovered that the number was not in service. I could live with a late delivery but I hate being lied to. The order that was supposedly sent out immediately took until... I will never order from Domino's again.
How do I know I can trust these reviews about Domino's Pizza?
823,111 reviews on ConsumerAffairs are verified.
We require contact information to ensure our reviewers are real.
We use intelligent software that helps us maintain the integrity of reviews.
Our moderators read all reviews to verify quality and helpfulness.
For more information about reviews on ConsumerAffairs.com please visit our FAQ.

I ordered from Domino's on 44th and Penn over in North Minneapolis about an hour ago. He told me my pizza would be here in 30 mins. After 45 mins I called back, considering I only live 5 mins away it shouldn't have taken this long. I asked him where my pizza was and he told me it should be about 20 more minutes that means it would be an hour before I get my pizza. I asked why it was taking my so long and he said "they got busy" then asked me if I would like to cancel my order right after that. Very disappointed. This place has terrible customer service and I will never order from here again. Period. As far as concerned the company lost a customer and I have every intention on reporting this to headquarters as well.

The Domino's in Shippensburg is horrible. The pizza is hard as a rock and half the cheese was missing off my pizza. It tasted really burn and had a lot of bubbles. I do not recommend the Shippensburg Domino's.

My ordering experience was the worst ever customer service I have ever experienced with. She was more likely to give a lecture on calling the second time after I was on hold for so long rather than taking an order. She was not interested at all to show manners with customers. She was really annoying person and I don't think she should work in customer service department because she was yelling at me (at least 3-5 mins) about other customers too who calls for an order. I couldn't hung up because there were guest at my house and needed to order anyhow. She is very disgraceful and I don't think she is doing any good for Domino's business. This is going to be my last order for Domino's.

I do enjoy a Domino's thin crust pizza but the location I frequent has an automatic answering system and being on hold is a 30-minute ordeal if they answer at all. Three times I have called been put on hold and finally drive to the location to order at the window still on hold. No one is paying attention to the phone calls. Last time I did this three other people were there. Two of them still waiting on the phone after driving from home on hold. The employee said something is wrong with the system. I would say that is true. No one in their store cares enough to answer the phones. I personally know 5 people that go 1 block away to Pizza Hut for just this reason. How much business do they have to lose before the owner of that franchise realizes he needs responsible employees. It's pretty tragic. Don't try to call the North Miami Florida Domino's on Dixie Highway. You'll only get stressed. I still like the pizza.

9322 Zane Ave N - Awful Experience - We ordered Domino's Pizza last weekend (June 4, 2017) and were appalled at the customer service at the location. We have ordered before and always received very good service. Last weekend we order online as we always do and watched the Domino's tracker on its way but they never arrived. We were having a kid's birthday party and everyone awaiting the pizza but it never came. Finally my daughter drove up there and they said we had put that is was for pick-up (no it was not). They gave us the pizza. They were very cold and two of them were burnt (yes, I have a picture).
I called to complain and the supposed manager "**", not sure if that is his name or even a manager was very rude. He just kept saying it was our fault and he was raising his voice and going on and on about it was our fault... I was so disgusted at the way he was treating me. I never swore, raised my voice but I was very assertive. He never said he was sorry or apologetic or anything. So disappointed and we have four families in this area and we will never use that Domino's again.

I have several complaints with the local Domino's to the point I would never order from them. Some of the issues were that we received Alfredo with ranch instead of Alfredo, chicken sandwiches without chicken, wings without sauce. This time I did not order the pizza, my boyfriend did before I could have stopped him. We received a pizza. A couple of bites in I noticed an overwhelmingly strong smell and taste of lighter fluid. My Bf with his bad sinuses couldn't tell the difference because the garlic was overly strong. I began feeling ill very soon after. Severe nausea, diarrhea, light headedness, dizziness, short of breath, heart palpitations. I honestly warned him after receiving the pizza due to numerous complaints on this particular Domino's, that this may have been intentional. I would love to get this pizza tested to see what it is really in it. 2 days later I am still suffering weakness, dizziness, heart palpitations.

I'm a fan of Domino's Pizza since they changed their recipe a few years back. The last few times I visited the Wilkes-Barre, PA S. Penn Ave location I've had nothing but problems. They stopped using the garlic butter sauce on the crust. Also, I usually pick up 2 large w/ 2 toppings on each for 6.99. This time they told me they do not have that deal anymore even though I just saw a commercial for it but he proceeded to tell me that I can pay 7.99 and that my total would be $8. Even for each Pizza we use 6% sales tax in Pennsylvania, bad math maybe? Regardless I ordered the large with extra cheese and bacon and when I receive my pizza it had extra cheese on it but it sure did not have much bacon. Possibly one little piece of bacon per slice. This store is starting to go downhill quickly and when I called the store they told me there was nothing they could do about it.

I just order a medium pizza with feta cheese and green peppers, but to my surprise I also got a side of bugs. There were little black bugs - dead of course but still not pleasing to have - on 2 slices of my pizza. I didn't notice till about 4 pieces were gone. I could've eaten some and not even noticed. I am quite disgusted by this.

I went to the following location... Here's what happened... Domino's Pizza 635 Snelling Ave S, St Paul, MN 55116. I had a very bad experience with the so called manager in training. While fixing my pizza she rubs and plays in her hair and proceeds to rub out the dough. I ask her, "Aren't you going to wash your hands". She said, "If it's hair on the pizza it will burn off in the oven." I have never in my life experienced such a thing!!! I contacted corporate to state how my experience went. They noted and stated the owner from that location will contact me. So I receive two coupons in the mail for two free pizzas for that location.
I call corporate back and tell them I have yet to receive a call from the owner and that I didn't want two free pizzas from a unclean Domino's location. They tell me in the notes the owner stated he tried my number and left me a message. FYI I haven't received any missed call or any messages. Corporate gives me the owner number so I contacted him and left a message. It's been one week. I will never step foot in Domino's ever again. I was a weekly customer, but I refuse to eat from nasty place. Need better customer service everything at this location!!!
Update as of today... 5-24-2017... I call corporate back and let them know I still have not received a call from owner regarding this matter. The customer service guy said he is noting it and someone from the store will get back with me. I say, "What if no one contacts me back". He proceeds to tell me it's up to the owner of the store because according to the notes it stated, "The owner say they tried to reach you and mailed out two gift certificates".
While the gift certificates are nice the main issue has not been addressed. This is wrong on so many levels. As a current customer relation director I know the proper way you should treat customers. Let me add the customer service guy I was just speaking with rushed me off the phone. He wasn't trying to hear me. I'm not a trouble maker. It's the principle. Terrible terrible customer service... I will keep everyone updated what happened.

Worst pizza I have ever had. It was dry, and sadly lacking toppings. No Cheese either! I will never order from Domino's again. Years ago Domino's was one of the best. Not anymore! I wasn't given a receipt! STORE #5737 2323 Shallowford Rd #112 Marietta, GA 30066. The only good part of the whole thing was the Delivery Lady... She was sweet.

This Domino's Pizza has a rewards points when you make so many orders. I reached my rewards and been having issues retrieving the free pizza. I have spoke with the store manager. They say it's not on them it's on the corporate. I've emailed corporate. They never got back to me and I called their toll free number and said it was resolved and never was.

Domino's store (3454): 409 West 125th St New York NY 10027 | 212-280-3200 is the worst store ever. I have made several formal complaints to their corporate office and all I received was a computer generated acknowledgment. Their delivery people are rude and obnoxious. Countless of times they take more than 45 mins to deliver your pizza. I have spoken to the manager several times and all he does is say sorry. They deliver the pizza and it's cold and the delivery person will lie to your face that they came to the house and never showed. Then they are rude and will yell and scream at you offering no apologies. I am tired of this complaint going unanswered and I am going to get Help Me Howard or 7 on your side to help with this situation, no one should be treated this way ever.
There is no customer service skills exercised here and unfortunately it's sad to say but if this store was in a predominantly ** neighborhood they would know how to use customer service skills. This store should be closed down and they should be made to do professional development starting with customer service. No biker should be able to call a customer a liar and yell and scream in their face. This delivery person stated he did not care if I made a formal complaint and what that tells me is they know they are not held to regard on how horrible they treat their customers, there is clearly no disciplinary actions so they speak and treat people any way they like. I demand someone do something. I am documenting everyone I reach out to who doesn't help. This is horrible and something needs to be done immediately!

Today I ordered one of the pizzas featured in the Mother's Day promotion. There were several delicious discount options to choose from but after some serious contemplation, I settled on ordering a Large with extra sausage. This pizza was supposed to be a deep dish but it was more on the side of Thin Crust. I was a little disappointed, I like my pizza thick. But the flavor was great and the delivery was lightening quick! I was highly satisfied and will certainly recommend Domino's to all my friends and family.

Ordered 2 med pizzas 2 topping each pizzas. Looking online later and same thing online and flier for 5.99 each plus delivery. I paid 6.99 each plus delivery. Called store in Bettendorf Iowa. Mgr told me that he could not compensate nothing for order taker's mistake. Ask for corporate office number. No can do, nor store could he provide store owner's name or phone number. Don't really trustworthy right now. Delivery guy was greatly mannered and helpful.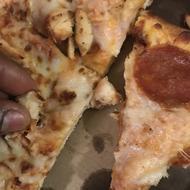 I went to the Domino's on Alondra and Clark in Bellflower, CA. Such a horrible experience and would never recommend this location to anyone. I am a Domino's fan but this experience has changed my entire outlook. I called and ordered a family deal. When I brought my food home, there was hardly any sauce on both the pizza and the chicken. Then when I got to my dessert portion they forgot to pack the icing with my cinnamon sticks. Like seriously!!! Then I called and asked to speak to a shift leader and someone named Natalie gets on the phone and you could tell she didn't know what she was talking about so she just abruptly put me on hold and then another lady jumped on the line now claiming she was the shift leader. I told them now I have to come back, because you failed the first time. The pizza was just gross and the chicken had sauce on only one side!! Never go to this Domino's!!! HORRIBLE FOOD AT THIS LOCATION!!!

In Modesto, Ca on 5/02/17 me and my neighbor went to your restaurants. We order first they said it will be 20 minutes. My neighbor's pizza came first. When we order first we waited there for almost an hour at that time I told them I want my money back. They did what I asked of them. When I was leaving the employee that make the pizza was sticking his tongue at me. If you have worker doing this what else are they doing to people food.

First thing first. I found hair in my food. Secondly when I contacted the store regarding it, they were extreme rude/unapologetic. Stated that it's not a "mistake". Things happen. Like are you serious!? Not helpful at all. Nothing was done for the complaint.

I called to place an order and was placed on hold by Paul. I waited on hold for at least 7mins while he spent that time chewing out a female worker in background. I actually waited on hold until this conversation was over and then kindly asked to speak to manager in charge. I was told he was manager. If this is how you treat staff and kind of management you have I will gladly place my order elsewhere from now on.

Dominos Pizza in Valrico, Fl. First off the employee that took my order kept running his hands through his hair. I watched the same employee go prepare my food behind the counter, cough openly on the food and then lick tomato sauce off of his fingers before he boxed my pizza. At this point I asked for the manager to give me a refund and explained how disgusted I was and how their employee handled my order. Totally unacceptable by any standards.

Domino's advertise that their new Meat Lovers pizza has more topping but unfortunately it is still the same. Maybe even less than before. I have eaten this pizza in Palmerston in Darwin NT and it is great, however the Ellenbrook WA store seems to believe less toppings is better. Most certainly not up to your advertised commitment.

Denver Store #6206 4-21-17 order placed at local store online. Total food bill $41.22. Email received at 2:11 pm local time with a 51-61 minute wait. Fair enough. Watch the tracker. As per the norm food comes out and sits waiting for delivery for over an hour. Finally out for deliver at 3:30. Driver drops off food. Now the driver was very polite and up till this morning I would have had good things to say about just him. I use my Credit card so I add a $5.00 tip. Bring my food in to find my pan pizza as usual with little (I mean where the hell is the cheese) cheese, burnt and miss sliced. So I have three slices that are more square than pizza slice. My hand tossed looked okay but everything was pretty room temp. After review my bank statement today. 4-26-16 I saw that my Dominos did not match. $56.22 was charged to my account. So I must love to tip $15.00 for bad pizza that always takes way to long? This isn't an oversight. This was done deliberately.
If delivery time to leave the store is over 45 minutes then perhaps this store needs more drivers. As for the food, I have never seen pizza come as poorly on a consistent basis from any other store within the chain or any of the top chains. Previous times ordering from this store I have had them call and say they didn't have time to defrost my pasta would I take another. I said yes thinking well that's great my food should leave in a few minutes then. And yes, on the tracker it finished up right after the call only to have it sit for an hour and fifteen minutes and still take another 35 minutes to make it to my house. 2 hours and I still can't have the right pasta?

I don't have only one bad experience with Domino pizza I have multiple from bad consumer experience to disgusting cold pizzas, and stupidly I kept ordering from them till a month ago I decided that I would never order from them again. I ordered two vegetarian pizzas delivered to my house then they decided to bring me a pizza that I did not even order. The two pizza had a gross presentation and was stuffed with meat and ham. I was very offended I am never buying pizza from these people again.

Something weird is up with Domino's pizza. They send out very suspicious "50% off coupons", both physically and online, and they're legit. But... I've never received such a crazy percentage discount from any kind of company. This makes me think that they purposely overprice their pizzas, then send out massive amounts of coupons to look good. There's no other explanation. The issue is when you stop getting coupons. What I used to do was use every online coupon I could, student coupon deals, and I'd personally email representatives and also fill out customer response surveys to keep getting more coupons sent to my home address. BUT, after I kept using 50% off coupons for about six months, my phone number and address pretty much got blocked from receiving further coupons!
In fact, the very last pizza I had order with Domino's had such, such terrible customer service that led me to this fact. After I had asked for my subtotal with a 50% off coupon, the fellow on the phone told me, "Dude. You've used 50% off coupons like ten times now. Please tell me how to get them, I want them too!" which I knew was clearly bait, but I told him in response a truthful statement, "I am a valued customer, I complete surveys and always give feedback." Then, instead of the usual faces who delivered my pizza I saw some kind of hotshot supervisor who drove a very luxurious vehicle. I gave him my final 50% off coupon, and he furiously searched through it for anything that could be incorrect. To his dismay, it was a correct and legal, bonafide coupon - both the address and the expiration date were okay.
After that, I'd still give feedback, complete surveys etc. while providing my address, but instead, no more coupons ever came to my house like before. So for some reason, it seems like someone high-up put something in their system to never give me coupons again. I kept doing what I was doing for a few more months - I even wrote a review that was so amazing, my local branch stuck on their wall in their employee area, but no more coupons ever came. See, the truth was that my mother had an accident, so we had to order food on the days she required physiotherapy each week - and Domino's was one of my favourite places because of the 50% off coupons. That review I made is what got posted in their employee area, according to a representative that I spoke with, and I was quite proud that I could make them feel good because their pizzas were top-notch.
Just a really big shame. I would've kept ordering from Domino's if I never got the 50% off coupons at all! It's the fact that you would give me these coupons each month, then make a big stink about it that really makes me sad. Seriously - I'd get mailed these coupons so frequently, then the customer representative I would call to order my pizzas would complain about me using them? I would always shove these coupons in their face, even when I wasn't asked to because I want to be completely transparent. If I had ordered and not produced the coupons, then I would understand the company being mad, but that is clearly not the case! They got mad at me because I was, essentially, a fellow taking advantage of their deals and they didn't like that.
Anyways, my recommendation is to just spend a similar amount of money and get pizzas from elsewhere. Pizza Nova is definitely good. But, I really, really love Pizza Hut now because their pizzas are extremely thick - just a couple of those slices would fill me up for the whole day! Their pizzas are like pizza pies with how much cheese is in them! When I spend money, I don't just want good food, I want good quality customer service, which was sadly NOT what I had received at my local Domino's restaurant!

We went online ordered our pizza and submitted it. They said there was an issue and we needed to call the store. We call and they tell us there was no order that had been submitted. Checked my checking account and they had charged our account. Store says we have to call corporate office. They say they to give the information to that franchise to investigate. So in other words the runaround and they have our money. I will never go to Domino's again.

I ordered a chicken caesar salad/Italian dressing. The salad had hardly anything in but lettuce. The attendant said they didn't have Italian dressing, why would you list it on your menu if you don't have it, was completely unsatisfied.
Domino's Pizza Company Profile
Company Name:

Domino's Pizza

Website:

https://www.dominos.com/en/