Consumer Complaints and Reviews

I haven't had Domino's Pizza in years. Never had really any complaints with their pizza that I can recall at the moment. However, I decided to order online this evening for half off. They make their deals so confusing & not truly a deal in the end. You can only use the half off on full price items so I couldn't use it on my total for their 2 for $5.99, so I figured "OK I'll order those how they are since that's a better deal than half off & order a dessert for half off which I couldn't do that either". I couldn't combine any deals with that deal. It seems they get you hype/excited about this deal, but then trying to order is a hassle and ends up frustrating you in the long run. I had to call the store on 3 separate occasions to find out what was going on with the pricing, what the original pricing was to get the half off and to take items off my final order because I wasn't able to actually use the half off at all. Just feeling very irritated and lead on. That's all. Thank you.

Called to place order and redeem a gift certificate they had given me months ago when they forgot part of my order. Manager refused to honor the gift certificate that states "enjoy a complimentary item with your next order" worth about $4. There is no expiration date on this coupon. Claimed they are under new mngt. I have been ordering from that location for many years. Will never order from them again! Advising my Facebook friends about the service as well.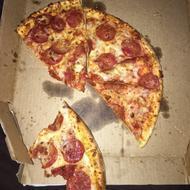 I ordered a pizza from this location. Once the order took too long so I decided to call customer care about the situation. Then I guess because they got a complaint they brought me the pizza all late plus it was cold and it looks like they were mad because they didn't cut the pizza right. That's not how you treat customer especially one who orders always from Dominos and is a good customers for this location to pull this type of disgusting scam. 950 West Manchester ave Los Angeles CA 9004 3237585500. As you can see from the picture I posted it was done with anger and unprofessional way. If the franchise sees this it won't be satisfactory to even give out to anyone.

I placed an order on Friday 11/18 for delivery @ 5:47PM. I gave them my debit card info, ten minutes later I get a call stating that there is a problem with my card, the order didn't go through. The gentleman repeated my complete order to me including my card info, then said "okay everything is fine now." I check my account 6:00 AM the next day because I had an appointment - there is a cell phone charged to my account. I had to call the bank cancel my card. Go get a new card. I go up to the Dominos to speak to a manager. All he said was, "Okay thanks for telling me." I have to file a police report etc. Check your cards because I'm sure I'm not the only one.

On Friday night, I placed an order with Domino's Pizza online. The online status showed my order was confirmed and the order was being processed. The order showed that I should expect a 52-62 minute delivery time. After an hour and twenty minutes, I called the store to check on the progress of my order. I was told "Oh, we cancelled your order, we were really busy about that time."
I could not believe the cavalier tone of the person I was speaking to. I asked "why was I not informed of this?", and was told "That's a good question." There was no sense of embarrassment. There was no offer to correct the issue, or rush a replacement order to me. In fact I was told that if I wanted to re-order they would not be able to expedite the process at all. It seems that cancelling orders is part of normal practice for this Domino's. By this time it was after 10 pm, and there were no other options to order out. I enjoyed a meal of leftovers that night. This was a Domino's in Indianapolis, IN. I gave this review 2 stars, as maybe Domino's has implemented a new diet program to help customer lose weight by canceling their orders. If that was the case, it was effective.
How do I know I can trust these reviews about Domino's Pizza?
636,825 reviews on ConsumerAffairs are verified.
We require contact information to ensure our reviewers are real.
We use intelligent software that helps us maintain the integrity of reviews.
Our moderators read all reviews to verify quality and helpfulness.
For more information about reviews on ConsumerAffairs.com please visit our FAQ.

I called around 11:11 pm placed an order. 2 pizza pie for 5.99 each one with mushroom and the other one onions and green peppers. One hour pass, no pizza. I called. I ask "what happen??" This is their lame excuse. I gave them the wrong address, really!! And that they called me really!! My phone was next to me. This the one that got me upset. That they were sorry and they are going to make another 2 pies and they don't have mushroom. REALLY. I canceled and ate cereal. Never again call Domino's. I will call Pizza Hut. I deserve a free pizza from Domino's. Coupon for free pizza (**) or you guys going to ignore this complaint??? Terrible service. Very very upset.

My grandchildren love Domino's Pizza; whenever I visit, we always get their pizza. Nobody's perfect and things do happen, especially with their delivery service on this night. The pizza place is literally on the next block from my grandchildren's home. I placed my order at 5:26 pm. At 6:35, I call for the status, "he just left and he's on his way". At 6:51, I called again and voiced my dissatisfaction with their service. In the middle of that conversation, the pizza arrived. It took 1 hour and 25 minutes to get my pizza and if my grandchildren weren't hungry and happy about the pizza, I would have canceled my order.
As I said, things happen, but the thing that bothers me is the manager made no effort to contact me of the lateness of my order. Not only that but he did not talk to me, he relayed his message to me via a very nice young lady who took the order. She understood my concern and voiced them to the manager. In my opinion, she should be the manager because she was looking out for the customer. Without customers, there would be no Domino's.

It's election night. I placed my order at 5:45 pm. I was told it would a one hour forty five minute delivery time. I had no problem with time frame. I was asked what I wanted to order. I ordered and was asked for my credit card information for payment. At the end of the call the associate reminded me of the wait time. Now one hour and forty five minutes later I call back to check if my order has at least left the store and I am told the order was never placed. The person that took my order was the assistant manager. When I asked to speak to the manager he would not come to the phone. He told his employee to let me know if I was concerned about my credit card information I should notify my bank. Now I don't have an issue with that advise. What I do have a problem with is that no apology or any type of compensation was offered.

I worked for Domino's. They treat drivers like zombies. They send you out at say 3 pm and they say you finish at 1 am. Not so. One am goes to 6.45. 165 miles later and they pay 80 pence per delivery. HR don't believe me. They called me a liar. The manager is a total waste of space. I know at least four drivers that walked out. Houghton branch is disgusting place to work. Keep away. I was told to drive 100 miles an hour to deliver one pizza by the shift leader. I told him I'll ask the police if this is ok to do. Also you don't get breaks. Keep away from Houghton branch. Ban Domino's please. Also HR don't care.

I ordered a medium bacon pizza online and it was terrible. Maybe 2 pieces of bacon on each slice, no sauce, no cheese but all bread. Not happy with this and not happy with your prices. I thought I was getting a medium pizza for less but by the time I checked out it was a lot more!

I hate the Domino's near me at 51st Avenue and West McDowell Rd. I went with my wife to order a couple of large pizzas. We left before they got done making them. We seen the guys making the food after playing with their own private parts. I recommend not going to this store, unless you don't care about your own life. This place is the most nasty place I have ever been to.

New store opened so the Dominos I had been using for years directed me to the Apollo Beach store. I was told I was not in their delivery area so I asked to speak with the manager. Store manager was quick to tell me they didn't deliver to my area and the other store "does not know the perimeters of their delivery area". When I asked his name (Steve) I responded by saying that I recognize his name from online reviews. He immediately became defensive and told me he was not being rude to me and did not care what the reviews said... I called my old Dominos and they apologized for his behavior and said they would continue delivering to me, along with many other homes in my area. The manager even went as far to say, "They are rude to us when we call and tell them we have a delivery for them." Cannot imagine this douche staying in business long. It's a small community and people talk.

Normally the Domino's in my area (1011 Edwen Way Ste B store number 4212 Chesapeake USA 23320) is my go-to place for ordering pizza. The pizza was great as usual however, the management was horrible. I placed an over the phone order in which I planned to pay for in store (part cash part card). I sent my boyfriend in to cover the payment with $25.55 cash and my card that I should've been charged only $19 making a total of $44.54. When we get home that evening I discover on my online bank account that my card had been charged the full amount of $44.54 and of course I did not have the cash either so I wound up paying $70.09. I gave the store a call that same night speaking to the manager **, mind you & he was the one who took the payment. He insisted that my boyfriend never handed him the cash and also pointed out that their card machines were down.
He said to me that there was nothing he could do for me except call me back the next day if he discovered that their registers were over. He also said he would have to watch the video footage. All of this took place on Saturday October 8th and it is now Wednesday October 12th and I still didn't hear from him whether he was wrong or right. Now they were closed Sunday October 13th due to the hurricane Matthew that came through so Sunday he couldn't have called me. **, one of the managers, never made it point to contact me to show any form of compassion for my inconvenience. I attempted to call him today at his scheduled time being 5 but he was late & it was almost an hour past 5 when I called through the store. His service made me feel horrible and hopeless as if there was nothing that could be done.

Currently stuck in Tucson AZ - where everything is way below par to what I'm used to - having lived on the San Francisco peninsula for all of my life i.e over 60 yrs. Domino's Pizza & the delivery rocks out here as far as I'm concerned! Maybe they just try harder because while the economy is bad everywhere...one assumes it's even worse here. My pizzas are correctly made/cooked properly & delivered while still too hot to touch. Probably the one thing here I've got no problem with.

My daughter was having a friend over and she promised her that Domino's hot wings would be dinner. My suggestion was the fantastic Tyson Any'tizers Honey Bourbon Glazed chicken... superb! But, she was set on the Domino's wings. After the wings were delivered, I was furious! For $20 all we got were small cut wings which looked like cut drummettes. Only 16 for $20! Never again.

This is not only based on my own complaint. This is a location we feel the managers have the wrong impression of the people that try to support this business but we deserve respect and the manager is rude and appear prejudice and was proven. The drivers don't speak English and don't know where to deliver and we subjected to get cold pizza because of this wrong and not fair. We all need to treat people kind especially handling food.

This should be renamed buffalo BREAD. There may have been 6 chicken pieces on the sandwich. I'm talking 6, 1-2 inch pieces. When I opened the box, I thought I got the wrong order. It looked like bread sliced in half. I was very disappointed and annoyed as this bread cost $7.99. What a ripoff.

I very much enjoy Domino's pizza and have no problems with their food. I have been a regular customer for years but have always been a bit annoyed with their delivery. It always takes longer than they tell you when your order on the phone or on the online tracker. Yesterday, was one of my worst experiences ordering food. Take note I ordered my one box of bread sticks and a lava cake (which I find was a simple and quick order). I ordered this at 8 pm and they told me my driver left with my order at 8:50 on the online tracker so I was surprised because it is usually not that fast.
As time started to go by... I noticed it was 9:30 and called in to ask if the order was on its way and they put me on hold for 8 minutes so I hang up and call again and the lady who answered said "we are very behind and it will probably be there in a bit. Do you still want it?" As hungry as I was I decided not to cancel and wait a couple more minutes. Or hours. At 10:40 I decided to call back again (already giving up) to cancel my order and as soon as I'm on hold for another 6 minutes, they ring my doorbell where the driver not only did not apologize but made us pay when it should have been free at this point. When we got the food it was cold so that was a plus.

On 9/24, 9/26 and 9/30, I came within inches of getting hit by Domino's delivery people riding against traffic. I live in Manhattan and I'm sure that there are people that have been hit and suffered needlessly. I contacted the 3 Domino's stores in my area after the first near miss and today I personally went into the store to complain to the store manager. The store manager at the 116th Street Domino's in Manhattan seemed unconcerned and was rather dismissive of my complaint. I also filed a complaint on the corporate website about these incidents.

I am literally very very dissatisfied and pissed off with you guys. Last Sunday (18th Sept), I ordered pizza and the delivery guy took about 1hr to reach my home (NOTE: the distance between my home and the nearest Domino's store is not even 10 mins by bike). They promised me to refund Rs300 for the late delivery. (I paid through net-banking). The lady on the phone told me that it will be refunded within 7 working days. I called after 7 days and they totally denied to pay my money back. The ** reason they gave me was: 7 working days of the order is over, we cannot refund the money. @not at all dear Dominos: People really work hard for money and they do not have all time in the world. Stop being robbers in the first place and have some courtesy of not eating out other's time and money.

This pizza was extremely bland and certainly not tasty in any way. I have not ordered from Domino's in quite some time and this just solidified why I will never order from them again. Disgusting!

We placed an order here (walk-in) tonight and they weren't only rude, but got our order wrong on top of overcharging us. We fortunately caught the overcharge and that was fixed, but our order was wrong. We noticed when we already arrived home (20 minutes away). We ordered 2 pizzas which weren't even cut & boneless chicken with toppings & they gave us just plain ones. I then called to complain and she told me that I was lying. She said that I had to drive all the way back for them to see. Absolutely ridiculous! No apology or any kind gesture AT ALL! We have been loyal customers for years, but after this issue I don't think we will be back there again. Totally disappointed! Worst $39.19 I've ever spent!

I ordered a pan pizza and paid 16 dollars for delivery. The pizza was ordered at 630 pm. The pizza was delivered at 700 pm. It was raw. The dough was uncooked. There was no sauce added and there were clumps of undercooked cheese. I called the store (617-323-0525) immediately because the product could not be eaten. They said they would deliver another pizza and 2 hours and 10 minutes after my original order and they still have not delivered. I called 3 times. On one of those occasions I was able to speak with someone who said if I want my money back I have to come into the store.
I am still waiting for my delivery. I sent an email to customer service. The service is deplorable. They could care less about the customer. DO NOT PAY BY CREDIT CARD AND IF YOU PAY CASH, inspect the product in Detail first. That is my advice for anyone ordering from Domino's pizza. The better decision if you want a pizza is to call another company and AVOID DOMINO'S ALL TOGETHER!!! Horrible service, rude, unreliable, terrible product and careless staff.

HORRIBLE! I only went to Domino's by request from our guests and NEVER AGAIN! I used online ordering process which was easy enough except that you have to pay $12.99 for a cheese pizza and get $7.99 only if you have THREE toppings. Not the point. When I got there I waited for about 20 minutes and electricity on the block went out - not their fault - I waited another 20 and asked if they were still cooking from hot oven. Evidently their conveyor belt system does not allow them a way to get the pizzas out once they go in (sounds like a fire hazard to me) - so no pizza.
The guys there assured me when lights went back on they would cancel the order which would mean no charge to my credit card. WRONG. The next day was Sunday - charge was there but no refund yet so I called on Monday thinking manager would be there. WRONG. First person was a driver - next person was someone who had to be pretending she was a manager because she did ABSOLUTELY NOTHING but piss me off. Since the first guy cold transferred me to her I had to repeat the issue - her first response was "you didn't call yesterday?"
The conversation went from bad to worse and finally her idea of helping me was to tell ME to call back later in the afternoon when the manager was there and explain what happened. Uhm ME? I told her the correct response for a customer service resolution would be to have the MANAGER call me KNOWING all the information. She told me "I AM helpin' you but you need to call the manager when he is at the store and tell 'em what happen. I am a good manager." Yep - that is what she said. So needless to say I paid $50 online to drive over, wait 40 minutes for nothing and now have to spend all this time finding someone to credit me for pizzas I never received. I can't WAIT to see what happens this afternoon.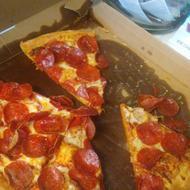 I decided to go to Domino's Pizza to get a pizza because I didn't want to cook dinner. I didn't look at it until I got home. I seen that it was very oily and I didn't want to go all the way back. I ate one piece and my stomach started hurting. There was so much oil. I am so dissatisfied with the oily Pizza I bought that I literally regret not cooking.

On Saturday I ordered a pizza, wings, and a salad after working in the yard all day. When the delivery driver delivered my boyfriend answered the door because I was showering. Fast forward today I realized they forgot the salad. I called in and spoke with a nice young man who was willing to correct it. I didn't want them to drive all the way here for a salad so I ordered wings and a Coke as well. Then after about 2 mins a rude female who identified herself as the manager called back and proceeded to chastise me for not calling yesterday??? She was so rude I told her she could refund my money for both which she refused to do. She stated she would only refund my money for the money I spent today.
I gave her an 2 options: 1) refund my money, or 2) I would call corporate and the BBB tomorrow and we could handle it that way. So she refused to refund and hung up in my face. Wow! Anyone who knows me knows I'm super patient and kind. So I drove to the store furious at the exchange and her lack of professional. When I asked for her she was now the assistant and the "manager" was at the register. I proceeded to tell him I wanted a refund and that as a person in customer service you don't speak to people like that because that will "get your ass beat!"
Now all of a sudden he was like "don't threaten me!" Point of the story is if you don't like people disrespecting you don't do it to them. I have spent countless dollars with them personally as well as for my business. But guess what - will never ever happen again. DOMINO'S you have lost $1000s of dollars from me as well as my associates due to a $5.99 pizza refund. The point was not about the refund it was about the female manager's lack of courtesy and professionalism. Good luck with that because I'm sure she has done it before and will do it again.

The website was quite complicated... So they delivery me a two topping pizza large for 22 dollars? So I get the pizza and I walk the half mile to the pizza place on Jerome Avenue and 181st in the Bronx. So the manager was helpful but again she got the order wrong again... twice? She gave me two medium pizza with the thick crust which I didn't ask for even on the second time. I think the website needs a new designer to design something much easier. It kept offering me the 22 dollar pizza plus my order. The website should be click, click, click and so easy to figure out. When you look at the total it is not at the bottom of the page but you have to scroll up to the top again to get the total??? What???

I have ordered online as a guest MANY times - but last night was refused the right to order online unless I filled out a ** pizza profile... NOT GOING TO DO IT. I got to order over the phone, but the order got here wrong. Have tried to complain online but there was always some damned thing I had not filled out - and sick and damned tired of trying to figure out what you wanted. Once upon a time Dominos knew they sucked and worked to make it right. Time to do it again. Meanwhile, you suck and I won't be ordering from you again. Just not worth the hassle.

I am frequent customer with Domino's, GN Chetty Road Branch, T.Nagar, Chennai, Tamil Nadu, India. I made the payment through online & the amount has been debited from my account, but this time due to some technical support the order could not be placed in the shop. I called center office (6888 6888) to send me the order so that I would repay them once the money has been refunded, Since I don't have money to order again. They said they will talk and connect to GN Chetty Road Branch and I spoke to the shop owner, he repeated the same again and again, let Mr. ** to speak and dragged such that my mobile balance went low. They are not okay to feed the hungry me with the meal for tonight and get the money once I get it after 7 days, and hung up phone call.
So do not go for Domino's. They'll rotate your money & don't trust you as you should go with their rules and regulations, they won't do the same, not even a level of humanity - my family is sleeping hungry today (having few biscuits), all because of their 7 day refund and all banks do refund within 2 days but they are doing some illegal with their illogical terms & conditions. I don't have money to buy elsewhere. It is not because I am poor, the transaction should not happen unless the order has been placed, if so, the amount should be refunded within 2 days. Not like this! I won't buy anything from Dominos & if you are okay with taking risk of online payment go-on. My suggestion is go with Cash-On-Delivery always. But avoid such scumbags, because they don't believe their frequent customers. Then what's the point of doing business without customer satisfaction? Beware!

Worst pizza ever, missing ingredients, soggy and doughy. $15.00 for 6 slices. Give me a break. Never again. Had it years ago from same location. Not close to
the same. Side salad prepackaged in a box, with dirty lettuce, 2 grape tomatoes and the wrong dressing that was ordered. 7.50 for that another joke, get real guys. Get your business together. Also was on hold for 20 minutes. Never again and will tell everyone I know!!!
Domino's Pizza Company Profile
Company Name:

Domino's Pizza

Website:

https://www.dominos.com/en/