Consumer Complaints and Reviews

I've never had a problem with Domino's until tonight. I placed a order for delivery. It was a hour wait. I ordered a large pizza with crispy bacon like I always do and the pizza wasn't done and the bacon was not done and it was real fatty. So I politely called them and expressed to them how I felt and asked for the pizza to be replaced with another one and they could have the one that wasn't done back. Their response was that we could get another pizza but we would have to pay for it. The general manager Ryan was sarcastic and very unprofessional and didn't care that we order regularly from them and that they would be losing me as a customer and he simply didn't care.

Domino's cutting the PIZZA into squares instead of like a pie! I have contacted Domino's multiple time to order a pizza for pickup. Just about 2-3's a month they get the pizza cut up incorrectly. I have mentioned to them multiple times that I want the pizza cut like a pie but they always cut it into squares. Then even told me they were going to add a note to my file which to this day still hasn't happened. I just Domino's management would read these reviews and remedy the situation with their staff. They either don't know how to cut a pizza the correct way or management has instructed them to cut it into squares...
The very last item is that you cannot give any information in the online ordering systems what additional items (I) the customer would liked added or done to the pizza. The only option to leave a comment or note is after the pizza has been ordered. They need to make modifications to their online application so that customers can provide notes at the front-end of the order process... The store address is: 3207 Cabrillo Avenue Santa Clara, CA 408-241-2828.

On January 29, 2017 I placed a delivery order with Domino's Pizza in Christiansburg VA store #4292... Never had a problem with them before. My order came up to $25.57, I paid with debit, so I gave a tip of $3.00 ($28.57)... I also keep up with my payments ESPECIALLY dealing with my check book/credit or debit etc. They took $8.00 instead of $3.00. When I called to address what had happened the unprofessional manager name Wiot said he couldn't find my or nor the receipt and asked me did I have proof and what led me to believe that extra money was taken off? I was totally aggravated. Clearly he doesn't need to be in management. After I stated the facts he still came off very stupid, then hung up on me... I'm waiting to talk to the supervisor name Keith when he comes in. Also a staff member name Katy wouldn't give me corporate number, apparently it seems like they don't have one. I will never order from them as long as they the staff has breath.

I am so happy about the pepperoni. It taste so yummy. I hated the nasty pepperoni Domino's served. Yuck. But now it taste magical. Thanks for the constant improvements Domino's. Forever a customer.

The Domino's on Boulder Hwy/Desert Inn Rd, is awful! Barely any sauce, barely any cheese & barely any toppings! Overcooked! The sauce is so thin you can't hardly taste it! That's the same for the thin layer of cheese they put on the pizza. Never going there again! Awful!
How do I know I can trust these reviews about Domino's Pizza?
694,519 reviews on ConsumerAffairs are verified.
We require contact information to ensure our reviewers are real.
We use intelligent software that helps us maintain the integrity of reviews.
Our moderators read all reviews to verify quality and helpfulness.
For more information about reviews on ConsumerAffairs.com please visit our FAQ.

Chandighar branch 34a Domino's. So much worthly talking way and as much hatetic.. our order no ** on 22 Jan 2017 at 10:45pm. Head of 34a Domino's branch say they cancel the order no **. Reason behinds this they don't take serious about his own customers.. They will cut our call when we can call him. At 12 am we can rapidly call him but they can not do alternate discussion on our query, and at last they asked they can't done delivery on our address, 34a Chandighar branch at 1 km away from this place... But really such a unacceptable service provided by Domino's. I requested to Domino's head branch please take some serious step regarding this misbehaviour... And this is not first and last time. I have faced more time this type of mistakes but now this time it's goes on high. Please take some steps regarding this. I think after this every other customers feels good.

For two weeks we've ordered pizzas from Domino's and a coworker is lactose intolerant. And when asked for a light cheese really get the same amount or standard helpful cheese or extra cheese. Never light cheese. The kitchen staff is running too fast to pay attention to what orders are. So what good is ordering a pizza when you gotta custom make it, after you receive it throw it away or not eat it at all?

I order from the Domino's in Burnside located in Bronx, NY. The pizza looked old but I ignored that to my demise. A few hours later... I was vomiting uncontrollably along w/ frequent bowel movements. I called the store to complain... and was hung up on 13 times and ridiculed by what sounded like teenage girls. For 24 hours I suffered... smfh

My wife and I have been ordering from this Domino's Pizza for years. Store is in Sunland, Tujunga off Foothill Blvd. The pizza was always top rated with us... It had been made perfect and the temperature was outstanding. We ordered the same each time, two separate pizzas. Sometimes we use the coupon. Sometimes they got it right sometimes not, such as my request of NO CHEESE. But a simple phone call and they rushed over a new one within 30 min. But the last 4 deliveries was a disaster. The pizza tasted old or frozen and reheated? Had NO flavor and the sauce was about as thin almost nonexistent, actually some of the slices had none.
Today we were really hungry and looking forward to another hopeful order. I called the store and the manager said they will make another one but time went by and no pizza, and considering my wife could not take the taste of her pizza, we left to go find another place to eat. What happened? This store rocked a year ago! But this is the last time for ordering... I gave it too many chances.

Over 2 months ago I ordered pizza from Domino's. I didn't receive my order for over 4 hours later. It was ice cold. I had called customer service and asked specifically that I receive a call back from the franchise owner or even a rep. As of this date I have yet to receive the callback. I called them 4 different times. The last time a supervisor sent me a gift card for 10 dollars. That didn't even cover the cold pizza we received and threw away. Is that excellent customer service? I think not. With so many pizza competitors out there you think that they would call me back. #becomingpapajohnsloverscrewdominos

I ordered online from my local store. It took longer than normal for the order to get here, and I was given the completely wrong order. I called and they were able to remake the pizza, but made it as two separate pizzas and didn't even bother cutting them by the time I came to pick them up. I also received the wrong stuffed cheese bread. I feel like I am basically throwing my money away tonight.

I ordered a large pizza from my local Domino's and it was terrible. I asked for ham, pineapple & extra cheese for toppings. The pizza had hardly any cheese on it. All you could taste is tomato paste, gross. No more Domino's for me. I tried their $7.99 carry out special, I guess you get what you pay for! Next time I'll order from Papa Gino's.

The Domino's Pizza in Webster Avenue Bronx NY! I ordered my pizza at 6 pm and didn't get my order till 9pm. 3 hours of wait it's truly not worth it. Very dissatisfied. Also my food came cold! Not ordering from this place. Never again!

So I got my delivery which I ordered through the hospital I work for USCUH. I have ordered multiple times from this store and never had a complaint! Until today! I ordered 3 medium pizzas, a Italian sausage marinara pasta and buffalo boneless chicken bites. After receiving my order, I noticed pizza was extremely dry, and both pasta and chicken bites were unusually burned this time, compared to other times I have ordered. I called the store directly in Los Angeles DOMINO'S STORE #8193 LOCATED AT 4815 VALLEY BLVD STE H. LOS ANGELES, CA TELEPHONE # 323-222-7722 . After being transferred to 3 people finally a so-called "**" the general store manager took my compliant.
As I was expressing my concerns and frustrations about my complaint regarding this order, he was extremely rude, yelled continuously over the phone, and could not believe that the order in which I received, included dry pizza, overly burned chicken bites, and dry and burned pasta after I asked for extra sauce. First of all, I had to ask him a few times if indeed he was the manager, and second that if he speaks to all customers in this tone of voice, which was practically screaming on the phone and not letting me express my complaint over the phone. I work for a huge institution (a University Hospital) in which we continuously order pizza from this particular store. After the whole 8 minute conversation he continued to state that all I was after was a free meal and that he would give me credit for my $37.27 order. I expressed that I did not want a credit of 37 dollars to order from this store again!
How can I accept a credit of $37 dollars from this store on my next phone order, if the quality of food is in-excusable, nor adequate for consuming (dry pizza and burned food). Sorry but this is not acceptable. I would be scared to order from this store again with any kind of store credit, not knowing if they will spit on my food or do something terrible to my order, considering the way their manager talked over the phone.
True, I was calling to complain, so they can fix the quality of pizza and continue to be the above leveled "Domino's" we know, but to have a Manager practically cuss me out over the phone is not right. He did not offer me a so-called credit on my next order until I asked for a corporate telephone number so I can call to further address this issue. HE answered that there was not a corporate number and for me to go online and complain. Wow, out of so many years ordering from this store, I will never order from this store again!! I can't say I will never order from Domino's again, because the Domino's by my house in Corona, Ca always delivers fresh and hot pizza every time I order!

The "hot buffalo wings" are supposed to spice or hot at least. Mine came almost cold and the sauce was dripping out of the box. I didn't notice until I took it to my dining room to eat. It seem like either the sauce just fell out of the whole box because the wings felt like if they were plain.

I purchased Domino's E-voucher in Amazon. When try to place a order online with Domino's, e-voucher didn't worked. It says voucher is not valid. I reported to customer care. They gave reference id **. After that when I try to follow with customer service, they are not at all responding, asking to me approach all the ** companies and wrote the several emails to them, but no respond. I never expected such a pathetic service from Domino's. I shared my experience with my friends, now we switched to Pizza Hut. Really worst service from Domino's.

I work at ** and the pizza store a few blocks away and they REFUSE to deliver and instead I am forced to order from Portchester which is very far and makes me wait 3 hours to get my pizza. This store below is a few blocks away on the same street and refuses and will NOT deliver to my place: Store Number: 3372. Address: 950 Mamaroneck Ave, Mamaroneck, NY 10543. Phone: (914) 630-7222.

When my friend was visiting from her hometown (3 hours away) we placed an order for delivery. 2 hours late and 2 delivery people to get that order 2 miles from the store! We accepted the delivery because 1) We were starving and 2) It was too late to order from someplace else. Needless to say, the food tasted like crap and I called and got a credit for $30.00. The COMPLAINT~ I tried to use that credit a few weeks later and they said~ "YOU HAVE TO ORDER THE SAME FOOD THAT YOU GOT A CREDIT FOR!!!" So now, I either have to eat the food I don't like because half of the order was my friends. OR~Wait until she comes to visit and order from there again! NOT A CHANCE!!! (This was at the end of Sept. 2016 at the Main St. Store in West Bend WI.) 24 Sep DOMINO'S ** WI TOTAL~$29.98.

I ordered food online which was delivered to wrong outlet for some website issues. I have no problem with that. Then I placed my order on the nearby outlet which took my order and delivery boy was at my door and he was ringing the doorbell continuously and when I opened the door within a minute and asked why was he ringing it continuously he replied that he was in hurry. I told him humbly "can't you wait for 2 minutes?" He then replied that he has to go deliver other orders. I was surprised to his reply and I asked the management should I be ready at my door with the money as delivering my food which is not his job and he is doing a favor to me. Sorry won't be ordering any more from Domino's.

I placed an order online. The computer said it would take 33 to 43 minutes. After an hour of waiting I called, they looked my order up and said it would be another hour. I said, "Put my money back on my card." She said she would. I canceled my order and the money should be back on my credit card. I will check tomorrow. She tried to tell me someone didn't show up to work or they were short an employee. I said, "That isn't my problem." I ran a fast food restaurant. I know how to schedule if you have specials. Poor mgt. We ordered Papa John's. I don't need Domino's. Horrible that no one could call or email as to the fact there would be a delay. 2 hrs for pizza. No thank you.

I order pizza online so I wouldn't have to wait. I'm a stage 4 cancer patient so I was feeling good for a change and I wanted to celebrate by eating a slice of pizza with my family. The website said it would be ready. When I get to the Domino's on 941 S General McMullen Dr San Antonio, TX 78237 They tell me that 1 of the 2 pizza I order online was not made and that they would make right away and it would about 15 min's. I ask for them to redo both pizza cause I like 2 fresh pizza not 1 that would be 15 min's old.
After 20 mins I ask about my pizzas and again they said there was a mistake made and would remake them again. I was getting frustrated and the manager said he would give me some cheesy bread if I would stop having a bad attitude. I a 55 year old man. I don't appreciate a kid manager accusing me of having a bad attitude after they mess up twice. 15 mins later they only remade one so I ended up with one crispy pizza and one soggy pizza that was 15 min old. The manager ignored me after that and they overcharge me and I had to get that fixed. Terrible experience.

Store: 11026 Culebra Rd, San Antonio Tx 78253. I understand with a deal like the pizzas being 50% off would attract a lot of customers but after ordering online my husband got a call from the store saying our order would take 3-4 hrs to make. No biggie - we just canceled our order. But not even ten minutes after getting off the phone they call us saying they are at our house with said pizza. This isn't the first time we've had issues with this particular store.

I haven't had Domino's Pizza in years. Never had really any complaints with their pizza that I can recall at the moment. However, I decided to order online this evening for half off. They make their deals so confusing & not truly a deal in the end. You can only use the half off on full price items so I couldn't use it on my total for their 2 for $5.99, so I figured "OK I'll order those how they are since that's a better deal than half off & order a dessert for half off which I couldn't do that either". I couldn't combine any deals with that deal. It seems they get you hype/excited about this deal, but then trying to order is a hassle and ends up frustrating you in the long run. I had to call the store on 3 separate occasions to find out what was going on with the pricing, what the original pricing was to get the half off and to take items off my final order because I wasn't able to actually use the half off at all. Just feeling very irritated and lead on. That's all. Thank you.

Called to place order and redeem a gift certificate they had given me months ago when they forgot part of my order. Manager refused to honor the gift certificate that states "enjoy a complimentary item with your next order" worth about $4. There is no expiration date on this coupon. Claimed they are under new mngt. I have been ordering from that location for many years. Will never order from them again! Advising my Facebook friends about the service as well.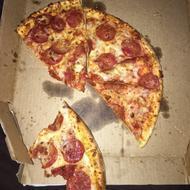 I ordered a pizza from this location. Once the order took too long so I decided to call customer care about the situation. Then I guess because they got a complaint they brought me the pizza all late plus it was cold and it looks like they were mad because they didn't cut the pizza right. That's not how you treat customer especially one who orders always from Dominos and is a good customers for this location to pull this type of disgusting scam. 950 West Manchester ave Los Angeles CA 9004 3237585500. As you can see from the picture I posted it was done with anger and unprofessional way. If the franchise sees this it won't be satisfactory to even give out to anyone.

I placed an order on Friday 11/18 for delivery @ 5:47PM. I gave them my debit card info, ten minutes later I get a call stating that there is a problem with my card, the order didn't go through. The gentleman repeated my complete order to me including my card info, then said "okay everything is fine now." I check my account 6:00 AM the next day because I had an appointment - there is a cell phone charged to my account. I had to call the bank cancel my card. Go get a new card. I go up to the Dominos to speak to a manager. All he said was, "Okay thanks for telling me." I have to file a police report etc. Check your cards because I'm sure I'm not the only one.

On Friday night, I placed an order with Domino's Pizza online. The online status showed my order was confirmed and the order was being processed. The order showed that I should expect a 52-62 minute delivery time. After an hour and twenty minutes, I called the store to check on the progress of my order. I was told "Oh, we cancelled your order, we were really busy about that time."
I could not believe the cavalier tone of the person I was speaking to. I asked "why was I not informed of this?", and was told "That's a good question." There was no sense of embarrassment. There was no offer to correct the issue, or rush a replacement order to me. In fact I was told that if I wanted to re-order they would not be able to expedite the process at all. It seems that cancelling orders is part of normal practice for this Domino's. By this time it was after 10 pm, and there were no other options to order out. I enjoyed a meal of leftovers that night. This was a Domino's in Indianapolis, IN. I gave this review 2 stars, as maybe Domino's has implemented a new diet program to help customer lose weight by canceling their orders. If that was the case, it was effective.

I called around 11:11 pm placed an order. 2 pizza pie for 5.99 each one with mushroom and the other one onions and green peppers. One hour pass, no pizza. I called. I ask "what happen??" This is their lame excuse. I gave them the wrong address, really!! And that they called me really!! My phone was next to me. This the one that got me upset. That they were sorry and they are going to make another 2 pies and they don't have mushroom. REALLY. I canceled and ate cereal. Never again call Domino's. I will call Pizza Hut. I deserve a free pizza from Domino's. Coupon for free pizza (**) or you guys going to ignore this complaint??? Terrible service. Very very upset.

My grandchildren love Domino's Pizza; whenever I visit, we always get their pizza. Nobody's perfect and things do happen, especially with their delivery service on this night. The pizza place is literally on the next block from my grandchildren's home. I placed my order at 5:26 pm. At 6:35, I call for the status, "he just left and he's on his way". At 6:51, I called again and voiced my dissatisfaction with their service. In the middle of that conversation, the pizza arrived. It took 1 hour and 25 minutes to get my pizza and if my grandchildren weren't hungry and happy about the pizza, I would have canceled my order.
As I said, things happen, but the thing that bothers me is the manager made no effort to contact me of the lateness of my order. Not only that but he did not talk to me, he relayed his message to me via a very nice young lady who took the order. She understood my concern and voiced them to the manager. In my opinion, she should be the manager because she was looking out for the customer. Without customers, there would be no Domino's.

It's election night. I placed my order at 5:45 pm. I was told it would a one hour forty five minute delivery time. I had no problem with time frame. I was asked what I wanted to order. I ordered and was asked for my credit card information for payment. At the end of the call the associate reminded me of the wait time. Now one hour and forty five minutes later I call back to check if my order has at least left the store and I am told the order was never placed. The person that took my order was the assistant manager. When I asked to speak to the manager he would not come to the phone. He told his employee to let me know if I was concerned about my credit card information I should notify my bank. Now I don't have an issue with that advise. What I do have a problem with is that no apology or any type of compensation was offered.
Domino's Pizza Company Profile
Company Name:

Domino's Pizza

Website:

https://www.dominos.com/en/