Consumer Complaints and Reviews

I have only gone to Chipotle 3 times, once during business day and twice on weekend. Both times on weekend got sick but was not sure until this past weekend, my son and I both were sick! He vomit 25 minutes after eating and I am still having stomach pains, cramps, bloated feels like something is crawling around in my stomach. Have not eaten much since Saturday and feeling really bad still today. A few things I notice about the workers, you never see them wash their hands, no gloves, and they are just a bunch of kids with bad hygiene habits. I don't think I will ever eat there again.

I travel 37 miles Crystal River, with my family to eat at the closest Chipotle Restaurant, in Ocala Fl. And always have had good service and food there. Until last night. It took me at least 20 minutes to get my food. When we got there the restaurant and outdoor seating was moderately full. The line was a little longer than normal but it moved fast until I got up to make my order then, that's when it changed.
After waiting a while for the person to fill several on-line orders, he wander away to get more tickets. When he returned I ask if he could take my order. He politely said "sorry" then I gave him my wife's simple bowl order and a few seconds flat it was filled and pushed down the line. He resumed filling more online orders. After some time he noticed I haven't moved down the line. I said "I have more to order". I ordered my usual 2 orders of hard tacos. After digging around he laid out the two baskets and shells and resumed filling online orders, then the person waiting downstream to fill their station's orders came up and loaded the meat onto the shells. Right, things are moving now.
Wrong. I asked for the grilled onions and peppers. She was then frozen. The manager was restocking around this person the items in the station area, and they just were waiting. I ask if that was ok to get these items on my tacos. She said "I am waiting for the tongs to be brought back", so I backed up away so the crowd of a line behind didn't think I was the problem here. Finally she turned and got one from the tray behind her (must have had a least 10 of them in there). Now I am moving on down. Things are being stuffed in those taco shell and I can see the end in sight. It was only a train light because all my items were being stacked by the register that had no one manning it. I looked at the server. She said "SHE will be right back". It didn't matter anyway. My brother in law behind was still at the start of the line waiting to be recognized so he could order his bowl.
Finally when he was done, all the little food bowls/baskets was sitting there. The lady that was arranging bags of chips turned around and rung up the order. I informed her that I needed 3 LARGE drinks included. She looks at me and says that's $39.**. I gave my card, she processed it and then she sets 3 SMALL cups down. I informed her I ordered Large drinks. She say "I already rung it up that way". I said "looks like youre going to have to un-ring it up". She did. I asked for some trays. She handed me one, then resume the bag shuffle. Now the KICKER. Remember earlier when I said the inside and outside was nearly full. It was now vacant. Nobody at all. Just a line of people waiting to get served. Food was excellent/the Sweet tea was too.

I'm a vegetarian and I often go to chipotle just for sofritas, corn, and tomato and sometimes rice. I was halfway through my meal when I noticed that there was chicken in my sofritas. The chicken blended in very well. I immediately spit it out and called chipotle's Corporate number. The lady on the phone was no help at all and was very unsympathetic. My stomach began to hurt about 25 minutes later and the pain was terrible. I emailed chipotle, but I doubt they'll do anything about it. I also had to ask for my drink and my chips that came with my meal, but I didn't receive the chips either.

So I have been a loyal Chipotle customer for years! I literally have enjoyed those burritos and bowls hundreds of times. But my time is pretty much over with this company. Chipotle loves to give the allusion it is a 'healthy' alternative to fast food. The reality is, it is ANYTHING BUT HEALTHY. I really started to notice a difference in my well being after a Chipotle opened right down the street from me, and I began to frequent it more often. After eating burritos about a year ago, I would feel sick, and lethargic. I told myself I would stick to the bowls, as the burritos were just way too much food. After eating the bowls I have realized they always cause me to feel ill, after as little as 30 minutes of eating it.
I have terrible stomach pains, cramps, I feel bloated, nauseous and gross. I had a hard time connecting the food I was eating and the feeling, because it was always my understanding this food was 'healthy', because they were using 'whole unprocessed' ingredients. I went to their website and was absolutely startled by how much sodium is in the food. Literally nearly 2 days worth of sodium are in a typical burrito bowl. I did more research and found out that much of their 'add on toppings'; salsa, meat bases/seasonings, etc. are not made in house, but manufactured by a huge supplier that also supplies foods for McDonald's etc.
Having 3000 MG of Sodium in one serving is a disaster, and it is because of the way they source their ingredients. Very misleading company. And not healthy in the slightest. Too much sodium in a sitting will make you sick period, as it sends your body into shock, as it tries to bring it back into equilibrium. I will not be back, too many better options are beginning to become available in the fast casual marketplace to rely on Chipotle anymore. I am done. Stop lying to your consumers Chipotle!!!

My husband and I ate at Chipotle in Princeton NJ over the weekend and both had gastrointestinal issues within a few hours. The place was filthy, the staff seemed overwhelmed and careless, seeing to lack a management figure. The fountain beverage machine was broken, and the bottled water they were offering for sale was warm. I called customer service this morning and was prompted to email comments/concerns because no one was available to answer the phone. A representative by the name of Ricky called me back, listened to my experience and basically proceeded to what I perceived as answer my concerns in a condescending manner. Stay away unless you want to get sick from your food. No Chipotle for us in the future and will tell everyone that I know about our experience.
How do I know I can trust these reviews about Chipotle?
609,643 reviews on ConsumerAffairs are verified.
We require contact information to ensure our reviewers are real.
We use intelligent software that helps us maintain the integrity of reviews.
Our moderators read all reviews to verify quality and helpfulness.
For more information about reviews on ConsumerAffairs.com please visit our FAQ.

Ever since they went Organic, the food has NO taste and they shrunk the burrito shell!!! Am I the ONLY person who noticed how SMALL the burrito shell is now? It's too small to even fit EVERY side on it. And if you want the extra meat on the burrito that use to come free before they shrunk the shell, you have to PAY EXTRA for it now!!! Even after the rewards program, I'm not going back in August and September. I earned 2 FREE burritos this month (July 2016) but really... AFTER 9 SEPARATE TRIPS UP TO CHIPOTLE THOSE 2 BURRITOS WERE NOT FREE!!! Gas & Mileage people... DO THE MATH!!! IT WAS A LOSS!!! Chipotle, please go back to the original old way, bigger burrito shell or I'm done!!! Even Subway gives you a 12-inch sandwich for $6.00. SMH!

Usually I love Chipotle. I just used their online pre-ordering service so I could pick up my meal and be back to work on time due to my concern that there would be a long line. I picked it up and returned to work only to find out my order had been completely butchered. There were no beans and instead of giving extra lettuce as I had asked, there was no lettuce! (Of course I ate it and it tasted OK - though salty because there was no lettuce to balance it out, but I am not nearly as full as I would have been if my order had been correct.)

During our basketball tournament at UNCC, I took my team of 15 high school athletes to the Chipotle on N Tryon. Mr. ** made sure that our needs were met and it was an extremely valuable team bonding experience. Mr. ** and his staff were outstanding from the moment we enter and to the very moment we left. I will make sure to include a visit to this location every time we play at UNCC.

Had the chorizo at the Columbia University location at the end of last week. The line moved incredibly quickly. And even though I forgot I wanted to have grilled onions after I had added the lettuce, the woman preparing my three burrito bowls happily complied. The food was delicious. It was a nice experience. Also like the frequent customer card that they are giving out now.

I had just come back from the hospital and was really hungry and the girl at the front counter (her name is Ashley) was super duper nice and thoughtful she even gave me a water cup, although I didn't even ask for one. When I told her that the ice machine was out of Ice she was quick to refill it, and we even started a pleasant conversation. Best Chipotle experience ever.

I visit Chipotle often today. I had a bitter experience at the store located at Mound and 14 mile. There was a employee at 8.45 pm which didn't change the gloves for vegetarian burrito and I saw that she would push back the splitted stuff back in the bins by her hand. She even didn't knew how to roll the burrito and it was a very messy, sticky one which we had to reorder. I think she needs to be retrained as it was very unhygienic to eat this stuff.

I just had a steak burrito with rice, steak, corn, cheese, sour cream, and lettuce today at Chipotle. A few hours after I had stomach pains and chest pains. A few hours after I ended up throwing up and had bad diarrhea. It was the worst stomach pain I have ever had. That is my last time I am eating at Chipotle...

The food is amazing! One taco bowl is enough for two meals. The line always moves quickly regardless of how packed it is. I've never had a bad experience here.

I'm really tired of being treated with no respect in this restaurant. The "kids" behind the counter need to have additional training to slow down a bit and listen to the customer, and when there is a mistake made during providing service, to not engage with the customer and induce an argument. I know this is petty, but I'm sick and tired of this. I ordered two meals and a side of chips and guacamole. The entire order was in front of me and the closest one behind me was way back at the start of the order process. I asked for my order to be bagged separately as half was for my daughter to be dropped back at school and the other for me. The girl on the register thought I said to pay for them separately and only rang up one. When I corrected her she quickly stated, "You were not clear." I responded by saying, "No, you didn't hear what I said."
She then proceeded to argue with me, roll her eyes, make negative comments under her breath, to which I got extremely frustrated and yelled at the manager as I angrily left the store. I don't deserve, as a paying customer, to be treated like this TO ANY DEGREE. If she had said the word "sorry" in any of the garbage that came out of her mouth, I would have accepted been cordial, and carried on my day. However, this was the furthest thing from her mind, and it showed. Also, when I got home and started to eat my meal, I had a very hard time with the chicken as it was really burnt and tough. Overall, a really terrible experience.

I took my family to Chipotle in Nashville Tn. This was our first experience with Chipotle. After standing at the counter for a couple minutes, my wife, mother-in-law, and two girls decided to go next door to Subway. I stayed and ordered 4 Chicken Tacos. I can't believe, after all that I've heard about their good food, that I actually put their Chicken in my mouth. There was so much fat on nearly every piece of chicken that I began to gag. I opened the tacos up and saw that there was fat all over the place. There is nothing worse than chicken fat. I was sick all night. This is no accident. I will never recommend this restaurant to anyone, and if the name comes up, I will tell my story. By far, the worse food that I've ever eaten in my our entire life.

I went to Chipotle this afternoon. The first Chipotle I went to did not have guacamole or salsa so I proceeded to go to a second Chipotle a few blocks away. 4 hours after eating there I began to get a stomachache. This stomachache only got worse until I started getting body chills and then proceeded to vomit. I thought that after so many problems with food safety Chipotle must have addressed any issues by now, oh boy was I wrong. I am never eating at Chipotle again. This company has had more than enough chances to change their methods and have failed. Shame on you, Chipotle.

After an afternoon of errands, my husband and I stopped in at our favorite takeout place, Chipotle in Fort Wayne, IN to pick up some carryout dinners. Even after all the negative publicity we have been loyal customers. As the first young lady took our order, another employee picked up a pan of food and began emptying it into another full pan. I noticed she had no gloves on, and reminded our server that she should be wearing gloves while handling food. She went over and spoke to her in private, and the employee left the front counter and went into the back, whispering and talking to other employees. She came back in a few minutes with another employee, who also had no gloves on. One of them began wiping the counter in front of the food with a wet cloth she took from under the counter.
The other employee proceed to place both her ungloved hands on the counter and looked directly at me. At that point I spoke to our food preparer and told her to cancel our order, we would be leaving. As we left the counter she shouted at me, "Are you kidding me?" Instead of dealing with my issues in a polite manner, there seemed to be an employee rebellion attitude. In view of the dirty aprons, ungloved and careless food handling, coupled together with rudeness, it appears that the Chipotle corporate office needs to have another round of employee training, and inform employees how E. coli and other bacteria are passed from one to another. After closing 45 nationwide locations, it appears management in some locations didn't get the message. Sad to say, we will not be returning to Chipotle.

I have contacted Chipotle and I have not received any help with my issue. I ordered two bowls for me and my boyfriend - included double chicken and guac. Half of the chicken in both bowls had tons of tendons and hard pieces. We couldn't eat a lot of the chicken. My boyfriend has spent a lot of money in Chipotle for nearly 11 years - he is quite addicted. I had been eating here as well for many years - I have gotten addicted as well... We both never had this issue with chicken or any issues with the food. I was wondering what can be done about this. We both are not happy with what happened. We have not eaten at Chipotle ever since.

I ate at Chipotle in White Plains, NY with brother yesterday March 26, 2016... Within hours both of us experienced extreme nausea, vomiting, diarrhea, and chills. Apparently this is not uncommon at Chipotles across United States. Never again will I eat at this chain restaurant. What a horrible experience.

I get that I am not your target customer (my age is between 40 and 50), but that does not give you the right to be rude. I asked for a bowl, half chicken, half beef, and you felt the need to correct me twice on what you call the beef. Please people, this is fast food, not Kobe beef. I get that I don't have the stats to make me a "legit" customer in your chain, but trust me that I will NOT be bringing my "legit" money back into your establishment.

Despite being in the news for all the poisonings, Chipotle can't get its act together. Today, I saw an employee cough barely into her elbow while standing in front of the newly chopped steak and chicken. When I got home, there was a hair in my food. The manager Levine says they keep sick employees home. Obviously they aren't looking too carefully. This is in an upscale part of town too.

The location in the Waldo area of Kansas City is my one of my favorite places to eat. Their food is always amazing, the restaurant is always clean, and the staff is always friendly and quick to help. One day I ended up with a forgotten bay leaf in my rice. The manager apologized for the mistake, explained its use for flavor, and replaced my entire order on my next visit. I'm impressed! My family and I eat there every week.

I love Chipotle but my recent visit on Feb 18th ended up with severe stomach pains and several visits to the bathroom. I can isolate it's the food at Chipotle because that was all I ate that day. I had diarrhea for 1 whole day on Friday, 2/19 and lost all appetite for a couple more days after that. My stomach was very sensitive for a few days after that and I get tummy aches easily. I finally feel better after a week when one of my friend informed me of the bad food quality in Chipotle in the month of Feb. On Feb 18th, I only had a salad with 1/2 tofu and 1/2 grilled chicken. Could it be the tofu since not that many people choose that and it might not be as fresh. I went to the Chipotle on East Bidwell Street, Folsom, CA.

After the company's food-safety woes and falling stock price after disappointing earnings, I would have expected friendlier staff. I was at the Chipotle store in Gilroy this afternoon and the cashier looked like he didn't want to be there. Forgot to give the drink cups to the folks in front of us, asked me 2-3 times whether we were eating in or taking out after I responded the first time. I had ordered Sofritas bowl and didn't realize there is an extra charge for guacamole because I always order Veggie bowl and guacamole comes with the price.
I just asked him politely and the way he answered sounded like he wanted to say "OMG! Don't you know guacamole is extra? Are you trying to finagle free guacamole?" I would have thought that a company that is trying to attract back customers would require its workers to be polite. And if I was Chipotle CEO, I would thank every customer for coming back and offer complimentary guacamole. Just this rude gesture has now completely turned me away from Chipotle and I am NEVER going back.

I am not impressed by the treatment I received at the North Phoenix location. Not impressed at all. I received a free coupon for a burrito or bowl from this place, and having never gone to Chipotle before, decided to give it a go. I expected a manner of snazz, but only got something resembling McDonald's on a budget. I wasn't a big fan of the slow service (standing behind a pair of tweenyboppers with attitude, for twenty minutes, one of the two being clearly anorexic and high on herself, really isn't my idea of a party), and I also wasn't too keen on how the food itself looked - let's just say that this place had the "we have been recycling the same food for three days" look down to a science.
After standing behind the tweenyboppers (and hearing the words "sitch", "whatevs", "like", and "eau moy gawd" more times than I care to count), I saw that the cashier was going to count my order as part of the order for the group in front of me. "That one's mine!" I called out, only to watch the cashier completely disregard what I told her and place my order on the counter behind her. Another five minutes pass, during which she proceeds to carry out an extended conversation with the duo in front of me - presumably about everything up to and including how many more "eau moy gawds" can be included in their conversation.
Finally, as I'm ready to cash out, this chick looks at me as if I had been born with hydrocephalus and fallen off of the "Happy Oaks convalescent home" minibus, and proceeds to ask me, in as condescending a voice as I have ever heard, "Did you order?" To which I replied (as snarkily as I could, for people in Arizona only react positively to snark), "No, Einstein, I'm on a sicko scavenger hunt and decided to take a break from it by seeing how long I could wait in line at a random restaurant before being discovered and my plot foiled by your rapier-like wit. Yes, I ordered, and my order is the one you just tossed behind you." The food wasn't tasty at all; I could get more of a taste sensation from licking the cooking grease off of my kitchen stove. Only in North Phoenix would you have to stand in line with crappy people at a crappy restaurant for a crappy amount of time to receive crappy food.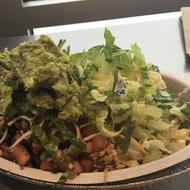 I used to love Chipotle. I used to eat it almost every day. But recently every time I've gone there's been a problem. There's no lettuce or once they had left a produce sticker and I found it in my bowl. I showed it to the employees and all they did was take it from me and throw it away. Then I contacted Chipotle and they responded saying, "We should take off the produce stickers on the avocados before." That's obvious but when in complaining and that's all they tell me. STOP GOING TO CHIPOTLE. There are better places to eat and where the company actually cares about you.

The first, last, and only time I ever tried Chipotle. I took one bite and trashed the entire meal. I don't know what they put in it... Maybe too much cumin. But it tasted like toxic waste. It was very disgusting smelling like fat brick layer on a hot day crossed with dirty underwear.

We eat at Chipotle every week, LOVE it! Never have been sick. In Appleton, WI it is a very clean, well maintained, great food and Very Friendly Staff! We are very happy with the restaurant here.

I ordered over $500 (was supposed to feed 35) worth of food from this company and got enough to feed less than 20 (and they were not taking large amounts). The only thing I got lots of was brown rice, napkins and bowls. From online catering to pick up the dishonesty and horrible service was atrocious. Don't ever order anything from their online catering.

Ordered a gift card for my granddaughter for Christmas, 2015. I entered my granddaughter's wrong email address. All of the countless attempts, by phone, email were unsuccessful. Worst of all, the reply I received by email included a link where I could enter information on the matter and that it was a 8-8 PM line -- I tried calling the last time at approx. 4:30 PM. Not only did the link not have an area for this but when I called the customer service number displayed there, recorded message said something like, "may be a long wait. They are experiencing long delays, but someone will be with you." After a brief wait, another recording came on stating that "you should try again" and the call was disconnected!!!
In view of the fact that this was a Xmas gift and it was the 24th December, obviously, I needed to speak to someone right then. CHIPOTLE is not only suffering from a food scare, the CUSTOMER SERVICE is DEADLY!!! I will NEVER NEVER EVER eat or have anything to do with CHIPOTLE and definitely will not have anything good to say about their service.
Company Name:

Chipotle

Website:

http://www.chipotle.com/