Consumer Complaints and Reviews

After waiting patiently in line for a long time the manager stopped by and asked a young ** girl if she was here for pick up. Yes was the reply. The girl was allowed to the front of the line. I told her I was here for pick up as well. She acknowledged me. When I stepped up to the register the manager told me somebody else would have to wait on me. She then proceeded to wait on a young ** couple. When I requested the manager's name I was told it was the lady who just allowed the young girl to take cuts. When I requested her manager's name and number I was given a bogus number. I am an older ** male disabled vet. The manager was a middle aged ** woman. I have worked with many people of different backgrounds and never had an issue.

Thought I had ordered contacts (different strengths for left and right eye). Received call stating that the order was in and ready. When I went to pick up, Vision Center had only ordered contacts for one eye. Customer questioned representative and Kim expressed miscommunication when she had made copies of the prescriptions and noting specifics as well as physician contact information. Yet, the Center failed to follow up with the doctor to clarify any questions that the Center might have had. Due to this experience, told the Center to cancel the order.
Customer went with a different company the following day after Vision Center was instructed to cancel the order all together. Placed an order online through 1-800-contacts (just like I did in Walmart Vision Center) and the next day the contacts were verified with my physician by that company and shipped all within a 24-hour time frame.
Yet, still having to deal with Walmart Vision Center... Now Tiffany, the manager, is involved noting MY confusion when she left a message on my home answering machine. I had updated my contact information when the order was placed but I guess the Center failed to successfully update that as well. Just a note: If I was confused, how could I successfully order through another vendor. Furthermore, the Manager also expressed the amount of time she was placed on hold today while the receptionist at the doctor's office obtained and clarified the confusion to their staff. This call by the Vision Center did not take place until more than 7 days after the initial order to finally verify the prescription since they were unsure of what to order.
Based on this experience and interactions with the staff, Walmart Vision Center fails to provide satisfactory vision services to their customers. The staff did not take the initiative to follow through on an order and also placed the blame on the customer for their mistake. If the Center had been proactive in checking when the order was initially placed and not waiting a week to follow up then this order might have been turned out differently. This company does not value their customers or efficiently handle orders placed. It is haphazard in its dealings.

Went for eye exam on the first of Sept 2016. Did more exams than I wanted, picked out frames. Ten days later I received my sun glasses, the left lens was so off I couldn't see through them. Though the doctor was frustrated and so was I he treated me like it was my problem. However he did another eye exam and re-ordered my lens. On 9-26-16 I picked up my glasses again, this time the right lens was wrong and left was off too. Their attitude was not caring or professional. This was expensive and a very bad learning experience. At this point I'm going to cut my losses and go somewhere else. The Hartwell, Ga. Wal-Mart Vision Center, l wouldn't recommend to anyone.

July/August 2015, I went for an eye test at Wal-Mart Minot, N.D. Everything was of good service, where after I ordered lenses (I supplied the frame) from Wal-Mart Vision Center. The lenses arrived, got fitted. From day one I had only joy with the new glasses. Eleven months later, some spots appeared on the lenses. At Wal-Mart Vision Center I was told that they will order a new set of lenses, at no cost (under guarantee). They got fitted, and I could not read fine print. With the first set, I could easily. Another set was ordered, same story, blurred vision when I try to read fine print.
Out of desperation, I asked the old lenses back, bought a similar frame, went back to Wal-Mart Vision Center, had the old lenses fitted. One prescription, two sets of glasses, one brand new, blurring, one with spots, perfect reading. A very helpful lady at the Vision Center tried her best to resolve the issue without any luck. Seems that the person, or people responsible, cannot be reached, or does not care!!! This is unpleasant, costs money and leave me with nowhere to go to sort it out. I am not used to this kind of treatment. It's frustrating.

I purchased prescription sunglasses from Wal-mart S.P.A.R. Rd Sydney Nova Scotia the end of March 2016. They are less than 6 months old. I noticed a crack in the frames which got progressively worst. I went back with them to the Vision Care at Walmart and was told they were not covered to be replaced. I would have to rebuy the frames. I have never hear such a policy in my entire life when purchases glasses.
Of course I did not rebuy the frames but took my glasses to another optical who found frames to fit my lens that same day. They are warranty for one year. Thank you Vogue Optical. Buyer beware. Your frames have no warranty at Walmart. I called the supervisor from Vision Care in Ontario without any reply. Walmart you suck in customer service.
How do I know I can trust these reviews about Walmart?
609,949 reviews on ConsumerAffairs are verified.
We require contact information to ensure our reviewers are real.
We use intelligent software that helps us maintain the integrity of reviews.
Our moderators read all reviews to verify quality and helpfulness.
For more information about reviews on ConsumerAffairs.com please visit our FAQ.

I went to the Wal-Mart in Lincolnton NC last summer, 2015. My glasses are very expensive because I have astigmatism. When my glasses came back they didn't sit right on my face. I put the glasses on the table and told the guy they weren't level. He moved the nose part slightly but they still didn't feel right. I also felt like a drunk while wearing them.
I knew it would take some time to get use to them. But something just wasn't right. I stopped in 2 weeks later and told them. They checked to make sure my lens were made to the dr.'s specifications (they said they did this, I can't prove they did) and told me everything was right. I just needed a bit more time to get used to them. I have ALWAYS had to shove them up on my nose to keep them in place. Well stupid, stupid me. I finally realized one ear piece was SHORTER than the other which was causing them not to sit properly which was throwing off my vision.
Oh, but they don't sell the frame anymore. That one yr guarantee they have? Hog wash! I was told they would replace the frame with another comparable frame but I'd be responsible for the lens. My lens cost $400 frickin' dollars! I am on disability and can't afford another pair. I really wish I had looked at reviews before going to Wal-Mart. Not only am I heart broken over this but my EYES will forever be screwed up!

Went to Walmart Vision Center for a well overdue eye exam. My exam was like a two minute exam. I thought that was strange. My eyesight isn't that bad. One eye is a little worse than the other. I wear no-line bifocals. They called me about a week later to pick up my new glasses. I put them on and felt sick almost immediately. I could NOT see a thing up close. Distance seemed like it may have been ok. I told them I will take them home and see how they are. After about half an hour I had a pounding headache and felt nauseated.
Took them back. New eye exam. (1 minute). They thought maybe the bifocal part was too high or too low so remeasured. Three different girls came up with 2 different measurements so they decided to go with the 2 girls' measurements. 2 weeks went by maybe more. They called to come pick up my glasses. I wasn't feeling well but went anyway. Put them on and basically threw them on the counter. Same thing. Couldn't see!!! I told the lady I wasn't feeling well and would have to come back another day. I haven't been back yet. I am so disappointed. I see so many other complaints. I guess I made a bad decision going there.

I bought a pair of glasses in 2014. I can't see out of them. The lady told me I would get used to them. The frame is still new but the glass part is cloudy or scratched or something. I took them back and lady told me I waited too long. I spent a lot of money to get no line bifocal, anti fog non-glare and tinted for sunlight. I am so disappointed with them. I cried and let it go. I am not a rich person. I hope and pray no one else gets ripped off like this. Never buy my glasses from them again. I have let too much time pass. It wouldn't do me any good to try to get help now.

In January 2016 I went to Walmart for a new pair of glasses after my cataract surgery. I was told that Medicare would not pay for my glasses and it was my responsibility. I needed the glasses and paid $288.00. I was notified in May that Medicare paid $120.33. I went to Walmart Vision Center and requested to be reimbursed for over-payment. I was told that it would take 6 to 8 weeks for a refund. Now 8 weeks has come and gone and I am now being told that it is in the legal department and that I will receive a refund but they don't know when. This in my opinion is not legal.

1380 W elliot rd Tempe, Az 85284 Vision Center. I have been going here for my contact lens exams for probably 10 years or more. I have always been taken care of promptly and courteously. In fact Dr. ** at this location has been there for years. I went over yesterday because I had a really bloodshot eye and was hoping there had been a cancellation. They got me in for an appointment with Dr. ** within literally minutes of arrival. Everything he advised me to do, was right on and today my eye is quite a bit better. He is so friendly. He treats people like they are his old best friend from years ago. I have other issues with this Wal-Mart - however the Vision Center is Phenomenal!!

Went to Walmart in Glendale AZ some years ago and bought prescription glasses with their doctor's Rx. They came back with the right lens in the left side and the left lens in the right side. Sent them back twice, same thing. Told the girl I wanted a refund (we are talking over $400.00 here). Was told that was impossible. When I turned to my husband and said "Let's go home. I am calling Channel 12 about this..." I had a full refund the next day.

I visited the Vision Center on Hwy 280, Bham, Al, in Oct. 2015 and am still suffering from that visit. My accountant actually had previously filmed thieves hanging out there, as he suspected them. I was followed all around Walmart after they obviously spied my big, new, very nice wallet, which I had taken out of my large tote to replace my credit card while there. The thief lifted it while my hand was on my tote, but I was bent over to a lower shelf. The policeman explained this to me as the manager would not let me view the thief. I discovered the thief at checkout. I had to demand to see the manager and I got the assistant mgr, who told the police that I had accused the cashier of the theft. She obviously did not understand English well enough. NOT ONLY DOES WALMART NOT CARE ABOUT THESE THIEVES' ACTIVITY, BUT THEY OFFER NO ASSISTANCE WHATSOEVER WHEN THEIR CUSTOMERS ARE TARGETED.

I went to Walmart Vision Center in Colonial Heights, VA to get contacts on June 30, 2016. I live in Colonial Heights but usually order online, but I pay for a new type of vision insurance and I had to go to a store to order them. I was told no problems 7-10 days, well after a week of trying to call because it's very hard to reach someone I was told they should've been there, and said it looks like they are in the store but have not been delivered to us yet. They told me they have them by Tuesday July 12 at the latest.
Well first off, they close the vision store early then the hours of operational, because I went after work on Monday and Tuesday at 6:00 and they were close, they are suppose to be open until 7, the sign saids it on the front of entrance plus website. I called the following day to ask about my contacts, and they still do not have them. Are you serious? I told her she said 7-10 business days and can't count weekend. I said "well vision center is open on Saturday so that is one of your business days and mail services run on Saturdays..." So no excuse... its been 12 business days and over two weeks... I will never order these again from Walmart Vision Center, when I can get them in 2 days from ordering online. There is more going on here, then it takes two weeks or longer to get them... what? Are they coming from JAPAN...

Most Walmart Vision Centers are poor due to their contractual set up with the providers. There is little accountability by the centers as they are Independent of Walmart. In Melbourne FL at 8500 Wickham they let their phone ring 20 times before picking up. They are unprofessional and clueless in handling customer service problems. I demanded a refund rather than put up with these issues any longer. Time to get glasses was misrepresented and one pair "failed inspection" so they wanted me to wait even longer to get the other pair. You get what you pay for, as usual.

The first time I went they ordered the wrong lens, which I paid for and the ones they should of ordered the first time. The 2nd time I went they never even called me to tell me my glasses were in. I called after a month and they said they called once. I never got a call. If they did call, it was only one time in a month. We need our glasses and they have plenty of time on their hands. Would it hurt to call again to make sure we get our glasses? I am done with this place.

Went into store to have an nose piece replaced. It had fallen off and ** and ** were so polite and helping. Later returned to have the nose piece adjusted and they were so pleasant and helpful. I just want you to know what a delight it was to have them serve me. I originally had purchased my glasses in Florida at a Walmart in St Cloud. ** and ** at the center at Store 1270 at 1201 Knox Avenue North Augusta, SC 29841 are gracious ladies. Walmart is fortunate to have them. Great service.

The eye doctor was thorough and no problem. The assistant was helpful when picking frames total cost was $545.00. The problem started once the glasses arrived with the lenses in. After three separate attempts with different assistants, none were able to fit my glasses correctly. They kept slipping down my nose. It became obvious that all had inadequate training or no training at all regarding fitting.
Finally, after total frustration I went to Visionworks in the mall, who adjusted them perfectly at no charge! The lack of training is Wal-Mart Vision Center's managements' fault as none of the three ladies knew how to fit glasses. I was told the following "my ears weren't level", to "wear my glasses over my hair", "glasses don't fit the same once the lenses are added". I have worn glasses since I was a child and have had many pairs of glasses at various locations and this was the worst ever. I am very unsatisfied with Wal-Mart Vision Center and will NOT return or recommend.

I purchased a pair of glasses from Vision Center (Walmart) located in Sumter, SC 5-25-16. On 6-5-16 I returned to the Vision Center to have my glasses adjusted. Although three customer representatives were on duty Sara, Sandra & Natasch, none were authorized to adjust, bend frames, fit glasses, adjust glasses or do anything except inform people that they couldn't assist. I spoke with the customer service manager Thomas and he couldn't help. I asked for the store manager (Berdinnet). Customer service wasn't sure about spelling. However she refused to speak with me because she was unable to assist me in resolving my problem. Three other customers were also in the center and were voicing their displeasure with the service provided by Walmart Vision Center. Dissatisfied customer.

My Vision Center experience was awful! I should have known when I called to schedule an appointment the person that answered never asked for my name! The selection of glasses were all filthy and nasty & it's a shame when the staff were all sitting, checking their time on the computers and conversing about going out. One customer walked in and asked if they accepted a particular insurance. The staff member responded "no we don't". When the person left she said she didn't have time to be calling that company. No one offered to direct myself and another female customer to the female section or any one of us and did not sign the consent form. The doctor had already dropped the first drops into my eyes before I realized what happened. If you want a totally unprofessional ghetto experience this is the place for you!

Today I took my daughter in to have an eye exam done as she has been having issues seeing in the distance and has to have her head close to her paper in order to do her school work. The staff was extremely nice why the 3 star status. However, while in the room with my daughter I was paying very close attention to the letters and she was not able to read them and had the letters completely wrong until the optometrist changed the settings on the eye exam machine. The frustration she was showing because she couldn't see was heart breaking but she was a trooper.
When the exam portion where the white card is placed in front of the machine came, he of course asked her to read the line she could read clearly. She said it was all blurry. He faked changing the lenses (ok I get that because people might fake being able to see). She started reading a line, got 3 letters in and he said "ok perfect you're done", still very clearly having trouble reading the letters. This was the only portion of the exam that I didn't see the letters. My daughter also kept telling him that everything was doubled.
Now obviously I'm not an optometrist but I've been wearing glasses since I was 6 years old (I'm 41 now) and know fully well how an eye exam works but it was very clear my daughter was having problems reading the lines. I contacted 2 other optometrists and explained my daughter's symptoms and what happened at the eye exam. They both said to absolutely get a second opinion and they felt the eye exam was not done correctly. And that she more than likely does need glasses especially with the complaints of double vision and our family history. Since the exam was filed with my insurance I will now have to pay out of pocket for the second opinion unless my insurance will make an exception cover the second opinion.

I began my experience with my local Walmart Vision Center in Carrollton, GA on 2/23/16 with my eye exam. I chose progressive lenses, I've worn these for years and was assured they would be back within a week and someone would call me. By day 10, no one had called. I called them and was told my glasses were ready for pickup. I told the employee there was no difference between the top of my lenses and my vision w/o glasses. I was told to try them out and get used to the lenses. In a month, I still couldn't see anything but a blur. I returned the glasses, had another eye exam. Was told again, one week they'd be ready and someone would call. No one called!
I showed up and my glasses were, supposedly, ready. I told this employee the same thing, I couldn't see. Again, I was told to take them and get used to them. I returned the following Saturday, 4/23 and asked had these glasses been checked for the prescribed prescription. This employee told me this was the first thing checked and my 60-day guarantee was up, so I couldn't even get a refund! I returned Monday, 4/25 and was assured, by the manager, Megan, my glasses would be fixed. They would call me to come pick them up.
On day 16, after 4/25, I called, no one from Walmart Vision called after 16 days!! I am now stuck, after nearly 4 months of having no glasses, with glasses that cost more than $300 out of pocket that I can't see out of without leaning my head back and looking out of the bottom!! Carrollton Walmart Vision Center is the most incompetent, unprofessional group of employees, from the eye doctors to the Walmart employees!!! There will only be a recommendation of "Do Not waste your time or money at any Walmart Vision Center!!!"

I have been a Walmart Vision Center customer for years. I buy one or two years worth of contacts every year. Last year my right eye changed for the better and they actually exchanged out 5 boxes of contacts for the new prescription. No problem. I knew I was have a lot of difficulty seeing in my right eye again so went early for my annual exam at my ophthalmologist. I had a change. After buying 19 boxes last year to match my previous purchase I still have 13 unopened, unexpired boxes of that prescription. They refused on the phone to exchange them out. They refused again in person when I asked them to help me. I am by their refusing to exchange 13 boxes out $303.81. I can't afford to repurchase and lose the $303.81 and cannot afford to buy lenses for my right eye now.
I WILL NO LONGER BUY FROM THEM, REFER THEM, ETC., and I will tell everyone I know not to go there for anything!!! I guess they think or their owners think screwing repeat customers big time is fun for them. Let me tell them -- I would not have cost them anything to switch out the lenses. I will continue to cost them for a change from now on by not having my annual account of between $287 and $303.81. One of the salespersons said that Walmart Vision no longer has the special discount when a customer buys a year's supply but they have lowered prices so that a year purchase is not any longer necessary to get the reduced price. Then I go to check the price and it is now from about $15.99 a box up to $22.99 a box. Yeah, I don't have a math degree but folks neither do they. It seems to me prices did not go down as promised but way up. SO, they LIE too.

Less than a year ago I purchased a Flower brand frame from Walmart for $88. Yesterday the arm fell off. The metal tab that attaches to the temple piece apparently just gave way. There's no stress put on this part so it wasn't forcibly broken just cheap metal that collapsed. The store offered to sell me another pair of the same frames! All they would do for me despite the obviously defective product was to put on an unmatched arm. I now get to wear a mismatched pair of glasses. I'm a retiree and can't afford to replace my almost new glasses so I'm stuck.

I normally use Air Optix Aqua night and day which can be worn for 30 days. This allows 6x more oxygen to pass through the lens so as to be worn for a long time. I picked up my prescription in February seeing Air Optix Aqua, I started using it the way I normally do. On my third month of usage I started having redness, irritation and severe headache. I took out my contact and wore my glasses. On a second thought I decided to open another set of contact and realized I have been wearing dailies as monthly. The vision center in Walmart Peachtree City, GA to be precise gave me Air Optix Aqua which is to be worn and removed daily as my regular prescription Air Optix Aqua night and day which is to be worn for 30 days. I've been having headache for 3 days straight and had to be placed on some medications.
The most annoying part of it all is going to this same Walmart to complain and the Optician (a lady) not apologetic at all, saying it doesn't matter if I'm wearing it for months and it can't cause any discomfort or headache as long as it is the same strength. Absolutely nothing was said about the error and how sorry they are to have made that error. I don't even know if there's any damage done to my eyes right now. She said I should come pick up another box of contact and I told her I'm not interested and I will put this in writing to the doctor in charge and copy my family lawyer just in case I get any crazy complications from this error. This is really frustrating and annoying considering all I've been through with the discomfort, blurry eyes and pain. I hate it when the optician sees me as someone that will be good with getting an extra box of contact lenses when I can buy my contact lenses myself. I seriously don't need an extra box when I can pay for it.

I was tempted by the cheap advertised prices at Walmart. But, by the time I got out of there, the glasses were about $400, I think. Probably no more expensive than elsewhere, but I wouldn't call it a "deal" either. Vision Exam + Glass Photogrey Progressive Safety Glasses. Initially they forgot to include the side shields, but they did eventually get them in for free. They lasted ok, but eventually the left temple broke. The springy things are a mixed blessing. They seem to be good for the glasses, but eventually just wear out (just short of 2 years).
So, I went back to the Springfield Oregon Walmart to order a new temple, and was told that they could not order replacement parts for my glasses. She didn't look anything up to verify availability. I was just completely blown away by the apparent lack of continuing support for their customers and the glasses they sold. There wasn't a line of customers. The one other customer (I think) was just leaving as I got there. So, it is off to a "real" optometrist.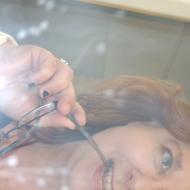 I was excited to get new glasses and was told I needed progressives. The staff assured me they accepted VSP and could actually look up my plan, which made me believe I was getting the full value of VSP plan. Did Not tell me they're Not In Network, used words like "preferred provider". Did not tell how much my plan covered - just said it covered a lot... They were happy and impressed. But I was scammed. The Doctor also insisted I needed "computer glasses." Wal-Mart is Not in network for VSP, only $50 of the progressive lenses were covered. IN NETWORK I should only pay out of pocket $50 for progressives. After multiple trips and couple weeks later I finally get all glasses and contacts and pre-paid for $780 in advance. They didn't adjust the glasses, just handed them to me. PROGRESSIVE Glasses are very heavy and painful, hurt my nose and sinuses.

I visited in the location of 1569 N. Expressway Griffin, Ga. 30224 today, March 29, 2016 at approx. 12:15pm to 12:30pm. Walked into the store and there was 2 employees out front. 1 employee was helping a gentleman at the register and another employee was just sitting at the table doing nothing. No one greeted me as I entered the store from the time I was there to the time I left the store. After the first employee finished with the gentleman, no one ask if I needed any help, no one ask how I was doing. I know I tried on 1/2 the frames in the store and still no acknowledgement. I was there to find another pair of glasses and wanted black frames. I was recommended to you because I saw a lady with a pair of glasses on that I liked and she got them from Wal-Mart (don't know which location), but went there because I work in the area.
Eventually both employees moved to the back of the store (where you could not see them) and never came back out as long as I was there. I was the only person in the store so I know they were not busy. I looked up at one point and notices another employee coming into work or off her lunch break (she has her purse on her shoulder), still no acknowledgement. This is why people say customer service is terrible, because of employees this. They don't realize people have choices and there are a lot of people looking for employment, so if they don't value their jobs, leave and allow that job be given to someone that wants to work.
I'm in customer service as well, manage 2 apartment communities in the area and if I had a prospect to enter my office and my employees did not acknowledge them, they would be terminated on the spot. This is not how we treat people, especially when you are attempting to spend their money with you. I went back to work and told my staff my experience and needless to say, they will never go there if they were in need of glasses. "Word of mouth" is the best advertisement. If your sales are down, this is why, so please correct this asap if you care about your reviews.

About 4 months ago I decided to get contacts. I am a professional dancer, so glasses easily get in the way of my work. So in December, I went to Wal-Mart Vision Center and got an eye exam to get fitted for my contacts. All went well, and I even refilled my prescription. Everything up until last week was going well. I am on my last pair of contacts and do not have a pair of glasses at the moment. I went into the Wal-Mart Vision Center yet again to refill my contact prescription because I do not like ordering things online (personal reasons).
They refused to fill my prescription saying that I hadn't been in since December of 2014. Which is impossible because I didn't start wearing contacts until 2015 number 1, and number 2 I wasn't even in the State of Nevada in 2014. I am forced to wear expired contacts until I have my next appointment in which I will still have to possibly wait two more weeks to get glasses or contacts. As a result, I have been having vision headaches, my eyes have been dry and irritated, and it is taking a negative toll on my eye health. People may say "Why don't you just stop wearing them?" I'm almost legally blind, I am literally handicapped without vision correction. I cannot drive, work, or even trust myself in the kitchen without it.
I am upset because the person that told me did not care to dig deeper and figure out how something like this could have happened. I am extremely upset with Wal-Mart Vision Center, I am in pain because of their mistake and am possibly harming my eyes in a way that I don't want to imagine. My contacts that I am currently wearing are expired and they are putting a strain on everything that I do. So yes, I am extremely dissatisfied with my experience.

While working overseas I returned home for vacation in May 2015. I had my vision tested and bought two pairs of glasses one normal frame and one sport pair to use while riding my motorcycle. The sport pair was supposed to be just bi-focal so I could see my gauges at night. The other pair were progressive lenses. These were ready for pick prior to me leaving to return overseas. When I inquired about my sport pair they were ready and in a different tray and no one called to tell me they were ready. When I tried them on they had done nothing with the lenses so they charged me more, already paid over 500.00 for both pair and sent them in.
I had to leave before they were done so my wife picked them up. Now it's March of 2016. This is the first I could try them on and they are the wrong power. I can't see my gauges so I went to Walmart and they told me it was past my 60 days. I said I was overseas when I received them and just now was able to try them on. I tossed them on their desk said "they are yours" and that I would never be back and walked out.

Watch for the quality of the frames you purchase here. Make sure they are not made with white metal. This is the stuff cheap toys are made of. My daughter, age 17, just got glasses on a Friday and, by Monday, three days later, the side piece broke off in two. The screw was still intact holding the cheap piece of white metal and the other piece was lying beside it. That is very convenient considering the next time they break that they won't cover them. Three days wear from them is not worth it! Double check the frames before you buy them. These were $69 frames so they were not dirt cheap, but still should've held up longer than three days.
Wal-Mart Vision Center Company Profile
Company Name:

Walmart

Website:

http://www.walmart.com/