Consumer Complaints and Reviews

Shipped an envelope from Medellin, Colombia to Raleigh, NC on March 17. Promised delivery of Tues. March 21. Envelope was not delivered until 9:00 AM Thurs. March 23... 2 days late. All I get from FedEx is excuses and a runaround. No responsibility for their lack of on time delivery. Weather, Customs and a holiday are all cited for excuses. I tracked the package every few hours and when it missed Tues. AM delivery I called Fedex to ask about the envelope and why it was still in Colombia. They had no idea why it was still there. It didn't leave Bogota until late night March 21 or early morning March 22.
So, it sat in Bogota 4 full days and they have no idea why??? Oh and today I spoke with a rep who said there probably wasn't space on one of their planes for it... an envelope, really?!? Super poor performance and will avoid in future. I'd already had the problem with them doing home delivery and never ringing or knocking but yet not leaving the package and now this experience. Sad...

I had place a large order on a website with rush processing on 4/11 and the following day 4/12, all of which had upgraded shipping to either 2 day shipping or 3-5 day shipping. The 2 day shipping of course costing a great deal more. All of these packages were shipped the same day the order was placed and estimated delivery for them was the following Friday and Saturday. For whatever reason ALL of these packages said they required a signature to receive the packages. The first and (ONLY) attempt they made to deliver was at 1030 am on a Friday. Any normal person who works a 9-5 is never going to be home during these hours. So they try again the next day on Saturday at 940, again not home. I am at work.
Now here is the part that really pissed me off. They left half of the packages there on Saturday, so the FedEx delivery person left half of the packages with no signatures even though they required it, and then TOOK the other packages that ALSO needed signatures. The confirmation emails said EVERY package needed a signature. So now I am left with half of my order, and apparent FedEx doesn't even consider Monday a "business day" so I have to wait until next Tuesday. An entire week later for 2 day shipping.
I called the number FedEx provides to see if I could schedule a delivery time, not possible. So I tried to have them leave it at a FedEx facility so I could pick it up, also not possible. I received pretty much ZERO help from the broken English phone support other than to have them tell me there was nothing they could do, and rush me off the phone. So there is (literally) no possible way for me to get my packages other than to HOPE that when they attempt the last delivery that I happen to be home. Although after reading other reviews I completely expect them to try the SINGLE redeliver between 9-1030 am on resulting in me having to either track the package to wherever the truck ends up based on what the sad customer support told me. Complete and utter waste of time and money. Will avoid FedEx and their BS in the future. Most definitely will never pay for more than basic shipping from them ever again.

I had a package that needed a signature and I got a message to be at available by 8pm so it is like I have to be home for the whole day if I have to be available to sign for package. I work, so obviously I wasn't there at 2pm to sign for it, and then we were leaving for vacation so I called the FedEx people and asked them to not deliver since I would be out on vacation. They said that was not possible as by the time I returned it would be 5 days and they will have send the package back to the sender, so I requested them to hold the package at another location so my friend can pick it up. They agreed to it and took down the name of the designated person but they didn't send the package to the requested location. Instead they continued trying to make delivery attempts at my house.
After I returned they said we never got the message and now they will not make another delivery attempt and they will not even send it to the location near my house. They gave me options for 2 locations which were both about 40 minutes drive for me. I requested them to send it to a location so that I can have someone pick it up. They confirmed that it will be there but then it never got there and so now I was not given any option but to drive up to that location which had the package or they will return it back to the sender. I am very frustrated and did not like their customer service at all. They were not at all accommodating even though it was their fault.

Where do I start! We had shipped 9 packages from our older city to the new one, where we were moving. On all the packages we had date certain delivery on 8th of that month and assuming FedEx would be the best choice for the movement, it was our least of worries. But to our surprise, from God knows where, they made 1 of the packs delivered on 3rd of that month, at our leasing office as we hadn't moved there by then. 2 of the packs, they attempted for deliveries the same day and left notes saying 'delivery failed'. 3 of the packs they marked as 'to be picked up by the customer'! Rest were luckily showing the delivery date as 8th. Despite all our talks with the customer care (as they were least willing to be helpful) everything went in vain. A simple thing was made way too complicated by them!
So somehow on 8th they delivered 5 packs after a lot of follow ups. 2 of the packs we picked up from the store. 1 of the bags we collected from the leasing office. And 1 more bag, they have lost it!!! On the top of that, they sent us only the Label it had on it, pasting on a postcard like package and marked it as delivered! We had a lot of damn expensive clothes and God knows what else in there. They weren't even interested in finding it and kept saying will refund when you submit the proofs of things you had in it. Like seriously!! When you are moving and pack some dozen bags, who remembers all the details of stuffs! All I know is I have lost 2 of my expensive jackets and some things which had a lots of memories and are irreplaceable. The customer care sucks!! Literally, the whole experience with FedEx and its Customer Care was unexplainable, considering the amount of pain we had gone through both physically and mentally.

I'm very disappointed with the service for international delivery with FedEx. I'm now on the fifth day my package was supposed to arrive this morning. I was told my package was in the U.S. and Memphis. I received an email stating that the delivery date has changed and no delivery date was available. I have contacted FedEx eight times and I've gotten eight different stories. The first story was that the shipper contacted them and to mail it back to the shipper. And that I needed to contact the shipper regarding that. I contacted the shipper and he was not aware of this. He never contacted FedEx to request a package to be mailed back to him that he paid to send.
I contacted FedEx back again and was told that they contacted the shipper and were told not to mail it back to destroy the package. I was told the package is already destroyed. I spoke to a supervisor by the name of one who told me that it had not been destroyed but the note show but someone had contacted them and told them they didn't want the package back.
I was told at race is being put on the package yesterday. I didn't quired about the scans that I was told the package had arrived in Dubai 3 days ago and in the US yesterday. I was told by another FedEx representative that maybe it was never really scanned but they were just showing that it should have been on that shipment.
Next I was told maybe it's in the origin country still and they were going to contact that facility. That was more than 24 hours ago. I've not heard any answers between the seller and my discussions. This looks very fishy. It looks like there is some true dishonesty going on with this FedEx system. I can't seem to get any answers. I'm just waiting to find out what FedEx comes up with. At this point it looks to be lost. I'm told that the waybill number could have changed. It could be under another FedEx number and I still could get my package today. This is far too much confusion for a carrier to not be able to be specific as to why a package would be shown undeliverable. Something is very wrong here.
How do I know I can trust these reviews about Fedex?
743,097 reviews on ConsumerAffairs are verified.
We require contact information to ensure our reviewers are real.
We use intelligent software that helps us maintain the integrity of reviews.
Our moderators read all reviews to verify quality and helpfulness.
For more information about reviews on ConsumerAffairs.com please visit our FAQ.

I ordered a package from Walmart with two day shipping. Was to be delivered on April 12th 2017. Got a text message from FedEx at 9 a.m. that the package will be delivered between 10:30 a.m. and 1:15 p.m. Waited until 4:30. When package didn't arrive called FedEx and was told it will be delivered today. Give it an hour. I waited an hour, call back, got the same story. They have until 7 p.m. to deliver it. I spoke to two supervisors. One called the facility in Philadelphia and was told at 6:30 that the driver is done for the day and it will be delivered tomorrow.
This company sucks. I paid for 2 day shipping and have to be inconvenienced after rearranging my schedule to receive it on the day that it was to be delivered and not get it and was told they don't have the manpower to deliver this package that the driver ran out of time. So my package was riding around in their truck all day. This is not the first time that FedEx has done this. They leave notes on the door stating undeliverable when I was there to receive the package. The service is horrible. They take your money and don't deliver on their services then give you some cock-and-bull story about why it wasn't deliver it when it was supposed to be.
I hate this company. If all possible I would never use them for shipping. I never have this issue with UPS. I called Walmart and inform them of the situation and suggested to them not to use FedEx as their shipping method because they don't deliver when they are supposed to. They are lazy and unprofessional and offer you know kind of resolution to the problem. They should not be in business as a shipping company if you can't deliver. The only thing they can tell you is, "Oh you can pick it up." Why in the hell would I pay for shipping to have to go pick something up from their facility? Just do your damn job and stop ripping people off. If I could give them a minus 10 Stars I would. I shouldn't have to make 6 phone calls to FedEx about my package.

I was emailed a tracking number for a package I ordered. When I first checked the tracking, I read that the package was scheduled for delivery the following day (Friday). As the package was heavy and I needed it under cover, I posted a sign on my door asking FedEx to ring the bell so I could open the garage for them. I then stayed home, awaiting delivery. I checked the tracking throughout the day, always confirming delivery scheduled for Friday. It didn't happen. At 5:45 pm the tracking was updated to say delivery was scheduled for Saturday. I stayed home, again. Continually checked online tracking, at 6pm still said being that day. No packaged delivered. I knew it wouldn't come on Sunday.
So Monday... checked tracking, it was schedule for delivery Monday...no package. I called FedEx on Monday night, was given a case number, told that the package was within 15 miles of me, had been scanned at 7:17am Monday morning. I was assured that would be delivered on Tuesday. No package. Wednesday, no package. Called FedEx again and told package had been rescanned Tuesday morning at 4:51am and that they didn't have any additional information. Basically, no additional information from what the online site kept saying/updating. Still no package and FedEx not helping at all. I STRONGLY RECOMMEND NOT USING FEDEX until their tracking is 1) timely 2) accurate 3) reliable.

I took the day off work to accept a signature only delivery. I tracked the package online and it stated the delivery was on schedule. I called FedEX at 2:30 to check the status and was told I'd get a call back. I never did. It's followed by a series of lies on their part. I was told the package was late because of an address change. I called the shipper and there was no such change involving a UNIT A. The physical address was still the same. Even with the Unit A it would have arrived at my location... I think the bottom line is we have all become too complicit in the game of lies. While on the phone with these so-called customer advocates I found them saying whatever to get me off the phone. I will never use FedEX in the future. If a company is going to ship FedEX I WILL REFUSE. I will exercise my right as a human being to just say NO.

My husband and I so sad and indignant at the unbelievably disgusting delivery service provides by FedEx. We ordered our delivery 2.5 weeks ago. We haven't received it yet since that time. First time FedEx came when nobody was at home. So my husband called them and asked to cooperate shipping time because we could not be at home all day along. However FedEx doesn't take into account our own time, they even don't know approximate time for their shipping. Therefore they didn't guarantee time and brought our package again when nobody was at home. Next scheduled shipping I took a day off and was waiting for it all day from morning to evening, but they didn't come at all. We together wasted one more day sitting at home, but they didn't come again...
One day when my husband called the customer service he had to wait on the phone line for 40 minutes. In spite of this there wasn't real help. Lately he has called to FedEx and was told that they have already come 5 times so far. They are even impudent enough to say lie - it is an outrageous lie! I don't understand why instead of doing a simple, normal delivery this company is doing this inconvenient over a long period of time service and lies their customers?! It seems like they don't know how to do their job!!! Today we arranged our new shipping date again, so I have to take a day off again! And wait again! I hope so much to receive our package. I will see soon, but I know for sure I WILL NEVER ORDER FROM THIS COMPANY AGAIN!

My experience with FedEx has been awful. Customer service is a joke and this is the one in my town of College Station TX. They keep apologizing but can give me no information other than I can expect a call within two hours. Delivery was supposed to be before 10:30 am, stayed home from work to receive package. It is not 11:41 and I get the same story that the driver is in my area. Big lie, same as I got an hour ago. I will never use FedEx again. If the company I buy from uses FedEx, I will not use the company. So beware companies, FedEx is not your friend. You will lose business.

My issue with FedEx began when I waited for a pick up on 4/5/17 between the hours of 8 AM - 8 PM. I called the company around 8:30 PM expressing my concern that my package had not been picked up. However, the representative stated that the driver indicated that the package had been picked up (which it had not because the box was still in my home). Once again, I scheduled a pick up for the next day, and my home surveillance camera recorded the driver picking up the package at 1:49 PM on Thursday. I had a pre-printed label from Apple, with overnight priority delivery. On Monday, according to FedEx's tracking website, my packages' label had been printed. This doesn't make sense, because my package should have been delivered on Friday to its destinations. I proceeded to contact Apple, and guess what, they have not received the package.
I contacted FedEx, and they started a tracking claim on the package. I was told that a someone would contact me that afternoon as soon as the manager spoke with the driver to see what happened to the package. I did not receive a call on Monday afternoon, so I called FedEx on Tuesday morning to follow up. The representative stated that there were not any additional notes in the system, and that someone would contact me and I didn't have to contact FedEx regarding this matter. Excuse me?? But my $300 package is missing, and yes I WILL continue to contact FedEx, and whomever else I need to contact until my package is located. She continued to try and express her concern, but continued to tell me that I did not have to call. I was told that once an answer has been determined, the tracer team would contact me. I asked how long does this process usually take, and of course she did not have a response.
As I stated to the useless rep, had I received a courtesy call from a manager (or anyone) informing me on Monday that they were still working on my case, that would have pacified me enough to continue waiting, and I would not have had to call them. I was then told, "no they will not call you to update you." What??? What professional company/organization does that? Most companies want their customers to be satisfied, so that they are not writing complaint letters such as this one.

FedEx Ship Center 262 Robert C Daniel Jr Pkwy Augusta, GA - When I first arrived the staff was friendly and immediately asked to assist me. I asked to use the computer lab. The woman happily explained the procedures. As I was doing work on the computer I overheard her angrily tell another representative behind the desk that I was not going to pay for using the internet and better have the money. The male representative politely informed her that their system automatically charge my card once I inserted it. I ignored her comment and continued doing my work, while she continued to accuse me of not wanting to pay.
After, I finished my work I walked over to the male representative to ensure my card was charged. He confirmed that my card was already charged. I said thank you. As I walked away the woman again told the representative that I thought I was going to get away without paying. Though the male representative was very polite and helpful, I was extremely angry with how the woman representative addressed me and accused me of something I did not do. She accused me of not paying while I was still using the internet. I did not even attempt to get up out my chair or walk out of the store. There was no reason for her to make that type of accusation. I wouldn't be surprised if she is a racist and stereotyped me out of ignorance.

Have submitted three claims for 60, 100 and 185 to FedEx this year and they always have an excuse not to honor the claim. The latest said they had to inspect the package and damage. The recipient called the local FedEx office and they said, "just file a claim, we don't need to see the damage". I did. The recipient took photos of the damage etc and I submitted the claim. Guess what, "'All of the original shipping cartons, packing and contents must be made available for our inspection and retained until the claim is concluded' so we deny the claim."

I had a package that was to be delivered today. I work nights and stayed up all day waiting, I kept checking the site for the status. At about 4:30 pm I checked and there was an exception stating no one was at my home, and it would be redelivered in 4 days. My door is approximately 6 feet from my computer and I was at it all day. I called customer service and stated all this and said that no note was left on my door. I was on the phone 30 mins with a CSR I asked to speak with a manager to file a complaint.
After being on the phone with her, she called the hub and said that they had closed 19 mins earlier. I said, "I have been on the phone with FedEx when you could already have called?" Now, something that I expected today will be delayed because of a lazy driver. She said that it would be delivered Tuesday and I said "no thanks, I will go get it Monday." She said that I have to call customer support and request to pick it up? I will never do business with them again, and I will be reporting them to the BBB.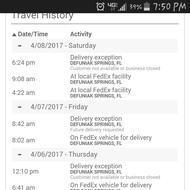 Had packed shipped via FedEx home delivery. Came by on a Wed, left a door tag requesting a signature. I signed it stating they could leave it. They came by Thursday and stated that a person must be present. I called and arranged for them to hold Friday and deliver Saturday. I waited all day Saturday only to find out they never loaded the package, yet their own tracking said it would be delivered by day's end Saturday. Totally worthless and unprofessional in my opinion. Also noteworthy, I was a driver for home delivery for 5 years and we didn't pull BS like that. I won't willingly do business with anyone who uses them anymore. They have since changed it to "I wasn't home on saturday" lol. That's the 3rd attempt, why re attempt on tuesday?

FedEx has always been the worst delivery company. I'm bewildered on how they are rated number one. Is it because they have a bogus 100% delivery rate? They leave shipments at the door even when you indicate signature is required. A package was delivered to my door 04/06 and the only thing that matches my address was the apt, city and state and zip code. I called the shipper to advise the package was misdelivered and they arranged for a pickup. No one came. I called FedEx directly to arrange a pick up 04/08. No has arrived as of yet. I am tempted to contact the receiver directly but FedEx needs to do their job and correct their mistakes.

My fiance ordered a phone on 4/6/17 and they left the phone sitting in a chair out in the open on my porch. They didn't even attempt to knock on the door and ask for a signature or anything. Lucky for me I was up and heard someone on my porch so by the time I got outside they were taking off. This company is a disgrace and I'll never use them again because his phone could've been stolen.

Totally disappointed in their service. I paid $45 to overnight an envelope. Turns out it didn't go anywhere because of weather. No notification, no communications. I had to call to see why my overnight package has not moved in the past 24 hours. I'm so friggin pissed! FedEx, you are the worst business EVER! I'll gamble with the USPS for my overnight packages from now on.

Application for 2017 - H1 with deadline of April 7th was sent through FedEx on April 3, 2017, lost track beyond Newark on April 4th. FedEx unable to track it or tell its whereabouts since April 4th. April 5 my attorney asked its whereabouts and FedEx said they are looking into it. April 6th I called on behalf of my company on whose behalf document is sent by FedEx by our attorney and told FedEx staff and told them to give me letter saying FedEx lost the document or cannot track it as of April 7th 2017 10 AM with details as follows. FedEx is hesitant to do that either. This is not helpful.
If the letter cannot be give to me by email saying letter is lost or cannot be tracked by 11 AM April 7th, I cannot send duplicate application, as a result of which application will not be considered for 2017 for which FedEx is solely responsible. I have again requested for the letter on April 7th at 10 AM. FedEx is a good company and this is the first time this is happening. However response to the situation is unexpected and not helpful.

A package coming to me is now two-and-a-half weeks overdue, apparently lost in transit from Orlando to Delray Beach, Florida. I have called multiple times and initiated a trace but no one at FedEx can or wishes to help. The response from one person (actually, it happened twice with the same person) in the shipment trace department was for me to get in touch with the shipper, because they paid for the shipment, not me. She seemed to imply that I did not have any right to contact them. They gave me no date as to when the claim would be settled. I paid over $550 for the package contents and shipping. This is grossly unacceptable behavior on the part of FedEx.

There were a few factors that contributed to this bad experience. But to start, the delivery was wine and therefore required an adult signature. They tried to deliver on Saturday afternoon, and the delivery slip did not indicate which day they would try to deliver again. On Monday, my roommate (who actually placed this order) tried to schedule a delivery at a certain time because we realized that FedEx does not consider Monday a business day (really??). The result was she was locked out of her FedEx account and the representative on the phone said she could not accept payment over the phone - scheduling your delivery window will cost you $5-$10.
When I tried to schedule the delivery the whole process went through, until I tried to pay and it just said error. There was no way to tell why it didn't work. FedEx attempted to deliver twice before finally catching me home sick. All three delivery attempts were in the afternoon. When the package finally arrived, the delivery agent refused to bring it to the door. He did not check my ID. As he is leaving, he makes a comment about how many times he tried to deliver. This was entirely unnecessary. Why do companies not attempt different delivery times if the person is clearly not home at the same time each day?

So apparently when I buy something online and would like to get it quickly there's no point in choosing expedited shipping. Because ordering on Wednesday with expedited shipping means I get it Monday. Of course when you call them and ask why, it's my fault. "Because sir, you chose "Weekday" delivery". Well where the hell was that option when I ordered online? So can I go to the center and pick it up? No I can't. Just gonna stick with Priority shipping and USPS.

This is the 2nd time this week that a FedEx driver put a sticker on our door instead of ringing the doorbell & actually delivering the package. The box that was to be delivered today weighs 125 lbs. 9 minutes after the supposed attempt I found a sticker on the door. We called to see if he could come back & they said no. My husband took off work today to receive this package that we needed. They said call back after 3:30 to verify the package was at the pickup location. They said it was. We arrived at 5:30pm. It is now 7:08. They closed at 7pm & still have no idea where the package is. We paid for shipping for something that wasn't delivered. They can't find our package, lost a day's pay & waste of time & gas to drive across town to sit and wait for nothing.

I ordered a cold shipping package at FedEx cold shipping package. I was told if I ordered before 6pm, it would be shipped next day. I ordered on a Thursday, package did not ship until Friday, I was not told there was a time zone involved. Then once I paid the overnight shipping fee of $14.06, that is when I was emailed my shipping order and it said that there are no WEEKEND DELIVERIES. Now, my email said I would received my package by Monday at 10:30 am, well, now I was told that my address is invalid, the carrier said he did not have the correct gate code, all they had to do was contact me, or contact the manager which is on the gate. I had to call and complain, then I was told that the carrier will be asked to come back and make another delivery attempt.
I called to complain, and I was given every excuse in the book as to why the package was handled and delivered. I asked if I can return the item because it was too small. Then, I was told that there are no returns. I told the man I would not order from this company again and all he said was... "OK". The case number is **. I WILL NEVER ORDER FROM THIS COMPANY AGAIN. I'M GOING TO UPS FROM NOW ON.

My husband and I both bought computers online that were delivered through FedEx. His came and I signed for it at the door. I told the employee how pleased I was that he came and required a signature (as computers are expensive)! He said he wouldn't have left it here without one. I had arranged my schedule around my computer arriving and hours went by with no knock/doorbell ring. I looked outside and there it was, just sitting on this stand (that it could have easily fallen off of) looking extremely vulnerable!
Thankfully I collected my computer and everything is functioning fine, but what would have happened if someone had stolen my package or if it fell off the stand and was broken? I bet, NOTHING. I would be stuck with a broken/stolen computer. Shame on that employee for not following through and making sure I was home to sign for it and then leaving it on an unstable surface at that! I would have happily given full 5 stars if the employee would have done this.

I had a stroke which makes me use shipping more than in the past, since I have been unable to drive or leave the house. On Feb 2 I ordered a mattress online from Walmart. The FedEx driver has made no attempt to deliver it, sending it back to Walmart 3 times. I've re-ordered it a 4th time, driver has made no attempt to deliver. Repeated calls have not helped.

I've been tracking my FedEx package. It has been sitting in Lakeland, FL, 15 miles from my house for 2 days. I called FedEx today and they said it won't be delivered until tomorrow 'because that is our commitment day'. FedEx whatever you do... DO NOT do better than expected! The representative said, 'If we did that, FedEx would be losing money'. Unbelievable customer service! Next time, it will be another option for me.

This morning I took a small crate with a pallet to ship to one of my customers. I went to FedEx at the Kingman Airport. I looked for their office for shipping and could not find one. There were many FedEx trucks in the lot. I saw one driver get out of his truck. I went over to ask him "where can I ship my crate?" He said "you can't, you have to have a shipping label." He offered no more information as where to get one, where do I go after I get a shipping label, and turned away to talk to another driver. I thought very rude for him to not turn back and offer info. I said to him "that's OK I'll go somewhere else to ship."
I called my customer in Alabama to let him know it would not ship FedEx. For them to be as rude and uninterested as to whether I shipped my crate or not, I left. I will not ever attempt to use them again. If one of my customers ask me to ship FedEx I will refuse to do so. I went about 1/2 mile away to UPS, I got the information I needed and shipped with them. They were very helpful. I will return to UPS for any future shipping. FedEx should have a talk to their employees about customer relations. Maybe they pay them too much and they just don't care.

Incompetence on a massive scale. On 2/7/17 I ordered an item from New Jersey. Shipped on 2/20/17. Delivery scheduled on 2/25. With instructions to leave at the gate house for guards signature. 3 attempts to deliver at the home, not the gatehouse, failed. Package sent back to sender. Sender resent with large instructions to deliver at the gatehouse. Again, delivery attempted at the home. Again Failed. Multiple phone calls to FedEx and to the station with my online and direct instructions to deliver AT THE GATEHOUSE. Delivery supervisor assured me he would personally put the package in the hands of the delivery man with specific instructions. Incredibly the next day delivery attempted AGAIN AT THE HOUSE. Failed. With my 8th and last phone call the best advice I could get was "pick it up yourself at the station!" In other words this delivery company can't be relied upon to ever get it right. Amazing!

On Tuesday May 21, 2017 I was expecting FedEx to pick up a less than 5-pound package of vitamins to be returned to the vitamin company. The FedEx driver had the shipping label. I had a funeral to attend so I left the package on the doorstep with a note "FEDEX PICK-UP". At 10 am UPS delivered 6 tires (worth $600) for my husband and left them in front of my car in the yard (which was directly in front of the door & FedEx package). We get home, my husband checks the tracking on the tires and it says they were delivered. We searched everywhere, no tires.
He called UPS and filed a claim. I checked the FedEx tracking all day, called several times, just to make sure they hadn't picked up the tires. Every time I called, I was told the package hadn't been picked up yet but would be by 8 pm. There was no tracking info online either. So at 8 pm I checked again and it said the package was picked up at 11:30 am and the weight was 50+ pounds. Instead of doing his job and coming to the door, the driver picked up the first thing he found in the yard, which didn't even have my name on it, the tires were shipped via UPS in my husband's name! In my book, that is theft. We were on the phone with FedEx until midnight, trying to get the tires stopped from leaving the local distribution center. Got absolutely no help and kept being transferred to people that could not speak English.
The next morning (Wednesday) the distribution center manager called my husband and said that 4 of the tires were still there because they didn't have a shipping label but 2 of the tires were shipped because the driver put the shipping label (which was supposed to be for a less than 5 pound box of vitamins) on the 2 tires. The 4 tires were delivered Wednesday morning. The manager said he would have to intercept the truck and have the 2 tires expressed back to me. This is now day 3 and I still have not received the 2 tires yet. I don't know if they're on the way to the vitamin company in Nevada, I don't know anything. I've tried several times to call the FedEx corporate office to file a complaint, with no luck. I have had many problems with FedEx but this by far is the worst.

ConsumerAffairs Research Team
The ConsumerAffairs Research Team believes everyone deserves to make smart decisions. We aim to provide readers with the most up-to-date information available about today's consumer products and services.
Since it's official opening in 1973, FedEx has been focused on delivering products for consumers and businesses efficiently and quickly, utilizing air transport for express shipping. It has evolved since then to include international shipping, ground shipping, FedEx Freight and FedEx Office, which is a physical location where consumers and businesses can pack, ship, print, copy and perform other important tasks.
Fast shipping: The whole point of FedEx is to get packages to their destination fast. Choose between ground or air shipping, depending on where your package needs to go and when it needs to get there.
FedEx Freight: FedEx Freight is for businesses that need to ship heavier and larger cargo and freight. Generate your bill of lading and set up your shipping preferences online for maximum convenience.
Air/ocean freight forwarding: Businesses who need to ship freight overseas can easily utilize FedEx's Air/ocean freight forwarding service. Download all the forms you need, including customs forms, from the website, then pass them on to your carrier.
Temperature control: Businesses that are shipping freight with temperature sensitivities can utilize FedEx's temperature control options. Temp-assure ground and air keep  your cargo cool by placing it in a temperature controlled container.
FedEx Delivery Manager: Take control of when your shipments arrive by signing up for FedEx Delivery Manager. This free service allows residents to customize their delivery time, choose to have their package left at a FedEx delivery location instead of at their home, receive delivery notification or request a vacation hold.
Best for FedEx is best for individuals and businesses that need to ship items fast.
Compare Shipping Companies
Company Name:

Fedex

Year Founded:

1971

City:

Memphis

State/Province:

TN

Country:

United States

Website:

http://www.fedex.com/us/