Consumer Complaints and Reviews

We had two packages supposedly delivered by FEDEX on the same day, neither made it. They both contained phones. One was apparently delivered at 12:48 and one was apparently delivered at 1:42. Unfortunately, this is not actually the case. We had someone home all day because we were told by Verizon that we needed to sign for one of the phones. I came home around one, there was no package. So, according to FEDEX, someone got very lucky and lifted the 12:48 delivered phone and hit the jack pot by coming back to get the 1:42 phone. Not to mention that making it up to our front porch would consist of them going by our neighbor who has a German shepherd and who works in his garage building cabinets.
Their investigation into this incident was them calling the driver and asking him about our house with him verifying that we had a yellow jeep in front of our house and we have a two story. Investigation complete. I'd like to mention that on this same day we had three packages delivered by UPS, which surprise, were actually here and were not lifted. Terrible service, with even worse customer service. On a side note, I did file a police report, as we are missing property valued way over $1,000.

Airway Bill/Pick Up Number: **. Goods shipped from Country to Delhi, and reached on 17th July. It was supposed to be sent to Mumbai customs as destination city is Pune. Two weeks the package is in Delhi with no communication whatsoever from FedEx India. On 5th August they send statement of custom duty along with Rs. 5000 Fine charges for delay. Note: In spite of all documents ready from our end. We just didn't know whom to send to as there was no communication. 10th August (today) the goods are still not cleared even after the duty is paid with fine on 7th August.
No phones are picked. No emails are replied. 80% staff have vacation responders set. This is the worst Customer Service in the history of Customer services. I never ever do this, as I have no time to write complaints. But this was just irresistible. This is not just unacceptable, but FedEx is adding obstacles to small and medium businesses in India. I can swear by it.

I don't know if it's the drivers' bad eyesight or their laziness but they love leaving packages wherever they see fit. They don't bother to check with the household members if there was a package meant for them or not. This is the second time this has happened and it's pissing me off. They need to have a word with their drivers to figure out what the hell they are doing.

I brought a package from South America that I needed to drop at a FedEx location in Las Vegas between flights. I had prepared the package online, researched the facility, and determined the cost (which of course ended up being more than quoted online), and printed the label. It turns out the "FedEx" location is inside a hotel, and they slap a $30 "handling fee" to turn over a package to FedEx, even though they claim to be FedEx. FedEx, needless to say, takes no responsibility for these FedEx charges, referring to the "FedEx" location as "them."
The real issue, though, is how two separate customer "support" agents handled this. Despite my explaining in detail how I had prepared the shipment online, how there is absolutely NO mention of handling fees anywhere on the fedex.com website — which is referenced on the "handling fee" receipt -- both insisted that I had advance notice of the fee because there was a sign on the wall when I walked in from the waiting taxi. They were both defiant and defensive, and I ended up hanging up on both. I got the ID of one and realized that these are not FedEx employees, but third-party call center operatives.
I've had a FedEx account for at least 25 years, and have always had some respect for the company. But here they have a receipt from FedEx Office, referencing their website, and they insist it has nothing to do with FedEx per se, because FedEx in Las Vegas is "them," not "us." To add further FedEx incompetence, the receipt for the "handling fee" references a feedback web page that does not exist, and an 800# that will allow you to comment only if you have a number from a survey invitation. So instead, FedEx, I give you feedback here, along with all the other disgusted FedEx victims.

This is the 3rd time in one month that FedEx claims I refused shipment on their tracking site, which is untrue. Instead, their packages are always delayed, late, misdirected, and rather than own up to it, they blame the customer. I receive packages 3 to 4 times a week and never have problems with UPS, USPS, DHL, Amazon (AMZL). Yesterday, FedEx tracking site was down nationwide and I can understand they were having a delay in delivery; however, once again, the tracker claimed I refused shipment. It's rescheduled to be delivered today, but it was supposed to be delivered Saturday, then rescheduled for Monday, and now rescheduled for Tuesday, with the false claim that I refused shipment.
This has happened with the last 3 FedEx shipments and once they even shipped the package back to the seller, claiming I refused it even though I took a day off from work to sign for the package and was waiting patiently at home for it. The seller then tried to charge me a 20% return fee, using the FedEx claim that I refused shipment. I am getting so sick of FedEx and have written to several merchants to request that they not use FedEx.
How do I know I can trust these reviews about Fedex?
849,102 reviews on ConsumerAffairs are verified.
We require contact information to ensure our reviewers are real.
We use intelligent software that helps us maintain the integrity of reviews.
Our moderators read all reviews to verify quality and helpfulness.
For more information about reviews on ConsumerAffairs.com please visit our FAQ.

I work for a large organization that uses FedEx exclusively for all their shipping needs. However, I have been sorely disappointed by FedEx twice now. FedEx claims they have already investigated and found my claim to be invalid. So I just want to put in my two cents. While shipping our materials and giveaways to a conference in Kansas City, MO, we realize upon receiving the package that 98% of our contents were missing. This has happened twice already.
When I tracked my package via their website, it showed that the weight of the box had changed at one point during transport. If things weren't taken out, why would the weight change? Also, I was told by FedEx customer service that my box was repackaged as well. Why would FedEx repackage my box? Is it normal practice for FedEx to repackage their customer's packets without notifying the customer? Needless to say, we did not have any brochures, pamphlets, pens, table covers or anything for our conference.
I had also spoken to the hotel manager who accepted the boxes and he claims he did not open the boxes when he received them. If FedEx had not repackage my box and the weight did not change from start to end, I would have investigated it more with the hotel but this leads me to believe that someone working for FedEx took our stuff out and repackaged it. However, FedEx would not take responsibility for what their employees did. I will just assume that whoever took our stuff really needed it and will considered it a service on our end to the needy. I will put in a request for our company to change carriers as I cannot have to happen every time I ship something out.

Ordered a baby car seat for a coworker 2 weeks prior to shower. Guaranteed delivery in 5-7 days. After not receiving, called FedEx and was told it was put in wrong by Toys R Us but would schedule delivery for next day. 2 days later called back to FedEx and was abruptly told to call back later due to technical difficulty and hung up on. Next day finally got through to be told it "couldn't be located" and "Sorry, someone will call you when located". Asked for someone else who "found" it but "so drivers were already gone for day, can deliver tomorrow or pick up at location (in another state)". BTW- baby shower is today and I HAVE NO PRESENT!!!

I had a customer purchase an item with shipping via FedEx. The customer alerted me that FedEx attempted to deliver on Thursday of last week but was unable to because I wasn't there. This is the last time FedEx told the truth during this mess. I was out on business on Thursday. On Friday, I came in early to await FedEx. First, I noticed that no missed attempt tag was left. I called customer service to confirm the package was en route for Friday and to tell them that the driver is not leaving missed attempt tags again (an ongoing issue with this driver). I was told the package would be delivered on Friday. So, I waited all day. I even put a note on my exterior door asking the FedEx driver to ring the doorbell. The door was unlocked and the lights were on.
At approximately 4:35, I checked the tracking info for the package. The driver stated that nobody was here to take delivery! I had been here since 11:30 AM and hadn't left at all. I did, however, use the restroom for a few minutes. The driver did not ring the bell. I doubt he ever exited his truck to even attempt to deliver the package. If he had, he would have seen the note asking that he ring the bell. I immediately called customer service back. I told them that their driver was lying. There was also not a missed attempt tag left on Friday. Basically, customer service told me it sucks to be me and I'll have to waste another day waiting for him. I told them that since their driver caused all this inconvenience he should be told to turn around and deliver the package. Wouldn't you know, they wasted enough of my time to make this impossible.
Today, Monday August 7, 2017, I had a series of medical tests and appointments to attend to, I told customer service this and was assured that something would be worked out so that I didn't have to miss my very necessary medical appointments to wait for a package. This did not happen. I was told this morning that if I wanted the package today, I would just have to wait for the driver and miss my appointments.
FedEx doesn't care about holding their drivers accountable for their laziness or lying. They seem to be following a business model of "let's see how much the recipient will tolerate before losing their cool." So, I missed necessary medical appointments to wait for this package to arrive because far be it for FedEx to have the integrity to make the situation right. My issues are at the bottom of their list. Their drivers are never to be inconvenienced or held accountable for their lack of job performance. They offered no solution except for "be there and get the package we lied about on Friday, or waste another day waiting for it tomorrow."
That's not a solution, that's just business as usual. FedEx will not be getting any of our business. Not as a shipper and not as a recipient. We are done with FedEx. Nobody on this planet should have to skip necessary medical treatment because a driver is lazy. I've reached out to them numerous times via different avenues and no resolution was offered. Terrible business practices.

I was behind a FedEx delivery truck that was trying to make a left turn from the right lane. Other cars passed the truck on the left - in the proper lane to make left hand turns while the drive blocked the entire right lane. I flashed my lights to the driver who became enraged and put the truck in reverse and tried to back into me. I was able to get out of the way as the driver threw it in drive and sped off through the intersection. I was able to get a picture of the truck and filed a complaint with the local FedEx Station. The Station Manager blew this off and completely swept it under the rug and advised me that the driver was going to continue to be allowed to drive. If you are in the Charlotte, NC area and see a female FedEx driver, get out of her way as she is a horrible driver who will road rage and claim she didn't do anything wrong.

I ordered 3 bags of specialty dog food from PetSmart. I expected it to arrive in 2 days as Petsmart boasted, but after tracking my pkgs, I expected the pkgs on Friday 8/4 from FedEx. I had enough dog food at home to last for my dogs through Thursday evening (When I have ordered from Jet.com it is here in 2 days). My husband was working in our garage 25 feet from our latched, but not locked, gate, with the garage door open. We wanted to watch for Fed Ex, as the pkgs were needed so my dogs could eat - our large dog is allergic to most everything.
Shortly after 11am, my husband looks at the gate and saw a tag. The tag was from the FedEx driver. If the driver would have made his presence known, by merely talking aloud, my husband would have greeted him, as he was within 25 feet and could be seen, from our gate. The DT tag had merely the date and no. of pkgs written only. No other boxes checked on the slip, reason why he didn't leave the pkgs or information on how to now get my pkgs. I called customer service of FedEx and they would not give me any clear information on how to get my packages or why the driver made NO attempt to leave my pkgs. I was told that they would call the driver's manager, and give him a message, and that the driver COULD come by again, or choose NOT to, the driver came from the Tacoma service center, but is allowed to take their truck with people's undelivered belongings to their personal residence.
I was not allowed to call or be given the driver's manager's number. The computer just gave a delivery date of the next day. There was NO special instructions that a person even had to be home, though my husband was within talking distance but with back turned. There was no signature required. There was no c.o.d. due. The customer service was beyond horrible. I waited at the end of my driveway until 7pm in over 90 degree weather, hoping that the driver would CHOOSE to return. He did not. I called FedEx several times with the same runaround. I got so angry, I was to the point of tears and begging for help on my 5th call, as I was told there was no way for me to get my pkgs Friday so my dogs could eat.
The manager finally called my husband, as my husband's phone number was on the pkgs. that the driver refused to deliver. The manager gave my husband the driver's number to get an address to pick up the pkgs himself. The driver ended up living about 2 miles from our home. My husband drove to his residence and got our dogs food. The driver lived so close that he could have come here on his way home, but "chose not to". When the driver was asked why he did not deliver the packages, he had no real answer, but did mention he saw the tv on in our garage. The lack of concern, customer service AND communication is beyond horrendous. I have never been treated so poorly by a business in my life! I will avoid any company that used FedEx as their form of delivery from now on.

I am a small business owner for 24 years. FedEx is the worst shipping company. I was expecting an order that was never delivered to me. I tracked my package and it was just left 15 minutes ago somewhere other than my address. When I called their customer service they asked to start knocking on stranger's doors asking if a package was left. They opened a case for my missing package and promised to call me back. They did not. When I called back they informed me that they could not do anything about it because records showed that the package was delivered (not to me of course).
I found out that is a street near that has a similar name and the same number of my office building. I asked them to go there to retrieve my package and they told me that it was my responsibility to go knock on people's door to claim my package. One week after, I had the same problem with two more packages to be delivered on different dates. And again, they did not do anything about it. Their disregard for customers is unbelievable. They just don't care. Hopefully, one day they will go out of business.

Misleading and deceptive conduct. Fedex is slow, very slow. It extracts taxes for Australia, promises to send the item, and after it has my money, being thousands of dollars, declares that there is another issue by email. One can't reply to the email. It states the item is a prohibited import, after illegally taking my money to import the item. The item, is not, according to the Australian border list of Prohibited items, prohibited. Absolutely the most useless organisation of the so called larger professional ones in the developed world, incompetent and partly corrupt. It wasn't my choice to use Fedex, it was the shipper, I've had too many issues with Fedex in the past. For anyone importing from Europe to Australia, use PostNL or similar. This website should have a ZERO rating for Fedex, one star is too much.

Order parts for my car and paid shipping which was picked by the supplier. One item was sent USPS economy and arrived on 07/31. Also my other item was shipped FedEx ground and reached the local hub at the same time and said it was out for delivery. So having both items being dropped off on Monday, I set an appointment to get my car in the shop on 8/3. Monday ended with no package, Tuesday went by with not package. Each time checking my tracking number to find out whats going on. Wednesday I called and they open an investigation and contacted the local hub which informed me that it is on the truck and I will get it today. Now 8 pm and another call to FedEx.
Wednesday, Aug 2, 2017 5:54 PM WILLISTON, VT Delivery exception - No attempt made, delivery scheduled for next business day. Wednesday, Aug 2, 2017 3:44 AM WILLISTON, VT At local FedEx facility. Tuesday, Aug 1, 2017 5:25 PM WILLISTON, VT Delivery exception - No attempt made, delivery scheduled for next business day. Tuesday, Aug 1, 2017 5:06 AM WILLISTON, VT On FedEx vehicle for delivery. Tuesday, Aug 1, 2017 4:03 AM WILLISTON, VT At local FedEx facility. Monday, Jul 31, 2017 6:43 PM WILLISTON, VT Delivery exception - Future delivery requested. Saturday, Jul 29, 2017 6:41 AM WILLISTON, VT On FedEx vehicle for delivery - Scheduled for delivery next business day. Saturday, Jul 29, 2017 6:35 AM WILLISTON, VT At local FedEx facility.

Every package that has been delivered causes major anxiety that it will not get to me. FedEx Drivers usually leave packages anywhere with whomever even though a signature is required is selected. Even when I've called a few minutes since their website states that the item has been "delivered" they are not able to contact the driver. One usually gets a 48 hour claims ticket to see what the resolution was. It is ridiculous that items get lost because of how inept and careless their system is.
I like buying from small businesses but unfortunately, I stay away from businesses that use FedEx as a courier. My item was just left one hour ago somewhere other than the labeled address, even though I was the only one in my office. When the Suite # is clearly stated in the address. They leave it to the consumer to start knocking on stranger's doors asking if a package was left. Their customer service response is basically, it takes 48 hrs to contact the driver. In 48 hrs there is nothing that could be constructively done to obtain the items that were delivered.

One job! Two page Important document to be moved from the UK to Turkey. How difficult can this be? Clearly for the dedicated transportation company, FedEx, the answer is impossible. FedEx picked up the package from UK Consulate on Monday 24/07. Delivery guaranteed for Friday 28/07, although expected that delivery would occur much quicker, as premium international priority service chosen. The package didn't arrive as expected and for some reason was held in the FedEx facility in Paris (France). My emails to query what was causing the delivery delay went unanswered.
On Saturday 29/07, my package left France and arrived in Turkey at the FedEx Istanbul facility. Delivery status was updated and delivery was now expected on Monday 31/07. Not a total disaster, as the purchaser agreed to delay the transaction for a few days. As you guessed, the package was not delivered and the delivery status was changed by FedEx to indicate no delivery date.
Emails to identify the problem were sent to both the UK and Turkish FedEx customer service department, which went unanswered. I spoke to Customer Services (which appeared to be a call centre outside the UK), and they were very unhelpful. The representative was polite, but provided no insight into the problem. My contacts in Turkey also attempted to move delivery forward, but were also unsuccessful. If my documents do not arrive in Fethiye tomorrow, my hard negotiated property sale will fall through and I will have significant associated costs. FedEx clearly do not care.
My advice to anyone thinking of using FedEx, is simply "think again." I am sure that on occasions they keep their delivery promises, but based on my experience, when anything goes wrong, they simply don't want to know. Customer service is frankly appalling, either due to them having poor processes, or more than likely because they are inundated with queries from unhappy customers. Anyone with any advice on how I can resolve this issue and how I can start the process of claiming compensation, please detail.

I placed orders with 2 different companies on the same day; both used FedEx for shipping, each package arrived at the FedEx facility in Grove City Ohio on 7/31/17 and are intentionally being held there. The packages are scanned twice each day stating the following: In transit, GROVE CITY, OH 43123. When I contacted customer service the only thing they would tell me is the packages will be delivered on time. So even though the packages are here locally in the very same state I live in, FedEx is intentionally holding the packages at their facility until the last day of the original scheduled delivery day. (One is scheduled for delivery on 8/3/17 and the other is 8/8/17.) How stupid is that???

Bottom line FedEx doesn't give a ** about their customers. If a package does not arrive or they say the package arrived and it was the wrong package they take no responsibility. What they will do though is pass the blame and have you contact the seller. They will tell you that they will call you back in 2 hours. Guess who doesn't call? FedEx. Why pay the extra money for 1 or 2 day delivery and if it doesn't arrive who takes the responsibility? Not FedEx, again they will just have you contact the seller. They will not do anything to compensate for any inconvenience. I would rather drive 14 hours to retrieve my own package on time than rely on FedEx to bring a package to my doorstep. I mean they will bring me a package but instead of what I ordered it will be 3 Pacific Life retirement magazines. Which does not make for good reading material.

I ordered a pond pump from Amazon that was shipped on the 26th of July in California. 3 days later the package was in Salem Oregon to be delivered to the post office but FedEx said they were closed. Really? Then they said they would deliver it the next day... which did not happen. Nor did it happen the next day. I have tried to find out why without any success but I did get a promise the package would be delivered today. I'm not holding my breath.

I purchase a new vehicle and I wanted to protect it with WeatherTech Floor Liners. I ordered the items on July 27, 2017. The company sent the items via FedEx Ground. The expected delivery date was July 29th. After waiting all day, at 7:00 pm I check with FedEx and it states that the package was delivered to "an address other than recipient". FedEx tells me that the door tag should say the location, however there was no door tag. I then ask for the address and find that it is does not exist.
I go a location next to where that address should be and It turns out to be a High School only to find that no FedEx package has been delivered there. I call FedEx the next day and I am told that the driver doesn't return until Tuesday, August 1 and will retrace his steps in order to find the package. I truly believe that the driver stole the package. He signed for the package himself, put a bogus address to make it look like it was delivered. This is what these drivers do on The Bronx, NY. They steal things to then resell them for personal profit. I am so disappointed with them. I would never use them, EVER!

Package due Saturday; Friday I get an e-mail saying it will be delivered on Monday, nothing arrives on the Monday, call FedEx first thing Tuesday morning only to be told my package is now lost!! Should have read the reviews first, saved myself 40.00 & just used regular mail. A frustrating waste of time & money!!

FedEx. Generally considered synonymous with good work ethic, good customer service, and the best at what they do. Right? That's what you MIGHT have thought before you arrived here. I recently sent a maximum 10 page letter to Windsor Ontario from Traverse City Michigan. Had I known then what I knew now I would have just drove the letter myself. Yes the letter got there. Good work FedEx. You did your job. You do realize this is only PART of the equation correct? I paid for the letter in full at the time of sending. No mention of an additional payment was made at the time of sending. Had it, I would paid on the spot. Only several months after I changed addresses did I get an additional bill for $43.40. FORTY FIVE pathetic dollars. No call from FedEx. No call from anyone. Just another bill.
I immediately contacted FedEx to find out what EXACTLY the problem was. I was told it was a clerical error on their part and the matter was settled. THANK GOD I kept a confirmation number. Fast forward several months down the road. Not ONE SINGLE BILL FROM FedEX. Then I find out that more bills were sent to my incorrect address AFTER the date the matter was settled. Not only is this company intentionally lying to customers, it appears they are taking part in a credit destruction plot. Or, perhaps they are just THAT bad of a company. Never get a hold of you by phone or current mailing address. Instead, they ruin an 800 credit rating with a pathetic $50 bill. I bill my clientele more per hour than this stupid bill and should be entitled to bill FedEx for my time that they have wasted.
As a small business owner and consumer in this country, I will N E V E R again use Fed Ex. Please, for the love of God, take your business elsewhere. One online search and you will see what you didn't realize. A pathetic mega company that cares nothing for its customers except to give them false information twice then destroy their years of work establishing credit. I am inclined to file a class action law suit for everyone. It may cost me a lot of money, but I believe It would be worth it. Hey FedEx... ** you. DHL, USPS, UPS. One less player in game. I suspect they are failing significantly. You can't run a business this way and continue solvency for the long run. Kiss my stock investments goodbye.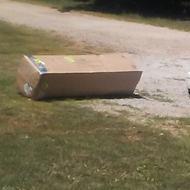 So, if I can I will avoid using FedEx from now on. First, there's a package left at my door "accidentally", and even after I call for them to get it, a week goes by and still no one comes. A manager then called and said this info "got lost". At that point, I delivered the darn thing myself because that's what I would have wanted if that were my package. Next, I order a large safe which was delivered to the wrong house. FedEx claimed they were doing an investigation, and still knew nothing.
An honest neighbor of mine lugged it to my house 3 days later. Now I find a heavy box containing my mattress laying on my lawn next to my car a far distance from my porch, where packages are normally delivered. This box clearly states team lift and can't be moved without a dolly. It's too heavy for me or my husband to drag way up to my door, and the box looks beat up and scribbled on! I assume the damage is from the driver kicking it out their back door and taking off. I have never had my items handled in such a negligent, destructive way. I called FedEx, and until or if they come back, this box is stuck on my lawn!!

If there was a negative amount of stars to give, I would give them! I was scheduled to get my package on Friday, since I was not home they did not leave it (understandable), I had requested my package be held at a certain location, called and was told it would be ready Saturday. Saturday comes around, my package is not at the location, come home and there is a note on the mailbox stating they tried to deliver the package again!! I called and was told they do not have the request that I put in (of course, typical). Luckily I took a screenshot of the request I put in. Then they told me they could put in the request and my package will be there on Monday, I told them ok fine. Then they said or I could have them hold the package at our main facility and you could pick it up there if you want your package today, I said I would rather do that and asked them to do that. In the middle of transferring me the line got "disconnected."
I called back and they told me that since I had gave the other person the ok to request my package to be held at the original location I had requested they could not hold my package at the main facility. I told them "well he did not give me the two options at once, he gave me the second one after I told him it was ok for the first option", and I asked them why would the person not give me both options at the same time knowing he could not undo the first one once it was done.
They basically told me there was nothing they can do and could not help me. Monday (the day my package is suppose to be there) I call the location and they inform me that my package is not there and will not be in until Tuesday! I keep getting "it will be in tomorrow" over and over, I have been hearing that since Friday, it is now Monday and I still have no package!! And I am still hearing the same thing! I will never be using FedEx again. My purchase is from Apple, and I will be informing them of how awful this experience was with FedEx and hopefully they will take it into consideration.

I have experienced the worst customer service anyone could be involved in. For the third time that I have order a replacement phone the first shipment never gets delivered. The driver always labels it as left at the front step. This last time which was July 27 they said the same exact saying "left at the front step." Called them multiple time for the next 3 days and no one would call me back to let me know any status. Spoke with Anthony today which wasn't much of help. So now FedEx has told my phone insurance company something about my address and now they won't ship me a new phone because of whatever FedEx said to them. But tell me how am I at fault if they never attempted to deliver the package. This is not acceptable. A customer shouldn't have to go to all this loop in order for major company to do their job properly.

I was on vacation with my three young kids in Florida. I was rob. I requested to pick up my passport on August 26 2017 at my address in New York. As I explain my situation to the rep she schedule a pick at my residences in N.Y. Arrange for driver to bring package and slip as well. Unfortunately she came without package. My daughter stated I call CS. They assured me will returned with which she did. My daughter obtained it from her she ask her to filled she will returned for that package. So I Called CS to confirmed CR reconfirmed and stated they have till 11:00 o'clock to obtain that package. Ok I had my eldest daughter wait up with the open till 11:00 no FedEx unfortunately. I proceed to CS.
I spoke to another CR. He assured me there will someone there to pick the package up. That last pickup time is at 12:00 am. I said "ok." I also stated my eldest is only seventeen years old and if it's ok to leave package on glass door with light on. So the FedEx lady to obtain and please add it to note. He stated he did. Went to bed, call the morning about the package as so I may returned to New York cause my flight is at 3pm that even to get and awakening the package was not even pick up. I was so bloody upset the mad excuses. They apologize, spoke Cs rep then I ask for supervisors which they will not extend to then I was transfer to a van in Jamaica, New York which he assured me he will go to my address. Retrieve the package. Ok so I lost my flight for me to travel as well as being stranded and had repurchase tickets again.
Well guess what they never pick the package till July 28 2017 Juan St. Luca assured it next day delivery as well as Van in Jamaica New York @ 8:30 Saturday 29 2017. Tracking number ** number I will receive this package until Monday 31 2017. Are you serious? Incompetency of FedEx. The is unprofessionalism I will never recommend this company. Incompetent. Lack Of knowledge of Cs team. Failure for empathize. Am appalled. No words characterize my feeling of disappoint.

FedEx claimed they delivered my package but never came to my residence. They state it was left at my door but when I call to complain they tell me to look in the bushes and ask my neighbor. They are liars and their customer service is a joke. They will not even question the drivers. So basically if they are delivering something of yours and the driver wants it then you're out of luck.

If zero stars was an option, this would be it. Story 1: I got a custom jersey for my girlfriend and was to delivered before her birthday. I live in Chicago and it was shipping from Missouri. It got to my area, not even 10 miles away in record time. But out of nowhere they sent the package north... To Madison WI where it sat at a FedEx facility for 3 days, missing the deadline and my gf's birthday. I called them and their answer was simply "That just how it is sir."
Story 2: I ordered a drone for my work at a university. I had accidentally kept my old dorm address but was assured that it would have been sent somewhere I could grab it (this was this summer). Well, the delivery driver was not told where to go and went to the closed dorm, found it closed, and said "Well I'll put it back and not even attempt to figure it out." Then I had to make several phone calls and I can only pray I can pick it up in one piece at a local pickup point, 3 days after I was suppose to have it. I need it for work, and their laziness is setting us back. I have already told everyone NEVER USE FEDEX and I pray the package is intact. That thing was $700.

My husband order an iPhone 7 plus this past weekend and I was suppose to received my order on Saturday the 22nd. I never got my order, I did called FedEx and they started an investigation, but FedEx never call me back again. I had to call Apple to get my money back. It was a very frustrating experience since the value of my phone they lost is $900.

I ordered a critical piece of equipment for my small business. This equipment was required to fulfill an order with my client. It was guaranteed by the 18th of July. The package showed delivered, but it was not delivered to my address. After multiple phone calls I was told that the package was delivered to the wrong address and that the place of the mistaken delivery called them and made them aware of the mistake. They then assured me that they would pick it up from the misdelivered address and redeliver to me the next day. This did not happen.
Instead, I was on the phone with both customer service and the local home delivery hub at least once a day. I was always told the same thing. That it would be delivered the next day. Finally, on the 27th it showed it was delivered. But instead of delivering it here to me, they delivered it back to the shipper with the message that it was refused. This is not the case, as it was never even attempted at my address. I have since tried to speak to the manager who informed me that it was my problem since I refused it, and that he had no knowledge that there was ever a problem in the first place.
When calling the customer advocacy line I was rudely told to contact the shipper and she hung up on me. At this point I am losing this new company due to this mistake. I had told them that I know that they are not going to actually fix the issue, but that if I had to lose my company over the driver's mistake I think that it is only fair that the driver get disciplinary action up to and including the loss of her job since I am losing my company over this. Instead all I am told is that it is my fault and hung up on. I am told by FedEx that the only responsibility and guarantees are to the shipper not the recipient. I do not think that it is out of line to expect that the driver be disciplined for her actions and laziness.

Had the law office give me a time and then FedEx called and left a message stating that someone over the age of 21 need to be there at 4.30 to sign and that photo id would be required. Well FedEx decided to come to my door at 11 this morning. A far cry from 4.30. Calling them was told I would have to wait till Monday. No time given or go to Danbury and pick it up - I phoned the law office who took the policy that they couldn't do anything about FedEx to which I reminded them that FedEx is in business for the consumer not the other way around - so I don't have to wait all day Monday. Have to drive to Danbury Sat to get the items - so much for that lovely company. I might add are business suppose to wait around all day for delivery which is don't at the whim of FedEx - I think not.

ConsumerAffairs Research Team
The ConsumerAffairs Research Team believes everyone deserves to make smart decisions. We aim to provide readers with the most up-to-date information available about today's consumer products and services.
Since it's official opening in 1973, FedEx has been focused on delivering products for consumers and businesses efficiently and quickly, utilizing air transport for express shipping. It has evolved since then to include international shipping, ground shipping, FedEx Freight and FedEx Office, which is a physical location where consumers and businesses can pack, ship, print, copy and perform other important tasks.
Fast shipping: The whole point of FedEx is to get packages to their destination fast. Choose between ground or air shipping, depending on where your package needs to go and when it needs to get there.
FedEx Freight: FedEx Freight is for businesses that need to ship heavier and larger cargo and freight. Generate your bill of lading and set up your shipping preferences online for maximum convenience.
Air/ocean freight forwarding: Businesses who need to ship freight overseas can easily utilize FedEx's Air/ocean freight forwarding service. Download all the forms you need, including customs forms, from the website, then pass them on to your carrier.
Temperature control: Businesses that are shipping freight with temperature sensitivities can utilize FedEx's temperature control options. Temp-assure ground and air keep  your cargo cool by placing it in a temperature controlled container.
FedEx Delivery Manager: Take control of when your shipments arrive by signing up for FedEx Delivery Manager. This free service allows residents to customize their delivery time, choose to have their package left at a FedEx delivery location instead of at their home, receive delivery notification or request a vacation hold.
Best for FedEx is best for individuals and businesses that need to ship items fast.
Compare Shipping Companies
Company Name:

Fedex

Year Founded:

1971

City:

Memphis

State/Province:

TN

Country:

United States

Website:

http://www.fedex.com/us/