Consumer Complaints and Reviews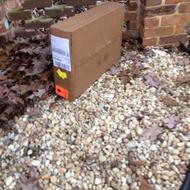 They delivered one of my packages to the wrong address, and they deliver another one to my neighbors. I sent my asus computer in for repair and I begged them not to use fedex. They said they would hold it at the holcomb bridge location. Guess what they did?? They threw it out in the middle of the yard. They lied to me about holding it. Please see picture. I am very displeased with their service and I want to file a compliant. Bizcom Electronics Inc., Shipping Carrier FedEx Express Saver, Tracking# Bizcom Electronics Inc., Shipping Carrier FedEx Express Saver, Tracking# **, Product Type NoteBook (System).

I ordered a set of trailer tires from Amazon and somehow Amazon got our address screwed up by one number. FedEx said package was delivered on front porch. Problem is the address they had didn't exist so how can a FedEx driver leave a package at an address that doesn't exist. I have called numerous times with them promising to call back within a couple of hours. They have been contacted by myself, Amazon and the supplier of the package with no results. It's been over two weeks and still nothing. Not even a call, supposedly it's under investigation, how hard is it to investigate. The driver screwed up. Plain and simple. Whether he left the package in a field somewhere or took it home who knows. Proper procedure would be if there is no such address package should have been sent back to the supplier, I can't even get a frigging refund until they supposedly finish their investigation. I am very dissatisfied with FedEx.

I was told that my package was a next day delivery. Now 2 days later I see that the tracking number shows wrong address. I contacted FedEx. They say the address is correct on the package and the tracking number shows it's stuck in Charleston west Virginia. I had to chase the FedEx driver down yesterday and when I confronted him he said he had no package for me but the tracking number shows he did. FedEx is by far the worst delivery company. I cringe when I find out FedEx is delivering because if it's overnight it becomes a whenever we feel like delivering it.

I ordered a package on 1/6/17 through FedEx and was promised a delivery date on 1/10/17, but it got held up in Troutdale Oregon due to weather conditions. This package is a computer case that is very essential to my new college computer for online school. When left Troutdale last night, I said departed at 8:46 pm, so I am jumping up and down saying "yay, there is hope yet that it will appear before next Monday" which is when my motherboard, the last component, is due to arrive. So I am waiting for my tracking info to get updated to tell me where my item is. I waited until about 11 am, then I went on chat and talked with a person who was helpful and they told me the package was in Bend Oregon and that was their last known location. I look back at the tracking info and it still says "last known location was Troutdale".
Now I am thinking to myself "are they really just too lazy to give me, the buyer, the info where my package is that I paid for?" Now when it comes to a company shipping my product that I pay for out of my pocket to have an item I want, I expect when they give me a date they are bringing the package, I expect it to be delivered on that date. I have about 6 more items. 5 are due here tomorrow (huh I guess we will see), and another due here by Monday (I guess we will see there too). At least UPS getting their big boy and big girl pants on and puts chains on their vehicles and makes those deliveries to the person no matter the weather. I don't too much like FedEx, but the site I ordered from doesn't give me the option to pick UPS (or else I would have choose them).
Now have in mind, YES, I am very angry because my computer is borderline frying and I need a new computer, and yes maybe I am a little obsessive and impatient, but I was given a date and time my package would be delivered and when they stopped that then they shown they pretty much run on their own time despite the customer's plans. Which mine are very important since I doing all my college online and I have a live video chat for my math that requires specific computer build requirements. I like to relax and enjoy life, but when I am waiting for a package I pay for that has a tracking number and they just stop updating it because they are lazy, then that makes me wonder and say to myself "if I do this are they going to just stick a door tag on my door after just standing there for 10 seconds and say 'sorry we missed you'?" As I watch a UPS truck drive by my house thinking why couldn't my package be on that truck.
Now I don't mean to complain. In a way actually I do. But when I PAY REAL MONEY for an item I PAY for, THEN I DAMN WELL EXPECT that when they say they are getting it to my house on a certain date, THAT I DON'T HAVE TO CAMP OUTSIDE MY WINDOW wondering if I wasted my day away and if the package will ever appear. I will make sure that I use UPS from now on and I will use people I know to jump through those hoops because this is **. I expect better service from a company that gets paid to make people happy. Happy customer means they use you more. Unhappy customer usually means lots of lawsuits.

Frozen biological samples were shipped International Priority from Seattle, WA to Tokyo, Japan in DRY ICE on Dec 19, 2016 with an estimated delivery on Dec 21, 2016. Samples arrived on Dec 26, 2016. SIX DAYS LATER! Obviously, frozen biological samples were destroyed! Called FedEx to get shipping charges removed for a shipment that was not delivered on time and getting my samples destroyed and was put in touch with DANIELLE **. Danielle ** did not understand the issue at hand and repeatedly pointed out FedEx terms and conditions, where money-back guarantee was not available during Dec 19 to Jan 3. She then went further to point out the fact that because the package contained DRY ICE, the money-back guarantee would not apply anyway even if sent on different dates.
Next, she pointed out that the terms and conditions were available to me online 24 hours, 7 days a week and repeatedly tried to get off the phone by saying, "is there anything else I could help you with". I asked her multiple times to please stay on the phone with me while I read over the terms and conditions. Her reply every minute was, "was there anything else I could help you with". My issue is, if I am sending a sample with DRY ICE and shipping it international PRIORITY, there should be a pop-up or a warning letting the sender know the POSSIBILITY of DELAYED shipment! That way this problem could have been avoided by NOT SENDING THE SAMPLES!
I am writing this review because this is the second attempt at sending my frozen biological samples to collaborators in Japan and FedEx not delivering on their promised date! This is the second time my samples have been destroyed and no compensation has been made. FedEx shifts blame on customs. However, then WHY promise a date that can't be made?! They should underpromise and overdeliver! Lastly, they need to train their customer service representatives to be more patient and understanding even if they do not want to be! That's part of the job description as a customer service rep! Danielle ** of FedEx should be given a performance review and previous calls re-examined.
How do I know I can trust these reviews about Fedex?
672,188 reviews on ConsumerAffairs are verified.
We require contact information to ensure our reviewers are real.
We use intelligent software that helps us maintain the integrity of reviews.
Our moderators read all reviews to verify quality and helpfulness.
For more information about reviews on ConsumerAffairs.com please visit our FAQ.

FedEx has failed to deliver my packages to my correct address multiple times. Now I have a package at some unknown person's house with my address, name, and other information about me. I only hope they didn't open the package. I called customer service and the person it was delivered to was honest and called FedEx to tell them it was delivered to the wrong house. I despise FedEx and beg people not to use them.

I have been waiting on a package since Saturday and it's Tuesday. This company is run by harebrains. It's 3:30 in the afternoon and the Sun is out 50° and they say it's on the driver's truck probably at his home, and they have no way to contact the driver and don't know where he lives. I offer to drive to Chattanooga TN to the warehouse and pick it up. They say it's not possible. I have never in my life heard such a crock or crap. They don't even know where the package is at. Tracking says no delivery attempt due to weather. People. If you live in North Georgia near Ellijay GA or Blueridge my advice... DO NOT EVER USE FEDEX. THEY SUCK AND ARE UNRELIABLE. Can't believe the driver just goes home at 3:30 and doesn't deliver. Furthermore the company the size of FedEx doesn't have a way to contact the driver.

Over the last month, I have had several deliveries utilizing all 3 primary methods of postage/shipping/receiving including FEDEX, UPS, USPS. FEDEX delays delivery until the very last listed delivery day within the scheduled delivery time frame listed by each corporation after making a purchase, rather than the earliest delivery date. FEDEX customarily delivered earlier than most other forms of shipping in the United States. That is no longer true. Moreover, storm notices are often listed at the banner atop their website, of course especially during winter months.
However, if consumers track deliveries, sometimes trucks are not near the storm path, but are within a few hours or closer to the consumer address. Drivers sometimes wholly failing to update customers that request tracking notices on their electronic devices, abandoning all communication to conceal their location. With a shipment history that FEDEX has enjoyed for generations, this new activity is frustrating customers but the excessive delay impedes progress for United States business. Delay also creates a greater risk of theft.
One recent experience with Wayfair.com resulted in my delivery product sitting on a FEDEX truck throughout the weekend, which was but an hour away from my home. Anyone could have broken into that truck and stolen all of the goods he had stored undelivered in his truck from Friday evening to this afternoon on Monday when the item was finally delivered. I received no notice from the FEDEX driver until Wayfair.com escalated the search for the FEDEX truck. Authorities were contacted. Suddenly, I received a slew of tracking notices from the driver as to where the item was and when it would be delivered.
Another delivery from Jet.com - FEDEX driver made through most of the top tier states in the nation... snowstorms and all. Then sat in Kent, NY from Friday until this morning when he decided to drive up to Connecticut. Still only 4 hours from my home, with clear roads today on the East Coast. No excuses. He did not go very far from his weekend location in Kent, NY. Taking his time, this FEDEX driver, too, is waiting until the very last scheduled delivery day. Bad business practices by shipping handlers require new legislation.
Therefore, I urge all that experience similar conditions with FEDEX to contact their members of Congress and senators to set new guidelines for delivery services within the 48 contiguous states so that the consumer is protected, and unnecessary delays do not result in theft. If shipment by a FEDEX driver is excessively delayed, close to your location, but is being withheld by the driver who is not communicating with you, call the state police to find the truck and determine what is going on. I worked for FEDEX as a supervisor in Durham, North Carolina in 2006. This consistent delivery delay activity is wrong.

Paid for overnight delivery, which was supposed to be delivered by 1/7/17 at 12:00pm... Just got an email at 5pm telling me to expected the delivery by 1/9/17 at 12:00 pm. When I spoke with customer service, they didn't even realize that it was the same as saying, "noon". I don't remember the last time I could actually rely on FedEx to make a delivery. Absolutely unacceptable - don't understand how they are still in business. :(

FedEx delivered to our business the day we closed for the Christmas break. I called and told them that we will only be back on the 3rd Jan. They said no problem and I was to call FedEx on the 3rd to reschedule the delivery. I called on the 3rd and they said that they had attempted delivery 3 times while I on vacation and would not deliver again. I mentioned my previous phone conversations and they said that they would put it on the truck again. Looking at the tracking, the parcel sat on the truck for 2 days and we did not get the delivery. I called again on the 9th only to be told that I need to either pick the parcel up in Delta, get the parcel returned to sender or get another address for the parcel to get delivered. UNBELIEVABLE. FedEx should communicate more efficiently between the drivers and the office staff. Get you act together FedEx!!!

I know this site is just about complainers so take everything with a grain of salt. Look at all reviews from other sources as well. Just being honest. There really is no customer service for the average Joe from FedEx. Call the 1-800 number and there is no option to talk with a real person. So I went to the chat path. Ouch!!! After waiting 20 minutes or so, I got a reply. I texted that I had done support for high tech engineering and I understand hearing bitching all day sucks and I would be nice. His reply was "I live in Mexico and I do not understand and I can't help you." All the problem info was filled out in the form. I have had much better service from UPS and USPS. Amazon got me into this after screwing up my order twice before. I now have to deal with these FedEx idiots and with Amazon to get the shipping charge fixed again. What a cluster **!

Ordered two phones. On Dec. 30th one arrived, but before that a package for the police dept. was delivered and left on my front step. I delivered it to the police dept. My second package was to be delivered on Dec. 31st. It was not. I created FedEx delivery manager account and also called. Told them no one would be home the following week until 4. Was assured that it would be delivered after 4. Wrong. For three days I called. Finally on Thurs, the trace dept. told me that I could set it up for Sat. Then on Friday, email stated it would not. Called again. Assured again that Saturday delivery was setup.
Got up early Saturday as not to miss delivery. Waited and waited. At 10:44 am got an email stating a delivery exception. Called again. The rep said no one was home. I stated no door tag, no knock on the door, no delivery attempt was made. The rep then told me that the driver could make the decision on whether to deliver or not. WTH. Three day delivery has now turned into a week and half. I have to go pick it up on Monday. I hope that it is at the location and not sent back. Bad service.

I'm done with FedEx. I send payroll checks out via FedEx and every pay period there is a late delivery. Based on the type of delivery they state it will be there by a certain time. Then they say they can't guarantee a certain time. Some of their customer service people don't give a hoot about the customer and I can call back and talk to a different person and get a different answer. Then they want to argue with you when you ask for a credit because the delivery did not arrive on the day it should have arrived.
These are payroll checks, I cannot allow an employee to get paid late because FedEx doesn't have procedures in place for delays, etc. I know it rained in the city I sent the package to, but it did not snow so I'm not sure what caused the delay. They told me it got on the truck late, which is not my fault. I'm just done. Worst delivery service I've ever dealt with and they don't care.

I waited all day at home for my package and no one ever knocked on my door. I check tracking and now it says that I wasn't home when I have been waiting like a dog waits for their owner to come home. Tracking says that a slip was left on my door and there is nothing on, at, or around my door. So I call Customer Service and was told I have to wait till Monday for delivery or drive over an hour away to pick up my package! I work hard for my money and all I wanted was my new phone I ordered, and now I have to wait till Monday (if they decide to show up). I am so very upset that I am crying. How can FedEx be so careless and disrespectful to customers? I hope no one uses FedEx because I will no longer be requesting services from them! #fedex #upset #fedexsucks

I had a $300 dollar item stolen from my front porch thanks to the FedEx driver just leaving it there when we were on vacation. Apparently FedEx charges the vendor to require a signature and takes no responsibility and leaves it to "driver discretion" as to whether to leave something. My vendor didn't require a signature and refuses to re-ship. Just don't use FedEx or vendors that use FedEx.

I ordered a phone that was supposed to come Monday but not. It's Wednesday and still not here. A truck drove by and didn't even stop. It's been in Wilmington for like 8 hours. Just try not to get FedEx 'cause it sucks.

I placed an order on 12/29/2016. The tracking said it was picked up that day. Dec 30, 2016 1:24 AM ET Left FedEx origin facility NEW HAVEN, IN
Dec 30, 2016 1:29 PM ET In transit RICHMOND, KY. Dec 31, 2016 1:35 AM ET In transit LAKE CITY, FL. Lake City is about 2 hours from Ocala. Dec 31, 2016 7:53 PM ET In transit OCALA, FL. Now here is where the service success? Ocala is 2 hours from Orlando where it was to be delivered. Jan 01, 2017 7:56 AM ET In transit OCALA, FL. Jan 01, 2017 7:58 PM ET In transit OCALA, FL. Jan 02, 2017 8:00 AM ET In transit OCALA, FL. Jan 02, 2017 8:02 PM ET In transit OCALA, FL. Jan 03, 2017 8:04 AM ET In transit OCALA, FL. Jan 03, 2017 4:00 PM ET Arrived at FedEx location OCALA, FL. Jan 04, 2017 4:17 AM ET Departed FedEx location OCALA, FL.
When I called them and asked why it was taking so long for it to get here, they said it was shipped standard being 4-5 business days. They basically said they have the right to sit on the package till the fifth day even though it could have been here 3 days sooner. To get here sooner I should have paid the extra. Hell UPS and USPS ground have been delivered in 3-5 DAYS not business days.

One of our business client sent a sample of towel from Singapore on 22-12-16 which I noticed it is arrived at New Delhi on 23-12-16. After a several inquired from 25th onwards, I got information the Fedex KYC team on 30-12-16 that I have to provide some document as KYC urgently. I submitted all the requested documents (about 7 documents) on same day itself by mail, but I got the request again on 31-12-16 and 2-1-17 also even though I am re-sending my mail again.
Finally I contacted Fedex customer care over phone and inquired about the status. This time they confirmed that they received the documents which I already sent, but they asked one more new document. I send it immediately. On 3-1-17, I inquired the status again over phone, but this time they asked again one new document as well as they said they don't have any invoice with them which they already collected from Singapore and we have to submit that invoice also to them. They mailed me one format of invoice and asked us to fill it and sent back to them. Without any delay I submitted these two new documents to them and today (on 4-1-17), I inquired again the status of this packet, but they said it is still on hold due to some unknown reason.
The sample sent by our client was just one cotton towel which we have to submit a quotation based on the exact quality and design. Actually due to this delay and irresponsibility from the FedEx, we lost our good business with the client. I noticed that the fedex customer care staff speaking only as per the details which they can see the data feed on the computer. Nobody can expect any help or care from them. If everything goes well, you will get the parcel, otherwise get it held up somewhere without any pull or push. That is fedex. I never recommend this courier to anybody in future.

Package was in local city overnight on the scheduled delivery date. Out for shipment that morning. Weather was unseasonably warm and dry that day for Michigan. Was above 40, and in late December in Michigan that is nice weather. That night they posted "Local weather delay - Delivery not attempted" which is an outright lie, had nothing to do with weather. Now another 2 business days later, still no package. They CLAIM it's scheduled for tomorrow. This was a 2-day priority delivery, not a whenever you feel like it a week later delivery. Never using FedEx again.

Where to begin? I was expecting my package to be simply delivered through FedEx as I watched tracking for two days. I could see the status via email went to delivered. I went to the front door to find no package. This is on December 31 2016. I was expecting this package as it was a gift to a dear family member that I was to give it to that evening at a New Year's eve party. It was a very big event that was basically ruined due to FedEx in their process. I called immediately to speak to their tracking and recovery team which was basically useless. They told me they have no way to track their drivers or to know where the package was delivered.
A multi million dollar company and they don't know whether drivers are at? I find that fascinating. It's hard to believe. They told me they would call me back in two hours and they did not. So I repeatedly call them two other times for the same runaround and virtually no help. They did not send the driver back out to retrieve the package as they promised, and our evening was ruined. Today is January 2, 2017 and my neighbor brings the package to my front door. The package was clearly marked with my address yet in a hurry was delivered to the wrong home. Thank goodness they're still good people in the world. In the end, buyer beware. If I have any say so I will never use FEDEX shipping company again. Their lack of commitment to customer service, storytelling to pacify and inability to handle simple tasks to execute is less than desirable.

I ordered from Walmart.com to have an item shipped to my house for my son for Christmas. It was guaranteed to be delivered on 12/23/16. My package ended up going from Kearny, New Jersey to Livonia, Michigan. Over 600 miles away from where I live in Vermont. When I called FedEx to get the package sent to the right address, the CSR told me the only thing she could do was hold my package at the Livonia, Michigan facility for me to pick up in person. When I told her I'm not driving 600 miles 1 way to get a package they sent to the wrong state, she told me she was transferring me to her supervisor and then hung up on me.
This is not the 1st time FedEx has seriously screwed up. This company faces 0 accountability, their CSR consistently misrepresents info on resolutions. I actually caught 2 of their CSR giving conflicting info on my package. Raul who I was talking to on the phone told me they had found my package and were preparing it to be shipped to me and at the same time received a private message on Facebook from another CSR saying that my package was lost. Who do I believe in a case like this? The rep on the phone or the FedEx media rep on Facebook. Their so-called tracing department hasn't even called or emailed me the info on the package that they're supposed to finding. If I could give 0 stars for their service I would.

A bit long but shows the disregard of customer service. The package was supposed to arrive December 20th. On the 21st Fedex sent me a notice stating it would arrive on the 27th. On the 28th I received another notice. Yes once again I received the notice the day after it was supposed to be delivered to my door. I looked at where the package has been. OH to Chino to Los Angeles to Chino to Los Angeles. I live in the mountains about 50 miles east of Chino, and a bit further from Los Angeles.
I called Fedex. I was told they would deliver to USPS on Saturday December 31. I explained to the lady, a bit rude she was, that the USPS does not deliver to homes in the mountain area. She then began talking again how it would be delivered to the USPS and they would deliver it to my house. I was explaining again and she started talking and would not stop. When she did finally stop I tried again and she started talking over me. I asked her to quit interrupting and to please listen to me. I told her of the way the USPS works in the mountains. She then put me on hold. She might have been having a cup of coffee or reading the newspaper. About seven minutes later she said the same thing. I said the USPS would not accept the package and it would be returned to sender. She said the same thing again. I said speaking to her was pointless as she would not do anything to help Fedex do its job. I said goodbye.
Today is Saturday 12/31/2016. Fedex did not send me a notification. I went looking at the tracking number and it has been returned to sender because the USPS office would not accept it. UPS has been delivering packages to my home once or twice a month. The one time UPS could not deliver due to snow they called. They left it at one of their offices so we could pick it up. I receive medical supplies to my home monthly. The USPS may not be fast, but they do deliver to my PO Box and to places I send packages and letters to. Ten years ago I was working for a large corporation. Fedex was best this side of Colorado and UPS the other side. Of course UPS was for all international deliveries. Since that time Fedex has become a bit larger, but they seem to have forgotten that customer loyalty will keep your company alive and thriving.

FedEx is terrible. Every single time I get a package from FedEx it's always 3 days late and they always lie about their reasons. For example 2 days ago there's a storm that ended at noon and the roads are completely clear by 1. I had other packages delivered by UPS and USPS during the storm though the storm was long over by 5 p.m. FedEx claim that their delivery driver couldn't deliver because of the storm and went in at 5 hours after the storm was over. Now yesterday they claim customer not here or business closed is why they didn't deliver. Yesterday I sat on my couch all day and waited. They never came and then lied about why they didn't deliver.
And now here I am waiting all day today and they still haven't delivered and if you call they're rude and obnoxious and give you the runaround and just don't care. FedEx is terrible. Never use them. The other services - UPS USPS all of the other ones - if they say it's going to be delivered at this date and time it's delivered that date and time. Not once has FedEx ever delivered when they claim they would.

The FedEx facility in Crofton, MD received my package at 9:29 am on 12/30/16. At 10:04 am on 12/30/16 their tracker shows "Delivery exception - Business closed - no delivery attempted." The address was a residence - not a business. I called their 1-800 number and eventually spoke to a human who told me that someone from the Crofton office would call me within 2 hours. The return call never came.
I called again and finally got the phone number of their Crofton facility. The gentleman at the Crofton facility told me they made a mistake. I asked if they could deliver my package tomorrow (12/31/16). They cannot because the sender would have to pay an additional fee. 12/31/16 is a Saturday. 1/1/17 is a Sunday. 1/2/17, Monday, is a federal holiday. He informed me that they would deliver the package on 1/3/17. I was upset that I paid extra. They "made a mistake" on their documents (business vs. residential) and I have to wait. He hung up on me. FedEx's customer service is deplorable.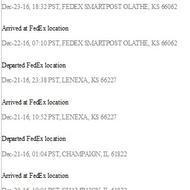 I ordered a part for my snowblower on Dec 19, 2016. Tracking information shows it was accepted and picked up by FedEx location on 12/20. On 12/21 it departed Champaign, IL and arrived in Lenexa, KS that night. It departed Lenexa, KS on 12/21 and arrived in Olathe, KS on 12/22. So far so good! It departed Olathe, KS on 12/23 and arrived in Osseo, MN on 12/27. I realize that it was Christmas weekend. My package was then shipped from Osseo, MN back to Olathe, KS! It has went by my location twice now! Finally on 12/28 they gave it to USPS to deliver it. I called to complain and the FedEx person told me to expect the part on Jan 3, 2017! This is the last time I will be using FedEx for shipping if I have a choice!

They left a message on my voicemail to provide them payment for duties and instructions saying to called 1 800 number and say "make payment". The automated attendant sent me to "make pickup" instead and provided no way of escaping the wrong menu choice. It took 4 tries, before I got through to "make payment" and I was forced to hang up and go through the entire ritual every time. The fellow working there said he would be a millionaire if he was paid for every time someone complained about the phone system, but the owner doesn't want to make any changes. "Sorry but nothing we can do." If I did that in my business, I would not be in business for very long. I am still steaming over the whole experience.

Sender paid for express delivery signature required. I waited home all day for delivery. Delivery person did not come to my front door and knock. He slide door tag under patio gate. How thoughtless, inconsiderate of another person's time and money. I would never use FedEx for this 1 reason. Called customer service, operator said she would try to get it redelivered. After 30 I called back and was told there would be no redelivery today but tomorrow. They were not even considerate enough to call me back to let me know that. FedEx service needs extreme overhauling and a class on customer service needs to be given to drivers and dispatch. Lazy drivers and dispatcher. I would never use them again.

Hate is a strong word I'm told... However, when I say I HATE FedEx... I MEAN I HATE THEM... soooo incompetent and refused to help me the way I requested when they are the reason I was inconvenienced in the first place. Package was supposed to be overnight delivery... though my ESTIMATED delivery was Dec 27, by 8 pm... WHY? I left work early to make sure I would be home for... It never go to my residence AT ALL... Stated it was being held in Tennessee for 3 days for... what??? NO ANSWERS. Called them back this morning. Told me that it would be delivered 4 pm, so I left work early for a second time to find a notice that I missed them literally 12 minutes prior at 1511. I asked could they come back since I passed the truck, still in my neighborhood and they refused, telling me they would try back TOMORROW??
My package is now 3 days late from an overnight and you can't turn around when in the same neighborhood to convenience a customer that you stiffed for 3 days now? HOW WICKED AND NASTY. I have to drive to a location 10 miles from me, at 7 pm this evening to pick up my 3 DAYS LATE package that should have been delivered TO MY DOORSTEP and all they say is SORRY. I will never as long as I have breath, deal with FedEx again if I can help it... UPS NEVER GAVE ME A PROBLEM... they operate like clockwork. First time dealing with FedEx and certainly last. #FedUP.

I ordered a gift card on Monday December 19. I was told I would have it by Wednesday December 21. NEVER CAME. I called and was told Thursday. NEVER CAME. They put in a "case" after me not receiving it then told me on Friday December 23, it would be here later that evening or Saturday December 24, by 6 pm. NEVER CAME! They told me Monday that the trailer was in Spartanburg SC, a few hrs away and that I would have it Monday night. Nope!! Not Monday not even today. I called today they told me there was NO ETA bc they are loading the trailer in SC to prepare to come to me.
I finally called the FedEx in SC and guess what? They told me they never even received it and told me to file a claim. This was a Christmas gift. This happened to me TWICE! I ordered all of my daughters' Christmas presents online in 2014 and had express for 1-2 day shipping and I received her things 2 days after Christmas. I AM DONE WITH THIS COMPANY. TOO MUCH TROUBLE AND RUNAROUND AND LIES!

Relative shipped wine and FedEx requires an adult at home to sign. FedEx sent text on Saturday 12/24/16 at beginning of day stating it would be delivered that day. NOT. Sent email inquiry to FedEx and received no response. On Tues, 12/27/16, I tracked package on FedEx website which showed it was to be delivered that same day. Again heard nothing. Wife and I have stayed home 2 entire days waiting for this delivery and have not even received a courtesy notice from FedEx regarding non-delivery of this package.
Compare Shipping Companies
Company Name:

Fedex

Year Founded:

1971

City:

Memphis

State/Province:

TN

Country:

United States

Website:

http://www.fedex.com/us/