Consumer Complaints and Reviews

The entire year of 2016 were bad experiences with FedEx. Packages lost in shipment. Tracking system not being updated. Year 2017 started off just as worse. Cancel order due to lost in shipment. Pickup package myself which I paid for the service. Left emails with FedEx which really does not matter when shipping is below 5 star rating. Would get no stars in my book.

I paid $51.85 to have a package delivery next day because a technician was coming to do work. There was snow so they didn't delivery it. I called that night and asked if it would be here in the morning. They said someone would call me back. After an hour I called back and they said someone will call back it takes two hours. I waited two hours and called back only for them to tell me they could not tell me if the package would be there in the morning for the technician that was getting paid. I requested to pick it up. I got a text it was there. I went to get it and they said I would have to wait ten minutes. I waited 45 mins.
This company is inept and I talked to supervisors even as I was waiting for my package. Two supervisors called where I was to find out what was going on and they did not answer the supervisors. Can you imagine? They even have the nerve to tell me I'm not entitled to my money back. They have some racket ripping people off. I was not the only person upset. This was the Newburgh, NY office pick up. What else can be done legally because they should not be paid? It's one thing a snowstorm but at least notify the person who paid all this money. UPS trucks were out early.

I just ordered an item that was sent to me via FedEx. I tracked it from Ohio. It was located in Pioneer Tennessee yesterday which is about 30 minutes from my home. But FedEx has taken it to Ellenwood Georgia and they have given it to the USPS for delivery. Ellenwood Georgia is below Atlanta. The small USPS post office here in Deer Lodge has been cut back to only open a half day and closed completely on Saturday. FedEx and others have been given the lucrative package delivery while the USPS has been left with envelopes. Thanks to our thieving politicians. If FedEx and others had to deliver all the mail, they would raise their prices to the moon or go out of business. The little post office here has been in business for many years but it may be closed for lack of funds. Why have the politicians allowed this to happen. The answer is certainly not efficiency. Both UPS and FedEx drive their employees like slaves.

My package was suppose to be delivered February 6, 2017. In the morning I never received it so when I tracked the package around 3pm it kept saying "out for delivery". Okay I gave it the benefit of the doubt. I said to myself maybe they're running late so I stood outside waiting for a packaged I ordered for my mother and step fathers anniversary that I paid 250.00 for. And still NO FEDEX. It's now 6 pm. I checked my tracking and this time it said "package delivered". No signature required...
Okay first of all I stated in my comments do not leave my package at my door and require a signature. Second I never even seen FedEx on my block so number 1. They either were too lazy to deliver it. 2. They left it at the wrong house. 3. Or they took it home. Because when I called FedEx to make a complaint someone from customer service told me my package was delivered at 11am. This is all lies and if my package was supposedly be ''delivered'' at 11am how come when I checked the tracking number at 3pm it stated still out for delivery. I made a complaint so someone was to contact me in 2 hours that never happened the next day.
No one still never got back in contact with me so I called FedEx back again. Now it's an open investigation. So I contacted the company I bought the item from and they stated that a lot of customers haven't been receiving their things from FedEx. And that they will replace my money if they can't get any clarity with FedEx. This is sad because FedEx never ever take responsibility. I hate FedEx. This company sucks and I hope I never have to deal with them again.

We have continuous issues. We have a porch for packages to be left in. FedEX not only does not bother to place packages in porch - which is 3 steps, but they do NOT bother to obtain signature and just place package in elements and where it can easily be stolen. Further, when a complaint is made there is zero follow through. UPS always places in porch and obtains signature. We were home when FEDEX dropped off on steps a valuable piano keyboard, and found package in the morning on steps outside. NO more FEDEx ever!
How do I know I can trust these reviews about Fedex?
693,837 reviews on ConsumerAffairs are verified.
We require contact information to ensure our reviewers are real.
We use intelligent software that helps us maintain the integrity of reviews.
Our moderators read all reviews to verify quality and helpfulness.
For more information about reviews on ConsumerAffairs.com please visit our FAQ.

I have ordered a drawer from Wayfair. The package was not delivered the day it was supposed to be. I have tracked it and I saw the message that there the apartment number is missing. OK. My fault. So I have contacted customer service to give them my apartment number. I spoke to guy named MICKEE **. He told me that they can change my address but they will charge me for that. I told him that I am not changing my address, that the location is the same and I am only adding missing apartment number. He keeps saying that in order to change my address I will be charged. Anyway, I was not even planning to be home. Our super normally receive all the packages and store them for all the tenants in the basement. So I told the gentleman to forget about the whole "changing my address" because anyway, our super will receive the package. He said no problem.
Next day, I am tracking my package and I see it has been delivered. Excited coming home, my husband is asking our supervisor to give us our package and he is claiming that he haven't receive anything for us. Make long story short, FedEx has changed my name to completely different name and add wrong apartment number!!! The package has been delivered to our neighbor based on apartment number. On top of everything, the furniture was damaged. I was so upset. I couldn't believe that someone would change my name and address on purpose! I am 7 months pregnant and I am trying to prepare our house for the baby. It was such a terrible and disappointing experience. It couldn't even sleep last night. Me and my husband own a small business. Every dollar made is a blood and sweat. It is so frustrating to give that money to someone for such a terrible service. I will NEVER use FedEx again.

After ordering a part for my main transportation to and from work, it was placed into FedEx's hands to be delivered. After receiving an email stating FedEx delivered it and left it on my front porch I returned home to find NO package. I contacted FedEx for them to tell me I have to contact the shipper to contact FedEx to be reimbursed. Now do you really think a company that has already been paid and done THEIR part is going to go out of their way to fix a mistake made by ANOTHER company!!! So now am I not only screwed out of $100 but my car is still not fixed and it going to cost even more all due to the carelessness and negligence of FEDEX!!! I will never use another company that uses FedEx as a carrier!!!

I ordered a small diary from UK and based on the tracking number it shows that item arrived in Memphis TN on January 6. Called Fedex to track it on the Jan 10 and the agent said she will follow up and call me back. Nobody called me back. Called again on the Jan 18 and the agent said the the package should be delivered tomorrow. Called again on the 24th, 25th, and 26th to follow up, the agent reported the item has lost. Received a call on the Jan 31 from the claim dept and said that I have to get the refund on the shipping from the UK company. I told them that they are creating one inconvenience after another. I requested to be refunded for the total of the invoice for the package that they lost it, not giving me inconveniences from their incompetency. Ava from Fedex claimed that there are no other person above her that I could talk to regarding my complain. Incompetent!

A shipment was sent to me which required a signature. FedEx repeatedly left robo messages on my cell stating the delivery would be made between noon and 2:30. Instead, the driver came between 10:00 and 11:00 every morning, M-F. Could not resolve online since package required a signature. Tried to call the 800# to reroute to the FedEx store near my residence. Was patched through to call center in India. Had to give the rep my tracking number twice, due to language BARRIER. Rep kept repeating "with this package this is how this has to be handled". Clearly was (trying) to reading off some prepared list of responses. Frustrating beyond belief!

I am expecting a package that was supposed to arrive on Friday 27 Jan according to FedEx tracking system. I took a day off from work and stayed home the whole day since it was a signature needed delivery. Around 9:15 am the tracking showed delivery exception for customer not available which is a LIE because I was home the whole day and nobody came to my door. I called the FedEx representative and they told me that they will send a note to do the delivery on Monday.
Monday again I had to take a day off and stay at home for this package and guess what?? After waiting the whole day again delivery exception and now they say wrong address which is also a LIE because I confirmed the address on Friday when I called their representative. I am really frustrated with this situation and will take action against this irresponsible behavior of FedEx. This behavior has really let me down and I will never again use FedEx for shipping and I will tell this story to any of my friends who want to use FedEx for shipping purposes.

The above rating should be zero stars. I have never rated a company or posted a complaint prior to my dealings with FedEx, but my experience was so bad, that I opened an account here solely for that purpose. Absolutely, hands down, the worst experience I've ever had with any company, period. The below, brief description cannot possibly convey the frustration and anger I have for this company.
First note that I have previously set up countless accounts online with numerous companies and never had issues. The FedEx website is completely unusable. I've had to call customer support every time I get on the website, which has amounted to a minimum of 5 phone calls over the last week. Every new thing you do on the website requires a new registration (e.g. you have to register an account, then register to view or pay bills online separately). It is impossible to find anything on the website as well because everything is under an obscure drop-down menu under an unexpected category. When I tried to enter information into the website, I would clearly see my information typed into the box, but would get an error message telling me I needed to enter the information. After numerous attempts, the website expired.
Calling customer service will get you an automated message asking you to select from inapplicable categories and ask you for information you don't have. I had to spend several hours on the phone with them talking me through the worthless website, which begs the question: if this much input is necessary for the website, why even have a website? Note that they can't do any of the stuff for you over the phone. Additionally, while I was on the phone figuring out how to ship a package to Canada, they never mentioned anything about printing off customs documents. Nor did the individual who picked up the package. Thus the package was returned the following day and I was billed for it. I believe the phrase "going postal" was in reference to dealings with FedEx. For your own sanity, avoid this company at all cost and especially avoid their website.

My aunt sent me a package through FedEx. She only send it through paid courier because she did not want it to get lost. The package was allegedly "delivered" between the two doors to my apartment building. The package is now lost and FedEx is washing their hands of the whole thing. They are making no efforts to try to find it and the claim amount caps at 100$. Never using this service again and will advise my family to do the same. They were supposed to ask for a signature not leave it outside a busy apartment building.

FedEx failed to deliver package, tracked package and everything was fine till it hit minneapolis location and then sat for 14 days. Will I tried to contact customer service several times and find out what was going. They don't seem to care and said, "Package must be lost. At this point you will have to contact shipper to go any further." NICE package was only worth $500. I WILL NEVER BUY FROM ANYONE THAT USES FEDEX AS A SHIPPER AGAIN.

I ordered from a company that ships Fedex. Checked tracking and found that the package was delivered. Fedex delivered the wrong package, not my name or address on the package. Where is my package they don't know. The Fedex says it is on the company and I ordered from says it is on Fedex and I am out a lot of money. Now someone has my information.

This FedEx company way of doing business is a joke. I would never use its service. Unfortunately, there are some sellers/merchants that use this company's service (I buy stuffs from Ebay, Amazon, Newegg, DJI, etc.). I bought a drone from Newegg, been on waiting list for 2 weeks, finally shipped by DJI. However, DJI used stupid FedEx and required signature & over 21 years old. FedEx attempted to deliver during business hour, Mon-Fri only due to ground shipment. Of course I work during the day and they returned drone to shipper/seller. This stupid company do re-deliver per customer's request, or different time such as after 4;30 pm, and they don't hold the merchandise at a local FedEx location for ground shipment. I think this FedEx made $ this way by returning to sellers/shippers so that the merchants will spend $ shipping again. Bad business model and unethical. SMH.

I just recently had an order stolen from my doorstep by a neighbor because FedEx and UPS are leaving our deliveries on our doorsteps of apartments. I ordered a computer the same time I ordered the other package that was stolen and I called Amazon to alert them that my neighbor was stealing our packages and I needed to have all deliveries signed for because of this. Amazon told me that they cannot make any changes to packages for third party sellers. So I told them to cancel the order mid delivery because it's gonna get stolen and there is no other option given to me through Amazon customer service.
After cancelling it took 7 business days to receive credit. At my work there are Amazon lockers. I reordered but the Amazon lockers were not a option for delivery for the reorder and Amazon reassured me that they will get the package to me. Now FedEx is sending package updates to me saying they attempting to deliver the package but there are no stickers on my door. There are other stickers from FedEx outside on our call box but none for me.
I talked to my apartment manager and they stated that they give the code to the gate to the FedEx and UPS drivers and they are supposed to put the visit stickers on our doors and not on our callbox. UPS, FedEx and Amazon are liable for the drivers so they give time windows of delivery and really think it works. I always prefer to use USPS and we have lockers on our mailboxes to lock our packages up to 3 feet wide. Amazon, UPS, And FedEx just seems to not know the customers they serve. Too bad... This just inconveniences me and UPS is going to lose a customer today. Amazon needs better customer service.

I was expecting a small package from my husband in England. It was to be a Christmas present which he paid to be delivered in 2 days. That was a week before Christmas and now it's the 18th of January at which time he has spoken to FedEx and still no delivery or refund. What is wrong with this company? Do they not care about their customers or their business? Neither I or my husband will ever use FedEx again.

A 4 day delivery that has turned into an 8 day delivery. When calling customer service they claim that FedEx ground does not work on weekends or Mondays. That means three days where your package is not moving. I monitored my shipment and it sat on a truck for 4 days. When confronted they used the excuse that it was weather related. I informed them that the roads were clear in that area, they made up additional excuses. Even after making contact with Customer Service there was never an offer of an apology or sorry for the delay. These guys have gone downhill. Every package from FedEx in the last year has been late by several days. Hate to say it the United States Postal Service is faster than these guys that USPS is one of the worst out there.

This is the 3rd time I have not received a package as stated by the delivery date. I track my packages and even call to receive updates from the FedEx reps. I am unclear how packages can not arrive on time when they are sent even short distances? This is even without any notice of bad weather, etc. The three or four reps I spoke with did not mention anything about inclement weather, etc., only that there is no information regarding the package. I am the receiver and have been the receiver for these packages not received on time, so I will definitely not send FedEx.

I have a concern with FedEx customer service communication or serious networking error. I had scheduled a 6 package pickup on Jan 12th. The zip code is 51503. I received a phone call from a FedEx dispatch stating that I need to call customer service and have them change the zip code from 51305 to the correct zip code of 51503 otherwise my shipment will not be picked up. I did call customer service and straighten it out... so I thought. I then received a call on Jan 13th telling me my address doesn't exist in the zip code area of 51053. So again I call the 1800 number to straighten it out. On Sat Jan 14th I received a call confirming pickup at my address with the wrong zip code again. Once again I straighten it out. Come Monday Jan 16th I received a call stating pickup will not be that day due to weather it had been rescheduled for Jan 17th.
At 3pm Jan 17th I called customer service to see why my packages had not been picked up. I was told the driver could not find my address at zip code 51053. Still incorrect zip code. So I straighten it out again giving the correct zip code and was told pickup was now scheduled for the following day. I then immediately call customer service back just to make sure they still had the correct zip code. Turns out they had the wrong zip code again even after all that I'd been through with correcting customer service. How can this be? This is crazy. So I asked to speak with a manager and told her how many times I've corrected this zip code issue. She assures me they have the correct zip code in their system now for my address and that pickup is now scheduled for Jan 18th.
If you've actually read this far you have to understand my frustration and know you have a serious communication issue within this company's customer service and network... To say the least I am very disappointed and frustrated with FedEx service and will never use FedEx again as well as tell everyone I know and everyone I meet to never use their services.

I hope whenever I get something online that they will not ship FedEx. It says my package will be here at 8 pm and I will not be home so I go to try to change the delivery time and go figure I can't change it so now I will have to wait another day for my phone that I paid 600 bucks for. Way to make things convenient for your customers FedEx!

When I originally received my tracking number it stated 1/16/2017. I checked it on that date and the delivery date changed to by the end of the day 1/17/2017 so I checked it the following day. The delivery date never changed but FedEx delivered my package to the post office that is literally a block and 1/2 from my home AFTER my mail already ran for the day so I therefore won't be receiving my package until 1/18/2017. This has happened numerous times before where my packages that come via FedEx don't arrive until minimum 2 days after they're stated delivery date. FedEx is HORRIBLE and not good on their word of the correct delivery dates.
I'll also mention that this package is a subscription package that will be coming monthly so when I contacted FedEx to see if they could flag my address and have my packages delivered right to my door instead of the Post Office (then the post office delivers it to my door) a block and 1/2 from my house the customer service representative was rude and continued to tell me it's no longer FedEx's problem and that I should contact USPS. Um... what?!?! My package was sent via FedEx. FedEx is responsible for giving customers correct delivery dates and if they're going to use USPS then they should factor in the potential time it will take USPS to deliver the package as well so the delivery date is accurate!
To follow true to my word I will gladly leave a review of FedEx's service every time I have a package come through them which will be at least once a MONTH until FedEx steps up and takes responsibility for their horrible shipping and service, changes their business ways to put their customers first and FedEx stops giving FALSE INFORMATION to its customers.

Relying on FedEx has been an absolute nightmare. Not once or twice but several times. Each "representative" tells you something different just to get you off the phone with no intention of getting your package picked up or sent. I have never gotten upset with any company the way I have with FedEx customer service. There isn't any real customer service. This is the first time I've had to deal one on one with them and it's been one lie/problem after another. I honestly have no clue how this company has gotten away with this for so long. You think "big company" the customer always right. Wrong. The customer is always wrong at FedEx and they don't care because they know you most likely won't have a choice but to use them again. Absolutely ridiculous.

17-day delivery time from Buffalo, New York to Chico, CA is non-acceptable. No reason for the delay and no response from customer service. Sure made up my mind on who to use next time. Hire someone who cares and maybe you can salvage the company.

I order on-line from a pet food company. They ship through FedEx. According to FedEx tracking, my order was on the delivery truck two days in a row, but the driver was too lazy to come to my house. He drives right by my turnoff, but didn't bring my order. The company from which I order is in a state other than where I live. FedEx posted on the tracking that delivery wasn't attempted due to extreme weather. Since the pet food company is in another state, they don't have a clue what the weather is like. The two days the driver didn't deliver was the nicest weather we've had in a month. The sun was shining, the HWY was dry and clear and the road to my home was plowed. There is no excuse for my order not to be delivered except pure laziness on the part of the FedEx driver.

My package was set to be delivered to my home on January 13, 2017; it was delivered around 2:30 in the afternoon but not to my address! The first time I called they told me it was delivered at my garage door but I'm not understanding why the delivery driver will put the package at my garage door when I clearly put a note letting the driver know to leave my package between my screen door. The first representative apologize for my inconvenience and told me that my package will arrive around 5 that same day!
5:00 come around still no package so I called back and they explained to me that my package was delivered. Instead of reading all the notes that was put into their system that representative was very short with me and obviously didn't want to do their job! So I asked was there any updated note? Instead of looking she passed me to another rep and that individual explained to me that someone had already picked up the package and it should be delivered a little bit after 6 (that also never happen).
I called back again but this time I called the actual location that it was shipped from! The representative told me that he would contact the shipping and distribution location to see if the driver picked up the package yet. After waiting for almost 10 minutes to find out where my package was located the rep told me that my package still wasn't picked up and most likely I will receive it on Saturday or Tuesday.
Once again they took down my phone number and told me that somebody will contact me as soon as the driver go back to pick up my package. On top of everything I was told yesterday he had the nerve to have an attitude. But he did say my package will be delivered before the night is over. NEVER HAPPENED!!!
Well it's Saturday morning on January 14, 2017 I called again still no updated information and still no package or phone call. BUT they took down my number AGAIN and told me that someone will contact me as soon as my package was picked up from the WRONG address!!! I'm done with FedEx!! Anything that I need to be shipped will stay with USPS or UPS!!

I was already tracking my package that is supposed to be next day delivery. To remove the responsibility from FedEx for the delivery... because of work hours... I elected to pick my package up from the facility. I get a phone call from them stating that I can't pick the package up until Monday because they are understaffed and aren't going to break down any new freight. Let's forget about customer service and instead - as easier options have already been put in place because you botch up deliveries - now offer customers the option of coming to the facility and breaking down the freight for you too so customers can receive their property within the time frame promised. If you want to passively deny quality customer service, I definitely recommend FedEx.

I ordered a product off of eBay and it was shipped via FedEx. Everything was going well, then I checked my order status and it showed the product had been dropped off at my front door and did not require a signature. Firstly, this item was being shipped to my motel. My motel is open 24/7. There was no way the FedEx driver would have dropped off my package at the front door. The lobby is always open.
Before I filed my complaint, I wanted to make sure I had all the information I needed before I called. I have a security system installed at this motel. There are a total of 32 cameras on this property. I checked eight hours before and after the drop off time listed with the tracking number. There was never a FedEx at my property at all during that period.
I called FedEx to let them know what had occurred. After taking down my information, I was told someone would be calling me within two hours. That would never happen. I called FedEx again a few hours later and they told me the same thing. I explained to the employee that I have a security system on this property and there was no FedEx driver on my property the day in question. Again, I was told someone would contact me in two hours. No one called me back again.
After this failed, I went on their website and filled out a question/complaint form. I sent that to Fedex and never got any response within the allotted time. The site states to allow 48 hours for a response to the inquiry. Again, no response. During this time, I contacted the eBay seller and told him of the situation as well. He stated, he would contact eBay the next morning.
I was about to contact FedEx again the following day when a person showed up in my lobby and dropped off a package which was delivered to him. It was my order. The FedEx driver had delivered my package to the wrong address. I notified the eBay seller and told him everything was fine. I told him that I would wait for FedEx to contact me to let them know what had happened.
I have never received any communication from FedEx, verbal or written about this matter. I have cameras. I can verify everything. I saved everything to a flash drive if they are interested in knowing what happened. I guess they just don't care that their employee made a mistake. Maybe they thought I would just go away. Maybe, because I had cameras, they knew I wasn't lying, so they would have to actually fix a screwup. No one at that company ever stepped up to find out what happened.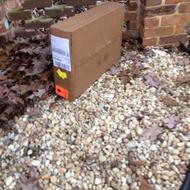 They delivered one of my packages to the wrong address, and they deliver another one to my neighbors. I sent my asus computer in for repair and I begged them not to use fedex. They said they would hold it at the holcomb bridge location. Guess what they did?? They threw it out in the middle of the yard. They lied to me about holding it. Please see picture. I am very displeased with their service and I want to file a compliant. Bizcom Electronics Inc., Shipping Carrier FedEx Express Saver, Tracking# Bizcom Electronics Inc., Shipping Carrier FedEx Express Saver, Tracking# **, Product Type NoteBook (System).

I ordered a set of trailer tires from Amazon and somehow Amazon got our address screwed up by one number. FedEx said package was delivered on front porch. Problem is the address they had didn't exist so how can a FedEx driver leave a package at an address that doesn't exist. I have called numerous times with them promising to call back within a couple of hours. They have been contacted by myself, Amazon and the supplier of the package with no results. It's been over two weeks and still nothing. Not even a call, supposedly it's under investigation, how hard is it to investigate. The driver screwed up. Plain and simple. Whether he left the package in a field somewhere or took it home who knows. Proper procedure would be if there is no such address package should have been sent back to the supplier, I can't even get a frigging refund until they supposedly finish their investigation. I am very dissatisfied with FedEx.

ConsumerAffairs Research Team
The ConsumerAffairs Research Team believes everyone deserves to make smart decisions. We aim to provide readers with the most up-to-date information available about today's consumer products and services.
Since it's official opening in 1973, FedEx has been focused on delivering products for consumers and businesses efficiently and quickly, utilizing air transport for express shipping. It has evolved since then to include international shipping, ground shipping, FedEx Freight and FedEx Office, which is a physical location where consumers and businesses can pack, ship, print, copy and perform other important tasks.
Fast shipping: The whole point of FedEx is to get packages to their destination fast. Choose between ground or air shipping, depending on where your package needs to go and when it needs to get there.
FedEx Freight: FedEx Freight is for businesses that need to ship heavier and larger cargo and freight. Generate your bill of lading and set up your shipping preferences online for maximum convenience.
Air/ocean freight forwarding: Businesses who need to ship freight overseas can easily utilize FedEx's Air/ocean freight forwarding service. Download all the forms you need, including customs forms, from the website, then pass them on to your carrier.
Temperature control: Businesses that are shipping freight with temperature sensitivities can utilize FedEx's temperature control options. Temp-assure ground and air keep  your cargo cool by placing it in a temperature controlled container.
FedEx Delivery Manager: Take control of when your shipments arrive by signing up for FedEx Delivery Manager. This free service allows residents to customize their delivery time, choose to have their package left at a FedEx delivery location instead of at their home, receive delivery notification or request a vacation hold.
Best for FedEx is best for individuals and businesses that need to ship items fast.
Compare Shipping Companies
Company Name:

Fedex

Year Founded:

1971

City:

Memphis

State/Province:

TN

Country:

United States

Website:

http://www.fedex.com/us/