Consumer Complaints & Reviews

Horrible! FedEx guy came down and on seeing the boxes went back saying he will get a bigger vehicle! On repeated following up, he came over the next day but saying bar code was missing and confirmed saying he will come back after a couple of hours later... he never turned!!! I have called the customer care - nothing. Less than 7-8 times and finally they could do nothing but saying sorry! I am frustrated and I have my flight scheduled tomorrow morning!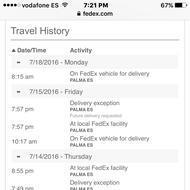 My packet has arrived in the city last Thursday, and FedEx web tracking is showing that it has been scheduled for delivery, but failed because I was not home (not true) and today I called and they told me that my packet arrived earlier than their commitment and therefore they are holding it up in their office for 3 days?!
And is up for delivery today between 8am and 8pm, but if doesn't arrive will come tomorrow or the day after. I am speechless.

Had a piece of equipment shipped to me for work (B2B). When 2 of 3 pallets arrived, I looked online and found that I could no longer track the missing pallet with the same (or any) tracking number as the package had been "delivered". Spent two days on the phone with FedEx trying to figure out where the missing piece is and still no answer. Two frustrating parts (outside of not getting what I need). 1. After several calls, I asked if they could call me with updates as there was no way on the site to find out what was happening. The FedEx official said yes and have heard nothing since. 2. Called in 2x times on a Saturday. Both times I was on hold for 10+ minutes ("Fedex has the lowest LTL rates in the industry!") and then was disconnected. Very disappointed. Terrible customer service and will actively try not to use them in the future. Also, where is my pallet?!? It is a pallet with a 400 lb piece of equipment on it...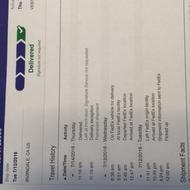 Supposedly received pkg at front door on 7/13/16. Pkg not there. Our camera at front porch shows the side of a FedEx guy appearing to put pkg on porch. Can't see his hand, only shoulder. He walks away after reaching down. Tracking showed he left pkg at 11:31 (same time on our camera). No pkg. Waited to call FedEx 5:00. Opened case, they stated they would contact driver. Called 3 hrs later (as they said they would call 2 hrs later but never heard from them). Still no change on the tracking info according to operator. "Somebody will call you tomorrow." No call.
I called noon the next day. Operator stated it was delivered today at 11:16. Yes, it's on my porch. Our street address is actually crossed out on mailing label. Something else written next to it but then that is crossed out also. Operator stated that driver left it at a wrong address and went back to retrieve it. Ok, then why was he at my door on Weds appearing to put something down on porch? We had no other pkgs that day, but he is clearly on my camera. Tracking report from Weds. states pkg was left at doorstep.
Thursday, tracking report changed and shows he did not come here Weds, (shows 6:36 a.m. it was on FedEx truck, no other activity after that for Weds). Current tracking report shows pkg was delivered Thursday. Shows "retrieved shipment" at 11:15 a.m., and 11:16 a.m. was "left at my front door." Do they change tracking reports even when they make a misdelivery? Called to complain about driver and FedEx said they would notify the mgr of local warehouse. Haven't heard from that person yet. I'm going to stick with UPS and US Mail.

Have had several problems with this company. The drivers either don't show up, or show up after the designated hours of delivery. I have waited all day on 3 occasions to receive a parcel only to have the driver not show up, or deliver to the wrong apt. number. DO NOT USE FEDEX - their customer service reps claim they cannot contact the drivers to find out when they are expected to deliver the parcel. They tell you anytime between am and 5 pm but I have waited all day on 2 occasions to receive my parcel only to have them not show up.
How do I know I can trust these reviews about Fedex?
551,483 reviews on ConsumerAffairs are verified.
We require contact information to ensure our reviewers are real.
We use intelligent software that helps us maintain the integrity of reviews.
Our moderators read all reviews to verify quality and helpfulness.
For more information about reviews on ConsumerAffairs.com please visit our FAQ.

I was having a TV shipped to me from Sony. This was a warranty replacement. Shipment required a signature. I missed delivery twice as I work. So I called FedEx to see what my options were. Was told I could sign door tag and they would leave it. However I was not comfortable in leaving a 40 inch screen TV on my front porch. I was told that was my only option by the customer service rep. However I was given the option online to change the shipment address for a fee. When I told the lady that, she said, "no we could not do that, that was against Sony policy." So I said, "ok I am not going to argue with you about the policy. Just tell me what I can do other than take a day off work and wait on FedEx."
She then said on Sat I could pick up my package at FedEx hub. Then told the address was on the door tag that was left on my door. It was not on the door tag. So she proceed to give my the address of the FedEx hub, but she was doing so in a tone that I would use to explain something to a toddler in. I stopped her as told her I didn't appreciate her tone. I wasn't 3 years old and if she would just speak to me like an adult I could get the info needed and we could end the conversation. What happen to customer service? I mean really, I called for help and was given wrong info about numerous policies. And then when I pointed out she was wrong she cops an attitude.

Ordered a TV stand from Amazon. It shipped from Whitestown warehouse on July 8 only 146 miles from me in southern Indiana. FedEx showed it would be delivered on July 12. The morning of the 12th it showed on truck out for delivery. End of day no package. Checked the website and it stated that the package delivery date was changed by the customer. I called their customer service and they told me someone called and asked that the delivery be moved to the 13th. I told them no one called. 13th came and went and I checked the website that night and it stated incorrect address need additional information and I needed to call. This time I called Amazon and they were very polite. While I was on hold they called Fedex CS who verified the address was correct and said they didn't know why it wasn't delivered and that it will be delivered on the 14th.
Meanwhile I got an email from Fedex customer service stating the package is being held and that I need to verify the address, which I did. Morning of the 14th the website showed out for delivery. It is now 5 pm on the 14th and the package just arrived as I was writing this review. The driver was a very polite young man in a FedEx truck. When I questioned him if he had this package for the last 3 days he told me it was given to him just today and that it previously had been on another route. Since he was driving a company truck and wore their uniform I got the impression he worked directly for them and appeared honest and sincere. He apologized for the trouble and said that he did know of a contract driver that they had issues with in the past but that he has been gone for a year. I told him I think you now have his twin brother.
Together we checked the address and he said he had no issue with it and came straight to me. Nevertheless I had a similar experience a few years ago with FedEx and a damage issue with their freight and it is no more FedEx for me. I have better things to deal with than lying drivers and customer service people that want to give you a runaround. Meanwhile I got an email from their customer support wanting my phone number so they can complete the incident report. Not on your life. FYI can never remember an incident with UPS who has delivered here many more times since I ran a small business out of my home.

In order to receive a package that required a signature I waited a day beyond the scheduled delivery day, then the package traveled 200 miles round trip to return to my location the next day. After 40 minutes on the phone with their "customer service rep." the corporate secret was released that for an addition fee I could receive the packed the following day, after 5 pm when I would be home, another wasted 200 miles of travel for my package.
When I arrived at home the next afternoon early the FedEx driver would not release the package until 5pm, requiring the driver to waste 2 1/2 waiting in my driveway to release the package. After pleading for 30 minutes and being put on hold for 10 minute a district manager informed me that the package could not be released until 5 pm because that is the company's policy. What a waste of my time and the driver's resources, clearly the contract that was not negotiated between the drive and the non-union FedEx corporation show the inefficiencies of this market relationship. FedEx shipping procedures are for the good of FedEx profit margins only.
I call FedEx byzantine because it reminds me of the rigidly bureaucratic top down system that allowed a dead 4th century Byzantine emperor to rule for several months after he was dead. Listening to a district manager tell me that a package could not be released for 3 hours though I was standing only feet away was like reading proclamations to a dead emperor as though the reality of his passing could not be acknowledged because of a inane concrete hierarchical decision making process. Fedex clearly operates in a market economy that favors its relationship with the shipper and not its drivers of receivers of packages. If it was truly an efficient expediter (as it district manager claims) it would acknowledge the waste in the system that is being unfairly borne by its non-union drivers and the receiver of the package that FedEx admittedly does not consider a customer... gotcha capitalism at its worst!

Overnighted some documents to a law firm. Package was left across the street on the porch of an abandoned/boarded up building. The law firm's address was on a sign visible from across the street. The kicker is that the package was SIGNED for by the front desk! Spoke to 2 people at FedEx. "This has never happened before." No refund unless I speak to yet ANOTHER person. No promise of a reply was given to my complaint when they speak to the driver (if they ever do).

My FedEx awb no. ** has landed in India on 30th June 2016 and now it is almost 15 days but I have not received the shipment. I have contacted your employees and given multiple documents to them but still I am awaiting my shipment. Ms. Preti ** and Sheetal are the most rude employees I have seen in any professional organization, they do not take calls nor reply to emails and on top of it they are saying that they do not have color printer in their office to take printout of my documents and I have to courier it to them again.
I don't understand this, I have send soft copy and given permission to take printout and use it but still they want hard copy in courier. This is heights of unprofessional service. They talk to customers as if they have paid us. I have paid almost 130 USD as shipment charges for a small shipment from Shenzhen to Delhi and still I am calling them again and again but they are not taking my calls, nor do they reply over emails.

I am an On-Site Manager for a 72 unit apartment building. We have one FedEx driver that will not take packages to the individual units. He states that every packages requires a signature but over the past month if we are not available he will just drop packages in front of the Manager's unit - no signature required. I have confirmed this will the Tenants that their order are NO SIGNATURE REQUIRED. I understand we have 5 floors and it is a pain to deliver at this time because the elevator is down but every other delivery service we use delivers direct to the unit. Before I complain I would like to know the procedure. Deliver direct to the door or drop off at the Manager's unit if the packages do NOT require a signature? BTW: All other FedEx drivers take to the apartment door unless signature required.

I have talked to numerous customer service and assurance officers and the delivery facility manager; none have been able to give any customer service. Everyone has been very rude and unhelpful. On Thursday my package was attempted to be delivered, I call customer service to schedule a delivery because I was told it could not be held for pick up. The report promised it would be delivered on Friday after 5pm. When I left work early to be home at 5pm there was another door hanger stating it was attempted again at 315 pm. It was only 415 so I call to see if they were going to send the driver out as promised and was told the driver had gone home.
I asked if I could go to the facility and pick up and was told it was not at a FedEx location but contractor. I asked for pick up again and they said it was not eligible and they would attempt to deliver again Saturday. I advised I worked every day till Tuesday but I asked if they were sure I would have a friend come sign. They would not give me a time so I had to inconvenience my friend from 9-4. The package was never delivered. I called again and they said they held it at the facility for pick up. Which I was told they couldn't do.
I attempted to have it held so I can pick up Tuesday and again told they couldn't do that but can schedule it for the morning of Tuesday. So I requested it be delivered Tuesday before noon, my only day off, yet another inconvenience for me again. Now Tuesday comes and a FedEx truck comes and delivers a package to my neighbor and before I could step outside drives out of the parking lot so I call customer service again. Now I'm told it will not be delivered till 5-8pm. So after 5 reps to assurance people, one dispatch manager, I'm still waiting for my package. No resolution. I have tried to work with them but keep getting lied to and nothing resolved. I am horribly upset with the service that I have received.

I dropped a package off at a local dropbox on Thursday. Box showed that the daily pick-up had not yet occurred. Check online on Friday and it showed the package scanned. Now Monday and the package is still at the local 'hub'. Called once and was immediately dropped after giving the tracking number. Second call I was speaking with a rep for a few minutes when dropped. Third call the rep said that the number I gave was not a valid FedEx number!!! I asked to speak with a manager and was given to another rep that was much more helpful, and expecting to see the package move on tonight. I hope so.

Shipped out a Antique Budweiser clock that was 57 years old to Indiana through FedEx ground on 6/12/2016. The person from Indiana received the clock broke/damaged. Looked like they threw it off the truck or stepped on it. I just got off the phone with the claims department after 12 phone calls and almost a month later and was informed they would reimburse me my shipping cost @ $26.75 and $100.00 for damages. The clock is a Antique Budweiser and has a retail value of $750.00 restored. This one wasn't restored and asked for $300.00, which I thought was more than fair. I will never never use Fedex again and will spread this story with everyone I know. They will lose more in the long run that's for sure.

I paid additional money to have an item delivered by 10:30 am on July 11, 2016. At approximately 8:40 AM a driver pulled into my driveway and turned around by my house without getting out of his vehicle. According to tracking they had tried to deliver two different days prior but a notice was never left. I assume he was too lazy to get out of his vehicle to leave the notice. I end up finding out that my order had been delivered to the mall. FEDEX was no help in resolving this matter at all. As far as I am concerned their delivery is the worst.

I sent package in the Philippines. Charged with $$ amount for shipment. I found out they also charged the person in the Philippines with ridiculous amount. They said item will be delivered 4-5 business days which did not happen. They failed to disclose that the consigned person will pay in said country. The broker here said no extra fee yet they held the item for very long since they asked the person there to produce documentation that she does not have instead of communicating to their office here in Canada. I hope their Customs or head office will pay attention to this.

I had to ship a gift that had to be delivered to Morocco by the June 30. I went to Fedex store on June 22 and paid $141. I was promised that the delivery would be made by June 30. Now we are on July 8th and has not been delivered yet. They ruined the whole gift surprise to the people I am sending to. My package was in France for 3 days and then was sent to Ukraine for 4 days and was shipped back to France for 3 days and spent 1 day in Spain and finally made it to Morocco last Tuesday. We are on Friday 8th and I called them this morning and they told it will be delivered on Monday. Last time I am using them. I will stick with USPS.

2:59 pm: Delivered. 2:54 pm: Delivery exception. Retrieved shipment. 5:22 am: On FedEx vehicle for delivery. 5:01 am: At local FedEx facility. NEVER RECEIVED PACKAGE. My package was allegedly ORIGINALLY delivered at 10a.m. The driver then picked the package ("retrieved shipment") because he "misdelivered it" and then almost 5 hours later at 2:59 p.m., he "redelivered it to the right location". The driver also put that my package was signed for... Well, he put that it was signed for by my "Patio" and I don't even have a patio.
FedEx said they were waiting to hear back from the driver to see where he delivered it to. They informed me that the drivers have 5-7 days to follow up with these claims. The driver NEVER contacted them. They said it was still under review. The case was closed and they denied my claim even though the driver did not respond to the case.
So I do not have my package. Maybe the driver noted that he redelivered it but really he just stole it. It was merchandise from Barneys. He knows the company would trust him so he just put that 5 hours later he "redelivered it" and kept the package for himself. I was there when the update sent to me saying it was delivered and I called FedEx immediately saying that my package was not there. Maybe he delivered it to the right place the first time and redelivered it to the wrong place the second time.
I only got the immediate update delivery notification for the 2:59pm delivery, I was never notified of the 10am delivery. But FedEx shows AND explained on the phone that the driver misdelivered at 10am and redelivered at 2:59pm. Whatever the case, the story on their end doesn't add up especially that the driver never followed up with his own company like it isn't his responsibility or something. Or FedEx just doesn't care and it was not urgent for them to make sure their drivers are following up with these claims.
Thanks a lot for not being able to do anything about the packages YOU deliver, and thanks a lot for making sure your driver NEVER followed up with my claim. Thanks a lot for closing my case and DENYING IT (Whoever the person sitting at their desk is that stamped a denial on it since they trust their driver so much that my nonexistent "PATIO" must have signed for my sunglasses). Thanks that all you have to offer is "I'm sorry ma'am but there's isn't anything we can do on our side, you have to call the place you ordered from and dispute the charge with your credit card company." Does your drivers info not sound the slightest bit fishy to you, especially not contacting his company to say his part of his delivery story??? WHATEVER. Obviously not using FedEx anymore unfortunately.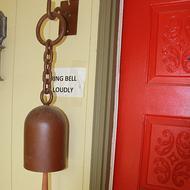 We don't have an electronic doorbell at our house, but we do have a LARGE brass bell next to our door and a BIG sign that says: "Ring Bell LOUDLY." Today we were expecting a very important, very expensive package. We rearranged our schedule to be here for the package delivery. Two of us were home and in different parts of our house; we could have easily heard the bell. Imagine our surprise when we opened the front door to find FedEx's paper slip of attempted delivery (15 MINUTES EARLIER) but "customer not available." WTF? The delivery person did not ring the bell, nor, apparently, even knock very hard on the door and split within just a few seconds, taking our much anticipated, much needed package. We immediately called FedEx to see about turning that guy around, meet him somewhere, or at least be able to pick up our package later this evening at a distribution center. We were told "No," on all three counts.
The service rep said that it was a "contracted" delivery person and that there was no way to get in touch with the driver because "they are not supposed to carry phones with them." WTF? Well then, what about picking the package up at a FedEx center? No can do, the rep explained. Such contracted drivers take undelivered packages home with them in their vans. WTF? My rare and expensive package is sitting God knows where in someone's van overnight? WTF? At every turn in our experience the service was PATHETIC. 1) Obviously the driver was too rushed to concern about Priority No. 1 - the customer, 2) It is incredulous that FedEx drivers, any drivers, cannot be contacted immediately? 3) Contract drivers taking undelivered packages home to likely totally unsecured locations? If this is FedEx's standard operating procedures, NO THANK YOU, I won't be doing further business with them.

This is a shipping company, right? That apparently is not the case. The package for a client was held up for delivery. I called to find out the hold up. After 42 minutes of holding, I was told that they had the wrong zip code and had tried to contact me multiple times to find the correct information, to no avail. They refused to deliver the package after three failed attempts. Yet, when I looked up the shipping information that they were given, the zip was correct, and the phone was also correct. In other words, FedEx dropped the ball on this one and wanted to blame errant info -- seems to be their standard mode of operation. This is my last bad experience with FedEx. There are other options.

I sent an envelope to Nigeria on the 2nd of July, 2016 from Texas. Before using FEDEX, I spoke to the representative named John about the urgency of the mail and was assured my package will be delivered not later than July 8th, 2016. I tracked my package only to find out that it is still in Britain. Called to speak to a rude representative and the worse customer rep with no manners about conflict resolution. I paid $121.91 to send a 3 paged letter that will spend 2 weeks before it's received?? That is slower than just buying stamp and sending a post office mail. What a rip-off. Fraudulent FedEx.

I have used FedEx Delivery Manager for the past couple of years b/c I place lots of online orders so I get lots of packages delivered to my house. Recently I tried to change my address b/c I have moved. The FedEx website would allow me to change my address in one place but not the address to which packages are to be sent. Instead I got an Error 1000. My husband, who has had a FedEx Delivery Manager account almost as long as I have, tried to make the same address change and got the same result.
This is not the first time I have had problems w/ the FedEx website. About a year ago, I logged in and requested a change of delivery date b/c I was going to be out of town when something was to be delivered. The website accepted the change, but I started getting email notices that the driver had attempted to deliver the package on the original date. I called my local FedEx and was told that they NEVER receive any notification when changes like that are made online. In other words, making that kind of request on the website is useless b/c it will NEVER be communicated to the local office which is responsible for customer's deliveries.
I don't know if FedEx will read this review or if they do read it, whether they will care to do anything to correct the problem. I found numerous online complaints by people who have had the same experience with the FedEx website. Surely FedEx has read a few of these complaints, but nothing seems to have been done to date to resolve the problems. Perhaps the FedEx website is functional for business customers but not for residential ones. If that is the case, then why even bother to offer residential customers the FedEx Delivery Manager option?
In short, FedEx has a dysfunctional website. It appears that the company does not care enough to hire IT staff who are capable of changing the program to make it usable. Too bad they don't take a lesson from UPS which offers a similar service. The only difference is the UPS service WORKS. For that reason, whenever I make a purchase which is to be delivered, I request that the merchant use UPS instead of FedEx. Perhaps if more people did the same thing, it might grab the attention of FedEx b/c nothing else has.

They do not know where my package is that was supposed to be delivered yesterday July 1st. I called and they said they will call back in 2 hours... 3.5 hours later I call them and now that department is closed... Really??!!! According to the tracking my package is in Essex, CA and according to the guy on the phone, it is in Chicago. Now I can't get any help or delivery until July 5th. Now as I told them on the phone, my package is a water heater that desperately needs to be installed since mine still has to be used but it is leaking all over my floor. Thank you for nothing FedEx... I want my package and a shipping refund!!!

I ordered packages from Walmart and Famous Footwear and they was suppose to be delivered yesterday. I call them because I was waiting outside and my wife was waiting inside so we could look out for the FedEx guy. Well long story short he never showed up and he altered the package online by saying no one was home which is a complete lie. We waited all day... we spoke to management and they promised us that it would not happen again and that we would get our packages the next day.
Well today is the next day and the driver did the same thing again... this is unreal and this is the 3rd time that FedEx has done this to us. They always want to give us our packages 3 damn days after the original date it should be delivered... they are discriminating against my area and it's not right. The drivers are lowdown scumbags that should be fired and management doesn't do anything to these idiots. If you have the option to use a different service, do it. Trust me.

I ordered from Gmail items worth $200 plus, and when checking out it would not give me a day express delivery instead I waited for weekend delivery. Then on a weekend which is 06/02/2016, FedEx made a note in their tracking number when checked that attempted delivery at 9:39 am when I have been in my place the whole time because of that delivery. When I called them they said and also from notification that it will be delivered on 06/07/2016 which I was a bit worried because some of the items may be spoiled. Called Google Express and all he said was an apology. When I tried to cancel the item it will take days to refund the money to me which I just let them go ahead with the purchase as I am worried of the inconvenience of following up and refunding my money back. These companies were very inefficient with regards to their staff. I said poor, very poor service. Will no longer order the items.

So disappointed with FedEx - I have paid close to $200 just for shipping to FedEx and I was promised that the package will be delivered by 01 July 2016, but it did not. I had to call FedEx Customer Service and the reps were polite but not at helpful. Because of this package delay I had spend more $200 for buying the same stuff what I was expecting for my family for the festivities. I don't know why FedEx does not understand the priority, I mentioned them that we have our kids' clothing for festival, which I promised them for the festival. Since it got delayed, I was contacting FedEx to help me, so that I can at least go pick it up from local office, and I did asked them to charge me anything on top of my shipping cost - nothing worked out. So heart broken and ashamed in front of my family and kids. FedEx made me look dumb and break my promise, ruined our festival day.

FedEx is a terrible excuse of a delivery company. They charge citizens all this money send things to whomever and don't even deliver it on time. There's always an excuse. The telephone agents are rude and knows nothing about quality value nor customer service skills. I am totally disgusted with FedEx's entire operation.

I am attaching the location to be more specific 670 E 132nd St, Bronx, NY 10454 is the WORST. The drivers are lazy, the supervisors are never available and they lack communication and customer attention!!! After filing 2 complaints and several phone calls with FedEx you think a supervisor will call to apologize or to make sure the customer gets their packages!! I was supposed to get an overnight delivery, I took off from work to wait since they gave me a tracking number and an estimated time of delivery which was 8pm. The driver's claims that on the first try I was unavailable, there was no door tag, didn't ring the doorbell even though he knew this is an apartment building and in order to get in someone has to buzzed the in!!
I call FedEx. Within 10 minutes of the so call attempts they couldn't get a hold of the driver that the next day they will try again between 10am-2pm. Again I take off from work to wait, driver claims they attempted at 2:30. I called at 2:45. I was asked by my contact info, they were going to see if they can get the driver to turn before going into the center to park, no response. I call back at 4pm. Another representative ask me the same questions again. I waited. I called at 5pm (all of this the same day, now this is day number 2). That representative takes my information. Their system states that they are trying to get the driver but is unresponsive. They call the site to speak to a supervisor. All supervisors are not onsite!! Now I am beyond annoyed and frustrated. File a complaint that night, there is nothing they can do!
3rd day the same thing!! If I'm paying for overnight delivery why is it taking them so long and why should I have to go out of my way, because the lazy driver does not want to get his behind out the truck to ring the doorbell and go up 3 floors with an envelope that weighs a pound!!! Now am being charged for a package that I don't have and I'm left with several migraines and high blood pressure for crappie services!!! Now am more annoyed because in their tracking system it says that my delivery can happen up until 8pm, yet by 5pm the driver is gone!! My advice to people do not use FedEx, especially the one at this location. It needs to be shut down!!!!

I called and talked Janet on 6/30/2016 regarding why yesterday their site said my package would be delivered today by the end of day. Well today I checked their website and it said not until 7/7/2016. How the hell can they be that off as of yesterday!!! Gosh I wish when things say one thing it should be within a day or 2 at the most. So now for my husband's 50 birthday he will get a piece of paper saying what I got him. SHAME ON YOU FEDEX. GET YOU CRAP TOGETHER...

So I sold some items on eBay. Went to go ship them, checked out all my shipping options. Selected FedEx due to the fact they were 8 cents cheaper than USPS. (Even though I would have to drive 20 mins to drop it off at their building. Was quoted the same price in store rate as well as the online rate. Printed my labels and dropped them off at your store.
Then a month later, I check eBay and FedEx charge me after the fact over 200% the price quoted to me. Contacted FedEx, they agreed they should refund me but since I paid through eBay they had no way to refund me directly. So I filed a complaint with the BBB regarding the scam they pulled on the shipping charges. (Keep in mind had I just paid in the store. There would have been no way for them to try and charge me twice the amount later.) Received a response FedEx saying "that shipping charge is just an estimate and that they can actually charge you whatever they want after the fact". (For example what if the truck did not have any parcels that day it would cost me more because the truck still had to do the route.)
SO in other words this company quotes you a rate just under USPS to rope you into picking them and then later charging you twice as much as you agreed. BAIT AND SWITCH ALLLL DAY, not to mention they continuously change the delivery day as they push-off your package on trucks later and later but that is just a whole different type of scam they pull (not complaining about that one - just the fact that they scammed me on shipping charges). In the same boat? Save all proof. There are a few attorneys currently working on a class action lawsuit and I intend to send in my written testimony.

ConsumerAffairs Research Team
The ConsumerAffairs Research Team believes everyone deserves to make smart decisions. We aim to provide readers with the most up-to-date information available about today's consumer products and services.
Since it's official opening in 1973, FedEx has been focused on delivering products for consumers and businesses efficiently and quickly, utilizing air transport for express shipping. It has evolved since then to include international shipping, ground shipping, FedEx Freight and FedEx Office, which is a physical location where consumers and businesses can pack, ship, print, copy and perform other important tasks.
Fast shipping: The whole point of FedEx is to get packages to their destination fast. Choose between ground or air shipping, depending on where your package needs to go and when it needs to get there.
FedEx Freight: FedEx Freight is for businesses that need to ship heavier and larger cargo and freight. Generate your bill of lading and set up your shipping preferences online for maximum convenience.
Air/ocean freight forwarding: Businesses who need to ship freight overseas can easily utilize FedEx's Air/ocean freight forwarding service. Download all the forms you need, including customs forms, from the website, then pass them on to your carrier.
Temperature control: Businesses that are shipping freight with temperature sensitivities can utilize FedEx's temperature control options. Temp-assure ground and air keep  your cargo cool by placing it in a temperature controlled container.
FedEx Delivery Manager: Take control of when your shipments arrive by signing up for FedEx Delivery Manager. This free service allows residents to customize their delivery time, choose to have their package left at a FedEx delivery location instead of at their home, receive delivery notification or request a vacation hold.
Best for FedEx is best for individuals and businesses that need to ship items fast.
Compare Shipping Companies
Basic Information
Company Name:

Fedex

Year Founded:

1971

Website:

http://www.fedex.com/us/