Consumer Complaints & Reviews

My very first experience with FedEx was a bad one and the very last one. FedEx suck. They delivered my son computer to another apartment instead of mine. Delivered to C apts instead of H. My address was on the box as clear as day. Just imagine if the guy the delivered it to wasn't honest? Then my son would be without a 200 something dollar computer. Very careless on the driver part, and bad business. I wouldn't recommend FedEx to any of my family. Just leaving on someone's porch without having to sign for it is definitely not the smartest thing to do. Vey angry and disappointed. I rate FedEx a zero.

I ordered a downrod from Lowes that was shipped out aug 2nd, been fighting with them because I was getting conflicting stories, it was shipped, not shipped. Fedex shows it arrived in Houston Aug 4th, I live in a suburb of Houston. It's now Aug 18th still haven't received it, so I called and their excuse was bad weather, address issues. WOW! It's been raining for the past three days only. I said, "You don't have my phone # I provided since you had address issues for 2 weeks??" She said, "Yes", again WOW! I will never personally, use Fedex!

My experience sucked!!! Twice I scheduled home pickup for a prepaid shipment and both times the driver refused to pick up the package. The first time was due to the label not actually being attached (and the driver would not even wait 30 seconds while I was taping the label to the box), the second time the driver said that he couldn't pick it up because of the type of service I chose to ship this package. Which he could have explained yesterday and I would have contacted that DEPARTMENT for pickup BUT NO!!!!! So now I will never ever use their sorry services again and I hope they go bankrupt!!!!

This is by far the worst company I have ever had to deal with in 30 years. Overpriced and unreliable, never providing the service we pay for, leaving packages with complete strangers and losing packages, refusing to surrender packages to the CORRECT addressee even when provided with, ID a home LEASE!!! for proof of address and still FedEx won't release because door slip was not provided. Why? Because FedEx didn't leave one!! Customer service is snarky and rude and there is NOTHING we as consumers can do. Very frustrating and disappointing.

With a Sony pre-paid printing label in hand. I approach the FedEx counter as the FedEx clerk calls me forward saying: "Hello sir, how can I help you?" As I had the clerk my prepaid Sony printing label I say in response to this question: "I have a Sony dvd player to go back to Sony electronics and a prepaid printing label." I continued by asking him about the cost of the boxes that were on display. He says to me "well those boxes may not be big enough. I have one here in the back." He goes back and brings out a box. He takes my DVD player and put it in the Box he had retrieved from behind the counter and this is where the confusion began.
Scene 2 FED EX STORE WITH CLERK. After looking on his computer screen he says: "I cannot locate Sony electronics name so we can Bill them for your package." The confused look I answered back "well what do you mean you can't bill them. Here is the printing label?" Clerk: "I'm sorry sir I cannot locate the name of the organization that I am to bill for this package. Sony electronics is not named here as one of the parties will accept responsibility for this package." I look at the printing label and I look at the email that Sony has sent me to see if there were any other names that I could give him that he may have on his computer so we can bill for the package. Finding one name I give it to him and sure enough that name there was not located it as well.
Puzzled and somewhat frustrated because my wife is in the hospital and I took 10 minutes to spin off to the FedEx station to get this package out because you were looking forward to getting a replacement DVD player for the one we had purchased six months earlier had broken and Sony said they would send us a new one. So I called Sunny and spoke with representative. After a few moments he was just as puzzled and confused as I was and I said "could you please speak to the clerk" as I handed the clerk the phone that worked up the phone and he position does upside down and kept saying "hello-hello hello!"
Taking the sound back from the clerk the Sony representative could not answer my question. He said "let me contact the billing department." So Sony wanted to contact their billing department to find out what was going on. At that time the clerk said "don't worry about it. We'll just send a package out for free no big deal" but having an understanding of money and its importance to manage well I was eager to make sure that FEDEX got paid for their package and I said: "No sir let me just just hold on a minute. I want to get you your money for the package etc etc..."
But realizing that waiting for Sony in their billing department probably more confusion as my wife waits for my return as she's in the hospital; So I took the clerk's offer of the free package and I said to the FedEx Clerk: "well let's do it that way please." Taking the package he readies the tape and I noticed there's no packing material inside to protect to DVD player from any harm due to shipping as it was the DVD player would just be bouncing around and probably wind up in worse condition and I said to him: "sir could you please put some packing material in the Box?" He replied: "well I'm really not supposed to do this but ok."
Final Scene. Recap. Once again I had come up to the counter I asked him: "how much was the box that was on display?" He said that "the box might not be the size you're looking for so he grabbed one from behind the counter, took my DVD player, put it in the Box without any packing material tape in hand ready to close it. Danny said I cannot find the organization to bill for the Package. So after putting some packing material and he brings out the taste and we get into a little sad but I caution and I come to find out that I had been wasting all this precious time. I repeat. I left my wife to spend on the year. He grab the DVD player, put it in a box and when he said "I don't know what the bill for this package" he was talking about the cost of grabbing my DVD player for my hand putting it in the Box without packing material and pick it up. You paid doing that there's a cost of $10 for that. Yes folks $10.
I put my DVD player and a box and tape it up. This is absolutely ludicrous. It's pathetic. It's scam. It's so pathetic I want to puke right now. Just talking about it it makes me angry. It makes me sick that the company would steal from me and probably the other hundred thousands if not millions of people older people, younger people who may not be too concerned or understand or have those with say why why why am I paying $10 for you to put the DVD player in a box and tape it. Why am I working 45 minutes or maybe even more than an hour for you to do that but that's simple. Are you kidding me America. Are you kidding me FedEx. Somebody do something about this RIPOFF.
How do I know I can trust these reviews about Fedex?
571,125 reviews on ConsumerAffairs are verified.
We require contact information to ensure our reviewers are real.
We use intelligent software that helps us maintain the integrity of reviews.
Our moderators read all reviews to verify quality and helpfulness.
For more information about reviews on ConsumerAffairs.com please visit our FAQ.

I have purchased some Ayurvedic medicines online. The online company shipped in time, but the courier boy did not delivered in spite of my phone. He did not come to our area and returned as marked wrong address. My tracking id **. I have complained to the local courier office as well as Head office, but no one take action. This is not happened by this courier for first time. Some day ago, this company delivered a cell phone after a week by my several phone call.

I ordered some product from my Advocare website. Advocare is a very well known and respected company with very expensive, but excellent quality, consumable products. This Advocare company uses FedEx for delivery. My product was estimated to arrive on Aug 10, 2016, however did not come until Aug 11, 2016, which is not a huge deal to me. The problem I have is that my package was left on my doorstep in the pouring rain for 6 hours. From 1430hrs, when it hadn't arrived yet and I had to go to work, to 2100hrs when I came home to see it soaked and, to top it off, crushed into my door step.
The items I ordered are not supposed to be out in the rain, humidity, heat, etc. I would have expected my package, if not able to be delivered, to be returned to a local FedEx location so that I may at least pick it up myself - or it could have been sent for re-delivery. The last thing I expected was for it to be crushed and completely soaked through from being left in the rain. Luckily the company from which I ordered has excellent customer service and will replace my items if need be. I am disappointed in your company, and do not see a reason for such error. I would appreciate better quality customer service and delivery in the future.

Unless you pay the $5, you won't be able to get a package between 5-8:00 pm. They wouldn't deliver it to their warehouse when I asked about it leaving it by my door with my signature stating that I release them from liability, they refused that too. It seems like a good way to get an extra $5 per customer; their customer service is entirely script-driven and you may as well be talking to a robot. Their so-called customer service complaint form makes you jump through so many hoops - asking for multiple numbers and vendor names, and generating error messages, that after a while you give up and can only say this is what a giant conglomerate can do to you and you have no recourse.

Customer Service is terrible! I have never been this disappointed with Customer Service (except Apple but what is new with them) in my life. I call to ask them about me needing to be home to have my package signed. I'm not home when they come most of the time. So they tell me to give them the tracking number and I do and then they tell me they can't. Due to the fact that they feel that it is a suspicious neighborhood. When I tell them that I'm not that concerned they like "Is there a place where it is safe from other people anyway?" I'm like "No just leave it on the front porch." Then they tell me to hold so they can see what they can do. I do but I am on hold for like 25 mins before getting disconnected.
I will try to call again but this is ridiculous. They were rude about it all as well and I would never have used them if I could. I have ordered from Amazon before and they didn't have a problem when I called. This is why I don't like FedEx. There is always an excuse. I use UPS because they are good with delivering things to people.

I called at 10:00 AM on Wednesday to schedule a pickup for a FedEx Express envelope. I was asked what our hours were and I told her 9:00 to 5:00, but I usually leave at 4:30. Confirmation number given was "**." At 4:27 PM, no driver had yet showed up, so I called FedEx and asked "when" someone would pick up the package. After looking up my confirmation number, she said that they had in their system that we were open 24 hours. I told her that I never said that, and reiterated what I had told the original person that took my call at 10:00 AM.
She then stated that she could not contact the driver directly, but she could put a request in for a pick on that day - however, she needed to give the driver at least two hours for the pickup (so approximately 6:30 PM). I told her that I was sure someone would still be here and that was fine. Thursday morning, I arrived at my office at 8:00 AM and the FedEx envelope was still sitting on the front desk. I immediately called them, and Vicky in Customer Support told me (after several minutes because she could not locate my confirmation number) that the driver arrived at 4:30, but our offices were closed. NOTE that our office door is always open until the cleaning crew leaves (approx. 9:00 PM) and "they" lock the doors at that time.
These people are idiots. My theory is that, after they find out they screwed up royally, they immediate come up with ANY excuse to cover it up! In this "one" instance, they made three mistakes and lied three times (that I had told them that we were open 24 hours... after calling them a second time that the driver would arrive at 6:30... and that the driver showed up at 4:30, but our office was closed). I will never use FedEx again unless I absolutely have to. I would love to contact the regional office and speak with someone higher up, but my time is too valuable to deal with these morons any longer.

On 27th July, 2016 I had created priority overnight delivery package for official document and had dropped off the package by 2:30-3PM time slot in office area where FedEx facility is present (FedEx facility address: 100 Century Court, San Jose, CA). Package did not get picked up till 4th August, 2016. Online service shows online label creation on 27th July 5PM as per FedEx however I had created label by afternoon 2PM itself and was waiting on my package to be picked up on same day for 4:30PM pickup. Not even next day but whole week delayed happened to pick up package which had urgent official document. Although I had requested email notifications on delivery, I did not get single email even after package delivered on 5th August, 2016.
FedEx online service is absolutely pathetic. I would recommend go to UPS to have such things done rather than wasting couple of hours on call to find out where is gap. They do not provide refund by referring to some reasoning which is absolutely unbelievable. It was very clear in my situation that FedEx delayed picking up package where they should be doing it every day at some interval. Fedex Sucks!!!

I paid a ton of extra money for two day delivery on thursday morning for an item purchased from newegg, which was processed and put in the hands of fedex by thursday noon - I checked the fedex website where they proudly state that 90% of their locations deliver on saturday for a bunch of services including FedEx 2Day (like USPS or UPS) unlike their competition (which they obviously just lied about) which gets it their sooner.
I easily would have paid another 20 dollars to have had it for the weekend for my nephew - but this company is bullshit, my updates have been updated in 3 days and it looks like I'll be receiving my package on monday ruining the weekend for my nephew. BS company, and newegg is terrible too for using them. Never using fedex or newegg again. Amazon take the cake. Looking at the reviews for fedex and ups it's obvious how these companies operate. We don't have a choice so they dont care whether or not we like their services.

The FedEx driver required to delivery in North Clarksville coming from 1750 Jardco Dr is an outright LIAR and the supervisor at the hut is as lying and unconcerned as the driver. Wednesday, Aug 3, 2016 a driver LIED indicating that he delivered a package to a residential address @ 1:50 pm. I received email confirmation from the shipper indicating the package had been delivered. However @ 1:50 pm it was a complete THUNDER STORM with heavy winds and all.
The thunderstorm lasted at least until after 4 pm! I knew the driver had lied because of several reasons: 1. The thunderstorm and no driver wants to get and do their job in conditions like this although that is what they get paid to do; 2. The driveway is a walking distance from the porch of the home so he would have to get out and get soaked; 3. The house is a freaking in home day care and there were people in the home. The driver lied indicating that the package was left on the porch however there was no door tag or anything. The only reason I was notified is because the shipper did so.
I called to report the LIES and was told the claim could take up to 48 hours for review. This was so unacceptable. I checked with neighbors on both sides and in front to make sure the package wasn't delivered to them. It had not been. Then, after the close of business or right before the close of business (AFTER THE RAIN STOPPED AND THE COMPLAINT HAD BEEN FILED) this lying bastard came pulling back up to drop the package off. Please explain to me how you can pull up and drop off a package that you claimed had been delivered already? Two days later the supervisor from the hub called me to say the driver must have just delivered it to the one of the neighbors in error.
I explained to her that I had already spoken with the neighbors and that was a lie as well. If he did not want to do his job because he is too freaky lazy or due to the weather he should have stayed at home for the day. Had I not received the confirmation from the shipper FedEx would have gone on with the lie trying to insinuate the package had been delivered and left without a signature. I explained to the supervisor that there was no way the driver had delivered that package. She stated that the driver gave her a description of the house in which the package was left.
Again I asked how could he have left the package at the house if he pulled back up with it when he delivered it. The only thing the supervisor did was to continue to make excuses for the driver. This is horrible service. I have contacted the shipper to inform them that I will no longer do business with them if they are going to use FedEx as their carrier. I would not recommend FedEx to anyone. If you want your packages you had better find another way to get them because for all I know this driver could have been trying to steal my package. FedEx is known for hiring criminals anyway.
This is not the first time I have had an issue with this Jardco Drive location. Once before about 3 years ago a driver lied indicating he had delivered a package to me that was never delivered. It contained a $10,000 settlement check. I literally went in the office and REFUSED to leave until the driver came back to the station to obtained my package. They are horrible, unprofessional, lazy, and a bunch of lying bums. I am NOT happy with them at all. I don't have a receipt for my package to add to this review because one was never provided but I do have a tracking number.

I ordered a laptop a week ago and the package arrived yesterday needing a signature. However, I was unable to sign since I was at work so I called customer service so they would hold it at the facility after work so I could grab it. I go to the facility (1 hour away from where I live) to get the package, but I get there and they say there is a special restriction on it so they can't touch it. I call customer service again and they say they will hold it for pickup the next morning.
The next day, I take the time out of my work day to drive out in the morning to grab it. Upon arrival they tell me to wait in the car and that they will check because there is a chance that it left on a truck. After wasting an hour of time sitting there, I finally told them to have it ready for me that afternoon to pick up after work since I had to go back to work. Still have no idea if I will get the package today. AM I THE ONLY ONE WHO HAS EVER BEEN AT WORK WHEN THEY DELIVER EVERY TIME??? Their system is completely flawed and requires a much better solution for customer like me who work 9-5 jobs.

I ordered from a catalog company. Due to their error they were to ship FedEx two day delivery. It is now day four and I still have not received product. Would you use a shipping company that does not honor their commitment??? I rate FedEx with a Zero!!! Date shipped 7/27, it is now 7/30.

So I have given this company a lot of latitude. I understand the difficulties in finding a house or apartment you are scheduled to visit. I also have some close friends who work for Fedex and one who is pretty high up in the company. My wife doesn't work and she homeschools our kids, so there is always someone home. For several years, across three areas I have been on the receiving end of Fedex's business. Almost 80% of deliveries I get through Fedex becomes problematic. Calling them with a dispute is pointless. Expecting the delivery driver to ring a doorbell is like pulling teeth. I have had numerous things delivered to a neighbor, left out in the rain, left at the roadside by my or my neighbors mailbox, and signature required deliveries mysteriously signed for yet never delivered.
For this latest fiasco we were justifiably concerned when Walmart only allowed Fedex for rush packages. We paid for faster delivery in the hopes it would make it before a birthday. Paid for next day delivery 7 days out from the birthday. Walmart drag their feet in shipping a bit, but the tracking of the package stated "picked up" 4 days prior to the date we needed it before. So 3 days to make it through their system until it finally showed out for delivery. The problem is it kept saying "on the truck for delivery for 4 more days."
Now on a Saturday a few days after I needed it, the tracking showed it was delivered. Surprise, surprise, nothing was at my front door, around my mailbox, or on my carport. Walked the street and happened to notice a large box sitting out in one of my neighbors driveways right after a rainstorm today that looked like it may be ours. Or neighbors were not home but not wanting it to get any more damaged in the rain that was threatening, we looked at the label and yep, it was ours.
Now understand that I have been made in the past to pay for shipping a second time due to Fedex refusing to address their drivers not delivering things to us. Usually in those cases I call the local FedEx hub and request them hold the packages and I go and pick it up. I go out of my way, spend my time and gas money to complete the job they are paid to do in most cases. Once we had some fairly expensive electronics shipped through Fedex only to have them refuse the loss claim because they said they had my signature on the receipt. I asked to see this receipt which they could not produce due to a "computer error".
At least the online stores usually will work with you when Fedex fails. I have had this happen in Northern Mississippi, Southern Mississippi, and now South Central Louisiana. Out of those three the North Mississippi guys seemed to at least try, usually leaving things on my neighbors carport (which happened to be my parent's house so not as big a deal). The Southern Mississippi guys are the ones who committed forgery and leaving things just anywhere, and the ones here in Baton Rouge just can't seem to find the right house or get things under an overhang.

Terrible experience with this service. Here in France Fedex is refusing to take my order and schedule the pickup of my bike, because I don't have a french number. They waited until the day that I booked the service to ask me when to pick it up, and now they are refusing to do the service that I already paid. Now I am leaving on Monday and I am worry that this incident will ruin all my plans. I am not from France and don't live here, I am sorry if my phone company back home don't charge me for roaming.

Hi All. Please don't suggest or use FraudEx so called Fedex. In status shows out for delivery but I won't delivered on time. Customer service has no top level escalations. Funny thing happened to me. In FraudEx so called FedEx. Status show as : 26th 23:13 Left FedEx origin facility, 27th 01:39 In transit,
11:38 In transit, 11:39 At local FedEx facility - Package not due for delivery - I don't know meaning, 12:27 In transit, 12:36 At local FedEx facility, 13:02 On FedEx vehicle for delivery. At this point I was and come to home early to receive delivery. Waiting waiting waiting till 8.30 pm, funny part 13.00 to 20.00 pm, 22:32 At local FedEx facility. What the hell they thinking? I came to home early waiting - no one called me about the delay. So please give suggestion to seller i.e. Flipkart, Snapdeal, Amazon, Mitra Shopclues and eBay etc while placing order in online. Please whoever gone through this review pass the information to your dear ones.

I ordered 4 tires online and FedEx delivered them this morning. They don't even bother to knock or ring the door bell anymore. These brand new tires weren't in a box and the delivery guy just left them on my front porch for anyone to steal. I would appreciate if FedEx would at least start seeing if anyone is home before dumping off my packages. This has happened so many times that I would choose NOT to use this company any longer.

I was expecting a delivery on 7/26/2016 deliver by FedEx. The tracking information said out for delivery. At 4:30 I received a email stating they were unable to deliver package because no one was home. The only thing is I was home all day. I have a driveway alarm and a dog that barks if someone pull in our driveway. Also my wife and I were both sitting where we could see the driveway and the time the driver supposedly tried to deliver the package.
I called the office in Wentworth Ga, where the package was coming from. And my wife called the main FedEx office. Neither one of them would do anything. What is really upsetting is the driver lied. He didn't try to deliver the package and FedEx didn't care that they have dishonest drivers. Other companies would have contacted the driver and made him deliver the package, but not FedEx. I order a lot of things online because of the distance I live from stores. I will not order anything else that has to be delivered by FedEx.

I am very disappointed how FedEx is ripping off their customer for international shipping. I ordered a small package from US. Only $90 + $66 shipping, papers all OK. Under 100$ no extra custom duties. When the package arrived FedEx charged me again $65 for clearance. After many complaints, one of the staff explain to me that the value of the package ($90) is too less so FedEx Broker Service added the $66 shipping charges to the value of the goods (total $156) so the value of $100 exited the free custom duties, and they charge me the same amount for shipping again. So I have to paid Clearance Tax for the FedEx freight cost. This is clearly a ripoff from FedEx. I also will take further actions on this.

Hi. My experience with FedEx was everything but professional. My $550.00 package an electronic item was suppose to be delivered on a Saturday never to showed up. Wasted my whole day!!! While my 76 year old mother is having a 4 to 6 hr surgery. Then when I called no one knew a damn thing then they have a supposedly a supervisor who called me to tell me what I'm already telling them (incompetent) then ping pong me to another individual who did the same thing by saying he didn't know where my $550.00 item. Today is Tuesday and I still don't have it. FedEx is trash when it comes to being professional. From now on go UPS!!! United Parcel Service is truly the best!!! Delivery service globally!

On June 29 2016 I shipped a package FedEx ground, only had to go from Pennsylvania to Ohio but never made it. I was informed by FedEx that the item was damaged in shipping. I filed a claim since the shipment was fully insured but in the words of FedEx "the shipment was not adequately prepared or packed for safe transportation as required under the terms governing this shipment" therefore they refuse to pay out. Now it seems to me that they would still deliver the package or return it to me but I never got anything but a "screw you." To me it seems like straight up theft as the package was never delivered or returned and they never even returned what I paid to ship the item. There really is NO evidence of what happened to the shipment. Was it lost stolen or did they really damage it? I know the item really really had to be abused to damage it.

Package was stolen. My security camera recording showed delivery man just left package there at front door out in the open for people to easily see. Delivery man did not bother to even knock once and just left it where he can place it anywhere out in the open and view. If he even bothered for a few seconds to knock on door, anyone in my family could have answered and checked during anytime. My package wouldn't have been stolen. My family and I orders stuff from online multiple times and other carriers have knocked on doors or ring the doorbell and even waited for us to get our package. I guess it takes common sense for one to give a few seconds thought about it.

I ordered a very important package and paid $250 to have a rush put on the production of the product and the overnight shipping. This rush and shipping charge was as much as the actual product. An hour later I ordered something from UPS, same thing, next day air. FedEx did not deliver. UPS delivered just fine. The worst part? FedEx says it was due to something "out of their control" i.e. a thunderstorm so it is "not their fault". Their entire job is shipping. If a plane has a problem, get a truck, do whatever you need to do, just do your job. For my event tomorrow I now have no marketing materials and am out a total of $500. Thanks FedEx.

Paid for overnight delivery. Package was never delivered. Was only to be told to that it was the weekend. The driver had too many routes to try a second time to deliver package, but I can drive 45 minutes to pick up my package. This service is the worst customer service experience I have ever encounter in my life. Robin the customer service agent was very helpful. My main concern is I was charge for a overnight delivery that never arrived. It came 4 days later. Ask if I could be given a re-fund was told no. Once payment was deducted can't be granted.

Horrible! FedEx guy came down and on seeing the boxes went back saying he will get a bigger vehicle! On repeated following up, he came over the next day but saying bar code was missing and confirmed saying he will come back after a couple of hours later... he never turned!!! I have called the customer care - nothing. Less than 7-8 times and finally they could do nothing but saying sorry! I am frustrated and I have my flight scheduled tomorrow morning!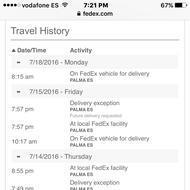 My packet has arrived in the city last Thursday, and FedEx web tracking is showing that it has been scheduled for delivery, but failed because I was not home (not true) and today I called and they told me that my packet arrived earlier than their commitment and therefore they are holding it up in their office for 3 days?!
And is up for delivery today between 8am and 8pm, but if doesn't arrive will come tomorrow or the day after. I am speechless.

Had a piece of equipment shipped to me for work (B2B). When 2 of 3 pallets arrived, I looked online and found that I could no longer track the missing pallet with the same (or any) tracking number as the package had been "delivered". Spent two days on the phone with FedEx trying to figure out where the missing piece is and still no answer. Two frustrating parts (outside of not getting what I need). 1. After several calls, I asked if they could call me with updates as there was no way on the site to find out what was happening. The FedEx official said yes and have heard nothing since. 2. Called in 2x times on a Saturday. Both times I was on hold for 10+ minutes ("Fedex has the lowest LTL rates in the industry!") and then was disconnected. Very disappointed. Terrible customer service and will actively try not to use them in the future. Also, where is my pallet?!? It is a pallet with a 400 lb piece of equipment on it...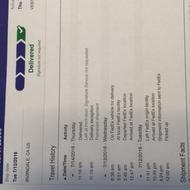 Supposedly received pkg at front door on 7/13/16. Pkg not there. Our camera at front porch shows the side of a FedEx guy appearing to put pkg on porch. Can't see his hand, only shoulder. He walks away after reaching down. Tracking showed he left pkg at 11:31 (same time on our camera). No pkg. Waited to call FedEx 5:00. Opened case, they stated they would contact driver. Called 3 hrs later (as they said they would call 2 hrs later but never heard from them). Still no change on the tracking info according to operator. "Somebody will call you tomorrow." No call.
I called noon the next day. Operator stated it was delivered today at 11:16. Yes, it's on my porch. Our street address is actually crossed out on mailing label. Something else written next to it but then that is crossed out also. Operator stated that driver left it at a wrong address and went back to retrieve it. Ok, then why was he at my door on Weds appearing to put something down on porch? We had no other pkgs that day, but he is clearly on my camera. Tracking report from Weds. states pkg was left at doorstep.
Thursday, tracking report changed and shows he did not come here Weds, (shows 6:36 a.m. it was on FedEx truck, no other activity after that for Weds). Current tracking report shows pkg was delivered Thursday. Shows "retrieved shipment" at 11:15 a.m., and 11:16 a.m. was "left at my front door." Do they change tracking reports even when they make a misdelivery? Called to complain about driver and FedEx said they would notify the mgr of local warehouse. Haven't heard from that person yet. I'm going to stick with UPS and US Mail.

ConsumerAffairs Research Team
The ConsumerAffairs Research Team believes everyone deserves to make smart decisions. We aim to provide readers with the most up-to-date information available about today's consumer products and services.
Since it's official opening in 1973, FedEx has been focused on delivering products for consumers and businesses efficiently and quickly, utilizing air transport for express shipping. It has evolved since then to include international shipping, ground shipping, FedEx Freight and FedEx Office, which is a physical location where consumers and businesses can pack, ship, print, copy and perform other important tasks.
Fast shipping: The whole point of FedEx is to get packages to their destination fast. Choose between ground or air shipping, depending on where your package needs to go and when it needs to get there.
FedEx Freight: FedEx Freight is for businesses that need to ship heavier and larger cargo and freight. Generate your bill of lading and set up your shipping preferences online for maximum convenience.
Air/ocean freight forwarding: Businesses who need to ship freight overseas can easily utilize FedEx's Air/ocean freight forwarding service. Download all the forms you need, including customs forms, from the website, then pass them on to your carrier.
Temperature control: Businesses that are shipping freight with temperature sensitivities can utilize FedEx's temperature control options. Temp-assure ground and air keep  your cargo cool by placing it in a temperature controlled container.
FedEx Delivery Manager: Take control of when your shipments arrive by signing up for FedEx Delivery Manager. This free service allows residents to customize their delivery time, choose to have their package left at a FedEx delivery location instead of at their home, receive delivery notification or request a vacation hold.
Best for FedEx is best for individuals and businesses that need to ship items fast.
Compare Shipping Companies
Basic Information
Company Name:

Fedex

Year Founded:

1971

Website:

http://www.fedex.com/us/