Consumer Complaints & Reviews

The company at the top of Google is not the USPS. They call themselves the USPS change of address assistant. They are a scam... run. I thought I was changing my address w/ the USPS for $1.00 and was charged $29.95 by this scam company. Make sure you are changing your address w/ the USPS, not any other company.

We have lived in Lakeland, FL, for about 5 years now, and the local post office is a joke - one of the most incompetent, disorganized, and crazy bunch of lazy people I have ever dealt with. First, we get mail from about 3 blocks away in our box (which means they probably get some of ours too). Secondly, the carriers have inconsistent times and then miss half of the street sometimes. One carrier in particular - a fat woman who stays at the local Dollar Store in the bathroom for too long - even was cleaning out her mail truck in front of our house! Also, packages have been lost - more so in the past couple of years than in my whole time of receiving mail in my life - and there are days when the mail carriers just drive around the neighborhood aimlessly without knowing what they are doing. And, oh yes - we never have the same carrier twice, save the fat woman previously mentioned, and that causes more confusion.
There have even been complaints from others about mail being embezzled or stolen by carriers on the postal routes here. I would recommend that a law be entertained that would hold the carrier liable for lost mail, and even criminal charges if necessary - if the carrier is not bringing mail when you know you should be getting it, it means they are accomplices to theft.

I own a business on eBay and Groupon. I have been using USPS to mail all of my orders for the last year. Like I also have a "normal" job, I am not able to make it to office times and always use the Kiosk late at night. For the last year, USPS has lost 0 of my packages till last week. September 9th, 2016, around 9-11 pm, I log in the Kiosk, print my labels and put all my packages in the collection box (as always) and send them in. Mind you, I have been using the same technique for a year now. A week later, I'm getting complaints of my customers not receiving their items. I search their tracking numbers and all of them seem to be stuck at that facility because they never got scanned again. Only the "Accepted" Scan was available. I kept receiving emails from angry customers and when I add all of them up, it was a total of 22 missing packages. For this reason, I lost money, got my account suspended and now owe over $2,000 in refunds.
I went down to the Post Office to resolve this issue and the supervisor was no help at all. She told me to contact USPS that she can't do anything about it. I contacted USPS and they just opened a case for me for each package. When it is 1, 2 or 3 packages lost, it is a loss but when it is 22 packages missing, it is more than obvious that someone stole them. They don't want to do an investigation and like they were First Class Mail they won't reimburse me. This is completely unacceptable. They need to do an investigation as to where are my packages. They have proof that I send them in the collection box (they have a camera pointing at the collection box) but they don't want to deal with the mess.
If someone is stealing packages from the Kiosk they need to find out who is doing it and either reimburse me for some of the packages or find the culprit. It is obvious that it's one of their USPS employees because 22 went missing. I need someone to give me advice as to what can be done. Because if they have camera proof of me putting them all inside the collection box then why not look what happens to my 22 packages once they are on the other side (inside) of the collection box. I have all my tracking numbers and they never got updated once accepted in that facility.

Been living at my newly assigned address (assigned 7 months ago by the building department) and my address is still not in the official USPS database. What do I have to do?

We have been having concerns since December 2015 with our USPS located in zip code 34609. We have been receiving the former residents' mail and also a pension for an unknown person. Number attempts have me made to notify the USPS that this family does not live here. Each time we put the mail in the outgoing as moved and every month the mail keeps being delivered. I don't know what kind of intelligence the mail carriers have if the incorrect person's mail keep being delivered. Finally, a perishable items all displaying Protect from Heat are clearly indicated on the label, these items are left at the door when knowingly my wife is home cause the vehicle is parked in the driveway. No effort to knock or ring the bell was attempted only to drop perishables in excess of 90 degree heat. The company that shipped the items was notified and has to reship the item due this negligence.
How do I know I can trust these reviews about USPS?
595,131 reviews on ConsumerAffairs are verified.
We require contact information to ensure our reviewers are real.
We use intelligent software that helps us maintain the integrity of reviews.
Our moderators read all reviews to verify quality and helpfulness.
For more information about reviews on ConsumerAffairs.com please visit our FAQ.

I am very disappointed with the USPS packaging because I received it opened. I just wanted to give my feedback on this experience because I often order stuff that is delivered from USPS and I have never had this problem with an open package and I am very disappointed but overall satisfied that it took nearly a day or two from Wisconsin to Pomona, California.

This employee did not provide any customer service - we are not receiving all of our mail since she is the only one in this office most of the time and she is rude and unprofessional. We are not the only folk who have had awful experiences with her. We have requested a refund for a box that she assured we could not use, now we have no interest in using it. We want this complaint escalated as it has been over a month (30 DAYS) since we have paid, yet have not received mail and did not have access to this box that we paid to rent. Consumer affairs representative Pat said we could be assure of our mail coming without a problem and to expect our refund.
We have not received our refund from the USPS which was promised and is also noted in the case and we are not receiving mail that has been sent to our old address at the Red Oak office. We HAVE mail sent and have proof from the sender starting from the 23rd of August that has not been delivered to us. This is not a way to build good customer relations and business for the United States Post Office. Again, We have not received any service for this fee. INTEREST CAN BE ACCRUED ON FEES AS THIS IS NOT 30 DAYS SINCE PAYMENT AND NO SERVICE WAS PROVIDE NOR ACCESS AND USE OF BOX. Thank you.

I wanted to mail a letter with couple pairs of kids' earrings. I checked on USPS website "Estimate Postage", picked the option that this is a regular first class. Letter with rigid objects, the estimated postage is 47c + 21c of non-machinery fee. But when I got inside the Berryessa Postal Office, the service woman told me it has to be sent as a package and the cost is $2.62 instead.
I also dropped a letter with a piece of cotton choker, the service woman said I would need to pay 20c non-machinery fee for it. Note she said 20c not 21c. I said I didn't think so because the letter is less than 3/4 of an inch which is limit of slot width for machine scanned mail. She insisted that I pay 20c more, I then asked to see her manager. She looked around and said it's my choice to drop the letter in the nearby mailbox, or paid her 20c for her to take the letter. I chose to drop in the mailbox.
I have got a feeling from her that she's just trying to make me pay more than needed. This is ridiculous to get this feeling of being cheated from a USPS service staff, I have always trusted USPS till then. Not sure if anything can be done about it, but just to share my experience. For people who trust USPS the same way as I had been, be alerted, watch out when you use their service and not to be ripped off.

I find it interesting that my bills always seem to show up but personal mail either mine coming in or mine going out has a 50% chance of making it to its location. Case in point mailing out first class 1 sheet of paper in a legal envelope with proper postage going to 20 different people with a Chicago or Chicago suburban addresses. Half of them make it, the other half, now where would they be? I have a return address on each piece of mail but was told by my Bartlett, Illinois post office that they no longer are required to return mail back to the sender. So the mail that I sent, the stamp I paid for just vanishes. This has been going on for over 10 years now with no explanation. However my electric, gas, phone bill, jury duty notification and alike all seem to magically make it to my doorstep. What the hell is going on here?? Seriously United States Postal Service what has happened to that last word in your title?

Had a 2 day delivery of an Amazon order. Never arrived. USPS website says tried to deliver, notice left. A total lie, was home all day. No notice. Package wasn't a sign for package either, so all they had to do was leave it at front door or in mailbox. They lied so as to not have to answer to Amazon. Gov't run business as usual.

During my visit to Atlanta, GA on July 30, 2016 I had mailed an airmail envelope from Suwanee Road Post Office in Lawrenceville to New Delhi, India on Monday,
August 1, 2016. It is already more than one month and the mail has not reached the addressee yet. Is it ever going to reach?

I live in Costa Rica & my 92 year old mother lives in Florida, alone in her house with no car. She also has no computer & uses snail mail. The USPO official site touted a "brand new" stamp with a puppy on it & I knew mom would like that & not have to pay someone to drive her to the post office. She received $20 worth of paperwork from the PO with order numbers & tracking numbers but never got the stamps. I tried to contact them online but (like United) they refuse to be contacted online, so mom called the number on the paperwork. After a few hundred dollars worth of "investigation", they told her, "We delivered them. If you didn't get them, it's your fault." So in the end, the post office spent hundreds of dollars to deny mom the $10 worth of stamps I paid for with my debit card. As mom's father & husband both spent their careers with the PO, we are both saddened to see what it has become.

It's been 5 days and no update on when my certified mail (envelope) will get to my daughter at college. The tracking update says it's been in the destination city for 4 days and is on its way to the recipient's address. This has not changed for more than 4 days. USPS is not a reliable way of sending anything important.

I ordered a pair of shoes from a company and the package was sent to my home address. When it reached my home they said no one was there and they scratch off my zip code number and put in another one. My package has been looping the system for 3 weeks now. I called the post office, went to the post office, e-mailed the post office and their answer to me is good luck trying to find it. I've been tracking the number and it's been going from NJ to NY back and forth. I've called the post office and they hang up on me. Great isn't it.

I printed a priority 2 day label and scheduled a pickup for Monday 7/22 by the mailman. My package Sat all day and was never picked up on Monday. I called customer service. Could not get through to rep from their automated service. It was not an option. Once I finally did get transferred it was a 40 minute hold, and I got nowhere. They said they couldn't tell why my pkg wasn't picked up and to leave it out the next day for pickup. The next day it wasn't picked up until 4:37 PM. Now knowing that you screwed up on Monday why wouldn't my priority pkg be picked up first thing on Tuesday?
After it reached the hub in Rochester that evening my pkg showed a delivery date of Wednesday, so I thought "great. They are making up for the problem with pickup." When it didn't arrive at the receiving end that Wednesday I checked tracking again and the expected delivery was updated to Thursday now. I thought well at least I know, and let the receiver know.
Come Thursday no package, no tracking update. Tried calling USPS and now a 30 minute hold, so I call the local office again. No help. Can't tell me where the pkg is or why it wasn't delivered and that they only guarantee express mail! On Friday they call back. Still don't know where my pkg is or why it wasn't delivered. Now it's Sunday and still no update on my pkg. I have since created an account with FedEx. I am tired of worrying about where my pkg is. Seriously what did I pay for? USPS couldn't pick up or deliver my pkg and I want my money back for shipping and insurance.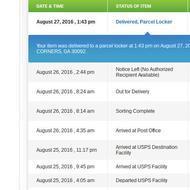 Hello, below you will read how my shipment went - horrible to say the least. I appreciate the cool pack and the foil wrapping to shield product quality. Everything tastes yummy. Will definitely order again. I am the type of consumer who is accountable, does my research, and prefers self-checkout. I do not itch and moan for nothing, and I don't patronize for customer service but rather business. That being said, I have held off this review but I couldn't be silent any more. The service here is atrocious. Before I continue, my carrier David and Ms. ** in the front are always professional and pleasant. I have NO qualms with either of them. This isn't my first issue with this PO.
A package was out for delivery and I was expecting several things that day. My mail like most runs at a certain time each day, at that specified time per usual my doorbell rings a particular way and I know it was my carrier dropping off my mail. I thought "Cool." I later open my door and my mail is outside, but 1 package is missing. I thought "No worries it must be in my mailbox." I go for my run later that evening and go check my mail. Well unbeknownst to me no package.
Taken aback, I check the tracking again. It says a delivery attempt was made and a notice was left roughly 1.5 hrs before my other mail was delivered (keep in mind the parcel showed 'out for delivery' earlier that morning so I should have received it the same day). Dealing with the incompetent system a time or few before I figured like the other few times I would have to pick up the package the following morning (meaning I have to get up on my Saturday morning, using my resources to do their job).
Like any reasonable person you want an explanation. I was assisted, if you wanna call it that, by Tyler who not for nothing was dismissive, didn't access the provided tracking # to understand my concern. He just wrote down my address, left and spoke with my carrier and then came back saying "He says you got all your mail." I said "Are you not listening?" (I calmly had explained to him what occurred prior to him walking away), "If I got all my mail why the ** would I be here first thing in the morning asking for an explanation regarding an alleged attempted delivery and notice?" (He did NOT look in the system to understand my concern, he was turning red, being curt and cantankerous, yet still I held my composure.) He says "Your carrier is sorting and it will be delivered today." (How do you know this if you haven't even LOOKED at the tracking information?)
I was there to pick it up, he says "no" essentially. Obviously I am not satisfied with this. Cowardly and very unprofessionally he says he will call up a supervisor. He sends me to the side and begins assisting other people. I wait and I look at him after he finished helping the 3rd person like my issue hasn't been resolved and there has been no sight of this ungodly supervisor - Tyler says he will call again, but wham - Up comes miss wobbling Melvin. She (and by she I do mean he) cuts the corner, sees it is me and stops as if to say (something she isn't man enough to say out loud) and proceeds wobbling to the counter.
I briefly begin to explain, I am cut off - she says it will be delivered today. I said "Why isn't anyone listening to me?" I had the tracking # written down. He says "I don't need the tracking # right now." I begin to reply, she cuts me off again "What is your address? Write down your address." I said "Tyler has my address. I am not here for my address I am here because of what your system said." Melvin the supervisor is still deferring to speak with the carrier. Neither he nor Tyler have reviewed the system information at this point, both being very cantankerous for no reason whatsoever. But when miss Melvin raised her chipped tooth voice, I IMMEDIATELY asked her "Do we have a problem? Why are you raising your voice?"
She is turning to walk away because I won't do what she asked me to do and write down my address, not HEARING that "I have already written down the tracking # and if you want my address just take the paper from Tyler!" But no, she decides to say "You have a problem. You need to find somebody to help you." (Keep in mind I am a Dr.) "Looking at the way your existence is set up you shouldn't be diagnosing anything for anyone." He comes off like one of those people who have no authority in their real life and run with their title and boy does it show. He is a very insecure man and acts elitist and grandiose but there is NOTHING that justifies such a nasty know it all disposition.
Now the gloves are off. Tyler finishes the customer, and calls up someone else, but not before I step over and let it rip. I had enough of the rude unprofessional dismissive humans. I was ONLY there because of their system! Tyler begins to repeat his same tired line, but by now I am so done listening he couldn't get a word in. "You want me to show my **? Ok I will." He FINALLY inputs the tracking # and sees my concern. He is now speaking to me with some decency so I lay off giving him what he was originally giving me. Up comes miss wobbling gap tooth Melvin, interjecting herself towards the end "I saw the package today. It is going out today." (I thought you needed my address? o_0, just proves you were being big and petty which isn't becoming of someone your size.) Must be nice to be psychic.
The parcel was priority today and I should have received it 8/26 - miss Melvin did say something about it not being Amazon Prime or whatever but the package is time sensitive and can't be left in heat/storage for extended periods of time thus my NEED to ensure I receive it. Now the quality of my item is in jeopardy due to their incompetence. Tyler asks Melvin if he could call the carrier up, and miss Melvin goes back and gets him. He says it wasn't him who attempted a delivery. I said "I know because I heard you ring the doorbell later that afternoon with my other mail, I just assumed it was in my mailbox. When it wasn't outside my front door when I gathered my other parcels; I want to know why it says an item was out for delivery and an attempt was made and notice was left but I do not have my package and none of you can explain to me why that is." Chutzpah!
I spoke with 3 staff members who could not offer me a logical explanation as to why a package shows scanned, out for delivery, and a delivery attempt being made out of the norm of my usual delivery time. I was home at that time. There was no attempt, and most importantly there was no notice left! I do not understand why no one at the post office could answer my question. They all said "I don't know." I left without my package and without a logical explanation. Terrible. Chutzpah! Very unprofessional, rude, dismissive, discourteous, curt, cantankerous individuals like miss Melvin and Tyler need to learn how to COMPREHEND. I thought you had to pass tests to work at the PO, they had to slip through the cracks.
I received a phone call from a 770 # from the complaint I filed. I asked her "What happens next?" She says she documents that she apologized to the customer and doesn't know what if anything happens after that. But she did refer me here. Sounds like they are just taking the information and not holding the accountable. Oh and I am not sure what a parcel locker is, given the box was left right outside my front door -_- (see attached).

USPS sucks!! Another third grade service after DMV. There is no guarantee your mail gets delivered especially if you are sending outside of US. They say they have an agreement with the country you are sending the package to, but there's no information about the office to contact to trace a failed delivery. No accountability whatsoever. Better choose Fedex or UPS, they at least guarantee delivery majority of the time. One of my poor judgements. I take the blame for not doing enough research. The least USPS can do is to propose this to the customers: "The delivery is not guaranteed, you may choose other shipping options even if costs more."

I misplaced my keys, so on July 8th, 2016 I paid $40.00 to have the lock replaced on my mail box. It will be seven weeks on Friday, and this still hasn't happened. It's difficult to get to the post office in Humble during their business hour. On my lunch break once a week, I'm having to make a 40 mile round trip to pick up my mail. I can't get a good answer out of anyone there. Like any gov't agency, I don't think they care.

If you can Return Receipts don't get delivered. Certified mail gets lost. The investigations get closed without me being notified. Mailboxes are left open in a building with a criminal landlord. I'm going to start writing to legislators to get some laws passed to change the lack of accountability. One sure way to become president in my view: force the airlines to be held accountable for non-weather related delays (as they do in Europe); track down telemarketing scumbags who ignore the DO NOT CALL REGISTRY; and improve govt services, like, you guessed it, the P.O.

So UPS can get a package halfway across the U.S. in 2-4 days but as soon as it's transferred to USPS, they decide to hold it for 4 days at my local post office and still have not shipped it to my house (note this post office is 7 miles or so from my house). Also none of those 4 days were weekends or holidays. All of those days they were open for business and mailing. They have just managed to skip that one package for the past 4 days. Tracking says they're trying to transfer it to another local post office before shipping it to my house, but that was 4 days ago. The other post office has still not received it from what tracking says, that was the last tracking update I have gotten and that was on the 16th of August. It used to not be this bad to use USPS for receiving packages. I really hope you can get your slow shipping issues resolved. Until then, I will not be looking forward to using USPS for receiving purchased packages.

We have had numerous issues with our post office over the years. We are constantly receiving the wrong mail, not receiving our packages even though the carrier has them marked as delivered (we have to go to post office to pick it up). The carrier is either on her phone talking loudly or is using headphones. The carrier has left a bag full of in our driveway, drove up the street and returned to retrieve it about 15 minutes later. We have spoken with the supervisors on the phone and in person and nothing gets resolved. All we get is excuses.
We had to go back to post office again today for an issue and Jasmine waited on us. She was extremely rude so I asked for a supervisor. The supervisor didn't care about our issue and the whole time he is laughing as Jasmine makes rude comments. As we were getting ready to leave a gentleman came in right at 5 pm. Peggie, another postal worker rudely told him "we're closed". He said he was trying to send something out to military APO and asked if he could do it at the kiosk. I guess she was in an attitude because he was asking her questions because she rudely told him no you can't. He asked what time they open and she said 8:30 still rudely. The postal service needs to teach their employees some customer service skills.

Wow! After seeing 656,000 reviews on here I almost decided not to post, because what's the point.? I'm a disabled vet who lives on a fixed income and I depend on my income to provide for my children. I moved into my current neighborhood in July 2015, up to that point I had never had any issues with USPS but have never used them often. However after moving into my current house my SSI checks have been delivered over a week late on 4 separate occasions. I have also had my VA medications delivered to my neighbors mailbox on 3 occasions, and her meds in my box twice now. I also had a neighbor who lives around the corner have their $800 dollar cases of wine from a vineyard in Oregon delivered to my door twice.
Lucky for Big John I'm an honest person. And I have not seen a coupon or junk mail in the past 3 months. Pretty obvious the carrier is throwing it away so it doesn't have to be delivered. While in a local corner gas station I ran into my old carrier who told me they moved her off the route and replaced her 3 months ago. I had no problems while she ran the route for several months before being reassigned. Although I had some before she took over. The incompetence and lack of care is pervasive within the USPS. they are full of thieves who steal meds, checks, samples and anything else they can get away with. I wish all the public was aware of their corruption and would just stop using them. I know I won't ever use them again, I would rather pay more money to UPS or FedEx to make sure my packages are delivered properly and on time. I truly wouldn't give a rats tail if they went under and they all lost their job, good riddance to these scumbag crooks.

I mailed a package of precious fragile items and three were broken in shipment. The box arrived at the destination smashed. It looked as though it was deliberate. The package was marked FRAGILE. These items were not expensive items, just old sentimental things. These were items that might be found for under $5 at a garage sale, but are irreplaceable to me. There is no receipt and money is not what I want. I would rather see someone at the post office doing their job correctly and responsibly!

A mail order prescription was lost by the post office. Second lost package in 3 weeks. I filed a case with USPS but they have not found my medicine and since the tracking says it was delivered the pharmacy wont refill it till September. The post office said the driver manually scanned it instead of electronically scanning it and they said because of that it could be anywhere. This is unacceptable! It is medication I need and now can't get. We have several different drivers from the post office that runs this route. We have had people in the neighborhood show up at our house with our mail that was delivered to the wrong address. I think it should be a law that any mail order prescriptions should be signed for by an adult. It could get into anybody's hands, including a child! What can I do now to get my medicine that I need that the post office lost?

I want to share my experience and frustration with the USPS. Not long ago I had to go in person to the post office to ask about not receiving a package that the tracking # said had been delivered and signed for a week prior. It had not been delivered or signed for because no one was at home. We were out of town. Finally someone, a bunny rabbit, (I hope you're reading this) went in the back to look for it and then came back with my packet. She apologized for the mail carrier changing the tracking to delivered when indeed it had not been.
Well the same thing happened again a week after that. I checked the tracking on an online order I had purchased and it said it had been delivered. I arrived home 1 1/2 hours later expecting my package and it was nowhere to be found. There was someone at my home all day and the package had not been given to them nor was it outside on the front porch or anywhere around the house. So where was my package? I immediately called customer service and the first thing she says is "ma'am it's been delivered". I asked her "then where is it?" I went to the post office and they said the same thing "ma'am it's been delivered". I asked for a supervisor and was told that they (the bunny rabbit) were busy. I waited over 30 minutes and no supervisor ever came. A worker finally takes my contact information and says "someone will call you". Yea right.
Well guess what. I'm still waiting on that phone call. I decided to call them instead from the same number I was called from the week prior and a very rude lady answered the phone as if she was disgusted that I had dared to call the post office to ask about a package. She wouldn't even let me talk. She cut me off and said she would have someone contact me and then hung up. Well I've sent an email to customer service that's just as rude as the attitudes I've gotten so far. I went back to the post office not long after that because like I mentioned before no one ever called. Finally the bunny rabbit reluctantly appeared and with a lot of attitude told me that she had talked to the mail carrier and told them to go and check to see if the package had been delivered to the wrong place.
In that same conversation she also told me to check with my neighbors. Um no. "I paid to have YOU bring it to my door. I shouldn't have to go door to door asking neighbors about a package because your worker doesn't accurately do their job". She very rudely told me "I have your number and I'll call you." I'm still waiting. That was her way of getting me out of there because she was out of excuses as to why her mail carrier failed to do their job correctly. I ended up contacting the shipper of my package and they were nice enough to send me another one. I offered to pay them extra to not use USPS and she said I didn't have to pay and that she would request that it be sent by UPS instead. If I'd been given a choice to choose which carrier I wanted to use when I submitted my order online I definitely wouldn't have chosen USPS. As a matter of fact, I would have paid extra for them to not use USPS.
I also want to let everyone know about the USPS phone system. I called the customer service # the first time I noticed my package was missing and it took me to an automated system and then connected to a live person. Every other time after that when I called the # it automatically said "your package ending in ** has been delivered." It never asked me for the tracking #. It's as if their system is setup to block certain #s after the first time that you call. I called maybe 4 or 5 times and it wouldn't go past that message so I used my son's cell phone and it went thru the process of asking me for my tracking #. I pressed 0 until it connected me to a live person because I knew if I put the tracking # using my son's phone that it would automatically divert to the message of "your package has already been delivered blah blah blah." Of course they had no answer other than it's already been delivered. Then where is it?!?
Later that same week I had a missed called while at work. Working for the federal government means no cell phones allowed during business hours. I called the # back during my lunch break and it made that noise you get when you're using a fax machine. I hung up thinking it was a spam caller or telemarketer trying to scam me. The same # called again later that day and I didn't bother to answer because like I said before when I tried to call the number back earlier it sounded like a fax machine.
Well when I got home later that day I had an email from someone working for USPS saying they had tried to call me but weren't able to get in contact with me. My first thought was OMG they do have their phone systems set up to where they can block you from getting through to them. So you can call me but I can't call you? In the email she didn't leave her last name, a contact number, or an email address. As a matter of fact, I couldn't even reply to the email she had sent to me. The email basically said that they didn't have any other information on my package and they weren't going to do anything about it. Oh yeah she said sorry too. Needless to say, I'm still angry and I hate the USPS. They could go out of business today and I doubt anyone other than the workers themselves and their family members would care.

Let's start with the fact that I cannot get a package delivered on a Saturday. I do a lot of ordering through Amazon and I pay for Amazon Prime so I can get free 2 day shipping. I order something on a Thursday and I won't get it until a Monday if I am lucky. The best part is the tracking will say that it's been delivered. This means the mail carrier scans in my package in the morning before heading out to deliver (which is NOT what is supposed to happen) then just doesn't bother to deliver it until Monday. (My father worked for the USPS for years so I know that this is incorrect procedure).
I ordered some ink for my printer on August 2nd with a delivery date of 8/6/16. Surprise! My package didn't arrive on Saturday. Surprise again! My package didn't arrive today. When I attempt to track it the USPS has not updated any tracking info. Don't even get me started on Xmas gifts that were "delivered" and then showed up weeks later! The USPS is a useless joke and should just be shutdown!

Well, my package is suppose to be here 8/6/16. Looks like it's going to be 8/8/16. Better late than never. Should have sent it UPS...

I am very unhappy about the service with USPS. I shipped a care package my son (US Army) officer in Fort Benning. I shipped with priority mail, my box did not get delivery to the right place, but it was sent to USPS' recovery center. I wrote the shipping and sender address on the box. I asked to put fragile on it, but my box still end up unable to ship back to the sender or the recipient. It took me days to find out this happened. When I try to called the customer care center, no one willing to help but just read to you the message from the tracking bar, which I already knew from putting my tacking # in. I told them I knew my package end up in the recovery center. I asked to get a contact #, they will not give to you.
When you asked to speak to the supervisor of the customer care center, the supervisor has no care, but very little patience to help customer, she only offer customer to wait for 30 days process period. This is so bad that they are the one who is mishandle your package, but you have no right but need to wait 30 days for the process. This is not fair to consumers, consumers paid for the cost of the service, but end up I lost my package of delivery and paid for the shipping fees, but I have go through this pain to wait for 30 days before I can find out what is my next step. What is customer care center for if they do not even care for customers or they do not even do anything to help you.
One more incidence happened in May. When my son has to ship his military related items to Fort Benning from West point, the package was lost for a long time. The box did not scan it right. No one know what happened to the box, but more than a month later, the box did not get send to where it should be, but end up at my house front door. We felt very lucky that he got the box back home with water damage on some items. The whole box of items inside would cost him thousand dollar to buy everything back, plus the times to get them. My son end up has to carries all those items to airport to fly over to Fort Benning. USPS is bad choice to handle your shipping needs. USPS is not reliable. UPS and FedEx would be better choice.

I moved the beginning of July and put in a change of address. Well, since then I have only received 2 pieces of mail. I had legal papers mailed to me on July 12 and never received them. They ironically got returned to the sender on August 3rd with a sticker that said "vacant - return to sender undeliverable." I have spoke with the local office numerous times with no resolution. I filed a formal complaint with still no answers to where my mail is. The answers I get are ridiculous. Not one person has given me the same answer twice. I filed a second complaint and was told Consumer Affairs would call me within 72 hours. That didn't happen. I called again and was told Consumer Affairs was not contacted about my problem and they respond within 24 hours. Not true! I called Consumer Affairs myself and have only been able to leave a voicemail since clearly no one there answers the phone.
Two of the numbers give you a recording. The other number you are able to leave the message. I still am not receiving my mail but yet no one seems to know where it is going! This is obnoxious! Isn't there someone who can help all of us who are leaving these messages with our problems? I had to file a complaint against my last mailman for putting vacant in my mailbox and returning my mail. He decided I moved, which I had not. I guess I got too much mail for him so he just sent it all back to the senders. If I could go without using the USPS I most certainly would. This is beyond frustrating! I wanted to give them zero stars but it won't let me.

I have been receiving sporadic mail since July, our regular mail carrier has not been around. I receive my paychecks through the mail and of course my bills. I have not received any bills or my checks which usually arrive around the 1st of the month every month. In July medications were delivered to me that belonged to a house around the corner, I got in my car and delivered them. Mail that was delivered to my home mistakenly I put on the door with delivered to wrong street. Right address wrong street.
Today I went into the post office to inquire about my mail, no bills, no check??? I was informed that the supervisor was moving cars for the day and would not be able to see me. The clerk who was very annoyed and rude wrote my name and address on a slip of paper and said I must have a dog, I don't but if I did he would not be on the front porch where the mailbox is. Besides just human compassion how can a person who is collecting a check be allowed to conduct themselves so rudely in a public place. I visited the Wagner Post Office on Century Bl.

ConsumerAffairs Research Team
The ConsumerAffairs Research Team believes everyone deserves to make smart decisions. We aim to provide readers with the most up-to-date information available about today's consumer products and services.
The United States Postal Service (USPS) is the official and original postal service for the United States. Ever since Benjamin Franklin was appointed as the first postmaster general in 1775, USPS has been delivering mail to people across the country. Today, USPS has expanded its services to also include international shipping, package shipping and priority mail.
Easy to use: Anyone can send mail through USPS by using their home mailbox or dropping their mail off at any post office in the United States. Consumers and businesses can also arrange for package pickup online, making it easy to mail packages without leaving home.
Priority Express: Priority Express is a convenient option for guaranteed overnight delivery. Fees start at $22.95, and shipping runs seven days a week, so you can get your package where it needs to go, even on weekends.
First class mail: Perfect for small parcels that need to be sent by customers or businesses, first class mail is the cheapest way to send mail that ways up to 13 ounces. Stamps only cost 47 cents, and your parcel will be delivered within one to three business days.
Shipping insurance: Consumers and businesses can purchase insurance to cover the cost of their package up to $5,000 for standard mail in the event of damage or destruction. Most priority mail shipments automatically come with $100 worth of insurance, and more can be added on for an upcharge.
Military and diplomatic mail: Send packages to your loved one who is in the military for the price of domestic shipping, even if they are overseas. Save an additional two dollars when you use a large flat rate box. You can print off a label complete with custom forms right from your home printer and arrange for home pickup to simplify the process of sending a package to the military overseas.
Best for USPS is best for eCommerce businesses and consumers.
Compare Shipping Companies
Basic Information
Company Name:

USPS

Year Founded:

1775

Website:

https://www.usps.com/