Consumer Complaints and Reviews

I am very frustrated with this post office (2600 MICHIGAN AVE KISSIMMEE, FL 34744) and its carriers. They have several times delivered our packages to 2530 Michigan Ave. (my VIP box) instead of 2580 Michigan Ave. I had to physically go the address and ask if they got my package which they did. So the package has been recovered by me. This post office is notorious for not paying attention and delivery packages to other addresses causing delay, time loss, and unnecessary aggravation. It has now been several times we have had this happen.
Most of the time people pay for Amazon Prime to get same day to 1-2 day free shipping (which Amazon complies on their end effectively) and because of the carelessness and incompetency of your carriers it delays our packages 4-7 days after we were suppose to have received it, before someone retrieves it after filing a complaint or the address which was delivered to, realizes that the package didn't belong to them.
It's becoming a loss of money at this point. I will be filing a complaint with whoever else I have to regarding this particular facility about this issue. There should be a class action suit for negligence against this facility and money loss for premium services some of us pay to ensure quick delivery that we aren't able to enjoy since packages are misplaced or delivered to the wrong address every time. The entire Osceola county is having the same problem. How about you read the Google reviews this specific facility has been getting.

To start with I have a 16 year old who just got an ID from DMV in order to start her first job. It should have been received in a week to 12 days. Never received it. Called DMV and apparently post office sent it back stating it was undeliverable. Ok DMV mails ID back to me again and it's been enough time to get it and still no ID. I call DMV again and they stated that they haven't received it back to them the second time and told me to call post office.
I call post office only to find out that they canceled my mail. Why? I have been living in this apartment for the last three years why would you cancel it thinking we moved? So basically that is why we did not receive our mail. I asked why would they do that and he stated (Mark) that is said if you haven't been picking your mail up then they will do that at apartments. Wait... What! First of all that pick my mail up so that is not it. Second of all I never told anyone I was moving anywhere or told them to forward mail so come again!
I was not satisfied with what he told me and he didn't seem over concerned. He just said that he put back in the system as me and my daughters still living at address. Well Mark my mail should have never been stopped to begin with. Never apologized to me just repeated the same thing over to me. I asked was the ID there or any of my mail and he says "no" really fast as if he never even looked. So where is my daughter's ID? If within another week DMV doesn't have it mailed back to them or if it has gotten stolen because of this nonsense Mark we will have a big problem. I am now wondering what other mail I did not receive because of this. I have lived at other apartments and never had this happen before. Ridiculous!

I went to USPS at 1 Floretta Pl, Raleigh, NC at 11:15am June 5, 2017 to renew my US passport. An Asian woman clerk criticized my picture, "You must have a smile" and sent me home. I then read US State Dept Passport Requirements online and it reads "you must have a neutral expression or a natural smile". My picture is perfectly neutral and even has a hint of a smile. On top of that, this Asian woman has an unpleasant attitude, with no smile and rude expressions. The USPS management must retrain this woman clerk, or their review rating will continue to decline below a "1" rating. Reviewed by a USPS customer, SCC.

The USPS is the most horrible business out there! They continue to lose packages and not 1 USPS rep cares. NOT ONE! They have lost first class mail and priority mail in my case. I call them but can't get a live person. Just a continuous phone loop. I don't even know why I'm posting this nothing will get done! The USPS should be closed and mail service privatized. Maybe then people might do their jobs. I just want the package I paid for. Why is that so hard? Really I need answer on that. I'm confused how they get away with this.

A patient sent a film guaranteed overnight. First post office said doctor's office wasn't open, now they are saying no one was there to sign for the package. We average 10 packages that have to be signed for every day!!! They are not refunding the patient who paid for overnight!!! Fraud. They keep telling me someone will call me and no one does. This is taking advantage of consumers!! Unbelievable. Fraud by the government of its people. Very sad.
How do I know I can trust these reviews about USPS?
790,852 reviews on ConsumerAffairs are verified.
We require contact information to ensure our reviewers are real.
We use intelligent software that helps us maintain the integrity of reviews.
Our moderators read all reviews to verify quality and helpfulness.
For more information about reviews on ConsumerAffairs.com please visit our FAQ.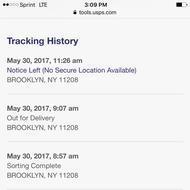 I've been to the post office 1223 Sitter Ave on several occasions mainly to complain about delivery on several items that I've ordered via internet. For starters I start with calling three hours straight no one answers. I go in proving to the staff with a photo of my order claiming that an attempt was made, or that it was delivered. Which most of the times like today. It's untrue. Someone was home had they actually taken the elevator to the sixth floor. Why is it that government workers don't do their jobs as carriers. I complain and as it stands, to no avail. It's sad a person sits around and waits for an anticipated package. And when you go to the mailbox to check a yellow slip they tried to deliver and you were home all day not only once but after two or three attempts is beyond human comprehension. This office needs to be investigated ASAP!!!!

I shipped an item back for a return to a company, specified that I wanted insurance on the package, paid and went on my way. Turns out that the package was not shipped insured, and has been "in transit - delayed" since April 21, 2017 (today is May 30, 2017) after leaving the Bell Gardens, CA USPS facility. Look up the Bell Gardens facility online - it's apparently the black hole of the USPS - packages lost, stolen, etc. from there all the time. No way to contact anyone at that office.
USPS is impossible to get a hold of (you essentially have to trick their phone system to get to an actual human being), and when I have actually spoken to someone, their answer is that they can do nothing for me since my package was shipped uninsured. I have filed missing package claims, filed a claim with the postal inspectors, everything I possibly can and the package still has not been found.
USPS, you should insure all of your packages since you're literally the worst shipping company in the country, maybe then it would force your employees to actually deliver packages instead of stealing them or "losing" the ones that they know the company won't look for or be liable for! Pathetic. Use UPS, FedEx, whoever you have to, but do not ship with USPS, because your package will be lost or destroyed and they won't care one bit.

A few weeks ago I complained of a package left outside my enclosed porch. The item was rained on and ruined the foodstuffs contained. Just this past evening, Monday, May 29th, 2017, I returned home to find the same exact problem, minus the rain. I have a camera surveillance system on my home, and have movie clips of each incident. My first complaint garnered little attention from the USPS hierarchy, and wonder what will happen with this one, if anything more.

I had a package delivered 5/25/2017. The box was tampered with and my item was stolen. I was delivered an empty box. I still have yet to hear from the supervisor Mr. **. He looked nervous when I showed up with my empty box to report the incident. He ensured me that he would look into it by checking who was working that route. I told him I would be able to recognize the male employee who made the delivery because two packages were delivered the same day. One required a signature so I had an interaction with him. I unfortunately didn't see that one of my packages was tampered with as it was placed upside down. I highly suspect that this particular manager is aware of the theft the carriers are doing.
I also ran into a review for the same location on Google reviews where a person has seen a USPS male employee steal packages and was placing the packages into a none USPS vehicle that took off with the stolen packages. The person called to report it to the manager and nothing was done. I highly suspect that management is aware of the theft, they either are benefiting from the stolen goods or simply don't care. I never got the call back as promised by the manager Mr. **.

I ordered a cat litter with Amazon and the item was shipped with USPS on Fri, 05/05/2017. Apparently, the carrier tried to deliver the item on Sun, 05/07/2017 according to their online tracking system. I highly doubt this information because I doubt that USPS delivers on Sundays. Furthermore, my fiancee and I, we were home all day and no attempt was made and not even a note for a delivery attempt was provided. The box is a heavy one and I have noticed that USPS has failed to deliver heavy items to me for quite a few weeks.
Missing my ordered item, I tracked it down on Tue, 05/23/2017 and went to the local post office at 215 W 104th St, New York, NY 10025 where I usually pick up my items. After standing in a line with at least 2 other people complaining about USPS having failed to deliver an item, the USPS employee was not able to locate my item and was not able to give me any details on the shipping status or the where-about of my package.
On Sat, 05/27/2017, I checked the status of my package again only to read that it was supposedly sent back to the sender. I contacted USPS customer service to resolve the issue but was only able to file a complaint. I also checked the local post office again. The employee told me that the status is "returned to sender" but when I asked to speak to the manager, my package miraculously appeared and apparently another employee mistakenly pressed the wrong button when scanning the item.
This incident is not the first time that USPS miserably failed to provide a satisfactory delivery experience. For years, the delivery service has failed numerous times to deliver items and I had to waste time standing in line and claiming my package at the post office. I have contacted and spoken to the manager of the post office and the supervisor of the delivery service numerous times on the phone and in person and nothing has changed at all.

There are new panel mailboxes in my apartment building with larger mailboxes. There is a slot for outgoing mail. The regular letter carrier was very efficient at delivering and picking up the mail. She was moved to another route. Since then we have had substitute carriers on a regular basis. They fail to pick up the mail in the outgoing boxes. This has resulted in payments that I make by check and send through the mail not being delivered. I will now have to resort to paying my bills in person as the online bill paying experience with most vendors has been just as bad for me.
Also posted many letters in blue boxes on the corner that were never received. If I need to post a letter, or bill, I will have to go to the post office as it is the only reliable way to be sure that it is actually "picked up". Whether or not it will be property delivered is another story. I regularly get my neighbors' mail. The USPS has delivery used to be extremely reliable. I can no longer say that. Back to the Stone Age of in person payments, get a receipt. Online payments or USPS delivery are not reliable.
A friend told me that there had actually been theft of mail in her community of outgoing mail in blue boxes. She mailed her rent check and it was cashed by another party. The USPS is not the most reliable way to send anything, unless you pay for certified, return receipt requested. Then probably they will get it, though I have received return receipts up to one month after the item was delivered! If I had the time to run all over town I would deliver things in person. Oh - wait a minute - isn't that what the USPS is supposed to do? They really need to up their game. I would say the number one problem is incompetent staff. That has been my personal experience. And unfortunately the blue box on the corner is no longer a safe place to deposit outgoing mail.

You would think that with all the bad reviews on this site they would take action and improve their PR outlook, but it's the government we are talking about here. They don't care what grievances we have. Paid for a 2-Day flat rate service, but the package was redirected 4 states to the west and it's been 2 days already. I'm currently on the only phone number provided on their website after trying to locate it for 30 minutes. I've been on hold for 38 minutes now and not one person has answered to show that I'm going to be helped soon. The lack of customer service and help lines make it obvious they are set up to make you want to give up trying and just deal with it like any government run agency. Pathetic.
When the message says, "All of our representatives are currently busy, please hold for the next available", do they mean there's only one person working there? P.S. As I've been on hold I've been updating the wait time several times until they picked up. OKAY USPS I give up. You win. I'm hanging up after 38 minutes and not one answer. Another dissatisfied customer.

I mailed myself a package of my mother's family's photographs in early March from Minnesota to Massachusetts. Hundreds of antique photos of my grandparents' and great-grandparents' family. I lost my mother to cancer that same month so these images are precious to me. The USPS lost my package and has not been able to find it even though I have a tracking number. Now they say they have tried to find them and have not been able to yet. They have provided me with no information about where or how this happened! This contents is worth more than $25 in real value because the images are antique so they should be able to spend more time looking for them. They tell me there is nothing more that can be done. That is not acceptable! My mother is dead now. This package was supposed to be all that I have left of her. Now the USPS made it so I do not even have that. Thanks for nothing.

On May 6, 2017 my carrier scanned in a package at the wrong address. The people at that address said they never received a package. I am a business owner and the package contained merchandise for sale. I had existing orders for the contents. The package was insured. I was advised by USPS that the carrier would be held responsible. They would ask carrier to pay the $. If carrier refused a letter of intent would be issued. Then the carrier would have to comply.
Well it is now weeks later and I still don't have my money. Why bother to insure? I was told by my PO that I have no other recourse. Really? It's no wonder USPS is losing money. They raised prices and service is worse than ever. I contacted postmaster general who referred me to Consumer Affairs who put me right back to the Post Office. A lot of good that did. I keep emailing PO and keep getting told I have no other recourse but to wait. Seriously??? The package was insured. They should refund my money and they should Shoulder the wait for reimbursement by their employees.
I am not only out the $$ I paid for merchandise, I have now lost customers and the $$ I was selling product for. This is outrageous. No one there really cares about you. Consumer Affairs is no help whatsoever so why bother having them at all. I just want what is owed me so I can purchase the merchandise again. I assure you this time I will use any service OTHER THAN USPS. I have never been so disappointed at the utter refusal to give me what I am entitled to. I JUST WANT MY MONEY BACK. Oh yeah, when I spoke to my local PO. They said employee was new and they needed additional training hahaha yeah right. I thought morals and the ability to read were a prerequisite to the job. I guess I was mistaken. In an additional note, my local PO never answered their phone. I'm not surprised.

Never again, USPS. Totally unreliable. I have been waiting 3 days now for an urgent, overnight, very important delivery. No resolution, no concern, no answers. What a miserable, poor, inefficient and "has been" service. You deserve to go under, as long as you all get your benefits packages! Typical government employees.
Updated on 5/20/2017: I finally received my overnight priority mail, four (4) days later. Four days late on my overnight envelope. The USPS could care less. Not so much as an apology or an offer to refund of my $28.00. They blamed it on the Albany U.S. Post office for not filling out part of the label. I should have read the reviews first and never trusted USPS. It costs us an $860.00 flight re-scheduling fee because of this. What a miserable, inefficient, poorly run, lousy attitude, typical government employee mess. As long as they get their pre-paid benefit packages until they close their doors for good! Never again will I rely on the USPS.

I have used USPS priority mail 2 times in the past 2 months. The service is horrid, have not been able to track my packages and the last one has been 5 business days and the priority envelope still not delivered, no tracking available. It cost me a lot of money for a pending sale. No way to reach a person and the tracking is horrid. Will never use a premium service from USPS again.

Mailed a padded envelope (classified as a package) on 5/10 to my real estate agent at her home (where she is the only resident) 2 states away from me. On 5/13 tracking said the local PO had received it and it was out for delivery. As of 5/17 it is still out for delivery. 3 calls to that local PO in Chapin SC and no one knows where the package is. First call I was told the address was incomplete. However, the clerk told me the route driver had the pkg and was delivering it as we spoke. But my realtor still never got it. 2nd call, different clerk, said it was possibly returned to me... however, wouldn't tracking indicate that I asked? He didn't know, he would have his supervisor call me.
2 hours later, still no returned call, I call them again, same clerk as call #2. He was just reviewing notes from the carrier who wrote that she remembers putting the pkg in the mailbox. Tracking still not updated from the 13th. My realtor doesn't have the pkg. No one know or cares where my pkg is and I have house keys somewhere lost/stolen in the mail. My experience with the USPS is on par with UPS... misdeliveries, delays, and poor customer issue resolution are standard. I use FedEx whenever I possibly can.

There's something funny going on lately. It feels as if people just do not care that much to do their jobs effectively in today's society. It's as if government organizations/business feel the need to just fill a job opening with the next brain dead operator. Not only is every comment on here accurate but it's shocking for a business to be around for years on years and still have it absolutely suck. I entrusted USPS to deliver my boxes effectively and with little to no problems, 1) for the amount of money I spent to have it shipped, 2) my boxes were packed extremely well (I even consulted with the employee to make sure that everything was wrapped and was told, "Looks perfect to me"), and 3) let's not forget the little box which you select when asked if there is anything fragile, which of course I responded to as "yes" and having all the employees acknowledge the contents and how they were packaged.
My packages were not delivered by the guaranteed delivery date or any date for that matter as I only received a return call from USPS claims department today after having waited 3+ weeks from the time I shipped (2-day shipping) and numerous calls made to them along with hours wasted on that auto ** that does not understand anything you say or type into a phone. WHERE IS THE PERSON TO PERSON CONNECTION, THERE IS NONE. I was not only informed that my boxes were not delivered but that they had also been broken along with the contents in the boxes. When I was asked what the items in the boxes were, I told the representative that it was bottles of wine. The rep responded in a shocked manner as I guess USPS is not allowed to handle wine (keep in mind I had just shipped these boxes all the way from Austria Vienna with no problems and I have all the clearances and permits needed to ship these items).
The funny thing about the whole thing is that, all of my boxes were still packed in their FedEx arrival boxes which had huge stickers all the way around them stating that the contents of the packages had "alcohol." But there is more. The clerk who took my package also decided that she was going to take a piece of paper and cover up the stickers which I found to be a little strange. Now I am sitting here writing this review while I wait for my damaged boxes to arrive at its destination (promised today) only to wait for my potential investor to give me a call thanking me for nothing. Thanks, USPS for helping to destroy a new business and ** with your customer's money and time. Get your ** together and train your employees past the point of the basics. Will never be using this service again and would rather drive the 3000 miles to deliver the package myself. What a bunch of sloths.

The staff at my local USPS branch in Hyndman, Pennsylvania, spray air fresheners that leave behind scents that literally start to close up my throat and make me sick with congestion, fatigue, pain and other symptoms for days. I've complained twice now and the problem has only gotten worse. I have a free PO Box inside the lobby that I can't access without getting sick.
In my first complaint, I asked for a response from someone higher up in the supervisory chain outside of the town instead of the postmaster because this is a small, rural town where I've seen a lot of complaints by others about everything from community problems to crimes get ignored by local and county leaders. Yet, my complaint was forwarded back to the postmaster here who treated the situation as if it was nothing. I was informed that the scents make the building smell homier and that the other 500 box holders love them.
My options according to the postmaster? Ask my landlord to pay to install a mailbox on a street up from where I live, asks someone else to pick up my mail or go elsewhere. My landlord gets his mail for free at the branch. So, why would he agree to install street box? I shouldn't have to ask someone to get my mail for me. I see picking up my mail as a personal freedom that I shouldn't have to give up because the staff at the branch likes air fresheners (i.e. I also spoke with several people around town who are equally unimpressed with the strong scents all of the time, which means that I'm not the only person who disagrees with their use). As for going elsewhere: I would have to pay for a box elsewhere and if I'm sick for a while and unable to drive I'll have to hope that I can find someone to pick up my mail.
The postmaster had finished her email to me with a short sentence that they would "try" to not spray the fresheners, which I knew immediately meant that they would probably either switch fragrances thinking that it would somehow make things better or only stop for a short period. I hope I was wrong, but then over the winter, they increasingly started using more and more different scents.
So, I submitted a complaint through the USPS Inspector General's office since this became a complaint at that point about an employee, the postmaster, who was ignoring a medical condition that falls under ADA. Yet, that second complaint was then forwarded back to USPS customer service escalation and no one contacted me about it.
Now, in the weeks since I made that second complaint, the staff have increased the amount of scents and one of the new scents is far worse. I don't know what else to do. I'm going to try to reach the escalations area at the USPS where this was supposedly forwarded and maybe try the BBB or AG? The staff are playing around with my health and life. I've lost days of work to being sick because of these scents. Also, I've had to live with the fear of "what if?" today is the day that I won't get to the Benadryl or an Epi-Pen on time. As I mentioned in my second complaint, the onus for paying for and installing a street mailbox shouldn't be on me or my landlord since the staff at this post office are choosing to put their desire to have a work place that smells nice by their standards above public health and safety.
No matter how they frame it with other options, I don't get to choose. The other options presented aren't viable ones in my situation. As I told the USPS OIG in my second complaint, I shouldn't have to be the one paying for or drastically re-arranging my life because for their personal enjoyment of something that isn't necessary to the successful running of that post office branch.

Purchased a product in CA and paid $45.00 for NDA guaranteed. Address is correct on package; checked with company, and it didn't arrive. 5 days later tracking says address is undeliverable. WTF! NEED TO CALL CUSTOMER SERVICE TO FIND OUT WHERE IT IS? Forget it!!! Over anywhere from a 1 to 2 hour hold time to speak to someone. Been trying to get this resolved for 4 days now. 4 days of being on the phone for hours trying to reach someone. Life is too short and I paid way too much to put up with this all consuming task. I even did the "We'll call you back when it's your turn and you won't lose your place in line" crap. Wait was an hour and it's now been 2 hours and no return call.
Everything the government touches is crap. Will never use USPS again. Lost package??? Too bad. Lost your money on a purchase we can't be bothered to find? Too bad. I don't have enough hours or days left in my life to spend days trying to reach someone to help me. Especially since the address is correct and it's their error. I'm better off reordering the product and eating the cost of the lost package.

Poorly designed and developed website: As a retired CIO with over half a century of work in the design and development of IT systems, my advice to USPS management is to take stock of the level of competency in your IT group, from the coders, the QAers, the designers and especially the senior management that would allow such a dysfunctional image of the organization to be presented to the public.

I sent a really important parcel via certified mail on April 11, 2017 and they were not able to deliver it. First, the postal workers failed to scan the envelope when it arrived as discovered by the postal investigator who was looking into my claim of lost mail. Then, I called the recipient directly and gave them the tracking number and they went to the Post Office to pick it up. Sounds simple and like a basic function of the postal employee to look up the parcel by the tracking number and hand it over - right? Well they could not even do that.
They claimed that they could not find it yet the investigator said it was at that location and had been verified. So after a few days it times out on May 2nd. The recipient went again that morning and tried to pick it up and was told that it was too late as it had been returned. A search of the tracking number however shows that it is still right there in Baltimore 10 days later. So why could they not simply hand it over? It was right there and they did not even have to leave the building to deliver it - the recipient came to them!!! They still managed to mess it up. Bottom line - it is now 32 days later and the envelope is still not either delivered or returned. If you want to lose something important by highly paid incompetents - use the USPS - they will not disappoint you! However - if you want something actually delivered - use UPS or FedEx...they actually know what they are doing.

I have only had one issue with USPS in my 44 years of living. It was during a storm in the North East of the US, where the package originated. This hindered delivery times for all major parcel shipping companies. I cannot blame USPS. Some stories I have read are one time instances, as if no other parcel company has ever made an error. One woman wrote that while USPS made an error, FedEx came through which is funny because in the 4 or 5 times a company that uses FedEx to ship my items I have ordered, they almost always have come a day later than the estimated delivery date. UPS and USPS have always delivered my packages on the estimated delivery date. USPS has also delivered packages a day earlier than estimated on occasion. I have always been treated with respect, and when I have not or felt I was treated rudely it was my mistake.

Once again, the envelope I paid $6.65 to have delivered in 1-3 days, is delayed or misplaced. Their percentage rate of successful deliveries with my sent mail is appx. 50% at the 1-3 days as advertised. My latest attempt was on 05/10/17 at 12:09 PM. I'm writing this review on 05/12/17. My envelope tracked as far as the first USPS station (El Paso, TX) after leaving the post office I mailed it from. Which means more than almost 60 hours later it still hasn't moved. And honestly, customer service is useless. They can't tell you anything more than what I can see for myself when I track it.
Walking in the post office I don't see anywhere on the sign where it says up to 5 days and most likely more than that. Services seem to be better when I just use first class mail. Only difference is the outrageous price I pay for bad service and a tracking number I get so I can track my package and get my blood pressure going cause the package I paid an extra $6 bucks for to get it there quicker and have a way of proving it was sent by supposedly more secure mail, is now lost or delayed somewhere between my hometown and the Midwest U.S.A. And the best part, no refunds for their bad service. Any other business would be out of business with this business model.
Why they can get away with advertising Priority Mail at all is beyond me. The only reason I use them at all is the fact I live in a remote area of New Mexico and don't have a UPS or FedEx store within 100 miles of me. I had hopes that one day they would get their act together. But with advances in all the new services popping up on the internet every day, I figure it's only a matter of time before the USPS becomes something I tell my grandkids about when they ask me what a "mail person" is after seeing a picture of a man/woman delivering mail in the Encyclopedia Britannica.
Updated on 05/31/2017: This is an update to the USPS Priority Mail envelope I sent on 05/09/17. After several weeks the envelope I sent finally arrived on 05/25/17, it took 16 days to get to its destination. During that time I was able to get someone to answer the phone exactly 1 time at the El Paso Sorting Facility, the last place it was tracked to. I called 8-10 times a day and after about a week someone actually answered. I was told my envelope was mistakenly sent to the Sandy Creek post office, a branch in the El Paso area. Even though they have a number listed for customers to call, no one there ever answered the phone. Not one time, no matter what time of day I called. The only positive response I got from anyone while trying to track where my envelope was from the Shawnee, OK post office. They took my info and did try and help me (they had a difficult time as well getting anyone to answer the phone in El Paso), but at least they tried.
Finally my envelope arrived in Oklahoma. It was never tracked beyond El Paso, and upon arrival it was mangled almost beyond recognition. And to top it off, the USPS doesn't guarantee anything on this service and offers no refunds for extremely poor service. Any private company that did business like this would not be in business for long. When FedEx or UPS screw up, they stand by their mistakes in one way or another. At the very least they answer the phone! no matter where you call them. Just wanted to update my review and let folks know how my experience finally ended.

This is an account for the USPS located in Briarwood NY, 11435, Archer Ave. 11435, and Flatlands Ave Brooklyn, New york. ALL: If you have phone lines, why don't you use it? On multiple occasions, I needed to contact the post office regarding misdelivered, missing, or damaged packages and not once did a single employee answer the phone. There's no voicemail or automated answering service (I assume) so it just rings until you hear the clicking of the line "Opening" and immediately being disconnected. Really, USPS employees? I'd assume that the least you could do during working hours is work. Answer the phones, assist customers... Get paid do something other than sitting around attempting to look preoccupied when someone enters the location.
BRIARWOOD: I wish you weren't so rude. I also wish that you'd actually deliver packages where they are supposed to go instead of holding them. Please remember that THEY DO NOT BELONG TO YOU. In addition, if someone pays big bucks for a package to be delivered overnight, it would make sense to actually deliver it instead of holding it "Ready for pick-up". People do not pay to pick up their own packages. We pay for packages to be delivered to the address on the label, so please read the label. Especially in your case where the office closes at 3:30 - when in heaven's name do you expect a person who works a 9-5 and specifically PAID for OVERNIGHT PRIORITY home delivery, find the time to pick up the overnight package? Would it ever arrive? I'm absolutely dumbfounded.
ARCHER AVE: It would be nice if someone, anyone would actually answer the phone. I called fifteen times in one day and not once. Did everyone call in sick? Were you all up hauled too by your ability to work an honest day? FLATLANDS AVE: When you decide on an excuse for not delivering a package, please ensure that the entire team is in on it. However, if one decides that a package wasn't delivered because the label was damaged and "Unreadable", but in my presence, another employee can confirm that there's no reason why the package was not delivered - the manager/supervisor (By title) should adhere to veracity instead of blatantly lying. I wish you could see the look on your own face when you saw that the inaccuracy was already noted. The stupidity of still attempting to prolong the lie.
You are "Adults". Admit to error and move on. DO YOUR JOBS... Which should be admitting to error on a daily basis since you're so prone to error. ALL: It's a shame you're under the label "United States Postal Service" because something that is often seen as a gov't job is so awfully managed and creates a hideous misrepresentation of the services that are offered.

I am a seller on eBay and just in the last 2 weeks the USPS has damaged two of my packages and sent another package to several states for 2 weeks. I always take extra packing box inside a box and plenty of bubbles and peanuts and they must have used my boxes as footballs. And what makes me mad is you can't talk to a human... so I keep pressing zero's and they put me on hold for over a hour to finally talk to someone that took my information and told me that wasn't her area and she would have someone call me... and of course I received no call... imagine that.
If you send a package priority it comes with 50 dollars insurance... which does you no good if you try to file a claim online because it does not recognize the tracking number. So then you have to somehow get to talk to a human so you can get a claim form sent to you, because the post offices do not have these to give to you. What really gets me is the prices you have to pay and the post office for shipping and the disrespect they have for the customer's packages.

I recently shipped a package and my claim was denied. I walked into the USPS store in Nashua NH in Feb this year. I ASKED the clerk to help me package the contents (Harley Davidson Shocks x2). The clerk was great and helped me package the box with bubble wrap etc. It was then weighed, closed and labelled and shipped. Upon handing my contents to the USPS employee I never touched the item again. I sent this priority with no insurance. Two days later the recipient received the box from his mail carrier and there was a gaping hole in it. No attempt had been made to seal this hole and the contents were gone.
My recipient denied the package obviously seeing there was nothing in the box. Now I'm sure you're saying to yourself, this is pretty cut and dry right? Box leaves USPS store after being packaged by a USPS employee, said package gets damaged and said contents go missing, so I should get reimbursed for the claim right? You would be wrong, both my claim and appeals were all denied. I submitted everything including photos from my recipient showing me there was nothing in the package, photos of the product, the exact weight of my product matching the weight of the box, receipts. testimony from store employee, he packaged the contents..
Like really. Package leaves USPS weighing 11lbs shows up at recipient weighing 0 but somehow I'm denied. I will never use USPS again. On top of all this, there is no explanation at all of what they are looking for as far as proof. Better yet, they even deny your claim and tell you to appeal but don't tell you why it got denied in the first place. Oh yeah, when I received the box back from the USPS, it was taped up nicely and said contents missing. Little bit too late for taping it up.

My package was left on the ground under a row of mailboxes, my mailbox being across street. Expensive diabetic shoes which should have been left at front door! LAZY!!! No wonder the term "government worker" is an oxymoron.

I sell on ebay. I shipped a 700.00 dress from Redding CA to Edison NJ. The clerk who works at the PO box station gave away without a scan, and without getting a signature a fully insured item which required scan and signature. They do not answer the phone, nor will they reply to complaint **. This is an open case and they have NOT called or tried to rectify. Since I cannot prove this customer has this item, I will be forced to open an insurance claim. Maybe that will get their attention, but I doubt it! That clerk who decided to hand over a highly insured box without doing his or her job correctly can reimburse this item. This Edison NJ office does not answer their phone, nor will they reply to this open and active complaint! Thanks a lot for failing at your job! When an item is insured for over 500.00, it required a scan and signature. Even cheap items get scanned, but this clerk didn't even bother to scan! HORRIBLE!!!

I'll keep this short: shipped several boxes of stuff, was told I had up to ~$300 insurance on each, one of the packages went missing and two others arrived with half their contents gone (they even verified this by comparing the weight at shipment with the weight at arrival). Then I was told I actually didn't get insurance. Why did they tell me I had insurance when I paid for it?? Lost several hundred dollars of stuff, with no recourse.
Company Name:

USPS

Year Founded:

1775

City:

Washington

State/Province:

DC

Country:

United States

Website:

https://www.usps.com/