Consumer Complaints and Reviews

Most of you who know me know that I complain little on Facebook, but today, I'm compelled to let everyone know of the way I've been treated by a company and to warn others to beware. I've been a happy customer for many years, nearly 20 in fact. R+L Carriers is a great company to do business with UNTIL there's a problem. We received a damaged item from them weeks ago, and the response to my issue has been nothing short of abysmal. I've called numerous times to the local hub, as well corporate and have to date, I've simply left unreturned messages. This image is costing me and my family more than $2,000 out of pocket and I want the world to know the story.
My company is now a part of a chain of more than 68 locations nationwide, and just as I promised, we are now changing ALL R+L carrier suppliers to other carriers. It's not about the money, it's about the character of a company that matters and the saddest part of this whole fiasco is that our business was theirs to lose... and they couldn't have cared less.

I too ordered a massage chair and once unboxed, found it to have damage. Tried to resolve with EBAY and they credited my account but I had small window to return. They sent me a USPS label to return a 187 pound chair! Contacted R L. They sent a driver out next day, no quote up front or anything. I noticed I put the wrong return address on the waybill, contacted them and sent updated address. They didn't do anything and it got shipped to CA instead of GA from TX. Bill was more than cost of chair. No response on requested difference of bill for GA and CA. I really think they are in business with Factory direct because they mentioned they do lot of business with them. That same massage chair has probably more miles cross country and they collect the shipping fees over and over. I will never use them again and suggest no one else does.

I hired R&L Carriers, doing business as You Crate, to provide moving crates and services for residential household items. They agreed to deliver 2 crates suitable for that purpose and charged me $1486 for pick up in Danville, IN and delivery in Laguna Woods, CA. On March 10, 2017, they delivered two "crates" that they claimed were suitable; they were not. They were comprised of 6 rotten pieces of plywood held together with metal clamps, with large holes and no way to secure contents. (Have photos.) Due to the size of the large crate, it was delivered on the driveway, and exposed to winter weather of rain and snow.
When they were delivered, I was horrified and called to complain; they refused to send any better crates, but offered to pick them up early so that they didn't get rained on. They told me to cover them with tarps. Despite being told I would have 2 days to load, I had to load them immediately for pick up. The were dirty and smelled, and not suitable for clothing, so I incurred an additional $386 to FedEx to box and mail clothes and shoes. Since they weren't secure, I had to change the delivery address to a location that the unsecure, rotten plywood crates could be placed without risking theft or damage to my items. I advised them of this fact, and although it was only 19 miles additional, they attempted to charge me $475 additional for changing the delivery address (but did not ultimately).
When they delivered the crates, the lift was not able to unload them, so all contents had to be unloaded from the truck, immediately, contrary to the contract which allowed two days to unload. My items had bugs and dirt and representative Jeff ** was arrogant and condescending in dealing with the problem - refused to refund any of the $1486, but reimbursed for FedEx $386. This is a fraudulent and deceptive business practice if you see the rotten plywood that they claim was suitable for residential moving.

Please do yourself a favour and don't use RL Carriers for your shipping needs. It's been two weeks and the package barely made it halfway and now it's disappeared altogether. They try to locate it but can't seem to find it.

The worst trucking company I have ever dealt with. I will never deal with this company ever again. They are rude and their phone operators give inaccurate info on the load. Also they have no supervision after 5pm. I myself am a truck driver. And if I pulled 1/8th of the crap they did I would be fired. My company besides being a trucking company, we are also a freight liner dealership. Our broker was informed of what happened and will be looking for another carrier. There's a lot better companies out there. Just do your research.
How do I know I can trust these reviews about R+L Carriers?
790,852 reviews on ConsumerAffairs are verified.
We require contact information to ensure our reviewers are real.
We use intelligent software that helps us maintain the integrity of reviews.
Our moderators read all reviews to verify quality and helpfulness.
For more information about reviews on ConsumerAffairs.com please visit our FAQ.

The delivery guy is terrible... We ordered a massage chair on eBay from Factory Direct Wholesale. This is the second chair we ordered in two weeks. This is the same delivery guy came the first time. I saw the truck arrived and unload the item and told him to put it in my garage. Second time, I was home all morning and did not see the truck arrived, and he did not even push the door bell to let me know he is here and he just unload the over two hundred lbs box on my driveway. When I saw the box on my driveway and he still outside so I asked him to put it in my garage and he just drove away.

This was the worst freight company I have ever dealt with. Actually it is one of the most unprofessional businesses I have ever worked with. The delivery guy was incredibly rude, borderline nasty. I will never use this company again and strongly discourage anyone else to waste their time and money on them. The product did arrive in good condition. At least there was that!

I ordered some step bars for my truck and the makers N-Fab use this carrier service for some reason. I received a call from R&L representative saying they will be delivering my package the next day. The next day rolls around and about 11am I receive another call stating the delivery driver was hospitalized and probably wouldn't get delivered that day. They said possibly late that day or early next morning. All good... Accidents happen. I took another day off work to be home to receive my step bars. My home is gated and fully fenced with my dogs roaming free inside. Thus why I have to be home to open the gate.
Well the next day rolls around and I receive another call from the First Lady once again saying they screwed up. Apparently my package never even made it on the truck for delivery that day due to miscommunication between driver and warehouse... (idiots working there) so now I'm angry because of their second screw up I now have to ask for a third day off work. I make good money so I basically wasted three days of work because of them. I could have bought a second set of step bars for the money I lost by staying home three days!
From what I read from other reviews this company is employed by many underqualified morons. For a logistics company which needs to have excellent coordination R&L is seriously lacking in this department. If possible use another carrier service as they will most assuredly mess your delivery up one way or another! I have yet to receive my package so I cannot even comment on the condition of my package after delivery. I have a feeling they will be damaged somehow. =(

We sent a $5000 sign across the country using this Carrier. One of their employees drove a forklift through the wood crate into the sign, completely destroying it. The crate was properly marked and packaged, and insured. The customer refused the package because it was obvious there was serious damage, it the crate and sign were returned to us. We took several photos of the damaged crate and sign, and filed a claim. They refused to pay the claim, so I have filed a small claims lawsuit to pay for the sign, since we had to make a replacement sign. Do not do business with this company. They are crooks!!! This is the fourth sign they have destroyed through negligence and stupidity. We have transferred all our freight business to another carrier.

We ordered a door and our manufacturer sent us an email telling us to thoroughly examine our package and open it before signing to make sure our door was in good shape. When delivered, the RL driver would not let us touch our package, either to open it or check the contents, until we first signed their legal document stating that the package was delivered in good condition. The corner of the box was obviously damaged (crushed) and the top had black track marks across it with rips in the box. The driver said signing only meant he was there and did not mean we were happy. Wrong, the document clearly stated we accepted the package in good condition. Once we signed, we would no longer have any legal recourse.
Driver would not allow us to have him write down or record what he said as proof but kept saying whatever we wanted to hear so we would sign and he could leave. We signed but first added that there was possible concealed damage. This is a legally binding description but Driver's company would not allow us to add this to the contract. They were obstructive, would accept no responsibility and were remarkably unhelpful. Luckily, the great company who packed the door, did an excellent job and the door was unharmed. One more centimeter and yes, the door would have been crushed on one end. Do not use this company unless you: Can record the driver's statement; the package is overprotected; you are a lawyer and don't mind fighting their inane policies.

R+L delivered a dresser to my house in NJ today and left before I had a chance to inspect the furniture... It's as if they knew it was damaged and wanted to get out of there as soon as possible. I am very disappointed in your service and am contacting the furniture company to advise them not to employ your services in the future.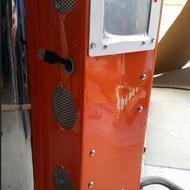 This company is beyond uncaring and unhelpful. I purchased a very expensive glass kiln and when I unpacked it the control panel box was badly damaged. I took pictures and saved all of the packaging and it was very clear that the damage was caused during shipping. The paint from the panel had transferred onto the inside of the cardboard packaging and the pallet it came on was broken on the same side as the damage from some type of impact. They refused to come out and look at it and after two months they flat denied the claim.
I now have to send the box back to the manufacturer at my cost and be without my kiln for up to three weeks while it is repaired. When you call them for assistance they are very rude and it is clear that they truly know nothing about customer service. I will never use R & L Trucking in the future and I would not recommend them to anyone else to use either. The driver even commented on the damage to the outside of the box when it was dropped off but again, they won't even look at any of the evidence. Very sad that a company feels that they can do this to their customers. Lesson learned.

I hired R&L to move an 850 lb pallet of transaxles. They picked it up and their tracking on their website says it made it to Phx but they never delivered it to me. I called to see where it is and I'm told they don't know. I make at least 10 different calls and everyone at the company says it will turn up. For days not a single person will even make a phone call to try and find it.
After four days I receive a call from a local car builder about someone trying to sell my parts for 1/4 of what they cost, cash only, no questions. I call R&L again, no response. I sent the police to R&L's terminal and the manager sent them away! The police were told "When R&L took delivery of my parts they became liable and if had been stolen they would be the victim and they would have to report it and they are NOT reporting it." Over the next several months they have done everything to hide the employee that took my parts. They will not return my calls or emails. The police won't do anything because R&L won't give any tracking info so the police know what jurisdiction it would fall under. They took down the online tracking info. I filed a claim and they offered me $85.00. They have done everything they can to make sure I never find out who took my stuff and they never plan to pay for it.

After reading the reviews I was pretty nervous about my gun safe being delivered by this carrier. Knowing they probably deliver thousands of items weekly I wanted to give those of you considering using them (or if your seller uses them) some other perspective. Driver was on the money - called me an about 45 minutes before he arrived. Asked directions and wanted to be sure he could get his tractor trailer in/out of the neighborhood, which I thought was a fair question. He arrived on time, didn't rush me through inspecting the item and was a pleasure to talk to. I unpackaged the item, found it was undamaged, slipped the box back over the safe and my neighbor I slid it off the lift gate. No muss, no fuss. Really couldn't have gone smoother. Maybe the terminal or individual driver is what makes the difference, but getting the delivery out of the Pittston, PA terminal proved hassle free.

We purchased a motor online and the shipper chose to use R+L as their carrier. The shipper sent us pictures of the motor before it was sent and we have pictures of when it was delivered. As it was coming off the truck my husband noticed damage to the upper intake manifold and brought the driver's attention to it. His response was "This didn't happen while I was shipping this, I need you to sign for this and then you can take it up with the carrier company". He would not give us a chance to mark that it was damaged and was very unhelpful.
We contacted R+L and they requested pictures, documents, etc. and promised to get this matter resolved. I sent them over 10 pictures of before and after and showed them where the damage was clearly done after it was wrapped and tagged by their company. They didn't bother to secure the shipment whatsoever and it ended up tipping over and causing damage. The damage would cost $200.00 to replace the parts in question and they sent us a settlement request for $30.00 which was 10 cents per pound of a 300 lb. item.
I replied that we are not going to accept their request, that I would be in constant contact with them and an attorney, if need be, to acquire the appropriate funds for their negligence in proper shipping procedures. I strongly advise anyone that is purchasing something that needs to be shipped to contact the company you buy from and refuse to let them use R+L carriers as their shipper because it will only lead to damage, destruction and loss of valuable purchases and time.

I hired R&L to deliver a used machine I purchased for $2500.00. It was damaged beyond repair during shipment. I called them immediately and explained the damage. I put in a claim along with documents of payment and pictures of the damaged machine. They agreed it was their fault, yet will only pay $80.00 (10 cents per weight, 800 lbs). I am at a loss for words to describe my frustration. I am only trying to get the money I lost due to their negligence. Their blatant lack of care in addressing the damage and subsequent claim has left a feeling of violation. This assured me that R+L Carriers have no pride in what they do, and have the legal ability to damage whatever they ship beyond repair and not be held responsible. I wish I had read more reviews about this company before hiring them. I will never hire them again, nor would I recommend R&L Carriers to anyone. After reading others' similar experiences, I'm looking forward to a class action lawsuit.

Shipped a 2'x4" 170lb pallet from South Bend IN to Detroit MI. A 4 hour drive (if you are taking your time). The freight was shown to arrive in Detroit: "Shipment en route. EDI Status: Arrived at Terminal Location DETROIT, MI EDI User 3/3/2016 4:49 AM EDI User 3/3/2016 5:02 AM". From this point the freight simply vanished into thin air! The only thing CTI customer service will tell me is that it MAY have been delivered incorrectly to some other customer. They will NOT get on the phone to find this freight. Their response is to simply file a claim and be done with it.
This freight was a prototype part for a new vehicle program which cannot be replaced. A $65,000 test may need to be re-run if this part is not found! CTI will give out NO information for someone in charge. They stone wall and put you off hoping you will go away. They do not return phone calls. DO NOT USE CENTRAL TRANSPORT INTERNATIONAL to ship your freight if you really need it to arrive. Since this information is VERY hard to get the address for the CTI Michigan office is: 12225 Warren, MI 48089. The phone number for ** (Customer service supervisor) is: (586) 939-7000 Ext **.

R+L Carriers out of Youngstown is Good to Go! This is my second delivery from R+L Carriers Youngstown terminal. I am in Pittsburgh and both deliveries were excellent. First one in 2014, second one today. These were palleted Westin HDX grille guards, which can be bent up in transit if not secured. Both were perfect. Dispatch gave me a window of 11-4. Driver called 1 hr ahead of arrival. Arrived 1hr 20 m later. Clean and professional. Cannot comment on other terminals, but these guys are good to go.

We ordered a machine from China and the salesman stated it would arrive in 30 days. After 45 days the salesman was called and asked where is our machine??? He said at the port in New York. Why in the hell would it go to New York instead of directly to the Port of Charleston or Savannah? Makes no sense. The import guy made it sound like it would be coming directly to Charleston. Finally the call came that it had arrived in Piedmont, SC and was ready for pick up. Got all things in place to pick up machine (this machine weighs 4000 pounds. So it was no easy feat to plan the move. Arrive at terminal to pick up machine and it's not freaking there. It is at the port in Savannah. What happened? The guy responds, "I don't know." They don't know their ass from a hole in the ground. Please help put these people out of business. NEVER USE R&L CARRIERS. PLEASE.

TO ANYONE WHO READS THIS DO NOT, DO NOT USE R&L SHIPPING! Well my wife ordered a transmission and was supposedly shipped from El Paso, Texas to Richmond, Virginia but somehow got LOST. Yes LOST in Atlanta, Georgia for not 1, not 2, but yes 3 days! My wife made repeated calls and always got the same reply. "Let me check on that and I'll call you back," was the repeated response. So I (not at my best by now, I'll be the first to admit) call them and get the same response and unsatisfied with that ask to speak to the supervisor.
I get Russ (The Richmond, Virginia terminal supervisor) who proceeds to tell me that it takes more than 3 days from Atlanta, Georgia to Richmond, Virginia! (Yeah right) and with laughter in phone to boot! This is from a supervisor! I looked and looked for a way to contact someone above the supervisor's title to contact to no avail. How do you laugh at a customer and continue to stay in business? I've seen more coordination at a monkey ** fight at the zoo!

I was contacted by their dispatch scheduler, and wasn't there to pick up my phone. She left a message which I couldn't understand. I called back and told her my name address etc. She said she needed the number she left on my voicemail. I couldn't understand it! So I called back, was put on hold several times and she finally looked me up and then scheduled me for 4 days later. Ok sound good! Except when they showed up she sent out a 43' trailer with no lift gate. I paid extra for the lift gate option because I had a window get cracked in the past. The driver called me and ask if I'd come down and meet him to pick up the window on my own. I refused, and told him I'll wait until they ship it to my house like I paid for.
She called me back, I scheduled for the next day. I said why did she send it like that? She said it wasn't her. Yeah it was, she has a distinct accent and couldn't be mistaken. The good news is, the driver they sent the next day was awesome helpful, and allowed me time to inspect the window. He and other drivers like him are the only reason this company is still in business, 'cause if it had anything to do with THEIR customer dispatch they'd be broke!

On January 11, 2016 I've placed an order for a large safe from Costco. On Friday, January 22, 2016 I finally received a scheduling call from the freight company, R&L Carrier advising me that the item will be delivered curb side on Monday, January 25, 2016 between 1:00pm - 5:00pm CST. My husband took the day off work to inspect the item upon arrival and my neighbor also took the day off work to assist us with moving this heavy item into our house.
At 2:30pm CST (Monday, 1/25), I received a call from the truck driver (Dale Still with R&L Carriers) stating that he is about one hour away. He questioned if he was going to be able to drive a semi 18-wheeler into our neighborhood for the delivery. I advised him that we get deliveries here all the time with trucks that size and that they can turn around at the end of the neighborhood as it is a one lane street. He advised that he will call me back when he is within 30 minutes of our residence. We've waited and waited.
At 4:55pm, I finally called him back asking where he is at. He stated that our item was in the nose of the truck. I asked him what does that mean and he advised me that he would not deliver the item today. I said that this is unacceptable as my husband and my neighbor took the day off and have been waiting all afternoon for the delivery. I told him that I would call back his dispatch and hung up the phone. I've called R&L Carriers and after 30 minutes of being transferred and on hold, I talked to the dispatch responsible for my area. I explained the situation to him and what the driver had told me and he said that he was going to get our item delivered but it would be a late delivery. I said ok and asked him to call me back when he has an approximate time of arrival. He called back about 20 minutes later stating that the driver would be there within the hour.
At 6:59pm, the driver, Dale **, calls back and says that we are supposed to meet him at a Mexican restaurant in Quinlan, TX (10 miles away) to take over the item and asks if we have a lift gate to get the item of the truck. My husband explained to him that it was supposed to be delivered curbside at our address and that we don't have a lift gate, which is something the trucking company should provide to get the item off their truck. The driver said, well he can't come out to our neighborhood and that they would need to reload the item on to a box truck and come out tomorrow. My husband hung up the phone with the driver and I called back R&L Carriers and talked with Russ, the dispatch. I told him that we can't take off further days to accept the item and that it is unacceptable the way we were treated. I also told him not to attempt to deliver the item again and to send it back to the sender.
The experience with R&L Carriers was so disappointing and outrageous; I couldn't sleep for most of the following night. Judging by the numerous complaints on this site, I'm not the only one. Why is this company still in business? Please don't waste your time and ensure that Costco does not use this carrier for any of your large item deliveries.

My company shipped a new, $172,000 piece of equipment to a customer using R & L. The machine was bolted to a heavy skid and crated. R & L tipped over the machine/crate, destroying the crate and damaging the machine to the point where it could not be used or repaired. In spite of the visible damage to the crate and machine, R & L delivered the shipment to the customer who signed for the shipment as damaged. R & L has refused to take any responsibility for the damage they caused to this shipment saying the machine was improperly crated. My company has used this method of crating for years and even ships machines internationally without a problem. I strongly recommend you do NOT use R & L Carriers.

We ordered two vanities from Costco.com--over $3k worth. R&L scheduled delivery with an 8-hour (unheard of) window. Most of lower Michigan was under a winter storm advisory. We drove a half hour to our empty house (being remodeled) to meet the delivery guys. He called and said he was 5 mins away and asked if I had guys here to get it OFF his truck? WHAT??? I said "NO" and said I was just going to have them stick the vanities in the garage anyway and not into the house. He informed me we had "tailgate delivery". I said, "no, we have curbside which means you get it off the truck and either in front of the garage or in the garage." He told me "no". So I said, "well, this was a wasted trip--I don't know how you expect ME to get it off YOUR truck for you. Just forget it. I guess just take it back since I have no way of getting it off your truck."
THEN... he says he didn't say he COULDN'T get it off the truck--he could--for a FEE, and another fee if I wanted it in the garage. I told him to forget it--I paid for delivery already and won't pay for anything more. I hung up and left the empty house in the winter storm and get a phone call from their supervisor saying it will cost extra to remove it from the truck, etc... the same song and dance. I told him "NO" and he told me that's what I signed up for. I told him there was NO way that COSTCO would ship and expect their customers to "unload it off the truck", and how did he expect the female homeowner to do this??? He responded with, "it has nothing to do with gender, ma'am... just what YOU signed up for." I told him to just take it back and I would order from some other company that DOES deliver properly.
He said, "So, you are REFUSING to accept delivery???" I said, "Yes, this is extortion and I refuse to pay you any more money and you can take the vanities back and shove them up your **." I called COSTCO when I got back to our other home and they said NONE of what R&L said was true, and we indeed paid for curbside, and THEY should have gotten it off the truck. She put me on hold to call them and R&L never picked up. She asked if I wanted to order again and I said no because R&L will be delivering again and I refuse to have to deal with them EVER.
I told COSTCO they need to know that R&L is holding their customers' items ransom until you buckle and pay them the extra money. Most people are desperate and pay, and probably never call the place of purchase and report them. We were NOT in desperate need at this moment in time and were ABLE to refuse and turn them in to COSTCO. COSTCO is a huge company and maybe if enough people complain they will put R&L out of business.

R L Freight destroyed my package to the point it was comedic. Paying extra to ship a fragile item clearly labeled and noted in the system, and on the package, did not deter these uncaring people from beating it to a pulp. NEVER AGAIN will I use this business for shipment, I hope they get what's coming to them. Stay away if you value your items.

R L Carriers is horrible to deal with. Our shipment was on time & arrived to a "local" dock two and a half hours away from me. Up to this point service was just fine. I followed the shipment closely because I wanted it to make it before Christmas. Arrived the 21st at 8 am to the transfer dock. I called to make sure that the transfer company was ready and willing to bring the shipment to me. They assured me that there was room on their transfer truck and then they could get it down as soon as R L released the paperwork. They would not release the paperwork. The same thing happened for two more days.
There was a woman in the Salt Lake loading dock that just was awful. Customer service is just terrible. Our shipment has been sitting at the loading dock for 3 days and are now being told that once again they did not load the transfer truck and we will not receive our shipment for another 6 days... Worst service I have ever dealt with. Next will be to find out after reading all of their loathsome reviews, how badly damaged the shipment will be. I can't wait. I wish there was a way to give negative stars.

We did two cross country freight shipments (full truckloads). They literally destroyed one shipment so badly that I had to transport myself and three employees to New Cumberland, Pennsylvania to remediate the order so it could be shipped. They lied about the damage they had done. It took 6 months (in part due to the military to whom it was supposed to ship) but also because R+L was not honest about what they had done to the shipment. It was rejected twice by the government. The other shipment had to be remediated, returned to our facility in California, from Pennsylvania and then shipped back to Pennsylvania on another carrier to avoid government imposed penalties for failure to fulfill the contract.
I paid for one shipment prior to knowing that it had been rejected. I refused to pay for the other shipment and they sued me and sent me to collection. I filed damage claims with pictures, and government documentation of the rejections and the reasons. They have not so much as responded to the fact that claims have been filed. This leaves me with no option but to sue. They are hiding information of whom to serve. The DOT should shut these people down.

This company refused to deliver a product to my home because I live in the country. They were rude and insulting. They made me feel like I was a hillbilly for living in a rural area. I have received countless appliances and large shipments at my home without a problem. After a long battle with them, I agree that they could just leave the box at the end of my 1/2 mile driveway even though it weighed 400 lbs. They told me that is what it would take to deliver. I finally conceded and then they still refused to deliver my shipment. I had to dispute the charges because the original company tried to charge me for the freight to me and then back to them $480. Always ask the company you are buying from who they use for delivery and check our their reviews. This was a terrible nightmare.

R+L Carriers was selected to deliver our home appliances. They arrived and delivered 5 or 6 appliance boxes. We noted two 6" dent in the side and back of the refrigerator. They are horizontal and look suspiciously like fork lift dents. We mentioned it to the driver. He looked at the dents and made notes on his invoice. He said he would turn it in. We submitted our claim to the original vendor. The driver denied seeing any damage and his notes had been whited-out on the invoice. Couldn't believe the lack of integrity. We should have refused the whole shipment outright or taken photos of the drivers notes on the delivery. Either would have helped us. Instead, we got a measly $249 credit and a chance to help you avoid the same fate. Buyer Beware! Inspect your merchandise carefully and document everything. This organization will openly lie to avoid paying for their mishandling of your products.

R L Carriers was sent by a vendor to our warehouse to pick up a load. Our manager was not on-site at the time the driver arrived, as they did not call before arrival as we had asked. We had 2 loads shipping out that day, both with proper Bill of Ladings attached. Their driver took the wrong load. They were to pick up a load going to Louisiana, but instead picked up the load going to California. The driver supposedly checked his paperwork against the BOL, and signed off and left with the load. As soon as we realized it the next morning, we called and they said the load was in Atlanta, and would be returned to us in NC.
Well, needless to say, it left NC, went to LA, and then on to CA. They held it hostage until we agreed to pay them and then they would deliver to our customer. Then we received the invoice, and they billed us almost 4 times the amount the load should have cost, plus they hijacked it from our original carrier. Do NOT ever do business with them. When we contacted them, their employee kindly told us she was washing her hands of us and hung up. Great people skills - NOT.

ConsumerAffairs Research Team
The ConsumerAffairs Research Team believes everyone deserves to make smart decisions. We aim to provide readers with the most up-to-date information available about today's consumer products and services.
R+L Carriers is a global shipping company with a focus on customer service. Their shipping services include rail service, air transport, ocean transport and truckload service.
Weekend express service: R+L Carriers has an expedited service dedicated to shipping cargo between Friday and Sunday efficiently. Submit a form online to get a Weekend express quote.
Guaranteed AM freight delivery: Many businesses can't waste a whole day waiting around for a shipment. If you manufacturing or supply chain needs a delivery in the morning, opt for R+L Carrier's guaranteed AM freight delivery option on your pickup request and BOL. This guarantees you will receive your shipment before noon or you'll get your money back.
My RLC: Sign up for an account with R+L Carriers to gain access to Document Retrieval. Here, you can access all available delivery receipts, bills of lading, weight certificates, invoices and NMFC classification. You will also receive access to helpful shipping tools, including transit time calculator, shipping maps and more.
Trade show logistics: Use R+L Carriers for your next trade show to streamline the shipping process so you can focus on your business. R+L Carriers trade show experts will make sure your materials make it to and from the trade show on time and in tact. They offer white glove service and debris removal and are always prepared for the unexpected.
Domestic and international shipping: R+L Carriers ships both domestically and internationally, making it a great option for businesses who frequently ship both abroad and within the United States.
Best for R+L Carriers is best for businesses.
Compare Shipping Companies
R L Carriers Company Profile
Company Name:

R+L Carriers

Company Type:

Private

Year Founded:

1965

Address:

600 Gillam Rd.

City:

Wilmington

State/Province:

OH

Postal Code:

45177

Country:

United States

Website:

http://www.rlcarriers.com/