Consumer Complaints and Reviews

I looked them up after seeing that a very expensive phone was shipping to me from China to Quebec, Canada. I was terrified my package would come damaged with demands for cash after reading reviews on here. I was able to track my package the whole way, they were right on time and since my order was shipped priority no duty. Even though pilots went on strike and the USA had Thanksgiving, my package got to me in 2.5 days! The driver was friendly, the box was perfect. No problems whatsoever. So much for believing in reviews!

I ordered something custom made for my client from Hong Kong needed it within a week and paid DHL express, the seller gave my package to an agent who would then go to dhl HK office to hand it over but took a week in itself as he was "busy" which annoyed me so much. The parcel was given to the agent on the 16th nov, it only was handed over on 22nd nov when I needed it for the 23rd nov.
Seller informed me that their agent handed the parcel to dhl. On 23rd I checked the dhl tracking site did not show that the parcel was handed over to dhl, I had to email dhl hk and dhl uk to locate my parcel constantly! Finally dhl hk got back to me that they just scanned it (24th nov). I have text alerts and received a text that my parcel will be delivered on 25th nov by the end of the day. So I stayed indoors all day. I then received a text to pay customs as it is over £15... so I paid it straight away.
Fed up of waiting I contacted dhl uk asking where's my parcel. It said it will be delivered today, was then told I received an "early text" which is incorrect the parcel has not left hong kong yet. I then asked why I was charged customs, was because it's over £15, was then told I need to pay it. I told the customer service operator that I did pay it online but we only ended up in an argument over it! Later on they said "System updated. I can see your payment". No apologies! Whatsoever!
My text updates were not coming through so I went online and showed up as reached London heathrow and then showed up as customs status updated. I now expect my parcel on the 28th nov. What's the point in express services if it is not express, what's the point of an automated text update service if you don't get alerts and you get false alerts?! What's the point in hiring people with zero customer service and are half dead at 5pm??? I will not be using dhl again - such a scam, rude customer service, can't believe this mickey mouse club house is still in business! If I could I would rate them ZERO.

Stay away from DHL! They never provided service that you want. My friend mailed me a gift via overnight shipping but the shipment was on hold due to DHL issue. When you called the helpdesk, they always told you to wait and they don't know the timeline for resolution. You never know when you would receive your package. It might get lost. DHL never took any urgent approach to make up your loss. The only thing that you would do is to ask you to wait.

I booked a pick up online and paid with a credit card. I received a confirmation with some forms to print out and attach to the package. I went to my office to print the forms and the page had expired. I called DHL numerous times and apparently, they were unable to access the forms that DHL had generated and sent. Unbelievable. They said that they would send forms with the driver but when he arrived he had no paperwork. He filled out an airbill and took the package. Later that evening he phoned to say that he didn't have the required paperwork and that he couldn't ship my package. Now DHL has to return the package (a 2-day process) and refund my money (a longer process). The customer service staff were uninterested in helping and had no remedy or advice. Truly pathetic. I will NEVER use this company again.

Paid HIGH delivery charge for 5 working days. The parcel was supposed to be delivered on 1 Nov 2016 but was not cleared in custom due to illiterate DHL staff. All the forms were filled and attached to the parcel before dispatch. I had to fill same forms and information and the DHL staff was so illiterate that was asking same questions again and again. It took 15 days to clear the custom due to DHL being non-professional. At the END they asked to pay the assessed duties and taxes of amount $48.79. The Goods itself was not worth more than $20. Goods didn't contain any electronic items or anything that need for custom duties and taxes.
I called the DHL customer service and the guy was not helpful and refuse to show any legal documents from US custom. That means DHL is taking this money for nothing. WORSE SERVICE EVER. I have received lot many expensive and heavy parcels delivered by other competitive companies but never had any delays or assessed duties or taxes. DHL was my First and Last experience. I would never recommend DHL. They are WORSE.
How do I know I can trust these reviews about DHL?
638,664 reviews on ConsumerAffairs are verified.
We require contact information to ensure our reviewers are real.
We use intelligent software that helps us maintain the integrity of reviews.
Our moderators read all reviews to verify quality and helpfulness.
For more information about reviews on ConsumerAffairs.com please visit our FAQ.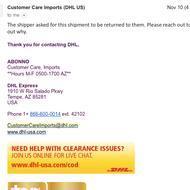 I really don't understand how DHL manage its services. I would say they should NOT be a company or do any services for people anymore. Your company should be CLOSED to evaluate your own services. This is the worse worse experience I had ever had in my life! I had a package from Hong Kong urgently ship to New York. I provided all the shipment details DHL required us to email them and I paid for all the duty fees immediately because this package is urgent and we told DHL that we needed to receive it right away! The day we were told that the package would be delivered to us the next day.
However, the next day we NEVER received the package! We called back to ask DHL. They keep telling us to pay for the duty fees. We emailed them the paid receipt to proof our payment. They told us to wait and they would check! The next day they were telling us that our package is being returned back to Hong Kong!!! WTF!!! After a day research they made, DHL told us that there was a mistake on their system!!! They would return back the package AGAIN from HK!!! What kind of company it is?? I think DHL should not be serving any customers anymore!!! They never apologized officially!! They made us lost more than $6k in business! So foolish!! Their customer service is extremely unprofessional and they have no idea of what they are doing!!! So ridiculous!!!

I am the co-owner of our creative agency developing high-end corporate and promotional gift projects for luxury brands. Our business always has to deal with urgency as gifts are ordered last minute. Therefore we are obliged to use Express Shipment for almost all our orders. This complaint is about a still not received order of a large cargo of almost 1000 kg and worth of more than 30,000$ goods! No excuse from DHL forwarding but rudeness since the problems started. Step by step:
Our DHL representative was very professional and motivated winning the contract of shipment from China to Switzerland for this cargo of ours. He knew from the beginning that it is extremely urgent and proposed the fastest 4-5 day air cargo shipment. We signed the contract with a several thousand $ air cargo fee. The shipment left on November 4th from China and should arrive by 8th and we have still not received it.
Once the shipment left, the DHL Forwarding representative contacted us with the info that the fee raised by over $1000 as there were 2 cm more volume than what we said. This info is still not confirmed as we have still not received our goods... We said that we have to check that upon arrival and will pay if it is correct. The goods did not arrive on 8th November and our DHL did not help with follow up but said that it is not their fault - no excuse and no info was received on when the goods will arrive. As we had over 10 people reserved for the quality control of this cargo on 8th/9th, we were obliged paying them a full day of work without having worked for us!
As on 8th still no more info and only rude emails telling us to be patient and forwarding is emails from their DHL China subsidiary, we researched where the goods were and found that they are stuck in Luxembourg by error!!! DHL Forwarding direction just said that this can happen and we should have informed them that delay was not acceptable for this shipment, as otherwise they sometimes give priority to other shipments that they consider more urgent... How they evaluate, no idea: we have paid and asked for their fastest service.
We contested the shipping charge and asked for a new reduced offer in regards of all the loss we have to account. DHL forwarding's answer was: "you need to pay the full higher amount upfront, otherwise we will not deliver you your goods at all and block them." We had no choice than to pay fully in order to receive our goods the fastest possible...
Next day, we found out that the goods have flown back to China!!! And that we will be delivered by the 12th earliest! We researched and got in touch with Cargolux as our goods went from China a second time back to Luxembourg!!! They were very professional and confirmed that the goods will travel to Switzerland by truck overnight and will arrive 12th of November in Zurich. End of the day on 11th we receive an email from DHL informing us that we cannot pickup the goods on 12th and they will only be available on Monday 14th!!! Calling them no answer on any of their direct phone numbers!
My business partner went to Zurich himself as we are about to lose our client as we are very much delayed with delivery of this order caused by DHL but no chance: our goods had arrived to Zurich but were blocked by DHL until Monday 14th November! So we again had to cancel our employees for their scheduled work over the weekend... Tomorrow we will hopefully finalize this review and receive our shipment! We recommend anybody to choose any other Express Service but DHL!

I've being scheduling pickup of Express package for entire business week starting on Monday and the package still haven't been picked up on Friday. I called customer service and they told me that they cancelled pickup because the driver could not find my address and that some neighbor told him that the business moved. Supervisor Carry ** who I spoke over the phone with on Friday evening kept on convincing me that they could not find the place for all these days yet there was no updates on the account/pickup information and every evening I re-schedule the pickup just to see how it's neglected the next day. The fact that all other carriers have no problems in finding the address and that this is unsolvable problem only for the DHL driver for 5 days wasn't good reason for her.
Another fact that I've being waiting for the pickup during FIVE days and then re-scheduling the pickup at the end of each day wasn't convincing for the supervisor nor it was alarming for her. All she did was convincing me that this situation is normal and it was all my fault that they could not find a well known address and/or call or leave a voice message in advance about the time of the pickup so that we could make sure that the driver will find us when he's at the address. It looks ridiculous that DHL drivers fail to find a business address and cannot solve the problem during 5 BUSINESS DAYS.
My question is what do you do when after you pay money for the service you didn't get it and when the company just mock common sense instead of finding a solution? I've never felt so disappointed. I'm a small business owner doing my best in building a good reputation but it looks like corporate reputation means nothing for people like Carry ** and her co-workers. She refused to provide me with her employee/dispatch identification when I asked for it. Again, I paid for the service and have been waiting for it and haven't get it while losing my business reputation in eyes of my customer who's waiting for my product.

Goods damaged in transit. DHL first refused to deal with me as I was the owner, not the shipper. The goods came from overseas and they insisted on using a totally unrealistic and unobtainable rate of exchange. They then employed a double standard of excluding the cost of shipping in assessing value by which they limited the claim but including it when assessing the value of replacements. The net result is that I have been left out of pocket. I shall ensure that neither I nor my shipper uses DHL again.

Being an expat living in Canada, having to renew a passport has a few hurdles. The UK government have an 'agreement' to handle the courier delivery here with DHL... except that the local 'depot' do not deliver in my area, some 25 mins outside of a large city! On speaking with DHL customer service, they blamed EVERYTHING on the passport sender. Would NOT take a complaint when I pointed out that I had NO contact from them, not even a 'please call us' card in the regular post. They say it's not their responsibility!! They say they do not deliver to unsecure Po box addresses. We have our Po box INSIDE the local post office.
Apparently it can take around 3 weeks to get a tracking number from DHL (attached to your details with the passport office). In that time DHL had received the document and had sent it back as unable to deliver! DHL have a contract with the UK to handle passport delivery, except if it's not convenient for DHL to Bother to drive out of town. Even with the recent postal strikes, Canada postal service is outshining them every step of the way! So to sum it up, don't bother complaining, it's not their fault, don't bother driving into the depot because they don't have it and don't bother emailing DHL as they can't be bothered to reply. On the whole Canadian people are friendly and caring. Looks like DHL need to 'cowboy-up' and start taking responsibility!!!

DHL online tracking showed Friday EOD delivery but that package missed in their cycle so they suppose to deliver on Monday. Monday also they didn't deliver. Service is really poor. You never get package on time when you want it really urgent.

Ordered a item online. Almost 2 weeks ago still waiting as shipper used DHL. DHL shows they sent USPS info days ago. USPS says they have nothing. No info no package. eBay shows delivered. Also not true. What a mess.

Im shocked with your service and stressed 'cause I didnt get my parcel. I have no idea when will I get it. The contact center is horrible. They are rude and can hardly speak english there in the international service. All my week is spoiled because of you. You are the most expensive delivery company but it's just horrible. I guess I will have to go to the court 'cause I cant get my parcel. And what makes more sense that it supposed to be a present for the anniversary which has already passed and it's your fault I didnt get it on time and it seems like I wont get it at all.
On monday 24.10.16 I found in my place the paper that the parcel was not delivered 'cause they didnt find me at home. So Im wondering why nobody has called me. Am I supposed to stay at home and wait all the day? So I called to the company and they proposed me the delivery on 26.10.16. I explained that I can be at home only in the evening and asked to make a delivery from 16.00 to 18.00. The operator was extremely rude. She replied - "no, it's too short. We can make from 15.00 to 18.00."
So I asked to give me a call on arrival so I could go home and pick up the parcel and she refused to make this service to me. So I called again to check my delivery time and try to ask to call me and the next operator took my number and promised to send it to the office. So I was waiting my parcel on 26.10.16 from 15.00 to 18.00 and nobody came and no phone call at all. I called again with the question - why they didnt bring the parcel today and the answer was fantastic. They said - "we dont know" to my question why nobody has called to me. They said that it's because it is not a french number which is not true because I bought it in france.
So they offered the delivery for the next day. I explained that I cant stay at home and wait all the day, I have already lost one day because of you. Nobody calls me and informs me about the arrival. How I supposed to get it? So they said that they can do nothing for me and proposed to collect it in the office. I said that it can be a solution and asked to organise it for me but the operator said that they will call me back tomorrow. I dont know where is the office here, 'cause they didnt give me any address. I dont know how can I get my parcel 'cause nobody delivers it and they never call to me. I've lost my time, I didnt get my present. I must confess that DHL does no effort to do any service for the clients, so it looks like stealing 'cause we have lost my present and money for the delivery.

This is the first time I write a review of such nature. Where to start? The total lack of care of DHL, their horrible customer service, calling 5 times, each time being passed around 4 times, each of those four times being asked for the tracking number. They say they will call and never call. They never have accurate information about your shipment status. Each time you call they tell you something different. In the end my shipment was returned to sender back to Hong Kong, even though I called and the item was still in my country. Nope! The order was already issued. Back to Hong Kong it goes! All of this after waiting for days for delivery. Thieves!!!

Last night I was standing at Minerva, Himayath Nagar (22-10-2016, 8:40 pm) and one of rogue employee with DHL t-shirt was indulging in rush driving on his two wheeler. this ** was about to hit me with his two wheeler though I was standing at corner of the road. He was about to run his wheels on my feet. Do you deliver by violating traffic rules in the name of faster delivery. Shame on you rogues to have such ** in your organization. DHL EXPRESS SERVICES is about driving their vehicles on people and cause injuries to pedestrians. Remove that rogue ** from your organization. This ** was not sorry for his actions. He wants to pick fight with me even after violating traffic rule and was about to cause injury to me.

We were scheduled for a delivery of a valuable ($4,000), irreplaceable, bulky and heavy shipment today, Friday, that required a signature. I stayed home to be sure to accept the delivery, and regularly monitored the website for the delivery status. I saw that the package was on the delivery vehicle at about 1:30 PM, which could have resulted in a delivery between 2 and 3. When no delivery occurred by 3, I checked the status only to discover that the shipment had been delivered to SOME OTHER ADDRESS with a signature from someone with a DIFFERENT name.
I called DHL a little after 3... After assuring the very polite and responsive representative that I had no neighbors with that last name, that the 9' long, 60-80 pound item was not outside my door or visible in front of any house on my block, she scheduled a follow up call in two hours. Because I had been at home all day waiting, I left to run a couple of errands and was gone about 45 minutes. Sure enough, the driver had realized the mistake and attempted to deliver to the correct address - WHILE I WAS OUT. No call to let me know of the re delivery attempt, and because I was told that the next event would be the follow up call at about 5, I was not concerned about missing the delivery. Our address is very easy to find, I regularly buy online and neither UPS nor FedEx have had any problems finding me. DHL's solution? To have me again wait on Monday for the pleasure of receiving my shipment.

Ordered video cables at an online webshop, DHL was supposed to deliver the package. Plain and simple. After a week, still received nothing. DHL seemed to be the problem. DHL told me they couldn't find my address. Gave my address a second time with extensive explanation how to find my home. Another 2 weeks later, still nothing. Reason: they couldn't find my address. Well...The rest of the ** planet can find my address, so why a company with 100,000 employees can't??? Another few weeks later, without previous warning, they tried to phone me (what's wrong with email??) and because I didn't pick up the phone (I wasn't at home that day) they just decided to resend the package to the webshop (!). Final result: ONE MONTH waiting for nothing. Gladly the webshop returned my money. Shame that I can't give below zero stars on this review for DHL.

I own and operate an online shopping store, and I signed up with DHL for its Global Mail service for my logistics. Although it offers cheaper shipping costs, the service is, I must say, the worst of its kind. Its customer service takes forever to respond if you have any issues. For instance, I asked for account invoice so that I can make payment, but for weeks, they haven't responded. I also requested for some packaging materials (labels, envelopes etc), and it took them 3 weeks to delivery. Finally, I had one shipment supposed to bound for Los Angeles, CA, and on my part, I made a mistake by using slightly bigger box than its required specification. They informed me that they can't deliver it and would return my parcel. I sent the parcel around September 17, and until now they have no idea as what happened and where it is. I made a mistake, but DHL should still return it to me within a week or so, not three weeks.
Anyway, I finally called in and their explanation was they have to sort manually for all returning parcels. It just didn't make sense to me as DHL is one of major courier services and not being able to trace them systematically just shocked me. Anyway, should DHL have returned my parcel I could repack and resend it to my Amazon customer. Instead, I am way behind my fulfillment deadline and would eventually have to refund to the customer. Therefore, for those who are considering the service, these are some of the issues you may face. If you are dealing with high-value merchandises, I strongly suggest that you stay away from DHL and go ahead with more reliable, FedEx or UPS.

Hi.I have sent 5 kgs of package to USA from Hyderabad. DHL people kept that package on hold for 15 days mentioning there is customer clearance process is going on. They intimated us that whole food got spoiled. But the truth is they may opened the package and stole the things. This is very worst service I have never met. Don't choose DHL service. I have experienced DHL worst service twice. We have paid nearly 10000 for the other package to get it from USA to Hyderabad. I have did much drama and demanded 6400 rupees more to get the product mentioned that this is custom charge. Actual package cost was 10000 and DHL charged more than 10000. Stated you have to pay the custom charge and the package cost to get it from USA.

6 dresses were stolen from my box by DHL. I took pictures of the box with their tape over it stating it was repacked. They opened for no reason other than to steal what was in the box. Left original destination at a certain weight and received at a lower weight so it's obvious someone at DHL knows what they are doing and they can get away with it. DHL customer service said I need to contact my shipper!!! How disgusting for a delivery service. These dresses which were all packed together was a quick steal and the person or persons doing it know that they can get away with it. I have proof that box was opened by them which they have no right to do unless they are Customs Officers. Customer service is no help and refused to see that there is a problem. They are responsible and I showed them all the proof including pictures and weight of box as received and yet they still refuse to fix this problem.

We had placed an order with DHL in Denmark to send our passports to India for visa purpose. At time of booking we asked on phone to DHL Customer Service if it was legal. The Customer Service executive said it's legal. When our passports reached from Denmark to India and we got visa on it we faced drastic problem as DHL in India replied that they cannot send our passports back to Denmark as it was illegal to send passports from India to any country by courier. We lost all money of our flight booking and visas because of DHL Customer Service executive's wrong information over the telephonic conversation. We want to sue DHL as we have all evidences to present our case. Please help. We need to sue DHL.

My door speaker got broken, and that's why I was picking up a new "delivery failed" sticker each day 3 days in a row. Courier could just call me on the phone number but he didn't. Both customer support and courier are incompetent as hell. My phone number has been provided 3 (!) times - and it wasn't enough to make sure he'll call me once he's at my place. The package had documents in it, and this delay resulted in a heavy time loss for me, as well money. Finally, customer support service is below zero - all they can do is tell you how sorry they are and promise that PROBABLY the package will be delivered on the next day.

No value for the customer. I wonder how do they manage to stay in business after such a terrible reviews. Oh I see their GOD is a $ sign. I normally don't write review but they are forcing me to write one. If you like to have a friendship with frustration, non cooperation please feel free to use this service. If you like peace of mind don't use it.

I ordered a couple items online for a total cost of $30 and then paid $10 for shipping just to get a call saying I had to pay additional $20 just to receive my item and if I didn't have a credit card accessible that I could drive to Richmond and pay $20 to receive my items. Most companies allow cash. Obviously they're looking to fraud your credit card!!! By the time all was said and done I paid $30 for shipping and only $40 for the item. I could have got 2 orders for that price from another company!!! Total scam!!! Scam!!! Scam!!! Never go to DHL shipping. You don't want to be scammed out of your hard earned money!!!

It was the worst experience. I will never use DHL ever again and tell everyone not to use them! They delivered the wrong package to my house and my package was sitting in Ontario which was reported to them within hours of the delivery! There was no urgency in collecting the package. I had a ordered a dress to wear to a wedding which I won't be wearing as it's sitting in the warehouse in Ontario while am in BC! The customer service agent who I was dealing with this just said, "We are sorry and we can't get the package on time" and offered no other solution than I had to talk to the manager. Long story short I don't have the dress and will never use them again! Worst courier company!!

Worst customer service, late package, opened, items missing. I wrote DHL customer service 3 times, no response. 4 times now because items were stolen. No one has contacted me over this issue. The USPS didn't get the package until it was 4 days late.

I buy a lot online, and of the shipping companies the sellers use - the USPS, UPS, FedEx & DHL - DHL is BY FAR the most unreliable and frustrating. This week, they placed a package "on hold." When I called to try and correct the problem, and after 3 long, frustrating phone calls to 3 different representatives they have so far not managed to deliver the package. It is especially annoying as they charge much more than the other carriers and do a much worse job. I wish all sellers would use the USPS. In this town, anyhow, they are by far the best: most reliable, fastest, and cheapest.

This is my first time using DHL and I will never do so again! My package was supposed to arrive at my apartment on Thursday. I got a notification saying that there was no one there for a signature (I live in an apartment complex with a front desk and have NEVER had an issue with this). After calling customer service and getting little help I agreed to pass on the requirement for a signature. The package was "unable" to be dropped off on Thursday so they rescheduled it for Friday. I got another notification saying "The package would be there by the end of the day of Friday" but then later received another undeliverable notification.
I called customer service and received even worse service than the first call. I explained that I had changed my preference to no signature and there was no reason for the package to not be dropped off. They explained that the driver never received my change in preference and I was told that there was nothing they could do but attempt to send the driver a message for him to drop my package off. I will most likely not receive my package until the next business day, which is now Monday, and when I asked if there was anything else they could do the man began to talk over me and with a very thick attitude just repeated that he would send the driver a message but couldn't guarantee anything. Why am I paying for a service when they are not holding up their end of the deal? I pay the money, you deliver the package. Horrible business etiquette, horrible customer service and horrible experience altogether.

l needed to send an urgent parcel to South Africa. DHL picked up the parcel on 8th August assured me it would be delivered 11th. Well after phoning S.A. numerous times from the U.K. suddenly had to pay more customs which was done within minutes. It then still took another 3 days before the parcel was delivered on 17th. No apologies, no communications. Absolutely disgusting service and l will NEVER use DHL again and l will tell as many people as possible about the dismal service.

First they charged my credit card 3 times and I don't know why. Before I use their service they confirmed the recipient will pay 10% of the commercial invoice nothing more. The commercial inv is for $249, but the recipient paid around $90 fees without any explanation (It should be $25). Also, the estimate delivery date should be 08/15 but delivered on 08/17 and to get it I called the international country more than 10 times, costed me more than $30. Finally, they are liars, cheat customers, and nowadays no customer service or rights we have to be volunteer victims.

ConsumerAffairs Research Team
The ConsumerAffairs Research Team believes everyone deserves to make smart decisions. We aim to provide readers with the most up-to-date information available about today's consumer products and services.
DHL has a presence in 220 countries and territories around the world, making it an easily accessible shipping option no matter where you are or where you need to send something. They offer solutions for businesses of all sizes, from eCommerce to manufacturing.
DHL parcel and DHL eCommerce: DHL Parcel and DHL eCommerce provide standard parcel pick-up, delivery and return solutions internationally. These services are available for both businesses and consumers.
Customs service: DHL customs brokers are available to help your business ensure you are compliant with all the latest customs laws and regulations. Customs and trade consultants can review your supply chain to optimize duties and identify potential risk areas.
Cargo insurance: You want to make sure your cargo is insured for its full value in case it is damaged or destroyed in transit. DHL cargo insurance will protect your cargo from any damage or loss caused by an external cause. This can be purchased ad-hoc or as an annual plan, depending on the frequency of your shipping.
DHL Express: Perfect for when you need a parcel or package shipped fast, DHL Express can make sure it reaches its destination in the shortest amount of time possible. Get an accurate quote on how long it will take to reach its destination online.
Easy to use: DHL's website makes it easy to track your orders. Sign up for an account to receive a discount on shipping and to place shipping orders. You can even order supplies online to use for shipping. To ship an item, simply fill out the online form, pay for shipping and drop the item off at one of DHL's 4,500 service point locations worldwide.
Best for DHL is best for eCommerce and larger businesses, particularly those that ship internationally.
Compare Shipping Companies
Company Name:

DHL

Year Founded:

1969

City:

Bonn

State/Province:

Other

Country:

Germany

Website:

http://www.dhl.com/en.html