Consumer Complaints and Reviews

Discover chose to close my credit card account because I had not made any purchases on it. Yes, it had been over a year, but they did not even inquire as to whether I was simply choosing not to use it. They just closed it! So beware, if they are not making any money/interest from you, you too may find your account closed FOR YOU.

It has taken us over a year and assistance from the Delaware Banking Commissioner to have Discover Bank release a Certificate of Deposit to my son who is now past the age of majority. False directions on how to do this, changes in requirements at least twice, bureaucratic obstinacy. Watch out for the document people in Utah! Do not know what they are doing. Meanwhile we have spent an inordinate sum of money and time to get money that was actually my son's released.

I saw an ad for a Sample a Wrinkle Cream. The ad stated they were looking for people to sample the product and that only the postage would be charged of a couple dollars. Request a credit card for the postage. When product arrived, I sampled it and believed it was the same as Walmart sells. At the end of the month, I received an invoice for my Discover Credit Card Charges. On it were two charges for $94.97 for the two different moisturizing products. My call to Discover was told they would remove the charges and notify the selling company. I received an email from Discover that the charges were removed.
Following month Discover Credit Card charged the amount back on my credit card. My call to them said they were told by the company that I ordered the product and did not notify them within the limited period that I wanted to cancel. She said if I did not open the sample, I could possibly get a refund. Discover felt that was an offer to credit my card, but obviously if I were sent a product to sample, how could I do that without opening the jar? Discover is a great credit card company for you who wish to perpetrate a fraud upon your customers. I have no choice, but to cancel my credit card with Discover in order to stop this Con as I have no control over how many times they plan to charge my credit card. Stay away from a Discover Credit Card unless you want every purchase you make be charged whenever the supplier requests money for whatever amount they desire and you have no choice in the matter.

I had a merchant DC Pro Movers fraudulently charge me and my fiance's card. They wrote an additional amount under the signed amount, under the line. My fiance had Chase Visa card and they ruled in his favor as did the courts. Discover ruled against me despite clear documentation that there was a manipulated charge receipt where the merchant wrote in an amount UNDERNEATH the amount signed for and underneath the original amount. I lost almost $1000 as a result. You cannot trust this card to protect your interests in a legitimate dispute with an unscrupulous, dishonest merchant. They will automatically take the merchant's side. This is incredibly dangerous because virtually any merchant who uses Discover can manipulate a charge to you and get away with it. I have switched to Chase visa now and one to close their Discover accounts before this happens to you.

I had a Discover Card Promotional 0% rate which expired on 5/27/16. The balance owed was $7010.00 at a 15.24% rate. An additional 0% rate expires 04/17. Once I use a promotional rate, I never use the card again for purchases. I have been paying well above the minimum payment, yet most of the payment has been applied to the Promotional rate, directly contrary to other credit cards (and to Discover Card's stated practice) of applying the minimum rate to the amount with the lowest percentage rate and anything above that to the expired rate. Consequently, I have seen the $7,000 amount rise to $7150.
I have filed a complaint with the Consumer Financial Protection Board and Discover Card responded with a boiler-plate explanation that simply reiterated most of the information I originally provided to the CFPB. I have provided proof that cards with higher rates have been applying amounts above the minimum payment to expired promotions, resulting in a consistent lowering of the interest-bearing principal owed. I believe that Discover Card deliberately applies most of the payment to the Promotional Rate so that when that rate expires, it can be tacked onto the interest-bearing amount, which has been increasing exponentially.
I would be interested in knowing whether anyone else has had a similar experience with Discover Card and if so, whether it was resolved. I will eventually pay off the card, but would caution anyone considering a promotional rate with Discover Card to be aware of what may well be a highly questionable application of payments made to expired principal amounts.
How do I know I can trust these reviews about Discover Card?
635,598 reviews on ConsumerAffairs are verified.
We require contact information to ensure our reviewers are real.
We use intelligent software that helps us maintain the integrity of reviews.
Our moderators read all reviews to verify quality and helpfulness.
For more information about reviews on ConsumerAffairs.com please visit our FAQ.

Discover card denied my purchase of gas because I went on a road trip and didn't get their permission first. My credit score is over 800 and I have used Discover card for over 10 years. They let me use the card a couple of times in other states and then at a crucial time of my road trip when I was off my path in a very unsafe area, 9 miles from being out of gas, towing a U-Haul... My credit was DENIED at the pump. I called them, they cleared me after I had to "sign up for travel!" DENIED again! I called back, cleared AGAIN!!! I went back to the pump... DENIED again. This time when she said it was cleared, I kept her on the phone while I used it..."DENIED". So she went in and checked something and came back and confirmed that I can use it ANY PLACE ELSE EXCEPT WHERE I AM STRANDED!!! I can only guess why... We tried too many times and at their fault for that?
I will be paying off my tiny balance and closing this account. I have tolerated the ridiculously high interest rates for far too long anyway. This is UNACCEPTABLE!!! Discover card put my safety in danger by randomly denying my credit for no warranted reason. I was buying gas and food on my trip with the card NOT GUNS AND PORN!!! Everyone there saw that I was stranded and saw me calling Discover for help reading info from the card and saw that I couldn't get my gas to get out of there. I WAS AFRAID FOR MY LIFE!!!! AND THERE SEEMS TO BE NO PLACE TO PUT IN A FORMAL COMPLAINT SO THIS IS IT!!! They will answer any questions I have with automated emails but they cannot fix what they have done to me. I want to go on the news for this! It's reverse discrimination. They are treating the card user like the thief to a point where the user can't use their own card!!! SHAME ON DISCOVER!!!

I was charged cash advance and I right away called customer service and spoke to Erin. I explained to him the situation that I was charged a cash advance fee when I made it as Credit and that I was not aware of the transaction being placed as cash by the merchant. I asked Erin to provide a refund as customer service since I was not aware it was processed that way. He denied my request and told me to call the merchant and have them refund me and repurchase the product again. I told him that was impossible since the transaction was already processed. He denied to offer me a waiver.
I asked to speak to a supervisor and after 5 minutes I was transferred to Michael from Phoenix. I told him the story again and asked if they could refund the $10 as customer service and he denied as well. Michael being a supervisor was not able to make the customer happy over $10 then his position is very questionable. The whole conversation with both of them I didn't feel listened nor serviced. Not my fave card anymore.

I have 7 Credit Cards, different Banks and a Discover card for over 15 months. I recently did a balance transfer into my checking account. After I applied online I got a call from their security department to make sure it was me who did it. The money was deposited in 3 business days. I have always gotten my rewards credited and to tell you the truth never had a problem with Discover or any other credit card companies. I also have my checking through them also. I read these complaints and I honestly do not understand them. I mostly do everything online any hardly have any communications with a real person. They make it so easy.

Repeatedly their online account has totally inaccurate information, charges are added with no notification or reasoning, each rep spoke to (total of 4 now) have a story completely contradictory to previous rep...nothing gets accomplished but wasted time, repeating the same story. DC is a chase-your-tail game with your MONEY. Stay away. Find another credit card. All their advertisements represent the extent of all their lies.

If there was a negative star, I would give it to CheapOair. I purchased a trip to Nairobi in July. When CheapOAir sent the confirmation, the information was all wrong. The ticket was showing that I'm departing from New York and returning to Nairobi. I called CheapOair thinking this was a small fix on their part. I didn't realize I'd be spending the next hour and a half with the most RUDE people on the planet. These guys asked for an additional $800 per ticket (an additional $2,400) so they could issue a return ticket, although I had purchased a return ticket from them. Thankfully, my esteemed bank, Chase, reviewed my case and got my money back from CheapOair.
Unfortunately, a portion of the trip ($165.00) was paid using Discover card. I was not able to get the $165.00 back from Discover because according to Discover card, I signed an electronic agreement when I agreed to purchase the ticket. The rep at Discover said the same thing over and over again- that I agreed to pay for the ticket. That's not the point. The point is that I did not get from CheapOair what I paid for (a return ticket). They wants proof of what I entered on each computer screen when I purchased the ticket from their website. Another 36 minutes wasted with Discover card. Bottom line, CheapOair cheated me out of $165.00. Be warned. If you insist on using CheapOair, be sure to save each screenshot because you will need it. Wishing you a hassle free (not) travel with CheapOair.

I got an offer from Discover for a balance transfer, so I opted for it. In the last week of August I got a confirmation from Discover, saying the amount will be credited to my checking account within 5 to 7 days. It's been more than 3 weeks now. I even got a confirmation email saying the money is deposited in my checking account. When I call Discover they don't have any answer. Until now I didn't have any bad experience with Discover but this incident proved me wrong. I have to reconsider my opinion about Discover. They took the money from me, including the interest but didn't pay me a single penny. Not even a courtesy call on the status.

I borrowed from Discover Student Loans to pay for my off-campus housing. However, because my university, UC Berkeley, has a new policy this year, the loan disbursed to the university and has been sitting idle in their account. As a result, I needed to pay for housing from my own pocket; however, I was then unable to pay for tuition to begin classes, so I was left with no other choice but to drop out of school. Since I am no longer enrolled, I was trying to ensure the funds returned to Discover so that I would not be liable for the loan and interest.
I waited twice from 6:30 am to noon at the UC Berkeley financial aid office and was told that there was nothing I could do to have the loan returned since that's just how their system works. I then contacted a Discover Student loan rep and was told that they promised to personally send a letter to UC Berkeley asking for the funds to be returned. I called back to Discover two weeks later to confirm; however, the rep told me that they cannot send a letter or even contact UC Berkeley to receive the funds.
These Discover reps do not honor their promises. Fortunately I have 120 days before I have to be fully liable for all payments; however, it seems that Discover does not want to receive the funds back. In conclusion, if you do choose to borrow from Discover student loans, beware if there is any problem, you will have to "do-it-yourself" from Discover reps. Also, UC Berkeley said that "there is nothing they could do on their end". So at the end, it seems that the money will be sitting there forever; it has already been sitting there for over one month, hopefully it won't be past 120 days.

I have spent hours of my time trying to access my account information on the Discover website. It won't accept my password, and it is impossible to change the password using their website method. They send me a temporary password, and that is rejected since the password is 8 characters, and only 5 characters are allowed. Their telephone assistance personnel cannot fix the problem nor understand it. Their only solution is to send me a new credit card, which may or not solve the problem. Intolerable.

I have been a customer for a year now and honestly expected an automatic small increase as most banks do. I called when this did not happen. I also asked about the promotion I am in where I am suppose to get a match for the cash back I have earned from using my card and she told me yes I will but in about 3 bill cycles. That is nowhere to be found in terms so a big let down. I escalated multiple times regarding credit limit increase and find it ridiculous they cannot give you corporate contact information and also told me the non increase is to help protect me from over extending even though I have never been late on any payments with any companies and never made anywhere near just minimum payment.

I had the Discover Card. All of a sudden they doubled my minimum payment to "HELP" me reduce my balance. I was doing fine with paying my minimum and called them to question why they doubled it since I was NEVER late. It was to "help" me. If I could have paid "double" I would have. Since they put me in a situation that I could NOT pay, I told them I would have to file bankruptcy. They said "OK. Do it." And that is what I did.

This the second time that I have tried opening a bank account with Discover bank. The first time the security department made fax my information in so they could verify my account then come to find out they closed the account after their employee screw up. They left me on hold for hours and just to tell that they fixed the problem and they really didn't. Now I have the same problem. They are the worse company to deal with. I wouldn't recommended this for anyone.

checking a personal loan quote with this company and I got a credit inquiry. I called them and they said it happened.

I have been a customer and carried a Discover credit card for about 10+ years now. The interest rate was 24.23%. The day I opened an account with them and still to this day it is at 24.23%. Despite numerous calls I have made to ask if they could lower my interest rate and each time the answer was the same "NO!" and "for what reason??" I wouldn't know because they would not give me one. I have maxed out my Discover card at least 3 times with my lowest credit line being $1,500 the first time, $3,000 the second time, and 5,000 this last time. I have paid off this credit card 2 going on 3 times now. I also just made a payment of $3,000 within the last 4 months and close to almost every day. They will call my cell phone and work because I haven't made a payment for the last 2 months.
I figured that since I made such a large payment of $3,000 I would have a couple of months to make a payment without the nonstop harassment and late fees!!! Guess I was wrong! Silly me! I will be reporting them to The Better Business Bureau within a couple of days and will never ever again hold a Discover card and I have and will continue to tell every single person I know to never carry their card also. I have never in my life experienced such HORRIBLE customer service in my life!!! I assume that I am not the only person to experience this awful customer service with Discover. It is very disturbing to think and know that such a big company treat their customers like complete garbage!!!

Discover card seems to be allowing outside 3rd parties in IL to badly handle Credit card fraud investigations. Without handling or crediting the FOUND FRAUD back to me. I literally sent full documented packages into their Security division (NOT KIDDING) at least 9 separate times with 17 copied documents to prove the account tampering and False billing and false statements received. I also made Inspector general complaints w/ the US postal inspector and found that 40 percent of these bills were coming from unrecognizable address on PREPAID envelopes that were NOT associated with DISCOVER.
No amount of calling in, emailing or WRITING with proper documentation EVER got them to resolve this matter and to this date I HAVE NO CREDIT CARD. Cause they CHOSE not to close the account to see if the perps used it again. THEY DID and DISCOVER had Alzheimer's disease about it and refused to issue me a new card w/ a new number. I even had credit protection insurance. NOBODY at their corporate level ever replied back with any explanation or REISSUED My card. I was a customer over 25 years in EXCELLENT STANDING.

If you are applying for a personal loan and have an excellent credit score but you have an accent do not waste your time. They will make loose score point and then they will deny you application. When you apply online they will tell you will be approved with excellent rate but you need to call them and then base on the person you talk to your loan will be approved or not. If you have an accent forget it. My score is 772 and 85k income. All my payment are on time, customer with Discover for almost 3 years, credit line 70k from other banks, and when I applied is just to shop for lower rate for my loan. I am not in a financial hardship and I told the agent that upfront. I applied for this only because they were bombarding my mailbox with offers. My advice stay away from this unfair discriminating bank. Yeah I also asked the agent what's the reason he asked me to hold on 3 minutes and then he was saying I will receive details in a letter.

I use my cards heavily for mostly business reasons. 68k limits across 21 accounts, and almost NEVER carry a balance unless it's some kind of a promotional offer or when I bought my Harley with my Amex that offered no interest for a yr, and like in this case... On vacation, May 1016, 8.2k in pendings across 7 accounts, (14 accounts zeroed) ALL perfect 10+ yr history, between 12-18% usage, Discover sent me an invite based on my regular iT card for the miles card. Discover gave me 5k miles card to start, June 2016, 22 revolving accounts, (new iT miles card) $6.3k balances across 5 accounts (17 accounts zeroed). One of those 5 accounts was the new iT card that had slightly over 1k usage first month, paid in full about a week after statement date as the others, but as I mentioned, my accounts are used for business reasons.
I then use the iT card to pay for prebooked flights mid July 2016 for a vacation to Greece, $2.8k balance and I decided to take my debit, and ONLY the iT card with me to Greece on vacation as a back up 7/16 to 9/16, to establish a usage and payment history, not my Amex Gold, Delta SkyMiles, Cap One or Citi Visa. Combined totals of over 37k in credit, not including the gold that doesn't have a preset limit. They did a soft inquiry and lowered my limit slightly above the current balance while I was on vacation effectively putting my usage at 97% on this account and worse off, leaving me in another country with no credit card. After a 37 min international call at $2.35 a minute, they can't help cause the account is less than 3 months old. Irony is, they claim their system saw balance to limits were too high.
I currently owe $5.7k across 6 accounts including the 2.8k on their account, so 8.2k = 7 cards when approved, 8.5k = 6 cards when they killed my limit. Their own account posted on my report 2 days after statement date, NOT due date, STATEMENT date, and they lowered my limit for that additional $300. Statement date every 9th, due date following 8th. They lowered the limit the 4th and then reported 97% usage the 11th, go figure.
Amex and Cap One overnighted me cards and I closed both my Discover accounts, but for what it's worth... their customer svc team tried as best they could to save face and work around that 3 month thing to help save me some grief, including asking me to email them my reports to show balances, limits and have the account over written by an actual person instead of a computer. They even contacted corporate, to no avail. Even the reps were making comments like "ludacris", "crazy" "must be some mistake" "must be something we can do" "Let's try this", and "I'll transfer you to this dept". They tried but the damage is done, Discover is dead to me. They could offer me an unlimited card/interest free for life I wouldn't take it. The trust is gone!! I'll stick with Cap One, Amex and Citi cards (in that order) that I KNOW I can rely on when I need them.

I wrote my check for the Total Payment of $924.58 - Nine Hundred and Twenty Four and Fifty Eight cents in the required fields on my check. When I received my next monthly Payment Statement I realized that it was more than the purchases for the previous month and there was a $14.74 interest charge. After my investigation of my Credit Union Statement and Discover Payments and Credits, I observed that the personnel in the Billing Department either made a blatant intentional error or an unintentional error of only charging a payment of $224.58. Two Hundred and twenty four dollars and fifty eight cents is not written in the respective field of my check nor is $224.58 is written in the respective field of my check.
I always pay the full amount and at least one week before the due date. Is there a foreign Company processing Discover Accounts? I am a Discover Card member since the year 2000 according to their records. My personal Thoughts: Is this a new way of Profiling Seniors? Are other Seniors out there paying attention to the Statements and their Payments or having this similar experience? I have filed a Billing Dispute. Most probably Discover has already sent this incorrect Interest Charge to the Credit Bureau(s). Equifax - Experian - Transunion and Discover will be in no hurry to correct this Issue.

I have been holding Discover Card for around 15 months now. Initially the experience was good. Though they gave very less credit limit, but that's fine as my other cards have enough balance. It has good cashback offers time to time. But one recent policy that they have introduced is ridiculous that an Add-On Card Member has to have SSN. First they do not communicated to me (or at least it never reached me). When I contacted for some information regarding add-on card then they acted and closed by add-on account. I am afraid how a bank can miss sending such important communication when they can send advertisements via P.O. Mail every week. Only justification for them is "We have mailed you the communication, you should check with your mail provider why you did not received..."
Come on. Such a lame excuse? It is a straight lie as if they would have mailed they would have also cancelled the add-on card. As per them the communication was sent 19-Apr but add-on card was active till August until I contacted them. The very basic reason we issue add-on card to our loved ones is they cannot have one of their own. I informed bank that my wife has valid TIN number. So she should be allowed to have add-on card. Moreover, the terms clearly says I am responsible for any purchases made on the add-on card (unless fraud). This rule of Discover is ridiculous. Also their communication standards are poor. All banks send important emails via P.O. email. I would not like to be associated with such bank. I am for sure closing Discover account as I don't think this is a consumer-friendly rule. Also they do not take communications seriously to ensure they reach consumer.

Few years back my credit's bad because of my roommate. Wrong time, wrong situation. But I learn from it. Early this year, my brother lost his house from a fire. I applied for personal loan at Discover card. Spoke with Criselda and explain the situations and answer her questions. Criselda is very informative, professional, yet talking to her is like talking to a friend about your troubles. We connect. I have a pleasant conversation with her. She gave me a chance, and that's all I needed. Now, my credit score is up. Every time I see my good credit report, I think of Criselda. Her persona is a must on every business to succeed. Thank you for helping me get back on my feet. And she also inspire me not to mess up.

Christ, when are companies going to realize the CONSUMER isn't the one who has to work on owning card. I had fraud alert and yet they want me to call and call. I WON'T do it anymore. I reported the fraud, and yet they want me to give more and more info. What the hell is their problem? I told them that I hadn't used card in months and their behavior in making ME do all the work, just tells me how bad customer service has become. WHY in the hell can't you email and simply report it. I am so sick of companies taking my $$ and then expecting me to do all the work. I REFUSE to notify them a 4th time. I called 3 times and it just went on and on. JUST CLOSE THE GD ACCT PEOPLE! What's so damn hard about that?

I got a Discover card few years ago. I had a high credit score and a high salary, yet got a small credit line. With time they kept increasing it with little increments. All of this is fine. But they have the worst rules dealing with their customers, like you cannot make two payments with 3 days of each other. If you do, the second one will not be credited to your account until after 9 days. They're annoying, pressuring you to get one of their loans, or other credit cards. Once you get their 0% promo and get a good chunk of your credit line, don't get your credit score dropped, because right away will cut your credit line. They are nasty, vicious, and don't care.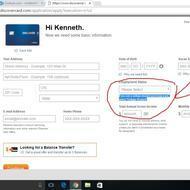 Complaint done in Consumer Financial Protection Bureau. I've been a customer for 2 years with the company, never had a complaint until today. I just finished talking with the executive office because an inquiry that I did this weekend about a credit card application that I submitted last week. That application was denied, and I call just to know why. I do work in banking as well, and I do care about my credit, because since I'm not a millionaire I depend on it for anything. I'm currently working and studying full time both since I need to progress myself.
Well, the main reason I'm writing to you today is because I think there is something that Discover should consider in changing or adjusting or do something. When I was doing my application on the second tab (please see attachment) it says clearly that if you work and study, 'you select student'. That was basically the key to the point in this complaint. As per your company policies students are only allowed to have 1 account, and non-students 2, but going back when you apply and you're doing both you must choose 'Student'. Basically, what I did was a waste of my time and a hole on my credit bureau, because the policies of Discover discriminate students. And plus that, I'm not only a student, I'm doing both, which should be considered all the way around. I have called several times to the executive office, they just do not care, and there is no way to go further and let the real executives the dedication of this problem.
Well, my humble advice, a bank which a lot of his customer base are students, should not treat students so lightly, so black and white, explain better in the application tab (if doing both, instead of choosing 'student', choose 'working'). It seems that you did not even read my problem. If you would have read and seen even the attachment I provided you'd have realized that I chose what your online system required since I'm both student and worker. It seems that is going to be the same robotic answer always, without even read my statement. Thanks for nothing, we still the same, it seems that Discover is unable to recognize its discriminatory mistakes and/or web designs.
Please do not respond the same auto reply showing of why I was denied? I know that just focus in responding and referring to my concern: Why is web application requesting to choose student like the attachment shows? Why can students have only 1 CC account while and non-students two? Why is so difficult to Discover recognize these mistakes? Why play with people credit, instead of a clear advertisement of the allowed accounts? Why are you making me waste my time, and not even respond to my problem directly?
Then Nick Capretta, Executive Office of Customer Advocacy in Discover reply an auto-reply without responding any of my questions. I talked to him this morning. He told me he is the superior person I'm going to be able to reach, and he can do nothing to fix the problem. It seems that the executives are never caring about customers and less if you are an student.

Customer service has fallen apart. I've had a Discover card for over 10 years. Never had an issue, but now they freeze it all the time. I have a credit score of 811 and have never had to dispute a transaction. Problem #1: authorized users. Don't add them, you'll get annoying phone calls to verify you added them. Of course I added them. I logged in to their secured site and added a user and the card gets mailed to me, not the user. Pretty secure right... wrong... They will harass you and ask questions about how you are affiliated to the users, which I'm pretty sure is illegal. Then they will want you to email them a copy of their driver's license, social security card, and a utility bill which sounds like invasion of privacy for the authorized user. On top of that, I can't log into Discover to make sure that is a secure email address and not a made up one for the sole purpose of identity theft.
I didn't have to send them that crap to get an account, why do they need it from a user I chose to add. When I submit an add request for an authorized user, simply approve it or decline it. Don't make my life a living hell by freezing my account and pestering me. Problem #2: I'm getting frozen for recurring charges that started in early 2015. Why would that be flagged? I've been paying that same charge for over a year and now it's a problem... Bravo Discover Loss Prevention team... You found a stick in wood pile. The entire loss prevention team at Discover has to be costing them a pile of money.
I used to push $800 to $2000 through this card every month. Times that by 10 years and that's a lot of money Discover made. Now I can't use my card to buy a candy bar because it's always frozen for the sole purpose of harassing me and collecting information about other people. Here's a big piece of advice: record all your conversations that you may have with Discover representatives over the phone, because this company may be up to no good.

I feel cheated on how my payments are applied. I have 3 different loans and they applied all my payments to the balance that will be expired on 08/2017 (over 1 year to expired) leaving me to pay off the entire balance of 9700 before August 4 2016 (one month to expired). This NOT what I was told when I requested the loans. They make everything possible for customers to pay interest and that is BS. I talked Janet a Discover supervisor on July 11 2016 with ID ** but she didn't want to do anything to fix the problem. She rather closed my accounts before she do anything for a customers like me who is being with Discover for YEARS. What Discover is doing is unethical and should be changed. After I pay all my balances I will closed my personal and business accounts and I NEVER want to receive anything in my mailbox from Discover!

I cosigned a student loan through Discover Student Loans and when they couldn't find my phone number they illegally went into my personal Discover account and found a number and called me at home. The 2 accounts were never linked and therefore Discover student loans had no authority to access my personal credit card account. This is unethical and illegal. I will never own another Discover card nor will I ever recommend anyone to do business with Discover credit cards and Discover student loans. I was sent a letter from Discover stating that they illegally went into my credit card account. Cancelled my Discover card and will never have one again.

Beverly HarzogCredit Cards Contributing Editor
Beverly Harzog is a nationally-recognized credit card expert, consumer advocate and author. She's appeared on Fox News, CNN Newsource, NBC New York and more. Her advice has been featured in The Wall Street Journal, USA Today, Money Magazine, CNNMoney.com, The New York Times, Kiplinger, Real Simple, Time.com, Family Circle and much more. More about Beverly→

Discover is a leading direct bank and electronic payment services company. It's one of the most trusted financial institutions in the country, and it has been operating since 1986, which is when it introduced the first cash rewards credit card. It provides international credit solutions and acquires 5,000 new customers every day.
Cash back: The Discover It Card offers great cash-back rewards, including 5 percent cash back in rotating categories and 1 percent cash back on everything else.
Financial Education Center: Excellent online resource for those who need to learn about money management and how to stay out of debt.
Account freeze: If a card is lost or stolen, it's easy to freeze it by using the online app or by using their mobile app.
Free FICO credit score: Discover provides a free online FICO credit score for consumers who have an account.
Reputation: Discover has a great reputation as one of the largest lending institutions in the country. The company also has a wonderful reputation for customer service.
Convenience: The website makes it easy to apply for an account and set up payments.
Best for Consumers who have good-to-excellent credit, consumers in need of a balance transfer and consumers who need to establish or rebuild credit.
Company Name:

Discover Card

Year Founded:

1986

Address:

502 E. Market Street

City:

Greenwood

State/Province:

DE

Postal Code:

19950

Country:

United States

Website:

http://www.discover.com/