Consumer Complaints & Reviews

I was about to use this product but looked at all the unfavorable reviews and the pictures. Oh My God!!! Thank you people. This product should be removed from the market. How can the FDA allow it to be on shelves. Thank God I didn't subject myself to this. I'll keep my gray hair.

I started using this product over 10 years ago and about 2 months ago I started to developed a serious skin reaction on my chin and my upper lip, extremely itchy followed by watering blisters. When it happened the very first time I didn't think it was JFM so I continue using it until the I realized it was JFM beard and mustache dye causing it. I stop using this product and my skin is back to normal. I'm very disappointed because this was my favorite brand for years and also because there's not many product of this type on the market to shop. I will never use this product again in my life!!!

Okay Just For Men sucks and left my face with a bad itch after one use that brought me to my knees almost in tears. Lucking I found and I bought Benadryl extra strength itching cream. It says right on the box, "Itch Stopping Cream" and it worked. Buy it, and NEVER use Just For Men again. That's my best recommendation. Take about one inch of the cream and lightly rub on face. Let sit for 10 minutes and then take another one inch of cream and apply, presto! It worked for me. I posted this cause I lived with 2 days non-stop of horrible itching and wanted to help the other victims of a product that should be banned from stores.

I used the product twice on the top roots and temples and sideburns only in April. My head still itches and burns all over! THIS PRODUCT NEEDS TO BE REMOVED FROM THE MARKET IMMEDIATELY!

I felt a stinging sensation and have suffered blister and leakage. I don't think I have the receipt anymore but I still have the product at home.
How do I know I can trust these reviews about Just For Men?
554,286 reviews on ConsumerAffairs are verified.
We require contact information to ensure our reviewers are real.
We use intelligent software that helps us maintain the integrity of reviews.
Our moderators read all reviews to verify quality and helpfulness.
For more information about reviews on ConsumerAffairs.com please visit our FAQ.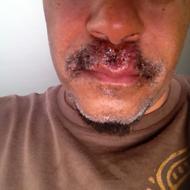 I have used Just For Men products off and on for years. Apparently the ingredients that are being used have changed. It is very toxic. I have not been able to meet with clients because of the facial blistering and leakage coming from the blisters. It is very painful and embarrassing. I am very surprised that this product is still on the market, considering the damage it doing to men faces. To anyone considering using Just For Men products don't!!! Stay away and save yourself the pain and suffering.

For over nearly 2 years I have used Mustache & Beard Just For Me M-30 Light-Medium-Brown. I applied it once a week, and per instruction left it on for just over 5 mins, then showered it off. It worked perfectly with no adverse reactions. For me one box lasted about 2-3 applications i.e. 2-3 weeks. It worked well and I was pleased with the results.
Two weeks ago I bought several new boxes. As before, I applied. I noticed a slight burning sensation after about 4 minutes, which I never had before. But I waited the 5 mins, and then I showered if off. But this time, my skin felt as though it was on fire. I washed my skin thoroughly with soap. But there was no relief from the burning and itching. I tried rubbing in some cream, but nothing stopped the burning & itching. And it seemed to be getting worse. In desperation I decided I would shave off my beard. Painful as it was I shaved off all my beard. My skin was on fire.
Over the next week the condition continued to worsen. I got weeping sores, redness, itchiness, swelling. It was so bad that I couldn't sleep. I could not shave because of the weeping sores. Now just over a week later and multiple applications of hydro-cortisone cream, mountains of lost sleep, appointments cancelled, lost work, lost income, my skin still burns, is painful to touch. The weeping sores are becoming less, being replaced by painful dried scabs. My skin looks terrible, red, weeping sores, scabs, unshaven. Very slowly, it seems to be calming down, but I'm not yet back to normal.
I then came across this site after searching for "Mustache & Beard Just For Me adverse reaction". I note that in the introduction it says they have not changed the formula. I had no change in my general health, diet or begun taking medications. I am the same as when I first used the product and had no adverse reactions. But suddenly the products burns my skin up and weeping sores... Well, something has changed! Either they have changed the formula or something has gone wrong in production. I am very unhappy.

I've been using JFM hair color and beard/moustache color for over 15 years. Sometimes if I don't shampoo/rinse well I get a little itching on my scalp. My bad. Recently I went with a darker color as the gray was winning the battle, and all hell broke loose. Head itched terribly. Open sore in my beard. Beard was on fire for days; had to douse it with lotion and take a lot of Ibuprofen. Switched back to a lighter color; cut the duration down to under 5 minutes, made sure I rinsed very well. Head seems to be under control (just minor itching for a day or so) but still having problems with my beard. I've researched the hell out of this and have come to the conclusion that I must stop using JFM. I've had a good run. Most people think that I'm 10 years younger than I am, but the pain is not worth it. If anyone has a better product, send me an email to **. I'd sure appreciate it.

Unfortunately, my hair has been falling out since March 2016 using this product. I've been a user for years and have not seen this type of results in using the product. Looking at all of the bad reviews, I'm in agreement that their formula has changed. I'm not recommending use of the product.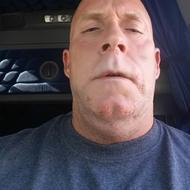 I applied the dark brown Just for Men beard color to my goatee as instructed. That night my face and neck started itching. I woke up to severe blisters, redness, burning and itching. The entire area around my mouth and my neck were this way. I almost went to the ER but medicated at home instead with ointments, warm compresses and Benadryl none of which provided much relief. I shaved my entire face hoping it would help, however it did not. This is the 2nd day and still no relief. Severe burn marks, blisters, swollen, painful and itching. I am an owner operator and drive trucks cross country moving people. A big part of my job is customer interaction and satisfaction. My customer today was clearly taken back by my face and neck. DO NOT USE this product. I will be hiring an attorney. Here are pictures of day 2 1/2.

Damn it, this stuff is toxic. My face and neck is burning something fierce. UGHHH... going for medical care. I do not recommend this product as it might burn your skin. I REPEAT DO NOT USE THIS PRODUCT!

My boyfriend purchased this product for facial grey hairs and did a test on a partial spot on his chin with no adverse affects; however, after full application to my beard and mustache, he instantly started feeling an irritation to the product. I checked to make sure the product was not outdated and it was not. The following days and still to date, which has been almost a week, his face, lip, neck, and throat remain irritated and swollen. He's gone to urgent care twice in one week and have been given recommendations for medications he can purchase over-the-counter by pharmacists but nothing has alleviated this gross and intense pain and discomfort. Not to mention he's embarrassed to deal with his clients right now because he doesn't want to lose their business because of the breakout.
He is a professional dog trainer and constantly has to interact with people and their pets. With the way his face looks, he doesn't want to be seen anywhere by anyone. This product should be banned and I'm angry that nothing has been done after reading other consumer reviews. The product should be removed and Just For Men should be held responsible for the damage it is causing.

I have used Just For Men for several years. The last box fall 2015 caused my lip to itch. And blisters to swell and discharge liquid. The product has changed and now causes burns etc. Please do not used this product.

I suffered from severe swelling, burning, and itching from this product recently.

I just got back from the hospital because I used "Just For Men" mustache and beard dye. My face is oozing pus. Skin is actually falling off my face and my nodes are swollen because I have an infection. From looking at the reviews "Just For Men" has known of this problem from at least 2010 - probably longer than this. I did everything it said to do. I put "Just For Men" on the inside of my elbow. To do an allergic test like it says to do. With no effect on my sideburns is fine but around my chin and cheeks and lips are oozing with pus. I feel like I've been hit in the face with a porcupine or a cactus. It's miserable.
I can't believe from looking at the reviews they are still allowing companies to sale this stuff. I don't know how to post pictures from my phone to my laptop or I would. Please do not put this stuff on your face regardless of allergic test or you too may have to go through this. I have never seen a product with such poor reviews. This stuff is a nightmare!!!

This is a terrible ** product. I used it yesterday to dye my beard and moustaches but after some time of its use it became a poison as it left my skin burned and horrible patches with itchiness and swollen skin. I had to have to see the skin specialist and he told me to stop this product asap. I will suggest never use this product. I am planning to sue them directly if my face doesn't gets better.

Just For Men is terrible stuff. I used it about three days ago and only left it on for three minutes because I didn't want it to dark. For the last two days my face has been on fire! It is oozing pus and leaving huge scabs in my beard and my beard is breaking off but at this point I could care less about my beard. I just want the burning and swelling and itching to quit. Does anybody know of any relief for it or how long the discomfort goes on? It's obvious that Just For Men knows they have a problem because of the fact of all the reports and on the box it told me to try in a small amount at first "which I did" and it didn't do nothing to my side burn area but the rest of my face is driving me nuts. This company should not only stop selling this stuff but they should be sued for damage.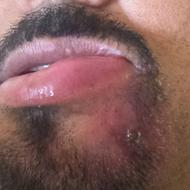 I have been using Just For Men for many years without a problem. Recently I started experiencing burning and itching on my goatee and mustache. Swollen chin/jaw area and my lower lip. By recent I mean Friday April 22, 2016 around 6:00 am. That morning after just applied the product on my jaw/chin (goatee) area started to get really itchy and my chin/jaw area started to get hard and then it got swollen, by the end of the day my chin was more swollen like never ever in my life. I went to the ER and didn't know what cause this on my face. I had fever and was experiencing a lot pain. The doctor said it might be an infection and gave me antibiotics and Tylenol for the pain and fever.
The next morning my lip was about to explode. It got really swollen. I can't talk much or eat because it hurts really bad and when it hurts I get a really bad headache. I didn't go to work and I was searching online to find out what might've cause this and how to get rid of it. To my surprise I found out all these complaints about Just For Men. Now all makes sense! The product is no longer good. Something happen to the formula? Or it can't be used for extended period of time? My lip is swollen, my chin area is red, itchy. Stop using this product before it's too late. How long would my lip and chin look like this? The pain, headache and discomfort won't show in this picture but it's all there. Can someone tell me how long and how to get rid of the allergic reaction? It's been 3 painful days!

First and last time using this JFM product. Experiencing a lot of pain, irritation and leaking... Very disappointed with this product that was recommended from a friend. Lesson learn is to research products before use especially when it has the kind of chemicals in this mess! Why is this product still on the market with all the complaints I've seen thus far! There should be a class action lawsuit on this company! Please, please DO NOT USE THIS PRODUCT!!! You will regret it!!!

My face got burned by this product in February 2016. It has been month later and my face still has not healed. This product has ruined my life. Stay away from this product. It's not worth trying and going through the physical and mental pain. I wish I never came across this product.

Upon using this product, I experienced just a lack of health. I had some shallowness of breath, tightness where I applied the product on scalp. I did apply a generous amount desiring to get most whites out. The product will do the trick. However, due to the chemicals in it some experience a reaction. I didn't get a good night sleep the day I did the dye. Hopefully symptom abate with time. However, Just For Men should review their product and find ways to reduce symptoms. This may be my last time using this product

I also had the exact reaction that all of you did. There seems to be no help for us either. I had the itch and rash for about 3 weeks but lately it seems to be dissipating so maybe another week to be completely cleared up. In the meantime I found a new product. It's called OLIA hair colour. It is a cream which is good since we guys need something that sticks to the hair and doesn't run down or melt our faces off. I used it twice so far and am very impressed by the coverage, and ease of use. The only drawback is that it takes 20 minutes, but on the other hand, it won't melt your face off. Also seems to last longer than JFM. The other thing I like about it is that the tubes are resealable so I get many more uses out of a package than I did with JFM. I will never ever go back to using JFM!

Used this once before with no issues. Used again 3 days ago and my face has been on fire since. Already contacted a lawyer that appeared during a search about side effects. DO NOT USE THIS GARBAGE!!!

Used this product two years ago. All fine, no reactions first time round. However on the second application, I developed a severe reaction. As with the other comments, my skin blistered, swollen lips and extremely painful sensitive skin. The pain lasted almost a week. The skin then became flaky and started to scab. The itching was incredible to the point where I was almost tearing at my face. I slept very little for 4 or 5 days because of this. It was two weeks from hell. It took almost 3 months for the effects to subside and the skin on my face finally returning to normal. This product should be avoided at all costs. I don't know what these clowns have put in this stuff but I would imagine that a coating of sulphuric acid would do less damage.

I used the product for the first time, as a touch up. Having dyed my hair for decades, I am very aware of the proper timing and application of hair dye, but being the first time with this product, I made sure to set my egg timer and follow the instructions to the letter. After just a couple of minutes after application, my scalp felt like it was on fire! I checked the timer, and decided to go ahead and rinse it out. During the rinse process, some of the dye ran down into my right eye. I flushed it with water, finished rinsing my hair and towel dried.
After this, I continued to flush my eye with sterile saline solution, due to the intense burning in my eye. Long story short, I was out of work for two weeks due to severe chemical burns to my eye. My doctor visits included the emergency room, and daily visits to the eye doctor so they could monitor the progression of the burn. While not intended obviously for the delicate eye membrane, something is seriously wrong with this product! I have never felt a scalp burn like this, and generally accidental exposure to the eye by hair dye will not cause something so extremely severe that they were worried about permanent loss of sight in that eye.

Horrible product. Oozing itching blisters. How can they have this on the market if it is harmful?

I'm sorry guys but when you go about attacking a company like that, a minimum of precision is required. Which of Just For Men products did you use? Did you follow the safety precautions? Personally I've been using their "Moustache & Beard" colour gel for about a year with a reasonable degree of satisfaction and no allergies.

This has a been a nightmare for me and my family. I been In pain, agony, itching, for a couple weeks going on now. I can't even kiss my son or wife. The things people have been describing is very true. Please don't buy this product. Have been using this products years ago and nothing. All of sudden this **. If anyone finds a way to sue them please let me know. This is a mess. I feel horrible.