Consumer Complaints and Reviews

Dangerous chemicals - I have heard that "Just For Men" has been around since 1987. I used this product back in 2001 and had very little irritation from its use. Recently, I used the product again, in fact, just a couple days ago. I did a test area as the directions suggest. After using the product for the full use of coloring my hair and beard it did work. I had several comments on the way it enhanced my looks and helped get the gray away. Only one problem, it's only been 24 hours and I am fully broke out with blisters, bumps and redness throughout and a itchy scalp. I pray this goes away quick but the irritation is only getting worse. Already have open oozing wounds that feel and look terrible. I may need to go into ER if this persist. This product needs to be pulled from the entire market.

Used both the comb in gel as well as the tube gel mix. Left on beard and mustache for absolutely five minutes. I set cell alarm as I didn't want this product to again roast my face as in the past. Used before and suffered some redness and itchiness as it must contain an overwhelming amount of bleach. Used this last Thursday 1/26/17. M-25 Light Brown... Noticed 2 days after application itchiness and burning and worse was the chap lips. Used Blistex and Carmex extensively to give some minor relief. As for cheeks and beard, I'm suffering from incredible amount of heat and itchiness that could make a guy scratch raw! I've applied a burn gel that's used for 2nd degree burns and still hurts like hell! Afraid to shave beard and mustache to only see the bumps of pus festering underneath on skin.
This product works, but for a quick color for a week or 2 and $10.00 just not worth the Damn pain. I will discontinue this product. My face looks like it's Damn walted and burned. Thank god, it's winter here... Been telling people it's windburn from cold weather. Embarrassed to even tell my coworkers the damn truth! This product needs to be evaluated and made better for consumers period or pulled from damn shelves. I WILL tell C.V.S. and Walgreen stores and also provide my pictures for proof. Shame on a product that causes such pain! Never Again JFM! I hope they're sued!

The worst product! I used it on 012917 around 2:30pm, the next day I woke up with blisters and liquid draining from my face mustache and beard. I read online some remedies to minimize some of the pain, but I ultimately had to seek professional help. Not to mention having to explain to family and coworkers the rash or redness wasn't an STD since puss was coming out of the area around my mouth. This product needs to be out of the shelves and consumers need to get compensated since it is very uncomfortable.

First time I used Just For Men beard and mustache dye it was ok. After the second time after 2 hours my face started to itch with a vengeance and I noticed red bumps then blisters. This product should be banned from sale. It made my life impossible for 2 weeks. Nothing stopped the itching and the blisters made me very ashamed at the way I looked. I am a copier tech and have to see and talk to customers all day every day. ** damn you Just For Men. Thanks for ruining my looks. Customers would ask me if I was ok. Hope you money hungry bastard are happy. Stop selling this disfiguring product. I am still itching as I write this review.

I've been using JFM for over 10 years, recently began itching, redness, weeping sores. Doctor thought it was flocculates. I stopped using JFM for 10 days to allow the flocculates to clear up. Grew my goatee out again, colored it with JFM and the itching, redness, weeping sores returned 9 hours after applying JFM. There HAS to be a change in formulation that JFM is not admitting to - or there is a severe issue with their production equipment.
How do I know I can trust these reviews about Just For Men?
697,993 reviews on ConsumerAffairs are verified.
We require contact information to ensure our reviewers are real.
We use intelligent software that helps us maintain the integrity of reviews.
Our moderators read all reviews to verify quality and helpfulness.
For more information about reviews on ConsumerAffairs.com please visit our FAQ.

I have been using Just for men for about a year and have had no issues with it till this past use. Woke up about 3 in the morning to find my face itching and blistering. My lips are swollen and my chin is seeping pretty bad. I followed all directions including skin test which was not an issue. The product was the medium brown version. I will not be buying this product again. I am very disappointed about how this has turned out!! From reading the other reviews I have found that this horrible condition can last for over a week. Not happy!

My husband has been using this product off and on for about 3 or more years and just last week used it again and he now has chemical burns on his face. Burning, oozing blisters where the dye was applied, this had never happened before. Absolutely nothing is helping with pain or the oozing blisters. Do not use this product. We are hoping there is no permanent scarring, if there is then we will be forwarding pics to our attorneys to see if we have any recourse.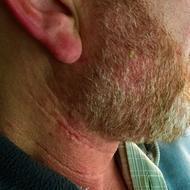 So a friend of mine recently used JFM (he's used before) and everything seemed normal, but the following morning he noticed blistering along his jawline, where he applied the dye the heaviest. During that same day, the blisters started leaking a yellowish pus, not just something you'd wipe, but to the extent that it actually 'ran down his face'. Along with this, he was feeling severe burning and an intense itching. This has progressed daily and his face is producing what appears to be very dry, red open scaling that forms yellow crusting around its edges.
The itch at times is so intense that his unintentional scratching is causing bleeding. We are 2 weeks out now and it's not over yet. He is now experiencing breakouts down his neck, on his ears, and even what appears to be similar blistering on his hands. (??) We are reading that others too have experienced random spreading. So far he has chosen to tough this out... but if it continues to progress we will be heading to the Dr. Anyone here have a time frame of when this actually begins healing??? No one yet, have I read says anything about a time of relief. Seeking counsel!!

I've been using Just For Men hair and beard dye for years with no problem, but the last 8 months I've developed a horrible allergic reaction from using it. I don't know if they changed their formula, but I started developing bleeding blisters on my lip and terrible itching on my face and head. I will never use Just For Men again.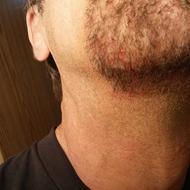 Used this product once and went from itchy to badly burned and weeping sores next day. I sting so badly have painting on ** which tones down the sting. I now see so many showing pics of exactly as I have. Whole chin covered in weeping small red spots. It's obvious the company knows this is a widespread problem. I really hurt. I'm mad to find this such a widespread problem. How dare they. Their instructions start rarely. Consumers state frequent.

WOW!!! Tried Just For Men for the first time in 2014. The best and first Beard dye product I ever used. The results were fantastic. Used again in 2016 and DAMN, DAMN, DAMN. My face was on Fire seriously. I had a Flight from RDU Airport to Dubai. The worst most painful trip of my life... I scratched for the entire Flight with no rest or peace. I was wondering why people were staring at me. Well looked in the mirror in Dubai Airport bathroom and Damn, Damn, Damn. My whole face was swollen. I had a rash from my neck to my stomach and this nasty, I mean NASTY water was running from the burns everywhere on my face and neck.
PLEASE!!! I'm warning you they changed the formula to make a bigger profit no doubt... DO NOT USE!!! You have been warned. Also when these Burns heal which will take 7 to 8 Business Days. I say business because you will have to go to work like this. It will finally scab up with hard nasty SCABS that will still hurt for another 3 days. You're gonna need Shea Butter, **, Black Soap to heal your wounds. I would say good luck but I'll say God Bless cause you're gonna need some faith to get through this.

I am so irate about the JFM beard colour. It has caused me discomfort and embarrassment of the last 3 weeks! I had previously used the product 4 times, with success. Some minor itching, but I considered this a "side effect" and it faded over a couple of days. This latest application was something that I have never witnessed before. Within 4 hours of applying the product (and yes I had/have always followed the instructions to the letter) my skin was itching and burning, the more you scratched the stronger the itch got. There was no relief.
Then the burn spread, my lips became "chapped" and there was no clear line where my lips ended and my face began. The burn culminated in hundreds of little bumps that when swole up burst emitting something that I can only describe as sticky raw egg yolk. This pus had to be dabbed with a tissue to try and dry it, as if left would run down your face. If I was lucky enough for it to dry, anytime I went near a shower, the spots would open again begin to ooze. This continued for 3 days. Totally unacceptable in my line of work, a face to face salesperson by day, and a "lookalike" for a well known goateed Marvel character by night. The condition caused me to cancel work, cancel appearances at events prior to Christmas and loss of earnings and PR.
Then the scabs began, dark red and pretty much covering my whole top lip and beard area, I didn't dare shave as I knew what lay beneath. I have spent the last 3 weeks trying to allow my skin to heal. Trying not to itch, (which is still very apparent in the Goatee) and still have scabs on my upper lip. Surely the numbers of complaints with exactly the same symptoms requires a product recall and some action. As a result of using this product my facial hair has become sparse and brittle, this may well affect my career. JFM, sort this out. I for one will be making my feelings very well known via social media outlets.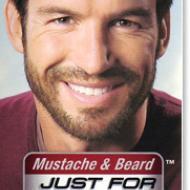 I have been using this product for so many years but recently I started facing itching and burning while applying the dye. Had consulted with the doctor and currently under medication. I usually buy this product Just for Men mustache and beard from UAE (Dubai and Sharjah). I was very much happy with this product because very easy to carry and results after applying is quick. Comparing with the early products the new product is demanding 5 minutes after application compared to 3 minutes earlier. Hope I am right. Kindly look into the matter as it may help thousands around the world.

I have used JFM for the past 12 years and I have had the occasional and temporary itching but nothing of significance. Within the last year, I started to develop severe itching, rashes, and oozing pimples in and around where I applied the JFM. I assumed that I was leaving it on too long but two weeks ago, the itching, oozing pimples, and rashes spread to all parts of my body. The left side of my face and the right side next to my chin were swollen with hard-textured bumps (about 2 inches in diameter each) that I could move around under my skin. I also developed a rash next to my left eye where I definitely had not applied any of the JFM.
My biggest ongoing concern however is the itching all over my body that will not go away, even with antihistamines and dermatologist-prescribed topical ointments. I wake up at 3 am and cannot stop scratching. The ointments are almost useless because the itching occurs in different places...my legs, arms, back, butt, scalp. My scalps itches almost constantly and I have rashes on my back, arms, and legs. My arms, legs, and back are filled with pimples which easily bust when I scratch them but the itch never seem to go away. I was contemplating seeing an allergist until I read these reviews about this dangerous product. Do not use this dangerous product!!!

Been using Just For Men for about 1 year on my mustache. Over the past year, I always experienced very mild skin irritation but nothing visible. The irritated area lasted about 2 days. The most recent box I purchased there must have been a chemical change to their product. The first time I used it I had a severe reaction. Anywhere the product touched my skin there is considerable redness, swelling and oozing sores. What's worse, it takes over a week to heal.

I don't have much grey hair in my beard so the box I bought has lasted me for a few years. I often go a long time with my grey. Well I have gotten the burn several times lately. At first I thought I had gotten an ingrown hair that got infected. It happened yet again and I thought the same thing. The third time it happened I shaved off my beard. My chin was massive and oozing pus from several locations. I took massive amounts of turmeric to help my body fight whatever was going on. That was maybe 2 months ago.
I tried the JFM yesterday evening. I woke up at 1:30 am with the itching and puss coming out. I took some antibiotic cream and soaked my beard with it. BTW it was only where I used the JFM that had this issue. I then realized that he JFM was causing this. I am not sure if the chemicals have a shelf life because it worked fine for me for years. I am now taking turmeric yet again and trying not to itch. Anyone found a way to make it heal faster?

Used for some time ok then noticed itching, soreness, swelling, redness, and scaring, even water made burning WORSE after trying ointments lotions with no help... Tried ASEA water and it helped tremendously. Still scarred but pain and suffering gone in a few days and relieved to a large amount immediately with ASEA. Hope some of you read this!!! This ingredient should be outlawed...

I have used this product in the past and at one time thought I had an ingrown hair and discounted it, but recently when I developed the rash it got so bad that I had to shave my whole beard off. After I shaved, you could see how badly swollen I was and the blisters that were oozing fluid. The itching and burning was so intense that I had to use Benadryl and then Prednisone to get any relief. It is scary to think of how bad it could have gotten if I hadn't caught it in time. The swelling had already spread over my cheeks with the blisters. Now that the Prednisone has taken effect, the swelling is starting to subside and the blisters are turning into more of a rash, but for a while I did not want to leave the house. My wife suggested that I needed to make people aware of what this could do and how bad it could have gotten.
Don't ignore burning and itching or something that you think is just a bunch of infected hairs, especially if you are using this stuff. It could definitely be more, as mine was. I just wish I had taken picture when it first happen, but didn't think about doing it until today. As you can tell the left side seemed to blister worse and I hope this doesn't leave me with scars. It could definitely be more, as mine was. Thank you.

Although the attorneys typically are the only ones that make money, JUST FOR MEN deserves to be sued. Same as most of the others; put JFM on goatee and sideburns for halloween party. That was Saturday. Sunday morning had a little slight itch, and redness. That morphed into swollen face in areas where it was applied; ooozing puss, severe itching.... discomfort. In one word it: SUCKED. Now on 3rd day, have tried lots of things, per several doctors (online) recommendation, using ** ointment for healing purposes. Previous to that I put COCONUT OIL (from white paste) on the areas and it seemed to calm down the severe itch and soreness.... LOTS of liquid oozing out still.

I have used Just For Men in the past to darken my hair on my head and chin and have never had an allergic reaction to the product. Just recently I've started using it again and found that this product has had me itching and skin has come up in hives. I am very disappointed and am wondering why this product is still on the shelves. Compensation please??

Marty-Altaloma,Ca. Oct. 2016 - I been using JFM beard and mustache color real black for the last 10 plus years. Never had a problem with any type of allergic reaction up until recently within the last two months. I began to notice excessive burning sensation on my chin to where there is physical noticeable inflamed red blotches with bald patches that measure the same size as a silver dollar coin. I got pictures of then and now with recorded information from Rite Aid. For the last 10 plus years JFM has always been a regular purchase for me from their stores.

Holy crap! I had some itching and burning when I used the light blonde formula, and decided to switch to light brown to help cover up the grey. After 3 hours my face started to itch, 3 more, and you could see that under the beard the skin was turning red. I woke up the next day to open oozing wounds that stayed like that for over a week. I had to carry a paper towel around to dab my face all day, otherwise it would literally drip! I was on a motorcycle trip when this occurred, so at least I wasn't exposed to my clients on sales calls! I thought maybe I had a bad batch, so I pitched the container and bought another. Tested it on my arm, with no adverse reaction. So I dyed it again, and knew within the first two hours I had made the same bad choice on giving it another try. Same week and a half of misery... Never again!

I have had a very bad experience with Just For Men dark brown hair dye for beards. I applied it as directed and did a test patch with no adverse reactions. On my face, however, the response has been terrible. First, burning, followed by redness and itching and pain. For the last 24 hours my face has developed welts and is 'weeping' quite a lot of fluid. Pharmacist suggested an antihistamine which I have now taken for about 8 hours with only minimal improvement, but it may need more time. Two nights of very poor sleep with last night much worse.

I just used Just for Men recently for the first time in over a year, and I am completely irate and disappointed. I used to use it all the time with no problem, then I shave my beard off about a year ago. I just decided to grow my beard back out and dyed it for the first time two weeks ago. Within an hour, my skin was slightly tingly, and I felt a little dizzy. Throughout the night, it burned a little and I could not stop itching. I woke up the next morning with red, burned blotches on my skin which went away within a few days.
I thought maybe I mixed it wrong or I got a "bad batch", so I bought a new one this weekend and re-dyed my beard again. This time was worse - I now have red blotches throughout my beard and above the beard line, a few small oozing blisters, and I'm still itching 2 and a half days after using it. After reading all of these posts, I see that they changed the formula recently but didn't bother to state that on the box. I am completely disappointed and would never buy this product again! Now it looks like I have to deal with ointments and blotchy skin for the next couple of weeks.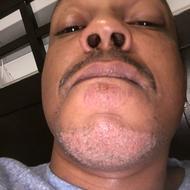 Something changed with JFM product. I've used it plenty of times before with no issues but recently after using JFM my face got blistered, swollen, oozing puss, itchy, burning etc. I had to go to work looking like a fool embarrassed, wanted to ** take a leave of absence cause of this **. It's been a week now and it's starting to look a little better to me, but I haven't been anywhere but work and that's cause I couldn't afford to get fired. I hope my face heals soon. I've bought Aloe Vera, Neoprene, **, Vitamin E capsules, put ice on it AND THE ** WON'T GO AWAY. HOW LONG DO I HAVE TO DEAL WITH THIS? I NEED A LAWYER NOT NOW BUT RIGHT NOW ** and give me my ** 10 dollars back. Can't believe I paid for some ** that would ruin my life for months.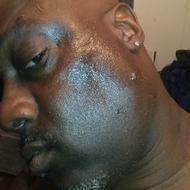 I am extremely upset that I paid for a product that has ruined my complexion and caused me to have dark patches on my cheeks and open oozing sores on the left side of my chin. I have had blistering on my left side of my face on my cheek which seems to come and go for about two months after I stopped using the product. I felt JFM burning my skin when I first applied the product after about five minutes. I washed the product out vigorously and thought that this was the result of the product manufacturing. This product has caused me to become very self conscious and humiliated.
I have discontinued the use of the product and have to shave around the big oozing sore on my chin so I do not irritate it with my shaver... I am using product after product to try and relieve my skin but am finding it difficult to rid myself of the symptoms from using this product. Just for Men should be banned from the market but the FDA has little control over cosmetic products... This must change... This product has changed my complexion from dark skin to black patches.

I have been using mustache and beard Just For Men for about 7 to 8 yrs without any issues up until a year ago and now every time I buy this product it breaks out my face with blisters. I know for a fact using this product many, many times never having a problem till a year ago and now, I thought it was just me thinking my skin must have become sensitive and unable to use this product which made no sense. I even tried applying it on of shorter time than they recommend and it still broke me out. And my skin is the same as it was years ago when I first started using it having no issues. Just For Men has changed something because I bought a cheap brand from the dollar store and have not had any issues... except the color don't hold up as well...

I just bought this shampoo, and used it for the 1st time. I never use a hair dryer, so I got dressed and left for work. After arriving to work, another employee, told me I had black stains down the back of my shirt. I stayed at work like that all day. My wife, later told me. My shirt was ruined, that the stains did not come out. Needless to say, I will never again use it. So now I have a shirt I can no longer wear, and a 13.00 dollar shampoo, I will no longer use. Out of pocket expense total is 65.00 dollars. I would never, recommend this product. Thank You.

I'm having the same issues as most of the guys on here using JFM Mustache & Beard. For the record, yes, the formula HAS changed in the last 3-6 months. JFM contacted me via e-mail late winter/early spring asking if I would be willing to test their new formula which was created to produce a "thicker beard & more even color result" (or something close to that). They sent me the new product, same box, no obvious changes. I had to provide feedback every 2 weeks or so which I did for about 2 months. I told them I didn't really notice any changes other than it irritated the skin under and around my beard and goatee big time and also my neck and there was a very noticeable burning sensation. At the end of the test and survey, I wrapped it up by advising them they definitely needed to check on the burning and itching issue and they sent me a free box of JFM for participating.
I've used the product maybe 3 times since then assuming it was just an initial reaction and that my skin would get used to it. It hasn't. Last used about a week ago and I'm still feeling a burning sensation with itching and rough, oozing patches of skin on my chin and lip. I've been using a cortisone cream that seems to be helping but it's taking a while. And I do not have sensitive skin BTW.
I was curious if there were other guys experiencing the same thing or maybe I was just applying it wrong or too heavily so I checked around the web and came across all these posts. I have been using JFM Mustache & Beard for at least 7 years and never an issue until this "new & improved" formula came out a few months back. I'm done with it and I'm going to go clean shaven until my skin clears up. Anyone reading these posts that is having similar issues needs to stop using it. Just For Men is selling a faulty and potentially dangerous product. Perhaps a Class Action Lawsuit will get them to pay attention.
Just For Men Company Profile
Company Name:

Just For Men

Website:

http://www.justformen.com/