Consumer Complaints and Reviews

Requested a regular haircut. Scissors or clippers at the operator's discretion. I was requested to take my glasses off. When I put my glasses on I was appalled at what Brett had done. Instead of a traditional haircut shaped to my head he had close cut the sides, left a larger "mop" on the top and almost shaved clean the back half of my head. I told him this was terrible and the worst haircut I have ever had. He stated he had 15 years experience. At which dog grooming parlor had he worked? I called Great Clips Corporate and complained. They stated that the local franchise owner would call me. A week later surprise- NO CALL. Great Clips is horrible. This is the first time in 68 years that I have had a completely unacceptable haircut. Brett should go back to dog grooming.

Needed a haircut. Went online to check in at Kelsey Creek GC in Bellevue WA. Said 0 waiting. I understand that people may walk-in and if I am not there they will take them. No problem. I walk in and there were to the stylist. Gentleman comes over and checks me in and I look at the screen I am number 1 waiting. The same gentleman finishes his client. The client gets up and pulls number 2 to the chair. He should have told her she would have to wait until he finished with me. But he pulls her off the list and takes her. What in the hell does GC have an online check-in system if they are not going to go by it? I have found out that checking in at GC does not work. It is a waste of time!!!

I wanted to give a quick shout out to Luba! She works at the Great Clips in Eagan Town Center. I have been going to Luba for several years. And she always has the best attitude. I honestly have left there every time feeling better. She is very professional and I would like everyone to know that if you need a genuine kind hearted hairstylist - Luba is your lady. Never have I ever been treated any way other than professional. Always greets me and always makes the time for me. She is one of a kind and I will always be going where Luba works. It just doesn't get any better than that.

I had a bad experience with this hair salon. I just went there couple of times but this time she cut my hair very badly. She instead cut my eyebrow half. I just noticed when my friend told me. Very bad service and haircut, never had it before like this.

I was going on a trip with my husband without the kids and wanted my hair cut. I showed the girl a picture of the haircut I wanted. Sort of even in the back and longer on the sides. Did the total opposite of what I wanted. The back of my hair is choppy and so is the front. The front is short and back long. Total opposite of what I asked. And when I ask her if she could straighten it to see what it would look like because I did not like the way it looked so far. She said it would be 20.00 extra. That is crazy. I went home and cried. It took me forever to grow my hair. And she just messed it up. Now I have to go to my other hairdresser to get it fixed and pay triple what I paid for Great Clips. But I would rather pay more and have it done right than go back to Great Clips. Horrible, horrible service.
How do I know I can trust these reviews about Great Clips?
790,221 reviews on ConsumerAffairs are verified.
We require contact information to ensure our reviewers are real.
We use intelligent software that helps us maintain the integrity of reviews.
Our moderators read all reviews to verify quality and helpfulness.
For more information about reviews on ConsumerAffairs.com please visit our FAQ.

I visited the Great Clips-Sharon Greens @ Cummings, GA. The stylist was Halecha. This was my 1st visit to this location as wait time was less. I am extremely dissatisfied the way she handled me and my 10 yrs. old son. 1st: She did not pull the chair down, so that my son can get easily. She was standing and looking while my son somehow managed to get to the chair. 2nd she asked, go and sit at the front and did not allow me to look at the haircut. In last 13 yrs 1st time somebody said that I cannot stand & look at the haircut. While I was sitting at the front, I saw another stylist who called the kid's mom to check if everything was OK. So I kept waiting that Halecha will call me as well. Which she NEVER DID. Well of course only 1 difference, the other KID was ** & mine was not. Not sure if that matters in this location. I will never use this facility again. Very bad experience.

Tonight my husband and our son went to GREAT clips for a haircut. Our son is 13 years old and knows what he wants. He asked for 3 inches on top and the number 1 on the sides. Well she used a number 1 all the way around. When he comes home my son was scratching his head and his head is completely red rash! I took pictures! I asked my son if she got the comb and razor out of the solution and he said it was laying on the table... No solution! I am so angry right now I will see the manager tomorrow morning! The girl lied and said my son asked for the number 3 all the way around, with a smirk on her face.

I called for an appointment on phone and received confirmation on phone for haircut. Upon arrival so was asked to be seated. Waited for almost 30 minutes for my turn. Then the lady came and informed me that she cannot take me for haircut since she can only accommodate 2 in the interest of time and invited two other persons who checked in online.
Upon questioning she said that they don't guarantee phone appointments except online check-ins. This was news to me. I wasted 1 hour of my time today for the entire episode visiting this branch. Please do not trust phone appointment confirmation with this franchise. The employees were arrogant while responding to customer concern. Stay away from it...

Got my haircut at one Great Clips but when I got home my girlfriend tells me that across the back it's one inch higher on the right side than it is on the left side. Not wanting to go back to the same Great Clips I went to another one and explained the problem to the lady and asked if she could just even it up in the back and specifically said it should only take a minute. So she puts me in the chair, grabs some shears and before I know it she is shearing the front side of my head. I again said in the back please and kept pointing to the back but now she has hacked the side of my hair and has to even it up on the other side and continues cutting more and more hair. The place had no other customers and the other I could see the other haircutter in the mirror with a stunned look on her face.
Apparently this lady doesn't understand English and must have thought I said I wanted an inch taken off all over. I don't know what she was thinking. So she gets done and I kept telling her that I wanted the guarantee but she tried to charge me for a full haircut. I again show her my receipt so she says ok neck trim? $6.99... I couldn't believe my ears. Again I said guarantee NO CHARGE!! So she finally rings it up for a full haircut and then a refund for 'Redo' so $0.00 balance. I said thank you and left. Get home to find out my hair is 3/8ths of an inch higher on the right side than on the left side. ABSOLUTELY INCREDIBLE. I had my girlfriend trim it so it is even across the back which is what I should have done in the first place. I'm not happy now because my hair is way too short and looks bad but I'm not going back again.

The man was very unprofessional. Barely washed my hair (the back of my hair was greasy once my hair dried), used cold water and towards the end of the shampoo the warm water came! After the shampoo, he just placed the towel on my hair and did not squeeze them. I have mid-long hair. I just needed to cut an inch or so. He cut more or less what I asked him. He showed me the back of my hair with the mirror (no smile, no comments...), started to remove the robe, I touched my hair and they were dripping with water! I looked at him meaning "Don't you think you should do something?" He grabbed the hair dryer and pretended to dry them. The whole experience was a disaster. I should not have to pay for someone who obviously was not trained to be a hair dresser and who knows nothing about customer relationship!

I needed a haircut because I was fixing to go on a trip with my family. Got there and I told the lady to cut the sides short and leave the top long. She did the exact opposite of that. Now I am practically bald. Worst haircut ever. Stay away from this place.

I went to Great Clips located at Skibo Rd in Fayetteville NC. I paid with my credit card but the wrong amount was put in. The manager caught it and stated that she had the amount reversed back to my card and she put in the right amount. The next day I checked my account and found that it was in the negative, I look at the account and found that Great Clips charged my account for both amounts. I went to see the manager. She called corporate and they informed her that it takes 6 to 10 days to return your money, your money not theirs. I informed that manager that was BS because Great Clips was quick to take my money but slow to return it. It's my money not Great Clips' that they took. Well congratulations you just lost two customers and I will be sure to tell anyone who listens not to use their credit cards if they go to any Great Clips.

So about six months I think and I went to Great Clips to get a haircut of what I thought was going to be a little trim on the top and sides and I never been so wrong cause the hair dresser cutted my hair as if it was a hedge! Now it is growing out weird so now I don't know what to do! I ruined a great haircut.

This was the worst day of my life. I arrive in to meet a most unfriendly ** woman who was very rude and smelled bad. She was very aggressive and not gentle. She had no English. She obviously didn't understand trim not shave me bald. Awful experience. Greatly disappointed. And then the check of her to tell me to pay her... good luck. Not sure she was qualified enough to shear sheep. SAVE YOURSELF FROM THIS place. I walked in there a man... to this minute I don't know what to call myself. Worst night of my life. Stay away.

Fritz had only one purpose when I sat in his chair. I believe it was how quickly can I get this guy (me) hair cut and get another person in my chair. He appeared not to listen to me when I told him what I wanted. He went for the electric clippers, even though I said I wanted scissors. I had to remind him I wanted scissors. He tugged on my hair over and over as he cut and cut. I had to remind him all I wanted was a trim. I ended up with so much more than a trim. My hair is so very short it spikes. Never again for me Great Clips with Fritz.

I got a coupon in the mail for a $6.99 haircut at GreatClips and decided to go there. The place itself was nice, but the lady who did my hair was the most condescending stylist I have ever encountered. I'm currently growing out a pixie cut (I was so, so so close), so I asked for the back/bottom area of my hair to be trimmed because it gets rather unruly. She immediately told me trimming my hair was stupid if I wanted to grow it out, despite every other hair stylist I've gone to saying that trimming the area I described was the best way to grow it out. Her tone was extremely condescending throughout the entire session. She began to cut my hair, not-so-quietly judging me as she did so.
About halfway through she paused and was like "Do you ever use product? Leave in conditioner...? Anything? Cause your hair is really, REALLY dry. Like, REALLY dry." My hair is far from dry, as my other stylists and myself have observed over the past 10 years. After that, she continued to cut higher up my head. And higher. And higher. Till she cut almost right up to the very top of my head. Mind you, I had only CLEARLY asked for the bottom couple of inches to be trimmed, but she somehow thought I wanted the bottom 6 inches cut.
Now my almost-grown pixie is shorter than it was initially. And, the area I actually wanted trimmed wasn't trimmed to the length I wanted. The entire back of my head was one length. I have a flat head, so now the back of my head looks like a box. She kept the front and sides of my hair untouched, so it looks like I have a reverse mullet. AFTER she cut all my hair off, she mentioned again how getting my hair cut was anti-productive for growing it out, at which time I almost lost it. I'm very timid though, and would never ** out someone in public.
Anyways, after commenting again on my stupid request and my "dry" hair, she took me to pay and the haircut cost $10.99. $10.99. Even though I gave her the coupon for a $6.99 haircut. She then insisted I include a tip. Again, I'm not a confrontational person, so I just let it all happen. I shouldn't have paid for that. I should have at least been able to get the 6.99 cut I was promised. The $6.99 cut that possessed me to step foot in that hell hole.
The other workers seemed fine with their clients, I just got the bad one. I've never had a haircut make me cry, but this one surely did. I can't look in a mirror or touch the back of my head right now cause I hate it so much. I'm now investing in a wig till it grows out. I've been put back several months now and I'm sick of growing it out. I was so close to getting to a length I wanted. So, thanks GreatClips. Thanks sooo much. I'll never be setting foot in any of your salons ever again. Gladwin Rd. location in Abbotsford. Worker looked mid-40s, with tattoos and burgundy spiked hair. Definitely NOT worth the coupon. Especially since it didn't even work.

I have been a customer at the LaGrange, GA Great Clips for years. Lately every time I go in for a hair cut the stylist who is also the manager of both stores in LaGrange (Kim **) has been very haughty and tells me not to mess with my hair until she gets through with it! My hair is very thin on top and I don't like it to be brushed back with thin bangs and every time I try to get her to brush it to the side to cover the thinness she acts like it's a problem and it is embarrassing the way she tries to treat me like a child (I am 72 years old). I know she says she has been a manager for 15 year or so but she need to be more aware of her customers and what they want than how long she has been a manager!!
She is the only person at Great Clips that have treated me that way in all the years that I have been going. And it's not only me, she was rude to my friend that was with me as well when she ask her to texturize her hair. (She told her that she would if she thought it needed it.) What happened to what the customer wants and feels????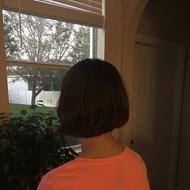 Cut it to the shoulders was what we asked them to do. And this is what they did made my 16 year old daughter look like a boy with that cut. And yes like some others have said. They do not listen and Claire the manager rude and immature. Their attitude is "it's just a haircut it'll grow back." Try thinking about it from a 16 year old girl's view. Unless it grows back overnight. That will not work. Ladies and girls run from this place and the 30 other Great Clips in Orlando, FL since they are all owned by the same guy. I would not trust them with my cat's hair. They screwed it up and tried to give me parenting advice. Claire also hung up on my daughter when my daughter tried to call her about it. What kind of person would do that.

I have been going to Great Clips in North Arlington, NJ since June or July 2016 & I don't always get the same person to cut my hair, but that's fine, no need to be so picky. I don't really have to wait long, they are always pleasant & I like the haircut I get. I usually get what I ask for, & if it isn't, it will grow back, no big deal, & that's coming from a lady! Their prices are reasonable & I don't have the patience to wait 2-3 hours in a hair salon. So, today, 1/21/17 I would like to say Thank You to Bernadette & I'll be back!

I have gone to the local Great Clips many times over the last two years. This past week is the last time! I have had some good cuts, some mediocre cuts and many bad cuts. I never knew which girl would be there and most often saw an entirely new person each time. This time I told the girl that I wanted only 1/2 inch off the top and no skin showing over my ears. I got 2.5 in. off the top and 1/4 in. around the ears. The girl answered the phone and instructed a new girl how to run the register during my cut. Because she absolutely ignored my instructions, I will find a new barber. If you want cheap, that is what you get.

Had to have another hairdresser fix my hair. Wanted a inch off. I am almost bald! Thank god it's winter and I can wear a hat. I shouldn't had to pay when it was the first hairdresser's fault she really didn't know what she was doing. Didn't get a receipt why??? Hamilton On. Canada Centre Mall.

I specifically asked the girl to trim my hair and not cut it too short because it is getting colder outside now. Guess what? I walked out of the place with a very short haircut. So short in the back that it looks like a man's haircut. I asked her to thin out the sides because they were too bushy and didn't lay right. She just cut the hair and didn't thin it out or shape it, so my hair sticks out now. I can't even get a small roller in the top of my hair!!! I WILL NEVER EVER GO THERE AGAIN, AND I DEFINITELY WILL NOT RECOMMEND THAT PLACE TO ANYONE ELSE!!!

Got a haircut there at the St. Joseph location in Cullman. Told the girl I just wanted a trim. I almost had to draw her a picture of what a trim was. She pulled out the big clippers and started from the bottom giving me whitewalls. In the back she clipped down to the skin 2 inches above my hairline. Everybody that come in was staring at me and my stupid haircut. I was pretty upset when I got out and felt the back of my head. I'm wearing a ball cap now. I cannot even comb my hair anyway like it needs to be. They want these girls to do quickies with clippers cause it's faster than scissors. Lady had a young boy getting a haircut next to me. They got done and left. While I was still in the chair she brought him back in cause the girl missed a big spot on the back and had to redo it. Stay away from these chain cutters who try to make a lot of money while giving you a haircut you could do by yourself. Also the girl smelled like a cig that cut my hair.

I had my haircut this morning by Ivy. We discussed how much I wanted cut. I showed her. It was well below my shoulders by at least 2 inches. I said I wanted 3 or 4 inches cut off. She seemed to understand. She cut the back of my hair. She showed me in the mirror. I looked. I said, "It is way too short but it isn't like you can put it back on." She had to cut the rest of my hair. When she was done the front wasn't even but at this point I was done and angry. I shouldn't have paid but I did. I asked for a refund. She said I would have to talk to the owner. So I left my name and number and why I needed a refund. I was given a card from the salon. Gateway Center West Bloomfield MI. There is an email on the card that doesn't work. I went to the corporate website and called the corporate office and made a complaint. They said the owner would call me.
I called the salon back to tell them that the email that was on the card doesn't work and Ivy who happened to answer the phone said the manager was there. I went back to the salon to speak with the manager about a refund. She was less than helpful. I explained I wanted a refund and that my hair was much shorter than agreed upon and it was uneven. She said she would have to review the tapes but since I got my haircut I couldn't get a full refund. I am pretty sure they don't have cameras. She offered me a $2 discount card. I said I was never going to return to the store and I wanted a full refund. She couldn't do that. I said you can give me $2 then. She gave me $2. She then asked me to leave. I said No. My hair is ruined. She then went to the door and opened it and threatened to have me removed. I did leave. I should have stayed and have the police remove me. I will never return. Terrible customer service and a horrible haircut.

I was employed by Great Clips and in one day I pretty much got the jest of it. It has a typical 1980's working structure. Minimize costs, maximize output at the expense customer satisfaction, product outcome and employee welfare. This company expects 15 minute haircuts, while answering phone calls for appointments and greeting customers. No front desk help just the cosmetologist taking time out of her productivity quota to input walking customer's information on the computer/cash register area in the front of the shop.
Cosmetologist are also expected to sell a minimum quota of products that are priced high. The typical customers to these type of store are from low middle class background and usually cannot afford these products. You cannot close the cash register until 9 pm, so by the time money is reconciled and tips sorted out it is usually 930. 30 minutes that are not paid. THEN one has to follow another cosmetologist to drop off money at a "nearby" bank. Again unpaid 20 minutes, unpaid gas mileage. These people want their cake and eat too. In the one I was employed at, starts you off at $7.50 per hour plus tips... So they do not use the percentage system used in most hair salons. I would say it would be a good place for a new cosmetologist, just out of school. It would get their haircut speed up and start with the worst place to work. Everything else will be a breeze after that.

I have been going to Great Clips since they came to SC. Always great to good haircut. Went in last week. Person cutting hair smelled bad and it was obvious he smoked heavily - did not wash hands after break. Poor haircut, but I said OK because I couldn't take smoke odor. E-mailed customer service. They wrote back the next day and said they were sorry but it was a franchise and they didn't really care. I've waited a week and of course the franchisee has not made contact. I guess they really didn't care. I'll probably go back when someone I know is working, but Great Clips needs to much better corporate customer service.

I when I sat in the chair I asked if she knew how to do a wedge. She replied she did, I showed her a picture and she said no problem. She had a rude tone. She started hacking away. I asked her if she was going to section off the hair, she said "No, not everyone has to section off the hair." She continued. She said she was done, turned chair around, gave me a mirror and I was so mad. It is the worst cut I ever had. I explained to her how I was a hair stylist in Chicago for many years. She changed her tone and tried to fix it. I told her to stop she was making it worse. I turn around and my son, also had his hair cut, well his hair was all uneven. This great clip is on Palo alto by the Walmart in San Antonio TX.

When you go to Great Clips you never know what you're going to get. Many times I have been and many times I have gotten a bad haircut. They are unreliable and will not listen to your requests but will only cut it the way they see fit. Overall my experience at Great Clips was disappointing and I will not be going there again.

I got a coupon in the mail for a haircut for $6.99. When I called to make an appointment I was told that was a "discount" of $6.99. NOWHERE ON THE COUPON DOES IT INDICATE A DISCOUNT. The coupon states a haircut for $6.99. When I mentioned this to the young lady I was speaking to she did not care and said that the haircut would be $10.99. I hope that their stylist have more integrity than their advertising. I would not go there even if the haircut was free.

While visiting this location the stylist didn't know how to cut hair. I was a Guinea pig and the manager was aware of the girl didn't know what she was doing so the manager would have to recut every Head she destroyed then your hair was too short and not done properly. Then you have to pay full price for letting someone trying to figure out how to do it.
Great Clips Company Profile
Company Name:

Great Clips

Website:

http://www.greatclips.com/