Consumer Complaints and Reviews

I started using this toothpaste (Crest Pro Health) a couple of days ago and now both my husband and I have blisters all over our mouths. My lips are swollen and my gums are inflamed. This has never happened before with any other toothpaste. They need to remove this from store shelves immediately before more people have to suffer. I honestly thought that I had contracted Herpangina, that's how much these blisters hurt. Even the skin inside my mouth is peeling off. It's absolutely disgusting.

After using Crest 3D White for 3 days, my mouth is on fire. I just figured out that it was the toothpaste as I started to brush, I could stand the burning. Anything other than water causes my mouth to burn all the way down my throat. I have sores on my lips and tongue. This stuff is poison.

Thank you Lord, that I found this page. I have been going crazy, had blood work done, stop taking blood pressure medication, because of the severe lip soreness, and redness that I have and I couldn't figure out it was the Crest 3D. I really thought I was dehydrated, had tons of Gatorade and lots of liquid, my doctor ran an electrolyte test, because of the pain and problems with my lips, specially the upper one. I have taken ** for it, thinking I had an allergic reaction, I blame my lipstick, make up, and I couldn't figure out, until I starting searching for side effects of Crest 3D. Well, this is very unfair. Such an expensive product, and so many side effects. I also went to the ENT doctor, because my throat hurts too. I will seek legal advice. This is really ridiculous.

I used this Crest "Pro Health" toothpaste and mouthwash for a period of two weeks. During this time I noticed my gums were swelling. I passed it off as gingivitis so I started brushing my teeth more. Two weeks later I am in severe pain. I can't eat solid food. It hurts to speak and I am in constant pain. My gums have receded substantially. My doctor was flabbergasted. I went to three doctors and my dentist. All of them seemed to think it was a viral infection.
It took me two weeks to realize that I switched toothpaste and mouthwash. I found this site and noticed that people have been having the same experience as me. It's been 72 hours since I stopped using the toothpaste and mouthwash. I'm still in excruciating pain. Please don't use this toothpaste. It's terrifying what it's done to my mouth. Permanent irreversible damage. If anyone has any idea how long this lasts or any tips on how to deal with the pain please let me know. I'm in constant pain.

I purchased this Crest 3d White Whitening Toothpaste as I recently had tooth whitening and want to maintain the look. However the tube has split at the seam and more than half of the toothpaste is unusable without a mess... Would appreciate a coupon for free replacement. Thank you.
How do I know I can trust these reviews about Crest?
825,614 reviews on ConsumerAffairs are verified.
We require contact information to ensure our reviewers are real.
We use intelligent software that helps us maintain the integrity of reviews.
Our moderators read all reviews to verify quality and helpfulness.
For more information about reviews on ConsumerAffairs.com please visit our FAQ.

I used Crest pro Health clinical rinse (mouthwash) for very first time yesterday. While using it my mouth started to tingle. I thought it was just doing its job cleaning my mouth so I rinsed for the 30 seconds and spit it out as directed. But then within another minute my glands (in my face and neck) and my lips started swelling! Then my entire face started swelling! Now I can not taste anything and I still have swollen lips and glands! My face is so swollen it hurts! I thought maybe it was an allergic reaction but then I stumbled across all these other people who have had the exact same problem with Crest pro health mouthwash!!! The FDA needs to make CREST recall this mouth rinse IMMEDIATELY. Remove all of it from the market forever before someone suffers an even worse reaction!!! DO NOT UNDER ANY CIRCUMSTANCES USE THIS PRODUCT!! I only wrote this to warn other consumers of the horrible effects of Crest Pro Health Clinical Rinse!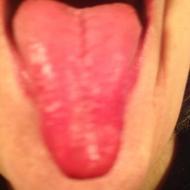 I'm so glad that I found this site. For the last week my tongue, lips and gums have been burning like I swallowed fire. My tongue and gums have are bleeding and I've got little sores all over my tongue. They are little red bumps & sores all over my tongue. I can hardly eat because anything I eat or drink hurts my lips, gums and especially my gums.
But that's not even the worst of it! I don't know if this is from the horrifically dry mouth I've had all week or if swallowed a little bit while brushing but... I have a very sore and my voice is really hoarse. I am a singer and I can barely talk never mind sing! I was freaking out, thinking something was horribly wrong. Could it be cancer? I have MS so I was terrified that I was getting the "MS Voice" and wasn't going to be able to sing anymore!!!
I saw my ENT doctor and he found no virus, no Thrush, no strep... What could this be? Today, when I brushed my teeth, it hurt so much that it made me think... Could it be the toothpaste? I've used Crest all 50 years of my life so I couldn't imagine that was the culprit. So I typed "Tongue burning, Crest Pro" & found this.
Has or is anything being done to get this off the shelves? I bought this tube about a week ago. I don't know if I'll use anything Crest again!

I used 3D White Toothpaste in December 2016. On Christmas Day I had severe pain an abscessed tooth. I was put on antibiotics. I had 5 teeth that broke and had to be pulled out in December and January. I could not believe this was happening. I realized it all started very soon after I brushed my teeth with Crest 3D White Diamonds Toothpaste. I have been in so much pain and even though I stopped using the toothpaste I have 2 more broken or cracked teeth that need to be pulled next week. That is 7 teeth ruined from December to May. I have felt so unattractive because of all the teeth I have lost. I am on SSD and don't have the $ to fix my smile. This toothpaste should be removed from stores.

I started using Crest 3D Whitening Toothpaste and within a day the entire insides my mouth felt like I had suffered a severe burn. My tongue had a white coating on it and the side of my tongue was covered in white ulcers. The back of my throats and roof of my mouth turned bright red and was also very painful. I also suffered dry mouth and couldn't seem to quench that feeling. My mouth hurt so bad I couldn't eat anything solid. This had been going on a week before I googled my complaints and saw that it could be the Toothpaste causing my issues. My tongue and throat remain very sore three days after discontinuing use of Crest. I don't know what to do to get relief!

For several years, I have had a terrible burning, blistering on my lips which come up at various times. My doctor thought she had it nailed down to SPF, as every time I had this outbreak, I had used heavy doses of sunscreen on my face. I have been avoiding using any product with sunscreen since then. Last week, I developed the familiar start of another outbreak... but this time, I realized that I use this specific tube of toothpaste only when traveling, as it is in my tooth care bag. Well, lo and behold, here was my answer. Thank you for all the reassuring input from others. At least this time, I know I have another week of severely sore, blistered, bleeding lips and then they will heal. This time, I will throw this out and never use this product again. I am amazed, as are so many others, that with this number of reactions to this product that it is not pulled from the shelves. Please help others who are unaware and unable to have help figuring it out.

I switched maybe 2-3 weeks ago to Crest 3D white. It's the one that whitens up to 90% of surface stains. I brush twice a day. I keep getting canker sores and these are painful sores on the side of my tongue and the inside of my lips. I also noticed my lips were badly peeling. I read the reviews here and realized it was the toothpaste. I didn't use it for 2-3 days and let it clear up switching with Tom's. Once it was cleared up I gave it another go with the Crest toothpaste and almost instantly the sores on the side of my tongue and my lips returned. I'll never use Crest again. I am throwing it out and going with a different brand. Too bad, it was whitening my teeth but the sores are not healthy. Health before beauty!

Three weeks ago I began experiencing mouth sores, mostly on my tongue. Last week I had a dentist appointment, and he referred me to an oral surgeon to assess a spot on my tongue. I have been in severe pain from not only that spot but several others that cropped up on different areas of my tongue, also my lips became chapped and sore. I have not been able to sleep at night because of the pain, or rather, I fall asleep and wake up repeatedly during the night. Yesterday morning I awoke with my tongue in extreme pain. I looked in the mirror and there were two bloody pits in my tongue. Alarmed, I talked with a friend who is in the medical field. We discussed several things about my malady, then she asked, "Have you changed toothpaste lately?" Oh my gosh. I was dumbfounded, because yes I had.
A little more than three weeks ago I began using Crest 3D White (I had gotten a good deal on it and thought I'd try it out). I never would have put those two occurrences together (I don't know why I didn't think of it). Well, I threw out the toothpaste and found a small travel size Sensodyne and will use that till I can get something else. Today the bloody pits are healing over already. Tomorrow I see the oral surgeon and I will just verify that this is not oral cancer, which is what I feared. I can't believe there is such a thing on the market that can harm people like this. I am retired, but if I had been working, I would not have been able to work, I have been in so much pain. I have used Crest all my life, but not anymore.

A couple of weeks ago I used Crest Pro Health mouthwash for the first time. A couple of days later, I developed a deep red sore on the roof of my mouth, a burning tongue, blisters on the floor of my mouth, extremely sore gums, tooth pain, a sore throat, and pain in my ears. Chemical burns in mouth from product. I stopped using mouthwash because it was painful to do so, but I didn't attribute the mouth problems to the mouthwash. After my mouth began to feel better -- enough to tolerate using mouthwash, I again used Crest Pro Health. The same problems recurred. I've had mouth sores from chemo, and what I'm experiencing right now is just as bad, if not worse. I will NEVER again use any Crest products!

I have no idea what is wrong with this product or what is in it. I have or more likely had super clear skin all my life (I am a person who may get a pimple (singular) like 1-2 times a year). I started to use this product I started getting cystic acne (which I never ever have had). It is all over my mouth area (not my actual lips but the area around it) and it is so unbelievably painful. They came up in clusters above my lips under my lips everywhere and just the bottom of my face around my mouth area... nowhere else. The only thing that I changed was the toothpaste. I used the rest of my eating, facial care etc... all stayed the same.
I stopped using the product. After about 1 month and my acne subsided but now I have all these very dark acne scars all my mouth area. I have gone back to Colgate Optic. No makeup covers them up at all... I just have to wait for them to go away. It has now been officially 2 months and the acne scars are still there. I WILL NEVER EVER use a CREST/PG product again...

Crest 3D White Brilliance Daily toothpaste and whitening - Started using this new system one week ago. I noticed whiter, shinier teeth almost immediately. Concurrently, I noticed the area immediately around my mouth start to dry out, turn red, flake, and peel. Also began breaking out on my chin. My face is now red and irritated. Will not be continuing use of this product. Painful to say the least.

I used the 2 step whitening. I did the first toothpaste then I went on the second one #2. I felt this burning, poking sensation in the front teeth on top of my gums. After getting done I looked in the mirror and noticed something white on my gums in the front. I did not know what could have caused this but I will tell you this I will never use your product again after this experience I had. If you want to contact me Email me @ **. Don't call me. Email me only.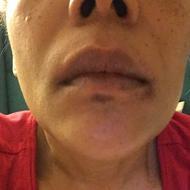 OMG... Where to start? I've been using this Crest Pro Health Toothpaste for over 6 months now and have actually had mouth issues since then. On more occasions than I care to mention, I have had swollen lips constantly, little bumps around the corners of my mouth, burned skin feeling around my mouth which have left dark marks around my mouth, sores on my lips, cracked and very dry lips, continuous sore throats, burning painful sensation on my tongue, burning lips, lip discoloration and dry mouth. I have spent the last few months going to the allergist, my primary doctor, and a dermatologist. They all could not figure out what the hell was wrong with me. I've been put on steroids and recently been recommended to start this type of "experimental" drug to see if it would help me. I'm sooo glad I procrastinated on trying that drug.
This toothpaste is dangerous in more ways than one. I have been so self conscious about my lips and not to mention in constant mouth/lip pain I've been experiencing. I have taken off of work because I was embarrassed about how badly my lips looked. I don't understand for the life of me why this damn toothpaste is still on the store shelves. Something has to be done about this immediately. This toothpaste is honestly a hazard to public health.

Horror!!! I used Crest Pro Health Rinse - Alcohol free, but never on a regular basis, until about 3 days ago and here is what happened: severe swelling in my neck, lips, mouth and that's not the worse part. I have multiple sores that developed the next morning and skin from my gums is peeling, excruciating burning and under my tongue, the under base just peeled away from my gums all around, where my teeth are. I am having an oral surgeon taking a look at this. I am 27 years old, with no health problems - this is complete horror. Every natural remedy and even over the counter - does NOT work. I have missed work and already been to the ER. I can't handle this burning pain - and I have had 3 natural births, so my tolerance is quite high, but this is horror. DO NOT USE!!!
Use crushed ice for helping with the pain, and rinse with salt water and have your dentist prescribe you this mouthwash: ** 12.5/5ml elix 50 mg, ** 400-400-40 mg/5 ml susp 20 ml, ** 2% soln 20 ml. This mouthwash will not solve all of your problems, but it will help you not kill yourself from the pain. You can also either chew on fresh mint leave (natural pain medicine) or even boil it and put a few ice cubes to cool it down and swish/drink this. Also, take as many pain meds as possible, as you will have one hell of a painful ride. Today I woke up, and couldn't even stick out my tongue. White sores developed under my tongue, and are holding it down. Complete horror. I can't believe Crest is OK with people having such horrid symptoms and are allowing this product to be on the shelf. Very disappointed. I am fearful that this will never get better. I can't eat, and definitely have no taste buds alive.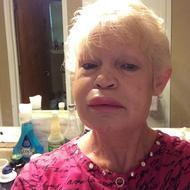 1st time using this Crest 3D whitening toothpaste before bedtime, I awoke to my lips being swollen. Then the lower part of my face & neck area started swelling. I truly believe those plastic beads irritates my gums & causes them to swell. I've never had a problem before w/ toothpaste. Throw this product away!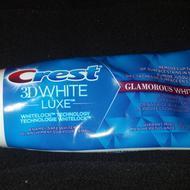 I bought the Crest 3D White Luxe Glamorous White toothpaste recently and started using it 2 days ago. Yesterday I noticed the inside of my bottom lip was burning so I looked and it was red and almost blistered, today my top lip is now the same. I Googled red burning lips and saw that this toothpaste had some reviews of people with the same experience. It's an intense burning feeling, my daughter said it looks like my lips are bleeding.

I have a burning, sensitive, sores and I've only had the toothpaste for 3 days. My lips are now swollen and it hurts to eat, drink, and talk. My lips stick together sometimes because they are so swelled. It's ridiculous this product is even in store. It should be taken off the shelves, Immediately!

I used Crest pro health toothpaste 3 days ago, the results were devastating. I knew the toothpaste felt very grainy right off the bat but soon I developed ulcers on my gums, roof of mouth, under tongue. I've never had this type of pain in my mouth. The ulcers are so big and deep that my teeth are aching constantly. I've read the previous reviews and its my situation exactly. So far this has ruined 3 days of my life and from the looks of the ulcers it will take another 7-10 days to heal. I can't believe a toothpaste can be this dangerous. Unbelievable!!! The Dr. put me on antibiotics and the Dentist couldn't believe what he was looking at.

I used this product and within minutes I noticed that my teeth were way whiter. I never had a problem using Crest Pro-HD 2 step. I've been using this product for 3 months and never had a problem. I don't understand why everyone else is having problems and I'm not.

I bought a double package of Crest toothpaste. After brushing my teeth, I noticed right away a pimple appeared at the end of my tongue, then my lower lip started burning then within a minute canker sores started to appear. My lower bottom right lip is swollen, hurts & is still burning. I was okay before using this product and will never use it again. Sticking with Colgate.

I used the Crest product mentioned above for the first time today, when doing step 2 my mouth started tingling and my lips began to swell. That was at 9:00 a.m. this morning and it is now 7:01 p.m. and my lips are swollen, sore and tingling. I don't know what to do! Do not use this product!

I recently purchased Crest Whitening Toothpaste, and I used it for the first time yesterday. I used it just as the directions suggested and I began to feel an burning sensation in my mouth. My tongue began to hurt, my gums became very tender, white rope type of skin began to peel off from the inside of my mouth. I noticed after I rinsed my mouth my lips became red and have turned into severely burnt and dry. I have taken pictures of what my lips look like after using this toothpaste. I am unsure as to why my body has reacted the way it has, because I have never had any issues using different brands. My throat feels sore and using the Crest pro health mouthwash has also made my mouth worse.

I had been using Crest's Pro-Health mouthwash. I used quite a bit and never connected my receding gum, slimy mouth, harden bits of white ball shaped pieces that were stuck behind and resting on my gums. I started researching for toothpastes to clear this up and cures, when I accidentally fell upon this page and the reviews were matching my experience, especially the stringy saliva. I stopped using it, yet I keep on spitting. At night it dries up and my mouth tastes terrible. My teeth are shifting more and I am disabled, having little money. My husband found an internet page that spoke of little beads in the Pro-Health line. I never thought I'd have to look up a toothpaste or mouthwash for a review. Why is this product still being sold? With all these negative reviews, stating the same reasons, it should be pulled and we deserve to be compensated. Everything it says to do, it causes gum disease, etc.

I used this toothpaste (Crest ProHealth HD 2 step) 4 times over a 6 day period - not the twice daily as recommended on the product. I experienced soreness of my gums and teeth. I discontinued use. Even after discontinuing use my problems worsened. My lips went numb and my tongue feels like it's coated; I have a metallic taste in my mouth. I have been experiencing these issues for 3 weeks - 2 weeks after discontinuing use. I have seen both my dentist and medical provider. I am currently using a RX mouth rinse to control the pain.

I'm seeking an attorney and dentist to help me. I used Crest 3D WHITE Whitening toothpaste step 1 and Brilliance Step 2. On the third day my mouth was really sore and raw. Three days later my lips inside lower lip was burned and my bottom lip started to blister. The pain is excruciating!! Day 5 I have a canker sore on the tip of my tongue, my gums are peeling and bleeding. I can barely eat. Please contact me.

About a week into using the mouthwash for the first time ever, my mouth started to get a burning sensation and no time after, my throat starts to feel weird and tight and I've got a canker sore??? They need to be recalled. My whole mouth is extremely sensitive now, something I've never experienced. I'm not happy but I'm relieved I'm not the only one experiencing these side effects.
Crest Toothpaste Company Profile
Company Name:

Crest

Website:

http://crest.com/en-us