Consumer Complaints and Reviews

I have had McAfee and Norton and I would say they both work fine. McAfee seemed less expensive at the time I switched from Norton to McAfee. Both work the same as far as I am concerned. I have never had any issues and I am online a lot and sometimes to sites that may well contain viruses. I hate to write this because now I will have a problem but I haven't yet.

I have McAfee and I contacted them with a problem. They told me to call Microsoft Support and I googled it after I let them take over my computer and try to charge me with more virus protection. I found out the number they had given me was for a Microsoft scam phone number and they also gave me more scam numbers to try. I feel so ripped off for buying their product. DO not buy this stuff. Their product obviously didn't work since I had to call them so many times over the problems their antivirus software didn't provide.

Don't buy this product. I decided to give into the hype and buy their antivirus protection. It is the worst I have ever seen. It creates a new window every time I try to open up a website. Every site is either dangerous page or an ad pops up. Some of the ads have the special fun feature of requiring me to close my browser. Using the free antiviruses work better and do not cause problems with your computer.

I paid for a year subscription promo to only get a one month. I tried contacting to get my money back. I continually receive popups and no longer can access my mail accounts, etc. My computer has numerous issues now and not able to uninstall the McAfee. Truly unethical. I will provide receipts, etc. Unfortunately, my computer needs a whole refresh now.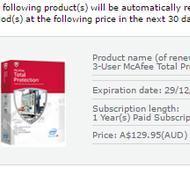 McAfee is a scam regarding their selling methods, they charged me in Australian dollars (???) YES Australian dollars!! (I live in NY) and they charge twice the price of the American product. When I called the service desk, they basically told me: "Nothing we can do about it, you just got caught in our scamming sell techniques." Go to NORTON, at least they are honest.
How do I know I can trust these reviews about McAfee?
670,460 reviews on ConsumerAffairs are verified.
We require contact information to ensure our reviewers are real.
We use intelligent software that helps us maintain the integrity of reviews.
Our moderators read all reviews to verify quality and helpfulness.
For more information about reviews on ConsumerAffairs.com please visit our FAQ.

Pls don't buy from this company. It had froze up my computer and I had to AVG antivirus instead. When I tried to get a refund they transferred me to some Hindu guy that I couldn't even understand properly. Saying that they couldn't give me a refund... Terrible service and waste of money.

McAfee charged my credit card WITHOUT AUTHORIZATION. Then refused to remove the charge. Absolutely horrible CS. Be careful with this company. They will charge your credit card and only notify you AFTER the 30 day dispute period has expired.

I paid a large chunk of money to McAfee two years ago (2014) when I bought my new Dell with Windows 10. The computer got a virus. I spent more than two hours on the phone last Saturday with someone in India whom I couldn't understand. She scanned my files; it took a long, long time. Then she said she couldn't diagnose the problem. On Monday I took the computer to Staples. Staples! The guy diagnosed the virus within a day and re-scanned the files. The computer works perfectly now--and McAfee won't reimburse me for the $174 I paid Staples--which accomplished what McAfee couldn't! So... to recap: McAfee's software couldn't protect my computer and its staff was completely unhelpful and wouldn't reimburse me for fixing what they couldn't fix. I'm done with this software.

When I got McAfee through my HP new computer, I have to renew after one year, and I click in their Website that I didn't want an auto-renew on my Acct. Sure enough they charge my Credit Card 89.99 which was three times more than last time! I dispute the charge, and they sent false papers saying that I did have my permission which is a lie! Now I'm disputing again, and sent a complaint to FCC and ConsumerAffairs!!

I buy McAfee online. I was expecting excellent performance by the one and only McAfee Antivirus Plus but it did not match my expectations. It was worst experience dealing with this product. The reviews on online shopping site was mind-blowing but it was a complete lie. But I must say it is such a disgusting antivirus product in this whole world. When I start scanning it started awesome but in the end it shows that there was no malware but I was able to see the various kind of malwares were floating on my computer screen. I was shocked and stunned.
In the end I would love to say that speciality of McAfee Antivirus Plus is that it detects very keenly. NO MALWARE, NO VIRUS... it is just a cd having hilarious software. I not getting that a billionaire company like Intel is supporting a 2 rupee company McAfee... the first two letters of this product MC clearly indicates which cadre of product it is. I will not say anything else about it else it will be a harassment to the company.

I have renew the McAfee "Intel Security" on 23 August 2016, and paid by credit card 866-622-3911 USD89.99. I'm wondering why can't I use the McAfee to scan my computer and it keep asking me to renew again. What happen, already renew but still keep asking me to renew. Please help to check. Thanks.

After waiting for over 30 minutes and begging to speak to a supervisor at McAfee support, I was told they could not help me with their software!! The company has been purchased by Intel and it's clear they have no intention of supporting McAfee.

McAfee charged my credit card 269.96 dollars for computer security and did NOT provide and on 8-11-16, COULD NOT provide, but two Employees managed to shut down my computer - They, Richard and Richey ** confirmed my computer had been without McAee for 638 days! They did manage to shut down my laptop during their attempt to provide the security. My telephone contact started at 4:45pm. I hung up at 6:50pm and managed to get my computer to reboot!! Communicating with "foreign dialect" employees was very difficult. SEC accepted ONLY a 50 million fine from McAfee? WOW.

Last year McAfee offered to fix my computer and to give me 3 years of internet protection for $199.00. After 1 year was up they tried to get me to renew for another year saying I only had 1 year protection. I was pissed so I told them No RENEWAL and removed their protection off my computer, but when I got my credit card bill found they had charged me $49.99 without my permission they are the biggest ripoffs I have ever seen!!!

Purchased a new laptop that came with McAfee Anti Virus. What a joke. It expired and I did not purchase the software & did not delete it off of my system. Their software blocked my printer and it took a while and cost me $$$ to figure that out. SO I STRONGLY SUGGEST DELETE THIS ** (McAfee) from your laptop etc. right away. Currently in a battle with these ** to get my $95.00 back.

I purchased 17 licenses of McAfee Endpoint Solutions for our company. I have been a customer for 6 years previously. Every computer that I have attempted to download the product on has required hours of assistance from their tech support, on multiple occasions requiring their 2nd level tech support to finalize installation. This product has cost more money in time in downloading the product, troubleshooting problems with the product, re-installing the product than it is worth. It has cost the company more in downtime and installation time than the 17 licenses. Do yourself a favor and find another product. To be honest a one star is too high. The only thing this product has going for it is brand recognition.

McAfee came as free trial on my HP computer. I renewed for a year from the ad on my computer and made the mistake of adding it to my other systems. It took three months to install the new purchased program, and several calls to customer service to get them to pro-rate my account to the time when service actually began. Ten months later, I was billed for the following year which I had not pre-approved. In addition, I tried to negotiate a better renewal fee with them to keep renewal simple. The offer was twice as much as Costco's but the salesperson said they couldn't do better. I purchased a new subscription for the same program at half the price from Costco.
Unfortunately, my installed program lapsed while I was on vacation and I didn't receive my Costco order until I returned. In the four hours between the time my installed program lapsed, I was hacked and could not install the new program without McAfee's technician cleaning up my computer for $99.99. I find this really suspicious especially since my Mac's firewall was activated. I will file a complaint with McAfee for the amount as the supervisor advised that the matter would be reviewed, but I needed to pay for the work completed. I am now wondering why I bothered to install this program at all. It just seems odd that over 400 attempts to hack my computer occurred in a few hours. This will be the last time I use McAfee. I have had a series of problems from the start.

I paid for a full year's McAfee security service last month and received an email receipt. I've now had a pop-up saying that I have 15 days to pay. I contacted McAfee Customer Service and sent a copy of my receipt. They agree that I have paid but told me to either ring the 0-800 number or online chat with their technical people.
Goodness knows why I need technical assistance to solve a proven account problem, but I tried ringing the New Zealand 0-800 number. The line was so bad and the operator's accent so heavy that I couldn't understand a word. So I tried the chat service but couldn't get through to the chat screen because you have to select a computer problem. I have no computer problem, therefore I couldn't get through to the chat screen.
So what now? I've sent another email message but have not had a reply. I cannot find anywhere else to write to with my complaint. I've now read the other comments here on this subject and I'm horrified! Has anyone had good dealings with McAfee? Friends are saying just to take it all off my machine but I can't afford to pay for another service. Does anyone have a suggestion about contacting McAfee?

I found McAfee internet security to be a terrible product and quickly deleted it from my machine. I did not realize that auto-renewal was switched on by default. I do not usually allow websites to store my billing details, let alone auto-renew. Had I been adequately informed, I would not have permitted McAfee to store my billing details, let alone auto-renew. In April I noticed I had been billed by McAfee. I recognized this as a fraudulent transaction (one which I had not given consent for) and requested my bank to charge back. Mcafee had the audacity to contest the charge back and will not refund the moneys. Avoid Avoid Avoid.

My McAfee Livesafe was sold to me under the pretense it would protect my PC from viruses. I caught a virus yesterday and had to pay £59.99 UK to McAfee to have it removed and lost all my personal files as well.

McAfee is totally unresponsive and constantly lies. I had their total in all one product and it did not work. It locked up my machine. None of their support even at the highest levels could fix it. I finally said, "Give me my money back. I am getting another product." They said they would issue a check. It would take three weeks. Three weeks went by and no check because they did not have address correct.
They said they would issue another check. That was three weeks ago. They said I would have it in three weeks. Now they said it has not gone out and it will not go out until maybe end of week and it would take another three weeks. They lie. They have no support worth a dime. I asked to speak to a senior manager. They said it was a holiday. Holiday is over. It is July 5 today not July 4. They are owned by Intel Security and frankly they stink. I would not buy any of their products. When are these companies going to stop using India as their dumping ground. You can't get support or even talk to someone in the United States. All I get is runaround and doubt if I will ever see my money back from them. Don't use these liars for any products. They are totally untrustworthy.

I was cheated by McAfee in the name of thanksgiving rebate. I ended up in paying 59$ during this offer purchased at Frys.com. The fancy statement was they will sell the product for 59$ and will refund it later. They instructed us to send the proof of the purchase, duly filled rebate form etc. to a address. I properly followed the procedure and no update until April 2016. I believed McAfee was genuine and they won't trash their customers. When I started to track, the customer care updated me that the proof of purchase was missing from my original package. I believed they will keep up their promise and shared the receipt once again.
After a couple of months when I started to follow up they asked the receipt for one more time. Sent again, the response was as follows: "Dear **, Tracking Number: **. Thank you for contacting the McAfee Rebate Center. I apologize for any inconvenience this may have caused you. Unfortunately this promotion is closed already and we cannot place any further modifications, we could not honor this rebate. We look forward for you participating in our future promotions. Thank you for contacting the McAfee Rebate Center. Your satisfaction is our priority! Have a great day. Angel **, Rebates Customer Service." Friends, please don't get trapped by such fancy advertisements and suffer like me later. These are all product selling techniques. They just randomly select few folks and honor their rebates but not to everyone. I know one other friend of mine who is also sailing on the same boat.

Recently during my computer updating time, I lost some driver files. I use my computer rescue function to get the file back. But McAfee stop me to do so, and let to register, then let me pay for it. Since I do not like the McAfee and do not want to use it, so I do not pay for it. The McAfee is my nightmare. My rescue job cannot be finished. My printer cannot print anything. What can I do? The McAfee has the right to stop my fixing work?

I had problems this weekend where McAfee Total Protection stopped Real Time Scanning my laptop. Every time I turned Scanning on, it turned itself off again. The McAfee help desk in India helped me solve this problem which was caused by the Microsoft update, KB3161561, released on 14 June 2016. However, in trying to diagnose the problem, we tried to re-install McAfee but it did not make any difference. Part of the clean-up process tried using the McAfee Consumer Products Removal tool (MCPR) and McAfee Pre-Installer. MCPR worked OK but McAfee Pre-Installer deleted all the files on my desktop, my outlook personal folders, all my photographs and all my word and excel documents.
Yes, I'm using capitals because I am furious. Only after using McAfee Pre-Installer did I find reports of this program causing these types of problems. I HAVE NOW LOST YEARS OF DATA BECAUSE OF A BAD PIECE OF MCAFEE SOFTWARE THAT IS STILL RECOMMENDED ON THE MCAFEE WEBSITE. This is disgraceful and McAfee should remove it now before anyone else suffers as I have.

I found the product did not catch viruses. I still had to use other products to maintain my PC. Also, when I had an issue with renewal, customer service was TERRIBLE. Even though I cancelled the renewal, the transaction still went through and had a difficult time getting my money back. Every time I spoke with someone I had to start at the beginning even when I gave all the service request numbers. I asked for a simple yes or no answer to a question and ended up getting transferred to a supervisor. They were impossible to deal with.

I bought McAfee Live Safe. A trial subscription came with my Dell Computer. After some looking into it is sounded good so I bought it. Within weeks I started getting tons of ads and popups. McAfee software scans came up empty. Called for support and was told that some unwanted programs were on my computer. If I wanted their help it would cost me another $179.00, on top of the $89.00 I just spent. One of the reasons I bought it was because it stated it protected me from unwanted software, adware, malware, and viruses. I spent hours on the phone and chatting with people I could not understand because their English was so bad. McAfee can go pound salt. Live Safe is totally ineffective and McAfee does not do as they claim in the ads. Junk!

I purchased McAfee Internet Security on 5-10-16 and tried to get it running. They had my account from a previous year, and every time I tried to log in to McAfee I got a message that my account was expired! I tried their phone support 2 times, and I could not understand the tech (he was from the Philippines), and he did not help me. I then tried their Chat system, but again, after almost an hour there was no solution. Finally I sent an email explaining everything.
Finally I received a telephone call from someone who said he was from McAfee, asking for my credit card and telling me that he was going to take over my computer for 25-30 minutes to fix the problem. I told him that I did not like giving my credit card info and have someone work on my computer for 30 minutes. I asked that they solve the problem in their offices and let me know when they did, but they refused. I then asked that they send me an email with instructions that I can follow myself, and he refused. When I told them that I would just cancel my purchase and use another security system the tech said "ok" and hung up.
I will not use McAfee again when they cannot solve a problem without going through such shenanigans! And I suggest that anyone who needs support from McAfee will be sorely disappointed. They should use English speaking technicians and make solving a problem easy for their customers, rather than handling problems as they did with me.

I can't begin to express in words how annoyed I am with this product. I purchased a 1000+ PC today and should have wondered why the salesman was so eager to sell me the McAfee LIVESAFE. I should have reviewed it first or asked someone who knew about computers what the product was like. 1st of all the installation process is beyond a joke. I had to contact their customers services to rectify it. I was put through to the Philippines and after constantly having to correct or repeat what I was saying, or asking her what she was saying I lost it and asked for a call centre in the UK. I was transferred to INDIA, which is apparently the UK call centre!!!
Yet again I had issues with constantly repeating myself and correcting the person on the phone but having no choice but to continue. I eventually get it installed via remote onto my desktop, only to find the program is now causing WINDOWS 10 to not accept updates onto my computer. The APP is on my phone less than 3 hours and its locked out! Took me an hour to get it unlocked. How do you access a pin via email when your phone is locked and that's how you access your emails!!!
Enough was enough so I contacted the refunds dept to get a refund. I shall try at extract blood from a stone tomorrow. I shall have better luck. This firm and this product somehow passed US and EU trading regulations (someone was clearly paid off) which is a mystery as now that I am looking at the reviews I wish I had never purchased the product in the first place.
My advice to anyone is stay well away from this company and this product. They use cheap labour in foreign countries with no call centre assistance in either the US, UK or Europe... probably their biggest market. Good luck to anyone attempting to get their money back. I rarely do reviews but this firm takes the biscuit. I shall go back to AVG, and LOOKOUT SECURITY for mobile. Way better even with just the free version.

I still find their security TOP, the problem being working with a cheaper phone already outdated per technology. My problem with this ZTE is the back Windows continue to add spyware in which everyone is pay to from apps. The app store I think is lowering the standards of the apps they accept and most people aren't as smart as the phones. McAfee DOES catch the worst issues however I'm still stuck on some sort of open internet. McAfee described on the Heartbleed app I can not find the setting as they say something is turned off and found no repair. Doing Google Search also with having to reset the phone and looking data you may need at a later time. ALSO I have a suspicion my phone service has been illegally paired with other phones. This model phone fails to explain much of the programming so you have to guess at setting and it does appear my setting some have been illegally blocked for me to make changes.

McAfee - a complete nightmare from start to finish and beyond. First - for any kind of support you connect to India. While I applaud these folks for speaking more than one language - something I cannot do sadly - their accents are thick, and they speak quickly. I found them very hard to understand. And I really want to speak to someone in America. I live and use my computer in America. I am always offended when I am connected to India. Aside from that, I bought the McAfee system, installed it and it promptly broke my computer. Windows icon would not open. Internet icon would not open. Internet froze.
They insisted it was my computer, but I had been working all morning without a single glitch. It is a new computer and it works great. It was the product, not my computer. I spent hours with them trying to fix it. Then I had to spend more hours on the phone trying to get a refund for the product price (the McAfee software was removed from my computer). Then more hours with a paid technician to resolve the tech issues. Then a refund for that because they could not fix it. I spent hours & hours & my computer and a friend finally fixed it. The computer is finally running again but permanently changed, not for the better. I NEVER devote time to reviews, but this was so bad I really had to write a review. McAfee never again.

Shelley ElmbladFinancial Software Contributing Editor
Shelley Elmblad is a freelance writer with years of experience covering small business, personal finance and tax software and mobile apps. Shelley's goal is to help others choose the best software to run a small business, track personal finances and save money. More about Shelley→

Founded in 1987, McAfee is a longstanding and trusted name in antivirus software for consumers and business because of how the company has continued to advance products to keep up with a changing industry over the years. Now a part of Intel Security Group, the brand will be eventually be renamed.
Global threat intelligence: McAfee uses this process, which collects data from millions of sources from around the globe, to offer real-time protection against viruses and other malicious threats.
Protection for all devices: One McAfee subscription with a 30-day money back guarantee includes antivirus protection for all PCs, Macs, iOS and Android phones and tablets and Android watches. Anti-theft features for mobile devices lock down the device and can locate it when lost or stolen.
Parental controls: This feature offers filtering and monitoring of what children can access and see when they are online. You'll have to upgrade to McAfee Total Protection at $89.99 to get parental controls. Two other options cost $79.99 and $59.99, and discounts may be offered for the first year.
True Key Identity Manager: This is a secure software password vault that is used to log into mobile apps, websites and devices using a combination of facial recognition, fingerprint or devices.
Home network scanning: McAfee can scan a home Wi-Fi network to detect unprotected devices.
Best for Families, businesses and people handling highly sensitive information.
Compare Antivirus Software
Company Name:

McAfee

Year Founded:

1987

Address:

2821 Mission College Blvd.

City:

Santa Clara

State/Province:

CA

Postal Code:

95054

Country:

United States

Website:

http://www.intelsecurity.com/