Consumer Reviews and Complaints

We subscribed to McAfee Internet Security and were customers for about a year and six months. We got discounts from them each time we renewed or we would have looked for something else. The program on our computer proved to be defenseless against hackers. Ransomware gained access to our computer and tried to get us to pay them a lot of money. We were bothered by Ransomware by phone too but we managed to get rid of them ourselves and fixed the virus ourselves. McAfee did nothing to help us nor did their security program work. We feel that they provide poor internet security and you may not realize how bad their service is until you get bothered by hackers like Ransomware. We have Windows Defender and its free to use and was provided with our computer and it works better than McAfee. Don't use McAfee because they are a waste of your money!

Took too long to find that McAfee Antivirus by freaking default installs Yahoo search into Firefox! This is called abusive manglement by despicable programmers. To fix this problem requires removing Mcafee. DO IT! Any company that forces you to use third party crap without your expressed approval is WORTHLESS. To avoid having to use a virus checker requires that you surf sanely. This means never clicking on anything in your email, never install anything you aren't sure of its source. THESE ARE NEVERS! It is exactly like the rules to safe sex.
Do yourself a favor, install a decent firewall. Don't believe that Microsoft is wondrous, they have always had ulterior motives (see Outlook, ponder Edge). I suggest installing ZoneAlarm. Found it when it first arrived on the scene, have used it sans antivirus for over twenty years. NEVER BEEN INFECTED!!! I also suggest you install and use as your primary browser, Opera. (http://www.opera.com/).
The Internet was once highly useful, you can return to useful provided you follow these rules. Lastly, contact your congress representatives to tell them you want email source verification. This would end spam, most cracks, and improve surfing speeds. The only people that would scream murder are the service providers ('cause it requires CPU cycles) and the filth that wants to own you.

I purchased McAfee and paid $48.70 through PayPal for the download. I was not happy with the company and proceeded to ask it to be removed from my computer. The customer service that I asked for this to be done, was very rude, talked over me as I tried to tell her that I wanted it removed and did not care for the product but as I would try to talk to her she kept very loudly talking at the same time and would not let me get a word in until I finally had to raise my voice and ask her to stop talking so I could get a word in. I finally just hung up on her. I proceeded to contact PayPal and asked them to cancel my payment and why. They tried but it is still in Resolution case number is, **. I have no order number, and as of now, McAfee will not cooperate. It has been over a week and they will not refund the money back to my account.
Pay Pal is trying to resolve this. I will wait until the time they said it might take but today, McAfee redownloaded the anti virus again with out my knowledge and it was running and disrupting my computer. I finally went to Control Panel and removed them again. I think they should be put out of business by someone, whom ever does that and made to pay a fine or something. They are terrible and had my computer so messed up. I have had it with them. I can't do anything else. I am still waiting for my refund. They give their service to Time Warner but now is Spectrum internet service, for free and that was how I got McAfee in the first place. It was a mistake. I will also complain to Spectrum. I hope someone can help all of us who have been victimized by this company.

McAfee refused to refund me one year's subscription for Antivirus Software which I no longer require and which was in a sneaky way charged to my Credit Card. Their excuse was that 60 days had elapsed since they charged my account even though they debited my account one month before the amount was due. I emailed them as soon as I realised what happened and only a few days past the 60 day limit. Yes technically it is my fault for not reading all the fine print, however I find it is very deceitful to automatically charge my credit card without specific correspondence and my specific acknowledgment to that effect.
I find it also disappointing that they would not refund the remaining 300 days of subscription. They claim that I received an email prior to being charged the annual amount but I could not find anything in my Inbox or in my Junk Email folder. Be aware of these sleazy tricks, I will never again purchase anything from McAfee because of their lack of tolerance and customer support in this regard.

I talk to a tech for about 2hrs and he let me know what is wrong with my computer and that it is slow and I need a tech to check it out about every 2 -3 month. That way they can clean it and it will run faster. They wanted to charge me 179.99 for one year and they can clean it monthly. I told them I do not have the money for that and I knew a tech in my town and she would clean it for 30.00. So they said they would clean it for 50.00 and I did not need Mcafee antivirus because I had defender. So I ask "Why did I pay for Mcafee last year when I didn't need it and now you charge me again for this year."
He said he would help me get the refund back of 23.99 and I would pay him 27.00 and the refund to clean the computer. I told him 4 times why would I pay my 23.99 and 27.00 to clean the computer when I can have it done for 30.00. I finally just type out that I want a phone # for Mcafee and I will refund it myself. That is what I did and I turned on my defender. He said that I need a tech to turn it on.
How do I know I can trust these reviews about McAfee?
885,230 reviews on ConsumerAffairs are verified.
We require contact information to ensure our reviewers are real.
We use intelligent software that helps us maintain the integrity of reviews.
Our moderators read all reviews to verify quality and helpfulness.
For more information about reviews on ConsumerAffairs.com please visit our FAQ.

Apparently my McAfee subscription expired 150 days ago, which I'm reminded about constantly when I start up my PC, during work or just watching a film. I could live with that - I'm not that keen on being blackmailed into buying a product I don't want to use. Today, however, things went south. All of a sudden the Adobe flash player crashed non-stop, the screen would freeze or worse, shut down in the middle of a file, I was working on. (Losing all that I had been working on just now). So I gave in and paid the 30 US dollars - which in reality turned out to be 36 dollars - and now things are cool. For the moment. Now, I'm not an expert, don't know anything about apps, devices and so on, but I have this ugly suspicion that the problems I endured today was caused by McAfee. A device that came along with the purchase of the PC. End of story. I won't be surprised if it turns out that McAfee has charged me with the double of the amount I paid for renewal. So be it.

The pop ups on my computer are awful. They come 3 & 4 at a time, piled on top of each other for the entire time I'm trying to work. They have several tricks. Some say your subscription expired. In some, the "yes" boxes are already checked. As you x one out, another is underneath. All this is going on while trying to use my computer! Sometimes I just turn it off without completing my work, because I'm tired of fighting McAfee!! Isn't there a law against this?

This is ** waste of money and time. I have installed software and it shows Virus scan feature missing. Installed 1000 times, restarted machine 10000 times but still stupid dashboard shows virus protection OFF. Contacted illiterate customer service, they are moron seating in different country. Used their useless virtual technical support and it shows no problem in system. Tried to search customer service email ID, but to my surprise there is no single email ID where I can raise my concern. If you McAfee guys read these, contact me ASAP on ** or else I am filing legal lawsuit.

I renewed my McAfee Antivirus Protection subscription 2/17. All I got from this program is browser protection. I kept receiving popups warning me that my computer was in danger, clicked the "fix" button to discover that I needed to pay or repurchase what I had already purchased. Customer service took over my computer to remove and reinstall McAfee. The Rep wasn't able to remove virus so she forwarded call to a tech who told me he could remove the virus for $69 one-time fee or $179 1 yr. I refused to pay. Now I have a virus I can't remove.

I purchased McAfee last summer for my new laptop. I have used McAfee before and had a good experience. This time, it installed, but then it was suddenly gone. Don't know why. Tried reinstalling. It won't work. Tried four times. Each time it stops and tells me to try again. Did the customer chat thing. They haven't been able to help either.

McAfee is a scam - I bought this. Tried to put it into my PC and I got nowhere. Two online chats appeared when I told them I wasn't ok with them taking control on my PC the closed chat out then I got tech. call. I couldn't understand what he was saying but he wanted to do the same. Take control of the PC. I told him I was ok with that he hung up on me. What a company and their customer service sucks...

This is some sort of scam. When trying to use the keycode to renew from a purchased renewal card from OfficeMax, the website on the card will not take you to a download screen, as it says that it will. You are forced to on-line chat with techs or call. All will ask how old the computer is (Mine is exactly one yr old & had McAfee loaded at time of computer purchase.). Then, they want to "take over your computer" in order to help. No matter what McAfee site that you click in, wants this. When you call the numbers listed, same thing. When you enter your phone number, get all sorts of hangup calls from suspicious numbers that don't work. No matter where I turn, I am boxed in. Probably, to upsell me or sell my info. So, since McAfee won't allow me to renew without this scam-type hassle, I will get virus protection from another company. McAfee is not worth the headache.

Last year I updated my computer to Windows 10 with Edge browser. Ever since I started getting pops and malicious malware prompting me to purchase McAfee to prevent such viruses and pops! I want the consumer to be aware of the malicious way McAfee tries to get me to subscribe to its product.

For a month, I have been awaiting a refund. I sent the package back along with what they required for a refund. After a month, I contacted them and they claim they never received the package. I e-mailed them with their refund form and attached was my proof of purchase. They continuously e-mail saying I didn't send proof of purchase. They are being very uncooperative!

I was very upset when I got an email from McAfee Security saying they charged my Debit Card 96.00 dollars for Internet security. First of all, I did not have auto-renew on. Second, they charged me more than double the price I could have found it for if I would have looked for it myself online. Third, they did this with no warning or permission from me 20 days before my McAfee Security even expired. Fourth of all, I was lucky that I even had the money in my account. The only reason I did was because I had just got my tax return. I then make official call 1-800-954-268 McAfee Australia to resolve my issue. I straight away told them I need my refund for McAfee auto renewal and I will not use McAfee from now onwards. So they apologize and debited my fund back same day.

They could not install it because the code was used... but I just purchased it. They tried to sell em $399 in hacking protection. Not comfortable with this.. I feel like it was a scam. I did not pay the fee so my computer is now not protected!!! HELP PREVENT THIS!!

I went to renew and it came up as system error and charged me twice. When I contacted them through live chat they said I was only charged once. I said "I'm looking right at my account I was charged twice." They verified my email and knew that I was charged but then they said they couldn't find my address and that I had to call them. So instead I went through my bank. Now I have to wait a week to get refunded because of an error on their end.

DO NOT USE! Check your credit card carefully! Mcafee started auto-renewing their "service" in 2011. I have not used their service since 2008 because it's terrible and conflicts with everything. But they auto-renewed the subscription without my permission, even though I completely removed their software from my computer and did not agree to renew. They claim they sent an email to an old, unused account. They are sneaky and underhanded. I would never do business with them, ever. BEWARE.

I purchased McAfee Endpoint Protection Essential for SMB for my business and they never sent a download to me. I've called them everyday for the last four days and they keep telling me that it's 'still in process'. Four days?!? I have never heard of such a thing happening. Usually you purchase something for download and it is available immediately. I tried canceling my order and they told me that they couldn't cancel since 'they technically haven't received any funds from me'. My bank says otherwise. I'm not really sure what to do at this point. I still need this antivirus for my software to work on my computer. This whole situation is really frustrating and the customer service at McAfee is useless.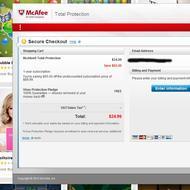 Purchased McAfee Total Protection, but Basically all I got from this program is browser protection. No protection against viruses. The Total Protection is advertised to protect against viruses and malware. I kept receiving popups warning me that my computer was in danger, clicked the "fix" button to discover that I needed to pay or repurchase what I had already purchased. Customer service did absolutely nothing to help. They refused to let me send them documentation of purchase, this would of at least enabled them to see that I purchased the Total Protection which offers protection against viruses and malware. Customer service seemed more focused on the amount of users and devices. One device guys, only one, just one user. I was given the run-around without a resolution. I'm sure I'm not the first they pulled this on, and I'm sure I won't be the last.

I kept getting pop-ups saying my McAfee cover was about to expire over three months before the expiry date. The pop-ups gave two options: Renew or Dismiss. I kept "dismissing" only to find they debited my account one month (yes, 30 days!) before the expiry date. £89.99 was taken against my wishes and without permission. I call this theft. When I complained, my computer crashed within 24 hours. I tried to communicate using their published email address, and a day later got Mailer Daemon informing me my mail could not be delivered. The joke is, Mailer Daemon reckoned I had incorrectly emailed "ConsumerRefunds@mcafee.con"!!! My computer says different and that I indeed did mail correctly. They are certainly a dot CON. I have had McAfee removed PROFESSIONALLY...

DON'T USE THIS SERVICE... I tried the home office version 4 years ago for a year. Neither outstanding or useless BUT the main problem with this system is how difficult it is to get rid of the software or the company after you no longer need it or want it. I'd cancelled my 'auto-renewal' and eventually managed to delete the software from my system, a year later a debit comes out of my account. I ring up the US helpline (no complaints dept supposedly). Go on the website and turn off the auto-renewal. A year later, same again. Then, this year, again another £50 for a service I didn't want, need or in fact ask for. I complain to my bank as every time I check my McAfee account details, I'm NOT down for auto-renewal. I'd changed card details twice during this time, still manages to update whatever insidious payment method they have and take the money. £150 out of pocket AND NO USE OF SERVICE.
It is also extremely difficult to actually remove the software entirely from your system. Be very careful even with a free trial. While a friendly customer service, refused to refund full amount, even with evidence of no use of service. Up to 3 days for a call back from a non-complaints dept. HONESTLY, THERE A FAR BETTER TRUE FREE SECURITY SYSTEMS OUT THERE AND I'D NEVER RECOMMEND THIS TRUMP OF A COMPANY.

I paid £89.99 security cover from Dec 2015 to 2016. All was well until May 2016 when another £89.99 was automatically taken from my account without notification to me. In Dec 2016 another £89.99 was deducted. On checking back and realising the mistake I phoned McAfee and was refunded the Dec amount and offered another month sub on the May amount, stupid me accepted, not realising that I has lost 7 months of paid cover. In Jan 2017 I received several messages from McAfee informing my subscription had run out and I wasn't covered. I phoned several times, sometimes being cut off and sometimes being told someone would ring me back to sort it out. Didn't get any calls. Rang again, got cut off, rang again, this time to cancel and get refund and am still waiting for a call back. DON'T use McAfee, they will drive you mad. Ready to phone again now...

We renewed our McAfee licenses about a month ago. This license covered multiple computers. When I called McAfee for assistance with the renewal, they provided instructions over the phone which I followed. However, the program would not renew properly. McAfee then told me that my computer was too old and I would need to upgrade and/or hire a consultant at a cost. I declined, hung up and went through the renewal process again and was successful. I called my sister later that day and she said she had the very same experience with McAfee. I believe they are scamming customers into thinking, they need to hire a consultant.
Next time around I'll be using a different company. Their methods smell of fraud...

Called customer support while trying to install software for my father. After 3 different calls and 4 different people, I reached someone who said they needed to perform security checks on this computer and I would be charged. I doubted this diagnosis and ended the call. Afterward, my computer guy checked everything and installed software with no issues. This left me feeling like McAfee is not a trustworthy organization!

When my subscription expired, pop up ads started showing up even though I had pop up blocker on. Once I closed the pop ups, an ad for McAfee would pop up saying to renew my security software. I went to their website and used the uninstaller and the same thing occurred. In addition, I experienced the same thing as another person. A Microsoft window opened and said I needed to contact their tech support to correct the problem. I called and as soon as they answered with a Pakistani accent, I knew it was a scam. I added on a pop up utility to Firefox to stop the McAfee ads and have updated Windows Defender. Coincidentally, my computer has malware when I uninstalled McAfee.

I have had McAfee and Norton and I would say they both work fine. McAfee seemed less expensive at the time I switched from Norton to McAfee. Both work the same as far as I am concerned. I have never had any issues and I am online a lot and sometimes to sites that may well contain viruses. I hate to write this because now I will have a problem but I haven't yet.

I have McAfee and I contacted them with a problem. They told me to call Microsoft Support and I googled it after I let them take over my computer and try to charge me with more virus protection. I found out the number they had given me was for a Microsoft scam phone number and they also gave me more scam numbers to try. I feel so ripped off for buying their product. DO not buy this stuff. Their product obviously didn't work since I had to call them so many times over the problems their antivirus software didn't provide.

Don't buy this product. I decided to give into the hype and buy their antivirus protection. It is the worst I have ever seen. It creates a new window every time I try to open up a website. Every site is either dangerous page or an ad pops up. Some of the ads have the special fun feature of requiring me to close my browser. Using the free antiviruses work better and do not cause problems with your computer.

I paid for a year subscription promo to only get a one month. I tried contacting to get my money back. I continually receive popups and no longer can access my mail accounts, etc. My computer has numerous issues now and not able to uninstall the McAfee. Truly unethical. I will provide receipts, etc. Unfortunately, my computer needs a whole refresh now.

Shelley ElmbladFinancial Software Contributing Editor
Shelley Elmblad is a freelance writer with years of experience covering small business, personal finance and tax software and mobile apps. Shelley's goal is to help others choose the best software to run a small business, track personal finances and save money. More about Shelley→

Founded in 1987, McAfee is a longstanding and trusted name in antivirus software for consumers and business because of how the company has continued to advance products to keep up with a changing industry over the years. Now a part of Intel Security Group, the brand will be eventually be renamed.
Global threat intelligence: McAfee uses this process, which collects data from millions of sources from around the globe, to offer real-time protection against viruses and other malicious threats.
Protection for all devices: One McAfee subscription with a 30-day money back guarantee includes antivirus protection for all PCs, Macs, iOS and Android phones and tablets and Android watches. Anti-theft features for mobile devices lock down the device and can locate it when lost or stolen.
Parental controls: This feature offers filtering and monitoring of what children can access and see when they are online. You'll have to upgrade to McAfee Total Protection at $89.99 to get parental controls. Two other options cost $79.99 and $59.99, and discounts may be offered for the first year.
True Key Identity Manager: This is a secure software password vault that is used to log into mobile apps, websites and devices using a combination of facial recognition, fingerprint or devices.
Home network scanning: McAfee can scan a home Wi-Fi network to detect unprotected devices.
Best for Families, businesses and people handling highly sensitive information.
Compare Antivirus Software
Company Name:

McAfee

Year Founded:

1987

Address:

2821 Mission College Blvd.

City:

Santa Clara

State/Province:

CA

Postal Code:

95054

Country:

United States

Website:

http://www.intelsecurity.com/