Consumer Complaints and Reviews

I went to renew and it came up as system error and charged me twice. When I contacted them through live chat they said I was only charged once. I said "I'm looking right at my account I was charged twice." They verified my email and knew that I was charged but then they said they couldn't find my address and that I had to call them. So instead I went through my bank. Now I have to wait a week to get refunded because of an error on their end.

DO NOT USE! Check your credit card carefully! Mcafee started auto-renewing their "service" in 2011. I have not used their service since 2008 because it's terrible and conflicts with everything. But they auto-renewed the subscription without my permission, even though I completely removed their software from my computer and did not agree to renew. They claim they sent an email to an old, unused account. They are sneaky and underhanded. I would never do business with them, ever. BEWARE.

I purchased McAfee Endpoint Protection Essential for SMB for my business and they never sent a download to me. I've called them everyday for the last four days and they keep telling me that it's 'still in process'. Four days?!? I have never heard of such a thing happening. Usually you purchase something for download and it is available immediately. I tried canceling my order and they told me that they couldn't cancel since 'they technically haven't received any funds from me'. My bank says otherwise. I'm not really sure what to do at this point. I still need this antivirus for my software to work on my computer. This whole situation is really frustrating and the customer service at McAfee is useless.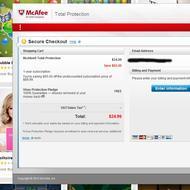 Purchased McAfee Total Protection, but Basically all I got from this program is browser protection. No protection against viruses. The Total Protection is advertised to protect against viruses and malware. I kept receiving popups warning me that my computer was in danger, clicked the "fix" button to discover that I needed to pay or repurchase what I had already purchased. Customer service did absolutely nothing to help. They refused to let me send them documentation of purchase, this would of at least enabled them to see that I purchased the Total Protection which offers protection against viruses and malware. Customer service seemed more focused on the amount of users and devices. One device guys, only one, just one user. I was given the run-around without a resolution. I'm sure I'm not the first they pulled this on, and I'm sure I won't be the last.

I kept getting pop-ups saying my McAfee cover was about to expire over three months before the expiry date. The pop-ups gave two options: Renew or Dismiss. I kept "dismissing" only to find they debited my account one month (yes, 30 days!) before the expiry date. £89.99 was taken against my wishes and without permission. I call this theft. When I complained, my computer crashed within 24 hours. I tried to communicate using their published email address, and a day later got Mailer Daemon informing me my mail could not be delivered. The joke is, Mailer Daemon reckoned I had incorrectly emailed "ConsumerRefunds@mcafee.con"!!! My computer says different and that I indeed did mail correctly. They are certainly a dot CON. I have had McAfee removed PROFESSIONALLY...
How do I know I can trust these reviews about McAfee?
721,363 reviews on ConsumerAffairs are verified.
We require contact information to ensure our reviewers are real.
We use intelligent software that helps us maintain the integrity of reviews.
Our moderators read all reviews to verify quality and helpfulness.
For more information about reviews on ConsumerAffairs.com please visit our FAQ.

DON'T USE THIS SERVICE... I tried the home office version 4 years ago for a year. Neither outstanding or useless BUT the main problem with this system is how difficult it is to get rid of the software or the company after you no longer need it or want it. I'd cancelled my 'auto-renewal' and eventually managed to delete the software from my system, a year later a debit comes out of my account. I ring up the US helpline (no complaints dept supposedly). Go on the website and turn off the auto-renewal. A year later, same again. Then, this year, again another £50 for a service I didn't want, need or in fact ask for. I complain to my bank as every time I check my McAfee account details, I'm NOT down for auto-renewal. I'd changed card details twice during this time, still manages to update whatever insidious payment method they have and take the money. £150 out of pocket AND NO USE OF SERVICE.
It is also extremely difficult to actually remove the software entirely from your system. Be very careful even with a free trial. While a friendly customer service, refused to refund full amount, even with evidence of no use of service. Up to 3 days for a call back from a non-complaints dept. HONESTLY, THERE A FAR BETTER TRUE FREE SECURITY SYSTEMS OUT THERE AND I'D NEVER RECOMMEND THIS TRUMP OF A COMPANY.

I paid £89.99 security cover from Dec 2015 to 2016. All was well until May 2016 when another £89.99 was automatically taken from my account without notification to me. In Dec 2016 another £89.99 was deducted. On checking back and realising the mistake I phoned McAfee and was refunded the Dec amount and offered another month sub on the May amount, stupid me accepted, not realising that I has lost 7 months of paid cover. In Jan 2017 I received several messages from McAfee informing my subscription had run out and I wasn't covered. I phoned several times, sometimes being cut off and sometimes being told someone would ring me back to sort it out. Didn't get any calls. Rang again, got cut off, rang again, this time to cancel and get refund and am still waiting for a call back. DON'T use McAfee, they will drive you mad. Ready to phone again now...

We renewed our McAfee licenses about a month ago. This license covered multiple computers. When I called McAfee for assistance with the renewal, they provided instructions over the phone which I followed. However, the program would not renew properly. McAfee then told me that my computer was too old and I would need to upgrade and/or hire a consultant at a cost. I declined, hung up and went through the renewal process again and was successful. I called my sister later that day and she said she had the very same experience with McAfee. I believe they are scamming customers into thinking, they need to hire a consultant.
Next time around I'll be using a different company. Their methods smell of fraud...

Called customer support while trying to install software for my father. After 3 different calls and 4 different people, I reached someone who said they needed to perform security checks on this computer and I would be charged. I doubted this diagnosis and ended the call. Afterward, my computer guy checked everything and installed software with no issues. This left me feeling like McAfee is not a trustworthy organization!

When my subscription expired, pop up ads started showing up even though I had pop up blocker on. Once I closed the pop ups, an ad for McAfee would pop up saying to renew my security software. I went to their website and used the uninstaller and the same thing occurred. In addition, I experienced the same thing as another person. A Microsoft window opened and said I needed to contact their tech support to correct the problem. I called and as soon as they answered with a Pakistani accent, I knew it was a scam. I added on a pop up utility to Firefox to stop the McAfee ads and have updated Windows Defender. Coincidentally, my computer has malware when I uninstalled McAfee.

I have had McAfee and Norton and I would say they both work fine. McAfee seemed less expensive at the time I switched from Norton to McAfee. Both work the same as far as I am concerned. I have never had any issues and I am online a lot and sometimes to sites that may well contain viruses. I hate to write this because now I will have a problem but I haven't yet.

I have McAfee and I contacted them with a problem. They told me to call Microsoft Support and I googled it after I let them take over my computer and try to charge me with more virus protection. I found out the number they had given me was for a Microsoft scam phone number and they also gave me more scam numbers to try. I feel so ripped off for buying their product. DO not buy this stuff. Their product obviously didn't work since I had to call them so many times over the problems their antivirus software didn't provide.

Don't buy this product. I decided to give into the hype and buy their antivirus protection. It is the worst I have ever seen. It creates a new window every time I try to open up a website. Every site is either dangerous page or an ad pops up. Some of the ads have the special fun feature of requiring me to close my browser. Using the free antiviruses work better and do not cause problems with your computer.

I paid for a year subscription promo to only get a one month. I tried contacting to get my money back. I continually receive popups and no longer can access my mail accounts, etc. My computer has numerous issues now and not able to uninstall the McAfee. Truly unethical. I will provide receipts, etc. Unfortunately, my computer needs a whole refresh now.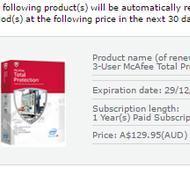 McAfee is a scam regarding their selling methods, they charged me in Australian dollars (???) YES Australian dollars!! (I live in NY) and they charge twice the price of the American product. When I called the service desk, they basically told me: "Nothing we can do about it, you just got caught in our scamming sell techniques." Go to NORTON, at least they are honest.

Pls don't buy from this company. It had froze up my computer and I had to AVG antivirus instead. When I tried to get a refund they transferred me to some Hindu guy that I couldn't even understand properly. Saying that they couldn't give me a refund... Terrible service and waste of money.

McAfee charged my credit card WITHOUT AUTHORIZATION. Then refused to remove the charge. Absolutely horrible CS. Be careful with this company. They will charge your credit card and only notify you AFTER the 30 day dispute period has expired.

I paid a large chunk of money to McAfee two years ago (2014) when I bought my new Dell with Windows 10. The computer got a virus. I spent more than two hours on the phone last Saturday with someone in India whom I couldn't understand. She scanned my files; it took a long, long time. Then she said she couldn't diagnose the problem. On Monday I took the computer to Staples. Staples! The guy diagnosed the virus within a day and re-scanned the files. The computer works perfectly now--and McAfee won't reimburse me for the $174 I paid Staples--which accomplished what McAfee couldn't! So... to recap: McAfee's software couldn't protect my computer and its staff was completely unhelpful and wouldn't reimburse me for fixing what they couldn't fix. I'm done with this software.

When I got McAfee through my HP new computer, I have to renew after one year, and I click in their Website that I didn't want an auto-renew on my Acct. Sure enough they charge my Credit Card 89.99 which was three times more than last time! I dispute the charge, and they sent false papers saying that I did have my permission which is a lie! Now I'm disputing again, and sent a complaint to FCC and ConsumerAffairs!!

I buy McAfee online. I was expecting excellent performance by the one and only McAfee Antivirus Plus but it did not match my expectations. It was worst experience dealing with this product. The reviews on online shopping site was mind-blowing but it was a complete lie. But I must say it is such a disgusting antivirus product in this whole world. When I start scanning it started awesome but in the end it shows that there was no malware but I was able to see the various kind of malwares were floating on my computer screen. I was shocked and stunned.
In the end I would love to say that speciality of McAfee Antivirus Plus is that it detects very keenly. NO MALWARE, NO VIRUS... it is just a cd having hilarious software. I not getting that a billionaire company like Intel is supporting a 2 rupee company McAfee... the first two letters of this product MC clearly indicates which cadre of product it is. I will not say anything else about it else it will be a harassment to the company.

I have renew the McAfee "Intel Security" on 23 August 2016, and paid by credit card 866-622-3911 USD89.99. I'm wondering why can't I use the McAfee to scan my computer and it keep asking me to renew again. What happen, already renew but still keep asking me to renew. Please help to check. Thanks.

After waiting for over 30 minutes and begging to speak to a supervisor at McAfee support, I was told they could not help me with their software!! The company has been purchased by Intel and it's clear they have no intention of supporting McAfee.

McAfee charged my credit card 269.96 dollars for computer security and did NOT provide and on 8-11-16, COULD NOT provide, but two Employees managed to shut down my computer - They, Richard and Richey ** confirmed my computer had been without McAee for 638 days! They did manage to shut down my laptop during their attempt to provide the security. My telephone contact started at 4:45pm. I hung up at 6:50pm and managed to get my computer to reboot!! Communicating with "foreign dialect" employees was very difficult. SEC accepted ONLY a 50 million fine from McAfee? WOW.

Last year McAfee offered to fix my computer and to give me 3 years of internet protection for $199.00. After 1 year was up they tried to get me to renew for another year saying I only had 1 year protection. I was pissed so I told them No RENEWAL and removed their protection off my computer, but when I got my credit card bill found they had charged me $49.99 without my permission they are the biggest ripoffs I have ever seen!!!

Purchased a new laptop that came with McAfee Anti Virus. What a joke. It expired and I did not purchase the software & did not delete it off of my system. Their software blocked my printer and it took a while and cost me $$$ to figure that out. SO I STRONGLY SUGGEST DELETE THIS ** (McAfee) from your laptop etc. right away. Currently in a battle with these ** to get my $95.00 back.

I purchased 17 licenses of McAfee Endpoint Solutions for our company. I have been a customer for 6 years previously. Every computer that I have attempted to download the product on has required hours of assistance from their tech support, on multiple occasions requiring their 2nd level tech support to finalize installation. This product has cost more money in time in downloading the product, troubleshooting problems with the product, re-installing the product than it is worth. It has cost the company more in downtime and installation time than the 17 licenses. Do yourself a favor and find another product. To be honest a one star is too high. The only thing this product has going for it is brand recognition.

McAfee came as free trial on my HP computer. I renewed for a year from the ad on my computer and made the mistake of adding it to my other systems. It took three months to install the new purchased program, and several calls to customer service to get them to pro-rate my account to the time when service actually began. Ten months later, I was billed for the following year which I had not pre-approved. In addition, I tried to negotiate a better renewal fee with them to keep renewal simple. The offer was twice as much as Costco's but the salesperson said they couldn't do better. I purchased a new subscription for the same program at half the price from Costco.
Unfortunately, my installed program lapsed while I was on vacation and I didn't receive my Costco order until I returned. In the four hours between the time my installed program lapsed, I was hacked and could not install the new program without McAfee's technician cleaning up my computer for $99.99. I find this really suspicious especially since my Mac's firewall was activated. I will file a complaint with McAfee for the amount as the supervisor advised that the matter would be reviewed, but I needed to pay for the work completed. I am now wondering why I bothered to install this program at all. It just seems odd that over 400 attempts to hack my computer occurred in a few hours. This will be the last time I use McAfee. I have had a series of problems from the start.

I paid for a full year's McAfee security service last month and received an email receipt. I've now had a pop-up saying that I have 15 days to pay. I contacted McAfee Customer Service and sent a copy of my receipt. They agree that I have paid but told me to either ring the 0-800 number or online chat with their technical people.
Goodness knows why I need technical assistance to solve a proven account problem, but I tried ringing the New Zealand 0-800 number. The line was so bad and the operator's accent so heavy that I couldn't understand a word. So I tried the chat service but couldn't get through to the chat screen because you have to select a computer problem. I have no computer problem, therefore I couldn't get through to the chat screen.
So what now? I've sent another email message but have not had a reply. I cannot find anywhere else to write to with my complaint. I've now read the other comments here on this subject and I'm horrified! Has anyone had good dealings with McAfee? Friends are saying just to take it all off my machine but I can't afford to pay for another service. Does anyone have a suggestion about contacting McAfee?

I found McAfee internet security to be a terrible product and quickly deleted it from my machine. I did not realize that auto-renewal was switched on by default. I do not usually allow websites to store my billing details, let alone auto-renew. Had I been adequately informed, I would not have permitted McAfee to store my billing details, let alone auto-renew. In April I noticed I had been billed by McAfee. I recognized this as a fraudulent transaction (one which I had not given consent for) and requested my bank to charge back. Mcafee had the audacity to contest the charge back and will not refund the moneys. Avoid Avoid Avoid.

My McAfee Livesafe was sold to me under the pretense it would protect my PC from viruses. I caught a virus yesterday and had to pay £59.99 UK to McAfee to have it removed and lost all my personal files as well.

Shelley ElmbladFinancial Software Contributing Editor
Shelley Elmblad is a freelance writer with years of experience covering small business, personal finance and tax software and mobile apps. Shelley's goal is to help others choose the best software to run a small business, track personal finances and save money. More about Shelley→

Founded in 1987, McAfee is a longstanding and trusted name in antivirus software for consumers and business because of how the company has continued to advance products to keep up with a changing industry over the years. Now a part of Intel Security Group, the brand will be eventually be renamed.
Global threat intelligence: McAfee uses this process, which collects data from millions of sources from around the globe, to offer real-time protection against viruses and other malicious threats.
Protection for all devices: One McAfee subscription with a 30-day money back guarantee includes antivirus protection for all PCs, Macs, iOS and Android phones and tablets and Android watches. Anti-theft features for mobile devices lock down the device and can locate it when lost or stolen.
Parental controls: This feature offers filtering and monitoring of what children can access and see when they are online. You'll have to upgrade to McAfee Total Protection at $89.99 to get parental controls. Two other options cost $79.99 and $59.99, and discounts may be offered for the first year.
True Key Identity Manager: This is a secure software password vault that is used to log into mobile apps, websites and devices using a combination of facial recognition, fingerprint or devices.
Home network scanning: McAfee can scan a home Wi-Fi network to detect unprotected devices.
Best for Families, businesses and people handling highly sensitive information.
Compare Antivirus Software
Company Name:

McAfee

Year Founded:

1987

Address:

2821 Mission College Blvd.

City:

Santa Clara

State/Province:

CA

Postal Code:

95054

Country:

United States

Website:

http://www.intelsecurity.com/