Consumer Complaints and Reviews

I had used this service in the past but last year for 2015 taxes was totally ripped off by this company. I called and was told "Too bad for you." I ended up paying them $124.98 for their service and could have had a tax preparer do it for that amount instead of me doing all the work. Shame on them deceitful buttons and I had said "No" at least 6 times to the offer for some kind of extra service they were pushing. Rude representative and shady practices. I see I am not alone judging by the low star rating. H&R Block here I come!!!

This year TurboTax has several errors. It is not correctly transferring information from federal to State (CA). Also, I was disappointed to see on the first page of their Form 540 for CA for personal exemptions. It shows: 2 X $109 = 222. (Instead of 218). I have been using TurboTax for several years (about 15). When I see these kind of errors, I think that it is time to go somewhere else. There is no customer service now that I can call. It used to be ok several years ago. I purchased the software from Amazon.com.

I used TurboTax (CD from Sam's Club) in 2012 and TurboTax online for 2013. In 2012 somehow the tax amount to be paid by me was wrongly calculated and there was $13 due. In 2013, they showed on CF-1040 Form an option for direct withdrawal from account for payment of taxes. However, that option was not available with City of Lansing. I trusted TurboTax and did not double verify. Now when I see their 2013 form that option is not available in box 31. After several years, City of Lansing Auditor contacted me with due amount details along with penalty and interest accrued. So, while TurboTax may be nice for Federal/State returns, be careful while filing City returns and always double verify. At least in this domain TurboTax is not hassle free.

Turbo Tax has a captive audience since they save user information from year to year. However, that does not justify how poor their product has become. Not accurate filings: I have now received 3 IRS letters saying that my taxes were misfiled. Working with a tax accountant, we were finally able to figure out what Turbo Tax had done. However, it took me 40+ hours to refile 3 years of state and federal taxes. Recently, I started a job across a state line and Turbo Tax even had me erroneously submit payments to the wrong state. Difficult to amend: Turbo Tax (even though it is an online system) does not maintain an online ability to amend past year's taxes - so you are left with either downloading old software or when the software fails (as happens often with Turbo Tax) amending returns by hand. Hidden costs: Not including the hours spent refiling, I also have had to pay penalty and interest fees for each year of misfiled taxes.

I have used TurboTax Home & Business for 5 years now and am satisfied with it. I just purchased the 2016 Home & Business edition. It plainly states that it can be used with Windows 7 which is what OS I currently have. The program refused to load so I paid a company (www.justanswer.com) $28 help me and they said the 2016 would not load on Windows 7. I called the Intuit customer service and they told me that 2016 TurboTax Home & Business would not load on Windows 7 in spite of what the software package said about running on Windows 7. They suggested that I install Windows 10 on my PC and then load their software. They went so far to suggest that I pay Best Buy to load Windows 10 on my machine. Clearly unacceptable.
How do I know I can trust these reviews about Intuit?
670,460 reviews on ConsumerAffairs are verified.
We require contact information to ensure our reviewers are real.
We use intelligent software that helps us maintain the integrity of reviews.
Our moderators read all reviews to verify quality and helpfulness.
For more information about reviews on ConsumerAffairs.com please visit our FAQ.

Decided to use TurboTax for Oct 15 (late filing) of taxes for a small business. Have had problems with them in the past, but figured where there was ample time to rectify any defects; since the regular filing date of April 15, I thought I would give them another try. Worked through the screens offered by Intuit to calculate Fed and State of Ca taxes. Both returns were majorly in error. There were fields in both the Fed and state taxes that indicated we had made quarterly payments. I never entered such information.
Initially, I started to work with accounting (a CPA). At this point in time all I wanted was a return that was representative and accurate. The Intuit CPA found the errors and suggested that I contact their Flub Unit to obtain a payment for the penalties that ensued (a part of their guarantee). The Flub Unit was very curt. They insisted that I had entered the numbers for the quarterly payments, which believe me if I had made them, I certainly would have remembered (On both counts... having paid them as well as entering them into the tax program). Believing that their computer program was in error, I proposed that I go through the entire TurboTax process again... thus providing them an opportunity find out where the numbers came from. No cigar. I sent an email to the Flub Unit encouraging them to get in contact with their accounting department and there was no response.

Intuit/TurboTax uses a 3rd party to process your refund if there are any charges (e.g., state or audit). You provide your information for the refund (check or bank routing number). TurboTax overwrites this refund destination in your submit to the IRS to an acct with SantaBarbaraBank (SBB). TurboTax however DOES NOT PROVIDE you with any information about this account other than a generic URL https://sbtpg.netverify.com/ which asks for an account number you have not been given. TurboTax when called starts with promise to satisfy your issue, but CANNOT DO ANYTHING about the account they established on your behalf with SantaBarbaraBank. It is not their responsibility.
How can Intuit/TurboTax be considered reliable if they force you to a 3rd party they take no responsibility for. Asked the TurboTax hotline to be escalated to someone responsible at Intuit for handling this specific issue and after multiple tries, was told only that someone would review the notes and contact me. Which has not occurred. DO NOT USE THE TurboTax feature to have processing fees paid from your return. It does not work as presented AND you have no recourse when it fails.

We had been using Turbo Tax for years with no problems... Or so we thought. Then recently we had funds in a savings account that were seized Premier Credit who were collecting for the Indiana Dept. of Revenue. When we called the DOR they said it was for failure to pay 2012 taxes of $462. Looking back on our records, we showed a confirmation from Turbo Tax that the tax return was submitted to the IDOR and funds were to be withdrawn from our checking account to pay the taxes owed.
Fast forward to this year. I try to withdraw money from our credit union only to find there is a tax levy on the account and they are seizing $237 from the account. This came as a real shock as this is the first we knew about any problem with the DOR not getting their money. The bottom line is that now, instead of owing the DOR $462 we owe them over $1100 because of penalties. A call to TurboTax offers no solution and they actually hint that it's "our" fault for not checking our bank account to make sure the funds were withdrawn. Really? I don't mind paying the taxes that are due, but I am not willing to pay the penalties for something that is obviously NOT our fault... Especially when we received a confirmation email from TurboTax for the 2012 return. This whole thing has turned into one big fiasco. I will never use Turbo Tax again.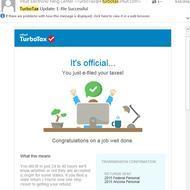 TurboTax messed up 4 times in filing my paperwork and finally fixed it so the IRS would accept it. After a few months I needed my tax return, so I go online to download it just to find that it was only the original document WITHOUT any of the changes. I called and figured they could easily fix that and the woman just kept arguing with me about the fact that there were no changes made. Now I have to go to the IRS and get the proper documents because TurboTax only has the messed up ones.

TurboTax does not calculate the modified adjusted gross income (MAGI) correctly. The problem is that the TurboTax MAGI calculation worksheet used to determine passive activity limitations, does not include social security benefits, thereby making the MAGI appear lower than it should be. In my case, I have social security benefits. That should have been added back in the the AGI to determine the MAGI. Because TurboTax didn't include it in the MAGI calculation, I will now owe 2015 back taxes, fees, and penalties as well as back additional medicare fees. I have attempted to contact Intuit many times to resolve this issue, but they have never responded. My experience with TurboTax has been very costly and I do not recommend it to anyone especially those that have a home business and rental property as I do.

I have used TurboTax a dozen time since my first one. This time I didn't get my taxes. Received Jan 19, after a month I tried to contact TurboTax. They are robots. Don't have a way to talk. First my w2 was fraud filed so I had to prove my identity. Then they gave me a deadline for 4 weeks to review and they would send a letter or check. They missed deadline. Then they said 4 weeks, no response again etc. It is now October and they gave me another deadline. This has happened to majority of TurboTax users, just read message boards. I truly believe that was their fault. Unless you got extra money and aren't depending on it, try for yourself. They lost my business. Oh and the fees they charge you for certain warranties, if it is not paid by our refund they take it out of bank if you don't get your refund after a month or two.

I have purchased tax version home and business for years 2013, 2014, and 2015. 2013 and 2015 both have had errors that wiped out part of my refund. They claim they get you the best return. Did better when I did it using the fill in forms from IRS. Don't waste your money. I will not use again. They test their product using data that will work without a hitch but when I put in my savings bond income that was used for education and should have been tax free I ended up paying taxes on it because their software could tell the difference between 1027 and 1027. Both are the same but software said differently and I was stuck in a loop where it wouldn't transmit. I have to give up the tax free status and pay the tax on it just to get it through. Cost me $200 of my refund.

Filed for an extension. They randomly decided to wipe out all of my info online. I called a number of times and complained until I got something for my troubles (software). They claimed it was free and wouldn't wipe out my information. Did the return AGAIN, then they tried to charge for the software. Called a few more times. One person said I could get a code if I called back when I was using the software and get the charge wiped out. Called again to execute... no such thing. Claimed I could only print and send the state to avoid payment. Tried to e-file the Fed return. Got kicked back for verification issues. Nothing but a headache just to PAY TAXES (no refund). How can a presidential candidate evade taxes (of which could single-handedly fund a government organization) but I can't pay my taxes without the struggle of a lifetime? Free or not... I WILL NEVER EVER EVER USE TurboTax AGAIN!!!!

Turbotax offers the choice at the beginning of the program to walk you through "everything" or else allow you to "choose" for yourself what you want to work on. I chose the latter since my taxes are fairly simple. The only difference that year were nontaxable rollovers. Turbotax, however, did not distinguish between my pension and these nontaxable funds, even though I had explicitly specified that my pension was taxable and not an IRA/SEP/SIMPLE. Box 2a, moreover, defaulted to the nontaxable category. This contradiction should have been flagged in Turbotax's final review.
When I called Turbotax to say there must be a problem given the huge tax refund, they said they stood by their product. I subsequently called Social Security, my employer, and TurboTax for assistance. Eventually, the IRS hit me with a notice and fine, etc. Only by going walking myself through "everything" did I discover the problem. When I informed Turbotax about the IRS, the rep was rude and completely resistant to taking any kind of ownership with the problem.

I don't understand all the problems others seem to report. I've been using it to do my taxes for 20 years without problem. And my situation includes filing a K-1 for a partnership. Own my own home (primary residence, no vacation property). Manage my own stocks/bonds/investment portfolio. Retired with both regular and Roth IRA accounts. I've had no problems. For cases where people have filing issues, makes me wonder if they know how to do things right and get e-receipts to assure the filing has been accepted/received by the IRS.

We filed our taxes and I received a corrected W-2 from my employer for about $1,200.00 extra due to being on medical disability for 1 month. We filed an amended return and paid an extra $780 federal. I received a letter from the IRS asking for the related documents for the amended return (I thought these were already provided to them?). After sending them the corrected W-2, I received another letter saying I owe and additional $1700.00. How did they mess this up so bad? It's the weekend so I haven't been able to contact them yet. But I certainly won't be using them ever again and hope to get a refund on the cost of the software at least. DO NOT USE TURBOTAX!

TurboTax did not file my tax return properly and I got a penalty from IRS last month. After I filed a claim for accuracy with Intuit - TurboTax, they sent me an email asking me to contact IRS and saying that they do not receive any incoming email... Does anyone like to buy the no reliable services?

I have tried to use TurboTax for at least the last 3 years. Year after year, I get a notice from the IRS that I owe. I will never use TurboTax again, and I will tell everyone I know to never ever use them as well. I cannot stand these people.

We purchased the 2015 TurboTax CD and did our return... Then a friend asked my husband, who is an accountant, to do his. Supposedly, we can do up to 5 returns on our account. When we went to create a new return to do his friend's taxes, THERE WAS ABSOLUTELY NO WAY TO CREATE A NEW RETURN... This is the most user unfriendly program we have ever used. Never again will we buy another TurboTax product.

I used Turbo Tax and never again will I ever! I tried doing my own taxes and I will never do that once again either. How on Earth, was my identity stolen for one? Also, now I have had to wait an additional 6 weeks and no feedback, no letter from the IRS. Nothing! It is craziness. I have called the internal revenue service and now I am going to have to mail in a form to the IRS Advocate address, because I need assistance. Where is my dang refund? I got my state one, so..??? It is ridiculous and not right at all to say the least! I e-filed my taxes the first time and that was a really long time ago to begin with. The second time, I was told to mail my copy in and I mailed in to the Texas address and nothing. I don't really know what I am going to do right now, though. Who knows where it is and I am to the point of just giving up. I guess I will just get another damn letter? LOL!

Filed my taxes with TurboTax. Received a letter from the IRS two months after filing, needing more information. In the meantime, turbotax double their fees for service and took it directly out of my bank account without warning. Never using them again and I hope others hear about their deceiving ways and do the same!

I used TurboTax because Tax Act upgraded their online security so much that it would not let me log on. Beware, they charge an almost $40 bank processing fee and a host of other fees that were probably disclosed somewhere in fine print. It is June 4th now and still no refund. What a scam!

Been paying taxes using TurboTax home business for the last 8 years. Found out TurboTax never asked me to pay Hawaii general excise state tax. Now I owe thousands of dollars and I thought using this software would keep me legal as I go. Now I am ruined.

Got a letter from the IRS stating I owed them over $5000 and I was using TurboTax for my tax preparations. Bad part was I used it while millions were using it at the same time just like what they did to the PlayStation network and the Microsoft servers. Too much requests at the same time made it glitch. I wouldn't believe TurboTax when they say they check their servers and found nothing wrong. Of course nothing was wrong now but there could've been something glitch. When a lot of people went on to their servers, that's how it glitch.

So TurboTax gets an "F" for the year. We filed our taxes on Mar. 31, and I was very careful entering all our data and so on. I paid the $65 fee to TT for the filing, and had them send our refund directly to us (direct deposit). We entered the account details, my wife was watching as I did all that, she remembers distinctly that I double-checked all the account info for the refund. Well, I didn't double-check my return (before filing) so the refund went to some unknown routing and account number somewhere... We looked at the routing and acct numbers that are on the actual 1040 form and they didn't come from anything I typed... Way to go TT, you failed this year, and I paid $65 for that?
The refund was issued on April 8. The "Expert" I just spoke with said it would be bounced back to the IRS within 10 days, since details (name on acct assumedly) do not match. Then, the IRS cuts a check and mails it to you. 5-6 weeks later, you get your refund (by next year most likely). Again, thank you TT. We will NOT be using TT again! Don't they test that stuff?

My experience with TurboTax and Intuit who owns TurboTax has been the worst customer service I have ever tried to work with. I have called at least 20+ different times trying to resolve a billing problem and cancel a service I don't want. All they do is give you a different number to call or hang up on you when you ask to talk to a supervisor. Don't do business with this company. They will not cancel their bad service and will continue to bill you and hang up on you. Now when I call I get a message that the company is having a business meeting in the middle of the day, then call ends. Great service **.

I have used TurboTax for years but never again. Due to banking at a certain bank my State Tax was to be free. Nope didn't happen. When I wanted to file my taxes there was a charge of $59.98 and I am still not sure why I was charged this. I have sent three emails, chatted with someone online and spoke with a representative. I was hung up on after refusing to let this person take over my computer. I don't think so. I asked for a supervisor, he said he was the supervisor and I asked for someone in the United States and he refused, then he hung up on me.

Have used TT since 2008 and, while I've run across times when I didn't agree with the results and had to revise to my own version, I expect computer programs to handle simple math and transferring info from one form to another. (I'm terrible on arithmetic, so rely on calculators and programs like TT to handle the those basics.) In this case TurboTax 2014 manufactured a withholding amount of $800 some dollars on my pensions out of thin air. That created a refund, that was fictitious, only I didn't find out until over a year later! There was another item I needed to research, so I filed an extension in April 2015. When October came around, I forgot about doing the final filing. When I did remember it, I didn't worry because I "knew" I had a refund coming to me.
I finally got around to filing in April 2016, only to have IRS return the form asking for documentation on the withholding. When I checked the TurboTax file there was that fictitious $800+ on the 1040. When I drilled down, the source document was my pension and that $800 figure (properly) was nowhere to be seen. I was in shock. I was going to have to pay penalties and fees and... Oh no! So I went to town, where we fortunately have a local IRS office and spoke to them. Since I only owed about $100, my total due would likely be under $200. Not great, when I was expecting a refund, but survivable. Whew!
My next plan was to get more info from the TT file and complain to TT. The file was gone! There is no sign of it anywhere on my computer (neither a .tax2014 nor a *pdf file). I'm relatively computer savvy, so I checked EVERYWHERE! I found the program and a 2014 file for someone else that I'd done, but MY file is totally gone. How can a computer program do this? I'll never trust TurboTax again. (BTW, tried to add a copy of my Amazon order page for TT, which I downloaded from Amazon and your system said "file type not allowed".)

TurboTax failed to calculate taxes correctly when APTC repayments are required. The software seems to focus on the penalty calculation rather than the tax calculation. It does not accept Form 1095-A entry if you had ACA Marketplace coverage for a portion of a year. From this it generates IRS Form 8962, which is required to compute your premiums, and subsidies, and whether you are entitled to the APTC. It never completes this form, nor gives you an option to do so.
In my case, TurboTax finished the return and calculated a total $2,210 Tax Due without considering that I was required to repay 100% of the APTC received in 2015. I got a 12C letter from the IRS, requesting I submit a reconciled form 8962... which is impossible to do with TurboTax. I downloaded the form from the IRS with instruction, completed it, and it turns out I owe the IRS an additional $3,318 for which I had to file an amended return.
So Turbo Tax was off by $3300. Nowhere in the 2015 "Premium" package do they offer the opportunity to complete this form accurately. They do review your form 1040, say it is "done," and let you file it electronically while claiming that they will ensure all forms and calculations are accurate! Next year I plan to use a CPA to prep my taxes. Definitely less expensive than TurboTax!

A friend of mine told me that she would help me do my taxes using TurboTax because I needed to save money. We sat down and she helped walk me through the process. But, we both felt like there was something wrong so instead of going through with it I told her that I didn't feel comfortable going through with it and decided to pay someone else to do it. A month later I look at my credit card statement and they charged me. I did not authorize them to continue with the transaction and they charged my credit card. I called and the lady refused to let me speak to a manager and kept asking me how they got my credit card number. I was so furious with trying to get out of refunding my account and the problem didn't get solved. Pay someone else. They were off on my taxes and they will take your money anyway. Worse customer service.

Melissa Hincha-OwnbyTax Software Contributing Editor
Melissa Hincha-Ownby is a freelance writer who finds joy in doing her taxes, testing new tax software programs and sharing her experiences with others. More about Melissa→

TurboTax is one of Intuit's many financial services products. Intuit, which was founded in 1983, has kept TurboTax at the top of the tax software industry. In 2013, more than 26 million taxpayers across the nation used a TurboTax service.
Portability: Intuit's TurboTax software is available on a variety of platforms including web-based, local software installations and even a dedicated iPad app.
Expert advice: TurboTax customers can chat live with a tax expert at no extra charge.
Business support: A Business version is available for use by multi-member LLCs, partnerships, S corporations, C corporations, and estates and trusts.
Review: Intuit removed the option to have a return reviewed by a Certified Public Accountant, a benefit that set it apart from competitors.
Customer service: Contacting customer service by phone is challenging; the TurboTax website requires customers to use a web form to provide contact information and view online help before releasing a phone number.
Best for Sole Proprietors, Small Business Owners, Taxpayers with Special Situations
Compare Tax Software and Services
Intuit - TurboTax Company Profile
Company Name:

Intuit

Website:

http://www.intuit.com/