Consumer Complaints and Reviews

I used to use TT online every year, as I usually qualified for a simple 1040EZ, and it was free. My state doesn't have income tax, but if it did, I'd still have paid TT to process the state return for me based solely on how quick and easy the process was. Now it's different. Being married, living in Nevada and submitting Married, Filing Individually apparently brings a requirement to fill out a small and simple form for Community Property declarations. TurboTax won't provide this for you under the free service level, which I understand, from a business perspective.
However, the site waited until the very end of all their wizards and animations and form-filling to tell me about this. Half an hour spent filling out all the stuff, going through their (completely pointless) "checking for errors" animation delays, skipping their constant nagging to pay for unnecessary add-on services, only to be told at the very end: "Whoops, you actually HAVE to upgrade now because the free service doesn't do additional forms you need to submit." The site could have easily let me know about the requirement way back in the beginning when it had all the initial details needed for it to know upgrading would be a requirement.
On top of that, even after I'd acknowledged the necessity and accepted the $34.99 fee (to add on a form that has THREE WHOLE FIELDS I had to fill out), I am then presented with an invoice that has tacked on ANOTHER $34.99 fee, which is supposedly some kind of convenience fee for letting them take the FIRST fee out of the expected tax refund itself...? Right, thanks. So now they've wasted my time and waited for me to enter all of my information (including my bank account info) before they jumped me with fees that weren't expected or even actually clear until the very end.
Oh, and I can't just cancel the return either. They have all my information, including the info from previous years (which, oh look, now they can't retrieve and populate for you unless you pay!), and I have no control over what they might do with it. Hey, if they're now trying to get extra money out of me, what's to stop them from just selling my info off? Then again, I now have a strong suspicion they've already been doing just that anyway.
Look, I get it: tax preparation *can* be a convoluted and intricate process requiring people and software who know the complicated US tax code inside and out. That costs money, sure, but I very strongly object that companies like Intuit are trying to milk the tax preparation process so heavily. Taxes are already costing us money (it's not like a tax refund represents everything we've been paying over the year), so why am I expected to help a company get filthy rich letting me fill out a stupid form and send it in to the IRS? The financial landscape has not changed substantially enough to warrant their ad-heavy, fee-happy behavior toward the basic tax returns people.
My tax return doesn't carry any of the aspects that would require the help of a tax professional; I only needed TurboTax to act as a portal to e-filing to the IRS, that's it. For a long time, it was very good at doing that, and I was always quick to recommend it to anybody who asked me if I knew of a good tax preparation solution, even to those who knew they'd be paying for the service.
Since Intuit decided to be shady by hiding their changed fee structure and free service limitations until the last minute, I'm moving on. These last couple of years have been heavily tarnished with major company financial information hacks, and Intuit made darn sure they got all of my details before they presented me with the zingers that would make me not want to use them, and worse, don't provide a means of cancelling the process and clearing out your information.
Next year I'll have need for more complex (paid) tax prep services, but because of their sneaky tricks this time, I won't be coming back to TurboTax. Who knows what kind of additional fee padding they could work into the program once the forms and numbers get thick and complicated? Meanwhile, I went over to 1040.com and e-filed with direct deposit completely free, including that additional form, in ten minutes flat. No pointless animations and constant upselling, no bait-and-switch tactics with your information, no last-minute gotcha fees. By making the process as painless and quick as possible for a free-level customer, they've ensured I'll be back this time next year when I need more in-depth paid service.

I paid for the Deluxe version to file my yearly taxes and paid the fee of 34.99. There was also attached another fee in order to e-file and establish an account to have my return deposited in. So in order to file my return which was an EZ return the cost was $70.00. Paying for turbo tax is reasonable but then on top of it to pay to have my return processed by a bank is unreasonable. The IRS sends their returns free of charge and 34.99 is not only unreasonable but appears to be usury. Criminal and will never use Turbo tax again. Beware!!!

I filed my taxes with Turbotax today (February 2017). I paid for the services, they charged my credit card. When it got to the end, it said my file has not been completed and to return in February to file taxes. If that's the case, why did they charge me? We are in February, so when do you want me to return back? Because obviously you guys don't know that it's February when it is February. I would like my money back. And why do they not have a phone number to call without having to pay 30 dollars to just have someone call me? That is the biggest rip off and biggest crap ever. I don't think they should be allowed to do this, and if this messes my taxes up, they are responsible for my money back and to fix any and every issue I might run into.

I understand paying for the Deluxe Edition, as my daughter's return (which I am preparing) deals with college expenses for my granddaughter. That's a $34.99 charge I understand. However, they're attempting to get $34.99 just for letting her take the charge off her refund seems very unfair, so I gave my Visa card number instead. Then, when it was time to file the "free" state return, which had been called "free" throughout my preparations, it suddenly added another $36.99 to the charges. Outrageous. My daughter is a low-income single parent and can't afford the state charge. I decided to leave Turbo Tax and find another company with a free state return. However, one cannot file only the state return with another company. The entire federal return's information must be entered, and I don't have the energy for this.
Yesterday I spoke to one of their reps, who told me she could offer me 20% the state charge. I declined, as I'd like the entire charge removed. Today I called back to get the 20%, as anything is better than nothing, and I was informed that, since they have my Visa number already, it's too late. I'm stuck with the entire $71.98 (Deluxe Edition plus state return). So here's the lesson for all you Turbo Tax users, never put your credit or debit card information on their site before you negotiate the 20% off. Apparently they are not allowed to give more than that, according to today's representative, whom we assume tells the truth? Who knows. I'm very, very disappointed in Turbo Tax. This excellent customer is going to find another company next year.

My husband and I made a mistake on our taxes this year. As a result his taxes were rejected and we would not be able to file them through Turbotax. We have been using Turbotax for 5 years. Not only did they refuse to give us any credit back to potentially use next year, but refused to refund us. How is it possible to obtain payment for a service that was ultimately not rendered? Taxes are stressful enough, and having to deal with this type of corporate greed is beyond frustrating. I feel like we always wind up dishing out hundreds of dollars to file our taxes through them. They can pat themselves on the back, they've lost our customer service.
How do I know I can trust these reviews about Intuit?
693,837 reviews on ConsumerAffairs are verified.
We require contact information to ensure our reviewers are real.
We use intelligent software that helps us maintain the integrity of reviews.
Our moderators read all reviews to verify quality and helpfulness.
For more information about reviews on ConsumerAffairs.com please visit our FAQ.

Warning there is no warning in the program that if your Federal Tax Return is rejected your State Return will be rejected. I filed both returns at the same time and my fed return was rejected because some crook had already filed in my name. I had to file my Fed and State return by US Mail and Intuit will not refund my money because they say they filed the return and it was not their fault my returns were rejected. This is BS because if there had been a warning in the program about the rejection possibility I would have held off on the State Return and saved my $20.

I purchased the deluxe version from my "big box store" as in previous years, installed according to the usual process, and entered my tax information as in the past 20 years. Surprise, trying to fed efile I got an error message that my browser was not secure. I contacted my expert PC service person and he worked on my PC for about an hour without success. I called Intuit and was on the phone for about 1-1/2 hours without success. I printed the fed and state returns and had to mail them! Trying to efile the state the software required me to pay about $39 when the page said state efile was 19.99. I smell a scam somewhere. I will no longer be using TurboTax but will purchase a different software like TaxAct or Block's. Bye bye TTax!

TurboTax make upgrade their app then charge you. But don't ever have them take their fees out of your refund. They will charge you almost double and it isn't rapid refund. Once I was in the app doing my taxes and realized it wasn't free. The app would let me go back to the free version. After 2 hr messing with this I hit OK. Worst mistake. I called the next day. They told me to call back after I received my refund so I did. Was on the phone 48 minutes for them to tell me I couldn't get my money back. After a bait and switch I had only 1 deduction. No state taxes. What ripoff. Never ever again. Fake ass crooks.

TurboTax offers a free way to file your taxes online but, when I attempted to do this, you end up having to buy the software and they (TurboTax) decides what level of the software you should purchases. Now, I have been my own taxes for approximately 30 years. (I usually use H&R Block tax software, but for some reason it would not allow downloading the premium package on the business package.) I called and spoke with someone from H&R Block and they tried to assist me with the issue and to no avail, they decided to refund my money.
On February 5, 2017, I decided to try after what I thought was careful research regarding the product. I proceeded to the TurboTax software because they advertise that it is free. You are required to start your tax filing process and by the time you are finished entering the appropriate information a screen will pops up stating which software you should buy. So it's not FREE AS IT IS ADVERTISED!
So, against my better judgment, I decided to buy the $55.00 package and complete the filing of my taxes. When you enter your credit card information the correct price, in my case the $55.00 package, when you hit submit you are charged for an additional package that you did not request. I called the TurboTax people immediately, informed them of the error and I was told that if I submitted my taxes there would be nothing they could do. Fortunately the CSR I spoke could see that my taxes were not filed and stated the transaction was pending so I should not have a problem. After the CSR kept me hold for a long period of time stating she was contacting the appropriate parties within the company, eventually told me that I would be charged for the transaction and no monies will be returned to me. The CSR did not even care that I was charged more than I authorized! I did get in touch with my bank the same day and informed them of same.
I was informed that they will try but sometimes when you hit submit (it will be something to the effect of a no refund policy or something), there may not be anything that can be done. Also, to top it off, I do not even have access to the software as of the date of this complaint to you. I believe... no I am positive that this practice by TurboTax is prevalent and people are being cheated out of hundreds dollars with the fraudulent way they cram extra money onto your credit card. PLEASE HELP!

I just finished doing my 2016 taxes with Turbo tax. 3rd year in a row. Only this year, they STOLE $139.00! from my return! Do not think for a MINUTE THAT IT IS FREE! IT IS NOT! Oh, and the "talk to an adviser" button, DOESN'T EXIST! NEVER AGAIN!

I declined the Max Benefit service but I was automatically charged for it when filing my taxes online. TurboTax states the Max Benefit service cannot be refunded once paid for -- even though I declined the service and was charged in error.

Last year I thought, "Hey let's try this company. It sounds great." But now they hold my 2015 tax return from me unless I pay $35. So then I said, "Okay I'll pay it," and then use the free version to continue. Yeah right! I got so far into the process and what do you know? If you don't want to pay more money then they continually tell you you're going to start over "from scratch," and this phrase is repeated multiple times. Tell people that what they're typing is worthless and see how many clients you lose is the game I guess. So now I tell every single soul I know about how they like to take advantage of people who have no clue why they even typed in their name or information.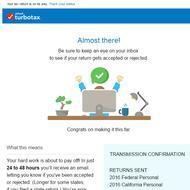 I have done my taxes using TurboTax online for the past 3 years (since my 2014 taxes), and I will NEVER AGAIN go back to paying someone to do it for me. I'd rather do it myself and pay NOTHING. I used to pay a professional tax preparer $40, then $50, then $60, going to the same person to make it easy, but then it doubled the following year to about $160. That's when I decided to check out TurboTax.
Some people gave bad reviews because they assume that if they don't get the advertised $0 filing fee, etc. that they have been conned. Every tax situation is different, and some tax situations require that you pay a fee, i.e. business taxes. For personal taxes and simple situations, just don't opt in for the options that require payment, simple as that! Do it yourself and you don't have to pay anything. Now if a professional tax service charges you less to get the SAME THING done, go for it! Go do it somewhere else!

I was doing my taxes via TurboTax. When I started I put in free-Plus. I finished and was trying to send them and a message came up that I needed to upgrade to the Deluxe Edition. I tried to go back it said I needed to delete and start over to get the free/Plus edition. I called them and asked why is making me pay for the Deluxe ed. All I got was the runaround "Are you on the account." I told them it was mine and my husband's. They said "We can't talk to you." I'm like "My name is on the return and I just talked to someone else yesterday." She continued tell me I wasn't on the account. I told her that wasn't right. It is a joint return and I've been using it for years. All she had to do was tell me to go to the account settings and add my name. Instead she said "No I can't talk to you."
I didn't want tax advice. I just wanted to know why they were charging me more and she just kept saying "I can't talk to you" like they didn't want to address the price change on the web page. I hung up are that because she wouldn't explain to me the higher price and why I couldn't go back. I have no deductions. Just 2 w-2's. That's it. No dependents. Nothing. I only needed the 1040 ez one. I don't think they want you do get it free. I'm not going to do them with them next year and maybe removing my information this year and going somewhere else.

I like using them. They seem to be very easy, complete and helpful. However I had to pay them over $100.00 and could not seem to find a way out so I had to agree to let them deduct it from my little tax return. They did a nice job however it was definitely not free as advertised and they also did my State return and I could not seem to decline them doing so. I could have done my State return for free on my state website as I have always done. I guess some is my fault since I'm not real computer savvy. I could not find the right thing to click on to exit and decline them filing my State. Plus they added almost an addition charge of 40.00 at checkout, not at all sure what that was for. I will most likely use them again however I will be a lot more careful about with I'm paying for before I complete it. I was I guess too tired to keep trying to figure out how to decline the additional charges.

Been using TT for several years. 2016 comes around and at the payment portion I decide, for the first time, to have the fees deducted from my return. When I get to the payment, it appears that I need to sign up for a premium service, which I don't want to do. So I go back and select CC payment. Guess what, it has processed my fees at the upcharged amount of $111.00. So I call CS and after being put on hold for an hour waiting for a supervisor to approve the refund for the premium service, I'm told that my request has been denied! What?!? Further discussion with the service rep was futile so I just hung up. I'll definitely be going elsewhere for my tax preparation needs next year.

I filed tax return with TurboTax. For child tax credit TurboTax asked me how many years lived with me my newborn. It's 4 months since my baby was born on September, TurboTax didn't mentioned that newborns may be treated as they were living for more than half a year. As a result TurboTax didn't add $1000 for child tax credit.

I bought TurboTax from Costco and when I got home my new computer does not have CD drive. I called TurboTax and they said no problem and they fix it. After being hung up three times and told to called another number because they said I owe money which is ridiculous. Then they said they would called back which they never did. I recommend you don't buy TurboTax. You never get your issue resolve.

I logged online to file my 2016 taxes. I selected plus because it states that federal and state are federal e-file. When everything is complete I select to have my 29.99 fee deducted from my refund. As I proceed to check-out and confirm to have it deducted I notice a 34.99 fee added just have it deducted from my refund. It's considered a premium feature. I called and stayed on the phone with them for 45 minutes for nothing to be resolved. They basically told me I had to pay the extra 34.99 to have the original 29.99 deducted from my refund which made it a total of 64.99 just to file a simple 1040 EZ form!
I explained I have used Turbo-Tax the last three years and NEVER has it charged me a premium fee to have it deducted from my refund. It makes no sense for me to pay for the premium package. I don't own a home, I don't own a business. The premium package is for more complex situations. In not receiving any of the benefits from the premium package why should I have to pay an extra 34.99 for it to be taken put off my refund directly. It's OUTRAGEOUS!! They told me to delete it all and start over. Which I did and did not change anything. In order for me to pay for just the 29.99 I had to pay with a debit card.
I explained to them how it's false advertisement, if I would have gone to the store and bought the same plus package at the store and put it on my computer thinking I could e-file and have to deducted from my refund free, only to find out that I would have to pay an extra 34.99 after I completed them. Nowhere on the packaging does it state that if I would like to pay for it through my refund would it charge me an extra 34.99. So needless to say it's completely frustrating and taking advantage of the consumer during an already stressful tax time. Definitely will look for other tax return options next year. It's crazy to 64.99 to file taxes for such a simple filing. Something needs to be done. The worst part is the representative told me this was an ongoing problem this year that they already know about. So then why haven't they fixed it!!

Filed on a new account and return was rejected due to incorrect 2015 AGI information. Filed MFJ, but the 1040A combines AGI for both spouses. However, TurboTax required individual AGI amounts, which is not easily obtained, unless you're a tax expert. Later, I remembered my old account I used for all my prior returns, so I logged in and filed again so it would automatically pull in my AGIs from last year. The first time I filed, they charged me over $70 to file. When I logged in and filed using my old account, it was free. Same information, same tax forms, two difference prices. Called and was refused by 2 supervisors for a refund on the rejected return.

I did my taxes online and at the end they ask you if you want to purchase (upgrade to) TurboMAX (by putting an add-on to your charges), but I removed it (opted out), because I don't need additional services. HOWEVER, when I see my final itemized charges, the $39.99 upgrade is included in the bill. I clicked back into the charges again and removed it and went through the whole process and the charge is still there. I had already gone through the whole filing process, so I did not want to cancel my transaction, so THE ONLY OPTION is to agree to the fraudulent charges... or cancel the whole process. I called the number on the agreement, 877-908-7228, but there was no option to talk to anybody. NEXT YEAR, I WILL GO SOMEWHERE ELSE BEFORE I EVEN START THE PROCESS WITH THESE CROOKS.

Although it seems that TurboTax's claim for free file is that if you can be covered by 1040EZ you can file for free, that was not my experience in using it. I was unsurprised and considered it fair that they put repeated ads for their more expensive options, but I could opt out of those as I began to the filing process. However, when I finally got to the end, I was told that because I had a 1099-INT, I would need to pay more to use a 1040--but that just isn't true! That is only required if the interest income is greater than $1500... and mine was $300 from a bank offer.
And after this, I found that I could not longer enter or change details about my "other income"--taxable student scholarship, and that this too would require paying over the big bucks, although this is also trivially covered on the 1040EZ. So basically, the classic tax technique of pretending to be free, but actually changing the deal available right after you have invested time with them. Thankfully, I won't fall for their ploy. I can file elsewhere. (They seem the most expensive, too!)

Don't give them your credit card number - NO REFUNDS. I left my job and closed my 401K. Because of this, TurboTax required me to purchase their completely unnecessary $38 "Deluxe" version to file my Federal taxes. Then they wanted an additional $35+ tax to file my State tax, and an additional $35+ tax to pay with the tax return. I paid with my debit card. Big mistake!! My tax return was REJECTED by the IRS and TurboTax would not refund my money for the Deluxe service which I cannot use. They want me to pay for it again!!!

Turbo Tax Online - Watch out for their billing scam. They say they do it for free but want your credit card information and charge their top service. They tried charging me twice for their top tier program when the filing was advertised to do your taxes free. I called them to resolve the matter and they ignored my request to refund the money. I disputed with my Credit Union right away.

I am trying to file taxes for 2016, and when I tried to get the information from last year's taxes there was no record of me filing even though I did it with TurboTax and the IRS website was having technical problems. I called the customer service line and the person I got was not any help at all. If you call and get a "Denise" ask to be transferred to someone else as she is not going to be any help at all.

I have been filing my taxes on TT for many years and have done so due to ease of use of the software, this year, I usually file the EZ form due to not having to itemize anything. State and Federal and I have been able to get my w2 form easily transmitted electronically, at the point of sale I get this edit which says on top of the $40 I would need to pay an additional $31 to finish the state and the refund for the state would be included in my Federal refund or I could opt to wait since the state filings weren't ready yet I would come back to TT and pay to do the State filing later.
So I paid $71 and when I got my refund today, it didn't include the amount I was told on the form at POS only the federal, and on top of that they have a site where you can file the same forms for Free. Well it would be nice if they just made that option available on all the TT sites, this will be the last year I file with TT free or paid since they just ripped me off for $71, I'm done. And there is no live people to call just some online blogs, that is of little use.

I have been using TurboTax for a few years and liked the idea of being able to transfer information from one year to the next. I needed to update some personal information this year and was unable to do so. After several calls to TurboTax the situation was finally resolved but I found it unusual that it was so difficult to update my information. After finally finishing up and getting ready to file, I had to continually reject the Turbo Max, an optional additional service at an additional fee. After clicking NO I don't want this service 5 times, it continued to add the service to my bill, which I removed 5 times. In the end, I ended up with and paying for the service anyway. I called customer service to correct the forced charge and was told, "sorry no refunds". I feel ripped off and likely won't return to TurboTax next year.

I filled out my taxes with TurboTax again this year 2017. I never had a problem before, but it seems they want to get your money no matter what. First the adds are confusing you all the time, they tell you they will get more money for you if you pay extra, you will do it when you see twice the amount of refund and at the end, after you sent the Federal tax, and start the State tax, you realize that something is wrong and it was a number converted from 1000 to 10000. I wonder if it was an error done on purpose. What at the beginning was a free offer ended on almost $100 plus an amendment to fix the Federal Tax also. This is my last year with them.

I was charged for Max Benefits even though I did not want it. When finalizing my taxes I didn't click on the last link that says remove it. When I called to ask for a refund they told me that it was required in California and it could not be removed. This was a lie since I just did taxes for a friend who also lives in California and I was able to process his without the Max Benefits. Why did they lie?

Extra service fees - I was made to believe I needed to pay the upgrade fee to file my taxes and then realized I didn't need it. I immediately tried to cancel and they said it was too late. What a rip off.

Melissa Hincha-OwnbyTax Software Contributing Editor
Melissa Hincha-Ownby is a freelance writer who finds joy in doing her taxes, testing new tax software programs and sharing her experiences with others. More about Melissa→

TurboTax is one of Intuit's many financial services products. Intuit, which was founded in 1983, has kept TurboTax at the top of the tax software industry. In 2013, more than 26 million taxpayers across the nation used a TurboTax service.
Portability: Intuit's TurboTax software is available on a variety of platforms including web-based, local software installations and even a dedicated iPad app.
Expert advice: TurboTax customers can chat live with a tax expert at no extra charge.
Business support: A Business version is available for use by multi-member LLCs, partnerships, S corporations, C corporations, and estates and trusts.
Review: Intuit removed the option to have a return reviewed by a Certified Public Accountant, a benefit that set it apart from competitors.
Customer service: Contacting customer service by phone is challenging; the TurboTax website requires customers to use a web form to provide contact information and view online help before releasing a phone number.
Best for Sole Proprietors, Small Business Owners, Taxpayers with Special Situations
Compare Tax Software and Services
Intuit - TurboTax Company Profile
Company Name:

Intuit

Website:

https://www.intuit.com/