Consumer Complaints and Reviews

Worst carrier ever. I don't even want to give it 1 star. We canceled our service in Nov. and after many attempts to return our phones finally the Apple Valley store returned them on 12/23. Today is 1/11/17 and it still has not been processed into Sprints account. Sprint sent us to collections. We have all receipts showing when they were returned. I have spent hours on the phone to have a different ** story told to me each time... EVEN BY SUPERVISORS. I cannot stress enough to people to NEVER go with Sprint.

Where to start with Sprint? I originally was working with a traveling company and was with Straight Talk using a iPhone 5. I was already happy with my phone and coverage. One faithful day while working in New Orleans my friend and coworker convinced my brother to check Sprint out so Gary (my brother) and I check out the store for their unlimited promotion.
I have bad credit and I am not afraid to admit it. I am twenty years old. So when they say "you need to pay 360$ per phone to get started" I am already furious. That's over seven months of service for me! The Sprint rep and Gary talk to me for over ten minutes to convince me the monthly bill will be NO over one hundred and eighty which included my phone lease and insurance. So that's 700$ initially starting my contract (at the time the iPhone seven was coming out in a week diminishing the iPhone 6 value in the first place.) Every month is a new story with them as to why my bill is 320$. I am locked in this contract for now and fight with them to provide decent service. In November I pay a 280$ bill and about a week later am greeted with a text "you're near your spending limit. Please make a payment." I check it out online and somehow I owe 500$. You have got to be kidding me! That's nearly a grand in a month!
Early December I drop my phone screen first on concrete and I am thinking "thank God for that insurance." Drive to the Sprint store "oh we're sorry sir. Our insurance is a third party. Contact them." WHY DIDN'T YOU TELL ME THAT TO START OFF? Liars. I call the insurance company and after everything was settled they wanted me to pay 200$ for a replacement. So 360$ down payment, and 200$ to get it replaced (by the way anyone will repair it for 100$ or less and it'll be done in about 30 min.) so a grand total of 560$ just so I can keep leasing a phone and be duped every month? No Sprint, ** you. I'm so angry I can't see straight even remembering these events.

Sprint is not a company that is focused on their customers. They have had my phone for repair for over a month and every time I call the person on the other line is quick to tell me how they are not able to help me. I am paying for service on my phone line that I am unable to use. In turn due to my bill being late for a couple of days they also tell me they are not able to extend my period. If I had my phone line I would be able to get notifications in regards to my job schedule. They don't seem to understand that it's a cycle, without my phone I can't work therefore I can't pay my bill.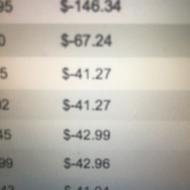 A few months ago I decided to add a second line and get the iPhone 7 on it. The phone was on back order and I was told I wouldn't be charged for anything until the phone was being shipped. Unfortunately, the customer service representative opened a new line that day, we had our own number to transfer but they started a line with a different number, and I started being billed immediately for an activation fee, a monthly lease fee and was also charged as if I had service from that date. I cancelled the order as soon as I found out what happened and miraculously the phone I wasn't supposed to receive for at least 6 weeks was already on its way, yet it still took a couple of weeks to be shipped...?
After it arrived I returned it without opening the box and let them know it was being returned unopened. Since that first day of adding a line I've been over-charged hundreds of dollars and they won't clear this up. I've spent hours on the phone to no avail. After the first outrageous bill I had called customer support and they acted like they took all the false charges off and said they got my bill down and that I would be credited for whatever was overpaid when in fact all they did was have me pay a minimum and put the remainder on the next bill.
I'm now billed twice as much per month as I'm supposed to be paying and still only have one line with the same phone I bought when I first switched over to Sprint. According to my calculations I have overpaid significantly and have a credit of at least $48, according to their calculations my monthly bill is doubled and I still haven't caught up to their charges. The worst part is I switched from another wireless company under the false advertisement that Sprint would beat my monthly bill with the other them. I'm now paying twice the amount.
When speaking with their support they were proud to tell me how many charges they'd written off for me to get my bill "down" when it's literally doubled. I can't get anywhere with them. The last time I tried to clear this up, after being on the phone with them for 58 minutes, they disconnected the call. I'm exhausted from dealing with companies that bully their customers because they have a contract. The only entity that benefited with this contract was Sprint. They didn't uphold their end of the contract when they said I wouldn't pay more than my other phone company and I've been dealing with a financial nightmare for months now.

I recently switched to Sprint from AT&T and I am thinking I made a big mistake. My bill was due on the 7th and I was told I had 6 days to pay it. 3 days later Sprint was sending payment due texts to my 8 yr old's phone. I called in and was told I could make a "payment arrangement" but I had to pay half of my past due in order to set an arrangement. WHAT!!! I was then told I couldn't get a 2 day extension unless I paid $118.00. This is my first time having to deal with customer service and I am NOT impressed. A lot of the things I was told in the store were pretty much lies according to the customer service person. On top of that my service SUCKS. SMH.
How do I know I can trust these reviews about Sprint?
671,681 reviews on ConsumerAffairs are verified.
We require contact information to ensure our reviewers are real.
We use intelligent software that helps us maintain the integrity of reviews.
Our moderators read all reviews to verify quality and helpfulness.
For more information about reviews on ConsumerAffairs.com please visit our FAQ.

I would love someone to explain how Sprint can pull my payment 3x's and cause me $100 in overdraft fees and no one seems to have an answer or resolution and have yet to refund me my money. I made my payment on 12/12/16 from Sprint Zone and then it was pulled again on 12/17/16 and then again on 12/20/16 (which was after I called on the 19th complaining about the second pull). I have talked to multiple Customer Service Reps who for the most part can't speak English and Case Resolution Managers and still no answer. The best part all 3 pull dates were showing of -355.81 on the Sprint Zone app on 12/20/16 and miraculously the 12/20 date has now disappeared and Sprint says it was never there. Now with that said I spoke to Melisa on 1/2/17 and she saw all 3 payments 12/12, 12/17 and 12/20..? Hmmm so how does this happen.
So here we are on 1/10/17 and I have since had to make another payment and received only 1 of the payments refunded. So I am still out $355.81 plus $100.00 in overdraft FEES that I didn't cause. Sprint did. I am beyond done and want Resolution now. As of today they just said they have processed a 2nd refund for $355.81 but now they say it's due for January even though I just paid for January!? I am beyond over the top and plan on seeing an attorney for advice on this matter.

Just wondering if there is a wireless carrier with worse customer support than Sprint Wireless!!! - www.sprint.com. I walked into the sprint corporate store on December 31st, paid off on all the devices, paid off the bill for the rest of the billing cycle (per their advice) and requested them to unlock the devices so I can go to another carrier. Sprint customer support said it will take 24 to 72 hours to get the devices unlocked. I patiently waited 72 hours, and then went back to the store, called the support, then they said they did not take the order properly and will take another 72 hours!
Now, on day 11 after paying off, we are still sitting with devices still blocked/locked by Sprint! Since we started the porting process to another carrier 10 days ago we can't use their service either as the phones are unusable. Every time you call Sprint customer services you get a new response!!! I hope I am not the only one who experienced this with Sprint! Sprint wireless, what's your excuse going to be when I walk into the store this evening?

Sprint is horrible! I only give it 1 STAR because it won't let me give 0. I have unexplained charges on my FIRST bill! It is tripling my original quote! I have been trying to get answers for 2 1/2 hours this afternoon. I have been on hold for a supervisor for 1 1/2 hours! The charges came of course AFTER the 30 day cancellation window. How convenient! They want to bill me for services I have not received yet! DON'T SWITCH TO SPRINT!

Nothing but a runaround. I have had Sprint this time for about 8 yrs & no problems only to run into a giant headache. My phone froze & never turned on again. Mind you I did nothing to it, it still has the original plastic on it & has been in a ballistic case since day one. I go to the Sprint store nearest to my house & am told that they changed the policy of replacing phones the day before. I now need to drive over an hour away the corporate store or call customer care. I leave & call customer care. The lady states that she can't file a claim even though I have insurance because a store needs to look at it. I explained that I had been to a store already. She tells me she will text me the number to a store that I can take it to. I kindly remind her that my phone will not power up.
I go to that store the next day only to be told that they cannot do anything because of the policy change & the customer care doesn't know about the policy change yet. But I am given an email that I could file a claim for my phone & the customer service number. I get home & file an online claim for it to tell me the they wouldn't put it thru & I need to bring it to a store. So, now I am on my way to another store over an hour away. I get there & the guy says "let me see if the tech has time to look at your phone". He & I am not kidding is gone for less than 30 seconds & says "well we can't fix it. I'm going to get your paperwork to file a claim." To end this fantastic run around, I now have to wait 4-6 business days to receive my new phone. Again at the store which is over an hour away even though there are tons around my house.

Sprint has a constant problem with their billing. My bill was to be $130 and every month they charge $260!! They claim I'm going over my data but I barely use any apps. Calling them to question this can take up to "4" hours because the people who pick up the phone are rude to begin with no matter how nice that you are and they'll always refuse to connect you to a supervisor. I've been with Sprint for a while and they're nothing but a problem. My contract is up in May and I'll be looking at other cell phone companies for sure.

Very poor customer service -- told we were SOL when we told them we didn't like service we was promised or phones. On phone for 3 hrs, transferred to 6 different people, and got nowhere, and in store 5 trips and nowhere. Cannot get our old phone back or buyout never done or submitted by store.

I called Sprint 3 times trying to get the lease deal my online account was showing me. 3 reps and couldn't understand any of them. They tried to tell me the promotion was over 3 months ago but still showing up on my account. Long story short after 2 hours on the phone with them she honored the promotion and said for all my trouble she was giving me free tablet. I asked what cost was involved with that. She said, "No worries Ma'am. It's free for your trouble." I said, "I don't want anything with additional cost." She reassured me all was good. So after she put through the sale I asked again what I was being charged for. At that time she quickly snuck in 20/month for the free tablet data plan. I told her, "I said I don't want it if it has charges." She said, "I already put it through. It's too late to cancel."
It has been a nightmare. 2 1/2 years ago I was lied to in the store. My sales rep told me he didn't even have Sprint. He had Verizon. Get out now if you can!!! Horrible service... You can't understand anyone and they lie to you. They don't want you to understand them. That's how they get away with it. 4 days later still no upgrade and now they tell me after I got someone who spoke English to cancel the whole damn order that the promotion ended that day and they can't give it to me. Not really sure how they are getting away with this. True they may be cheaper but you get what you pay for. Head to Verizon or another quickly!!!

I am very displeased with their service. I called on Monday to report an issue with my Galaxy S7 edge and was told I have to go into a branch to resolve the problem. I told them that the way I work I wouldn't be able to go into there anytime soon, and asked them if they could just ship me a phone and I would send theirs back. I asked the rep what were my options and he caught an attitude and told me go into the branch. I was without service until Wednesday, because I had to take off to travel 45 minutes to their location. Then I was told at their location they would to order one and it gets shipped to them, then I have to go and pick that one up. Never told me how long the process would be or anything. Phone then went black on me at work on Friday.
Called customer service to let them know and she was rude and told me I had a bill due and that's what I needed to do. I told her you worrying about a bill and its freaking snowing out here and if something happens on my way back home from work, I have no way to get in touch with my family and she told me I just have to wait on it to finally come in on Monday. So that means this is a whole of issues with this phone. About the service its horrible, I have dropped calls, missed calls, etc. I am trying to switch companies RIGHT NOW!

They have been excellent in service and customer service to me for 10 yrs now. I can call Sprint anytime if I have a problem with my phone or with payment. Always very helpful and courteous in handling customers. I can depend on Sprint and that means a lot. The prices are good and I love it.

Sprint's data towers are okay, but there needs to be some improvement. They are working on the no internet while calling problem. Other than that, Sprint is really fine. My Samsung Grand Prime is the best phone I ever used. Good job, Sprint.

I have been a Sprint customer for about 10 years. I have always had from 2 to 5 lines with Sprint. Today I would like to file an official complaint for the poor customer service and unprofessional conduct I have received from Sprint. I currently have a Samsung NOTE 7 and was asked to turn in my phone due to safety concerns by both Samsung and Sprint. I have tried calling, chatting online and visiting the retail stores without success. I have been turned away with my phone (Note 7) due to the fact that I did not purchased it at that particular store and because they did not have a special box to keep it. I was told to call or go online and request a special fire proof box. The times that I have called Sprint and chatted online, they have re-directed me back to the retail stores. I was even told that unless I have the original box where the phone came in, I would not be given a refund and they wouldn't accept the phone.
I am very frustrated and concern that Sprint would risk a customer's safety and continue to reject a mandatory recall. It is very unprofessional to treat customers in such manner. It is absurd to deny the exchange because they don't have the original box months after. It is dangerous and irresponsible to keep giving customers the run-around and denied the refund as stated on the mandatory recall. I am concern for my safety and my family and demand a full refund. I place all responsibility to Sprint for declining to accept the phone if anything were to happen while the phone continues to be on my possession. I respectfully demand a full refund. I will pursuit legal action, will submit letter to the Better Business Bureau, Consumer Affairs, email Samsung and will take this issue to social media until it is addressed. Taken that is a safety concern. Thank you and I hope to hear from you soon.

I have been a loyal Sprint customer for 15 years. They have always taking care of my needs and met the expectation of a cell phone service. Sprint is a cell phone service that continually excels to meet the customers' needs constantly. Changing constantly, trying to meet the customers' expectations. Cell phone business is a very competitive market today and with the changing market there has to be changes in the company. Sprint has tried their best to make that happen.

On Dec 9th I received 2 Galaxy J3's. Mine was damaged with a hairline crack along the side of the screen beneath the top screen. This started my whole horrible Sprint experience. Not only did I have to spend numerous hours on the phone and in the "not so corporate" office, I had to literally beg for another phone that should have been covered under the 30 day guarantee! Okay Pam did me a huge favor and did an upgrade for me at my expense of 50 bucks plus taxes and phone installment. No way! Spent 2 hours on the phone in the "not so corporate" office which I was in for 3 hours!!! From 10 to 1. Satisfied but not so satisfied I walked out spending 34.00 cause they shipped me a broke phone.
The cake was when I was in corporate I found out my bill was due for 159.00. I missed out on a week of svc... Was sent a cracked phone... Spoken to 15 different people who all contradict what the other was saying now a bill for less than 2 wks of service. Okay I call to see what they could do about that missing week. On 12/30 spoke to Raven who was obviously doing something else as her response in response to me was always delayed. I at one point had to ask her "Did you hear me? Are you still there?" She tells me there was usage on the phone (even though I couldn't get the screen to come on) and there was nothing she could do. I asked to speak with a supervisor and this woman said no!! "That's our policy, we don't transfer to supervisors in this dept." Now I'm steaming.
I call back and speak to Paul who transferred me to Jonathan who transferred me to Christian (female) who said I'm sending you thru to my supervisor. Great news!!! Nope! Held for 1 hour 45 min then called customer care on my husband's phone. Spoke to Melanie who was great by the way (seriously not being sarcastic) she told me "I don't know why she transferred you as our supervisors don't take calls and you need to speak with account services on Monday." She said I can't make arrangements and my credit amount is only 10 dollars. In account services they have 25 credit approval. I patiently waited until Monday. I called, spoke to Mya, told her to look at my account and see what I have been through with Sprint the last couple weeks. She did and apologized (they all do and it's annoying when everyone is sorry but they don't do nothing about it) and gave me a 25 dollar credit and made arrangements for me for 4 days out; Friday.
Get up this morning my phones are off!!! Here we go again! Just when I was fighting to have a decent relationship with Sprint after everything that happened to this new customer... I'm back on hold, burning up my vacation time. So today I spoke to Andrew who sent me to Anthony who sent me to Jalisa who told me my only option is to pay 61 past due (?) to get svcs reinstated and that Mya never made arrangements for me but, she gave me a 34.00 credit. Wow!!! This is unreal!!! So... here I am with no service and no baseline. I do not know how sprint is hanging on. After reading the reviews (in hindsight) it is sad that we have to endure this bullying. I was going to contact the BBB but they have their hands full with Sprint complaints already. I just sincerely hope no one else has to clock 40 hours speaking with Sprint in 2 1/2 weeks.

Got a hotspot and paid it off. Told them to turn it off. A month later I received a bill. They did not turn it off. Paid the bill because they said they could not turn it off unless I paid it off. So I did. This has been happening for 6 months and I've paid more than 100 dollars because they just turn it back on when I ask them to turn it off. I complained to them about this, and they deleted my online account so I cannot check to see what they are doing to my account, and my IP was banned. I assumed that they finally turned off my service and another couple of months go by and I get notice of a unpaid bill from Sprint again. I've had Verizon, T-Mobile, and now I have Ting, by far the best service I've had. Sprint will never see me again if I can ever get this thing turned off.

Well, Sprint as always lives up to their TERRIBLE name! They are just now charging me for a credit that occurred in October of 2016. Well, they over credited my account a mistake that they made and is now making me pay for what their "system" did... Which is over 500 dollars! They said they can't do anything because it's "Valid" and can only credit the account 150 dollars. It's ridiculous and SPRINT is a SCAM! They are not for their customers...

I have been with Sprint for many years, and they are always friendly, efficient, and helpful. The only issue I have with any cell phone provider is the astronomical cost, although Sprint is by far the least expensive major carrier. I would also like to upgrade in less than two years.

Nov 19 2016 visited Sprint authorized dealer in Mall America. Got 2 devices on 30 day promotion saying was supposed to be free as well as 1 mos free billing! Arrived home to in Indiana. 4 days later got an email billing. Almost $200. Immediately Visited, called & chatted stating I want to cancel & return devices. Went to Authorize Sprint dealer here Indiana. Could not return them to find out Sprint store in Minn was not a Original Sprint store Wireless Lifestyle, only a 2nd party authorized store for sprint. Called Sprint. The rep called Sprint to have them send me a kit.
Receive kit Dec 5, sent back Dec 5 thru UPS. Been calling, get transferred & holding on going through hoops with many reps & customer reps. Days @ days. Almost 2 mos now. About keep getting billings to accounts that supposedly been closed @ my request. I was told through text with customer reps almost 1 mos and half ago my deposit for devices would go back to my bank account. As of today Jan 2 still no sign of return deposit. Called again Today. It will take 30 days.
Sprint is bad business & has been a Nightmare too. Caused me high blood pressure & anxiety. Whomever closed my account failed to do so properly. Contacted again about my deposit. Customer rep ASIA in Finance dept was rude and I asked to speak to a dept. Manager & or corp office number. She stated she couldnt give out that info & It would be a 45 min hold. Find out they never even closed my account & stated she wont close my account till the bill paid. For an account closed before I returned the devices! Finally cleared that up. With a callback 2 days later from a nice. Called again 1 day later. Left msg. Representative contacted me on yesterday. Got the account cleared @ 2 mos almost. Now I am waiting on return of my deposit which customer rep stated will take Additional 30 days to go back to my bank prior to original purchase date Nov 19, 2016.

I am overall happy with Sprint. In most areas I get reliable service, but of course not in all locations. I am extremely happy with unlimited data as I feel like most people I know do not have this and they are always worried about their data. I have been with Sprint at least 10 years, so I think a bigger loyalty discount, a free phone, something once in a while would be a nice gesture. Sometimes they add on hidden fees but I'm pretty careful about checking and they take them off right away. The current loyalty discount I do have does not sync up with the bill so it is weird that my bills are not consistent.

I went into a Sprint store on Saturday Dec. 31 and wanted to find out how much longer I had on my contract. They pulled up my account and told me how long and how much on the lease of my phone I owed. WHAT??!!! I told the guy I didn't have a lease on my phone, that I had paid for it, and that I paid $100.00. Originally I had switched my daughter over to Sprint first to get her off her dad's plan. Then about 6 months or so after that I switched over from Verizon so we would be on the same plan. They said it would save me some money. I had told the sales rep I wasn't not going to put anything out of pocket and I wanted the phone (he had said, "No problem"), and that I did not want to lease my phone, and did not want insurance but only on my daughter's phone. He reassured me of all that.
I did not read my paperwork as I felt I did not need to. So now not only I have been leasing my phone it also has insurance. I just also found out from a co-worker the same thing just happened to him. He also was told he owned his phone in the beginning and found no, that he also has been leasing his. I also had talked to a sales rep at another cell phone company and she told me she used to work for Sprint, and had said they were told to lie. What the HELL!!! How can you tell your employees to lie? What kind of business is that???
I had problems with my bill in the beginning and that took awhile to get that straightened out. I will be making a switch to a different cell phone company very soon. If a company likes to have a good reputation then why would Sprint lie to their customers? I don't get a bill in the mail and I don't check it online. I just go and pay it. I have learned my lesson, I don't like cell phone companies anyway. They all are a ripoff. They tell you things to bring you in to get your business but then they aren't always true to what they say. I realize this is how a lot of companies work to get your business but all it does is discourage people and push them away to go another company that might do what they actually promise you. I was so mad when I found out about my contract and that I had been lied to and now I will be moving to another cell phone company. My boyfriend has AT&T and has been with them a very long time with no issues. Thanks.

We first went to Sprint when we worked to try to lower our AT&T bill to no avail. This was around the time they were really trying to get back into the phone company race and enticed us by saying they had all these great deals with no contracts and will pay off our AT&T with a receipt. First, AT&T REFUSED to give us a receipt so we never got reimbursed. (Isn't that illegal?) Now, to Sprint. First they told us we'd be available for upgrade after 18 months of paying our phone leases. Only the phones had payoff lease contracts but the lines didn't. We can cancel anytime and keep our phones, or so we were told.
We initially had 2 lines and could add up to 4 with our $185 (tax included) a month unlimited everything plan. We added my brother a month later. At 18 months, our phones were near death so we went to upgrade and they refused saying we either had to pay off the remaining 6 months or wait. So we wait. About a month left, my phone gave out so I paid off the month remaining and got Galaxy S7. A month from there, my brother's HTC gave out so he paid off the remaining balance and got an LG. Both phones paid off.
The fateful day I got my phone, they told us they can lower our bill with a new promotion. They gave us a free phone and a hotspot thing for home which we NEVER use. We gave the free phone to my daughter and she only (rarely) plays her little ABC games on it. She never uses the internet and it's never on WiFi. They told us since we weren't nearly using any data, we can go to the 18G data plan and save tons even with the new phone line and hotspot. We were reluctant cause it sounded weird but they explained it further, showed us literature and assured our bill would be significantly lowered after the first month which includes activation, prorated amounts from previous plan, etc.
First month's bill is $380. That was about what they said we can expect. Next month was $560. Over half a grand. For a phone bill with 4 lines. Somehow, miraculously, while we were on unlimited our data usage was below 11G. Then they put us on a limited and they claim our usage jumped to 23Gs. Over double. We tried to figure out how, thinking first it's our fault, then realized on the itemization of the bill it had me and my husband as the highest usage even though we both didn't do anything differently. I sit in an office (with WiFi) all day... I have no time to stream videos and browse the web frequently. This bill was not resolved. We had to pay it or our lines would be canceled. We paid it and had them change back to an unlimited which customer service said would bring our bill back down to around $200.
Next bill is $380. Tried to resolve it again at a store. The woman said she saw all these additional services they added which we weren't using and we could cancel either at a corporate store or at the store where we upgraded. Additionally, we were being charged with a $94 phone payoff fee which had already been PAID! And every month they add a world voice option as well as a game fee that we have never requested and keep having to cancel every time they add it for no reason. So we go to the store where we upgraded and are told they don't have a record of my brother's phone being paid off. Therefore, they said he probably paid in cash and he needs to furnish a receipt. Well, turns out he paid with a card. Sprint simply decided to do away with the record of the payment and tack it back on to our bill.
We tried to cancel the world voice and game fee, which was not surprisingly back on there though it was canceled the month before with customer service on the phone, and they ended up NOT canceling it. The same guy once again told us that our bill can be lowered by switching to an 18G plan and the reason it's high is cause we have unlimited and we only used 12G the past month we'd been on it. Interesting that it went back down after we switched back to unlimited. We explained this to him and how he said this same thing to us a few months ago but it resulted in ridiculously high, fluctuating bills.
Finally, he told us our bill should lower this month. It's not. It's still $380 plus the $94 pay off (so $474). He said if we wanted to cancel we would have to pay off all the devices including the hotspot thing we didn't want and don't use. This would cost about $950. So as it turns out, even though they said we can "cancel the lines at any time and [you'll] just need to KEEP paying for the phones," we actually have to pay the devices in full. No resolution to anything. I am so stressed out and have wasted so many hours going to two stores this week phoning on the phone with customer service so many times. All they have done is lie and cheat their way to trapping us into staying with them while getting us to pay ridiculous amounts for a phone bill.

Never has any major problem. They moved me to a more economy plan when my usage of data decreased. Phone bill is more cheaper than others. Customer service is good. There is minimum drop calls. The quality of connection is reliable.

I have called Sprint Customer Service a few times, and it has always been a issue in getting someone who understands and can speak English. I'm not sure what country they base their customer service center at, but it's not the US. A call that should take 5 minutes ended up taking 45 minutes because I have to keep repeating myself. My contract will be up soon and I will be going elsewhere, maybe T-Mobile or Verizon. I think Sprint management should listen to some of the recording that their customers are having with their reps. Bet it would be an eye opener.

Sprint is a ripoff. They say they are half price but the extra charges go well and above every carrier. I pay $172 for 2 phones. So they charge to lease the phone you're going to use, plus insurance on the phones is high etc. No extras except insurance.

We were with Sprint for over 3 years. Service was good but when we tried calling to get our bill lowered, we were told there was nothing they would do. So we chose to switch carriers. The same day we switched we went to 2-3 different Sprint stores to try to return the phones because we leased them. We were told they would not take them so we called Sprint customer service. They stated they would send us something in the mail to send them back in. After about 2 and half weeks of waiting we finally get a flimsy envelope in the mail to send 4 phones back in. Right on the envelope it stated that if the phones were damaged in any way we would be charged. Our phones were in perfect condition.
So we went to a corporate store and the manager there was very shocked as well what we were sent. He was very nice and wrapped them and sent them from the store. Sprint received the phones on Dec. 15 but when we called on Dec 28th they still had not credited our account. Thank goodness my husband took a picture of the package with the tracking # on it or who knows if they would have found them. He was on the phone with them for an hour and finally got an amount she said would be on the final bill that we would be receiving in a couple of weeks. Not a problem he stated. We would pay it when we received that bill.
We were waiting on this for a month and a half NOW. My husband gets a call from a collection agency when we haven't even gotten a final bill yet because it just got sorted out 2 days ago. I WOULD NOT RECOMMEND SPRINT TO ANYONE. THEY ARE ALL FINE UNTIL YOU CANCEL THEM AND GO WITH ANOTHER CARRIER.

Apparently I don't live in Sprint's top 104 cities, so my service is in no way comparable to the service I had with Verizon. Not only is the coverage poor, but Sprint likes to tell me I have two bars of LTE service when I clearly have no service. When we signed up for our plan almost a year ago, we were told by the Sprint Rep in-store that Sprint had just purchased a leading provider in the area and service in Southwest Virginia would be much better... This has not happened. Overall I am terribly dissatisfied with this cell provider. But I guess it falls back on me for trying to save a few bucks. YOU GET WHAT YOU PAY FOR. TWO THUMBS DOWN.
Sprint PCS Company Profile
Company Name:

Sprint

Website:

https://www.sprint.com/