Consumer Complaints and Reviews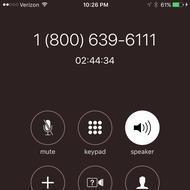 I have never had so many issues as I have within the 3 days I had partial service (because it took me 3 days to get service active in the first place). I initially ordered 2 phones via telephone. I had a 64 gig with verizon and wanted the same with Sprint. Was sent a 16 gb and was not able to get a 1/4 of my information on the new phone. I made a payment from the get go of $185. When I called to report that I received the wrong phone I was told basically that I was wrong even though the order was input incorrectly. I was then advised that I could go to a local Sprint store and exchange my phone for a 64GB.
I went to the local one here in the town I live in and was told they did not have any in stock. Drove 30 minutes to another store to be told the same thing that they have none in stock and the only store that had them in stock was over an hour away. I was instructed to call customer service and told I had to pay another 185 dollars to receive the correct phone I should have received in the first place. Unless I wanted to wait 5 days for them review the call from the initial order and for them to get back to me. What the hell was I supposed to do with my phone that I had with barely none of my apps and items working due to not enough space on the phone. I literally spent 6 hours on a Sunday dealing with these inept, clueless people who call themselves customer service representatives!
So I paid the additional 185 dollars and received the correct 64GB phone. I chose to not even activate it and cancel my account and I went back to verizon immediately. I was told I was going to receive 3 SEPARATE envelopes to return my phones and only received one. EVERY SINGLE TIME I call it's a minimum hour wait on hold! All representatives continuously repeat the same thing over and over. "Im sorry" "I apologize" "I understand" "Please hold the line" and they talk over you! It's like they are just reading a cue card! They dont even listen to what it is you have to say!
So I returned all three phones in one envelope that I was provided with, they were accepted on Sept 19. My refund was supposed to be for TWO transactions of $185 dollars... They refunded me one in full and the second for only $85. So here it is now 2 hours and 30 minutes into a call. I have been transferred to four different representatives and not one has done a damn thing. I keep getting placed on hold and then put back into the queue for "The next available representative" and then have to repeat my information and reason why I am calling. This is so ineffective and beyond RIDICULOUS. I am beyond IRATE.
Sprint is horrible!!! Horrible is actually an understatement! Their service is not 1% less than Verizon, they worded it wrong, it's more like 1% OF Verizon service. The customer service of this company is a complete absolute joke. The worst EVER. I think my one year old nephew who barely talks could provide better customer service than this place.
If SPRINT was the last phone company on this earth I would go without a phone. Everything they say is a lie! And the representatives are RUDE! Im disgusted, Sprint is awful. Finally after a total of 2 hours and 45 minutes I finally got to speak to Daniel and Jason. They were both helpful and should work for another company! Sprint makes a bad name for kind people like them!

I went to Sprint the other day because my LG G4 shut down and wouldn't turn back on. They were helpful and fixed my phone. Two days later I got a text from them saying "my free upgrade phone was ready". I went in and they literally just gave me back the same phone. It wasn't an upgrade and if I knew that I would just get the same phone back I would have just kept my other one. With all my stuff on it.

I am currently on hold and have been on hold for an hour and a half. Why? My two week old iPhone has a bad SIM card. I have already taken it to the retail store and they told me I had to call Corporate for a new SIM card. Here I am after 3-4 hours total still waiting to replace a faulty product that Sprint sent me in the first place. I could go on about other things like rebates and international calling but won't. Such disrespect to their customers.

Did you know that Sprint now charges $7 for accessing their Customer Service? How's that for customer-friendly? I had a representative tell me that they did not offer the service of escalating a call to a supervisor or manager! I'm very angry with Sprint right now because of sheer ineptitude. I had to move banks because of a payment error that they made. In catching it up, I made a very large payment 4 days ago and they suspended service on my account for an additional fee of $300 more. The Customer Service reps that used to be so friendly, sound like they could not possibly have an IQ of more than 2 digits. I'd tell them that, but they wouldn't know what that meant.

I ordered a phone for my boss, it's a small business. We haven't upgraded his phone in 8 years and yet stayed loyal to Sprint PCS. I called 9-26-16 to order a phone. I ordered the phone and was told $12 for overnight shipping to receive the item via UPS on 9-27-16. I called Sprint on 9-27-16 to see why I haven't received the item yet or a tracking number at that. Sprint then tells me the item is on backorder for 2 weeks. WHY WOULD YOU SELL ME AN ITEM, CHARGE ME $12 FOR OVERNIGHT SHIPPING ON AN ITEM YOU DON'T EVEN HAVE IN STOCK??? Sprint is a horrible cellphone company and all they want is money. If you are a business or just for personal BEWARE. They offered nothing for this, left me on hold for 30 minutes and then hung up on me, so now a customer that has been with Sprint for over 15 years is most definitely going to be gone. Way to go Sprint!
How do I know I can trust these reviews about Sprint?
597,661 reviews on ConsumerAffairs are verified.
We require contact information to ensure our reviewers are real.
We use intelligent software that helps us maintain the integrity of reviews.
Our moderators read all reviews to verify quality and helpfulness.
For more information about reviews on ConsumerAffairs.com please visit our FAQ.

Sprint Corporate took over control of all legacy customers and removed the local Sprint store's ability to renew 2 year discounted phone plans. A group of sales representatives attended my company's corporate wellness discount fair 9/23. They who offered a free iPhone SE, case and $50 gift card to existing Sprint customers who renewed their plan for another 2 years. When the store tired to process, transaction was blocked. After 16 hours on the phone over 4 days, found out internet sales is the only one that can renew the contract. That group is not offering the same promotions as stores and customers are being told they must renew through corporate internet sales department. No free phone and best could do was 20% off accessories.
Sprint is forcing existing customers with unlimited text, data and minute plans into new plans that are more expensive. After days of trying to resolve this and 3 hours tonight the tier 3 executive team supervisor who was supposed to help me hung up on me. Terrible customer service. I have 4 phone lines. All 4 are up in the next 3 months. I will be looking for another service provider.

So I opened up an account with Sprint and remind you I only wanted a cell phone. But as I was trying just to get a cell phone the manager and his employee decided they wanted to throw a speaker and tablet on plus accessories. I asked over and over if these things were free since I only wanted a cell phone and clearly they kept saying yes and in order for me to get the phone I had to take these items. I should have just left everything in the store. So when my 2nd bill came around I got a bill for 361 dollars which I called customer service and told them over and over I was not told that I would get charged for this.
So the customer service was no help and basically called me a liar and to go back in store to take things back. So I went into store and they would not take things back because now it was past the days. Had I saw this bill first this stuff would have been back. They lie just to have you get service. Then they told me my bill would be 120 a month with taxes. I have been getting bills for more than that. I am so not satisfied with their professionalism and how they lie to their customers. As soon as this contract is up Im leaving company.

These people are the single most inconsiderate, money snatching, conniving humans ever! They have lied, and absolutely refuse to take responsibility for their actions. I have a junk phone from them that is less than 8 months old and they will not provide a loaner phone for me to use while I have to send my phone into the manufacturer for replacement. But I can buy another phone from them to use! And I still have to pay the lease payment and the phone bill for a service I can't use. No thank you!

Sprint in general is a crook. I had service with them for over 5 years. Had two lines hooked up already. Wanted to hook up a third line. Brought in my own home. Because I did not want to contract on the third line. I asked the employee behind the desk 3x if I have a contract? I do not want a contract on this line!!! He said no contract on third line no cancellation fee. I cancelled third line 8 months later and was charged $320 cancellation fee. I received mixed reply from different customer service reps over phone. Very unprofessional. Once my contract is up on my other phone I will never sign up for Sprint again even if they were the last service on Earth. All I can say with my experience with Sprint: horrible, horrible, horrible. Crooks.

I switched my family's cell accounts to Sprint December 2015... Lured in by their 50% off Verizon promos. 2 months into this account, I knew I was about to seriously regret it, and have been fighting with this Company ever since!! 2 months in, I received a bill for $750 (approx.) because Sprint had decided that we were taking away "our buy back credit" that was provided to us due to switching from Verizon because it was then discovered that the Sprint customer care team had made errors when we first signed up for this account and offered us 2 combined promos (like we were supposed to know that). After fighting with the company and having to re-supply them with their own documentation (which they insisted did not exist - KEEP ALL YOUR DOCUMENTATION WHEN DEALING WITH THIS COMPANY) again and again, it was finally credited off our account and accounted as a "Customer Care Error".
Shortly after that incident... 1 of my brand new $900 phones (Now only 3 1/2 months old) began acting up... Turning off and on, getting extremely hot, turning itself off and on... I called the Tech department. I was advised my phone was failing the over the phone tech inspection & told to take the phone into my local Sprint repair center. Once the Tech examined my phone it was discovered that the problem appeared to be an internal battery rupture. The Techs advised this would be a progressive ongoing problem but they could keep the phone going as long as the phone was responding to a "Hard Reset", which the phone did respond to. Obviously, to me this sounded like a Defective Phone right then and there and I had Sprint Insurance on the phone, therefore I demanded to receive a new phone.
I was told this could not be done because as long as the phone was coming back on with a hard reset then the Sprint tech's considered the phone fixed! Needless to say this has happened a total of 6 times now (over a 3 month period), where the only way to get the phone to work was to take it in and have the techs "Hard Reset" the phone, wasting my time, my gas and not to mention... All of our data from the phone, 6 different times! Ultimately, the 7th time the phone died... The "Hard Reset" would not work & the Tech then advised, "We told you this would ultimately happen because the phone has had an internal battery rupture and this is what we expected would happen with the phone." I then insisted the phone again be "Replaced" and I was told "No, it now needs to be sent to Samsung for repair". No Loaner phone provided or any additional services offered.
I sent the phone to Samsung, again wasting my time, gas, and postage fee's. The phone arrives back to me 2 1/2 weeks later with an Invoice "Free of charge because the phone has been labeled DEFECTIVE & multiple pieces were attempted to be replaced as opposed to simply replacing this DEFECTIVE PHONE". Also, "Missing the SIM Card and the SIM Tray"... SO, how are we supposed to know if this phone is fixed without those 2 items???
1 week later (now 4 months into the problem and 5 weeks into the phone completely not working) we receive a new SIM from Sprint (which I had to sit on hold for over an hour to get ordered) and a new SIM Tray from Samsung (also, had to sit on hold for over an hour to get ordered). Shocking... The SIM Tray will not fit into my phone after receiving back from Samsung. Even after speaking with the Techs at Samsung, something happened during the repair which will not allow the SIM Tray to fit into the phone properly. Could this be why the phone was shipped back to me missing these pieces to begin with??? Samsung advised me the only thing to do now is to re-ship the phone back to Samsung for a 2nd attempt at repair. WHY WOULD I DO THAT!!! I then call Sprint Tech Department back and tell them the latest events with this phone and demand that I receive a BRAND NEW WORKING PHONE!
After staying on the phone with Sprint Tech Department for more than 2 hours, they tell me they have made all the arrangements to have this phone exchanged for a brand new phone at my local store in the morning (by this time it was 11 o'clock at night) at no additional charge to me, provided me with a ticket number and "all the info I needed".
Today, is the morning I am to go get the "new phone" and turn this one into Sprint. My Local Store CANNOT and WILL NOT do the EXCHANGE, "Because, They have no way of seeing Sprint's notes and of getting "THEIR MONEY BACK FOR THE DEFECTIVE PHONE!!" I then call sprint Tech Support to advise... "They now cannot determine from the notes of other representatives if this phone actually is defective to the point of an exchange because they were not the ones who spoke to me, even though the notes state the PHONE IS DEFECTIVE AND NEEDS TO BE EXCHANGED FOR A NEW PHONE!!" I am currently awaiting a call back from a corporate store which is 45 minutes away from me to see what they can do to help me resolve this issue... They also cannot exchange the phone because "We now have last year's model & they don't have the 6 Edge Plus in stock".
I am giving this Company until 6:00 PM this evening to resolve the issues. After then, come morning... I will be having my Attorney draft up papers to SUE THE HELL OUT OF SPRINT TO GET ALL MY MONEY BACK AND BREAK THIS CONTRACT!! Please do not get suckered into this company based on their "Promos"... They are horrible to do business with & the Customer Service is the worst I have ever experienced out of any product I have ever owned!!

I'm a new customer to Sprint. When I paid for my service there was a online promo for free activation only for that day which valued $30, they refused to give me the promo & credit my account. I was unable to pick my phone up from UPS due to thru locked it & I had to wait the next business day Monday to get my phone. Supervisor stated she will credit me back the $14.95 which never happened. They have reps from China, Korea, Asia, etc.., you have to deal with & all they say is they understand but be totally lost & DUMB. I have the Note 7, I was unable to get my replacement phone in the store & was told I needed to call it in but my text message stated different. I haven't been with Sprint a month & I'm very disgusted, irritated and want to leave them but I so love my Note 7 phone. By the way their service suck. I would never ever recommend Sprint to anyone. I should've stayed with Cricket.

I have been with Sprint unfortunately for 15 yrs and as of yesterday just like the commercial, I said "I'm sick of you Sprint." I had the Note7 and yes it's under recall, it ticked me off that they were only getting 50 units at a time and then want to charge you taxes and activation all over again. I called Samsung and they confirmed what I've been thinking, "it's a recall they shouldn't be charging you anything." I've spent countless hours talking to Sprint and the wasted precious patience at the stores dealing with the reps. You're certainly going to hear the red carpet being rolled out over the phone but when you go to a store it's a pissy yellow carpet that you get.
Anyone out there that has a Note 7 please call Samsung @ 844-365-6197 and let them know if you've had to pay for the replacement phone. Samsung knows but need more people to complain. I hope this will bring about a class action lawsuit. I've filed with BBB and I've called the news media. Sprint is double dipping on the customers at a wrong time. We're already upset because of the recall and the small qty that is being shipped out, but to put icing on the cake, Sprint's gonna get ya where it hurts the pocket book. I have so many cases, wireless charging pads additional usb cables that I can't do anything with. Sprint simply sucks.

Spotty service, confusing billing. I changed my plan twice and they charged me for all the plans in one month even though I upgraded my plan. Not downgraded, why charge me for 3 plans after I eventually go unlimited? I call to fix and they said, "No prob we will take these charges away". A week later nothing was changed. Called again just now and I'm told again they will make changes. Hopefully they will. Don't feel like going into more detail but overall just bad experiences. Spotty service and bad foreign customer care.

PLEASE READ AND UNDERSTAND THE MEANING OF SPRINT!!! Sprint is misleading in every manner of contracts from overage charges to customer service. I switched from Verizon to Sprint on the terms of no overage charges due to having three kids. I just received my recent bill and there was $200 in overage charges which Sprint Customer service stated there is nothing they can do. Instead they want to upsell to a new plan. NEVER, NEVER go with Sprint as a provider. The coverage is bad!! Very unhappy customer and stick with Verizon or AT&T. My recommendation from a very unhappy Sprint Customer... Thanks!!!

Cannot stop recurring $10 monthly charge for a 3rd party gaming service. I do NOT game. Have talked with Sprint, but charge continues monthly. I have a hotspot and 6GB data plan. On 9/15 I decreased it to a 3GB plan. Turned hotspot off until this am. Today I powered up the hotspot. Downloaded a 2 page document. 2 hours later I received a text and 6 emails that I was over on my data plan. According to Sprint I had used over 3Gb in 10 minutes online downloading a simple consent form. Sprint was of no help in this matter, other than taking 20 minutes to increase my plan AND monthly charge. I am very disappointed in the "service" I received.

Where to start. First we were told our Sprint bill would be $140 per month, we got free phones and the plan was supposed to be $70 per line. Now I understand taxes and fees but how does $140 turn into $240?? We paid less with Verizon for better service! My fiancé has had countless dropped calls and if we're even a day late paying them they shut my phone off, even if we've already set a payment arrangement.
Most recently we paid a bill, and a few days later our next bill posted and what happens...off goes my phone again and they refused to turn it on unless we made another payment! They've never done anything about the dropped calls, or the overpriced bill. This is literally the worst phone experience either of us have had. Thinking of Sprint, think again you'd be better off with Metro or a pay as you go phone before giving them a dime. They only care about themselves and lie every step of the way. We will be returning to Verizon and they can thank Sprint for that. I would give no stars but I have to give at least one.

Tonight, September 21st, at approximately 7:10 pm, I visited the Sprint store in Waynesboro VA for issues with my phone constantly force closing apps and freezing or just shutting down completely. After waiting for over 45 mins, I was finally offered "help"... the customer service lady was beyond rude! Telling me that they closed in 5 mins and that unless I was just making a payment, there wasn't anything she could do to help me and to come back tomorrow. She continued to be rude and offered to do a hard restart on my phone which had already been done earlier in the day to which she told me that I wasn't allowed to do... then continued to recommend that I just come back tomorrow. I finally got irritated and left but I feel like it was her duty to help me regardless of the fact that they closed in "5 minutes" or at least made some kind of effort to help. This isn't the first time I've had this type of service issues from this particular Sprint store.

My husband and I have been with Sprint for over 10 years now. We both still have the iPhone 4S and are planning on upgrading to either the iPhone 6S or SE. In addition, we also want to update our phone plan to the Unlimited Freedom Plan because we frequently go over our data usage. On Monday and Tuesday nights this week, we called Sprint Customer Service to take care of these upgrades. We had to call twice because the first time, after 1.5 hours on the phone, we were "cut off". Both nights we were on hold for over 30 minutes before we even got to start talking to a customer service rep.
Then when we finally were connected with someone, we had to explain multiple times that we wanted to upgrade our phones, but also wanted to know what kind of promotions would be available to us, given the fact that we have been loyal customers for over 10 years. There was nothing available, unless we wanted to add another line to our account (everyone in the family already has a phone from Sprint, there are 4 of us), or were on the Unlimited Freedom Plan, which we told them we wanted to go to that plan also. But this person didn't understand that. There are better deals for people that are switching to Sprint than there are for customers who have been with Sprint for years! So, the only way to get an upgrade to our phones is to switch to another carrier, because we are NOT going to spend an extra $60/month! Sprint – take better care of the customers you have!!!

I am writing this review in regards to the recent recall and exchange of the Samsung Note 7. While I understand that this is a first, I am extremely disappointed in the way this situation has been handled. I contacted the 1800 number given by Samsung via email to discuss possible replacement options. I was frankly quite happy with the phone itself just very uneasy about the possibility of the phone malfunctioning. The information I was given was that there was no information to be given. Okay??? So I was sent another email from Samsung on 09.15.16 stating that replacements would be available in most locations no later than 09.21.16.
On 09.20.16 I call my local Sprint store at 9:59. Unfortunately they don't open until 10:00. I call back at 10:11 and am told that they've received a few but they are already gone. So I asked if I may be put on a list to exchange the phone when one becomes available. His response, "Oh, there is no list. It is on a first come first serve basis." This response just boils my blood. I mean I understand that this is a first of its kind, but Sprint has had several weeks to come up with a game plan. I ordered my phone online and had it shipped because I simply don't have the time to wait around in a line. Now they expect me to pitch a tent outside and wait for the FedEx truck to come with a new shipment? Are you serious???
So I decide I no longer want the phone. I am simply going to give the phone back and get one at a later time. I immediately wipe the memory and power down the phone. I arrive at Sprint, original box in hand and try to give it to the attendant working the door. He informs me that he cannot take my phone and it is an hour wait. I tell him that the shipping information along with actual order is in the box. I express my frustration with this whole situation. His response, "If you leave your phone here I will just file abandonment."
After speaking with a supervisor and telling her that I am so frustrated with this I no longer want the phone period! She informs me there is a silver Note 7 in the back if I'd like to trade it out. ARE YOU SERIOUS??? Where did this phone magically appear from? I called less than an hour prior to this! This is my first review EVER! I have been a loyal Sprint customer for over 13 years!! The way this exchange has happened is a joke! I know they have the software to generate a simple list to quickly and accurately solve this issue because at the end of the day I am a customer of SPRINT. The ethics that the employees have at the store level makes me question the integrity of the company as a whole.

I cancelled my Hotspot account with Sprint on 8-23-2016 after I had paid in full what I owed. I was told that I would not owe any more money. I received a bill on 9-21-2016 stating that I owe them $70.41. This money after talking to several people was due for Sept. bill. I did not have the service after 8-23th. It turns out that someone I talked to had reinstated my account for a fee of $30 plus charged me the rest of the money for August and Sept. No amount of talking to everyone including a supervisor got me understood. I paid the bill and clearly stated that the account is now closed, and was assured once again that it had been closed. Time will tell. You are welcome to this company as long as you don't try to leave them. My next call is to the BBB.

Everything this company says from beginning to end is a lie. They talk around the truth to confuse you to the point you give up. I switched to Sprint because they offered a lot but don't actually give you anything, they are terrible from customer service to services. Don't waste your time - I get less than what Verizon gave me and pay almost $60 more and they don't fix broken devices even though I pay insurance the phone they sent was brand new and the speaker was broken but they want me to pay $100 deductible. I hope no-one else falls for the deception of Sprint.

I was sold the iPhone for life plan back in 2014 or so I thought. I went to try and trade my phone in on 2015 to upgrade as I was told I was able to on this plan and that's when they told me I was not on that plan but on the iPhone forever plan. But for a small fee of $50 they can take care of that right now. I called customer service and tried to get them to waive the fee but they wouldn't but said if I changed my mind they will leave the $50 upgrade fee in there for whenever I wanted to do it. This past weekend I tried to do just that and was told it was marked in the computer as a maybe??? As a maybe??? What??? I called customer service and of course they have no clue what I'm talking about from one person to the next.
For the next 12 hours I even got hung up on after 45 minutes and never called back either she just left me hanging. At about midnight I was upgrade eligible with no fees or so I thought again I should have known better. They had an advertisement for Samsung Galaxy for life (here we go again) so I explained to the girl I wanted these phones and pay the monthly lease fee and she said, "Ok," and checked me out and then I heard, "That will be $147.36 sir." I said, "What for?" and she said, "Activation fees and taxes." Why am I paying an activation fee for you to simply turn the phone on and why am I paying taxes on a lease?? I paid it because I had my kid there in tears wanting her new phone figuring I will call and get a refund tomorrow morning.
So I call and they did refund me the activation fee after talking to 3 different people and the 3rd lady said to go back to the store and see the manager and he will fix this problem. "Somehow you were rung up for purchasing the phones in 24 months rather than leasing them for 24 months so go see the manager he will switch it and refund your money." "Ok great. One more question though, why wasn't I given any credit from the phones I turned in yesterday?" "Oh sir you were given a $200 credit per line a total of $400 to pay off your remaining lease of $100 per line." "Ok where is the other $200 then?" "Let me look at my notes sir, hang on."
20 minutes later, "Welcome to Sprint..." This is a different person. Can I get the number blah blah blah. Explain the situation. Well, I'm in the finance department. "Let me transfer you to accounts department." This is who told me I was given a $200 credit total not per line like the other lady said and she couldn't see any notes of course of the other lady saying that at all. She is the one who tells me to go to the store to switch stuff over from a purchase to a lease and when I do the promotion had ended and yet the store didn't know it ended nor did the lady at where ever she was who works for Sprint. No one knows anything and no one has the courage to say we made a mistake, here's what we are going to do to fix it, it's lie and transfer, lie and transfer, lie and transfer and hang up.

I switched to Sprint in July 2015, initially was happy with my LG4 and tablet. I added my son in August of 2015 mainly for their family app which was supposed to let me see his texts and calls but couldn't get it to work. Traded in my son's Galaxy Prime phone for a S7 Edge but he can't always get service in the St. Louis area and has never been able to get service at his dad's - he is there 1/2 the summer but I can't talk to him on the phone I pay way too much for. The kicker is that he damaged his S7, I paid the $200 deductible and Asurion sent a new phone.
After about 2 weeks, there was a problem with the LED screen, it would get really hot and the ear speaker stopped working. The store couldn't fix it so ordered a new one. Before the new phone came in, the screen was damaged. Neither the Sprint store nor Asurion will replace it unless I pay another $200 because the screen is damaged. I told them that doesn't negate the fact that the speaker is broken but they won't listen. Reps are rude, not helpful and I pay a ton of money for poor coverage and service. Can't wait to be rid of them!

My bill has been $286.49 for years. I have opted out of the new leasing your phone option for the last year. I was informed two months ago I was qualified to lower my bill $22.37! I asked a lot of questions to ensure nothing was fishy! Who offers a lower bill? I was excited! The next as promised I paid only $264.12! Awesome! I was hooked!
This month I was a fish out of water gasping for air when I received my bill in the amount of $375.92!!! I called and found my plan had been changed without authorization. I requested they fix the error. They did so graciously and then asked if a $50 credit was okay? No way Not okay! Why should I have to pay for their mistake? After an extended hold they offered me max $75 credit! I was insulted when they gave me the long standing customer bull. I asked for a $111.80 credit. They authorized a $89.92 and brought me back to square one! Told me a mistake was made in the first place and I didn't qualify for the $22.37 reduction in my bill. Thanks Sprint for TRULY SHOWING ME HOW MUCH YOU VALUE TAKING YOUR NINE YEAR CUSTOMER!

I used to have a plan for almost 5 years until last March when I called to ask if I was charged a late fee. The sales/customer service person told me she saw I had an old plan and Sprint had a new plan that they could offer me that would give me unlimited text, minutes and data. This was the beginning of a terrible cycle of monthly calls to customer service over repeated $25 "subsidized charges," for reasons ranging from the fact that I switched to a new plan that I didn't qualify for because of the iphone 6S I bought (I paid the full price of the phone) and that I had a 2 year contract, which didn't make any sense. The customer service would talk about another plan that was similar, unlimited data, etc... and each time they assured me I would not get charged anything extra each time. They credited me and then the $25 got added again and again over the next 6 months.
Other reasons I was given why I was charged $25 was due to the fact that I changed the plan and this was the fee for changing it. I had to call customer service every month to dispute my bill, and sometimes they would just hang up and I'd have to call again. This last time they actually said I was late a full month and charged me an entire extra bill ($87), saying I skipped a payment. I had record of payments on my credit card statements but somehow they claimed I still owed money, rambling off a bunch of extra charges, etc... would not back down on it. I really got mad and they changed my plan back to the one I had originally (in the previous months they said this was impossible) and my bill would go back to the amount I had 2 years ago. But I still had to pay the extra $87 that I am still not sure how that extra month was added to my bill.

After changing my data plan in May of 2016 they continue to charge me for services that they keep telling me they have waived and after 9 phone calls into chat sessions the charges are still on my bill. 4X they have told me that they personally took them off only to find them still on my bill the next day. Now I get messages telling me they are about to discontinue my service and turn me in for collections. I called them back. They tell me they will take care of it but nothing is being done!

I would like to say that I am very upset with Sprint's service, from all perspectives. When I had issues with my phone services, I was treated poorly and talked down too. I felt as if they were talking to a small child but they were talking to me. I am an adult, in my 30s and have a small child of my own. I am very unhappy with customer service from Sprint in every way whatsoever. I was never actually helped. I was always given false information and I couldn't even speak with managers. When I did get to speak to a manager, at one of the store locations, I was told that we couldn't speak privately, in front of all the staff who had just given me a hard time.
I am outraged at this company. My family had problems on a continuous basis with our 3 phone lines. I have switched back over to AT&T and I am happy I did so. The only reason I switched from AT&T to Sprint in the first place, was because they are much cheaper. Now I know why they are much cheaper. I would never, ever recommend Sprint to anyone, not even my worst enemy. Their staff, whom I had interactions with, whether it be by phone or at the store, is poorly trained and they do not know how to treat a person. I never had any of these problems with AT&T and I do not mind paying a little more because service is better and customer service shows support. I feel that I am being treated with care from all their employees.
I now have a bill almost 2000.00 from Sprint since I switched back to AT&T. I told Sprint I had to wait for AT&T to send me the money since they bought out my contract but apparently they are needy for money and sent me to collections. I cannot believe this. It has taken quite a while to get my money from AT&T because I had to wait for SPRINT to send my bill changes. Sprint said they couldn't do anything for me until the next bill cycle. I told them I couldn't pay anything until AT&T sends my rewards. They told me this would be OK since I had to wait on Sprint for almost a month for the new bill.
Once I received the new bill, I sent it right over to AT&T. I am still waiting for the reward money to pay Sprint. I cannot believe they sent me over to collections when I had already discussed the plan with them on why they haven't received the termination fees yet. I have so many incidents to warn people about with Sprint but I think I have said enough. My fingers are tired from writing about this crummy company.

First off I don't get service at my home, when the same bars I have here are the same ones at my work. I have three very close towers and still no service. Second they rip you off when they offer you a tablet or anything of that nature. Tell you one thing and then they next tell something else to charge you an arm and a leg. I hope they lose all their business. I can't wait to be done with this company and I think everyone else should stay away from them. The worse company ever. The only way they stay alive is by lying and stealing.

Anyone interested in a class action lawsuit??? I have 5 pages of detailed interaction numbers, detailed documents to the BBB and phone recordings of SPRINT CUSTOMER SERVICE REPS saying whatever necessary to fish around the truth. I went in to local store to find out how to cancel service, they called the corporate office from the store, I was told that day that if I was willing to give them all my service they could and would give me a much better deal. (Remember that if it sounds too good to be true then it may be.) Well if they can record us then I can record them. I have full documentation of my statements written as well as recorded. So my new account was supposed to be with 4 lines unlimited talk text and 10 gig shared 4g all in $196.00 ish or within a couple of dollars but definitely in that area.
(First bill was $436.00. Called, screamed, referenced the numbers that identify each conversation. You must ask for these so you can reference who and when you talked to...) Ok so they agreed, apologized and assured me it would be taken care of and had me pay $196.00. The next several months remind me of Groundhog Day. They did not get it right even once. My time is far too valuable to spend a minimum of 2 hours a month and not to mention the elevated heart rate. I even tried at approx the 6 month to try a different service and they ** that up to. When I purchase something and ask for a price I really am serious as to what is my true cost... not how much is the bill, oh and then also how much is my line charges oh and how much is my access fee, oh and the the data charge, oh and any other stupid fee. They missed on every item.
The last straw was when they texted a message to my kids' phones that we were in danger of losing service for lack of payment. I called, I recorded and the SPRINT REP told me that I had not e-paid my bill as I had agreed to. By the way I don't e-pay anything ever. I told them that if that is what I agreed to do then they should charge the account that I must have supplied. That too was a problem cause they did not have that info. I agreed that yes my bill does seem to be due and no I had not gotten one in mail so this 1x only charged my credit card. The mutt on the other end then replied that they would keep on file for future use and I said absolutely no. Enough is too much I now have a new carrier and so far CRICKET is exactly correct and the first 2 bills have been exactly what was quoted. By the way I am 52 years old and I am very proud to say I pay my bills and I pay them on time.
I fired Sprint. They now are trying to strong arm me and threaten me. They claim we had a contract. Well to me a contract goes 2 ways and they never fulfilled their portion. Thanks for the forum. It seems that some of these companies feel that you switch over, realize you were lied to, but just don't want to go through the hassle of getting rid of them. By the way when you tell Sprint reps that you are also recording them some hang up, some say they can't continue but hey if you are telling the truth then what is there to be scared of. What kind a rating can I give - negative to infinity. Thanks and good luck.

I purchase a note 5 Feb 2016. It have started about a month after I purchased the note 5 a message came up to insert sim card and just cut off and it will do it all day. Long story short took it to the store, they gave me a used note. Don't forget I pay monthly for this phone but they gave me a used one. Going forward the phone now get hot, insert sim message comes up, shut the phone down all day. Been to the store several times. No one seems to care. Called Asurion which they stated they should give me a new phone. It's been less than a year. The phone cuts on and off all day.
Call to speak to someone in Customer Service. Told me to call Samsung. I have decided to go back to Verizon where you have better service and treatment. Sprint Wireless are uncaring. No one there speak English. Don't understand me. They are terrible. Don't care about the customer only the money. The 5 note don't work well on Sprint LTE network. TERRIBLE. DON'T WASTE YOUR TIME SWITCHING TO SPRINT. THEY LIE, NO HELP, JUST MONEY. SO UNSATISFIED.
Sprint PCS Company Profile
Company Name:

Sprint

Website:

https://www.sprint.com/