CenturyLink
formerly Qwest
Consumer Complaints and Reviews

The worst internet in the world. High prices for low megs. They lied and told me that I signed another contract. That is going to make me take a hit on my credit report. They should be put under the earth for ripping people off. Stone age prehistoric sorry internet. I hope they get investigated. Lying thieves. I hope nobody get any internet from them anymore. Their modems go out all the time and you have to pay for them. Then they told me today I can use my own. They could have told me that a long time ago. Please don't go to these scam artists.

My phone line was cut. Called my service to fix it. First date they didn't show up, and lied telling me they had. Second time they called my cell phone telling me it was fixed but no one was home to test it. Asked him if he called the landline? He didn't check and when I called home the phone wouldn't ring through. He gave me some story and in the end admitted he didn't allow enough time to repair it. My dad who worked for CenturyLink for 30 years and now in his 70's with bad heart and knees came and repaired my phone. I didn't want him to do this because I worry about his health. But because CenturyLink techs can't do their job and lie. I was left with no choice. Very, very poor service. This is my boyfriend's home and his service... If I was paying this bill and getting this type service, I would be looking at another service... they would be fired.

Bad service. This is my second try to lower my bill that has jumped up over twice my payment. I have been on hold for one hour and twenty-one min. This happened last time. This kind of treatment is unacceptable. What do I do?

I finally give up on CenturyLink. Within last 2 years has being very bad to deal with their customer service regarding my bill. Promotions don't get automatically renew nor you get notice on when they're about to expire. You call to get the issue fix and nobody knows anything. They claim the issues are supposedly fixed, hence the next billing cycle everything is mess up again. You have to constantly call to get the promotions applied to your account. They deliberately failed to make the correct changes, forcing the customer to be in contact; otherwise you get charge regular prices even with promotions and yearly commitment. They have adopted a very deceptive way to do business. CenturyLink, you're FIRED!

They are real quick to take your money for deposit and has no hesitation or have to transfer you to anyone. But now that they have to refund I been transferred to 7 different departments. The only one I haven't talked to is Tech Support. And been on the phone for 1 hour and 10 minutes trying to get me to the right person. And Im still on hold.
How do I know I can trust these reviews about CenturyLink?
608,728 reviews on ConsumerAffairs are verified.
We require contact information to ensure our reviewers are real.
We use intelligent software that helps us maintain the integrity of reviews.
Our moderators read all reviews to verify quality and helpfulness.
For more information about reviews on ConsumerAffairs.com please visit our FAQ.

CenturyLink has promised they will apply "pending" credits to my account for going on 3 months now. After losing Internet service it took them 6 days to get a service tech out to restore service. At this time I was told my account would be credited 80.00 along with applying a bundle price that only lasts 12 months which would bring my bill down 30.00 each month. All lies, they haven't followed through with any of it and now have disconnected my Directv account (but not the Internet) because I only made a partial payment for what my bill truly is. The only reason I've stayed this long is because Directv is good and has good customer service, however, because of century link I am done!! The absolute worst company I've ever had the displeasure of dealing with. It takes 20+ minutes before you even get to a live person. Then they pass you around for the next hour. BUYER BEWARE, Century Link is a bunch of crooks!!!

My internet service stinks. 1.3 Mbs. I have been on the phone for just a little over 2 hours, hung up on once, and told my computer was messed up, but my iPad and smart phone, and even my DIRECTV service said there was no service. They advertise 12 Mbps for $19.95. I get the runaround but no satisfaction after being a phone customer for 40 years and an internet customer for 25 years. I guess it's time to find another internet carrier.

F-rating. The bundle process was ridiculous to say the least. I bundled through DIRECTV for TV, cell, and internet service. DIRECTV could not set up each service so was made to call each company individually. None of the information DIRECTV gave me was correct according to AT&T and CenturyLink. Specifically CenturyLink has the worst customer service I have ever experience in 52 years.
After canceling all three service, even prior to installation, I then received an automated phone call the installer was still come to my house. The recording said to push #3 to cancel. I did so and left on a looping recorded message for 31 minutes, while on the other line I called the new customer number 1-855-454-6890 and immediately they answered. That person knew nothing of the previous cancellation and had to transfer me to the Help Desk personnel. They then put me on hold for 29 minutes, 43 seconds. Then they transferred me back to Customer Service who I just spoke to so I could verify the order was canceled. I will never, ever deal again with CenturyLink or DIRECTV as DIRECTV customer service was just as bad.

I just signed up and had to call back in to customer service. After 40 minutes got a rep who placed me on hold. The call was then disconnected. I called back. After 35 min the next rep answered. Now I'm on hold again. It's been 37 minutes, still no one on the line.

The worst company. Slow internet. Bad customer service. After only 2 months cost $ 268.00 to get out the internet. Was losing the connection all time. I have smart tvs. Every time you want watch a movie it will keep dropping the signal. After many complaints I had enough. 2 days after the service was cancel they call me to find out when I was going to pay my bill. I tell people DO NOT USE CENTURYLINK.

When you call CenturyLink most of the time you will connected to overseas call center and either they cannot understand me or I cannot understand them. If you are lucky enough to get a human being after holding, then good luck on getting help. Also, a customer should not be required to call and renew discount packages. This should be automatic. I think I am going to start using only a cellphone and cancel service with CenturyLink. I will obtain internet service elsewhere.

Are you looking for the most unreliable, deceitful, thieving, broken ISP to ever be exist? Do you enjoy not having internet service? What about a good ol' fashioned Bait N' Switch? Well look no further, CenturyNOLINK is the place for you. As a CentruryNOLINK servant (that's right, you help them play their own fiddle that they screw you up and down with) you get to talk to people from other Third World countries, who sound like they are reading off of a teleprompter for the very first time, and CANNOT help you, WHATSOEVER. You will be lied to every time you speak with them. Any help you require, you are billed. Your internet will go out DAILY, and be SO SLOW that you cannot even load a web page. That is a load of ** if you are a student.
We have been sent multiple "Refurbished" modems that actually do not work. We have been visited by technicians after Mohammed and Mi-Ling couldn't figure out why resetting our router for the 500th time didn't work, AND BILLED FOR IT. We have been charged MULTIPLE and REPEATED times for the same thing, given the excuse that the "check bounced", even though it was paid for digitally with a confirmation code, and bank statement with plenty of funds. Also did I mention that we never have consistent internet?
Let me put this into perspective for you... the Geosynchronous Satellite that provides internet service to my cell phone, orbiting approximately 26,000 miles above the Earth, provides faster internet speeds than I get on a physical modem, and with nearly 100% uptime. In fact... I can't think about a time I didn't have service. Do yourself a favor and never sign up for CenturyNOLINK. You are asking for pain and suffering, and a lot of missing, thrown away cash. Screw you Century**.

I called them for a quote on a bundle package telephone internet and tv. They told me it was 101.90 for 2 years with a $200.00 visa card from DirecTV. This was on 9/2/2016. This was suppose to be for 2 years... On or about September 5 I called them to get the bundle package, they said it was the same $101.90 plus tax. Spoke to Madeline. I needed to send them $25.00 for internet & phone & $19.00 for DirecTv so it was sent. DirecTv was set up on Sept 8, 2016. I called them on or about September 8, 2016. They told me a different amount. It would be 63.00 for DirecTV for only 1 year after that I would have to pay 93.00 a month plus Centurylink fees. Spoke to a supervisor Tina, she said it was $101.90 a month. This was around the 17 of September.
I called on 9/28 2016 to see why I haven't received a bill. I was told by Michelle it would be $156.05 a month for the bundle for 1 year. Today got a bill in the internet for $266.00. I have no idea what these charges are for, someone please help me with this. I called Public Utilities. They said they could do nothing because Centurylink and DirecTV are not regulated. Every time I called they gave me a different order number. My account number is ** for Centurylink and ** for Directv. Don't know if the order number will show up please check my account numbers thank you. They never mailed me a receipt or bill.

I've called CenturyLink numerous times to complain about internet speed on many occasions and always am told I'm getting what I'm paying for. I've asked for higher speeds but am also told they are not available in my area. All my browsers show me living in Central Texas when I'm in Northern Texas. I have to assume that's because CenturyLink is showing the wrong access point.

Every time my one year contract expires, I call one of their retarded functionaries and I get a monthly price for the next year. I agree but they never send written or email confirmation. Then next month the new bill arrives and it is twice or more what I was promised. Then I have to embark upon a letter writing campaign to the FCC and Attorney General et al to get them to give me the price they promised. A major hassle. CL is a racketeer influenced corrupt organization (RICO) for which congressional hearings should be held. One must take notes every time you speak with one of their retards and get their name and employee number. Every chat must be downloaded and saved. Otherwise they will lie to you and cheat you. They have a monopoly in my town so there is no alternative. They are a company of liars and cheaters. They are probably affiliated with the Clinton Crime Family Foundation.

I am so dissatisfied with CenturyLink. I have been trying for a year to get my cable buried. It's ridiculous! They have sent people out to "look" at the situation and have promised to come back within 2 weeks to bury and they never show up. We have had to continually move the cable for our landscape and driveway projects. It wouldn't be so bad if our internet speed wasn't HORRIBLE! We can't download any movies from DirecTV because our speed is so slow! What a joke -- what apathy -- so disgusting!

I cancelled my account on 9-30-16, or so I thought. Generally when the cancellation department gives you a cancellation number, it means your account is cancelled. 2 weeks later I notice a charge on my account from CenturyLink so I decided to log into the account. My account is still fully active. I begin to chat with online support and they tell me that 'it looks like it didn't go through'. So that's it? No call or contact? Just didn't go through, oh well. Now I need to contact them again (time number 5) tomorrow by phone so I can be on hold for 20 minutes, get hung up on, hold again for another 20 minutes, be told that it is cancelled, and deal with this again next month? I'm not sure what to do. Should I get a lawyer if they don't cancel it again?!

The level of unprofessionalism is unparalleled. I was a residential internet customer for more than 6 years. I tried to cancel my service over the phone a few times and was just flat out hung up on. Really unbelievable. I was given phony confirmation numbers not related to my account. I could hear them throwing parties in the background and needlessly dragging out my calls. I finally verified my account was cancelled via online conversation with CenturyLink. I took a picture of my computer screen conversation for proof. I certainly got the impression that hanging up on customers to make it problematic to close accounts is part of their training and encouraged by management.

These guys are the worst evil cheating. They keep switching my modem to their internet, I have my own private provider and they are supposed to be phone only. If you call to complain, you can be talking to a person, and when they find out you have a problem, guess what? They'll need to put you on hold. Permanently. Good luck with that. Linda of St. Pauls, NC on Oct. 6, 2016: DO NOT PAY THEM!!! YOU ARE NOT RESPONSIBLE FOR YOUR MOM'S OR ANYONE ELSE'S BILL!

I dealt with these idiots for a FULL DAY trying to get the services that I needed. This was not working, that was not working, couldn't get my phone number switched over, blah, blah, blah! Finally gave up. Ok so TWO months later, I get a phone call from them asking about a phone number that I was trying to transfer. Give me a break, you couldn't do it... Went with Verizon who had no problem with above mentioned issues. The end. Right? Nope, TODAY I got a bill for god only knows what! Are you crazy!? If I could reach out and touch someone right now, I'd be on it! Avoid, stay away and RUN from this company and their imbeciles!!!

I called in because my bill was wrong. The first lady put me on hold for more than 20 minutes. She was super rude and wouldn't let me talk. Kept telling me I was wrong. The second phone call... the agent (Daniel) again talked over me and kept telling me there was no way I was right. I calmly asked for a supervisor. Once the "so called supervisor"(John #**) got on the phone, he immediately cut me off and refused to let me speak. I tried to say I was the customer and asked him to listen, he again refused to let me even talk. My husband got on the phone at this point and took over. The conversation only got worse and the agent started to yell!!! We are brand new customers. Had a great experience with the technician, but corporate was the worst experience we have ever had. I have never been treated so rude. I have never been yelled at like that.

I strongly, strongly cannot recommend that people stay away from CenturyLink enough. I've been with them since 2014, and their customer service is extremely poor and internet service, while adequate initially while under the 'promotional' contract, it soon went down significantly after the 'promotional' period was over. Not a coincidence. Also, our tv box had to be reset on a daily basis, something many CenturyLink owners apparently complain about. When called, they offer very little help, usually directing it to the faulty equipment, etc. In addition, when trying to lower rates due to comparable services offered by others, it was treated casually and without importance. The cancellation fees are HUGE - prism was $250 and Internet was $200 - complete ripoff, so BE SURE you want to be with them when you sign up. Horrible, horrible company with terrible service. AVOID.

Horrible customer service. Do not fix problems and just send you around in circles. Internet speed has been less than 1 mbps for the past month and they can't / won't fix when I have purchased 12 mbps internet speed. False advertisement and a rip off.

I have to pay every month more. When I called the company they said "oh the system was broken and that affect your account." Finally I called and I told them I wanted to disconnect my service. They said "no we are going to give to you special price but you have to sign a contract for one year" and I accept. I pay my balance. The next day I checked my account and I have another balance. I called the company and they told me "you have a balance because you don't pay everything yesterday." And I asked him "how much will be my bill. We the new price." He told to me "you have a contract for one year but you have to pay regular price." They used me.

I have been with these crooks for 31 years. Had to renew my contract now they use bait and switch tactics and liars! No customer loyalty with these crooks. Save your monies and headaches and avoid these crooks at all costs.

We have been paying for internet for CenturyLink and wifi and pay extra for a boost and fast speeds and we do not get the fast speeds we were promised and paying for. Tried calling customer service and get the runaround and they do not fix the problem. Even if the TV is off and I am the only one on wifi I cannot even make a call. It's horrible and cannot wait till we switch internet providers.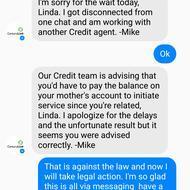 I moved into an areas where the only provider is CenturyLink. I called to set up service early and they asked me if I knew a Edna **, I said yes that she passed in May 2015. Even though I haven't resided with my mom in 31 years they inform me since I'm related to her I'm responsible for her bill. Has is that legal? I've attached the final information I was given.

I have been a long time customer with US West and then CenturyLink, and until recently was a satisfied client. Something has happened with their customer service and billing department, and I have talked to many other customers experiencing huge problems with incorrect bills and over-inflated charges. I decided to do VoIP with another vendor, so I got rid of everything except my broadband through CenturyLink. Frankly the charge per month for 12 Mbps is ridiculous, but I understand that if you don't bundle, you get the maximum charge. (I don't like it or think it's a good practice, but they are upfront about it.) I asked to buy the modem at $99 and was told I could spread the payments over 3 months.
Two months later I am still paying the rental charge, so I called again and asked that they credit back the rental and straighten out my bill. I already had a modem, but they mailed me a new one, charged me $15 shipping and handling, and then billed the entire amount two months later in one lump payment. It's a small thing compared to all the issues I have read here, but frankly, it goes to a larger problem. The agent I spoke to was difficult to understand, took forever to find my account and to grasp the issue. My bill was correct this month, but I am considering taking my account off autopay so I can monitor and pay the bill IF it's right. I had consumer confidence in them, but something has changed and now I am concerned.

I have just been notified that my email address is gone and content with it. Email address etc. I have been having trouble with my connection for over a year. I run a small business on the net. With CenturyLink being down 50% of the time lately, including my home phone, I changed to Nine Star. First it was Indy.net, then CenturyLink, Qwest and finally Embarq for my email address. 18 years, 216 monthly payments, never late. I NEVER told them to disconnect me. I thought I would have a couple days to get my info off. How many untold hours on the phone trying to keep my connection going, I will never know. I never complained or asked for an adjustment on my bill. The lady that told me all of me info was not retrievable was nice. The COMPANY overall is a grandfather company with bad wires and cards. DO NOT EVER consider using them.

I have now had CenturyLink for a year. First, we we're sold on a bunch of free services that turned out to have been a total fabrication from the salesperson. The salesperson also told us that we would have 5G service and this would the fastest in town. LOL - still not available. We were also told that they would come back and bury our cable. Imagine my surprise that is has never happened! And then there is their billing systems. Forget that it takes over an hour to speak to someone. And this is really funny, our services was disabled but they show a balance of $-304. WTF. I will be changing my service back to Comcast tomorrow whom I worked with for 10+ years and never had a problem.
Compare Home Phone Service
CenturyLink Company Profile
Company Name:

CenturyLink

Website:

http://www.centurylink.com/