CenturyLink
formerly Qwest
Consumer Complaints & Reviews

CenturyLink is the worst company to try dealing with on so many levels. A salesteam knocked on our door telling my wife and I how great their service was. They said it was much faster internet than Brighthouse and convinced us to try the service. This was a year ago. They dropped the self install internet modem off and they scheduled the Dish TV people to install that a few days later. I had Brighthouse so I wasn't going to cancel them until CenturyLink was installed. Dish came out and in 2 minutes said they could not install because huge oak trees would block the signal. I immediately returned the internet box unopened. A month later they sent a bill for $ 38. When I called they said don't worry. They will adjust and correct. A year later it is listed as unpaid collections on Equifax. They told me today they will not remove it so if I could give zero stars I would. Next I will write the CEO and ask why they are so incompetent.

My DSL wasn't working at a level that meets normal standards so I replaced it with a system that actually provides more than 2 mbs service. I contacted CL customer service and they didn't like me discontinuing their DSL so they cut off ALL my phone service leaving my customers in the dark for the next 10 days. Now the customer service hell really began. It took over 10 phone calls and hours on hold to get the phone reconnected. Supervisors/Managers promised to call back and never did. Forget the chat option, all they want to do is sell DSL (that doesn't work). The phone service was first reconnected to the wrong internal line.
Once it was reconnected to the right line they didn't reconnect the forwarding service, which required 3 more phone calls and more holding time (and it's still not connected). Every time I was transferred I had to explain the problem over and repeat account numbers, only to get transferred again and start again, and again, and again. The customer service manager must have been trained in the USSR because this version of customer service is worse than anything I've experience since being there. HORRIBLE is the only word that could describe their customer service system. They get away with it because we have no options, just like the USSR.

I was a customer of this company back when they were known as US West - excellent service, never had a problem. Then they became Qwest - excellent service, never had a problem. Then they became CenturyLink - terrible service, with one fiasco-sized problem after another. The only reason I'm still a customer is because there is no other service available in my apartment complex. The most recent fiasco occurred when customer service representative Sean sold me an Internet/TV bundle deal for $43.95, when the actual price was double that (**).
So I called back to cancel the TV service, which I didn't want in the first place, and had only signed up for it because Sean said it was the only way to get a cheaper rate on my Internet service. This time, I was told by customer service representative Steven that since I had cancelled the TV service during the 30-day grace period, I would not be charged the $200 early cancellation fee (**). However, now the company is refusing to honor the 30-day grace period, and they charged me the $200 early cancellation fee anyway. I plan to dispute the cancellation fee. But my question is: how can a company get away with so much fraudulent behavior and never face criminal charges?

I have a bundle account. They are over charging me for my services. They are telling me for months that they had billing error and didn't charge me for my services. I got a bill every month and paid it. This company has the worst service when you try calling customer service. They don't want to help you. All they want to do is transfer you around or hang up on you. Worst company ever. Take your service somewhere else.

They tell you one thing and then do something completely different. I was told I could split my modem payment into 3 bills which I opted for. When I get my bill though, it's not split up and they say "I'm sorry nothing I can do now. Oh well". That I should have called before the bill was sent. Of course as it's your first bill, you can't see it online and you don't know what it says until you get it. Seems like a convenient catch 22 to me. If you want to be lied to and misled then go here, if not, find another internet provider.
How do I know I can trust these reviews about CenturyLink?
595,131 reviews on ConsumerAffairs are verified.
We require contact information to ensure our reviewers are real.
We use intelligent software that helps us maintain the integrity of reviews.
Our moderators read all reviews to verify quality and helpfulness.
For more information about reviews on ConsumerAffairs.com please visit our FAQ.

CenturyLink has about the worst customer service I've ever encountered. I called to let them know that I would be out of the country for the summer and put my account on vacation mode. They messed up my autopay information and thus billed me late fees all summer while mailing my United States address to "notify me" while I was in Ecuador, never once emailing me though I had informed them I would be out of the country.
Upon my arrival home I called and took hours to finally get them to take the late fees off the bill. I then changed the account that they would be billing out of to a different bank account that had sufficient funds in it. Instead of drawing out of the new account they continued two months in a row to bill out of the old account incurring late fees and insufficient funds fees and also causing my bank to bill me an overdraft fee. I would rather go the rest of my life without internet capabilities than to ever deal with CenturyLink again. You can tell by the rest of the reviews that CenturyLink is garbage.

The internet speed that I was told that I was paying for is 1.5. I get less than .5. I have called and complained, spent 2 hours on the phone, told that it was fixed multiple times. Within 2 days it was back to .5. The modem and connections were done by CenturyLink. The problem is ongoing and never gets fixed.

Wow, it's great to see I'm not alone with the problems with CenturyLink. Like everyone else, I was told numerous lies. First, I would not be billed for installation. Second, I was told there was no monthly rental fees with any of their equipment (TVO recorders, etc). Third my bill for internet/tv/2 TVO machines and a router and that my monthly bill would be $120/month. My first bill was over $375. When I called they deducted $80 and was told the remainder was for billing a month in advance. A couple months later my bill was over $200. I called, was told it was "fixed" because she gave me services that would keep my bill at $120/month. My next bill was $270.85. SERIOUSLY??? Then I get a separate letter stating:
You have purchased Prism Extreme 12M complete with a term commitment period from 5/25/16 to 5/25/17 and up to a $180.00 early termination fee.
You have purchased 88A2 - 10M/768K Fiber service with a term commitment period from 1/27/16 to 01/27/18 and up to a $200.00 early termination fee.
You have purchased Prism Complete 24mos PL service with a term commitment period from 01/27/16 to 01/16/18 and up to a $250.00 early termination fee.
You have purchased Prism Extreme 12M Preferred service with a term commitment period from 09/07/16 to 09/07/17 and up to a $200.0 early termination fee. You have purchased FTTP 40M/20M Bundle Your Way service with a term commitment period from 09 07/16 to 09/07/17 and up to a $200.00 early termination fee.
What the ** are they talking about? Now I'm on line reading all the horrible reviews... Can a company really get away with this?

I have been dealing with CenturyLink over my elderly parents' phone bill for over two years with no resolution. Centurylink continually tries to charge them for directory assistance which they have never used and will add a long distance charge even though my parents pay for unlimited long distance. I have to call every month to have the charges removed. Sometime they remove them without argument and sometimes they are rude and hateful. I am finding that other people with elderly parents are having the same issue.
This is a scam and I am sick of it! I will be changing their phone service as soon as another company will service their rural area. My advice, if you have a choice, steer clear of this corrupt company. They lost my business several years ago over their inability to bill properly when bundled with Dish network. Never allow them to bundle. They will pad the bill and claim it is the other company doing it. When we unbundled, we found the source of the problem and dropped CenturyLink.

I had no internet service on 9-19-16, called CenturyLink. Was on hold for over 40 minutes. The tech tried to get me reconnected remotely, unable to do so. Set up an appointment for the 21st for repair. I found out later in the day that the entire area was out. Later had internet service so called back to cancel the service appointment to save them a trip out in the country. Again was on hold, this time even longer. Told the first person what I wanted to do, was transferred, again on hold. Then the agent that could "help" me put me on hold, periodically coming back to let me know that she was working on it. Finally came back on, said that there would be a one time charge for $16.25! I asked what that was for and she said to disconnect your service!!!
All I wanted to do was cancel a service charge. Looked down at the modem and sure enough, no signal. So I was once again transferred. This person said that he would get everything taken care of. I told him that I wanted them to quit sending me email and snail mail ads about the $19.95 a month for internet service. I have only internet (when it works), no phone and my bill changes every month, anywhere from $60 to $90. He said he could adjust that. Today I look at my bill on line, the $16.25 charge is still on there, now a total due $98.99.
Over 18 months ago my modem was fried during a storm, they sent a replacement, I returned the old one. I am still paying $10 a month for that. They have said they never received it and since it was on lease I will have to continue to pay for it. I have paid for it twice over. I had been with them for 10 years in NM, over 2 years here in TX and a constant headache trying to deal with them. Have no other option. Avoid them at all cost if you are able.

I called CenturyLink to see what their prices were and if they served my area. AT NO TIME DID I ORDER THEIR SERVICE! Now I am getting both email bills and paper bills in the mail for a service I never ordered and have not used as it would require laying a cable to my location on an agricultural property and no one has ever come to my location.
CenturyLink deserves all the bad press it gets. DO NOT EVEN CALL THEM OR YOU WILL REGRET IT! They do not ever answer their customer service phone number and I have called at least FOUR of their numbers only to have to wait more than TWENTY MINUTES (when I call it quits) listening to their crummy music and their pitches about their 'wonderful' services. This company should be sued by the government that grants them their license to operate and BANNED from ever being allowed to exist again.

CenturyLink used to provide service (TV and Internet) in a Condominium-Complex in Fort Myers by using the facilities of another company. Two months after I got connected to CenturyLink and had paid the installation with more than $200 we all got notice from the Home Owner Association that CenturyLink will no longer provide service. They stopped service end of February but they did not stop sending me bills. I brought all the equipment back early March and got connected for TV and internet with the other company (for sure I had to pay the installation with them).
I wrote emails to CenturyLink, I called them - but I do not have time to stay in line for more than 20 minutes to get connected to a human. I went to the store in Fort Myers and was told that they cannot help me and connected me with customer care on their phone. After 75 minutes(!) I had spoken to 7 different people on the phone and was told that I would get credit even for the months of January and February because of the inconvenience I had. But instead of receiving credit I got a phone call that CenturyLink is going to send out a collection agency in order to collect more than $800.
Today I tried again to resolve the problem on the phone. I talked to 4 different people telling everyone the same story and than I was put on hold for more than 10 minutes - the lady came back starting telling me something and we got disconnected. I started over again... I really try to make a long story short, but I spent already more than 3 hours on the phone to get the promise that the case is resolved and I will get a phone call the next couple days to confirm that the issue is resolved. The same promise I've got a month ago... In case I will get the next bill or the next threat that they send the collection agency I will need to hire an attorney - maybe someone knows a good lawyer for cases like that. CenturyLink leaves me more than desperate! I was even accused to make it complicate...

Whatever you do, DO NOT bundle with these companies. They add charges to your bill without permission then toss you back and forth between the two companies. Nothing ever gets resolved and you are still stuck paying for services you didn't order and don't want! Then they both tell you they can't make changes to the account until you threaten to discontinue your services!

I signed up for CenturyLink Internet services in order to try to save money. I was with them for only three months and each month they got my bill COMPLETELY wrong. Not by 15 dollars, but by 100s and it was NOT easy to get all the payments off that didn't need to be there. I had to spend hours on the phone with them, refusing to pay unneeded services before I got any help. I finally disconnected my services last week and yesterday I got an email saying I should be expecting a bill soon because my services have been restored. Now I have to make another phone call trying to get this sorted out. This is not worth the money I was saving for CenturyLink. It was horrible customer service and internet service. Please do not start business with them! It will only give you a headache!!

I decided to switch to CenturyLink to get away from data caps. BIG MISTAKE!!! I called and ordered service. I ordered 40 meg Internet for $34.95 a month for 24 months. I also got a $50.00 credit to cover installation cost. So they installed the internet and life went on, until I got my first bill notification. It was for $75.31, not thinking it was right I attempted to log on to view the statement. It wouldn't allow me to log on with this new account (I had prior service with them with only a few issues for years, and had only been gone less than a month at this point) so I called and explained my concern, and asked her to explain the charges to me. Of course it was wrong. I only had 20 meg, no credit and 49.95 a month because I didn't have auto pay (like I'm gonna give them my banking info). Long story short, someone "deleted" all my prior account info, and the CSR could not "fix" my rate.
So she gave me a one year contract (according to her they didn't offer 2 year contracts) @ 19.95 a month for my 40 meg, but she had to recharge me for a modem I didn't need and installation, totaling 149.00, but I should call the next month and dispute the extra charge. I would also need a tech to come out to make the switch. Fast forward... got a paper bill a few days later and all the original info was correct, 2 yr contract, 40 meg for 34.95. Now the billing is really a mess. PLUS, because when they connected me I only got 20 meg, I now need another tech to come out to change me to 40 meg. So they make an appointment to come out on 9/20 between 9-1. No show, called them a few times and got empty promises and cheap excuses such as the tech will call me with an ETA WITHIN 10 minutes, that didn't happen either.
So, I called back the next morning (today) and was told they had an "emergency" yesterday (those internet emergencies sure suck... insert sarcasm) but the tech would be here today between 3-5. No show again, no calls, no nothing. Called at 6 pm today and again another feeble excuse but they. Will come tomorrow between 8-5... heck no I told her to forget it, but she told me I needed to go to another dept to cancel it. I said nope, and hung up. Called my local cable/internet company and will have 150 meg installed tomorrow and then I will cancel CenturyLink, and I am sure part 2 of the battle will begin. Spread the word, CenturyLink sucks!!!

Have been a business customer of theirs for over 20 years and in the past 6-10 months they have started sending out disconnect notices dated one day after a "current charges only" bill is due and threaten to disconnect within one week which is about as much time as it takes for their bill to reach us. Pathetic! I even contacted them and they confirmed that is their new policy! Hostile environment that plays the power trip that they can do whatever they please without concern that it is not a normal procedure! Definitely looking for service that appreciates you actually use their service!

We recently moved apartments and are about 60 feet from our old apartment. We used their automated service on the 6th of September 2016 and they set up a transfer for us. It never happened and we got an email saying we should call because there was an issue. We did on the 16th and they said they had no information on file about the 13th and said they would pro-rate us until the 20th. The tech came out on the 20th but never came inside and the internet still didn't work. We called and the operator said the tech had no access and she would send him back out to finish. That did not happen. So we called again on the 21st and the operator said we have to wait until the 22nd for a tech.
We had already been waiting since the 6th and so we cancelled service. They then charged us for breaking our contract early 80 dollars... And we still have to pay for the month we had no internet because they are too incompetent to hook up DSL which uses a phone line. I would recommend no one use this Company ever again and even if cable costs extra it's worth more than a 1 star rating company's inferior internet. Pay the extra and do not have issues.

We were sold the system with free installation, Century Link instead bills us $52.88. We called to inquire why this was and we were essentially told to pound sand. Leonard, our customer service rep, provided poor telephone customer service, horrible tone, and was unable to rectify situation. I will not be renewing service with this company and will be telling classmates who are considering this service to not go with Century Link.

I just moved to Denver, CO from Dallas, TX and am appalled with the horrible customer service and communication from CenturyLink so far. 1st incident - in July, enrolled in internet services and the representative I was speaking to asked for CC information to enroll me in autopay. I found at on 9/21 that representatives cannot do that. 2nd incident - receive a bill at the beginning of Sept saying I owe $228 by Sept 25. Says I missed an August payment (shocking since I thought I had autopay) and that August and Sept are due by the 25.
3rd incident - 9/21, internet is turned off without communication. I pay bill, but service is not restored. Call CenturyLink. 1st rep says they called me on Monday. They did not. (I have phone records to prove it.) I did not get an email, letter via mail, or phone call that there was an issue. Am told I have a balance (not true, already paid the whole amount). Am told I need to wait until services are restored, could be up to 1 day, and I am told to just deal with it.
If CenturyLink is going to turn off services on 9/21, why tell me I have until 9/25 on my bill? And, most importantly, why didn't they communicate that they were going to turn off services? I work from home and lost an entire day of work. I am extremely displeased with my customer service experience (1 rep hung up on me when I asked for his name and his manager's contact info). I expect better service. We all should.

CenturyLink says they have a 30 day money back guarantee. What they don't tell you unless you ask is you must go on the web site and fill out a form. You have no proof you sent in the form. My new internet service was terrible. Starting calling after first week to cancel. They say they are cancelling my service and turning it off. Call they 4 times. Said someone cancelled my request after first call. They kept saying they turned it off. It was still working. They said they were sending a return label to send back equipment, never happened.
I went into the store and took the equipment. Also was able to finally after many, many hours of calls to have it turned off. Never been lied to so much by a business. Then the next month go a bill for 246.00. Said it was a penalty. I told them I had a 30 day money back guarantee. Now, they have told me my account is adjusted and I owe nothing. Said I could look at my account online to ck. this. It won't let me into account. I told the employee I Had no proof they adjusted my account. Wanted a confirmation number. Of course no confirmation. My word against CL. Never been so aggravated in my life!!! Run for this business. It is no deal. They are crooks.

Had phone and internet service installed on 9-16-16. Now trying to get some service changes with no success. Been trying to contact correct person for last couple of days with about 4 hours each day and keep getting transferred to retention department with a queue of 50-60. Left chat running and finally disconnected me after 4 hours with no success. Tried again today with same results. Shame on me for not doing the research before biting on their quoted price. Have not received first bill but expect it will not be what was quoted, if it is like all the other reviews. Not sure how to undo this before I experience the frustration that it seems everyone else has gone through. Seems to me that a Class Action suit may be in order to at least get the company on a better path, since it appears they are scamming all their customers.

In April 2016 I was approached by a door to door sales rep for CenturyLink that offered to save my money on my cable bill (I currently use Dish) if I was willing to try Prism TV. He assured me that it was risk free for 30 days and if I didn't like it I wouldn't owe any money. I agreed and had the service installed that week. After 3 days I did not like the interface or behavior of the guide so I opted to cancel. Upon canceling I was told I had to pay a termination fee of $480. I had to complain about that and what was promised and then was told I had to pay it and receive a credit as it was a money back guarantee implying I had to pay first. After calls to CenturyLink every two weeks for 5 months now, I still have not received my refund and they continue to transfer me to multiple departments every call and I am on the line at least an hour every time.

This is the most ridiculous thing I've ever experienced. The Bundle service is a SCAM - they PROMISE a fixed rate to bundle with Direct TV - FOR 2 YEARS. LIE LIE LIE. Your bill grows larger each and every month without your knowledge or consent. When you attempt to call in and FIX the problem, you're on the phone 3 hours each and every time trying to work the bugs out and along with that come more LIES LIES LIES. We canceled service. This was under my boyfriend's account. Just to prove how CORRUPT they are, I ordered up just internet service, and canceled 3 days later. The router came and I immediately returned it, never even touching the box. The account is supposed to be canceled.
Next thing I know, I keep getting messages left on my phone by some middle eastern person calling from a UNLISTED number. With all the scams going on in the world I don't understand any company who uses this for a practice. This girl can't comprehend a canceled account - BEFORE it begins. So for the past 3 months I get these calls and no resolution to them because SHE CANNOT COMPREHEND BASIC ENGLISH. They get pissed off if you ask to speak with a manager. So I just hang up on the stupid game LALALA. Today I finally got to speak with someone who can speak english and comprehend so this is taken care of for a THIRD time. Lets see how long this will last for. The billing department is totally screwed up. This company is nothing but a scam - save your money and all the headaches and just stay away.

We had been customers with CenturyLink for over thirty years. Most of that time we only used the phone services and has minimal problems. The big issues came about when we went from dial up, way back when, to DSL. At first, it seemed reasonable, but then there were multiple outages. We live in a far northern suburbs of Minneapolis. We thought that might be the reason. Within the last ten years we started using Netflix and Amazon Prime streaming videos. That's when we really noticed that the service was substandard. We made numerous calls to the company and the download speed increased for a week or so then went down again. What was our speed? In 2014 we were about ready to cancel the service. A rep told us that they could guarantee 12 Mbps for our location and assured us that we would get that from that time forward. We did not.
Our highest download was 7 Mbps during the last two years, and the average was between 2-5 Mbps. Try to watch video streaming at those speeds. When we returned from vacation at the end of August it was running 2-3. This made it close to impossible to work online and forget about streaming video. Enough was enough. We decided to go to Midco but did not inform Century Link until our cable was installed. Midco had to procure our phone number from Century Link so was could use the same home phone number.
On September 9, 2016, I called CenturyLink and took five minutes to get the robo-answering system to give me someone who might help me cancel service. I got billing and after I told them what I wanted, the billing rep started to demand updating on our info. I told her that wasn't necessary since we were leaving their service. Then she demanded September payment, and I informed her it had been mailed on September 6th but she wanted me to pay it again. I told her all I wanted was to cancel our telephone and internet. Then she admitted she couldn't do that and said she would transfer me to a "retention specialist". I waited fifteen minutes on hold.
The person that came on spent the whole call telling me we were their special long-time customers and should stay with them. I told her about our horrible internet service and that this was the reason we were leaving. I told her we had already switched to Midco and was talking to her through our new cable-internet telephone service. I told her our download speed was 55-75 Mbps as verified through speedtest.net. She kept on trying to talk me out of it. Finally, she got the message, at least I thought she did. She gave me an order number and said they were now cancelling our service and we should get a refund for the rest of September that we paid for after the 9th from the check I just sent.
I thought it was over. Then, yesterday, September 19th, I get an order confirmation from CenturyLink for an Internet Bundle. Sigh... Here we go again. It was for a phone number we haven't had in years. I called and told them we cancelled. The very rude rep told me that we only cancelled phone service as evidenced by the notice from Midco that they were taking over our phone number. I pointed out to him that I cancelled the service on the 9th, with the main reason being the poor internet speeds.
Why would I just cancel the phone if the internet was the problem? He kept trying to make me wrong and denied they were the ones that screwed up. He had a record of the call on the 9th. I gave him the order number, and he finally said we will be receiving a cancellation notification referencing that number. Now, to wait and see if that's the end of it, and we do receive money back for September. FYI: We love Midcontinent's phone and internet service. Use them instead if you have that option.

This experience has been a nightmare. I ordered my service over a month ago. I was told the line connecting the Internet to my home would be buried in 2 weeks. After 10 days I called. I was informed that the request was never submitted. I made an appointment for 9/7. No show. Six hours on the phone I get an appointment for 9/12. No show. Another phone call to CenturyLink and I'm told 9/19. No show.
Today I am told the order is pending. They tell me they are escalating the order to a 3rd party (they contract this service out), but they do not know who the 3rd party is and they cannot give me a date, time, or contact. I ask for a corporate number, they are unable to supply a corporate number. This is the WORST business I have EVER had the displeasure of dealing with!!! The customer service is beyond deplorable! Run, RUN, RUN! DO NOT USE THIS COMPANY UNLESS YOU ENJOY SLAMMING YOUR HEAD INTO A WALL OVER AND OVER AGAIN.

Centurylink has consistently overcharged for internet service. There have been unwarranted overcharges on their auto-pay option, only to have it rectified after several complaints. It should be noted that mailed statements have also been received with errors (all in Centurylink's favor) and overcharges. It was promised to me that the autopay option would rectify their errors and overcharges. I was mistaken. 3 weeks ago I was assured that my internet charge would be approximately $23.00. However, after the issues were resolved, Centurylink re-established the overcharges in my new statement showing a new charge of $51.00. This company is a cancer on the consumer. Just look at their record.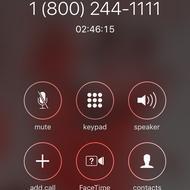 Called to clarify my bill. Spent three evenings on the phone. Spoke at least with 20 people before somebody actually explained to me what was going on (after I asked for a manager). My total time on hold was over six hours. Took a screenshot after being on hold for awhile. Terrible customer service and poor Internet connection.

I called to have my service switched from Cox. First appointment tech didn't show or call. Next two appointments were rescheduled by tech at last minute. The 4th appointment was after the 4 hour window. Tech complained about having to be there. Connected service and just left, leaving equip behind. Had to make 2 different calls to get $100 gift card 2 months later. Service has been very spotty and unstable. I have been waiting 4 hours for tech appointment and no-show or call. At least I am paying $75 less for terrible service?

I have read some of the reviews and can relate to all of them. From being overcharged when my service was on vacation, over 60.00 a month last summer. To being transferred 5 times yesterday. They would not give me the advertised price for the package I have. My price 98.00 advertised price 74.00, so much for living up to what was told to me when I bought the service. My biggest issue with them is their billing system instead of giving you one price they give you all these so called "discounts". It is very difficult to understand. I had a bill last year that was 6 pages! One step closer to turning off tv and just having internet! Netflix and Fire TV are amazing!

I have given CenturyLink three different tries in the past 7 years, mainly because it was the only provider I could get in my area. I have moved to 3 different locations in a 45 mile span. Each time I move I have ended up having to get CenturyLink because they were the only company I could get, aside from Dish Network. I did go with Dish but decided to go back to CenturyLink because they offered the lowest rates for just internet. I am the idiot who thinks that maybe something will change and it never does. They have one of the worst customer service departments I have ever encountered. On a few occasions I have complained so many times about how horrible my internet is. They have "upgraded" me to their fastest speed, which is still amazingly slow. With the technology we have these days you would think they would be able to make it better.
The ONLY thing they have going for them is their price, but when you think about it you are basically paying for internet that is so bad and only works like 60% of the time.... I guess this is where the saying "you get what you pay for" really stands to be true. If you can, at all, avoid this company and their products do so. It is NOT worth the few bucks you save and the massive headache that comes along with it.

ConsumerAffairs Research Team
The ConsumerAffairs Research Team believes everyone deserves to make smart decisions. We aim to provide readers with the most up-to-date information available about today's consumer products and services.
CenturyLink was founded 1968 and is now the third largest DSL provider in the United States. The company provides Internet, television, home security and home phone services. It also partners with Verizon to offer cell phone service. Customers receive discounts for subscribing to multiple CenturyLink services.
International plans: CenturyLink offers reduced rates for calling select countries in Central and South America. They also have plans for other international call and plans specifically for calling Canada.
Extra features: Consumers can choose a plan with a wide variety of features, including call forwarding, caller ID, three-way calling, voicemail and more.
Refer-a-friend: CenturyLink's refer-a-friend program rewards consumers when someone signs up for a new service using an existing customer's referral link. If the new customer remains with the company for two months, both parties receive a gift card worth up to $75, depending on the type of service the new customer selects.
Online support: The Guidance Center section of CenturyLink's website has tools to help customers with questions or problems. If customers can't solve the problem on their own, they can easily make a service call request from the same page on the website.
Best for CenturyLink is best for consumers who want to bundle multiple services.
Compare Home Phone Service
Basic Information
Company Name:

CenturyLink

Website:

http://www.centurylink.com/