CenturyLink
formerly Qwest
Consumer Complaints & Reviews

This company is crap from top to bottom. Sales reps made everything sound great and I felt like I was getting a great deal. It turned out I was getting horrible service and getting nowhere near the internet speed that I was "supposed" to be getting. I just got off the phone with a rep from CenturyLink and she stated that even though I'm paying for up to 12 megabits per second, technically I could be receiving much less than that because it's "up" to 12. For months I've been testing my internet speed and its been ranging from .35 to 4 mega. .35 haha wow that's an absolute joke, however they claim that it's up to 12 so tough luck. If you are considering getting CenturyLink, don't make the same mistake I have made. Once my contract is up in a few months I will do business with anyone else, even if that means paying a few more bucks because CenturyLink is a complete joke.

I've had the same problems with billing and customer service. I've been a customer for thirteen years. I wanted to review my and see if I could save any money. I was lied to and put into something that cost a lot more than what I was paying. I called back and spent another hour trying to get back where I was. They adjusted my bill and supposedly put me back where I was. Caller ID is gone, voice messaging not working correctly, and my bill is higher. Trying to deal with customer service is time consuming and frustrating. I sent an e-mail to them with all the information they requested. Three days later I have no response. I am looking for other service. If nothing else I will just have my number forwarded to my cell. It is my business number, otherwise I would have just cancelled them. I am totally dissatisfied with their customer service.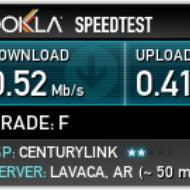 CenturyLink is currently the only ISP in the area that doesn't have a data cap, so it's my only choice. After several years of working from home and suffering through the sub-megabit speeds and 10-20 hours of downtime a week we've decided to just cancel the service, sell our wonderful house, and move somewhere else where they, hopefully, have never heard of CenturyLink.
In the last two weeks of our service, after we informed them that we wouldn't be renewing, my consistent download speed has dropped from 300kbps (~2.5mb) to less than 60kbps (~0.5mb). Speaking with a "customer service agent" they let us know that everything's fine on their end and they'll send a technician over immediately. Typically a person shows up, reboots the modem, then several hours later the speeds just jump back to their usual 300kbps for a few days, but that technician never arrived. I just disabled the network and continued working over a mobile hotspot because a $200 phone bill is more bearable than dealing with two weeks of CenturyLink service.

I would NOT recommend CenturyLink to anybody! This company is absolutely horrible. First we scheduled a day to have our services installed and nobody showed up! So I called later that day expressing my concern about nobody showing up and they scheduled another day, well when that day came what do you know - nobody showed again! This happened with nobody showing up 5 TIMES!!! At this point we had been paying for 2 weeks of service that we still had yet to receive due to them not showing up on scheduled days! Finally the 6th time was a charm and we got our services!
Well then we received our first bill which was double what it was supposed to be, so I called and they said that they had messed up on the bill and there was no way to fix it that. We just had to set up a payment plan! So we did the payment plan and then received our next months bill which was double from the last bill so 4x the price we were supposed to be paying! When we called again because of that they once again said this was the price it was supposed to be! Our bill was supposed to be $68 a month and somehow that $68 a month turned into $450 a month! By far the worst company I have dealt with and all the employees I dealt with were extremely rude! Please do not use CenturyLink!!

CenturyLink is awful in every way! On a residential scale & business they are absolutely horrible. I've dealt with them at work and I have CenturyLink internet at home and they can NEVER get the billing right. Their bills are SO confusing that its very hard to understand what they are even charging you and why. I have to call them almost every single month to fix either my bill or my mom's, which they completely screwed up over and over, and finally fixed after over 3 months of getting it screwed up.
Their internet speeds in the SLC, UT area are horrible. Yesterday our internet went out completely. I called to get it fixed and they had to send out an technician. I set up an appointment for the next day between 2:30 pm and 6:30 pm. As soon as I get to work in the morning my wife calls me at 8:30 in the morning saying that the tech was there.. That's definitely NOT 2:30 pm! The tech did fix the problem so that was good. I just don't understand how this company is still in business when they are SOOO AWFUL!
As soon as my contract with them is up I am going to cancel them and I hope everyone else does as well! I've been a CenturyLink customer for over 3 years, and they have always been awful! The only good thing about them is their prices.. which is why I've put up with this garbage for so long. I can no longer stand it. I will pay more for a service that actually cares about their customer!
How do I know I can trust these reviews about CenturyLink?
551,483 reviews on ConsumerAffairs are verified.
We require contact information to ensure our reviewers are real.
We use intelligent software that helps us maintain the integrity of reviews.
Our moderators read all reviews to verify quality and helpfulness.
For more information about reviews on ConsumerAffairs.com please visit our FAQ.

2 hours on the phone. Lied to, manipulated, told to disconnect and reconnect service in order to get a promotional rate. On hold 20-30 minutes at a time. Worst customer "service" ever experienced. It is clear from other reviews that this is their standard operating procedure. It's a shame there are only 2 providers to choose from in my area and they both stink. Where is the internet provider who actually cares about customer service/satisfaction?

We moved out of the service area for CenturyLink, our new home is not is CenturyLink service area therefore we had to terminate services. We got a bill in the mail for an early termination fee of $200. $200!!! We would have loved to keep CenturyLink at our new address. We really did like the service they offered. Had been with them for years. Called and talked to rep on the phone to see if they could decrease term fee or void. Was told there was nothing they could do because "they didn't initiate our move." Explained to them that we were satisfied customers up until this point. Then asked to be put on a payment plan, because I wasn't about to just give them $200, was told that was only an option for active customers, even though our final bill states to call and set up payment options.
I WILL NEVER USE CENTURYLINK AGAIN!! This is coming from someone who would have signed with them in a heartbeat if they came to our area. They obviously aren't worried about retaining or regaining customers. Also, when I requested that our services be cancelled I was never told there would be a termination fee. So annoyed with them!! I would be much happier if they even took just a little off the term fee.

Horrible company. Could never get a bill that was correct. Many hours spent on hold with them. I would pay the amount the rep told me to pay then the next month it would be wrong again. At some point they took long distance off of my phone. Sent me a bill for almost $500.00. I had phone and internet service. I canceled all service with them and requested a detailed bill. That took forever to receive. It has been a nightmare with no end in sight. They have turned me over to a collection agency. Maybe the collection agency will be easier to deal with. Good luck dealing with this company. I was only with them for about three months before I cancelled. $500.00 For three months of phone and internet.

My mother's account suddenly doubled in cost. Tried to go on website to change package and only options are phone or chat. Have tried many times to contact and both never available! It seems they are intentionally making it difficult to change your service options. This and other issues I read about here should be reported to the FCC.

I looked up on the website of CenturyLink and seems inviting, hence, I tried to switch from Cox to CenturyLink. Planned to switch to CenturyLink all of my 3 homes. I did my primary home first and told person I talked to that I definitely would keep my current telephone number with Cox. A technician came by on our appointment date but when I told him of keeping of old number told me that he did not know about that. He said I need to call the office again and tell them what I wanted. A technician came by again and successfully changed my provider from Cox to CenturyLink. Then, I called them again to switch the provider of my 2nd home. I talked to somebody and we already closed the deal, told me the account and order number then transferred me to a department, sales department. The person I talked to this time could not understand what I was saying and what I wanted. I hang up thinking that I got the wrong department.
Dialed customer service and told a female customer service what I wanted, that I talked to a Mr. ** and got an account and order number. She said she could not find that number in their system, hence, after telling her what I wanted, gave me another account and order number. I was transferred to another male rep and asked me the usual info they needed and said I have to make a deposit of $225.00. I told him that I was never paid any deposit of my first order after running my fico score which was very satisfactory. Then he transferred me to a department, automated Spanish speaking which I could not understand. Waited for several minutes and never stopped, so I hang up again.
Prior to transferring to the automated Spanish speaking department, I was given a July 23, 2016 appointment for the technician to come. Believing that my order did not go through because I was not able to talk to a live person when I was transferred to the Spanish speaking department, I said, "I quit. Never mind for the transfer, just keep the Cox provider." However, on the 22nd of July, a lady from the Engineering Dept. called me saying that the installation will be delayed because of a cable problem. I asked her, "When?" She said, "Maybe next week or months." I was in a hurry to switch from Cox because I did not want to order mini boxes for my 6 television sets at my second home and per Cox without the mini boxes all my TV programs will be lost. So, I told the lady from the Engineering Dept. to forget about my order because I am cancelling it.
When I checked the credit card I gave to the person I previously talked to for the deposit, I found out that I was charged $150.00 not $225.00. I then called CenturyLink that I need a refund because I did not go thru with my order, I was transferred to several departments and nobody seemed to know about the $150.00 charge. I faxed a copy of my credit card bill to the Cancellation Dept. and after how many days, still no action was made. I need a follow up again, and again, still no action made. There was another discrepancy too. I noticed my first name and last name were misspelled in the confirmation order (my second home) they sent me.
I got fed up and told the last person I talked to last July 12, 2016 to disconnect the service at my first home prior to the 30 day trial period otherwise they will charge me for the early cancellation. I could not believe how this organization work and still in business. Everything is a mess. I prompted to cancel the service at my first home because with this early experience of mine, I might have more problems in the future. I read the complaints and bad reviews and found out that I am not the only one. I found out that Cox people are more professional to work with than CenturyLink.

I should have followed my instincts when I responded to a mailer from CenturyLink in October of 2015. The promotion was unlimited wi-fi and free router. When I called in response to the ad, it was a different story. The cost would be 29.95/mo plus $8 for the router rental. I told the agent I had the promo right in my hand and would e-mail him a photo of it. Then the agent backed down and said I could have the deal and he would send me the router and set a day to turn on the phone line.
This went according to plan and my first bill was 29.95. My next bill was 37.95 so I called and demanded that it be corrected and that I be sent an e-mail stating the agreement that had been made. Never received the e-mail. However, the bill remained at 29.95 until I had to transfer my CenturyLink to a new apartment. So I called and arranged a transfer of service to my new apartment. However, the agent said CenturyLink had a special promotion going in which customers could get their internet speed doubled and their monthly fee lowered to 19.95/mo. I had her repeat that twice so I agreed to the change.
Little did I know that it was a set up. I called customer service again the next day to get another agent to check if the stated deal was indeed in their database. He said that it was so I was convinced. The first agent told me that since it was a speed upgrade that the change could be made without entering my apartment so there would be no technician fee. I moved in on July 1, 2016 and that afternoon my router was on and my wifi was working well although I couldn't detect any change in internet speed. Eleven days later I get a bill in the mail for 3 times the amount that was agreed upon over the phone PLUS the huge monthly charge included services I never requested PLUS it was made retroactive to October, 2015 when I first started service.
Somehow I kept my cool while stating emphatically that this action by CenturyLink was not only the stone-age bait and switch tactic but it was outright and deliberately fraudulent because of their attempt to make the excessive charges retroactive 9 months. Well, I got put on hold for half an hour not knowing that while I was on hold CenturyLink technicians were using my phone connection to locate my router which they were able to do and disconnected it immediately which dropped my call. I tried to use my limited minutes from another carrier to call CenturyLink customer service back but I couldn't get past the automated screening protocol because both my CenturyLink # and my e-mail address were declared invalid.
So I gave my CL # from my previous address account and got through to an agent who immediately told me that my account was still pending to which I responded "How could it be pending when it was activated by CL on July 1 and I've been using it without problems since that date." Immediately the agent cut me off. Then I got an e-mail stating that my account had been closed. I paid one month in advance and CenturyLink will not respond to my e-mails in which I demand a refund of that prepayment since CL cancelled my account. In my view these are not only deceptive, abusive, scheming, predatory and exploitative tactics on the part of CenturyLink, they are also criminal, fraud.
CL still has my bank account details in its database and can at anytime charge whatever they wish to my account because the date is not from a debit or credit card, it is my actual bank account and routing numbers. In my view CenturyLink is a criminal enterprise trying to get by with whatever egregious exploitations it can while daring anyone to complain to the various agencies that deal with such blatant ripping off and cheating and lying and manipulating its customers. However, CL made a big mistake running this elaborate scam on me. With all my documentation I will take my case to every government and state agency that handles companies like this.
CenturyLink should be forced out of business not just because of my unbelievable case but because of the scores and scores of other similar cases on this and other consumer sites all making pretty much the same complaints that any company with an ounce of compunction would be profoundly ashamed of. CenturyLink should be heavily fined and/or forced out of business. There are no other consequences that would do justice to its pathetically predatory and, in some cases, criminal practices. It most definitely is in violation of the Unfair Trade Practices Act, Federal Trace Commission and Federal Communication Commission regulations and should not even be considered for ANY rating other than PREDATORY by the BBB if there was such a category. F- would have to do.
I have also decided to consult with various attorneys to explore possible legal options for the damages done to me which included the loss of nearly $5000 in photography sales as I was cut off from wifi while I was uploading photographs to a client. Not only that, I lost the client. I wrote an email to CL Vice President of Global Operations detailing my experiences and she referred my case to a CenturyLink Customer Advocate which is like sending the fox to advocate for the hens. He simply reiterated CL's position which he wasn't even able to make sense of because CL has no position, no explanation and no defense for their reprehensible actions and tactics used against me.

I moved to Rolla Mo and set up internet with CenturyLink. After having internet service for 2 months I had not received a bill. I called CenturyLink regarding me not receiving a bill and was told that I should receive one in a week or two. A month went by with me not receiving a bill so I contacted CenturyLink again asking for a bill so that I could pay for my internet. I was informed that my account was set up so that I would not receive a bill but that they would correct the issue and send me a bill. Another month went by without a bill so I called again. Again I was told that I would receive a bill but that I could pay online.
So I accessed the website to pay my bill. In order to pay my bill I was required to enter my account number. I did not know my account number so I again called CenturyLink. The person on the phone told me they could not give me my account number over the phone but that it should be listed on the bill... I still had never received my bill so I was still unable to pay. The person on the phone then told me they couldn't verify my account over the phone and told me they could not help me. I called a couple days later again to ask for my bill. They told me I should see my bill in a couple of weeks. Four weeks later I finally received my bill. The bill was for $500 and included late fees.
At this point I decided to pay the bill and sign up for a different service provider. When I called to cancel my internet I was told that I could cancel it for $200. The $200 charge was for breaking my contract. CenturyLink failed to hold up their part of the contract by providing me with the means to pay my bill in a timely manner. I should not be responsible for the $200 and I also feel that during the time that I had service that it rarely worked correctly after I got home from work.

There was a time when the telephone companies were reliable. CenturyLink is a joke! I ordered a single phone landline for use in emergencies. Whenever I use this line there is a lot of static and people on the other end say that they have a hard time hearing me. I've changed out phones so I know it's not the phone. I called tech support and they were extremely unprofessional, as if they were talking to a 5 year old. This was after being on hold for almost 30 minutes. He gave me a song and dance about sending a technician out and when I told him the time he assigned wouldn't work he gave a heavy sigh.
I told him I needed a narrower time window than the 8 hour window they were trying to give me. After getting frustrated I told him to transfer me as I was going to cancel service. He then said he couldn't hear me. How convenient. There's a huge problem in the fact that CL has a monopoly in much of the country in terms of landlines. The FCC needs to do something about this.

Every time I call Centurylink, I get disconnected. I am beginning to think that they do it on purpose. It is a phone company for crying out loud. This should never happen! Today I was put on hold for over 30 minutes and then the call got disconnected. I was so angry. And they never give the same information twice. I called 3 times today and got totally conflicting information regarding my account each time. They gave me different prices that varied wildly. In the past I have been given wrong information that they held me accountable for. No one seems to know what they are talking about! Such a frustrating company to deal with.

CenturyLink up-sold me without telling me I needed to buy a new modem and pay a tech. The cost was 159.00 dollars. I was fine with the 12 megabits I had. Before the tech came to my house I was told that I would not have to pay the 59.00 dollar service fee, but they billed me anyways. I tried to cancel but that would be 200.00. They are so dishonest. Don't believe anything they tell you. And forget about customer service.

I cringe every time I have to deal with CenturyLink. Slow, unresponsive, hard to understand. All of the above! Missed appointments, wrong charges, long hold time and continuously transferred around. Finally, have another option for service and 4 months after cancelling CenturyLink service still having to fight to get charges reversed for billing past cancellation date and for equipment that was returned. After 15 years of having no option but to use this company if I wanted internet service, I would strongly advise not to use this company.

I was mysteriously taken off "autopay". I did not find out until my next bill came and had the previous balance showing as late and I had $7.79 in late fees. All customer service would tell me was that my CC had been declined, but they did not know why. The CC I was using had $7000+ available; more than enough to cover $153.46 in the previous bill. The customer service agent left me hanging on the phone until another customer service rep answer it as a new call. Do the explanation all over again! Even less help. Requested a supervisor and she offered to take my CC info and pay the current bill and charge me a $3.50 "convenience fee". TOTALLY USELESS. I went online, paid via my checking account to avoid the "convenience fee" but had to eat the $7.79 late fee.
Tried to send an email to the corporate resolution center. After completely filling in the form and describing the issue and requesting the $7.79 refund and pushing the send button, the email would not go through because of the CenturyLink message: "TEMPORARILY EXPERIENCING TECHNICAL ISSUES". Stay away for this train wreck of a company - looking for another internet supplier.

Was sold bundled internet/prism. One hour on phone for sale and ambiguous explanations, 2 hours installation, another 2 hours on phone after it didn't work right, and another 1 hour tech appt to fix their BS. Kept getting bounced around from dept. to dept. since nobody knew their a$$ from a hole in ground. And I'm totally serious! I don't need the aggravation. Probably going to Xfinity and I'll probably need to go to the doctor to get some blood pressure pills now.

I signed up for service with CenturyLink 3/22/16 for the phone and DIRECTV bundle package. Within three days, I received an email confirmation stating that the order and installation was complete when in fact it was not. The service did not actually until the first week of April. Upon signing up for service, I was told that I would get a $50 gift card for signing up. After waiting for two months, I called inquiring about the card. The Customer Service representative was highly rude. He implied that they haven't received the payment which was false because it was drafted out of my account. Then, when he found my payment, he quickly transferred my call. Sixteen weeks later, I received the card.
Recently, I called to add the internet service to my bill. I was given a confirmation number and was told to be home because a line needed to be installed for DSL. I waited 24 hours and the technician did not call or show for the appointment. Instead a modem was sent. I called to see what happened and was placed on hold for an hour. I couldn't wait and had to return to my shift. Three days later, I discovered that phone was disconnected although the bill was paid in full.
Concerned about my ill father and uncle, I called CenturyLink and spoke to a representative who stated my phone was not disconnected according to CenturyLink's records. I requested to speak to a supervisor and the call was disconnected. I called CenturyLink back with the same request and got transferred to three different departments. I called back and spoke to a representative named Heidi who attempted to resell me the same service that I already had but at a higher cost. She dismissed the fact that I was already in a contract for phone and DIRECTV for a year.
After arguing my point about the existing service that CenturyLink terminated without my consent, the representative admitted that CenturyLink was in error. The representative stated she would start service for $69.95 + 35 reconnect fee for three years. I asked the representative, was this a contract agreement? She stated it was not but as she read the terms and conditions she stated "contract." I'm furious, because in the event of an emergency they cannot call 911 which is why I signed with CenturyLink. CenturyLink's Customer Service need to be revamped because it is terrible. If I could issue zero stars I definitely would.

All I needed was a list of the local phone calls I have made from my home phone number 208-** the month of June listed on my bill or a hard copy mailed or email to me. After 4 phone transfers still nothing. I STILL NEED A LIST OF OUTGOING CALLS MADE FROM MY HOME PHONE NUMBER. As a minimum they can be listed on by June bill. (You won't believe the reply! analog service?) I thought that went out with the dinosaurs. CenturyLink is an analog phone service and as previously advised, "to obtain the information you are requesting, it is time consuming and the cost has to be absorbed by the person requesting the information.

This is the worst internet service provider and I haven't even gotten the damn internet. First off we were scheduled to get it hooked up last Friday and today is Wednesday. The company technical people for whatever reason decided not to show up or say anything. Then we contacted support over the weekend which could not even activate our account since apparently whoever did it the first time didn't do it right nor help us until Monday.
Then we already had purchased the box online since it is so much cheaper to get it from eBay, and all the guy had to do was turn on our phone line. He came 2 days later and said he couldn't get in so he couldn't do it. And then we had to wait again and I took off work to wait this 5-hour window. Called their support since their chat was not working AGAIN, to verify that someone was coming, but because my boyfriend held the account they would not allow me access unless they talked to him where he is at WORK since 12-5 window is WORKING hours. Not even to simply check if one of their people was showing up. So I created an account just to say screw you guys we are going with another provider.

Had CenturyLink for 1 year. Cancelled two years ago, returned modem, and prepaid my last bill. Two months ago, received collections notice from AFNI, (CenturyLink's collections agency). Called CenturyLink to investigate. Cold transferred from customer service to Financial Service, to Closed Accounts Service, and back to Customer Service department 11 times, with each agent telling me the problem resided with a different department. Was told that their phone system did not allow warm transfers, so had to re-explain the situation each time.
Spoke to two supervisors who were unable to help me and cold-transferred me to different departments. Finally got a supervisor, who was able to determine that my modem had been received, but never credited to my account. She contacted COCAT (the company that communicates with the collections agency) and had the collection removed from my account. I have been told that it will take 30-60 days to correct on my credit report. Hopefully this resolves the situation. Total time: 5.5 hours. Result: Account now shows I no longer have a balance due. Must wait 45-60 days to wait for adverse account to be removed from credit rating. My advice: Do NOT get service from this company. Their departments do not communicate with each other, and they are not given the training to help customers, plus their internet service wasn't that reliable for the year I had it!

Signed a contract with Centurylink in January with the understanding that this was a winter home and we would need the account to be on seasonal rates part of the time. Sales rep told us the seasonal rate would be between $25 and $30. After the first bill, promotional discounts changed or disappeared completely. My calls resulted in them being reinstated on the next bill, but other promotions disappeared. Each month required another phone call to straighten things out. In May we went seasonal, but the charges were much higher than originally conveyed to us by the sales rep.
After two months of wrangling on the phone with a different rep with a different explanation each time, I terminated the contract. To add insult to injury, Century Link sent me a final bill with early termination fees adding up to two months of additional full service. My wife had cautioned me about doing business with these people, but I thought, "we'll try them out for a year, how bad can they be?" Now you know.

I am a long time user of CenturyLink (Quest) out of necessity that I have to have a landline. First thing, if you look online you will quickly find out there is no option to file a direct complaint or a review about this communication SERVICE provider on their website. That is a red flag! This is not a customer oriented company. Seems they make their money through stock buybacks and all kind of financial shenanigans propping share value that way, not by providing a better service. Many of the customer service reps are plain rude and will give you inaccurate and misleading information on the phone.
CenturyLink started charging big fee for credit card bill payments. If you opt to pay you bill by check, supposedly for free... Watch out, because if you make the mistake with one wrong banking info number your check will be returned and you will not find out about it before you see a check return fee of $20 smacked and credit score bump because of their outdated online payment processing system. It is time CenturyLink get their business back where it should be and start providing value for their paying customers.

I canceled the not so great service in January, was told there was nothing else I needed to do. Then a few months later started getting emails saying that my account was overdue. Then it was sent to the creditors, which I called and they filed a dispute, but the emails have not stopped. When I "chatted" with them today, they said I have a month fee and the modem was never returned. However, the modem was returned about a year prior and the rental charges had stopped at that time. Yet, now they never received the modem. How convenient. No matter what was said, they just kept repeating the same thing. Also, once they start the 2nd party creditor, aren't they no longer supposed to deal with the customer. Interesting. Whatever you do, don't go with their service. It is not worth it during or after.

This is by far the worst experience I've ever had with any cable or internet provider. Connection is poor, service is extremely expensive ($86 for 15 gig, internet only), have to reset the modem at least once per week and sometimes multiple times per week, which costs me data on my phone since it ALWAYS cuts out ironically overnight. Haven't even discussed the awful customer service I've repeatedly received from them. I read another review that said CenturyLink charged them more money on July 7, 2016 that they were unable to reverse. I was also charged an additional $96 dollars on that same exact date. Interesting isn't it?
According to them my auto-payment, which has never been a problem in 18 months, somehow didn't go through. Well, my bank would have notified me of that with an overdraft charge and there was no notification or charge from my bank. The bill says it was paid on time. So I spoke with the Payment Investigation Department. What a joke! Wish I remembered the name of this lady to include it in this review. She was rude from the moment she answered, cut me off multiple times, talked over me and wouldn't let me answer a question before she talked over me, AGAIN. She then informed me that they canceled my auto-payment information.
So a mistake on the part of CenturyLink costs their customers more money and apparently they are perfectly ok with that. Had I not checked the email they sent me with the new bill charges, which I normally don't because I have it set up on auto-pay so why would I, I would have never known they were overcharging me or that my auto-payment had been canceled. Were they planning on charging me late fees on top of everything by canceling my auto-payment without informing me? My thought is yes. I called Cox Cable and scheduled a technician to come out the next day. Called CenturyLink back to cancel my service. The first guy offered to cut my bill. No Thanks! Told him there was nothing he could do to keep me as a customer so he transferred me to the cancellation department.
Waited literally 24 minutes for someone to pick up the phone. All the while I listened to this stupid recording telling me how important my business is to them. The lady that answered was nice. She tried to keep me as a customer of course and offered to cut my bill in half. No Thanks! If this company has been this bad for 18 months how are they actually going to do any better by cutting my bill? It's still going to be bad customer service, bad equipment, and I'm sure there will be another incident when they try to overcharge me again and try to blame it on me. Maybe if they actually cared about doing business the right way, offered a good service and a reasonable price and gave good customer service they wouldn't need to overcharge their customers to offset lost revenue. What a shame.

If I could put 0 stars, I would. But I had to give the bare minimum of 1 star. The customer service is absolutely the worst I've ever dealt with. Inadequate employees giving information that isn't accurate or honest. I needed to discontinue my service with CenturyLink because I was moving... pretty simple transaction. It ended up being SUCH a hassle. My internet was shut off prior to my moving date, and when I called to get it sorted out, I was on the phone with them for another 2 hours just to get it turned back on. When I called AGAIN to disconnect, I was on the phone with 3 different people all that mysteriously "only handled west coast customers". I will NEVER refer any friends or family to this company. They are nothing but a total headache.

Signed up for bundled Cable, Internet, and phone. Assigned number to landline, 3 weeks into service I no longer have phone service without warning, get an order confirmation with an unknown number attached to account. I have spent two days trying to reconcile the discrepancy with at least 10 different communications with CenturyLink via chat and phone. Have experience long wait times and have been dropped on every call. Finally disconnected services as I have no idea who can access my account, and am getting no answers from CenturyLink.

I just wanted to reschedule my installation date for DirecTV in Minneapolis. The emails sent to confirm the original installation provided no guidance for rescheduling, but they did provide a chat line, which I used. They then directed me to the 1-800-DirecTV number to call. I called the number and from there started a NIGHTMARE journey with CenturyLink. I was transferred 6 times! Yes, 6 times. The last transfer I was on hold 20 minutes before I hung up. Everyone had an excuse. Just to reschedule my installation date has taken 2+ hours out of my day and I still haven't achieved my objective. How does a company with this poor of service stay in business? I have now called a new number and I've been trying to reschedule for over 25 minutes. If CenturyLink thinks this is customer service, they need to be run out of town. Still waiting.

Not only is the service unreliable, but so are the customer representatives. I initially chatted with a rep on 4/29/2016 because our speed is so slow. He checked the map and said, "Oh, yeah! You can get 15 Mbps at your location! I'll send a rep out with a new modem, too, cause your's is old!" I said, "Let's do it!".
5/6/16, I chat with two more reps and get this song and dance, "Oh! The field rep came out, but said you can't get any faster than what you've got. He called you, but no one answered. Did you get your modem?" "No, no one called me, and no, I didn't get the modem." "Oh! Well, since you can't get any better speed than what you have, I'm going to give you a discount to $44.95 per month, and I'm going to UPS overnight your new modem. The new rate will be effective 5/13/16. Anything else I can help you with today?" I have the chat transcripts where the promises were made, but still have the same crappy modem, the same crappy connection, and no discount on my monthly charge. I'm stuck with this lousy company or an even worse internet provider but at a lower price.