CenturyLink
formerly Qwest
Consumer Complaints and Reviews

This is the worst provider I have come across in my life and I'm 42... I can't understand how you pay for a service that never works right and get excuses like well they are changing out the wires to fiber and they just haven't reached your location yet. Supervisors are always way tooooooo busy to come to the phone to speak to customers. So speaking to a supervisor is very rare like spotting a t-rex. My internet goes down everyday. I call CenturyLink to only have to do the physical work for them like rebooting routers and rebooting computers and checking wires. I am not IT and if you want a tech to come out well then you get charged for that even if it is the fault of the company. They will give you a lame excuse to charge you. Happened to me once and won't happen to me again.
I unfortunately have no choice because they are the only provider in my area but if you have a choice go with the other choice because you will have more than a headache with CenturyLink. Customer service sucks… internet sucks... I can't say nothing about cable because thank goodness I don't use cable but I am 1000000000% sure it sucks just as bad as the internet. I warn you don't go with CenturyLink. Go with another provider. Spare yourself the heartache and headaches that comes with CenturyLink.

I have been a reluctant customer for 6 years and this weekend my internet was shut ON THE WEEKEND!!! My bill was not due until July 20th which they verified. I only owed $300 for TV and Internet for my normal monthly bill. Once again not due until July 20th. Nobody and I mean nobody has the ability to restore my service until Monday. I can't wait to change. It is the worst service and the worst support.

I was a long time Cox cable customer before I decided to switch to CenturyLink. CenturyLink never made it to my home. They stockpile so many customers schedule appointments that tech was never in time to install any services. I went through 4 appointment and still no tech. Call to complain. Waited 30 minutes to speak to a supervisor. And the sound least concern about anything I have to said. He said I would need to wait another week for a appointment. I said... "** give me my money back and goodbye." Really poor customer care and services.

I was downsizing from Cable/Internet/Phone to just Internet, and my internet provider wouldn't work with me on the rate. So, after shopping around, I found out CenturyLink was the only other provider that serviced my area. I hopped on their site, and they were offering a special of $29.95/mo for the first 12 months, with a 12 month contract. The chat box popped up, and I started chatting and asking some questions. The person on chat with me ended up doing everything for me to get me set up for internet service. During the conversation, they told me that they got the price down to $25.95 per month, plus the monthly modem rental fee, plus taxes. They said they would waive the shipping/handling and the activation fees. And since I was going to set it up myself, there would be no other fees. Great!
2 days later, a service guy shows up at my house. My mom was there, but she turned him away because she didn't know anyone was coming and he needed to come into my house. So, I called CenturyLink to find out what was going on, and was told that even though I was going to set everything up myself, he still needed to make sure the line was active. I was very annoyed, because NO ONE ever said he would need access to the inside of my house. So, I rescheduled, and had to wait 5 days for the next appointment. When I got home the day of the appointment, he did not use the modem that had been shipped to me, but set up a new modem. No big deal, the modem that had been shipped had a return UPS address label, so I shipped it back.
Then I get my first bill. I'm expecting it to be based on the $24.95 rate that was quoted, but instead, received a bill with a rate of $40.00, plus shipping and handling, plus activation. I called CenturyLink to find out what was going on, and was told that the special introductory rate was no longer available, but hey, they could upgrade me to the new special of $45.00 per month for life with no contract! The person I was speaking with could not seem to understand that I did not care what the current promo was, I wanted the rate that I was quoted when I signed up. I was told that he couldn't help me and to call customer retention the following day. Turns out, they were closed the following day, so I had to wait until Monday to call.
When I called on Monday, after a very lengthy conversation, I was told the same thing. That special rate was no longer available, they could not give it to me, and the best they could do was give me the current promo. I told the woman to cancel my service and send me a return shipping label so that I could send back the equipment.
So guess what? The only thing they did in a timely manner was shut off my service that day. I receive an email and a letter right after saying that they received my request for a service change and valued me as a customer, but NOTHING else. Now I just received an email stating that I need to return the equipment or I might incur more fees. So, I have to drive 25 miles to their nearest location to return the modem that I never should have had in the 1st place if the tech had used the one that was mailed to me. I am disgusted that this company can treat people like this. This is bait and switch, and I am seriously thinking about contacting a lawyer.

I signed up for internet only service about 45 days ago. Since then, I have had 5 service calls (6 techs) all very nice, knowledgeable and willing to try to correct the issue. All have tried everything so far to correct the issue, but no resolution yet. Today 7/14/17 I had the most recent tech out who made yet another change to the service. As it happens every time the service works fine for a few hours and then it starts again. Now they want to set up yet another appointment - all at my expense of time and many hours of unreliable service and some complete down time. I cannot continue to sit around waiting for their techs who have pretty much exhausted options on what to do.
So 45 days into paying for poor and unreliable service, and well documented and acknowledged (on their part) service issues, I called to cancel service so I can go to a more reliable service. They simply do not care - they want to send out another tech and if I chose to cancel, they will charge me a $200 cancellation fee.
I am so upset - it's amazing how little they care - they locked me with problems and all, and now I cant get out of it without a paying for something that has not ever worked as it should. I simply cannot spend any more time waiting for their techs to continue to 'try' to fix something. All I want it to be able to cancel service without a penalty since they have not been able to fulfill their part. How can this be so one sided? They can provide poor service and I have to pay no matter what?
How do I know I can trust these reviews about CenturyLink?
823,111 reviews on ConsumerAffairs are verified.
We require contact information to ensure our reviewers are real.
We use intelligent software that helps us maintain the integrity of reviews.
Our moderators read all reviews to verify quality and helpfulness.
For more information about reviews on ConsumerAffairs.com please visit our FAQ.

My experience: two exhausting years of negotiating bills that are terribly inflated, paying $200 every two weeks and still receiving shut off notices and threats. CenturyLink have done things against my wishes such as bundling services and then refusing to unbundle them. They are now telling me that they will not cancel my services until I pay them hundreds of dollars, even though I have been paying $200 per month since March (it is now July). Please use another company. These guys are terrible.

After a week of no phone or internet a tech finally shows up and in ten minutes reconnected my line. The reason it was off? A week prior another tech had disconnected it for no reason. And when they disconnected it they left wires laying in the grass for me to run over with my mower. Mind you the connection was not cut off for any reason other than incompetence, not for my lack of payment (automatic payment). These people are clueless, helpless, and incompetent. STAY AWAY. Worst service ever. I'm changing providers as soon as I get my email addresses straightened out. Bad bad bad.

This company is absolutely the worst. They continue to over-charge, and continue to add to your original bill with no explanation. I have no idea how this company stays in business. I have tried numerous times to call the customer service number or the billing department number. The wait time is over 10 minutes for each person, and each rep continues to transfer me to another rep. After 20-25 minutes of waiting, I just give up. They offer an email address to write to concerning questions or issues. Initially, I got a response that someone would contact me within 24 hours. That was 48 hours ago.
Based on the numerous other complaints, I can only assume that CenturyLink is getting so many customer complaints that their staff is unable to keep up! The vast wait times and the lack of response all together tells me that the reps are besieged with customer complaints. Two days ago, when I finally did get through, the rep was rude and insisted that I had missed payments. When I provided the proof that I had not missed a payment, I then asked, "How do I get out of this deal?" The next thing I heard was a dial tone. The rep hung up on me. Nice customer service. Really, something needs to be done with this company. This is awful service and awful product. AVOID CENTURYLINK AT ALL COSTS! DO NOT GET CAUGHT UP IN THIS SCAM!!!

Customer service for CenturyLink is by far the worst customer service I have experienced. They are rude and not helpful at all. The customer service I talked to today was so condescending and when I asked to speak to a supervisor, advised me that she did not have one. I never write reviews... good or bad but today I am so frustrated that I actually took the time out of my day to write this one. If you have the ability to go with another internet/phone provider, do so. You will regret ever signing up with CenturyLink.

If I can rate them in Negatives like -10 I will be very happy to do that. They are a mess, I have an internet service with them from past 4 months and I happened to call the support every single month to resolve same issue and the funny frustrating part is they don't resolve my billing issue. On top of that the customer representative person that I spoke with is very very rude. They promise a credit which I don't receive, they promise 20Mbps speed which I don't receive, me and my husband spend at-least couple of hours every month trying to resolve the issues and that's absolute waste of time.
They charge me $43.95 instead of $33.95 every month, they have asked me to use paperless billing and auto pay for not getting extra $10 charge which I did immediately but even then every month they charge me $43.95 and I have to call to fix it, they say they fixed it and I will receive a credit which I don't. I gave a call to customer billing support today, I have received worst experience in my life, she is rude and speak to me with loud voice and she just disconnected my call without answering my question. I guess that is how they treat customer. I would not recommend CenturyLink services ever to anyone. Please don't opt this service, they are the worst in the industry.

As a 14 year loyal customer of CenturyLink, I decided to continue with them when upgrading my internet service. What a huge mistake!!! In the 3 months since, there has not been a single employee with whom I have had contact who has told the truth or delivered on their promises. I spent 15 hours waiting here for a technician on SCHEDULE SERVICE CALLS to arrive, with each one a no-show. Not once was there an apology or an explanation given. Finally, on the 4th attempt, a technician showed up. I never once during the 1st month had the internet service that I had bought. When my bill arrived, I complained that I should not pay for this service since I didn't have it. After multiple phone calls and emails, this was finally resolved. Since then, I have received 2 more incorrect bills. Finally, I was told that what we were promised and agreed to in billing did not exist.
Our bill is $20 more than what we were promised. Also, I discontinued Directv through them. I had paid in advance for the month and was told it would be credited back to me. Three months later and it still had not been done. CenturyLink says in their ads that they handle the billing for these other services. That is true up until there is an issue with one of these other services, and then they say it is Directv's problem. After more than 3 months, I think that this issue has been resolved. I wouldn't trust a single person working in the customer service, billing, or sales branches. All they do is lie or defer. They want to wear you down. Don't ever believe it when they call you one of their VALUE CUSTOMERS. I am ditching their service as soon as possible. The leadership of this company should be ashamed of how it operates.
I have never, ever been treated worse by a company that I was paying for services. My wasted time meant nothing to them. In terms of lost wages for time spent sitting at home for scheduled appointments, lost or inadequate contract services, below par internet service, and time spent researching, my time with CenturyLink has wasted thousands of my dollars. THEY DON'T CARE AND WILL MAKE NO ATTEMPT TO BE HONEST OR TO MAKE THINGS RIGHT!!!

So they came to my door and I was signed up with them. I was in a promo deal until this year then it would end. The lady told me to call because after this deal is done my price will go up. Well it did. Ever since my promo ended I have been having so many problems with them. First problem I had with them was I went online to check my bill. It said I owed 17.00. I am like ok. Then when it was time to pay for it, it went up to 41.00 so I paid. Then I get a letter saying I never paid. The guy I talked for said that was for last month. Which does not make any sense. I have paid my bill every month. It seems every month my bill keeps going up and up. I called to lower my bill and the lady was very willing to have me on a promo deal. I was told my bill would be around 70.00. Nope. When I looked online to pay my bill it was up again.
When I called to ask them about it the lady said she does not know why I was told that. The lady was rude to me. They were going to charge me for making a phone payment. I am like, "You are going to charge me more money. I WILL go online and pay." She said, "I will wait for you until I get the confirmation number." And she said, "You are going to pay the full bill." I was so angry. My bill keeps going up every month. They should be shut down... and if you want to be done with them they will charge you 200.00.

I was pleasantly surprised when I received an e-mail from CenturyLink explaining that they wanted to upgrade my modem at no extra cost. The next day a technician came right out and installed another modem. He explained that there were so many wifi users in the area it was making it difficult for CenturyLink users to utilize their signal. He made sure that all of our devices that could use hard wiring were wired and took the time to show me features that I could use to manage all our users.
Our technician's name was Douglas and he was very helpful and happy. It was such a nice experience to have CenturyLink reach out to us to fix the problem before we even had to ask! Thank you CenturyLink and thank you Douglas for a fantastic customer service experience. I don't have an order number but the person who emailed me is named Rene.

Terrible customer service and Cable/Internet. First they were sending me 2 bills, one for cable and one for Internet. When they shut me off for non- payment (even though I paid Internet bill) they said I wasn't supposed to get two separate bills, and that I should've paid the other bill only. Fine, so they put my service back on, but, had to do another whole account, with new equipment. Bull, they used most of the other equipment, wouldn't take the box of "old" equipment and we had to bring it. Then, I pay my bill over the phone, and THEY COULDN'T FIND THE MONEY I PAID!!!
Finally after going back and forth for almost two months, with me refusing to pay AGAIN the payment they lost... they ask me to fax a copy of my bank statement. So, I send it in, waiting for a response. They Shut Me Off AGAIN! When I call them trying to see what is going on, the 4th person I talk to says that I have to go to my bank and have them refund the money that THEY TOOK!! I'm going back to Comcast. They had way better customer service and this type of crap does not happen. They're more expensive, but they are way better! I hope CenturyLink goes belly up. And I am getting BBB involved as well as my state attorney general, as I have never heard of the ** these people are trying to pull!!

Where to begin... I contacted CenturyLink to have internet hooked up in our new home. I was told I was getting one speed package and had it in writing. The day of installation came and everything went fine. I noticed that the internet was super slow. When I checked it was performing way slower than the plan I signed up for. I first tried the online chat support. After being transferred to five departments they told me to call. I spoke with several rude people on the phone to be finally transferred to management upon my request. They told me that the service that I signed up for was not available in my area. However, they went ahead and set me up with a service that was far less without informing me. Nobody on the phone seemed to think there was a problem with this.
I personally do not see how it is ethical to just hook up a service that isn't what someone signed for. I finally demanded that they stop transferring me and cancel everything. Unfortunately it took me becoming angry which should not have to happen. I was assured that I would not be charged anything. However more than a month later I received a bill for 221 dollars! Once again I had to contact CenturyLink. Once again I was transferred to five different people - having to explain myself each time. Finally I was able to speak with an actual nice person who was willing to help (which I didn't think was possible at CenturyLink!!). This person finally worked with me to have all charges taken off (despite the four people prior who said I still owed for the three days of service I had).

This is the most corrupt company I have ever dealt with. I was constantly having problems with them overcharging me. Anyway I had a account with them for 3 years. I was first overcharged to $58 from my normal $30 normal bill amount that they take direct out of my bank account. So I called. They said I was overcharged from promotion expired. Anyway they set me up with a new promotion and said it would be $25.05 a month. I still have a confirmation paper they sent out showing my next bill should have charged that amount. But instead they charged me $58 again saying it had already been billed for $58 and they couldn't change it. So I told them I want full refund for the overcharges and when they offered only $20 I decided to switch internet companies. Now I got switch but they are trying to charge me another $300 in late fees and charges for early disconnect of contract.

Incomplete Installation: I had my service installed on the 20th of June. The cable that goes from the street to the house has been laying on the grass since then. The installer indicated that someone would be along in a course of the week to replace the cable with one long enough to bury and that they would have it buried as well. I have called 4 times already. The first time I was transferred to 3 different departments before someone acted as if they actually know what I was talking about. On the 2nd call I was able to get them to give me the number they were transferring me to then. I have been promised that a supervisor will contact me later in the day and yet no one ever calls back. It is now almost a month since the service was installed and the cable is still on the ground. I have lived in 17 states and I can say with certainty that this company has the worse service I have ever had.

I signed up with service 7/10. I entered all information and provided se #. Instillation scheduled for the next day. Received confirmation email. Never received modem or services. Started chat with CenturyLink representative. Apparently they can't find my account. They then want to create account and run second credit check. Absolutely not. According to rep they didn't run it since there was issues with account. "Oh so you did locate account?" "No no," according to representative. "Well then how did your system send my email address a confirmation of all the info I entered with a zero balance due at time of install along with time and date." The rep just kept running circles. The rep tells me their system is secure and account will created properly. Are you saying that creating account online is not secure? Total scam. Go with Cox. Their reps are professional and will go out of their way to assist their customers.

Received postcard 7/2017 regarding the continued increase of billing customers with zero products being added. Today's postcard is announcing that starting next month 8/2017, there will be a recurring $2.00 line charge for long distance. I am already paying a recurring line charge for internet and it is the SAME LINE. When you try to remove long distance of course your bill goes up. So basically, they are saying, "Suck it up buttercup. We can charge you as much as we want for the same line having a recurring charge."
I am curious with all the billions you will be making with these new charges then why whenever there is a bit of moisture in my area I lose service? I wish I had more choices in carriers because this one would be the first to go. My educated guess is because there is a billion dollar lawsuit that is pending for the overbilling of CenturyLink customers. That this is their way of paying for it. Con Artist Company! Perfect bait and switch gimmick again.

I have been a customer of CenturyLink since 2014 when I moved into a area that they were the only internet provider. Anyway my bill has increased $25 or a little more from 2014-2017 now around $90 a month for less than 3mbps especially when you factor in the modem/router I rent from them cause the service they provide isn't easy to purchase my own since it isn't 1990 anymore. I gave up on their modem few days ago and long story short I went on their site to see if they gave a list of companies that sold equipment I could use and saw they now offered over 3 times my speed for less than half what I pay with no contract in my area and I thought how crappy of them to not even offer to current customers. Not that 10 mbps is anything to brag about for $45 a month but if I could get service anywhere else I certainly would, they completely take advantage of being the only provider in the area. Should be against the law.

Absolutely do not work with CenturyLink. This is, by far, the worst experience I have every had with any organization with regards to professionalism and customer service. Have not had internet connectivity since our contract started. Multiple technicians have shown up to fix this and have failed. Full of misinformation, poor customer service, unnecessary visits. Save yourself time and use Cable One.

Run. Don't let this company fool you, I have be with this company for more than 2 yrs. Last year they make me sign 1 year contract with them and the agreement is that, if I have my modem and i do auto withdraw from my account, I will pay $29.99 every month. and I agree with it, also I told them I need the internet for school work. The rep said what am getting is the highest they got.
After 2 months, anytime I want to use my laptop the internet stop working. Whenever I call them to complain about the situation they said everything is perfect on their side. And the worst part of the matter is the price stay on $49.99 instead of $29.99. Even though, I have my modem and I do automatic withdraw from my account every month and if I call to complain about my bill they will keep me on hold for more than an hour, I was lucky one month they reduce it to $39.99 after that it jump back to $49.99. My advice is don't let them trick you to something that doesn't worth it. You will get stuck and frustrated.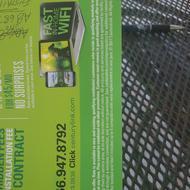 They sent me a flyer offering internet price for life, no contract, no installation fee, no promotional pricing. In the small letters said all installation are free at no charge, tech lite includes modem and wire placement to one jack. When the technician comes he said our existing jack is working but our wires are too old and the service will may be no too good.
Then I ask him to run new wires and place a new jack and he said it has a fee of $85 per hour... I said no way and cancel the installation because when I spoke to the customer service they said there are no way to waive that cost and they argued that the installation of internet is free but the jack placement and wire running it is not. I said if you don't run the internet to the modem where I can hook up? I have no way to know if you installed the internet or not... that it is not free installation in my opinion and it is not stated in the flyer anything about the need to have an existing jack in order to get the offer they made in the flyer... I actually have Comcast Internet and I think I am going to keep it that way...

I am paying way more for internet service (DSL) with CenturyLink than I was for Time-Warner (cable). 85% of the time, the internet isn't working. I cannot stream a movie without it buffering or just disconnecting completely because the internet stops. When I ran a "speed test", my upload speeds don't even register, they're that low (.81 Mbps). I have had issues for almost the entire year that I've had this service and no one seems to be able to help. I think I'm gonna be on my way to another carrier pretty soon.

Strongly dissatisfied does not even begin to express how my experience was trying to set up a CenturyLink business account. Scheduled an appointment a week out from signing up giving plenty of time for them to prepare for an installation date. Got a call that morning saying they were on their way. Returned the call an hour later to have the tech say the installation appointment had been canceled due to being called to another customer. Called customer support, waited on hold for 30 minutes and finally was informed they'd have someone show up by the end of the day.
5 pm rolls around and no one shows up, no call to update, nothing. Called first thing the next morning to again being put on hold for over 30 minutes for them to contact dispatch. Once again was assured a tech would be out for installation that day. WRONG. No one shows up and starting to see a trend. Third day would be strike 3 for CenturyLink in my book. Called to see what the heck is going on as I have now wasted 2 days waiting around for a tech to show up and install my services. This time I was told the techs are extremely backed up and have rescheduled me 2 weeks from today's date.
UNACCEPTABLE. A couple days backed up would have been fine if they would have informed me from the beginning. Ridiculous that I sat around for 3 days to be told it would take another 2 weeks to install services. Cannot imagine what the customer service would have been like had I become a customer with how the whole trying to become a customer went. Avoid this company as they are not reliable and do not have their things in line.

Not really sure how CenturyLink even stays in business. First our internet goes in and out, 20 to 30 times a day! This is no exaggeration! We own a business and trying to do any work at home is virtually impossible. We spend as much time waiting for the internet to come back up as we do working. They had a service man come out a month ago to resolve the issue. Well that lasted for about 2 days. We were without service for 10 days. We asked to get a credit for those 10 days. They agreed but we still have yet to see the credit on our bill. I have a feeling Hell will freeze over before we get that our service that does not constantly cut in and out. On top of that you don't get much satisfaction from the customer service department. If I could give zero stars I would! It took me 3 1/2 hours earlier today to watch a Netflix movie that was an hour and a half in length because the internet kept going in and out. Why did I even try to watch a movie!

Absolutely the worst internet and the customer service is awful. We cannot get anyone else because they are the only ones that offer DSL in our area. I was on the phone with customer service for well over an hour and could not understand her. Plus everything she told me to try I have done 20 times already a day. She kept saying wifi and I said we have a desktop and don't have anything else and her answer was hook another thing up like a tablet or laptop and by that time I am screaming at her. WE don't have those!!!! She did not resolve a single issue that I asked for. I hate CenturyLink and wish some competition would move in up here!!!

LOOK AT THE REVIEWS! Do not, under any circumstances use this company for your internet services in NW Florida. Service is fine for 10 months. The 2-4 weeks that it takes to have service installed - no show appointments, incompetent technicians, clueless customer service, HOURS on the phone - along with the month spent trying to cancel - while in the middle of a move from FLORIDA TO TEXAS, packing, MIDTERMS, cancellation schedule for weeks out and suddenly no internet service, 'customer care made a mistake', 'customer care is closed', days to have it restored - IS NOT WORTH THE 11 MONTHS OF WORKING SERVICE. Go with Cox. NFL Sunday Ticket is why we had to end up with this service and my Patriots may be the only thing that made this nonsense worthwhile. Go to a bar to watch the game and just get cable, along with cable internet options.

I don't understand CenturyLink phone support? I call to make a phone order but cancel halfway through. So, why does the order get placed? They act like every time an order gets placed, an angel gets their wings. Get real, internet prices are outrageous. If I want to cancel, because I can get a better offer online, that's ok. I only want the best deal. I shouldn't have multiple orders going through.
Last time I ordered CenturyLink I was promised a free modem. Since it took three tries, for them to get it right, I got three modems. I got stuck with the rental, when I returned them. They might have great customer service, but their software might suck. I don't want to be billed for an order gone wrong, that shouldn't be an issue! If they want to throw money around placing orders that don't exist fine, just don't ask me to be responsible for them. One order that's all I need. Cable companies have, so many different prices, to get the most from each customer. When the software starts to play dumb, we're in for a lot of trouble, Till next time- Peace out - **. PS- I'm scheduled, for Monday July the tenth 2017.

Found it impossible to cancel an account. For three months after I notified CenturyLink of my cancellation. They continued to bill me. I asked to be billed the contract cancellation fee less the charges for the months of inactivity which, I have no doubt they have a record of. Now I am getting calls from CCS. They use a variety of phone numbers with local code and insist you answer personal questions before they tell what the call is in regard of. Thank you CenturyLink, I take great pleasure in telling all what a pathetic company this is. You should all be ashamed.
Compare Home Phone Service
CenturyLink Company Profile
Company Name:

CenturyLink

Website:

http://www.centurylink.com/