Consumer Complaints and Reviews

They completely take advantage of people who are trying to improve their credit. They overcharge for EVERYTHING. Shipping is ridiculously high. And it's not even worth it to return the garbage. The return shipping costs as much as the item itself. I sent a PAYOFF check and nobody can tell me when it will be processed. I haven't purchased anything in over a year, I've just been paying off my bill. And now that that's done, I will NEVER EVER purchase anything from them again in the future. They're worse than payday loans, total ripoff, take total advantage of financially vulnerable people.

I ordered a retro ice maker. I actually love the product. But it broke 3 months after. I had the plan repair. I shipped it back in and had no problem getting a new one. But the only problem I have with them is they charge you triple of what the product is worth. The product is $300 and I seen it on Amazon for $120. And as I made several payments it just seems that the balance was going nowhere. So I finally just sent one payment in and paid it off... Fingerhut products are just too high. I doubt if I will buy anything else from them.

Christmas of 2016 I decided to purchase a thousand dollars worth of Christmas gifts for my family from Fingerhut. After receiving so many catalogs advertising that I would receive my order by Christmas and other catch phrases like free shipping and pay nothing till March 2017. I recently had my credit limit raise from 600 to 1200 so I figured I'd go ahead and try ordering all my gifts from Fingerhut.
First problem was that they had my old address, the one from 2 years ago even though I had several shipments delivered to my current address and never was a customer while at the old address. It was stressful getting the address corrected. I had to work it out amongst my local post office and but Fingerhut didn't help. Eventually, I ended up having most of my presents under the tree. There were two presents for my uncles that never arrived in time for Christmas and it is January 6, 2017 and I still haven't received them. According to the records they have been "delivered" since December 20, 2016. I suppose the vendor is running behind. My Fingerhut monthly payment includes the items and the shipping costs, which by the way I paid literally hundreds for shipping even though Fingerhut advertises free shipping and receive by Christmas (BAIT AND SWITCH).
I asked Fingerhut to make it right and remove the two items off my account, communicate with their vendor, and adjust my bill. They refuse to work with me and happen to be very unprofessional and rude when I call. I send emails and get the lamest responses, never addressing my complaint. My 59.99 monthly payment is due on January 20. I will pay 100.00 a month and NEVER order from them again. I won't ruin my credit over them and I can't help but wonder if I'll EVER receive my 2 missing products from them. They lost a customer! STAY AWAY FROM FINGERHUT.

On 9/15/2016 I ordered a Dell Inspiron PC from Fingerhut. The unit was delivered on 09/26/2016. A few days after that the unit was inoperable, the motherboard had went up. I contacted Dell; they tried to fix the unit. It was sent back to me a couple of weeks later with a loud humming sound. A week before Christmas I tried logging onto the unit again and the same thing happened. The system would not boot. After an unpleasant exchange with Dell Customer Service, I was informed that Fingerhut was NOT an authorized Dell dealer and that the system was not brand new. However, it was from a re-seller and most likely refurbished. Dell will attempt to fix the unit again. Please do not buy any computer from Fingerhut. If you are choosing a name brand PC then go directly to the company to purchase the product. I have a six year old eMachine that is still working fine.

Fingerhut has been on the downward spiral for years now. I have had my account for over 13 years. In the past I never used them. I just had the account. About 5 years ago they made it mandatory for you to order once a year to keep your account. So I have been doing so to keep my account. They send out huge catalogs all year round. I placed an order black Friday weekend and put in a promotion code so I don't have to make payments till March 2017. Well of course the promotion didn't show up on my online order. Of course your receipts don't tell you if you got the promo or not. So now it's after Christmas. Nothing can be returned and I get a bill due on Saturday 12/31/16. I will pay them and cancel them. I'm done with the false advertising and trickery.
How do I know I can trust these reviews about Fingerhut?
670,460 reviews on ConsumerAffairs are verified.
We require contact information to ensure our reviewers are real.
We use intelligent software that helps us maintain the integrity of reviews.
Our moderators read all reviews to verify quality and helpfulness.
For more information about reviews on ConsumerAffairs.com please visit our FAQ.

I am a customer of Fingerhut and have been for over a year now. I am a good customer and pay my bills on time. I placed an order online but somehow the order was duplicated. I called their customer service department and explained my situation and asked to have some return labels sent to me so I can return the duplicate items. First off I was having trouble with the representative understanding me. I asked to have four return labels sent to me so I can return the duplicate items. The representative told me that they were updating account information and asked for my online password, which I gave him and after the fact realized I should not have. A few days later I received another item on the duplicate order, now I have three. And yes they charged me again. A few days after that I receive a call from my bank asking me to verify some transactions I made with my account.
Long story short, my credit card was compromised and 1000.00 was taken out of my account. They were closed yesterday so I finally got a hold of someone today, actually a supervisor who I explained my situation and asked him why an employee would ask for my online password? He informed me that yes they do that when verifying your account. I do not believe this is true. I gave my online password to an employee of Fingerhut and now fraud on personal bank account. I asked the supervisor for a phone number to the corporate office. He said he has no number for them. I will have to deal with him. This is very concerning. Company is fraudulent.

I had to pay the shipping charges to get the item and the shipping charges to send it back. It cost almost as much as the item I returned. It really galled me to have to pay this in order to keep my good credit rating and close the account. I did not want to pay them anything. The customer service is horrible and never did I see anything telling me that if I received a cheap, overpriced item that I did not like, I would be required to pay all the shipping fees. No company does this. I guess they do because the quality of their products are so poor... I ordered my first and last item from them. I don't think they even deserve one star.

They have deferred payments but they add it in the total but say nothing is charged till the payment is due. I have returned items that was on deferred but they took it off my regular total so when my deferred payment is up the item will be added again when it was returned and should have came off the deferred payment. They are way over price and shipping is way over. They wanted $12.00 to return a item. Took it to P.O. It was $4.99.

Though the order has not been shipped, the supervisor refused to cancel, saying it has to be delivered and refused is the ONLY way to cancel. I ordered early when the screen said it was plenty of time for Christmas delivery. No accommodations made when even they are still saying in time for Christmas ads. NO express because their system won't allow at this time??? Come on! Why are these people still in business??? My elderly mom's order was done the same way.

Fingerhut cannot place order until I send a copy of my telephone bill which is an error on their part, at my expense. I don't know how this happens but they insist that my number is a wrong number and want a copy of my phone bill to verify. I have been with Fingerhut for years and experience constant errors. No errors when paying my bill though. Fingerhut will no longer receive my business. I will pay this account off soon!

I was approved for a line of credit so I decided to order a couple of items. I ordered thinking the items were going to be shipped out within a couple days. It's been a week still no tracking number. Called customer service I talked to 3 different people and they all had 3 different answers to why my items weren't shipped out. When I say this company is the worst... I never write reviews or complain about ordering online but it was a must. Just a terrible business to order from. I want to ask for a refund but it might take me a month to get that money back from them. I encourage people to stay away from FINGERHUT. Try QVC or something.

I ordered a car radio. They took my money without having the merchandise in stock. Cancelled my order and still took my payment. They keep lying to me saying this and that. They actually are stealing from customers. I asked what kind of business are they running and he told me he doesn't know. This company is a fraud and I have all my documents and receipt papers. My lawyer is going to serve them today. Please I beg you save your troubles and money.

Fingerhut is the most unethical company I have ever dealt with. They played around with my payment checks and charged me late fees which they don't ever reveal. They charge prices on merchandise Arbitrarily. They do not acknowledge complaints in writing or even respond. Their merchandise often doesn't match their advertising. They are a totally bad trip!

I have been a Fingerhut customer for a few years now. I pay my payments on time, order carefully, and like the charge increases. However, to deal with their customer service department is a nightmare. Some products, for the price, are cheap and not what a person would order for the price you pay. Other products are a great buy... This is why the subject is "Down the Middle". I just had one of those "bad" moments. As a matter of fact, lately I've had too many of them. My account will be paid off, and I can finally say farewell to Fingerhut! I hope in the future their site becomes more user-friendly, as does their customer service department. I am sure small, independent, American-made companies would love to get their product out there... It would be nice to get a well-made product for the price you pay.

I found a Alesis forge electric drum set on Fingerhut, they are asking 768.00 for it and that's with a 31.00 discount. You can buy this same item anywhere else, Amazon for instance for 399.00 to 450.00. This is just wrong people. Should not be subject to this just because they're trying to get back on their feet. A lot of the time they even charge unfair shipping on top of the jacked up price. I have myself been a victim of this and now owe way more than I should. I did not know that a company that was suppose to be good could even do this. Buyers Beware!

My husband and I opened a Fingerhut account in July 2016 and ordered a set of four home security cameras. By the time we actually received the cameras, one of them was damaged so we used the instructions online to send that camera back. They have now been in possession of said camera for more than 60 days and every time we call to follow up the either ask for a payment or hang up on us. This company is absolutely deplorable and I will not stop until my husband and I receive a satisfactory resolution. We will never use this company again!

Okay, I order a few things from Fingerhut. I was then put in the hospital for 2 weeks. When I came home I found out my items was delivered but they were not at my front door. My items were either lost or stolen. I called Fingerhut. They told me I had to have a police report. I got one and sent it in. I was then told that I had to do some paperwork. I did that. It has now been two months and I still have not gotten my new items or a credit. Every time I call I get the runaround. There is never a boss for me to speak to. I have been with Fingerhut a little over a year. I have paid on time every time.

I wish I could give -10 stars. My wife ordered a Christmas present for me from here. When it arrive half of the box was missing and taping was awful. Then my wife checked the order and they sent us the wrong item. We got Rachael Ray pots instead of what she ordered. She called and made a complaint and told her it was her fault and she wrote the wrong order. My wife checked it a couple times. They told her that they are non refundable. So now we have to pay for both items. A very Unprofessional company.

I order this item then I call and canceled it and Fingerhut sent it after I canceled. I never receive it. Now Fingerhut wanted me to pay for something I do not own. They keep calling me. I am not going to pay for something I do not own. I talk to my lawyer and I will sue Fingerhut if they do not fix it. Every time I call Fingerhut I get the runaround. They are very rude to me too. I will never buy from them again. They should be close down. Please email me back. Thank you.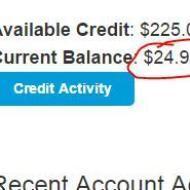 I bought an item which turned out to be a piece of garbage (I should have known). I return the item and they won't give me the full purchase price. Item is no damaged, item was sent back within 15 days of purchase. They refuse to budge, offered me a $10 credit. I said, "No, thanks. I will never buy anything from your joke of a company again." The balance on my account was 53.98 - the exact cost of the item. Now I owe $24 because they won't even refund me the cost. I paid 36.99 for the item. $16.99 for shipping. I was dumb I know. They refund me $29.00. So they made the money off me no matter what. Horrible company.

I have a Fresh Start Account. I was told that once I paid the total of the amount the account will graduate to a regular account. The account was paid in full on 11/16/2016. Since then I have remain in contact with them. Every time I call Customer Service I get a different story and that I have to wait one more week. I was told to call today to resolve the issue. Today is 12/08/2016 and I'm still waiting for a full answer and I still don't have credit.

Fingerhut has taken advantage of my mother. My mother has a Fingerhut account but does not buy from them often. She gets one outrageously priced item a year and just pays the minimum blindly. I began monitoring her account a while ago and noticed they would take anywhere from $1 to $5 for no reason. This has been happening for a long time. Recently I asked her to use her account to buy a tv. She said no problem. I got the tv and paid the minimum $60 a month early. My mother began getting bombarded by emails from Fingerhut saying you have available credit. Basically they were saying you have credit spend it. I also received these emails.
Later when I went to check the account history I noticed the $60 I had paid was gone from the available credit. Nothing was purchased after the purchase of the tv. Fingerhut is outright stealing from their customers. I've contacted them about this once before. They said they would have an account specialist contact me but they never did. Now they've stolen from my mother's account again. I'm honestly just fed up with Fingerhut and will attempt to get this account closed for her or have them pay back ALL of the money they've stolen.

I applied for an online account, was approved, and attempted to use the promotional code advertised. I was unable to use the code and called Fingerhut to inquire as to the problem. The representative checked the account and stated that she did not have an answer but she would check with the supervisor. I was placed on hold. When she returned, I was told that the account would be straightened out and corrected with 24 hours. To make a very long story short, I have spoken to at least eight different representatives, I have received eight different ridiculous reasons (e.g., "you opened the account on the phone", "you placed the order on the phone", "sorry, the promotion ended", and the madness goes on and on). I have asked to speak to a supervisor on several occasions, but I am only connected to voicemail or hung up on. Fingerhut is by far the worst company that I have ever attempted to do business with.

Ordered a TV on 11/26. Shipped it out on 11/28. It has been sitting in Jacksonville, Fl for 8 days and will not be delivered until 12/12. Jacksonville is 400 miles out of the way for my town in Georgia! I cannot get a live person on the phone so I sent an email to customer service and told them to cancel! This is not a Christmas gift, it is to replace a TV for me! The trucking company does not have a carrier here, not my problem, so they are taking their good time and my $110 to deliver poor quality service! If I get the TV, I will keep it, but my account will be closed immediately! Never again! I ordered a TV last year, shipped through Atlanta, came immediately! So I assumed that I would receive the same great service! I will owe my first payment before I get the TV! Imagine that!

My daughter told me she wanted new sheets for Christmas. You have to understand that she lives two and a half hours away. I asked her when she was home in June what she could think of that she might want for Christmas. She said she could use some new sheets. The new Fingerhut book came and I saw these sheets. There was a two set. I thought it was a good deal. I needed new sheets too and so did my boyfriend so I ordered three sets. When they came I went ahead and gave my boyfriend his. They are very nice sheets. I couldn't put mine on my bed because when my daughter came home she would see them and know I bought sheets. Well she was home for Thanksgiving and was going to buy sheets at Walmart. I had to tell her I got them. Today, I decided to put my sheets on, I mean, she already knows. When I opened them, I decided on the blue and white striped ones. I WAS MISSING A PILLOW CASE!!!
Well, I got on the phone and got one of their people who can't speak English very well. She went to find someone who could help her and then hung up on me. I called again. After a twenty minute wait, this guy went to check with someone and came back and told me he wasn't allowed to do anything because I had them for so long. People do buy things when they think it's a good deal and they do save it for a gift. I am a loyal customer. I'm never late, send my payment in early, pay things off early and have a credit limit of $1900.00. Sorry Fingerhut, I will go somewhere else. I just can't believe the I was treated that way. Stoneberry is about like Fingerhut. I guess I'll give them a try.

I was sent an e-mail that I was being offered $400 credit, and got a catalog saying same. Sent in an order, never got anything, called them weeks later. Was told, I really had $800 credit, but they needed to verify my address with a document. Thought that odd because they had it, but per request faxed a bank statement with acct no. blacked out as they said to do. Heard nothing, called, was told that I had faxed a letter from them back to them, and no address document. Not so! Never GOT a letter from them, ever - and I have confirmation of the fax and stood by guy at O. Depot and it was expensive. Several phone calls, customer service extremely nasty, said to use a bank card instead - the nerve!! Said I had to reapply, never accepted blame for losing my document. Asses! Got my item from Wards instead - perfect! Wish they had all Fingerhut has, but maybe someday.

I placed an order with Fingerhut and I changed my address online then had to place my order the next day. I waited and waited and finally tracked my order and saw that it went to my old address! That took over two months to get fixed and I wasn't going to order from them again but because of my daughter I did. I call on thanksgiving day and spoke to an man with a thick accent. I gave him my order and the coupon code. I asked if my address was correct and it was all except for my apartment number was missing, so he said that someone would be calling me back in two days. I NEVER RECEIVED THAT CALL!
I called 7 times trying to place my order. I finally got it done and I was to get the sale prices and use my coupon but the VERY RUDE, NON ENGLISH SPEAKING WOMAN REFUSED TO HONOR THEIR WORD! DO NOT ORDER FROM THESE PEOPLE. The customer service is in India or Honduras and they dont give a damn about Americans and treat you like garbage! Never again will I use this company.

It doesn't help that Fingerhut is ridiculously overpriced, but don't even bother calling customer service unless you're Indian. I didn't use my account and had a credit. They cut me a check, but I accidently tore it. When I called to request it to be resent I might as well have been speaking Greek. The representative didn't understand me and when I asked to speak to someone else who speaks English she put me on hold for a few minutes and came back saying no one was available. I stayed on hold over 20 minutes to resolve my simple issue. I will NEVER use them again and I recommend no one else bother either.

I've been a customer of Fingerhut's since 2014 and had set up auto withdraw payments for my minimum payment each month. In December 2015 I decided to raise my monthly payment from $19.00 a month to $24.00 a month which came out on the first of every month in 2016. In November 2016 I got a call from Fingerhut saying I had late charges that needed to be paid. I asked why and was told that Fingerhut had raised my minimum payment to $29.99 a month (without my knowledge) in July of 2016. So, on the 1st of July, August, September and October, $24.00 came out as usual but since they raised my minimum payment without my knowledge I had fallen behind leaving $5.99 overdue each month for 4 months.
While speaking with the gentleman on the phone in November, he said if I paid the 4 charges of $5.99 plus my new minimum payment I would be caught up and my next payment on December 1st would now be $34.99 (which they raised again without my knowledge.) I did receive a letter from Fingerhut stating I had made the agreement to pay $34.99 on the 1st of every month starting December 1st.
Today (12/1/16) I see Fingerhut had taken $109 out of my account! I called and asked for an explanation and no one could give me one. They kept saying it was late charges, late charges. I told them it was impossible because I had paid every month on time via ACH withdraw and was not made aware that Fingerhut raised my minimum payment until November. I explained that I made those late charge payments with my minimum payment in November so why was I being charged $109? Again, no reasonable answer.
I was on the phone for an HOUR arguing with them. I was looking at my account online the entire time and they kept stumbling over their words saying late charges because the payment went up. So my next question was why wasn't I notified of the increase? Guess what, I was told, IT IS MY RESPONSIBILITY TO CONTACT FINGERHUT TO SEE IF MY MONTHLY PAYMENT HAS GONE UP! I nearly fell off my chair. I can't believe a company as big as Fingerhut can't send an email or letter saying "Hey, you need to pay this new amount every month." MY RESPONSIBILITY??? REALLY???
After battering the poor man into oblivion, I was refunded my $109 and I told him I will make my $34.99 payment once the $109 is back in my account. THEN I'm canceling my auto withdraws and will log into Fingerhut each month and make a one-time payment. I will no longer give them access to my bank account so they can withdraw whatever amount they want! Beware! Never ever, ever, EVER give them banking information. If you're going to stay with Fingerhut or open an account with them, make your payments by check or online, DO NOT DO ACH!!! I'm exhausted from arguing with them but I felt the need to post this! All I can say is WOW, just WOW!
Updated on 12/06/2016: As in my previous post, I explained how Fingerhut took $109 out of my bank account without my prior knowledge or consent. My payment was suppose to be $34.99 which I had a letter from Fingerhut confirming that amount would be withdrawn on 12/1/16. I called Customer Service (useless) and after an hour was told they were doing a refund. That was a lie! They have NOT given me a refund and when I looked at my account online it says I am not only BEHIND a payment, I owe late charges!
Instead of calling and trying to communicate with someone who can't understand me and vice versa, I emailed customer service. My reply from them was that they could see I had contacted them recently about the issue and hoped I was happy with the results. What? How can I be happy with the results of something that wasn't done?
I wrote back and told them if they did not refund me my $109 I was going to dispute the charge with my bank since I have a letter from them stating the actual amount was to be $34.99 on 12/1/16. I am giving them until Friday and then I am going to my bank Saturday morning to file the dispute. I will not allow them to control what comes out of my bank account anymore! If I get the refund, I will be deleting my card information and will log on each month and make a one time payment. Talk about getting screwed! And they REALLY need to get people who answer the phone to speak clearly. I never said "what did you say" so many times in my life!

As previously stated by another consumer, I ,too, tried to use a Free Ship code that wouldn't work during the Black Friday Sale. I have dealt with nothing but the runaround with these people. They all say the same thing; they don't have the ability to waive the ship fee so they transfer you to someone who supposedly can help you but only to tell you the same thing. My ship fee was $44 for $240 worth of Lego. Outrageous. This company uses bait and switch tactics and their customer service is a joke. You will gain nothing but utter frustration.
Fingerhut Company Profile
Company Name:

Fingerhut

Website:

https://www.fingerhut.com/