Consumer Complaints & Reviews

This is absolutely the worst company for customer service. Do Not use them. They don't care about YOU!! I ask for a call before they come to my house to install the internet, as I work. I did not get a call, I got a call when they were at my house, I said I will be there in 15-20 minutes they said no. We can't wait. We must reschedule for the end of the week. No matter how much I pleaded with the technician that I needed this for work. I was in my car racing while I was speaking to him. I said I am almost there 5 minutes, he left. When I called to get a supervisor NO ONE would help.
Finally I reached someone who said they would get with a supervisor to try and get me set up the next day. He said, "I promise I will check on the first thing when I come in and call you". HE DIDN'T CALL ME BACK. When I called them it was, "Sorry, he was not around for the call," and it was "I guess he couldn't help you". Really this is how you treat your paying customers. If I did this in my business I would be unemployed. If I had a choice I would NOT use them but the area I am in has some contract with them, unfortunately. If you have a choice do not use Comcast. They only care about signing you up. There is no customer service, they could care less.

My mother's phone was out and I called for service, saying she is 97 years old and needs a phone at all times. The service people checked the connection and said that indeed, she DID need a technician and that on an emergency basis, they would get one out the next day. I went to her home which is in a retirement community to wait. After a couple of hours, I decided to call them to make sure they knew where it was, and get an update from them.
I got on the automated service, gave my phone number, and they told me they would be there within the next half hour. "Great," I thought. Then the automated service said, "Do you want to cancel this appointment?" I said, "NO!" The automated voice came back and said, "Your appointment is canceled." Needless to say, I was very upset. It took me eight minutes to get to a real person after that, and they said that there was NOTHING they could do about this. They would send another technician out tomorrow. This was totally unacceptable and unbelievable to me. SO close and yet SO far away. When I called customer service again this morning, it was more of the same. No recompense except for the two days that her service was out. Her service had been out for a few days previous to this, but they did not count this because no one had called to complain. I still feel violated for hours of my time.

We switched to Comcast over a month ago and it has been one of the... if not THE WORST experiences I've had with ANY company in my life. An installer and/or technician has been to our house a total of six (6) different times to fix our cable/internet and we are still having problems. Installer will come to check the connections and say, "we are not getting a good signal from the street." They will pass the buck to the "Guys is the Big Truck" as they call them. These technicians will come out check the connection from the street and say the signal is good (or that they fix something) and arrange for the installer to come back out. This has happened 3 times we still don't have a solid connection! Unbelievable... need more internet options other than AT&T and Comcast.

Comcast is a terrible company. I wish there was no star rating because they don't deserve even one star. Have been with Comcast for over 5 years because my area has no other internet provider. And because the package, I also kept them for the TV services. Every year, I negotiate new 12 month TV/internet package with a certain price and more less it has been Ok. Now, being 3 month into new 12 month contract I got a higher bill than usual. So I called them and was told that my bill went up because they just got increase in some Sports Franchise fees. What a hell? If we have a contract for a fixed price, then stick with it. I wish I could jack up prices in a middle of a contract with my customers. When I called them, Comcast customer service informed that I can either pay the higher bills or cancel the service.

Comcast had a cheap offer for home internet/phone service years ago & wanting to save money I regrettably signed w/ them. Almost on every single billing statement was an unknown charge which I had to call customer service about which Comcast could not understand what the charge was for exactly. After calling & supposedly resolving the erroneous charges, they would do the exact same thing again the following month. I had to cancel w/ them before the year contract. After much complaining they let me out. Then on top of that they would send special offer junk mail almost every other week which I called about & they said they would stop but of course I still get them. Comcast is garbage, an absolutely horrible company.
How do I know I can trust these reviews about Comcast?
552,341 reviews on ConsumerAffairs are verified.
We require contact information to ensure our reviewers are real.
We use intelligent software that helps us maintain the integrity of reviews.
Our moderators read all reviews to verify quality and helpfulness.
For more information about reviews on ConsumerAffairs.com please visit our FAQ.

STOP allowing this company to infect our community and take over overcharging our neighborhoods. Comcast infects all of us with bait and switch. VOTE NO to allowing them to continue moving into our community with screwing everyone they can. Well, NO one can find THEIR Comcast contract I signed, so MY copy is worthless with all their supposed additional increases EVERY year. OVER 100% increase with ADDED fees, in ADDITION to the overcharges for NON working WEEKS of NO service. Couldn't call 911 for emergency! NO internet for 2 weeks. NO TV for 2 weeks, and now only at intervals at random times daily! I have logged (in THEIR system) over 150 calls of NO service in a year, yet, their "right to increase from $89/mo (really ends up being $134/mo) will NOW go up to at LEAST $200/mo.
Terms of contract keeps changing with each person I talk to. Then I'm told by administration that COMCAST is NOT responsible for what the call takers say or promise. They can say anything, promise anything and the customer can do NOTHING about it. Forget credit, or contract rate agreements. They don't exist!!! Rude people that continue sending your call to other departments, that can't help you because "that is not my area". To make a nightmare longer, you end up paying for their great bait and switch while they keep repeating the ADs of TV lingo of cheap prices, no service, equipment that does not work, and the "bundle" fails at least 3 hrs EVERY day. I seriously think everyone needs to call their area gov rep to complain and vote to DENY any future applications to "moving into or trying to increase service areas". THEIR public voters are being screwed by their being sold non services providers.

If you sign with Comcast, it is very likely you'll have to deal with their customer service - and probably on a regular basis. Fees, already high compared with other companies, go up very, very frequently, with no warning. The surly customer service person I spoke to today when said that "Comcast does let you know, it sends you a bill with a higher price on and you can call them and try to negotiate it down" - it's as if I were forced to buy a car every few months. They offered to discount the price rise - of around $50! - but only if I sign a contract for 2 more years. I have only stuck with them for convenience, but I am going to find an alternative provider.

If you have ANY other option (even cellular based internet) DO NOT, I mean DO NOT go with Comcast. Read other reviews. Constant Speed drops. Advertised at 150 Mbps, but get around 30 Mbps. Some days it's down to 0.9 Mbps. No change in network devices or cabling in the house. But they claim something is wrong. Oh! I forgot, my pet squirrel loves to unplug wires. So that must be it. Seriously people? Get some proper English speaking customer support specialists!!!

I spoke with a young girl name Marry for a package deal. She was very pushy and she was annoying. I could barely understand her. She sounded like a 3-year old child. When I tell her I will have to call her back and hang up she has her boss call me!!! Her boss by the name Nick is even more pushy than her. He refused. I "had to speak with his employer again." I then told him "I am not getting the package at this time. I will have to call you back." These people are demanding. They are rude and they have no respect! I been a loyal customer to Comcast for years! But they keep getting worse and worse as time goes on. The guy who hooks up the cable broke my TV and were they loyal to their customer after that? No, absolutely not. If I continue to get treated the way I have by Comcast! They can thank Dish Network for stealing another customer!!! What a joke.

I lost my job so I called to reduce my monthly payments. The customer rep quoted me at 39.99 for the 75 mbps blast internet. I said "that's fine." He then transferred me to someone else and then she claimed they cannot give me the internet for that price (she quoted me at 69.99), but it is cheaper to bundle the blast internet with a basic cable package (49.99). She must have said blast internet on the phone at least 10 times. I purchased that bundle since it fit my needs for the time being.
Two days later I realize my internet is only 25 mbps. I called back and told them my problem and they simply told me even though they misquoted me and gave me the wrong information, they cannot do anything about it and I'd have to pay more. I was misquoted 3 times!!! I've worked as a sales manager and if I misquote a price or product, you better believe I gave them the product for the price I quoted them on. Terrible customer service and I will be cancelling.

I am new to Comcast, and I wish I never knew of them. It took them over a week to get my internet working, time they billed me for anyway -- this is not counting the hours and hours I spent on the phone and with their technician. Then they, all on their own, upgraded my service, and my bill. They said that I asked for it. I did NOT! They did refund me my money.

In a nutshell, In 2012-2014 I signed up for cable from a rep that came to my door. After having the service increase in price I cancelled it. They sent an agent to my home to collect a payment. The agent said he needed to apply a payment today or he won't get more service calls assigned to him. I said, "No, I don't pay people who come to my door". He said he would report to Comcast I paid in cash and come back to get the cash later so he did not lose his accounts. I said, "no". He did it anyway. A few days later he came back for payment. I felt sorry for him so I paid him (he had called and applied a payment to my acct when he said he did).
A few weeks later he was back! I said, "no" and asked him not to return. He came again and I asked him again not to return. He was making me nervous. I am a single mother and he had been in my house once. I called Comcast and told them and asked them to not allow him back. First they denied they send people out then said, "ok".
I then get a TV box sent to me. I did not want TV. I called Comcast and they said it was a special. It was $19 a month so I said, "ok". A week later it was turned off. I called them and asked them what was going on. They said they just discovered a past due balance (from the above creepy guy issue) and would not turn back on the TV service I did not order until it was paid in full! So, I said, "You sent me a TV box, turned it on for a full week and then discovered this balance? Or did you send me the box to get me hooked on the TV so I felt compelled to pay the creepy guy balance?"
I returned the equipment. I sent a letter requesting they cancel the balance from the strange encounter with their agent. I cancelled all services. 3 years later I discover that my son is not being allowed to order service due to the balance on my old account. I was told it was because of the household debt rule. I also looked up my old account and it still shows that my TV service is connected! I called and they told me it was not showing connected on their screen and to "trust" them it is not active! Trust them?!? I told them I expected a huge bill at some time when they decide to update that 3 year old account and have to go through this all over again!
I looked up the account that they are charging my son for and it has my address and phone number associated with it. Comcast said that can't be because they are not allowed to associate the same phone and address with a separate account. The account of course has gone to collections. We just found this out because as soon as my son tried to get service the collection agency called! How convenient! Hours and hours later I am still trying to get someone to help me and stop telling me this could not have happened. I have documentation from the original time I reported it. Comcast does not seem to care about that. I cannot believe that it is legal to begin unsolicited service to an account just to get payment. It should never take a week to "discover" an issue.
I cannot believe that a company would hire agents and knowingly send them to a person's home after I reported that he had done something illegal (posted a payment I never made) and that he made me uncomfortable since I was a single mother with a young daughter. This issue alone is frightening, but the worst thing is when I reported again the Comcast rep wanted to know why I was complaining he gave me an extra week to pay!!! All in all, three years later this ugly problem is back after I thought it was resolved and now my son is involved and could in theory hurt his credit and they will not work with me! This is one of the many reasons I no longer have anything but digital bunny ear tv and AT&T internet.

I work in New Kensington/Arnold, PA and continue to be held hostage by Comcast. Pretty much for the past 2 months, we have lost internet service intermittently. They are seldom able to help and whenever contacted, it's always something else -- never Comcast. Now today, we have NO PHONE service. Trying to contact Comcast, is like trying to contact an alien. NO ONE responds. Their customer service is anything BUT customer service. They know there's a problem, but do not have CLUE what it is or how to help businesses.
For a business that is 24x7 and relies on phone service, this is unacceptable. I've been on hold most of today. Phones still not working (nor is COMCAST). Our office phones in Fox Chapel have also been out of service causing us to lose client calls as well as calls from our caregivers. We constantly have issues -- no one can ever help. Today was a perfect example. Called their so called CUSTOMER SERVICE number -- also didn't work. Called all afternoon and kept getting disconnected. When I did get someone to answer, they transferred and disconnected me again. Called back, waited on hold again, got someone else to tell me they had no idea how to help. That in a nutshell is the problem --- NO ONE WORKS THERE.... Can anyone help customers -- why is comcast able to continue without major fines??? At the very least, customers should be reimbursed for lost revenue and productivity.

For approximately 3 weeks now have had very poor reception on TVs and internet and phone service that comes and goes whenever it wants to. Now today at my small business difference location I have NO phone service as this has been an ongoing issue. Comcast has the ability to automatically forward phones to cell, but that has not happened this time and now I have been on hold for 25 minutes, I repeat 25 minutes all while trying to run a business with no phone. I must be an idiot if I stay with them. Do yourself a favor and call AT&T for phones and DirecTV for entertainment.

I have spoken with five different representatives regarding my address book. My group email is no longer working. I can't send a group email. I use my email for business. I have also sent emails and have been told that this would be fixed in 24 to 48 hours. The problem surfaced FIVE days ago. At this point I am unable to get even a live voice. This is very upsetting. Sending emails is even difficult. I PAY for Comcast internet, phone and TV and expect better service. HELP.

Service has been extremely unreliable. We are a internet based company and we need internet that is more reliable. I have been nothing but very unimpressed with your service. 19 Phone calls and counting to your Customer Service Line. On top of that it took almost 2 1/2 weeks for you to get a technician out here to literally plug in a modem as we were already hardwired hence the damn Comcast sticker on the door that says this office is equipped and ready for Comcast. If I had the time I would leave Comcast a bad review on every website I could think of. Heck I would like to spend money on a website and that URL would be Comcastsucks.com/reallybad. I hope whoever reads this does something about the service in this area as it is not just my office here that is having problems!!

Their customer service is terrible. You can talk to 5 different people and get 5 different answers. I signed up for a package that I was told it would be a set amount for 2 years. I have now had it for 1 year and my price went up by 80.00. At first I gave them the benefit of the doubt that it was just a training issue but after speaking to numerous people I have come to the conclusion that I was intentionally misled. I was also told there was a 200 dollar gift card with free installation, but it turns out it was only a 50 dollar gift card and I had to pay for installation. I am getting ready to cancel my service and pay the early termination fee.

I was a Comcast customer for over 30 years, the last 15 or so I paid $150 a month, never missed... When I recently moved, they didn't service the area I moved to, so I had to switch... Now they have me in collections for the equipment they say I didn't return (I have the UPS receipt) and the monthly fees for the balance of the 24 months they say I owe. I ain't going to pay them.

Comcast cable is the most horrible cable company I have ever dealt with. My cable boxes went out July 8 in the evening and Tech Support sent signals to the boxes (2 of them) and this did not resolve the issue. I was told to take the boxes in to switch them out on Saturday. I get there and the office was closed. 25 miles and wasted gas because I was given inaccurate information. Called Comcast while at the office and they said they would set up an appt but that didn't happen.
I called back Saturday evening, an agent said the appt was set for today Sunday July 10 for between 1 and 4 and was given a ticket number. 4 pm came and went without a technician showing up. I called AGAIN and was told that appointment was not set up. The last person I spoke with said the appointment would be July 14. This is completely unacceptable. I told them to disconnect my service! This is horrible customer service. I will go without TV and cable before I go back to Comcast. NBC, you should look at how this company is NOT taking care of its customers and equipment because I has the same issue less than 2 months ago. Sincerely, an angry Comcast former customer. One more thing... when inconvenienced, they will not even talk about crediting your account!!!

When it came time to transfer our Comcast service to a new address, due to an upcoming move, we were sure to notify Comcast a week in advance. The representative assured us that all we needed to do was to notify Comcast and move our equipment to the new residence, where we would set it up. Following our move, we found that the services was not working, and contacted Comcast customer service. After speaking with 5 different representatives, we came to little resolution. Often we were transferred from representative to representative, without any explanation given. Each time, we had to re-explain our situation. Once, a representative agreed to look into the issue and call us back in 20 minutes. He never called back. Eventually we spoke to a supervisor, who was extremely rude and actually hung up on us! When calling back, I spoke to a "Taylor," who provided no resolution for the poor treatment we received by the previous supervisor.
After over an hour on the phone with Taylor, it was finally discovered that our service was never transferred - even after Comcast had confirmed that it was - and a service tech needed to be sent to our home. Mind you, it took 3 hours to come to this conclusion. They were unable to send a technician until days later, regardless of the fact that we had given a week notice in our move, and both work from home. The technician stated that our equipment that worked at our previous residence was not compatible with service on this side of the state of Michigan, and stated that it would have to be replaced. The technician then replaced it with IDENTICAL equipment. When the technician provided sign documentation and asked that I sign, indicating that I agreed to pay all charges, I declined. Yet - we were still charged a $50 installation fee.
When calling Comcast back, the representative, "Shane" (ID: **) indicated in poor English that the service charge was valid and refused to compensate us for the issue. When asked to clarify, Shane used several incomprehensible phrases and again concluded that the service charge was valid. We are extremely dissatisfied with our customer service experience, and would gladly switch providers if Comcast had not monopolized the market.

I have had cable & internet service with Comcast/Xfinity for several months now. My internet service is constantly dropping. For about the past 1 1/2 to 2 months, I have been constantly resetting my modem or calling for them to send a signal. I have been on the phone with agents for nearly an hour at a time doing what they call a series of troubleshooting techniques. They finally scheduled a tech, which I'm told I may have to pay for. I just got off the phone with them again and they said no tech is coming... He was not scheduled. I have been waiting a week and now they want me to wait another 9 days to get a tech to my house. In the meantime, I am left paying $150 a month for service that I can not even use... But they want their payment on time or they'll shut me off. Oh but they did give me a 2 day credit like I was suppose to shout with joy over a probably $3 credit. Save yourself time and stress by getting service elsewhere.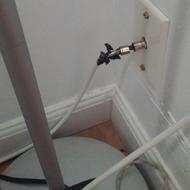 On 07/05/2016 night I saw smoke coming out of the coaxial cable outlet on the wall. That too when the cable box is NOT powered on and it's not connected to electrical outlet for more than 2 weeks. Coaxial cable outlet at Wall was hot and white cover plate turned yellow. I called 1800-Comcast for Customer Service Support. They DO NOT KNOW HOW TO RESPOND TO AN EMERGENCY. Ms. NICKI told that "Someone will call you back by 11:30 PM" but no one called. Comcast did not send any emergency help. Rather than they suggested me to call PSEG whereas its coaxial cable which is burning. PSEG would do nothing since it's a cable issue. Using plier, I pulled cable out of the wall and metal piece is still fixed to wall outlet. The wall near outlet that was hot, started cooling down. Luckily nothing happened after that.
During installation, a hole was punctured in the wall to bring the cable from alley to inside the bedroom. Not sure if that is the cause. If cable company is not taking ownership on the coaxial cable issue then who will? There is no electrical outlet close to that coaxial cable point at wall. On 07/06 morning, Ms Nicki called to see if someone called me. But nothing happened after that. I called back but could not get connected with supervisor for escalations. Had fire been caught up Comcast won't have any accountability since there is no proof after fire. All I wanted was a technician expert to come and open the Outlet and see what's going on. Someone has to see within the outlet if there was anything wrong. Then we can decide whose issue it is.
When we open the cable outlet and if there is any damage done during the puncturing hole in wall Comcast should take ownership and fix it. But nothing happened next day except me calling and follow up out of my fear/panic mode. It happened second time in past 3 months. Since this cable box is powered off mostly, the issue goes unnoticed. First time the technician to fix the low signal strength issues and cable channel issues. He fixed the cable initially 2-3 months before. On 07/06 one technician comes and he says, "I cannot fix this but my supervisor will call you." Still no one called back. Rather than that I am calling and escalating again.
On 07/07 during my call to 1800-Comcast, I asked for customer grievance cell or senior management for reporting my issue, but they have nothing to offer. After too much wait and insisting continuously, I was able to speak with Ms. EDONIE **, supervisor. She mentioned that someone will come on Saturday but I was not aware of that even. Then I insisted to get help today. She said she will try to send someone today. No one came. I call every day multiple times, spend easy 30 minutes to 1 hour in calls waiting/talking/escalating. There is no proper protocol that someone can come to house and fix the issue. I spoke with Mr. Bert or Mr. Kevin, I was told someone will come between 7-9 am but no one shows and I keep waiting on 07/08.
On 07/08 Mr. Luis calls back in response to my survey after call to find out why I gave low rating on the call response or if services are restored. (No one cares about real issue but survey rating I guess that I got this call back from Comcast). Do you expect that there should be some definition of word EMERGENCY? It makes me terribly frustrated while talking to COMCAST CUSTOMER SERVICE, every time repeat the same story. Very unhappy experience with service since they did not understand the word "Emergency" and field/duty Supervisors are really careless as they don't care about this issue going so long.

Got a letter in the mail claiming they had not been charging me for a box that I've had for over 5 years, so my monthly bill was going up $20, which would make my monthly service over $200/month, and this is for basic, nothing fancy! And this is after they took channels away from my package. Called to find out why they were going to start charging for something they've had record on for over 5 years. Turns out it's all just a ploy to make you switch over to the new system. Customer service rep was very rude! Told me my old system would not be supported any longer and that I would be getting a better service.
I don't need anything better. I'm not that much of a TV watcher. I was very happy with what I have, and did not want to change, so she became upset with me because I told her that doesn't make sense, and I told her that was crap to charge me more for the same equipment I've had, and if it's old then why should I pay more? So she basically hung up on me and transferred me over to repair without telling me, and then the repair rep had no idea why I was transferred. She was super nice, and after a long conversation convinced me it would be better to switch to X1. But then, because I don't have internet with them, but I do have Wifi, I couldn't upgrade, but she also didn't know why I couldn't change. So today, I called another provider and will change service and get more channels and pay less.

I am really not satisfied with the Comcast customer care, and the store persons they are giving wrong offers while buying, and finally bill ends up high than what we expect.

Was a Comcast customer for nine years. They would keep raising the price of the basic internet cost to the point that it was twice what a new customer paid for the same service. Comcast refused to give the same (or even close) price to a customer with nine-years of loyalty. "Oh, you have paid your bills every month for nine-years? Great, you can pay us MORE than a brand new customer with no loyalty history with us!"
Once I found I could tether off my phone and get the same data rates, but only have to pay $10 more per month for unlimited internet, I called Comcast again and again they refused to offer any deals on their lowest, basic service (always wanted me to "bundle," but I don't own a TV and don't watch TV so have no use for anything other than basic internet), so I terminated their service immediately and haven't looked back. Every chance I get, I tell as many as I can about my experiences and have successfully steered a number of them to other services and away from Comcast, which I will continue to do. This company has no morals, no loyalty and treats customers like pond-scum. Good riddance to a bad company!

I have had the absolute worst customer service experience with Comcast! I was having problems with my On Demand for months, they could not fix it over the phone. Honestly they said they would send someone out. After the technician never showed the first time I rescheduled the appointment and then was charged $50 without my consent for a service fee! I am outraged by this fee especially since I was never told this would be charged to my account. They refuse to remove the charge.

COMCAST is refusing to reissue a refund check in my mother's name, basing their decision on "Corporate Policy". I have come to the conclusion that COMCAST is seeking to KEEP the refund in order to maximize their profits. In short, my father passed away in AUG 2015 from the effects of Agent Orange during his time in Vietnam. Although he knew his time was short, he made sure all of his properties and accounts were "shared" with my mother. He did so to preclude my mom having to go through a Probate Court and/or establishing an Estate Account. The only item he did not foresee in his efforts was having all the bills in both their names. One of the bills which was solely in his name was his COMCAST account.
Even though my mother cancelled service with this company, COMCAST refuses to issue refund checks in the name of the surviving spouses of former COMCAST customers. Instead of issuing refunds in the surviving spouses' name, they issue checks made out to "The Estate of **", knowing that the costs of establishing an estate account will far exceed the value of the refund. This allows COMCAST to enrich themselves from other people's misfortune. They did it to my mother, so we have first-hand experience in how they operate. Despite complaints to the Better Business Bureau (BBB) and FCC, COMCAST continues to hide behind "Corporate Policy" in order to keep the refund amount.
After 30 years in the military and government service, I know that there's NO policy that can't be amended or overruled. We sent COMCAST a copy of my father's death certificate, showing my mother as the surviving spouse. We even offered to send COMCAST a copy of my father's will, showing that my mother is entitled to all property and monetary accounts. Even though my mother's refund is only $80.25, it's money COMCAST knows they'll likely never have to pay back; the cost of establishing an Estate Account exceeds the value of her refund.
If it happened to my mother, I know it's happened to a few hundred other people throughout the United States over the years. COMCAST's attitude toward my mother's request for a refund in her name is reprehensible!! I will NEVER again be a COMCAST customer. I urge anyone with a COMCAST account to help --- please call them and ask them to change this stupid policy. I would anyone who's currently a COMCAST customer to cancel service with this inept and highly corrupt company.

I have been a customer for 20 years and have hated every day of it. The last straw was when I called to complain about outage. 2 service men came out and could not find problem. Then problem was found and a service man came out and fixed problem but left cable on top of ground and left without telling me. A neighbor came over to complain that a cable coming from my home was in their yard! I called Comcast and they said they would send someone out. Two days later I was leaving my home and noticed a big red new pick-up truck in my front yard. After all the rain we got weeks ago my yard was still soaked. The truck left a huge rut in middle of yard and broke my French drain that is buried 2 feet underground. The truck tire was buried half way or more to axle and I had no idea who this was. About that time a young man comes from the backyard and I asked why he tore up my yard and parked in it. He said he was from Comcast.
I said "Well that's good but why did you park your truck in my front yard? You could have parked on the street like everyone else up and down the 3 block." He apologized and admitted fault and said he wasn't paying attention and let me take pictures of his truck in yard and said: "Comcast would fix the damages. I am just a subcontractor for them." I immediately called Comcast and they sent a claims adjustor out a few days later. I showed him the broken French drain, the rut in the yard. He took photos and I gave him photos of the sub-contractor, license plate and all and he said there would be no problem and it would be fixed because the contractor clearly was at fault. He even apologized for the carelessness of the sub-contractor.
Next I got a letter from PremierCC of 6631 Cherry St., Houston, Texas 77092 saying "there was no negligence on our part!" There was no phone number. I tried to look up reviews and there was only 1 and it said it was no longer a BBB rated business and was likely closed. The letter was signed by ** but the envelope was hand written, sloppily I might add, with something that looked like a bugger on the face of the page-disgusting. Comcast is terrible. Deplorable. Every month it is something. I have complained to them numerous times. Neighbors tell me Dish is even worse so I have been tolerating. Last time I complained to the FCC and Comcast called me and begged me to accept free channels so I did reluctantly. They also promised to take care of me in the future. I guess this is their payback. I will not let this go. Worst company ever. Everyone who has a bad experience please call consumer affairs and the FCC.
This company is a syndicate-a corrupt organization and needs to be shut down. They are squeezing the consumers. Strong arming us. They know we are over a barrel because they bought off the television stations who used to provide strong antenna service. Their movies are all re-re-runs and the ones worth watching we have to pay for. It is a racket! They have to be stopped!

This company is a hard - 5/20 if it's even possible to be worse than the worst. Seriously, I hope someone reads these comments. If you know what's good for you, go with any other company other than them. They lie about your bill when you sign up, and it ends up being twice the original talked about price. God forbid the internet or cable ever works. It's like throwing $200 a month away. They don't care about their customers, everything from troubleshooting or a simple question is all done by an automated phone.
They throw extra unknown charges on your bill, and charge you for things you never rented. God forbid THEY screw up your cable boxes. You get charged an extra arm and leg, even though it's their fault, then if you're like my family, you go weeks without cable because not a single person can help you with any of your problems. As soon as this contract is up I'm switching. Please go with ANY other company. Seriously save yourself the money and the headache.

A Comcast contractor with a trencher arrived at my neighbor's house this morning as my wife and I were leaving for an appointment. When we returned, we had no internet, phone or cable. I checked out back and the trencher went right up to the pedestal in my backyard cutting my cable. There is a state call before you law dig in Colorado and there was no locate before he dug. Upon calling Comcast customer service I think I got someone in India as I could only understand one word in five.
She then informed me that I will have to wait until tomorrow to get it repaired. This is horrible customer service since they are the ones who killed my service. When my contract is up, I will definitely change providers, probably CenturyLink for internet and Sling TV for cable. This is about the fourth time I have contacted Comcast's customer service and all they ever do is tell me to reset the modem and it never fixes anything. We have had phone problems since we got Comcast.

ConsumerAffairs Research Team
The ConsumerAffairs Research Team believes everyone deserves to make smart decisions. We aim to provide readers with the most up-to-date information available about today's consumer products and services.
Comcast Corporation operates two major media companies: Comcast Cable and NBCUniversal. The company has grown into the largest residential paid TV service provider in America, and it provides a choice of cable packages and services for customers with a range of tastes and interests.
Service availability: Comcast has one of the largest service networks in the country, making it available in most areas of the US.
Produces exclusive content: As a sister corporation to Universal Pictures, Comcast has exclusive access to movies and other video content.
Intuitive on-demand menus: Comcast offers an intuitive menu system for on-demand service.
Service bundles available: The company bundles telephone and Internet services, and it offers customer discounts for purchasing service bundles.
Expansive channel listing: Comcast offers one of the largest channel selections of paid TV providers, with 260 channels.
Best for Television fans who watch a range of programs, businesses who provide entertainment to staff members and customers with special interests.
Compare Cable & Satellite TV Providers
Comcast Cable Service Profile
Basic Information
Company Name:

Comcast

Address

1701 JFK Boulevard
Philadelphia, PA 19103
United States

Year Founded:

1963

Website:

http://www.comcast.com/