Consumer Complaints and Reviews

I have been a customer of Comcast for a while now, my plan internet & phone neither one gets used much. My plan was 49.99 plus taxes & fees usually 76.08 a month. This month they hit me with a 188.19 bill. I told my other plan expired and now my total bill is 112.00 a month so they stole 76.00 from me. They gave me a 9 dollar credit. CROOKS. Stay away. FYI Comcast wasn't much faster than Verizon.

Started charging me for rental of a modem, when I owned my own modem. Then tried to tell me that I had to return "rental" modem when I canceled service. No amount of arguing could rectify. Finally "something" happened and I wasn't charged for the "rental" unit which I never had! Then was told that billing for "rental" modem was part of bill whether I rented or not, what kind of funny business is that? Really dissatisfied with customer service and billing with your company.

I really give up on Comcast but I agreed to a two year plan last August to save money. It's almost as if they are trained to steal. My problem started last august when I could not get two channels; no message appeared so called Comcast thinking Something was wrong. The automated system did not tell me that channels were out in my area but switched me to a tech in Columbia. Told him my problems. Tried to fix them by sending info to boxes. Knocked both my HD and standard box out. 2 rounds later after many sent signals to my boxes the HD was working minus two channels but the standard box was fried. Tech said he would send me a box. Told him I needed a standard box as I had two TVs set up one above the other to watch football.
Then he says he can save me money if I agree to two year deal reduce monthly bill by $30. "Ok," I said. Big mistake. Then he told me I could install the unit he was sending myself. I asked why as he had broken the box and I had a service agreement. Ok I would be credited. Then the box arrives and it is a HD box which I cannot use. Set up appointment to install standard box. Explained I have PTSD from Vietnam. Am disabled and cannot do anything technical. OK no charge.
Tech comes brings no standard box. Looks at HD box. Says he can install as they have done away with standard boxes. He installs then leaves. I try and put two channels on at once. Does not work. Both use same remotes. Call tech. He returns. Can't figure it out. Ask him to take back HD box says, "No can't." I have to hand carry or ship it to Comcast.
Says to solve problem. I can ask a supervisor at office at 45th street if I can buy an old standard box. Up I go turn in HD box. Ask about buying standard box cannot do. No standard boxes so I turn off my second TV. Look online. Buy standard box and remote. It arrives. Call for appointment to have it installed. No can do. They have standard boxes. I can set up a service call and they will bring one. Thought to self, "Been told twice they have no standard boxes and have discontinued use so I better run up and get one while it's hot."
Up I went turned on service again and set up appointment for installation. Got Columbia again. Got a date and time. Date came no Comcast. Called told I never had an appointment. Set up another appointment told I would be charged. Explained Comcast broke box I did not. Ok no charge. Appointment comes no Comcast. Called told that I canceled the appointment. Asked to speak with supervisor. Asked why. Explained.
Spoke with supervisor was going to have everything fixed. New appointment. Tech came had Hd box. "No I have standard box." Installation made. Explained no charge. Bill came was charged. Cable worked for two weeks then went out on standard box. Called to complain. Got some other south American country. Very sorry. I would be credited for service call and would get another credit for all my problems. Would fill out form and supervisor would sign off. THE BIGGEST LIE IN THE WORLD CONTEST ENTRY IS HERE. Got no credit on next bill.
Again I call for appointment. Explain again I did not cause the problem. OK no charge. Junior comes out. Been told by three techs that straight lines across on standard means no signal. Junior starts to check. Finds that when cable installed back in May 2012 the tech used three splitters and that has caused weak signals for computer and all three TV boxes. Junior used same cable standard box which I had already wrongly paid for installation, remember Colombian tech blew up my standard box back in august and even apologized for doing it, and I again explained to Junior as I had to service when I made appointment it was a tech problem which is covered under my service plan. OK no problem. Get February bill and not charged $ 50 for installation but $60.
Called Comcast again. Calmly explained everything again. She checked. "Oh," says she. There is no installation box was already installed. I will credit the $60. Was very happy Junior fixed problems that I had suffered for 5 1/2 years. Appointment was set by wonderful lady who fixed everything in the system and finally my problems were over. I skipped many other calls to Comcast where I was GIVEN CREDIT TO MY ACCOUNT FOR PROBLEMS CAUSED BY COMCAST in this complaint but I was a happy customer.
February bill is taken out. $60 is still on bill, not removed as I had been told. Called Comcast. Ok I was not very nice was angry in fact. Told, "Oh we agreed to refund your $60 but it was too late to take it off. You will receive credit in March." Told lady "I have been through this many times where I would be credited and no credit was given." "Oh no I see it on your account." Asked to speak with supervisor. She too told me it would off it march. Just paid march bill. No credit received. I truly wonder if Comcast employees are trained to lie and steal from customers. Oh yes got a call about my experience on last call to Comcast. Would I refer friends and family to Comcast. BIG ZERO. Put it in five times would not accept then on 6th entry it took. Comcast is a criminal entity that has it employees lie and mislead and steal monies from its customers and should be investigated and prosecuted.

They always have outages and never give a warning about outages that they know are going to occur. They charge a arm and a leg always adding or going up on some fees then they act like they don't want to reimburse you for the half day you lose or have no service. Only reason I have them is because it's the only service offered in my area. Can't wait for another service to be offered so I can dumb these losers. Everyone need to get together and file civil suit against this company for robbing people. Need to bring back the good old free antenna days. So mad! I Hate Comcast and its Services with a Passion.

My bill went from $93 to $108. Not too bad. I called and no resolution. We talked about the equipment I had, the rep said if I returned the box it would go down $9.95 but I only have one box which is the one that is included. He never told me I was being charged for an extra box, by looking at the bill is not clear. Now my bill went from 108 to 136.89. That is not acceptable. I called. They said anything else even going down to basic TV or just doing Internet would none more expensive or the same. Then I found out that since 2015 March April. They have been charging me for an extra box. That is almost 24 months 238.00. I wonder how many people they have done that to.
I can only dispute 120 day, that is really robbery. They overcharge for the service And then they charge you for equipment you don't have. This is really disgusting and there is no one that can vouch for us. They make the rules. No one monitors them, they can do whatever and charge whatever without regulations and we the consumer are just out of luck. Companies that make a killing and we just have to accept it. I am very frustrated.
How do I know I can trust these reviews about XFINITY Home Phone Service?
719,335 reviews on ConsumerAffairs are verified.
We require contact information to ensure our reviewers are real.
We use intelligent software that helps us maintain the integrity of reviews.
Our moderators read all reviews to verify quality and helpfulness.
For more information about reviews on ConsumerAffairs.com please visit our FAQ.

I've had AUTOMATED ANNOUNCEMENT SYSTEM with the automated voice and selection system that is always present, no matter what number you dial. There is no option to simply ask for a customer service rep. Why doesn't Comcast like "Dial 1 for ...", etc.? It took me 10 minutes to get to a voice that understood that my new modem had to be hooked up. Please. For the sanity of others, get rid of the smarmy female voice announcement recordings, and use better options. You're just turning potential customers away.

UNBELIEVABLE! The worst installation EVER! Ran cable across the threshold of our front door. My 87 yr old grandmother tripped over it as did my 4 yr old niece! Called repeatedly to explain that this was extremely dangerous & same ** installation was repeated in my bedroom... but I called get NO ONE to come fix this problem! Customer service ignored all my attempts to schedule an "in house" service man but was more than happy to send someone out when I requested a landline. The repair man had to come anyway, as my wifi stayed in "offline mode" for more than half the time I had it!
So, despite several attempts to reset as suggested by the girl, who barely spoke English, & was forced to admit, that the "simple, 1 hr, walk thru troubleshooting procedure" was an EPIC FAIL, was I scheduled for a serviceman & elated when he actually showed up this time! He installed landline, fixed wifi router but refused to touch the exposed wires & hazardous mess left by 1st service guy. Extremely frustrating when so little value is placed on customer service. Thought you guys were "revamping the horrible reputation you've had for so many years & bragging on how much emphasis is being put into customer relations?" Best part? $1000.00 is what they say I owe for 2 mos! Lol. #Losttheirminds! I WILL NOT PAY & contacting a lawyer in the am... DISH, DIRECT, ANYTHING BUT COMCAST!!!

Comcast customer service is disgusting. They are rude and incompetent. They told me that I would be able to post date my payment. I come home and my cable is off so I just send them a payment online. I call the next day to cancel. They told me could not. So then they said could get a refund within 7-10 business days. I wait the days then they told me in the notes that someone said they told me I could not. That is horrible to lie like that on customers. The service still and always will be trash.

Worst company ever! 1 of my cable boxes went out and after waiting a week a technician was sent to my house to fix the problem and I was charged $120 for him coming out to fix it. Mind you I WAS NEVER TOLD ABOUT THE CHARGE TO HAVE SOMEONE COME FIX IT! I called to ask about charges and they refused to remove it even though they failed to tell me about it. I wouldn't recommend these people to my worst enemy!

I was with AT&T and changed to Comcast for a brief time. Service was terrible so I went back to AT&T. Now Comcast refuses to port/route my office number back to AT&T, THEREFORE I AM NOT GETTING CALLS FROM ANYONE USING A PHONE THAT HAS COMCAST AS THEIR PROVIDER!!! We pay a lot in advertising not to get calls. I have called Comcast many times concerning this and they say "You are not a Comcast customer so we cannot help." I have talked to AT&T and they say they (AT&T) control outgoing calls and Comcast is the one controlling the outbound calls of their customers. Which is why Comcast customers cannot reach me. I need help in getting them to route my number back to AT&T so I can get called from Comcast customers. HELP!!! Comcast is a terrible, I am sure this is illegal if not it should be.

Like everyone else, I'm tired of being jerked around by Comcast. They continually look for ways of increasing your bills. Had a service outage a couple of months ago that took days to resolve. The field techs couldn't resolve the problem. and their phone representatives lied to me at least twice about appointments that turned out to not exist.
Got off the phone with one of their customer retention people this morning after complaining about a price increase. Their solution was to pay what I was paying for decreased service or pay more by buying more service I didn't want. He was more than happy to help me cancel my service since I wouldn't take either of the poor options offered. Very arrogant in attitude and tone. Can't wait for CenturyLink to build out their network in the area to have some real, competitive choices.

I had Verizon for many years and switched to Comcast because they were less and it was good for a little while. And then Comcast increased my price by 32%, let me repeat that 32%. How many of you received a 32% raise? Who can afford this? DO NOT USE COMCAST AS THEY WILL BLINDSIDE YOU WITH OUTRAGEOUS PRICE INCREASE.

I canceled my Comcast Account on Jan. 2, 2017 and turned in all company equipment at the Comcast Store in Acworth, Ga. The rep in the store was very polite and told me that I was entitled to a refund on my service and that it would be received within 4-6 weeks. When the check was not received I called Comcast 5 times to inquire when my refund would be received. In every case I spoke with a rep who was probably in the Philippines who spoke terrible English and could not provide me with an answer. I then made formal complaints with the Georgia Attorney General's Office and the FCC. I then received a phone call from a Comcast employee named Eric who went over the information with me and told me that a check was mailed to me on Jan 27, 2017 and that he would get back to me. He did everything but accuse me of cashing their check before calling back to state that the check was never cashed.
Three phone calls later he is still standing on company policy that they have to wait and see if I received the check. I've asked him to put a stop on the check he said Comcast sent and send a 2nd check. He stated that they can't do that. After putting up with terrible service and no customer service for 5.5 years now I can't even receive a refund on what they owe me. In my complaint to the FCC I asked them how Comcast can be allowed to stay in business based on their terrible record of receiving complaints from their customers. I await a response. They couldn't refuse to close my account because I did it in person in their store. They do continue to pay me the amount owed me on my account.

My 84-year-old mother had no phone and no tv. After many many calls Xfinity promised to make a service call the next day. They never showed up because there was an area outage – surprising since the supervisor I spoke with didn't even know that there was an outage. He also promised to follow up the next day and never did. The next representative promised that another supervisor would call and that he would follow up with a call. This again did not happen. This company should be ashamed!

For the past month I have to call them because my services are down. They always tell me it's because of outages in the area. I understand one or two outages a month, but literally everyday is ridiculous. I am very unsatisfied with paying for such expensive services that don't work when I need them and the company can never do anything to fix it.

Comcast is the WORST cable/internet company I've ever experienced!! They set appointments for installation, stand you up & never notify you. Take deposits & then cancel your order. They are extortionists & they think they got you by the balls because there is so few digital cable companies in South Florida. Every time you call them, prepare to be on the phone with them AT LEAST an hour. SMH. It's an all day affair to deal with them. They straight up lie to you, say they're taking things off your bill & don't. I can't explain how much I can't stand this incompetent company. WORST customer service skills I've ever encountered. Please let there be another digital cable company in South Florida, I will switch in a heartbeat!! Save yourself the trouble & just get a firestick. LOL.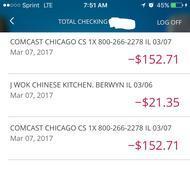 I recently made a payment of $ 152.71 via Comcast's automated phone system a couple of days ago and the payment posted to my bank account. I normally make it a practice to check my accounts on a daily basis and the next morning there was another post for the same amount that was made at 6:30 AM from Comcast. I contacted the bank for a claim and then called Comcast to let them know what happened. They were not helpful at all... Comcast tried to blame the bank for the mishap and told me that I should be talking to them not Comcast.
I asked to speak to a supervisor and the rep on the phone flat out refused and said that "...all representatives have the same level of knowledge and authority as a supervisor and I'm telling you to call your bank..." At that point I was totally aggravated and had to let him know that I had his name plus I was contacting the local news to investigate plus I was contacting consumer affairs. Please please please watch your bank accounts when dealing with Comcast... There is either a system glitch or maybe a breach somewhere...

Last I checked, I'm still not related to the Rockefellers, Gates, or Mr. Trump. These vampires at Comcast will send families to bankruptcy court if given the opportunity! There are no such thing as deals or breaks with these guys, no matter how they instruct their employees to smooth-talk the customers. The monopoly they have in my area is just ridiculous. Something must be done about these pirates. Blockbuster monopolized too and lost. It's time for these guys to go.
You try to lower your payment with a cheaper plan and the reps will do all they can to show you that saving a customer money is not in their best interest! Their plan rates continue to inflate and I have no pay raise in sight. For the life of me, I cannot understand how one company can be so rotten and get away with it. Most of my friends have switched over to Fire Stick. Is Fire Stick the better option? Will it work with 4k TVs and give me my set's best experience? Someone please let me know because I need to get these bloodsuckers off my neck!!!

In the past year my bill has went up 3 times. I started with a $69.99 package that now cost me around $102 a month. Extremely excessive increase. Not only that but I seem to lose more and more services and channels. My package includes on Demand TV (one of the reasons my bill is so high). I have a crazy work schedule and usually choose to watch my shows on demand because I usually miss them when they first air. This is one reason I went with Comcast Xfinity. This is a service I already pay for!!
Now when I want to watch a show... any regular television program I have to pay for it!!! Unbelievable that with all the new less expensive options out there that Comcast would continue to do STUPID things to now only lose customers at a rapid pace but to have so many horrible reviews online. What are they Thinking??? Customer service is completely gone with Comcast. I have had Comcast for over 20 years. Which is even more sad... They have become the poster children of how not to be...

Always trying to steal your money. Wrong billing. When claimed (at Xfinity Belmar, Denver), they promise they will remove the extra charge but it keep coming in every bill as previous balance. I'm glad to know I'm not the only one in this situation (see reviews) and hope something will be done to stop this company from stealing.

I have had to constantly call Comcast to fix problems with the pixelation. I can't watch any shows and I'm spending $300 a month. I'm taking time out of my day to talk to them then they send out a guy to fix it and it will work for about a day! I can't take it anymore! Picture quality is a constant issue.

I made an online payment to Comcast. I only hit the make payment button once. When I looked at my bank account they had taken the payment out twice. When I called them first they said I did it and when confronted she finally said they would refund the second payment. Two weeks later it still hasn't been done. They are liars and thieves.

Well like you all are saying "SUCKS". I just got off the phone with a technician and they take you in the loop of diagnostics and give you ** about using their modem. Seriously people! The speed drops at 4 p.m. to nothing and they still stick to their story. Unfortunately, I have no choice because I hate Comcast and AT&T. I am waiting for WAVE to install a cable and I am switching for sure. My friend is using them and they are phenomenal in service and consistent speed at all hours of the day and night. I hope WAVE kicks Comcast and AT&T out of business soon. We need a better company. Just because they were on top all these years cheating their customers doesn't mean it will last forever. Nothing LAST FOREVER!!! Take note!

Since Comcast initiated, a few weeks ago, a "NEW" E-Mail format the service has become horrible. Each day there are periods where it is impossible to get to your e-mail account and when you do get the service popups come stating problems 'server problems' 'not working problems' etc. It has become so sporadic and annoying that paying for such poor service is upsetting. I am not alone with problems since my brother and another friend say they are experiencing the same problems and poor service. To make matters worse the 'new format' itself is horrible and less user-friendly than the old service. Comcast is just horrible ISP.

This is by far the worst company ever!!! The customer service over the phone is the absolute worse. I wanted to start new services at my new apt. I called to see if I owed a balance they told me yes and it was 138.00. Ok so I pay 140.00! And then they say I need to pay a deposit of 100 before they can even start so I did. The following day I wake up and it's cut off! Then I call to ask why and of course I get the run around from 5 different Comcast employees. Ridiculous!!! I'll buy a Fire Stick!!! It's way better.

I was one of the first in my area for the Comcast Triple Play. It was about $90. a month for all three services. Included was the cable modem. First month bill had a charge for cable modem. I called and it was reversed. Second month it was back. Called and it was reversed, but the rep. acted like she was doing me a favor. Third month it was back and the rep. wanted me to fax a copy of my bill before she would credit me. The no modem fee was pre-printed on my invoice, not added on by the salesperson. I got no response from the fax rep., so I tried an email. The email rep. said they were aware of the problem with incorrect billing and she would just give me a credit for the $3. fee times the 12 month contract so I would not have to go thru it each month. All was fine for a short time until Comcast raised the fee to $5. Small dollar amount but it was the principal. I guess I just gave up at that point.
Just before the 12 months were up, I called to see how much it would go up for the second 12 months and was quoted $120. a month for the second 12 months. I said ok. Then the first bill came for about $190. and I called again. The rep. laughed at me. She said, "You have to pay it." No checking. No asking for the other rep's name. Nothing. She said he was wrong. I tried calling again a few days later and got the same story but without the laughing. I offered to pay the $120. as payment in full and she said no. I sent the check anyway for $120 and it was cashed. I feel this conduct is from Comcast, not just a few bad employees. Comcast reported me to the credit agency and recently has started a debt collection against me. The worst company in America.

We have been Comcast customers for many many years. All throughout our service we received surprised bills. Most of the time they were able to resolve the issue or find discounts to give us to erase some of the hidden fees. This time they sent a surprise bill with an increase in our services of $40. I called and spoke with a customer service rep and was transferred to a manager. The fees were not taken down. I paid the bill and continued our services. The next month same surprise increased bill. When I called them yet again they couldn't help but told me my contract was up with them. I had just bought a new house and they weren't able to service the area therefore I canceled my services. The customer service rep told me my services would be canceled on the last day of my billing cycle. I agreed to this cancellation. She also informed me I would be receiving a refund of $173.10 for overpaid fees.
After weeks of waiting... another surprise bill! This one stating they were keeping $130 of my refund and would be sending a check of $17.10 for a refund. I called to ask what the reason was behind this and all of a sudden they seen that my contract wasn't up their mistake so I have to pay early termination fees. I again spoke with a representative at this time. She stated that even if the contract wasn't up early termination fees do not apply if you move to an area they are unable to service, she had me file a ticket. I filed the ticket and a month later the ticket still hasn't been reviewed. Again, the story from them has changed and it's back to we owe an early termination fee regardless of all reasons at any point if you cancel services with them. They say there is no way to erase this fee. It's policy, cancel with Comcast pay them $130.

Still the same terrible company. Haven't had Comcrap for more than 10 years now but about 8 months ago, we moved to a place where Comcrap was the best option... I thought. Looking back, we should have just stayed where we were. Over the past 4 weeks, there has been 7 - 10 "Service Area Outages". We are averaging an Area Outage every few days now and of course, the 1-800-idiots tell you something different every time you call. After the 15+ hour Area Outage the other day, the Xfinty app said the outage was over, but not for us. The first tech I talked to told me the problem was that our modem was at its "End of Life". Wow! TV and Internet impacted by the unbelievable coincidence that we needed a new modem the same day as an Area Outage!!! So I called back and talked to another tech. Now we supposedly have a wiring problem in our house. Again, what a coincident that the wiring fails on the same day as an Area Outage.
After talking to 3 different techs and 2 solutions reps (Retention), I gave up. We agreed to meet a service person 20 hours later and he found that the problem was not the modem, it wasn't the wiring in our home, it was their equipment at the street. We have their internet and TV because we forgot the pain they can inflict!
As its only been a few days since we were last without our $178/month service, we are once again experiencing an "Area Outage". I decided to call to see if ANYONE knew what the problem is this time and the likelihood of it ever getting better.
The "Customer Solutions" representative I got this time had an attitude that I shouldn't complain because after all, Comcrap credits you for when you are down to which I replied, "No you don't. I have to call and sit on the phone for an hour for you to offer me $10." As if this is an automatic reimbursement for service not delivered!!! Nope, the way it works is you call in, go through the endless autobot calling features, and when you finally are about to slam the phone against the wall, you get a human that spends another 10 minutes asking you for credentials. At some point they sense the aggravation and offer you $10 because my goodness, they can't help you any other way. People, trust me when I say only the lucky like this company. I've had this same experience in 3 different cities and multiple accounts.

Comcast has been ripping off customers for years and price gouging. But unfortunately our government continues to let them as well as other cable companies get away with it, first off they tax you on every tax known to mankind, their customer service sucks, they are always trying to sell you something instead of helping you resolve issues, and you can never get a straight answer from them. Also forget about being able to get a price that will stay the same because they will always raise it and then tell you that your current price was a promotional price, they are very dishonest and train all their employees to lie, lie, lie. So that tells you about the characters of their employees.
Also if you think you're paying for higher speed Internet, you're wrong. Yes you are paying higher prices but you're not getting the speed you're paying for. Then when you figure out they are screwing you and you call them out on it, they tell you that your modem needs upgraded in order for the speed to work properly lol, what a scam. This is after you been paying them $90 a month for a year for their highest speed when you were actually only getting their lowest speed. These people are crooks and all should be prosecuted and thrown in jail and throw the key that locks their prison door in the ocean so they can rot in there. They are stealing billions from customers, thanks to our United States' useless government Comcast, Dish, DirecTV. All utility companies will continue to rob us blind. Oh by the way they will also give a new customer better rates than their loyal customers who have been with them for 20 plus years, no one customer is paying the same rate. It's ridiculous.

Well I called Comcast of being a 5 year customer. Had a baby in December so I was out of work on FMLA and could not really pay the bill. So now I am in a better position to pay the bill off and turn back on the cable service. I am back at work. So I called and I was passed around to 5 customer representatives and let me tell you, they were all rude but the last one told me while I was explaining myself to "WAIT... STOP..." I could not believe it. While I was speaking he yelled those words to me. They were all rude and could not help me and they all spoke while I was speaking. I am the customer. I could not believe the service today and plus I was on the phone with Comcast for one hour. I could not take it and hung up on the last customer representative.

ConsumerAffairs Research Team
The ConsumerAffairs Research Team believes everyone deserves to make smart decisions. We aim to provide readers with the most up-to-date information available about today's consumer products and services.
Comcast Corporation operates two major media companies: Comcast Cable and NBCUniversal. The company has grown into the largest residential paid TV service provider in America, and it provides a choice of cable packages and services for customers with a range of tastes and interests.
Service availability: Comcast has one of the largest service networks in the country, making it available in most areas of the US.
Produces exclusive content: As a sister corporation to Universal Pictures, Comcast has exclusive access to movies and other video content.
Intuitive on-demand menus: Comcast offers an intuitive menu system for on-demand service.
Service bundles available: The company bundles telephone and Internet services, and it offers customer discounts for purchasing service bundles.
Expansive channel listing: Comcast offers one of the largest channel selections of paid TV providers, with 260 channels.
Best for Television fans who watch a range of programs, businesses who provide entertainment to staff members and customers with special interests.
Compare Cable & Satellite TV Providers
Comcast Cable Service Company Profile
Company Name:

XFINITY Home Phone Service

Year Founded:

1963

Address:

1701 JFK Boulevard

City:

Philadelphia

State/Province:

PA

Postal Code:

19103

Country:

United States

Website:

http://www.xfinity.com/home-phone-service.html