Consumer Complaints and Reviews

I was promised a fixed 2-year bill by the Comcast representative. The lady ensured me the monthly fee would not change. They raised my bill $35. This isn't acceptable. I will be canceling my service as soon as my contract is up. Comcast is such a terrible company. It's really unethical how they change your bill after they lock you into a specific fee.

Recently, I was induced to switch my internet service from AT&T to Comcast. For a combined fee, I was supposed to receive upgraded internet and XFinity television service at a price only slightly higher than I was paying for cable alone. The "improved" TV experience was exactly the same channels with simply more awkward controls. There was no upgrade. It was a downgrade. And when I experienced a failure of service, it turned out that it was a faulty (likely repurposed) cable that they'd installed 3 months earlier and which I hadn't touched since installation. The internet service was even worse. It would slow down and occasionally stop every day.
On high traffic days, like Christmas, it was horrible. Calling to complain was met with a response of, "We can see no problems with our system." responses. Then, the overall killer, when I'd had enough and cancelled to go back to my AT&T service that had always worked, I was charged a $200 cancellation fee. I would encourage everyone to avoid Comcast in any of their services.

I have been a customer of Comcast since 1999. Their billing department seems unable to correctly send a monthly statement and their customer service is unable to explain why the monthly bills are consistently different. They try to give a good speech, but never answer the question. I am canceling my service with them and will never deal with them again. Comcast should be embarrassed with the caliber of people that represent their company.

The service is great, but customer service, tech support, even corp sucks. I signed up for a 24 month agreement. When my agreement was supposed to end I called and asked what was my date for my agreement to end. I received 3 different answers from 6 different people. I asked for a supervisor which I never heard back from them. So I e-mailed corporate. They reached out the next day and said they would look into my problem. Few days later they called back. I missed the call. I tried to reach them several times left voice mails etc. Still no reply. My bill... went from $180 to $280. My contract... went from 24 to 36 to 54 months but no one can tell me why. To cancel my service they want to charge me an addition $90... I don't understand.

I was a Comcast Customer for almost 3 years. For those 3 years, I had many issues with them. The first one was that they were charging HBO services in my account, even when I didn't add that service to begin with. Second, they offered me a better plan on the phone and they set a price, I agreed with the plan but when it was time to make the first payment of the new plan, what they charged on the account was much more higher than the price we agreed with.
The last issue I encountered with them, is that when I finally moved out to a new place where Comcast is not the service provider, they told me that I was going to receive a credit for the deposit I made to enter the contract 3 years ago. However, I never receive the credit and what I received is a letter from a debt collector asking me to pay for a balance that was still outstanding in the account. They didn't even called me, email me to let me know there was a balance still outstanding.
In fact, when I returned the items, the Comcast Representative told me that nothing was outstanding and the only thing I needed to wait for was a check for the deposit. I NEVER RECEIVED A CREDIT + I HAD TO PAY FOR THE BALANCE THAT WAS OUTSTANDING IN THE ACCOUNT + LATE PENALTIES FEES. This is not the best way to treat customers, these businesses won't be anything without customers. I am very very frustrated and disappointed for the service they provide.
How do I know I can trust these reviews about XFINITY Home Phone Service?
669,639 reviews on ConsumerAffairs are verified.
We require contact information to ensure our reviewers are real.
We use intelligent software that helps us maintain the integrity of reviews.
Our moderators read all reviews to verify quality and helpfulness.
For more information about reviews on ConsumerAffairs.com please visit our FAQ.

It's getting so I literally dread the end of the month because I know I will be stuck on the phone with Comcast, fighting about my bill. Yes, it's something new every month. I would've given them the boot long ago, but of course they have a monopoly in my area, so we are patiently waiting for our lease to expire so we can choose a different cable service.
Not only is their wireless internet absolute crap, but their customer service is even worse. It's a joke. A quick call to Comcast? Excuse me while I laugh. You'll spend a minimum of 15 minutes on the line with them, getting bounced around to multiple different agents and if you're LUCKY, you'll get your issue resolved. I work in technology customer service and trust me when I say, these guys are the WORST. I can't even begin to tell you how many times I have had to call for false charges on my account, fight with them about upgrades, or complain about the service speed. If you are about to choose Comcast as your internet service or cable television provider, THINK TWICE! Take your money and your TIME elsewhere.

Com-Crap Cable Service. I chose to make a payment in a different method this time, so I call to follow up with their company regarding that payment. Went through the prompts to get an nice customer service person that I could understand this time. She notified me that we have a new account #. Well where did that number come from because we had no knowledge of it.
Okay! Moving forward. "I'm looking to see if my payment have arrived." "I'm sorry but I don't see that you're authorized on this account." "Ummmm! Yes, I am authorized on this account." "We have a new system and all of the previous information was transferred to this new account." "You mean everything except people who was authorized on the previous account. Okay! May I speak to a supervisor?" "Yes. Please hold!" 3 min go by, "I'm sorry since you're not the primary on this account the supervisor will not speak to you." I hung up! I'm so tired of this company ripping people, just to watch TV and can't I talk to a SUPERVISOR!

THIS HAS BEEN THE MOST FRUSTRATING THING I HAVE EVER HAD IN MY LIFE!!! NEVER WILL I EVER COMCAST AGAIN. Got the basic package that was supposed to be $39.99. With all their hidden fees that comes out to $54/month. With all late fee payment and extra convenience payment fees my bill averaged over $100/month. They charge you BS convenience fees of $5.99 to pay your bill on the phone. Then if you want to dispute a charge you have to just pay all the extra BS fees first to get your service reactivated (another $6 fee) then a late payment fee because I got fed up with the phone system after fighting to speak to a manager for two hours.
It is very easy to get the service but after it's set up it is impossible to get in contact with anyone from Comcast without spending 30+min on the phone waiting. Their customer service is even rude and keep transferring you to a different department. So I am just going to give up. It is not worth my time or frustration anymore to fight with them EVERY month. I'm going back to AT&T.

Comcast is hiking up prices. Said it's been 2 years and it has not been. They have done this before to us. Customer service person was not kind, and not helpful. They lied about our "contract' being up and billed us more than $50 higher. They continue to raise prices without warning. I then tried using the message service/chat on their website. Would not help me downgrade, only upgrade. Only gave me the number for cust service, which was not helpful in the first place.

We have been a Comcast Xfinity customer for a year now. We recently had a move and Xfinity customer service had confirmed our move on Dec 30 2016 to our new home. On 30th we got a call that they did not have a technician in the area to come and set it up. They said that they will find out and call back in 15 Min. After I made multiple calls and got the same answer that they will call back in 15 min. I ended up by having my appointment set for Jan 2nd with no one informing me. I spend the entire holiday with no internet and Cable. We were ok with it.
But after the service was installed I again called Xfinity complaining about the speed issue. I did discuss the issue I had and the inconvenience we had. So the customer rep very rudely offered me $20 to compensate for the inconvenience we had. I just asked her to keep it and she did not even bother to discuss anything. They just don't treat their customers with respect. I know I will be changing my provider soon. This is like we will do whatever and the customer has to pay his bills anyway. Xfinity does not have the right integrity to do business. Very bad customer Service.

This company is horrible!!! If I had an option of 0 stars that's what I would've selected. Not only have we dealt with yoyo-ing bills and crappy excuses why each month the bill increases our internet connection is deplorable! It has been almost 2 years of dealing with this awful service and every time there is an issue they never can resolve it right away. Unfortunately my complex is contracted with them so we have no other options. The phone technicians are pointless. They keep you on the phone for hours and end up needing to send a technician to your home which you will have to wait days before anyone can come out. This company has jeopardized my work from home occupation due to its lack of customer service care. I would never deal with or recommend this company to anyone EVER!!!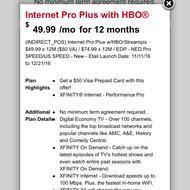 I have taken Comcast plan "Internet Pro plus with HBO". In this plan they clearly mentioned 100 MBPS internet speed but in actual I got only 25 MBPS speed. After checking the speed When I called Comcast customer service agent that "I am getting very low speed but in plan you mentioned 100 MBPS" he immediately replied to me that "sir if you want 100 MBPS you need to pay 10 more USD every month." I said "then why you mentioned 100 MBPS in your plan," but he is constitutionally repeating same thing again and again - "sir you have to pay 10 more USD." I am really frustrate with the reply and do not know how to deal with this situation.

We have a house in Florida where Comcast has a near monopoly. We had tenants who left our house and we tried to restore our previous service and had to go in person (stand in long line) at Comcast to get a DVR box. It worked for 2 days and then stopped. Total of 5 hours on 2 different days and multiple representatives spoken to, including managers. They all said conflicting things about why the DVR was not working.
No result after 5 hours on the phone. Managers promised to call back, but they did not! Not sure why I thought they would!! Next step--a technician will come in 2 days to fix our problem. This should not be so difficult in this day and age of computers to get a technical product working from afar. Also, there were multiple disconnects while talking to the reps and callback resulted to going to beginning of the line and telling story again. Very frustrated with the lack of service, incompetence and poor training of the reps. At home, I have Fios Verizon and have no problems with them!

After diligently paying $80.00 per month for nine months for cable and internet service, Comcast abruptly raised my bill by $7.00 per month in hidden fees. I have closed the account. The "broadcast TV fee" is already a scam to start with, and it rose from $3.75 to $6.50. The remainder of the increase was other random fees that required careful dissection of my bill for me to determine which ones and how much.

I pay over $90 a month for speeds of up to 120 Mbps but lately when using wireless connection on my laptop it would sometime take up to 5 minutes for a page to load. When looking at the internet connection I can see where it would go down to around 30 Mbps. When I call and complain about the problem, Comcast would do something to make it work for a day or 2 then it would go back to the same problem. It's obvious they are controlling and limiting the amount of data I can use. I can't believe how they can get away with ripping people off.

Comcast sent out a subcontractor to install my cable in my new house. The contractor came out, plugged in five cable boxes, and never hooked them up to any televisions. I had to do it all myself. During the process of the contractor plugging in these cable boxes he managed to knock over a stack of Sheetrock that was being used to redo one of my bedrooms. When he knocked them over it fell on my electric fireplace breaking it. The fireplace fell on my 11 year old son who was laying on the floor playing on his Nintendo ds. The contractor never asked if my son was okay. Instead my son got out from under the fireplace and asked the Comcast contractor if he was okay as the contractor swept the broken pieces of my fireplace under the rest of the fireplace and told us the lights on the cable box would stop blinking and he left never saying anything about the broken fireplace.
I called and reported the incident and property damage to Comcast and they sent two guys out to look at the damages who did nothing more but stare at their phones the entire time they were in my home. The two gentlemen proceeded to tell me they were gonna pay for the damages and that they would hand deliver the check to me the following Monday. That Monday came around and one of the two guys calls and says he's gonna be out between 1:00-2:00 to deliver the check and that he was taking my broken fireplace. When I told them they're not taking my broken fireplace he tells me that when they damage something they buy it from the customer. I told him it's not for sale it was a gift from a deceased family member and has sentimental value to me. He told me he was gonna talk to his supervisor and call me back. I never received any call back from him after leaving him two more messages. I also never received my check.
I then called Comcast again and demanded to talk to a supervisor. After talking to three different people I finally got a call from a lady named Rebecca **. I explained the whole process with her and she said she has no idea why they would try to take my personal property and that she was gonna look into and call me back in 24 hours. That phone call finally came 7 days later. She tells me that unfortunately that is Comcast policy that if they damage something they take the property with them. That is not theirs to begin with. I spoke with Rebecca and pleaded my case with her that my fireplace is not for sale, I didn't ask them to break it, and I didn't ask them to buy it. I just simply want my damages paid for and she replied that she will talk to her quality assurance team and get back to me in an hour or so. It's now been three more days with no callback to me as I left three messages on her voicemail.
This is absolutely ridiculous and extremely unprofessional. I own an appliance repair company and if I damage a customer's property I pay for it, replace it, or fix it. I don't take their personal property for the simple fact that it is theirs and not mine to take. I also call customers back when I tell them I am going to. But Comcast on the other hand does not return calls and they do not care if a customer is disappointed in their services. This must get out to the public so people know what kind of crooks Comcast really is!!!

I had Comcast on AutoPay and trusted that I was being charged for the services I subscribed for. Turned out they secretly sneaked in a $15/month surcharge for additional service that I never requested and had been charging that extra amount without confirmation. When I called them they just cancelled it for upcoming months and didn't credit past 6 months. Also told me it's my fault to not actively checking my bill.
Essentially Comcast wants its customers to NOT trust what they charge them because they know how crooked they are. They will sneak in expenses hoping you didn't check and if you did, they'll simply cut off for upcoming years. They should truly be sued to the ground. They are monopolistic bastards who use their leverage (no internet provider besides them in my area) to do whatever they want because they know there's no other alternative.

I paid my last month's bill, today I got the new bill, it was double. They never received last month's payment. I faxed them proof I paid it, they called back and said they can't find it... I went to the place I paid it at. (And have paid it there many times.) It shows Comcast received it, still Comcast won't do anything and says I still owe it, not too pleased.

My Mother (Barbara) has Alzheimer's and is currently living in a memory care facility. As her son and legal power of attorney, I have made numerous attempts to discontinue her service with Comcast. These include both telephone and online chat support calls. Her equipment was returned 11/08/2016. This has been confirmed by the UPS tracking number and every person at Comcast I have contacted. However they continue to bill her. They refuse to add a POA to the account without showing up in person at a sales office. Normally, this would not be a problem, however the nearest one is 100+ miles away from me.
There are 2 separate issues here. #1 Continued billing for service that is *impossible* for them to provide (the equipment has been returned). #2 Refusal to provide a method for a POA to discontinue service other than a personal appearance. Every other company where she held accounts has utilized fax and/or email to do so.

I am starting to think a bunch of monkeys could do their job at Comcast better than the employees. I called last week with a complaint about my cable freezing and they told me I was not eligible for a free upgrade. I still do not understand how that works. How are you not eligible for something that is free. But anyway they told me they would send me new cable boxes and when I receive them help them up activate them and return the old ones to the UPS store and they would ship them back. So I did everything exactly as they said. We get our bill and it is $252 because they are charging us for 6 cable boxes whenever we just returned 3+. Had three new ones sent to us. Now we are being charged for 6 when we only have 3.
The guy on the phone that I dealt with even told me nothing I did that day would change my bill whatsoever. We were exchanging three boxes at no charge. I guess they do not understand what no charge means. Now they are trying to rip us off and charges for these boxes that we no longer have and they are in their possession.

I was simply having a slow internet issue. On my first call, I was passed around to 3 different agents, one of whom was convinced my account was someone else's and the other lied about which department they were transferring me to. On the third transfer, call was dropped. Called again, and again was passed around 3 times, each agent simply rebooting the modem over and over again. On the fifth round of reboots, which I could have done myself, I just asked if I should take it in to exchange it, and they realized I probably should. Worse customer service I have ever experienced.

In November I received my bill. It had increased and I asked why. I was told I would now be charged for my hd box, which I was not before. I was told she would revert the bill back to the original previous amount for 12 months. I would have to pay this month's bill but in December I would have the correct amount billed. When I got December bill, it is even higher! I called and was told the raise was due to their costs raising plus I would have to now pay for the hd box and the computer would no longer let them waive the fee even after being told previously that it was waived for 12 months. I am at a loss! My social security went up .03% but the rise was absorbed by Medicare. I need some help!

Comcast is the worst company I have ever had to deal with. They do not care if they fix your service or not because they know you have to use them since there isn't any other provider(s) out there!!! I am considering getting a lawyer to sue them for their inability to fix connection issues on outside lines from where I live. Why aren't there more providers out there... Comcast is a monopoly and there is no competition!!! Where is the government to fix this problem!!!

I never subscribed to Comcast. Never Ever. But a collection agency calls me that I had subscribed to their service at ** in Jersey City New Jersey. I never lived at Grand Street in New Jersey ever. The collection agency says to file a Police report and whole length of procedure to get it out from my Credit Report. I am planning to sue Comcast and the Collection Agency if I see this in my Credit Report.

This got to be one of the worst businesses I've dealt with. I paid my bill in full on November 16, 2016. On December 17, 2016, they decided to suspend my service without a letter, courtesy phone call or email. I've been a Comcast customer for over six years and the only thing they cared about was money. I explained to them that it was only two weeks in the month of December and they disconnected me without any notice. They have no loyalty to their customers and when I called customer service, they couldn't speak proper English and they didn't care if they lost me as a customer or not.
When I move pretty soon, they will no longer be my provider for nothing. I don't care how many promotions or discounts they offer me. I'm gonna turn my back on them the same way they've done me and if you can't speak proper English, you have no business on the phone talking to customers that pays your company a lot of money every month. They need to change their name to **, cause they'll screw you quickly with a so called professional lie.

In addition to on-going email problems, received a sudden $23 increase in monthly fees without explanation. Was told by LiveChat technician that I requested an upgrade which I didn't. Unable to reach any of the phone numbers given (kept getting message "office is closed" in spite of being called during business hours!). Wasted two days trying to resolve. Finally filed a complaint with the FCC. The worst customer service I have ever encountered!!!

I moved from Seattle to Portland and was in temporary housing in Portland until I could find a new home. I asked to pause my service as Comcast service was provided in temporary housing. I was told by Comcast that is not possible unless they pause it for my previous home and would not let the new buyer get service until my service is back. So, I transferred my service to temporary housing and when I found a house, I did another request to transfer service to my new home and provided them the address. They said no problem and then when I moved, the tech showed up and said that they couldn't help me as Comcast hasn't run cable or fiber to the neighborhood yet.
When I called, they stated that the development was not to be completed by the builder for another month or two so they wouldn't be out until then. When I said that I live there now, please come out as they originally promised, they came back and said it will now take 2-3 months longer?! They specifically stated that they provided service, then told me they can't help me for a month, then told me that I don't live in my home and finally ended with extending the timeline to 2-3 months. So here I am, stuck in a home with no cable or internet. Internet is required for my job, which is why I confirmed with Comcast before moving in that service was provided. I dropped them and went with Dish and had full service a few days later for half the cost.

Comcast has really pissed me off for the last time. I had my service transferred in September to my new address. When I moved into my new place I had a tech from Comcast come out and hook the cable up for me. I was advised at that time that I was only being charged $50.00 for an installation price and then my first bill it was $50.00 plus $99.00. I was very angry for one the tech could have told me that. For two I should not have been charged $50.00 plus and $99.00. I called from that point on in regards to charges and the service. On top of all that my 3rd son stepped on a nail that the tech left and stuck his foot. I then after noticed that every time that we watch tv it would freeze or to the point that we could not even watch tv in that room. It was impossible. I called for 4 months straight in regards to the tv and the channels that in some rooms we could get and in others it states that we do not have the channel.
I was confused due to the boxes are all the same? I called in regards to that until 2 months later I got someone to do their job and send signals to all my boxes where she noticed that the signal was very weak. She advised that they would have a tech come out with no charge to me to fix the problem and if the problem is due to the bad hook up "we will give you the installment amount back of $99 as a credit". The tech stayed at my house for 2.30 hours trying to fix the wires that were messed up. Now I go to make a payment and there is a $50.00 charge on my bill for the tech to come out. I call. They advised me since there is no notes we can provide a credit of $20.00. What are you crazy/ I went off. Every time you call Comcast no one is able to help. They all talk like they don't work for the same company. There is always a different story.
I ask the young lady to pass me to a manager in the escalation department where she thought she placed me on hold. However I recorded the whole call where the young lady was telling the manager she is upset that she was promised that she would receive a credit and now there is not one. Now she calling for credit but she has had credit on her account a lot. She just wants to explain. The manager responds "yeah. Don't all customers." They laughed then he got on the phone. I advised him that I heard their whole conversation. He said ok. Not sorry but ok. His name was Tom in the escalation department. He advised that he did not have to say sorry but what was I calling about. I advised that I wanted to talk to his boss. He said "No. For what." I told him that I will be contacting a lawyer with the conversation. He said "who cares. Do what you need to."
I have continued to call since I received service in September and too many promises that have not been kept. I am tired of going back and forth. My name is Sharday **. I would like to be contacted at ** within 24 hours by a real manager. If not I will take my phone call and case to a lawyer who will be more than happy to assist with this case seeing as there is a open case already in a different state in regards to the same thing. Now there will be one in Illinois if I do not receive help.

DO NOT SIGN UP WITH COMCAST... SPARE YOUR MENTAL STATE AND BLOOD PRESSURE. MANAGER ARE SO UNPROFESSIONAL not to mention regular employees. If you think you deal with their rude behavior, good luck. I will take every measure to terminate my service with this company and never again return or even consider them in the future. I was planning to install their service in my home but after this past experience, no thank you. I would rather watch basic TV than to have Comcast as a cable company, not to mention their crazy prices for immature customer service.

Tried calling Comcast Customer service at 800 934 6489 to lower my mothers bill which has sky rocketed to $157.00. I called 4 times and when requesting downgrade service I get disconnected every time but if you select new service you get right thru but they can't help you. I can't believe this company gets away with this. We are going to be cancelling all Comcast services now when all we wanted was a different plan!

ConsumerAffairs Research Team
The ConsumerAffairs Research Team believes everyone deserves to make smart decisions. We aim to provide readers with the most up-to-date information available about today's consumer products and services.
Comcast Corporation operates two major media companies: Comcast Cable and NBCUniversal. The company has grown into the largest residential paid TV service provider in America, and it provides a choice of cable packages and services for customers with a range of tastes and interests.
Service availability: Comcast has one of the largest service networks in the country, making it available in most areas of the US.
Produces exclusive content: As a sister corporation to Universal Pictures, Comcast has exclusive access to movies and other video content.
Intuitive on-demand menus: Comcast offers an intuitive menu system for on-demand service.
Service bundles available: The company bundles telephone and Internet services, and it offers customer discounts for purchasing service bundles.
Expansive channel listing: Comcast offers one of the largest channel selections of paid TV providers, with 260 channels.
Best for Television fans who watch a range of programs, businesses who provide entertainment to staff members and customers with special interests.
Compare Cable & Satellite TV Providers
Comcast Cable Service Company Profile
Company Name:

XFINITY Home Phone Service

Year Founded:

1963

Address:

1701 JFK Boulevard

City:

Philadelphia

State/Province:

PA

Postal Code:

19103

Country:

United States

Website:

http://www.xfinity.com/home-phone-service.html