Consumer Complaints and Reviews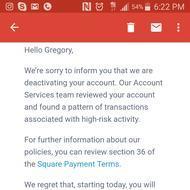 Stay away from Square. Their name/brand is popular however that's about it. When you're a new merchant of theirs and you sell big ticket items - transactions will be limited and/or your funds placed on hold for 90 days...meaning you may have already shipped out items to your customers but you can't get the funds due to Square placing a hold on it. Also they freeze accounts when you have a high surge of sales (i.e. you decided to have a flash sale, or heavily discounted special sale on items) in which the increase or surge in sales or purchase amounts are higher than normal activity for your business, your account get suddenly frozen and customers can no longer purchase from your site/store and you're left looking unprofessional - scrambling for a replacement card processor. Stay away from Stripe payment processor too... They'll do the same thing to you. I'm done with Square and Stripe.

I had an employee in charge of setting up my account. We run tens of thousands of dollars through Square a month sometimes and never had an issue. Until that employee left, I had some theft in the office and I want to change my bank account and Square won't let me because I'm not the account owner. I have almost $10,000 sitting in undeposited funds with them and they are NOT "allowed" to discuss with me because I am not the account owner!! I'm the business owner! This is my bank account, my money!
Their CSR's are rude. They don't let you speak to a manager or supervisor and basically told me they couldn't help me. So I'm just supposed to kiss $10K away? I will be changing companies the minute I can get my money and will not recommend Square to anyone. Their fees are too high anyways and they are absolutely irresponsible with people's accounts.

We are VERY disappointed with Square. We logged in one day to find that our account had been deactivated. No notice was sent and when I emailed them, they responded with "We reviewed your account and found that your business is prohibited by Section 4 of the General Terms and Section 3 of the Payment Terms, which means we cannot process payments related to your business." I responded with "I reviewed the sections you referred to and did not see anything that relates to us. Please give me specific information as to why this decision was made." Their final response was "Our decision to deactivate your account is final. Our Terms of Service outlines specific account types and processing patterns that we are unable to support, and your account matches one or more of these conditions. I'm unable to address this with you any further, as I've shared all the information I can provide."
It was shocking to have this happen, and based on their responses, I'm thankful they dumped us or it may have gotten much worse, like some of the comments I just read where they withdrew funds they weren't entitled to. I believe a duplicate charge that then needed refunding may have led to our deactivation but I sure don't understand why since we had money available to deduct it from, there was no delay at all! The way Square gathered (or rather NOT gather) information about the person donating was awful and the dates didn't match up so we about pulled our hair out. We are switching to Anedot and it appears to do what is needed and we've already seen a vast improvement in customer service.

Our business has used Square for several years to process any credit card payments we accept. Recently we accepted a payment of $3,900 from a client and square will not release funds due to pending verification of my business. Mind you as I stated we have been with Square for several years, why all of the sudden they need to verify my business! Called customer and that was a very unpleasant experience. The gentleman I spoke to was rude and explained that Square does this to businesses randomly. I asked why they did not do this in the beginning and he stated they make it easier for businesses to get started accepting credit cards.
Well you're sure not making it easy now by holding almost four thousand dollars of my money hostage! At the me of our conversation the gentleman hung up on me and said he would send an email so I can cancel my service and ask for a refund. Still haven't received that email. I will never use Square again and advise anyone else not to. I'm switching to Chase bank for all my credit card processing.

I used Square for 2 years with no problems until January 2017 when I received two disputes. I was out of town and didn't get the email for one of the disputes until it was too late and they would not insure the charge of $280. They took that money out of my account. They asked for a receipt for the transaction which I did not have. I was using my Square e-mail notifications as my receipts thinking that their system was secure. Big mistake. The person charging their card even signed their name on the space provided on my phone, but the dispute still did not go in my favor. The customers excuse was that they could not remember charging their card. In other words; anyone can claim any reason for a dispute and if you don't have a physical backup receipt, you're screwed. This was never disclosed to me.
A friend of mine who is a golf instructor told me about Square. He had been using it for years and never once gave physical receipts out. He always used his email notifications that showed the charge, the date, the amount and the time stamp thinking that was proof. Square never told me I had to have a physical receipt back up, so I got screwed big time. When I went to look at my dashboard, the system kept loading and I have never been able to get into it. What a waste! The entire system is a scam! You asked me for an order number? There is none but I cut and pasted what I was sent;
"Thank you for your patience during the resolution process. We challenged the $240.00 payment dispute on your behalf. Unfortunately, your customer's bank has resolved the case below in your customer's favor. Dispute Reason: Credit requested for charge. Disputed Amount: $240.00. Payment Amount: $240.00 Receipt. Payment Date: January 6, 2017 12:36 PST. Payment Card: Visa."
How do I know I can trust these reviews about Square?
763,773 reviews on ConsumerAffairs are verified.
We require contact information to ensure our reviewers are real.
We use intelligent software that helps us maintain the integrity of reviews.
Our moderators read all reviews to verify quality and helpfulness.
For more information about reviews on ConsumerAffairs.com please visit our FAQ.

Nowhere on the homepage does it state one cannot use the Square card reader outside of Australia so after I was told by a tech savvy friend Square was now in Australia (I'd been waiting since 2014 when I heard about them in the US on a speaking tour), I purchased one prior to doing talks in the UK to take book sales via my phone.
When the online ID verification wouldn't accept my details I called their customer service & found this out by accident. Instead of acknowledging they had failed to provide all the facts about the limitations of their device on the homepage of their website I encountered an arrogant young man who responded, "Not everyone wants to know that info so why should we display it?" And continued to defend that the company has no obligation to supply that information to prospective users. The imitation Apple packaging was impossible to open without destroying it so now I have to try & get a refund from the store where I purchased it.

These people are crooks! They took over 1,500 out of my account, froze my bank account, then they terminated me and told me I could get my money back in 90 days and now will not even accept my calls!! Stay away from this scam company as they stole my money with no reason why. No one could explain why they took my money. They just said that there was suspicious activity when the only suspicious activity was them taking my money and then they freeze your account, followed by they terminate your account and make it so you can't even call! No major company treats their customers like this and is still in business is all I know. It's just a matter of time before they are fined, penalized, or sued for the way they are scamming people.

I have been using squareup.com credit card processing for over 5 years, and swiped thousands of dollars worth of credit cards without complaint until now. They have taken over $500.00 out of my account for appointment scheduling service that I NEVER signed up for and NEVER used. Not only did I wait on hold for 45 minutes but was transferred 4 times, when someone finally gets on the phone and say our appointments representative gets the "last say". They could see the program was NEVER used. Think they refunded me my money? Nope. Pay attention to all account deposits and settings!!! Shady business.

Square will cancel your account and close it and they will not tell you why!!! They refer you to Section 36 that states that they hold the right to cancel your account without notice and will not tell you why. Do not use them. Use Shopify instead. They are better. Their customer service is 24/7 and they do take care of you. Square customer service also are really rude. Businesses do not trust Square!!!

I am a current customer of Square and been a user since 2014. Never had issues with them to the point where I stop using their services. Recently I did have an issue to where I was being charged interest for a loan that I never received but after contacting Square through email and by phone the situation was fixed. Square refunded our money that was lost and we were back to business.

We used Square Credit Card Processing for approximately 2 years without a hitch. It seemed almost as if our account was targeted and targeted by Square themselves. One day we had processed a single transaction but when we checked the "dashboard" of our account there were 3 charges pending. Upon further investigation our account number had been charged to a bank in another state. I immediately attempted to contact Square only to find out that their customer service was virtually nonexistent. All I could do was to send an email and wait for a response. The response came three days later. Luckily we were able to process a refund to our customer. However there was no stopping these charges on credit card numbers that belonged to people we did not know, did not make and had no idea where they came from or where the money was going to. Square was totally unhelpful and just said that they would do their own investigation.
Meanwhile we had to close our account with our bank to stop any further transactions with Square. As it turned out that proved to be the smart move because they attempted to charge our account to recover these funds. When we did some reading on the internet we found that this was a common occurrence with other businesses that used Square. Why they don't have a bad reputation, I don't know. We should have researched the company much more before we decided to trust them with any financial transactions. The lack of customer service, no way to contact them by phone and then the attempt to charge us for the bogus charges. I would warn all consumers using or considering using Square to look elsewhere. And check to see what kind of customer service is available should you have a problem.

Processing thousands of dollars thru their accounts. Whenever there's a problem if you ask the customer service reps name and ID they will talk to you like trash then hang up the phone on you. Happened twice in one day. If you ask to speak with a Manager they will tell you that they can't connect you to a manager. They can only have one call you back. Also they will give advice like "If Square isn't working for you then you should go somewhere else."

I've used Square for the last 3 years during an event I operate. Initially, we chose Square solely on the fact that they offer a robust POS application for free if you're using them for processing. Pretty good deal when you're on a very tight budget. They live up to their claims of being able to deposit into your account within 24 hours, we've never had an issue with that. The only problem I have with them is that their rate is pretty high. The POS system trade off is good, but if my event continues to grow I don't know that I'll be able to swallow the size of the fees incurred.

The limits to me are more that it is hard for people to trust or believe that it is a legitimate and viable method of portable payment. The fees are mostly worthwhile if you have a bulk of transactions especially those which are substantial enough to offset the expenses to profit from. The customer service is a little trick and I recommend paying attention to time zones and business hours. Phoning is likely less successful than online customer service/support. The variety and out-of-the-box functionality of Square is amazing. It is great to be up and running in under an hour, actually more like 15 minutes.

I think they are fine. I've only used Square to make purchases and I wasn't aware that it had limits. I've used it to make purchases mostly at the beauty salon. I didn't have to pay a fee to use it. I have only been on the consumer end of Square. As a consumer it's great. I have been fortunate enough to never need to contact customer service for anything during the time that I used Square. As a consumer I was always satisfied with my purchase. As I have only been a customer I have not accessed very many features of Square so I am very satisfied with the variety that they offer me to tip along with my purchase.

The recent changes to the monthly limits are the best thing that they could have done. It makes me very happy and has pushed them into my preferred payment solution. I find the fees to be very competitive. They are fair and are quite low. I happily pay them as they are well worth the service that I receive. They offer high-quality customer support. The representatives know their products very well and are always cheerful and happy to answer any questions. I find that they offer all of the solutions that I need. They have enough solutions to make choosing the right one for my business was easy and straightforward.

Monthly limits are reasonable to the average consumer. I cannot see anyone spending more in a month. They charge for reasonable things and they do not add on mysterious fees like some other companies. Customer support is always friendly and welcoming. They try to help you with any questions you may have without transferring you to another customer representative. Not too much variety to choose from, but the few choices I do have are enough to cover any concerns I may be having.

2.75% is not really a bad discount rate. And your money's there in a couple of days. The chargeback time is in line with other and reading services so l do not really have any complaints. It's generated more business and that offsets any limits to me. 2.75% is average. Chargeback Protection is free for all Square merchants and covers eligible chargebacks up to a total of $250 a month. 3.5% plus 15 cents for charges on cards that don't have a chip... I got 0 complaints. Customer support is there when you need them and they are helpful and courteous and will spend the time it takes to resolve your questions or problems. Now they are offering Apple pay which definitely gives you an advantage on the competition! It allows me to take any charge my customers have wanted to use.

Beverly HarzogCredit Cards Contributing Editor
Beverly Harzog is a nationally-recognized credit card expert, consumer advocate and author. She's appeared on Fox News, CNN Newsource, NBC New York and more. Her advice has been featured in The Wall Street Journal, USA Today, Money Magazine, CNNMoney.com, The New York Times, Kiplinger, Real Simple, Time.com, Family Circle and much more. More about Beverly→

Jack Dorsey, co-founder of Twitter, is Square's CEO and co-founder. The company offers a credit card reader that attaches to your smart phone or tablet as well as wireless equipment for other types of payments. 
No long-term contracts: Signing up is free and doesn't require a commitment.
Free Square reader: Sign up and receive a free Square magstripe reader.
Wireless Square reader for EMV cards, contactless cards and NFC payments: Accept every way your customer wants to pay. With this one reader, they can use Apple Pay (NFC) or EMV chip cards. With the free Square magstripe reader, you are set up to process all payments.
Customer Directory: Integrates with Square and adds your customer to its directory. You can view profiles, sort customers into groups, see spending habits and more.
Tax-preparation shortcuts: Built-in tools instantly complete a spreadsheet in one click to detail sales history faster.
Square Dashboard: Create an online store and have it hosted by Square. You can sell online and manage it all in Square Dashboard.
Square Inventory alerts: Get daily stock alert emails instantly whenever inventory items start running out.
Transparent pricing: Flat rate of 2.25 percent (per swipe, dip, or tap). For manually entered transactions, rate is 3.5 percent + $0.15.
Best for Professional service providers, online shop owners, mobile vendors and retailers seeking simple, secure, and easy credit card processing.
Compare Credit Card Processing
Company Name:

Square

Year Founded:

2009

Address:

1455 Market Street, Suite 600

City:

San Francisco

State/Province:

CA

Postal Code:

94103

Country:

United States

Website:

https://squareup.com/