Consumer Reviews and Complaints

Not sure if this is a fraud of just a bunch of morons - Used them for close to a year, then suddenly account got disabled, supposedly because it was violating their term - which is BS, it is 100% in compliance with all terms, just some highly educated support clown decided that it did not like my business. Pretty sure my money in the account is something I will only see after going through the courts and the money I paid for their credit card readers is most likely gone as well. All because of a single mother... reta... piece of useless ** that works in the "support" department of these crooked communist p. gs. AVOID THESE SCAMMERS AT ALL COST!!! They do with you whatever they want, don't even give you a number to call and complain. OUT OF BUSINESS is all they should be and dragged to court for their utterly pathetic practice.

As a business owner of just under 40 years, we are extremely disappointed with SQUARE for our merchant processing services. We switched to Square because of their claims of flat fee, dispute support (and payment if you lose), in November 2015, ease, etc. Of course, shortly after we switched to SQUARE, they raised their flat fee. They have limited hours to get a hold of them and you need a code each time you call. They usually don't pick up phone and you have to enter your code and wait for a call back. They have no hours after 6pm PST Monday-Friday and NO HOURS on weekends. There is no place to email from their website or portal. You can't review them on Yelp, Google, etc because for some reason they are hidden from those spots. After finding this option and reading all of the negative reviews, I realize I am not alone.
We had a customer submit a chargeback for 4 months of services totaling $4000.00 with our company (something that they had received for 2 years). We submitted contracts and over 80 pages of supporting documents which included emails and proof of services received and rendered. We won the first round and then the customer submitted a one page fraudulent letter that they requested to stop services immediately back in December 2016 which was a lie because we continued to provide services for December, January, February, March and April 2017 before the dispute was submitted late April 2017.
Also, we require a 30 day notice and you can't stop services effective immediately per our contract. Again, we submitted all of the documents and then received email from SQUARE that it was resolved in customers favor. We were told by SQUARE that it is the cost of doing business. We could take them to small claims court, etc but it was done with SQUARE and they couldn't provide us with THEIR CC company information and that it was protected by law. We knew it was MasterCard, but that was it.
Of course, we didn't receive the SQUARE dispute protection because of the amount (so don't pick SQAURE for this reason as you will never receive it). We were also told by Square representative that sometimes the CC companies let the customer win if they are good customers that use their card a lot. We know that the customer that initiated the chargeback probably spends about $200,000 a year with their MasterCard. But, that doesn't mean that they should be allowed to STEAL and file fraudulent disputes that cost businesses AND ultimately all customers with higher fees, etc. Legal contracts should be upheld and theft shouldn't be tolerated.
In addition, the process of dispute stunk. We were provided with NO information on the dispute other than a 1 sentence reason code. First time, customer said services not received. When we proved that and won, they submitted dispute as customer requesting credit. That was it. Not even sure that Square submitted all of our documents. Plus, it is HARD to submit supporting evidence to SQUARE. It is not user friendly and it is very time consuming. We had 100% of the documentation and proof. This should have been a slam dunk! Also, in almost 40 years of business we have always won 100% of chargebacks prior to SQUARE. Now, with SQUARE we lost?!
Please heed our warning and go with traditional merchant processing company with good customer support (hours, options like chat/email/phone) AND will protect you against fraudulent claims and disputes so you CAN stay in business. So, we are moving back to traditional Merchant Credit Card processing company. Someone needs to look into Square regarding their business practices, etc??? Too many complaints here to not open an investigation. BUSINESS AND BUYER BEWARE.

We use Square for our credit card processing for two different businesses and have for 5 plus years. We use both options to either swipe or key in. Funds are posted to our account quickly and have only had 1 issue during this time with a charge back. Unfortunately, they tend to side with the consumer more often than not in my experience. We like that we aren't under a contract and there aren't any excessive monthly report fees. The per transaction fee and percentage is manageable.

I have been a Square user for my business for the past two years. I dont do a ton of volume but enough for them to have accommodated me better than they did. I got a new bank account and had trouble getting it on my account. Therefore, I messaged a Square associate who said it was "all set" to put funds in and charge. When I did this they went into my old account which was closed. I lost over 250.00. When I contacted Square they said there was nothing they could do and they could not reverse the charges. I was extremely disappointed and am never using Square again. Small business owner beware!!

How do I know I can trust these reviews about Square?
881,173 reviews on ConsumerAffairs are verified.
We require contact information to ensure our reviewers are real.
We use intelligent software that helps us maintain the integrity of reviews.
Our moderators read all reviews to verify quality and helpfulness.
For more information about reviews on ConsumerAffairs.com please visit our FAQ.

I use Square to collect payments from my clients for contractor work. I had a large sum of money paid to me and square put a hold on it. There was a ridiculous verification I had to do to unfreeze my money. After completing it I received an email stating the verification was accepted and the money would be released and in my account in a few business days. Just 2 hours later I received another email from Square stating that the money was frozen because I had to verify my account again. The same exact thing I JUST DID AND GOT APPROVED. There is no one to talk to. Everything is sent through email and you only get the number to talk to someone after things go really wrong. Very frustrating.
I sent in almost the exact same information in again a second time but this time they required my contractors' license and my business license. This is an insane request for a company that is supposed to be collecting money between parties and dispersing it accordingly. Due to the fact that I needed my money very bad to pay the employees I had used and my own personal bills I sent everything requested but this company is a joke. The customer service agent I spoke with didn't even understand why I needed to do a second verification.
It was two different departments doing separate freezes and checks and no way to communicate between departments to OK it from the other department. It took me 5 days to get my money and that may not seem long but in those 5 days Square was consuming my life. I was constantly dealing with emails and submitting forms and trying to get a hold of someone. If I hadn't been efficient and on top of the process the entire time it might have taken twice as long. I'M CANCELLING SQUARE IMMEDIATELY!

My boss has had Square for a little while and we needed to get into his account to check activity. First complaint... We had to set up a password, as usual for any account. A few days later, tried to get into account, would not accept password, although I had it written down and was typing it in correctly. Tried over 10 times and had to go through their stupid I am not a robot pick a picture nonsense. So we had to reset the password. I am trying to get into the account today, same thing, will not accept password. I have my Caps lock off, I am typing each word meticulously, slowly, over and over, same stupid result, will not let me in and that stupid pick a picture to make sure you are not a robot keeps popping up. I hope I can convince the owner of the company to go to PayPal. I use them for my business, no problems after 7 years of being with them. I hate Square!!!
Oh, and on top of this, my boss is so busy he generally does not have time to put in a customer name. I called Square, asked them to help me with a few sales in looking up customers' names so I know for sure which account the payments should be processed to, they will not help me!!! Seriously, you have our bank account number and all our personal business info which I can provide and you can't give me a last name on a sale a few months ago!!! Useless!!!

Terrible customer service. After using Square for several months they deactivated my account without warning stating "high risk activity". I had been using Square for a wedding videography business. After deactivation they claim they will hold any money on Square for 90+ days. Very bad decision to ever use them.

I opened an acct with square. I processed my first order and they closed my acct. I had to contact customer support through a friend's acct because I couldn't call them with out a code and no code because they scammed me out of my money and closed my acct. I finally got ahold of them and they assured me I'd get a call back from a supervisor which never happened, they closed my friend's acct and never replied to any of my emails!

We've had Square since it started. NEVER a single problem. Never a single time when the system was down ever. We use it DAILY! About $1000.00 per day run through their system. Flawless. We will never switch credit card processors if they keep up like this and stay this same course. We love Square and how easy it is to process and customize the options.
We get buying reports and can customize our business on when and how our customers purchase. It's AMAZING! We get calls every day from credit card processors begging for our business and we will never change. It's the best and we are thankful that we finally have a processor that doesn't have hidden fees or hidden charges and just does what they should do without any hassle... process cards! Unless Square duplicated, we won't be using another processor ever!

AT&T is the worst ever!!! There is no support and I will underline the main reason to stay away from them. VERY VERY DISHONEST... Let's start in 2015 Dec 31st. Well I bought a BOGO for an active S6 Samsung. Was not told it has no expandable memory card so I called on January 1st when customer service was open. Of course after 8 am mind you. I placed the order at around 7 pm on Dec 31st so there is no possible way it could have been shipped. Well I was right. So I was promised on tape that I would still get buy one get one but I started calling in my March bill inquiring about it. I was promised I would receive credit up until August then told "Sorry you are not qualified... So if you are not paying off those phones we will ruin your chance to get a post paid with anyone..."
Since the new AT&T CEO took over service has been service completely crappy. No help from any senior service member. I have been told by senior staff if you don't like it switch service. Think about it - my bill 5 lines costs me $265 plus pending the month, that's more expensive than some car payment let alone car ins. payment. Ok well for my payment of service this is what they have done. I was in a corporate store 4 times in one day 16th of June. They told me "Well I have no idea why your phone getting shut off." I had it turned on but then had the store close.
Mind you. They cost me between employees not being able to find me because my service was shut off again. Not including vendors I could not get a hold of. It cost me 1200 cash. Well come to find out I had a service payment arrangement for the 19th and was told by the GM in a corporate store that AT&T is breaking arrangement. I must pay now, fine. I have to work but funny thing they shut it off again.
Ok so WTF... I spent 2 working days to find out they finally decided. Decision was I lost that phone 1 and 1/2 years ago. Reported it recovered within 2 days and decided to put it on the watch list. So once again I was told "Switch service, leave." My bills with them have been paid on time 13 years??? They are too big. Over half of their customer service would be fired because they discredit their own company. They sub 90 percent if not more out of the USA that are working 24 hour shifts. They run in 2 shifts and have been told that by 611 agents. Stay away unless you like giving to work to 3rd world countries and not ours... As it is we have no choice in service and can do nothing. PLEASE SIGN UP FOR AT&T SO YOU CAN FEEL AS DUMB AS I DO.

It is impossible to fight against frauds with Square! Even though we have sales agreements and all the personal info in this sales agreements Square cannot defend our business against scams. We were working with Square since 2012 and received over $2M and they are getting bad everyday. Do not risk your money! When I called their customer service, there was a guy trying to calm me down as `Calm Down Bro Calm Down`! I am not your ** bro! I am your client! Who lost thousands of dollars just because of your company! We are quit! We are gone! Closing our 9 Square account today! Do not waste your hard work!

I have two Square accounts but in different industries. The first account is about three years old. I have had five Capital loans thru Square to the tune of 150K. Paid them off quickly and so on. I opened a second Square account for another business of mine and Square Capital has been a nightmare since I opened the account. They sent me an offer 30 days into the new account… Then denied it the next day. No reason given as customer service has NO information on Capital as it's a very hush thing apparently. 30 days later I was offered again and it went through. I paid off the most recent loan in less than four months. On May 23rd I received another Capital offer and it was also denied. I thought to myself there has to be something wrong here with this account as I paid an average of 4500.00 per month to quickly pay this off.
Just received this email from them this morning..."Thank you for writing in and for your interest in Square Capital. Per the notice sent on 5/23/17, your loan through Square Capital was declined due to: A review of your account indicates you are subject to a lien or other financial claim against your business. This decision was based on both: Financial crimes associated with the Square account holder's name. Outstanding lien associated with the Square account holder's name.
We have reviewed the decision and have determined the decision to be final. Please note that this decision is based on Square Capital's internal proprietary evaluation of your Square account. Our decision does not include publicly available credit reporting information. Although we are unable to approve your request for a loan through Square Capital at this time, this decision does not affect your ability to accept payments with Square. We periodically review eligibility and will notify you if you become eligible at a later time. If you have additional questions regarding your decline or future eligibility, feel free to view our FAQs online. Thank you for your understanding. Please let me know if you have any questions."
I'm a bit taken back as none of this is true. So where did they get this information? They wont tell you. I let them know that they have incorrect data and should look a bit deeper into my account as they have lent me quite a bit of Capital in the past. They have no explanation...

Terrible, terrible customer support & service. STAY FAR FAR AWAY! If you are reading this, please heed my advice and stay away from Square and their payment processing business. Like many of reviewers, we were basically scammed. They decided to deactivate my account basically at will and tie up 20+ thousand dollars of my customers funds without issuing an immediate refund. They said it may take up to 90+ days to refund my customer's funds and basically shut down my processing business for a week plus for me to figure out another payment strategy. YOU ARE A FOOL if you decide to do business with them!!

I have been receiving notices from Square.com seeking recovery of $318.83 in funds for a disputed amount from a customer whose money they held without cause after purchase of some computers for 90 days. They never paid me the money because since then the money supposedly has been held by Square. I told the customer to recover their money via their bank dispute over the funds. Square still had not paid this person their money. Now they are asking me to payout from I never received as a payout from Square.
Square was suppose to distribute or payout the money after 2 or 3 days into my account. So far, the money has never been paid out to me (my bank) and Square is sending me recovery notices for money they never processed or paid out to me. Where did the customer's money go? It is such a small amount that it seems logical that an employee is stealing people's money. I never received a payout of the funds from Square.

Dishonest processing solution with zero customer service-I signed up a new account with Square. I processed my first order for $1,995.00 thru online invoicing. My account was completely verified, banking connected, and my personal credit card. The payment processed and the deposit was scheduled. Before the deposit was made, Square put a "hold" on the funds in my account. They emailed me, (no call or customer support), that my account was associated with an old account that I had with them 3 years ago. There was a charge back from 3 years ago, that I was unaware of. As a result the money in the account was seized. I acknowledged the oversight on our part, and agreed for them to collect that money so the matter is resolved. They agreed that we would move forward.
The next day I processed another new client through online invoicing in the amount of $1,995.00. The client paid and the invoice and the payment hit my Square account. Just before the money was to be deposited in my bank account, Square sends me another auto generated email requesting verification. I provided company bank statements, business filings from the state of Florida, a signed contract from a client, anything that they needed to support the legitimacy of my business. 2 hours later I received an email stating they have closed my account and the money in the account that was just paid would have to stay there for 90 days for it to process.
The email message stated the decision was final and they could not discuss the matter further. Needless to say, my week long ordeal with Square has been beyond any description of frustration. No one to talk to, discuss with, basically you can't do anything about it. I am going to voice this experience with every online review I can find. Square is a sorry excuse for customer service, customer relationship. They are a big, massive conglomerate that bully the little guy with no consequences. Run. There are better services that treat people like humans.

I've been using Square for years. It's dependable, easily accessible, simple to use and has updates that let you keep accurate reports. Remember, only people with negative things to say leave reviews. So few leave good things. Well, here's a good thing. I use it. I love it. I've never had any problems with installation, managing it, or the quick bank transfers. I recommend Square.

Stay far away! They took my money after I processed my payments from my customers and then declined my account after allowing me to process the credit cards, then they told me I had to wait 3 months to get my money back.

I opened the account in 2014, ran few charges and then continued with my own PayPal. Recently I came across Square and decided to give a shot. I had to provide all my business information and so on which was ok. Then I got an email that congratulations you are ready to do business. So I started directing all my sales from PayPal to Square for processing and I like their option that appeared INSTANT DEPOSIT, with PayPal I can withdraw up to $400 or simply transfer to my bank. I have been doing business with PayPal for 17 years.
Square is kind of shaky business. Each time we wanted to close our shift and pushed the INSTANT DEPOSIT, one went through fine and the next shift couldn't use the instant deposit to close the shift. Then I got a message account is under review. My transaction weren't big at all. $20 to $250. They don't want you to use INSTANT DEPOSIT, option is there, they will make an extra 1% off of you. I tried setting my deposits for the next day. Ran few charges and same again. Didn't see any money in my account and again account went under review.
I called their customer service and complained about the way my account goes into review almost every 8 hours and no hitch with PayPal. First they don't like to hear anything about competition. They run a nazi camp in Square. Rude customer service. If you have an accent then you are screwed. Customer service said my account looks good, no chargeback and no other issues and said to wait til the next day. So I saw the INSTANT DEPOSIT option available and wanted to use the option given and as soon as I click on INSTANT DEPOSIT button the message said my account went under another review.
This time I called back and complained to the customer service saying how can I run a business with a system like this and told her I work 40 minutes away from Square headquarters and not some guy from some doggy town in Ukraine. I am from here and so my business and I have provided my sales, bank account was verified and linked and why am I being reviewed. She said she will ask review to fix this issue. I told her if the INSTANT DEPOSIT is not good then maybe it shouldn't be available for users at least for first couple of years until they feel a little safe.
Hoping to see my issue resolved, instead I got an email saying my account has been deactivated and all funds will be frozen for the next 90 days. Tried to reach customer service but you can not talk to them if your account is shut off. They won't pick up the phone. Very bad business, I am sure they won't last if they are going to treat legit businesses like bunch of criminals. I whisked there was a rating with negative numbers too so I could go below negative 1 star on complete 000000. If you are in the business, Square is not for you and believe me some reviews that give them few stars, soon they will be coming to this page and write their own negative reviews. Since I didn't want any funds to be held, I logged in and refunded those transaction and re-process them with my PayPal account. Square is the worst processing system I have ever known.

I used the Square payment system for the first time. I registered my details with Square. All good, that's what I was thought. My payment was taken from the customer with my Square device. I never got my payment sure. I had wait 5 days for my details to appear to link with my bank. I waited no money. I contacted Square CRS. They told me I had 2 accounts setup. My one and another which had none of my personal information. You think they would help me. I got refuse, I ask about my money, nothing they could do, they have decided told hold it for themselves. I now have get the client to reclaim the money from Square as Square CRS want to keep it. Careful with CSRs. They're really sneaky. Don't use SQUARE.

We have been in business for over 15 years as a wholesale and retail company of hemp and organic products. We do not sell anything illegal despite working with hemp-based products. All of our products have been verified by the Australia, US and Canadian Governments as legal products containing no illegal substances. We sell bed linen, skincare, cold pressed oils and fibres. Earlier this year we decided to move away from the EFTPOS machine provided by our bank and set up an account with Square.
In early April we set up the account after purchasing several readers for our showroom and market stalls. After having great success with it, especially at a trade fair this past weekend, I received an email from Square saying they had deactivated our account because our business is prohibited by the Seller Agreement. Having an idea what it might be about I called and spoke to Seamus who was really very sweet to talk to, despite the horrible discussion we were having.
We sell hemp. Even though it is a legal product in the eyes of the Australian Govt. and FDA and contains nothing illegal, Square, working on behalf of their agreements with MasterCard, Amex and Visa have chosen to deactivate our account. It is so infuriating to be completely stuck right now. Here we were, supporting the little guys as they are supporting small business and they have completely stuffed us up. What upsets me is that when I inquired to why they didn't deactivate us straight away back in April (it's now almost June) they said they were alerted by a Facebook post where a customer had shown an image of food they had created by the LEGAL cold pressed oils that we retail. If you are a small business that is trying to make a difference in the world DO NOT sign up with Square. We are stuck now because we have customers wanting to process payments with no payment machine to accept it on.

If you are thinking of starting a business and using Square as your quick grab merchant services, you might want to read this. We started our business relationship with Square in October of 2015. Our industry is a little touchy (vape/e-cigarette) so we made our business activities clear to Square and to make sure they were willing to process our payments. The representative said he would check, after a brief pause he stated he had addressed the concern with his supervisor and assured us that we would be fine to use their services. Great! Not so great - here we are strapped with a permanently disabled account citing a violation of their policy. Here's where it gets fun. We received no warning, no phone call, just an email of telling us when our account has been disabled. Let me try on some level to put this nightmare into perspective for you.
Our Square account was disabled on or about 3:30 this afternoon. Shortly after the phone starts ringing with customers who are trying to access our site and can't. It is now 6:40 p.m. and the phone is still ringing! We have ZERO access to a live representative to assist us with this issue, and no means of processing credit cards for our online customers until we get a new service in place. At the very least they could have given us a grace period to review and implement a new service so we wouldn't have service issues with our customers. This is by far, hands down, the most unprofessional company I have ever dealt with! I don't even want to discuss the thousands of dollars we have processed through this company and this is how they treat their customers? That's my experience for today.
Now, let's talk about the overall, keep in mind there is never a live representative available to assist you on any level. If you need customer service you will be at the mercy of what I can only assume is the two employees who run this racket, via email and that's it! If you are lucky and I mean very lucky you might get a phone call if the issue warrants their personal attention. However, in most cases you will be treated like a number in the email queue at best. The site crashes often and when I say often it's in the upwards of two to three times per month. You have to ask yourself how many sales are you missing due to these crashes? These "blackouts" if you will, last for hours at a time and generally during the normal business hours that your customers would be visiting your site to purchase products.
Let's move on to the fees these crooks charge, and keep in mind the only reason we tolerated this level of abuse is because we thought they were one of the companies who were willing to work with the vape industry. The fees will leave you with the feeling a small financial rape has occurred. Mastercard's fees are less offensive. If you are looking for a hands off, pull the rug out from under you with zero notice, and to be charged into the stone-age, then I strongly suggest you select Square for all of your financial abuse. My last and final regret is I am forced to leave a one star review simply because giving a negative star is not an option.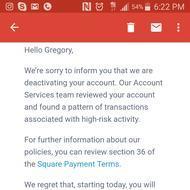 Stay away from Square. Their name/brand is popular however that's about it. When you're a new merchant of theirs and you sell big ticket items - transactions will be limited and/or your funds placed on hold for 90 days...meaning you may have already shipped out items to your customers but you can't get the funds due to Square placing a hold on it. Also they freeze accounts when you have a high surge of sales (i.e. you decided to have a flash sale, or heavily discounted special sale on items) in which the increase or surge in sales or purchase amounts are higher than normal activity for your business, your account get suddenly frozen and customers can no longer purchase from your site/store and you're left looking unprofessional - scrambling for a replacement card processor. Stay away from Stripe payment processor too... They'll do the same thing to you. I'm done with Square and Stripe.

I had an employee in charge of setting up my account. We run tens of thousands of dollars through Square a month sometimes and never had an issue. Until that employee left, I had some theft in the office and I want to change my bank account and Square won't let me because I'm not the account owner. I have almost $10,000 sitting in undeposited funds with them and they are NOT "allowed" to discuss with me because I am not the account owner!! I'm the business owner! This is my bank account, my money!
Their CSR's are rude. They don't let you speak to a manager or supervisor and basically told me they couldn't help me. So I'm just supposed to kiss $10K away? I will be changing companies the minute I can get my money and will not recommend Square to anyone. Their fees are too high anyways and they are absolutely irresponsible with people's accounts.

We are VERY disappointed with Square. We logged in one day to find that our account had been deactivated. No notice was sent and when I emailed them, they responded with "We reviewed your account and found that your business is prohibited by Section 4 of the General Terms and Section 3 of the Payment Terms, which means we cannot process payments related to your business." I responded with "I reviewed the sections you referred to and did not see anything that relates to us. Please give me specific information as to why this decision was made." Their final response was "Our decision to deactivate your account is final. Our Terms of Service outlines specific account types and processing patterns that we are unable to support, and your account matches one or more of these conditions. I'm unable to address this with you any further, as I've shared all the information I can provide."
It was shocking to have this happen, and based on their responses, I'm thankful they dumped us or it may have gotten much worse, like some of the comments I just read where they withdrew funds they weren't entitled to. I believe a duplicate charge that then needed refunding may have led to our deactivation but I sure don't understand why since we had money available to deduct it from, there was no delay at all! The way Square gathered (or rather NOT gather) information about the person donating was awful and the dates didn't match up so we about pulled our hair out. We are switching to Anedot and it appears to do what is needed and we've already seen a vast improvement in customer service.

Our business has used Square for several years to process any credit card payments we accept. Recently we accepted a payment of $3,900 from a client and square will not release funds due to pending verification of my business. Mind you as I stated we have been with Square for several years, why all of the sudden they need to verify my business! Called customer and that was a very unpleasant experience. The gentleman I spoke to was rude and explained that Square does this to businesses randomly. I asked why they did not do this in the beginning and he stated they make it easier for businesses to get started accepting credit cards.
Well you're sure not making it easy now by holding almost four thousand dollars of my money hostage! At the me of our conversation the gentleman hung up on me and said he would send an email so I can cancel my service and ask for a refund. Still haven't received that email. I will never use Square again and advise anyone else not to. I'm switching to Chase bank for all my credit card processing.

I used Square for 2 years with no problems until January 2017 when I received two disputes. I was out of town and didn't get the email for one of the disputes until it was too late and they would not insure the charge of $280. They took that money out of my account. They asked for a receipt for the transaction which I did not have. I was using my Square e-mail notifications as my receipts thinking that their system was secure. Big mistake. The person charging their card even signed their name on the space provided on my phone, but the dispute still did not go in my favor. The customers excuse was that they could not remember charging their card. In other words; anyone can claim any reason for a dispute and if you don't have a physical backup receipt, you're screwed. This was never disclosed to me.
A friend of mine who is a golf instructor told me about Square. He had been using it for years and never once gave physical receipts out. He always used his email notifications that showed the charge, the date, the amount and the time stamp thinking that was proof. Square never told me I had to have a physical receipt back up, so I got screwed big time. When I went to look at my dashboard, the system kept loading and I have never been able to get into it. What a waste! The entire system is a scam! You asked me for an order number? There is none but I cut and pasted what I was sent;
"Thank you for your patience during the resolution process. We challenged the $240.00 payment dispute on your behalf. Unfortunately, your customer's bank has resolved the case below in your customer's favor. Dispute Reason: Credit requested for charge. Disputed Amount: $240.00. Payment Amount: $240.00 Receipt. Payment Date: January 6, 2017 12:36 PST. Payment Card: Visa."

Nowhere on the homepage does it state one cannot use the Square card reader outside of Australia so after I was told by a tech savvy friend Square was now in Australia (I'd been waiting since 2014 when I heard about them in the US on a speaking tour), I purchased one prior to doing talks in the UK to take book sales via my phone.
When the online ID verification wouldn't accept my details I called their customer service & found this out by accident. Instead of acknowledging they had failed to provide all the facts about the limitations of their device on the homepage of their website I encountered an arrogant young man who responded, "Not everyone wants to know that info so why should we display it?" And continued to defend that the company has no obligation to supply that information to prospective users. The imitation Apple packaging was impossible to open without destroying it so now I have to try & get a refund from the store where I purchased it.

These people are crooks! They took over 1,500 out of my account, froze my bank account, then they terminated me and told me I could get my money back in 90 days and now will not even accept my calls!! Stay away from this scam company as they stole my money with no reason why. No one could explain why they took my money. They just said that there was suspicious activity when the only suspicious activity was them taking my money and then they freeze your account, followed by they terminate your account and make it so you can't even call! No major company treats their customers like this and is still in business is all I know. It's just a matter of time before they are fined, penalized, or sued for the way they are scamming people.

I have been using squareup.com credit card processing for over 5 years, and swiped thousands of dollars worth of credit cards without complaint until now. They have taken over $500.00 out of my account for appointment scheduling service that I NEVER signed up for and NEVER used. Not only did I wait on hold for 45 minutes but was transferred 4 times, when someone finally gets on the phone and say our appointments representative gets the "last say". They could see the program was NEVER used. Think they refunded me my money? Nope. Pay attention to all account deposits and settings!!! Shady business.

Beverly HarzogCredit Cards Contributing Editor
Beverly Harzog is a nationally-recognized credit card expert, consumer advocate and author. She's appeared on Fox News, CNN Newsource, NBC New York and more. Her advice has been featured in The Wall Street Journal, USA Today, Money Magazine, CNNMoney.com, The New York Times, Kiplinger, Real Simple, Time.com, Family Circle and much more. More about Beverly→

Jack Dorsey, co-founder of Twitter, is Square's CEO and co-founder. The company offers a credit card reader that attaches to your smart phone or tablet as well as wireless equipment for other types of payments. 
No long-term contracts: Signing up is free and doesn't require a commitment.
Free Square reader: Sign up and receive a free Square magstripe reader.
Wireless Square reader for EMV cards, contactless cards and NFC payments: Accept every way your customer wants to pay. With this one reader, they can use Apple Pay (NFC) or EMV chip cards. With the free Square magstripe reader, you are set up to process all payments.
Customer Directory: Integrates with Square and adds your customer to its directory. You can view profiles, sort customers into groups, see spending habits and more.
Tax-preparation shortcuts: Built-in tools instantly complete a spreadsheet in one click to detail sales history faster.
Square Dashboard: Create an online store and have it hosted by Square. You can sell online and manage it all in Square Dashboard.
Square Inventory alerts: Get daily stock alert emails instantly whenever inventory items start running out.
Transparent pricing: Flat rate of 2.25 percent (per swipe, dip, or tap). For manually entered transactions, rate is 3.5 percent + $0.15.
Best for Professional service providers, online shop owners, mobile vendors and retailers seeking simple, secure, and easy credit card processing.
Compare Credit Card Processing
Company Name:

Square

Year Founded:

2009

Address:

1455 Market Street, Suite 600

City:

San Francisco

State/Province:

CA

Postal Code:

94103

Country:

United States

Website:

https://squareup.com/