Sears Tire & Auto Centers
Consumer Complaints and Reviews

Walked into Sears Auto center. I needed a tire plugged. Waited in the showroom for a long time and no one showed up. Left. Had some other things to do in that area so figured I would just stop back later. I did and had the same problem. Finally walked back into the shop area and asked if there was someone that could help me. Someone came up front and when I told him what I needed he said he just didn't have time.

I called Sears on Friday to get tires on car. Said they had them and I could come up Sat. Morning. Got there. Got waited on. He said they didn't have 4 tires that matched anywhere in store. If I wanted to check around somewhere else it was OK. I told him I wanted to get my tires there because they were running special. He said they couldn't get them until at least Wednesday. My car needed inspected and my tires were dry rotted. My son went out of store and called Walmart. They had them and they were 20.00 cheaper per tire. I told the salesman that and he said "I would go there. You're not going to hurt my feelings." He was rude. No wonder you don't do much business. I was in retail for 17years and I never would have treated a customer that way and neither would have my employees.

I had an appointment at 5pm today at Sears Auto Center in Independence, MO(off 39th street) an oil change and check tire pressure. As I was at the check out counter, the mechanic walked up (**) with my work order. I asked,"Is my Ford Focus good?" He said, "Yes, but alignment is off". I replied, "I am traveling 4hrs out and back, am I good?" The man checking me out (** - invoiced by) looked at the wheel alignment chart (attached) and said I was good. As I drove away, I heard a "clicking noise" from front right tire, pulling out of the parking lot at Sears Auto Center (off 39th street in Independence, MO) Then I began to speed up on 39th street, heard clicking noise again and then a clunk against the passenger door. I continued to drive home, a 1 1/2 miles. I looked at the front passenger front wheel, air pressure looked good.
At about 10pm, I got in my car to go to the store and the low tire pressure light was on. I drove 3 blocks to the QT air pump. Upon looking at the front passenger side tire it was visibly low. As I was putting air in it, I could hear a pssss. I went into the QT and bought a tire gauge. When I returned it had 38 psi in the front passenger tire. I drove 3 blocks home. Obviously, some piece of metal penetrated my front passenger tire at the Sears Auto Center in Independence, MO (off 39th Street; #6830 Sears,Roebuck and Co. 816.795.3028, Tech # **). I am due to work at 7:30am and pray I can get there or to Sears at 8am, for they need to make this good.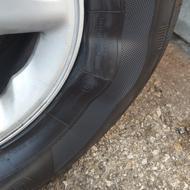 On Saturday 11-01-2016 I purchased a set of 4 tires. On Wednesday 11-09-2016 I notice one of my tires has a ball on the side. I went back to Sears in Rancho Cucamonga and the manager named Carlos was a rude and an ignorant person who said I hit something, and I have to pay $5.00 in fees because I didn't buy the road hazard warranty. Make sure they explain you everything when you buy tires from them. I will never buy tires from them again. Thank to Carlos the manager at Sears in Rancho Cucamonga.

Engine damage following oil change. Poor customer service response. Vehicle was taken in for oil change on 10/6/2016. Technician used conventional oil in vehicle with high mileage. Did not offer a better oil nor did they recommend. After oil was changed couple days engine started to make strange noise. I called and spoke with Asst Manager ** on 10/24 and he stated for me to bring car back in. When car was taken in ** (Manager) told me the car was full of oil and that his technician after 5 minutes said it was a bad lifter in the engine and that it would not be caused by the oil change. I then carried my vehicle to another shop for them to tell me that the oil that was put in the car was possibly not heavy enough and that it was internal lubrication issues that caused the damage.
I tried calling Sears back a few time to get excuses as to why ** or ** could not speak to me. After getting vehicle repaired I finally called Sears Corporate office where I was given a claim number (**) and told that I would be getting a call back from ** on 11/2/2016 before close of business. The CSR stated that she spoke with ** at the local store and made him aware of what was going on and that ** needed to contact me before he left for the day. ** DID NOT CONTACT ME.
I called ** on 11/3/2016 at 10:45 and asked him why I felt like he was avoiding me and his response was he just received the email this morning from corporate that he was not aware he needed to reach out to me. The entire conversation on the phone he spoke to me in a condescending tone and flat out said it was not their fault and that I should have asked for a heavier oil and that the only compensation he was willing to give me was $21 which was the cost of the oil change. I got off the phone feeling like a WOMEN that was just told to get out of his shop and deal with what life has given you. This is Sears Automotive Store #2672 7320 Old Wake Forest Road Raleigh NC 27616.
How do I know I can trust these reviews about Sears?
637,576 reviews on ConsumerAffairs are verified.
We require contact information to ensure our reviewers are real.
We use intelligent software that helps us maintain the integrity of reviews.
Our moderators read all reviews to verify quality and helpfulness.
For more information about reviews on ConsumerAffairs.com please visit our FAQ.

While I did like the idea of scheduling online time and purchase of tires, the least of trouble was that every time I went to purchase tires the Sears data changed the tire size. The rudeness!! Marlboro. Waited 7-8 minutes w/o a single person acknowledging me. Let alone "will be with you asap". I was instructed to go to next available person who grunted something like "see that man" as he pointed to someone else. While I had done online purchase, it still took no less than 10 minutes, ONCE I FINALLY GOT HELP to process thru computer. I had notice someone else who walked in just after me and had to be 10 minutes where NO ONE said ANYTHING to him. GREAT tire prices, MISERABLE FAILURE ON CUSTOMER SERVICE IN ALL AREAS.

A disaster. I should've read the reviews before. They really are pigs. It made my car with grease everywhere. I wonder how they did it for the mess as much??? Javier bad manager had nothing to do. They try to clean it up with solid grease rags. A real movie... Unbelievable Sears.

I went in for a simple oil change at 10:30 a.m. as a walk-in. The rep told me because I was a walk-in, it may be a wait. 2 hrs is what I expected but it's 3:48 p.m. and I'M JUST LEAVING. Around 2:30, one person pulled my car in and did a multi-point inspection but then my car was moved to the end for someone else to do the actual oil change. My car is still sitting there and all I'm being told is they are short-handed, and I still have several ahead of me. Never again.

On 09/7/2016, I went to Auto Center Sears, Aventura Miami Fl... for an oil change. I was there from 10:30 am to 3:40 PM... At 1:30 I was called to inform me that car needed new tires. I gave the OK and ask them to make sure to install the same brand that I had "Michelin". Salesperson said, "OK." I did not check tires when I left Sears after 5 hours. I needed to go home. 2 weeks later I have flat tires, passenger sit front and back... AAA put air on them and I went to Sears. "NO Nails, No puncture... etc", they "fixed the problem". That was when I realized that tires were NOT Michelin... WITHOUT my knowledge Sears brand name tires (GUARDSMAN) were installed in may car. After this I took my car home. 2 days later same 2 tires flat... Back to Sears and again 3 days later... I AM DONE. This is a rip off. I need to return the tires... I am not paying the Bill and Sears Auto Center NEVER AGAIN...

I took my car to Sears for a wheel alignment. The next day I was told I needed a rack and pinion. I told them to do it. I got an estimate of 550. The next day I went to pick up the car and was told that all of the bolts and screws were breaking off and they had to drill them out. I left, the next day I went in and waited and was told they weren't finished, it would be the next day.
The next day I went in, it was completed. I paid $550, got in my car, drove it down the boulevard. As soon as I got on the highway the hood flew off the car and landed 50 feet behind me. It's been 3 weeks since that's happened. The insurance company has contacted me once. Sears washes their hands off the situation. I'm very dissatisfied and will never ever take my car to Sears again.

I purchased a groupon on April 2016. At the end of July I had an issue with my car and took it to the mechanic. The motor was cracked and it was due to no oil in my car. My oil change percentage was still at 25% and it turns yellow when it gets to 15%. This is my first time taking it to Sears, I have always took my car to Honda and never had any issues. This is now costing me $1200, either someone forgot to put oil when I took it or they didn't put enough. There was no leaks in the car and this is really odd that the first time I take it to another place this happens. I have used Honda since I purchased my car from there for 5 years. I decided to go with Sears because of the reviews I saw on Groupon. I need someone to contact me back and see how they can help with the $1200 I have to pay. This was an error on Sears end. My car has never had these issues. I have very upset about this issue.

July 18, 2016 was the date of service, the car had to be towed, immediately in the way home from Geico our insurance who had to be called to get a tow truck service. They did not care, my husband went and immediately spoke to the manager who was leaving for the night. He was rude, unapologetic and didn't offer any help. We took it to Skid Marks tire for the repair, NOT back to Sears. So don't let them touch your car! I would give it negative stars if I could!!! I've got a dispute now with my credit card for the originally paid $275.00. They didn't do the work that the said they did, the items they checked off as inspected and said were ok. They were not. My daughter never should have been sent out to go home with the car.
I've literally had to have my daughters car towed 2 times now in a month since they worked on it. Literally the day they worked on it, she didn't even make it home and we live maybe 3 miles away from there. The car broke down and it was seemingly running fine before it went in. She took it for an oil change and a maintenance check up and they messed it up!!! They didn't even thread the oil plug back in properly, the oil all came out, and I'm seeing that from other reviews online that it certainly isn't the first time either.
All of the oil drained out. It's cost me money to fix the car, tow the car AND they haven't given a crap about it, us, or refunded a dime. Poor service and standards. My daughter who literally works at that mall WILL tell everyone too!!! She's got a big mouth and sees tons of ladies in cosmetics. It's busy. We have contacted them over and over, they even gave us a disconnected number for the district manager!!! I've started a dispute so have to see what happens but we should have already been refunded and now it's cost even more money. Shame on you SEARS. I'm posting this everywhere too. No wonder they are losing money at Sears. I filed my dispute today with my Capital One credit card for dispute.

My problem started with the Sears Auto and Tire center located in Charlottesville va. I called and talked to jay on Monday august 21 about holding a set of cooper discoverer at3 lt245 75r 16 tires. Would be there on Saturday august 27 to look at them and have them installed. On wed august 24 called and talked to earnest about a set of Michelin defender ltx lt 245 75r 16 to hold along with the cooper tires to compare which set I wanted to be installed on Saturday august 27 2016.
I arrived at sears on saturday august 27 at 11:30 am and decided on the Michelin. Did not get to see the tires that was in the warehouse but the ones on display in the store. Was told that my truck would be ready at 1:00pm. Walked backed to tire center about 10 minutes after 1:00 - truck was still on parking lot. Was told by earnest would be ready at 2:00 pm. At 1:45 pm received call from earnest that they did not have the Michelin tires on hand but did have the coopers in stock. Was told the cooper tires was quiet, smooth ride and no road noise. If I was not happy I could return them and would get a free front end alignment for my wait and trouble from the manager alec. So at 4:45 pm my vehicle was ready and done.
Drove home Saturday night. Went to look at my bill on sunday morning and was charged for the alignment. Called and talked to alec on Monday august 29 about being charged for alignment and was not happy with the cooper tires. Wanted my old tires back and return the cooper. On Wednesday august 31 was told that I could come back to the Charlottesville va sears tire center to switch out tire and they would take the cooper tires back. Arrived at store to be told they did not have my old tires. Miss out on 4 hrs of work that day for nothing. Would not recommend anyone to purchase tires or any kind of auto service work from this sears location or any other. Please do your homework. Read the reviews before making the same mistake. I myself did not read the reviews first. Save yourself a lot of and money.

I have been getting auto service at Sears for many years. Batteries, Wheel Alignments, and so on. Well just about 2 weeks ago I went for a wheel alignment. Manager Philip ** was so rude and so short with me. I am a customer and this how I get treated here. They have a new system. They were unable to pull up my 3-year wheel alignment agreement. Every time in the last 3-year span. I didn't need a copy of the agreement. I did not have it with and didn't know where it was. The manager in this matter was get real sharp with me. "If you don't have the copy, you're not getting a wheel alignment." The way he said it just sounded like a confrontation. Very non-professional.
I left and drove to the closest Sears that was in Schaumburg. Neil at this location was so informative. He explain about the new system. That was the reason Stratford location was unable to pull my info up. What a difference when a real manager that is a pro at what he does. Just by explaining the whole matter. Without giving me an ultimatum. I end up buying the lifetime wheel alignment that Sears offer. So they did the alignment in short waiting time and I was off. So Stratford location management in customer service, maybe this Philip ** needs some training with talking to customers.

Went to Sears in Henderson, NV for new tires. Very rude and not helpful at all. We have done a lot of business with this store, but wifi not deal with them now or in the future.

I placed an order for this item on 4/28/16 and I never received the item and was never charged. I purchased a new car on 5/14/16 and since I hadn't received it nor had been charged. It wasn't an issue but I was reviewing my bank statement in June and they charged me for the item on June 20, 2016. I immediately put a dispute in with my bank but they told me that I would need to reach out to Sears. I've called Sears three separate times regarding this issue and I did receive and email from Dexter ** on July 20, 2016 that says it was delivered on 4/29/16 and that I should check with my family members or neighbors to see who has the item.
I called them back because I'm still confused if an item was delivered in April why wasn't I charged until June? I don't have their merchandise, neither does my family or my neighbors and I find it in poor taste to not issue me a refund for the purchase price. I've definitely spoken with family and neighbors and suggested that they not spend one cent at Sears.

On Sunday, 08/07/16, I called Sears Auto Center at 3000 Mall Road, Knoxville, Tennessee. My left rear wheel cylinder burst and I ask them if they could replace it that day because I had to have transportation that evening. The tech said they could so I explained that I would have to get it towed but would have my vehicle there within two hours and again asked if he was sure they could get it done that day. He assured me they could. I had it towed and rode with the tow truck driver to Sears.
Well, after sitting there for hours hearing customers complain about their service and repairs and watching cars come and go, at 5.00 p.m. (closing time) I go into the auto center to get my car. They hadn't even looked at it yet. I informed them that they assured me it would be done and that was why I had it towed to them. I was told they had so many other cars come in that they ran out of time. I asked if all the others had appointments and he said, "no, they were just emergency repairs." I informed him that I was there first and I was told the wheel cylinder would be replaced today. No joy! I finally found a ride home.
The next day at 9:30 the service manager calls me with the price to replace my rear brakes $504.98. All I needed was a wheel cylinder replaced and they are $12.99 at Auto Zone. I would have never had my car towed to Sears to have the wheel cylinder replaced but it was on a Sunday and they guaranteed they could do it that day and they were the only place open. I thought Sears would be a bit more expensive but my goodness!!! A $12.99 wheel cylinder cost me $504.98. I would not recommend that anyone go to Sears Auto Shop for repairs. Thanks to my church, I was able to pay the money so I could get my car back.

Purchased 4 tires and an alignment online at Sears.com. Order confirmed and delivery of tires would take about 2 weeks. Appointment was scheduled and confirmed for Aug. 7 at 11:00 a.m.. Received several notices by email confirming and reminding me of the appointment as well as arrival of the tires at the Sears location. Showed up a few minutes early when they opened at 11:00 a.m. and I was immediately bumped by a walk-in that did not have an appointment. No problem. I waited about 30 minutes in a room that had a TV set on a Hispanic station and only Spanish spoken. Of course the employees there were primarily Hispanic. I checked on my Jeep and it was still in the parking lot. After 45 minutes went to front desk and was told they cannot find my tires. Took my keys and told them to call me when they find them.
Called Sears Blue team support and was told this happens all the time because "customers" try to order online and make mistakes. WTF? Then the rep searched the order and found the tires arrived on Aug. 1. Where are they??? He stated he could help me by assisting with ordering them again!! Again, WTF? He made it sound like I messed up and basically could only define the problem and not find a solution. Again no problem because I had the solution. I packed up both of the 51" Tool Chests I had purchased in the last 12 days and took them back. The tire deal ain't gonna happen and of course they have not called me. The Blue Team support guy was incredibly full of it. That is the reason I am done with Sears for good. Everything else I could have dealt with but his reasoning and trying to make it my fault was the end.

I brought my truck in to get a tune-up and fuel system cleaning. I waited for an hour and a half and someone came out and said that the mechanic said my fuel filter was in the tank. I explained that it is an inline filter and mounted to the frame. After three hours, I was taken to the shop area and told that my catalytic converter was glowing red hot and the mechanic "working" on the truck didn't notice. I asked why and they said for $90 dollars they could tell me but they would be closing soon so they didn't have time. I said that I hope I don't die in a fiery truck and they agreed saying they hope so also.
I couldn't make it a mile away from the shop and had to be towed to another garage because of the glowing red exhaust and melting plastic smell. I had driven hundreds of miles that day before hand with no issues, no MILs (check engine lights), nothing. Now I am losing money all weekend because my company truck is out of commission. I found the staff to be overall rude and annoyed that they had to deal with me. My invoice even says the "truck runs like crap".

I have an appointment about three weeks ago, made it online for 6:00 pm. When I arrived to drop off my keys, the clerk at the desk informed me that my appointment was not promised and my Basic Oil Change could not be completed that day, that I would have to reschedule due to the amount of personnel working in the shop. I told him I couldn't do it the next day and that I would find someone to conduct my oil change when they say they can. After I left I complained to the corporate office about having the required personnel on the floor to handle the issues, for it shouldn't hinder the customer for getting what they asked for.
I still haven't heard anything from the corporate office about his incident. I have read the reviews on Sears Auto Centers across the country and you would think they would try to correct the issues they are having. I don't see such a change occurring. I would suggest for anyone planning on taking their vehicle to Sears Auto Center, to second guess your plan and seek other options. It will save you a big headache.

First off the customer service at Sears Auto Center is awful & rude. The sears I went to is 6537- Sears, Roebuck and Co. 3000 Mall RD. Knoxville, TN 37924. Now I went to get an alignment for my 97 Dodge Ram 1500 4x4 & I am under a 1 year warranty for a full alignment service. The woman at the desk at the front harassed me about my truck saying that I have been doing repairs on my truck without Sears approval. She would not let it go. I was horribly offended because I did not do no work after my warranty. The work I did on my truck was months before the warranty.
She talked about wet paint & new parts. No new parts were installed!! I bought the warranty in May of 2016 & I went back today to get it check out because it was pulling to the right a little. The last work I did was November 2015, so how the hell could I have had wet paint & new parts?? After my warranty expires next year I will never step foot in another Sears Auto Center because I was just going in for a check up & a woman employee harassed me like crazy for no reason! The woman would not let it go, she would laugh & shake her saying "No you did work sir." She was trying to terminate my warranty! She has done this before to me & other people that has went out there before. She should be charged & fired for her harassment!

Today 7/11/2016, I made the mistake of visiting Sears Automotive Center, located at: 347 Westshore Plaza Mall Tampa, FL 33609. I bought all 4 of my tires at this location, and was told that I could get the pressure in my tires checked for free at any time. So, I attempted to do so because it was needed. Usually, I get decent service and this has never been a problem in the past. Today, for some strange reason, it was.
I simply walked in, asked to have my tire pressure checked, and one of the two Service Managers at the front desk asked me to pull up to one of the ports, and assured me that someone would assist. I pulled up, and saw the Service Manager seemingly asking one of the guys to help me. I ended up sitting in my Jeep, waiting for about 15-20 minutes, while he and their other so-called mechanics/technicians completely ignored me! The one who was supposed to help had the nerve to actually look at me, then began to throw his hands up in the air constantly, and mouth words. He was acting as if he was annoyed and almost seemed to be having a tantrum/fit! Pretty much behaving like a child and being very unprofessional.
I got out of my vehicle, walked back in, and made the Service Advisor aware of how long I had been waiting for assistance. Also, I let him know that I originally bought my tires there, and wondered what the problem was. From there, the Service Manager walked back outside and seemed to be reprimanding the idiot for refusing to do his job. Still, nothing was resolved, because he never attempted to help me. He just continued behaving like a 2-year old who was having a bad day!
Eventually, the Service Advisor had to find another mechanic to finally agree to check my tires. WOW! Although the Service Advisor seemed to try and rectify the situation, and the other mechanic had a better attitude, there was no apology issued from anyone afterwards!! Just a wave, letting me know my tires had been checked. Maybe my experience would've been better if I had been a young blonde or brunette, blue-eyed Caucasian female, instead of being a young, African American Lady. Sears only wants money! After that, you get extremely poor service!
Now, I understand why so many people have written negative reviews about Sears Automotive Center. The location I visited is one of the absolute worst and I will never return there again!!! For those of you who live in Tampa, FL or surrounding areas, PLEASE DO NOT TAKE YOUR VEHICLE TO SEARS AUTOMOTIVE CENTER AT WESTSHORE PLAZA! Address: 347 Westshore Plaza Mall, Tampa, FL 33609. Phone # 813-288-6095. Store # 2765. Manager: **.

I order 4 tires online, they send me a text message and email to confirm that they were ready for me to pick them up. I had to drive 30 minutes to get to the store and when I get there the tires are not there. They ask me to come back the following day. When the loading tire truck arrived with the new tires, well guess what? Again I arrived and no tires, so I ask him "When are they going to be here?" He said "Call me and I will confirm if they're here already." Of course I call and he said "Yes come. They have arrived." Well I get there and they have the wrong order and again no tires, so my next step is to call customer service, to get an answer. Big mistake. They did help either.
The customer representative said we are not sure when are they going to be really or if we are going to have them, so they made me waste my time. Sears sucks 100%. My advice to anyone thinking about using Sears or buying tires from them don't waste your time. They are very unprofessional and they don't care about your time.

I had an oil change appointment with Sears Auto at 8:00 am but the lady who behind the counter giving me an ETA that I've to wait an hour and half or two. I asked her why taking so long for oil change. Her explanation was only one mechanic available and he got 4 customers in front of me. Really? Accepting appointment but one person working. Really wait two hours for oil change?

I dropped my car off to Sears for engine work because it was idling and running rough and hesitating. So they called me the next day saying they found the problem. I told them to fix it so they did. Supposedly when I went to start my car I had to turn the key 3 times before it started and it was still doing the same thing! I WON'T TAKE MY CAR TO THEM AGAIN.

Requested both flushes to be done. Was watching through observation window to the shop. My car got pulled in. Was not put in a bay. Pulled over to the side of shop. Waited in customer area, occasionally watching my car. Never moved from spot. After about 15 to 20 minutes, they say car is done. I went into the shop and questioned the mechanic why my car was not put in a bay or put on lift. He said it did not have to be. I have had this procedure done on two of my other vehicles here at Sears and both times , they were put on lifts, especially to do the brake flush. I asked the mechanic how he did my brake flush and he showed me a plastic jug??
The service manager came in and I questioned and argued that there is no way you can replace all the brake fluid without bleeding the old one out. I guess they just sucked up the brake fluid from the master cylinder and refilled. I could have done that with a turkey baster. You have to bleed the system of the old fluid and replace and refill. You have to put the car on a lift to get to the brake bleeders. The service manager said that that's the way they do it. What a bunch of crap, this is fraud. I have complained to Sears.com and so far nobody has addressed my complaint. It has been 3 weeks.

We left car to fix brakes at 2:30 1st July. We waited for 6 hours. We did not get it back until middle of the day on next day. Very unprofessional.

I brought my car to Sears for a slow leak in the back tire to be fixed. I waited 4 hours and nobody was barely there. 4 hours later I was told I needed 1,250.00 in front end work. I never requested them to check out anything other than the back tire to be fixed. So why are they inspecting your whole car and giving you outrageous estimates on things you never requested? Nervy much? Horrible place to go unless you like being taken for everything.

I took my car to the Sears Auto location in Longview, TX and regret that decision every day since. I took it in for a variety of repairs and maintenance my car had been needing including a tune up and alignment. I had an appointment and they got my car in immediately. Manager and Assistant Manager were very friendly and I felt good about my car being there when I left. I had a friend pick me up and I hung out at my work, catching up on office work I needed to get done while I waited on them to contact me. Within the next hour the Manager called me and told me I needed my front struts and tie rod replaced. I had been hearing a thumping under my car and asked them to check it out and that's what they found, so I approved the work to be done and got a ride home while I waited.
Once I got the call that my car was ready I was planning on splitting my payment, $400 on my debit card and the remaining $937 on a new Sears Mastercard I decided to open. I swiped my card and entered my pin for the first portion of payment and the register the Assistant Manager was ringing me up on didn't have a scanner for him to scan the Barcode for the new card, so he "cancelled" the transaction and we moved to another register. My debit card would not go through because it was exceeding the $500 limit for the day so I decided to put the whole amount on the new Sears card, and he assured me the previous transaction was voided and the $400 would go back on my account.
I started to leave the parking lot and immediately when making a right turn I heard/felt a creaking in my steering wheel and almost feeling like it was getting stuck. I took my car immediately back to the garage, hadn't even left the parking lot, and informed the Assistant Manager of what was going on. The mechanic who had done the work on my car drove it around the parking lot and noticed it making the sound at random times and was baffled as to what was causing it and saying, "Well I didn't do anything with the steering wheel." We went back to the garage and the mechanic told the Assistant Manager about what it was doing and I was again told "we didn't do anything with the steering wheel." To which I replied, "Well it wasn't doing this before I came here. Obviously something has affected it." I was told to come back two days later when the Manager would be there.
So when telling my wife about what happened she calls the store and speaks to the Assistant Manager, who is very rude to her. Stating that "we drove it when he brought it back and found nothing wrong with it," and talking over her as she tries to speak. Obviously my wife didn't take kindly to this and let him know how she felt about his attitude about the situation.
I've had to work out of town most days lately so I was unable to come back earlier in the day but when I was able to come in I was told the Manager and Assistant were both not there and there was nothing she could do (lady behind the counter). Not only was I frustrated about the steering wheel (which wasn't centered with the alignment by the way), but the $400 that was to be voided and put back on my account hadn't come through yet either. And by this time, my car had also started running badly. Hiccuping and stuttering anytime I would be stopped at red lights and gradually getting more noticeable as I was driving as time went by. I understand with 3 step fuel system cleaning it can make little hiccups as the system is burning through the junk in there, but not for two days. Which is what I was told as "normal and should be fine."
So, I finally get a hold of the Manager on the phone to ask about the $400 issue and am told that they didn't get credit for it and it is "lost in e-land." It has been taken out of my account, on my statement and not yet put back. I tell him I will give it a couple more days and if it isn't back on my account I will bring the statement and we will resolve this. In the meantime I had taken my car to another mechanic about my steering wheel, which he says he cannot find what is causing it to creak but does not feel it is a major issue.
I basically had him go over everything Sears did, and let me know they had put the wrong brand spark plugs when they did the tune up. This was on Friday and on Saturday morning when I go to a gas station and get gas, my car dies on me in middle of the road. I get it cranked back up and get half a mile down the road and it dies on me again. Luckily it cranked back up again and I get it back home, which was only a half mile away.
Today, Monday, I get it towed to another mechanic and my wife and I go to the bank to get my statement to show the Manager and when we arrive he has a nonchalant attitude with me about the issue of the $400, and basically tells me there is nothing he can do about it and I should be getting it back "hopefully two weeks to a month," and that's my patience and frustration finally gets to me. I begin questioning why is it such an issue this reversal hasn't gone through yet and he can't give me an answer, nor can he give me an answer as to why they're not showing as gotten credit for it even though it has been taken out of my account. Tells me it's an issue with MY bank, and I tell him I just left my bank and it's not THEIR issue, they're telling me it's Sears system that is the problem.
After going back and forth over this I start getting angry and let him know about the problems with my car since it had been there, and that his mechanics put the wrong spark plugs in my car and I had to tow it and am now getting it fixed. Very long story short and a heated conversation I finally got reimbursed for my tow expense as well as the spark plugs and labor charges I paid for. As for the $400, it took my wife and I both loudly expressing how we feel about the way we are being treated and talked to, like we're idiots, for him to finally sit at his desk and start putting in support requests or whatever it was he needed to do to get information about when I'll be refunded the $400 I am owed.
This Manager would have saved us all a lot of time if he would have just helped me from the beginning. Instead he chose to be condescending, not take responsibility or ownership, blame everyone and everything else he possibly could and just flat out did not want to take care of this situation. I had to be extremely rude and loud with him to get him to finally understand that I was not going to just be shoo'ed away while they owe me such a large sum of money.
Please do not use Sears Auto Center. No matter how convenient it may be or how quickly they can get to you, don't do it. Their customer service is horrible, they do shoddy poor work and they could give a care less about you. There is a reason why Sears is going downhill and is on the verge of going out of business and it is this right here. Obviously a lot is left out of this review just because it's so much that's happened over the past week, but the bottom line is it is the worst experience with a store I've ever had and right now my car I've had for 9 years with little to no problems is sitting at a mechanic shop over night tonight due to poor workmanship.

I went to Sears to have my oil changed. The lady at the desk said they were too busy today and had too many appointments scheduled. I asked what time they opened up tomorrow and she said 10 a.m. I told her I would be back in the morning. When I got home I decided to schedule an appointment online. I made the appointment and I immediately received a call from the same lady I saw earlier in the day. She informed me that I could not come in tomorrow because they were overbooked with too many cars scheduled for the day again. My question is, if this happens a lot, why didn't she ask me if I wanted to schedule an appointment when I was there?

Lauren FixAutomotive Contributing Editor
Lauren Fix is an automotive expert who earned the title of The Car Coach, and is recognized throughout all forms of media as a woman with in-depth knowledge on vehicles, technology, automotive finance, repair and trends. Founder of Automotive Aspects, Inc., her understanding of automobiles has made her the "go to" person on TV, radio, print and the internet. She writes a column for multiple outlets including Parade Magazine, NewsMax and Car Coach Reports. She is a regular guest on all the major news and morning shows discussing the latest updates on cars that will help drivers of all ages learn to about cars and make smart decisions. More about Lauren→

Sears department store has roots going back to the 19th century, but the company didn't open its first auto center until 1931. The company now operates more than 650 Sears Auto Centers in the United States and Puerto Rico. Their ASE Certified technicians provide a full range of preventative automotive maintenance services and many repair services. They also sell and mount tires.
Special discounts: In addition to seasonal sales and online coupons, Sears Auto Centers offer special discounts to active, reserve and retired members of the U.S. military. They also offer discounts to AARP members and employees of certain companies. Interested consumers can see if their company is a Sears partner on the Sears Auto Center website.
Accessories: Those looking for accessories for their vehicle can purchase them at Sears department stores. They sell car emergency kits, floor mats, jumper cables, car detailing products, manuals and more.
Battery service: Sears Auto Centers promise to install batteries in 15 minutes or less. If they don't, the installation is free. They will also check a customer's existing battery for free.
Performance Snapshot: Consumers who are having problems with their vehicle can visit a Sears Auto Center for a free Performance Snapshot, which includes a computerized diagnostic check, an extensive visual inspection and a report with recommended maintenance and repairs.
Online scheduling: Customers who need to schedule a service can set up an appointment on the Sears Auto Center website. Same day appointments may be available depending on the individual center's schedule.
Best for Sears Auto Center is best for those who want a certified technician to perform maintenance and repairs and who want to stay with the same company even if they're away from home.
Compare Auto Service and Repair
Sears Auto and Tire Company Profile
Company Name:

Sears

Website:

http://www.sears.com/