Good Sam Roadside Assistance
Consumer Reviews and Complaints

I do not write reviews, but saw so many bad reviews of Good Sam that I felt it necessary to say my experience. Last year my husband I needed to get away after his surgery so about 9 pm we headed to get our trailer over in Newport Beach CA but when we got there the tire was flat in back. So called AAA and they said they'd be there in 40 minutes. They always say 30 then it turns into hours. Well this wasn't just hours. They said it would be 2 AM when they could come out. Well I thought let me call Sam and they blew me away. Within 15 minutes they were there. Fixed the tire, gave the man a $10 tip and we were on our way. I was amazed at the response. No complaints here.

We signed up for 3 years of service a year and a half ago, so we are about half way through our contract. Just received a letter from their claims department telling us that they no longer want our business because we actually used their services 3 times and it wasn't even for our motorhome. When you breakdown on the highway, the last thing you think about is if I'm using my prepaid service too much??? And all of these tows were within the coverage distance. We left AAA because they could not provide towing service for our motorhome, so according to the Good Sam Policy, you need AAA for your cars and Good Sam for your motorhome... Am I reading that right? If you are as confused as me, check out the letter that I received from them. Customer satisfaction at its finest.

Do not ever get a Towing Policy with Good Sam! Just last night at around 10 pm, my $150,000 custom Car broke down in a bad area around Hollywood. I called my Good Sam Roadside Assistance hotline, where I was explained that my car will only be towed for 1 mile to the nearest service station any additional mileage would be charged extra at a high price. I explained to the dispatch, one, that there is no service station open at that time and my car would be left out in the open subject to vandalism or theft, and two, even if a service station would be open they could not fix my car since it is an exotic custom version and needed be towed to a custom shop of my choosing or to my residence for safekeeping.
The dispatcher completely ignored my reasoning and told me that's all they can do for me. Luckily I had a friend with me in another car, he had AAA, and was able to help me getting my car flat bedded 18 miles to my residence for free. Today I called Good Sam customer service to complain and to cancel my membership with them, their only response was "Well you should have read your 10 page policy statement including small print".
Be aware! Good Sam sales reps will lie to you just to sign you up. Once you really need them you will find out the hard way what they are all about, "A Big Scam." I Also have a 40 foot RV under Good Sam's policy, I did cancel it ASAP. God forbid something happens to that RV I'll be stuck out in the boonies for sure maybe at some Walmart center if you're one of the lucky ones. Looking into getting AAA or similar, better pay the extra guaranteeing they take care of you when you need them.

My wife and I have three granddaughters in Michigan and we travel from North East Texas to Michigan each year. Sometimes we travel twice a year or more. We had debated keeping Good Sam Roadside Assistance because of the bad reviews. Our premium was still paid for this trip and was to expire soon. The lifter pump went out on my Dodge diesel on I-30 between Arkadelphia and Hope, Ark. About three hours later Good Sam towed me to Texarkana, Tx at a cost of approx. $650. The tow truck driver referred me to a diesel shop that worked on their tow trucks and took my truck there instead of a dealership. We stayed two nights at a motel but my truck was ready the next day. I have a big thumbs up for Good Sam, the tow truck driver and the shop that repaired my truck.

Your three ring circus did not impress me. A flat tire on a trailer should not be a 17 hour overnight wait on a dangerously busy 2 lane Hwy. Also, after speaking with 9 or 10 of your people I was given erroneous information and was told a "20.5 x 8 -10 trailer tire was not a size" repeatedly for what seemed like 10 - 15 minutes each. At minimum I spoke with 3 persons, each one giving me that same misinformation! Even your expert tire person said "There is no such size, can you go to the tire and read the big numbers and letters written on it." This was said in a rather pompous manner. He did apologize after he checked a reference and discovered that it was, indeed, a size. He then put us on hold for quite some time and returned to state that he could not find anyone with that tire. Alternatively, he arranged to get it towed on a flat deck to my home. He also told us that the towing company would be calling shortly and that they had all the details.
This started at 7:30 pm. I spoke with 5 or 6 people between 7:30 and 9:38 pm when we were told a tow was arranged and GS dispatch would be calling within 5 minutes. At ten p.m., feeling thoroughly frustrated, I removed the tire myself, unhitched the trailer and drove home leaving my boat on the Hwy, hoping it wasn't stripped by morning (which happens on that Hwy). After returning home at midnight, I received confirmation that the tow truck company had been called about 11:35 pm and confirmed a 10 am pick-up. When I spoke to the same tow truck company, they assured me that, had they been called between 7:30 and 9:30, they definitely would have arrived within the hour. This leaves me to surmise that they had never been contacted during that time (in spite of the assurances I was given by your company). Again, this is completely unacceptable service!
How do I know I can trust these reviews about Good Sam Roadside Assistance?
884,041 reviews on ConsumerAffairs are verified.
We require contact information to ensure our reviewers are real.
We use intelligent software that helps us maintain the integrity of reviews.
Our moderators read all reviews to verify quality and helpfulness.
For more information about reviews on ConsumerAffairs.com please visit our FAQ.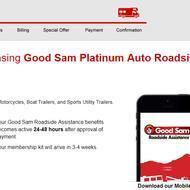 I signed up today ONLINE for Good Sam Roadside Rescue Platinum Program. There was a special rate for new members of $59.95. After completing the signup process and entering my credit card info I was surprised to see the confirmation page did not give me a confirmation # or receipt for my purchase. It only said "Your Good Sam Roadside Assistance benefits becomes active 24-48 hours after approval of payment. Your membership kit will arrive in 3-4 weeks."
When I called the Good Sam Customer Service number I talked to "Irene" and was told by her I should have called in to the 800 number to join, and I would have gotten immediate approval and coverage. I told her that I was disappointed already with Good Sam, as I feel they should let you know your coverage will not begin once you make your payment for up to 48 hours... BEFORE I paid my money. Why the delay? You got the money. If I would have known this I simply would have called. Not feeling good about this decision! Especially with all the bad reviews I am now seeing on this site!

We have been a Good Sam's customer since 2010 and this was our first call. We had a blown tire, a bad spare, and possibly faulty breaks on the side of the highway in Valdosta, Georgia on the Saturday of July 4th. We also had poor cell reception. Rather than sending a service person out to help us since we were in a danger location, I had to call back three times and was argued with each time over what services we actually needed. Then we were put on hold multiple times for over a half hour each time. It took over 2 hours to even get a call back for a quote on two new tires and then the quote was DOUBLE what the actual service should have cost. Tires that were listed at $95 each, cost us $160 each plus they added a $250 emergency charge.
The first call was placed at 1:30 pm and we were not on the road again until 8:30 pm. That was our only option since we were told that they would not tow us on a holiday weekend. Thankfully a good samaritan who was also a mechanic stopped to offer us service with the brakes. We will be canceling our Good Sam's membership and warning everyone we can away from this bogus company. They love collecting your membership, but when you are actually stranded, they will offer to change with your spare and send you on your way.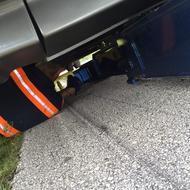 I had to have our 40FT motorhome towed by Good Sam when the fuel pump failed on I-95 in FL. They had a huge tow truck there within 20 minutes and towed us to the Cummins Dealer 40 miles away, not a nearby diesel shop. I do not write reviews, but saw so many bad reviews of Good Sam that I felt it necessary to say my experience. I also had to get pulled out off soft sand when we sank at a camping spot. Good Sam sent another giant tow truck and pulled us 20 Ft to hard ground. The tow truck operator told me without Good Sam, I was looking at a $800 tow bill! The tow bills are high since the tow truck cost $640,000. Good Sam has been perfect with us, they come quick and fix our problem. I will never be without Good Sam!

We have been Good Sam customers for more than two years. Today, we received a letter in the mail informing us that we had been removed as customers due to the fact that we have used their services too many times. We had to have two separate trucks towed a total four times in the last year due to major transmission issues while camping. Never at any point did a representative of Good Sam alert us to the fact that we were about to reach any kind of service limit, including the one that we spoke to on May 20th to schedule our last tow, who at that time encouraged us to renew our membership! We were stunned when we received the letter today, and are concerned and anxious because we have a camping trip scheduled for Friday and now we are without roadside assistance.
When I called to ask for an explanation I was given absolutely no reason as to why Good Sam makes it their practice to keep their customers in the dark about these service limits. No one carries a roadside assistance membership contract around with them to review on the side of the road during an emergency. We should have been told when we scheduled our last tow that it would cause us to exceed the service limit, but we were not. Not a word was said to us about this issue until it was too late. I will be going with a different company, and good riddance to these thieves, who gladly took our money, but didn't actually want to provide us with a service.

Broke down in our 40" Dutch Star motorhome with loss of power made the last 50 miles doing 20 MPH on the Overseas Hwy to Marathon. We were lucky enough to be able to pull into an RV Park and get a spot. We called GSRA to try to get a tow, we already had a diagnostic service done, and was told it was a fuel injector pump problem. GSRA would only tow us to the closest diesel mechanic which was 7 miles away, if we wanted to go to a certified place we would have to pay the difference at the rate of $10.00 a mile. As it turns out the mechanic they wanted me to use was a boat mechanic working out of his truck and had no place to put our rig, he generally worked out of his truck on boats! He wanted $4000.00 upfront to fix it with no guarantee, ("You bought it" was his exact words) referring to the injector pump.
Fortunately, although we "road assistance " coverage with our Insurance Company Progressive, they did all the "legwork" and found a tow company able to tow the rig to Fort Myers from Marathon for $1500.00 and then covered $250.00 of the bill. When I got home I called GSRA to make a complaint and try to submit a copy of bill for a settlement considering I am a "Platinum Member", the next guy to call me hung up after telling me "clearly I don't understand their contract". On the letter headed it is time to pay your annual dues, it clearly states; unlimited distance towing; free towing to the nearest network service facility, even if it is hundreds of miles away. I didn't know that meant boat mechanic working out of his truck!!

Traveling Sunday 5/28 and our truck (towing 5th wheel) broke down just outside of Austin, TX. Not too worried as we had GSRA. When we called the only thing they would do for us is tow our truck only to a "safe area" such as a Rest area or a Truck stop. It was 92 degrees out, traveling with 2 dogs and a cat. Without the ability to have air condition, electric, or water sitting in a rest area or truck stop. Didn't offer to put us in a hotel or pay for meals... NOTHING!! How is that considered SAFE???
Fortunately we contacted a friend that was approximately 60 miles from us. They also tow a 5th wheel and were kind enough to come get us. We were able to leave our truck in parking lot until Tuesday. When we called GSRA on Tuesday they wanted to tow the truck to Firestone. This is a diesel truck. How could Firestone help us?? We finally convinced them to tow to a repair shop within 2 miles of the park we are staying in, but at our expense. At this point we didn't care. Just wanted the truck near us. We were advised that the tow truck would arrive at 1:48 pm, didn't show up until 3:30 pm. We use to have AAA RV Plus service and guess what? We are going back to AAA and canceling GSRA. WORSE SERVICE EVER!!! All they are concerned about is the money. They (GSRA) SUCK big time.

We were traveling behind camping friends and saw that they had a blowout damaging their RV. Notified them to pull over. They were pulling a 2016 35 ft travel trailer. Tread shredded from tire throwing rubber and parts all over interstate. After pulling over to access that we could continue to next exit they notified GSRA. After my friend held for over 45 minutes she was told they could not find anyone to help us but would keep trying. In the meantime my friend's husband who has had two back surgeries and is 65 years old and my husband who has a heart condition (the reason we carry GSRA) and is 68 years old had to struggle to change the tire. This area is in the hub of truck stops and trucking companies where service is essential.
After an hour and a half they called back and said they might have found someone. In the meantime I had contacted a service myself who even though was closed and out of time was trying to find someone to help us so it could not have been that hard. All in all if you need Good Sam Roadside Assistance travel between 8-5 Monday through Friday and you stand a chance of getting help. I have carried this roadside assistance for years but will begin searching for more reliable service. I WILL NEVER RECOMMEND THEM AGAIN.

I recently bought a 2017 Keystone Cougar Camper and they really pushed on the Good Sam Roadside Assistance, they told me it's great to have and that if something happens they'll tow my truck and trailer, take care of my pets and get us home. Well I called today because I needed to take my trailer to the dealership for a warranty issue and my transmission went out on my truck. Because the trailer was in a safe location all they would do is tow the truck to get repaired. Not tow the trailer, not give me a ride home or take care of my animals. So I was stranded with no hot water in my trailer, no truck, 2 cats, a dog and a very upset girlfriend. Good thing I have AAA gold because they were happy to help. Yeah AAA is $100 a year but I would not tow my rig without it, they have brought me gas, towed my truck 80 miles home and have always been quick with no questions asked.

Just received new cards and offer to purchase Roadside Assistance at a $ 38.00 discount. Whoopie! Information on brochure, I Quote "It happens every 4 minutes. Every day of every year, Good Sam Club Members are out on the road, often far from help of any kind, and they break down. Then what? We rescue them! When we get the call, we swing into action to get there fast...and get our RV owners back on the road."
Sorry not our experience! Paid for GSRA for 10 years and in that time tried to use service twice. Once in Ontario Canada, Flat tire needed Spare installed. In Walmart Yard in town with only one Walmart but because I could not give Street corner at which I was located they could not send someone to install my spare. Not sure person taking my call knew where Ontario was???
Next time towing boat from Florida had blowout in South Carolina on I-95. Called GSRA at 6:00PM to install spare. Finally at 8:00 PM after number of calls back and forth we were told they would have someone there at 9:30 the next morning. Did not seem to care we were sitting on shoulder of I-95 two feet from edge of payment being rocked back and forth every minute by semi's. Both occasions I installed spare myself. So long story short we paid out over $ 700 over the years and received no service hence one star is high rating in my opinion.

This is the third time they cannot perform. 1st was getting a flat tire fixed on my motor home. I got it done a lot faster myself. They called me the next morning to set it up while I had it all set up the evening before and they were on their way when Good Sam Road Assistance called. 2nd was a battery issue. They could not support my problem. Got it taken care of myself. They could not help. Now towing my Corvette. They gave me repair shop about 120 miles away. It's about 150 to the house. I told them to tow it a facility near my house and I will pay the difference. They wanted around $650. The person I was talking to was confused, did not really appear to know how to handle the situation and could not answer some of my questions. Called AAA. They towed it for a lot less. I had 100 free miles of towing and they were on the spot in less than 15 minutes. The Good Sam roadside service is really questionable.

I had a flat tire on my fifth wheel trailer, and called Good Sam Roadside Assistance to have it changed and repaired. If I'd just had them swap out the spare tire, it would have been a free service call. But I was busy, and figured I'd get a reasonable deal if they just took care of it. NOT!! I was billed almost $700 for the service call and one new tire. I checked with the company they sent out, and had I called them direct, my costs would have been $368. Good Sam contracted out the service call, and the sub-contractor nearly doubled the cost to me. Some insurance! Just be very aware that the basics are all you want to use, lest it cost you way more than it should.

For $112 a year you get VERY LITTLE. They don't give you a document that clearly indicates all they pay is the initial fee for whatever company comes out to you. We had a flat tire on our RV in storage. They paid ONLY for the repair company to come out. We had to pay $87 UPFRONT for estimated labor cost to fix the flat tire! This is not what is expected. And there is very little material provided so you can understand what is paid. I'm not sure what they actually pay if you have to be towed. I am guessing the actual towing cost is yours too.
They probably pay for somebody to arrive on site -- and then you get stuck with cost to tow. Don't think of this as anything like AAA road service - it's not. All is it is them calling somebody and paying a very small portion of the cost - just enough to get somebody there. Then you're on your own. If they properly disclosed this it wouldn't be such a big deal, but they don't. They advertise it like you are going to get tire repair, towing, etc. And you don't. Plus, they are very rude. When my husband called back (in shock) and asked them to explain why we were paying $87 the employee very nastily said "the labor, the labor " -- "the labor". Very rude.

Over a year ago I bought the (Platinum) service for my daughter who was traveling across the US in a camper. Platinum is unlimited towing! While driving through Odessa, Texas. She heard a strange noise, did a responsible thing and pulled over, and called GS. They sent out a tow truck not a flat bed. The driver towed her front up! Her back tire came off and totally wrecked the back fender and back of her camper and bent the wheel. She was held up in a hotel in the middle of nowhere because of it and had to come out of pocket for this expense. She had to go through her insurance company to get relief! Because of their towing company she had to pay a $500 deductible and hotel costs! Good Sam virtually left her homeless. THEN THEY CANCELLED her. I called and complained when they cancelled and you could not speak to any kind of manager or owner or president and were only given an address to write.
They people were not helpful at all. She had called twice before for a flat tire. Then they sent a letter giving her 10 days notice of cancellation, and the letter was received AFTER the ten day period! She literally had no roadside service (unbeknownst to us and her). This company is not credible and not worth paying for. They are not inexpensive and don't ever call them because they will cancel you or send out a joke of a company to help you! They are very wrong to cancel at random when you use them! They do not use reputable towing companies either. Go elsewhere! Buyer beware! WRONG! Good Sam is NOT A GOOD SAM!

I receive a cancellation letter from Good Sam Roadside Assistance stating that my family of 4 membership has been canceled due to my very few claims since 2013. I am shocked! I guess we pay for roadside assistance we are not suppose to use. You wait hours for anyone to come and help just to jump your battery and the customer service is awful. Using AAA for now on! WARNING. DO NOT GET A MEMBERSHIP WITH GOOD SAM. MAJOR RIP OFF!!!

We have been Good Sam members since 2001 and have used Roadside Services for at least 12 years. We have never been dissatisfied with them until yesterday (1/16/2016). The U-joint on our Jeep came off and we were stranded on I-17 19 miles from our house heading to Phoenix in AZ. We called Good Sam to send a tow truck. We waited an hour and a half before Arizona Recovery and Towing got to us. While on the phone with GS, the operator informed us AR&T would be taking our vehicle to a garage in Mayer, AZ. We live in Camp Verde and since I am a mechanic, we wanted them to tow us to our home. The operator said it would cost us another $66.00 and wanted a credit card #. We have never been charged extra to tow our vehicle home, and we have used GS many times.
On top of that, the tow driver informed us we owed an additional $5.00 for extra mileage. GS has usually used Alpha Towing and we have never been charged out of pocket. We are very disappointed with how GS handled this call. I asked GS to call Alpha Towing and for some reason they wouldn't. Although we are basically happy with GS, we would like to know why they charged extra. (We previously had our motor home towed about 40 miles in Yuma, AZ and there was no additional charges to us.)

I have been a Good Sam Platinum Member for about 6 years. On December 30, 2016 Good Sam cancelled me. My wife, Myself and Son are on my membership. All of a sudden they cancelled me. They advised me they cancelled me because I had two dead battery jumpstarts and two small vehicle tows in 2016. I suppose if you use their service they will cancel you. I have maybe used them 7 times in 6 years. So Wrong. Tried to talk to them. Very Disappointed in them. So Wrong.

We just became Good Sam member earlier this year. Sunday 11/20/16 after church our car stalled on I-20 in MS. We called Good Sam for a tow to the only mechanic that was open. GS said it would be a 90-minute wait. We alerted the mechanic that a tow truck would come after 90. He said he had to close soon, but he'd wait. 90 mins later, no one came. We called GS. They gave us the phone # to contact Wolfs towing (WT). We called WT. They said it would be another 20. We told the mechanic of the delay. He was not happy but would wait. 20 later no one came. We called WT again. They let our call go to voice mail. After 2.5 hrs, WT called us and said he had another pickup in Byram, another city, and did not know when he could come to tow ours. We told the mechanic. He said he had to close the shop. We called GS to cancel and told them that WT said they had another pickup in another city before they could come.
GS put us on hold and contacted WT. They lied to GS and said they'd come in another 20. We explained to GS that was NOT what they told us. The mechanic was closed. Where could we tow the car to on Sunday evening? Monday morning we called GS to reschedule a tow. Georges towing (GT) was fast. They came, but we found out the car had been VANDALIZED overnight. We felt violated. The driver told us to call police. We did so. He said he couldn't wait. We asked him to tow our car to a parking lot nearby and we'd pay him cash. He drove off leaving us and the vandalized car on I-20. We called SG back. They said the car is now vandalized. We had to pay them $130.25 for them to schedule another tow. Give them our credit card number first. We asked to speak to a supervisor. She told us the same thing: WE HAD TO PAY FOR THE TOW. We called a local towing company ourselves and had it towed to the mechanic.
Who in the world would want to pay GS $130.25 to have it towed after all the nightmares they put us through??? If WT came as they said in 90, or even after the full 2.5 hours they made us wait, our car would have been towed to the mechanic. It would have been locked up safely for the night. IT WOULD NOT HAVE BEEN VANDALIZED. We now had to pay for the tow, to repair the smashed window, to clean up the total mess in the car, to repair our car, and the thieves took the $100 emergency cash we had in the car. We will cancel GOOD SAM on 12/3/16 and tell everyone about our terrible experience with them. We WILL NEVER do business with GS again.

We used to have AAA but it seemed expensive, especially to all our college aged kids and my wife. Good Sam was much less expensive and seemed to have better coverage. Plus, you are paying for just the Roadside assistance (who really needs "Trip-tix" anymore?). In the four or so years we have had it, we have used it several times. The time it takes someone to arrive pretty much depends on where you are and the time of day, but in each case we were able to get our vehicle moved to a decent service facility and never had to pay an additional dime.
Just this morning I was pulling my car out of my driveway and all of a sudden it transitioned into neutral but it was supposedly still in drive. In fact, EVERY gear was neutral. I was stuck. I called Good Sam and in less than an hour my vehicle was on a flatbed headed to my repair shop. I have the app on my phone and those of my wife and kids, and all of them have used it at least once. A small price to pay for the peace of mind of knowing someone will come if you need help.

Recently needed a jump start for wife's car. Called Good Sam Roadside Assistance for help. First of all the response was a recording not a person... "All our operators are busy with other customers, we will be with as soon as possible!!" Well when you're blocking traffic you sure don't want to hear that! When they finally did answer, about 4 minutes later, they asked a long list of questions for information they should have already had. At the end of the long list of questions, they ask me to wait again while they contacted someone to help. After another long wait, they told me that someone would come help in about 45 minutes!! I was 2 blocks from a AAA Texaco station?? I hung up and called the Texaco station. They were there in 5 minutes or less. When I had AAA I never had these kind of frustrations. I am dropping Good Sam today and going back to AAA.

[First: This is the original review I posted on campingworld in June 2016 where I purchased the membership. 4 weeks later campingworld decided to delete ALL reviews and stop the review system, so they can hide any bad experience. It was replaced by Q&A page. This is hilarious. Instead of any help or making their system better, they just deleted all the bad customer reviews. Check out google - it is very very hard to find any REAL customer reviews by people, you only find paid reviews from bloggers, where you are not allowed to comment.]
Here is my review: I have Good Sam Roadside assistance for RV and travel trailers. My trailer had a problem on the campground, the leveling system would not work, so I could not hook it up to my truck again to tow it by myself to a repair station. I called Good Sam. My call took 45 minutes - I was waiting in the line at least for 30 minutes alone, while the guy was trying to find a service that can help me. They said they wont tow me, they will only find a service that comes, makes my trailer level and then I tow it to the repair. Ok.
I had to call them back 2 times, because he did not find such a service. In the end, after 1:30 hours I got a call back from Good Sam: They will only pay for a service driving to the campsite. Then it will cost $150 an hour, and take around 2 hours, for leveling my trailer. So it would cost $300, just to hook the trailer to my own truck and tow it into town (by myself). I gave up on them, may too expensive. I drove back and extended the leveling jacks by hand (took me one hour with a wrench and 5 blisters on my hand - with the right tools from a service mechanic it would be a job of 10 minutes). I am not going to sign up for good sam ever again. They are useless. The only service you can get from them is a jump start or tire change.

Sent someone to change two tires that had blown out on our RV. We were stranded out a small town and it took a long time for the person to show up. When he did, he was very proficient in changing the tires. The RV had sustained some damage to the outside and he helped us to fix that also until we could get it professionally looked at. When we were stranded with tire trouble, we called Good Sam and found out our policy had lapsed. However, as soon as we got reinstated, they helped us. Although it took some time, our tires were finally fixed and we were on our way.
Good Sam offers varying types of coverage depending on what you need for your RV. You can get a basic coverage or a premium coverage that pretty much covers anything that could go wrong when you're traveling. We've only used Good Sam services once while traveling. Since we were so far away from a metropolitan area, it took quite a while to get service. I feel confident that if we had been in a more populated area, the service would have been faster.

Their after hour rates were comparable to other company's rate, while their day time services seemed a bit higher depending on what you needed. Their agent that helped was very polite and helpful and held a conversation with me while He was working and I was just standing there watching. They could have offered a ride to a destination or offered to take you to a rental car location or garage. I had to find my own ride which was a bit of an inconvenience. They have provided assistance to me both during business hours and after business hours. They arrived earlier than they said they would which was a bonus.

I thought it would be much more expensive than it was. It ended up being rather cheap actually. The driver was also especially nice. He ended up being incredibly friendly and comforting. The service overall was just stellar. The lady on the other end of the phone when I called was really, really nice. She took my information and assured me that they would take care of everything. It was a big relief to speak to someone so helpful. It seems like the price was covering everything I needed taken care of. The standard of care I received was above what I was expecting at that point in my adventure. They were not only available, they had my information and were on the way within minutes. They made every effort to get to me as quickly as possible and even apologized for the wait when they got there.

The value was very cheap for what was offered. I was surprised and very happy to realize that. Most companies charge a lot more. I would highly recommend it. Customer support was great. Talked to a nice lady that was very helpful and wanted to make sure all my needs were met. I was happy. All my problems were fixed and I was a very happy customer because of it. There is tons of coverage options, and I was very easily able to find one a coverage that fit me and my family. I was able to pick as much coverage as I needed and as less as I wanted also. Which I felt was great. It was easily available and had no issues about where I lived. I'm glad they were available also because they were the only good company around. While I was looking I saw they were available in most states.

Having it is a great assurance in the back of your mind, but you hope you never needed it. When did, it made me feel less worried about future problems. The employees are all nice. They are all wonderful and I never had a single person treat me badly or made me feel unimportant or not valuable to them as a customer. My coverage gave me peace of mind. My vehicle isn't always as up to par as it should be and being stranded on the road is a horrible feeling but with roadside assistance I don't have to worry if I have a flat tire or lock myself out or run out of gas. This service is available 24/7 and it's a great feeling knowing that there is someone there for you in your worst moment of vehicle failure and a friendly face.

Lauren FixAuto & Finance Contributing Editor
Lauren Fix, also called The Car Coach, is an automotive and auto finance expert. Her understanding of vehicles has made her the "go to" person on TV, radio, print media and the Internet. She has authored multiple books and writes a column for several outlets, including Parade Magazine, NewsMax and Car Coach Reports. She is a regular guest on major news and morning shows, discussing the latest updates on cars and car financing that will help drivers make smart decisions when buying, maintaining and financing cars. More about Lauren→

Known for its roadside assistance services for RVs, boat trailers and motorbikes, apart from standard passenger vehicles, Good Sam Roadside Assistance offers support in the U.S., Canada and Mexico.
Unlimited towing miles: Members can get their vehicle towed to the nearest repair shop without worrying about towing miles.
Travel-interruption expenses: If a vehicle breaks down 100 or more miles away from home, the service pays for expenses like food and lodgings.
Automatically family coverage: All membership plans come with automatic coverage for spouse and children below 25 years of age.
Discounts: Members are entitled to discounts at repair shops, car rental services and at more than 7,000 lodgings.
Medical help: The service helps members find medical and legal help in case of emergencies on the road.
Best for Good Sam Roadside Assistance is best for families with multiple drivers, frequent vacationers and adventurers. It is designed for RV owners too.
Compare Roadside Assistance Services
Good Sam Roadside Assistance Company Profile
Company Name:

Good Sam Roadside Assistance

Website:

https://www.goodsamroadside.com/