Consumer Complaints and Reviews

To start off. Had a 2013 Chevy Duramax left me stranded in New Mexico. When I told them how unsatisfied I was with service. Owner grabbed me physically. Police were called and kicked me to side the road where I stayed for 3 weeks till someone came get me. Tillery Chevrolet. Got back home to where I got a $10000 quote from Barker GMC to repair. Could not get any assistance from customer service. Now I have a 2014 GMC that left me stranded in El Paso, TX. Transmission went out at 30000 miles. They did cover that. Brake booster went out shortly after. Barker covered half of that. Well here I am in South Carolina and the front driver tire likes to fall off. Road Side assistance will not cover towing or storage. Customer Service is no help. I have been a faithful GM customer for 20 years. I will NEVER buy another new GM product. Their vehicles are crap and their service is even worse.

The 06 Chevy Equinox is the biggest piece of dog crap that I have ever own! 5wheel bearings, 2 axles, 1drive shaft, 1 starter, 2 struts, 2 brake hoses, 1 blower motor and a resistor. This Chevy is an electrical mess on top of everything else. I have had 5 Chevys and there is one thing I have learned - they are no more than a throwaway car company. NO MORE Chevys for me.

This is a letter to GMC because of how disgusted I am with their Products, Support, and Dealerships. In August of 2011 I bought my first brand new car, a 2011 Equinox from ELCO Chevrolet in St Louis Missouri. $32,000. From day one I was scammed, there was a broken part the salesman showed me, intentionally holding the dashboard console open by hand and closing it. The part was spring loaded and opens without holding on to it, unknown to me. The dealership hid all the screws and broken parts under the rubber mat. For the past FOUR plus years this car is unreliable and worrisome to take out of town or anywhere. There is a constant engine issue with this car that the dealership in Kirksville can't seem to fix. The first time they told me it was the gas I was buying because they could find the problem. Even though this car can use Flex Fuel, the regular gas I'm using is too cheap.
Since then about every 4-5 months the car dies over and over and I get stranded, unless I can get it started again, and usually it will start again running so rough I'm afraid to shift it in gear as it may damage the transaxle. Then the problem seems to go away, or I've been in Limp in mode. Also nothing but bad gas mileage. I have not had to change brake pads, spark plugs, wires or even a light bulb in the past 5 years BUT everything else that should last many years just falls apart or fails.
What are the odds that after 5 years, both front struts go out at the same time and I'm pretty the rear shock did as well. What are the odds that a brand new battery with a 3 year warranty sticker goes out after 3 years and a week. CAC no help at all. What are the odd that Interior parts keep falling apart. Tires that lasted Half their life. Almost none of these things are normal maintenance and should of lasted a good 10-20 years at least if not the life of the car. I've had 30 year old Chevys and none of this has happened. I also went to College for almost 2 years in auto mechanics, next to my 35 years working on my own vehicles when I have the tools to do it, so I have a pretty good idea how long diagnosing takes when you have the right machines.
Is GM purposely building in failures to get more money? Because I find it extremely odd how every 3 or so months there is always a new failure issue with this car. And I find it odd after my standard warranty was up CACs only response when not arguing with me is to offer a 1 hour hardship diagnosis which the Dealership seems all too glad to use up the entire hour on. Did you also name it hardship to make people feel like bums after spending 10s of thousands?
Listed of some issues, I could write 3 pages of problems never fixed or had to fix myself. And after the paint issue I don't like going to the Dealership here and won't again after this last visit. Center console broken and covered up by St Louis dealer. Replaced after 2-3 months by Kirksville dealership. Rattling noise in engine compartment, dipstick hitting engine, Dealership uses block of rubber to repair. Stabilitrack error message, misfire cylinders. Multiple times first year. Error PO171 and PO173. Never fixed as they can't duplicate the problem so was told to buy more expensive gas. Driver side door handle chrome peeling off. Dealer replaced Stick shift leather falling off. Dealer replaced air bag service light, multiple times, Dealership can't reproduce, then a recall a few months later. Still has Errors from time to time. Multiple radio malfunctions, Dealership no way to diagnose.
Paint etching or whatever on my hood. Was told not to worry about it by Dealership and their body shop who looked at it. Heard nothing for 3 weeks then CAC called Dealership who then claimed Environmental damage and would do nothing. A week after my 3 year standard warranty expired the 3 year warranty battery had a dead cell. Replaced by me. Never had a battery fail right out of the blue at its warranty life. Heater's blower motor stopped working. Replaced myself for $30 after Dealership wasted 3 hours of my time diagnosing it on a 1 hour hardship waiver and then wanted like $400 to fix. 65K tires lasted 38k. Rear passenger door handle is starting to peel off chrome. Both front struts are shot, and I think the rear shock are too, ALL at the same time? Another massive set of PO171 PO173 PO174 errors, Dealership replaced PCV/Intake hose.
Parking assist started beeping every time in reverse, then long beep followed by Parking assist off. Lasted two weeks then worked again. The next week backup camera quit working for two days, the green light on the mirror blinked. Then it started working again. Another massive PO171 PO173 PO174, dealer diagnosed the same PCV hose but took 3 times longer 1.5 hours on another 1 hour hardship waiver to diagnose and still wasn't done. Told them to unhook it as I was not waiting anymore. Offered nothing on warranty work from the PCV hose fix 4 months prior.
For four years I've been constantly dealing with this engine PO171 PO173 PO174 problem and anytime I've taken it to the Dealership they never seem to fix it or can't find the cause other than the PCV hose and I sit for about 2-3 hours whether it is being diagnosed or I come back for a part installed. Since my 3 year warranty has expired CAC doesn't help. They end up offering me that stupid hardship waiver with the disclaimer anything after 1 hour I have to pay for and then the Dealership wastes even more of my time on what I already know is wrong and tell me how many hundreds it's going to cost to fix it. Well I'm pretty much done with Chevys and will definitely never buy another new one. I'm done wasting 4-6 hours every time I go to the Dealership just to have something else break down. I'm also going to contact someone on the lemon law since this engine issue has gone on since the first year and never fixed.

GM has a premature problem with brake line failure as outlined in TSB 13-05-22-001 but GM states that your vehicle will stop if one of your brake lines fail. This is not the case! I parked my 2004 Avalanche at home without any symptoms of a brake line leaking. When I came out in the morning, I started my vehicle, placed my foot on the brake pedal and it went to the floor. GM states that this issue is not life threatening as the vehicles have dual master cylinders which allow the vehicle to be driven to a place to be serviced. This was not the case with my 2004 Avalanche nor with my friend's 2003 Silverado whose brakes failed completely at highway speed totaling the Cadillac CTS-V it was forced to strike as no means of stopping remained!.
As I left my parking space, I realized that I could go no faster than 5 or 10 miles per hour in order for my truck to slowly come to a stop. Once I finally came to a stop, I needed to place the transmission in neutral so it would not drift forward. My vehicle was then towed to a service center. Had this happened at a higher rate of speed, I would most definitely have been involved in an accident. Not all cars with hydraulic brake systems have the problem of losing their brakes completely. Why does GM?

I have had my Chevy volt for a little over 4 years... In the last 2 years I have experienced the main battery unit will not take a charge. I had to take it into the dealer and they worked on it on two occasions (2014 & 2016). It now will not charge to its full range of 40 miles... It seems to only charge to approx 36 miles then as time goes by it starts charging to something less than that until it will all of a sudden it won't take a charge at all. The dealer's representative cannot explain the reason to me... I need help with this problem.
How do I know I can trust these reviews about Chevrolet?
766,665 reviews on ConsumerAffairs are verified.
We require contact information to ensure our reviewers are real.
We use intelligent software that helps us maintain the integrity of reviews.
Our moderators read all reviews to verify quality and helpfulness.
For more information about reviews on ConsumerAffairs.com please visit our FAQ.

Reason for the review is so that other people who look up information about the car see the not-so-good things as well as the good things. Good: It's quiet. In warm climate it's good on fuel. It's cheap to purchase compared to a Prius (For a reason).
Bad: In the past 7 months it has been in the shop 37 times. It has a exhaust leak that GM indicates is part of the design. It gets 9.4MPG in the Winter due to the cold (GM says it's normal). It has broken down on me twice forcing me to drive a 27 year old Toyota to get to and from work. The heat is terrible. Range is about 1/5th the distance in the cold, and the charging costs double. It's terrifyingly slow on the highway. GM indicates that the range extender is not to be used for road trips. It has shorted out my house once. The steering column has come apart twice, GM had a Class Action Suit against them for this. I had to get a lawyer to get GM to pay attention. The insurance cost on it is double a Mustang due to parts replacement.

Vehicle is only 6 months old and this is the second time I have towed it back to the dealer for no start, gauges going berserk and loosing backlight. Anti-theft some how erased my code in my key and wouldn't allow me to start it. Battery acts like it's dead but not!

2012 Chevy Sonic with 35,500 miles. No indication of brake issues prior to entering an Interstate Highway exit ramp at 65 mph and discovering "no brakes". The short ramp turned as a 25 mph curve. The car crashed into the guardrail. Insurance totaled the car out. Now, the insurance company will specify me at fault, unless Chevy investigates the car. Apparently, there are other complaints of brake issues with this car, but so far.... Chevy has not come through with anything.

08 Chevy 3500 Silverado - I was driving home when I heard loud bang. Seatbelt yanked me back in seat. Truck dies. 4 way flashers come on and truck dies. The dealer told me the airbag sensor must have signaled the seatbelt retractor to deploy because it sensed a accident although I was not in one. To me this is a safety issue and should be addressed by GM. I am just glad I was not on the highway with other vehicles as this happened.

I Bought a 2013 Chevrolet Sonic and have only had it for close to 3 years. I have had the sway bar replaced twice because of it leaking on the right passenger side then the seals on the engine where causing a leak so that had to be repaired. Then like a month ago it was having a coolant leak and all. That was a clamp on a hose that was loose but that is not the point. These things should not have to be fixed on a car that is this new. Do not buy a Chevrolet Sonic. Never again am I going to buy an american car. Toyota here I Come.

My husband drove his 2001 Chevy 2500 HD truck to McDonald's and then back no problems. He shut it off, went inside. Today and about 2 min later looked outside and flames were coming out of the windshield of his truck. Fire Department said 100% that it was faulty wiring and no other reason could have caused this fire. They pinpointed where the fire started and it was in the ignition. Therefore it was in no way his fault.

This 2014 Chevy Silverado 4x4 I bought new this year is not good. This past Thursday went in for oil change. There was a recall on the four-wheel drive, was told they were going to do the upload. It is now Monday Dec. 14, the computer was messed up in the recall fix. I deserve compensation for being without my new truck 16,000 miles on it this long, not my fault for this. Early this year had a recall on driver's seat, took it in, without it again for two days, never had this much trouble with a new truck. No compensation for being without it. The dealership should take care of their customers.

Rented 2014 compact car-Chevy Spark from Dollar at Pittsburgh, PA airport. This is the NOISIEST vehicle I have ever driven! I have a splitting headache. The road noise is so bad. The seats are very uncomfortable and the fuel gauge is NOT user friendly. I could not tell how much fuel was left before empty. By the time I saw the "fill fuel" I ran out of gas!!! I have never ran out of gas in my 35 yrs of driving. I have rented many cars, and I can assure you I will never rent a Spark again.

2008 Chevy HHR - End of September first of October, power steering went out. Replaced fuse and relay fuse. No good. Called GM in Michigan. Talked to them about issue. Found out there was an issue with power steering. Not an actual recall. GM called the foreclosed to me. Nevada, MO. They found an issue with hooking up to computer. That cost me $95.00. They fixed the power steering. No problems since. I called Michigan first. Did not want to get run around at dealer. No problems there. Will buy Chevy again. Thank you to all who helped.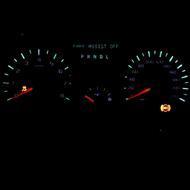 To list all the main problems I'm facing with this car: For some reason the car will not start in the morning (before 8 am) even with another car providing it power with a jumper cable. I took it to the dealership to check and and they performed a full check up and resulted with a battery change (the battery we have wasn't 1 month old at the time). So I bought a battery from the dealership and had it replaced. And the problem still occurs. The dealership still don't know what's wrong with it. It works towards the afternoon and night (without any outside source of power).
While driving at any speed or even at complete rest, the gauges all turn off. The lights are there (lines for the gauges, abs, engine light, stabilitrak, park assist, traction light) but everything goes to zero (gas meter, speedometer, RPM meter, all but the volt meter). The AC is also off, just turns into fan which is horrible in a hot country. Car drives fine but you won't know what speeds you're going at. Sure it comes back after a few minutes but it will also leave within a few minutes too.
The image attached is when I'm moving about 50 km/hr. Randomly the cruise control will just die out and it won't come back on until you restart the car. Knowing those problems, this car has been in and out of the dealership and seems like they either don't know what's happening, or they don't want to admit their faults with this car line. Because the problems never leave. Hope they can find the excuse and fix it from their end so we can get on with our lives.

Who do I contact? I have a 2011 Equinox with 63,000 miles on it. So far I have replaced the compressor, fuel pump, crank shaft, pistons, and the list goes on.
My concern is that Chevrolet/GMC continues to sell vehicles that are not meeting up to reputation that it claims. I also had a 2002 Chevy Impala and guess what, it had the same constant issues. I find it ironic that I buy 2 automobiles and they have the same issues. Oh and when you put your cars in the shop Chevy does not offer a rental, considering they always have to order parts and take the engine completely out of car, I have been inconvenienced for 7 days.

2011 Equinox 74,000mi - Purchased New - Warranty up in 6 months - Multiple problems with Engine, StabliControl. Rusted within 4 years. Engine Replaced - Chevy will not stand behind brand new engine. They don't even trust their own product to back it up. Rust is consumer's problem. Will not back up below standard paint product used on their vehicles. (We have a Chevy 2004 Silverado with NO RUST.)
LEMON LAW - If your Vehicle is not covered under your states LEMON LAW because of time lapsed, but you still have a warranty. You may want to inquire about the FEDERAL MAGNUSON MOSS WARRANTY ACT. If your situation appears not to qualify under YOUR STATE LEMON LAW, there may be another option. A potential resource is the FEDERAL LEMON LAW. This statute is called the Magnuson Moss Warranty Act. In general it falls under the breach of warranty (BOW) theory. Restitution under this act is different than state lemon law. Instead of a refund for the defective vehicle, restitution is the difference between the Kelley blue book value of the car in excellent conditions vs. good or poor condition.

Bought a 2010 Equinox LTZ in 2014. Not even a year I had the vehicle the transmission breaks down. Vehicle was towed to Keyes Chevrolet and had to be fixed. Thinking that was the last of my problems. Now the heat seat is not functioning, as well as a grinding noise coming from the driver side when the ac is on. It is now not blowing cold air as before. Thinking that a certified preowned vehicle from a dealer was safe and minimal problems to occur, I was wrong. Still making car payments and at the same having to spend money on problems that occur with the vehicle. Now the reps at Keyes Chevrolet are irritated by me because the car has been in and out of the service dept.
I wished I had done my research prior to buying the vehicle. I would totally understand if I had the vehicle for 10 years and problems occur. But for a vehicle that is only 5 years old and too many issues is very disappointing. I wish I can just trade in this vehicle! Very frustrated customer. In the near future I don't plan on buying another GM vehicle nor recommend to my friends!

Have bought Chevy vehicles for over 40 years. Would never buy anything other, made fun of other companies, Chevy was the best. Sure eating those words now!
Bought new 2000, 3/4 ton, 4 wheel drive, pickup, $ 27,000 and everything from tailgate to frame has had major problems. Recalled tailgate but only one side not frames, like Toyota. Toyota used same frames and has recalled and replaced all theirs.
Same with 2005 Astro, had old one bought, used and loved it. Transmission went at 300,000 miles, great van. Bought new one 2005, last year. They were made $27,000 and not even close to old one... trans out at 140,000, entire underneath rusted from brake lines to gas lines which are discontinued...gas line.These produces have been so bad we bought a Volkswagen last time. Never thought this would ever happen! Be careful, do not recommend GM produces of any kind from year 2000 through present..

I have a Chevy s-10 1997. I have a intake gasket that needs replaced. Now it's going to cost hundreds of dollars to have fixed. I have used the Dex cool antifreeze for years in my GM trucks. Now I'm hear that this product is cause damage to many vehicles. I hope that GM decides to take care of the issues.

I found out that my fuel tank on my 2004 Chevy TB EXT has a hole in it and is leaking fuel. I tried to contact GM over 6 months ago and it wasn't until maybe a little over a month ago that someone finally got back to me about this issue. I finally was able to get my TB into the dealer to get it looked at and they did confirm that there is a hole in the fuel tank.
I was able to find out, prior to getting the confirmation on the fuel tank, that there was a 10 year extension on the vehicle for the fuel tank or it would be covered up to a certain amount of miles. I am aware that my vehicle has exceeded the warranty extension as well as the mileage limitation, however, this fuel tank issue is leaking GASOLINE! Why is this not a major concern? This is a very dangerous situation! I asked to speak to someone who was above the Senior Rep that I spoke with and of course I got the runaround. I just wanted to speak to someone to see if maybe I could get a reconsideration. I am not the first owner of this vehicle and unfortunately I received the vehicle after the warranty extension and mileage limitations. I am very angry at the idea that such a dangerous situation isn't more of a concern to them.
Before I found out about the previous reports for other vehicles I did try to check other auto shops for used fuel tanks and EVERY place I went to said that the SUVs that they had all had the same issue and that they could not sell me the fuel tank. I have been told they will not be fixing my fuel tank unless I pay the expenses and have not received a phone call from the Senior Advisor that "helped" me, regarding my request for a review. Terrible service and terrible company. I cannot believe it comes down to me getting the news involved and contacting the BBB. I am praying for a miracle.

Power steering pump have a loud whining noise, had it replace and it still does the same thing. Called GM twice, both times no concern for the customer, just telling what they can't do. Experience with Chevy-GM is horrible, wouldn't recommend to anyone. They don't really care about the customer or the defected repair parts.

Me and girlfriend was coming down rocky canyon known as Shaw Mountain Rd. and hit soft dirt. Back started to swerve and tried to turn the steering wheel the way of skid and no steering and no ABS brakes. It had a recall on my 1994 Chevy suburban. We hit brush and lights out. My truck is totaled. It wasn't my fault. and It was the truck itself.

2010 Chevy Equinox with 89,000 miles. Starting early this year April 2015, engine began rapidly burning oil. Piston rings needed to be replaced because of defect. Chevy provided extended warranty and covered repairs. Two months later the transmission fails. 3 months after powertrain warranty expires. Chevy agrees to provide assistance. We pay a $400 deductible and Chevy replaces transmission. A month later, same issue but computer related. Dealer accepts responsibility. A week later, the horn stops working. We pay out of pocket $200. Still weeks later, driving to NY, engine light comes on and we pull off the NJ Turnpike to call for tow.
Chevy can't provide rental car because it's off hours and we'd have to wait for diagnostic and get rental approval. Turns out the fuel injectors need replacing. Couldn't wait to have car diagnosed so I had to rent a car out of pocket 439.60. Chevy not reimbursing and want us to pay for repairs 1700.00. Chevy offers assistance and we have to pay $850.00 to fix.
I feel we shouldn't be held responsible for any further repairs as this car is defective. Service rep even said so. Chevy engineers can't even explain why this is happening. We've done everything to keep car up to snuff. Oil changes, servicing. Car is under driven and shouldn't be giving us this many problems. I feel that initial repair work of piston rings wasn't done properly resulting in a snowball effect. I feel that Chevy should cover the cost of repairs and the rental. Had we been close to home, rental car wouldn't have been necessary because we could have borrowed a car until this was addressed.

I bought a new 2011 Traverse. Have had problems with it from the beginning. I bought it with all the bells and whistles expected it would last a lifetime and wouldn't have to purchase a vehicle right away. I do not believe in trade-ins since they rip you off generally. I spoke to the manager when I took it in for servicing after the third time in less than one month. No help!! Very rude about it! I even spoke to a GM manager, no help there either!
Anyways I took it in for repair within three days because my brand new Traverse battery died, which they didn't understand why. Then the steering wheel started making noise, which they said was normal. Whatever! Then all the recalls came. I think my Traverse payments should be made by the company since it's there more than with me. Then a water pump issue came up where it was overheating!!! It's still new!! It should not overheat. Then a funky noise with the AC fan they had to replace. Then a strut issue, they also repaired. Now a check engine light turns on!! It only has 38k miles.
My Ford pickup has 159k and took it in ONCE for a recall. That's it!! That's how cars should be reliable, especially when have children and work. I just received a letter of another recall of the Tailgate!! How many more recalls and problems do they have to see before they realize they are manufacturing them WRONG! Something needs to change. Very dissatisfied and unhappy!!

I have my 2004 Chevrolet Avalanche truck that has about 50,000 mile. On 7/24/2015 (Friday), I was towing an 8,000 travel trailer traveling down Route 61 in Kentucky heading to Dale Hollow Marina State Park. All of a sudden, the brakes failed as I was trying to brake following a convoy of military vehicles. I couldn't stop it but had to change lane avoiding hitting the military vehicle. In changing lane, I almost hit another vehicle on the other lane. It was very scary situation for me and my kids in the truck. I was driving about 55 miles per hours then.
The brakes totally failed but I managed to drive it using the trailer brake to a Chevrolet/GMC dealership, who checked it out and said the brake lines were "exposed" and now leaking brake oil due to corrosion. As he checked out my truck, he told me that he just had another truck from other out of state having the same issue. Even though the truck is about 11 years old, it only has about 50,000 miles. How could brake lines have such bad corrosion? In fact, a year before that, my parking brake broke also due to corrosion.
I have other cars and van (i.e., Honda), where I have them over 200,000 miles and over 15+ years, but have no corrosion or brake lines rusted and failed like this. I am very disappointed at Chevrolet/GMC having such a poor workmanship on the vehicles. Reading what other people are having the similar issue, I don't understand why there are no recalls in fixing this problem since it's a safety issue.

We own a 2007 Chevy HHR. It was sitting in our driveway and the interior burst into flames. Our grandkids had JUST been riding in this vehicle. I want answers! How could this happen? Your GM agent said "since we had called our insurance first, if they settled, this would be THEIR car and they would have to deal with them if they thought it was GM's fault". Otherwise, we no longer have any say in this matter? Is this how you deal with safety issues? Very disappointing!!!

I was driving on Highway 37 on July 4th in Indiana and was getting off at a exit and when I pressed on the brake to slow down the pedal went to the floor and really made me concerned that I would hit the car in front of me. I have owned since it was new and I have taken very good care of it. My truck is show room condition. I very carefully pulled to the side of the road and looked thinking it might be wheel cylinder and seen fluid all under the frame. I carefully drove it home and jacked it up and replaced the wheel cylinder and went to bleed the brakes when I seen fluid spraying on the frame. After really looking I could see the brake line really rusted so I looked on the internet and there were thousands of people having the same issue - many got into serious wrecks because of this issue.
I am 54 years old and have never seen brake lines rust through like this. The reason they did not make this line with stainless steel or have it in a conduit is scary. Please help me with this issue. Loyal Chevrolet owner. I have a 1968 Chevy c10 that has the original brake lines. I have owned a lot of vehicles and have never had this problem. This is very serious. Thank you. I did not wreck and I have to replace this line. Please help.

My truck drops out of power steering for no apparent reason and the truck is really hard to turn without the power steering. I stop the truck and turn it off and then back on and it works fine -- for a while. Has happened at least 10 times. This is definitely not safe -- if you lose steering on a curve at night it could be catastrophic to say the least. I took it to my dealer and they say they are awaiting parts -- with no estimated time that they might come in. I really don't have a lot of confidence they really know how to fix it. Have had rental car at GM's expense for over a week now. Have seen a lot of other complaints about a GM products electrical power steering problems -- this ain't their first rodeo!

My 2013 Chevrolet Equinox SagaSettle in-Its a long one! On March 27th 2015 I bought my 2013 Chevrolet Equinox at the recommendation of my dad, the satisfied owner of a Chevy Traverse. My dad was so pleased with his Traverse that I allowed him to be in complete control of my car hunt and let him know the exact features I was looking for, including GPS navigation and a reliable hands-free (Bluetooth) system for talking on the phone and listening to music. I also mentioned that XM radio would be a bonus. I spend all day in my car and on the phone for my job. I've put nearly 9,000 miles on the car already, so these features were extremely important to me, not just for entertainment but for safety because of the necessity of phone conversations while driving.
I went back to my hometown to car shop and left after test-driving just one perfect Chevy Equinox with 36,000 miles and all the features I wanted according the sales person, including XM radio. I explained to them how important the features I wanted were. They even helped me connect my phone before leaving. We negotiated that they make the car a certified pre-owned for the extended warranty, which they did. I was satisfied! Shortly after leaving the lot, I realized the sales guy was wrong-there was no XM radio. Okay-no big deal. I could supplement that on my phone as an app and listen to it that way. In the grand scheme of things, it was a minor annoyance. Onward I went!
Weeks went by and as I fully immersed myself into my brand new job with my brand new-to-me car I started to notice some glitches in the audio/Bluetooth system. First, sometimes it was difficult for people to hear me that I was speaking to on the hands free phone system, but I could hear them fine. But the biggest annoyance was with the Bluetooth audio connectivity on my phone. Each time I would get back in my car, the phone-talking feature would connect automatically but the music wouldn't. I would go on the MyLink screen, scroll to Bluetooth and wait for it to start playing. but the screen would just say PAUSED with a play symbol. So I hit the play symbol and..nothing! Check to make sure music on my phone is playing? Yep! So I go to the Phone settings on the MyLink screen to make sure the phone is still connected-it is. But just to be safe, I touch the device listed just to be sure.and it disconnects.
I then go back to the device pairing list and connect the phone again. THEN AND ONLY THEN can I go to the Bluetooth option and start to hear my music. And so repeats this process every single time I get into my car. At best, this is a 3-5 minute process before I pull away. At worst, it repeats this cycle for as long as an hour before it'll actually start playing instead of saying PAUSED while my music is playing on the phone. When my music does actually play through the speakers, it skips like a CD would skip but it's not a CD.
I was due for an oil change not long after getting the car, so on May 18th I took the car in on a Wednesday to the local Chevy dealership where I live-Jeff Gordon Chevrolet in Wilmington, NC. That's right JGC, I'm putting you on blast here! I fill them in on the situation with the audio and they tell me it could be a couple hours wait for them to do the oil and check out my problem. I have plenty of work I can do while I wait, so I tell them to go ahead, take their time! The wait is about an hour before they call me back out to the shop. A tech asks me to show him the exact issue, and I do. He agrees with me that it's strange and glitchy and suggests to my service advisor that I bring the car back so they can call their tech support with the unit in possession. I schedule with ** to bring the car back on Friday at 8am.
I take a car back and they spend 2 hours looking it over. I wait patiently, getting work done like before. When the service advisor calls me back to the shop, she tells me that they couldn't do anything to fix it and that my options are to use an auxiliary chord to connect the phone and play music steadily or call GMC myself. The reason, she says, is that my phone is not compatible. I have an iPhone 5s, which came out the same year as the car (thus, I would imagine it would be compatible) AND I have an iPhone 6-both of which are experiencing these issues. I am disheartened, but not one to show my ass if I can avoid it. I bought the car for these specific features, and this advisor is telling me that my phone is not compatible AND I have to use a chord... two things I specifically wanted to avoid when I bought the car.
I decide I will call the hometown Chevy dealer I bought it from for advice, hoping they would advocate for me with this dealership where I live. They don't. Not really. Instead, they ask me for many descriptions of the issue and ask me to check the GM Total Connect website to make sure my phone is compatible - I do. It is. I wait for a call back that never comes until I call them. They keep saying they have no solution because they can't see the car and I tell them what I know they cant fix it but what I am looking for is some advocacy with the JGC dealership on actually trying to solve the problem instead of passing it off.
I even take photos and video of all the problems I'm having and send them in to him. The hometown shop advisor assures me he will call me back. Two weeks pass and he doesn't, so I call him. He also mentions the incompatibility issue and I remind him of the very specific needs I told the sales team at that dealership when I bought the car. For them to have knowingly sold me something that didn't meet those needs would be unethical. For them to have unknowingly done it would be human error-but I would expect someone to make it right. After all, the car is still under warranty and this is covered.
I decide to call GMC as was advised at JGC. Once on the phone with them, I explain the issue in detail to one two three... four different people. Mind you, I'm doing this while pulled over on the side of the road working - because I travel for work and this is eating into my work time. Each person I speak to goes over the compatibility issue. I'm told that Apple has special security software that makes it less compatible. But this is irrelevant. I was specific about what I wanted when I bought it. The GM Total Connect website says both of my phones are compatible for all features. And aside from that it's not just the music that is the issue. The hands free phone feature is glitchy. Not to mention that OnStar actually told me verbatim that they couldn't download directions to my vehicle once because my car wasn't putting out a signal.
I use OnStar all day every day and this doesn't happen often, and I'm not sure its necessarily related to the other issues, but it sure seems as though the cars audio/Bluetooth/fancy center hardware and/or software system is simply not working properly. I make it clear that what I want is what was promised. As trivial as it may be to some consumers who do not spend all day in their cars, this is very important to me-even if just listening to my maps give me turn by turn navigation from my phone. Music aside-the hands free/Bluetooth features are about safety. But safety aside, it's about fulfilling what a product promises to do.
An auxiliary chord may or may not solve the problem with the music, but its beside the point. I bought Bluetooth. And at one point, one of the GMC reps I was talking to actually told me to call Bluetooth and gave me their phone number. So the dealerships pawn it off on each other, then pawn it off on GMC, who tries to pawn it off on Bluetooth. But Bluetooths phone wasn't working when I called-oh the irony. It also didn't work when the GMC rep tried to call. She had no choice but to press on to solve my problem. The last GMC rep I talk to, who is apparently the third level of support, tells me she will contact the dealership I took the car to in May and find out what ticket they opened. She vows to call me back tomorrow which is now today.
Today comes, no call. So I call them at 4pm. They claim they tried to call but my phone never rang-whatever. So they tell me once again about the incompatibility. I tell them once again about the GM Total Connect website never mentioning any poor connectivity between iPhones (arguably the most popular smart phone brand on the market) and actually how the website says verbatim that it is, in fact, compatible. We go in circles for a while. She says that they actually contacted the dealership I went to (JGC) and the service advisor actually tells her-get ready for this-that this was not the issue I brought it in for and that they never opened a tech ticket and that I needed to schedule a time to come back.
I think I actually saw red. This was the EXACT issue I brought it in for. I showed the tech at the dealership exactly what it was doing, and I was turned away and told to call GMC who is now telling me to go back to the dealership (who cant see me until next week, by the way). I told the rep on the phone that the dealership is mistaken or they have to communicated with one another accurately - this is the same issue I took it in for last time. I ask her to please call the dealership and let them know it's the same issue. I took it in for last time so that I do not waste my time going to sit and wait while they tell me all over again that they cannot (will not) help me. She will not do this because she has already described the problem to them but she WILL call them to schedule a time for me to go in.
I ask her what they're going to do for me when the dealership turns me away again and she cant answer that. It's a broken record of this is a new issue so they will look at it. No, it's not a new issue. I make it clear to her as I've made it clear to every person I've spoken to - what I want is for them to replace the defective (or just crappy) Bluetooth audio system that is covered under the warranty and very clearly not working properly. It's broken or it's just a lousy factory system - but either way you slice it, I made it clear what I wanted from the beginning and I want what I paid for.
The GMC rep patches in a service advisor from the dealership to schedule the appointment. The service advisor asks me what I've been asked so many times now that my answer sounds rehearsed: "Can you please give me a brief description of the issue you're having?" The GMC rep hears the deep sigh I let out upon being asked that question once again and immediately says I've already called you and spoken to so-and-so and you have a description of the problem! That's why were setting the appointment up. Your shop is already informed, they just need you to schedule the appointment. But no. The service advisor from the dealership says that is not sufficient and she needs to hear what the problem is again. From me.
Prime example of how excellent the communication is here. The bottom line is this: It's been weeks and GMC/Chevrolet has been just about the worst customer serviced I've experienced in general, from the initial misinformation regarding XM radio and the compatibility of my phone when I bought the car, right up until they way it's been handled by the dealership in Wilmington and the GMC hotline. Maybe for someone who doesn't spend so much time in his or her car, the lackluster factory Bluetooth audio system is adequate. But for me, it's lousy and I've gotten to where I barely use it. This is frustrating because of how clearly I articulated my needs while testing the car. And the fact that not only will no one make it right but that they're also pawning the responsibility off on various company reps and having me make all these calls is disheartening for me.
It speaks volumes about the integrity of the company and their dealerships and the value that carrying the brand has to them. Although everything is covered under warranty, I get the distinct impression that Chevy GMC will fight tooth-and-nail to avoid simply replacing the system with the updated 2015 version that is perhaps more compatible. Fix what is broken or give me what was promised - what you claim is compatible on your GM Total Connect website. Shame on you, Chevy GMC. And shame on your complete lack of customer advocacy. You've cost me countless precious hours of work time, and in my job time is money. You may win this one, but I assure you, I will never buy from you again.
Chevy Trucks Company Profile
Company Name:

Chevrolet

Website:

http://www.chevrolet.com/