Consumer Complaints and Reviews

3 yrs old, 70,000 km and has been back for A pillar trim loose, failed hatch strut (hatch lower and become a hazard), rear heat control failure, new driver leather seat skin all warranty items if push dealer enough. Now the door panel is detaching at the top and not covered by warranty (many others have same issue however dealer says it's normally the armrest splitting open). I have a 2000 Toyota and a 2005 Vibe (Toyota) and both have had less issues than this Ford steaming three coil pile of **. Buy Japanese the Big Three are returning to their old standards.

2014 Explorer at 35,000 miles, had the following repairs: new battery, lower ball joints, struts and strut mounts, and new sway bar. Then, driving on an Interstate, the narrow molding (driver side) on the windshield alongside the door, flew off (the Same thing happened to my neighbor's Explorer). Ford dealership - Barker Ford - wants over $400.00 to replace the molding. BTW, the molding just snaps in, no expensive body work required. RIP OFF! We're looking to trade in the Explorer and get another brand, probably a Honda.

I bought my 2014 Explorer Sport CPO and it has multiple issues. We have taken it in the have the airbag light serviced, it keeps turning on for no reason. It's been "fixed" once but the light is back on. While driving in cold weather down a windy canyon we lost power steering and the lights/radio all blinked off/on 3 separate times. We were told the battery was bad causing a short that caused the issues. It was very scary!
Finally, I just noticed the paint on the front doors and back liftgate have little rust spots coming through. I was actually told by the dealer that this must be from water. It being wiped off the car?!? Cars can stay wet and should not rust with paint that is intact! I will be fighting tooth and nail on this Friday when I take it AGAIN for the airbag light. It is absurd! I like the car but it has been a shop car in the 1 1/2 yrs we have owned it.

I bought a 2013 Explorer and the paint is bubbling on hood edge. Ford dealer says out of warranty and it is not their problem. Please tell me how they can get away with this, having so many complaints. Seems to be 2013 only. This to me is DEFECT.

I have had nothing but issues since I purchased 2013 Explorer. The dealership is untimely and rude. Ford Motor Company does not care what happens to their business or stand behind the vehicles. I had bad tires from day 1. I've had 4 sensors go out. Tire light come on daily. Had to replace tires 2 times in less then 4 yrs before warranty was out. Replace battery. There was a recall on the fuel something. Power steering went out. Ridiculous. Of course most of this happened as soon as warranty ran out. They are not willing to help in any way.
There was a recall on power steering 4 mos. before mine was manufactured. They are rude and can't even get the car in to be looked at for a month. They don't offer a loaner while they work on it. Just ridiculous. I have fam that works and some retired from there in Detroit. I'm so disappointed we have bought 3 Ford from Marshal Mize and they treat you like crap. Guess what I will not go there again. Not buy another ford!!??
How do I know I can trust these reviews about Ford?
848,010 reviews on ConsumerAffairs are verified.
We require contact information to ensure our reviewers are real.
We use intelligent software that helps us maintain the integrity of reviews.
Our moderators read all reviews to verify quality and helpfulness.
For more information about reviews on ConsumerAffairs.com please visit our FAQ.

2016 Ford Explorer Sport - Purchased February 2016. A LOT of repairs on such an expensive and new car. As of June 2017 33,000 miles. Front dash panel replacement. Right window/mirror seal. Four rear A/C vents replaced. A/C compressor clutch replaced. Entire PTU replaced (cracked). Rear left brake/park brake replacement (worn out pad and rotors). Left power mirror replaced. Right power mirror replaced. Complained about front knocking noise - NOT DIAGNOSED YET (June 20th).

I bought my Explorer (Sport) in December 2016 with 11 miles on it. Two months later I started to hear grinding noise when I pressed on a gas to have more speed. I called the dealer they took my car in and they said that this was the heat shield. Then I waited a month on a part and finally they took on and "fixed" it all in ONE day. When I got my car back it ran worse than before with more noises and it was much louder. First thing was then I was starting the car there was a puff noise, the grinding noise was still there and it seemed that my exhaust was much louder. I took the car back to the dealer and almost a month later I still don't have my car and I was told that my transmission is being rebuild.
Now, the people in Bob Rohrman dealership have the worst customer service I have ever experienced. Since they have my car (for almost a month). I called 5 times to get an update and I only talked to the manager once. The reception girl was taking my messages and assured me that someone would call me back, but that was not happening. Sometimes when I called there were no, none, zilch managers on duty, and no one was answering phone calls in the service department. I called the Ford customer service and now I have 2 claims and still no answers on what is going on. I do not recommend this dealership to anyone and I would never buy Ford again.

Bought a 2013 Ford Explorer new in 2012. Worst automobile we have ever owned. Started off with a piece of the truck flying off of the body. That was the first week. Dealer fixed. Next some kind of seal issue caused the floor to be soaked after every rain. That was first 6 months. Dealer fixed but never able to fully get rid of smell. Next was 18 months later. Rear brakes and rotors...that was 500 miles from home on family vacation. Called the local Ford dealer...wear and tear item no warranty help. Next was front brakes and rotors. Next was shocks. I have extended warranty but all items are wear and tear. Truck has never towed anything and never been off road and has yet to hit 50k miles.
My only salvation and main reason for writing this is that today while sitting in the repair shop I was able to talk another person out of buying a Ford. She actually had a deposit down on an Escape and I talked her out of it. This is the 9th person in 3 years that I have convinced. If we keep it up Ford will eventually lose market share and will start building better cars and or start treating customers like they want them back...the way that Honda Toyota and Mazda do.

I was in an accident and was hurt and airbags not deploy. I need surgery on both shoulders and have neck problems. Have seen many others who have had same problem. I would never advise anyone to buy from Ford. Do not stand behind their products. Have seen ex employees write how they try to cover their mistakes. I will never buy another ford. First one and last.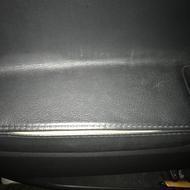 I bought a 2012 Ford Explorer brand new. After two years of owning it the stitching on the armrest of the driver side door is coming undone. Threes of owning it the check engine light comes on for a day or two and then disappears. Also when I put fuel in my car after I'm down pumping the car won't turnover right away. It takes like two to three tries to get it started. Now I'm dealing with leaks in the AC system which will cost me at least $500 to fix it. The paint is coming off as well. This car is only 5 years old. I will never buy a Ford again.

My husband and I bought our 2015 Explorer in March 2015. From the beginning I wasn't so happy with it because of the miles per gallon we were getting. After about a year with the vehicle, the transmission started to give us problems. In the morning, when it was time for me to go to work, it would not shift into reverse when I would need to back up from my driveway.
We have taken it to get checked and the dealership claimed there was nothing wrong with it. But we are having problems with the transmission shifting into reverse in the mornings almost on a daily basis. Should I call customer service? Or any other advised as how to get this car fixed. It's only 2 years old and since we bought it, the brakes have been squeaking every time I press them. The battery has died and a there is a smell coming from the vents when I turn on the air. It's a horrible urine like smell. The dealership changed the cabin filter, but the smell is still there. My vehicle is under warranty but the dealership is just giving us the run around. Any advice as to what to do?


Paint on 2014 Ford Explorer bubbling in front near grill. I called Ford and told rep about the bubbling after I had read that others were having same problem. We bought ours used. Love the car except the paint. I would think that Ford would make it right... Especially since it is faulty paint. Sadly they claimed not under warranty. They did faulty work and should be honorable to their reputation.

2001 Ford Explorer timing chain out 94000 mi, had to rebuild over 3000.00. 2003 F150 King Ranch all paint coming off, dash looks bad, same truck, 4 wheel drive would not work CAUSE a plastic yoke in diff. 850.00. I AND MY FAMILY have been Ford people. I bought both vel. new. They have been down more than running. No more. If you can't make Fords in USA I won't buy another. Ford stand behind your cars or your comp. will go down like a snowflake on a hot summer day.

I have had my 2016 Ford Explorer for just over 1 year. Bought it brand new. Almost $40k. At 16k miles the transmission went out. It has a horrific wind noise at highway speeds right front. Now I smell antifreeze when it is idling and it also has a noise that sounds like a bad vacuum. Back into the shop AGAIN. Worst vehicle ever. I have always babied my cars. Well maintained and mostly highway driving.. Very frustrating to say the least.

I bought Ford Explorer 2012 brand new in Oct 2011. I had several problems with throttle body. Dealer couldn't find problem. Truck gave out 4 times in middle of road. Later we did some research and found problem ourself. Then power steering went out. Then we took it for a bad smell. Still dealer couldn't find problem. Then catalytic converter went out... Remind you all this started at 11,000 miles to forward. Then after fixing car 3 weeks later the motor was done, truck gave out and was towed to dealer. They told us motor was done. Truck had just had oil change on time every time at dealer. All maintenance was done at dealer. We have over 70 receipts from dealer for oil change, brakes, maintenance, tires etc... Truck has 50,069 miles.

I have a 2013 Ford Explorer with just over 24,000 miles on it. It has been a great vehicle up until a couple of months ago. I began to smell a moldy/mildewy smell in the vehicle that got worse with every day. Took it to the dealership where I purchased the vehicle and they discovered a crack in the seam near the back hatch. Rain leaked in through the crack and gathered in the spare tire wheel well creating the musty mold smell. The dealership said that Ford would not pay for the repair even though I had paid for an extended warranty.
I complained and they did a butler cleaning on the vehicle. The chemicals they used were strong, but just masked the smell. The moldy smell returned within 3 days. I called the Ford Customer Relationship line and they opened a case for me. I returned the vehicle to the dealership as I am unable to drive it because the smell literally makes me sick. They said that Ford STILL refuses to pay for the necessary repair of replacing all of the carpet in the vehicle. They offered me a 10% discount for the $1,900 repair. The crack in the body of the vehicle is a factory defect and I am refuse to pay for the repair. Next step is litigation. MANY complaints about this and other year models of Explorer. I will be very vocal about NOT buying FORD. Poor workmanship AND NO CUSTOMER SERVICE!!!

Just had transmission replaced because engine revved up and wheels would not move as transmission would not engage. After picking up car same problem 15 mi later. This 2006 has 111,000 mi and always serviced. Apparently this is a problem with this year Explorer. Car towed back to shop and I will be trading this in immediately.

We bought this vehicle new in October of 2013. In 2015, I noticed the front perimeter of the hood had paint flaking off and maybe some rusting. I thought something like that should be covered under warranty so I sent an email and pictures to a contact we had at Ford. He said it was rock chip damage and that it wasn't covered under warranty. A friend at FORD has since told me that peeling paint and corrosion on the perimeter of the hood is the number one complaint on the 2013 Ford Explorer and that there was some kind of silent warranty in effect (which I guess means if the customer makes an issue, it gets fixed?).
For the record - in 2015 this would have been covered by warranty... not a silent warranty but actual warranty. And trust me, I would have made it an issue. But, when someone representing FORD who looks at vehicles all day tells me it is from rock chips, well, that's what I believed. I didn't even know the hood was aluminum so you can't really expect me to know it was corroding and peeling because of a paint issue. Fast forward to 2016. The chips are still there but now the paint on the side is bubbling. Clearly this is not rock chips as I make a point of not driving down the road sideways so I contact Ford again. Ford Canada offers 15% toward a $2500 replacement hood (painting is only temporary) and basically says "Hey, it's not our issue. You should have had it fixed when it was under warranty". I TRIED!!
Anyway, if you are considering a FORD, there are a lot of comments out there relating to the crap paint on various models of FORD products so buyer beware. I loved my Explorer and would have bought another one but will definitely explore another manufacturer now.

So I bought a 2014 in June of 2014. July 2015 the AC goes out. Bring it back, it's working, they can't find anything wrong. Meanwhile, the key fob won't work. Drive away, same day goes out, ac, and I drop it off. 2 weeks later, they figured it out, CPU. May 2015, power steering goes out. June 2015, panel on windshield goes out. ALL LESS THAN 9000 MILES ON THIS VEHICLE. Covered under warranty. January 2016, same panel flies off the car while driving. They want me to pay 455.00 plus labor to fix it. Note, I filed a claim after the power steering and did not hear back. Called today and provided a new contact. Either way, horrible car. I don't recommend buying this car.

My Ford Explorer 2016 has only 9,000 miles and suddenly started to lose power while driving and stopped in the middle of the road. This situation happened 4 times in 2 days. I called 2 Ford dealerships in Tampa and I had to wait for 4 days before I could get an appointment. I was finally given an appointment for 8:30am and when I called for an update at 12:30pm I was told my SUV was yet not checked by the staff. I called Ford customer service to see what they could do and their answer was, "We can't take your concern now because our system is updating." This is my first and last time I will ever have a Ford vehicle.

My 2008 Ford Explorer V8 AWD has had mechanical problems since the middle July. I dropped it off at the local Ford dealer on 7/20/16 and by Ford's diagnostic fault codes was diagnosed with bad Cam Phasers. The Cam Phasers were replaced and we picked it up on 7/28/16 and drove off on a family vacation to the lake the next day. While at the lake the vehicle died in traffic several times and the check engine light came on again. We took it to a local place and they read the codes as being the Cam Phasers again. I called the dealer and they said to bring it in when I was able and they would look at it again. I dropped it off on August 15 (after it had died on my in rush hour traffic on the highway with a semi truck fast approaching) and finally on August 29 after much troubleshooting and research on the fault codes, Ford concluded it was the Powertrain Control Module (PCM). The part was not in stock and was given a completion date of Sept 8.
Then a memo changed the date to Sept. 12. Then a back order until October 23! The dealership cannot fix my vehicle without a part. I don't understand why or possibly how it could take 2 months to manufacture a part; however, I was patient and waited. Today is Oct 24 and there is no answer of when the PCM will be available from Ford. Ford will not even issue me a rental car for my obvious imposition and the Regional Sales Manager only wants to tell me she "understands" but has no answers. I need to speak with someone who is a little more action than talk.
In the mean time the local dealer has tried 3 aftermarket PCM's that do not work. Really, I don't want to 'settle' for an aftermarket Part. It is after all a Ford vehicle. Again, they are doing their part to try to fix my vehicle but if Ford is not producing a part, what are they supposed to do? This is my 3rd Explorer over 15 years. My husband has always driven a Ford Truck, as well as my brother in law and father in law. We have a business that purchases Ford Trucks as well. We like supporting the American economy! Losing my patience with Ford! This may be the last Ford we purchase.

I have owned 8 Fords over the last 22 years. Never again! The paint on the hood of my 2013 Ford Explorer is bubbling and peeling off. I have read hundreds of complaints on this, so I know that Ford is aware. Yet they refuse to do anything about their defective paint job.

This gonna be a long one. Bought a 2015 Explorer as they became available in late 2014. Second Explorer I've procured. Wasn't happy with the 2004 that blew the water pump, timing chain and other components within 25K miles... especially the crack in the tailgate due to sub par engineering when you closed the glass. Hence why that option isn't available any longer. BUT, thought I'd give the redesigned body style a chance.
Anyway. First family trip (12K miles on the vehicle) it rides like, or worse than a covered wagon with 5 people and luggage loaded on it. Actually... very scary. Made it unharmed but anything over 70 and it swayed like it was going to flip. Not sure why I didn't take it in and complain then. Just assumed. Got home and the rear tires were so bad they were shredding metal. Got the rear end aligned and new tires put on which were worn on the inner rim because the alignment was toed out so bad. Tire dealer informed me that they could not align it all the way out because the knuckles in the rear were already worn. Took it to the dealer and they said there was nothing wrong with the suspension or alignment.
One year removed (and no other family trips) the thing still drives like a pissed off bull. I've got 44K on it and have "put up" with this because the dealers have told me there is nothing wrong with it. Took it back to the dealer who said they needed to align it first before assessing if anything is wrong with the suspension. Dealer assessment. $7500. ** to that. Dealer says someone must have hit something really hard because the front frame is cracked along with a bent RIGHT front and back wheels. Vehicle has never been in more than a slight fender bender to the LEFT front fender. I'm done with FORD and will never ever buy another.

I've had my Explorer for 2 months now and when driving over 50 MPH, a bad fouling odor comes into the cabin. I just had yesterday the first oil change and explained it to the service tech at Ford. He explained that it has been happening to a lot of customers: it is the exhaust fumes that come inside the cabin. He even explained that he tried to put a deflector on another customer but did not work. Said that Ford was aware of these complaints and was working on a Service Bulletin... not a recall... Once they have assessed the solution... Meanwhile we users are helpless... And it is a dangerous situation because it is carbon monoxide we are being exposed to. Also, I find that the driving/handling is too unrefined... You need to make adjustments all the time and when driving on the highway it can be easy to lose control of the car and also become a dangerous situation...

I have had my Explorer for about 3 months. Started slipping/jerking. It is now in the shop and needs a new transmission. I called Ford customer care and was advised that there has not been a recall because not enough people are calling customer care and putting in a complaint with their VIN number. I beg you please call and complain. These transmissions are expensive and a lot of us cannot afford to have them fixed.

2016 Ford Explorer bought at Berge Ford in AZ. When I accelerate there is the smell of exhaust that comes into the cabin. I took it in for its first oil change last month and was told that the smell was coolant. They didn't even list my complaint on the work order. This morning I had to accelerate and the smell was so bad it gave me a headache.

My husband had a horrible experience with his Ford Explorer. It ruined our credit history when one of the two timing chains fell into the engine and destroyed the engine. After the repair other things no longer worked, like the horn. It wasn't covered under the warranty. Then the bearings went out. The new bearings failed and he was told because they were cheap overseas parts and he had to pay $100 more to get the "good" part. It wasn't covered under the engine warranty. My husband passed away on Monday (I am sure the stress didn't help him). My husband suddenly got very sick and passed Monday.
A friend wanted to borrow the truck while she had her transmission repaired. When she drove the truck, the lights started blinking, the power steering quit and she could barely turn it around to bring it back to me. In my opinion, all of these other reviews on here should file a class-action suit. I am not sure I can even sell the truck now and not sure it's worth changing into my name.

2012 Ford Explorer - with approximately 45,000 miles driving down the freeway at 70MPH on a hot day, the driver's side front windshield window trim panel blew off. I had noticed a whistling noise right before this happened the last day or two. It was a plastic piece that seemed to have been held on by some 2-way tape and a small bracket or two. $100 to replace and repair. It still makes some noise on warm days while driving on the freeway. I am waiting for it to blow off again. Piece of crap design.

In 2006 I purchased new a 2006 Ford Explorer and it's been a good vehicle that has approximately 95,000 driven miles on it. Only recently it was discovered that the roof paint is peeling and beginning to rust. It appears to me that the roof was poorly painted and the coverage was too thin. Professionals have told me that the original painting was inferior much like the 2005 Explorer that was recalled for that very reason. My vehicle was manufactured in January of 2006 and I am convinced that the paint procedure was not changed until later in 2006. On July 25 my vehicle goes in a garage for a new paint job on the top. At this time the expense will be born by me. I feel like warranty or not, Ford did a poor job with the painting and should share in some or all of the cost including the use of a rental car for the week. I hope Ford sees this posting and takes some action of assistance.
Ford Explorer Company Profile
Company Name:

Ford

Website:

http://www.ford.com/