Consumer Complaints and Reviews

I bought a product that is supposed to patch the surface of a car. It is meant to be self adhesive. The product is not adhesive at all - it does not stick to anything and cannot, therefore, be used to patch a car. When I tried to return the product, the manager refused to take it back. This retailer does not stand by the product it sells even when it is demonstrably defective. DO NOT SHOP AUTOZONE!!!

Purchased part = AutoZone. Failed part = AutoZone. Failure to stand behind the part = AutoZone. Tech Support = ALLDATA thru AutoZone. Installation procedures and specification information = AutoZone. Every part for the job = AutoZone. Everything paid for from product and time lost = Me! What's wrong with this picture???

We bought a Duralast battery for our Explorer and one for our El Camino sometime before we bought the one for the Explorer! The one for the El Camino kept going dead and my husband kept getting replacements until they prorated it. About 6 or so months ago we had to get a replacement one for our Explorer, hasn't been a year and it has a dead cell! They want to prorate and give us so much off a new one that is way more expensive than what we originally paid for the original battery! It will be cheaper and better to go to Walmart. Still I was all prepared to order badly needed struts for the Hatch, back window, and hood, a headlight and ignition cylinder switch. Now I have to use the money for a battery again! Not to mention it's my Autistic son's Birthday this month and he missed his Psychiatric appointment today because of this! I am thoroughly disgusted and will Never Ever buy parts from them again!

I just bought a simple ratchet extension. It took me 4 tools and took longer than changing my water pump to get the stupid antitheft plastic piece out of the extension. Unbelievable really. Won't be buying another Duralast product. Too much work.

Purchased an Optima Yellow Top battery for $179+ tax on 2.25.17 from AutoZone in Wheaton, IL. On 3.17.17 the car would not start normally, but started with a jump. Drove car approximately 50 minutes, then parked. On 3.18.17 (less than 24 hours later), the car failed to start again. Never imagining it would be the battery, we had vehicle towed to Naperville of Toyota who found the battery to be defective. Since we needed the car, we had Toyota replace the battery and then drove immediately to AutoZone to return the Optima. AutoZone verified the battery is, indeed, defective... so that's good.
But there's a catch. AutoZone will not refund purchase price. They want to "exchange" the defective battery for another one... which we now do not need. (I'll go one step further... These Optima batteries are notorious for being defective! I will never again own another Optima battery.) In any case, folks at the local AutoZone agreed we're getting the shaft here... but are bound by "corporate policy". Well, here to tell you, this "corporate policy" really, really stinks to high heavens. We are hamstrung. Not to mention out a lot of time, aggravation and money!
How do I know I can trust these reviews about Autozone?
743,926 reviews on ConsumerAffairs are verified.
We require contact information to ensure our reviewers are real.
We use intelligent software that helps us maintain the integrity of reviews.
Our moderators read all reviews to verify quality and helpfulness.
For more information about reviews on ConsumerAffairs.com please visit our FAQ.

No sales/counter service provided. It's too bad for a store in our so little town that is still making it, AutoZone had hired employees don't even care about the business who provides their paycheck... I went in today on a Sunday (03/05/17) with high hopes to spend a great amount on parts and a tool for a job needed to be done. Unfortunately, after waiting for about 10-15 minutes in line with no luck from 2 employees decided not to acknowledge my presence I decided to leave the tool on the counter and drove down to the nearest part store O'REILLY and purchase all the parts for a water pump and timing belt job...
This town is too small for employees to be picking and choosing their customers equals to poor service, blowing me off and hiding between the shelves was pretty obvious. AutoZone needs professional employees with people person drive and treat their customers the way they would want to be treated... I would not recommend this place of business, nor plan to provide my shop with their service.

On the 2/25/17, purchased a new battery for my Jeep Wrangler. 161, something... Wouldn't give my phone number out so he said "you will have no warranty". This is the craziest thing I ever heard... What if I didn't have a phone, no warranty. Still checking into this. The person was very rude. Shouldn't have bought it, but needed it. You people are completely crazy... I still have rights, phone or not... and will check this out.

I took the battery into AutoZone in order to get them to honor the warranty on their battery. They told me because I was not the original purchaser tough luck. So I have one of their "best" batteries that is supposed to last five years that lasted 1.5 years. How can they not stand behind their products? I am going to tell every single person I know to never, ever purchase any of their products ever again because they do not honor their warranties for their products.

I would love to leave a review of AutoZone, but since I cannot seem to do that, I will leave my review here. I am absolutely disgusted and appalled about how this company does not stand behind their warranties. On December 24, 2016 my husband's alternator went out on his truck out of state. He took it to a mechanic who fixed it using an alternator from AutoZone California MD. On December 29, 2016 the alternator left him sit again, this time back in our own state. I called AutoZone Philipsburg PA (closest to us... still over an hour away) to see if they had one in stock. They did, but did NOT want to replace it because we did not purchase it from them specifically. We were told we had to go back to the AutoZone in MD or the mechanic in MD! Crazy! WHY, when I have the original purchase slips and mechanic slips and part, would I have to drive 5 hours to fix it?
I'm already out the labor, tow truck and my time. 6 hours later, horrible frustration, loss of hours at work, another tow truck, more labor fees and several calls to the mechanic in MD, AutoZone in MD and Philipsburg, they finally did replace it. Then on 2/9/17 it went bad AGAIN! Now, I DO have the receipt of the exchange from the Philipsburg store, but they STILL WILL NOT honor the return or exchange, or refund our money so we are able to buy a part elsewhere. Again we were told to go to MD or the mechanic (By the way this mechanic in MD is a HUGE organization, not some fly by night, they sold cars etc.). I tried to contact them but the phone was disconnected. I called the hotel that was adjacent from them, and was told they shut the doors of the business on 2/6/17.
Now, since there is no "pin" and the garage that originally made the purchase, AutoZone refuses to stand behind the warranty, exchange/refund. I am AGAIN out a third tow truck expense, loss of work hours and huge frustration. First, it shouldn't matter WHERE/WHAT state I purchased the alternator in, it IS an AutoZone part that is under warranty. Second, it doesn't matter who "originally purchased" it, it was paid for BY ME, out of MY POCKET, therefore I AM THE PURCHASER. Third, it is under warranty! This is a Autozone part problem. It is defective! It is not the garage or mechanic problem or an installation problem, it's a cheap crap part problem.
After scouring the internet, I see I am not the only person that complains about their parts. I think if you are this large of a company, you should stand behind your parts! I have since taken my business elsewhere are will NEVER give AutoZone the satisfaction of taking money out of my pocket again and hope that it helps someone from getting caught in their claws. Take your business to another auto parts store, that will treat their customers right!

I have received excellent service at Auto Zone ALL of my life, never have I been disappointed! And their parts have always fit perfectly! I am a DIY, have pretty good mechanical knowledge and skills, and I can tell if someone is trying to bamboozle me on a part that may not fit; I have short circuited that attempt maybe twice in my lifetime (I am 66 years old). But this report is NOT the best advertisement for them available - buy stuff at Advance Auto, worse - read their customer complaints, I have lived each one of them.

My son recently purchased replacement rear window blades for Tucson 2013 from the AutoZone store on W.12 Ave and W 40 St in Hialeah, FL. When he got it home it was the wrong blade and took it back but had misplaced the receipt. When he took it back to exchange it for the correct blade he was told no returns or exchanges without the receipt and he was talking to same man that took care of him when he was there the first time. I then went back today exchange and after trying 3 other blades was told the same thing. My family and I are long time customers buying almost everything we need for our cars for over 20 years.
I can understand the receipt policy for a expensive item like a battery $1000 wiper blade. It's ridiculous when I could walk out of the store and try to put it on and the receipt blow away on the breeze and then go back in to exchange 5 minutes later. Just saying. A store credit would have been fine since we go in at least 2 to 3 times a month.

I took my battery to AutoZone in Union, NJ for a free charge. They said it was ruined and couldn't be charged. Next day, I took it to Sears (it was their brand). They charged it up. Now I wonder if the free charge is a scam. Anyone had a similar thing happen? It may not intentional, but it got me wondering.

Fix A Flat Cans to repair tires, does not state on can that once you use the product that you can't have the tire repaired, that you have to buy a whole new tire. I went through 5 cans trying to repair my tire this morning. Most the cans were defective & did not work. The little amount that came out of can, caused repair shop to refuse to repair the tires. I had to buy 3 cans at $15 a piece all 3 were defective, then I had to buy an air pump for another $20. Staff working refused to help me with product, even though it was below freezing and I had been standing outside in cold for 3 hours trying to repair this tire in a bad neighborhood. Spent nearly $70 in products and ended up having to have car towed and tire thrown away which cost another $200, and replaced after using this Fix A Flat stuff which employees also did not tell me it will wreck tire repair and destroy tires.

Today, Jan 2, 2017, I went to AutoZone on 100 B Greensprings in Birmingham (Homewood Area), Alabama. I was having a problem with the battery in my car going dead. I had previously purchased the battery from this store. I entered the store and a salesperson assisted me (I later was told that this person was the store manager). He went outside with his tester and stated to me that my battery was not the problem and that I needed a new alternator. I did not believe this to be true because on this same day my cousin was able to jump the car so that I could drive to this store. He then attaches his cable to attempt to jump start the car and he reports it can't be done because the alternator has completely killed the battery.
I therefore had to call a tow truck service. The tow driver arrived and offered to jump the car first rather than tow. My car started immediately. Tow driver also agreed it was the battery and not the alternator. I go back into AutoZone and sales person ** was very nice and agreed to check the battery again. She comes out with tester and says that indeed a battery cell was dead. The tow truck driver was kind enough to wait until this was determined. ** and I return in the store. She pulls up my account and notes that I just purchased the battery May 2016. At this time the first guy (I still didn't know at the time that he was the manager), he says to me, "So did you get an alternator?" I replied, "No, the tow driver and ** both said it's not the alternator but the battery." He then shakes his head and says in a very rude tone, "If this new battery dies again we are not giving you another battery because it's the alternator."
Another very nice, sales person follows me out and installs the new, replacement battery. My car started immediately. This same sales person then tested the alternator and starter and said they were both working well and the problem was indeed the bad battery. It is at this time that I asked him if the first guy I encountered was the manager and I was told that indeed he was. I therefore did not return to the store, but will contact the corporate office to report the treatment I received from this store manager. I will not be returning to this store.

I went to the Rock Falls, Ill. Autozone this morning to get 5 lug nuts for my skid loader. Not knowing the exact thread dims on it I told the WOMAN clerk "I need 5 of these". Rather that going over to their selection of wheel studs to size it up this moron starts looking at her computer screen to find a frickin' lug nut! NEXT - ANOTHER woman wearing a shirt that said "Manager" came over! She asks me what size it is! I told her to go to her wheel studs and size it up. She told me that she has 115 drawers full of wheel studs and it would take too long to look through all of them!!!
REALLY - 115 drawers full of wheel studs at an Autozone store??! Hell they must have lug nuts for everything ever made, that has wheels on it!!! So Walked out the door, went to O'Reilly's, said the SAME thing, and walked out with 5 shiny new 9/16 lug nuts for my Bobcat! So remember this - if you're looking for a job at a parts store be DAMN sure that you have ** before you apply at Autozone, because that's the ONLY "qualification" you're gonna need there!!! Intelligence, experience in an automotive-related field, or the possibility that you might have held a wrench sometime in your life, don't even matter! Autozone - where the people who SELL lug nuts, have the intelligence of a lug nut!!!

I went to this AutoZone to take in battery from car I just bought. They told me 2 hours later it was a dead battery. Kind of figured that, so I went bought a large battery from Walmart. Drove car for 2 days and then didn't have enough power in battery to start car. So I took it to same Autozone and asked them to charge it for me. I come back an hour later, and these liars told me it was a dead battery. I told them it was a new battery and he said "Do you want me to put it back on charger for 30 min?" Like I'm a dumbass. I got the hell out of there and went to O'Rielly, across the street. Battery was charged at 100%. Be smart. Don't go to Autozone!!! Even the mechanics in the area said the same thing. They're scandalous and their parts are junk.

On 08 November 2016, I went to AutoZone located at 4561 Salt Lake Blvd, Honolulu, HI 96818 to have my battery checked out since it was cutting off all the time throughout last week. I asked the gentleman at the desk if I could have a load test done on my battery but he told me that because of company policy they cannot go outside when it's dark to do anything. I was like OK then I went next door to O'Reilly autoparts which they promptly conducted the test. But while the O'Reilly guy was doing it, I saw 2 employees from Autozone helping customers outside. So I was so angry that I went back to point out the fact that they couldn't help me but they were doing it for others. Was it because I am **? Btw I was in my army uniform. I will not get anything from them again.

Yesterday I went to AutoZone 0414 6121 St Andrews Rd. Columbia. I was shopping for car wax. The prices were much better than the other nationwide store I visited before AutoZone. So, I picked out the wax that I felt suited my needs. It had a sale tag in front of the eligible item for one dollar off. I am on Social Security Disability, so every dollar counts. After checking out, before leaving the store I noticed I did not get the discount. The Manager and I went to the shelf and it turned out that the tag was out of date. The Manager pulled the tag and cheerfully gave me the dollar plus tax; no hassle. This is how a retail establishment should be run!

I had to make a purchase online and chose to pick up the product at the store that I confirmed online had the item "in stock". Only after driving to the store was I made aware that my item had to be reordered (even after showing them the order confirmation on my phone) and the item shipped to the warehouse. Online they told me the item would then be at this location. Now the store clerk tells me "tomorrow," and they would call and give me notice when it arrives from another store in town.
Now, fast-forward to tomorrow. At around 3:30, after waiting and not hearing from the store clerks, I went there again to see if the part arrived. Now, they tell me the item had not arrived. As a reminder, this part started out as an in-stock item at this store. When I arrived at the store, they told me the part was not, and they would call to see where it was since it was just coming from across town. I had to leave for the third time without the item. Each time I had to commute 5 miles each way. Where is the honesty and integrity of their inventory management system? The item listed as in-stock was not in the store and had not been there before. Is this the new way for merchants to operate by convincing and deceiving the customer into believing that they have products, and then give them the runaround?
When I went back to the store and received the item, later it was difficult for the clerk to ring up the item and deliver it, and I suggested I went to another store. This was around 5 pm. The item purchased was taken out of the box, and when I took it home, it did not have the fittings. The part received, I found out later, did not fit and may have been delivered incomplete. Yes, now I am dreading having to deal with AutoZone process the return/exchange.

AutoZone will say or do ANYTHING to avoid honoring their warranties. If this is what it has come to, AutoZone is dead to me. To anyone thinking they will honor their warranty, think twice, and take my advice. Go somewhere else! From now on I will buy a premium battery online, and take my chances, being AutoZone's warranty is as fake as a $3 bill. I have had to jump start the battery several times, and they kept claiming "Bring it in when it fails". I did that too, and all they did was charge it and say my alternator was bad. So then the bastards sold me an alternator. I kept the old one, and used it in another vehicle, so that was another SCAM on AutoZone's part. It went dead in Colorado, New Mexico, Utah, Arizona, California, and the same song and dance, anything to not honor that warranty.
I shall be calling the state attorney general's offices in Colorado, New Mexico, Arizona, Utah, California, and Oregon, as well as a lawyer. The battery developed a crack, and my car's paint job is ruined, but by AutoZone's account that battery is just fine. I had to deal with this junk battery during a trip after a death in the family, and have had to get numerous jump starts and carry a long extension cord and a battery charger. SHAME ON AUTOZONE, AND THE PLACE I HAVE SPENT $1000s OF DOLLARS KEEPING MY CARS RUNNING CAN GO TO BLAZES NOW! Their new policies have driven a customer that goes back to the Auto Shack brand decide to abandon this retailer as one of the worst entities on the planet.
I have an EE lab where I repair guitar amplifiers, Hi-Fis, ham radio equipment, and I own a Dynaload, alternator testing rig, DC ammeters, carbon load piles, and other gear to asses what the problem is in automotive electrical systems. The problem is the battery. It has been in TWO of the same make model vehicles and fails the same way in each one. The battery is defective to everyone BUT AutoZone. I am 100% sure as soon as the warranty expires, that status will change. If AutoZone wants to be this way, please take my advice, and don't buy anything from them that has a warranty. One of their competitors was very nice when my elderly father bought a battery in rural Colorado, and it failed within a month. He lost the receipt, but they honored the warranty.
I have a hard time finding AutoZone stores on the road, and when I do they all play the same games, so I will fire off a letter to their corporate offices, and hope this review does some good, by helping other not experience traveling with an unreliable car, and dealing with jerks who have obviously been coached in how to worm out of their warranty obligations. Since these trips were for settling estates and probate, the mileages, dates, times, etc. were all documented for legal, and tax purposes.

This store needs help. I had to wait for someone to help me for over an hour. Very rude and disrespectful to make a person wait that long for assistance. Customer service is out the window at this location. Shame.

Began changing the oil on my vehicles. Bought filters and a five quart bottle of Castrol. Back at the garage I realized I needed a drain plug washer for one of the cars I was working on. Drove down to AutoZone and found the display rack with the drain-plug washers. The ones that fit my car appeared opened. I grabbed another one. It was not opened (sealed) and it was obvious that the first choice had been picked over and some of the washers were not present. The counter clerk could care less. Back to the garage.
After draining the oil and replacing the filter and plug I began pouring the five quart bottle of Castrol into the engine. The oil appeared brown. Not what I was accustomed to seeing, but continued. First car done. Pulled the second car into the garage and upon pouring the oil into the engine I realized it was a light gold color. I then recalled that there was no aluminum seal on the first bottle like the one I was currently using. It dawned on me then that the first bottle had been re-filled with USED OIL. This is the absolute truth. I went back to AutoZone and the manager quietly replaced the used oil bottle with a new one with a seal under the cap. He seemed to know about it but I can't say for sure. Anyway, AutoZone is not to be trusted. USED OIL!!!

I called autozone in lumberton nc on 5th Street, they said they had part. Picked up part and I checked it on way back home and it's the wrong part and I had to drive over 10 miles to get part that's the reason for calling to make sure they had it, and gave them all the info of make and model, size of motor so they said they had part. Get it. It's the wrong one and brought the one back I just bought to them with receipt and they don't have it in their location so they sent me to Roberts Ave in lumberton nc and they had it and got there.
I had to buy the part cause they don't give parts and I having receipt, but I understand that the manager was at the other autozone was there and she knew better, and I had to go all the way back on other side of town to get my money for the first part and she said she had nothing to do with it, and she was standing right. She's rude and just dont care if they caused problems for the me. I will never go back to autozone and do business with people who's so in experienced. I can understand the new guy that's only been there 2 days but manager at 5th Street knew better and the autozone on Roberts Ave gave me a 10% discount and it wasn't their fault so my hat off! To Miguel thanks and manager at 5th Street you need to get a better attitude for customers.

Very rude customer service - Silverado Ranch in Las Vegas. Earlier transaction was confusing but not as bad but when I was told to come back ending up with a different guy, totally different experience. Worst customer service ever. Got ignored totally. Very rude guy. Felt I was discriminated due to my race. Maybe if I were a hot looking lady I was treated different. Did not complete my transaction. Went to different store.

On Sunday, July 31, 2016 I had to have my car jumped and made it to the Auto Zone on Breazeale Ave in Mt. Olive, NC. We were having a downpour of rain as I walked in the store and stated that I had to have a battery. One of the employees stated that they could not do it while it was raining, and I told her that I certainly understood but did not mind waiting because I had to have a battery.
The rain just continued to get harder. I was told that it looked like it had set in for the night so I called my daughter to come and pick me up and I was going to have to leave my car overnight. It slacked off some and Jennifer ** was preparing the cart with tools and my battery and told me that she was going to put it in for me. I told her that I had a big umbrella and I would hold it over her head. In no time she had done that for me. I feel she needs to be commended for her excellence customer support. She definitely went over and beyond the call of duty to help me. I would say she deserves some kind of recognition for this.

I returned two sets of brake pads on July 31, 2016 to the 87th Lafayette St store Chicago, Illinois. The original price was $49.57. I paid with a debit card. The female clerk at the register took my return receipt and stated "$46.28", and handed me the cash; then balled the receipt up and tossed it in the trash. Since I didn't have a receipt at the time, I was not sure. I checked my bank record. The initial charge was $49.57.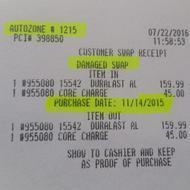 The staff at store 1215 is very friendly, the manager Jacqueline is a different story. She is very rude, she doesn't speak fluent English, she is disrespectful towards customers and her staff members in front of customers. It took us 2 days and 5 trips to the store to be able to exchange an alternator that we previously bought with a lifetime warranty (we had to look for and show receipt, bank statement showing transaction and mechanic shop written inspection results to prove the part was damaged and wasn't working properly). The second day she made us wait for her for over 30 minutes to get the new part. That is not a good customer service! Everyone was complaining of her attitude customers and staff members.

I contacted the Autozone on Rosa Park in Nashville to purchase rotors for my 2008 truck. When I called the store, they told me that the rotors were in stock and that they would hold them for me. Due to work, I had my son pick them up. I then had the truck taken to a local shop to have them install the rotors. After going back to the Autozone to confirm the warranty, I found out they gave me the wrong rotors. The sales rep gave me rotors for a 2006 truck and not a 2008 truck. Due to the slight difference in size, the rotors did fit, but this could result in an issue with the warranty as well as the truck's performance. I could also hear them making noises when turning. Due to the error, I asked for the correct rotors and reimbursement for the cost I paid to have the incorrect rotors installed since this was an error of theirs.
My truck was on file with them since 2008. They had all my information supporting a 2008 truck and not a 2006. When I went to the store to tell them of the error, the store rep. took almost 30 mins telling me that the rotors were correct and that I was wrong and not to worry about it. He then got other customers involved in the conversation. He told me I did not know what I was talking about and was getting loud in the store so much that another person came from the rear of the store to assist. I stood my ground and asked to speak to a manager.
Feeling unsafe in this store as a woman, I left and called the manager and the general manager using the number posted on the front door. The store manager finally returned my call and agreed that they would change the rotors out and reimburse me for the cost of installation so I could get the correct rotors reinstalled. I took them my receipt and my credit card transaction and they refused to reimburse me. I called the store and asked for the general manager, but the staff purposely gave me the wrong number. They did not know I had the number programmed in my phone. I just wanted to see if this store would give me the information I requested. After giving the regional manager a call the second time, he still has not called me back and it has been 2 weeks, I still have the incorrect rotors on my truck with the incorrect warranty of a 2004 vehicle and I own a 2008.
After not getting any assistance, I call customer service in Memphis, the corporate office. They took a statement and still no call from anyone to speak with me about this situation. I was told I would hear something within 48 business hours. And, this again was not true. I am so shocked that Autozone would treat a female customer like this. If you are a female and don't want to be treated like you are stupid, be degraded and treated like you do not know anything, you better avoid Autozone all together!

I tried to get a clutch for a custom truck. It was the wrong clutch, thus damaging the flywheel. They admitted they gave the wrong clutch and turned around and gave the same clutch and said it was all the same anyway. I feel if they give the wrong product, then they need to take responsibility for everything it destroys. When I called the next day they denied that it happened and then the website was altered regarding that part. Called corporate and was told district manager would call me back in 20-30 minutes. Come to find out the district manager is not even there today.
Call back to find out why no one called me back and talked to a female cust service rep who instead talked over me. I reported her to her manager. What is wrong with the lack of customer service these days? Hire ANYBODY off the street? You are dealing with the public. If you don't know the info I am asking for, get someone that does to assist me. If you don't know how to treat the customer with courtesy, then get another job. And to AutoZone I say, word of mouth is a powerful thing. See you at O'Rileys!

I have been shopping at AutoZone for about 9 years, get all of my parts from there. But goes in one day to buy brakes and a water pump, they look on my account and no record of the parts I have already purchased with Lifetime warranty. I am really pissed with AutoZone. And the employees know I come everyday to get parts. I'm gonna start dealing with another auto parts store. This isn't right for AutoZone to take people for granted. I STILL WANT MY MONEY BACK FOR MY PARTS. YOU CAN CALL ME IF YOU WANT.
Company Name:

Autozone

Website:

http://www.autozone.com/