Consumer Complaints and Reviews

Awful dishonest dealership. They lowball price on trade in after they made offer. The advertised vehicle I wanted was not there after I was told on the phone three times it was there. Waste of two hour drive. One hell of a scam. Buyer beware!!!

Arrived Saturday to receive an oil change and for a tech to look at my A/C due to it being intermittent. Lex **, the adviser advised me there weren't any appointments available until Tuesday. I informed the adviser I would up there right after I get off of work; which was around 5. I work in Lewisville, TX and it takes me awhile to maneuver through traffic.
Once I arrived on Tuesday I sat in the service driveway for 10 minutes without any assistance. I decided to get out the vehicle and all of the advisers were in their office facing where I pulled up. I asked what I needed to do because I had an appointment at 5. The first adviser took some information off of my car and referred me to Lex **, which is the adviser from Saturday. We started doing all of the paperwork. When we got to the counter to get the loaner car (a SUV) I realized I didn't have my license. I drove back home to get it and return shortly.
Before leaving I expressed I needed a SUV because of my children and Lex understood. Once I returned I provided my insurance, CC and license and waited in the waiting area for approx. 20 mins. Once the loaner adviser called me back he advised me that it was the Ford Fusion. I expressed to him numerous of times that I have a SUV for a reason. I have kids and I do other things that require a bigger vehicle. He stated that is all they had and asked if I wanted it or not.
I took the vehicle, because my A/C needed repairs and the summer days are quickly approaching. Not once did either adviser apologize for the inconvenience. I would NEVER return to the dealership. Their customer service was the worse. I wouldn't recommend anyone to go. I had stuff in my truck and no one offered to assist in getting the car seat or any of the belongings out. In fact the loaner adviser stood there and watched as struggled with my hands full. I understand there is construction going on around the facility but the car was filthy. The inside was not vacuumed and the outside was dirty as well.

I got my original 2013 Honda Ody OEM battery replaced under the new car purchase warranty on a service visit with a new (100 Month Honda Limited Warranty sticker) battery. Less than a year later the battery dies and needed to be replaced. The same dealership (Auto Nation Honda of Sanford) said, they will not be able to replace or prorate it because it is no longer under the 36000 miles or 3 year warranty anymore. They will warrant it if it was a purchased battery in the time that it needed to be replaced.
My question to them, then what is the 100 Month Limited Warranty on the Honda battery is for? Why do I need to buy the battery from them in order to get the battery's manufacturer warranty? Shouldn't they stock batteries from vendors that comes with warranty to begin with? I felt they replaced a bad battery on my car and just tell me, "It is your problem, we did what we need to and if it goes bad when you drive off the lot", it is not their issue. They said, "Talk to Honda Motor Co," they are just a dealership that install the battery and the warranty issue have to take up with Honda Company. Honda dealer and manufacturer pushing the responsibilities on each other and not helping the consumers to resolve their issues. The battery manufacturer should not put the 100 Month Limited Warranty sticker on their batteries. It is misleading to the consumer. This will be our last Honda vehicle in the family for sure.

I told the guy doing my paperwork that I did not want GAP insurance. They hand you 30 papers to sign. When I got home I saw GAP insurance and tire insurance. Not cancelable once signed. AUTONATION IS SHADY. THEY SLAM YOU INTO CONTRACTS YOU DO NOT WANT.

Shady dealings with AutoNation - when trying to purchase a car from them for the past 3 weeks. When first called about the 2015 Camaro Convertible car, the price stated was a firm price of $26,511 and that was a no haggle price. The dealer had the car for about 4 weeks when I received an email from the sales rep. that they reduced the price to $25,848. I tried to call to confirm my purchase and I was told the car sold and was being shipped to Maryland. Then I received another email stating that they had again reduced the price to $25,314 from the same sales rep approximately 1 hour after the car had been shipped to Maryland.
How do I know I can trust these reviews about Autonation?
790,221 reviews on ConsumerAffairs are verified.
We require contact information to ensure our reviewers are real.
We use intelligent software that helps us maintain the integrity of reviews.
Our moderators read all reviews to verify quality and helpfulness.
For more information about reviews on ConsumerAffairs.com please visit our FAQ.

We bought a 2016 Jeep Renegade. It is a year old and only has 4000 miles on it. This vehicle has been in the shop for well over 2 months. The bushings went bad, the paint had rust coming through, the weather stripping was messed up, the dash was messed up, the radio cuts out everywhere that still isn't fixed and was told basically they are not going to try anything else to fix it. Was promised compensation for all the time it was in the shop and then told there will be no compensation. This is a complete disaster and I have 3 more years on my lease. Don't waste your money or your time on this vehicle or dealership. Our vehicle is always parked in a garage, never been off-road and barely driven on a daily basis and still have all these problems. Imagine if we actually used it like a normal car.

I had purchased a 2008 Silverado used vehicle. The salesman Robert ** assured me the truck had undergone a safety inspection later to find out the next day I almost got in a car accident due to the vehicle not having the proper state law safety inspection they said it did. In fact I returned the truck the same morning I almost got an accident. I went and talked to the sales manager Brian. He then stated he did know if truck actually was inspected for safety before he sold it to me. I was in shock. This review will not go unnoticed. Next I will take my concerns to the BBB. They must know a dealership did not perform a proper safety inspection before releasing the car and almost put me in a bad situation. AutoNation - Mesa AZ, Superstition Springs.

When buying my car I was told that the extended warranty I purchased would cover all repairs needed on my vehicle. I have not even made my 3rd payment and I have been told the warranty will not cover the repairs needed and I will need to pay these people $2000 on repairs that I was told my warranty will cover. I have reached out to the GM and have NO response or even a courtesy call back. My recommendation RUN while you can. I will be reporting to BBB and my local news stations as this does fall under the Colorado Lemon Law.

I went into AutoNation Nissan Arapahoe in Denver, Colorado to look at trucks, I found one that I liked, and knew about what to pay since I had spoken with a neighbor who purchased a truck two weeks previously. I sat down with the internet salesman by the name of Cory, he quoted me a price that I felt was more than I wanted to pay. I get a text from the other internet salesman by the name of Matt who stated that he had found the truck I was wanting at the price I wanted to be at, I said "great, I will be up this weekend". I live about a hundred and fifty miles from Autonation Arapahoe in Denver, Matt the salesman about an hour before a scheduled meeting said that the truck had sold, but he has the exact same truck in black for 2k dollars more than I had been quoted. We were to meet on a Saturday and I had spoken with him late Friday, so I guess the truck sold overnight without his knowledge.
This form of scam is called a bait and switch, you get them in the door, get them emotionally committed and then you take away the original deal, and offer them the same thing for more money. If you don't believe me, I have retained the paperwork with the original quote and the subsequent texts between me and the salesman Matt. I was actually in the market for a Toyota, but my neighbor convinced me to look at Nissan, sorry I ever did, Toyota demands a premium for their vehicles, and they don't need schemes and scams to sell them. Contact me and I will provide you with the proof.

Fort Myers Florida AutoNation Toyota. I was asked by the service department if I was complaining to her because she was a woman? Her been a woman do not have anything to do with my complaint. I do not know why did she even asked that question? I told her that my complaint does not have anything to do with her, it has to do with her service department.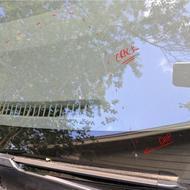 The financing experience was super long. We waited hours throughout the entire process. It's the longest I've ever had to wait to buy a car. And I'm not talking about waiting for our turn, once we were in the office, the financing guy spent a ton of time pitching products or slowly filing papers, or just chatting instead of working. Anyone who has bought a car knows that you will be pitched all the bells and whistles. We opted for none of them, except for the windshield package which supposedly prevents chips and increases the durability of the windshield. This was sold to us as it would prevent tons of common windshield damage and it would be super easy to repair and replace should damage happen - less hassle than going through your insurance. We figured why not, with lots of gravel roads and hail in our area it could be worth it this time.
One of the first severe thunderstorms of the season hit a few days ago, and it must have sent a small piece of flying debris right at the car - now there is a small impact chip and a crack across the whole windshield. Mind you - it was a bad storm, but the winds were nowhere as strong as the winds you face driving down a freeway at 65. I've owned cars for 15 years and never had a windshield break barring a major accident - 4 months into owning this car with supposedly extra protection on the glass and the windshield is already shot... Finding the number to call from Auto Nation was the first hurdle. They did not provide me with the claims number to call in my paperwork, and I had to call/get shuffled around to multiple departments to get the contact info. I had to call twice as the first time they gave me the completely wrong number.
Once I had the number of the warranty service, I called to file the claim and was told that I would hear back within 24 hours. 72 hours later and no word. I call back only to find my claim has been denied as the vehicle was not moving at the time and small hail or debris is not covered by the warranty. I give this department/service 1 star for the following reasons: Pushy and deceptive sales tactics, sketchy product descriptions at the moment of sale and slow service. Questionable efficacy of the warranty/service provided. Horrible communications for trying to file a claim for the warranty, which was ultimately denied.

Any car shoppers be aware of buying a car from AutoNation. Although on their website they state that you have 5 days or 150 miles Money Back Guarantee on pre owned vehicles, when you buy a car from there they make you sign a piece of paper that says you forfeit your right to a refund. Be very careful.

On March 27, 2017 I was attempting to purchase a vehicle from AutoNation Chrysler Dodge in Johnson City, TN. I noticed a large amount of oil on the frame and asked the sales rep about this. I was told that the file said that the rear seal had been repaired and the oil must be left over from the repair. I asked further questions about the repair requiring a visit to the service area. In the service area, I was introduced to an individual who was allegedly the sales manager. The sales manager immediately got defensive and told me that all high mileage cars leak oil. I asked if the rear seal had been replaced. About this time the sales manager became irate and began cursing at me and telling me to get out of the service area. This attempted to intimidate me by puffing his chest out and holding his arms out like an action figure. The sales manager continued to berate me, calling me filthy names and threatened me with physical harm.
At one point as I was walking out of the service area I did turn and give him the finger (wrong on my part). This sent him over the edge and he increased his verbal assault on me and threats of physical harm. This entire incident occurred in front of the sales rep and those service techs in the service area at the time. I walked out of the service area and departed the dealership. This dealership should be ashamed to call this guy an employee.

We have just leased a new car from AutoNation Bradenton, FL. Our salesman Dave ** was the best salesman we have ever had. We have been purchasing car since 1955, so I guess we have seen many a salesman. Kind, courteous, understanding, helpful, & professional. Dave had us return to help with all the technical features on the vehicle, this was a big plus. All the staff that we dealt with went over and above to help us along. THANK YOU, THANK YOU.

This starts my experience - I took my Jeep Cherokee to AutoNation Chrysler, Phoenix, AZ with an appointment at 7 am yesterday. I explained prior to my appointment that I was having an issue with the Key fob not connecting with the computer and thereby not working properly. That I needed an oil change as well and possibly the recall item fixed. I dropped it off and after the service advisor took my car he informed me it would be 24 to 48 hours. "What about a rental. I am a single lady living by myself." "Nope. We do not have any cars to give you - we have 80 rental cars and they are all out and there is a list." My very expensive warranty covers a rental car.
Honestly I started thinking that Chrysler or MOPAR must not make a very good vehicle if they had that many cars in for work. I ask to be notified if they were going to keep the car overnight. No one called, so I made contact with Jacob a Service Advisor and not a very nice person - he basically dismissed me and told me to go to Midway Chevrolet to get a rental car and they might reimburse me since I have that coverage. I couldn't understand what was going on and extremely frustrated. I reached out to Eric the alleged Service Director and he said if I could drive a manual that I could have a rental car. I went there and picked up the manual, with a broken toe and have been driving it. He informed me that he would check the status of my car and call me first thing in the morning - I thought wonderful; however, I kinda expected that I would not have a call this morning and I was right. No call or anything by 11 am the next day.
I again called the service department and had someone check on my vehicle and they advised that no my vehicle was still just sitting and they numerous cars before mine. I ask if it would be done today and they said at Autonation they have 24 to 48 hours to get it into a bay to be fixed or looked at. When I purchased the vehicle this was not told to me nor was I informed. I had numerous problems with them after the purchase and decided to take the car to Airpark Jeep for any further maintenance needs. However, because my office is 1 mile from Autonation I decided to give them another chance to redeem themselves. Now I am without a vehicle, which they could care less and if this is the way MOPAR dealerships conduct business I have no use for any of their vehicles.
If you purchase a vehicle from Autonation, be prepared for the ride of your life and a horrific experience. They are a ripoff in their sales department as well as their service is horrific from the Service Advisor to the Director of Service. Disgusting how they treat people after you buy their vehicle. Now I have to go pick up my car and not drive it on vacation because of the fob sensor. Hope this helps keep anyone from going through what I have gone through with this car dealership. Run.

The manager Paula Keller was great!! She took my very angry phone calls and explained the situation that some cashiers checks can be forged. She asked me to have my bank call her to verify the check was good and I had my money the same day. Great job!
My only complaint is they should let you take your car to your mechanic to have it checked before you buy and this whole situation could have been avoided.
Original Review
Went to purchase a used vehicle. Wanted to take the vehicle to my mechanic and was told I could not, but they had a 5 day no questions asked money back guarantee. I purchased the vehicle with a cashier's check from the bank on Thursday. I then took it to my mechanic and decided it needed too much work done
so I returned it the next day. Returned vehicle on a Friday early afternoon. I was told the business office was closed and I would get my money back on Monday.
Called on Monday and was told it would be 2 weeks before I could get my money back because the check needed to clear and then they would issue me a refund.
What was the point of a cashier's check?? I have no vehicle and no money. This is unacceptable. I was told I would have my money on Monday and want to
purchase another vehicle, but am unable to until I get my money back.

My fiance financed a 1990 Ford Ranger with 150K miles for $5900 (Not very experienced with auto purchases). We brought the truck back in one day in accordance with CO lemon law to return it. They claimed to do a 160 point check on all their used vehicles before putting them on the lot for sale. This truck wouldn't go into 3rd gear (manual transmission) without forcing it with great strength. Also, one would think a 160 point check would find a wasp nest in the driver's side door. My partner acquired a nasty wasp sting as well.
Anyway, when I attempted to return it the day after purchase, I was told if I kept the truck, all the repairs would be done, as per the 60 day warranty, free of charge and I would be provided with a loaner vehicle. 4 days later, the repairs were approved to be paid for by the department which handles the warranties. I had the loaner vehicle for 3 weeks and when we picked up the truck, they wanted $3300 for repairs they said were not covered by the warranty (the transmission and the flywheel) and they would only pay for the clutch repair. They said the transmission and flywheel were normal wear-and-tear items. I only drove the truck for two weeks before having to return for repairs. How the hell can you wear out transmission and a flywheel in less than 350 miles?!? After a lengthy quarrel with the general manager, he agreed I was correct and paid for the repairs.
On the day we were to pick up the truck, it made an unusual noise on startup. I had the service advisor, Keith, come out and look himself. He said it was either the starter or the flywheel and the parts and labor are covered by the warranty. We hadn't had possession of the truck long enough to register it so he said he would get the repairs approved while we legalized our ownership with Colorado. I had just moved so it took us about 10 days to register. By that time, we took the truck back and turned it in for even more repairs. No loaner car was given this time.
They contacted me 3 days after and informed me my warranty had expired and they were no longer responsible for the repairs. If the repairs were requested from the warranty department the day Keith said he would, all would have been covered and the world would be a better place. Instead, the request was not made in the timely fashion promised and a few days later, I received a call from the service department and was told the repairs would cost another $2900. We had possession of the truck for a little over 3 weeks which is supposed to be the time we need to determine if repairs need to be made to the used vehicle. Most of the first 2 months of our ownership, the truck was in the shop getting subpar repairs. This is a scheme in which they pulled off very well and I can't believe it's the first time. Who did the work on the truck? Helen Keller?

The worst dealer ever. I experienced the worst customer service support ever. I was ripped by the people working in this location in the amount of $1500. They just cut it out from my check without my approval. We leased from them Toyota Camry of 2017 and trade in our Nissan Xterra of 2011. We have sold them our car for $11500 and we put $3999.99 as a down payment towards their Toyota Camry. They told us that they will send us a check in the amount of $11500. In the same time they asked us for a check in the amount of $3999.99 and they promised not to cash it until we get our check.
Beginning of February we started to worry about our check because we didn't received our check yet. Finally the February 13 I was able to speak with their accounter named Josh. He told me that our check was sent by the end of January. And then we found out that they send our check under very old address. I was told that there is miscommunication between me and my husband. I've checked an old address but no one under my old address seen anything addressed under my name.
So next day I've called Josh again to cancel the check and process a new one. He told me that I will receive my new check in 7 business days. Didn't happen. So I called him again because he/they never called us back even if we left them any message asking to call us back. I was told it will take another 2-3 business days. But this was already February 24. And again because it was about weekend no one could help because financial institutions are not working weekends.
After that beginning February 27 they became very mean, over the phone and in person. In this point Josh did not know anything and he changed all the statements that he told me before. Now he didn't know when will I get my check and he couldn't provide me any information when will I get my check because everything is pending so financial institution must review everything again before they will able to cut my check!!!
In the meantime February 23 they processed the check that my husband left at the time of signing the lease agreement with them. But the check couldn't be cashed because there was no coverage. So the next day I told them (Josh) that they won't get any money from us until they will pay us off. They didn't like it at all. They became very rude and mean over the phone even the person that transfers phone calls was very upset on me. So finally March 4th I decided to call General Toyota customer service. They couldn't help me but I was able to leave a complain and they have sent it over to AUTONATION Toyota in Libertyville. Also I was told that they should call me back within 2 days. And yes Josh called me back. It was March 7th. He told me that the check was processed and was sent to me and I will have it by Friday March 10. And finally yes I get check from them but not in the amount promised but $1500 less.
When I get there they of course couldn't help because it was Saturday and the financial institution is off duty. When I asked for bill of sale the supervisor asked me "what is it". Then he said "I don't understand you". And he said that if they do owe me something they will give it to me. Then he promised to call me back on Monday (him and Josh) in front of most of theirs employees but no one call me back. And when my husband get there Josh told him that if we have any paper that contains the amount that they owe us something then he will able to help us. 2 salesmen, the manager, accounter and another accounter totally forgot about our case.
And all the papers we have to prove that they lie to us means nothing to them. We didn't even get those papers. We just made a photocopy at the time we spoke to salesmen. We also have a copy of appraisal from Carmax dated January 17, 2017 that without buying anything from them they will give us $11000. So in general after all nobody was able to provide me the bill of sale of the vehicle I trade in with my signature. 5 employees totally forgot how much this dealer owe me. I was waiting 2 months for my check. In the meantime they just sold my car and right after I received my check, they just tricked us and now there is nothing they can do about it. Never do the business with them. All the papers I have make no difference to them. I was told that I made those up. Unbelievable.
I would never think that someone could do something like this to me. No one ever did before. Stay away!!! It is illegal not to provide all legal documents to customers and that's their responsibility. I was on the phone with them for over a month. I was receiving wrong information each time or none. I guess they needed more time to finalize their transaction so I can't have my car back. And of course for all this time I was promised that they will call me back and never did!!! Even the supervisor couldn't keep his promise. Very mean people!!!

The issue has been resolved and they did the right thing fixing the truck.
Original Review
I'd give negative stars if I could. DO NOT BUY USED HERE. New maybe you're okay but used, no. They do not have their qualified mechanics working on these trade-ins, they have a reconditioning guy Jesse. And they do not stand behind his work. They are not honest and will not do right by you. They have wasted so much of time pretending to try to figure out what is wrong with my truck that I bought, it's been there 3 days in a row. They let the 5 day mark lapse and now service manager Monty won't even return my calls. I made the mistake of thinking Monty was earnest. No. I was wrong. He did his job, got me to the point I had to go to a real professional for repair so no more money off their bottom line.
I was on my way to a major expensive catastrophe and they sent me away saying I was mechanically sound and the noise was more of a nuisance than anything else. Scouts honor, it happened. Could've had a customer for life but they proved even the big outfit dealer only cares about the pennies not the customer. Shame on you AutoNation Ford Sanford Florida.

I saw an advertised used truck. Called at 8:50 pm. They said it was there. I went the next morning to preview it, as I do all the preliminaries for vehicle purchasing for the family and the business. I traveled 25 min. I called 15 min before my estimated arrival and they said they would have the truck pulled up for me to view. When I arrived, they told me it was sold late last night. They probably knew that 15 min prior and did not have the courtesy to tell me. Needless to say very disappointed. I have been shopping since. Every day the same truck is still advertised for sale. THEY DO NOT HAVE WHAT THEY ADVERTISE!!! I will never shop at any Autonation in the nation. It has been 7 days. Still advertising the truck as if it were on the lot. They probably never had it.

Called salesman after picking up car because once I got onto freeway, it pulled to the left. Two days later the instrument panel went dark and has never come back on. A week later, the battery died, but got that jumped. This week the entire car will not go into reverse. Engine light is on, it will start, but will not go into gear. Service dept, Mr. ** told me to have it towed to AUTONATION Lewisville. After calling and talking to Bob, he said they couldn't work on my Toyota because they are a Honda dealership. Back to AUTONATION NRH, put me on hold for over 13 minutes, but Eric sympathize said, I would have pay for towing to any Toyota dealership and pay for necessary repairs.
This car was a lemon and I believe they saw an old widow woman and tried to sell me anything, knowing it was my problem once it left the lot. Mr.Kerron ** has received many text messages and phone calls. I intend to post this on my senior citizen bulletin board in NRH, on FB, and the BBB plus any other governing agencies that will allow. I will give them one more week to rectify this issue (before my first car payment is due to be paid)!

I have been to the dealership twice. They take all of your information and tell you they will get back to you. It's been 10 days I have heard nothing from them. When I call they are always busy or off. Will get back to you, never do. Email or text, never return them. I guess if you are paying cash they might look at you better. I'm very dissatisfied with the way I was treated. Won't return. Will tell everyone I know that is looking for a car to STAY AWAY.

Scam on Fuel System: I purchased a brand new Toyota Sequoia in 2012. Within 6 months we started to experience hard starting. When the car sat overnight, some of the time you would have to grind on the starter for a very long period of time before it would start. The car had a very low amount of miles on it and was less than a year old so I returned it to Auto Nation on the Gulf Freeway with my complaint. I was told that the fuel tank had water in it. I asked how that was possible? I informed them that I only fueled at reputable stations. I asked how much water was in the tank and was told they did not know. This was odd in itself.
I was informed that the fuel tank would have to be removed, a new fuel pump would have to be installed and all the fuel lines cleaned. I gave the OK to do the work and a day or so later was told that the work was completed and I could pick up the vehicle. The charges on the bill was a few dollars shy of 2,000.00. I paid the bill and when I got into the car to start it, it would not start. It had the exact same problem. I was then told that the computer had not been set correctly and was given a loaner car to drive while that issue was being resolved.
I was curious and went on the internet to see if I could find if there were any problems with other Toyota vehicles that had the flex fuel tag as mine did. I found that many customers had experienced the exact same problem that I had experiences. It seemed that there was an issue that caused the computer to confuse what fuel was in the vehicle. I informed Auto Nation of this and it seemed that they were not interested. I was always told that Toyota was very customer oriented and that customer service was their highest priority. I contacted them and they seemed concerned about the situation. They knew about the computer issues on the flex fuel vehicles. However after a few weeks to review the situation, they informed me that they could not make Auto Nation make good on the 2,000.00 charge.
Even after all of this the car had to be worked on 5 or 6 more times in order to alleviate the starting problem. Auto Nation refused to admit that they had misrepresented what was actually wrong with my vehicle. Auto Nation is so large that even the manufacturers will not cross them. I certainly would never recommend that anyone ever purchase a vehicle, new or used, from Auto Nation. They are very dishonest and will do anything to make a buck. Even though the Sequoia has been a very good vehicle after all this was straightened out, I will never buy another Toyota product after the way Toyota refused to uphold their customer.

In January of 2017 I went to Autonation in Westlake to get a car. I ended up being approved for a 2007 Ford Explorer. I took the car for a short test drive and it seemed fine. The temp outside that day was about 65. Within two weeks of having the car I noticed the car was only pushing heat when I was driving... A thermostat problem. But in winter would cause me to be late to work because the defrost wouldn't work in the front either. The seat automatically pulls me away from the pedals, I guess a common problem with these cars but was not disclosed to me. The rear wiper motor was broken. My belt needs replaced a few hundred dollars to fix since I couldn't do that myself and I need a new radio and those two things the warranty won't cover.
Those things needing replaced was not disclosed to me at the time of the purchase and I was unaware that I needed to bring someone to look at a car I am buying from a dealership. An extended warranty and gap insurance was added to my purchase and made to seem like it was included by the financing department but I found out from the bank that it was optional. I would not recommend this place for anyone to buy a car. I understand used cars are not perfect but I should have been made aware of these pre-existing problems with this suv.

I only had my 2016 Dodge Journey vehicle 7 months. Within the first month the front rotors was bad and now the have two more problems. Sometimes when cranking up my car the brake paddle is stiff but it will crank and when I put in gear you can hear and feel the car jump. The second issue just sent me into a foul mode cause I was at the red light and the first vehicle with others behind me and the car just shuts off with out any warning. I called AutoNation and explained what happened and was placed on HOLD.
Finally I got my car to crank up and drove to AutoNation and I do understand it was near closing time but Chris told me to bring my car back Friday (which is today) and I called and asked the day before if I was able to get a loaner car he said he would look into. Well that changed quick cause when I took my car back to AutoNation he flipped the conversation after I asked him again about the loaner, after telling him once again what's happening to my car.
Chris said to me "I spoke with the mechanic about your car and he said he didn't think they would keep my car overnight." They would check it out and give me a call when it's ready. I just need a loaner vehicle not the nice gentleman who always driving folks in AutoNation shuttle van to take folks back to work, home etc. I work long hard hours and AutoNation I promise you I maybe flipped upside down with this vehicle but the next vehicle I get it will not be from your car lot. My experience with your company is bad and I RATE YOUR COMPANY AS A SMALL DOT.

We bought our 2009 at Acadia back in August 2015. He has had to go back to the dealership three or four times to get the car repaired. Horrible horrible place. Do not buy a car from here. Acadia's had transmission and several different pump issues. Addition to what we pay for the car was already forked out over several thousand dollars in repairs.


My 700 HP Cadillac went into their shop for some body work that was supposed to take one week. They kept the car for two weeks and put enough miles on it to drive it halfway across the state. Joyriding a customer's car is a problem. AutoNation corporate did not even Respond.

Bought a 2008 Honda Civic on Dec 30 2016, coolant leaking and overheated by Jan 16 2017. Spoke with salesman, very indifferent, said "you bought as is, good luck." Didn't offer any suggestions or show any interest. Never again with AutoNation.

THE AUTONATION LINCOLN DEALERSHIP HAD AUTO FRAUD. I am a widower that went in to trade in a Ford Edge. I was never given the trade OF THE FORD EDGE on the contract. I was paying ON THE CONTRACT for the MKX since 08/15/2015, thinking this was correct, as I signed a contract, even though I complained about the trade that was not applied in the 20 day period of the contract. The $810.00 every month was with great difficulty. I questioned the amount the first 20 days and they said I signed the contract and this has nothing to do with Lincoln it is the Lincoln financial third party. On the Contract it had Cab, LLC??? I asked that they refinance THE lease or do a buy, as I noticed the trade was not placed on the contract. This made the paying of this contract for two cars? I did not owe for two cars on this contract or lease? Do not know where the Ford Edge went?
Not only did they not listen to my complaint as a dealership they ignored me. And the Lincoln financial company was without any compassion or remorse. Now I am near a repossession of a car, I have only $22,000 owed ON THE MKX and no money owed on a Ford edge. And I am losing all of the value of the Ford Edge at $32000. And all the money fees and down payment on the MKX that I paid and I have lost my credit score and my reputation. They scammed me. When I went back in the 20 day cancellation period the person Wendy had quit and no one wanted to deal with me. Manager said "this is not our problem. We have nothing to do with Lincoln Financial." What a scam.
The dealer and the Financial Company will Make estimate $121,000.00 on me. I am disabled and now I will be without a car, unable to purchase a car, and my credit ruined. If they do not resolve this soon and stop the repossession I will be the one in a desperate situation. I did offer $5,000.00 cash to stop the Lincoln Financial Company then even though but I wanted all the money for the second car put back on my lease for the MKX 2016. They refused to do anything at the Lincoln Financial and a person said they will not accept the money and they will not do business with me, so Lincoln will just repossess the car. On Christmas Eve they called all My Family and embarrassed me asking where the car was and they went to my friends houses. I am devastated. I need my car and I need this Fraud reported and My accounts straightened out. Please warn others!!!
AutoNation Company Profile
Company Name:

Autonation

Website:

https://www.autonation.com/