Consumer Complaints and Reviews

My vehicle became inoperable due to an engine cooling system error which put the vehicle into "limp mode" and was not safe to drive on public roads. Being that my vehicle was stranded in a parking lot less than a mile from Ford AutoNation Scottsdale I called them seeking some guidance. I explained the situation to a gentleman in the service department and he advised I contact Ford roadside services to have the vehicle towed in since there was an open recall posted on March 27th, for the coolant level sensor (2013 Ford Fusion). I called the number he provided me and the woman took my information and a tow truck promptly arrived and I followed him to the dealership in another vehicle.
When I first arrived I was barely able to talk to anyone in the service department (understandably this was a Saturday and they were busy). Once I was able to speak with a gentleman and inquired where I should have the towed vehicle dropped off he responded that I can't just show up with a tow truck, I informed him that I had already called the dealership AND went through Ford's roadside service. He told the tow driver to drop it off in the back and then grabbed an envelope (the kind you use when no one is working in the service department) for me to fill out and asked what the issue was. I told him the vehicle was inoperable and I was told there was a recall for the cooling system. His reply was simply, "We won't have a chance to look at it until Monday" (again it was a busy Saturday but I could have done without the attitude).
I wrote my information on the envelope and in the field marked requested services I wrote "Manufacturer recall on engine cooling system". Surprisingly enough I received a voice mail later that day telling me they did not have the available parts for the recall issue (mind you, Ford themselves stated there is a risk of fire and engine damage from this issue and yes, the recall is marked as incomplete because a remedy is not yet available) but that they found my ETC sensor was bad and not part of the recall so it would be roughly $500 to repair. I called the dealership back and informed him that I only wanted the recall work done and that since they were unable to do so I would send another tow truck to pick the vehicle up to have the work done at my original dealer since it was still under warranty and it wasn't a recall issue (even though more than likely a direct result from the recall issue).
I asked him what they needed from me before I send the truck out and he said: "Well, there is a balance due of $130 that needs to be paid before we can release the vehicle". Dumbfounded, I asked him why I was being charged when I gave them in writing that I only wanted the recall serviced, he couldn't give me a straight answer. I finally get to the dealership and settle things with the cashier (the 2nd tow truck is there and waiting) and when I get the paperwork the $130 was classified under labor! As I read on, the description was that they ran an EEC quick check and found over temp codes. So, I was charged $130 to have a voltmeter hooked up to my car, something that probably took less than 10 minutes, which was not the service I had asked to be done to my vehicle. Needless to say, this experience has left a sour taste in my mouth with AutoNation.

I went into AutoNation Audi in Peoria AZ. on 7-27-17 looking for a used Audi Q5 for my son, we walked through lot and found two, the 2014 was what we liked. Test drove with salesman twice. Went inside talked little told him I would be paying cash. He brought back a written estimate with tax, title and license. To my surprise the "Autonation no-haggle price" price went up $2,240.00. I talked to Mathew the manager and he said it's not the price on window with no explanation, another salesperson told me they have outsource printing and they got it wrong. I'll be buying elsewhere.

I bought a 2008 Toyota Camry from "Auto Nation" and the salesman assured he was being honest and the sales were legitimate on the car. He said it was a good running car and trust him on this car. After a year of driving the car and keeping up with the maintenance and car payments, the car started having electrical problems, and it started burning a lot of fuel. After a few months went by the engine caught a fire while my son was driving it and just eventually it blew the whole engine. When it went to the shop I was told by a certified mechanic that the car had been in a couple of accidents, the battery had exposed under the hood before I even purchased it and they had no business selling me this car.I contacted the company several times and they only give me the run around. I have spent several thousands on rental cars and family has been highly inconvenienced due to this dishonesty of this company

False advertising, buyers beware. After driving 115 miles, we spent over 3 hours at BMW of the Woodlands Tx and paid cash for the car. On the way out with the newly purchased car keys in hand, we asked Jared the sales rep to show us how to work the navigation systems. He tried unsuccessfully to get it to work, we all went back into the office only to find out from his manager the car does not have navigation system as advertise on their website. They did not accept responsibility. The online descriptions for the car remains the same without any attempts to update/correct the false advertising.

After contacting 3 different AutoNation locations after the hail storm which totaled my car, I was extremely dissatisfied with the lack of wanting to help. I understand that the prices posted, but to have a take it or leave it attitude and approach is very slimy used car salesman tactics. I called and let them know what I was looking for, what my budget was and also called with vehicles to review from what they had posted to help speed up the process. With all of the fees, the vehicles were slightly above my budget and therefore I could not afford them. Instead of offering me a similar type of vehicle of trying to work with me on the price ($800 difference), I was told that there was nothing that they could do.
Now I am receiving phone call after phone call at my job and endless emails about how the vehicle I was interested in is still sitting on their lot and now want to negotiate! Yeah right! I then receive multiple emails from the GM asking how my experience was and I responded that it was not good! I have not heard back from the GM, but he was kind enough to send me another email asking me how my experience was! I am glad that they are reading their emails and responding accordingly. Very disappointed. The good reviews must be from family members because they are terrible!
How do I know I can trust these reviews about Autonation?
854,137 reviews on ConsumerAffairs are verified.
We require contact information to ensure our reviewers are real.
We use intelligent software that helps us maintain the integrity of reviews.
Our moderators read all reviews to verify quality and helpfulness.
For more information about reviews on ConsumerAffairs.com please visit our FAQ.

Purchased a 2014 Nissan Altima that was advertised as Nissan Certified Pre-Owned (CPO) at AutoNation Nissan 104 in Denver, CO. Discovered 8 months later that the vehicle had been in a major accident that was not disclosed. Contacted Nissan Consumer Affairs to complain after speaking with the dealership and was told that the car was not Certified according to their records. Nissan claims that we were "mislead" by AutoNation. Very disappointed that we did not receive the vehicle that we believed we were purchasing and have now been cheated out of the 7 year/100,000 mile limited warranty. Beware of AutoNation vehicle fraud!

Let me preface my complaint. I've owned 3 Honda vehicles since 1983. Have had very good experiences with all the Honda dealers previous to this. I searched the internet for Honda Accords that were within a certain price range my 17 year old son could afford. AutoNation showed one for the price of $3851.00, 206,000 miles, 2003 model. Took my son to look/buy it, 2.5 hr drive. James the attendant was very helpful and I have nothing but good to say about him. Then after we were done test driving it, he said there is a processing fee.
The fee was $699.00! to make a long story short, I totally missed the processing fee because it wasn't on my print-out page which shows the price very prominent but failed to see in "fine print" at the bottom under "Disclaimer" that they charged an extra $699.00. This in fine print in spite of their statement in larger print near the main priced which states falsely: "The price you see is the price you pay." It doesn't matter how "successful" and wealthy this company is; they are tarnishing Honda's reputation. They are not an honest company. The price you see IS NOT THE PRICE YOU PAY! It just happens to make them look $700.00 less on the internet search. I'm surprised Honda Corp allows a shady dealer to represent them.

I can say without a doubt that this dealership is right up there with the worst in my 40 years of buying and selling cars. By now I expect to be lied and scammed by the sales department. But not the service department. My primary complaint is with the Automation in Albany, GA. I was interested in a vehicle that was at another Automation in a nearby town. I had been watching and looking for a few months and had noticed that they seemed to switch used cars back and forth between their dealerships. So I went by and after several minutes someone came out to greet me. Told them exactly what I needed as far as specs, etc. knowing full well they didn't have one but Columbus did. Told they would get back with me. Never did.
This went on three times with three different salesmen. No returned calls. So I called and asked for a manager. Asked them could they get a car from Columbus brought here as I work six days a week. Told they don't do that, which I knew was a lie. So I called Columbus, asked what days do you swap cars around and he told me. So I asked could he send a Jeep Cherokee Trailhawk to Albany. He said he could, but he would knock $1,500 off the price if I would come to Columbus. So we did and managed a trade, and they drug it out as other people have commented. But now the real fun begins, the Automation in Albany and its service department.
The car was a CPO, so at least I had Jeep behind me, or I thought, but that is another story. So while the car was still under factory warranty, I found a crack in a plastic piece on the driver's seat. Looked like a scratch until you got out, then it would open up and pinch you if weren't careful. Took it by, asked if they could order the part and then call me when it came in. No problems, thinking, well at least the service department was OK. Was I ever wrong?
As summer progressed, it began to squeak by the B-pillar on the driver's side, and a loud groaning noise from the steering. First time that noise sounded I thought it needed power steering fluid. Looked but then realized, it's electric steering. But the noise was intermittent, wouldn't do it all the time. I am in the computer business so I understand how difficult it is to find an intermittent problem and how subjective noises are. I may hear something that you don't and vice versa. So I isolated the conditions that would guarantee the steering noise and asked for an appointment, and that I wanted the technician that was to work on my car to ride with me, so I could ensure that we both heard and understood the noise and how to make it happen. I use this for work and wanted as little downtime as possible.
When I arrived for my scheduled appointment and asked for the tech you would have thought I had three eyes with the look I was given. I explained again to the service writer what the problem was, so he disappears and comes back and has someone who I was told was a technician, so we go for a ride and he acts like he knows what the issue is. This is on a Tuesday and I am thinking great I should have it back by Friday. So I had also requested a loaner to use. It's still under factory warranty and I have the extended warranty so I should be provided a loaner. Told me they don't do loaners, AutoNation's policy. Another lie, but they could do a rental, but it may be late that afternoon, so I get a ride home.
No call back on the rental that day as promised. Called the next day and was told to call Enterprise myself. Told them no way, they are renting the car, not me. Asked about the status of my car and was told the tech didn't come in that day, so it would be tomorrow. Again no call back on the rental. To make a long story short, this went on until the middle of the next week. They finally got me a rental car on the same day I got my car back.
But the car was not fixed at all. Was told the noise I was hearing was gravel under my tires. Excuse me. Been driving for longer that they are old, so I think I know what gravel sounds and feels like. Then they came back and said the technician couldn't duplicate the noise. Then come to find out, the person who they said was a tech wasn't. He was their porter and was posing as a tech to placate me.
Found the new general manager. Made him ride with me, had the car make the noise, looked him dead square in the eyes, and told him, "Now, hear that. Think a car should be making that kind of noise, and it damn sure isn't gravel under my tires or my imagination." They kept my car for almost three months off and on and to this day, has not repaired a single thing. In fact after the last time, it came back with grease stains on the headliner and they never finished putting the inside of my car back together. Plus stole every quarter, dime and nickel that was in the coin holder. Left the pennies. So stay away and avoid yourself a ton of grief.

This afternoon, June 20, 2017 I met with used car sales manager, Derrick, to get approval for a loaner while my truck was being repaired. It is a Chevrolet & will have to go to a different dealer. I purchased the truck from Winter Park, but they are not equipped to work on the issues I am having with it. Derrick was not the least bit friendly, & in fact was rude & insulting. He asked if I had an extended warranty & when I said yes he turned to the salesman & asked if I did indeed have one. What, am I lying? Insulting & inappropriate. That was as good as calling me a liar in front of the whole room. Everyone else that I have dealt with has been very professional. Derrick, however needs to take classes in diplomacy.

Long story short, attempted to purchase a vehicle on a Thursday. Went through the process of getting an appraisal on my trade (2015 Toyota Tundra, low miles) and was given a written offer for trade/purchase authorized by sales manager John ** on the spot. Agreed on the trade, said I would call in the morning after I had time to think it over. Called as soon as they opened next day. We agreed on the trade/purchase. Was asked to come in on my lunch to sign paperwork. Spoke to salesman Bernard ** throughout the morning, transferred insurance for new vehicle, authorized my preapproval through Chase Bank, and then drove to dealership to sign the paperwork.
Was told by Bernard that paperwork wasn't ready yet, and was asked to return after work to sign the final documents. Went back to work. Received an apology phone call from Jessy ** at AutoNation Express expressing her regret that the vehicle had been sold earlier that morning. She said they would do everything they could to find a comparable vehicle. (Simply impossible. I spent weeks finding the vehicle I intended to purchase, and in a matter of hours, the car disappeared, even after speaking to several employees at AutoNation about the impending trade/purchase.)
How could the dealership sell the vehicle after I had a written and signed offer for trade/purchase? Still waiting to hear from Jessy or Bernard about a replacement sale vehicle. I won't hold my breath. Never heard a word from Sales Manager (really?) John **. I don't expect to. If this is how they treat "potential" customers (and the possibility of incoming money), I shudder to think how you are treated after they already have a finalized contract with guaranteed money. The jury is still out, but the outcome isn't promising. They could redeem themselves in a big way, but I doubt it. Their system seems broken beyond repair after reading the multiple instances of their bait-and-switch tactics. Get it together AutoNation! More like Fraudsters-R-Us...

We contacted and tried to purchase a 2011 Honda Odyssey from AutoNation. It took 2 weeks just to get a salesman to actually return our call. We sent a cashier check to AutoNation and they were to have the paperwork sent to Fort Payne Alabama. They never did nor did they make contact with the Fort Payne Alabama office. We called and tried to get paperwork they claimed they were waiting on check to clear. This check was a certified check from the Alabama Credit Union. What's with this. Well let me tell you my wife was contacted and they told her they might resale the van.
Well guess what after 5 days and no paperwork we requested the return of our check. Lo and behold they overnighted the check, which meant they had no intention of cashing and it certainly had not been run thru the bank. And by the way, the van had been shipped to a dealership in Georgia and the price was now $3,000 more than we had written check for. Well my husband contacted the main office and claimed to try to straighten out. Meanwhile, the van is now on 3 websites and they claim it is sold. WHAT DO YOU THINK? AFTER THIS WOULD YOU LIKE TO DEAL WITH THESE FOLKS? Take it from an honest retired Christian, stay away from this business.

I attempted to finance/lease a new 2017 Mercedes Benz S63 AMG through Mercedes-Benz of Naperville, owned by AutoNation. The salesman, Brian **, seemed really friendly at first, but was not the most knowledgeable about the AMG series, had to get the new vehicle manager involved, Joseph **. I told them I wanted to lease or finance the vehicle in my company name along with my business partner's credit, but this seemed to be a problem, which I slowly found out, as I was the person that had to chase them down for updates. I'd call into the dealership asking for the salesman Brian, but was always told that he was on the phone or with a customer. The problem with today's technology is that all of the employees at AutoNation/MB of Naperville have caller ID, and just screen the calls, and send you to voicemail.
I then tested the salesman Brian, and called him from the parking lot, while he was standing next to the door chit chatting wit his fellow salesman, and watched this first hand, as he avoided my call. I then walked into the dealership, and when he saw me, he looked like he saw a ghost. He didn't know what to say, and when I asked him for an update, he then walked me over to the finance manager's office, Zachary **, who was on the phone for the next 15 minutes, but then spoke with me. I then asked him what the status was, because no one is updating me on anything, or telling me a thing. Zachary apologized, and said that they are just so busy, and he had been meaning to call me back, but my observation was that they are extremely understaffed.
Zachary then said that he had no luck thus far with an approval, but would hear something back from Bank of America on Monday, and he would then call me. Brian the salesman just stood there dumbfounded, never saying a word, like a clueless marionette. Needless to say, I never heard back from him again, with any updates, nor anyone for that matter, Brian or Zachary.
I'm very happy to say, I immediately proceeded to contact the dealership that my car was going to be transferred in from anyway, the largest Mercedes-Benz dealership in the country, Fletcher Jones of Newport Beach, CA, and financed my amazing 2017 S63 AMG through them, and I had it shipped to my home here in Naperville, IL. Strangely enough, it was financed through Bank of America, the same bank that Zachary was waiting to hear back from, how bizarre is that?
Even more bizarre, Brian the salesman, tries to say hello to me when I'm in for service on my wife's car, as if nothing ever happened, a complete twilight zone experience! I tried to call a complaint division of AutoNation, but a human never answers the phone, and I did leave 4 messages on various voice mails, but never get a return phone call. I guess AutoNation just didn't need to sell a $209,000.00 car?

Awful dishonest dealership. They lowball price on trade in after they made offer. The advertised vehicle I wanted was not there after I was told on the phone three times it was there. Waste of two hour drive. One hell of a scam. Buyer beware!!!

Arrived Saturday to receive an oil change and for a tech to look at my A/C due to it being intermittent. Lex **, the adviser advised me there weren't any appointments available until Tuesday. I informed the adviser I would up there right after I get off of work; which was around 5. I work in Lewisville, TX and it takes me awhile to maneuver through traffic.
Once I arrived on Tuesday I sat in the service driveway for 10 minutes without any assistance. I decided to get out the vehicle and all of the advisers were in their office facing where I pulled up. I asked what I needed to do because I had an appointment at 5. The first adviser took some information off of my car and referred me to Lex **, which is the adviser from Saturday. We started doing all of the paperwork. When we got to the counter to get the loaner car (a SUV) I realized I didn't have my license. I drove back home to get it and return shortly.
Before leaving I expressed I needed a SUV because of my children and Lex understood. Once I returned I provided my insurance, CC and license and waited in the waiting area for approx. 20 mins. Once the loaner adviser called me back he advised me that it was the Ford Fusion. I expressed to him numerous of times that I have a SUV for a reason. I have kids and I do other things that require a bigger vehicle. He stated that is all they had and asked if I wanted it or not.
I took the vehicle, because my A/C needed repairs and the summer days are quickly approaching. Not once did either adviser apologize for the inconvenience. I would NEVER return to the dealership. Their customer service was the worse. I wouldn't recommend anyone to go. I had stuff in my truck and no one offered to assist in getting the car seat or any of the belongings out. In fact the loaner adviser stood there and watched as struggled with my hands full. I understand there is construction going on around the facility but the car was filthy. The inside was not vacuumed and the outside was dirty as well.

I got my original 2013 Honda Ody OEM battery replaced under the new car purchase warranty on a service visit with a new (100 Month Honda Limited Warranty sticker) battery. Less than a year later the battery dies and needed to be replaced. The same dealership (Auto Nation Honda of Sanford) said, they will not be able to replace or prorate it because it is no longer under the 36000 miles or 3 year warranty anymore. They will warrant it if it was a purchased battery in the time that it needed to be replaced.
My question to them, then what is the 100 Month Limited Warranty on the Honda battery is for? Why do I need to buy the battery from them in order to get the battery's manufacturer warranty? Shouldn't they stock batteries from vendors that comes with warranty to begin with? I felt they replaced a bad battery on my car and just tell me, "It is your problem, we did what we need to and if it goes bad when you drive off the lot", it is not their issue. They said, "Talk to Honda Motor Co," they are just a dealership that install the battery and the warranty issue have to take up with Honda Company. Honda dealer and manufacturer pushing the responsibilities on each other and not helping the consumers to resolve their issues. The battery manufacturer should not put the 100 Month Limited Warranty sticker on their batteries. It is misleading to the consumer. This will be our last Honda vehicle in the family for sure.

I told the guy doing my paperwork that I did not want GAP insurance. They hand you 30 papers to sign. When I got home I saw GAP insurance and tire insurance. Not cancelable once signed. AUTONATION IS SHADY. THEY SLAM YOU INTO CONTRACTS YOU DO NOT WANT.

Shady dealings with AutoNation - when trying to purchase a car from them for the past 3 weeks. When first called about the 2015 Camaro Convertible car, the price stated was a firm price of $26,511 and that was a no haggle price. The dealer had the car for about 4 weeks when I received an email from the sales rep. that they reduced the price to $25,848. I tried to call to confirm my purchase and I was told the car sold and was being shipped to Maryland. Then I received another email stating that they had again reduced the price to $25,314 from the same sales rep approximately 1 hour after the car had been shipped to Maryland.

We bought a 2016 Jeep Renegade. It is a year old and only has 4000 miles on it. This vehicle has been in the shop for well over 2 months. The bushings went bad, the paint had rust coming through, the weather stripping was messed up, the dash was messed up, the radio cuts out everywhere that still isn't fixed and was told basically they are not going to try anything else to fix it. Was promised compensation for all the time it was in the shop and then told there will be no compensation. This is a complete disaster and I have 3 more years on my lease. Don't waste your money or your time on this vehicle or dealership. Our vehicle is always parked in a garage, never been off-road and barely driven on a daily basis and still have all these problems. Imagine if we actually used it like a normal car.

I had purchased a 2008 Silverado used vehicle. The salesman Robert ** assured me the truck had undergone a safety inspection later to find out the next day I almost got in a car accident due to the vehicle not having the proper state law safety inspection they said it did. In fact I returned the truck the same morning I almost got an accident. I went and talked to the sales manager Brian. He then stated he did know if truck actually was inspected for safety before he sold it to me. I was in shock. This review will not go unnoticed. Next I will take my concerns to the BBB. They must know a dealership did not perform a proper safety inspection before releasing the car and almost put me in a bad situation. AutoNation - Mesa AZ, Superstition Springs.

When buying my car I was told that the extended warranty I purchased would cover all repairs needed on my vehicle. I have not even made my 3rd payment and I have been told the warranty will not cover the repairs needed and I will need to pay these people $2000 on repairs that I was told my warranty will cover. I have reached out to the GM and have NO response or even a courtesy call back. My recommendation RUN while you can. I will be reporting to BBB and my local news stations as this does fall under the Colorado Lemon Law.

I went into AutoNation Nissan Arapahoe in Denver, Colorado to look at trucks, I found one that I liked, and knew about what to pay since I had spoken with a neighbor who purchased a truck two weeks previously. I sat down with the internet salesman by the name of Cory, he quoted me a price that I felt was more than I wanted to pay. I get a text from the other internet salesman by the name of Matt who stated that he had found the truck I was wanting at the price I wanted to be at, I said "great, I will be up this weekend". I live about a hundred and fifty miles from Autonation Arapahoe in Denver, Matt the salesman about an hour before a scheduled meeting said that the truck had sold, but he has the exact same truck in black for 2k dollars more than I had been quoted. We were to meet on a Saturday and I had spoken with him late Friday, so I guess the truck sold overnight without his knowledge.
This form of scam is called a bait and switch, you get them in the door, get them emotionally committed and then you take away the original deal, and offer them the same thing for more money. If you don't believe me, I have retained the paperwork with the original quote and the subsequent texts between me and the salesman Matt. I was actually in the market for a Toyota, but my neighbor convinced me to look at Nissan, sorry I ever did, Toyota demands a premium for their vehicles, and they don't need schemes and scams to sell them. Contact me and I will provide you with the proof.

Fort Myers Florida AutoNation Toyota. I was asked by the service department if I was complaining to her because she was a woman? Her been a woman do not have anything to do with my complaint. I do not know why did she even asked that question? I told her that my complaint does not have anything to do with her, it has to do with her service department.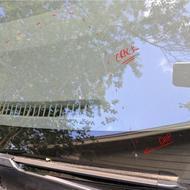 The financing experience was super long. We waited hours throughout the entire process. It's the longest I've ever had to wait to buy a car. And I'm not talking about waiting for our turn, once we were in the office, the financing guy spent a ton of time pitching products or slowly filing papers, or just chatting instead of working. Anyone who has bought a car knows that you will be pitched all the bells and whistles. We opted for none of them, except for the windshield package which supposedly prevents chips and increases the durability of the windshield. This was sold to us as it would prevent tons of common windshield damage and it would be super easy to repair and replace should damage happen - less hassle than going through your insurance. We figured why not, with lots of gravel roads and hail in our area it could be worth it this time.
One of the first severe thunderstorms of the season hit a few days ago, and it must have sent a small piece of flying debris right at the car - now there is a small impact chip and a crack across the whole windshield. Mind you - it was a bad storm, but the winds were nowhere as strong as the winds you face driving down a freeway at 65. I've owned cars for 15 years and never had a windshield break barring a major accident - 4 months into owning this car with supposedly extra protection on the glass and the windshield is already shot... Finding the number to call from Auto Nation was the first hurdle. They did not provide me with the claims number to call in my paperwork, and I had to call/get shuffled around to multiple departments to get the contact info. I had to call twice as the first time they gave me the completely wrong number.
Once I had the number of the warranty service, I called to file the claim and was told that I would hear back within 24 hours. 72 hours later and no word. I call back only to find my claim has been denied as the vehicle was not moving at the time and small hail or debris is not covered by the warranty. I give this department/service 1 star for the following reasons: Pushy and deceptive sales tactics, sketchy product descriptions at the moment of sale and slow service. Questionable efficacy of the warranty/service provided. Horrible communications for trying to file a claim for the warranty, which was ultimately denied.

Any car shoppers be aware of buying a car from AutoNation. Although on their website they state that you have 5 days or 150 miles Money Back Guarantee on pre owned vehicles, when you buy a car from there they make you sign a piece of paper that says you forfeit your right to a refund. Be very careful.

On March 27, 2017 I was attempting to purchase a vehicle from AutoNation Chrysler Dodge in Johnson City, TN. I noticed a large amount of oil on the frame and asked the sales rep about this. I was told that the file said that the rear seal had been repaired and the oil must be left over from the repair. I asked further questions about the repair requiring a visit to the service area. In the service area, I was introduced to an individual who was allegedly the sales manager. The sales manager immediately got defensive and told me that all high mileage cars leak oil. I asked if the rear seal had been replaced. About this time the sales manager became irate and began cursing at me and telling me to get out of the service area. This attempted to intimidate me by puffing his chest out and holding his arms out like an action figure. The sales manager continued to berate me, calling me filthy names and threatened me with physical harm.
At one point as I was walking out of the service area I did turn and give him the finger (wrong on my part). This sent him over the edge and he increased his verbal assault on me and threats of physical harm. This entire incident occurred in front of the sales rep and those service techs in the service area at the time. I walked out of the service area and departed the dealership. This dealership should be ashamed to call this guy an employee.

We have just leased a new car from AutoNation Bradenton, FL. Our salesman Dave ** was the best salesman we have ever had. We have been purchasing car since 1955, so I guess we have seen many a salesman. Kind, courteous, understanding, helpful, & professional. Dave had us return to help with all the technical features on the vehicle, this was a big plus. All the staff that we dealt with went over and above to help us along. THANK YOU, THANK YOU.

This starts my experience - I took my Jeep Cherokee to AutoNation Chrysler, Phoenix, AZ with an appointment at 7 am yesterday. I explained prior to my appointment that I was having an issue with the Key fob not connecting with the computer and thereby not working properly. That I needed an oil change as well and possibly the recall item fixed. I dropped it off and after the service advisor took my car he informed me it would be 24 to 48 hours. "What about a rental. I am a single lady living by myself." "Nope. We do not have any cars to give you - we have 80 rental cars and they are all out and there is a list." My very expensive warranty covers a rental car.
Honestly I started thinking that Chrysler or MOPAR must not make a very good vehicle if they had that many cars in for work. I ask to be notified if they were going to keep the car overnight. No one called, so I made contact with Jacob a Service Advisor and not a very nice person - he basically dismissed me and told me to go to Midway Chevrolet to get a rental car and they might reimburse me since I have that coverage. I couldn't understand what was going on and extremely frustrated. I reached out to Eric the alleged Service Director and he said if I could drive a manual that I could have a rental car. I went there and picked up the manual, with a broken toe and have been driving it. He informed me that he would check the status of my car and call me first thing in the morning - I thought wonderful; however, I kinda expected that I would not have a call this morning and I was right. No call or anything by 11 am the next day.
I again called the service department and had someone check on my vehicle and they advised that no my vehicle was still just sitting and they numerous cars before mine. I ask if it would be done today and they said at Autonation they have 24 to 48 hours to get it into a bay to be fixed or looked at. When I purchased the vehicle this was not told to me nor was I informed. I had numerous problems with them after the purchase and decided to take the car to Airpark Jeep for any further maintenance needs. However, because my office is 1 mile from Autonation I decided to give them another chance to redeem themselves. Now I am without a vehicle, which they could care less and if this is the way MOPAR dealerships conduct business I have no use for any of their vehicles.
If you purchase a vehicle from Autonation, be prepared for the ride of your life and a horrific experience. They are a ripoff in their sales department as well as their service is horrific from the Service Advisor to the Director of Service. Disgusting how they treat people after you buy their vehicle. Now I have to go pick up my car and not drive it on vacation because of the fob sensor. Hope this helps keep anyone from going through what I have gone through with this car dealership. Run.

The manager Paula Keller was great!! She took my very angry phone calls and explained the situation that some cashiers checks can be forged. She asked me to have my bank call her to verify the check was good and I had my money the same day. Great job!
My only complaint is they should let you take your car to your mechanic to have it checked before you buy and this whole situation could have been avoided.
Original Review
Went to purchase a used vehicle. Wanted to take the vehicle to my mechanic and was told I could not, but they had a 5 day no questions asked money back guarantee. I purchased the vehicle with a cashier's check from the bank on Thursday. I then took it to my mechanic and decided it needed too much work done
so I returned it the next day. Returned vehicle on a Friday early afternoon. I was told the business office was closed and I would get my money back on Monday.
Called on Monday and was told it would be 2 weeks before I could get my money back because the check needed to clear and then they would issue me a refund.
What was the point of a cashier's check?? I have no vehicle and no money. This is unacceptable. I was told I would have my money on Monday and want to
purchase another vehicle, but am unable to until I get my money back.

My fiance financed a 1990 Ford Ranger with 150K miles for $5900 (Not very experienced with auto purchases). We brought the truck back in one day in accordance with CO lemon law to return it. They claimed to do a 160 point check on all their used vehicles before putting them on the lot for sale. This truck wouldn't go into 3rd gear (manual transmission) without forcing it with great strength. Also, one would think a 160 point check would find a wasp nest in the driver's side door. My partner acquired a nasty wasp sting as well.
Anyway, when I attempted to return it the day after purchase, I was told if I kept the truck, all the repairs would be done, as per the 60 day warranty, free of charge and I would be provided with a loaner vehicle. 4 days later, the repairs were approved to be paid for by the department which handles the warranties. I had the loaner vehicle for 3 weeks and when we picked up the truck, they wanted $3300 for repairs they said were not covered by the warranty (the transmission and the flywheel) and they would only pay for the clutch repair. They said the transmission and flywheel were normal wear-and-tear items. I only drove the truck for two weeks before having to return for repairs. How the hell can you wear out transmission and a flywheel in less than 350 miles?!? After a lengthy quarrel with the general manager, he agreed I was correct and paid for the repairs.
On the day we were to pick up the truck, it made an unusual noise on startup. I had the service advisor, Keith, come out and look himself. He said it was either the starter or the flywheel and the parts and labor are covered by the warranty. We hadn't had possession of the truck long enough to register it so he said he would get the repairs approved while we legalized our ownership with Colorado. I had just moved so it took us about 10 days to register. By that time, we took the truck back and turned it in for even more repairs. No loaner car was given this time.
They contacted me 3 days after and informed me my warranty had expired and they were no longer responsible for the repairs. If the repairs were requested from the warranty department the day Keith said he would, all would have been covered and the world would be a better place. Instead, the request was not made in the timely fashion promised and a few days later, I received a call from the service department and was told the repairs would cost another $2900. We had possession of the truck for a little over 3 weeks which is supposed to be the time we need to determine if repairs need to be made to the used vehicle. Most of the first 2 months of our ownership, the truck was in the shop getting subpar repairs. This is a scheme in which they pulled off very well and I can't believe it's the first time. Who did the work on the truck? Helen Keller?

The worst dealer ever. I experienced the worst customer service support ever. I was ripped by the people working in this location in the amount of $1500. They just cut it out from my check without my approval. We leased from them Toyota Camry of 2017 and trade in our Nissan Xterra of 2011. We have sold them our car for $11500 and we put $3999.99 as a down payment towards their Toyota Camry. They told us that they will send us a check in the amount of $11500. In the same time they asked us for a check in the amount of $3999.99 and they promised not to cash it until we get our check.
Beginning of February we started to worry about our check because we didn't received our check yet. Finally the February 13 I was able to speak with their accounter named Josh. He told me that our check was sent by the end of January. And then we found out that they send our check under very old address. I was told that there is miscommunication between me and my husband. I've checked an old address but no one under my old address seen anything addressed under my name.
So next day I've called Josh again to cancel the check and process a new one. He told me that I will receive my new check in 7 business days. Didn't happen. So I called him again because he/they never called us back even if we left them any message asking to call us back. I was told it will take another 2-3 business days. But this was already February 24. And again because it was about weekend no one could help because financial institutions are not working weekends.
After that beginning February 27 they became very mean, over the phone and in person. In this point Josh did not know anything and he changed all the statements that he told me before. Now he didn't know when will I get my check and he couldn't provide me any information when will I get my check because everything is pending so financial institution must review everything again before they will able to cut my check!!!
In the meantime February 23 they processed the check that my husband left at the time of signing the lease agreement with them. But the check couldn't be cashed because there was no coverage. So the next day I told them (Josh) that they won't get any money from us until they will pay us off. They didn't like it at all. They became very rude and mean over the phone even the person that transfers phone calls was very upset on me. So finally March 4th I decided to call General Toyota customer service. They couldn't help me but I was able to leave a complain and they have sent it over to AUTONATION Toyota in Libertyville. Also I was told that they should call me back within 2 days. And yes Josh called me back. It was March 7th. He told me that the check was processed and was sent to me and I will have it by Friday March 10. And finally yes I get check from them but not in the amount promised but $1500 less.
When I get there they of course couldn't help because it was Saturday and the financial institution is off duty. When I asked for bill of sale the supervisor asked me "what is it". Then he said "I don't understand you". And he said that if they do owe me something they will give it to me. Then he promised to call me back on Monday (him and Josh) in front of most of theirs employees but no one call me back. And when my husband get there Josh told him that if we have any paper that contains the amount that they owe us something then he will able to help us. 2 salesmen, the manager, accounter and another accounter totally forgot about our case.
And all the papers we have to prove that they lie to us means nothing to them. We didn't even get those papers. We just made a photocopy at the time we spoke to salesmen. We also have a copy of appraisal from Carmax dated January 17, 2017 that without buying anything from them they will give us $11000. So in general after all nobody was able to provide me the bill of sale of the vehicle I trade in with my signature. 5 employees totally forgot how much this dealer owe me. I was waiting 2 months for my check. In the meantime they just sold my car and right after I received my check, they just tricked us and now there is nothing they can do about it. Never do the business with them. All the papers I have make no difference to them. I was told that I made those up. Unbelievable.
I would never think that someone could do something like this to me. No one ever did before. Stay away!!! It is illegal not to provide all legal documents to customers and that's their responsibility. I was on the phone with them for over a month. I was receiving wrong information each time or none. I guess they needed more time to finalize their transaction so I can't have my car back. And of course for all this time I was promised that they will call me back and never did!!! Even the supervisor couldn't keep his promise. Very mean people!!!
AutoNation Company Profile
Company Name:

Autonation

Website:

https://www.autonation.com/