How much does memory care cost?
Find a memory care option that matches your budget


Written by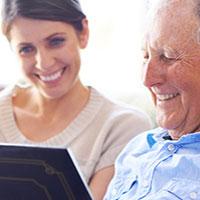 Dementia can slowly work away at both your loved one's mental acuity and their finances. A recent survey conducted by Genworth estimated that, nationwide, the average costs for long-term care range from $1,603 per month for adult day care to $8,821 per month for nursing home care in a private room.
However, it's difficult to determine exactly how much dementia care will cost for your loved one because so many factors affect how much you pay. Everything from your loved one's location to the type of care you choose will affect how much you spend.
Types of memory care
Learning about the various types of senior care should help you find memory care within your budget.
At-home dementia care
With at-home care, your loved one is able to receive care and assistance from the comfort of their own home. This may be especially important for people with Alzheimer's and other forms of dementia since they often have difficulty adjusting to new settings and environments.
The types of services available vary from provider to provider. Some at-home dementia care providers only offer assistance with nonmedical tasks (like housekeeping, meal preparation and companionship), while others provide medical care (such as physical therapy, wound care and medication assistance). Many providers offer both medical and nonmedical services.
One of the biggest benefits of at-home dementia care is the ability to customize which services are provided. An individual's care needs often fluctuate and change as Alzheimer's or other types of dementia progress. With at-home dementia care, you can add and remove services depending upon your loved one's needs.
The nationwide average cost of home care provided by a nonmedical health aide is $24 per hour, according to Genworth. Costs in your state will vary, though. North Dakota has the highest cost for at-home dementia care at $27 per hour, while West Virginia and Louisiana tie for the lowest cost at $16 per hour.
Costs for at-home dementia care vary greatly, depending upon a number of factors, such as:
Location
Services provided
Frequency of services
Hours of care
Insurance coverage
Some at-home dementia care services, such as wound care or medication administration, may be covered by Medicare or private insurance. If the service isn't covered, you will be required to pay out of pocket, though. Some states offer financial assistance programs that can help with necessary home care.
Dementia day centers
Adult day health care centers create safe, nurturing environments where your loved one with dementia can socialize and take part in various activities. This nonresidential setup allows you or other caregivers to take time to run errands, work, visit with friends or rest without worrying about the health, safety and well-being of your loved one.
Most adult day care centers are open weekdays during normal business hours. However, some may offer early-morning or late-night hours and may even be open on the weekends.
Finding an adult day center that offers dementia care is important if your loved one has a cognitive impairment. The staff at these centers has experience and training dealing with the unique challenges and behaviors of dementia. Workers at dementia care centers can handle everything from hallucinations and wandering to speech difficulties and inappropriate behavior.
Some examples of services that may be offered by an adult day care center include:
Memory care generally adds about 20% to 30% to assisted living costs.
Activities: Socialization among peers is encouraged by offering a variety of stimulating activities. Some examples of popular activities include movie viewings, card games, exercise programs and arts and crafts. Some centers may even offer off-site activities and outings, though they often cost extra.
Nutrition: Adult day health care centers often offer dining services where your loved one can enjoy a nutritious meal.
Personal care: Some centers offer your loved one help with personal care, including bathing, toileting, grooming, eating, incontinence and activities of daily living (ADLs).
Health services: Some centers only provide basic medical services, such as blood pressure checks or podiatry appointments, while others offer full medical services, such as medication management, insulin shot assistance and wound care.
It's difficult to determine how much adult day health care will cost — prices vary from center to center. However, the national average is about $74 per day, according to Genworth's 2020 Cost of Care Survey.
Some centers require you to pay for each service your loved one uses, while others may use a sliding scale where the cost of services is based on income or ability to pay. Medicaid may cover the cost of adult day health care for those with limited income and assets, depending on the state you're in.
Alzheimer's care in assisted living facilities
Sometimes a loved one with dementia struggles with day-to-day tasks but doesn't require regular medical care. Assisted living communities offering memory care provide the safety, support and assistance your loved one needs while giving them the freedom to remain as independent as possible.
Some of the services and amenities that may be offered by a memory care unit at an assisted living facility include:
Housing: Residences can range from shared rooms to private suites and apartments.
Dining: Residents of assisted living facilities are often provided with three meals a day and snacks.
Personal care: Assistance with ADLs such as bathing, showering, toileting, dressing, eating and transfers is generally provided. Other forms of assistance, like housekeeping, laundry service, and medication and meal reminders, may also be available.
Activities: On-site recreation programs are generally available, and some facilities may even offer off-site excursions. Activities can include games, classes and social gatherings.
Limited medical care: Medical care varies depending upon the facility and can range from full medical services to basic health care, such as blood pressure and temperature checks.
Security: Memory care units at assisted living facilities often have secure entrances and exits to prevent wandering.
Trained staff: Employees at these communities should have experience and training in how to handle behaviors unique to people with dementia.
The cost of assisted living varies from facility to facility. However, according to Genworth, the average nationwide cost is $4,300 per month, with memory care services incurring an additional cost. Exact costs vary by facility, but you can expect to pay an additional $1,000 to $4,000 per month for memory care services. Assisted living often isn't covered by insurance, but keep reading to see options for paying for memory care.
Alzheimer's care in nursing homes
As the disease progresses or additional health problems arise, your loved one may require more intense medical care and/or around-the-clock supervision. When this happens, you may need to consider a move to a nursing home.
Nurses, health care providers and health aides often are on-site 24/7 at nursing homes. This means your loved one will be able to receive all the assistance and support they need with everything from daily activities to complex medical care.
Some services and amenities offered by nursing homes with memory care include:
24/7 medical care: Round-the-clock supervision by support staff and medical professionals sets nursing homes apart from most other senior living options.
Housing: Residents often live in shared or private rooms.
Dining and nutrition services: All meals and snacks are usually provided.
Personal care: Nursing homes provide assistance with daily tasks such as bathing, grooming, showering, eating and transfers.
Security: Memory units at nursing homes are often locked to prevent wandering.
Activities: On-site recreation is often available.
Trained staff: Employees at nursing homes should be trained to handle the behavioral issues that tend to arise with dementia.
The combination of round-the-clock supervision and specialized medical care makes nursing homes expensive, though. The nationwide average for nursing home care is $7,756 per month for a shared room and $8,821 per month for a private room.
Label
Authorized Partner
Company name
Logo
Contact
Summary
Get Started

Label
Company name
Logo
Contact
Summary
Shop Now
Cost of memory care by state
The location, level of care and type of facility you choose will affect the cost of memory care. Nationwide, adult day centers are typically the most affordable option for memory care — approximately $1,603 per month — while nursing homes are the most expensive, at $8,821 per month. However, average costs vary significantly by state.
Alabama has some of the most affordable senior living services in the country. According to Genworth, adult day centers in the state of Alabama cost $655 per month on average. Alaska, on the other hand, has some of the most expensive senior living services in the country. Nursing home care in Alaska costs approximately $37,413 per month, according to Genworth.
The most affordable states for memory care options:
Adult day health care: Alabama, at $655 per month
In-home health aide: Louisiana, at $3,241 per month
Assisted living: Missouri, at $3,000 per month
Semiprivate nursing home: Oklahoma, at $5,323 per month
The most expensive states for memory care options:
Adult day health care: Alaska, at $3,055 per month
In-home health aide: North Dakota, at $5,529 per month
Assisted living care: Delaware, at $6,690 per month
Semiprivate nursing home: Alaska, at $36,378 per month
How to pay for memory care
Given the high cost of memory care, it's no surprise that many people worry about how they'll pay for these services. There are a number of ways you can pay for memory care, and which option is right for you depends on the type of care your loved one needs and their financial situation.
Here are some of the ways people commonly pay for memory care.
Medicare

Medicare may or may not cover the cost of memory care, depending on the level of care your loved one needs. For example, Medicare may cover some of the costs of at-home health care services, but it wouldn't cover the cost of adult day centers.

Medicaid

Every state is in charge of its own Medicaid program, so it's hard to make generalizations about Medicaid coverage. Your state determines your loved one's eligibility and what it covers. Most states' Medicaid programs do cover at-home dementia care, assisted living and nursing homes for those who qualify, though.

Reverse mortgage

If you or your loved one owns their own home outright, a reverse mortgage may help. Lenders provide you with a monthly payment in exchange for a debt that must be repaid when the homeowner dies, moves or otherwise triggers repayment. The money you receive can be used for memory care.

Long-term care insurance

Long-term care insurance provides policyholders with reimbursement for care when they have a chronic medical condition or are diagnosed with dementia. The length of time you can receive reimbursements and what services are paid for will vary depending on your individual policy. However, most long-term care insurance policies provide coverage for memory care services, including adult day centers, at-home care, assisted living facilities and nursing homes.

Life insurance

With life insurance, you may be able to take out a loan, sell your policy or surrender your policy. All of these options will provide you with cash you can use to pay for memory care.

State non-Medicaid assistance

Some states have specific state funds that are designed to provide cash assistance for people with dementia. How those funds are used depends on the program, though. Some programs, such as those in California, provide assistance with the cost of adult day centers, while other programs, such as those in Oregon, provide assistance with at-home dementia care.

VA Aid and Attendance

This is a cash assistance program available to veterans and their spouses for help paying for dementia care. This includes at-home care, adult day care, assisted living care and skilled nursing care. The amount you receive will vary depending on your current income and medical expenses.
Bottom line
Memory care costs vary depending on where your loved one lives and the level of care you're looking for. However, there are a lot of programs available to help you afford the memory care your loved one needs. If you plan well and do your research, you can find high-quality dementia care that not only meets the needs of your loved one but is also affordable.
Article sources

ConsumerAffairs writers primarily rely on government data, industry experts and original research from other reputable publications to inform their work. Specific sources for this article include:
Did you find this article helpful?
|
You're signed up
We'll start sending you the news you need delivered straight to you. We value your privacy. Unsubscribe easily.