A Place for Mom is an assisted living, senior living and memory care referral service. A Place for Mom has access to information from more than 20,000 senior housing facilities and can provide detailed recommendations to families looking for a safe, comfortable and trustworthy place to help care for their aging loved ones. The service only works with communities that are licensed and in good standing with regulatory agencies.
BOTTOM LINE
A Place For Mom helps you find the best living situation for your loved one. A local advisor discovers places that meet your needs, schedules a tour and provides move-in support at no cost to you.
PROS
Move-in support
Online tools
Service is free to use
CONS
Not all services available everywhere
Commission-based income
​
What is A Place for Mom?
A Place for Mom matches you with care providers that have multiple specialties and handle different needs, including skilled nursing centers, dedicated memory care and independent living communities. If you're looking for extra care for your aging loved one, the service can help you find the right fit.
How does A Place for Mom work?
The company matches you with a dedicated local advisor who works with you to determine what care options best fit your needs. From there, your advisor provides a list of hand-picked communities, facilities or other care options that suit your requirements. You also get full details, pricing information and help with scheduling facility tours. Once your family makes a decision, A Place for Mom provides move-in support for your loved one.
There are several living facility types that A Place for Mom can find a match for, including:
Assisted living: This type of community is for seniors who don't need care from skilled nurses but require help with daily tasks. This can include situations such as medication management and personal care. Assisted living communities provide meals, housekeeping and social activities for seniors to enjoy.
Memory care: A Place for Mom understands that memory care requires more comprehensive nursing. These dedicated facilities are safe for those with memory issues and offer programs that can help delay memory loss. A Place for Mom helps you find places with a dementia care community, specialized care units (SPU) or memory care units.
Nursing homes: These homes are for seniors who don't require hospital-level care but still need help taking care of themselves. They're also known as skilled nursing facilities and convalescent care facilities. The full list of services offered in nursing homes varies greatly, but they are required to provide rehabilitative services, pharmaceutical services, dental services and personal hygiene services, among other things.
Independent living communities: Also called retirement communities, these homes are for seniors who need very basic assistance. Independent living communities provide seniors with amenities, activities and an ongoing sense of self. Services often include meals, housekeeping, exercise programs and onsite salons.
Home care agencies: For those who want to stay in their home or are recovering from illness or surgery, home care might be the best option. A Place for Mom helps you find trusted live-in caregivers who offer care around the clock. These services often include cooking, cleaning and transportation.
Not all these services are offered in every state. A Place for Mom provides charts for each service on its website and lists the areas where they're available.
Once you've selected the option that best meets your needs, your local advisor helps make the transition go as smoothly as possible by providing move-in support along with services to ease the transition for you and your loved ones.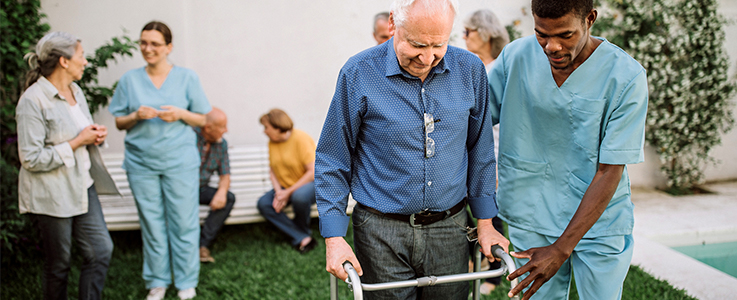 A Place for Mom cost
There is no cost for families to use A Place for Mom. The company makes money based on commissions from the places it recommends. This means customers are shown sites with signed contracts with A Place for Mom. This model draws criticism from some, but the company has been successful for more than 20 years.
A Place for Mom FAQ
Is A Place for Mom legit?

Yes, A Place for Mom is a legitimate business that was founded in 2000. The company helps more than 300,000 families each year.

Does A Place for Mom accept Medicaid?

A Place for Mom is free for customers, so it does not accept Medicaid or handle referrals to Medicaid.

Does A Place for Mom accept insurance?

A Place for Mom is a free service, so it doesn't accept insurance.

What states is A Place for Mom available in?

A Place for Mom is available in all 50 states and Washington, D.C. The company's offerings vary by state.
Is A Place for Mom a good choice?
Moving an older family member to an assisted living facility is never easy. Families must make many difficult choices about what type of help and services are best suited for their loved ones. A Place for Mom helps ease that burden by taking on most of the work for you. Since the company works on commissions paid by referred facilities, customers don't pay — but A Place for Mom only recommends facilities within the company's network. We recommend A Place for Mom for those who need help finding long-term care for their loved ones.
A link has directed you to this review. Its location on this page may change next time you visit.
How do I know I can trust these reviews about A Place for Mom?
How do I know I can trust these reviews about A Place for Mom?
2,888,800 reviews on ConsumerAffairs are verified.
We require contact information to ensure our reviewers are real.
We use intelligent software that helps us maintain the integrity of reviews.
Our moderators read all reviews to verify quality and helpfulness.
For more information about reviews on ConsumerAffairs.com please visit our FAQ.
Page 1 Reviews 0 - 30
Ryan of Surrey, BC Verified Reviewer
Original review: Feb. 3, 2021
Starting the process of researching retirement living for a parent is challenging at the best of times, never mind during a pandemic. From the first connection to the move in date the team was incredibly helpful and assisted in preparing us for site visits and interviews with a suitable residence that has turned out exceptionally well. We were able to find several good options with the team's support and were well equipped to manage the intake processes with their help despite having no idea where to start when we contacted them.
Be the first one to find this review helpful
Thank you, you have successfully subscribed to our newsletter! Enjoy reading our tips and recommendations.
Melanie of Tempe, AZ Verified Reviewer
Original review: Feb. 3, 2021
I have had the pleasure to work with Allison **, Senior Living Advisor on 2 separate occasions in late 2020 and in 2018. Allison is a pro, knows all the Assisted Living Centers in the area and can tell you about each. She arranged same day appointments for us to meet with Marketing Directors at the Centers we liked. Most importantly she listened to our cost limits and worked hard to find what would work best for us. Thank you Allison and A Place for Mom making this a pleasant experience both times.
3 people found this review helpful

Helen of Maumee, OH Verified Reviewer
Original review: Feb. 3, 2021
I was looking for a place for my 94 year old mother and reached out to A Place for Mom. I was contact within 15-20 minutes with assisted living facilities that would meet my mom's needs. The staff was friendly and caring. Several administrators from assisted living facilities contacted me and provided me with the services they render, pricing and literature about their facility. I even received follow up calls to make sure I was able to find a place for mom. Anyone I talked to was very caring and very informative. I would recommend this service strongly.
2 people found this review helpful
Susan of Atlantic Highlands, NJ Verified Reviewer
Original review: Feb. 1, 2021
I found the online site while googling "Assisted Living". Within minutes I got a call from Kelly. After discussing our needs she sent me suggestions and a few minutes after that I received phone calls from the facilities. By the next week I signed a contract for my 98 year old mom. And even though she will not move until April we were invited to get her Covid vaccine. After each interview Kelly spoke to me. It is a phenomenal service.

3 people found this review helpful
Raymond of Chelmsford, MA Verified Reviewer
Original review: Feb. 1, 2021
I was researching options for my ailing sister and was contacted by Ms **. After I advised her of my situation she provided me with several options one of which worked perfectly for my sister. I am very thankful for her expertise and direction.
3 people found this review helpful
Sheila of Beachwood, OH Verified Reviewer
Original review: Nov. 16, 2020
My mother clicked on them by accident after we found them an assisted living home to go to. She was looking for the place we suggested and got them by accident. She then called them back and said I don't want you referring me out. The agent in Michigan, Amy said that she referred her to 12 places in Cleveland, blindly just to receive commission that eats into the resident's bill. Please be careful Do not click on A Place for Mom. They are nothing but commission grabbing website with no benefit to the senior. They prey on seniors!
18 people found this review helpful
A Place for Mom Company Information
Company Name:

A Place for Mom

Website:

www.aplaceformom.com