Pros and cons of assisted living
What you need to know about assisted living


Written by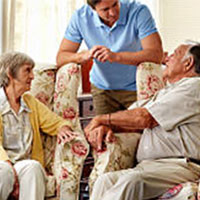 If you or a loved one struggles with essential daily tasks, it might be time to move to an assisted living facility. People who live at assisted living facilities can remain independent while having access to resources for assistance and support. However, assisted living isn't for everyone. See if assisted living is right for you or your loved one by learning about its pros and cons.
Benefits of assisted living
When looking for an assisted living facility, consider both cost and the quality of care.
People move to assisted living communities for a number of reasons. We've outlined some of the key advantages below.
1. Assistance with activities of daily living
Many older people require help with day-to-day tasks, and assisted living facilities have staff on hand to aid with these activities of daily living (ADLs). The type of help available varies depending upon the facility, but some things assisted living staff can help with include:
Bathing
Grooming
Dressing
Mobility
Medication management
Housekeeping
Meal preparation
Eating
Continence
2. Adaptable care
People's care needs change over time. Initially, you or your loved one may need less assistance. However, there may eventually be a time when more help is necessary.
Moving to a new facility can be challenging and uncomfortable, but living at an assisted living facility gives residents control over how much assistance and support they receive. This adaptability helps residents avoid transferring to new facilities and stay at assisted living facilities longer.
3. Assorted other benefits
Other advantages of assisted living include:
Home-like environments: Assisted living facilities don't have the sterile, impersonal feel that is common in nursing homes and hospitals. While the design and setup of a given assisted living facility varies, the overall feel is often comfortable.
Relative privacy: Residents of assisted living facilities have more privacy than people in many other more senior communities. Most assisted living residents have private rooms or apartments, eliminating the privacy concerns that often arise when sharing a room.
No home maintenance or yardwork: The staff at an assisted living facility is responsible for the upkeep of the building and surrounding land. That means residents no longer have to worry about the work that comes with having their own homes.
Relative affordability: The cost of assisted living varies depending upon the facility's location, level of care and amenities. However, assisted living facilities are often more affordable than other long-term care options, such as nursing homes.
Activities: Assisted living facilities often provide residents with something to do. Many facilities schedule multiple activities and events throughout the day. These activities vary depending upon the facility but can include exercise classes, arts and crafts, guest lecturer appearances, cooking classes, card games and book clubs. Some facilities also plan off-site activities and events.
Socialization: There are plenty of opportunities to socialize with peers at assisted living facilities.
Daily meals: Most assisted living facilities provide three nutritional meals a day and occasional snacks.
Label
Authorized Partner
Company name
Logo
Contact
Summary
Get Started

Label
Company name
Logo
Contact
Summary
Shop Now
Disadvantages of assisted living facilities
While assisted living has its benefits, it's not right for every situation. Learning about the drawbacks of assisted living can help you determine if this type of facility is right for you or your loved one.
1. Lack of medical care
Assisted living facilities are not usually designed to provide regular skilled medical care. Some examples of skilled nursing care include:
Injecting medication
Wound care
IV therapy
Physical, occupational and speech therapies
Blood pressure and temperature monitoring
If an assisted living resident has a medical condition or injury that requires care from a skilled nurse or doctor, they would normally either have to arrange for in-home care or go to an off-site doctor's office or hospital. 
While some assisted living facilities do offer skilled nursing care, nurses aren't usually available 24/7. They're often only on site during normal business hours. People who need skilled nursing care around the clock or on a long-term basis may be better off in a nursing home.
2. Cost
Most of the costs of assisted living, such as room and board, meals, activities and community amenities, are not covered by insurance. When you or your loved one moves into an assisted living facility, you are responsible for paying for these services. The cost of assisted living is about $4,300 per month, according to the 2020 Genworth Cost of Care Survey.
As noted above, this generally doesn't include comprehensive medical care, either. That means you'll still be responsible for paying for medication, doctor's appointments, insurance premiums and copays and other health care expenses.
3. Assorted other drawbacks
Other disadvantages of assisted living include:
Some lack of freedom: Residents of assisted living facilities are encouraged to remain as independent as possible. However, certain services, like meals and bathing, might be provided on a set schedule.
Risk of abuse or neglect: Not all assisted living facilities provide high-quality care and assistance. There is a risk that your loved one could be a victim of elder abuse or neglect while living at an assisted living facility.
Bottom line: Is assisted living right for you?
Assisted living facilities try to provide the comfort and independence of living alone while giving access to support staff that can help with various tasks and activities. Think of assisted living as a halfway step between aging in place and a nursing home.
Assisted living may be right for some people but not for others. Taking the time to carefully assess your or your loved one's situation will help you determine if it would be beneficial to move to an assisted living facility.
Article Sources

ConsumerAffairs writers primarily rely on government data, industry experts and original research from other reputable publications to inform their work. Specific sources for this article include:

Genworth Financial, "Cost of Care Survey." Accessed May 6, 2021.
Did you find this article helpful?
|
You're signed up
We'll start sending you the news you need delivered straight to you. We value your privacy. Unsubscribe easily.