Signs it's time for senior assisted living




Written by

Edited by

Reviewed by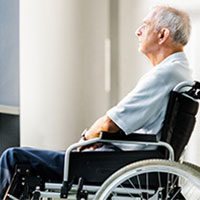 As your parents or loved ones age, you'll have to help them decide where they should live. There are many types of senior housing, and assisted living is one of the most common. Assisted living facilities are housing options designed for people who need help with daily activities (like cooking and bathing) but who don't necessarily need a lot of daily medical care.
If you suspect your friend or relative may no longer be safe living on their own, use our guide to assess the situation.
When is it time for assisted living?
Moving your loved one into assisted living can be hard for everyone involved, but sometimes the most difficult part is knowing when the time is right to make the move.
Obvious red flags like a broken hip or a sudden downturn in health may speed up the decision-making process, but more often than not, there's no one clear sign. However, there will be clues along the way that can help alert you that a change in living arrangements may be necessary:
1. Recent falls
If the person falls again, how long might they be stuck before someone arrives to help? Frequent falls, especially if your loved one can't get help, are a sign that it's time for more help or an assisted living facility. If they're not quite ready for assisted living, consider getting a medical alert system.
2. Chronic or worsening health problems
If declining health is a major concern, it might be time to make the move into an assisted living facility or nursing home. Likewise, if they're taking longer to recover from illness or injury, this can be a sign of a weakening immune system — they might need more care soon.
Talk to their doctor if you feel concerned. Having full-time care in an assisted living facility or skilled nursing facility might improve their health. If your loved one is still well enough, they should be involved in the choice.
3. Difficulty managing medications
Have you noticed your loved one isn't keeping up with their medications? If so, ask them why. Is it a financial problem, or do they forget to take it? If they're concerned about prescription costs, a Medicare supplemental insurance program might be beneficial. If they fail to take medication because they forget, assisted living can help. The staff can make sure they take the medicine they need.
4. Problems completing activities of daily living (ADLs)
Can your loved one cook for themselves? Can they do their laundry? If not, you should look into full-time care. Living in a facility that handles things like cooking and cleaning can give your loved one more time for socializing or doing the things they love.
5. Poor eating habits
Is your loved one mostly eating takeout or frozen meals? Has their weight changed significantly in the last few months? Rapid weight gain or loss can be a sign of serious medical problems or a sign that they're having trouble preparing food. Talk to your loved one and their doctor about possible reasons for the change in their weight.
6. Hygiene problems
Have you noticed your loved one has stopped taking care of themselves like they used to? Have you noticed a new body odor? These can be signs someone is having a hard time bathing, which puts them at risk of infection and increases the likelihood of mental and emotional decline. Problems with self-care or other activities of daily living (ADLs) are a sign someone may not be OK living by themselves.
7. New or worsening mobility issues
Does your loved one have trouble walking? Can they get up and down stairs without help? If not, they may need to renovate their home for aging in place or move to an assisted living facility to ensure their safety.
8. Decreased driving competency
If they can't get around on their own anymore, consider their access to public transportation or ride-shares. If these aren't an option, an assisted living community that provides transportation to and from doctor appointments and social events could help them stay mobile without the risk.
9. Inability to manage home or yard upkeep
Are the dishes done and bathrooms cleaned regularly? If your loved one can't keep up with housework, an assisted living facility could reduce their stress level and provide a more sanitary living space.
Although they might enjoy owning a home, the upkeep may be more than they can handle. Talk to them about if they'd prefer to live in a place where they won't have to worry about maintenance and upkeep.
10. Pets seem neglected
An inability to take care of animals might be a sign of immobility or cognitive problems. Some assisted living facilities allow pets; consider finding one that does if animals are an important part of your loved one's life.
11. Your loved one gets lost or disoriented outside of the home
Have you noticed your loved one wandering out of their home without a clear sense of where they're going? Wandering is often a sign of dementia. If this problem persists, talk to your loved one and their doctor. Often, people who have dementia benefit from living in an assisted living facility with a memory care unit designed to make their life safer and ease anxiety and confusion.
12. Changes in mood or aggressive behavior
Aggressive behavior may be associated with confusion and dementia, which might indicate they need to move to an assisted living facility. These facilities and skilled nursing homes sometimes have special memory care units for people living with dementia.
13. They seem unhappy
Even if they're capable of caring for themselves, they might be ready for a change. If they don't seem happy, ask if a change in their living situation could improve their mood.
14. They've begun to isolate themselves
Has your loved one stopped participating in social activities they used to enjoy? Do they go days without leaving their house? If so, talk to them about why. They may be scared to drive or uncomfortable participating in social events that used to make them happy.
An honest conversation about why they spend so much time at home can help you get to the root of any problems that might indicate they should move to an assisted living facility.
15. They don't have access to a supportive community or regular visits from loved ones
Is there someone who regularly checks in on your loved one and visits their home? Do they keep regular social engagements or have peers they can relate to? Most senior housing options offer such a community, and assisted living facilities have a staff to supervise patients 24/7.
16. Friends or neighbors have expressed concerns
If this happens, talk to them about what they observe. They may have noticed things that suggest it's time for your loved one to receive full-time care.
17. Their current caregiver is suffering from burnout
Being a caregiver is hard work, both physically and emotionally. If you or another relative are providing full-time care for your loved one, it may become impossible for the caregiver to provide adequate care. If that's the case, your loved one may benefit from an assisted living facility.

Bottom line: Is it time for assisted living?
Acknowledging that someone you love needs full-time care is hard. Recognizing that you can't give them the care they need can be difficult too. If you're concerned about your aging loved one's safety, health or happiness, talk to them about their housing options. Involve their doctor and a financial advisor in your conversations so you both understand all the senior living choices available to them.
If your loved one lives with you and needs full-time help, take advantage of respite care facilities or use home health care services to give yourself a break. Talk to your local Agency on Aging or your state's Department of Human Services to learn about the senior living resources in your area.
You can also read our assisted living guide and use this elder care locator to see more facilities in your area. Assisted living facilities offer many mental and physical benefits to residents. If you decide an assisted living facility is the right choice for your loved one, you have many options.
Did you find this article helpful?
|
You're signed up
We'll start sending you the news you need delivered straight to you. We value your privacy. Unsubscribe easily.