Sandals Resorts
Caribbean Chain
Consumer Complaints and Reviews

It is evident to me that Sandals Resorts does not show the same kind of loyalty to their Select members, as the members do for them. My wife and I make several trips each year to Sandals, and this year has been the worst customer service I have ever had. I have two upcoming reservations. The first is in Antigua for this November. Now I find out not from Sandals mind you, but I find out from another website that Antigua will be closed from September 2017 to December 2017.
After I had contacted them, they confirmed the closure. So, then we were advised that we could change to one of their other resorts. However, they are all booked for this time. So, I agreed to postpone my trip for Antigua to 2018. Well even with me agreeing to the change, now they want to charge me more money for the room than was quoted for my original reservation. With this said, if Sandals want to keep a long-time customer happy they will do something to correct this issue. If not, then I will make it known to all my friends, and family to go somewhere else on vacation because Sandals does not care about them, all they care about is their money!

We stayed at this property at the end of May. Yes it is beautiful and The entertainment was great. The room we had was spacious and a Nice location. We was celebrating our 15 year anniversary, and decided to splurge by paying extra for a butler service. As someone that has stayed at many all inclusives, butler service is a great service to offer but at Sandals Negril was not worth it. They assign you two Butlers to share of the day or split shifts. Orlando one of the Butlers seemed really nice but was never around when needed.
The other Butler GWayne. He always seemed to try and put one over us. Like he was doing us the favor. When it was simply his job to serve and help us. He lied to me three times and argued with me a few times. He made it seem so hard to get a reservation for dinner. But always seemed like he worked it out and he worked so hard getting us what we needed. (would like everyone to know there was hardly anyone in the restaurants so how hard can it be to reserve and make a reservation). I also believe that they should have informed us about events going on at the resort. To allow us to make the choice if we would like to observe or participate. We Missed certain shows and events (we should've been told about).
While on the beach, we were constantly bombarded by locals offering to sell us drugs & along the lines of **, special brownies, cigars and went as far as asking us if we would like ** or **. On the first day at the beach, we sitting amongst many people extremely close is where the Butler place us. There was a couple right in front of us smoking cigarettes being extremely loud and rude. My husband and I do not smoke and he also has asthma; So we got up and went back to our room. And felt very confined to our patio. Not enough Reggae music. I expected to be inundated with Bob Marley. Before we got to the resort, we paid to have the private beach dinner. We were not on the beach. He was stuck in the garden under Gazebo. It wasn't as private as we would have liked. The mosquitoes were plentiful (but of course the resort can't control that). We left the dinner early because of the stray cats and mosquitoes.
The Wi-Fi wasn't the best, but it was serviceable for posting pics or browsing the internet, but if you want to stream, the free Wi-Fi is not the way to go.The last day Internet was down. So disappointed on my last day that I decided to book an appointment for a massage and they ended up never showing. Then when they called and canceled on me, (45 minutes later) saying they could not accommodate me.
Overall, I was truly disappointed in the lack of inattentiveness and the lying from our butler. The resort was beautiful & the view was spectacular. It rained every day (which they have no control) but it did rain in our room! Right before the entrance of the bathroom and the floor would get slippery so we left a towel down on the floor against the wall throughout the week, to be careful not to slip.The staff at the resort would ignore my questions and give me a blank stare as if I were from a different planet.
In addition, The staff appeared to have preferential treatment for ** guests, as they were not attentive to others. Worst customer service I have experienced. Needless to say, I will never go back. This resort was average or below average at a premium price. Bars ran out of stuff daily (crown, mint, limes, lemons etc;) and some of our friends actually saw them dilute the liquor bottles with water after the bars had closed down, which explains why I was able to drink so much and still function. All I wanted was some Kahlua for coffee but they refused to give me any until the bar opened even though they were in the bar stocking it. Several bars had espresso machines but they didn't use them and were not open until like 10:30 am and then would always say it was being cleaned or was out of coffee. Basically they were just lazy and didn't want to deal with it.
The pool was not kept clean in my opinion. They require you to be ready in the lobby to go to the airport like 5 hours or more before your departure flight only to sit in the airport forever. I was highly disappointed and would not visit again. Also, this resort is too close to the main road and you can hear road noise from inside the resort. I can only state, I had a good time. Absolutely amazing husband and friends, but I do not plan on visiting another Sandals resort as it was not a good one. We will definitely not return to Sandals Negril.

This was our first trip to Jamaica, Sandals South Coast. The trip was absolutely fabulous and beyond expectations. I would highly suggest a private car transport from the airport as the shuttles they provide can be just a bit slower and may have to wait for others to join. From the moment we arrived at the resort we were treated amazing from complimentary glasses of champagne to sitting us down in the lobby and bringing over a tablet so we could check in (instead of having to stand and wait at the counter). We were then showed around the resort and showed to our room. When we walked into our room. It smelled like mold (but that's what happens when you are in high humidity). We asked immediately to change rooms and it was done within 10 minutes. No problems in the other room at all.
The restaurants were fabulous and the service was outstanding, if we ordered something and didn't like it they just brought us something else. We met two of the restaurant managers RJ and Roberto. They were great and made sure that we were always happy. We never had to wait for anything (which could have been due to the timing of our trip, the resort was only 75% full) which was just perfect for me as I really don't like crowds. They were doing construction on the new over the water bungalows but the noise did not bother me at all, and if you didn't like it then just go to the other end of the resort where the main pool is and you didn't hear a thing.
The walkways and pool areas were pretty slippery when wet and they did have signs stating such, the only thing I would suggest is to maybe put some non slip pads in. My boyfriend got his PADI certification from Andre at the dive shop and it was an amazing experience for him as well. All in all the vacation was amazing and we have already booked our next trip to South Coast and looking forward to another great vacation. We are actually staying 11 days next time.

My husband and I were there 5/20/17 through 5/23/17. Upon check-in we notified the front desk. Our door did not close properly and they didn't have a different room but would fix the door. Next day our room was robbed of my engagement ring and wedding band. Security and police were called. Since being home they have not returned any emails phone calls or responded to a FedEx letter. The vacation was ruined and they could care less about their guests.

My fiancé and I are third time returning Sandals customers. We have no complaints as far as the resorts go and would highly recommend them, BUT BRING YOUR OWN CAMERA!! If I could rate their SNAPSHOP departments a 0, that wouldn't even be sufficient. I have never taken to a public forum before to speak out against a company, but I feel I have been left with no other choice.
We got engaged in Sandals Grenada. My fiancé PRE-PAID for an engagement package of photos that included 40 photos and a love block (a collage of photos on a block to hang on the wall). We did not like or even have 40 quality photos from our engagement photo shoots to pick from. We requested - to be able to successfully meet the required amount of photos that we PRE-PAID for - that we be able to pick from other photos that were taken on resort of us that we were pleased with. We were told that that was not possible, but we could purchase them at an additional cost!!!
We were not looking for a refund rather looking to get a product that we LIKED with the money we already paid. We were told by the resort staff who relayed the message of the Sandals Grenada manager there was "NO WAY we could pick from photo of us taken on property from different photographer utilizing the money we PRE-PAID for, because there was no way to allocate commissions correctly."
FIRST: The way in which Sandals employees are paid should NEVER be discussed with the guest let alone become their problem.
SECOND: Simple math could allow commissions to be divided according to how many photos where purchased from what photographer.
THIRD: If a product a consumer purchases does not meet or exceed their expectation then there should be some alternative option or refund offer - NO EXCUSES.
We were left no choice but to walk away with a series of photos and a love block (that was to be made and shipped to our house) that did not meet our expectations. The incompetence did not stop there. After we arrive home we called Sandals to address our dissatisfaction with the product the inability of SANDALS Grenada to offer a fair solution:
May 22, 2017: We spoke with Jasmine who open a ticket on behalf of our concerns and forwarded the concern to Rayne. May 23, 2017: Rayne stated via email he cannot offer us the photos we wanted and that he would relayed our concerns to the resort manager (who was the individual who slighted us in the first place and is the reason why we are in this situation.) May 26, 2017: Rayne stated he forwarded our concerns to SnapsShots manager whose team would like to speak with us.
June 2, 2017: We received an email stating our LOVE BLOCK has been shipped (from YAZMIN). June 3, 2017: We follow-up via email with Rayne in regards to no one reaching out as promised. June 4, 2017: The FIRST incorrect LOVE BLOCK (not us in the photos) arrives at our house and we email YAZMIN and Sandals Management.
June 5, 2017: Standard apology email from Ana also asking us to provide me with snapshots of the received package in order to further investigate. We reply that no one has called us at our request as of yet. Received an email stating our NEW love block has been shipped. Missed call from Margie whom unfortunately called during working business hours and call was unable to be addressed.
June 8, 2017: A SECOND incorrect (not us the photos) love block arrives at our house along with a email being sent to SANDALS management and MARGIE to notify. We receive a file transfer via email of the other photos that we have been requesting from the beginning, but once again the photos were NOT US!!! (email from Yazmin)
June 9, 2017: Margie emails lettings us know she tried to reach out and our love block is being printed and should be received soon. We still DO NOT have the product that we PRE-PAID for (despite the fact we didn't like it from the beginning) and don't get me started on whose hands OUR personal engagement photos ended up in given we have 3 separate couples photos! The thought turns my stomach!
My level of frustration has officially exceeded my patience for this situation. Sandals SNAPSHOT has proven unable to resolve ANY issue that SANDALS SNAPSHOTS single-handedly created and fueled with ignorance, incompetence and negligence. This was our third time in 3 years to a Sandals resort and one of the most meaningful because of our engagement. Thank you Sandals SNAPSHOT for taking the time to ruin that experience for us!!
How do I know I can trust these reviews about Sandals & Beaches Resorts?
854,137 reviews on ConsumerAffairs are verified.
We require contact information to ensure our reviewers are real.
We use intelligent software that helps us maintain the integrity of reviews.
Our moderators read all reviews to verify quality and helpfulness.
For more information about reviews on ConsumerAffairs.com please visit our FAQ.

I have to warn those considering Sandals Barbados to know that there is major construction going on at resort. Do not believe lies that construction going on at adjacent property. The noise greatly affects vacation quality if you are booked in the CARIBBEAN Bridgetown house section. Check out my videos on YouTube **. Customer service team seems incompetent. Tried also corresponding with CEO Adam Stewart on Twitter and also experienced a lack of accountability. Made my issue clear, provided paid invoices so they could correct my Sandals Select account to reflect the correct info and it seemed impossible to get a simple task of correcting incorrect info updated.
My complaint also included a dissatisfaction of their so called "standard" room category which I was accidentally booked in at Sandals Barbados. I enjoyed three of my visits to Sandals Resorts BUT AM SO DISSATISFIED WITH THE MOST RECENT SANDALS BARBADOS STAY IN THE MONTH OF May 2017 and the lack of understanding from customer support that I will reconsider ever vacationing at the Sandals Resorts. I guess I will have to limit myself to EXCELLENCE RESORTS which have always provided excellent service and accommodation while I research new resorts to vacation at.

Booked my sons honeymoon, Daniel **, with his new wife in a bungalow which was pictured on-line as a villa. We paid $2500 A NIGHT and they were just picked up today (4-30-17) being called Robert. :o( Then taken to a bungalow not like the picture only to find out the picture was of a villa. Very upset and disappointing as they are still awaiting their romantic private bungalow as pictured. VERY DISAPPOINTING for a newly wed couple. We spent almost $12,000 for 5 nights that is starting like a nightmare. Feel like we were baited with a picture and high pressure sales (big discount ends tonight) and switch to an UN-private and unromantic bungalow. :o(

They do not honor their cancellation guarantee and pass it off to their insurance company, if you bought the insurance, who then states that they don't cover. I have been fighting with Sandals/Beaches for two years about what equated to losing 6,000 for my son and daughter in law's portion of a trip because their passports did not arrive on time, they did not offer the vouchers as outlined and returned mail uncollected when trying to correspond with them both here and in Jamaica. That's a lot of money to be so summarily dismissed over. We won't even go into the horrible experience with the room shifts once my other son and I got there. They truly think because they have so much clout in the islands they can get away with anything.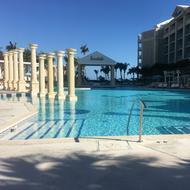 The staff at Sandals Royal Bahamian is amazing and truly want you to not only enjoy your stay but have a good time. Something that stood out to me was that every single person we encountered during our stay said "hello" with a smile on their face. In turn I noticed myself smiling and greeting other people as we passed by and just feeling happier overall. We have traveled to several resorts between personal and business trips and I can tell you that only one other resort we stayed at had the same type of experience. Unfortunately we didn't have great beach weather while we were there but the resort has enough to see and do to keep you having a great time.
From the moment we arrived until the moment we left the staff was very accommodating and my husband and I both said that the employees worked their tails off yet they all really seemed to enjoy working there. We had great food. Gordon's on the pier was our favorite but we also enjoyed, and ate more than one time the burgers and fish at Cricketers Pub. The one and only complaint I have is that I felt the cleanliness of our room upon arrival could have been better. There was a contact lens on the bathroom counter, which led me to believe the counter hadn't been wiped and the bathroom wasn't cleaned properly, and the rug under the bed appeared as though it hadn't been vacuumed in a while. Overall I'd still give the resort 5 stars and I would recommend it to anyone who asked.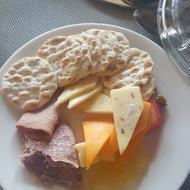 Our January 2016 trip to Sandals Grande St Lucia was great so we had to come back January 2017. Big mistake. We came for a full week and regret it. Moldy cheese from room service with no apology, lost laundry no apology, resort cancelled our excursion because a bigger group came and they wanted our spots. No apology. We are club and the club employees told us to go make our own reservations. That is a benefit of paying for club! We spoke with club manager and shared these and other issues. She listened and seemed responsive. She offered us a cabana the next day. We did not want anything but accepted to try to enjoy our last day. Next morning find out they did not make the reservation! Icing on the cake and comical at this point. Spoke with General Manager too but unresponsive to our issues. Definitely recommend DO NOT WASTE YOUR TIME AND MONEY HERE!

My wife and I have gone to Sandals SOCO for the last four years to celebrate our wedding anniversary in late January. I cannot say enough about the awesome service we received. Having traveled all over the world for business and pleasure I must say the employee training at Sandals is impressive. Everybody who works at Sandals is concerned about us and asks if there is anything they can do to make us comfortable.
We pay a bit more for Sandals, but understand all the value add services that money pays for. Theft, I forgot my Bose Bluetooth speaker at the beach and several Sandals employees, the pool boy, bartender, butler and manager all worked together to figure out who owned the device and returned it to me the next day. If you want a worry free premium vacation in the Caribbean then Sandals is a great option. My wife is very high maintenance and we have never had a bad day at Sandals. They have a great team.

Sandals advertises a 10% military discount (as well as law enforcement, etc). Upon making the reservation I was told that it would be applied after check-in. That never happened! When I checked in the front desk said they could not process the discount from their end (really??) and said I had to call Sandals via toll free. I called while at the resort and they assured me it was going to be applied yet again... never happened. Everything they do is via the phone and they make it very difficult. I have had to dispute the charge via my credit card company as a result!

We have been going to Sandals or 11 years and 19 stays (120 nights) - in Jamaica only to be clear. Royal Caribbean (SRC) 10x, Negril 2x, Whitehouse (now South Coast) 3x, Ocho Rios 4x (by next week). We have visited the others in Jamaica. We have never had a "standard" room, always either Club or Butler, but frankly the difference is not so big and almost none really in the "inclusives" except in cost and how much time do you spend in your room? Never the less it has been our choice - our annual treat.
A lot of the complaints I read on here are not really reasonable, though some are, and many are exaggerated, which is typical for any complaints. Nothing is perfect in this life, but Sandals does and damn good job overall. Often people fail to read terms and conditions and complain when they don't like the outcome or feel they are entitled to special treatment. TAKE OUT INSURANCE!!! It's cheap. Some - even "verified" on here - are so obviously the competition that is a joke. Some even blatantly advertise competitors. Complaints like food poisoning etc. can happen anywhere and maybe you did not wash your hands, who knows. I have never seen dirty rooms or bad food (maybe not to everyone's taste, but certainly not "bad").
Security is as good as it gets, again nothing is perfect, but never leave valuables unattended out of the safe wherever you are. There has been an occasional housekeeping issue, but a polite, firm notification to appropriate management has always fixed it for us and quickly. Over consumption of alcohol and emotions don't help with this of course. No resort of their size can have a beach lounger for every guest - just not economically or practically feasible. Customer service is a bit of a variable feast, but from our experiences (true, some frustrating) it is more due to being poorly organized and coordinated across departments and the company and lack of training. Also note the booking arm is a separate unit based in Panama (and Miami?).
Staff is great, but often after getting training and experience from Sandals, leave to go elsewhere (usually overseas) - or get promoted and relocated. Sandals does NOT get rid of them en-mass! They actually have low employee turnover for that industry. We had some poor experiences a Royal Caribbean last year, much of which due to construction and some unfortunate management decisions (which were reversed after many complaints). After 10 consecutive years we are not going back there in the foreseeable future, in part due to the aforementioned and because it has gradually become so tightly crowded due to additions of more and more buildings, lack of beach, and demise of their CO beach etc...
My main complaint is their ridiculous marketing practices. The AG went after the My Pillow guy for his advertising and rightly so, but I do think he was rather unfairly singled out. Sandals marketing has been predatory and fraudulent from day one. Their "original" prices are pure fiction and have never been charged to anyone. Their constant unbroken series of "sales" are virtually if not actually identical. When called on this they claim that's the price if you book for less than 3 days. However it is not possible to book for less than 3 days. The website does not allow it. And they advertise these "original" prices per week!!!
They have other similarly pathetic transparent excuses too. This came to a head recently when they opened their over water suites at SRC. The prices were IMMEDIATELY stated as "originally" $60,000 per week (laughable, but not a misprint). Yet the actual price after the "sale" and "discounts" was $22,500 (on the US website - and also not a misprint). They have therefore NEVER been advertised or sold at $60,000!!! So that is unquestionably fraudulent advertising. It is time for Sandals to abandon this stupid fake marketing scheme which no one in their right mind believes.
Note also that these suites were immediately shown as virtually sold out - but a close inspection showed the few available dates were in blocks of 6 days only and in a regular pattern. Pure fiction to make them look desirable and popular. (Didn't VW get caught doing something like that when the "new" Beetle came out?) I'm sure anyone actually phoning in would get a miraculous "cancellation" slot. The other all inclusives have caught up to them these days and they don't go through these stupid acts. So there is no legitimate comparison at Sandals so called "original" prices. They are just lies and fiction. It is time for the appropriate authorities to put a stop to it and Sandals to be honest with their marketing. You are better than that, Sandals, get real.
Also note that if you compare prices on their US and UK websites you get very (often VERY) different prices. Sandals.com and Sandals.co.uk. The difference is not always one way (and yes, I know all about exchange rates). In some cases (over water suites, Rondelo rooms at Grenada for example) the difference can be as must as 25%. That's HUGE money. There actually seems to be nothing preventing anyone from using either site and changing the "country of residence" tab makes no difference to the prices on either site. So there's a tip for y'all!!! Beat them at their own game!
I think the My Pillow guy should complain of unfair treatment. After all, his little pillow case full of crumbled up foam rubber is small potatoes (VERY small) compared to Sandals vacations. All that being said we have continued to go to Sandals and overall enjoyed our stays (obviously) for 11 years straight and played their stupid pathetic price games. However we may now be starting to look elsewhere in future.

This place is a total rip off!! I was set to be married there and due to family emergency I had to cancel. After being told by numerous staff that my money would be refunded it never appeared!!! After calling they tried to tell me I couldn't get my money back!!! I had a cancellation code as well as the name of the individual I spoke with about my refund. They reviewed the call and then after the threat of a lawsuit they said I could get my money back but claimed it had to be sent back in a check though I paid with a card!!! Then they told me they only processed checks on Fridays which was a further stall tactic!!! They tried to transfer me to several people to confuse things even further and buy time!!! We are talking over 5000 dollars!! Stay away from these crooks!!!

I was a guest in the grand opening of the first Sandals by Gordon "Butch" Stewart in Montego Bay. I owned 6 travel offices in South Jersey and Philadelphia at the time. This resort was attractive. We started to book Sandals instead of Club Meds. Not many all inclusives at the time. All of my offices contributed to the growth of this well managed operation booking with many wholesalers their all inclusive packages in all of their resorts. Some of the complaints over the years were complaints due to bad weather in that particular location or cancellations due bad weather in the USA unable fly guests to their vacation destination. None of the above was the fault of Sandals resorts. We can't hold Sandals Resorts responsible for acts of God. Sandals always made best possible arrangement to accommodate inconvenienced guests, they didn't have to.
Service employees on all resorts are well trained and investigated prior to hiring. They must have education and clean criminal record. They don't hire thieves as noted in someone's comments about "Stealing". My company booked millions of dollars in volume with Sandals resorts past decades without a single incident.
However, my personal experience once at a Sandals Resorts was as follows. Was walking towards my suite when I noticed from far away someone exiting my suite walking the opposite away getting into a door a few steps away from my room with a bag. Run towards my suite, door was open and a maid service was inside cleaning my toilet. Looking around my room my large video camera was missing from my table. I walked over a couple doors down where this man had walked in knocking on his door. Upon answering door I pushed him into his room asking where is my video camera which I could see was on his bed.
Needless to say that in this case I would have blamed the maid service of "Stealing" instead of another guest... Similar incident happened on a cruise too. So, guests LOCK your valuables and request maids to LOCK your door while cleaning your rooms/cabins OR do not leave valuables in rooms/cabins. Thank you Sandals for taking care of thousands of our clients, your guests, and for running a professional first class operation. And regarding Travel Agents complaint mentioned above. Get a life. Reason you complaining is because you didn't receive sufficient travel agent discount from Sandals.

I been to Sandals Resorts 8 times, got married at Sandals Bahamian in 2015. Since then they let go their staff and hire all new people. We went to Jamaica Whitehouse. I go on Vacation to relax not to hear construction at 7:00 am and hear it all day. We stay in the Dutch Village which is in great need of a upgrade.
If you go to the bar for a drink there is bumblebees on over the bar trying to get into the liquor. No one is walking around to ask if you need drinks or ask if they can get you anything. If you want a chair at the pool or beach it's first come first service which mean you have to get up by 6:30 to get a chair. There is not enough for everyone, nor do they care. Just in case you plan a trip to the WhiteHouse please keep in mind it is at 2 and 1/2 hours from the airport. We lost 2 days vacation on travel.

I am a retired travel agent, and I would like to warn anybody thinking of vacationing at Sandals Resorts, Beaches Resorts and Atlantis, to please, please save your money, and future heartache and disappointment. For a while I booked clients into these properties, but after numerous complaints, and all my efforts to get some kind of refunds for clients, I gave up and told people to seek another travel agents to book these places.
When I did inspections of these resorts, they did not pass the smell test, the service was very poor, the rooms were old and moldy, and the threat for thefts was very high. Atlantis in particular was old. Everything was old. No upgrades anywhere, old furniture, the aquarium was a disgusting place for all the animals.
But in particular, Sandals is a disgrace. They rip off customers with high prices, poor service, lies and deception, and everything that the commenters say is absolutely true. I cannot emphasize that enough.
If you want carefree vacations go with American Airlines Vacations, Hawaiian Airlines Vacations, GoGo Vacations, or if you are a Costco member use their travel benefits. The Caribbean is a destination of frustration, and yes, dangerous, especially Jamaica. You are entering third world countries where poverty is rampant, and therefore there are a lot of thieves. Remember Americans are fair targets, and there is no honor among thieves. Thank you, and better travels.

My wife and I have been to 3 Sandals resorts, 2 of them were fabulous (Montego Bay and the Bahamas) but our 3rd trip to Antigua wasn't even close. Mostly the service sucked, my wife couldn't even get her water glass filled at the restaurants. No one came around to the other pools to get you drinks (we waited for hours, eventually we just started going to the bar on our own). None of the whirlpools actually worked (they were all broken, most were only about 80degF. Only 1 mostly worked. Then when our flight was canceled we had to pay $550 per night, this was the "distressed rate". It was distressing alright.

We visited the Whitehouse Resort in Montego Bay the middle of May. We were celebrating our 40th wedding anniversary. Unfortunately on our 3rd day coming out of the pool the floor was very slippery, and I slipped doing a full split. The pain was so bad that I blacked out. I was taken to the nurse's station, there they took a report and told me the only way I can be treated is by the Doctor (who had to be called in) because nobody there was qualified to administer medication. I was informed to have the Dr there was a $200.00 fee plus (cash or credit card only) whatever medications were given. Desperate for relief I had no choice but to consent. By the time the doctor showed up I was black and blue on both butt cheeks, the injured leg spread down the whole back of my leg to the calf and my other leg, the whole back of my thigh to the knee.
Needless to say I was charged $570.00 for 3 shots and a week of painkillers and a dispensing fee of $20.00 and $60.00 for Medical Procedure/Disposables. The complete total was $865.00. I was given a wheelchair and granted room service at no extra charge. Disappointed that I was no longer to get around unless my husband pushed me. I didn't want to be on the sidelines. We spent most of our time in the pool which was good therapy for my injury. I tried my best to have whatever good time I could have and always had a smile on but crying inside.
Upon leaving I was asked if I enjoyed myself I told them I had enjoyed whatever I was able to enjoy and tried not to let my injury stop me from having an upbeat attitude. Let's face it sulking would have made other guests uncomfortable and away from us, instead of including us in whatever we were able to join in. I don't have to tell you how painful this injury was and I couldn't even sit without causing more discomfort. After this accident we were more aware of other people losing their footing due to the slippery floor.
Upon coming home I contacted Customer Service asking them to reimburse me for the medical bill due to my accident was a result of their negligence that their pool area was not protected with nonskid floors. I also mentioned to them I knew that at one of the other pools on the grounds someone had to go to the hospital with a broken wrist after falling coming out to the pool.
Their response and lack of responsibility I was offered 6,000 bonus points to my rewards card. Are they for real? I was also informed that because I stayed and tried to enjoy my time they felt the points justify my injury. I wrote back telling them it was my anniversary celebration and the first time we had ever done a vacation together by ourselves I wasn't about to ruin my long awaited time. I am the type of person who makes lemonade when handed lemons. I let them know how insulted, hurt and angry that this was what they thought was acceptable. They responded that they reviewed the case again and their offer stands. I still refuse to accept the points and I am considering to contact legal assistance.

Every place to eat customers encountered black birds flying around the place, landing on tables, taking food off of plates, drinking water out of glasses and pitchers of water. Birds flying around the open buffet and releasing feces as they fly over the food and tables customers eat on. Cats walking freely around restaurants while customers eat. This is a serious health hazard.

Quick Summary: Sandals customer service will do NOTHING to help you. Whether it's BEFORE, DURING, or AFTER your vacation. Even if the issue is completely THEIR FAULT. My husband and I found their offer to compensate us for our troubles unacceptable. Sandals refused to change it or offer us anything else.
Long Story: We booked a vacation over six months before our travel date. We got a call TWO WEEKS before our trip telling us the resort we were supposed to travel to (Royal Bahamian) was closing for unexpected maintenance issues. This spiraled into spending hours of our time re-planning our vacation, on the phone with Sandals, and on the phone with airlines. They offered us three things:
1. To send us to another sandals resort.
2. To reimburse us for all air fare change fee and penalty expenses. (As of this post we still have not received this and it's been more than 7-10 business days since we sent the receipts they needed.)
3. 2 free nights to use for a future sandals vacation (to be used within 18 months). There is NO WAY we are able to do another vacation like this within 18 months so their offer was completely useless. They refused to give us an extension!
#1 and #2 were what sandals HAD to do in lieu of having to give us a complete refund. They in no way compensated for our trouble. #3 is where the AWFUL customer service starts. We did not want compensation on a future vacation, we wanted them to make it up to us on this vacation (the one that ended up sending us to a completely different country than we intended on going to).
We had at least three phone conversations with customer service BEFORE our vacation, they told us it was up to the resort itself to offer us extras and that they would LEAVE A NOTE ON OUR FILE for the resort when we checked in. When we got to the resort there was NO NOTE. We were bounced back and forth. Concierge called the manager who was supposed to get back to us. We had to track her down after a day and a half of NO RESPONSE. When we finally met with her she (MAXINE FROM OCHI) didn't even apologize. She just offered absolutely nothing and told us to call customer service. I have had a few phone calls and emails with Sandals AFTER our trip with no luck.
They told me I should have taken care of it before the vacation. I TRIED THAT!!! At this point the LEAST SANDALS COULD DO IS TAKE OFF THE DAMN TIME LIMIT, but they should do much more for all the time and frustration this had caused. The ENTIRE thing was SANDALS FAULT TO BEGIN WITH! We will never travel to a Sandals or Beaches resort again. If you have no issues then you will have a great vacation. If anything happens whether major or minor, Sandals does not care about you at all.

Have been to Sandals Negril 5 times and this will be my last one. Got food poison at end of vacation and called the nurse and all she was concerned about was me filling out forms to say I refused to see a doctor there and waive them of any liability. They were more concerned about covering their butts than my well being. Been over 13 years since last trip here and must say they have gone downhill a lot, rooms have not balcony or outside windows so everything stays wet all the time. Diving is going downhill and very few fish on reefs that are obviously dying off. Very expensive vacation for what you get. They use to not charge for anything but now charge for resort diving, night dives $80, promote excursions that are very expensive.

My husband and I have been to SANDALS at least 15 times. Each and every one has been a great experience. Our last one was in the SRB in May 2016. We had a small issue with our massage offer. I notified SANDALS after we arrived home. The matter was settled. We have taken friends and relatives with us on our journey and all I have ever heard is what a wonderful time everyone had. The locations are great and the staff members are fun and professional. We can't wait to go back for reunion week.

I booked Sandals Royal Bahamian in March of 2016. I reserved the first week in August. 36 hours before we were to arrive, I read on Facebook that the resort would be closed. I called Sandals in a panic. After about 4 hours of being on hold, and hung up on multiple times, I was told that the rumor was true. Sandals would not assist me, and basically said I was screwed. I contacted my travel agent, and she was able to change our trip to Sandals Montego Bay for an additional $500, and downgraded rooms.
While I was in Montego Bay, I saw many guests posting photos of the Royal Bahamian. THE RESORT WAS NOT CLOSED. Why did Sandals lie? Rumors are circulating that the reason was because they overbooked the resort. I am not happy that I spent $4000 and was basically ignored. I emailed Sandals after I returned, and asked what Sandals could do to keep me as a customer. NO REPLY! I will never book with Sandals again. First and last time. Save yourself the hassle, and book a trip through a company that actually cares! You've been warned!

Sandals finally came back to me and apologised for the delay in their response. They have now offered a free holiday for Luke and his partner to compensate for the problems he had at their La Toc resort. Luke has excepted this offer and hopes to take it up next year.
Original Review
This is my 1st review as I believe in trying to resolve my own problems. In this case this is impossible as Sandals neither talk to you, answer my emails or take my calls. So I think people should know what customer service to expect from Sandals, in a word NONE. This was a very expensive family holiday for 8 family members. My sons and daughter live in different parts of the world and this was going to be a once in a lifetime holiday for all the family together. On arrival (15,30 hrs) we had a wait in reception over 2 hours as our rooms were not ready and they had no idea where to put us. In the end they placed up in rooms at the top of the hill, well away from the main area. They called it a upgrade, but that was questionable. The resort is okay, a little dated as it's 15 years old and in great need of some serious TLC.
My main complaint is not the resort, even though it's not what it is made out to be, so if you do go then go with an open mind. Also, take your credit card as not everything is free and complimentary. My complaint is when my youngest son came down with food poisoning. On the Thursday evening we had dinner at the Japanese restaurant. As a dedicated vegetarian he had a different meal to the rest of the family. The next day he did not feel well, so we called the Sandals nurse. She was very nice and suggest a course of medication. Later that day he became worse, so we called a doctor. At the time, the doctor was unsure of his exact problem, so gave him a number of different medication, including antibiotics. The following day he seems to improve a little, but during that night he had a turn for the worse along with a very high fever.
So the following morning we took him to hospital and they diagnosed my son with Bacterial Gastroenteritis and acute dehydration and admitted him then and there. He stayed in hospital for 2 days and then was allowed back to the hotel, but had to stay in bed and rest. So the long and short of this story is my youngest son, spent 65% of his holiday in hospital/bed and his partner 65% of her holiday taking care of him.
From Sandals reviews you see they inform all complaints should have been brought to their attention on resort, so I followed their advice and had a meeting with their Director of Guest Services (Mr Victor **). He was very pleasant and apologetic to my son's problem. I suggested to him that Sandals may be in the position to offer my son and his partner an alternative holiday as a form of compensation. He fully agreed and assured me he would come up with something prior to our departure. On the last day of our stay I had not heard back so tried to contact Mr **, but he was nowhere to be found. I left my contact details both at the reception and Butlers' Office and was assured he would contact me. Well surprise! Surprise! He never did. I believe the old saying may apply here "Out of sight - out of mind." I therefore emailed Mr ** myself and also sent a copy to Sandal's CEO (Mr Adam Stewart). Neither responded.
It seems their customer service policy is promises guest anything while on resort to keep them happy and after they leave forget them. I spent a lot of money on this very special holiday, which turned out to be a nightmare. The medical bill was over 3000 pounds and my son lost 6 days of his nine days suffer from Bacterial Gastroenteritis. It placed a very negative mood on the holiday for the rest of the family as we were very concerned on our son's well-being. Sandals today have ignored my communication to date or any offer of compensation for my son's illness, hence this review.

We actually didn't visit Sandals - we pre-purchased a surprise dinner for my son and his new wife on their honeymoon. They stayed at Emerald Bay in the Bahamas near the end of June 2016. Due to weather conditions the night of the dinner, they were unable to have the meal served and it was their last night at the resort. Consequently, the resort told them that the dinner would be refunded to the same credit card that it was billed to.
Fast forward a few days - I called on July 3, a Sunday, to the Reservationline. They told me that this would have to go through Customer Service which is only open Mon-Fri. I called the Customer Service line on July 5 at 800-213-7831. They told me on that day that they saw the refund in process and that it could take 5-14 business days to complete.
Fast forward again to July 22. I called the number again after not seeing the refund to my account. The person who talked with me tried to give me the same info, but then I told them that the trip had been completed on July 3. They said that they looked up the account and took my email address, saying that they would have to send it over to the resort for inquiry. They also said that I would receive an email immediately confirming our call - which I did not receive. About an hour later I completed the form at http://www.sandals.com/contact/ and provided the same details, yet again I received nothing throughout the weekend.
So today, July 25, my wife called and asked the customer service person if she could speak to a manager. After asking a dozen times and waiting 18 minutes on the phone, she was finally able to speak to a manager, Lauren **. Lauren told my wife that she would look into the issue and call her back. She did call my wife back a few hours later; however, my wife was told that it would take 2-5 business days for it to show up on our credit card. She also told my wife that they had no record of me ever calling Sandals except for the form that was completed on July 22.
In summary, you shouldn't have to chase down a refund for something like this. A chain as big as Sandals should have better processes in place for this. In fact, the manager stated that the refund should have happened immediately. I can't say anything about the resorts, and I never will since I won't be staying at a Sandals resort now that I know how they treat paying customers.

We have traveled to many Caribbean Islands, but our first stay at a Sandals. Never again! Our room was never cleaned unless we called, food was horrible. Beach chairs were always unavailable. Don't pay the extra price! We were supposed to get a refund but it has been 2 months and nothing! Staff was rude! Will stay with Riu resorts!

Our honeymoon stay at Sandals St. Lucian was disappointing. Lack of beach chairs and what there was, stained and old. Promised honeymoon breakfast in room, requested three times to accomplish. Poor service. Top liquor, not really and what was good, was always out. Shut down pool and beach for video taping one day from 8-1:00 PM. Hard beds, light switch broken, so so clean rooms. Basically, big disappointment. Will not stay at a Sandals Resort again.

We went to Sandals Royal Caribbean for our honeymoon and had a great time. I am in a wheelchair and they found ways to make my stay more accommodating, such as lowering the bed and making a ramp for me to go into one of the restaurants. The staff was extremely friendly and the property was nice and clean. I, we cannot wait to go back!

I paid on my account 3/13/16 and had less than half of the remaining balance left. 3/14/16 at about 12:30am I went to review my account and found that Sandals had added $300.00 more to the account. When I inquired about the additional fees I was forced to submit the original invoice before they would even investigate. Now, the hope was for them was that I could not show proof because they claimed they did not have a copy of my invoice. However, they had all other details of my trip and discounts that I would be receiving. When, I emailed them the invoice I was told that it would have to be reviewed by a manager before I would receive my original balance. Now, Sandals acts if I brought this situation upon myself and having me wait until tomorrow before they apply my discounts. No apologies, just the hope that I would not have produce my invoice so they could have denied my discount.
Sandals Resorts Company Profile
Company Name:

Sandals & Beaches Resorts

Website:

http://www.sandals.com/