David's Bridal
New York, NY
Consumer Complaints and Reviews

My daughter ordered and paid for her dress from the Henrietta NY store. It was on sale and the dress tag was marked so. She was told the dress would take 6 to 8 weeks to come in after being made. We paid for the special garment bag as well. 10 days later she was told her dress was in. A friend picked it up for us and when we got the dress it was the same dress she had tried on at the store and had just a plastic bag on it. I could tell the dress was shop worn and I know it was the same dress. I called the manager who told me I could come and pick up the garment bag I paid for but there was nothing they could do about the dress.
I feel that this was totally fraudulent on their part after telling my daughter she would receive a new dress made for her. The manager told me to call customer service and when I dialed the number and waited to be prompted to put in "0" for customer service, the same manager that I had just spoken with picked up! We are just sick about this and should have gone with our gut instinct about David's...

I am a bridesmaids for my friend's wedding. I ordered a dress online and when received, was wrong color. I called online as I was unable to bring to store. The store will not exchange in person, apparently they have no capabilities to do so when a dress is purchased online. So as I call online customer service, I asked to have new dress in right color ordered. Long story short, was charged for 2 dresses after returning original dress. Called my bank. Had them credit my account from David's Bridal. (I still had NO dress at this point and was being charged twice.) Then 5 days later another charge of $139 appears from David's Bridal. I noticed charge went through on a Friday and I saw it on Saturday. Unfortunately, you can not speak to them on weekends... because they are closed!!!
I filed a claim with my bank instead due to the fact they were fraudulent in charging my account a total of 3 TIMES without my authorization when I only authorized a ONE time payment for just ONE dress I purchased. NEVER again will I do business with a David's Bridal!! I have also notified all my friends and family on social media, as word travels faster than anything else... and that's detrimental for a business.

When my girlfriends and I went to pick out our dresses, the woman helping us originally just walked away. No explanation or communication at all. So, we get a new sales rep, who seems painfully annoyed with us. So, we figured out all of the details, and I told her to order my dress. She confirmed it was ordered and would arrive in 15 weeks. Well, yesterday the bride gets a hold of me and tells me that my dress wasn't ordered. We are already cutting it close with their insane wait times for these dresses.
I immediately call the store, to be put on hold immediately. I wasn't even able to ask a question. They answered and said, "Hold please." So after ten minutes of waiting, someone answered and asked if I was being helped. I tell her no, and explain my situation, to be put on hold again. I finally get my dress ordered, ask to speak to a manager, and just my luck, the person I was talking to was an assistant manager, and all she could say was she was sorry. Very unprofessional and unsatisfied.

My bridal party recently purchased their gowns at David's Bridal. My maid of honor ordered her dress three months in advance. However was told the dress wouldn't arrive until 2 days before the day we leave for the wedding (in Mexico). The dress did arrive on time but the quality of the dress was absolutely pathetic. We could have bought better dresses from Target. She had random thread all over her dress, the seams were crooked and noticeable all over the outside, and there was random pieces of fabric sewed all over the inside of the dress.
I called David's Bridal and was told that I would have to bring the dress in before we leave to consider a refund. We didn't have any time to take the dress in because it arrived two days before we left for Mexico. I was told to continue to try to get a hold of customer service. When I asked to speak to a manager I was informed that could not be done and to continue to call customer service. Needless to say I'm very unsatisfied. I have many friends who will be getting married in the near future and I will definitely inform them to go anywhere else but David's Bridal. Together we spent almost $3,000 for some poorly made dresses and terrible service.

DB is now in the bottom 3 of companies that I have dealt with regarding customer service. The call center agents were, for the most part, quite lovely, but it has taken weeks and multiple calls - each time getting a little better, but still leaving some problem behind. I ordered a dress online (because the store couldn't order it for me). They sent me the wrong size. I called to return it and they sent me a mailing label. It was delivered, but no refund was processed. I called to inquire. Apparently, they gave me a mailing label with the wrong address and they had to put me on hold for long stretches of time (with no check-ins - I used to work in a call center and I expect you to check back with me if I've been on hold longer than a few minutes) to try to find where the dress went. The agent said I would get a refund in full. I received an email from the supervisor confirming I would get a refund in full. Then, I only got a partial refund.
When you call the customer service line it tells you to call back tomorrow morning at 10 am... It fails to tell you that is EST. I could have been calling earlier on other days, but they don't communicate it. I also hate that you have to have an appointment, that there are no mirrors (even crappy small ones) in the dressing room so you can make sure you have it on correctly before stepping out into public (my friend had to tell me my chest was hanging out). The fabric quality is poor for what they charge. I'm never going to DB again. I'm telling the world to avoid them, and I am buying a comparably-priced bridesmaid's dress from Nordstrom (best customer service!!!).
How do I know I can trust these reviews about Davids Bridal?
694,519 reviews on ConsumerAffairs are verified.
We require contact information to ensure our reviewers are real.
We use intelligent software that helps us maintain the integrity of reviews.
Our moderators read all reviews to verify quality and helpfulness.
For more information about reviews on ConsumerAffairs.com please visit our FAQ.

I went to David's Bridal thinking I would get the best of everything! Boy was I wrong! My consultant was running between me and another lady. Left me standing there. I found the dress I wanted. I bought it and it was ordered. So today I went to try it on again and I noticed that they left the clear thread hanging all over the dress. My dress is falling apart! The lace and rhinestones are falling off. My train is coming apart and the back is coming apart along with the snaps.
So I called the store where I bought, spoke with the manager, and she said to take it in at 3 when I had appt for my flower girl and matron of honor. She said that I could not do that. She just did not care at all! So I am calling corporate Monday morning to complain! They are either gonna fix this mess or pay for me a brand name dress that will not fall apart before my wedding day in May. I DO NOT RECOMMEND DAVID'S BRIDAL TO ANYONE!! They are rude and all they want is your money!

My daughter ordered a matron of honor rhinestone robe last week (only sold online I assume). Much to her dismay it came in with nothing on the back. When called to inquire about it she kept getting the runaround and at one point was told she would receive another one right away. That was never the case apparently. She was also told it was her fault. No help, no apology...nothing. Today she was told she would not receive another item with the actual rhinestones nor a refund. My question to corporate is...what are you accomplishing? Your image is already in trouble overall in the marketplace. You would think you wouldn't want any more negative public opinion.
My daughter was on hold for roughly 15 minutes today and was hung up. Why upset a bride two weeks before her wedding! She purchased 8 robes from you. Your horrible customer service proceeds this review. Why would you send a customer robe ordered with matron of honor with not one thing on the back? What would be the purpose of ordering it? This situation is uncalled for and just another example of your poor customer service and lack of integrity - go figure. I suggest customers shop elsewhere - anywhere but David's Bridal. In my opinion, you are unfair and after spending hundreds of dollars in your store I feel nothing but remorse for ever visiting, spend money with you or ordering from your .com business. Thank you for a horrible experience!

I was extremely happy with the dress that I bought, and received excellent service in finding and fitting my dress. However, when I went to pick up my dress today, I changed my perspective of David's Bridal. I came in to picked up my dress for the final fitting, and noticed that the little things that needed fixing weren't taken care of.
There were many loose strings, one string with beads that I specifically asked them to fix, and a new hole. The hole was in the mesh fabric and was fairly small, about the size of my pointer finger nail. The thing that really upset me was when I was trying to point it out to the alterations lady that was there. She automatically stated that they did not make that hole and that she spent SO much time on the dress that there was no way that hole was there. I have tried that dress on 2 times before my final fitting, and that hole was not there. Although, all of the other little things were there which is why I asked them to fix them (which they didn't).
I asked her if there was any way we could fix it as she was still trying to argue and make me feel like I put that hole in the dress. She didn't even offer to try and fix it or do something to make it look better. I felt like I was being rushed out, and like I wasn't worth her time. The hole wasn't the main problem, it was how I was treated and got blamed for it. True customer service would want to go out of their way to ensure customer's happiness. It's also frustrating that the alterations costed almost as much as my dress, and gained a hole in doing so. I will be sure to leave feedback wherever possible about this incident in hopes that you will get your staff better customer service skills. I will not recommend getting alterations done at David's Bridal.

I have never had a good experience at David's but I have never been the bride. I made an appointment for Saturday 10/22/16 to bridesmaid dress shop and possibly look for a wedding dress. We went by ourselves to search for bridesmaid dresses and no one was there to help or tell us where to put all these dresses. As we tried on dresses no one was there to provide clips for the dresses that were too big.
As we got near the end of dresses I asked to try on a dress to show the girls. It was a Vera Wang gown that costs about $1300. They pointed to a wall, said "this is Vera and try on what you want." Like seriously!! I made an appointment so that someone would be there to help me and we got very little attention. I put on a size 10 wedding dress, mind you I am a size 2, and had to have a bridesmaid help hold it tight so I could show everyone. I was so disappointed with the lack of service that we left and I will not buy any of the dresses from there.

Found a stunning wedding dress there that needed major altering. They talked me into it, having complete faith in their staff that they would do a professional job. First of all they ordered a size smaller than I asked for. So shocked when it was WAY too small. They had to open the seams and they were going to charge me a few HUNDRED for their mistake. Second the neckline was not symmetrical, horribly ugly, as were the sleeves.
Third the day I was supposed to pick my dress up, it wasn't done and I was supposed to be on my way for pictures and then they had sewed on the wrong buttons (they weren't even the same color!). I asked for the right ones and sewed them on myself! Overall, if your dress needs altering, no matter how convincing they might be. Do not trust them! The entire process was horrible and the dress from the waist up was a complete mess. I wish I had never gone there. That was my biggest regret about my wedding. It was too expensive to just start over. *sniff *sniff.

I bought a dress for my daughter for her homecoming event at the David's Bridal Store in the The Pavilion Shopping Center in Vista, CA. It was pretty but a little too long since my daughter is only 5'. I bought it anyway to see if I can just have it altered. The following day, I found out that Macy's also has the same dress in the petite size so I don't have to spend a fortune to alter it (which David's Bridal quoted at around $50!). I looked at my David's Bridal receipt and saw "I ACKNOWLEDGE THIS PURCHASE IS A FINAL SALE". I was extremely surprised since this item is not even on clearance or sale. I've been shopping all my life and every time I purchase a clearance or sale item, I know that there's a probability that you cannot return it. Some stores do exchange or even offer a store credit.
I called the store and was told that all their items are non-returnable! I asked her why this was not explained during the purchase. She said that it's on the receipt that I signed. Who reads the entire receipt? This should have been verbalized as what other stores do!!! She asked me to call when the manager is in. I asked her if the manager can accept my return. She said "No". So why am I going to bother to call and waste my time? FELLOW CONSUMERS: BE WARNED!

I'm done with this crap hole! They've made my wedding stressful!! The ONLY aspect of my wedding that hasn't been easy or gone my way is working with David's Bridal! They've screwed up all 7 of my bridesmaid's orders, but the one that takes the cake is the order one of my bridesmaid's ordered in a Virginia store that was sent to a Brooklyn store I've never stepped foot into! Then customer service there was giving her attitude and said SHE would need to pay for it to be shipped to her??? They're the ones that screwed up royally on her order, and then have the nerve to tell her she needs to pay for shipping. Took over an hour, because she was on hold for 12 minutes, to get them to do the right thing and ship it to her house.
When the order came in, not ONLY was the dress not the right style she ordered but it wasn't even the size she ordered!!! What is wrong with these people??? This isn't rocket science yet they have managed to mess up each and everyone of my bridesmaid's orders! Now my wedding is too close to get her the correct order so the next best thing is a strapless version of the dress the rest of the girls are wearing. If she was maid of honor it wouldn't be so bad that she has a different dress but she's not and now she's the only one in that dress throwing everything else off.
I'm absolutely furious and I can't believe a big name corporation can mess up such a simple order!!! Thanks for ruining what should be the easiest part of my wedding David's Bridal! You people don't give a flying crap about your customers and it shows!! Just because their prices are better than others, it's not worth the trouble!! There are soooo many other companies that have just as good of prices, if not better, and I guarantee much better customer service! I can't believe they aren't doing everything they can to make this right!

I have never worked with a company that is so incompetent in my entire life. I will never order anything from this site again. I ordered a wedding dress online. It was not of good quality so I returned following all the guidelines they had set with time frames, packaging, etc. I have been waiting 3 weeks for my refund. I had to purchase another dress in which I had went to the local store to purchase. I have contacted the 800.823.2403 Option# 2. several times and every time I get a different answer. The only consistent part of the answer is they have not refunded my money. I even have a tracking that showed they received the dress three weeks ago and their process states they will send me email upon receipt of the return.
I still have not received the email from the warehouse stating they received it. If I would have known it was this difficult to do business with them I would have never ordered from David's and I certainly would not have went to a local store and spent more money. I will say that I thankfully did not receive the same treatment at the local store. Shopping online is suppose to be convenient. It is not with this company. When you speak to the customer service reps they argue with you and just repeat the process. A process that is broken clearly. Do NOT buy from this site.

I purchased my wedding dress from David's Bridals in Charleston, WV. My dress was put on hold for 24 hrs so I could call and pay for dress in full. I paid $1100 for my dress. When I called back the next day, the associate had no idea who I was and it took three people to find my invoice. Dress was paid in full and was ordered at that time. Once my dress came in, I did not receive a call to advise that my dress was in. I called David's Bridals and was told that it had been delivered to the store.
I picked dress up and tried it on. Dress definitely needed alterations. Associate was too busy trying to get me to purchase shoes to schedule a fitting. Alterations lady was not in that day and she explained that she would need to call the alterations lady and call me back. She returned my call and scheduled me for August 14 at 1:15. Myself and Matron of Honor noted the date since we were together that day. I arrived for my fitting and was told that I had missed my appointment which was in the computer for August 13 at 1:45. Associate stated that she could not help me and that I needed to talk to alterations.
Alterations lady came out and told me that she had me in her book for August 13 at 1:00. It amazes me that no one does confirmations for appointments for such an important date. All alterations lady could do was shrug her shoulders and say "sorry." She was not sympathetic at all and did not attempt to accommodate me. It is unacceptable to be treated that way after spending $1100 and clearly they had no idea what was going on as far as appointments. I left completely unsatisfied and I will go elsewhere for my alterations. Furthermore, I will NEVER go to David's Bridals ever again. This was an inconvenience for me. I drove 45 minutes to get there and had to miss a day of work. No one should have to go through that treatment.

If I could give 0 stars I would. I have never written a review in my life but after this experience, I am as well as contacting the Better Business Bureau, because I never want anyone else having to deal with this on their wedding day. My wedding dress was purchased and almost $400 worth of alterations done, spent over $1000 with the company. I tried on my dress about a little over a month before my wedding on June 30th, after alterations were done with everything looking wonderful!
Right before I walked down the aisle, my dress tore at the seam of the zipper in and fabric in the back leaving a HUGE gaping hole. I had my dress safety pinned the entire evening. The store stated it was a dress DEFECT and after a month of a HORRIBLE cat and mouse chase with customer service and the store, (hours of being on hold) they told me they would give me my full refund if I gave them back my dress forever for their inventory (which I have two daughters so that dress means something) OR they will fix the dress and give me 20% of the dress cost back.
My advice is to NEVER get a wedding dress from this company as they have no problem giving you a defective product for the BEST day of your life and not reimbursing you. Spend a little more money and get a quality product elsewhere. Trust me it's worth it, you will be able to take all the pictures you want, dance to all of the music, and not have your back to the wall your entire wedding night.

I purchased a dress from David's Bridal. That interaction was fine. When I inquired about alterations, I was told they would not be more than $300 for the dress I had chosen. I thought that was a bit expensive, but it is my wedding dress. Upon my first visit for alterations, I was greeted by a semi-miserable woman (this is in North Attleboro, MA). I was with my sister and the dress I had purchased ended up being a size too big, so it was exchanged with one off the rack. I found this very odd since my dress was ordered and brand new and I was now provided a dress that others have been trying on. I voiced my concern and was told it was standard procedure.
We begin to size the smaller size dress and I have to decide on the spot if I want a bustle or not. I had a different vision in my head, but I had to make a choice, so I chose the bustle as the way it was put up looked very pretty. Also, I was still in the process of losing weight so it was noted on the slip not to alter the top of the dress until after fitting 2. Upon fitting 2, the same woman comes in very apologetic and explains that my dress was fully altered. I was concerned as I felt coming to the appointment that the dress was way too tight at the last fitting and I wanted to adjust the sizing on the top and was looking forward to being able to do so without an issue. I put the fully altered off the rack dress on my body and it was skin tight. My best friend and sister both couldn't zip the dress or attach the eyehook.
The seamstress came and told me to suck it in and fit me in the dress. The dress was so short my shoes were showing and so tight I could not breathe. I was told by the seamstress I gained weight (I had lost about 5 lbs by 2nd fitting) and gained inches (I had lost 1 inch). She proceeded to tell me to suck it in and deal with it for 11 hours, it is my wedding. I was in shock. My witnesses proceeded to voice concern about the dress and the seamstress began to let it out with a tool. She then repinned the dress with what I still feel is a bit too tight. Then my witnesses learned how to work the bustle and noticed it was uneven. The woman then accused me of not standing up straight. She then said it would be remeasured and I took the dress off and left it with her for alterations.
I felt not only hurt because she said I gained weight and inches after I have worked so hard to lose 30 lbs for the wedding, but I was also hurt that every issue that came up was my fault according to her. The other issue is I spent over $500 on alterations and I did not make one mistake and I am getting a USED dress on top of everything. And, I emailed David's Bridal complaints and the only thing I have heard back was that they needed the address of the store.
I am beside myself. I feel hurt and angry. I spent $599 on a brand new dress, I got a used dress and I spent over $500 on alterations and my fitting is tomorrow and I am dreading the visit. I have shopped at this store for years and I have never seen anyone of my friends who had purchased their dress or had alterations be treated this way. I am not looking forward to my 3rd fitting and I am hoping the dress will be good enough to wear for my wedding next week. I am sick to my stomach over this whole experience, I had never thought David's Bridal would treat a bride so unprofessionally.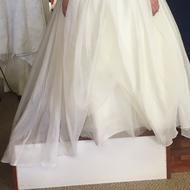 7/29/2016. I have decided to write a review about David's Bridal on an unresolved problem I'm having with the Massapequa Store. My daughter bought her dress there in October 2015 and Nicole, the asst store mgr assisted us. She was beyond lovely, helpful and professional. Now it has come time for dress alterations and this is where the problems began. The dress required hemming, a bustle and to be taken in as my daughter lost weight. My daughter brought the dress to the store for alterations and to consult about having illusion sleeves added to the dress, which in October when she bought it, she was told they could do the sleeves she wanted. They now tell her they can't do the sleeves as she wanted and she specifically made the appt explaining to them why she wanted a consult. When she arrived they told her she has to see a specific seamstress who was not there, although she was clear what she wanted.
Another seamstress named Maria (apparently they have many seamstresses named Maria which is confusing...) assisted her with the hem and bustle and said to return when it was completed. My daughter left her dress there. The next day she consulted with a professional independent seamstress to ask about adding the sleeves to the dress once David's had completed the hem, bustle and alterations. The alterations at David's cost $388. My daughter knew she would still have to pay the other seamstress for the sleeves and she was totally fine with this. When she picked up the dress at the Massapequa store, she tried the dress on and it still seemed big and she noticed that it also seemed long. The seamstress said she needed to have her shoes on then it wouldn't be long, but my daughter is wearing ballet flats so that didn't make a difference with the length.
She felt rushed and the alterations department was hectic and busy so she took the dress and immediately went to see the other seamstress about the sleeves. Upon trying the dress on, it was very noticeable that the hem was off - one side was cut uneven and re-hemmed while the other side appeared to be untouched and when measured was almost 8 inches longer than the other side. Additionally the lining was cut and re-sewn crooked and uneven and the tulle was cut raggedly! The independent seamstress was in shock! She couldn't believe how butchered the dress was! She also had to re-pin the waist for it to be taken in more. My daughter contacted customer service at David's via email and they referred her back to the store where all they could do was offer her $100 back for the shoddy unprofessional butchering of her wedding dress! Preposterous!
My daughter was in tears and so flummoxed she said, "Ok" and hung up the phone, in disbelief! I called the store back and after waiting close to 18 mins on hold I reached Nicole who tried to explain why they can't refund the full alteration cost of $388. I asked Nicole if all they want to give her for butchering her dress is $100, then please explain to me what she is paying the remaining $288 for? She could not explain that but kept saying it was "all she could do." I then told her it was unacceptable and we would now have to pay the other seamstress to "FIX AND REPAIR" all of the shoddy work David's did so anything less than a full refund is unacceptable and this issue needs to go further than the store level and I wanted her to put me in touch with someone in corporate. She offered to have the dress re-altered at the store which I refused.
Would you let the very same people who ruined you daughter's wedding gown even TOUCH it again? Nope. Not happening. A professional seamstress is necessary to fix the problems with the dress created by the unprofessional seamstresses at David's. Nicole did promise to speak with her manager and again promised to call us back the next day, which never happened! This was over 2 weeks ago. Still no call back. I have called the store 3 separate times and was placed on hold each and every time they've answered "David's Bridal, please hold" without ever once asking how they can help or refer my call. All 3 times I've waited no less than 15 mins for someone to pick up. No one ever did pick up the call!! I have yet to resolve this by contacting the store. I've given up and will have to now walk into store and hope someone is willing to help us. Which in light of the past events, proves no one IS willing to help us.
They were all so very nice while buying a dress at the store, but now they can't be bothered to return a promised phone call back to resolve a problem they caused. Despicable! Please be forewarned - this is not a reputable company! They don't want to resolve issues and they certainly don't value the customers nor are they concerned with customer satisfaction. Buy a dress there if you must but TAKE IT TO A PROFESSIONAL SEAMSTRESS FOR ALTERATIONS. DO NOT LET THEM TOUCH YOUR WEDDING DRESS. YOU'LL REGRET IT!

I thought David's Bridal was the place to go for a great shopping experience for my wedding. WRONG!! I was on a budget for my dress including alterations of $1000. My dress was $850. First of all, at no time during me trying on different dresses was I told about the cost of alteration. $400 alone in alteration charges was what I was told at my appointment (it's the type of dress you choose). We decided to get a bigger size and I was told I was to pay extra for rush alterations because it wouldn't come in on time (more money). I orders shoes from online and they were so uncomfortable. Went to exchange in store (because I was told by sales clerk I could). Met by manager and told no. 2 weeks before wedding I have tried calling online store. Never an answer, tried 3 times. I'm so frustrated and disappointed with the stress and anxiety from this experience. I now have to buy new shoes from somewhere else (more money).

Ask about your alteration costs BEFORE you buy your dress!! And make sure you get it in writing! I was told the alterations on my $600 wedding dress would be around $200 but when I went in for my fitting, the bill added up to $600 before taxes!!! There was no real explanation, just told me that it was complicated to do. Then why tell me $200 when I bought it? Now, my wedding is only 2 months away and too late to buy another dress.
If I would have known they would charge me $600, I would have definitely bought my dress elsewhere. I do have 4 people that were with me when I bought my dress and they all heard the lady say around $200 for alterations. There is no price list for alterations so they can charge whatever they feel like. So all that to say... If you insist on buying your dress there, get your alterations in a quote! If they don't want to, then RUN!!!

If I be in any other weddings... I hope the bride don't choose David's Bridal for our dresses! They shipped my dress 200 miles to another store and want to pay me 20 in gas to go pick it up because of their mistake! Then the customer service rep on the phone trying to act like the company perfect and don't make mistakes! I am too done with this company!

Never order dresses from David's Bridal and do not subject your bridesmaids to their poor service. My daughter needed a bridesmaid's dress. She was told to go to David's Bridal to get the dress with the material and color. She first went to Manhattan and was told they had no dresses in her size even though she is either a 2 or 4. We then went to the Yonkers store where they only had 4 or 5 dresses also not in her size but close enough to get an idea and clip to see. We ordered the dress based on the size they said, paid for it, and we're waiting to receive call dress was in. They just called on 7/6 to say that she needs to pick up the dress and that it was in since 6/23. The issue was they were emailing her and it was bouncing back because the salesperson wrote the email incorrectly.
This became my daughter's problem. They gave her 10 days to get the dress or they would send it back. When she called for an alteration appointment they had nothing available until more than 10 days out. When we asked to speak to the manager they did not want to get on the phone. They were going to have the alteration manager call me the next day. After deciding to get the dress and doing alterations some place else the manager final called. Even the store manager said alterations can be done cheaper elsewhere. This was the worst experience. My daughter has 3 or 4 more weddings in the next year and she will let all of them know not to order dresses from David's Bridal. I would recommend not ordering dresses from them ever.

I'd ordered a dress for my friend's wedding... the experience was not good. My first issue was that my local David's Bridal would not exchange the dress for a larger size if need be (I'm pregnant and trying to plan for worst-case scenarios, i.e. the dress fitting too small even though I'd ordered 3 sized up). Apparently the online retailer is not affiliated with any brick and mortar DB.
My biggest problem was that I had checked out as a guest and never received an order confirmation, shipping information, etc. I had received no communication whatsoever from David's Bridal. Eight days later I had called DB online and the help center was down. I then emailed the DB online help center and they'd said that my order had not gone through. Apparently they had tried to charge my card 3 times!!!
I'd called the help center again days later and after a loooong wait time, another rep confirmed that my order was not processed and stated that my money would be refunded after a 10-day hold; by this time it was well past 10 days from the day I'd placed my order, but they kept telling me different dates to expect my refund. Not much help considering I needed the dress asap. I filed a claim through PayPal and spoke with a PayPal rep on the phone, guaranteeing my money was on a PayPal hold. Eventually, through the PayPal claims process I was issued a tracking ID for my package. What??? I thought the order was never shipped!?! All-in-all, my dress was delivered much later than promised and I had to fight for it; without an order confirmation, initial tracking ID, or any other form of appropriate communication. If I had to do it over again, I'd go through a brick and mortar store.

My first experience with David's Bridal was at the store in Greenwood, IN in 2008. I visited the store to buy an evening gown to wear on a cruise. I remember being quite thrilled with the quality of gown, the attractive price and the cheerful happy staff at the store. So, when my daughter announced her engagement, we immediately decided to visit David's in Greenwood to shop for her dress.
We found just the right dress and purchased it there. However, they did not have the right slip to match the gown in the bride's size. My daughter had also shopped for accessories at another David's Bridal in South Bend, IN, so we decided to try to buy a slip from the David's Bridal location in Castleton, on the north-side of Indianapolis. The superb service we had received at the Greenwood and South Bend stores was nothing like the poor service we received at Castleton.
When we arrived, we greeted hastily. Granted, there were a number of brides already being served, but all we wanted was to buy a slip and be on our way. Unlike the South Bend store, the slips are not out on display. We were made to wait a very long time for a "stylist" to bring a slip, and when she did, she brought the wrong one. My daughter explained just what slip it was that was needed and it appears she was ignored; the stylist indicated that she purposely chose the slip that was listed as a recommendation in the information from the dress purchase that was "in the computer." Since when does information on previous sales trump the specific request of a customer? We did buy the slip, but we were not particularly happy about it.
We found that the staff in the Castleton store were rather condescending; the associate who rang up the order asked us "You're going to buy this, TODAY?" Perhaps we didn't look wealthy enough for her taste? Interesting to note, however, is that the David's location in Castleton has several signs posted that advertise "6-month financing." Could it be that they don't like customers who buy things outright?
They also have a ridiculous "all sales final" policy at all their stores we have visited. When I asked, "What happens if you order something and it's not right, how do you handle that." They said, "Well, if it's not right, we'll know it and we'll send it back, but we won't bother you with it" (or something to that effect) -- which is another way of saying that if it's the customer who identifies a problem, it might not be so easy to get things resolved. They also have you sign the credit receipt that you keep so that they have your signature indicating that you accept the "all sales final" terms of the sales transaction.
I have concern about other corporate policies at David's and how much variance there seems to be across individual stores and as compared to the website. I found what I thought would be the perfect mother-of-the-bride dress on the David's website and placed the order. I never got the dress because they cancelled the order for insufficient stock. They need to do a much better job of updating their website. Given the poor service from their website, I chose to buy my dress from an independent "Mom and Pop" salon outside Indiana.
In summary, it seems that not all David's Bridal locations are created equal. The salons in South Bend, IN and Greenwood, IN have good selections, fair pricing and great service, and are likely worth visiting. David's at Castleton (Indianapolis) is over-priced in comparison to other David's locations and has poorer service. Their selection is a bit broader than what is available in Greenwood, but is perhaps more comparable to the selection in South Bend. Greenwood and South Bend locations receive 4 stars; the less-than-five star rating has to do with issues related to corporate policies, such as having to sign under duress that you agree to the all sales final policy.
(It seems a bit deceptive as to how the cashiers would allow customers to assume that they need to sign the print copy of the receipt, too, thinking that it was necessary for the bank. It's not necessary for the bank - just for David's to coerce you into agreeing to the "all sales final" terms of the transaction.) The Castleton location only earns 1 star; they've earned 1 star because although we were made to wait quite a bit, they did at least wait on us. We still think that it is ridiculous to have to wait for a stylist just to buy an underslip, when the slips are out in the open for purchase at other David's locations.

When entering the store the hostess was rude. She brought down the moral of my experience. I came for the $99 dollar special but none in my size. I had to opt for a dress that was out of my price range. I wouldn't advise anyone to shop there!

Grandma, Aunty and mom of the groom went for dresses at David's Bridal in Schaumburg, IL. When we arrived they told us we did not have an appointment which prompted them to "squeeze us in." Literally, all three of us into one room. That was not acceptable. After much arguing (we should have just left right then and there), we were appointed separate rooms. Grandma was the only one to have found a dress. Her dress arrived about two weeks later, at which time someone from David's Bridal told us to pick up the dress within the week or else they would send it back or charge us a storage fee. After the alterations were done on the dress, they were inaccurate as to the length of the dress. This was a floor length dress that needed to be hemmed except they made it into a calf length dress.
Also the hem was all crooked and deformed. They knew they could not fix it so offered us a full refund for alterations and the dress. They knew this was done incorrectly. However, it is now two weeks before the wedding. Grandma took the refund and is praying to find a dress today at a NORMAL bridal shop instead of a SWEAT SHOP bridal shop. I don't understand why anyone goes to David's Bridal with all these bad reviews out there. Let's put them out of business. Stop patronizing this store.

Received my purchase. When I was ordering the man on the phone said the shoe ran narrow, when I received them they were not narrow but ran short. The sizes I ordered did not fit. On June 21, 2016 I received both pair neither fit, so sad. I've calling from the day they arrived and did not fit. They never answer the phone for returns, they always say they are unusually. Please my wait time will be ten minutes. I held the first time for forty five minutes. Never spoke to anyone. Today is the 25th of July my 14 days for returning and I cannot reach returns at all. I may be stuck with these shoes that don't fit, but I will never purchase anything from you again, and never recommend you. Your company is horrible!!!

Upon recommendation from my Mom, we decided to book a bridal appointment at David's Bridal for my bridesmaids' dresses. The first initial meeting with our sales woman was horrible. The store was busy and she was obviously annoyed and irritated at the busyness of the store. This is not our problem as this is supposed to be the most exciting event of my life and she was hurrying us. (The whole process only took half an hour so I do not know what the problem was.) The appointment was almost half an hour late but we were OK with that as we had walked the floor and already chosen three dresses that peaked our interest. After trying them on we chose on a simple but elegant dress. Yay! Pfffft. Get to the counter and she convinces us that we should all go a size bigger. (They had no dresses in my bridesmaids' sizes in store.)
She assured us that they were a snug fit and if we bought too small they would not fit. My sister is a size 0, so we ordered a 2. The dress fits like a 4. We ordered a 12 for a girl who is actually a 10, and the dress came in a 14. Haven't received two of the dresses yet so not sure what nightmare to expect. Now David's Bridal wants just under a hundred dollars a piece to alter them, when they were the ones that basically enforced that we bought larger. I am freaking out and I am pissed! I would never recommend David's Bridal again. The attitude of the sales woman was appalling. (She even made fun of my style choice for a wedding gown, and patronized me a lot.) We were all uncomfortable and now have been duped into a marketing scam. I have lost about eight hundred dollars as I treated my girls to their dresses.
I haven't decided about going through with the alterations. I may scrap the dresses and get the girls some simple sundresses instead. Thank you David's Bridal for stressing me out a month and half before my wedding. I will tell all my friends, and so will my bridesmaids (two of which are engaged). It was unpleasant and they manipulated us into alterations. Disgusted.

DB confirmed my order which contained two items: wedding dress and veil. They processed order, confirmed both items and placed authorization hold on my Visa. A week later they sent me only the veil. I contacted their customer support and they told me the dress item`s status was CANCELLED! Three weeks passed, and DB still won't remove the authorization hold, and even don't reply to my emails. So, about a month passed, I've got no wedding dress. Only a veil and no time to choose another dress. I don't recommend buying anything at David's Bridal.

David's Bridal is absolutely awful and as a good maid of honor, I told my bride that, but she insisted that we come here for convenience. First, at the bride's dress shopping experience, the person on the sales floor wouldn't allow us to look through the dresses on the floor while other brides with different representatives were freely looking through the dresses. She continued to tell us which dresses our bride should and shouldn't try on. Honey, you work at a ** David's Bridal in Lansing, not Kleinfeld's in New York City. Then the saleswoman continued to tell us about her career experience in prison security, which as you can imagine was not reassuring for us. Why is this woman working here if she has no experience with wedding fashion? David's Bridal hires people off the street. We left extremely unsatisfied and bought her wedding dress somewhere else.
We called and complained and ended up getting a 10% discount on our bridesmaid's dresses. I still paid $180 for a cheaply made dress. It's snagged and running in numerous parts on the skirt. During our fitting, the woman insisted I would fit in a 15 and I told her I needed a 17. Now that I have the 15 dress, it is too small and they don't accept returns or exchanges. I have a double F bust. There is absolutely no way I can fit in this dress comfortably. I look like a overstuffed marshmallow muffin in this dress. I am extremely pissed off and will reluctantly wear this way too small dress at my best friend's weddings, one of the greatest days of my life.

After being together for 5 years and finally getting engaged, we were looking forward to the wedding. Five months later another joyous announcement was made. We were going to be grandparents in 6 months. Walked into Manchester CT David's Bridal. Inquired about maternity wedding dresses. The woman at the front booth snapped said "WE DON'T CARRY MATERNITY WEDDING DRESSES". She could have suggested a section where empire waist dresses may be found but instead through the entire conversation with her, I felt we were being judge. She did not offer any help or suggestions at all and all her answers were very short with a stone faced frown. Needless to say we walked out and bought someplace else.
David's Bridal Company Profile
Company Name:

Davids Bridal

Website:

http://www.davidsbridal.com/