Consumer Complaints and Reviews

Called so many times to try to fix a billing error. Got no help for two months. Then finally when someone figures out the issue I get stuck with a BIG bill. The same error that should have been corrected on my first call... Oh well. They do not care about what I was told or throwing the bill at me because I have no other option but to pay... I called and wasted my time over and over. Duke Energy your customer service sucks.

I have had an electric account with Duke Energy for 6 years. My first complaint is that they intentionally price gouge during the summer months of June, July and August. My family doesn't do one thing different yet the bill suddenly increases by 300-400 dollars each of these months. I just always pay it, but today when I went to pay my bill it was over $1800. I noticed there is suddenly an $1100 deposit applied to my account. I called them and they said it's because in May they had to reconnect the service, which is a $40 fee. Due to a mistake this is the one and only time we ever missed a payment in 6 years and they want to add an $1100 deposit to my account. Not happening. She kept mentioning that there was a $40 fee, which I agreed to pay since they did have to come back (30 minutes later) after we realized what had happened, but that the deposit was also going to be applied or my service will be terminated. This is clearly a scam.

My AC was set to 80 degrees for a year, I live in Pinellas County, FL, and Duke Energy is the only provider. My electric bill was $235 in a 1200 sq ft apartment. When I called Duke, they went with their usual spiel of your appliances and AC... I told them no, my AC is set to 80. The representative even became speechless and responded with "wow". I asked to have a rep come out and check the gauge which they responded with no, that I need to go to the apartment office to figure that out. There is something going on with this company.

Overpayment penalty. I have been a customer of Duke/Progress energy since 1999. A double payment was made. I req. a refund. Now they want me to pay $250 dep? Computers are not human. A person would have realized the error.

Have had ongoing billing/payment issues with this company. Payments they say "submitted twice" -- supposedly in error, are not refunded if you have any kind of balance. Wow, what a huge issue for a large company to tackle, right? They're crap. What if I was a single parent and that was my grocery money? I don't carry a balance anymore because of the interest they "sneak in" but now I can't get in to confirm payment is cancelled, have been trying for two days. Crappy company with no accountability. They waste a lot of our time.
How do I know I can trust these reviews about Duke Energy?
826,885 reviews on ConsumerAffairs are verified.
We require contact information to ensure our reviewers are real.
We use intelligent software that helps us maintain the integrity of reviews.
Our moderators read all reviews to verify quality and helpfulness.
For more information about reviews on ConsumerAffairs.com please visit our FAQ.

I called Duke Energy today to see how behind I was on my monthly bill (which seemed to increase each month since me and my husband moved in November - it is now July). We had fallen behind on payments due to 2 trips to our home town in Louisiana from South Carolina due to death in my family being my mother and we even extended our bill and got help from family members just to keep our lights on the last couple of months. On the morning of July 10th our electricity had been cut off and I called to see what was going on because we had not received a disconnection notice from them.
The customer service representative told me that we owed $314 plus processing fees in order to get our lights back on and that the services would not be continued until the following morning on July 11th. I argued with her that I knew for a fact that after payment that our lights should be back on same day as long as we had paid them before 5:00 pm (I knew this from my coworker who had her lights disconnected by Duke as well). After going back and forth with her I just paid the $314 plus processing and asked what time my lights would be back on. She then proceeded to tell me that in order to get the lights back on I had to pay another $15 disconnection fee. Once again I argued that the $15 disconnection fee is usually added to your next bill (I knew this from my coworker AND because it even recites this fact on the automated voice when you call Duke Energy).
I am 8 months pregnant and had to sit in a hot and humid apt all day (9 hrs) with my dog until my husband got home from work and we had to find somewhere to stay until the lights came back on the next day. I had absolutely no problem with Duke Energy until this incident. I shouldn't have to sleep on a friends sofa while pregnant when I paid my bill and disconnection fees as soon as my lights went out. Tomorrow I will have to go home to spoiled food and a humid apt and once again I'm pregnant and just went grocery shopping. I am very livid with this company and want to go to the news about my incident. Please do better or discontinue your business duke energy.

My disconnect notice was for June 28 2017. I paid my bill on June 28 2017 at 12 pm. I was informed I made payment arrangements. I explained I didnt. The bill was paid on time. I called the commissioner number to get help. They called back stating I made an arrangement. I try to explain I didnt. He stated he is not going to argue. Wow I'm trying to let you know I did not make an arrangement. Been here at this address for 14 years. Never had my power turned off. I had made arrangements in the past and it was paid. They did not take that in consideration. I was told I had to pay 128.00 and that was it. I let them know I didnt have it. The commissioner office I have to pay it. I had to pay 128 plus reconnect fee. Why? I dont know. This is not fair at all. I had to pay 156.98.

I have had Duke power for 4 years, every time there is a storm... power out, the wind blow hard power out... This is so frustrating, food thawing out from power being out so long, no one reimburses you for that. Wish I could change my power company.

This is my 3rd time dealing with the same issue with Duke Energy. I have a terminal illness where it's a life or death situation to have my power. I live in a small two bedroom house. I don't use much power at all. I get a bill that says I use 33kw of power which comes out to the amount of $98 @ 2.39 a day. I say ok. I pay that. Then the following month I cut my power consumption only using 28kw of power. Tell me why my bill comes out to $239.00. So I get the previous bill to compare and see that because I used less power they charged me a $6.00 daily rate. If that's not wrong I don't know what is.
Then when they cut my power off after I made it clear I have a machine I depend on in my house for my survival! It didn't matter. 1 of my family members found me in my house near death! When I got out the hospital I use other resources (organizations) to help pay the bill to cut me back on. Once they get everything taken care of to turn me back on Duke Energy tacks on another $126.00 saying it's from the month they cut me off! How do they get to do that and get away with it??? I'm ready to go to the press cause the Energy Commissioner seems to be on their side. We consumers need a voice to speak up for us. This is really wrong.

I've only been a customer since March and I'm already researching how far I have to move when my lease ends so that I never have to deal with Duke Energy again. I will never move to a location in their district as long as I can help it. They have a broken link for the e-billing option on their site, AKA the only way to pay your bill without a fee (a fee that they don't tell you about unless you look up the FAQs). Finally, I found some time to call and set up the account. Seemed easy enough (if you don't work 9-5 Mon-Fri) as the automated service had a special button just for my issue. I guess I'm not the first. But once I finally got through to a rep, she completely disregarded the reason for my call and proceeded to process a payment, fee included, without my consent. AWESOME.
Then, when I pointed out that that's NOT what I asked her to do, she offered to transfer me to the 'correct department' (I guess the automated service lied to me?) without any kind of apology. That department proceeded to tell me that I wasn't clicking the button on the web page correctly (sure) and that they weren't responsible for the fees or rep who processed a payment on my card without my consent. I guess it's totally worth it to pay through the nose for spotty electricity (tons of blackouts, every week) and really crappy customer service.

I've read many other customers' complaints about Duke Energy increasing bills for no reason. I am a newer customer and have experienced this as well and it is very frustrating. I noticed the pattern for Duke Energy seems to show an increase in usage during late April/ May through June so far. Is this price tampering? Because this year, the temperature has been in the 90s since January and I've monitored usage closely. My usage and bill stayed consistent. However, as soon as late April/ May came, we actually decreased the usage plus the rain cooled the temperatures but all of a sudden my bill showed an increased usage by 500 to 1000 per month. I couldn't believe it. This needs to be investigated. I started taking pictures of my meter readings daily. I'm told that the Florida Public Service Commission is a great place to start.

I was told upon buying a business that I would be required to pay a security deposit of $1200, however, it would be returned after 12 months of not being late on the bill more than twice. A year later, I call to check on the deposit and they say I was late two times and that businesses can't be late but once. Furthermore, I was only late on my December payment, because I sent out a check on the first of the month for $350 before even receiving the bill because that's normally when I write all of my bills out. Well, I forgot to pay the remainder of the bill which was $196, once I receive a notice in the mail I realized I had forgotten, so immediately went online and paid it on Jan 12th. On the 17th I received my Jan bill and paid it immediately, even though it wasn't due until the31st.
They are telling me because I paid the remainder of the December bill in Jan, it means I am late on Dec and Jan Bill. WOW. So basically they set you up to fail, because their security deposit policy is based on monthly cycles, however the time you pay your bill isn't. CAN YOU SPELL CROOKS. Now they are saying they can keep my deposit indefinitely. I so wish there was another provider. Isn't this called a monopoly????

When my service was with Progress Energy we had occasional power outages. Since it became Duke Energy, outages occur far too often. When there is severe weather, our power is the first to go out, and the last to come on. It's ridiculous how often the power goes out. I think Duke Energy is a very poor company. Unfortunately it is what we are stuck with.

It is a guarantee that when May hits that my light increases each month until August. I turn my account up to 78 to keep it from kicking on as much and never fails my light bill still comes in at a high bill. May goes up fifteen dollars, June went up thirty, July will go up 35 to forty and then August drops twenty or so. It's like they are taking money from year round customers to pay for lack of snow birds. I know how to watch my usage, I lived in a northern cold state and had to watch light bills in the winter so I could afford heat and lights and I managed to keep my bill down or at least the same each month. Here I regulate my account consumption keep it at a steady rate and yet come may it starts increasing and no matter what I do on my part my bill climbs. I never see a meter reader come out and they do the read it when they say they are to. I think someone is just guessing and tacking on more money. All I can say is prove me wrong.

I scheduled a payment the beginning of May for a payment in June, I received a text the end of May stating if I didn't make a payment my services would be cut off. That same day I went online and made a payment on my account. I called the customer service number and spoke with a lady who I told I had previously set up a payment to come out the beginning of June and I wanted to cancel that. She told me there was no pending payment on my account and everything was clear.
Today I noticed the payment I set up on my account the beginning of May came out of my account. I called customer service again and they kept telling me there is nothing they could do because the payment already posted to my account. The fact that their employee told me that I had no pending payment and I did is terrible. And then on top of that after speaking with 2 supervisors and a manager they still have no resolve. She told me if I would have called yesterday they could have cancelled the payment... Why would I call to cancel a payment I was told wasn't pending? Just idiots and I can't wait until I can use a different service!

My "smart meter" was installed on my home while I was gone. I am a meter checker to keep up with usage. I checked it and it was on zero and was consuming about 4-5 kw per day as the house is empty. It has been that for three years until on the 5th of this month when it jumped 50 kws in one night!!! Even in the dead of winter with both my central heat units running I would never use more than 13 kw overnight. I read that they control the data remotely by radio signal and can make adjustments as needed, must be true. So if you're not using enough electricity as far as Duke is concerned they can simply turn your meter forward at will!!! I didn't believe till I experienced it myself and I suggest everyone start checking your meter daily. Duke Energy is a crook!!!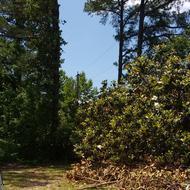 This is how Duke Energy contractors left my landscaped yard after the contractor finished a tree trimming project on my property in NC. This is how they say in their policy procedures how they would leave it. The majority of Duke Energy's pruning and cutting occurs during planned maintenance. We typically dispose of any small limbs and brush in landscaped settings. The larger pieces of wood are cut into manageable lengths for the property owner's use. In non-landscaped sites, pruned vegetation and wood debris are left in place to biodegrade.
When an Act of God (e.g. lightning, ice storms, high winds, hurricanes, tornadoes) causes trees or other vegetation to fall across power lines and thus create power outages, we cut the trees and brush so poles and lines can be repaired and re-energized. Disposal of any wood, limbs or debris resulting from this type of emergency operation is the property owner's responsibility. My question is, what's in your yard Mr. Contractor?

About a year or so ago Duke took over as our power provider in Casselberry, FL. Before we had Progress Energy and our power may have gone out 2-3 times over a 10-year period and was quickly restored. Ever since Duke took over, our power goes out at least once a month, but in May, twice, for no apparent reason at all (I kid you not, a sunny nice day, the power was out for like 4 hours). A light rainstorm comes and our power goes out instantly, which is hilarious since it is Florida and rains in the summer pretty much every day.
Last night we had a rainstorm and the power was out between 10 p.m. until about 3:30 a.m. The heat was horrible. The front part of our neighborhood's power never goes out, so clearly, there must be something wrong with our grid and has nothing to do with the weather. It must be the power source, or whatever. I've called and reported this twice and still get the runaround. This time the person told me I need to call when the power goes out, so I'm going to start calling every single time. I just find this really disappointing. I have absolutely 0 confidence that I'll have power when I go home. We've never once missed paying our bill.

I live in Clarksville, Indiana and have owned my home for 9 yrs and had Duke Energy the entire time. They got a $300 security deposit when I first connected service at the home. I have had my power disconnected for late payment maybe one time in the first 5 yrs and 2 to 3 times per year after till 2017. This is the first disconnect for this year. I am unemployed and in process of trying to get my disability for Crohn's Disease for almost 3 yrs now. I do not have a problem and fully understand disconnection for nonpayment on time. I check online often around the first of the month and the end at Duke's website for my billing and receive it in the mail as well. On 4/27/2017 I was disconnected for nonpayment and had to pay $97.00 to restore service.
On Wednesday 5/27/2017 I had my power disconnected without notice by mail nor did they hang a hanger on the door advising power was cut off by Duke and you owe whatever amount to restore service. When I called them Thursday the 5/18/2017 they told me I owe the past due of $78.00 and a current of $80.00 plus a $180.00 deposit. I told them I had just paid less than 30 days a $97 to restore power and at that time I only owed them $80.00 as I was told by customer care. I want to add that the online account info does not match with an actual bill they send out or even advice on the phone. (Sometimes I have had them hang a hanger on the door like 3 days before disconnect telling you how much needs to be paid by or disconnect) and that no one had hung the hanger on the door that I thought is required by law when they do a disconnect, and I never received a disconnect notice in the mail either.
All I got was an "I'm sorry, but it was mailed out" and they don't always hang the hanger on the door after disconnect although they are suppose to, she said. So now I'm screwed with no power from Wednesday the 17th to Monday the 22nd and that's providing I can come up with all that money by then, which with no power to charge a cell phone, hot and humid, no air cond, what little food I had gone bad in the frig. If I had received an email, phone call, or a notice in the mail I could have paid or made an arrangement for the $80.00 and avoided this.
Why do they think I would ignore it and have a desire to pay all this crap. Customer Service and Billing Dept SUCK AT DUKE ENERGY!! They need to get it together because people with no income or limited can't afford all these charges that are due to Duke's inefficiency to run their company. It's not like I'm not going to pay, everyone has to have electricity. And their inconsistency to warn you of disconnection is crazy.

The rates are outrageous and they treat customers horrible! Last month they were going to shut off my electric because they said my husband was dead... Hmmm NO he is not dead. My husband has to send stuff in to prove he is alive. They do not work with you on your bill and customer service is a joke. The bill had been in my grandfather's name for over 40 years and when he died we took over house and put the bill in our name and they wanted a $300 deposit plus the monthly bill. Yep, let me get right on that with 4 kids in the house and me being a stay at home mom with newborn twins. I will actually remember this when we move in a couple years on who our electric company is and will not buy another house having to deal with Duke Energy! Before we moved here we had REMC & they are really nice and never had a problem with them in the 10 years we had service with them.

Horrible since January 2, 2013 to current day 5/17/2017. Being new in a position within Duke Energy; the Real Estate/Land Services Division on 1/2/2013, I found where the division was out of compliance in a lot of areas. I reported it through the chain of command the company requires the employees to follow; Supv, Manager, HR, Compliance and Ethics. The right of way land easement files were missing a lot of pertinent information. They were out of compliance with the governing bodies guidelines (NC Real Estate Commission and SC Public Utility). I am a NC Real Estate Broker, inactive as of 2016. I have owned and operated several real estate firms.
Since I reported the items I have been physically hurt by my supv on DE property, targeted, discriminated in pay and work assignments. Denied a Reasonable Workplace Accommodation protected by the American's Disability Association by the Human Resource Department. Sexually solicited, by a Manager, for protection from being a whistle-blower. Caused undue hardship and retaliated against me from 1/2/2013 to current day. They tried to fire me in 2013, 2014 and 2015. I reported it again, through a different route then I originally did, within the Real Estate Division. This time I went to the company's CFO, Lynn Good and many other VP's. Approximately the second to third week of April 2017. Since taken that action I am now being told I will never be allowed to come back to work for Duke Energy or any of its entities.
I do not get it, what I did wrong. I only did what they told us to do; I reported we were doing illegal activities that is causing ill will to our customers. My 2016 yearly review was great! My merit raise was above normal. My manager explained I was way below where I should be on the pay scale and he was going to gradually try to move me up in pay (keep in mind I have been discriminated in pay since 2013). Life doesn't make sense some times.

The worst company with really bad customer service, after when they turned off the power at my house I called customer service and they stated I should receive letter from Duke Energy with notification of turning off my Automatic Draft. Now I have to pay $1.50 Fee for something (it's called convenience fee) and they do not provide any other options of future payments without convenience fee ($1.50).

I am a 56 year old disable tax-paying citizen that is very upset with Duke Energy. I am on a fixed income and got behind on my light bill. I contacted Duke Energy and was told I had to pay $239. I explained that I did not get my check into the 3rd of the month and was told on May 1st as long as I paid it by May 2nd the amount would be $538 that was including a $200 security deposit. I call Duke Energy on May 2nd to inform them that I would be bringing the $538. Now they're telling me I need another $250 for another security deposit. The gentleman I talked to said there must have been a misunderstanding with the previous person I had spoke with but that was the only thing they could do so I am without power. Does Duke Energy not try to work with people especially those on disability. No, I'm not on government assistance and do not qualify.

I've lived in my home for five years, and you know what you pay for electric use in the winter and in the summer. More than once I received a bill that seemed a little higher than normal. At first I didn't think anything of it until my bills jumped in one month from $90 to almost $200. They like to play what I call a game tell you that it must be your fridge or your furnace etc... I work at an apt community and that's why Duke tells them.
When I called to complain hey told me that someone needs to read my meter with scope and sometimes a scope is not available so they estimate it based on previous usage. But if my previous usage is $90 how are you get double. No a/c running and gas heat. I would love to open a class action suit because if I call in my meter reading to correct them not reading for right they change the wording in the system and use the later date as my meter read date. They're a bunch of crooks and if you don't watch your own meter they will charge you whatever they want.

Your representative, Keely took my payment over the phone on today, 4/25/17. She was very unprofessional, with a nasty attitude. She asked me how much I wanted to pay, and I told her clearly $80.64; in fact I repeated it twice. When I asked her the amount to make sure she heard me clearly, she had processed my payment for only $80.00. I corrected her afterwards by telling her that I said $80.00. Well she and I went back and forth, so I asked her to terminate that payment and reprocess the payment for $80.64. She said she could not do that, but I could process another payment for $.64, but I would be charged another $1.50.
I told her that I would not do that, and I recommend that she slow down so she could hear the customer. She and I continue, until I accepted the $80.00 as my payment. So word of advice to her is that she needed some more customer service training. Her mouth is so smart, so I finally told her that she was a little b. And I meant it. This could possibly be a problem for you Duke. She need retrained immediately. Thanks.

I'm a new customer so I went online to pay my bill but it would not let me do that computer error so I paid over the phone. Duke Energy told me I have to pay them a 25 dollar canceled check fee. I asked why. They told me they had to pay my bank so I called the bank and no check was reported and no, they did not pay my bank then they said they had to pay themselves and it will be on my next bill. This is a loophole for Duke Energy to steal money from customers. I'm on disability and can't afford this ridiculous statement. How much money has Duke prospered from computer error.

I received a bill this month in the amount of $973.83. Part of the bill was a $500.00 deposit. I called to ask them what it was and they said it was because I was 8 months late on my bill. I said, "yes I am a month behind but I pay the late fee and no one has sent me anything stating that I would have to pay a deposit if I remained late." I argued with 4 different people at Duke because of this deposit. I told them to remove the deposit because I am sure that more people pay late than on time. These people are just horrible!!! The 4th person removed it based on the fact that I am going to pay everything current by my due date. I am also not stopping with this complaint, the news will be involved and other complaints will be filed.

Overpriced. Charge outrageous connection fee. Power is constantly going out. Understand if power goes out during a severe storm. Today it rained a little and the power went out. Also, they don't give fair notice if you have paperless billing and you are late on your payment. They will hang a placard on your door and cut your power without so much as a phone call or text. But when they restore power, they will gladly call AND text!! Overall I wish there was another option. Truly hate this company and their utter lack of concern for the customers.

Just went through a divorce a couple months ago and went to change the billing info from my wife's name to mine and they want to charge me another security deposit of $360, we already paid a security deposit once. This is a ridiculous scumbag tactic.

My bill is paid on time. I'm always doing what I'm supposed to with Duke yet every month my bill is almost $200. I have electric efficient appliances, have changed all my light bulbs yet still EXCESSIVELY overpriced! And don't get me started on how half the bill is taxes!
Duke Energy Company Profile
Company Name:

Duke Energy

Website:

http://www.duke-energy.com/