Consumer Complaints and Reviews

I never stayed but ultimately very bad experience. It looks good in pictures. We never stayed there, I would choose not to. I made reservation with this hotel and overlooked the cancellation policy as I never encountered any kind of particular cancellation policy especially Holiday Inn. Ultimately I am losing my 427 USD as we couldn't make it to the hotel. Even after cancellation they had 35 days of time to sell my reservation to anyone, they choose not to return my money as they made excuse that the room given to me was special rate (It was never best rate and 3 nights $427, they consider special rate). Despite of calls and email requests and calling to credit card company, they are adamant not to return any penny. They offered me to save my funds for next 6 months. I am living in USA and it's not frequent or easy to visit Canada every now and then. They acted smartly, knowing there are least chances I would be able to utilize funds.
My fault is, in confidence I overlooked their policy and trapped and losing money. Upon request they do not have goodwill gesture. They are showing all papers of screenshots and other things to my credit card company just to prove they had really good policy to trap customers like me. There is nothing we can do to recover money back. So they are showing everything about policy and forfeiture of funds.

Arrived after a flight of 26 hours, exhausted (along with family) well past midnight. We were met by a lady who asked us to sign on inflated amount than what was mentioned in Booking.com receipt. I pointed out to her the discrepancy and she said that they were incidental charges and would be adjusted at time of checkout. I didn't argue with her as I have used the services of Booking.com and never had a problem. The stay was fine till I met SIERRA at front desk at time of checkout on 3 September morning. She doesn't deserve to be at front desk. All my efforts to explain her went in vain and it appeared she was doing a favor to me by having given me free breakfast and internet.
I asked to meet the manager, who hadn't arrived at that time so I went ahead with my daughter's admission in university with an extremely bad mood. After coming back gentleman Ammar was quite helpful explained the fine print which in fact turned out to be in my favor as my kids are less than 18. At end I paid what was I had booked thru Booking.com but after a bad experience, which you don't want while traveling. I'm in room no. 312, extended my stay by a day. In case you want any clarification please feel free to contact me.

I would not even give these people a star, but I had to give them something. I was offered a trip to Las Vegas on 8/11/16 - 8/14/16 to visit their property. The gentleman (and I do use that term only because I trying to be half way nice) set my reservations at the Stratosphere, and told me that it was walking distance from the resort. At the Stratosphere, they put me up in the Old not remodeled part, and if I wanted to upgrade my room it would have cost me an additional $60+.
After a $20.00+ taxi ride (almost 3 miles in the 115 degree weather) I was shuttled to the "meeting" place. Where it took about 30 minutes before somebody came and talked to me. The young lady that I talked to was nice at first, Julie was her name I believe. After a 2 hour presentation, it seemed like a tag team of hard core sales tactics. When I did not buy, I was given my little gifts. And was told to walk down the stairs, and could leave their property. Not knowing where I was, I asked one of the sales person how to leave, and he rudely pointed in a direction, "the front is that way". I refused to walk to the front, so I found the office, and asked for a shuttle to the front. That took 45 minutes for one to show up. When I was let go at the front, I asked how to catch a cab, and then was told that there were hotels nearby, or the bus was just up the street. I walked nearly a mile to the next hotel, and grabbed a cab from there. Did I mentioned it was 115 degrees that day?
After I got back home I received a email from Megan ** stating that they had been trying to reach me regarding my experience. I do not know how, because that was the first email I received, and my phone never rang. I informed Megan that, and that I would be available on Friday, after 1 pm PST. Never received a call after she promised. Without going on about the bad taste these nonprofessionals Snake Oil Sales Reps left me with. I would never buy or stay in another Holiday Inn as long as I live.

Holiday Inn, Powell, TN. Had three reservations, canceled one in a timely fashion. Was still billed for two days of room use! Took five phone calls, a call to my bank to stop action on payment to get corrective action. Tried to connect with the GM but he was always too busy. Others who arrived in our party with confirmation number in hand were met with resistance at the front desk at check in.

My husband and I stayed at this Holiday Inn recently. We usually stay at Holiday Inns. All was okay except we didn't realize they allowed smoking by the pool and in other areas around the pool. We would not stay there again.
How do I know I can trust these reviews about Holiday Inn?
609,317 reviews on ConsumerAffairs are verified.
We require contact information to ensure our reviewers are real.
We use intelligent software that helps us maintain the integrity of reviews.
Our moderators read all reviews to verify quality and helpfulness.
For more information about reviews on ConsumerAffairs.com please visit our FAQ.

My wife and I purchased a Holiday Inn Club Vacations package on October 19, 2015, in Gatlinburg TN. From the time we received our membership number which is weeks after the right of rescission expires, our experience has been a disappointment. No one has provided a solution to our problem which is this: during the sales presentation of 10/19/15 performed by James ** and later Case **, we made it very clear that most of our travel would involve off peak season ski trips and international travel, mostly non Holiday Inn Club Resort locations. We were assured that there were many properties available all over the world through the partner programs, that we could access readily.
As of the end of November 2015 we have looked for 6 different locations in 4 countries and on 3 continents within a 4-11 month booking window and we have not found a single property that has availability on the dates we have chosen. We on the other hand have gone direct, not using the Holiday Inn Club Vacations program, and have been successful finding availability at all locations on the dates requested. After being told scheduling our 2016 ski trip in November of 2015 was not a reasonable expectation. We then searched 18 ski properties via the Holiday Inn Vacation program for the 2017 ski season and found no availability for the entire month of March in any of our desired locations.
To date no one at Holiday Inn Club Vacations has had the integrity to admit this program is not providing the service intended for our vacationing parameters. We were clear in our statements on the types and locations of our preferred vacation destinations. Now we learn that Holiday Inn Club Vacations cannot provide us with what we were told was accessible. We have been told our vacation requests are unreasonable and we should just use the program, and we will like it.
We purchased this program to make our vacation planning less complex. Our experience so far has been nothing but frustration and disappointment. We can honestly say that we have never had greater difficulty in attempting to plan a vacation, and we are seasoned international travelers. Given the significant financial investment, this situation is simply not acceptable. We have been fighting with them since November 2015 and it's now February 24, 2016 and we continue to get the response from Holiday Inn Club Vacations that our expectations are not reasonable. We continue to fight to resolve this relationship. BUYER BEWARE.

We have yet to come across more unhelpful and devious lobby staff. On arrival, we were told that the complimentary shuttle to airport at 6.30/7.00 am was all booked up. She suggested that we take the 7.30 am shuttle. When we told her repeatedly that our flight was at 8.30 am, she assured us many times that for a domestic flight 1 hour was sufficient. She refused to accommodate us on an earlier shuttle even though we found out that those booked earlier had much later flights. Fortunately, we did not listen to her and took a taxi and arrived well on time.
At the airport there were huge queues and it took us almost 1 hour to get through all the formalities. Had we listened to her we would have missed our flight and our ongoing tours from Ushuaia. We had paid for our breakfast in advance. We pleaded with her to let us into the dining hall just 5 minutes before 7.00 am to collect some breakfast to carry along with us. She refused. Firstly, most hotels open their dining room at 6 or 6.30 am. We know because we have traveled around the world these past 25 years. This is the only one among thousands of hotels that open at 7 am. Is this a way to dupe people out of their paid breakfast?? We have nothing against the Holiday Inn Chain and have stayed in many countries, but definitely the ownership here has to change.

Stayed three nights. The first night was $91 plus all the other fees they throw in. I thought you got free breakfast but you don't. You have to get a room that cost $112.00 a night to rate free breakfast. The server for breakfast was nice but obviously distracted by texting. Cream with the coffee no sugar. No salt and pepper shakers on the table. I ask for a glass of water when I ordered coffee and had to ask again. The vending machines take your money or do not work. Drinks in the machine $1.25. Since the vending machines don't work you have to buy them in the lobby store. $2.50 for 20 coke. Almost $4.00 to use the ATM machine. I extended my stay and housekeeping got around to me about 1:00 pm and was confused why I was still in the room. Luckily I speak Spanish to explain to her. She was very nice. Too many cons and not enough pros. I do not recommend this hotel.

Holiday Inn Dumas, Tx - Really hasn't much to do with a stay, it has to do with how the "manager" treats the employees. It's noticeable that a couple of the employees are the ones doing 99% of the work, even the manager's job. Some of the employees go beyond the duty of helping customers and some are just lazy. I feel if one or two of the employees are going to be doing most of the work, give them a raise and find a new manager.

I reserved a room for December 19, 2015. The hotel pre-authorized my card for the amount of the room $252.81 the day before, on the 18th. No problem there. When I checked in, they swiped my card for $50 citing incidentals and it would be refunded after checkout. Around 3am Sunday, they charged my card 250.00. Before I checked out, I looked at my bank account again and noticed they charged my card $254.81, while all of the other charges are still deducted from my balance. Before I arrived back to Baltimore on Sunday, my card was charged AGAIN for 304.81.
The hotel is still taking no accountability, blaming the bank. The bank wouldn't have these amounts if someone wasn't entering them. So, yesterday 12/22/15 two of the charges were reversed, BUT today I checked my account again and they charged me $272.19. For a one night stay of $254.81, I was charged $1334.62 a few days before Christmas and the only response I've gotten was the pending charges will drop off on the 31st. It took them less than 24 hours to take all of this unauthorized money, and I have to wait until 12 days to get it back?? Unacceptable!

The Holiday Inn owner should be ashamed of himself paying 4 dollars and change per room for the house keeping per room not by the hour also, still you have undocumented employees you still don't have enough money to pay by the hour then you have the nerve to not give the Christmas bonus. Some of your employees' kids will go without because of you so shame on the owners of Holiday Inn for giving your hard working employees a piss poor christmas

Do not believe in the "Best Price Guarantee" claim that is made when booking through an IHG hotel. I recently booked a room at the above stated hotel directly through the IHG Holiday Inn website for $144/night (plus tax). I then right after found a better rate via Trivago through Amoma.com for $66/night (plus tax). I went through the process of submitting the Best Price Guarantee form and did not hear anything for about 36 hours (which they say you will hear back within 24 hours). The response I finally received was quite ridiculous. In that they admit the pricing is that much better, however due to the cancellation policy through the hotel being 5 days longer than that of Amoma, they are considered "incomparable". I understand that this may be their legal way of getting out of the "Best Price Guarantee" claim by saying that the cancellation policy isn't exactly the same, however this practice is absolutely terrible for customer satisfaction.
So apparently being "more restrictive" by only allowing an un-penalized cancellation up to 6 days prior to travel versus 1 day makes it warranted to charge $78 more per night of the visit. This is a sham of a guarantee and a cold tactic for any business to use. Furthermore, I received an additional email from their department later that day for a separate request. However it was not regarding anything that had to do with me or my reservation. It was for a different customer, hotel and request all together. One that I did not submit or have anything to do with. Nonetheless, in this email of another denied "best price guarantee" request, IHG claims that there are significant differences in a cancellation policy and again is incomparable.
Again in this instance it seems as though IHG and their "Best Price Guarantee" will find any difference even semantically to deny a claim request. This might be some of the worst customer satisfaction tactics I've ever seen. I urge anyone that reads this, do not believe in their "Best Price Guarantee" claim! Simply book with another 3rd party website or hotel group because this one surely doesn't hold customer satisfaction with any high regards.

My family and I got to the Holiday Inn hotel to check in. My husband has had brain injury. My husband was tired and as we were checking in they told me that we had to give them a two hundred deposit on the rooms. My husband and I could not see why and my husband fed they were trying to take more money from us. My husband got mad, went off on them. They refused to serve us even after I explained to them he was disabled and why. They did not call police or anything. We had to get another hotel. We finally got a room at around 7 or 8 PM. My husband, my son, my daughter, my granddaughter of 11/2. We're beat. The new hotel was wonderful. This was the worst times I have had because Holiday Inn is not disabled friendly. There are children with tree that do the same as my husband. This is not right.

My wife and I stayed here for 4 days back in July. My car sustained damage from the mowing company hired by the hotel. The hotel manager asked me to get a quote, which I did, and took most of my Saturday morning to do. Repeated calls and even a certified letter to the parent company have been ignored for less than $100 in damages. A post in Yelp was answered by IHG – the parent of Holiday Inn. After they tried several times to convince the hotel to respond to my problem, they gave up and told me that they cannot compel this hotel to act. Doesn't say much for the Holiday Inn organization. My advice is to stay at the Hampton Inn up the street. You will get a free breakfast and probably not have your car damaged in the parking lot.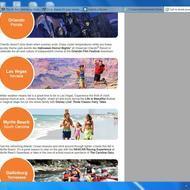 I was contacted at the end of August, 2015 while in the middle of working by a salesman who represented Holiday Inn Club vacations. I must be hard of hearing at the age of 32 because the call came across as I had won a vacation package. I'm on the National do not call list so I guess that was their way around it. Upon listening to the sales pitch, I had the option for a 4 day 3 night stay at my choice of 7 destinations. The only catch was that I would have to pay a $219 fee which would be completely refunded to me after attending their sales pitch. I paid the fee but was told I could chose my destination at a later time. Later that night I went home and read a few reviews on Trip adviser, BBB, and ripoff report. My experience was similar to this persons review. **
After booking my stay for the weekend of December 4th, I was expecting to stay in Gatlinburg, but much like the response in the Ripoff report above. My stay was booked at a Holiday Inn express in Pigeon Forge, TN. I called to complain because even my written contract which was only made available a few days after my transaction cleared stated that I would be staying in the Gatlinburg area. It did not say Pigeon Forge area. Natasha ** their Customer Care Specialist stated she had a voice recording of the sales agent stating that I would be staying in Pigeon Forge, TN. This makes me think they may even be manipulating voice recordings or I'm simply hard of hearing.
The odd part about the voice recording is that I didn't choose a destination during the first sales pitch. I was still uncertain of which destination I wanted to stay at. So I don't see why the sales agent would have even stated that I would be staying in Pigeon Forge if I still wasn't sure which destination package I was going to choose. I requested my money back but according to their contract all sales are unrefundable.
Keep in mind the contract was not made available until after the funds cleared my account. I stated that I had not received any services from them so there should be no reason why they can't refund my money. I can't imagine what someone with a hearing aid would do. The verbiage they use is predatory such as calling a Holiday Inn Express one of their flagship resorts only they don't say Holiday Inn Express. When you view any of the 7 destinations they send you in the email, the destination are in the locations they solicited and all look extremely nice, unfortunately, they don't book you at those destinations.

One rate was given at the counter, then I took a phone call and then a different rate was given. When contacting the accounting department they said they can change the rates at any time based on availability of rooms. I asked if this was posted anywhere in the hotel or if this is common knowledge and he said the computer changes the rates based on number of rooms they have. The charge card was charged a whole different amount than the two given at the front desk. No paper receipt was given and when asked for copies of paperwork none was sent. Very disappointed in hotel!

The money was refunded on 28th August 2015.
Original Review
Booked hotel online through Holiday Inn Express on 7th August, Cedar City, Utah. Cancelled on 12th August and received a cancellation number. Refund refused by the management $675.00. Beware of this Hotel.

Because we didn't have a credit card to charge the $50.00 incidental fee, they took a $250.00 cash deposit, leaving us with no more than a few dollars for dinner. Having a child that is disabled, we fed him of course. The room cost us $144.91!! And they wanted a 250.00 incidental fee. When we went to the front desk to collect our money they told us that they couldn't find it and that someone must have dropped it! They finally gave it back to us. They never checked the room to see if we "Trashed" it. So what was the purpose of the fee?? Shame on them for not making the exception. Karma Holiday Inn, Karma!!

Advance payments were mailed for 2 guests to stay at the Jacksonville Fairfield hotel, and one guest was charged room and tax. I called the hotel several times and no one is returning my calls. I've left several detailed messages for Erica ** the Assistant Hotel Manager and followed up with an email. It's been 21 days and I still have not heard from her. If the checks were never received, lost on site, or misapplied, just let me know. I don't understand the lack of follow-up from an assistant hotel manager and front desk supervisor. This could have been handled differently had I received a return call and explanation.

My sisters and I stayed at this HIE (in Eagle Pass Texas) and we do because we are older and would like to be safe when we are out of town. What we saw in the bath tub was unforgivable. We took pictures of the tub and showed them to management. She assured us the General Manager would be calling me or my sister whose name was the one who booked the room. I am sorry to say that neither she nor I have heard from them.

I've been a regular at the holiday inn in Temple Texas. And never have the food been this good. It looks better and taste better. But to hear the bartender bash the cook was shocking. I just want to say that the food is so so great. Please don't let other employees run off something that presents good quality food. Finally.

I checked in to HI in Poplar Bluff, MO and paid cashed for my room. I was asked for a debit/credit card for incidentals, which is fine. I gave the clerk my debit card and told her I did not want the room charged to the card and was assured it wouldn't be. The following morning I looked at my checking account and the room had been charged to my account. I immediately went to the front desk and was told it was a mistake and that it would be reversed and back in my account by the end of the day. 6 days later and many phone calls to the general manager and corporate, it was finally returned to my account. I was told that even though I paid cash for my room that they still put a hold for that same amount on my card. Everyone I spoke to was unconcerned and had a complete disinterest to my complaint. I will never stay at a Holiday Inn again.

Reserved hotel room for two nights, prepaid for full amount several weeks in advance. We were driving all day and arrived at the Dayton-Huber Heights Holiday Inn at 3 am, all the way from Florida. We parked and got off with all our luggage. Our welcome included the news that we no longer had a room, that it had been sold. The lady also proceeded to blame us because we hadn't called earlier, since she had tried to contact us. As you can imagine we were extremely tired and couldn't believe what was happening. They offered no help other than the blaming attitude. Main office apologized. Hotel manager called next morning and apologized. We received 2000 points which is equivalent of $25.

Holiday Inn, as with most businesses, encourages reservations over the Internet. Unlike most businesses, they think it is acceptable business practice to keep the entire amount of your stay as "forfeited deposit" if you cancel. It does not matter when you cancel, but just if you cancel. In my case it was $700. They lost no money and got to rebook their room and double their profit. They think it's okay to steal because they tell you they're going to steal. Theft by any other name is still theft.

My husband had a reservation at the Holiday Inn Express in Lansing, KS. He is military and was traveling there for business. He had a reservation for Jan for 9 nights. He went on their website and was looking for travel dates and mistakenly made a second reservation for the 9 days plus 36 more because the calendar jumped from Jan to Feb on their website.
He called immediately in December when he received the confirmation for the 45 day stay and told them it was an error and needed to be cancelled. He was told it was a prepaid advance stay reservation that was unable to be cancelled, changed or transferred. He cancelled the stay through his CC and did not use the prepaid room reservation during his 9 day stay. This was a clear mistake and the hotel is now billing us for the $4,775 for the prepaid reservation that no one used and they clearly knew in advance that no one would. The customer service rep told me the manager could have adjusted to stay to the dates of his 9 day stay and then cancelled the other reservation, but this was never offered to him. IHG response is it is too much money for them to lose and they are a business and we must pay the money...... We will never stay at a Holiday Inn again. We have previously used them for all of our military moves and vacations.

"Worst Web Booking Fraud at Corporate Level in the name of breakfast included" by www.ihg.com (Official web site for booking for Holiday Inn and Crown Plaza Hotels). A double room was booked from hotel's web page www.ihg.com through offer page under heading "book in advance and save with breakfast included for 3 nights (12/05/2014 to 15/05/2014)" against confirmation no ** at Holiday Inn Orchard City Center Singapore. Since the reservation confirmation print out did not mention about Breakfast I wrote to the company for correction. To my surprise the reply was that the rate does not include BF.
This is a fraud by the company. How can they explain that a link from "book in advance and save with breakfast included" can show rate without BF? Moreover separate rates were not shown for any type of room on this linked page. So I was asked to pay extra for BF during my stay which I did not accept. Thus I was deprived of 3x2 Breakfasts which was already paid for as per offer page of the website. This is a worst fraud at Corporate level which I have experienced so far.
Subsequent correspondence with the www.ihg.com has not elicited any positive response. My last mail to them remains unreplied. The company believes in cheating and forgetting which I do not intend to tolerate. I request through investigation in the matter as the website is registered in UK to prevent recurrence and compensation to the victims of such fraud.

I checked in to the Holiday Inn in Concord, NH. Upon entering my room, I took a brief business call and undressed to shower. Suddenly the door to my room opened and a strange man entered (not a staff member). I screamed as he stared at my naked body. After a few moments he apologized and I was just screaming "Go! Get out!" while running around to cover my fully exposed, now visually sexually violated body. I quickly dressed and managed to get to the front desk while experiencing a full blown panic attack at this violation of me.
The girl at the desk acted as though it was nothing, didn't apologize as I stood sobbing in the lobby, and just handed me a key card to a new room. My best friend had arrived by that point and noted how horrible the girl treated me. My friend and I went to this new room and I scanned the card at the room door, and inside was a man standing close to the door. I could barely breathe at this point and my friend rushed me back down to the lobby to inform them that they gave me ANOTHER room/room card that was occupied by someone else.
Gross negligence of room cards and security TWICE within about 10 or 15 minutes by the same person! I ran outside and sat on the bench next to the entrance, sobbing hysterically at the violation of my body and complete fear and horror I had just experienced. My panic was uncontrollable and customers entering the hotel were staring and wondering what happened. After about 10 minutes, the girl from earlier came out to basically try and shut me up because a hysterical young woman at the hotel entrance is not good for business. She never apologized but finally when seeing I couldn't calm down after being so violated, told me that if I stayed at the hotel every one of my meals and beverages would be brought to my (now THIRD room) by room service so I wouldn't have to leave the room during the stay, and would all be of no charge to me.
She said all could be comped if I stayed and went up to the new room. She also told me on the way up to the room (as I was clearly still hysterical) that the hotel would like to also offer me another stay for 2 nights at my choosing and again, all room service would be comped by the hotel again. The manager Tim FINALLY spoke with me, as I was still feeling so violated and scared and assured me that my current stay would also be fully comped by the hotel because of what happened. I felt like they were really going out of their way to try and right a horrible, sexually violating situation that happened due to their negligence, so I accepted these generous offers.
A few days after my second, promised to be comped in all ways stay there, I checked my credit card and saw they had charged me well over $1200.00. I was furious and called the manager Tim, leaving a message on his voice mail. He did not return my call, so I called the corporate office. They assured me it would all be corrected in 24-48 hours. 4 days went by and still no credit for the over $1200.00 charge. I called corporate again and they said Tim told them my voice mail doesn't work, so that was that basically. I SPECIFICALLY told corporate the first time that I refused to speak to Tim, this manager who blatantly LIED TO MY FACE and then charged all of that money to my card. I informed them that Tim HAD left a voicemail for me, but I did not call him back because I already firmly told corporate I would not speak with such a person.
They then told me they had to send the issue to their "executive level. " I told them I had a witness to the entire horrible staff and management treatment of me and also she was there for all the comp promises made to me. I offered to give her phone number but they brushed me off. So STILL I am waiting for that $1200.00 + charge to be credited to my card and the violation of my body, something that I have to live with for the rest of my life!!!, to be taken care of by Holiday Inn, as was promised very clearly to me by the counter girl and this manager Tim.
I still have trouble sleeping. I close my eyes and see that man leering at my nude body. Nothing will make that go away, but it is so truly horrific that I was blatantly LIED to and charged over $1200.00 and corporate sees no urgency in fixing this unacceptable situation. I finally contacted IHG and they too did absolutely nothing -- only returning me back the executive corporate person I had been dealing with before, who also did nothing to remedy this truly life-altering horror I endured at the Holiday Inn.
I cannot believe a company would do this to a customer. I am horrified and forever scarred because of this. I can't stop the vivid memory of my nude body, my sexuality, being violated because of this hotel's severe negligence. It has now been nearly a month and a half since this happened and no one from either IHG or Holiday Inn has done anything at all to right this SEVERE situation. Nor have they even refunded the money they fraudulently charged to my card.
Beware of this hotel chain. Especially women who travel alone. I could have been easily raped or murdered because of their complete lack of security of their guests. I will keep this updated on what happens, if you don't see it on the news first...

I booked the conference room for one of my quarterly meetings. My hope was to find a permanent place to hold these meetings. Unfortunately, this was not the place! I had 13 attendees and 10 vendors, most of which booked rooms at the hotel. I personally reserved the conference room as well as 3 rooms for 3 attendees who paid for their rooms when they checked in. The morning of the meeting the coffee and water service arrived an hour after the meeting started with no cups, creamer, sugar, so on. Had to go to the front desk to get cups. I blew that off. Then half way through the meeting I went to the desk to pay for the conference room and was told that it had already been put on my card.
I asked the manager how that could have happened when I had not physically presented my card to any hotel staff. He told me that someone had to have given someone the card! Really? It's my card, in my billfold. I blew that off as well. I was charged $190 for the conference room, plus $20 for the coffee/water service but I had to be out of the room by 4pm, that too I overlooked. The next day I had three charges on my card for 3 rooms! I called those attendees. They confirmed that they had also paid for the rooms at the time they checked in. I called the hotel immediately and the manager said that the rooms had not been paid for by those individuals. I then called the customer care line.
After speaking with 5 different people I thought I had finally found someone that not only spoke English but was willing to help me get this resolved. She seen where those individuals had paid and that my card had also been charged. She told me that she would be calling me back in few minutes. Well, she didn't; instead, she had the General Manager of the Hotel to call me. The first thing this man said to me was, "I understand that you called corporate office and said that I stole your credit card information." I was floored! He quickly started back tracking that what he meant to say is that I thought he was playing with my card. That is exactly what he was doing!
I've never stayed at a hotel that charged anything to my card prior to my arrival. Just blew my mind. And the rudeness of this man, I just can not believe that nothing has been done about this. It took a week before all of the charges for the rooms came off of my account, but during that week, he would charge, then put a credit then charge again; it was nonsense. Finally the only charge was for the conference room and the cold coffee. I tried to contact customer care again. I just could not believe that a huge hotel chain would just allow this to go on and no one, I mean no one, could pick up the phone and apologize for this!
What you get is an automated response if you email customer care. If you call............. well good luck with that. You're going to need to speak several different languages and you will be transferred to at least 5 different people and have to tell your story to all of them and still................. NOTHING. I'm on the road every day and stay out of town at least 4 nights out of the month but I can guarantee you that I will sleep on the side of the road before I ever stay at another Holiday Inn. I also will write a review on every web site I can find and I will tell, ask everyone I know to stay away from Holiday Inn's. They truly do not care about what goes on in these hotels. As long as someone is charging your credit card they do not care.

After traveling 6 hours from Washington DC, we arrived at 440 WEST 57TH STREET, NY, Holiday inn on Saturdays night! We had reservation for four rooms. Four families, 4 kids and 9 adult arrived at Hotel about 11:30 pm. The reception was not welcoming at all. Not a bit of smile or welcoming comment. I came to ask them if they could match their rate with Expedia which was $30 cheaper per room and also included breakfast. They did not give us any discount nor free breakfast. After giving us the key, the bell man insulted one of our kid in elevator and pointing finger that you should be quiet.... Apparently, Kid's mom got upset and complained about the bellman's behavior. The manager came and instead of disciplining the bellman, he cancelled all the reservation and made all of us to go out at 12:30 AM. I could not find a place until 4:00 AM in the morning. What kind of management is this? They were Rude, not welcoming, not cooperative, and ruthless. After all, we are the customer and expect certain decency. I am going to complain about this Hotel to the Holiday inn upper management and will never go there again.

I made a reservation on the web for two people at the Istanbul airport Holiday Inn. After completing my reservation I noted that the web sent me a confirmation but for 1 guest only. I called and they told me that when they try to change this the rate changed to another 15 which is not what I saw or agreed. I cancelled that reservation and made another one (a new reservation) and did exactly what I did the first time. I enter two people for the room and I got the same rates from before but in the confirmation I received (again) the same mistake saying one person on the room. I believe it's not going to be a problem but I will not have time for argument when I get there and I want to ensure we will have a great time there. Reservation No **.

ConsumerAffairs Research Team
The ConsumerAffairs Research Team believes everyone deserves to make smart decisions. We aim to provide readers with the most up-to-date information available about today's consumer products and services.
Holiday Inn was founded in 1952 and is now an InterContinental Hotels Group (IHG) brand. There are more than 1,200 Holiday Inn hotels with 228,100 rooms worldwide, making it one of the world's largest hotel chains.
Kids stay free: At Holiday Inns there is no charge for children under age 19 when they stay in the same room as their parents. Kids under 12 can order off the children's menu for free at all onsite restaurants. Guests can visit the Holiday Inn website for more information.
Pools and fitness centers: Most hotels in this chain have indoor and/or outdoor pools available for recreational or fitness activities. Guests will also likely have access to a fitness center when staying at a Holiday Inn.
Supports small business: Holiday Inn is currently involved in IHG's Journey to Extraordinary campaign. This year, the brand is exploring ways to help small businesses owners and entrepreneurs with business travel. They have partnered with two small businesses, Sword & Plough and Perfect 10, to learn about the small business traveler and find ways to make travel easier for that group.
Rewards credit card: With IHG's Rewards Club Select Credit Card cardholders earn points for every purchase they make, which can then be used for free hotel stays at any IHG hotel, including Holiday Inns. New customers can receive 70,000 bonus points when they spend at least $2,000 during the first three months they have the IHG Credit Card, which can give them as many as 14 free nights. See IHG's website to apply.
Smartphone app: IHG's app makes it easy for travelers to quickly book a room at any of their brands, including Holiday Inn. The Flyertea Travel Awards named the app the Best Travel Mobile App in 2015. It is available for both Apple and Android platforms.
Best for Holiday Inn caters to families, business travelers and budget conscious travelers.
Holiday Inn Company Profile
Company Name:

Holiday Inn

Website:

http://www.holidayinn.com/hotels/us/en/reservation