Consumer Complaints and Reviews

If I can give a zero, I will. This is beyond disappointing. My family and I stayed with one of the hotels in Delaware, the pots has residues on it, the bathroom is dirty and has some stains on it. The telephone is not even working, I have to go down to complain about it and all I get is a dishwashing liquid and not even an apology. Called customer service and they said somebody will call me back in 3 days, nobody did. Called again and spoke with a lady by the name of Kristine who was very arrogant and rude and even threatened me to close my account. No apology or anything, I asked for the number of the corporate and she said they are corporate. She said there is nothing she can do just to file a report and that's it. Very rude customer service! Will not recommend.

No record of reservation - We booked a Hilton Hotel in Copenhagen, Denmark in March, several months ago in anticipation of a cruise from this city. The Hilton Hotel at the Copenhagen airport was sold to Clarion Hotel Copenhagen Airport sometime after we booked. Both I and my brother's confirmed Hilton reservation became "inactive/void".
Nobody contacted us from either hotel regarding this matter and in checking our reservation to be sure everything was set for our trip, four days prior to arrival on August 10th, we found that nobody had our original reservations. Hilton took no responsibility for this and Clarion did the same. When I called Hilton Honors, I was told that the confirmed reservation we made did no longer existed and that since the Hilton was sold to Clarion, Hilton had no further responsibility. I was told that we had to coordinate with Clarion Hotel.
Consequently, we are having to start the process again at inflated hotel rates - only a few days left till the cruise! This does not speak very highly of their customer service. I would advise others to be skeptical of the services of these two hotels, especially Hilton. I can't understand why Hilton did not advise or coordinate with us. This situation has cause both of us a lot of grief. I spent six hours on the computer searching for an adequate Hotel four days prior to our departure at prices that were much greater than what we booked on March 19th and feel that Hilton should have provide some sort of compensation. Not happy with Hilton Hotel.

No record of reservation - We booked a Hilton Hotel in Copenhagen, Denmark several months ago in anticipation of a cruise from this city. The Hilton was apparently sold to Clarion Hotels and my reservation was made "inactive". Nobody contacted us from either hotel regarding this matter and in checking our reservation to be sure everything was set for our trip, we found that nobody had our reservation. Hilton took no responsibility for this and Clarion did the same. Consequently, we are having to start the process again at inflated hotel rates - only a few days left till the cruise! This does not speak very highly of their customer service. We will NEVER use either hotel in our travels, and we travel frequently. I would advise others to be skeptical of the services of these two hotels, especially Hilton.

Service and Theft: On Saturday July 15th, 2017, we attempted to check in at the Hilton Rome Airport. Upon my surprise as a HH Member, when I lined up in the line, they advised me it was first come first served. My wife attempted to speak to the Manager, and left her computer bag with suitcases beside me. Within 30 seconds the computer bag and contents were taken. I have not heard back from Hilton, I have filled in both a police/hotel report.

I booked a recently built hotel through Hilton Honors in Austin, Texas for three days July 4-July 7, 2017. I was charged 411.23 for the three nights. When we arrived to the hotel, there was all kind of construction materials around the building. It was locked down with signs indicating, "Keep Out Under Construction". I had to find a new hotel and pay upfront for the three days, therefore I was short of money during my trip due to their mistake. When I called the Hilton Customer Service operators, they were extremely rude and had no regards for my whole situation. I had to send copies of my bank statements to Hilton Customer Service Department, or they would not process me a refund. I received a check two weeks later through regular mail.
How do I know I can trust these reviews about Hilton?
855,731 reviews on ConsumerAffairs are verified.
We require contact information to ensure our reviewers are real.
We use intelligent software that helps us maintain the integrity of reviews.
Our moderators read all reviews to verify quality and helpfulness.
For more information about reviews on ConsumerAffairs.com please visit our FAQ.

Arrived on the 21 of Aug 2017 to check for a family reunion. Went to our room. Me and my wife went to visit family here in Jackson MS. Get back to our room. Pull back the covers on the bed. It has lots of hair on it. Pull back the cover on the second bed. It had dirt on it. We took pictures of it. Went to the front desk to let them know. They move us to another room. Ok. Slept in that room. Woke up the next day. Went to our family reunion. Came to our room to relax from a long day and our tv didn't work. Call to the front desk to let them know we are very dissatisfied. Will never come here again. Hilton in Jackson MS and very unprofessional.

I have booked many of trips where we spend enough money to be treated like regular humans. I had swore that our last stay was it due to a rude breakfast attendant to my partner and I. But against my better judgment I booked a stay in Hernando, MS for today. I always book with a prepaid card and charge my bank card when we check in. Always have done it this way. Well I get a call at 10 am and a CSR at the hotel tells me that she has to charge me the full amount before check in. I try to explain to her how I have always done it, and she tells me that's my personal problem. Appalled I called the call center to only get the phone hung up in my face twice. This by far is the worst I have ever been treated. Crazy thing is my daughter had a sleepover at this hotel in Hernando, and we booked the exact same way and didn't have a problem. I try to stay loyal to a brand but this is pure crazy. Never again.

Ok, I tell you we will not again stay at any Hilton hotel ever again! We checked in, online and it verified our DoubleTree suite at Ontario, Ca was a 950 square feet suite with a balcony with a view of the San Bernardino Mountains. Well this suite had no balcony, was 700 square feet, no trash cans, tv channels did not work (DirecTV). The bill should have been $859.00, when we checked out Saturday, I paid cash, after arguing with the front desk over the aforementioned issues and they finally agreed. Well Lo and behold I get four yes FOUR invoices at the same time, two for $1,115.00 each and two for $911.50 each, and Monday I see my bank account is charged $2,230.50 and the next day another $1,823.00 and Wed another $1,115.00 to total $5,068.00.
I just about fainted. I contact our bank, and went over everything, they opened multiple claims against Hilton, and yes I contacted Hilton, had multiple texting with them, and they finally admitted they authorized charges to me, yet would not resolve this theft. So I made a police report and contacted my bank and the bank helped me resolve this. I am blown away, and shall not ever again be a customer of any Hilton locations ever again.

I had stayed at Hilton Wild-wood hotel between 26-28 June. During entering to the Hotel at 26 June I had clearly mentioned to the front desk personal to not charge anything to my given credit card. Afterwards during check-out a different front desk personnel had informed me that they had charged the additional expenses in 28th June morning at 07:30 am to not face any problem. When I had informed the front desk personnel that I had already requested in the beginning to not charge the expenses to my given credit card, her reaction was quite interesting and unpolite. She had told me "I was not the person who you questioned to not charge anything to your credit card therefore I cannot help you."
Afterwards when I insist to pay cash instead of credit card she called her manager which was the person who I had complete my check-in operatio. When her manager came out she recognized my request and fix the problem and get the payment cash for the expenses. However I would like to inform you that I am really very upset about the above situation which I had faced from a very "Big" hotel chain. I have couple of question for above mentioned situation;
Whenever I'll decide to stay in a Hilton hotel chain, do I need find all front desk personnel one by one and inform them to not charge any expense on my given credit card? Does Hilton chain hotels consider all their customers as potential thiefs that will not pay the expenses and run away, if not why do you charge the expenses to the credit card without customer confirmation in the early morning. There should be a really sententious cause for it. (Even someone will runaway they can still charge the credit card as I know). Do I always need to think questions before staying in a Hilton hotel chain. Would you personally prefer to stay in a Hotel chain which front desk personnel prefers to not help you to solve your problem and instead blame you to not inform her/him one by one with a very rude attitude.

My husband digitally checked in. We get to the hotel and are told the room is ready, BUT for a charge of $25.00 we can check in now instead of waiting till 1:00. Why??? The room is ready now. The conversation continues to, "You can be upgraded for $40.00 daily for an Executive Suite." No, thank you. Finally, after getting loud and saying that I am appalled that guests are being robbed and we are Silver Hilton Honors members, we were allowed to check in our room without paying $25.00. It had better not show up on our credit card bill.
So, we get to the room. There's a big, bleach spot on the cushion of the little couch. The tv isn't working properly. An engineer came up and fixed it. I requested a refrigerator and was told that one would be right up. 2 minutes later the front desk calls and says a refrigerator was not available. Hilton hotels have changed drastically. I remember the time when Hiltons were the best hotels. That is not the case now. I REALLY didn't appreciate the attempt to rob me of more money for an early check in. The room was ready. I'm in Boston for a teacher's convention. We get taken advantage of enough as it is. I will complain further about this. We spent a night at a Hampton Inn, used our points, larger room, refrigerator, free breakfast every day and cheaper. Hilton Boston Logan Airport.

I had to call Hilton Hotels because they charged me parking every day at a visit in Atlanta Embassy Suites when I was on a business trip without a car. During this trip they also left my propped open, purse on counter, all day while I was at work. I came back to find it this way with no one in sight. On the call to get the refund for the parking they asked me if I would like a promotion for a 3 night stay for $111. I was reluctant but I thought what the heck, Orlando is just 3 hours drive so would be a quick vacation for my family of 6. So, the guy asked me how many people in my family and I explained that we usually stay at Embassy Suites as there are 6 of us. He said that he would have to upgrade the room to accommodate 6. I said fine. He never mentioned an additional charge. He just stated he had to upgrade. We continue to check out with him knowing I need a room for 6 and I pay the $111.
A week goes by and then I get a call from them asking me to make the reservation at which time they tell me it is for 4 PEOPLE! "What would I do with a room for 4 people", I ask. "My family is 6???" So, then they tell me that the price would be an additional $90 or something and at that point I tell them that I was not promised a room for 4. I was sold a room for 6 and if they are not going to honor that promise then they can refund the money. They told me they would review the call and get back to me. I was fine with that because I know what was on the call.
A few days go by and they call me again asking me to make the reservation. I explain that they are supposed to be processing a refund and the representative was clueless and continued to badger me about making the reservation for the non-agreed upon 4 people. This continued and I received a clueless call from them every few days to no avail. Then they started calling and saying they reviewed the call and that their representative had stated the room was for 4 people. They refuse to play this alleged recording for me but I know what was stated so clearly it is a lie. They then continue the barrage of calls with this lie denying a refund.
So I disputed the charge on my credit card for the non-agreed upon charge for something that services were never rendered. Despite this they continue the barrage of phone calls during the day while I am working. Today I notified them that I will not need to be contacted further by them and that if so it will be considered harassment and I will pursue this legally. This practice, this scam, is absolutely sickening and they should be ashamed. I will never in my life stay at another Hilton Hotel.

It's important to let persons know what my experience was like recently staying at this Hilton property. I felt strongly throughout as a woman of color that there was a completely different set of rules and overall experience for persons of color than not. Several different instances added up to what was at last the final straw in a disgraceful customer service experience.
While I witnessed someone who did not look like me have their identical transaction handled in a different fashion, where he was using loyalty points to offset the stay, had 2 service attendants taking care of his check out and several managers come out and apologize profusely and be told that they were on the phone with Hilton Honors and "taking care of it", I have had the opposite experience that started with the front desk attendants refusing to contact the Honors department (that they were "not allowed to call them), the reservations manager come out and refused to be helpful. After my insistence, the hotel manager came out and was equally unhelpful. One correlation that was very clear was that the entire staff and managers were of the same race as the guest the day before who received the opposite experience.
It is very clear to me that no one wants to or will make this right. It will be the last time this will ever happen to me again. It is very clear there are different set of rules for persons of color. It does not matter how far we have come as a society on paper. The senior leadership team at this hotel should be ashamed of what has happened here.

We were there on June 12. We were supposed to have 2 regular rooms next to each other and we were on different floors. The room was dirty and there was a bug on the bed and stains on the carpet. I took video of it and went to management to show them and they were very rude and didn't want to see it. I have been in other Hiltons and they were nothing like this. We were treated extremely poorly there.

I recently stayed at the above for a basketball tournament. The hotel was very nice and the staff was really lovely, but the billing is totally out of control. I was charged the $371.80 when I checked into the hotel - I was then charged $427.57 when I checked out of the hotel - which was the original charge, plus an incidental charge for snacks/movies I didn't buy or watch. I was then told that I wouldn't get a credit back for 3-5 business days at the least. I think it's a disgusting practice for a hotel to be able to do that. They should see that my account balance is zero when I check out - and not charge anything. I have contacted the BBB and sent an email to the hotel chain. The poor manager gets about 10 calls a week regarding this same issue. It is disgusting and they should be ashamed of themselves for such a shady practice.

No hair dryer for 3 days... Mildewed ceilings... Toilet overflowing... sink stopped up... The last straw!!! There are 4 Mexican WOMEN smoking & drinking a case of beer at the pool, WITH 4 KIDS, MEAN KIDS. But they don't care that their kids are being brats, they're having a party. It's about 3 pm and they're drunk. They're not supposed to be smoking in the pool area. The staff has come out a few times, but they're ignoring it. I have a child allergic to cigarette smoke. First day at breakfast, the lady serving SNATCHED the tongs from my hand because I used the ones next to the toaster instead of the ones on the other side of the toaster, for the covered breads and English muffins that you would choose to toast. There were men's sandals at the end of one bed that we found after breakfast. The woman at the front desk had them removed.
The next day Ethan asked if I was "comped"? He said he would give me a discount. I asked for a "pot" for the coffee maker, they gave me another coffee maker, there are no "pots"??? I asked for a door sign so I could ask for the room to be cleaned when we were out of it. The sign says "DO NOT DISTURB", ON BOTH SIDES! I used it one time, the next morning when I got breakfast for my girls, still sleeping. We are only a few doors from the lobby. I made at least 3 trips and there was no one cleaning close to our room. I took the sign OFF the door when I went in. When I asked the front desk about why it wasn't cleaned, Ethan said it's noted that "You had the Do Not Disturb sign on the door". WOW! I said, they were nowhere near my room for the FEW MINUTES that sign was on the door, at about 9 am. I never used the sign again.
I actually saw a maid knock on a door 3 times saying "Room Service". She looked right at me, then opened the door, someone inside wasn't pleased and she backed out apologizing. No one ever knocked on my door. On the 3rd day I finally got a hair dryer. Every single day we had to ask for clean towels because no one ever checked our room. On Friday night we got back about 11:30 p.m. We had no clean towels and even though I told the front desk we would be out and would like to have our room cleaned, nothing had been done. EXCEPT, someone had been in our room because the fridge was sitting at an angle and the temp had been turned up. The icees we bought were melted. But nothing had been cleaned. I called the front desk and they brought us 3 towels.
I asked him to take the dirty towels. 5 minutes later the toilet overflowed, he brought back the dirty towels to mop up the floor, fixed the toilet, laid the clean towels on the floor for us to walk on. He brought back 3 more clean towels. I found a letter under my door saying they were giving me a refund of $77.00 for my trouble, out of $1,052. Which showed no comps for any other inconveniences... THIS IS NOT THE HAMPTON INN I AM USED TO STAYING AT. On the 4th-DAY, our last night, I was promised we would receive full service cleaning. We finally got our room cleaned. We were the last ones to receive service about 1:30 p.m. BUT THE BATHROOM FLOOR WAS NEVER MOPPED, and the toilet is still nasty on the bottom. OMG. I can't wait to leave.

I Checked into Hilton Washington DC in Gaithersburg this evening. We get to the room - shower is leaking, sink not working. We thought fine. We will call and get it fixed. My 5 year old wants to watch Disney movies. One front desk staff Ms. Pearl was very disrespectful and rudely disconnected phone. I called several times and she said there were school kids in that block and they disconnected it. Next another Front desk staff says he will send engineer.
After repeated calls at two different intervals an engineer shows up and is clueless. Then I call again. The great Ms. Pearl was again rude and hangs up phone. I called on her behavior and she had no courtesy or shame to even apologise. This is disgraceful to Hilton Brand. I am ashamed to be a Hilton Honors member. Then I walk up to front desk and Frederick says "server" is down and in 10 min sends another engineer. Why cannot people be honest and stop lying and trying to defend a lie. It is absolutely disgraceful to Hilton and I expect an answer and investigation.

I went to the Hilton Ajax, Ont. for my anniversary. When I arrived to my room the sheets were not made up on the bed. So not knowing they were unclean I made the bed up. Getting into bed I couldn't stop scratching and the sheets had a foul smell. I called down, let them know the sheets were dirty and weren't changed from the previous guest. They apologized, sent up new sheets which didn't fit the bed that I had to make. They brought up another set of sheets which were also dirty and smelled foul. I called down again. They brought up another set of sheets. I made the bed up only to find the sheets once again was very dirty with stains.
At this point I packed up, went downstairs, told them, "I can't stay. It's too dirty and I'm scratching a lot." Not sure if they have bed bugs. I did advises them to have the bed checked. Please note the bed has a zip on and zip off top that could be washed. I have never seen a bed like that in ten years I've been at the Hilton. The policy is if there is a problem with your stay they will refund your money. There was no manager on site. I was told I would get a call to deal with the matter. Up to this day I haven't received any calls from them. I opened a file with Hilton. I told them, "I'd like my money back and my points refunded."
I got a very rude and dismissive reply that said they are awarding me with 20,0000 points. Which is very close to the amount of points I used towards this room. I couldn't believe the treatment I got for what I went through. We ended up sleeping in the car and continued our travel in the morning. If anything my points and money should have been returned. Even though that's the policy of the hotel satisfactory rules. If anyone is planning on going there don't waste your time. I felt like I was an employee making up the bed 3 different times. Also the carpeting is so disgusting. The rooms are very unclean.

I booked this hotel by using my Thank You Reward points through my Citi Card Thank You preferred program. I thought I used 16000 points to book a room. It was for a special night with my granddaughter and the night was a disaster. After calling my Citi Card Thank you Reward program, I was told the points were not applied. The expedite company charged my PayPal account the full amount, $162.22 (if you go to the Hilton site; this hotel room is listed as $99 and reduced to $75). They overcharged me on the Expedia site. Plus the hotel applied additional charges to my credit card account; so they double charged me for a room. The Hotel Hilton is not located in the Galleria Area; it is located in SW Houston. My daughter was so upset, because the location of this hotel is in a not so good area. My daughter, which lives in Houston states the location of this hotel is near prostitutes and wild homeless people.
We check in and the front help was awful. I tried to explain to the front desk people that I am here for the night and I wanted to verify my check out time. I had information from Expedia stating that my checkout time could be 3 pm. The woman behind the counter stated that was no way I could get that check out time unless I paid $50. I informed them I would not pay the $50 and I would use the late check out time of 1 pm. They charge my card, $50. Also I ask about the complimentary breakfast. The lady behind the counter stated it was not a "honor's breakfast", it was a special kind of breakfast for "Expedia" customers. The booking details did not code me as an "honor's customers"; so my granddaughter and I was told by the lady behind the counter that we would eat a breakfast that would be good enough to prepare a cold-cut sandwich.
We made our way to the room and in the hall were dishes in the middle of the floor. We enter the room, and it was freezing, stuffy and very smelly. We checked the bathroom, and the tub area had mold (I took pictures). The internet and TV would not work. I called to inform the front desk and I was told maintenance was off for tonight and that our services may work tomorrow morning. I check out of the hotel and will not ever go there again. It was a terrible for Hilton's name to be attached to it. The atmosphere was not the 'real' feel of Hilton. I think it was a place of illegal activity. Please beware. This is not a 4 star Hilton Hotel and it is not located in the Houston Galleria area.

I called Hilton Worldwide Guest Assistance service multiple times to resolve problems. They have bad bully and cynical attitude. I called them because of bad experience at Waldorf Astoria Boca Raton and billing dispute. The hotel did not want to give a refund even the hotel failed to accommodate a right specific room that we booked. The hotel was oversold during Easter holiday weekend. I tried to get a refund and resolve it about bad experience through Hilton Worldwide Guest Assistance because the hotel gave hard time and poor sloppy service at Waldorf Astoria. I called Hilton Guest Assistance for help dated: 3 times on April 19, 2017; 12 times on April 20, 2017. Nothing so far from their side for solutions! They are mean and have cold shoulder. They said that they cannot help and they are a third party. I hate Hilton Guest Assistance. What is it for?

This was my worst experience with a Hilton property ever. I will say that the quality of the hotel was not what I typically experience in a Hilton but this was not my issue. I had requested to use points for 1 day. I made that request over the phone in Feb. When I checked in, I explained to the desk attendant that I had set up to use these points. They responded by saying that they did not handle points and I could the Rewards Group if I had any questions. They should have said, "I don't show that you are set up to use points. You need to call." I responded by saying that "I know it was set up so I'll check, double-check, after I check out." Again, no direction from the attendant.
Upon checkout I received my email receipt and realized it was not done properly so I called Customer Service. After 35 min of being put on hold and listening to someone type, the answer was "Sorry but the points needed to set prior to the stay." I did what I was supposed to do as a customer, they made the mistake and now I'm penalized. I tried one last time to make amends, but again was told, "No." I travel for business about 50% of the year and normally stay with Marriott, where I have over 250k points. I will never stay in a Hilton property again!

Hilton ruined our holiday and lied to us about the planned works, and really did not care. Just gave the standard "thank you for your email" blah, blah. "Thank you for your inquiry regarding your complaint file. We appreciate you taking the time to contact us". It has been over a week since this reply came and there has been no further contact. So it is all just lip service. I held off posting this to give them the opportunity to make things right but how long do you wait. How do you ever go back to a Hilton Hotel ever again?

Stayed at Hilton Crystal City for vacation. Came in early and knew we would have to wait to check in. Went sightseeing and came back after regular check-in time. Room still not ready and desk person was very rude. She did little to help us. We got there at 11 A.M. and returned at 3:30 P.M. Her attitude was that she didn't care that we were inconvenienced. The restaurant waitresses were also some of the grumpiest I have ever encountered. The accommodations are very nice. Restaurant food good and bar area nice. Shuttle service very very very slow.

Humiliated. I have been a member since 2012 but have not used my rewards in a while, using Marriott and Wyndham. This time I was looking for a room in NYC and Hilton told me they had a place 10 miles away from Manhattan and that they would shuttle me to Penn station. Unfortunately, I made the mistake to check my reservation while on NJ transit from Trenton, New Jersey. Come to find out the room is more than 30 miles away and no shuttle to Penn station.
I invited my family from California and we were all carrying our bags in hopes of a great experience. So I took a deep breath and asked if there was a shuttle to the nearest station. They said yes and after waiting 25 minutes, the shuttle driver told me they were overbooked and if I had signed my name. No one at the front desk told us so we had to get off the shuttle. When we did, the other guests laughed at my family and mocking them to get off. The entire experience with Hilton has been upsetting, and I would wish Hilton can take consideration of their customers needs, options and inconveniences to time and money when reservations are not made to traveler expectation.

I was rewarded a Hilton BMG certificate for an unsatisfactory stay in Ohio. When the first one failed to show up a second was send about a month later. Lo and behold, they both show up on the same day. I then phone Hilton Honors to find out which one is valid and which one is not. One is valid. I then call a few days before my hotel stay and I give them the number of the certificate and then it is checked once again the front desk manager. Everything seems fine and we check in. When we are checking out the desk staff was having an issue trying to figure out how to discount the one night. Once that is figured out we cash out. Now over 6 weeks later I have received an invoice from the hotel that I have a balance for one night because the certificate has come back voided.
I have called Hilton Honors and after speaking to 3 different associates including managers, they have no record of me ever calling before I used it and have received 3 different answers but they are not interested in helping, even after I was originally told the certificate was valid. I am beyond upset as I stay at the Hilton chain several weeks out of the year and this was a certificate from an unsatisfactory stay. I will now have to deal with the hotel directly as they were the ones that also chalked the validity of the certificate. What is also confusing is that Hilton Honors did tell me that there is a valid certificate but they won't let me use it. Why would I want to use the Hilton chain after this incident? Is the Hilton able to sue me or come after me for the rest? They don't have my CC information. Any thoughts?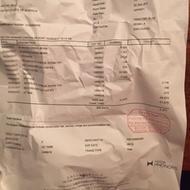 I am an international traveler and have a choice where I want to stay. I do not think I will be choosing to continue with the rewards program of Hilton any longer. I recently spent 43,298 yen on a single room in the Hilton in Okinawa, Japan for one night, which is roughly 480 USD. I was told there would be no construction noise waking me up in the morning and that only happened on the "other" side of the hotel. I was woken at 7 AM sharp by very loud drilling. I was given an upgrade for 7,000 yen, which that part was refunded but my total was still 43,298 yen for one night.
However, there were two double beds they pushed together and the beds were like sleeping on a wooden board. If the beds are Japanese style they should advertise as such. We chose Hilton because we do not want the Japanese beds; we want to sleep in American style beds. They should be upfront about this as well as the construction noise.
Overall I was very dissatisfied with this experience and what should have been a relaxing getaway turned into a sleepless night. I will not be investing my time or money at an international Hilton again and taking this risk. Over $400 per night for one room is significant and the level of discomfort of this hotel made this seem like we were being taken advantage of. Even after speaking to the manager, they only said they would reimburse the 7,000 "upgrade" fee, which was a little over 60 USD. They said they would not take anything off the room charge and that is all that would be done. This was after explaining the kind of night we had, the construction, the free movie features not working, and the very uncomfortable beds that were pushed together.

My company booked me a corporate stay for business for 3 days (Hampton Inn Taos New Mexico/Hilton Hotels). On my arrival the front desk check in person had me stand around waiting for her to finish paperwork for twenty minutes before she would even help me. She took all my information and gave me a room. When I got to my room I had a fridge that did not work and an air condition unit that did not work. I went to the front desk where they sent a maintenance person to look at my fridge unit and he said it needed to be reset and that he would check on it in a couple of hours. He never returned and I had no fridge and my food got warm. The air condition unit never worked.
I went to dinner and when I got back someone was entering my room telling me that she had just been given my room. I went to the front desk and I was rudely told that they had no record of me being in that room. I returned with my confirmation paperwork and was so rudely dismissed, this was not the Hilton experience I was used to having. Both the afternoon and night persons should be fired for their unprofessional rude behavior. I will never allow my company to book any travel reservations at any Hilton from now on. My advice to anyone is go somewhere else. This is a terrible hotel and they do not deserve to be in business if they intend to treat people like this.

I am a diamond member but I had an experience recently with Hilton that is causing me to reconsider my loyalty with this hotel chain. I have used Hilton as my hotel of choice for many years and I've come to find that the service quality I am receiving, especially as a diamond member, is falling short of expectations. I am finding that there is very little difference between staying at any random hotel chain than what I receive at Hilton as a diamond member. Yes, upon arrival I have the occasional upgrade, bottled waters and a multiplier on points, but these literally cost the hotel nothing.
Recently, I stayed a total of eight nights over a two week period in Jamaica only to find out that I was neither awarded points nor nights for the roughly $3000 that I spent because I went through a travel agent. It is business travel and a requirement that I book through a travel agent that we use, yet Hilton has decided to have as a policy that they do not award points when booked through a travel agent. The only difference between booking through a travel agent and an OTA (online travel agency) is the human interaction. Now, in response to my five emails and calls to understand what can be done about this, Hilton has attempted to pacify me by throwing 30,000 points at me.
Clearly, they are not looking to get to the root of the problem, which is that I will be traveling internationally a lot moving forward and will have to use the same travel agent for those trips. If I am neither privy to points nor nights/stay credit, I have no reason to not stay at the company preferred hotel, which is not the Hilton.
This, and the fact that the service I have been receiving even state-side at Hilton properties is not what it used to be... Their competitive advantage is slipping fast and my experiences of late is that they neither care enough about the issue to truly understand the concern, nor do anything other than scratch the surface when it comes to corresponding back to me. I will not reward them back with my loyalty...

I have stayed at many Hiltons before and have been very satisfied with the customer service. However the service we received at the Garden Hilton in Valencia CA will prevent me from going to another Hilton again. We booked 20 rooms for our group, and the meal vouchers were incorrectly distributed. The main problem was not the poor distribution of the vouchers but the terrible treatment by the catering director to not only my wife and I, but the other parents and children as well. The other problem was the awful handling by the GM of the hotel was inexcusable.
It is incredibly frustrating when a company makes a mistake and acts like it was our fault. The Catering Director, used past groups behavior, and how the vouchers were filled out (which is not our responsibility) as an excuse his own rudeness to us. The GM ignored that fact how poorly, and rudely we were treated but instead wanted to focus on the voucher mistake but wanted to act again like it was our fault. The complete inability to listen to a customer trying to explain the terrible treatment they received is inexcusable.
In the end we received a run around by the guest services department and the General Manager in Valencia. I am disgusted how a General Manager refused to listen or to make any effort to be accountable and rectify the situation. Quality customer service has the ability to listen, understand and take action to correct the problem. What I received was a terrible manager who was not interested in listening but only interested in her perspective. One star is too high of a rating for the Hilton in Valencia CA.

My daughter's dance company had a competition at Port Chester High School. We stayed at the Westchester Hilton. Our stay was for 2 nights. Our first night our thermostat was set at 75 degrees. We could not get the room above 66 degrees. I spoke to two people at the front desk. I explained the problem to them. All they offered me was a portable heater. That wasn't acceptable. They assured me someone would look at it. No one came and looked at it. We came back from the competition it was late. Our room was at 63 degrees. All they said at the front desk was sorry. I will never stay at a another Hilton again. Our stay was the weekend of Feb 10 to the 12. The temperature outside was about 35 degrees.

I have been incorrectly charged by Hilton Sydney. Despite me writing to Hilton Sydney for over a month they have failed to refund me. Hilton Sydney have admitted that I had made the cancellation made through book.com on time and that there was no evidence of my booking on the Hhonors website. Further Hilton Sydney have not provided me the details of the complaint procedure and details of the regulator despite numerous requests from me. I have only been sent a website to a Fairtrade site. This is not acceptable and ridiculous state of affairs!!!

ConsumerAffairs Research Team
The ConsumerAffairs Research Team believes everyone deserves to make smart decisions. We aim to provide readers with the most up-to-date information available about today's consumer products and services.
Hilton opened its first hotel in 1919, and it has become a highly recognized name in the hospitality industry. Hilton Hotels & Resorts is Hilton Worldwide's flagship brand. The Hilton Hotels and Resorts brand alone has more than 500 hotels on six continents.
Award winning: The World Travel Awards named Hilton Hotels & Resorts North America's Leading Hotel Brand in 2015. The same year, Hilton Worldwide was named a Top-50 Green Brand by Forbes and a Top Green Company by Newsweek.
Spa: Hilton Worldwide created the eforea spa with global travelers' high standards in mind. The spa provides guests with experiences to encourage balance and wellness. Select Hilton Hotels and Resorts, DoubleTree Hotels and Embassy Suites have eforea, and sample menus can be found on Hilton's website.
Twitter: Hilton has an active Twitter feed, and @HiltonSuggests tweets recommendations for travelers. All recommendations come from employees' personal experience with local businesses and attractions.
Rewards: Hilton HHonors, the free Hilton Worldwide rewards program, lets guest use points for free nights. It also includes other perks, including access to free standard Wi-Fi and the option to check-in from Hilton's smartphone app. With the app, guests can even select their own room.
Community involvement: Hilton Worldwide is committed to corporate responsibility. In 2015, Hilton employees volunteered a total of 213,000 hours in their local communities. Hilton has also partnered with PointWorthy so Hilton HHonors members can convert their unused points into a cash donation to the organization of their choice.
Best for Hilton Hotels & Resorts is good for solo travelers, couples, business travelers, retirees and anyone who is looking for a full service upscale hotel.
Hilton Hotels Company Profile
Company Name:

Hilton

Website:

http://www3.hilton.com/en/index.html