Consumer Complaints and Reviews

I am tired of receiving "spam" phone calls on my cell. I have pushed the section to remove me from the call list 3 times to no avail. Not only do I get spammed once a week, but the number called from is a cloned local T-Mobile number, so Hilton is trying to make me think it's a local number so I will answer it. If you have to trick people into talking to you, you have serious problems. STOP CALLING ME!!!

Don't ever stay at the Hilton Midtown NYC. We planned our family vacation 6-7 months ago to meet up in NYC for Thanksgiving. We called to make the reservation in June, doubled checked on Oct 3rd to verify everything was ok. I upgraded to a premium level paying much more, requested that our 2 rooms had to be joining as we have a child who is a diabetic and needs medical assistance at night sometimes. We requested, 1 king, and a room next to it with two double beds so my mom and 2 teenagers can sleep in there. "No problem" stated the young lady I spoke to.
I then called the day before we traveled Nov 22, spoke to reservations to make sure everything was set in stone. Nope! They had our 2 rooms on different floors! After 2 hours speaking with reservations and a hotel manager, she assured me everything would be okay. That she made notes and 99% chance it should be absolutely fine. I fly my mom from Texas to Florida, then Florida to NYC. We arrived at 8 pm, and we are informed not only do they not have the room type we requested, but that they don't have rooms together. The management says "you're lucky you can even stay here as we OVERSOLD!!!" Can you believe this? They're sending people to their other hotels in the city. Meanwhile this is on the parade route and that's why people booked in the first place paying $400 plus!
We settled into our rooms that were 4 doors away from each other. Not the type of rooms we paid for, super small along with smelly and super outdated with both only 1 king bed. I asked "where were my boys supposed to sleep?" I was promised 2 rollaways. We called and waited over 2 hours for rollaways, then we're informed THEY RAN OUT! My husband and I went down to speak to the management and they said they couldn't do anything about it. They'd have to sleep on the floor OR go to a different hotel and MAYBE they'd have a rollaway.
It's now 12:30 and I'm calling all over town to find a new hotel. We finally leave at 1 am and go to the W Hotel. We had to leave the rest of our family that stayed. Mind you they messed up their reservations too, but their child didn't have to sleep on the floor. They broke their contract with us...we are Hilton Honor members too, but I'll tell you honestly, THEY DON'T CARE.

I have been using Hilton for almost 20 years. This time when I checked in at Miami downtown it was great experience and also asked to provide HHonors nos. but the same was not handy at that time so I mentioned I will provide later on. I then stop by late night on my way back from dinner and asked night manager Mr. Amaurys ** to update the same. The answer which he gave me was not at all acceptable, he mentioned since I booked through third party cannot get points. This is for the first time I experience the same as in the past it's always been some agent who booked the hotel for me. Here I paid and also stayed so not understanding what's the criteria for declining.
I therefore asked him to show me the rule book but he couldn't justify the same and called up Hilton HHonors but they also didn't have any satisfying answers. He then printed out some paper showing benefits of Hilton HHonors. This was completely different than my request why I cannot get my points when I stayed and paid for my stay. He then started being rude. Extremely bad experience on Thanksgiving day. Thank you Hilton.

I booked a room at the Homewood Suites in Ft. Myers, Florida on Hilton's Website as I do almost weekly. I'm a District Manager and travel for a living. I use Hilton Hotels for ALL of my travel needs. I called Homewood Suites and was told that I am going to be charged $50 since I did not cancel 24 hours in advance. I didn't even book the hotel room 24 hours in advance and Hilton's Website states that it is changeable. So when they told me that they are only charging me $50 instead of the full rate I was still upset.
I'm a Hilton Hhonors Member since 2013 and have never had an issue, so I called Hilton Hhonor for a resolution and they just put me through to the hotel and washed their hands of my issue. Unless this is fully resolved I will no longer be doing my business with them. You would think that when spend this much money with a company you think that they would agree to their own terms and conditions on their website. Guess I was wrong. I'll be disputing the charges and will tell everyone I can about this. It's just not the right thing to do.

DO NOT USE THIS HOTEL CHAIN!!! They charge your credit card in advance and send an email confirmation stating NON-REFUNDABLE. The person taking the reservations does not tell you this when making the reservations. My credit card was charged $1600+ 3 weeks prior to my event. I only found this out when I needed to cancel one of the rooms. I spent over 45 minutes on the phone stating I was never informed of the pay in advance & non refundable and trying to get $800 + refunded. I was told the information was contained in the email confirmation & since I did not respond within 24 hours of making the reservation there was nothing they could do. I was not able to talk to a manager. I was told someone would call me back within 3-5 days. Still waiting. I did contact the FTC in Washington DC, so if this has happened to anyone else, please let them know.
This is a type of fraud/scam if you are not made aware of the terms verbally when making the reservation. Most business people do not check emails on a consistent basis. Any other hotel I stay at will charge my card after I have stayed. This is the SECOND time this has happened, guaranteed it will not happen again. When I went to Denver in May, my credit card was charged 3 months before my trip. And because I booked on-line, I did not even get credit for the HHonors program for the nights I stayed. There are too many respectable hotels that appreciate customers and they will get my business in the future!!!
How do I know I can trust these reviews about Hilton?
638,664 reviews on ConsumerAffairs are verified.
We require contact information to ensure our reviewers are real.
We use intelligent software that helps us maintain the integrity of reviews.
Our moderators read all reviews to verify quality and helpfulness.
For more information about reviews on ConsumerAffairs.com please visit our FAQ.

Room was OK, Clean. Hallway stayed very cold (it's 40 outside and the AC stayed on). Pool area very hot, got dizzy had to leave. NO MICROWAVE, even Days Inn has them. Could not even cook popcorn. Overbilled me $60 a day, told takes 3 to 5 days to correct. Computer always does that and it automatically corrects itself, we were told. Did not even get a receipt when I handed in the door cards. NOT WORTH THE MONEY.

I will have to say that I am disappointed in the Hilton. I am an 8 year vet and I asked for a discount to stay at the Hilton. They said that most of the hotels do give the discount but not that one. How can you not give a discount on Veterans Day to a vet. They will do it at other places but not this one. I have never stayed at the Hilton and after tonight I will never stay at one again. The other thing is Portland is having issues this weekend because of elections and I asked if it gets bad could I cancel without being charged and they said no. So they are going to charge me $183 cancellation fee because I do not want to risk my life and my friends' lives too. What the hell. Needless to say I do not care how nice the place is. I will not be staying there after tonight any more. So to all of the military persons out there if you want a discount here, sorry you will not be getting it.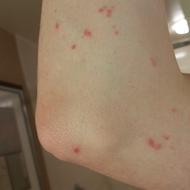 Stay Away from the DoubleTree by Hilton Hotel Birmingham - I cannot accurately describe how awful this hotel was. Something in the sheets made me break out with red rashy bumps on my arms, side, chest and hands. When I complained they switched me to a room with no bed. So I had to ask for a 3rd room which was a downgrade and I was NOT given a discount on the bill. I was told the General Manager would call me the next day which never happened - I had to call her. My whole situation was not a priority for the GM and the only compensation given was a few Hilton points. I have been a Hilton Diamond member for 11 years and never have I been treated so poorly. From the accommodations to the service my experience was beyond horrible. If you know what's good for you and your family avoid this place at all costs! You have been warned.

I was kicked out of the Home 2 Suites OKC South. I am a disabled veteran and was kicked out for my support animals, one week before veterans day. I was told they were too noisy, even though EVERY time I walked in they weren't barking. This morning they said they would change my room as they put me on the 1st floor next to the entrance adjacent to another room with other dogs. Then they called me after lunch and said I could no longer stay. When I got back to the hotel, I told the manager I was going to take legal action. As I walked back to my room, I gave her the finger. She then called my room a few minutes later saying I threatened her and that I had to leave immediately. She also informed me she called the police who arrived and told me I had to leave. Here is the kicker she told the police I refused to leave, so she was trying to get me arrested. I never said anything such thing.

I have been staying at Hilton Hotels for many years, and I'm a Hilton Honors member. No problems until I stayed in Savannah, Ga. We had a reservation on Oct. 28th to Oct. 30th 2016. We made a reservation for a suite and a balcony. We did not get a suite, when we enter the room. Really bad smell. But were really tired from the drive. So we did not complain. The staff was not very friendly. The staff did not explain any policies to us. She said sign here. She said next. Me and my husband left the Hotel got some to eat. When we got back the room we sat on the balcony. A lot of people were on their balcony smoking and drinking. It was very loud. My husband asked a person on their balcony so it's o.k. to smoke out here. They said yes. "No smoking signs out here sir. Every body does." We did smoke two cigarettes. Because it was outside not inside the room.
On Nov. 1st 2016 Hilton charged my card $250.00 for smoking on the balcony. REALLY There are NO SIGNS ON THE BALCONY!!! Where are the signs? You have thousands of signs in your Hotels. Not one the balcony. This is a scam. When I called the Hotel the lady was so rude to me. I told her "I will not come to your Hilton again", and I was cutting my card up. She said over and over "this is my policy." She would not let me talk. Very bad customer service, and I will also put this on Social Media. I will not be back. This is a SCAM.

Booked under "Government Rates" for official travel. Arrived after 10 hour drive and found that person I was to meet with would be departing prior to my meeting/expected stay time. Cancelled reservations at desk, told too late to cancel reservations for the Friday night stay, but that charges for expected Saturday and Sunday would be cancelled. Understanding hotel rules, said ok. Then get bill, Friday night cancelled' but Saturday and Sunday charged - complete reverse and doubling bill despite over 24 HR, cancellation notice for those days. Investigation finds Hampton Inn Marion taking advantage of local charity event for CANCER SURVIVORS to jack up rates and Hilton Corporate unwilling to intervene ("local hotel has decision") and feckless to intervene or fix their own reservation confirmation that says "Government Rate" with cancellation rules attached, when it is, or supposedly not. Never use Hilton again.

They were helpful, gave us plenty of options. It was a little pricey but for the area it was a good deal. Hotel was very pretty, had a nice pool and cool rooftop bar. Good gym. We don't usually opt for extras but it seemed standard. Overall the hotel the great. It was clean, beautiful and quiet. The location was perfect for walking to our preferred bars/restaurants. The rooftop bar was a very neat feature (drinks are pricey!). Pool was very small, not for kids but great for adults looking for a nice cool off in the afternoon.

Mediocre. It was rather noisy but we were on the ground floor. I requested a fruit basket on our arrival that they never delivered however they didn't charge us either. Also, there was not very much toilet paper in our room the first night.

Attentive staff, high quality. Supplies everything one needs. Free parking, free breakfast. Fantastic location, competitive pricing, delicious hot breakfast, a lot of shopping nearby, clean rooms, professional, friendly, accommodating staff.

Everything but the loss of my headphones was marginally satisfactory. The television in my room did not work and I had to move to another room. Whenever possible I tell this story and try to never stay in one of their properties again. Hide your valuable materials.

I understand that sometimes mistakes happen and there can be a double charge on a credit card (although it never happened to me before). I don't consider that a reason to stop using a hotel or the hotel brand (Hilton). What lost me as a customer forever to any of the Hilton Hotels is how this issue is being handled. It is NOT being handled. I stayed at the Hampton Inn on 8/22 and 8/23 and the reservation was made through a 3rd party reservation company. It was paid in advance of my arrival at the hotel. They took my credit card for incidentals and when I checked out was told there were no additional charges since it was prepaid. However, it is showing a charge of $201 and change on my credit card the day after I checked out.
I called the hotel and spoke with CHAAYA, who immediately went on the defense and ended up hanging up on me. I called her back and as soon as she heard my voice hung up again. I went online and filed a complaint with Hilton Corporation. I requested a call. To date, I have not received a call. I did receive an email telling me they talked to CHAAYA and she said it was because my card was declined with the 3rd party billing. My card has never been declined in my life, and if it HAD BEEN declined, why is it on my credit card statement - twice. Once with the 3rd party, and then it shows that Hilton billed me again. Hilton's blatant refusal to discuss the issue led me to file a complaint with the BBB who is looking into it. This sounds like fraud to me. Either way, I will NEVER use the Hilton brand again.

I was at Hilton Baltimore BWI Airport hotel for a wedding on 9//316-9/4/16. I put my son (18 months old) to bed at 10ish, I went to bed around 11. Around 11, my son started tossing around, I went to bed wondering reason for it. Around midnight, I woke up because my hands/arms started getting itchy, I turned on my flashlight and saw bed bug bites on my hand, I managed to kill in bed bug and took his picture... Totally not acceptable.

I had a reservation at Hilton Ocean City Oceanfront Suites for Sept. 3rd and 4th nights but due to weather condition at Ocean City, MD (state of emergency due to hurricane Hermine) I asked to cancel the reservation. I have a one year old baby and could not feel safe to go there. But they have said they are going to charge penalty for 1 night (50000 points) which is ridiculous as it was not my fault to request the cancellation of the reservation 1 day before.

WORST handling of a reservation I have ever had... These people they have working for them are Incompetent. First I call the hotel to find the room rates they say 234.00 per night... While I'm on hold I find the same room on Trivago for 116.00 a night. I bring this to the attention of the phone rep. She says "no, no, no, don't book it through Trivago. We guarantee the best prices and we also have a website you go to and will receive an additional 50.00 (**) but I need to reserve the room. They won't charge my card (**). I say ok, hang up, go to the website, fill in all required areas and receive an email confirming THEY received it... Call the hotel 2 day later to just confirm my reservation... cause of so many bad reviews about this hotel's reservation problems. And was told my room was available but was 234.00. I said "no, no, no, it should be 134.41 as stated on the Trivago website."
They asked for my email confirming my guarantee price match... I gave them the confirmation #**... They say they don't have a record of it... Hummmm. This continues for about 3 hours. I started the original. Call at 2:48 pm on Friday. By 6 pm they say they don't know, there's nothing they can do and since it's past the 24hr mark they can't end my reservation?? Well guess what if your incompetent employees would of figured it out when I called at 2:48 pm almost an hour and a half before my (24) hr deadline we wouldn't be seeing this post.
I did think highly of the Hilton hotels in general. But come on people I got a hotel right down the street with a pool and very wonderful complimentary breakfast and even allowed me to stay an hour after my original check out time for (150.00) and guess what... it was the Hampton Inn 1301 race street. I would recommend this hotel. Very friendly staff and nice pool. I will stay here again... And they're owned by the same company what the **... Your over the phone reservation staff need to be sent to re-education camps.

I was updating my profile on Hilton HHonors and checking hotels for a future trip I might take in Hungary. Next day I notice my credit card has a charge from the Hilton in Budapest. After numerous calls, and emails to both Hilton HHonors and the hotel directly in Budapest, Hungary I was treated with most disrespect a human can be treated. No one would help and told me it is my fault. I advised them I cannot be in Hungary from Chicago that same day and I was only checking for prices not purchasing anything. Hilton stole close to $300.00 from illegally charging my credit card.

My son and girlfriend were going to New York for a mini vacation and I wanted them to stay somewhere a little nicer than they would normally pay for. I bought them the American Express Hilton Gift card so they could do just that. They decided on Hilton Time Square but were unable to make reservation with the card. I called Hilton Honors to see how they could use the card to make the reservation and was told after being transferred 2 times that they needed to call redemption center to make reservation and redeem card (WRONG!). My son called and after being transferred 3 times and 45 minutes later, found someone they thought knew what was going on. Woman said she would make their reservation at Hilton Time Square, but they needed to pay upfront with a credit card and when they checked in, advise desk they were changing payment and using gift card. Woman said card would be credited back and gift card used for payment. (WRONG)
My son just called from New York and said hotel would not honor card as it had been an advance purchase and room was paid. I called HH and was told since it was booked advance pay nothing could be done, take the cards and use them to pay her credit card bill (WRONG). Cards can only be used on Hilton properties. I was transferred to advance purchase desk, they transferred me to Hilton Help desk. I was told they had been booked a lower rate which was advance purchase and nothing could be done. My contention was that woman who booked room knew a gift card was being used, told them incorrectly how it would be handled at hotel, but booked room as advance purchase. Now we have 300.00 in gift cards which Hilton customer service does not know how they work so who knows how to use them, kids in New York paying for something over their budget, and a HH rewards member that will never again recommend Hilton or its affiliates.

I am out of work, have traveled and stayed at Hilton properties for over 27 years, and when requesting access to my points to use for an upcoming stay, I was informed by Gisele in Dallas Customer Relations that I was ten days late on using/staying with Hilton and that all my points are dissolved! As a gesture, she said she can reinstate me but it will cost me half my points accumulated and available... And that she can give back some points as long as I stay at a Hilton for certain qualifying stays. This is outrageous. She said it is policy and that the VP of Hilton HHonors, Chris Nassetta is the one in charge and that this is as far as she can go. Unreal!
Years of using Hilton, and this is their method of handling a loyal customer who happens to be out of work. I am very dissatisfied in Gisele of Dallas and the policy of Vice President of Hilton HHonors Chris Nassetta! By the way I started with "Mary" out of an offshore C/R office, does not understand or speak English well. If I didn't know Hilton over the years I would think this is a company in serious decline. Hope not.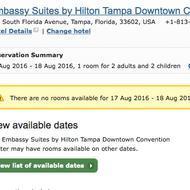 When calling to cancel my reservation at Embassy Suites by Hilton Tampa Downtown Convention Center this morning, I surprisingly found out I was over the time limit of 72 hours. I was unaware of a 72 hour cancellation. I was over 48 hours and accustomed to a 24 hour cancel policy like all the other hotel chains we stay at. In speaking with customer service at corporate they informed me of the cancel policy but that it is up to the individual hotel to waive the first night's fee.
The corporate office sent over an email to this hotel, Embassy Suites by Hilton Tampa Downtown Convention Center, asking for a cancel credit and I called them direct as well. I was told by Christine, the financial person who has the final say at that location, that the 72 hour cancel is "fair and equitable" for everyone and kept repeating that and they would not allow the fee to be waived. She said they cannot distinguish between a death in the family, missed flights, etc so. therefore the, their stance stands.
I can only say how absolutely upset and sadden I am by her remarks. Fair and equitable basically means in a nutshell they don't want to be "bothered" and they don't have a heart, they don't care what the circumstances are and that a policy is a policy and there is no adjustment even though the corporate office claims there can be. This hotel will likely rebook this room as they are currently sold out anyway.
We have stayed at the Hilton chain over our many years, just recently becoming a member of their awards program as I figured "why not". I have been happy with our stays at other properties and have been met with high customer service but I am very dishearten by this one particular hotel location, Embassy Suites by Hilton Tampa Downtown Convention Center. They were not understanding at all and couldn't care less and that is not "human" in my opinion.
As a business owner myself, I understand policy however, there is such a thing as using good judgement and with this management team at this location, Embassy Suites by Hilton Tampa Downtown Convention Center, this seems to be fully lacking. Somehow I can't help but think if the shoe were on the other foot this management team and Christine at this location would think and act otherwise. Very very disappointed. Heartless. At this hotel it's all about the money, not customer service when needed - that was very obvious. Also this hotel is booked solid with no room for the date they are changing for the missed day. How greedy does the Embassy Suites by Hilton Tampa Convention Center need to be? Unethical.

I was once again disappointed with the Hilton Brand. I choose it again because my daughter works for the company but again I DISAPPOINTED!! I came to California for my cancer treatment and asked to reserve an ocean view room, but when I arrived I was told there were no more available, they didn't know what happened. I asked to speak to manager but was told he wouldn't be in until the morning which I would be at the clinic then but they would take care of it.
I asked for one of my nights to be complementary if they couldn't get what I reserved or I needed to move hotels to one more affordable and closer to my clinic as this hotel was an hour away. The only reason I came to this hotel was to see the ocean. So no sense in being here if I couldn't see it. Needless to say they did not even have the manager respond to my request or anything. I asked 3 times to at least speak to one and finally at check out he came out and was rude and unapologetic about the expense, the inconvenience and the switch of my room.

When attempting to book a hotel with a Hilton Honors gift card, we were forced to pay the highest possible rate. After more than three hours on the phone with the hotel, central booking, and others we were booked one of the discounted rates and assured that we would be able to use our gift card with the rate. Instead, they booked a non-refundable rate on our credit card, and we were stuck holding an unused gift card that is probably worth about 50 cents on the dollar of what was paid for it. The hotels are generally fine, but stay away from the scam of gift cards.

In short my safety was in question checking in with other guests around me. Security never came. Guests got into a shoving match in line right behind me. They overcharged me for an upgrade I didn't want. When it was too late there was nothing they could do and they don't know what happened so "oh well". They bragged about giving me useless 10,000 pts when I contacted corporate. To get a free night at Hilton you need to stay at least 20 times. Their response was demeaning when I contacted corporate. They didn't address 2 of the issues I complained about. It's a joke to them... They don't care whatsoever. I am a platinum Hyatt member and this I know would never happen and they would never make anyone feel like crap for complaining.

I am lodging at this hotel. I only asked for the On Demand channel to be abled so I may watch a movie. In return the agent granted me access, however, mistakenly called my room saying that I was very, very, very high maintenance however she didn't know that she was talking directly to me. She thought she called her manager. I feel very offended and belittled. They apologized and sent gifts to my room and even credit me one free night stay. However it doesn't change my emotions on wanting to stay here. Tonight I will be leaving.

I have been on the phone all morning with the hotel and the corporate office. The hotel could not find the reservation, so I called corporate office and spoke to the supervisor to try to resolve the issue because the hotel itself couldn't do anything for me. They stated that the reservation wasn't completed because of the payment method, which is why the website didn't populate the confirmation#. I send this to the supervisor who hung up on me, and when I called me they couldn't locate him, so I was connected to a different supervisor who still didn't resolve my issue because there was not confirmation# and there is no availability. They are so unprofessional.

What a terrible disappointment with Hilton Hotels. After 16 years of using Hilton Hotels, every time we travel, we were terribly let down for the 1st time. The reservations agent did not give us proper information regarding the hotel distance being it was a convention for young people. I even specified the fact that they would walk to the convention and back, and needed a hotel. Close. When we arrived, the hotel was 2 1/2 miles away, in another city from where the convention was. When we arrived, and saw the distance, that would be unsafe to walk. We called Hilton. After going through 6 dropped calls, at 12:30 at night, they eventually told us the department was closed.
I spoke with the lady at the front desk of the Hilton Hotel named TAMEESHA. She was extremely rude, cut and dry, and told me she could not do anything, and if I did not stay, I would be charged for the night. I requested to speak with the manager, was not in till the following Monday. Today, he responded back and after listening to the story, he told me it was hotel policy but they had to charge for the night.
Customer service is not important. Reservation mistakes, not important. I called the Corporate offices, after explaining, NOT IMPORTANT EITHER. They stated that they could not override whatever the hotel bills for. So a manager decided that he would charge us half of the rate of the room. It is not important, anything that may have happened, NO CUSTOMER SERVICE IS IMPORTANT. There are many hotels out there that are willing to have better customer service than this. It's not important how loyal and how much you may have spent being a loyal customer. Therefore, from here forward, we will seek another hotel chain.

I was transferred four times and put on hold for over 1.5 hours with my first call to Hilton HHonors. After over an hour and a few transfers, I finally spoke to someone. The customer service representative took my information and stated my hotel rooms were confirmed, and he would email me confirmation. I never received a confirmation, so I called back, then I was put back on hold for 30 minutes. The customer service manager Donna, Sign # ** (she would not give me her last name) spoke to me and offered me 1000 points for my inconvenience. They are charging 60,000 points for $249.00 room at the Hampton Inn and wanted to charge me an additional $25 per 10,000 point transfer. For an organization that is as large as the Hilton Corporation, I would expect trained and competent customer service.

ConsumerAffairs Research Team
The ConsumerAffairs Research Team believes everyone deserves to make smart decisions. We aim to provide readers with the most up-to-date information available about today's consumer products and services.
Hilton opened its first hotel in 1919, and it has become a highly recognized name in the hospitality industry. Hilton Hotels & Resorts is Hilton Worldwide's flagship brand. The Hilton Hotels and Resorts brand alone has more than 500 hotels on six continents.
Award winning: The World Travel Awards named Hilton Hotels & Resorts North America's Leading Hotel Brand in 2015. The same year, Hilton Worldwide was named a Top-50 Green Brand by Forbes and a Top Green Company by Newsweek.
Spa: Hilton Worldwide created the eforea spa with global travelers' high standards in mind. The spa provides guests with experiences to encourage balance and wellness. Select Hilton Hotels and Resorts, DoubleTree Hotels and Embassy Suites have eforea, and sample menus can be found on Hilton's website.
Twitter: Hilton has an active Twitter feed, and @HiltonSuggests tweets recommendations for travelers. All recommendations come from employees' personal experience with local businesses and attractions.
Rewards: Hilton HHonors, the free Hilton Worldwide rewards program, lets guest use points for free nights. It also includes other perks, including access to free standard Wi-Fi and the option to check-in from Hilton's smartphone app. With the app, guests can even select their own room.
Community involvement: Hilton Worldwide is committed to corporate responsibility. In 2015, Hilton employees volunteered a total of 213,000 hours in their local communities. Hilton has also partnered with PointWorthy so Hilton HHonors members can convert their unused points into a cash donation to the organization of their choice.
Best for Hilton Hotels & Resorts is good for solo travelers, couples, business travelers, retirees and anyone who is looking for a full service upscale hotel.
Hilton Hotels Company Profile
Company Name:

Hilton

Website:

http://www3.hilton.com/en/index.html