Consumer Complaints and Reviews

I booked a flight for my son yesterday evening on Expedia.ca. Knowing he may need to change the ticket, I selected Trip Protection for $90.00 However, once I clicked 'continue booking', the insurance amount was not added to the price of the ticket. This is where the issues began!
1. I could not go back to double check whether or not I had selected the insurance option.
2. There was no 'live chat' available to address the issue.
3. Despite a window suggesting I could email customer service, this also was not possible.
4. The only option was to call... And I am in Cairo, Egypt... Without international minutes on my phone... No Skype and no landline, so I CAN'T call!!!!
However, I'm within the 24 hour period so I assume Expedia is like most other airline consolidators and offers free cancellation within 24 hours. I decide to call the next morning from work. When I do I hear the agent tell me tickets are changeable only with a fee. I inform her it's not even been 24 hours since I booked so I'll just cancel the ticket and rebook. I'm then told the ticket is non refundable. It does state this on the right of the Expedia window, but this is why I bought insurance!? You know, the ad where they say tickets may be refunded?? Highly unlikely!
At any rate, long story somewhat short is, I am on with an agent, then her supervisor, both of whom informed me this was my fault and offered no support in contacting the airline or even attempting to reduce a charge or cancellation fee. In fact, they talked over me and interrupted me continuously. So much so that I asked for the manager at Corporate office. He simply reiterated what the agent and supervisor said. Company line(s). However, he did say some airlines 'MAY' offer 24 hour cancellation and some do not. No guarantee. He couldn't answer how I would possibly know which airlines offer free cancellation within 24 hours.
He also couldn't explain why, when calling Expedia, the voice we listen to says 'most airlines offer free cancellation within 24 hours'. Lastly, he couldn't explain why my request to purchase insurance disappeared, but he informed me it really wouldn't matter, as it only covers cancellation if there is a medical reason, and change fees often still apply. Good to know!!!!
Oh, and twice I had to call, (no email on the contact us despite clear instruction online to do so), and both times I was on the phone for about 45 minutes to an hour, only to have the rep 'offer to contact the airline (Lufthansa) on my behalf'. Apparently Lufthansa is one that doesn't offer 24 hour cancellation - buyer beware. At any rate, coincidentally, while on hold with the agent, both times, waiting for a response, after repeating my story a second time (because they don't keep notes on their system!!), I WAS CUT OFF - TWICE!!!!
In sum, I will NEVER, EVER deal with Expedia again. I have used Insanely Cheap, Smart Fares, Travelocity, and had extremely great service, including changes made to tickets that said changes were not possible. These other businesses offer true customer service and have earned my repeat business. EXPEDIA.CA's customer service ends the moment you click 'continue booking'. Lesson learned. Do yourself a favor - go elsewhere and avoid Expedia.ca. P.S. Beware of purchasing insurance. Apparently, although the option to purchase is on the website, it's not available for purchase when booking from another country. Ya... Who knew????

Tried to call them multiple times before the 24 cancellation deadline and would not answer waiting 1 hour four different times. Tried calling the next day and no answer. Finally on the third day they answered. Was too late they wouldn't do anything. The so called "solution" they gave me was a credit to the airline but in order to get the credit I have to pay $300... that doesn't sound like a solution to me!! Don't ever buy their cancellation insurance, it's a joke. They will find all the loopholes they can to not reimburse your cancellation just as they did to me. So I paid $85 for an insurance that didn't even do what it said it was going to do. NEVER BOOK WITH EXPEDIA!!!

I misspelled my last name by 1 letter and Expedia chose not to hit the edit button and change the 1 letter. What they did instead was to charge me an additional $305 to edit the one letter in my last name. They originally charged me $610. I have never been more dissatisfied or appalled by any company I have ever dealt with.

I haven't had a vacation since 2009 and it took me 2 years to save up for a vacation to Monterey Bay, CA. I had to book a big enough room for 5 people. I was going to get there Friday the 14th of April and leave on Sunday. We got there after a VERY long drive to find out I had no room booked for me for that night. It took a hour for us to get a SMALL room that had ONLY one bed when I paid for two beds and a pull out. The manager said on day 4 because my mom got sick we stayed another night that Expedia said they were going to give me back $50. WHAT? ONLY $50 for all the crap I had to go through.
The next day they switched us in the right size room but it smelled so bad and the window wouldn't open. After being in that room for 3 to 4 hours we were switched to a remodeled room that wasn't cleaned, A/C didn't work, TV didn't work, window wouldn't open all the way, there was no ice maker hooked up and the washer and dryer wasn't hooked up either. I called Expedia after I got back and the guy said he would have the manager call me back in two hours. I'm still waiting and it's May 3! They are nothing but liars! I just got off of the phone with a manager because I called again and they said since I stayed there I can't be refunded.
WHAT ARE YOU KIDDING ME! She said all they could do is give me a coupon for $200 that I could use within a year. What part of I don't get to take vacation often did she not understand? I felt as if I took my money and flushed it down the toilet. It wasn't a vacation. It was nothing but a huge headache and I was more tired when I came back then when I left. Now I'm waiting to talk to the manager from the hotel that said they were going to give me the $50 and see if I can get more plus the $50 that I was promised I was getting refunded.

First off I was not aware of the country I was flying to, it was a family emergency. I book round trip thru Expedia online, never ask me if I wanted refundable tickets only after I paid my ticket did it state non-refundable tickets. Then I got the travel insurance thinking ok they charged me $35 just for that. And then the day I am suppose to leave I woke up feeling sick with flu like symptoms so I called Expedia only for the man to tell me, "Ok no problem I can cancel your flight." Then I could not hear him as he was talking really fast then he hung up on me. Called me back a few times still couldn't hear him. Only part I can hear him say is "I can't refund your money but you have a credit that you can use from now up to a year only for travel to same place and you will have to pay $200 more for cancelling your flight!"
This makes no sense to me at all, to charge me money for insurance that I can't use! I am sick with flu and fever. Cold and I can't go to another country sick with people on a plane where I can make others sick and also they never mention how dangerous El Salvador is for a single female traveling alone!!! Rip off. I will never book thru Expedia again or Delta Airlines period! Where does all the money go from people like me who get ripped off? All companies carry insurance for this reason so they double dip ripping off their insurance carriers and people like me. Wrong, just wrong. Never again!!!
How do I know I can trust these reviews about Expedia?
762,011 reviews on ConsumerAffairs are verified.
We require contact information to ensure our reviewers are real.
We use intelligent software that helps us maintain the integrity of reviews.
Our moderators read all reviews to verify quality and helpfulness.
For more information about reviews on ConsumerAffairs.com please visit our FAQ.

Recently I was traveling Cancun, Mexico and booked a car rental with Expedia. I had to pay a damage waiver upfront and then pay for the vehicle upon arrival. When I arrived in Cancun, I went to the car rental (Fox Car Rental) place and they did not have my car for me. Here I had booked the car for 2:30 am (when they are not even open) as opposed to 2:30 pm. They did not have any vehicles left I could rent, therefore I left empty handed. Fair enough, my mistake.
When I returned from my trip I called Expedia to get my damage waiver back that I had prepaid for. Because it was 10 days after booking, not the rental date, but booking date, there was nothing they could do. I had to call the insurance company. So I called the insurance company and they told me they need proof that I did not rent the car. They called Expedia for this proof. Expedia told them they did not have any confirmation of me picking up or not picking up the car, therefore I would need to call the rental company.
So now I called Fox Car Rental in Mexico. They were not helpful. They would not send me anything. I called Expedia back. After being on the line with them for 1.5 hours, and getting hung up on once, they had called and spoke to the rental company and then replied to me that because I was a no show, they would not send a document stating I did not get the car. I'm furious at this point. I was a no show because they were not open at 2:30 am! So why is that even a booking option? Sure it's my error but come on!! Not only would Expedia confirm that I did not get my rental, but the car rental in Cancun would not either! What is the deal people!!???
So now Expedia has no confirmation of my rental and the car rental company will not co-operate. So now needless to say after all the calling back and forth, many hours of explaining my situation over and over, I got nowhere. Nothing returned to me. Thanks for nothing Expedia! This is the second time you have taken my money and not provided me a service. Fool me once, your fault. Fool me twice, mine. You will not be assisting me or anyone I know EVER AGAIN!!

I used to make reservations at Expedia, not anymore. I have been trying to make a new reservation for days in the last 2 weeks, I have ended up with expedia. Taken out the wrong amount of money from my bank account, I have been several times on the phone trying to get help from them and all they do is trying to sell me a new vacation package. Don't waste your time, they suck.

System set up to raise prices when you're ready to complete. You'll get much higher price the moment you press booking. I experimented many times for the same booking package. Lower much higher when you want to pay. They set up their system to cheat, to rise prices when you ready to pay. Totally disgusted!! This is how these crooks make their living. By cheating and robbing customers!!! They should go out of business however they are worth billions. How this is possible? 0 stars or minus star would be too much for these cheaters.

Really 1 star is too good for them. Cannot believe I just been ripped off. I bought 2 tickets to Miami in Sept. Also bought insurance because it was 4 months away and a person never knows what may happen. So I trusted Expedia to take care of me. That was the wrong thing to do. I had to cancel my flight. Called them with 4 months in advance. They said my insurance was just for medical or death per Delta policy. I called Delta they informed me if I had went directly through them I would had received my refund but since I went through Expedia I had to get my refund through them. Expedia after calling 3 times and getting disconnected once then informs me that I purchased non refundable tickets. I know I did not purchase those. Why would I pay for insurance. They stole $800 from me. I will never use them again. I hope this help someone from not being taken advantage of.

I have used Expedia for booking flights before. I guess if you don't have a problem with your reservation, and you don't need to contact them for help, you are ok. This time there was an issue with the name change I needed to make on my reservation. I called Expedia, and was on hold for 45 min. After that hold I got connected to someone in Philippines who barely spoke English, and had a hard time understanding what the problem was. I asked to be transferred to someone in the U.S. Got put on hold for another 40 min. I got connected to someone in India. I explained to this person what the problem was, and was told "Please hold, I need to connect to the airline". At this time it took almost an hour. When he came back, he assured me that all I needed to do was to email a copy of my passport to the airline, which I did.
3 days later I go to the airline website, and the last name is still incorrect. After I tried calling Expedia again, and waiting for 30 min, I decided to call the airline. They informed me that their policy states that if the customer purchased tickets through an agency, that customer has to deal with that agency directly. I explained to them what happened, and I guess they felt sorry for me. They informed me that there was no record of any kind of Expedia contacting them. They resolved the problem for me within 10 minutes of our phone conversation. 3 weeks later I got an email from Expedia stating that they are still waiting for the airline to get back to them. What a joke! I will never use their services again.

I am so incredibly frustrated and confused regarding my recent experience with Expedia. Let me be clear, I have used Expedia for years and have NEVER had this much trouble with them. I had previously never used their travel protection before and purchased it for the first time... And I'm afraid I'll never purchase it again... I'll also likely purchase all my tickets directly through airlines or via American Express Travel from now on.
Here is why: I called on 3/30 to change a flight. Difference for flight was $81.99. Agent I spoke to on the phone reported I would receive a charge for $281.99 including the change flight fee charged by Delta and that I would expect a $200 refund in the next 24 hours (which I received 3/31). EXCEPT I received a 2nd additional charge for $200 on 3/30 from Expedia which I called about on 4/14 @ 10:37AM and spoke to a different agent about for 35 minutes. She had NO record for this $200 charge and asked me repeatedly if I was sure this was not the refund (I am not an idiot, so... No... It was not in fact a refund. It was a charge). She then asked me to email her a copy of my charges and said she would have to "look into it further" and that someone would "call me back". I sent said email on 4/14 @ 11:20AM including said information and attachment.
Two weeks later (today), when I had not received either refund for $200 or any notification from Expedia, I called back. You perhaps may understand how frustrating it was that the agent I spoke to had no information regarding my previous call, my previous concern, my previous email, etc. and that I had to go through all the information AGAIN (yes, even the bit where I explained that yes in fact I am sure it is a charge and not a refund). This agent I spoke to this time (who was actually the most helpful person I spoke to regarding this issue) spent approx. 45 min on the phone with me and was able to figure out that it appeared to be an error on Expedia's end (surprise! what I had been saying all along.) and that the extra charge was because it appears the ticket was issued twice and she said she would have to transfer me to a manager to complete the refund, etc.
I spent an additional 20 minutes (total phone call 1hour and 6 min) talking to the manager again explaining my situation in detail (yes... The bit about my being sure it was a charge and not a refund... I was asked that AGAIN). She then tells me that she has no record of a 200 dollar charge, but that she will refund me 281.99. I told her I am happy to take her money for my troubles, but I again assure her that the charge was for 200 dollars.
I then ask her what happened with my initial email (Did I send it to the wrong place? Did they not get a copy of my charges?). After looking into my "notes" further she tells me that she does see some notation about a 200 voucher (refund) being sent to someone, but due to some error they did not contact me about it (and maybe never would have had I not called to inquire what happened). I then ask her how this happens and she tells me she is not sure, but she will make sure the agents are coached and this will never happen again. BUT IF YOU ARE NOT SURE HOW THIS HAPPENED IN THE FIRST PLACE, HOW CAN YOU MAKE SURE IT WILL NEVER HAPPEN AGAIN?

I booked a hotel through Expedia last week and I called to change the check in dates today. They don't let customers modify dates without creating an entirely new booking which made the price of my booking increase by 50%. By canceling two additional nights I'm paying as much as I would for 6 nights because they can't simply remove the two nights. It's ridiculous. I'm never using Expedia again.

Flew with Expedia for a while now, nowhere does it say which flights are refundable or not. Not only that but also, purchased my plane ticket and charged a total different amount than originally purchased. Talked to many Expedia agents and all were helpless. Never again buying from here. Save your time and just buy directly from the airline or from a local agency. Turned a $300 flight to $700.

I purchased 2 tickets from JFK to Copenhagen on 2/21 noon. After I booked tickets I realized that my first name was missing the ending part. I called immediately and request the name change. The gentlemen on the phone told me that he couldn't change for me unless after 24 hours. He offered to cancel the reservation for me. After I spent 30 minutes to book the flights, of course I refused. I called 24 hours after booking, been told has to pay $25.00 for name change. I was upset because yesterday he didn't tell me that after 24 hours he can change the name but has fee involved, otherwise I canceled already.
Then on and on about this fee, I requested to speak to supervisor and the same answer. I requested for top level. They transferred me to Mr. Rockney ** (sounds). I explained to him the situation, at the end he told me: "I give you two choices: one is pay for airline $25 for name change, or I cancel the tickets for you." I replied: "Cancel it for me." He even warned me that after he cancel the tickets, I couldn't book with the same discount price. I replied, "Cancel it, I don't care. I don't want to book again." At the end I asked him when shall I receive my refund, he told me clearly 3 to 5 business day or 7 to 10 business days.
After 14 days, on 3/7 7:20 pm I called back, asked the status of my credit, I've been told by Ms. Mikaela ** (sounds) from corp office that this was non refundable tickets. I couldn't believe my ear. I explained again what happened, and asked her try to call the airline to put me back on and pay for $25.00 since I had no another choice. She tried and answer was no. Then I requested her to pull out all the phone conversations and give me the answer. She promised to call me back. I was waiting for more than one month, no one called me.
I called back on 4/27 at 2:11pm and talked to nice gentlemen named Ron **, after he listened to me, he put me on hold and try to solve the problem for me, then at 4:07pm he transferred me to his supervisor Ms. Mayer **. After review, at 5:09pm she told me that unfortunately, all the called recording only kept for 60 days, they cannot trace the records only can based on representative's computer reports. Based on reports from Mr. Rockney ** that he stated I requested to cancel the ticket instead of he gave me two offers. Then he put on that is no value tickets.
What a joke, logically, do you think if he told me that are nonrefundable, I would waste seven hundreds and change just to avoid a $25.00 name change fee? If is no value what he told me the refund will be 3 to 5 business day? She said, "Sorry the records only hold for 60 days, we have to make decision based on their computer record." I was so mad. I said please don't delete Ms. Mikaela **'s records, because I specially requested her to give me the answer. I want to listen the records. She told me that she will call me after her pull out the voice records. If she found out that the voice records is different than what I told her, do you think she should hold the record and let me listen them as evidence? I cleared again and again stated that I have to listen the voice records. She promised me to call me and let me listen and give me the result.
At the end I requested to speak to someone who has authority to review this issue. Ms. Mayer ** put me on hold. After hours of on the phone with Expedia.com, Finally I got hanged up. I was extremely upset, I started to write on ConsumerAffairs, while I'm about to finish, Surprisingly Ms. Mayer ** called me back and told me that the line got cut off by mistake. She told me that the supervisor agreed to give me full refund back. I was released and finally a small issue turned out wasted me closed to 10 hours aggravation. I told her at the end thanks her for corrected the error, and suggested her to train her staffs to inform customer advance.
If the first one informed me that after 24 hours will be fee charged, I would cancel and no further issues. If Mr. Rockney ** knew that was nonrefundable booking he would inform me and I had no choice but to pay $25. So many IF can be prevented but didn't. Hope they will listen to me and from now on train their staffs properly.

This was the first time I used Expedia. I took some getting used to and was more concerned about getting the right flights and hotel in the right location and price than their loyalty program. After the trip was booked, I joined the loyalty program and now the trip does not qualify for their points because I joined after booking the trip on Expedia. They can keep their stupid points and will book directly with the airline and hotel or another travel service than ever using Expedia again.

I always buy tickets online. This was the first and last time for me. I just wish I had read the hundreds of reviews before hand! I bought tickets for £185 plus £23 for travel insurance for cancellation, just in case. No one from Expedia and alliance was helpful! Be warned, WHEN PAYING FOR TRAVEL INSURANCE THINKING YOU WILL BE ENTITLED TO A FULL REFUND IS VERY VERY UNLIKELY!!! You will NOT get a full refund because they do not tell you all this when ticking/adding the option! Please be warned. Read the small print then try to contact them which will waste half your day!! Rubbish Company. Don't understand how they sleep at night.

This experience is beyond me! My boyfriend and I booked flights with Expedia to San Juan for next year in January for our first 7-day cruise together, along with another couple. We have been saving for months and were extremely excited. We found out today that our cruise was canceled! Of course emotions were running high but I was relieved to know that I had booked trip insurance with our flights. I called Expedia and they continued to tell me my protection insurance doesn't matter. My circumstance isn't included. Haha! Like getting my cruise canceled, the whole reason why I booked the flight doesn't matter. Are you kidding me? All I wanted to do was switch a day later on departures. They could care less. DO NOT get trip protection is an absolute joke! DO NOT use Expedia! They don't care! I'm so disappointed and will never use them again!!!

Booked Avis Car Rental through Expedia. Car was not available when we went to pick up. No help from Expedia. In the meantime, I was being inundated with promotional material from them. Horrible experience with Avis and Expedia. At least Avis tried to help resolve the problem. Expedia - Never again!!!!

First time Expedia user, last time Expedia user. I had planned our FIRST family vacation, my children being 12 and 13. We took them to Disney World. I got flight and car through Expedia. Flight no issues. Great. Went to get our car, could not get it. Did not have a credit card. We are stuck in Orlando Airport with no car. Luckily we got some help and were able to secure another car with another agency. Paid cash which hurt a little to our spending money. Car rental told us we would have to get a refund from Expedia.
Get home waited a week (March 31 2017), getting back into the groove of real life. I called Expedia and they said they would confirm that I did not receive the car and refund within 7 to 10 business day. I asked if it could be expedited as I need the cash after vacation. They said no. Funny how they can take your money right away but you wait 2 weeks if you need it back.
Not wanting to wait, I contacted my bank, which gave a provisional deposit to cover until I received the refund. To my surprise I go to the bank and I am in the negative (April 17 2017). It appears the Bank's Provisional period ran out. And no refund from Expedia. Oh yeah forgot to mention NSF for 2 auto bills I had processed, that were returned.
I called to get a refund again or find the status of my request. Had to start over again. Finally on April 26 2017, I called back again as I still did not have my refund. No refund requested. The person on the phone spend 1 hour and 40 minutes and promised he is processing a refund. I asked that the $75.00 in NSF also be reimbursed. He said he would try. He says it will be 7 - 10 business days. I asked if he could see my other request. He said yes but could not expedite it. Expedia Customer Service is horrible.

Purchased travel insurance from Expedia website for airfare. An illness prevented us from flying. Per instruction from the Expedia rep we needed to call the insurance plan (AON) and the airline (Frontier). The insurance plan stated it will send me claim forms to fill out in 2 days. Once I submit the paperwork it will take another 7-10 days to see if they approve the refund. Seems like an extensive and complicated way of trying to get a refund for airfare. Should be simpler to receive a credit from the insurance plan for when there is a sickness or need to cancel a flight. Will not use Expedia or flight insurance from AON again.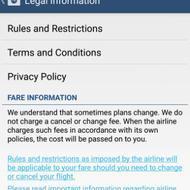 I'm an avid traveler that has always used Expedia to book my personal travel arrangements. One important detail: I never purchase non-refundable flights. As of today, I will no longer use your services and any companies affiliated with your brand. Their customer service manager, Barbara, is quite condescending and does not know the meaning of customer service. Additionally, when I first purchased my plane ticket to Acapulco, nowhere on the app did it say my ticket was non-refundable prior to the purchase. In March, I purchased a ticket on the Expedia app for $419 from Houston to Acapulco -- my first international trip. The airline selected was Interjet.
I read the fare rules and only read that if needed to cancel, I could incur a cancellation fee by the airline. I read this in the checkout screen of the app in the PRIOR to purchasing the ticket by clicking the agreement link, "By completing this booking I agree that I have read and accept the Rules and Restrictions, the Terms and Conditions, the Privacy Policy and Fare Information." Nowhere did it say this ticket was non-refundable. All other tickets I shopped said they were non-refundable. So, I went ahead and purchased this ticket thinking that if I needed to cancel it I would get my money back minus a possible cancellation fee charged by the airline. Later, I went online on the website of Expedia where it said the cancellation fee could range from $150-200.
It is now April and I am having a medical condition that is preventing me from traveling for the unforeseen future. I have to cancel my flight. I need a refund because I am not able to work and need the money to pay my bills. Therefore, on April 23, I called customer service and spoke with an agent (a name I did not capture thinking this would be an easy inquiry). At first, she said that she can help me with canceling my flight. She placed me on hold and proceeded to tell me my flight was non-refundable. I told her that I was never advised of this information.
She called Interjet to see if she could negotiate a refund and then placed me on hold. She returned to the call to tell me that Interjet is a non-refundable airline and they would only allow me to change my dates and destination or the name on the ticket. She told me only her supervisor could allow a refund. She transferred me to Kevin. He repeated the same story and told me, "You should have read the terms and conditions more carefully and I can send you the policy that says your flight is non-refundable." I told him that nowhere on the app did it ever say my flight was non-fundable and even took pictures that showed nothing of the sort. How was I to read something that was never given to me to read? Where was I to find this little detail that was not upfront? I feel duped and cheated.
I told him I want to speak with his supervisor. He told me he was the supervisor and he would have to transfer me to the corporate office. I was worried my call would be disconnected, so I asked him for the phone number and name of his manager. He said he could not give me either. He went ahead and transferred me to Barbara at the corporate office. She repeated the exact same story and told me that I should have read the policy and that the flight is a low-cost flight and that I should have known this would not be a refundable flight. I disagree. This information must be displayed to the customer.
In a condescending tone, she repeats backs to me the information slowly and quite concisely, making me feel stupid. I didn't appreciate her attitude towards me. I told her that prior to me speaking to her, the first agent told me I can change the name on the flight. I asked Barbara if that were true and she said she didn't know. She would have to call the airline to find out. She placed me on hold, returned, and told me it would cost me $98. Why didn't the first agent tell me that? Why does Expedia tell me something upfront and then change it later?
Barbara continued to tell me that this is a low-cost flight and that it is non-refundable. She would not listen to me, nor allow me to explain to her the terms I read. She spoke over me and interrupted me. I asked to speak to someone else, such as her manager. She said she would transfer me to the helpdesk. I asked her why she was transferring me to her IT department, because in most companies helpdesk is a term for IT departments. She spelled out Helpdesk to me and said that in your world Helpdesk is not IT. Once again, I asked for the number and the name of her manager, she refused to give it to me. She would not even give me the number to the helpdesk.
Anyhow, I was on hold while she was in the process of transferring me. This was at 5:35. Our call was disconnected. After 15 minutes, I began to wonder if I was going to receive a callback, so I began drafting an email to the CEO, Dara Khosrowshahi, and other VPs at Expedia. She called me back at 6:26pm with an Ashley on the phone. Ashley started with paraphrasing my case back to me to see if she understood my problem. So far she did. I told her I was in the process of writing an email to the CEO. She said there would be nothing that she could do and that she would have to go through their system that would show what I would see on my end when I first booked my flight. After she checked that, she says that she reads that my flight is non-refundable. I told her I have pictures of my flight booking.
She sent me an email to send the pictures to her. After receiving them, she tells me that the pictures were taken AFTER I booked my flight. I told her that one is prior and one is after (per my earlier statement above). She argued with me and said they weren't, basically calling me a liar. She proceeded to tell me I should have read somewhere obscure to see my flight was non-refundable, telling me the language is "may be non-refundable," (the objective word is "may"). I told her this should have been disclosed upfront, not hidden, otherwise I would have never bought this ticket. She refused to listen to me and proceeded to tell me that Expedia no longer books flights for Interjet because of changes the airline made so the rules may have changed and there was no way she would be able to determine what the rules were at the time I booked the flight.
I asked her why is this penalizing me? She couldn't answer my question and just repeated the same statement as all the others, "This is a low-cost flight." I begged her to please walk through the app with me to book a mock flight and let me show her where I read the terms. Instead, she placed me on hold and booked a flight with her co-worker, returned and told me that she read what I took a snapshot of and the mock flight says it is non-refundable. Exactly! So how come that jargon was not displayed on that screen when I booked my flight??? I told her that I shopped for flights and this one was the only one that didn't say it was non-refundable, which is why I bought it! She then tells me she cannot do anything and that I could make changes to my flight for a fee. She also said that she does not accept certain types of photos because they could of been edited.
Now, I have been called a liar, spoken to like a stupid person, and she is telling me my proof is not valid because I may have tampered with my evidence. This is the worst service I have ever had, and I have dealt with the likes of Sprint, ATT and Comcast. Expedia takes the cake. They expect their customers to just assume that a low-cost flight is non-refundable. Some flights have the "non-refundable" disclaimer posted upfront, others do not.
This is unacceptable and inconsistent. They cheat their customers and make us feel stupid. I had 3 managers/supervisors in their so-called customer service departments mishandle a loyal customer. All I asked was to be refunded for my flight--a flight I assumed based on my research was refundable. This is why I usually book through Southwest Airlines, and will only book directly with airlines going forward. I will no longer use any Expedia services of any kind--not Travelocity, Hotels.com, Trivago, Hotwire, not of them. I am speaking with an attorney.

I purchased an online low-fare flight for my boyfriend, which supposedly gives you an option to add cancellation insurance for $19 if purchased within 24 hours. Not long after the booking, I was informed my boyfriend's ride would suddenly not be available at the time of drop off. Not to mention he was almost two hours away from the nearest airport... A taxi or even Uber would cost more than the flight. So, I ended up needing to push the flight time off for 2 hours or so later. After the insurance purchase, I wasn't sure of how to apply it online, mainly because it was kind of giving mixed messages. So, I decided to call Expedia. Once I was on the phone with the representative, I explained that the insurance confirmation had two conflicting prompters, one of which said the reservation was canceled and the other stating that I would have to call customer support and provide the cancellation number/itinerary.
The Expedia representative confirmed my information, walked me through some steps on the website, then put me on hold for a really long time. When she got back on, I thought everything was taken cared of, but then she says to me the nature of my booking did not allow for changes. So, I said, I know, that is why I decided to buy the insurance and to call Expedia. She proceeds to tell me it looks like my insurance was cancelled (when I didn't cancel anything)!! I mean, why would I do that knowing I would be stuck with a nonrefundable plane ticket?? After a while of her NOT helping me and repeating the same stuff over and over again, I asked to speak to a supervisor. With the supervisor, I reexplained EVERYTHING including what happened with the previous representative; the "supervisor" states that once the insurance has been cancelled, it can't be utilized (duh, but I didn't cancel it).
At this point, I was so tired so I just said fine then I will just purchase the insurance again. That's when she says actually, you can't repurchase the insurance. It can only be purchased once. (Wow, that is shady). Additional to that, she mentions that even if the insurance was not cancelled, it can not be applied to my type of transaction too (that is new news to me... Even more shady). So, I asked her why not? And why does Expedia offer this insurance during the booking of this particular transaction if it can't even be used with it? She couldn't really answer me and began giving me the runaround. That's when I knew I wasn't going to get anywhere.
So, I, believe it or not, asked to speak to someone even higher than her. Finally, they transferred me to a guy named BJ who actually spoke clear English. But now, I was basically being called a liar because he "literally sees everything that was happening on the website" including me cancelling the insurance apparently. At this point, I was confused, because I didn't know if they wanted to play up the me cancelling the insurance thing or the insurance not being able to be applied to my type of booking. I was just so emotionally and mentally drained by then that I just decided to quit. I even tried to be nice to BJ and tell him thanks for being professional (even though his tone stated otherwise).
After I hung up the phone, I began to realize the stuff he was describing to me about what he was "seeing" was the walkthrough the first Expedia representative was taking me through. The whole time she was not helping me with the cancellation or change of flight, she was actually having me cancel the INSURANCE. I didn't realize this when I was on the phone with BJ, and yeah I was conned, but I believe in karma, and karma will come back and take its course. I was NOT going to call back and be transferred back and forth between people I can't even clearly understand. So I will just say this, NEVER again, Expedia, NEVER again.

Booked the Expedia's air ticket in last holiday season. Expedia's booking system is terrible. Aftermarket service is the worst also. Normally $700 + ticket, I ended up paid $2000. Cannot solve any issues. The worst airline. Cathay Pacific canceled my trip in advance, and I got no refund, had to buy another ticket from another airline via Expedia. At that time thought can get refund from Expedia or Cathay Pacific. However it spend me three months getting the final response for the dispute, get nothing back. (Phoned Expedia many many times, cannot be refunded or provide any coupon.) Will never do business with Expedia. Will never do business with Cathay Pacific.

I totally agree with the worst reviews here. Their website malfunctions. You'll realize the actual booking date you made is different than what you wanted only after you finalize the booking. You call right after just to waste your time. There's no way you'll get your money back... Totally disgusted!! This is how these people make their living. By robbing customers!!!

Expedia has always been my favorite mode to book a reservation until recently. I'm always very careful to book a room that can be canceled without a penalty because I own a business and money and time off can be a problem. I booked a hotel reservation to stay at Melia Nassau Beach Resort in the Bahamas for Nov. 19 - 25, 2017...8 months in advance. I realized soon afterwards that I hadn't accounted for just how costly the trip was going to be between buying 3 rt airline flights and 3 passports, etc., so I went online to cancel and didn't see the option.
When I called they said it was a non-refundable booking. I was very upset because this was hidden information. I would never have booked it knowing this. They talked to the hotel and they denied a refund. Really??! A 4 star resort won't be able to rebook my room in the next 8 months!! I blame Expedia for not clearly stating a room as not refundable. It only said it would charge me the full amount of the booking afterwards. Thanks Expedia for putting me in a financial hole over the holiday!

I called Expedia to inquire about flights. I told them I wasn't sure of the time of my meeting in DC and was not ready to book. Their representative told me to buy "Flight Protection" so if I have to change my flight, there will not be any change fees, and if I find a lower rate I would get back 50.00 and the difference between the flights. My meeting time changed. I had to change my flight. I am being charged a 200.00 change fee (which happens to be the cost of the one way flight). I also found lower prices and Expedia would not honor their policy.

Please don't believe in Expedia's option for insurance. I purchased and at the end I had an inconvenience and need to change dates. After an entire day speaking with customer service at the end they said it was non refundable and providing the same package with a new prize but not taking in consideration what I paid. I lost BIG... The insurance they never explain why it didn't work, I said different times that I purchased the insurance in case of a cancellation. I thought I was going to lose a small percentage of the package but finish losing my entire money.

On April 11 I made a round trip reservation with Expedia with the printed understanding that I had 24 hours to cancel the reservation. I called the 877 customer service hotline with 4 hours and followed the prompts to cancel the reservation. When checking my credit card statements I found I had the charge but not the refund. So I called again with 8 hours and again followed the prompts to cancel. AGAIN THERE WAS NO REFUND ON MY CREDIT CARD. I again called on April 12 and canceled.
On April 15 I called and was told they had no record of my phone calls and that I would have to pay $200 to cancel since it was after 24 hours. I was told I would receive an email with 48 hours after they researched my phone calls. I RECEIVED NO EMAIL. On April 19 I called and spoke with a manager who says they have no records of phone calls into their customer service phone number and again I must pay $200 to change or cancel this reservation. DO NOT TRUST EXPEDIA AND THEIR CUSTOMER SERVICE PHONE NUMBER!!! DO NOT USE THEM.

For a company that is in the customer service industry, they are HORRIBLE!! If you decide to book anything with them, ALWAYS make sure you sign up for PRICE GUARANTEE after you book anything. It should automatically pop up before you finalize your trip, but it doesn't and when you find the price has gone down, they won't accommodate you. They hide behind their policy and will not assist you. In addition, if you cancel your trip, IT MUST BE CANCELLED WITHIN 24 HOURS OF BOOKING. Again, it's not emphasized like I have it. Furthermore, the 2 times I have contacted them, it was routed to in the Philippines and India with background noise of everyone on the phone with customers. Very difficult to hear and understand. I will never use them again and suggest you try elsewhere.

I reserved a room at Blockade Runner Quarters in Oak Island, NC through Expedia. I had a reservation with itinerary, it even says, 'no need to reconfirm'. It turns out said hotel don't take online reservations anymore. We called Expedia several times. We told them to cancel my reservation but they said they can't do that until they get in touch with the hotel who clearly is not taking any calls from them. In other words we were left with no hotel on a holiday weekend. They couldn't book a hotel less than twenty five miles so we ended up booking at Airbnb at a much higher rate.
A condescending manager tried to shut my complaints off by giving a twenty five dollar coupon which by the way never happened. I looked at their site and five more people have reserved at the said hotel. I don't want their holiday to be ruined just like ours did but all my efforts are futile since it's going on deaf ears. I received no acknowledgment on their nor, email, no call back, no nothing. Never again, once is enough. This is the first time I ever experienced such a nightmare.

ConsumerAffairs Research Team
The ConsumerAffairs Research Team believes everyone deserves to make smart decisions. We aim to provide readers with the most up-to-date information available about today's consumer products and services.
Founded in 1996, Expedia is one of the oldest online travel companies. It was created by a team at Microsoft.
Hotel price guarantee: Expedia will not only match lower offers but also give customers $50 for finding cheaper rates.
Expedia+points: Purchases earn travelers points that they can exchange for discounts.
+VIP Access: +VIP Access members get free amenities and services at select hotels.
Visitor guides: Expedia provides visitor guides to help vacationers find interesting things in their destination cities.
Mobile deals: The Expedia mobile app gives users access to exclusive deals.
Best for Domestic, international and budget travelers.
Company Name:

Expedia

Year Founded:

1996

Address:

333 108th Ave.

City:

NE Bellevue

State/Province:

WA

Postal Code:

98004

Country:

United States

Website:

http://www.expedia.com/