Consumer Reviews and Complaints

Don't get fooled by false advertising and fraudulent insurance! I booked my vacation package over the phone with an Expedia travel agent and I said to the agent "I would like to buy the upgraded insurance so I can get a money back refund if I need to cancel my trip". He said, "No problem you can purchase the 'cancel for any reason' insurance protection plan backed by AON Trip Claim." It was an upgrade from the basic plan (and more expensive) because the basic plan only gave you a refund from the resort and a flight credit, while the upgrade plan gave 100% refund on both resort AND flight.
During Hurricane Irma, my resort was destroyed and I lost my job. So I called Expedia to get my refund. After waiting on hold for 58 minutes, they told me I would get a refund on the resort and flight credit. I said "No, I paid for the insurance to get a refund on my flight not a credit." I went over my policy with them and pointed out that regardless of the hurricane, loss of employment is clearly covered on my plan. I was told that I had purchased a non-refundable ticket and insurance only covers refundable tickets. Why didn't the salesman give me that option or even mention it?
To make matters worse, at the time I was shopping for trips, flights booked independently without a package deal were $300 per person (there are two of us so it was $600 total) but Expedia told me my airline credit would be for $1296. So $1296 was deducted from my refund and given to me in the form of an airline credit that is useless to me. Clearly this is another way for them to refund as little money as possible. They inflate the ticket price by more than double?! I was told by the agent that there was no option on his computer to choose that would give me my refund. His supervisor came on the line and told me the same thing. Both gentlemen I spoke to were cordial but offered no solution or alternative approach. So I guess lesson learned, if you want any type of actual travel protection, do your homework and don't use Expedia or AON Trip Claim.

Bait and Switch - Booked travel in January for travel on American Airlines. Three days before the flight, it's changed to British Airways. Called British Airways to ask about baggage policy, charges for seats, meals, etc. They tell me Expedia owns my reservation and I need to call them. I call them and they tell me to call American. I call American the tell me to call British. I call British and they tell me to call Expedia. Expedia supposedly owns my reservation but can tell me absolutely nothing about the airline. They had me choose seats that we do not have. There are four of us and we are scattered all across the plane for a 10+ hour flight. I have children with me. I will NEVER book with them again and only go directly. I may use them to search but I won't use them to book anything. Not hotels, flights, cars - nothing. I have used them for years and never had this problem. Something huge changed and they are not what they once were. Sad, but true.

Signed up with Expedia+ points program to book a vacation. They claim I signed up after I booked the trip. Really??? Yet the trip is clearly in my account. Did I miss some fine print somewhere? Reached out to Expedia and they just send me a link to their Terms and Conditions stating I signed up after I booked and nothing more. Went on a limb to use Expedia instead of my usual OTA to try it out some more but what a regret. This is just so completely petty not to give points for something I clearly signed up for deliberately. Such a disappointment to leave as a memory for a great vacation. Last thing expected.

By far "THE WORST" customer service company I dealt with! They hired the cheap labor @ Philippines & the employees cannot handle the customer service properly. I had so many bad experiences in the past but I tried to use them one last time for a simple one night hotel reservation with a coupon given to me by Expedia. I had nightmare again by 3 people, two supervisors & one account rep passing the call to each other & then dropping the call at the end! This took 4 hours of my time with them on the phone & no results at the end!!!! DO NOT USE EXPEDIA.

Since my repeated personal efforts with the local Alamo subsidiary, Grandsud Kft at Budapest Airport proved to be fruitless. I've contacted Expedia.com at home to obtain a $48.- reimbursement which was charged over the contractually agreed car rental fee of $687.04. The so called first tier employee referred me to her-second tier- supervisor without being able to offer me any redress. The supervisor first offered me a $48.- coupon against any future charges with Expedia.com.
When I quoted the 2 following paragraphs from the Expedia.com car rental agreement, "Unless otherwise specified, rates are quoted in USD. Rental fees are due at pickup. The total price includes all mandatory taxes and fees." "Please let us know as soon as possible if you have charged additional fees incorrectly and we will arrange a refund for you." End of quotes and I declined the coupon, she requested the rental contract to be forwarded to her and promised a response in 48 hours of time. This response arrived-by another supervisor- in time by phone and by a follow-up email, denying my request.
The received response (See attachment) was a complete bogus, not even quoting my request. Namely I clearly pointed out to the first supervisor I've first talked to, that the accidental damage charge- which is by the way a whopping $829.- for a barely visible paint scratch on the front bumper- is being handled by other means. This response proved to me that I've received the proverbial polite brush-off and I never have had a chance to receive any reimbursement. So much for the written contractual promises by Expedia.com.
How do I know I can trust these reviews about Expedia?
880,156 reviews on ConsumerAffairs are verified.
We require contact information to ensure our reviewers are real.
We use intelligent software that helps us maintain the integrity of reviews.
Our moderators read all reviews to verify quality and helpfulness.
For more information about reviews on ConsumerAffairs.com please visit our FAQ.

I have never been so displeased and frustrated with a service before. I booked a trip from NYC to Victoria, Canada. The trip included a 1.5 hr layover in Toronto, and hotel in Victoria, Canada. A few weeks after booking, I went on Expedia.com to look at my flight details and realized that they changed my departure flight time, therefore giving <30min of layover in Toronto and subsequently cancelling my flight from Toronto to Victoria. I had a confirmation email of my flight times from when I booked the trip, which clearly did not match up with the new flight times that were listed on my account on the website. I never received any email telling me of these major changes. When I called to inquire about these changes I was kept on hold for >2 hours total because they were having trouble "seeing my itinerary". Finally, I was reassured that the flights had been fixed.
The next day I decided to call to confirm that my flights had been changed, but no one seemed to know anything. They did not have any information on the call from the night prior or the change in flight. At this point, I could see that flight prices on Expedia and Orbitz were now lower. I was told that my reservations could not be changed because they could change me to an earlier flight, despite the fact that I purposely did not book that flight originally because I did not fit with my schedule. They could not even match the lower prices that were being advertised on their website.
I spent a total of >5hours on the phone trying to fix this problem that I had not even been notified of. Thankfully I had checked the website, otherwise I would have never known there was a change/cancellation of my flight. Needless to say I will never book again through Expedia, and I advise that no one else does unless you like spending your free time fixing the problems they created and did not even notify you about.

I have been using Expedia for several years and I really have had no problems with making reservations and getting help. Recently, I decided to see if I was really getting a good deal from them. I signed in and made a reservation at a hotel. When I did this I got a message that there was only ONE room left at the price I was quoted. I did make a reservation as I usually do. Then I decided to see if they were being honest with me, so I immediately went to the hotel's website. There I saw the price for the same room was the same as I got from Expedia, but it said there were NINE rooms left at that price.
The conclusion I drew was that Expedia purposelessly claims the room you are looking for is almost sold out to encourage you to reserve the room on their site. They weren't lying about the price, but they were certainly being dishonest about the urgency of booking the room from them. Lesson learned? Don't expect honesty from Expedia. They are in business to get you to book through them and they don't really care about being honest. I will never book through them again without first checking with the hotel first. The one being honest will always get my business.

Today I made a hotel reservation online, but got my dates wrong by one week -- my bad. So I called Expedia when I saw the email from them with the wrong dates. I did not want a refund, only a correction to the dates. They would not do it. They said it was non-refundable and non-changeable. I could not believe it. I pulled up my account online (Amex) and saw it was pending. I called Amex and explained the situation, and I wanted to dispute the charge. They advised it would be resolved in 48 hours, but to monitor my account. We'll see. How can Expedia get away with this? It's all but larceny!

Expedia never sent my email address to Air Canada to prompt me to confirm my flight 24hrs beforehand. As a result I was bumped off the flight and was late for work. Their service is minimal and mediocre at best. It's a middleman that desperately needs to be cut from the equation. I will never book a flight through Expedia again. I will book directly with the airline and deal with them directly. If Expedia cannot communicate with airlines properly then I will. Also received very rude customer service with a "it's not our fault" responses from every side. Always looking to place the blame on someone else and never owning up to any wrongdoing. Thanks for all the flight issues Expedia. This is where the road ends for us.

I have booked a few hotels with Expedia and this year noticed a huge issue. When I try and book a hotel and the days aren't available, Expedia's website will change my booking to a date that is available. The website says "Congratulations your booking is confirmed no need to confirm it." So if you don't check your email you can't see if the dates are correct. This cost me over $500. I tried to cancel 1 that I made the next day and Expedia said they would but hotel wouldn't. Called hotel and they said they would refund me but Expedia would not. I am looking into this for a possible class action.

I booked an automatic car with Expedia for a trip I was making to Perpignan in France. When I arrived, the rental company (Alamo/Enterprise) informed me that no automatic rental car was available and that I could either return the next day or take a manual stick shift. As I don't drive a manual and was staying more than an hour's drive from Perpignan and had no other transport, they said they could arrange an automatic car hire for me with Hertz and would refund me the difference in car hire costs.
I have all this in writing. However, the refund of the original $700 I paid to Expedia was to come to me directly from Expedia. I have now been writing to Expedia for more than a month concerning this refund with no response and no refund. As it stands, I am out well over $1500 for a car rental that I was guaranteed and prepaid for at less than half the cost. In the meantime, I am being charged interest on my credit card for the original charge which has not yet been refunded. I cannot get any response from Expedia and no one on the customer service phone line will speak to me about the issue.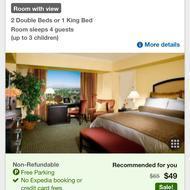 I submitted so many claim and cannot get price match. I booked a hotel in Las Vegas on 09/01/2017 around noon with $76.52 and I saw the price changed to $49 at the next day noon of the exact same website, expedia.com. And I filed claim to request price match at once. They rejected my claim! They say "Our Price Guarantee only applies when quotes from other travel providers are submitted up to 11:59 pm Pacific time two days before your scheduled check-in date of your booking with Expedia.com. As your claim was submitted outside this timeframe, the Expedia Price Guarantee does not apply on this occasion." However I have the member of Expedia, "If you're an Expedia+ member, we'll match your hotel price until midnight before check-in". See what they said in website and what they really do are totally different. Expedia is not an integrity and reliable company AT ALL!!! Don't want to book anything on it again! I feel so sad to be a member of it!

I booked a room though Expedia.com. When I was looking over their room options, I chose the room with two queen beds. When I got to the hotel, they told me Expedia never informed them of my request for two queen beds and all they had was one king. I called Expedia and got the typical runaround saying the hotel didn't follow through. The front desk was more than willing to try and help me and would even have given me a discount, but since I paid through Expedia, there was nothing they could do.
They were also all booked for the night and could not move me. I called Expedia on the phone and aside from being on hold for over 50 minutes (had nothing better to do), they were completely useless. It was someone named "Stacy" who had a very thick accent and was difficult to understand. If you are going to outsource get people who speak very fluent English or don't give the "English, press 1" option. Needless to say I will NEVER use Expedia.com again.

My flight was cancelled 8/28/17 due to weather (Hurricane Harvey) as my connecting flight was in Houston. No other alternative flights accommodated my schedule, that being said I asked for a refund. The agent in turn said he had to confirm this with the airline. From my understanding all Expedia agents should already be informed of this information and second it's on United's site in the policy section to refund money back. The agent wasted 3 hours of my time waiting on the line for United to answer just to finally hang up assuring me he would call back when he gets an answer from them. He called back maybe two hours later stating he couldn't get a United agent on the line and that he was just going to refund my money back.
When I asked him the total, he gave me the total to the flight leaving out but not the flight coming back. When I asked about this he said, "Oh you want to cancel the return flight as well." With all the patience I had left I explained to him that if I have no way to Costa Rica why would I need a Flight back from Costa Rica. He put the ticket in to refund my full trip and stated I would receive a confirmation email. I called Expedia again on 8/29 because I had not received a confirmation email, upon waiting on an agent the automation service stated that I would be receiving my refund within 7 days but the agent told me they'd have to wait for confirmation with United because from their end the flight was not cancelled. I lost it with them ended up hanging up and three days later I am still waiting on an email and my refund.
Meanwhile I've been trying to get an answer from United with no luck due to high call volumes. All in all, prior to this incident I loved Expedia after but this incident I will not be using your services. I can not deal with the incompetence of the agents whether it was due to Expedia not giving them the proper information when flights are cancelled or if it's just the agent themselves.

We are part of the hotel partner program. It seems if a clerical error is made online, they feel they do not need to reconcile the situation. Instead they feed off the error and collect commission on cancelled reservations that have 0 dollars collected on them. You have up until a certain date to reconcile your monthly invoices, I phoned and was told that only 1 courtesy is allowed within the year. As I am sure all can understand the hospitality industry and knows that not only one hand is on certain situations. This was the situation here, a reconciliation was done incorrectly by an employee, and upon trying to rectify this over the phone to 2 separate Expedia support persons, I was told I would have to pay for commission on reservations that they are not entitled to collect on. Shady business practice, and absolutely going to reconsider whether the small amount of reservations we receive is worth being ripped off.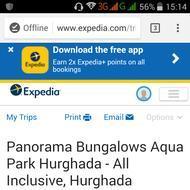 I made a reservation with Expedia for a hotel in Hurghada and paid online, called the hotel to reconfirm. Hotel said I have to pay additional supplement of 160$ on arrival, I called customer service of Expedia. I was for 3 hrs online with agent (Ashley) and she didn't help then transferred me to her supervisor (Daniel). He tried to help to make a turn away and I have to pay the extra, explained him "It's not my mistake. It's the mistake of Expedia", after another 3 hrs with Daniel transferred me to a lady from the corporate team explained again my problem she hang up on me. Cancelled my reservation without my approval, thank you Expedia for destroying my planned holiday, it's the worst experience I ever faced. I will never book with you again.

First of all, I spent over 50€ in credits trying to call them. Ok they'd call me back if I ask, but good luck getting your called answered in the first place. They absolutely don't stand up for their customers. The airline I have my flight with changed my flight time twice then cancelled it after. They don't want to change the date of my flights and keep calling me "trying" to fix it up but then "transfer" me to somebody else and there's me again on hold until the call goes back to the main menu options. Horrible, pointless buying flights with them.

I receive a text message. My flight was canceled. I called Expedia as the airline could not help because I booked through Expedia, not the airline. I was on the phone trying to rebook for over 4 hours. After 4 hours I still did not achieve rebooking. I have no words. Makes me sick.

Do not book from Expedia. I went ahead a booked a flight from them, and was unable to add insurance to my plan after I purchased. So I called. They were having websites issues that prevented me to do, and even the associate on the phone was having problems after verifying I was eligible for the insurance. I spent a long time on the phone and eventually he was able to cancel my flight and re-book the same flight with insurance. I told him when purchasing said insurance that it was because my plans may change. He acknowledged my reason and proceeded to charge my card.
I go to cancel or exchange my flight because indeed my plans have changed and I was just informed that I cannot do so because I am not having a medical emergency or suffering a family emergency. UM WHAT?! Yes, it is in the fine print online. However, I did not book online. "I called to book the insurance, sir. You sold it to me over the phone. Therefore, it is your job to tell me that at time of purchase. I would not have purchased the damn flight then. I would have just simply canceled it, considering it was within the first 24 hours of booking." Now, I am out $400 for a flight I can do nothing with. My situation has changed and I do not appreciate a company telling me what is extenuating circumstances or not. Because I consider my situation important enough to even deem a credit, I just had to book a completely new flight out of my pocket.
And definitely not from Expedia. I have worked customer service and I worked it for a long time. This is poor service. Period. I was pushed on an insurance company who can do absolutely NOTHING to help me. I booked everything through Expedia. I was charged through Expedia. This is not a way to handle business. That's a significant amount of money to lose for anyone. That's a significant amount to lose with absolutely no preparation from the associates on the terms. I'm beyond disappointed.

Reservations made at wrong location 8:54 pm, reservation were canceled with a confirmation email from Expedia at 8:59 pm, Expedia failed to send cancelation to hotel. The next day I get a call from the hotel asking if I was still coming. Because Expedia did not cancel it I am being charged approx. $200. Expedia refused to responsibility. It's best to deal with the hotel on any booking and cancellations.

I booked car rental in Cancun, bought extra coverage $55, paid cc. Ended up not renting vehicle due to ridiculous charges for extra insurance. $200 more unplanned. Not cool to start your vacation with this issue. Expedia- don't partner with Europcar if you can't back me up with what you offer during my online booking... I attempted to call... omg really frustrating not able to speak with a representative. I work hard for my money and hate to just give you my money for something I didn't even use. Ended up walking off Europcar due to the nonchalant attitude from the clerk... Not the way you want to treat Expedia guests... Very upset.

I bought 2 tickets from LAX to Rochester NY. Inputting my dates I select what I want. Put my info in and buy it notifies me it the best price. Click ok. Apparently by clicking the best price changes the dates too. I just bought nonrefundable tickets going to NY a week before my best friends wedding. That I'll now be missing because I can't afford another ticket! I called immediately after seeing this as I got a confirmation text. I waited a hour on the phone for a supervisor to tell me they can't help me. I can't change the date. I can't be reimbursed. I can't even buy the insurance which it clearly says I have 24 hours to buy it. And now magically it's not processing my request. This is too much money that people are losing out of. Please anyone if you're seeking legal action or a civil lawsuit going on please let me know.

My husband made reservations almost 2 months in advance and a week before we were supposed to leave for Charleston, he had to have emergency surgery. My husband called and cancelled the reservations on Monday 21st. The representative told him that the reservation was cancelled and he would receive a confirmation email to confirm that the reservations were cancelled. Today we were charged for the hotel, I call the hotel and they tell me to call Expedia. Come to find out that the representative never cancelled our reservations and said my husband didn't ever call. Expedia refused to take fault for their mistake. The hotel told us there was nothing that they could do about it. I will not use Expedia ever again.

I was about to book an hotel to Expedia when unexpectedly, a page with an hotel in New Mexico is placed in my list. My search criteria was Tinton Falls, NJ not Tinton Falls, MW. Their algorithm put a wrongly hotel in my list. Beside this, 2 minutes I realized I was mistaken. I called the Hotel (Quality Inn New Mexico) and they said this is Expedia to cancel it. So I called Expedia and did so for the cancellation through the automated system. I have called 3-4 more times after the cancellation and nobody was able to confirm if I will get reimbursed. I again called the hotel and they said they can't do nothing. Two weeks after I called again and they said they are not able to reimburse neither the hotel. Now I am really upset in losing more than 200$ for a bad customer service and a wrongly algorithm system.

After attempting to purchase flights for my family from SF to North Carolina during the Thanksgiving holiday, I would tell everyone to avoid Expedia at all costs. Nothing is worth dealing with these clowns. So while using their site and going through the entire process and entering my card number for purchase of $2,100, an error came up and said it was unable to process and try again. After 2 more attempts I decided to stop trying. Now after looking at my online banking account I have a pending hold/transaction of $1,184.80. Now remember my total for my family was $2,100 and transaction was denied and I HAVE NO TICKETS. I have nothing but $1,184.80 subtracted from my account. After calling Expedia and being transferred over 3 times and for a total duration of 2 and a half hours they couldn't tell me why there was a partial pending transaction on my account.
They did confirm I have no tickets or reservations. They then proceed to tell me I have to wait 3 to 5 business days to have the money recredited to my account. Excuse me!!! So you're going to place a hold of $1,184.80 on a declined transaction and have no explanation of why this happened. I requested a flight voucher or anything to help me accept I'm being robbed for 3-5 days and they declined and said there's nothing they can do for me. Basically "sorry call your bank". Umm my bank has nothing to do with this. They were flat out rude, disrespectful, and could care less I'm unable to book my flights now for 3-5 days and offered me nothing for their booking system malfunctioning. I'm beyond upset about this and filing legal action against them this morning. Please avoid EXPEDIA NO MATTER WHAT.

Waooo is all I can say about my experience with Expedia, after so many years as a member, I book my packet in May 2017 for August 2017, Hotel and Flight, From Miami to Seattle, WA, 8 hours of traveling to get to the hotel and find out that my first night was cancel back in June. We were a party of 5, including a 14-year-old girl... In the hotel computer and verify by the Manager of that night, shows the cancellation was done by an external company that had access to the booking, (assuming is EXPEDIA, because if it is another company, we have a bigger problem). Very upset I called Expedia, they were able to confirm the mistake with the hotel, told me to send the receipt and after many calls and back and forth a very nasty lady told me, "We can't refund your money, because you review the reservation 12 times..." I can't trust a company. They are so irresponsible... Will you trust them?

I was trying to add a night to an existing reservation with Expedia. I was unable to change anything on the website so I called the customer care number. I was placed on hold for 20 min. I hung up, they called back and I requested to just cancel my reservation, since they were having issues. Expedia said they could not cancel my reservation without me being charged, as that is their policy. I requested to speak to a supervisor and was placed on hold for 15 min. I hung up. I received a callback, they spoke with the hotel and the hotel would not cancel the charge. Expedia should not expect the hotel to cancel the charge, if THEY are the ones who couldn't help me. They refused.
I asked to speak with a supervisor who was VERY, VERY RUDE and told me that they can't be responsible for inconveniencing people when their systems are having problems. REALLY??? Yes, you should offer a discount, or do SOMETHING to help customers. They are not customer centered, they are PROFIT centered only. Well, without customers, you have no profits. Nothing has been resolved and they are so rude.

As a travel industry professional working in the industry for 15 years as a general manager of large DMC in Thailand I can clearly say - this is the worst possible way to book your travel. Avoid it at any cost. Booked my travel and then cancelled the ticket with credit reserved to be used for same travel in the future. When time has come to book my new ticket I was in a different country and what a surprise - I couldn't access my account and apply my credit. Moreover, the telephone number of Expedia Thailand didn't respond at all (tried to call from abroad and from Thailand). So this is the story how I lost 14,000 baht... you may now decide if you want to deal with this unprofessional and miserable group of so-called travel professionals!

I tried using Expedia for hotel and flight; my plans changed within 24 hours and I canceled the hotel and tried to cancel my flight. But they said it wasn't in the time frame. They also I need to read the fine print and it was not their fault; even though I paid for cancellation fees. I did get the hotel canceled but a new unconfirmed booking showed up on my credit card that they claimed I booked. I have no confirmation for this new charge but they said I put it on my other account??? I asked what account and gave me some crazy email address. Both supervisors that I talked to lied to me gave me a email address that goes nowhere. I was told that they didn't charge me but the hotel did. Lies, Lies and more lies.

My experience with Expedia call center was disastrous and I've had to deal with outsourcing with almost all of my personal anymore, CC's, cable, etc. but this was by far the most challenging and I got no resolve to the misbooking of my car situation from Expedia when I went to San Diego and had to eat the cost of their mistake as of course they blame the other company. My time was sucked out as I dealt with rude customer service representatives and incompetence of the heavily laden accented liaisons of ground control and upper management of the phone center. This isn't a dig. Just shows that there is a breakdown of our understanding of humans when dealing with foreign seas. Corny but true.

ConsumerAffairs Research Team
The ConsumerAffairs Research Team believes everyone deserves to make smart decisions. We aim to provide readers with the most up-to-date information available about today's consumer products and services.
Founded in 1996, Expedia is one of the oldest online travel companies. It was created by a team at Microsoft.
Hotel price guarantee: Expedia will not only match lower offers but also give customers $50 for finding cheaper rates.
Expedia+points: Purchases earn travelers points that they can exchange for discounts.
+VIP Access: +VIP Access members get free amenities and services at select hotels.
Visitor guides: Expedia provides visitor guides to help vacationers find interesting things in their destination cities.
Mobile deals: The Expedia mobile app gives users access to exclusive deals.
Best for Domestic, international and budget travelers.
Company Name:

Expedia

Year Founded:

1996

Address:

333 108th Ave.

City:

NE Bellevue

State/Province:

WA

Postal Code:

98004

Country:

United States

Website:

http://www.expedia.com/