Consumer Complaints and Reviews

I booked a trip to Puerto Rico to celebrate an early valentines day, through Expedia and selected the option All-inclusive and Wyndham Garden was the only Resort that showed up. I went on to booking the trip since it said all-inclusive and the price was pretty decent, however, when we arrived at the resort and headed to lunch the next day, it was brought to our attention that it was not all inclusive. My wife and I were very disappointed, as we picked this resort solely because Expedia listed it as "all-inclusive". I reached out to the company to get a refund as we were trying to save money however they stated they could not offer a refund. This issue increased what we were trying to spend initially since we had to rent a car to get to the resort, which was an hr away and we had to pay for food, which was very expensive. It would have been much cheaper if we had stayed in Old San Juan and bought our own food.

I booked a car rental with Expedia.com with Enterprise and paid 70 for their insurance. When I got to Enterprise rent-a-car they said that they do not accept 3rd party insurance such as Expedia and I ended up having to pay again for insurance through them. I contacted expedia and they said since the date is already past they are unable to refund my 70$. How would I know they could not accept expedia's insurance until I went to pick up the car? However, I am sure that Expedia is aware that they don't accept 3rd party insurance but they sell it anyway! What a scam!

I booked a flight on Expedia and found the same identical flight $253 cheaper a few hours later, shame on me I didn't cancel and rebook with Vayama.com that was the cheaper company, I laid my faith in the good hands of Expedia's price match promise and they let me down, not only they say they will call you 72 hours later and you don't get any call or email. When I called to see what happened they make the match process so difficult and confusing that it makes it near impossible to get your money. I will never deal with Expedia's shady business ever again and I will calling an attorney to see if I can somehow get my refund as I would suggest to all unsatisfied clients that I read on this site. P.S. The same flight I booked at Expedia for $3,275 two hours later on Vayama for less and they did not honor it!!

We decided to take the option of selecting a member rate for $119 a night. For a whole hour, we went back and forth on the booking screen because it changed my rate to $20 more a night. This is without taxes and fees. I called to try and fix this and only have gotten customer service reps with heavy accents and no auditory comprehension skills that could help. I took even snapshots on my iPad with the time and date to show this web issue and they failed to provide me an email address where/who can send this to. As a person that worked for many years in the headquarters for a major cruise line, I find this level of horrible customer service appalling. I kept telling the lady that I wanted to fix this. She kept understanding that I wanted to cancel my reservation when I told her that NO I just want to fix the rate. And I have proof of this misprint - scam. Lesson - double check when they supposedly have a member rate. It's probably FALSE ADVERTISING.

Planned a family vacation in December for week of July 4th. Called Expedia in January to cancel trip because parents were now divorcing and family was breaking up. They told me they would not give me my money back and blamed it on the airline JetBlue. I called JetBlue they said, "Not true." It had nothing to do with them. Had I booked the trip with them they would have given me my money back since I gave them a six-month notice and since Expedia never told me the tickets were nonrefundable. They should make it right but they won't. They want to keep my money and the tickets and after four hours on the phone with them said they would give me nothing. I told them, "This was a scam. You want to keep my money and the tickets," and they hung up on me. I can't afford to lose $3500.00. Expedia is scamming people and stealing their money. They are the worst so everyone beware. Don't plan a vacation with them.
How do I know I can trust these reviews about Expedia?
693,837 reviews on ConsumerAffairs are verified.
We require contact information to ensure our reviewers are real.
We use intelligent software that helps us maintain the integrity of reviews.
Our moderators read all reviews to verify quality and helpfulness.
For more information about reviews on ConsumerAffairs.com please visit our FAQ.

I booked flights through Expedia in Sept to fly in Dec. Three weeks before the flight, I received an email from Expedia saying the flights had been cancelled. I called the 800 number on the email and the recording acknowledged that their information showed that my flight had been cancelled and that my credit card would be refunded within 24 hours but that it may take up to a week to process through the banks.
When my statement came and the refund did not show up I started calling. Expedia claimed that I was due no refund because I didn't show up for the flight. After about 4 hours total on the phone (try being put on hold for 45 minutes at a time while they "spoke to the airline"), taking a photo of the email they sent, demanding to speak to a supervisor, they eventually told me that I would have to deal directly with the airline. One problem: the airline really never cancelled the flight. Expedia just told me they had. ABSOLUTELY THE WORST CUSTOMER SERVICE I HAVE EVER EXPERIENCED!!! If Expedia is not an offshore scamming operation, they should be because they operate just like one. If you are considering using them, throw your money in the trash and RUN AWAY FAST.

I booked a hotel in Turks and Caicos through Expedia. ca and within minutes of confirming the reservation, I found the hotel was MUCH CHEAPER directly on the hotel site. I immediately called Expedia customer service and was told to complete the price guarantee, and that I would be refunded the difference ($500) as well as receive a $50 credit for future travel. If this had worked, it would have been great. My request for the guarantee was DENIED since the hotel site books in USD. It turns out that the Expedia guarantee will only work for another CAD site, i.e. something like hotels. ca. It feels terrible to be paying $500 more, just because I booked through Expedia. ca. My recommendation - forget booking through Expedia and go direct to the hotel, or to an old fashioned travel agent!

As I was purchasing Disney World tickets, their website booted me out. I opened it up again and my ticket was gone. Checked my email, no ticket notice. So, I started over, purchasing the ticket again. Then I discover that they had billed my credit card for two tickets, both only usable the same day at Disney and only by me! I called Customer Service and explained that this was their website's fault and was told Disney tickets were not refundable. They blamed this on Disney though I later found out that was untrue. So, I waited a day, called again and got a different operator, explained that it was their website that had caused this to happened. The agent apologized and refund my credit card. I will never take another chance on booking with Expedia. Not worth it.

Rating on hotel misleading. Dirty, housekeeping did not clean room, change bedding, tried to leave early due to this. Told I could not get refund.. I feel the high rating is wrong, this is how I choose a hotel in an area I'm not familiar with. I would give Magnolia Inns and Suites in Olive Branch, MS 1 star rating.

I made a reservation for air travel with Expedia. Upon reviewing my reservation, I became aware that the date was incorrect! I called and asked them to please fix the date. After being on hold for 3 hours a man named Jim told me that he had refunded "all of my charges" and he would "adjust" the dates. Waited another 45 minutes. He then told me he could put me on a flight for 1000.00, 500.00! More than my original reservation! I said that was unacceptable as it was NO fault of mine!
He then transferred me 40 minutes later to "Daisha" - wow, this person was the antithesis of customer service. She was rude, insulting and incapable of solving the problem. She proceeded to tell me that Jim was in another country and she was not going to refund ANY of my charges! I have since proceeded with my bank. I will warn all consumers NOT to see this site. They are absolute crooks that only focus on charging you an exorbitant for me for NOTHING. When an error occurs, and they always do, they are useless and they find not uphold their stated policies. I will never use them again. BEWARE.

I had an existing flight with Expedia and several days later I called them to assist me in booking a hotel. I was flying into Providenciales and instead of booking a hotel there, they found a hotel in Turks and Caicos while failing to explain that I would have to take an additional flight. I had to cancel. They said the hotel will only charge me 20% of my deposit of $224 when in fact it was really 20% of the total hotel cost. I got hung up on, they lie, just bad business. I'm still fighting for my $224.

I received a flight credit for a cancelled flight. I've tried many times to use that credit (using the same airline) to no avail. Every time I'm stuck on hold and transferred to various agents within Expedia only to be told after 40 minutes wait time that they cannot help me. Why give me a credit in the first place if they have no intention of allowing me to use it? A very dishonest company in my opinion!!!

Months in advance, we booked a hotel room through Expedia for a joint family vacation. Other family members booked directly with the hotel, and phoned six weeks in advance to ensure that all of our reservations were in place and the rooms would be located close to each other. When we arrived, the desk staff couldn't find our reservation. When they did eventually find it, it was booked seven months later than the travel date listed on our confirmation e-mail from Expedia. Fortunately the hotel was not full and we were able to get a room, but it was nowhere near the others. When we called Expedia, we were told that 'this happens all the time.' We have received no follow-up from Expedia to date.

DO NOT BOOK YOUR HOTEL WITH EXPEDIA. I booked a hotel in Panama City charged in US dollars, with a Canadian credit card. The small print said the card was just used to hold the hotel and the hotel would collect the payment in local currency for X amount. I received a charge on my credit card for the full amount. It was free cancellation, however if I were to cancel the reservation the US dollars would be refunded at a much lower exchange rate, than the exorbitantly high rate I was charged. I booked the hotel because my card WOULD NOT be charged. The confirmation said "Will be collected by the hotel in local currency." Expedia answered that that meant they would charge my credit card themselves, that they were holding it as a deposit. It was a cancellable booking.

I paid $7,000 to book a trip through Expedia and as we are getting ready to leave for the trip our flight is canceled. We called them and trying to rebook for the next day was awful. I was on the phone 3 hours with some people from India. I could not understand them. They kept messing with me and trying to put me on a awful flight the next day that would take me on 4 stops to just get to Hawaii. I fought them over my $450 a night hotel room I would not be staying at. Awful, worthless and so stressful. NEVER AGAIN!!

I bought ticket to USA around 1680 USD then I checked my bank statement the day after to find that I was charged twice! I stay without money as my balance at the bank is now negative. I have big problem. My bank make me pay too much charges for the negative balance and the problem that Expedia says that the airlines company don't charge me twice but I deal with Expedia and not with the airlines Company for that I insert my credit cards details in the page of Expedia. Expedia don't answer my messages anymore and told me to contact my financial institution. Where is my money???

They took over $2000 of my money for a trip that I never took. I booked a short trip recently to London UK. When I arrived at the Calgary airport I was notified that there would be a seven-hour delay on our flight to London. This would have cut my trip in half. It was not worth traveling that far, stay a day and then come back again. I called Expedia right away. They suggested that I cancel and that they would make all the necessary phone calls to inform all the companies in my itinerary. I was also told that I would get a full refund and that I can then rebook at a later date. They didn't do anything they promised. They didn't make any of the calls and so I was classified as a NO SHOW at the airport, hotel, shuttle and the activities that I booked.
Expedia refused to take any responsibility and also refuses to give my money back. I've talked to seven people at Expedia in two days with little success. The last person I talked to told me to go through insurance. I made calls to the airport, hotel etc to try and rectify the situation but I am still out the money that I paid for a trip that I never took. I'll NEVER use EXPEDIA again. Their agents kept me on hold for hours, are hard to understand, not helpful and are very unprofessional. I'm so frustrated and unsure of what to do next. I've contacted the travel insurance agency as a last resort. I'm not sure if they can help me. Still in limbo and very dissatisfied!

On the 22nd January 2017, I booked 2 rooms for a stay at Victoria Falls, Zimbabwe. They cost me A$1800. Literally, within 2 minutes, the price of the remaining identical rooms had dropped to A$1200. A reduction of 30%, for the same period of time, in identical rooms. There were 6 rooms still available!!! I wanted 2 of them, so I rang Expedia "customer service", explained the situation, gave them what info they needed and requested that they assist me. Assistance was not forthcoming, but what I got was, delaying tactics, stalling, incompetence, arguments and a lengthy list of different people to discuss the problem with.
The 6 rooms were sold to various people over the next 4 hours. We had missed out and Expedia were able to confirm that they could no longer help (????), as the rooms had gone. I have now been sending texts for over a week now, without satisfaction. They admit the prices dropped, as reported and offered a A$100 token, which could be used on future trips (not this one). As if, I would use them again after this show of incompetence and disinterest. Just to say, be very wary of dealing with this crowd. By the way, their claims of "Price Match" and "Price Guarantee" do not mean a thing. Words only.

Booked hotel room Nov. 11, 2016. Now 1-31-2017 and have received about 2-5 calls on my cell phone per week for 3 months. Have blocked over 25 numbers and calls continue. The calls are about different hotels' offers and specials. Called Expedia and told it's the hotel. Called Best Western and its affiliate and talked to 3 different people. (Best Western was very helpful.) They assured me the hotel never does this and was most likely Expedia. Called Expedia back and get hung up on and/or put on hold. Mix in occasional, non-English-speaking rep that acts like they have never heard of such a thing. DO NOT GIVE OR USE YOUR CELL PHONE NUMBER. Since for most part have to use real cell # when booking flight or hotel I would never use the Expedia website again. How dumb do you have to be as a company?!! If you blow up person's cell phone that is probably best way to chase away the customer.

I booked a hotel with Expedia which I then cancelled within the allotted time and have been waiting two and a half months for a refund. I have received emails confirmation that the refund has been processed which is not true and have made numerous telephone calls and sent numerous emails. Do not use them as their customer service is appalling.

So I booked a reservation through Expedia for 2 nights. Cost me $250. I got my confirmation saying my room is booked and ready. So I'm at the hotel waiting 30 for the reservations to get to the hotel. Nothing. So I checked my itinerary. I couldn't believe it. They cancel my reservation after they took my money off my card!!! And told me they refund it. I had no money and refund takes 5-10 days. I called them for over 5 hours and no help. Me and my family had to sleep in the car. Expedia screwed me.Why would you take my money, then cancel my reservation??? Then tells me to get another room. With what? Smh so pissed. Dont do it... report them.

I just checked into Stay America Palm Springs. A reservation I made through Expedia.ca. Although the hotel itself is not that bad, it is NOT what I expected for the price I paid through Expedia.ca! The price I paid Expedia.ca is MUCH higher than if I had made the reservation directly through the hotel website. Expedia.ca claims to provide a better price, and savings. Blah blah blah. But, evidently THAT is a outright lie. Very disappointed for what I paid for 3 rooms for our travelling family. Will never trust this service again.

Expedia is a rip off. Made reservation but instead of Jan 24, accidentally put Feb 24. Ultimately my fault but but immediately tried to contact them. Kinda hard when they won't list a number. Left my number on their automated system but they never called. Supposedly only 1 room left for the wrong date I reserved 1 month out so should be no problem to put it back out there. There's no one to talk to and they won't respond once they have your money. I will never ever use Expedia again and I suggest you don't either. If anything at all goes wrong you're screwed.

I used Expedia for the last 6 years and the reward does not work, is a scam. I purchased thousands of dollars and I get nothing as rewards. The website is very convenient but you do not get any advantage.

Expedia owns about 10 or more companies you book with so if you don't like Expedia and you choose to go to a different company Expedia is still making a profit in most companies that have these many complaints. There usually is a way to have the company looked into so you may have better service. You just have to find the loophole now these are some of the companies that Expedia owns Travelocity, Orbitz, Hotels.com, Hotwire, Ebookers, Trivago, and more. You would think that this company would find a way to satisfy their customers because they are so big. Apparently they haven't done it yet hopefully they will find a way to have better service.

Poor travel insurance via Expedia. Honestly I never, EVER, complain about poor service or working with a company and being disappointed. But today unfortunately has changed that. My husband and I booked our tickets to Playa de Carmen for a trip next month. We were to be traveling with our 5 month old daughter. After 2 friends who had recently traveled to this area warned us that the Zika virus was still a threat, one friend actually just got home and came down with a terrible flu. She said they were bitten continually and they even had mosquitoes in their room. She was tested yesterday for Zika and is waiting for the results, mind you she is hoping to start her family anytime as well. My husband and I will be trying for our second child soon and felt that the risk was too great to continue with our trip.
I was grateful that I had purchased the 'travel insurance' for each of our tickets. We canceled our flights with Expedia and were issued a full credit voucher with United. We were told we'd have a re-booking fee of $600, BUT that we didn't need to worry because with the purchase of travel insurance the insurance company would issue a full refund for our re-booking fee. Well, today I went to rebook through Expedia (which was honestly an ordeal). He had me give my cc information so he could charge us the $600. Then I was told I'd get an email with our Itinerary. The email has still not shown up. So tomorrow I'll have to call once again to Expedia to get my itinerary sent to me. I called the insurance company immediately after we re-booked to get our 'full refund' and was told that unless one of our travelers was sick at the time of travel, and we could prove they were sick WITH A DOCTORS NOTE, I would then have a claim and could submit it.
Honestly I was left speechless. We are choosing not to travel to that area because of a risk to our health and for someone to tell me that 'unfortunately that isn't something they cover' literally blew me away. I will not be booking with Expedia for a VERY long time and when prompted to purchase their pathetic, restricted, useless travel insurance I would DECLINE!! I will be sharing my story on all of my social media to warn people of the absolute joke it was, not to mention, a waste of time and money to book through Expedia and buy insurance. I plan to dispute the $600 charge and will be submitting a formal complaint with the Consumer Financial Protection Bureau as well as with USA.gov travel complaint department.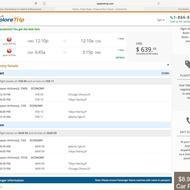 I booked a flight on Expedia and found it cheaper on another site. I was told it had to be booked before price matching. It is the exact same fare class, date, and flights. Then, came up with an excuse that the other place doesn't offer 24 hour refunds. This is unrelated to the flight and a service that Expedia adds. Of course no other place offers that - but that is not what I am trying to match. So... let's think about this. With that being the case, NOTHING WILL EVER be PRICE MATCHED by Expedia. The whole thing is BOGUS!!! The bad thing is that they won't guarantee until booked, but they take over 24 hours to respond so you lose the opportunity to buy it from the other site. BUM DEAL!

I made a reservation for 5 rooms at a hotel in New Orleans (Bourbon Orleans) via Hotels.com (an Expedia company). I cancelled the reservation & made reservation at another hotel. Same weekend. The first reservation disappeared from my account. The new reservation appeared. I called to verify that the cancellation had happened because I did not receive the cancellation notification. I was reassured via customer service that there was no reservation on my account. I checked multiple times during the period of end Oct - early January - no reservation showing for Bourbon Orleans (only for the new reservations).
Now I have been charged for the 5 rooms at Bourbon Orleans. There still is no reference to a booking in my Hotels.com account; I got no prompts before I was due to check in from the hotel or Hotels.com (I did get those prompts for the replacement hotel via Hotels.com). Hotels.com recognizes that the hotel does not show on my account. However, they will not refund me for their mistake. They cancelled on my account, but did not cancel with the hotel. I am contesting the charge with my credit card company, American Express. I have made several calls to Hotels.com. They offered me vouchers (for future reservations!) for less than half of the erroneous charges. The hotel has confirmed that the reservation was through Hotels.com, but they will not reverse the charges. The loss to me is ~$1250.00.

Expedia has been horrible to work with online. They did not have the correct airport codes come up and flights were incorrect and almost made us lose a whole trip. Return flights were booked with confirmation and funds were accepted but they did not have a record of the return flight making us have to call in again and be on the phone for an hour to resolve. A small coupon was issued for the inconvenience and when the coupon was going to be redeemed the website did not process the coupon. We had to call customer service who had to cancel the reservation and create a whole new reservation to apply the coupon and was informed the website was going through "maintenance" which is why the coupon didn't work although this was not disclosed anywhere on the site and we then had to wait for a refund to process. Will never use this company again.

Save your money... Block every site, every country that refers to this shonky rip of travel agency, change your airlines also. They sell the tickets to Expedia to then charge you in US dollars for a booking and travel in Australia. The Emirates airline will not help you with refunds and they will charge you $300 cancellation costs as well. Don't travel the crashing Emirates airlines and the name Expedia. Rings of hell on earth... Keep totally away from Expedia anything.

ConsumerAffairs Research Team
The ConsumerAffairs Research Team believes everyone deserves to make smart decisions. We aim to provide readers with the most up-to-date information available about today's consumer products and services.
Founded in 1996, Expedia is one of the oldest online travel companies. It was created by a team at Microsoft.
Hotel price guarantee: Expedia will not only match lower offers but also give customers $50 for finding cheaper rates.
Expedia+points: Purchases earn travelers points that they can exchange for discounts.
+VIP Access: +VIP Access members get free amenities and services at select hotels.
Visitor guides: Expedia provides visitor guides to help vacationers find interesting things in their destination cities.
Mobile deals: The Expedia mobile app gives users access to exclusive deals.
Best for Domestic, international and budget travelers.
Company Name:

Expedia

Year Founded:

1996

Address:

333 108th Ave.

City:

NE Bellevue

State/Province:

WA

Postal Code:

98004

Country:

United States

Website:

http://www.expedia.com/