Consumer Complaints & Reviews

Expedia customer service terrible. Travel insurance fraudulent. I booked a trip with hotel and flight, bought insurance to cancel for "any reason". When I called to cancel, they said I could cancel the hotel, but could only get a credit for the flight and could only use the flight for the original airline and original person booked and there would be a charge to rebook. After 2 hours on the phone, I finally got package cancelled and a coupon for a future flight.
I booked a future flight and had to change it within 24 hours as it says on the website. What I was told was that it has to be changed within the same day, not 24 hours, so another charge for change after another hour on the phone again with someone that barely speaks English and that I cannot understand due to accent. I am frustrated and disappointed with their customer service and hours on the phone. The insurance is fraud because you cannot cancel for any reason, there will be charges to your account and you cannot reschedule easily.

This the second or third time I have used Expedia and one time before the seat was changed, I thought I made a mistake. Turns out it is not me it's Expedia. When you book a seat they don't guarantee it. So now I have to pay to change my seat on Jetblue because I screwed up and used Expedia. It cost me $80 because the flight is booked and now I have extra leg room which I don't need. I called Expedia and was sent to India to be told it's not them it's the airline - at least I think that's what the person said because her accent was VERY strong and I could barely understand her. Moral of the story DO NOT USE EXPEDIA!!!

I love booking my flights with Expedia. They are, by far, the best site that offers low prices on flights. I dislike Expedia, however, when it comes to hotel booking. I recently booked a two night hotel stay at the Holiday Inn in San Antonio and was very happy with rates Expedia booked me, until I checked into my room. Holiday Inn's customer service was great. The hotel and its condition, on the other hand, were horrible. My son and I were put on the fourth floor and the room smelled really bad as if a wet dog has been living there and the room smelled like pee. The overall condition of the room was just substandard: carpet was rundown, the toilet needs replacing ASAP (had a really bad stain inside the toilet), the bathroom floor was filthy (you would not want to step on it without sandals on), the shower curtain was not long enough to keep the water in, etc. It was just bad.
This was not the first time I had bad experiences with the hotel quality when I booked my stay with Expedia. I booked a room in Omni in downtown Atlanta and the room was just as bad. I have noticed that the rooms I booked with Expedia are substandard and my family and I get the most horrendous rooms just because we booked them through Expedia instead of the hotel's website. I will not book hotel stays with Expedia ever again.

I was booking a trip with the family and booked as a "Guest". Once trip was booked I didn't get any type of email confirmation so the next day I called, gave my email address to confirm trip was booked concerned about being billed for it. They could not find it so I created a account and booked again. When I looked at credit card I noticed I paid for both. After being on the phone for a couple hours and talking many different levels the manager I spoke to said it was my problem because on their end for some reason can see my 1st booked trip (but could not be found prior using same email address). They said their system had emailed me confirmation but after check my mail even the trash and junk I had no such email even for the second trip I booked so that makes it my problem I guess.
I was 1st told they would refund the rooms and rental car which they did but I was also told they could not cancel flights due to being non refundable. And I would get a flight credit that had to be used within 1 year and the same travelers!! I was also told this would cost me $75 each but by the time I got to the manager that fee was now $150!!! This in my mind should have been a total refund as I called to confirm so I would not get doubled booked.
When asked to review the phone call they said they were unable to due to not knowing who the agent was I spoke with and even after giving them the exact time and number I called from they still said they could not track down the call I call. Bull! To make matter worst the heavily fee of a credit is with Expedia in attempt to force me to book with them again... Good luck. Hope they enjoy the extra money I have paid for flight I can't use. I also hope they get more out of our limited savings we had for this trip than my family would have.

I booked lax to Glasgow uk and 9 nights at Hilton with breakfast for 2 for $3558. I booked in July 29th to leave in November. August 12th I got an email from British Airways same trip $3010. Expedia wanted $600 to cancel. I called BA and they don't Charge a cancellation that far out. Hilton doesn't charge a cancellation. I called Expedia and they said they called the airline and they charge $600. I called BA again and NO cancellation fee. Expedia did not call, they just put you on hold and still tell you there is a fee. $500. I feel they robbed me. They refuse to price match. Robbers. I'm booking another trip but never with Expedia.
How do I know I can trust these reviews about Expedia?
572,721 reviews on ConsumerAffairs are verified.
We require contact information to ensure our reviewers are real.
We use intelligent software that helps us maintain the integrity of reviews.
Our moderators read all reviews to verify quality and helpfulness.
For more information about reviews on ConsumerAffairs.com please visit our FAQ.

I book all of our company travel via Expedia and the booking, refund, cancellation process are clearly spelled out. The only issue I have with the site is its poor design for corporate travel. For example, they've made changes over the last few years which makes it difficult to cut and paste flight information into a Word document or email which I can send to my employees. Also, whenever I try to book travel lately for an employee, I get a message that says ("expedia.com is not responding due to a long running script"). If I click on stop the script so I can proceed with the reservation, then the DOB and other information for that Traveler will not appear. Very frustrating and after numerous emails I've received no response from them.

I needed to reschedule my Aug 31 2015 flight from San Francisco to New York since my wife had an medical emergency. The Jet Blue flight was booked through Expedia. I called Expedia and rebooked the flight with a new Jet Blue flight on Sep 6 2015, also through Expedia. Since I was rescheduling my flight I was told that I would be allotted $200 credit, which could only be used by calling for a reservation over the phone. I asked for an email to confirm this but the rep said that was not required. Honestly, this was the least of my concerns at that time. A little under a year, I was planning to do a booking and I called Expedia to use this credit. Two reps and more than an hour later, I was still on hold. After all these years of booking through Expedia, the behavior was surprising, frustrating and unacceptable. Isn't customer experience an aspiration for a service company?

I have been using Expedia for over 10 years and I had been a GOLD customer. Over time their service has become increasingly unacceptable and horrible. After today's experience I will never use them again. I made a change to the return portion of a ticket for my family. They had me on the phone for 2 hours. Then they confirmed that change was made. When I later found was that the agent had me booked in transit for 12 hours instead of the 1.5 hours which was initially what I had booked. I called three people who transferred me from one person to another. Then the native English speaker Billy ** tried to tell me that the mistake was mine and to change to what I had initially wanted I had to pay extra after I had already paid and hung up on me. Billy Boy and Expedia frauds. I am done with you!!! You are absolutely useless.

I called Expedia 5 times to make sure that my flight was not cancelled. They told that it was not cancel, but when I got to the airport I found out that it cancelled. Thanks Expedia. I will never do business with you and I hope you go out business.

37 passengers booked flights through Expedia from JFK to Punta Cana for a wedding 6 months in advance. While standing in line waiting to check luggage at 4:30 am for a 6:10 am flight a man came out and simply said flight is cancelled, no other information available. We were left in another state at an airport with 37 people, some elderly some small children. The wedding and resort were paid for. Our cell phones were dying. We asked Dynamic Airways to use land lines. They refused. We called Expedia. They did not help. It took 14 hours for some passenger, 2 days for others and thousands of dollars to book other flights to get to Punta Cana.
It has been over 3 weeks and Expedia keeps saying refunds would be issued in 7 to 10 days but NO REFUNDS YET. Expedia keeps us on hold for several hours, repeats the same thing on every phone call, and still has not resolved the issue. They are still selling tickets for this airline that according to complaints, does this on a regular basis. We have been scammed and Expedia customer service is horrible. We purchased through Expedia and now they are very hard to deal with and keep promising refunds that never arrive.

Do not book with Expedia. They become a middleman who doesn't care about their customers. Also their support center is in the Philippines. It bothers me that they contract outside the US although that is just my personal feelings. I had to cancel a flight and re-book. A year and 2 months later I'm cleaning out my mail. I had a voucher from a cancellation for 568.40. I thought it was used to re-book. My credit card was recharged and I received a voucher less 200 bucks for cancelling. It went to spam and expired 2 months ago. I was told that their employees are highly trained and stated she was sure I was clearly informed of all this and it's my fault. So I'm out 500 bucks.

I made reservations 1 (one) year in advance for a 2 pm flight out of San Francisco. I received a notice that that flight was cancelled by United and all they had was a 6 am flight out. I called them and said "no this flight wouldn't work". Spoke to 2 different agents Daniel and Alpha??? They kept calling me and all they had to offer was the 6 am flight. The last agent I spoke to was Jessica, same info - 6 am. Why would these people keep calling me back with the same offer? I kept hoping that they would call back with a later flight. What a waste of time and effort. Finally spoke to Giovanni (Sup) and just asked for a refund.

Expedia has the worst service in the world. Will never use them again. They are in the service to deceive customer. Apparently even if you pay extra money to purchase a non stop flight they can go and change the flight with a couple of stop. After being on the phone for over 2 hours Expedia will blame any little policy detail they can to refuse helping you. Next time book throught the Airline. Never again will I use them again.

This company cheats people!!! We found a vacation package that we liked and when we tried to book it, we were told that the price had lowered. As any family, we were excited. However, when we tried to book the package deal, we were unable to complete it. We then called the agent. She quoted the vacation package price, higher than the initial quote we found. She told us to book the current price and screenshot the lower price. We were told that if we fill out their Price Match Guarantee, we would be reimbursed with the difference. As of right now, they have not reimbursed us. I am so disappointed that major companies can treat people this way.

I have booked a hotel with Expedia for stay in Northallerton UK. I have been charged twice for this transaction. Once by the hotel for $59.55 (44.28 British Pounds) and then by Expedia for a much higher amount of $91.59. Once I opened up the case with Expedia, it took several days and several calls and escalations all the way to their executive office to get a response. As per Expedia, their charge was valid and the hotel charges were for 'incidentals'. This is in spite of me providing them a copy of the hotel bill and email from the hotel stating that their charge was for the hotel stay (Bed and included breakfast) and there were no incidental charges. I keep calling Expedia and sending them emails without any response. When I finally did get a hold of a representative they said the matter was closed. How can Expedia charge me twice for the same hotel stay and that to charge me twice of what the hotel charged me?

Booked a multi trip flight with Expedia in July. The day before I was due to leave I tried to check in. One segment came up as not being paid. Called Expedia re this and over the space of the next 8 hours holding on was told 3 times the issue was fixed, then called the carrier and was told it was not. In the end I dumped Expedia and sorted it out myself. However, that is not the reason for the lousy rating... I sent a note to Expedia explaining all of the above in detail and although I got the standard 'we will try to reply in 24 hours' computer generated message I got no reply for 2 weeks. Sent the complaint again and was answered (!) however the answer had nothing to do with the complaint!! Replied to the email received and again no reply. So now I have just come off another 1-hour call with Expedia trying to get them to explain why I was lied to (they didn't like that word) regarding the flight segment and why they have not replied to my complaint.
I must have been speaking Chinese because the constant circular answer bore no resemblance to what I was asking them. When I asked to be passed to somebody who was dealing with the case I was told that the case number was computer generated and had no reference in their system and that although I replied to the email which sent the mail (and got another computer generated response that they would answer in 24 hours) the mail goes to a general mailbox which is not checked. I asked for the direct mail of the customer support manager and was told that they didn't have individual mail addresses! So asked OK how does a customer complain? Answer - "Send an email or speak to us on the phone!!!" (By now I can see the Archimedes spiral spinning away without end.) So Expedia and Mr. Khosrowshahi, what the hell is going on?

I reserved a car online through CarRentals.com, an Expedia owned site, in the interest of full disclosure it was non-refundable. We flew to Baltimore for a connection to LA which was cancelled. Immediately called CarRental.com which was challenging since they make it very difficult to reach a person on the phone, it took three hours to reach someone. I explained the situation, said I was happy to pay for the day. I would not be able to pick up the car at LAX that day as planned but would they hold the reservation and we would pick it up the next day at the same time. They agreed even said they called the mgr. at EZ Rent-a-Car and confirmed it.
We arrived the next day, 50 people were ahead of us and there were not enough cars on the lot or coming anytime soon. People had been waiting for several hours. We would have missed the event we flew to California to attend so took a cab to Enterprise a few blocks away. Got a car and left. I phoned again to CarRentals.com, another few hours ensued, to tell them what had happened. Finally gave up because we could not reach a person. Disputed the charge through American Express and have not gotten any relief.
This was absolutely frustrating. I understood the original terms of our online reservation stated it was a non-refundable reservation however we honored our agreement, CarRentals.com, Expedia, Advantage/E-Z Rent-A-Car companies did not. This was totally unacceptable. This has taught me a lesson. You truly do get what you pay for. Enterprise was triple the price but they actually leased a car for the money you paid them through CarRentals.com, and therefore Expedia, we did not get service or the promised automobile - yet CarRentals.com and the other companies were paid. I would appreciate Expedia reaching out to make this right and making themselves more accessible to their paying travelers when mitigating unforeseen circumstances occur.

Expedia did not clearly state, in pre-purchase fine print, that if a return airline ticket was a no-show on departure, it would cancel the return flight as well. This leave a gap year kid stranded in Europe without a return ticket home. Bad form Expedia and bad from British Airways for not honouring the return ticket.

I am not one to bother with follow up or to voice disgust with a poor experience I generally just take the company off my user list. I just completed my last conversation with an Expedia rep. after an 1 1/2 wait on hold, this was proceeded by a 3 hour hold this afternoon and (wait for it) a 3 1/2 dialogue this am. Purchased a package to Hawaii that included first class airline accommodations for all 4 passengers. In viewing my itinerary, the next day, noticed the upgrade was only on the outbound. Called right away, and eventually, after multiple layers had dialogue with a young lady, who attempted to accommodate us at an additional fee. Because I had already spent a fortune & believed I had purchased a first class tix, I declined.
After reflection we decided we could handle the fee for 2 of the tickets... Now the second phone call! Personable man, who when told the story and after reviewing notes went to work to fix the tickets... Assured me "no problem" as long as there was room. Checked in a couple times (I continued to hold) and then dropped the call. (Every agent repeatedly asks for your number should you be disconnected so they can call you back) He never called back. Now my third call, a young man in the "higher management".
Argumentative from the start, zero empathy for the time/energy I had put into resolving this issue and no accountability for the dropped call, or the necessity of me having to follow up... He then passed me on to a "higher up" who assured me the case had been determined to not be a system error therefore they were responsible for nothing. When asked why I wasn't informed of this at 4 pm (the second phone call) she said there was no note that I had even contacted them... Wow, I was truly stunned. Not only will I not book through Expedia, but I have a vacation property on HomeAway that I will pull from them as well. I have been defending the ridiculous rates they imposed since taking over because of the convenience, but clearly this is not a company I will do business with.

Just use it to look up prices and call the hotels directly. Actually no, use Trivago instead. If you need cancellations/refunds, Expedia can't help, nor do they try. They just pass it off like it's no big deal and they will not "fight" the hotel in the event that you deserve a refund or cancellation. I've been through this with them a few times now. I don't get what service Expedia actually provides. I'm done with them.

I have used Expedia for nearly all my travel for over a decade. I have minor problems that caused annoyances, but never anything as frustrating and awful as my most recent experience. I will never be using them again due to this. I booked a multidestination flight for 2 organized trips in Cambodia and Nepal. This ticket was booked in mid-January. I received a notification in mid-July that one or more of the flights were cancelled and that they needed to know if the changes that were made were acceptable. The changes that were made would have made me miss my travel group in Nepal entirely, had me laying over at a strange airport for 21 hours and getting home late the night before I have to go back to work. I obviously declined the changes. The email then said that I would get a call from someone within 24-48 hours to correct the discrepancies.
Three days pass, no word from Expedia. So I call them, after 90 minutes on the phone, changes were discussed that were less than ideal for me but I made work. I was told that an email confirmation would be sent to me that day and tickets reissued within 48 hours. Two weeks go by, I received no email and nothing stating that tickets had been reissued. I log into my account and the itinerary that is listed makes zero sense (had me going back to Portland the same day I departed and ending my trip in China). I call back to try and clarify what was in their system.
After another 90 minutes, was told a different itinerary that was not what was agreed upon. They then told me that they could not make any further changes since it had already been changed once. She leaves word with a supervisor that I want them changed again, but they need to speak with the airline directly (also awful to deal with. Will NEVER use China Southern Airlines again either), and then promises that I will hear something from someone in the next 48 hours. Four days go by, still no word from Expedia, no email. I call back again and ask to speak directly with a supervisor. Was put on hold for over an hour and then my call got disconnected. No one called me back (they always take your number and promise to call back if the call drops).
So call again, talk with a different supervisor who put me on hold for THREE HOURS, was a complete jerk, not apologetic at all and then basically told me there was nothing he could do. Spoke with another person that same day, another one hour phone call (so that's 5 hours total just in one day) who tells me to call back at 5pm PST so that it would be during business hours for China Southern Airlines (was told they were located in China). I ask for his name and extension. He tells me that they don't have extensions (has to be a lie. Any place that has multiple phone lines has extensions). Call back, again another one hour phone call only to find out that they are indeed on PST so they are now closed. Of course it takes the supervisor that I spoke with over an hour to tell me this. So that's now 6 hours spent on the phone in one day. 9 hours total.
I call back this morning and try to speak directly with the airlines. 30 minutes on hold for them to tell me they are not able to make any changes for me over the phone, I have no choice but to have Expedia do it. So I call them again today, wait on hold with one phone call for THREE and HALF HOURS while the supervisor was doing god knows what. Then, the call gets disconnected. Twenty minutes goes by, no one calls me back. After I was on the phone for over 3 hours, no one calls back. So have no choice but to call AGAIN. Finally get ahold of someone that helps me, but gives me no choice but to pay the $350 to change the flights.
At this point, I am so done I just pay it. He fixes everything and sends me the confirmation in just under an hour. My conclusions: 1. All the other people that I spoke with are incompetent and/or jerks. 2. Expedia hires morons to run their customer service that are either a) so stupid they do not realize how bad of a job they do or b) just don't care (not sure which is worse). So in total, that's nearly 14 hours spent on the phone, $350 more that I had to pay to fix what they messed up and probably 5 years off my life from the stress this has caused. In the end, my flight is fixed for now as long as none of the other flights get cancelled. If I have to go through this again, I may blow an aneurysm. Will never be using Expedia again for anything.

They have no email to contact so you are forced to wait for hours on the phone just to get some simple questions answered. I think they bank on people giving up after that much waiting so that they rarely actually have to help you. I AM NEVER BOOKING WITH THEM AGAIN. You are much better off just booking directly with the airline...

I selected a resort and a room type I wanted (the room type showed available and I needed to pay extra for it, so I did). My itinerary showed I had the upgraded room, then, during the booking of the flights, I lost the room and it gave me a regular room, even though I had paid for the upgraded room. Expedia tried to tell me that is because the room isn't available for that package. That makes no sense because I chose to pay more for the room. I even tried again the next day and it still shows the room is available and it did the same thing to me. Lesson learned: They will tell you that you have something and take it away during the selection process. Be very careful with each step you take... Or don't use Expedia.

I am very disappointed with Expedia. I called them to book a cruise to the eastern Caribbean. They said the date for Oct. 1st was available but I couldn't go that date because of work so they said the next would be the 8th. So I booked it. When we got our invoice it says western Caribbean. So I called them to tell them they booked me the wrong place. They said they would charge me $500 dollars to change the cruise. I lost it. I told them I shouldn't have to pay for their mistake. So they got a manager involved. She heard the recording. Confirmed we said eastern Caribbean. But that it was our fault for not confirming it was for eastern Caribbean. I'm so upset. I will never ever book anything with Expedia again. Beware they are the worst company ever. They lie even though there is a recording.

I booked two rooms in a Motel 6 in Corona Ca. for three weeks thru Expedia. Once we were at the hotel for a week our schedule changed. I went to the hotel clerk told him that we were checking out and I wanted a receipt with the charges to date. He said that he could not do that. We would have to do it thru Expedia. When I called Expedia they said that they would have to call the manager at the hotel. They put me on hold for several minutes then told me that the manager was not in and that they would call me back when they contacted the manager. Then they never called me back. I called two more times and got the same results. They were reading from a script. Each service agent said exactly the same thing. I do not know where their service center is but everyone that I talked to was using English as a second language. I could barely understand most of them.
As it turned out I had to travel back to Corona. So I went to the hotel to get in front of the manager. Guess what. The manager was not there. I demanded to see the manager. I told them that I was not leaving until I saw him. While I waited I called Expedia and went thru the same routine. They had to call the hotel, which they did but the manager was not in.
I waited over an hour for the manager to finally showed up. As it turned out Expedia never cancelled our rooms. Even though I had called them 3 times. The manager told me that the hotel had no control over the account. Everything had to be done thru Expedia. So I called Expedia again. They gave me exactly the same story only when it got to the part when they had to call the manager I said, "I am standing in front of the manager so we are going to get this straightened out right now." The agent was surprised but then reverted to the script, "We have to call the hotel manager." I said, "OK I am standing here looking at him." They put me on hold. When they called the hotel the manager answered. He was upset because the rooms had not been cancelled by Expedia and were still under my name a week later.
When the agent came back on the line with me he said that this would have to be passed on to a supervisor. The supervisor said that they would refund the money from the time I cancelled. But it still was not simple. The refund is in 8 different amounts. Why??? I have not seen a credit to my account yet. It could take a few days. The saga may not be over. The whole thing is a scam. If I had not gone to the hotel and got in front of the manager, Expedia would still be sitting on $2,400 dollars. How many people are they doing this to?

Expedia owns trivago so I called Expedia and asked why they are charging 95 for a hotel when trivago is charging 60. They told me "No problem. I will walk you through the price guarantee" so I booked over the phone with Expedia. He walked me through the form to fill out to get the difference back and I got an email from Expedia saying I cannot get the difference because it's trivago. Then I went to Expedia and found their price went down and they will not honor that. And since he told me I had by midnight that night to cancel I went to cancel and they lied on that too, said I had to pay one night's fee plus a penalty. Never ever again. They are absolute crooks. I am a travel agent and will never go through them for hotels for my customers ever!!!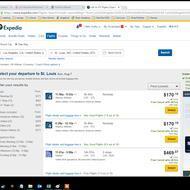 I went to Expedia's website to book a flight last minute flight (next day). To my surprise there are two red eye flights for $170.10. Upcoming "selecting" these flights, the price jumps to $900+. I work on e-com, so I understand "mistakes" happen. I go back to the select a flight page and lo and behold the same price for two flights! Assuming this is a problem, I call customer service. Customer service explains that the system didn't update. I have the customer service agent try and book the flight. The customer service agent gets the same result.
I then ask to speak with someone who can make this right. I'm transferred to "Carlo" who attempts to explain that the prices are updated in real time. I explain that if it's updated in real time, then I should see the real time price before I hit "select." At this point it's been 40M and the website is still doing the same thing! He explains there is nothing he can do. He precedes to sell me on the much higher flight. I tell him it's bait and switch and he says it isn't because the website gives an error. Even as I write this, the website still has the same situation going on, and it's been well over an hour. I have a video to back up my claim as well.

Do not use for official occasions. If you need a proper receipt (most probably do if you work in a proper company) to get your flights/hotel costs etc to be reimbursed as expenses, avoid Expedia. They only issue invoices and no receipts. And of course, any educated person knows the difference between an invoice and a receipt. I mean, you need to go through customer services if you even want an invoice. Why don't they have an easy "print receipt" or "print invoice" button on their webpage/my accounts/itinerary page? It's so stupid and those who take care of their oh beloved customers are just as thick too.
I asked for a "receipt" over the phone in the UK (I was in the UK and got a flight to fly out of the UK) and got a PDF invoice. I realised this and called Expedia JP (my destination) and oh they had no idea how Expedia UK works; hell I knew better than those poor lads in Expedia JP about how the UK website work. What a way to get paid. So, my only option was to email UK since I didn't want to pay international call fees for their mistake (they sent me an invoice like I said over a receipt).
And so I did and Hahahaha holy, I am actually laughing at what followed. This clueless chap replied and this is the series of me and his responses over 3 days (which was a total waste). Me: I asked for a receipt and you sent an invoice. Exp: Our records show we already sent you a receipt. Me: No, you nitwit, it was an invoice like I said so get me my receipt. Exp: We are experiencing internal errors now so I will type it out on email and send it to you. Me: I don't care about your error **, that's your problem so you get it fixed like a professional and not a 3rd grader and get me a proper one. You think a company with the right mind would reimburse 800GBP for some lame email-written receipt even a kid could fake? Exp: Well, okay, here's your proper receipt *sends pdf invoice. Me: Holy tapdancing Christ, I said I already have that stupid invoice you sent and can you not read English? Here, read this *sends link explaining difference in invoice and receipt. Exp: Well, we do not send receipts. You just have to take this.
Well, if you have an average IQ or higher, this sequence of tedious emails could have been ended by sending me the last email first. What was all the "internal error" ** as if without it, they can generate receipts? "We do not send receipts." THIS should've come first so I can take my next step. Not to mention the fact that they sent me the second invoice, I was wondering if I was communicating with a Chimp that could use a thesaurus. I contacted them via facebook message as well and the person who responded was more or less just as time-wasting and a bumbling numb-skull. They'll definitely be spending the rest of their life sitting behind a computer or a phone answering poor customers who had to contact them only to learn they're basically idiots.
If you don't agree that they're irrefutably idiots after reading their responses above, oh you do the story telling, I'm all ears for examples that are worse. I mean what sort of business in the right mind does not issue receipts to its customers? I'll tell you who, Expedia. They should be banned from doing business really, employing more and more idiots every year. A friend of mine of the same age will be working for Expedia and oh she's proud, but hey, she studied something like cultural history or something like that and basically partied more than drowning in textbooks. And it's not like she's an utter genius so yeah, you get the type of people who'll be answering your desperate emails and calls. The website's a complete design flaw and clearly a brainless ** of a ** came up with it and slightly intelligent group of chimps will be taking care of you.
So, let me summarise my miserable experience with these half-eyed **. Those with the brain of a fly who do not know the between invoice and receipts shall be at your assistance. The same bunch of pure stupidity will further fail to read the contents of your email (like, I already said there's a difference between the two and I said I already have an invoice which isn't what I want). Again, that load of monstrous idiots will waste your time by trying to act like they can do something they can't ("internal error internal error" lol). Your itinerary page won't have anything useful. It's a (international lmao) travelling agent and once you cross borders, one has no clue how the other works so haha they won't do the slightest to help you. Nope. Annoyance. If you're calling them internationally, it's on your bill guys :) Have fun paying for their incompetence while they'll sniff you down and get pissed IF YOU don't pay for what you should. What morons.
And relax, you probably won't get what you actually need but hey cheer up! They have a torrential rain of "we're very sorry"s coming just for you! Worst. Unprofessional. Idiotic. Inconsiderate. Moronic. Nitwits. Ever. Avoid unless actively looking for stress.

Expedia had a great package deal. Locked on the deal and continue to booking. Unfortunately Expedia don't take two cards option online and had to call it in. Well I called it in and they found a greater deal. I just had to do two separate transaction. Well one transaction went through and when they went to process mine card, they stated! "Oh no, there's an error. The price change and its $80 more than we offered." So I said no! Of course they try to make me take it and I refuse!
My mom who is an elderly lady got charge $655 and with no problem they cancel her transaction, but told her afterwards that it will take 3-5 days before she sees the money again in her account! What, she need that money to pay for her trip. She can't wait for 5 days. They try to shut me with a $50 credit line for a hotel! Are they kidding me?! I ask to speak to the supervisor and he had a language barrier and was rude! His explanation was "I'm sorry, it's not Expedia fault!!!" No remorse about it that my mom was an elderly lady! And was a JERK! When I ask to speak to the person above his supervision (Manager which I knew he would leave me on hold) I was on hold almost an hour and no one took me off hold! Never again! Sorry for any incorrect grammar! FURIOUS!!!

We booked a rental car through Expedia to find that they don't really work with vendors. The car was not available and we were forced to get another reservation. We also made the mistake of getting Expedia rental insurance when we made the original reservation. Expedia refused to refund our money even though we cancelled the trip since we had to make another reservation. I waited 40 minutes on hold to find this out. It would have been better to use either the direct rental car company or another trip site. Worst experience ever!!! Do not use Expedia.

ConsumerAffairs Research Team
The ConsumerAffairs Research Team believes everyone deserves to make smart decisions. We aim to provide readers with the most up-to-date information available about today's consumer products and services.
Founded in 1996, Expedia is one of the oldest online travel companies. It was created by a team at Microsoft.
Hotel price guarantee: Expedia will not only match lower offers but also give customers $50 for finding cheaper rates.
Expedia+points: Purchases earn travelers points that they can exchange for discounts.
+VIP Access: +VIP Access members get free amenities and services at select hotels.
Visitor guides: Expedia provides visitor guides to help vacationers find interesting things in their destination cities.
Mobile deals: The Expedia mobile app gives users access to exclusive deals.
Best for Domestic, international and budget travelers.
Basic Information
Company Name:

Expedia

Address

333 108th Ave.
NE Bellevue, WA 98004
United States

Year Founded:

1996

Website:

http://www.expedia.com/