Consumer Complaints & Reviews

I doubt that I have written more than 2 reviews in my whole life, but I need to vent about this one! When booking my hotel, I clicked on a double room (two queen beds) that said it could accommodate 4 guests, which was perfect for my family of four. However, I was shocked to find an extra $40 charge for an "extra guest" included in my price summary after I booked. When I called to have the charge removed, the customer service rep said the price was for 2 people (not stated anywhere) even though it "could" sleep four. I have never heard of something so ridiculous in my life! It clearly states the room sleeps four and that is the number of guests that I inputted!!! They refused to refund the $40... and I refuse to ever use Expedia again.

I paid $300 for a $98 room! Thought we were booking a nice room but it was an econolodge room and there was construction everywhere and it was hard to navigate and the place was a mess. I think we maybe were supposed to get a room in another wing because it is $98 a night directly from the hotel! Never again.

My sister and I went on a trip to Cancun, Mexico this summer. We booked our hotel + activities through Expedia. On our second day, we were supped to get on a bus and tour all day; we were supped to visit ancient sites, go on a beach, eat buffet, and do all sorts of fun stuffs until 5 P.M. (or we thought). The bus was supposed come pick us up at 7 A.M. so we got up at 5:30 A.M. got dressed, washed, and had a breakfast. To me, being on time is late so we went down to the lobby at 6:45 A.M. to wait for the bus. The bus didn't come until 7:15 A.M. I knew it was our bus because it had "Expedia" written on it, and all of the other bus that came before (on time at 7) wasn't Expedia bus. This was the only "Expedia" bus.
A guy came out of the bus and we showed him our voucher. He looked at the list and told us that our names are not on it. We pointed the day & time on our voucher and told him we are supposed to get on the bus, but he wouldn't let us. The bus left without us and we called the company to figure out what was going on. My sister talked on the phone for 2 hours, and they told us that the list was not RENEWED...
They kept transferring us over on the phone and by the time we got off the phone it was 9:30 A.M. They said, since we paid for the activity, we can still make it to the location on our own and continue the tour. It's like 2-3 hour drive and taxi drivers were asking $200 (US) PER person. What the hell? It would cost just as much as the activities themselves so that wasn't even an option. We called them again to just ask for the refund. They said they would give us refund since it's their fault.
It's been over a month, but no word from them. Apart from still not getting the refund they've promised, it ruined our day because we had no idea what to do. It's just numerous hotels that are nearby. We just wasted our day by simply sitting on the beach behind our hotel because of Expedia. It was our first time using Expedia, and we will never use it again.

I rarely write a review, and if I do, it's usually a positive one. Keep in mind this is not my first bad experience with Expedia, but I can tell you, it will be my last! I was on vacation and booked a hotel that was listed at a certain price. As I was checking out, all of a sudden the advertised price jumped up to an amount I wouldn't pay for a hotel.
After spending 30 minutes on my phone, trying to scan their website for a telephone number, I finally found a way to call. I called, and quickly told them they need to cancel this reservation, as I just paid for something a lot more than their falsely advertised price. I was on the phone with Expedia's customer service for almost an hour, when I decided to drive down to the hotel, and speak with the staff myself. I got there and the owner/manager was on the phone with them, as well, trying to clear the matter up. Well, the owner told me he would honor the price they told me, and helped me to get a room.
When the Expedia customer service agent came back on the phone, he said he would credit the charge back (it would take 5 days to appear), and give me a $100 credit for future use. Although annoyed, I was happy with the credit. I was thinking maybe, even after other bad experiences there'd be hope for me to use Expedia again (let's face it, they can have great prices, when they're being honest).
So, I book a different hotel through Expedia the next day (on my dime, no credit yet). The website said 2 miles away from the airport. When I arrive there, I mapped it out, and it was 18 miles to the airport. I took a picture of it, to save for documentation. That is a big difference near a city, and can be the difference of being late (with traffic) for a flight. The front of the hotel was vacant, and I had to drive to the side of the building to find the new front. I mean this was something out of a horror movie. The room itself was clean and okay, though. Okay, again I'll get over this.
Then 12 days later, and the charge is still on my credit card, and no $100 account credit. I called Expedia customer service once again, and guess what, no notes were even on the account to credit my card back! Are you kidding me? Another 45 minutes on the phone, and I supposedly will get the credit in 5 days again. Apparently, the $100 credit will be visible when I check out in the future (sounds fishy to me). Needless to say, that $100 sounds good, and if something is free with the $100 I may use it; however, using Expedia again beyond that is never happening! After reading some of these reviews, and read similar experiences, I realized it's not computer errors (or computer glitches), it's Expedia most likely getting away with scamming people. You may have not had a bad experience yet, but when you do, you'll understand!

HotelsOne is a scam that fronts as a genuine hotel website and has managed to show above the hotel site on a web search. It then books at higher rate than the hotel through Expedia. It provides zero address or contact mechanism. Expedia should not take bookings through this scam. Unfortunately there is no email mechanism to alert Expedia or post an alert to other potential victims. It would be easier to deny the credit card charge if they (Expedia) ran a complaints website but they are as impossible to contact as HotelsOne.
How do I know I can trust these reviews about Expedia?
554,286 reviews on ConsumerAffairs are verified.
We require contact information to ensure our reviewers are real.
We use intelligent software that helps us maintain the integrity of reviews.
Our moderators read all reviews to verify quality and helpfulness.
For more information about reviews on ConsumerAffairs.com please visit our FAQ.

Am really disappointed from your bad service I am experiencing now. I am on hold with your agent for more than 2 hours now in Philippine contact centre with no benefit. He told me your flight is unrefundable while Egypt air itself confirmed it's refundable. This really too much. I paid so far around $200 for phone calls and roaming charges and yet my flight to be cancelled. You need to escalate this to your top management and to feel our disappointed and dissatisfaction.

Expedia sold me insurance for flights in case you need to cancel for any reason. I had 3 tickets at $65 each. I know that the airlines have their policies which include fees for cancellations and, in this case United at $200 per ticket. I am a member, I know their policies. I bought the insurance because I read very carefully that you can cancel for any reason you still receive a refund or credit. Things did happen and I had to cancel. When I called EXPEDIA they said "Yes we won't charge you anything however, the airlines will. You will receive a credit from us, after they do so." That unfortunately was not written anywhere. So, the story is they won't charge you a penny for cancellation and will credit you but each airlines WILL according to their policies charge you a lot. So I paid money to Expedia for a service they really don't offer. Lesson learned. Do not trust Expedia.

I was a long time user of Expedia and had used their website at many times for the past 10 years. When I tried to make a reservation (non-refundable) for one-night stay in Montreal through Expedia their website kept freezing up on me. It took several "restarts" to get to do the booking before I was able to complete the process. After the booking was completed, I received my confirmation through email and was surprised to see it was booked for a week later. (I booked it for July 30th and somehow it jumped to Aug. 6th). I know I had entered the correct date. This is the second time I had this issue with Expedia. Last Fall I booked a room in Halifax and the date got changed on me for a non-refundable room. When I explained the situation to Expedia at that time, they were willing to change the dates without penalty and I was pleased. This time I was not so lucky.
I spent about 45 minutes on the phone speaking with at least 2 representatives explaining the situation before being told to call back the next morning to speak with a supervisor. When I call back the next morning, I had to re-explain the situation before being put on hold for a little over an hour. I was transferred at least 3X before I spoke with the supervisor. After everything was said and done, I was told there is nothing they can do. I was told the website was correct and that the booking process was "done correctly" because I "had entered the wrong dates" myself—which was not true.
I was flabbergasted by their implication that I was not telling the truth. They evaded my question when I asked them if they saying that they don't believe me. When I reminded them that I was their long-term customer and had faithfully used their website hundreds of times they were not moved. I also told them that I had the same issue with the booking date error last Fall and the manager had been very willing to help me out; and this time (for the same situation) they refused to change the date or give me a refund. I didn't feel they cared about their loyal customers. Sometimes I wondered if I might have had a better result with a different manager or supervisor on duty.

After a few days of research I found the price $202 per a night for a hotel. The hotel information popped up first and mentioned that breakfast was included. When I called the representative, within 5 minutes the price jumped to $214. Last year the same trick happened too, but I disregarded it. Then the agent claimed that the price was $235 on her Internet site in India. According to the site I was supposed to get 10 percent discount as a member. The agent claimed again that $235 included the discount and even my 20000 points accumulated earlier. The breakfast issue was denied completely. It took my husband and me more than an hour explaining and waiting for the supervisor's involvement (the supervisor's name was Morris **). After all we cited the information published by the company!!! The company agents were like monkeys denying everything that was written. What reputable company would allow that kind of discrepancy to exist?

There needs to be a LOWER SCORE than one star... they don't deserve that! We have had the most horrible experience with Expedia. We made reservations to Saudi Arabia with no problem, had to call them to change the return "departure" city... it took two hours, but ok, no cost change. We received an email stating that the return flights have been cancelled... (5 days before time to return.) The passengers are already in Saudi Arabia... with no way to return!!! After being on the phone with Expedia for nearly 4 hours we ended up having to purchase tickets directly from Turkish Airlines to get the guys home. We have been on the phone with Expedia for nearly 8 hours since then trying to get a refund. Always transferring us to a "supervisor" and keeping us on hold! NEVER USE THIS COMPANY.

I booked a standard room on Expedia a year ago. I got one of the worst room and had a terrible experience at the motel. Lewis and Clark Motel - 824 W. Main St., Bozeman, MT 59715. Got one of the worst rooms: terrible choking smell, old furniture, old TV and air condition and old wall paper, bathroom, fan can't work properly, everything old, dirty curtains...
When I wanted a switch, was asked to add $20 on Tuesday for a room with only flat TV and updated air condition. However, they didn't let us pay and we stayed in a room with same smell but flat TV. But when we wanted to stay in the same room on our way back (We booked two days a year ago), I was first told that the room was not available because all rooms would be taken on Friday, then I was asked to add $99 if we want to stay in the same room because it's a Friday (same old room with only flat TV and a better air condition).
The owner called us very late to discuss the issue although I have told her that we woke up at 2am to catch the flight and we have two children with us. She didn't care about how tired we were or how late it was or I was sick. She gave us three options: 1) pay extra $99 for the same room we stayed with only a flat TV and better air condition or 2) we stay in the room that we were given at first or another worst room on the second floor 3) cancel the reservation. We feel it's unreasonable to ask us to pay extra $99 on Friday for the same room that we were asked to pay extra $20 on Tuesday or cancel our reservation.
We ended up with no choice but stay in the room that we were given and we didn't want, the smoky, stinky old disgusting looking room with dirty curtains that can't close properly, dysfunctional fan in the bathroom, old creepy wall paper and furniture. Although I told the owner that I have asthma and couldn't stand the smoky choking smell of the room, she insisted us staying in the room that we didn't want or another room which is even worse.
I don't know if it's the food or I was very sick after one night in the room, I had diarrhea three times after I had their breakfast. It was a horrifying experience at this motel, so far, the worst of all the motel that I have stayed. When we checked in on Friday, we happened to see other guests paid $139 for a room with more updates (better than the one I was asked to pay $199) and lots of room were vacant when we checked in. I tried to talk to the front desk for a room change. She refused me abruptly. She said the owner left a message to the front desk that we could only choose one of the two worst rooms.

The night before my trip I discovered Expedia accidentally cancelled my flight from Portland, OR to Vancouver BC (for a connecting flight to London). After five hours on the phone, being on hold for 45 minutes at a time they told me they were responsible but could not book me on an alternative flight. I booked this myself and had to insist for a refund as one was not automatically offered. However, I have still been charged for the original flight that was accidentally cancelled. My email to them has been ignored and my letter to head office has been returned to me unopened.

I booked an Vacation package with Expedia 7/6/16 Itinerary No.: **. The package promised $400 in 'Resort Credits'. When I called to verify what a 'Resort Credit' was, I was told on arrival you will receive $400 in vouchers. Satisfied I booked the package. Later that evening while reviewing the confirmation email my wife noticed the Vouchers were not mentioned. We called back and were informed that we misunderstood and that the 'Resort Credit' was really a discount on the room rate. We immediately requested a cancellation. We were told we should see the refund in about 7 days.
Two weeks later I noticed the airfare portion was not refunded. I called customer service 7/18/16 4:00 pm and after answering several questions was told the original reimbursement was not entered properly and instead of me waiting online 40 minutes for a 'supervisor' to correct it, they took my number and promised to call back. Two hours later after not receiving a phone call I called again. This time I was told it takes 'my bank' two billing cycles to show a refund. I stated, 'You don't know where I bank so how can you tell me my bank's policy?' I was then put on hold to await a supervisor. An hour later a supervisor came online and told me to be patient while they worked on it and then promptly hung up on me. DO NOT DO BUSINESS WITH THIS COMPANY!!

I bought a round trip ticket for my mother's trip from China, Guangzhou to San Francisco, CA from Feb, 16 to Jul, 16 in Expedia. When my mother got to the airport and tried to check in airline in Guangzhou, China, the China Southern airline could not find my mother's name on flight, and then refused my mother to check in. I talked to Expedia agent for over two hours to fix the problem. The agent said my round trip was cancelled with some reason and helped my mother checked in the last minutes.
In about two weeks before my mother went back to China, I talked to one of the Expedia agents because I received an email from Expedia about my mother's ticket cancellation. They said they changed the time and the flight was changing from 19th to 15th without noticing me. I told them to change my ticket from 15th to 17th because of my mother's availability, a female agent helped me change the flight time and let me waiting in line for over one hour. But she was using locale language talking to other people with even loud laughing. Then, they said they had done with booking. I trusted them. Even before one week of the flight, I called Expedia and verified the ticket.
But at the night of flying from San Francisco to Guangzhou, the China Southern Airline could not find my mother's name on the flight. They said the ticket is booked but the seat was not available. I called Expedia and they did nothing just asking me to question airline's employee. I booked the ticket from Expedia not from airline, I have no responsibility to question airline. After an hour, the agent hanged up the line. My mother was unable to check that night in so we went home.
Second day morning, I called Expedia again about the experience of last night, they helped contact airline and said we should pay extra 200 dollars for data and seat. Then they just told me that we should contact to airline directly. The airline agent told me the same thing that I should pay extra 200 dollars for booking a seat. Because I needed restarting the whole process (verifying and checking) if I call Expedia agent again because the same agent was different every time calling, so I made a payment and booked the seat. I am really upset about what Expedia has done with my flight (I trusted Expedia before). they are very neglectful and insincere to customers. They are also very unreliable and unwilling to take ownership. I won't use their service again. Please careful when you are booking international ticket in Expedia.

I would like to begin by saying booking travel with Expedia online was easy and good. That is until you have to change something. I purchased the insurance because I knew my trip might have to change because of work changes. I booked a trip, had some changes and ended up accidentally booking a second trip. I was charged for two trips the same day and could not get a refund or voucher for a different trip for reimbursement. Then next trip I purchased insurance for I had to cancel because of work changes. They would not refund or give vouchers for my next trip. I was on the phone with them trying to work it out for 3 hours each time I called. They have a great service if you do not make changes. Changes cost $200.00 and the ticket cost $187.74. You end up eating the cost of the ticket. Two trips cost me $512.40 out of pocket and non refundable or vouchered. I will not be using them again for business trips I make each month.

Expedia took $164.66 but when we arrived at the room at 1 a.m. there was no vacancy so I spent hours until the morning on the phone w/ customer service with no help. My family and I had to spend the night in the car and drive home from our weekend early because we had no place to stay. However, they had no problem debiting my account for the money.

I had the worst experience I've ever had with this business. My first name was misspelled on my ticket and they would not change it. They said the airline needed to approve/make the change who in turn said Expedia needed to make the change both of which did not. I was put on hold TWICE and held for over an hour with customer service who then dumped my call. We BOTH missed our flights and then were told we wouldn't be bumped to another or reimbursed. This felt as though we were taken advantage of criminally. My girlfriend was in tears and I was shaking with anger. This is beyond unacceptable and needs to be made right or I will do everything in power to shame this company for as long as it takes for them to do the right thing. Disgusted and hurt.

When booking the Hawaiian travel package, was the start of a long problem. Their system locked up, charged me and never acknowledged my booking. Finally after hours on hold being passed from person to person my booking was found. I never received any confirmation email. I kept calling to make sure everything was in place (I booked this family vacation 4 months in advance). My husband said to change our hotel room to something closer to the airport (we have a child with multiple disabilities). He was afraid she would not be able to handle the additional 2 hour travel.
So I called Expedia. This one person actually helped after being on hold for 45 minutes, transferred 2x. Got a confirmation email (the first one ever from Expedia). I found another hotel the Sheraton through Expedia. Was hoping to just transfer the funds from one booking to the other. Didn't happen. Booked 2 excursions. They sent me an email saying they needed my hotel information so we can be picked up. I replied. 3 days went by I got call saying they have been try to get ahold of me. I told the lady I replied 3 days ago. Her response: "ugh, I didn't get it.". Finally got that straight.
Travel day came. We caught our flight. Prior to this I emailed a request regarding info on a accessible hotel room. The original booking to the 2nd hotel included 2 double beds, mountain view. I paid $1,645.00 for 7 nights. I called the hotel to ask about the room. What was it like, what did it have, so I could pack accordingly. Were there any extra fees attached to what I had already paid. They said "no fees". The room has accessible bathroom, double beds, coffee maker, refrigerator. Sounds great. I get here to the Sheraton. Not at all what I got. They said I called and changed my room from what I described to an accessible room with 1 bed, 1 twin roll away. There are 4 of us??? Why would I agree to that paying all that money?
Of course I was upset. I never called agreeing to that. I never received an email from Expedia saying this is what would happen. She said they had no other rooms. They can bring us pillows and blankets to sleep on the floor. I was so upset. I called Expedia. A female representative answers. I was trying to explain what was happening, I am upset, my kids are tired. She just kept laughing. I told how rude she was, didn't find it amusing. I asked to speak with a supervisor.
After being on hold some woman claiming to be a supervisor listened to what I said. Her response was, "well you booked it on your own. There is nothing we can do. Sorry for your inconvenience." I booked it through Expedia. The girl at the Sheraton called her supervisor. He was rude. They told us "we one room with a double. We might have to charge you extra??" "Why" my husband said. "We paid for double to begin with. We weren't getting a refund on the one bed, room?" So here we are in the old double bed, room a view of a partial old tennis court. The Expedia call got disconnected. They never called me back.

Expedia has the worst customer service ever!!! If you ever have to change anything on your itinerary forget it!!! It takes numerous calls and days to get through, you get switched from person to person. Then even if you have insurance they will charge you $200 and then they say they will reimburse you $200 5 days later. Total scam. Not worth the few pennies you save for the headache after. Book yourself!!!

Booked a flight via Expedia and needed to reschedule the flight. Waited 10 minutes to speak with an agent... After speaking to an agent and telling them the new date etc, they said they need their supervisor to complete the rescheduling. I was on hold for 45 minutes, then an agent answered and asked how they can help me. Apparently I got disconnected on the first call and reconnected me with a NEW agent. I had to start all over again... Told the agent I need to reschedule (blah blah blah), they put me on hold again for 45 minutes to speak to their supervisor. I was able to reschedule my flight but total time on phone (talking to agents/supervisor plus hold time) was 2 freakin' hours! After this trip, I'm deleting my Expedia account. I'm done with them!!!

No refund after booking cancelled - I made a booking under the itenrary# **. It was mentioned it is a free cancellation. When the flight is cancelled no email sent to me. I sent a lot of emails and nobody responded. I spent 120$ to call from KSA to US and they were just useless calls. Most of it was on hold and the rest was just to connect me from operator to another.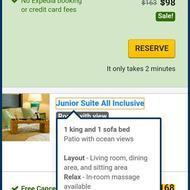 So this was my first time using Expedia. I used it to book a special birthday trip to Dominican Republic for my significant other. It was his first trip out of the country so I relied on a renowned company to make it pleasant. What was of utmost importance was a view of the ocean from the bedroom. We live inland in USA, and since we are on an island, it would be important to see the ocean. Expedia advertised the room of choice as a "Junior Suite with a Patio with Ocean Views." That was a BOLD face lie. After immediately arriving at the resort and speaking with concierge, asking them to switch me to an ocean view room as requested and paid for, I was surprisingly told that that resort does not offer a single ocean view room! Now, we took off from work, flew almost 1500 mi to a different island as a special birthday gift, for an ocean view room.
We are reasonable people, so after being deceived and lied to about one of the single most important features, we wanted to be in a place where this was truly offered. We called them and that's where the true nightmare began. We spent almost 4 hours being transferred to 4 different representatives and finally a manager, only to be put on hold and then later hung up on. They verified with concierge that those rooms did not exist, then verified that the website offered a feature that was not offered but yet they completely refused to work with us. Their initial offer was $50. After spending almost $2000 with the major bulk of that being the resort that we were deceived into getting, $50 was their offer. It was comical.
We truly expected professionalism at mere minimum from this manager, but he proved to be the very worst. He put us on hold for 30 minutes to "verify that the website in fact said what we claimed and we sat on hold, expecting nothing but good intentions. After 30 mins, we heard a click and the call ended. We were defeated. We were in a completely different country, with no transportation, no communication besides what was offered at the public front desk, so all we could do was make the most of it. My significant other is a manager at Enterprise Rental and deals with a lot of Expedia rentals. He has pledged to let every customer who rents through Expedia to never use their service. I too will never again deal with such a dishonest company and anyone that I can warn to stay away will do good for my conscience.

I have been a long time Expedia customer and have been mostly happy with the experience. Lately I have noticed that the advertised rates look good when searching but when I go to pay the rate disappears and I get the crossed out rate. I assumed it was a glitch in the system and after several days it would clear up but it just continued. This happened for every room in every hotel I tried to book. I finally resorted to calling customer service. The agent was very friendly and assured me that I would get the rate that was showing online but I would first have to book with him, pay the higher price and then submit a claim under Expedia's "price guarantee" application. He assured me not to worry because the conversation was being recorded and they could always pull it up and hear what he had promised.
I believed him and booked the room. I then filed the claim just as he directed. When I heard back that they would not accept it I was surprised. They gave a very lame reason about the screen shot and taxes. But I had taken several screenshots which showed the issue was not tax related. So I replied and sent all 6 screenshots that clearly showed the advertised price and also told them to listen to the recording. They turned me down again and now they have lost me forever. I think this is actually a scam and I am guessing that many people don't even notice it. Such a bad business practice but from what I have read they are seriously going down hill on this site and the competition is steep. I will take all my business elsewhere and stop recommending them to friends.

I made a nonrefundable hotel reservation through Expedia. When I entered my check in date everything was fine. When I entered my check out date the website jumped ahead several days. I fixed it twice, then checked to see if multiple nights were required to reserve. Multiple nights were not necessary, I fixed the check out date and entered my reservation. On my confirmation Expedia booked me for 3 nonrefundable nights when I only wanted 1. Within 4 minutes I was on the phone with an Expedia representative. I explained the situation, waited a while on hold and when he returned I was told that he had spoken to a manager and then ASSURED me that this would be taken care of and that they would send me a $50 certificate for my trouble. Very, very nice. Easy.
Two days later I get an email that the hotel is holding me to the reservation (not their fault). I email Expedia to explain, they tell me to call 1-800-EXPEDIA. I call, request a supervisor, get put on hold for 10 minutes, then get disconnected. I call back, request a supervisor and the representative says, "IF WE GET DISCONNECTED, IS THIS THE NUMBER YOU WOULD LIKE US TO CALL YOU BACK ON?" After 24 minutes of holding, I hang up. Within a minute, the representative calls me back. I ask her to have a supervisor call me and again, I email Expedia to explain and ask for a supervisor to call. NO JOKE, I get an email back saying that supervisors cannot make outgoing calls! Really? Representatives can make outgoing calls, but supervisors cannot? I requested a direct number to speak to a supervisor. No response. No help. They tell me to call the 800 number.
Expedia does not want to stand behind their product. They will not admit to a computer error. They will not stand behind their original promise to take care of the situation, and they are making no attempt to rectify the situation. I always did all of my travel bookings with Expedia. The site is easy to use and fortunately never needed help from them. Now that I needed help with THEIR mistake, they are unwilling to help. It is a scary world right now. You may need to change plans. It would be nice to know that Expedia has your back. If you are away, are you going to want to spend 25 minutes on your cellphone trying to get through to Expedia?
By the way, there have been 17 emails back and forth, most of Expedia's are auto generated from telling me how much they value me and to call the 800 number. Are you going to want empty promises? Before you book, do your homework and book with a company that provides excellent customer service. PS- They never sent the $50 certificate either... big surprise!

Incorrect name spelling which resulted in lost flights. Incorrect spelling of E-mail address and hence no confirmation. Had to re book. Result my wife flies from Glasgow and I fly from Aberdeen. Staffed with operators with poor command of spoken English. Held on the phone for excessive amounts of time and I hate to think what our phone bill will be. Altogether a very poor experience which has cast a shadow on what was to be an enjoyable few days away. This company should not be trading. Never ever again.

Trip ID # **. I DO NOT RECOMMEND USING THIS WEBSITE! I booked my flights through Expedia to Thailand. I booked a 1.05 am flight for 15/6/16 and lo and behold received a confirmed ticket for an 8.40 am flight. I have wasted hours on the phone with Expedia for hours to get this resolved and they claim that they have got screenshot of my booking an 8:40 am flight. This is screenshot of the confirmed flight... Now they claim that I have made the mistake and now need to pay for changing the flight. But the dear team does not understand that of course. They will get screenshot of flight for 8:40... as this is what was shared on my confirmed ticket... they are not understanding that my search and requirement was for a 1.05 am flight and the timing was changed by them or their system.
The supervisor whom I spoke with (Jyoti) was not sympathetic and when I said that this is pure harassment and I'll be putting a complaint I was basically told "Go ahead." I have spent so much time on hold with the customer service. It is ridiculous!!! This is my most frustrating experience... and I DO NOT RECOMMEND USING EXPEDIA WEBSITE!

I booked a ticket for the 19th of July. I had to reschedule that flight for tomorrow and called in and was told I had to pay $200 per that specific airline plus a difference in airfare if there was any. I found a flight for $321. Plus change. I try and book it and they say there is an error on their system and I patiently wait a total of 45 min before the representative says I will have to wait another hour and a half for a supervisor to book the ticket. I waited and waited and waited and waited.
Finally the supervisor get on and says "yes, the ticket is available for one thousand+"!!! What? Why? I was told $321! I have been waiting for a long time to get this ticket. She says the tickets are 1st class. Why wasn't I quoted 1k+ then??! I was so upset. I explained that I had been waiting for a long time to get this ticket, that I was told it was going to cost me an additional $321 to change the flight, that the price should be honored but she just kept repeating herself like a broken record. Such a waste of time.

I booked 19 days car hire in Ireland for my wife. The website said CDW insurance included as did the terms and conditions albeit with an excess of between €1600 and €1750. That was fine as we have an annual family policy to cover the excess. When my wife went to pick up the car the hire company said there was zero insurance cover and asked for €460 for the most basic insurance cover and still subject to an excess.
After almost 3 weeks trying to get answers from Expedia they referred me to the email confirmation I received which said no insurance included. I then made a new booking for a future date and took screen shots of every stage showing CDW included as before but the confirmation again said no insurance included. When I presented this evidence of their scam to Expedia they realised the game was up and offered to refund the insurance demanded by the car hire company and offered me compensation. This is a rip off by Expedia. I haven't named the car hire company as I don't believe they are at fault. This is 100% down to Expedia. You cannot trust what you see on their website. I don't believe this was an innocent mistake.

I booked a hotel in Paris - Hotel Gabriel. The lift so small you could get 1 suitcase and 1 person. Sink stopped up. Leak in bathroom and they had a plumber come and fix the next day but the TV was so low we couldn't hear it. They wouldn't do anything about it and we called Expedia to see if we could get out for the next two days - didn't respond. I will never book with Expedia again. Hotel Gabriel is not in a very good area and the pictures of the hotel are VERY deceiving. So tiny. 5 tables for breakfast. Not a very good breakfast. Would not stay here again.

Booked thru AARP Expedia. Initial confirmation went well. Decided to check out of the hotel one night early. Best Western had no issues in checking out early with a 24-hour notice. Was advised to call Expedia and inform them of the early departure and to secure a refund for the one night's stay. I called Expedia and was informed that they needed verbal confirmation from the hotel. The hotel confirmed with me at checkout that they had spoken to Expedia and provided me with a invoice which confirmed that there would be no charge for the one night. Have spoken to Expedia three times and continue to be told that they need to speak to the hotel. I called the hotel and was advised that they have spoken to Expedia several times and approved the early departure. I contacted Expedia on July 5th (second time) and was told that the refund would be in my account within five days.
I am currently on hold with Expedia who says that they need to speak to the hotel. I have spent countless hours attempting to recover the refund owed to me. This is unacceptable by anyone's standards. I would think that Expedia thru AARP would attempt to make this seamless. If I could give this service a "0" rating I would. Expedia just came back on the line after over an hour wait and allegedly my refund will be processed within 5 day.

ConsumerAffairs Research Team
The ConsumerAffairs Research Team believes everyone deserves to make smart decisions. We aim to provide readers with the most up-to-date information available about today's consumer products and services.
Founded in 1996, Expedia is one of the oldest online travel companies. It was created by a team at Microsoft.
Hotel price guarantee: Expedia will not only match lower offers but also give customers $50 for finding cheaper rates.
Expedia+points: Purchases earn travelers points that they can exchange for discounts.
+VIP Access: +VIP Access members get free amenities and services at select hotels.
Visitor guides: Expedia provides visitor guides to help vacationers find interesting things in their destination cities.
Mobile deals: The Expedia mobile app gives users access to exclusive deals.
Best for Domestic, international and budget travelers.
Basic Information
Company Name:

Expedia

Address

333 108th Ave.
NE Bellevue, WA 98004
United States

Year Founded:

1996

Website:

http://www.expedia.com/