Consumer Complaints and Reviews

On 26 January 2017 I arranged a rental vehicle in Bordeaux (France) through Expedia.com for the period 11-24 May. The total sum of the arrangement was NZ$399.54 and the contract specifically mentions that all taxes and fees are included, as well as unlimited kilometers. On arrival at Bordeaux I was told that km's are not unlimited, that I had to pay an additional fee of 75 euro for driving in Spain and that Goldcar wouldn't follow the printed agreement I had with Expedia.
I accepted the vehicle under protest of the added conditions and immediately informed Expedia about this situation. Communications between myself and Expedia have been extensive, but completely unsatisfactory with vague promises to sort things out or, more usual, sending me completely irrelevant replies.
When returning the vehicle to Goldcar, the car was inspected (no damage) and, despite asking for a receipt, was told that this was it and she (the person accepting returned vehicles) had no means to give me any written evidence.
Upon return to NZ, I found that an amount of $609.43 had been debited from my VISA card; $209.89 more than the agreed and confirmed price in the contract.
I immediately contacted Expedia and get no serious response after various emails (apart from saying they are working on the issue, asking for my understanding and I should hear back in 24 hours, etc.). I now have more than 10 responses like that, still no invoice, let alone a refund of the additional cost charged to my VISA card.
Finally, I opened a case through the NZ Court system, but the simple request of giving the accused's address, details and name of contact person I can't fulfill as Expedia refuses to give this information. As I have had issues with overseas rental companies in the past, I specifically chose a NZ based travel agent to arrange this vehicle rental, expecting not having to face similar issues as in the past - this proved not to be the case.

For my vacation package, Expedia overbooked a day at the hotel I was staying at in Dubai. It was impossible for me to even be at the hotel the day they overbooked since I was going to be on my return flight. I hence called Expedia for a reimbursement of the extra day Expedia charged for no apparent reason. During my first call, the Expedia agent Justin told me they had to contact the hotel and they would reimburse me completely as soon as they receive a call from the hotel (Roda Al Murooj). Justin estimated a reimbursement of 241.38$. A few days passed, and I got an email notifying me that the ExpediaTD team was unable to reach the hotel, and that I should try and call again in a few days.
A few days later, I did as notified and talked to an Expedia agent (Victor). Victor was able to contact the hotel and reach an agreement for the cancellation of the extra day (that Expedia charged). The reimbursement this time was estimated to be 324.73$. All was fine until I learned that when refunding that extra day, Expedia was changing my package from full breakfast to no breakfast, and that if I wanted to add my breakfast I would have to pay 183.85$ (which is 100$ more expensive than I initially paid!). It was absolutely ridiculous that they expected me to pay that extra amount for Expedia's mistake. I hence asked to speak with a supervisor.
Victor transferred me to Haizen, his supervisor. Haizen was very indifferent about the situation and did not understand that it was Expedia's mistake in the first place. He continuously repeated that he could not do anything since the rate has changed. I do understand that rates change, but it is absolutely horrifying to make your customers pay an 100$ extra for a mistake that you (Expedia) made. I have been traveling with Expedia for over 10 years and to receive such a customer service is appalling.

I booked my husband and I on a trip to London from Dallas TX through Expedia.com. The price was really good for the Economy. We choose the airlines we would travel on based on departure time and layover times. That meant we were going out on Lufthansa operated by United and back on Air Canada. No problem for us as we had no preference. However, it is 30 days to our trip and we still did not have seats assigned. After calling Expedia and then each airline separately, it ended up costing us an extra $400 just to get seat assignments for the 4 legs of the trip (2 on outgoing and 2 on return).
Both airlines stated that Economy fares are guaranteed a seat on the plane, but there is no guarantee as to where those seats will be. (i.e., for those traveling together, the likelihood of not being in the same row is very high). Both airlines said we would only be assigned seats 24 hours before departure, so we would not know if we were going to get our preferences (aisle or window) and most likely it would be random middle seats that no one else wanted to book. This is ridiculous. For the extra $400 I could have booked non-stop from Dallas for only a little more and we would have known the exact seats by now. Then a decision could have been made as to upgrade or not. This is price gouging and deceptive practices by Expedia and the airlines they use for travel.

Expedia offers you the same options as you directly go to any airline or hotel website. However if you need to make any changes in your itinerary, you have to waste a fortune (time and money). I booked a flight and hotel through Expedia and had to change my departure one day. For flight: first they say they follow the airline policy but when they are actually making the change, they cancel the entire trip so they require you to pay double penalty (just for changing the departure, they want you to pay penalty for return as well). I wasted at least 3 hours on the phone back and forth between airline and Expedia to make a change in my departure.
When I wanted to cancel just the first night of hotel, I wasted another hour and half because they cannot easily cancel the first night. They have to cancel the entire booking and book again! And if there is no more room available, you will be on hold for a few hours till they email hotel and get a response from them by email!!! They cannot make any changes directly or at least quickly on the phone! And I did this far in advance, two weeks before the actual trip. So I see no advantage using Expedia. Useless service. Their communication with hotels and airlines awful. No advantage to book through them. Just book directly through airlines and hotels.

Rented a car through Expedia/ACE for three weeks. Stated Toyota Yaris or similar on Expedia confirmation email. When picking up the car at ACE I was told that I had to take the car of the day. I showed them my paperwork from Expedia and again I was told I had to take the car of the day, which was a PICK UP TRUCK (not similar to a Toyota Yaris). When I said I did not feel comfortable driving a pick up truck I was told it would be $200 more for a mid-size car or smaller. After going back and forth I was given a Sonata and charged and additional $100 more than my initial quote. I sent 3 emails to Expedia, and received a message that someone would get back to me in 24 hours. I have been home for 1 week from my 3 week vacation and I still have not heard back from Expedia. I have used Hotwire and Priceline in the past without any problems.
How do I know I can trust these reviews about Expedia?
789,262 reviews on ConsumerAffairs are verified.
We require contact information to ensure our reviewers are real.
We use intelligent software that helps us maintain the integrity of reviews.
Our moderators read all reviews to verify quality and helpfulness.
For more information about reviews on ConsumerAffairs.com please visit our FAQ.

I spend over $6000 since beginning of this year with Expedia and they lost me as a customer. I reserved a hotel in Ocean City MD on June 4. That morning I woke up with fewer 99.8F and called Expedia to see if I can change reservation to the next week. REPRESENTATIVE, after call to the hotel, said that they can do it and Changed reservation to JUNE 11 and I agreed to pay extra $52 because rooms that weekend are more expensive. Then 45 min later he called me back and said that he CAN'T change it and that he will escalate to his supervisor and if they would not be able to move reservation they will refund my $$$.
Next day supervisor send an email saying that because of hotel policy they can't change it and can't refund me my money. So I lost reservation and money because of HORRIBLE CUSTOMER SERVICE. If I knew that I can't change reservation I would go there and stay one day at the beach. NO MORE EXPEDIA FOR ME... WILL TAKE MY BUSINESS SOMEWHERE ELSE.

Horrible Experience!! Tried to book a flight through Expedia. When it came time to pay, I'd put in my info and get an error message: either "the price of your flight has changed, book now" or "there is a problem with your payment info." I tried calling their call center, but was told that the "system was updating" and they weren't sure what to do. After trying several times with two different cards, I just decided to go straight to the airline's website and book it that way. Turns out Expedia was hitting my VISA cards for every single purchase even as the website was giving me an error message. Five hours later and 8 or 10 aspirin later I thought I'd take a break and write this review.

I booked a 2 bdr condo in April for June 2-5, 2017. I received the confirmation with the correct name of the condos as well as the correct address. I needed to check on another item with the condo (2 days before my stay) and found that I had been booked NOT at this condo but another 2 miles away! When I tried to cancel Expedia said I would incur a fee charged by the condos. I was standing at the desk of that condo (this was for a festival that is in my town, but I needed to stay at the site) and they said, no... they would waive the fee since it was Expedia's fault.
It took me 2 hours on the phone with people who just couldn't understand that the reservation was not where my confirmation said. Thank goodness, the condos were able to send me to a local realtor who was able to find me a condo at the place I was supposed to be booked by Expedia. Just call services directly. Don't waste time and money using these third party vendors. You may save a few dollars (this one was the same price as our local realtor as it turned out!!) but not worth it. Go directly to the airlines or hotels.

Buyer beware if you are planning to book anything with Expedia! Dealing with them resulting in NUMEROUS problems and false claims! Expedia states on Expedia.com there is a price match guarantee. No problems to modify an existing reservation etc. They will not do this. Customer Service is a joke. Will keep you on hold for long wait times then hang up on you. Whole reservation with them was a nightmare! Book directly through the hotel or business you are going to.

I booked a hotel through Expedia and everything went fine until about 115 in the morning when I woke up with bites all over me and found a bedbug. The hotel manager tried to say I brought them. It was the most ridiculous situation I have ever been in. I just want to thank Expedia for helping me in the middle of the night find a new place and paid everything... It was a wonderful end to a horrible night. The operator worked for over an hour and a half to find me a room when everyone was completely booked. Once again thank you Expedia for your help.

We booked a beach hotel in Venice Beach, CA based solely upon their website pictures. We booked it six months ahead of time through Expedia and we're surprised to see that Expedia charged out our credit card at that time, took their commission, and paid the hotel early. When we arrived, we found the room view to be nothing like the website had portrayed and we refused the room. The hotel would not provide us with a refund. We were on the phone with Expedia for nearly an hour, and I advised them that they were actually acting as the hotel's agent, in perpetuating the sale of the room. This sale was based upon the pictures on the website.
We requested a refund from Expedia which they refused to provide only telling us that they had already given the money to the hotel and there was nothing they could do about it. After nearly an hour on the phone with them I then contacted my credit card company and had the charges refunded to me within 4 minutes. I will never used Expedia again.

I booked a flight and hotel last week and their system defaulted the booking to one day which I didn't notice until after I had paid. They have refunded my hotel but not the flights. They keep making excuses to kit refund my money and keep asking for 72 hours to investigate the matter. It is now 7 days since they took my money.

My experience may be helpful in providing you with some answers to questions similar to those I had. It is definitely not comprehensive so please feel free to do additional research to answer questions that may not have been answered in my search and comment below.
For my last review of Expedia I gave a one star due to frustration with some inexperienced and uninformed Expedia representatives, but today 6/4/17, after 5 to 6 attempts all ending up in more frustration, I was able to find a very helpful supervisor, Kate to help explain the process to me and I would like to update my previous review by offering a 4 star to this company, up from the one star previously issued. I believe in giving credit, where credit is due and my overall experience today with Expedia was positive and encouraging. Granted there were some things that required follow-up and some questions which showed that some (not all) Expedia cruise representatives may not be fully informed of the proper procedures related to assisting clients seeking to make cruise reservations.
Thanks to Kate's willingness to help, we were able to get answers that helped both she and I learn and better understand the process. We even had a Royal Caribbean staff on standby providing guidance and answers to questions that came up as we went on to book my cruise. I am excited to have finally booked my 7-day Cruise - Liberty of the Seas out of Galveston, Texas in October 2017, yay! Still hoping my sister (both or one) can join me on the cruise, but if not, I still plan on going and having a blast. The following is a summary of Lessons Learned from my call with Expedia today:
1. Supervisor assistance: If all else fails, "ask to speak with a supervisor". Some of the junior cruise reps at Expedia may not be as informed on cruising as they need to be. I got anywhere from rude and lazy reps to completely misinformed reps. One rep could not do some simple math to give me the date I would need to keep in mind for 100% refund following cancellation (75 days from the sail date). I was not close to a computer so asked if she could calculate and provide this date. This rep told me they are a paperless office and do not have calendars! Uhm, okay so let's try Google please?
This rep proceeded to tell me that it was going to take her a while but okay she could do it, and oh just FYI, typically date determinations are something that the customer can figure out on their own. Am sorry, you want me to use your agency and cannot take a few minutes to do some quick math and give me a date? This is when I asked for a supervisor and Kate was very apologetic and went to great lengths to make up for the junior rep's incompetency, thanks Kate.
2. Price: The price is the same as you would get booking directly through Royal Caribbean. The only thing that is different is that Expedia does at times (as in this case) offer additional perks that Royal Caribbean may not. At this time for my price, I am able to get $50 onboard credit for the same room, same cruise that I would not otherwise get with Royal Caribbean. I can use this credit on anything on board (not at the ports) ex. steak dinner, massage, drinks, etc. The other thing to keep in mind is that prices change every so often. The cool thing about going with Expedia is that you can get a price quote and get a booking started without having to put down any deposit for I believe 48 Hours (might be more, not sure).
During that time you get to continue shopping around while the quote is locked in. Come back 48 hours later and you are ready to go forward, you get to stay at that price which may otherwise have gone up both at Royal Caribbean and Expedia if making a fresh/new booking. In my case if it was a new book either through Expedia or Royal Caribbean, I would have paid $97 more, but lucky for me, I still had time to finalize the previously initiated booking and so that is what I did. This is what threw me off a little and made me think the cost was different, it is not different. It is the exact same price for that time, only Expedia will allow you to lock that in with no deposit down for 48 hours after which you can proceed to put down the same amount deposit = $250 in my case as you would booking through Royal Caribbean.
3. Deposit: $250 in my case, same as if would book directly through Royal Caribbean. For my October 2017 Cruise, I am due to make full cruise cost by July 17th. I also have until July 17th (preferably July 15th or 16th to avoid waiting until the last day) to cancel and get my $250 back in full.
4. Full payment: I have until July 17th for my October
Original Review
They will give you a different price, but they always say, watch out when something is too good to be true. I tried to understand the difference in price because I was worried that I may not be getting the same deal as going straight through Royal Caribbean. Each Rep I spoke to assured me the price was the same as that issued by Royal Caribbean, NO! Despite my attempts to dispute this, they all swore up and down that the price was the same until finally one "Eric" decided to call Royal Caribbean only to later come back with his tail between the legs reporting that the price was different because Royal Caribbean had a different deal, "You think!" That is what I had tried to explain all along but it is just so frustrating with this company. My advice, skip trying to save a few bucks. If you have to book your cruise, best to go through the actual cruise company and rest assured that your booking is safe and secure.

Scheduled a business trip out west two weeks ago through Expedia and purchased trip insurance. Had to shorten trip by one day prior to departure and contacted Expedia Customer Service. Expedia attempted to charge additional fees for hotel and air travel changes, and initially did not support the insurance terms. After I read the trip insurance terms directly to them, they agreed I could make one change prior to departure and the only fees for the change would be by required the airlines. Expedia tried to charge me additional costs for a flight, even though I selected a no-cost change return flight directly from the airlines. I ended up calling the airlines directly and was able to make the flight change at no cost. Expedia then tried to charge me for shortening my hotel stay by one night.
I put my foot down about this and asked for the entire hotel, car, flight bundle through Expedia to be cancelled. Expedia then contacted the hotel and did get a full refund on my hotel for the one night. I was on hold to Expedia for about an hour for this one change. For the car rental change, that was another hour on hold and there was no credit offered for the one day less change. All in all, Expedia's trip insurance is worthless and I know I can make reservations directly to the airlines, hotel and car and get a better deal, talk with native English speakers, and not waste money and time on changing reservations or wasting dollars on worthless insurance. Don't waste your precious time or money and sanity. AVOID EXPEDIA!

I am very frustrated with Expedia. They gave us the wrong information on the flight insurance and re-booking information three different times. They offered us a $50.00 hotel credit for their error! We are not even staying in a hotel. When we declined they put us on hold for over two hours - at this point, I am still holding and they have yet to come back to the phone! I urge everyone considering Expedia to HANG up and call the airline DIRECT! DO NOT BOOK via a 3rd party. I have had enough. I am just waiting on them to disconnect.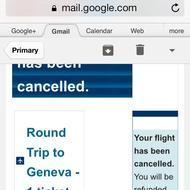 I booked a flight to Geneva from Australia on May 9. I cancelled my flights, within the 24 hour cancellation policy. I would not have cancelled them if I would not of been able to get a refund. I got an email saying I would get a full refund of my $1000. On May 13, five days after I cancelled my flight, the money was taken out of my account. I called up and spoke to a customer service operator, they told me to check my bank. I called back a few day later, spoke to a supervisor, sent in a picture of my bank statement of the money being deducted. I was promised I would hear back from them in 24-48 hours. I heard nothing.
I called, again, was out in hold for two hours and I was told that It would take 8 weeks. Ok. I waited the 8 weeks, no refund. I called the customer service again, spoke to an operator, I sent them a picture of my bank statements again, I was told that something would be done about it and a refund as soon as possible. I called back three weeks later as still no refund and speaking to a customer service all they had done is send an email. Not even call the airline that they sent my money. I would not use this company, ever.

After several emails and phone calls, Expedia did confirm they would refund my 326 Euro that the hotel charged me for the child, I was worried that after reading so many negative reviews about Expedia. That I would not get a refund, but hey, they resolved the problem and confirmed I would receive a refund in 10-15 days! Great result
Original Review
When booking a child into a hotel your site asks for age of the child. When one inserts 7 year old, one arrives at the hotel to be told that only a 1 year old baby is booked. This is a scam for them to show the cheapest price so couples are forced the pay hundreds of pounds upon arrival at the hotel!! They breach ASA standards and my complaint will be escalated.

I'm traveling out West this summer on a Parks tour. I was booking through Expedia. Book my 6-night stay in a site, printed out my itinerary for that particular hotel and noticed the date was wrong and it wasn't 10 minutes after I booked it. Tried to change the date with the hotel the correct date. The reservationists at the hotel tells me the day I want is a Holiday in Utah. (Pioneer days) and I need to book 2 days to get a room. Well no can do. She tells me since I used Expedia I had to go through them to resolve my problem. Now this is 10 minutes after I booked this trip for the end of July. Expedia representative informs me there is a cancellation fee $59 per room. Then he asked me what I want to do. Pay $388 dollars for a room I can't use or pay the $120 to cancel the reservation?
I could understand if my cancellation was days prior to my stay but I'm roughly 2 months out from my trip. $120 in ten minutes. Wow. Will not be using Expedia again. Consumer beware before you hit book now. But their website says that you can. Cancel for free. But the rep was telling me it was the hotel and the hotel says it's Expedia. So who do you believe. Out a fast $120.

On October 25, 2016, I contacted Expedia to extend my flight (ticket). I was told $220; that was not an issue. I attempted to use my Bank of America credit card and it was declined, which the customer service lady told me. I got an alert on my cell that my credit card was charged and I told the lady this. As she stated she was going to run it again, I said "No, don't run it. It says I was charged." But she continued and ran my card again anyways which irritated me. It was declined a second time according to Expedia customer service. Again, I said I'm being notified that I'm getting charged. So I told her that I would use my debit card from Chase to pay for the ticket. My debit card transaction from Chase was a success. I assumed everything was paid for and I wouldn't have to worry about anything whatsoever. I flew out that Saturday which I believe was the 29th.
On November 3, 2016, I got a banking alert on my cell phone from Bank of America that my credit card was charged $220. I went online and sure enough, there was an unauthorized charge from Expedia. I say unauthorized because it was 9 days after I had paid for the extension and Expedia never contacted me to ask or inform me that they decided themselves to reverse my debit card charge and charge my Bank of America credit card when I had already paid and took my flight.
I contacted Bank of America to start a dispute. They sent me paperwork, I filled it out, but then I changed my mind and never mailed in the dispute paperwork. However, Bank of America reversed the charge. Expedia contacted me first via phone. I called back and got a different person than the one who originally contacted me, but he said he would have someone call me back. After that was email after email of them trying to get money and me explaining the situation and not getting answers as to why they (Expedia) reversed or canceled my debit charge and charged my credit card. The response I did get was that they didn't know why that happened. So then I was told via email that I would be contacted by someone in another department to solve this issue; that was back in March. Here it is May 31, 2017 and my mailman handed the mail to my daughter. Lo and behold was a letter from a collection agency requesting $220.

I booked a flight for an initial cost $. After clicking "complete booking" I received a message that said, "oops sometimes this happens, your flight has gone up in price." So fine, I finished the booking once again. But now Expedia charges me for the 1st flight before the change AND the second flight (AND the return flight). So I've been double charged for one. They then charged me 2 cancellation fee, reversing the first one and 2 $12 booking charge, reversing one of those as well. But they still have not "reversed the charge" or refunded me for the initial double charge of the flights.
Expedia customer service was horribly rude, hard to understand and continued to transfer me, never answering my questions or requests. Even after a three way call with the bank explaining a double charge on my account, Expedia STILL continued to DENY a double charge, going as far as blaming me for "clicking too many times." I am owed $551.37 and until I receive that I will not be changing my review and I will be spreading the word of this treatment and shadiness of the corporation.

I booked a flight to Denver from Miami in November. Paid for flight insurance as not sure if my husband would be well enough to go. Had to cancel. Expedia gave me a credit, less $200 that I had to provide a doctor's note, that I thought was pretty invasive. On May 20th rebooked and was told I could only fly United. I paid $550 for each ticket, they gave me something called "basic economy", which at the time did not know what it was. On trying to book my seats, I found out Expedia had given me tickets costing $350 each, whereby you could not bring a bag or get your seats in advance. It then got changed by someone in their corporate office, only she booked the wrong date. Up to now I have spent around 7 hours on the phone, 3 different people, 3 different case numbers, only to find out I am not on an outgoing flight. Still holding on the phone. Never ever again will I use this company.

I spent $30 dollars extra, to purchase trip insurance to protect my $430 domestic flight. The Expedia website gave me the impression, that were I to cancel, or change my flight, I would be reimbursed this amount. Well, Expedia totally misrepresents the trip insurance. I had to cancel for health reasons, and will not necessarily be receiving even credits to the airlines, because of the cancellation. I am forced to fill out 5 pages of forms, with personal information, to submit for review, to even be CONSIDERED for a refund. I am fuming. They want access to my health records, even though I have a signature from my physician. Expedia is dishonest, and they hold on to the money that is owed to you, for as long as they can. I would recommend going with a more straightforward company for travel, if you need to fly, or rent hotel rooms, in the future.

We were looking for an all inclusive hotel in Cancun. We called Expedia to do it faster because my computer was slow. When we thought that we have found the hotel he asked me for my credit card number and I gave it to him. Before I authorized it, I asked if we could go over all the details and when I asked if he was sure that it was an all inclusive he said that he was going to check again and then he said no, so I responded that I didn't want it, To look again for an all inclusive and he said that he had already charged it. It was a nightmare. They charged me 4,000 dlls and now I have to wait for them to refund the money when I hadn't even authorized the transaction. This is a fraud. Expedia is the worst place to book anything, please don't even try. It is going to be a nightmare.

While booking flights to Canada via Air Canada, I was given an option to 'bundle'. Unbeknownst to me, that bundle package took me to Orbitz/Expedia and subsequently through the worst travel experience of my life! I purchased the insurance just in case anything happened; if either traveler wouldn't be able to make the trip. Unfortunately, just as we get to the airport, my companion was unable to fly. The AirCanada counter girls cancelled that day's flight for both of us and re-booked me (singular) for the following day. Meanwhile, I called the hotel (One King West) to let them know I'd be checking in in the AM because I missed the flight.
All went well until I got my cc bill that charged me for both travelers and three nights! I didn't think I was capable of using the colorful words I had to use to get a PORTION of my money refunded for the flight. As for the hotel, I lost that battle because I came in before check in. Word to the wise, DON'T BUNDLE unless you know the scam and are okay with it. No matter what, they will find a way to get you, even with insurance. I still had to pay a $200 cancellation fee! I feel like I've been sexually molested (in other words, raped)!

4 months ago, (January 2017), I booked a hotel reservation in Montreal, Canada online through Expedia. I never received an email confirmation from them, although they did charged my credit card in full. When I was checking out after our 3 night stay, I found out for the first time that the reservation was made for 4 nights instead of the 3 nights we wanted. When I returned home and contacted Expedia (support@reservations.com) they took no responsibility for the fact that they had not sent me a confirmation and refused to refund the cost of the unused and unwanted night's stay. I will never use them again to book travel arrangements of any kind.

I booked a flight through Expedia to fly from Perth to Brisbane. When I went to check in they had put my surname as my first name and my first name as my surname. After spending ninety minutes on the phone where they admitted it was their error not mine, they asked me to pay another $150. I refused, telling the girl it was their mistake not mine. I was then asked to make another booking, they would make sure the name was correct on their part and pay again and they would refund the first fare I paid. This is a scam and the second time Expedia has tried this on me. I will never use them again and make sure friends and family don't use them either. I cancelled and booked direct with the airline which cost me extra all because Expedia made a mistake. A disgrace.

My husband and granddaughter were stranded with no room. We paid for the room when we booked it. Expedia asked about the check in and I complained. No response 15 hours later. I'll never use them again and better not have that charge on my credit card. We were covered for late check in and arrived before 8:30 pm. I'm glad we didn't trust that coverage and had to go foraging for a room later at night. Don't trust your written and texted confirmations.

DO NOT BOOK YOUR SHUTTLE (CANCUN) WITH EXPEDIA. When we arrived to the airport the shuttle was waiting on us but we had to wait half an hour for other people. The driver was nice but I did not catch his name. However, the driver Jose left us and could not wait for us to check out so we had to pay for a taxi to take us back to the airport. It's not fair that we had to wait 30 minutes but they could not wait 10 minutes on us.

Part 1: When confirmed booking of rental car through Expedia did not show up at Miami Port in December 2016, it caused me and my family lot of hardship. When we landed at the port, I had very high fever with chills and spent few hours trying to get the promised car by calling rental company, Expedia, and others. Finally took a cab to the hotel as I kept feeling worse and my 80-year old mom and rest of the family could not stand it any longer. I spent my sick time in bed, urgent care clinic and cabs (trying to get the meds) while my family had to use other modes of transportation for touring around. It all costed around 1500 USD to us. After returning home, I lodged a complaint through BBB asking for a fair compensation for all the hardship and expenses from Expedia but was only given a $100 Expedia travel voucher for future travel expenses (with no terms and conditions attached).
Part 2: While I was reluctant to try Expedia again, I decided to use it in order to make use of $100 voucher when booking flights earlier this month. I followed their online instructions but could not see the voucher getting used. Called Expedia and the agent asked me to be patient and promised it will show up in half a day or so. Kept checking for few days and the voucher kept showing as available for use while my two flight itineraries were confirmed. So, called Expedia again today. Talked to an agent (John), his supervisor (Shiana), and her manager (Veejay?) who all kept referring to an undocumented policy about the voucher. Apparently the policy states that the voucher can only be used for hotel or package booking but not for booking flights! They also insisted that it was explained to me when issuing the voucher which I had no recollection of.
I asked Veejay to furnish the policy since I could not find it online or in my inbox. I was kept on hold for few minutes and then the call was disconnected. To my surprise, I could find an email from Expedia's Corporate Correspondence Team (Marlon **) in the BBB complaint record which stated "In good faith, we provided the customer with a $100.00 voucher that can be used for future travel up to January 31, 2018" - no mention of restrictions or hotel/package-only policy. :-)
I sent an email with snippets from Marlon's email to Expedia asking them to honour his commitment and find a way to apply the voucher to my flight booking. Waiting to hear back now. In summary, it's frustrating to see a multi-million dollar company (Microsoft subsidiary) spending so much manpower to provide disservice & false promises to customers and save 100 dollars while inflicting pain and stress to its consumers.
Conclusion: I am glad I survived in Miami that day and am able to write this review about Expedia. Hope other consumers and Microsoft/Expedia find this useful. Will be a bonus if the online giants take steps to improve customer service, experience, and reliability of the online services and find ways to punish/discourage businesses by forcing them to compensate consumers for undue harassment in this online world!

Do not book with Expedia- they are a fraudulent booking company. I booked two nights in Dublin at Maldron hotel through Expedia. I needed to cancel the one night which I tried to do through Expedia. Both Expedia and the Maldron Hotel refused to return my $350 charge for the one night in the hotel. I tried to cancel three weeks in advance. They stated that I chose a non-refundable option. I re-checked and the Expedia format for pricing had the same two boxes and prices: for one-night stay-one said free changes and cancellation, the other said non-refundable. Scam.

ConsumerAffairs Research Team
The ConsumerAffairs Research Team believes everyone deserves to make smart decisions. We aim to provide readers with the most up-to-date information available about today's consumer products and services.
Founded in 1996, Expedia is one of the oldest online travel companies. It was created by a team at Microsoft.
Hotel price guarantee: Expedia will not only match lower offers but also give customers $50 for finding cheaper rates.
Expedia+points: Purchases earn travelers points that they can exchange for discounts.
+VIP Access: +VIP Access members get free amenities and services at select hotels.
Visitor guides: Expedia provides visitor guides to help vacationers find interesting things in their destination cities.
Mobile deals: The Expedia mobile app gives users access to exclusive deals.
Best for Domestic, international and budget travelers.
Company Name:

Expedia

Year Founded:

1996

Address:

333 108th Ave.

City:

NE Bellevue

State/Province:

WA

Postal Code:

98004

Country:

United States

Website:

http://www.expedia.com/