Consumer Reviews and Complaints

Please be aware that booking with Expedia lead me to pay more than they listed it for. I just booked a flight overseas with Expedia - the amount that they posted was $1,280.10 when I booked and they processed the payment amount higher than they posted, I was charged $1,471.20. I have spent the last two hours with the agents trying to resolve the issue and they said that they cannot do anything. They stalled for hours making me upset and at the end angry. What horrible customer service, it's like they did it on purpose. I wanted to let everyone know that this is false advertising on their part. You cannot agree to pay one price and in the process they confirm a price that is higher than the one you selected. Worst of all is that they have rotten customer service - over two hours being transferred from one person to another and stalling in between. Shame on them. Horrible customer service and falsely listing prices on their website.

Expedia has to be one of the most ethically corrupt businesses. I am an American soldier who along with my wife, have been saving and planning for Greece for over a year in September. Just over a week ago I was activated in response to emergency relief actions for hurricane Irmas' destruction of St. Thomas, Virgin Islands and had to cancel our plans. In many cases, we were able to cancel hotels, activities, and flights with relative ease. There were however, two hotels and two airlines that Expedia did not have cancellation requests available and the contact information listed was wrong.
After several hours (not exaggerating) of my wife and I talking with Expedia Customer Service Team representatives, we were told many lies. We were told that a representative would call us back (at least 6 times between my wife and I) and never responded once. Expedia's team wrote to us and said that they had advocated on our behalf with the hotel and the hotels/airlines would not issue a refund. Later the hotels would email us after we contacted the hotel directly and told us Expedia never contacted them to notify them of the situation and Expedia needs to contact them to issue a refund. Expedia told us that we had to work directly with the airlines but only provided bad numbers to contact them.
After researching on my own, I contacted them and they said that Expedia never contacted them and that they provided the money after services. While I do not know which of the parties are lying, and some are, I do know that Expedia has been giving my wife and I a runaround. All of this while neither one of us has much time due to emergency response efforts and limited communications ability. Very poor customer service and horrible ethics in charging thousands of dollars to people who are charged to help others after so much destruction.

I've read a lot of the complaints about customer service with Expedia and mine basically the same. I was having difficulty in purchasing a ticket and making reservations. After 3/4 phone calls and nobody speaking clear English enough to understand and one recording that the lady spoke so fast and unclear that I had replay it four times to understand the number she asked me to call. It was very frustrating needless to say. When customers call to have their problems resolved they should be able to speak clear and in a understandable voice. Nothing is more disturbing when you have to keep asking someone to keep repeating themselves before you can understand them... speaking clearly and concisely would resolve issues quickly.

Expedia runs a bait and switch business. Expedia advertised one price for immediate payment ($213) but when the payment went through they charged me the higher (pay later price) of $229. Customer service should have fixed this immediately to keep my business but instead they made me jump through hoops to send proof of their faulty advertising. Do yourself a favor and save yourself the Expedia headache. Use Expedia to browse through listings (or any other aggregator) and then go directly to the hotel or airlines to book your reservation.

I spent 3 nights in the Denver-Casper, Wyoming area. Booked directly and paid Hampton Inns at three different locations. Expedia somehow grabbed my info, credit card etc. and billed me for two nights on the same day-Sept. 8th. I have never used Expedia and certainly never would now that I know what an incompetent and inept firm they are. I spent 1 hour talking to a rep. and a supervisor. You can be sure you are speaking with a mutton head when they wont disclose their last name and phone number extension after having all your private info. They have yet to credit my account but I certainly would never pay these bozos a nickel. I would like to give these jokers a minus 10. Shouldn't be in business as most reviews reflect. I am an attorney and will pursue this matter and seek punitive damages.
How do I know I can trust these reviews about Expedia?
885,935 reviews on ConsumerAffairs are verified.
We require contact information to ensure our reviewers are real.
We use intelligent software that helps us maintain the integrity of reviews.
Our moderators read all reviews to verify quality and helpfulness.
For more information about reviews on ConsumerAffairs.com please visit our FAQ.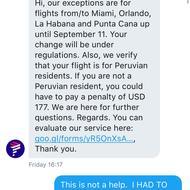 I had to cancel a trip on LATAM airlines as a result of Hurricane Irma - evacuated out of state and vacation was cancelled. While fighting for refund or credit with Expedia (which I find they are impossible) I found out from LATAM that the ticket I purchased from Expedia was ONLY for Peruvian Citizens. I have a profile on Expedia, they know I am a US Citizen, yet they sold it to me. They refuse to refund.

I fled Hurricane Irma driving north from Tampa to Jacksonville. After driving 5 hours I needed to book a hotel. I searched on Expedia and the ridiculous site decided to give me results for Hilliard, OHIO when results from Hilliard, FLORIDA were sold out. On my phone screen, and in my condition, I didn't notice the difference. I booked the hotel and paid in advance (they don't guarantee the price if you pay after your stay). I checked in electronically, but when I went to get directions, I realized they were in Ohio.
After suffering power outages and loss of cellular service, I contacted Expedia about the error. Their customer support contacted the hotel and then told me the hotel refused to issue a refund. Hence, they could not give me a refund. However, I contacted the hotel and they said they were looking into it. So Expedia LIED to me and simply wanted to refuse me a refund.
I have contacted the Better Business Bureau and am looking into small claims court. I may not get my money back, but it will cost them more to fight me than to have given me my refund. I mean they didn't even offer me a voucher of any kind and they also had the nerve to tell me their manager was in the hurricane despite the fact that it's been over for days now. These people are crazy. Oh yes, and they also kept me on the phone on hold for forever as they were looking for a manager. They try anything to get you to hang up and give up. Pathetic.

I could not make it to my hotel because of hurricane, Irma, the roads were impassable. I called the hotel, I was told by the owner that he would not charge me, so I called Expedia. They said I would not be charged, 5 days later they charged me. They are less than human.

I booked a hotel in Fort Myers using Expedia recently! They sent me a confirmation email, detailing my itinerary! I got off of the plane and took a cab to the Travelodge, went in to the reception desk and stated that I had a reservation. The clerk told me that the hotel was CLOSED and had been closed for the past FIVE WEEKS! He then went on to add that he doesn't know why Expedia keeps booking the hotel because they're fully aware of the closure! After calling customer service and being frustrated by being placed on hold three times, I requested to speak to a manager!
Lo and behold, a manager called me back over an hour later only to ask me the same exact questions that his subordinate asked me, after a lengthy back and forth, he placed me on hold AGAIN because he stated that he had to call the hotel to confirm that they were actually closed... something that was done two times already! After being told what I already knew (The hotel was actually closed), he claimed that he could not find any other hotel available so I was offered a measly 25.00 coupon! So I basically had to spend the night in an airport because Expedia booked me in a hotel that doesn't exist… and for all of my trouble, all I got was a measly... 25.00 coupon! Never again.

Don't get fooled by false advertising and fraudulent insurance! I booked my vacation package over the phone with an Expedia travel agent and I said to the agent "I would like to buy the upgraded insurance so I can get a money back refund if I need to cancel my trip". He said, "No problem you can purchase the 'cancel for any reason' insurance protection plan backed by AON Trip Claim." It was an upgrade from the basic plan (and more expensive) because the basic plan only gave you a refund from the resort and a flight credit, while the upgrade plan gave 100% refund on both resort AND flight.
During Hurricane Irma, my resort was destroyed and I lost my job. So I called Expedia to get my refund. After waiting on hold for 58 minutes, they told me I would get a refund on the resort and flight credit. I said "No, I paid for the insurance to get a refund on my flight not a credit." I went over my policy with them and pointed out that regardless of the hurricane, loss of employment is clearly covered on my plan. I was told that I had purchased a non-refundable ticket and insurance only covers refundable tickets. Why didn't the salesman give me that option or even mention it?
To make matters worse, at the time I was shopping for trips, flights booked independently without a package deal were $300 per person (there are two of us so it was $600 total) but Expedia told me my airline credit would be for $1296. So $1296 was deducted from my refund and given to me in the form of an airline credit that is useless to me. Clearly this is another way for them to refund as little money as possible. They inflate the ticket price by more than double?! I was told by the agent that there was no option on his computer to choose that would give me my refund. His supervisor came on the line and told me the same thing. Both gentlemen I spoke to were cordial but offered no solution or alternative approach. So I guess lesson learned, if you want any type of actual travel protection, do your homework and don't use Expedia or AON Trip Claim.

I booked a rental car to take me and two other people to Las Vegas approximately 750 miles away. We're in a flight to Washington DC then another rental car to hotel for a two-week stay and the return flight and rental car. The first time the money was taken from the debit card and when the day arrived to get the rented car the car rental place refused to use my debit card denying the car service and home. I went to tell Expedia to return my money so I could start all over again. The agent went on about my failure to get to the plane in time and my trip was therefore not covered and I was going to lose all that money. But over and over I explained the issue and finally a supervisor understood and returned the money exact. Starting over engulfed the need to tell the others the delay was present and to make all new arrangements in schedules and timeline and other, very discouraging to say the least. Undue hardships come to mind.
The next trip was planned through CHEAPOAIR, or Expedia dba CHEAPOAIR. In short, I bought the trip insurance, flights, hotels, two week for three people is paid and instead of booking the first rental, I bought a car for the trip between the two destinations and booked flights and hotel stays for the same timelines above. Just different dates and the understanding of insurance that I purchased was in an event something happened and the flight was missed and this is what the sale person said it was for, and request for these chats were never received or provided according to my request for said records of recorded conversations, purchased for the sole reasons that in any event the flights are missed no loss can take place at all.
This however is not what my experience was and in an amount of approximately $8,000. dollars is left out of my account and no provisions are provided but a complete blank wall is erected and I am taken for everything. I was given some sort of refund but not at all close to the amount they took for services not rendered and everything I thought to do was done short of suit and then my personal life was in shambles and loss and no recovery was able to be sought and I just ate the loss as there was nothing anyone seemed to say was possible to be done and here I am. But now once more faced with this mess.
Never to do business with Expedia again is harder than it looks when they monopolize the entire travel site game. They are dba virtually all named brands of services like Travelocity, Orbitz, Priceline, Hotels.com, BookingBuddy, you name it, Expedia dba... asking never got straight answer. Just more lies. See 2013 flights of three from Vegas to Washington DC. First attempt also included hotel stay in not even the same state... so there you have it now for the best part. We hold evidence that Expedia already purchases the room or flight then sells it to you and refuses to refund money based upon what exactly... what loss... the one they made not you.

My husband and I recently booked a ticket via Expedia to fly out to Dallas. The website never warned us, that we were purchasing a basic economy ticket. We only found out once we purchased the ticket, and Expedia send us a email with the details afterwards. For those who don't know, basic economy fare is the worst ticket you can buy. You cannot take a carry on bag (you must check it in and pay for it), you don't get your seats until check in, and you are the last to board.
We were unable to make flight changes, get a refund or cancel. When I called customer service, I was on hold for 48 mins before I even spoke to a representative. Then he forwarded the call to a supervisor, who also put me on hold, altogether the call taking 2 hours and 15 mins, with no resolution to the issue at all. All they said was a big whopping "SORRY" for 2 hours of trying to solve this issue. DO NOT TRUST THIS SITE! THEY SCAM PEOPLE! THEY LIE TO PEOPLE! Save your time and go through trustworthy sites and resources.

Bait and Switch - Booked travel in January for travel on American Airlines. Three days before the flight, it's changed to British Airways. Called British Airways to ask about baggage policy, charges for seats, meals, etc. They tell me Expedia owns my reservation and I need to call them. I call them and they tell me to call American. I call American the tell me to call British. I call British and they tell me to call Expedia. Expedia supposedly owns my reservation but can tell me absolutely nothing about the airline. They had me choose seats that we do not have. There are four of us and we are scattered all across the plane for a 10+ hour flight. I have children with me. I will NEVER book with them again and only go directly. I may use them to search but I won't use them to book anything. Not hotels, flights, cars - nothing. I have used them for years and never had this problem. Something huge changed and they are not what they once were. Sad, but true.

Signed up with Expedia+ points program to book a vacation. They claim I signed up after I booked the trip. Really??? Yet the trip is clearly in my account. Did I miss some fine print somewhere? Reached out to Expedia and they just send me a link to their Terms and Conditions stating I signed up after I booked and nothing more. Went on a limb to use Expedia instead of my usual OTA to try it out some more but what a regret. This is just so completely petty not to give points for something I clearly signed up for deliberately. Such a disappointment to leave as a memory for a great vacation. Last thing expected.

By far "THE WORST" customer service company I dealt with! They hired the cheap labor @ Philippines & the employees cannot handle the customer service properly. I had so many bad experiences in the past but I tried to use them one last time for a simple one night hotel reservation with a coupon given to me by Expedia. I had nightmare again by 3 people, two supervisors & one account rep passing the call to each other & then dropping the call at the end! This took 4 hours of my time with them on the phone & no results at the end!!!! DO NOT USE EXPEDIA.

Since my repeated personal efforts with the local Alamo subsidiary, Grandsud Kft at Budapest Airport proved to be fruitless. I've contacted Expedia.com at home to obtain a $48.- reimbursement which was charged over the contractually agreed car rental fee of $687.04. The so called first tier employee referred me to her-second tier- supervisor without being able to offer me any redress. The supervisor first offered me a $48.- coupon against any future charges with Expedia.com.
When I quoted the 2 following paragraphs from the Expedia.com car rental agreement, "Unless otherwise specified, rates are quoted in USD. Rental fees are due at pickup. The total price includes all mandatory taxes and fees." "Please let us know as soon as possible if you have charged additional fees incorrectly and we will arrange a refund for you." End of quotes and I declined the coupon, she requested the rental contract to be forwarded to her and promised a response in 48 hours of time. This response arrived-by another supervisor- in time by phone and by a follow-up email, denying my request.
The received response (See attachment) was a complete bogus, not even quoting my request. Namely I clearly pointed out to the first supervisor I've first talked to, that the accidental damage charge- which is by the way a whopping $829.- for a barely visible paint scratch on the front bumper- is being handled by other means. This response proved to me that I've received the proverbial polite brush-off and I never have had a chance to receive any reimbursement. So much for the written contractual promises by Expedia.com.

I have never been so displeased and frustrated with a service before. I booked a trip from NYC to Victoria, Canada. The trip included a 1.5 hr layover in Toronto, and hotel in Victoria, Canada. A few weeks after booking, I went on Expedia.com to look at my flight details and realized that they changed my departure flight time, therefore giving <30min of layover in Toronto and subsequently cancelling my flight from Toronto to Victoria. I had a confirmation email of my flight times from when I booked the trip, which clearly did not match up with the new flight times that were listed on my account on the website. I never received any email telling me of these major changes. When I called to inquire about these changes I was kept on hold for >2 hours total because they were having trouble "seeing my itinerary". Finally, I was reassured that the flights had been fixed.
The next day I decided to call to confirm that my flights had been changed, but no one seemed to know anything. They did not have any information on the call from the night prior or the change in flight. At this point, I could see that flight prices on Expedia and Orbitz were now lower. I was told that my reservations could not be changed because they could change me to an earlier flight, despite the fact that I purposely did not book that flight originally because I did not fit with my schedule. They could not even match the lower prices that were being advertised on their website.
I spent a total of >5hours on the phone trying to fix this problem that I had not even been notified of. Thankfully I had checked the website, otherwise I would have never known there was a change/cancellation of my flight. Needless to say I will never book again through Expedia, and I advise that no one else does unless you like spending your free time fixing the problems they created and did not even notify you about.

I have been using Expedia for several years and I really have had no problems with making reservations and getting help. Recently, I decided to see if I was really getting a good deal from them. I signed in and made a reservation at a hotel. When I did this I got a message that there was only ONE room left at the price I was quoted. I did make a reservation as I usually do. Then I decided to see if they were being honest with me, so I immediately went to the hotel's website. There I saw the price for the same room was the same as I got from Expedia, but it said there were NINE rooms left at that price.
The conclusion I drew was that Expedia purposelessly claims the room you are looking for is almost sold out to encourage you to reserve the room on their site. They weren't lying about the price, but they were certainly being dishonest about the urgency of booking the room from them. Lesson learned? Don't expect honesty from Expedia. They are in business to get you to book through them and they don't really care about being honest. I will never book through them again without first checking with the hotel first. The one being honest will always get my business.

Today I made a hotel reservation online, but got my dates wrong by one week -- my bad. So I called Expedia when I saw the email from them with the wrong dates. I did not want a refund, only a correction to the dates. They would not do it. They said it was non-refundable and non-changeable. I could not believe it. I pulled up my account online (Amex) and saw it was pending. I called Amex and explained the situation, and I wanted to dispute the charge. They advised it would be resolved in 48 hours, but to monitor my account. We'll see. How can Expedia get away with this? It's all but larceny!

Expedia never sent my email address to Air Canada to prompt me to confirm my flight 24hrs beforehand. As a result I was bumped off the flight and was late for work. Their service is minimal and mediocre at best. It's a middleman that desperately needs to be cut from the equation. I will never book a flight through Expedia again. I will book directly with the airline and deal with them directly. If Expedia cannot communicate with airlines properly then I will. Also received very rude customer service with a "it's not our fault" responses from every side. Always looking to place the blame on someone else and never owning up to any wrongdoing. Thanks for all the flight issues Expedia. This is where the road ends for us.

I have booked a few hotels with Expedia and this year noticed a huge issue. When I try and book a hotel and the days aren't available, Expedia's website will change my booking to a date that is available. The website says "Congratulations your booking is confirmed no need to confirm it." So if you don't check your email you can't see if the dates are correct. This cost me over $500. I tried to cancel 1 that I made the next day and Expedia said they would but hotel wouldn't. Called hotel and they said they would refund me but Expedia would not. I am looking into this for a possible class action.

I booked an automatic car with Expedia for a trip I was making to Perpignan in France. When I arrived, the rental company (Alamo/Enterprise) informed me that no automatic rental car was available and that I could either return the next day or take a manual stick shift. As I don't drive a manual and was staying more than an hour's drive from Perpignan and had no other transport, they said they could arrange an automatic car hire for me with Hertz and would refund me the difference in car hire costs.
I have all this in writing. However, the refund of the original $700 I paid to Expedia was to come to me directly from Expedia. I have now been writing to Expedia for more than a month concerning this refund with no response and no refund. As it stands, I am out well over $1500 for a car rental that I was guaranteed and prepaid for at less than half the cost. In the meantime, I am being charged interest on my credit card for the original charge which has not yet been refunded. I cannot get any response from Expedia and no one on the customer service phone line will speak to me about the issue.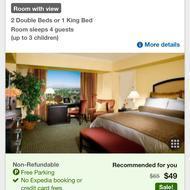 I submitted so many claim and cannot get price match. I booked a hotel in Las Vegas on 09/01/2017 around noon with $76.52 and I saw the price changed to $49 at the next day noon of the exact same website, expedia.com. And I filed claim to request price match at once. They rejected my claim! They say "Our Price Guarantee only applies when quotes from other travel providers are submitted up to 11:59 pm Pacific time two days before your scheduled check-in date of your booking with Expedia.com. As your claim was submitted outside this timeframe, the Expedia Price Guarantee does not apply on this occasion." However I have the member of Expedia, "If you're an Expedia+ member, we'll match your hotel price until midnight before check-in". See what they said in website and what they really do are totally different. Expedia is not an integrity and reliable company AT ALL!!! Don't want to book anything on it again! I feel so sad to be a member of it!

I booked a room though Expedia.com. When I was looking over their room options, I chose the room with two queen beds. When I got to the hotel, they told me Expedia never informed them of my request for two queen beds and all they had was one king. I called Expedia and got the typical runaround saying the hotel didn't follow through. The front desk was more than willing to try and help me and would even have given me a discount, but since I paid through Expedia, there was nothing they could do.
They were also all booked for the night and could not move me. I called Expedia on the phone and aside from being on hold for over 50 minutes (had nothing better to do), they were completely useless. It was someone named "Stacy" who had a very thick accent and was difficult to understand. If you are going to outsource get people who speak very fluent English or don't give the "English, press 1" option. Needless to say I will NEVER use Expedia.com again.

My flight was cancelled 8/28/17 due to weather (Hurricane Harvey) as my connecting flight was in Houston. No other alternative flights accommodated my schedule, that being said I asked for a refund. The agent in turn said he had to confirm this with the airline. From my understanding all Expedia agents should already be informed of this information and second it's on United's site in the policy section to refund money back. The agent wasted 3 hours of my time waiting on the line for United to answer just to finally hang up assuring me he would call back when he gets an answer from them. He called back maybe two hours later stating he couldn't get a United agent on the line and that he was just going to refund my money back.
When I asked him the total, he gave me the total to the flight leaving out but not the flight coming back. When I asked about this he said, "Oh you want to cancel the return flight as well." With all the patience I had left I explained to him that if I have no way to Costa Rica why would I need a Flight back from Costa Rica. He put the ticket in to refund my full trip and stated I would receive a confirmation email. I called Expedia again on 8/29 because I had not received a confirmation email, upon waiting on an agent the automation service stated that I would be receiving my refund within 7 days but the agent told me they'd have to wait for confirmation with United because from their end the flight was not cancelled. I lost it with them ended up hanging up and three days later I am still waiting on an email and my refund.
Meanwhile I've been trying to get an answer from United with no luck due to high call volumes. All in all, prior to this incident I loved Expedia after but this incident I will not be using your services. I can not deal with the incompetence of the agents whether it was due to Expedia not giving them the proper information when flights are cancelled or if it's just the agent themselves.

We are part of the hotel partner program. It seems if a clerical error is made online, they feel they do not need to reconcile the situation. Instead they feed off the error and collect commission on cancelled reservations that have 0 dollars collected on them. You have up until a certain date to reconcile your monthly invoices, I phoned and was told that only 1 courtesy is allowed within the year. As I am sure all can understand the hospitality industry and knows that not only one hand is on certain situations. This was the situation here, a reconciliation was done incorrectly by an employee, and upon trying to rectify this over the phone to 2 separate Expedia support persons, I was told I would have to pay for commission on reservations that they are not entitled to collect on. Shady business practice, and absolutely going to reconsider whether the small amount of reservations we receive is worth being ripped off.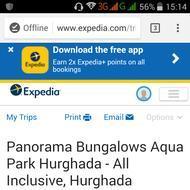 I made a reservation with Expedia for a hotel in Hurghada and paid online, called the hotel to reconfirm. Hotel said I have to pay additional supplement of 160$ on arrival, I called customer service of Expedia. I was for 3 hrs online with agent (Ashley) and she didn't help then transferred me to her supervisor (Daniel). He tried to help to make a turn away and I have to pay the extra, explained him "It's not my mistake. It's the mistake of Expedia", after another 3 hrs with Daniel transferred me to a lady from the corporate team explained again my problem she hang up on me. Cancelled my reservation without my approval, thank you Expedia for destroying my planned holiday, it's the worst experience I ever faced. I will never book with you again.

First of all, I spent over 50€ in credits trying to call them. Ok they'd call me back if I ask, but good luck getting your called answered in the first place. They absolutely don't stand up for their customers. The airline I have my flight with changed my flight time twice then cancelled it after. They don't want to change the date of my flights and keep calling me "trying" to fix it up but then "transfer" me to somebody else and there's me again on hold until the call goes back to the main menu options. Horrible, pointless buying flights with them.

I receive a text message. My flight was canceled. I called Expedia as the airline could not help because I booked through Expedia, not the airline. I was on the phone trying to rebook for over 4 hours. After 4 hours I still did not achieve rebooking. I have no words. Makes me sick.

Do not book from Expedia. I went ahead a booked a flight from them, and was unable to add insurance to my plan after I purchased. So I called. They were having websites issues that prevented me to do, and even the associate on the phone was having problems after verifying I was eligible for the insurance. I spent a long time on the phone and eventually he was able to cancel my flight and re-book the same flight with insurance. I told him when purchasing said insurance that it was because my plans may change. He acknowledged my reason and proceeded to charge my card.
I go to cancel or exchange my flight because indeed my plans have changed and I was just informed that I cannot do so because I am not having a medical emergency or suffering a family emergency. UM WHAT?! Yes, it is in the fine print online. However, I did not book online. "I called to book the insurance, sir. You sold it to me over the phone. Therefore, it is your job to tell me that at time of purchase. I would not have purchased the damn flight then. I would have just simply canceled it, considering it was within the first 24 hours of booking." Now, I am out $400 for a flight I can do nothing with. My situation has changed and I do not appreciate a company telling me what is extenuating circumstances or not. Because I consider my situation important enough to even deem a credit, I just had to book a completely new flight out of my pocket.
And definitely not from Expedia. I have worked customer service and I worked it for a long time. This is poor service. Period. I was pushed on an insurance company who can do absolutely NOTHING to help me. I booked everything through Expedia. I was charged through Expedia. This is not a way to handle business. That's a significant amount of money to lose for anyone. That's a significant amount to lose with absolutely no preparation from the associates on the terms. I'm beyond disappointed.

ConsumerAffairs Research Team
The ConsumerAffairs Research Team believes everyone deserves to make smart decisions. We aim to provide readers with the most up-to-date information available about today's consumer products and services.
Founded in 1996, Expedia is one of the oldest online travel companies. It was created by a team at Microsoft.
Hotel price guarantee: Expedia will not only match lower offers but also give customers $50 for finding cheaper rates.
Expedia+points: Purchases earn travelers points that they can exchange for discounts.
+VIP Access: +VIP Access members get free amenities and services at select hotels.
Visitor guides: Expedia provides visitor guides to help vacationers find interesting things in their destination cities.
Mobile deals: The Expedia mobile app gives users access to exclusive deals.
Best for Domestic, international and budget travelers.
Company Name:

Expedia

Year Founded:

1996

Address:

333 108th Ave.

City:

NE Bellevue

State/Province:

WA

Postal Code:

98004

Country:

United States

Website:

http://www.expedia.com/