Consumer Complaints and Reviews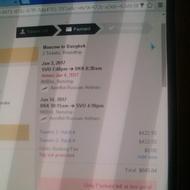 I used Expedia yesterday (10/23/2016) to buy tickets online from Moscow to Thailand via hipmunk.com page. I was informed by Expedia that the total price for 2 tickets was 845.69. It was a great price, so I rushed to buy those tickets. After I entered all the information about the passengers and credit card number, I got a message, that unfortunately, the advertised price is not available and the tickets are now 5.849.12. If this is not misadvertisement and misleading practice, then, what it is?

Recently I purchased an Expedia package deal for 2 adults Singapore to Bangkok return flights with 2 nights accommodation including insurance. I was emailed an itinerary confirmation which displayed the total cost of the package to be $826.82. The airline also sent me a cost breakdown of the air ticket which came to NZD$430.92 + insurance NZD$32 and I guess the rest would have been for the hotel which came to NZD$363.90.
Just to be sure I checked my bank statements for the deduction for this package. I couldn't find any deduction so I contacted the Expedia support number to inquire about this. I explained to the Expedia support person who answered that I had made a package booking and received the itinerary confirmation email but nowhere on the itinerary did it say that the package had been paid in full only that it had been confirmed. I also explained that the reason I was calling was to confirm that the package deal had been paid for and if so what date was it paid so I could pinpoint it on my bank statements. I don't like nasty surprises like rocking up to the airport only to find we are not on that flight because we haven't paid for the ticket or rocking up to the hotel to find out our booking had been canceled due to nonpayment.
I needed actual proof of payment so I could have not only peace of mind but also something to fall back on should things turn to custard. The Expedia support person didn't seem to understand my concern and kept telling me that the itinerary confirmation would be enough. Finally after a long hard battle to get him to understand the Expedia support person emailed me confirmation letters that I believe he had just quickly typed up and sent to me while we were chatting to get me off his back.
The cost breakdown the Expedia support person sent me was as follows; NZD$476.92 for the hotel, NZD$315.90 for an unspecified item which I assume would be for the air tickets and add NZD$32 for insurance which comes to a total of NZD$824.82. Very similar to the total on the itinerary confirmation. From these emails I established the dates the deductions were made. I referred to these bank statements and found the following deductions: NZD$430.92 for air tickets + NZD$476.92 which I assume was for hotel and insurance which comes to a total of NZD$907.84?
As the first two totals are similar I accept that the total they sent me on the itinerary confirmation of NZD$826.82 would be the correct total but why do my bank statements show that a deduction of NZD$907.84 was made? That's a difference of NZD$83.02? The Expedia person explained that sometimes airlines add hidden charges. That's a lot of hidden charges and why wasn't it reflected in the Expedia itinerary confirmation total. Were they false advertising?
So in conclusion the air ticket cost confusion I have is as follows; Expedia's itinerary confirmation reflects the air ticket cost as being I assume based on my calculations based on the information provided came to NZD$315.90. The airlines receipt for the tickets showing the cost breakdown and total reflects the price of NZD$430.92. A difference of NZD$115.02?
My confusion over the cost of the hotel is as follows; I estimated the cost of the hotel to be NZD$363.90 based on the information provided by the air ticket receipt deducted from the Expedia Itinerary confirmation. The receipt emailed to me by the Expedia person shows that the hotel value was NZD$476.92. Also; Why does the total cost displayed on the Expedia itinerary confirmation reflect NZD$826.82 while my bank statements show a deduction of NZD$907.84 was made? I have also discovered after going into the airline's website with the same information as I gave Expedia for our air tickets that the airline's website gave a price of NZD$310.00 compared to Expedia's $430.92 for the same flight and all? The moral of this story is be aware of what you're paying for and shop around for better deals before you buy.

I have been using Expedia for years without incident. I have always booked international and national flights and some car rentals. I never booked a hotel through them. I won't either. I spent 1 week going through their system to check on flight prices to go to New York (LGA). Every single time I did, the very first flight would be appear highlighted and an encouragement to save over $200 by booking both flight and hotel together. When I finally decided to purchase my flight, I thought I would check out the hotels that were available. I only stay at Marriott since I am a member. They had Marriotts listed in the area I wanted to stay and thought I would give this a try. The box indicated that there were 5 tickets left at this price... beware!... it said this for 3 days straight. So, when I finally decided to take the plunge I got to the last page of the purchasing process and the price jumped by $200! They said the price changed while I was purchasing the ticket.
I was shocked. I went onto another computer, and it had the same highlighted box that said 5 tickets left at this price, and on the last page of the checkout process the price jumped $200. I waited until the next day and used a work computer and the same thing happened again. I called Expedia and asked the non-English customer service rep what was going on. He said flight prices change all the time. I said I understand that drill, but why does Expedia's website tell me the same price for 5 days in a row, and then on the last page of purchasing the price jumps $200? I said that this isn't an airline issue but an Expedia false advertising issue. He kept blaming the airlines. I told him I don't blame him personally, but that his company just lost a long time customer for poor business practices.
I don't want to be lied to. If your company has something to sell, tell me the correct price up front! I have decided I will book my flights and hotels directly with the airline and the hotel companies from now on. Turns out it was cheaper in the end to do it this way. Thanks for trying to screw me Expedia, or I would not have discovered how easy it is and cost saving too, to book directly with the companies I plan to deal with.

Expedia does not stand by their word of 24 hour price match guarantee. I got double billed in July and didn't catch it until my August statement. Their representatives do not speak English and since he took my email incorrectly and I called back the same day since I did not get an email confirmation it got booked again at a cheaper price within the 24 hour window and they will not acknowledge it. They need a website with the amount that was cheaper but shouldn't my email confirmation from the hotel with the difference be sufficient??? Nope apparently not. Please use other discounted websites to make your vacation reservations or make sure you are speaking to someone in AMERICA who actually understands ENGLISH before giving out your credit card information. When I called back they called the hotel and had them reverse their claim. I will never use Expedia again and I will encourage others to do so as well.

On Wednesday 10/18/2016 I was looking for roundtrip flights from LAX TO ATLANTA. I found one on Delta for $497.20. I decided to book the flight. Instead of getting a confirmation the screen pops up with a message that says "We are sorry this happen, but your flight price has changed to a much higher prices would you like to book it?" I said, "No." And left the site. I went to book my flight with another airline only to find out that Expedia had charged my card $279.10. I called them to ask why would they charge my card when they didn't book the flight. No one could answer that questions. I spoke with corporate on Thursday morning regarding what happened, no one could tell me why I was charged. However they would assure that my money would be back into my account by Friday. As of 7:30 pm I still had not received my money into my account.
How do I know I can trust these reviews about Expedia?
611,030 reviews on ConsumerAffairs are verified.
We require contact information to ensure our reviewers are real.
We use intelligent software that helps us maintain the integrity of reviews.
Our moderators read all reviews to verify quality and helpfulness.
For more information about reviews on ConsumerAffairs.com please visit our FAQ.

I had occasion to stay in Jackson WY in September of this year. I looked online to find and book a hotel. Expedia's ads dominated the offerings. I noticed an ad for Jackson that was in my price range and booked not noticing that the ad in the middle of Jackson WY ads was in reality at a hotel over 100 miles away. I got a confirmed booking for the Branding Iron hotel in Dubois WY. I thought it was in a area around Jackson. Why would it not be? When I got to Jackson I looked for the hotel and with the aid of another hotel found out about the error. I called Expedia and talked to an agent (after a long time on hold) and wanted to correct the mistake. He was very nice and told me he would take care of the mistake, but would I mind waiting for a confirmation? I remained on hold for 45 minutes until the line went blank. He did not correct the error and I was charged for the night's stay.
As soon as I confirmed that I had been charged I again called Expedia and after another 25 minutes on hold was told that the hotel had attempted to call me. I had my cell phone with me and with good service all night but that they could not contact me. I was therefore on my own. I will pay the credit card, but Expedia and the Branding Iron Hotel have the last dollar of mine.

Expedia does not stand by its product. After 12 years using their service, somehow my name was misspelled wrong all of a sudden - likely a bad internal upgrade or integration. I had to cancel my flight/hotel and rebook which took an hour of their customer service time. I rebooked the same exact flight and hotel and when I checked out I didn't bother to check the times or airport because I know exactly what booked. When I looked at itinerary I realized it gave me the wrong flights and wrong airport. I even had screen grabs to prove my point (as the flights I selected added up to the correct number and the flights it gave me didn't add up to the number I paid.
I was on the phone with the manager and his manager who was completely obnoxious and said it was my problem. Now the flights are no longer available at the price. They are now $1,175 more and Expedia won't honor it. They even told me the numbers don't add up but that's my problem, not theirs. I cannot give my money to company who had serious technical problems and don't honor their product when it's completely their fault. This company sucks.

My husband's grandmother passed away suddenly last night. They live 3 hours away and because my husband works until mid-afternoon, we couldn't leave until after 5. This meant we needed to get a hotel. We needed to stay close so we could go back to his grandfather's house in the morning to help with funeral arrangements. I stupidly put in the incorrect zip code for a city an hour away from where we needed to be. I called the hotel directly, told them what had happened, and they told me they hadn't received my reservation from Expedia yet but they would have no problem refunding my money. I called Expedia to use their automated system to cancel the reservation and it said it was nonrefundable. After looking through the details of my itinerary, it said that there would be no cancellation fee at all.
So I spoke to a representative, Lynn, about getting my money refunded. She was extremely sweet and gave her condolences for the passing of my husband's grandmother several times. After speaking with the gentlemen I spoke with at the hotel, she refunded my money. She told me that it would be up to five business days before I received the refund. I am a college student and my husband works to support both me and our son. To say funds are tight is an understatement. In order to meet with the funeral home when we needed to, staying in a hotel was a must. When she told me that, I asked her if there was any way for it to be sped up a little to where we could have that extra money to travel with. She told me that she had pushed it through as far as she could and it would come to my bank, then be up to them. I told her that it meant a lot for her to do that for us, and I appreciated it.
But Lynn didn't stop there. She knew that we needed that extra money to book a hotel in the correct city. So she told me that she put a $100 coupon to use to book our next hotel that way the loss from the money used on the incorrect booking wouldn't affect our trip. I absolutely lost it. I cried. A lot. From the weight of losing a loved one and having a complete stranger show compassion like that, it meant a lot.

I never take the time to comment even if I was disappointed. PLEASE, PLEASE I WARN YOU, DO NOT USE THIS COMPANY. You will regret it. I made reservations for round-trip, only the 2nd leg of the trip was booked. When I called to find out why no one knew why I received a text saying my first leg was confirmed but the email only showed the 2nd leg. I was told by Expedia I had to confirm my card info with Spirit although I booked through Expedia. I did that and was overbilled and Expedia did not want to issue a credit. OMG, OMG the stress that this has caused is not worth it. I beg you don't use it.

When we tried to book a hotel for one night after booking flights and choosing the option at the site to book a hotel for less than the duration between flights to and from Paris, the Expedia site changed the request to the full number of days between flights. We did not notice until after completing the transaction, but Expedia refused to let us change the reservation, and said we were responsible for all 15 nights, although we called them immediately. So deceptive and sneaky. We finally got credited through our credit card company, but it took months, with Expedia blaming the hotel's policy and the hotel blaming Expedia. I will carefully avoid Expedia and all its many affiliates in the future and everyone would be wise to do the same.

I had a negative experience with Expedia and when I received the customer survey I completed it with the truthful negative comments. The very next day a 1st Class ticket for $3,116 in my name was purchased on united.com using the credit card I provided the rep during the call. Another attempted first class ticket was made for $3,711. United gave me the IP address of the person making the purchase and it was traced back to PeopleServices in the Philippines which is the company who provides service for Expedia.

Expedia has a price match guarantee. I found a price for the same resort for $76 less. The customer service rep said she was looking into the other site I referred her to and she would be right with me. She quoted to me that the price was $76 more on Expedia but she still had to do some research and I should hold on. After 28+ minutes on hold I finally disconnected the call because she never returned to address my request. Guess the price match guarantee only works if you can actually get someone to assist you.

Flight cancellation and refund in Expedia is very worst. Do not book tickets in Expedia. They are eating our money and fooling us saying "the ticket is refundable" while booking but actually it is not. I had a worst experience and lost all my ticket money. They took some $s for cancellation while booking for full money refund. I called them for cancellation, they said the ticket fare is not refundable. I was in call with them for three hours, spoke to tier 1, tier 2 and tier 3 support. No luck. The lady who spoke to me as supervisor is very rude and knowledge less.

Expedia has to have the worst customer service of any service company I have used over the past few years. I have been using Expedia to book hotel stays... Everything is OK unless you have a problem that you need to discuss with customer service. On one occasion I had to change a reservation. After explaining the entire situation to one representative, she told me she could not help me and said I needed to speak to a supervisor (it seemed that every issue I had needed to be addressed by a supervisor). IT TAKES FOREVER FOR A SUPERVISOR TO ANSWER. I waited for at least 45 minutes and had to re-explain the situation to the supervisor who did not understand and transferred me to another supervisor who did in fact help me. I would estimate that the entire process took about 1 and 1/2 hours... Just to change a reservation.
My last experience with their customer service was to complain about a hotel I stayed in. I sent an email to them about my experience asking for a refund or credit to which they replied with email stating that it seemed I should in fact receive some type of credit. The email provided a case number and a telephone number to call. It said to provide the case number. I called the number and explained the situation to the rep who answered the phone and gave her the case number. She said she did not have access to case numbers and needed the itinerary number. I asked her why I received an email saying to call with case number and she had no answer.
Again I would need to speak to a supervisor. I waited almost an hour for the supervisor who said she would have to call the hotel to see if a complaint was on file. Of course the hotel said there was no complaint (I did complain to front desk) so Expedia supervisor said there was nothing she could do. I asked her why I received the email indicating that I deserved a refund... No response from her. I went back and forth with customer service by email. They kept saying they would expedite and elevate my concern so I continued communicating via email (I refused to call on the phone). After approx 15 emails they ultimately said they could not help me. Why drag it out so long then?? They are awful!!

My brother passed away in Kansas City in September and I had 2 days notice to travel from San Jose, CA. I called Expedia on Thursday to schedule travel. I told them I belonged to award programs with United and Delta, National Emerald Club and Marriott. Expedia developed an itinerary that without any of them. It included American Airlines, Dollar Rental Car and American Best Value Inn. They said this was best itinerary give so little time. I told them AA had a compassion fare and they said I should purchase ticket then talk to AA at airport, which was wrong because said I should have call them.
The flight missed the connection in Phoenix and I had to spend night in Dallas to get to KC before Saturday morning service. I found that this flight often missed this connection. They said Dollar program was like National program and it was not, I was given an old small car that did not make it out of lot and then was given smallest car I had ever driven, the hotel was worst I had been to and I refused to use it and demanded a Marriott Courtyard near by. The trip was worst because of Expedia's effort to profit off of the situation. Expedia has refused to take any responsibility for this and blamed the other vendors. They offered me a $200 coupon for my next booking, as if I would every use their agency again They did not seem care about me, but were looking for exploit my loss.

I had two bad experiences with Expedia. After the first I could see that it might be an oversight - no harm done but after the second experience and losing 75.00 without compensation I will never use Expedia again!! My first experience I had booked a Hotel and then unfortunately I called 24 hours of arrival to cancel and the Hotel could not find my reservation to cancel. Well I thought no harm done. I had to cancel anyway. Then I used Expedia again and when put in my arrival date and departure date and did my search for Hotels somehow the dates changed to the dates that I was doing the search but it did not show my dates until the confirmation email. My confirmation email came but I had already ran out the door to work.
Later that day I received an email that said "rate your stay." It actually had me going to the hotel that day in Washington and I live in Utah. I immediately called and they would not refund my money and I was on hold between two days for over 5 hours!! Nightmare. I will never use again and pass the word on to all of my traveling friends!! BAD BUSINESS AND CUSTOMER SERVICE!!!

My son and I have reservations to fly to Fayetteville 11/1/16, due to Hurricane Matthew. The court house where we needed to go is all under water. They changed all court cases to Greenville NC, however this airport is currently closed. We asked Expedia could we change our flight to fly into Raleigh NC. Expedia told my son there is not a disaster in Fayetteville. Are you kidding me!!! Now we have to hope we can drive an hour and a half to Greenville from Fayetteville. Thanks Expedia, I have been a long time customer of yours. No longer will I use your services. There are too many others out there to use. Remember this is a natural disaster and you couldn't even try to reroute us to another airport. Disappointed to say the least!!!

I booked a hotel room with Expedia for 2 nights at the Wyndham resort in Orlando for October 14-16. The Expedia website stated there were 4 rooms still available at the listed price. I booked it and paid in full on Expedia's website. When I arrived at the hotel at 11pm I was told they didn't have a room for me and to please sit in my car for 20 minutes while they clean a room and someone will phone me when it's ready. After waiting the 20 minutes (never received a phone call) I go back into the lobby and hear the same clerk giving another couple an upgrade because their room is not available. This couple had not even paid for the room yet, only reserved it. I questioned him why didn't I receive an upgrade instead of waiting in the car for 20 minutes? He was unable to give an answer. Could it be because I booked via Expedia and they don't receive the full amount I pay? Hmmm...
Anyway... I finally received a room at midnight, after finally demanding to speak to a manager, but had to take a room with one king and bunk beds instead of two double beds. So we had an adult that had to sleep in a bunk bed all night (me) hitting my head every time I sat up. The hotel would only refund 50% of the money for one night. The hotel service was so awful we left the next day not staying the final night.
I called Expedia the next day asking for a refund for the remaining amount since I paid in advance and the hotel did not have a room with two double beds as advertised by Expedia. Of course they did not issue a refund and the agent who barely spoke English explained to me that hotels always overbook and this is just how it works. Prior to this I have been a huge customer of Expedia booking several large trips a year. But since they did not stand behind their product and service I am deleting their app and never booking through them again. Next time I will book directly with the hotel because it seems those customers receive better treatment.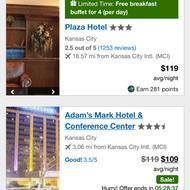 Expedia misrepresented the distance from the MCI airport to the Adam's Mark hotel. App said 3.06 miles and I started on a Uber ride giving him the hotel name. After about 15 minutes of driving I started questioning where this hotel was. I told him it was supposed to be 3.06 miles from the airport. He advised me that it was about 40 miles. I can see being a small distance off however with the.06, it indicates that it is very accurate. We turned around and I made my own reservation a couple of miles from the airport.
I called Expedia to cancel and was told they would call me back in 1:50 minutes. I accepted that and waited for the call. After 2 hours I had internet access connecting to their customer no service site. I wanted to speak to an agent to get it cancelled and was told I would be called back in :50 minutes. Again no call. I called their customer no service number and was again told they would call me back in 1:53 minutes. I decided to sit on hold this time. The call was picked up in less than a minute. I was told the cancellation period ended at 6 pm. If they would have taken my first call it would have been no problem.
I asked to speak to a supervisor and I spoke to Alexis. She told me the same thing and when I began questioning her, she hung up on me. I will be taking this to the top and demanding full credit, compensation for the drive cost and compensation for my wasted time at my full billing rate. Best suggestion is NEVER to book through Expedia or their sister company, Orbitz. Use them to find the price then book with the hotel directly. You will usually get the same or better pricing as they do not have to pay the commissions. Live and Learn.

I purchased a round trip flight from EXPEDIA. I even purchased the trip protection. When Hurricane Michael was hitting Florida was when my trip was scheduled for and the Governor declared the entire state a state of emergency. I called Expedia to see if my trip protection would give me my money back as to not fly directly into a hurricane. The EXPEDIA customer service people assured me that I would receive a full refund. I filled out the claim and it was denied three weeks later. They completely lied and stole my money on the trip and trip protection. DO NOT USE EXPEDIA>>> Believe me I am blasting it on social media to my family all over the world to share.

I am very dissatisfied with the hotel recommendations that were provided by Expedia. Within the past year, I've had two horrible experiences. I was bitten by bedbugs and also had my hotel room broken into. These incidents occurred in hotels that were highly recommended by Expedia. I would never go through Expedia again to make reservations. Two vacations ruined because of their false advertisement.

Booked a flight, hotel and car hire through Expedia for a trip from Chicago to Grand Rapids... BIG mistake. Needed to change the booking because of illness... Hopeless customer service... after an hour on the phone (at premium roaming call rates) they could not change or refund... so I lost ALL the money! I've now closed my Expedia Account, deleted the app and UNSUBSCRIBED from their junk emails! Absolute RUBBISH!

I rented a car thru Expedia for Advantage Car Rental. It was a 7 day rental out of Nashville, Tn. Confirmed price by Expedia including all fees and taxes was $296. Being insurance poor I never take out car company insurance and made that very plain at check in for car. They went thru some gobbledygook about they would escrow funds on my card for over $800, but the overage would be cleared upon return of the car in good shape. Fine. When I returned they said all was OK and handed me my invoice. I did not look at it at that time as I was a bit rushed for departure. I returned home and found the invoice to be $575.00. When calling they asked me to look at the document I had signed on check in where I had signed and initialed many places. One of those was "Insurance waiver."
Insurance waiver to them was since you are not taking out insurance we add a fee of $280. This is just in case you had a wreck and did not have coverage on you own for coverage. In other words I initialed a waiver not for insurance but for waiving the right to not be charged for insurance whether I wanted it or not. I contacted Expedia with every single document. Their total response was that they had collected no funds. I had not asked them to refund anything. I merely wanted them to contact Advantage and use their influence in an agreement they surely have with them to look into this out and out fraud. I don't care what Expedia tries to dodge. They are as guilty as is Advantage of nothing less than robbery without a gun.

An Expedia agent did a mistake handling my 24-hour cancellation. I ended up being charged for $723.50 by Delta. I was frustrated when that happened. But when my case was escalated to the Corporate office. I got my refund and $200 coupon as a compensation. When I called more than 3 times in one day, I was notified of that and my call was directed to a supervisor as a high priority.

I was recently booked on American Airlines via Expedia to fly on Oct 5th, 2016 to Miami Florida for a business event. By Oct 4th, it was predicted that hurricane Matthew was a major threat and expected to hit Florida as a Category 4 Hurricane. They had declared a state of emergency. My company began urging that we do not fly in. I began trying to contact Expedia on Oct 4th and tried several times. I was on hold for over 1 hour at one point. I was not able to reach a human being. Meanwhile, their voice recordings stated that they were experiencing higher than normal call volumes which was understandable. The recordings fully encourage you to use their touch tone process because they are trying to reduce the calls holding, etc. After multiple attempts and lots of time, I gave in and used their phone prompts to cancel my trip.
I received very appropriate message, "Your flight has been cancelled, your financial institution will be reimbursed within 5-10 days." etc. I had every reason to expect that my flight was indeed cancelled. On Oct 9th, I received a reminder notification regarding my return flight from Miami which would have been scheduled for Oct 10. I immediately called Expedia and got through to an agent. I expressed that I had used their system to cancel. I was told they have no record. She put me on hold to speak with the airlines. She confirmed my status is "suspended" because I was a no show which means no refund. The fact that American had not cancelled the flight is also concerning considering my colleagues flying United and other airlines from same airport were all cancelled. After I calmed down, I called Expedia again to see if anyone else could help me.
I typed in my Itinerary # as prompted and the recording stated my flight was cancelled. How is it that their internal system verifies my status of cancelled but the Expedia agents say they have no record? Of course nor did I receive an email confirmation. After hearing the system recording, I spoke with a 2nd Expedia rep. He also stated nothing they can do and that I should have waited to speak to an agent. I explained that their own systems actively encouraged clients to use other means to make changes and cancellations that day. Regardless there was a hurricane, regardless there was an extraordinary call volume and extremely difficult to reach anyone, and regardless their internal touch tone phone system failed while giving me full comfort that my cancellation was being processed, in spite of all of this... nothing they will do. I travel extensively for business and I am a responsible person. I would never be a "no show".
I have had some past good luck with Expedia and I gained Silver status with them but after this I will never do business with them again. And after reading the alerts on this site, it feels more like their internal systems probably work fine, it's a corrupt management and culture that doesn't care about its clients and have a practice of not honoring cancellations and refunds whenever they think they can get away with it. I am now asking American to review my case. I have deleted my Expedia mobile app and will now be checking reviews for their competitors.

So I booked a room on 9/24/16. Everything went fine, got my reservation and immediately charge my credit card. So far no problems. Everything was fine until I tried to check in and the hotel couldn't honor my reservation. Expedia couldn't find me a room at the moment so they offered a $50 dollar coupon towards my next booking. So today 10/8/16 two weeks later I call them and try to redeem my coupon and they give me the runaround and have me on hold for 1 1/2 hours and still no coupon.

My wife and I booked a trip to Portland Oregon to visit our son on Labor Day weekend 2016. We purchased travel insurance through the Expedia website from Aon Affinity Travel Insurance Services. This was promoted by Expedia to protect our investment in this trip should our travel plans be disrupted due to any reason from what they tell you. My wife developed serious back pain that required medical services and prohibited her from flying. We submitted all of the necessary paperwork, doctor's report/signature on their forms. The insurance company denied to pay for her ticket. This is a scam. Don't fall for it. You won't get your money if you file a claim.

Due to the Hurricane Matthew we did a rather quick booking of hotel in Miami. On Friday the danger was over and we are able to fly back to Sweden already on Saturday. The hotel booking was not necessary for more than one night. When we asked the hotel for refunding for the second night, they referred to Expedia. Trying to update my booking was not possible probably due to a non refundable booking. This was definitely not clear to me when we did the booking on internet. To leave a complaint to Expedia is more or less impossible. In the future I will avoid bookings through Expedia and the other suppliers in the same company structure, such as Hotels.com.

Reservation for 4 nights made on June 17, 2016 for Oct. 3-7, 2016 stay in Washington, DC. Full payment was required and paid with no option to cancel. Payment accepted on day of reservation. They called me September 28, mere 5 days before my trip, Global called to transfer me to a property in Arlington, VA. I refused to be housed far from where I wanted to be! I go a full refund of my advance payment.
But being only 5 days before my trip, I had to spend about $500 more than if I had booked with another hotel months before. This is bad business on the part of Global Luxury Support to get advance full payment without option to cancel but then cancel or transfer you to another property farther away. And Expedia refuses to acknowledge any responsibility. I will never do business with Global Luxury Suites and Expedia again!

I just booked a trip 27 hours ago. The price for two people was $1770. I told all my friends, who were all on the same trip, to join me. They all found much lower prices at $1143. When I phoned Expedia, I discovered that my 24-hour window had expired and I was stuck with this price. They were no help whatsoever. As far as I am concerned, Expedia is a rip-off. I thought I was getting great pricing through Expedia and my rewards program... was I surprised!
Company Name:

Expedia

Year Founded:

1996

Address:

333 108th Ave.

City:

NE Bellevue

State/Province:

WA

Postal Code:

98004

Country:

United States

Website:

http://www.expedia.com/