Consumer Complaints and Reviews

I spent 5 hours on the phone with CHEAP TICKETS. First call was over 2 hours. After the first 40 minutes I was told the rep didn't have authority and transferred me to another rep, and finally a 3rd. So, after the 2 h 20 min call, they asked me to call back in 1 hour and ask for a supervisor. The 2nd call was well over 3 hours. They wouldn't transfer me to a supervisor until they had the same info and tried to solve the problem and couldn't then transferred me. THEN it was a 3 hr 8 min call. They were talking with Air France during the first call but during the 2nd they said was closed! So no resolution. Pay $2000 more!

I received an email from CheapTickets in Nov 2017, after purchasing 3 plane tickets for $1400, stating that "there is no need to confirm this reservation". I also bought the travel protection for 99, just in case. What a shock this was to me when I checked in on Dec 31 for my return flight, to find out the flight was cancelled, and I had been booked on another flight 2 1/2 hours EARLIER via Dallas. After 5 hours on the phone speaking with agents, supervisors, dropped calls, a manager "Michelle" - it was made clear that:
1) There was nothing they could do. 2) I would have to talk to American Airlines directly to see if they could change my flights for $200/each. 3) Since there were no flights left for the evening, they wouldn't even help out with a hotel or transfers. 4) Their policy is that they only contact you to confirm flight changes if they exceed the 3 hour flight change time limit. Since ours was only 2 1/2 hours of a change, it didn't qualify. EVEN THOUGH IT WAS 2 1/2 HOURS EARLIER, not later - which of course would have been a non-issue. That is unacceptable. I am asking for some type of recompense, of which they have given none.

An airline employee just confirmed that when you "choose" your seats on your flight using a third party company like CheapTickets, it's simply useless. How convenient!! When I booked my flight with CT and "picked" my seats through their booking process... I chose either an aisle or window seat. On both flights I was inconveniently placed in center seats. What the hell is the seat selection process for when I'm booking my flight? Why don't they just tell us... "you're wasting your time, in actuality we'll seat you wherever we choose to". It's RIDICULOUS! Why aren't we warned that in fact we have to now go through the hassle of contacting the actual airline and booking our seats through them. It's not like CheapTickets is even giving us a discount on the flight! What kind of company flat out lies to their customers straight off the bat?
I doubt I will ever book another flight with CheapTickets since now I know I need to go through a second process of actually contacting the airline and going through the hassle of making my accommodations with them. Wow, real convenience these stupid 3rd party companies really are! Seriously... We're in the technology age and CheapTickets hasn't figured out how to link their system with the airlines that they are profiting off of. Get it together! At least offer us the darn seats we're paying for! Note to the CEO... If you can't fix a simple issue... good luck with your company in the age of technology and convenience! I don't see a bright future for CheapTickets!

I booked a ticket for my wife and son from Madrid to Antalya Turkey for them to reunite with me. My wife already bought her ticket from Bogota to Madrid. CheapTickets took the money out of my account, and then canceled the reservations because of issues with the payment and did not sent an email to notify me neither. The first time they told me that the money did not leave my account, I called my bank. The bank informed me that CheapTickets did withdraw the money. I have been calling them since 3 pm until 2:46 in the morning because my wife needed those tickets to board the plane from Colombia to Madrid. I still want to understand how tickets are canceled but the full amount is taken off of your credit card and then you are told you have to wait 3 business day for your money to be returned. If there was a problem the money should have never left my account to begin with right?

We booked round trip flights through CheapTickets and our outgoing flight was canceled by the airline. CheapTickets reimbursed us for the flight that was cancelled, but wouldn't reimburse us for the return flight because it had not been cancelled. When I explained that we couldn't use the tickets because the airline had cancelled the outgoing flight they said it wasn't their problem. The person I spoke with could barely speak English and was very disrespectful. We will never use CheapTickets again.
How do I know I can trust these reviews about Cheaptickets.com?
667,311 reviews on ConsumerAffairs are verified.
We require contact information to ensure our reviewers are real.
We use intelligent software that helps us maintain the integrity of reviews.
Our moderators read all reviews to verify quality and helpfulness.
For more information about reviews on ConsumerAffairs.com please visit our FAQ.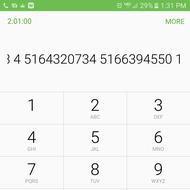 Oct. 20, 2016 I booked travel and hotel for my family with CheapTickets. Was on the phone with representative who barely spoke English. I was very exact and specific in my reservations. Requested all inclusive for party of 5 people... I never received a confirmation, my card was charged $4100, my dates of travel were wrong.
When I called to see where my confirmation email was, and I never got the all inclusive... one the phone 3 times for hours at a time to be told "you will just have to wait until someone calls you back"... insane. They took my money, I did not receive the all inclusive as I requested and now they want me to pay $500 more a night. This is obscene and horrible. This was a present for my family for xmas. Looks like cheaptickets has a Scrooge running their company. I intent to not allow them to get away with this, calling "shame on you", and whoever else I need to make the public awareness of this underhanded business they are running. Thanks for ruining my vacation.

I contacted CheapTickets on multiple occasions about a change in my itinerary that was made by the airline, which would mess up all my connecting flights. CheapTickets did not notify me of this change. I called to double check what my flight times were. They said they would contact the airline and get back to me and they never did so I persisted to call right up until the night before I was leaving. I spent the whole week calling and it nearly ruined my vacation. I got the same response every time. They never called me so I took it upon myself to call the airline. They did not want to help either so I went to the office of the airlines and spoke to a manager. After all of the time wasted worrying about my trip home, they finally put me on a different flight home. Never will I book with CheapTickets again. The worst customer service I've ever encountered.

I purchased tickets on 11/5/2016 and cancelled them within 4 hours when I received a phone call from a 312 area code asking for birth dates. This was not the company that I had done business with. I contacted Cheaptickets & again was told that my reservations were confirmed, yet another email came in stating that there was a issue and my flight was on hold. Long story short, I cancelled the reservations and rebooked with Expedia. The flight monies were corrected & sent off of the account. However, the $272 for room & transportation was removed from our bank on 11/7.
Again another phone call on 11/8 that yes flight was cancelled & they were sorry but my other reservation for the hotel has not been cancelled. Yes, they were now cancelled and $ would be back in account within 3 days. Forward to 11/14 and yet no money & another phone call. Only to be told again, that my hotel transportation charges had not been cancelled. Yes, they will cancel and now it will be 5 business days before $ is return. Bull, this company is nothing but a sham. I will contact Visa & file a fraud case against these people. DON'T EVER USE CHEAPTICKETS.COM AS YOU WILL NEVER GET ANY SATISFACTION!

Horrible experience!! Made a trip to NYC for my reservation and when I got there the hotel said they never received CheapTickets confirmation #. After calling CheapTickets they stated that they sent the hotel confirmation to the wrong email address and the hotel was fully booked. I was stranded in NYC with nowhere to stay after spending 2 hours with them on the phone. DO NOT I repeat DO NOT do business with these crooks.

I currently live between Europe and Asia, and have been travelling extensively for more than 20-years, having started my career working within the Tourism industry. This is by far the worst Travel Company I have had the misfortune to deal with, because of a system error on their part... they cancelled my ticket and said they would give a full refund that will take place 10-days later!
So there is 600 in limbo, no flights booked or confirmed for my flights for Christmas and I now travel into an area where I have no WiFi for 3-weeks and their answer is it's not their problem, simply because they will not take responsibility for their error - I know backwards how the systems work, and this is their error - yet they refuse to accept or even apologise. Disgraceful attitude, ZERO faith in this company... Look to the other reviews and AVOID, AVOID, AVOID!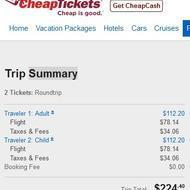 I booked a flight, read all the details which I always do thoroughly to make sure I'm getting the price I want, and entered the payment info, and at no time did the website notify me that it would charge $43.98 for booking this flight. This info was buried in the confirmation email I got, that I didn't notice until later. Had I seen this number at any point, I would have booked my flight elsewhere. I went through the paces of booking a different flight and found the text Booking Fee $0 on the webpage. I called three times, navigating the labyrinth of phone menus, finally finding the billing section, and then silence. I waited on the phone for 5, 10 and 20 minutes with complete silence. No messages asking me to wait, no music, no answer. I had to call "new reservations" and tell them to transfer me to the billing department. They refused to refund their fraudulent charge. I had to dispute it with my credit card company.

I booked my flight in July. Few weeks back, received an email notifying me that my flight has been cancelled, a next day flight was proposed. As it is a family vacation trip and all has been arranged, I need to be arrive on the same day. I immediately reply to the change of flight email and stated my request. I then called up the customer services, but the staff, by name of Peter, seem to be in a bad mode and bad attitude. He told me that that my request will be processed after 4 days, nothing more has been told to me. As though he is just a messenger. What kind of a service is provided by CheapTickets. I also did a search on the Internet and the same carrier does has other flights schedule on the same day. I also email them. But no response.
I waited for 7 days, no one call me up for updates or not even an email to updates me on my request. Finally, I decided not to take the risk of allowing my family holiday schedule to be ruin by the BAD services provided by CheapTickets. I called up again the customer services, and requested for a full refund as as an option I stated in my email to them earlier. During the call, I was then told that I will get a full fund of the amount I paid. Then again, when I received email confirming the refund request, I was told that the refund is excluding the services charges. Again the kind of services expected from CheapTickets.
Through other tickets booking company, I again booked my flight that arrive and depart to my destination on the same day as planned, except more expensive due to the date is closer to my trip. I have to spend $800 more due to the type of services provided by cheaptickets.com. Wish I could have booked my tickets from other company earlier. Now I only hope that I can get my refund in full 2 months time as I was told...

I don't know what happened to the days where a company/website actually cared about repeat business. They appear to be just a memory. Like so many others I reluctantly purchased the travel insurance as it boasts you are covered if you have to cancel your flight as long as you do it within 48 hours of your flight. My brother has cancer and a few days before the flight he fell very ill. Needless to say flying was not an option. So we decided to wait a week and try again... when I called to make the change, the process was so daunting and absolutely designed for the insurance provider (scam/fraud artists) to escape any liability.
Unbelievable. Over a $170 ticket. CT has lost a lifetime customer and earned itself another FAIL RED STAR on ConsumerAffairs. This review will appear on ripoff reports and the BBB and lodging a formal complaint with the FCC. Folks, it's not enough to just complain here... you must copy your review to the FCC web page if we are to ever see this fraudulent business practice put to an end! Good luck everyone.

I booked a flight with this company and discovered some things that are troubling. First, let me say I was eager to book a flight quickly because there was a death in my family. The website gives you a time slot between 6 am and 10 pm which does not become apparent until after you book the flight. Although they advertise this as cheap tickets that are non-refundable after the booking they offer travel protection insurance which allows you to cancel the flight. Beware, read the link because you cannot cancel unless you die, or become so ill that you cannot make the flight. I called this company and complained that I clicked book because I was under duress and grieving. They don't care about YOU or your grief! I was bounced around between CheapTickets and the insurance company before I finally cancelled at a 100% loss of money, time and trust in a company that has absolutely no compassion.

Well, looks like I was one of those trusting people who booked online with CheapTickets and got screwed! Don't book through them!! I see now that many, many customers have been billed twice and cannot seem to get their money back! They have "accidentally" hung up on me twice and said that the charge will be reversed. Representative would not give me the number to call directly to resolve this issue. He just said that he will type up report and said it would be taken care of. I am not feeling too confident. Words of wisdom... DO NOT BOOK WITH CHEAPTICKETS!!!

My mother booked a one-way flight with this company, the day she was going to leave my husband had a stroke and she called them and explained the situation and they wouldn't refund her money and the ** had enough balls to send her a credit voucher and down at the bottom they charge an additional 200.00 to re-book the flight. What a bunch of scam artists.

This is a fraud scamming company. I wouldn't be fooled by the discounts they state they will give. They not only modify your dates, they charge additional fees that are hidden in surcharges. I spoke with 3 reps who each stated they can fix the problem as a courtesy but when it was time they stated "I can't hear. There is static on the line." After going through this with three reps I gave up. Each rep verified my phone number and promised not to hang up on me but they all did. This is such a shame and a ripoff of innocent people's money. I will definitely not stop here, I will keep going so that this company is penalized for its wrongdoing.

I booked a ticket on Cheaptickets.com for 5 of us to fly from Rio De Janeiro to Cusco, Peru. Just prior to departure they increased the price by almost $170 pp. I told them to cancel. Went and booked same itinerary through United on the same Avianca airlines. A month later I see the credit was not issued. I called them and they said I flew on the airlines. I explained to them that the ticket I flew was bought through United and they can check with the airlines. I gave them credit card charges details, new ticket numbers and they said they will investigate and issue credit. A month later I call again and the credit is not issued. Their reason is I flew. Yes, I did but not on the ticket I bought from Cheaptickets but through United Airlines. I have no choice but to file fraud charges against the website. What an absolute crooks.

I travel a lot and everytime I come back from my vacation I will talk about the experience and how much fun I had!!! But not this time! It is my first time in Puerto Rico. I had the worst experience in 47 years of my life!!! The problem started with the hotel, what they show you on the website, I mean the pictures is not what you get!!! And CheapTickets is OK with it!!! If you are suffering or you are not happy they don't care. Even if you want to go back home in same day they don't care!
I asked them I need a number or emails to make a complaint, but they didn't tell me where was the corporate office! They didn't give me any email address or physical address, old customer complaint phone number! I would never use them again and I would never ever recommend CheapTickets.com to anybody even my enemies!!!

CheapTickets put a hold on my account not once, but twice of $690.71 - totaling a whopping $1381.42 of my money being wrongfully and inexplicably placed on hold for a trip that was only supposed to cost about $1075. At first I tried making my reservation online, like I would normally do, but I got an error about a problem with my card/form of payment. I tried again online, because I knew there was no problem with my card and I had enough money in the account to pay for this package.
Finally, I gave up the online approach and then tried to book my package via the toll free number and at the end of that call the same thing happened and I was told by the customer service rep there was a problem with my card. The rep told me to call my bank and I did. The bank informed me that there were two (2) purchases on hold from CheapTickets and that because there's a daily spending limit on debit cards, these two charges (holds) had made me reach my limit! So I called CheapTickets back and demanded that they release the holds! I was told it would take 3 business days to release my funds. During this time I was transferred, then left on hold and eventually hung up on.
I was in a jam because I needed the flight and hotel for the next day and waiting for 3 business days for the holds to drop was not an option! But even if I did have that kind of time, holding $1381.42 of someone's money for 3 business days is unjustified because no goods or services had been purchased or delivered from either of the failed transactions. The whole travel package was only about $1075 but the holds were not in that amount, and together the holds were more expensive than the trip. I don't know why CheapTickets chose that amount to hold and it would be pointless to try and get an explanation from this incompetent company.
Obviously, I did not trust them with any more of my money, but I still need a flight and hotel so I ending up calling Expedia and buying my package from them. However, with the CheapTickets' funds still showing up as on hold in my account, I had to call the bank back and request a temporary increase of my daily spending limit on my debit card. I then had to go into my savings account to move some money to my checking account to pay for the package I booked with Expedia. The next day I checked my account and thankfully the holds were dropped and I was not made to wait 3 business days which would have been well into the next week and by then I would be back from the trip.
The 3 day wait is a b.s. and there was no need to put me through all of this anxiety over when I'd have my money back! This experience was absurd at every level from the online transaction being rejected, to the back and forth calls, to them hijacking my money on hold and being told there was nothing they could do about it for 3 business days! In the past I used CheapTickets all the time to book travel, but I probably won't ever again.

Booked a flight. The booking did not go through. Please try again. I tried again. Booking did not go through. Please try again. I called CheapTickets. They have nothing - no record of me. I called my bank. I've been charged double. There's nothing they can do about it. We have to wait 30 days. CheapTickets doesn't have my name, address, phone number, but they used my credit card but they don't see anything about me. I feel I was deceived now. Ripped off. Consider yourself warned.

To summarize: After purchasing online (with premium service), the e-ticket was not confirmed until 2 days after. I wanted to change the itinerary, so I called the hotline. Waited 15 minutes before the call was received, informed them of the changes, and they informed me of the charge (totaled around $100). They said they would send an email detailing the changes and the conditions. I did not receive the e-mail. Called them again the next day. They informed me that none of the requests I made were entered into the system. Did the same routine again, and had to wait for an e-mail. Same day in the afternoon, I called again to check. This time, the phone line kept on hanging up. Received the confirmation e-mail a couple of minutes after the failed calls. I replied that I accept the conditions a couple of minutes after it arrived.
Received the email stating that the payment link was sent to me. However, there was no e-mail link. So I sent in a ticket requesting the link to be resent. 2 days after, and still no payment link. I call to check up on it and was informed that none of the changes I requested was entered into the system. I requested the change again, but not only will the charges increase, there were no longer any available seats on flights for that day (obviously a lie, as they were still available on the website). I requested a cancellation, but apparently the ticket is non-refundable. Never in my life have I went through such a ridiculously absurd ticketing agent. Such a business should either be removed from all aggregate sites (eg. Skyscanner) to minimize damage to consumers.

I have never had an issue until this experience. I was on the phone for 40 minutes booking a flight for two using two cards - one for each passenger. If the website offered split payments I could have done it myself however had to call this one in. I reserved for two and the agent charged one card for one trip. Made a mistake on the second passengers trip and used the card. Causing the refund to be delayed and resulted in cancellation because the itinerary was incorrect. She had us flying home the same day at different times. Also after making the correction to the second passengers itinerary ended up changing my itinerary to the incorrect time as well.
So after all was said and done only one trip was booked for the wrong return time. The other person wasn't booked at all because she charged the card twice and also overcharged for extra room seats on one trip not both. It was by far the worst experience because all the while I was trying to communicate with the agent she was so scripted and lacked compassion by "yessing" me to death instead of fixing the issue. I asked for a refund and she told me she could only give me points towards the next time I book. I never got the points and called today to cancel the whole trip altogether. It was a disgrace for an example of customer service and I was able to book directly with the airline for $80 less per person. Now I'm patiently waiting my refund and hope all goes well. Fingers crossed. I DO NOT recommend using this company anymore because something has changed causing the service to be the worst airline booking company out there.

I purchased a ticket through CheapTickets and flew the first portion to Istanbul with Turkish Airlines. However when the coup happened in Turkey based on US Council General's recommendations, I cancelled mine and my daughter's departure tickets from Istanbul Airport to avoid the area after waiting for three days. At the time of cancellation, all the flights from Ataturk airport were still being cancelled. However CheapTickets did not refund the remainder trip I cancelled and instead refunded only 15 dollars per ticket which is a joke.
After spending 1.5 hours on the phone it was becoming very clear that they only go by the airline's words, and do not appear to be at all concerned for the safety of their customers as a travel agency. Their actions and their name in this case prove this to the point. They stated that I voluntarily cancelled my ticket even though I explained the situation to them 4 times. When I suggested to them that they should also follow recommendations of the US Counselor's updates when considering the amount of their refunds, they stated they were sorry. I travel regularly, but I will never purchase tickets from them again.

I have now been on the phone for 3 hours and spoken with 5 people. My issue, I double booked on a flight to Vegas, with CheapTickets, however my session timed out and the CheapTickets website timed out, I assumed that the trip was not booked. When I looked at my email I realized that only one leg of my vacation had been booked. I called CheapTickets to try and find out what happened and even though it was their mistake, they could not/would not help me with anything.
They could not answer simple questions, they could not make changes, nothing! It is the WORSE CUSTOMER SERVICE EVER! I made sure that the entire time I was very pleasant and respectful, I get it workers are paid minimally and have no power, but even after I had none of my questions answered, spoke to 5 people and was on the phone for 3 hours all I asked, as a courtesy that my $20 fee be returned and they said no. They even had the audacity to tell me to book again and then they "would see what they could do to refund the fee" yes! "see what they can do"!!!
It's fine I will pay $20 to never use them again, PLEASE PLEASE PLEASE DO NOT BE TEMPTED, YOU MAY END UP PAYING MORE THAN YOU THOUGHT! Now I cannot cancel the first leg of my trip but I also do not have a return flight, and when I saw the returns are the same as the round trip. All in all I am either going to lose $400.00 from my first leg of my trip or have to pay $400 for a return flight. So my options are 1: I take the $400.00 loss and stay home or I option 2: I spend another $400 and go making my flight $800 vs the original $400 I had budgeted!!!

So the only reason I'm giving CT TWO stars instead of one is because I have used them for years and have NEVER had a problem until just a few days ago. When I came on here and saw the reviews, I was literally shocked. I spent hours reading them. I'm so sorry for everyone who has lost thousands of dollars, been stranded at airports and has fought for hours on the phone with people who barely speak/understand English, provide 10 different stories and literally have no idea what they're talking about. Like I said, I've used CT for years to book flights, hotels, and car rentals, and I've NEVER had a problem. I always got exactly what I paid for and never had any confusion or mix-ups. I've recommended them to people and they were always the first site I would go on to shop around when making reservations.
So I have a trip planned to Seattle in late August for a few days. I went on CT, looked around and booked my flights. It went through, and that was it. I didn't expect anything. I received an e-mail saying that the reservation had not been confirmed by the airline (I'm not sure whether it was United or AA, because it was United on the way there, and AA on the way back). I had no idea what that meant, and I called the number listed in the e-mail.
I waited for less than five minutes, and a woman with a heavy Indian accent came on. I told her what the e-mail said and she said that the airline is not accepting my debit card. I asked, why? She couldn't provide much information other than that. She told me I possibly entered the wrong information. One, I did not. Two, if that were the case, the transaction wouldn't have went through at all, and it did. If the card number/expiration date/CVV code is incorrect, it will not process because again, THE INFORMATION DOESN'T MATCH. I know this card information off of the top of my head, it being my debit card. I'm also an employee of the institution that holds the card, so I have an inside perspective as well that most don't have unless they work at the institution that they're using. I was driving during this conversation. I said I would call CT back when I got home and wasn't so distracted.
When I called back, another man with a very heavy accent answered and he was very rude and beating around the bush. He told me, "You're entering the information incorrectly." I responded, "You're incorrect." He placed me on hold for a while and was telling me he was "trying to find my reservation." We were going back and forth for maybe 10 minutes and I was getting extremely frustrated. He was beating around the bush and was answering questions that I was not asking. I would ask him something, and he'd answer as if I said something completely different.
I said, "Sir, LISTEN to me, please." He said the best thing to do would be to cancel the reservation and just start fresh. I told him I have a $900.00 pending charge on my bank account. I asked when that would be removed. He told me, "You can call your bank and ask them to have it dropped off." I said NO, you cannot. And again, I told him I work at the bank that holds the card, and that's not possible. We don't have the power to just made pending charges from merchants disappear with a few clicks of a mouse.
I asked to speak to a supervisor because I was getting nowhere with him. She comes on, and it's more ring-around-the-rosey. I told her I made this reservation just a few hours before this conversation, so the entire charge BETTER be reversed as if nothing had happened. I know for a fact that they have a free cancellation policy within 24 hours. She was beating around the bush with what I was asking, but she told me that the charge would "fall off" within three business days. I asked her if she was 100% SURE that it would be refunded to me, and it took her a while to basically just say yes it would.
This may not sound that bad but it really was a headache, because they were really just playing games and beating around the bush too much. I told them I'm going to make the reservation elsewhere. I told them I was a long-time CT customer but will no longer be using their services. I'm anxiously waiting for that pending charge to fall off. It being the weekend, I know it won't until sometime next week, if it does. If it doesn't, I thankfully have the ability to dispute it at my employer/where I do my banking. We will see! After reading the horror on here, I will literally never be visiting the site ever again. I ended up booking my flight right through United. It's really not worth it. Now all of the third-party sites seem suspicious to me... Expedia, Orbitz, Travelocity, Hot Wire, Price Line... I hope these issues don't occur on any of those sites even though I'm sure they have. Good luck everyone!

The worst... I wish I would have read the reviews, they are basically thieves. It doesn't matter if you purchase travel protection. You won't get your money back. Beware!

The customer service is absolutely the worst. The person I spoke with was from Mumbai and I only requested to make a small change to my name. Rather than making the change, he advised me to cancel my ticket (promising me that it would be the same price) only to find out that my ticket price increased by $85.00. After spending one hour on the phone explaining the situation, I spoke with a manager who basically told me there was nothing they could do about it. This company is very unprofessional and I will never be using the website again.

My flight was cancelled and CheapTickets.ch only let me know about it 2 days before departure. Additionally they didn't offer any compensatory flight. They were only willing to reimburse the initial flight price (which I booked half a year in advance to avoid high prices) and not the new flight price, which I had to book 2 days before I left for my trip and obviously was a lot more expensive. Furthermore, apparently due to the exchange rate the initial flight price wasn't even reimbursed in full but with a CHF 50 (USD 40) reduction, so I actually had to pay for the cancellation.

Cheaptickets.com are thieves and have the worst customer service. I live in Singapore and booked the fight online via CheapTickets. They never send me the itinerary but charged my credit card. I had to call them from Singapore 3 times and wait for 1.5 hours but they still could not find my ticket. After 2 hours talking over the phone long distance, I asked them to compensate me for the cost of the phone call which was more than 200$ but they refused to do so. They said that they would call me back the next day but they didn't. Very unreliable, unprofessional and just crooks! Stay away from them! It's not worth it!

ConsumerAffairs Research Team
The ConsumerAffairs Research Team believes everyone deserves to make smart decisions. We aim to provide readers with the most up-to-date information available about today's consumer products and services.
CheapTickets is an online travel company owned by Orbitz Worldwide Inc. Its focus is helping leisure travelers find rental cars, cruises, accommodations and airline tickets.
Event tickets: Travelers can use the website to purchase tickets to events in their destination cities.
Mobile app: Mobile users get access to exclusive hotel deals and car rental discounts.
Deals: CheapTickets uses discount codes so travelers can get extra discounts.
Vacation packages: Vacation packages offer additional discounts to travelers who bundle services.
Vacation planning: The Scratchpad feature helps travelers plan the services they will need.
Best for Budget travelers.
CheapTickets Company Profile
Company Name:

Cheaptickets.com

Year Founded:

1986

Address:

500 W. Madison St.

City:

Chicago

State/Province:

IL

Postal Code:

60661

Country:

United States

Website:

http://www.cheaptickets.com/