Consumer Complaints and Reviews

The most horrible experience I have ever had buying airline tickets. I had bought tickets through CheapTickets May of 2017 for a family vacation/wedding anniversary to Orlando Fl. I bought a package deal which included, ...hotel ...tickets & airfare. We were flying out of Westchester County July 14th. We had purchased an early flight, so we arrived at the airport 2 hours before. As we were in the check in line, we noticed 2 other airlines flying into Orlando. As we reached the ticket counter we were told our flight had been canceled. I could not understand why? The ticket counter person indicated that the plane had been overbooked! How is that possible? I bought my plane tickets 2 months ahead?
They offered to put my family on another flight at an airport 2 states away. He wrote on a piece of paper and handed it to us, and said "You bought a vacation package through those 3rd party websites, the airline does not guarantee you a seat." I could not believe what I was hearing! I paid $2300!!! for hotel and airfare! How could they not honor my purchase??? Completly distraught, and upset I paid a taxi a second time to drive us back home 45 minutes away. Upon arriving home, I immediately contacted CheapTickets for an explanation.
They offered to put us on a plane within 24 hours... Only to have them contact us 10 minutes after receiving a confirmation, to let us know that once again our flight had been canceled! I could not believe it! By now... the vacation was completely ruined! It's now Saturday July 15th and my wedding anniversary is tomorrow. The activities and party that was planned has now been canceled. Anyone reading this... Do not buy through this site. It's bs. They wont even offer a solution if you have a problem. I am contacting the better business bureau and my lawyer.

On July 7th I was trying to purchase an vacation and the system kept telling me my card was not authorized The next morning I get an notification from my bank stating what my balance is. They charged my card $2,564.08. WTF. How is it that you can charge me and your system states my card wasn't authorize. There is nothing showing I have a vacation so why would you charge me for one. After getting the runaround I had to wait til the charges posted with my bank and file a claim with my bank to get my money back since I couldn't get anything resolve with the company. You just can't take people hard earned money and think your gonna get away with it. They need to be reported. This has got to stop!!!

CheapTickets & Lufthansa are a scam and screwed me over and I am requesting a refund of the full cost ($970.97) of this itinerary. Was subjected to an INVOLUNTARY denied boarding by Lufthansa even though I arrived to the airport prior to check-in time. I notified CheapTickets prior to flight departure of this issue and they were not helpful in assisting. In fact, they told me to call Lufthansa. I called Lufthansa and they informed to call Swiss Airlines. Swiss Air told me to call CheapTickets. I ran around in circles trying to get on the next flight. Under airline regulations, I am entitled to a full refund for failure on their part to re-route me (I ended up booking a new flight on Turkish Airlines for $2,000 USD because my original carriers were completely unhelpful in getting me on a new flight).
It was clear that CheapTickets customer service is unfamiliar with their booking policy and that of the other airlines. I wasted so much time trying to deal with incompetent staff at CheapTickets and Lufthansa. I hope CheapTickets and Lufthansa will reply to my complaint for peaceful resolution. This was supposed to be a fun trip and I had been looking forward to it for months.

Tuesday 6/27. Tried to book a vacation package. The website kept crashing. Tried the next morning and got the discounted package deal and email to confirm. Then a few minutes later an email shows up from the night before with another confirmation... So this was duplicate and was a higher rate. Called CheapTickets customer service. I was on the phone from 6:15 am to after 2 pm. Spoke to 6 different people which 2 were supervisors. They charged my credit card 13 times... YES. 13 times! Then they switched my reservation # to display the higher package rate. Very shady! I have yet to get this resolved... on day 2!

We ordered tickets for an event two weeks ahead. The morning of the show I was called and told they had double sold the tickets and no longer had mine available. Buyer beware! Not much we can do about finding tickets on the day of the show.
How do I know I can trust these reviews about Cheaptickets.com?
825,614 reviews on ConsumerAffairs are verified.
We require contact information to ensure our reviewers are real.
We use intelligent software that helps us maintain the integrity of reviews.
Our moderators read all reviews to verify quality and helpfulness.
For more information about reviews on ConsumerAffairs.com please visit our FAQ.

I have made reservation on the 22nd of June at 2:55 AM Eastern Time, I called the second day to cancel, they claim that I made the reservation on the 21st of June, I have my email of confirmation showing Thursday, June 22, 2017 2:55 AM Eastern Time. I called 4pm on the 23rd of June Eastern Time. CheapTickets shows receipt different date of when I paid. This Company is engaged in terribly unethical business and sales practices! They have to be stopped.

I went online to purchase tickets to an event. The disclosed price was $288 plus a stated $7.95/per ticket fee. When I signed into PayPal, the amount being charged was $365.07. So before completing, I called their customer service. I explained I was online trying to purchase tickets and there were hidden fees that I wanted explained. He stated fees were normal. I replied yes, but they are normally disclosed at the time of payment. He said they would be AFTER I completed the payment portion, then I would be asked again to confirm the order. I stated that it should be shown upfront. He said that was not their complains policy and they were not going to change it to please me. After a lengthy discussion in which I still did not have answers (what the fees were), he continued to be more rude, and I started to react with frustration.
I asked for a supervisor. He stated that I could not talk to one without making a purchase. He then asked if I was going to make a purchase and I stated not right now. He said that I had to make a purchase to talk to a supervisor. I asked repeatedly for a supervisor and he continued to ask if I was going to make a purchase. He then said if I was not going to make a purchase, then he was going to terminate the call. He hung up on me. I called back and spoke to a very nice lady who patched me immediately through to a supervisor. I was extremely disappointed to find out the supervisor was sitting beside Travis the entire call even while I was asking for a supervisor. I admitted that I was very frustrated and got upset towards the end of the call, and that is why I asked for a supervisor. The supervisor was exceedingly rude.
He asked me why I wanted to speak to him. I explained that when I realized that I was becoming upset, that I needed to talk to someone else. I needed to talk to a supervisor. He was not interested in talking to me unless I made a purchase. I then dropped the bomb that I had made the purchase online, therefore I had made a purchase and "had the right per their policy" to talk to a supervisor. I told him that I will never buy from this company again. It was obvious that customer service was not a concern. I am also disappointed that Expedia continues to allow their company to treat customers or potential customers in this manner.

This company isn't fair. I found a lower price that they advertised and they still haven't sent me the refund of the difference as promised nor the 50 dollars cheap cash they promised. Now I am trying to purchase another hotel and use the 50 dollars cheap cash they promised. They can already see that I've completed my hotel stay. All they could've done was acknowledge the screen shot I sent them and issued what was promised. Now the price of the hotel will constantly be going up. Doesn't seem like a good deal to me! I'm very unhappy about this entire experience.

I book a flight GRU MIA GRU with CheapTickets and also paid an insurance since my brother, passenger, will need to get doctor clearance. Doctor recommend him not to travel, in writing and I called CheapTickets that told me that a piece of the refund need to be done by a third party insurance company, AON. I fill the form, send the doctor report and they deny to refund informing that the passenger wasn't hospitalized... what a lack of ethic, they need some dead body to refund. Also Cheap (or Cheat) Tickets after 60 days didn't refund... nothing.

Worst service EVER!!! I have had to make four phone calls to change ONE letter of a passenger name, and CheapTickets wants to charge me $75 for this correction. I contacted Copa Airlines directly and they indicate that CheapTickets can make the name change at no cost but if I go through the airline then it costs $50. However, CheapTickets is a bunch of liars that can't get their stories straight but can waste hours of my time. I have confirmed with multiple Copa Airline employees that CheapTickets is able to make the name change, but every employee at CheapTickets INCLUDING A WORTHLESS SUPERVISOR is trying to tell me they cannot make the name change. I will NEVER book with CheapTickets again. I will use the website ONLY to find the best deal then go to the airline directly to purchase the tickets.

I would never make a reservation with CheapTickets again! They tried to charge me a fee to change the date on my reservation within 24 hrs, which was in violation with JetBlue! I even had a JetBlue agent on the phone while speaking with a "supervisor" from CheapTickets! She was very rude and even after the JetBlue agent explained to her their policies on a change of reservation within 24hrs she still refused to let me change it saying I had to pay $150 for the change. I do not recommend anyone to use this third party site to book reservations!!!

I saw an ad for CheapTickets $49 one way Tampa to Phil. from 5/11/2017-6/1/2017. Go to site and it's $227 for the ticket. At the top of their website it says no flights over $199! It's a waste of time and effort to even consider this company. Their rating is so low 1 star, for $49 I would have gave them a chance. I have blocked this company from ever getting to me again and if they do it will be deleted automatically. Boycott the ticketing scam and when they are in receivership from lack of revenue maybe they will wake up and change. Whatever happened to businesses having integrity and what about false advertising? Does that not apply to these people?

I very carefully checked the booking at a hotel to be sure it could be canceled. The website said that there would be no cancellation or change fees if the reservation was canceled before a certain date. When I tried to cancel I was told that it was nonrefundable, as it was a prepaid stay. I had originally been told my card would not be charged until I was at the hotel. I would never have booked this stay if I had understood that it was non-refundable and I still don't see that on the website for this hotel. The company employee even acknowledged that this was misleading and confusing. After 2 hours on the phone, she said the company would not refund even though I was canceling before the required date. So deceiving and deceptive. I will never do business with this company again.

I just booked a flight from Alberta to T.O. Seemed like a great price... couldn't pass it up... until I checked out and found out they charge in U.S. funds. I found it funny how they don't say that until you actually pay for your ticket. I cancelled it right right away. I'm not going to spend my hard earned money on a lowdown company that makes it seem you are getting a deal when in fact it would of cost me more through them than directly from the airline. Now I gotta wait 7 business days for my refund to get back to my credit card considering the entire transaction took about 10 minutes. If a transaction takes place in Canada for a Canadian return flight... I suggest they add a small feature to determine where you are booking from and change accordingly to the currency. I only saved about $50 but I won't let them get my money. I recommended going through CHEAPFLIGHTS... at least they are honest and much cheaper.

Well I have not even went to the soccer game yet because it has not come the day of the game but I know someone who bought tickets from CheapTickets for a game and said he liked the game but he thought they were fake and he would not enter the stadium. They were not so I hope it is not fake and I can enter and find my seat and not get told by another person and say "that's my seat." I like CheapTickets because I got it in less than a week.

We booked a hotel that was described as a 2 bedroom suite. We were given 1 bedroom. Upon talking with the front desk, we were informed that a 2 bedroom is equivalent to 2 beds in 1 room. If this was clear, we would have not spent over $150 for 1 room. We are asking for a partial refund as we were too tired to negotiate last night and did use the 1 room. We have talked to CheapTickets 3 times already and they have not been able to speak to the hotel manager. CheapTickets says that they need the manager to authorize a partial refund that we are asking for. We feel CheapTickets should take responsibility for what is on their website; false advertising, take a loss, give us a partial refund and talk to the manager on their own time.

Purchased round trip ticket from BHM to SFO, for flight 6 months from now. Booked first class for all four legs and was charged first class price. Sent tickets the next day to discover only two (very short) legs were in first class and the other 2, long legs were at the very back in coach. I called the company, and after a wait time of 90 minutes, spoke to a cheerful lady who looked at the reservation and told me, yes, I had booked and paid for 1st class but "sometimes they don't have enough seats and they will sit you somewhere else". Seriously! She actually said that.
I asked her to explain and she told me that this happens all the time, and it was just bad luck for me. When I told her to cancel the ticket immediately, and that, no, I did not want to book another flight, she said (and I couldn't make this up) "Yeah... I don't blame you. I wouldn't either". Hard to trust a company when their employees seem embarrassed to be associated with them. I will never use this outfit again and suggest you don't either.

So I decided to book a room for my family via CheapTickets.com for Myrtle Beach S.C. They booked me at a place called Mystic Sea. So I started to research the place. I found that they had had bedbugs! I also found that there were numerous complaints about the rooms smelling musty and also that there was not elevator to the third floor, which is where they booked us. I called Mystic Sea to ask about these complaints. I was told that if I had a problem with bed bugs when I checked in to let them know. Really!!! I addressed the musty smell complaint because we have a great nephew who was going to be with us on this trip, who has major allergies. I was told that they open one floor at a time and the third floor was scheduled to be opened that week. No. And yes there was no elevator, surprise surprise! I have osteoarthritis and bone spurs in both knees so steps are difficult.
He said he would move us to the ground floor. Wasn't happy but ok. A few days later my stepdad who was diagnosed with prostate cancer had to have emergency surgery. No vacation for us. Oh well family is what matters! I called Mystic Sea and explained we had a family emergency and I need to cancel. He said that I needed to contact CheapTickets because they charged him a fee and if they waived their fee then he would send my deposit back. Back on the phone like I don't have enough going on! CheapTickets said that they would refund me. They sent me a email stating I would receive my deposit back. The email stated that my refund was processed on march 12, 2017 and that it could take up to 15 days to receive my refund back.
Today is March 31 and guess what still no refund! First of all it didn't take them 15 days to get my money why does it 15 plus days to return it. In my opinion CheapTickets and Mystic sea are just thieves using the system to take people's hard earned money! DO DOT USE CHEAPTICKETS.COM OR MYSTIC SEA RESORT In Myrtle Beach S.C.

I ordered a round-trip ticket from NY to Seoul on Cathay and the website said the ticket was refundable if cancelled within 24 hours. CheapTickets refunded the ticket fee, but charged a "booking fee" of $14.98. When I called the representative in India said this is their policy. I called the credit card company to contest this policy and they said the credit card company can't dispute charges less than $25 as the administration is too expensive. CheapTickets obviously knows how credit card companies work and charges under the limit for disputing the "booking fee charge." I would not use this company again as I was not aware of this fee and it is not advertised. Section 8 of their "Terms and Conditions" specifically states, "We don't charge a fee for changes and cancellations." Then why did they charge me a "booking fee?"

I had booked vacation to Las Vegas - outgoing flight was canceled due to bad weather so I was not able to check into Vdara Hotel. Now I am having huge problems getting a refund. Lesson I have learned: NEVER use Cheap Tickets or similar discount agents - it's criminal whats going on!!!

I will try to keep this simple and not waste anyone's time explaining how much of a rip-off this company is - and how embarrassed I feel to have fallen for this sham scam website. Why, after booking a flight and canceling two hours later (because I found a cheaper flight on Expedia) was a $29.96 booking fee debited from my bank account and the $375 amount for the flight "held and pending" in my account for 3 days!!! I called CheapTickets and explained that they were in violation of their "terms and conditions" and they wanted to know why I cancelled before considering if I should get my deposit back!! I told them it was none of their business and to refund me immediately. They reluctantly agreed but said I would receive an email within 24-48 hours confirming the refund. I fear this is not the end of it. Warning - Do not do business with this company.

Purchased advanced tickets to a play. Paid $202.00 per ticket, plus $42.42 ticket fee per ticket. I was sent $75.00 tickets. They will not refund any or all money paid. And even hung up on me 2 times when I called. I was not abusive or rude in any way, but the support people sure were!

CheapTickets is not cheap at all. The tickets are slightly lower booking them direct with the Airline and on top there is the overly expensive, excessive nonrefundable BOOKING FEE; in my case 60$ which was a surcharge of little bit less than 10%. This is unacceptable, please reconsider booking through cheaptickets.com and go through the airline direct. You'll save money! I saved 110$ on 600$ worth tickets!!!

I have purchased my ticket from San Francisco to Prague. During purchase I was instructed, that the seat assignment I have to do through the airline website. There I found out, that I am not allow to select seat until 24 hours before the flight. I send them several emails and requests to cancel my flight and nobody was responding to my complains. They lost one customer, I will never do any business with them anymore. They are nothing than disgusting frauds. If I had the ticket purchased directly from Lufthansa I would be able to get my seat assigned and I will pay less that I paid them.

My husband purchased a flight and hotel and by mistake it books four nights at hotel instead of one. We call 15 minutes after purchase and told them we were charged for four nights instead of one and could they credit our money back to our account and they gave us the run around and said they couldn't refund our money which is not true. We talked to hotel we booked weeks ahead so they didn't see a problem but CheapTickets keep our money.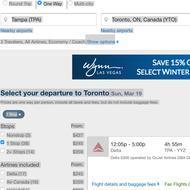 They say it's a live website, but after 30 minutes of refreshing and doing screen shots the price never changed until I called them. They told me to pay the full price, send the screen shots and they would refund the difference. I was then told that now that my screen showed 1700 from 900.00, they didn't have too big joke, since I has all of my screen shots. They are a scam - live isn't live. Got switched to a customer service agent who couldn't even find my flight, I walked her through. All I wanted was a flight from Tampa to Toronto - somehow she ended up with Mexico. Big waste of time. Never again!!!

Within the two weeks I received four notifications from CheapTickets with the change of the timing of my flight (the flight is in 6 months from now!). First change of timing was ok and I confirmed that; the second was outrageous since it moved 6 pm flight to 6 am (which is definitely also cheaper), without offering of any refund. To my e-mail that I do not agree with such change and ask to contact me urgently I received an answer from some Espinosa that I shall contact the company myself (for each minute of call they charge around 1 dollar!!!).
When I called them, a male employee who answered the phone mumbled his name so I will never know the name of this "hero"... He was extremely impatient and rude. He told me "Of course you should call us, and not we to you". He absolutely did not listen to me and when I asked to apologise, just told me that the change of flight is not their fault and broke up the line. Never, never book the tickets with this company if your nerves, time and money are important to you!!! PS in the end I was "offered" to have exactly the same time of flight as was booked by me initially but with this service I am still not sure if I get a confirmation and my flight will be according to my wishes.

I was directed to this company through another travel website. It was a great deal from Omaha to Honolulu. I bought the tickets then later in the day I got an email saying my card was declined and to call the number. I called the number and the girl answered, in a very thick Indian accent, "Reservations." That's all she said. So I explained that I received the declined email and she was asking me for the flight details. Right then I got a thought to check out reviews of the company.
Found all these complaints and told the girl that I didn't want to continue with the flight and I wanted to cancel it. She said "OK well it's already cancelled." So I asked for her name and she said "Janice". I replied "It's Janice?" And she just says, "Yes." So I asked for her ID number and she said "Why do you want that?" and I said, "In case there are any problems with the cancellation, I want to know who I talked to and said it was cancelled." And she said "OK, I just sent the cancellation email to you. Check your inbox." Suddenly in my inbox it appeared. The fact that she didn't want to give me her ID number (which any reputable company would have their employees give their ID numbers) made me very wary of this place. Do not use this company for anything.

I spent 5 hours on the phone with CHEAP TICKETS. First call was over 2 hours. After the first 40 minutes I was told the rep didn't have authority and transferred me to another rep, and finally a 3rd. So, after the 2 h 20 min call, they asked me to call back in 1 hour and ask for a supervisor. The 2nd call was well over 3 hours. They wouldn't transfer me to a supervisor until they had the same info and tried to solve the problem and couldn't then transferred me. THEN it was a 3 hr 8 min call. They were talking with Air France during the first call but during the 2nd they said was closed! So no resolution. Pay $2000 more!

I received an email from CheapTickets in Nov 2017, after purchasing 3 plane tickets for $1400, stating that "there is no need to confirm this reservation". I also bought the travel protection for 99, just in case. What a shock this was to me when I checked in on Dec 31 for my return flight, to find out the flight was cancelled, and I had been booked on another flight 2 1/2 hours EARLIER via Dallas. After 5 hours on the phone speaking with agents, supervisors, dropped calls, a manager "Michelle" - it was made clear that:
1) There was nothing they could do. 2) I would have to talk to American Airlines directly to see if they could change my flights for $200/each. 3) Since there were no flights left for the evening, they wouldn't even help out with a hotel or transfers. 4) Their policy is that they only contact you to confirm flight changes if they exceed the 3 hour flight change time limit. Since ours was only 2 1/2 hours of a change, it didn't qualify. EVEN THOUGH IT WAS 2 1/2 HOURS EARLIER, not later - which of course would have been a non-issue. That is unacceptable. I am asking for some type of recompense, of which they have given none.
CheapTickets Company Profile
Company Name:

Cheaptickets.com

Year Founded:

1986

Address:

500 W. Madison St.

City:

Chicago

State/Province:

IL

Postal Code:

60661

Country:

United States

Website:

http://www.cheaptickets.com/