Consumer Complaints and Reviews

I was attending my sister's wedding in Belgrade Serbia. My flight was from JFK to Rome, and then a final destination in Belgrade, all Alitalia flights. This was my first and last flight with them. The ride was subpar, but not the biggest issue. The big issue was that once I arrived in Belgrade my luggage was nowhere to be found. Apparently it got lost in Rome but no one can tell me where it is. It's since been over 48 hours and nothing. I called several different customer service numbers, all which were useless. The best they could do was give me a tracking number (PIR) that doesn't track anything!!! All it says is this: TRACING CONTINUES. PLEASE CHECK BACK LATER. What does that even mean. Now I have to buy an all new suit and everything for the incompetence of the airline. I would seriously avoid this airline.

Horrible airline. Check in at JFK was the worst due to chaos and unorganization. We printed boarding passes online, went to the checkpoint, waited in line for over 30 minutes only to be told that Alitalia requires their own boarding passes. Had to go back to Alitalia counter to be re-ticketed by a inattentive agent. This is BS. Upgraded to Business class, complete waste of money. Little to No service, no alcohol offered, no ice, warm soda, horrible food, attendants were RUDE, ABRASIVE, AND ARROGANT at best. One side of the plane was offered wine and water and the other side received NO SERVICE AT All.
To make matters worse our luggage was lost. Attendants should be retrained in service, and not spend so much time yelling at passengers for using the wrong BATHROOM. Heard they went on strike, for what? They don't do their job at all. If I was the corporation, I would let them all go and rehire people who have a passion for doing their job.

We had to wait for the supervisor from the Alitalia because we didn't have a special assistance for our son - 14 years old to fly from Malaga to Rome. The supervisor didn't want to help us and said he is not going to fly. She either didn't want to be cooperative with her colleague from the call service where we had to ask for help. She is rude and didn't want to introduce herself. Her name is Laura - Italian background, and we had to ask the police for help because the employee from Alitalia didn't want to help us... What a shame that people which are not able to work with customers are pretending that they are working! We decided to go public, because everybody has to know that the Supervisor from Alitalia in the airport of Malaga is extremely impolite and rude person!

In 16/12/2015 during a business trip to Milano, my bag didn't arrive to Malpensa airport. Several promises from the staff ended to none. They responded to me with refund reference after the stipulated period in Alitalia policy. I showed bills for expenses afforded, medicine needed and documents for important business meeting for 3 days in first class hotel in Milan. After 45 days Alitalia offered 600 Euros against true bills. I claimed less than 10 times their amount for the pain, sufferance and expenses. They never replied back despite my several calls and emails. I consider this as a kind of discrimination because if I were a European or American they would had been coming to refund or at least a compromise by reply to my calls & emails. I would advise all the third world people NOT TO USE THIS REALLY BAD AIRLINE.

On 3 different occasions I was not able to purchase tickets through Alitalia website. Not functioning. When called customer service, I was kept on hold for 30 mins, then call was dropped. I called again, on hold for 40 mins. charges occurred from calling customer service. Then customer service wasn't able to complete due to internet failure. Extremely poor service.
How do I know I can trust these reviews about Alitalia?
852,533 reviews on ConsumerAffairs are verified.
We require contact information to ensure our reviewers are real.
We use intelligent software that helps us maintain the integrity of reviews.
Our moderators read all reviews to verify quality and helpfulness.
For more information about reviews on ConsumerAffairs.com please visit our FAQ.

I booked tickets for family members with a return flight out of JFK on 3/14/17. As r airline it turns out a few days before the flight there was a blizzard warning announced for 3/14 in New York. I immediately called Alitalia requesting to change the flight to a sooner date but was notified that I will have to pay a $300 penalty plus the change in airfare. I tried again a day before the flight after every other airline had announced that they cancelled flights for 3/14 and they still didn't have it in their system! I was told that at this point even if I paid the penalty I most likely could not book 2 seats before the storm hit as everyone already switched off the flights from 3/14.
I believe Alitalia was fully aware of the flight cancellation days ago. They simply extorted money from passengers by not formally canceling the flight, thus requiring them to pay the penalty. To top it all off, after finally receiving an email notification from Alitalia that the flight was cancelled, I called to reschedule. When I spoke to the rep she told me that the cancellation was NOT YET IN THEIR SYSTEM!!! Can someone please explain to me how a major airline can function in 2017 without having entered the new millennium???

In many occasions I have struggles to purchase a ticket on the Alitalia website following the receipt of a promotion via email while it is practically impossible to purchase a ticket. Shouldn't Alitalia first repair all the malfunctions of their booking engine prior to send promotions that are impossible to book online? Do not expect a reply from Alitalia as unfortunately well known the infamous customer through past years. I have sent many messages of complaint or request for assistance but all remained unsolved and unanswered if not by an automatic no-reply message... It is a very annoying experience and what is worse is that the Airline keeps investing in the look and style of their website and staff uniforms while should seriously look into its functionality and training of their staff at customer service. Simply do not fly Alitalia if you can avoid to do so.
Updated on 03/31/2017: Purchased 3 tickets online which took me several days and I'm seriously not joking. I insisted until I could finally finish the purchase transaction online being this the only airline at the moment that flies into Pescara airport via Milan... Guess what? Part of the journey or the entire routing has been cancelled and at today's date I still do not know if and when I will be able to use the 3 tickets I have purchased for 1 trip in April and 2 in May.
Tomorrow is Saturday and while the local Alitalia office is closed I will have to call office in Rome from the Netherlands hoping to get a full refund or to be reprotected in another acceptable flight. This is no news and it's not happening to me now but it's an old story with an Airline that for decades has been saved from going bankrupt. The worse is the rudeness and arrogance of many of the flight attendants and the customer service receptionist that are covering the job thanks, most probably, to a favour received by a friend of a friend connected to some manager in the airline business. Another bad experience reason for me to stop flying Ah! L'Italia.

Terrible airline. Planes are old and seats are narrow. Worst-- staff is incredibly rude. I cannot imagine they will remain in business long given their apparent complete lack of focus on the customer experience.

Alitalia's Millemiglia program is a joke. You cannot book a ticket with award miles at all. I tried last year and again today. My dates are very flexible and they don't seem to have any available. I asked for any date in April, May, June, I even made him check September and the customer rep could not find one. He went thru each date one by one because their system only allows them to put in each date instead of looking at what's available within a range. The worst system and the biggest gimmick ever. Then I ask rep if I can speak to a manager and he tells me "for what?" The worst customer service and this is a ** program just to get people to fly with them.

This airline sucks. Their customer service was not helpful. I bought a ticket from them for overseas through CheapOair and got confirmation email and later text messages and emails alerting me to the flight and confirming it but when we went to airport they could not find the first reservation for the flight to NYC and I end up missing the flight from NYC to Rome. When I called back they said it was airport fault because in their system they could see everything was fine!!! Spent more than 2 hours on phone with no results. Do NOT use them.

I believe my review is slightly different than the rest. My problem with Alitalia started back in the end of October where I purchased online a ticket from FCO to CAI. Although I paid the amount advertised which was on a special offer, I NEVER received confirmation nor my flight ticket. From there on, my ordeal started and is still ongoing. It has been 2 months already that I cannot get my refund nor a clarification whether I am on the flight I booked or not. After NUMEROUS calls to the customer service and waiting time around 15' each call, the only answer I am getting is that the airlines system is down and the soonest it is fixed they will deal with my issue as I am on a queue of around 3000 passengers. Unbelievable and simply ridiculous!!!
Besides having to spent so much time on the phone and only receiving apologies for the inconvenience and NO SOLUTION, I had to contact the department via email too, and the only answer I have received is that there's nothing they can do for my problem and the only way to solve it is by phone. Well, this is not a workable solution either! I have spent around €300 for a flight which I don't even know if I am in, no information provided, nor explanation or confirmation that I will be refunded. I am beyond frustrated at the moment as there seems to not be a solution and for such an enterprise, someone would expect some kind of customer service to say the least!

I flew with Alitalia from TLV (Israel to Brasil). Once I arrived to Brasil I was told that my luggage is still in Rome and I will receive it the very next day. The next day I called several times to try to understand about my luggage and been transferred many times to other departments. Staff are totally unfriendly, service is awful. Nobody knows nothing about my luggage. I'm staying in Brasil for one month and I don't have anything to wear. My ticket number is **. File reference is **. Flight az807. I will never ever fly with Alitalia nor to Italy. This airlines is very, very bad. I will sue this airline. I will also cancel my returning ticket. People be aware of this awful airlines. They have no idea about customer service. Very awful. MY RATING TO THIS AIRLINES IS BELOW ZERO.

September 3rd, 2016. From Heathrow to Rome there was an hour delay. We missed our connection and had to stay overnight in a hotel in Rome. Next morning we had to re-arrange our taxi (that had been waiting for our arrival the night before). When we got to the airport my sister's case arrived but not mine. There followed 5 days of the worst stress. My sister then had to leave after having a horrible stay. The airport and couriers did not communicate, only when the italian owner of the apartment phoned did they inform him the case had been found in Rome.
I waited all day for it and no one came. Again the Italian owner phoned them, the courier had crashed on his journey. Why did they not phone us??? When my case did arrive, my camera was missing. My telephone charger was also in the case so I did not have a mobile phone until I went to the Police and they helped me. Since being back I have not got any help from Air Alitalia to resolve this issue. What shall I do next? NEVER EVER FLY WITH THEM AGAIN.

Over the past 40 years I had the opportunity to fly on Alitalia 4-5 times and was pleased with the food and service. Those days are long gone. Just did a R/T LAX to Rome to Casablanca. I must say that these were probably the worst flights I've ever been on. Why? Well let me tell you. I can't believe how narrow the aisles in coach were. I had to turn sideways so as not to bang every person I passed. The seats in my section (row 32 going and row 34 returning) were placed so closely together that I could not open my tray table.. It rested in my stomach. I looked around and saw that this was pretty common on the outer rows. The cup holder on my seat had been broken off. When I mentioned this to the steward, he said he'd report it.
The Food was close to inedible. I ate the fruit, buttered the bun, but the pasta going both ways was so overcooked that it crackled when you took a bite. I did take a bite and then spit out into my napkin. The snack was a dry bun, 2 pieces of ham and cheese and was the best thing they fed us... I was able to get it down by eating it open face. The flights were 11 hrs going and 12 hours coming back. After the crew rushed thru the drink/food service, they disappeared and only came thru the coach 1 time with water/cokes. Only Once in a long flight!!!!! Can you believe that?
My next door neighbor could not get any sound from the entertainment equipment. I was lucky as mine worked, however, it was a real pain to try and navigate the controller. The music was on the shortest loop I've ever experienced.... 8-10 selection only before it looped around. Talk about cheapo... No hard liquor was served in coach and when I asked for white wine, they served me about 4 oz... and they never came back for a refill. The flight left Casablanca at 0300. Who ever thought up a flight schedule like that? But some of the food service vendors were open once we cleared customs. Overall, these flights were so bad that we told our travel agent to NEVER book us on any Alitalia flight again. Please think twice about flying Alitalia.

My fiancee and I traveled on June 16th on Alitalia, flight AZ0631 from Miami to Rome, Italy (non-stop). When we arrived in Rome, we went directly to our hotel and opened our bags to unpack and were unpleasantly surprised when my suitcase appeared to be ransacked. As I further investigated, I noted that my wooden shoe trees were present, however, my two pairs of Salvatore Ferragamo shoes were missing (styles Diego and Magnifico Bit Loafers). We promptly called the airlines who told us we should report this issue ASAP to the Rome police department and get the proper documentation, which we did as instructed. On the 9th day (due to a 7 day cruise) we reported this incident by email (which is what we were instructed to do) along with pictures of my suitcase and police report from Rome. Not long after I reported this incidence, I was told that Alitalia is denying any compensation because we missed the 7 day reporting window.

My Alitalia flight #757 was supposed to depart from Tehran Iran for Rome at 3:45 AM on August 28. After several vague announcements about flight delay due to technical difficulties, we were finally informed at 6:00 AM that the airport ground crew had discovered a hole in one the aircraft's wings! The airplane was not permitted to take off until the necessary repairs were complete which would take several hours. Finally, we got on board and left Tehran airport at around 4:45 PM (13 hours later). By then, majority of the passengers, including myself had already missed our connecting flights to our final destinations.
When we arrived at Rome at 7:30 PM local time, we were taken to an Alitalia transferred desk so the airline staff can rebook our flights for the next day. The airline agent who handled my rebooking, changed my original flight from Rome to Baltimore via Atlanta to a flight from Rome to Baltimore with a two hour layover at JFK airport. He also told me that my luggage was checked in all the way to Baltimore where I could pick them up (which turned out to be wrong!)
In the meantime, we were told that we would be provided with overnight lodging at San Giorgio Hotel in the city of Civitavecchia (about an hour away from the airport) and every passenger would receive a travel kit including personal items such as toothbrush and toothpaste, and a change of shirt (again, wrong!). When we asked if there were any other hotels near the airport, they said no. Later, I googled hotels around Rome airport, and found several hotels right next to the airport, including Hilton and Hampton Inn.
We were told to wait in a passenger "lounge" for our hotel transportation. At 9:30 PM after a two hour wait, we finally got on the bus destined to San Giorgio Hotel where we thought was the hotel we would be staying for the night. We arrived at the hotel at 10:30 PM and were offered a late dinner consisting of what appeared to be leftovers from lunch. After dinner we returned to the front desk, where we were told by the front desk staff that the hotel was booked! They scattered all the passengers (about 50 men, women, and children) to various motels and inns throughout the city which all turned out to be substandard 3rd and 4th rate motels with unacceptable conditions.
For example, my hotel room had moldy walls, terribly worn out bath towels, and a crappy AC unit that took almost two hours to bring the room temperature down to a comfortable level. The flight from Rome to JFK was no picnic. Rude and inattentive flight attendants almost refusing to speak English to me (on a U.S. bound flight!) and malfunctioning entertainment system. I had to sit and watch other passengers enjoy watching movies on their consoles for 7 hours.
After arriving at JFK and going through U.S. Customs, I was told by the Customs agent that I must claim by bags at the baggage claim and recheck them at the American Airline check-in desk for my next flight to Baltimore, contrary to what the Alitalia agent had told me when he was rebooking my flight at Rome airport. Only one of my two checked bags showed up at the baggage claims carousel. Not wanting to miss my next flight, I grabbed my one bag and handed it in at the transfer desk. It turned out my next flight was in a different terminal at JFK, so I had to take the air-train to the AA check-in desk. By then I was already too late to catch my flight to Baltimore.
I had to purchase a new ticket for another flight from JFK to Washington Reagan National airport because AA has only one daily flight from JFK to Baltimore. After arriving at Reagan National, I went straight to BWI airport to claim my one bag, only to find out that it didn't make the flight from JFK due to short layover.
My luggage was finally delivered to my house 4 days later. I would not fly with Alitalia again even if they paid me!

I had an hour long transit at Rome today as part of my flight and felt absolutely disgusted at the welcome I received as a Muslim woman who wears a hijab (headscarf). So I walk through security and the alarm does NOT go off, but I still get asked to do a check underneath my hijab (which I understand somehow).
However when I walked into the room for what I thought was a quick peek underneath my hijab, I got a full body check as well as a swab test for explosives. Which tested positive. The woman then did many more checks and asked me to follow her to various other stations for her to try again and again and again. Not only did she not explain to me what was going on, but she also wasted 30 minutes of my time, before the test magically appeared negative (which she then needed to check a few more times). This then lead to me rushing to my check in, which luckily was delayed. But seriously... never flying with Alitalia again. And I advice all other muslims to avoid them as well. So pathetic.

They added a charge of $833.99 to my credit card 5 months after I paid for my ticket. Day before my return trip home they fraudulently charged my credit card for a seat upgrade that wasn't mine. I called and emailed but no one could help me. Had to cancel my credit card. Check in over 1 HR in line. Everyone at airline rude and angry. Food terrible. No Wifi on plane. 90 minutes late takeoff, 2 hrs late landing. They just do what they please with no regard for customers, including stealing. DO NOT FLY ALITALIA. Even if it means staying out of Italy.

Our problems with Alitalia were rather small, compared with other war stories, but I report them as they seem to be quite typical for Alitalia. We went from Vienna to Palermo May 16, 2016. We were booked by a travel agent on a flight Vienna-Roma by Air Berlin and Roma to Palermo by Alitalia. The assignment of seats was changed in Roma because Alitalia probably used a larger airplane than expected. My wife's seat number was changed at the gate without any comment. My seat number remained unchanged, but another passenger was already correctly sitting at the seat which had been assigned to me, so it took some time until they found a seat for me.
When we arrived in Palermo I recognized that my expensive Rimowa suitcase had only 3 wheels, thus one of the carriers damaged and lost a wheel of the bag. We were told to contact the "Lost & Found" counter where also other travelers appeared and a rather bureaucratic process started. After receiving a "documentation" I was told that I have to transmit this document to Alitalia within 7 days by FAX(!). Obviously, a very customer-unfriendly policy.
In Palermo it is almost impossible to find a mail drop for the regular post system, even more difficult to find a fax machine which is, of course, a totally outdated way of communication also in Italy. Our hotel in Palermo could not provide a fax machine. After traveling to the Lipari Islands, our hotel in Lipari sent a fax to Alitalia within the 7-day limit imposed by Alitalia, which they said it went through. However, the fax machine did not provide a confirmation. After missing any reaction from Alitalia for several weeks I found an email address, customer.relationsde@alitalia.it, and sent them again the documents, referring to my earlier fax, and a few pictures describing the damage. Surprisingly a formally friendly reaction from Alitalia arrived a few days later:
"As an initial matter, we sincerely apologize for the inconvenience you experienced when traveling on Alitalia from FCO to PMO on flight AZ 1785 on May 16, 2016. We can fully understand your disappointment when your luggage did not arrive as expected. Please know Alitalia is committed to continuously work on improving our baggage handling procedures in order to minimize these occurrences. Alitalia settles baggage claims in accordance with the provisions and limitations set in Montreal Convention of 1999. Passengers seeking compensation for damages to their luggages must report the damage to the carrier within 7 days. This information is disclosed at our airport baggage offices and is published on our website www.alitalia.com.
"Our records indicate that your luggage was damaged on May 16, 2016 and you wrote to Alitalia on June 10, 2016 which is over the 7-day limit. Consequently we regret to advise that we must respectfully deny compensation. In the case you have sent the claim within 7 days to Alitalia, please provide within 5 days to our e-mail address customer.relationsAT@alitalia.it the following documentation: The original receipt you have received when you have faxed the claim (as we need the exact date on which you have sent the claim to our department)."
I did as suggested, described the situation, mentioned the date of the fax, named the hotel as witness but never obtained an answer from Alitalia. Finally I decided to contact my credit card company which offers some type of travel insurance. The credit company had outsourced the handling of claims to an insurance company. After requesting some additional information they paid compensation, based on the time value of the bag (which was about 1/3 of the original price).
I really hope that insurance companies stake out claims to the carriers in cases like this. As many other complaints on this site describe: Alitalia is unserious and tries to avoid liabilities with tricky rules and behavior. BTW, when returning from Catania to Milano the plane was late and we almost missed the connecting flight to Vienna. Thus, whenever possible I will try to avoid flying with Alitalia.

Flying from the UK to Japan isn't the easiest of trips however going via Rome with a 10 month old baby girl is very challenging and Alitalia were absolutely awful, leaving my child clearly distressed by the time we arrived. I am still extremely angry with Alitalia. The polite but not so helpful air steward said that never before has he seen a toddler not be allocated a seat with extra leg space, even though we requested this 7 months previously. He said that probably another passenger bought the seats. He then said someone will speak with us on arrival to ensure that we get better seats on return, but this did not happen. From a customer services/experience perspective having a passenger with a 10 month baby on their lap for 19 hour flight is absolutely unacceptable. And we did not even have an apology. I will never, ever fly with this company ever again and I vigorous encourage others (especially with children) to seek another operator.

First experience with traveling with Alitalia. Probably will be my last. All because of terrible customer service. Traveled from Toronto to Rome in Business Class with my sister - Very nice seats and good service. However, all good on the flight was undone on arrival when luggage didn't arrive. Very unhelpful staff. Disorganized and 1980 quality photo copies of forms that were all but unreadable. Then the nightmare really began. As they had lost both of our luggage, we had been sent an email and text message (not directly from Alitalia) that the luggage had been found and was on its way. Both pieces arrived (on separate flights) but Alitalia only delivered one of them more than 12 hours later.
We left our hotel on a tour and after over 47 phone messages to Alitalia baggage (several of which they just hung up instead of helping) over the next 10 days we still hadn't received the luggage (even though we had confirmation 5 days before we returned home that it had been sent to Venice - Our final destination). Went to the Venice airport to return home - baggage services was closed until after our departure flight. We were able to convince an employee working check-in for Alitalia to accompany my sister into the baggage claim area to search for the luggage (the only way she would be allowed in according to the information desk) and after searching through the 100's of pieces of undelivered luggage she was able to find it. I gave the second star ONLY because of this employee. It was a nightmare experience trying to deal with this airline.

More than 8 days and my luggage didn't arrive, from 29 Jul until now. The airport gave us numbers to follow up with them but nobody is answering.

I travel all over the world and have flown several airlines. Alitalia has by far Worst customer service I have ever seen. I will never fly with this airline and recommend all to stay away from them. They forced me to leave my personal items behind. They will weigh your purse, (NOT CARRY-ON). The Iranian national counter agents are the worst ever. They actually asked me for bribe telling me if I don't want my items checked, I have to pay them a bribe. Crooks and to make the matter worse, my luggage was not transferred to my connecting flight in Rome to USA. AVOID Alitalia.

This is my first and very last time flying with this company... They are very unorganized and my luggage is delay/missing. It is hard to get any info about what happen to it. I filed a claim with Alitalia. Let's see what will happen. How is it that this company is still in business?

My flight to Rome from LAX was cancelled today. I paid $2000 for a non stop flight. Customer service reps to assist close to 100 customers to make new arrangements - 2. Their solution: come back at 5 am the next morning to see if you can get on another flight. They simply didn't care what happened or why and refused to answer any questions. Tried to call airline customer service and no one answered after being placed on hold. It just rang on and on. When I did find a company contact on the phone, I was told to come to the airport at 5 am and wait for a flight the next day. So to whom can I file a complaint for reimbursement. I paid for a service I did not get. It can't be a coincidence that this airline has such a low rating. They know they are awful and don't care. I made my reservation with KLM and ended up with Alitalia. I don't want this mess to reoccur on the return trip.

My mother and I flew yesterday from Marseille to Bucharest with Alitalia and it was definitely the worst travel experience I ever had. For the first flight (AZ 335, from Marseille to Rome), the young employee who was supposed to check us in barely spoke English, appeared to have trouble managing our data, called a colleague for help (who was actually not paying much attention to us, but was simultaneously talking on the phone during this time) and eventually gave us seats only for the first flight. Knowing we had a short commute, never having faced this situation before, not having understood what happened and not trusting her skills by now, I was a little worried and I asked twice where we would get our seats for the next flight, to which she finally said something about a transfer desk.
The plane was 40 minutes late so my mom and I frantically ran, following the transfer signs, to the first transfer desk we found. After waiting in line, the woman there, who seemed annoyed and made comments about her job and the customers, slowly looked at us and held us there for fifteen minutes. Gave us absolutely no information, looked at our documents and raised her shoulders. Said some stuff in Italian although we addressed her in English, interrupted me annoyed when I tried to explain what had happened in the previous flight, told me not to raise my voice (I did that after seeing nothing was happening, time was flying and the employees said it was OUR fault!!!) and decided to pass us to one of her colleagues because 'we had lost our plane anyway'. This person also gave us no useful information, just said we probably already missed the flight and there was nothing they could do about it at that desk.
At this point I decided to take my chances and run like a crazy person through the airport with my mom, hoping we would somehow find the gate on time. Before arriving at the gate we saw another transfer desk, so I thought we should also ask there, but the person was less than helpful, only repeating the number of the gate. Not being sure if it was at all possible to get on without a boarding pass, but not seeing ANY other solution, we sat in line and tried to explain AGAIN our situation. The woman there, chewing gum and annoyed by the situation took our IDs to...do something, did not understand some data and asked yelling from across the table what my mom's birth date was. (Of course it was written on the document!!) When I wanted to come closer so that she may understand, she barked at us to stay in line. She finally got the papers and came back to us, giving us the tickets with no apologies while still chewing gum.
This flight (AZ 494) also had a half an hour delay. (And it was NOT because of us, we miraculously managed to be there on time DESPITE all your airplane and airport staff!!!) I still can't believe the attitude of your employees, the incredible lack of respect or helpfulness and basically the enormous incompetence of the staff. And just to finishing off in style, the plane to Bucharest experienced some serious turbulence which nobody bothered to warn us or talk about, but I guess that was already too much to expect. Anyway, I don't know how you recover from an experience like this (now that I'm writing I feel sick to my stomach again) and to spare me the horror I'll be sure to avoid traveling with your airline in the foreseeable future.

This is the letter of complaint I emailed to Alitalia. Never again will I ever fly with this carrier. On March 18th, 2016 my wife and I flew with Alitalia on a flight from Toronto to Rome with a departure time of 11:35 p.m. We understood that we could reserve our seats 24 hours prior to departure which we did, staying up until midnight the night before and printed out our seat assignments which were in a row of 2 seats Upon checking in we were informed by a rude representative of Alitalia that our seats were not available and in fact we were not even sitting together. Upon asking why, when we reserved our seats 24 hours in advance they were assigned to someone else her reply was to read the fine print and that the seats are not guaranteed.
We informed her that this was totally unacceptable. She ended up doing us a 'favor' and assigned us 2 seats together in a row of 4 seats with us sitting in the middle 2 seats. This was exactly what we had hoped to avoid when we reserved out seats 24 hours in advance. When she assigned us our new seats, she yelled down the line of service reps not to use the seats she had given to us which I assume she bumped 2 other passengers from their assigned seats. I don't know what the Alitalia policy is regarding this matter but having told this story to all our friends no one could believe it! My wife and I fly to Europe annually but never again with Alitalia. Fortunately, the return flight from Rome went much smoother and our seat reservations were honored.

I had booked on Alitalia for a 2-way flight from Brussels to Milano. Following the bombs in Brussels flights were canceled. I asked for reimbursement on the 30 of April and we are the 11 of May, and I have not seen my money back but even worst, Alitalia can not even sent me an email confirming that the process to reimburse was activated. The 2 call centers I joined are not able to pass me any official Alitalia person-in-charge. Last and not least, their official email given me over the phone, is out of order!! (Customer.relations.be@alitalia.it) Technical details of permanent failure: Google tried to deliver your message, but it was rejected by the server for the recipient domain alitalia.it by azmail4.alitalia.it (80.72.160.66). The error that the other server returned was 550 5.1.1 recipient address rejected; user unknown.

I had the worst experience with Alitalia at Fiumicino airport today. The flight was delayed where everyone was lined up for over 30 minutes past the boarding time in front of the gate without any announcement as to WHY and HOW MUCH LONGER the wait would be. I had to go up to the agent to ask what is going on and still I got the answer "we will tell you soon". No. You are supposed to tell people before the delay!
This is after Alitalia lost a luggage just 3 days prior, on a flight from Paris to Rome. We were told that the luggage will be delivered to the hotel, which it didn't. I have to make 6 phones in 3 days we were in Rome to hear repeatedly that "the courier is going to deliver today. We don't know when. Sometime before 10pm. We don't know when. Before 10pm". One time someone called and left a message saying that it will be delivered soon and they want me to call back. When I called back, another person told me, "No. It's not getting delivered today. It's at the airport."
We are ON A VACATION! How the hell do they expect us to wait around all day wasting the precious hours for the luggage that apparently never left the airport. Why do the Alitalia staff lie out of their teeth like that? Is this something the company is okay with? Horrible service and lying employees? I am going to make sure that I spread the word on the Internet if I don't hear from the company within 48 hours, which seems likely. Just because the flights are cheaper shouldn't be an excuse to be horrible at your job!!!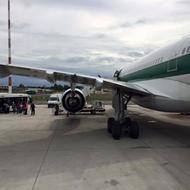 We have handled all of our personal and business travel ourselves since 2006. Personal travel often includes 1-Way flights to Europe followed by a few days of relaxing and then a two-week cruise to Florida before flying home to Toronto. Along the way we organize all sorts of solo adventures but have also organized groups as large as 70 people for tours and such. Fun stuff. :) Oct 20 2016 we were scheduled to fly non-stop YYZ-FCO, but the aircraft had been changed a few days earlier and as a result the seating plans had also been altered. That happens to the best of them, so no big deal... except that we couldn't modify our online booking to the new configuration.
My wife and I were now back into standard economy seats about 17 rows apart instead of together in upgraded seats with extra legroom. Again, no big deal because we were told that the change could be made at YYZ's check-in counter. So we got there even earlier than usual and sure enough the change was effortless and happily accommodated... but they also wanted another $200 for the Extra Comfort seats booked on the new aircraft.
"I already paid that sum when we first booked 8 months ago," I said as I produced all the pertinent documents. "Yes, I understand completely," replied the very polite and professional agent behind the counter, "However, we cannot apply those funds to these seats at this time. If you pay for the upgrade now, Alitalia will refund the extra Extra Comfort charges back to your credit card." "Hey that's awesome," I said. "The original $200 was in US Funds eight months ago, today's charge is $200 Canadian and the Canadian dollar has taken a beating lately. This means I'm saving a few bucks compared to the original upgrade charge."
Great flight, terrific service and we even arrived nice and early. Heck, even our limo was ahead of schedule too. The bad news? There is simply no way on God's little green earth that I can figure out a way to reach anybody at Alitalia regarding an actual action plan to refund my money. It is looong gone in spite of repeated calls and e-mails that are firm but exceedingly polite. Oh, they talk a good game but just like every story I've read in this and other forums, talk is pretty much all they will ever do. That money is gone but at least our luggage arrived (first off the belt, go figure huh?). I had read some of the horror stories prior to booking but thought I had covered all the bases. Apparently not. Our next flight to Europe will either be British Airways or Air Canada, our two favourite airlines for this route. As much as we enjoyed the actual flight, I'm sorry to say we will probably avoid Alitalia from now on.
Company Name:

Alitalia

Website:

https://www.alitalia.com/en_us