The products contain excessive lead paint levels
01/12/2017
|
ConsumerAffairs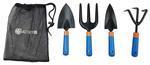 Active Kyds of Dassel, Minn., is recalling about 70 kids toy shovels and garden tool sets.
Excessive lead paint levels on the yellow shank and black blade on the shovel, and the black paint on the garden tool set violate the federal lead paint standard. In addition, the black plastic shovel handle and bag clip on the garden tool drawstring bag contain excessive lead content levels, a violation of the federal lead standard. Lead is toxic if ingested by young children and ...
More
The toys can break into small plastic pieces, posing a choking hazard
12/16/2016
|
ConsumerAffairs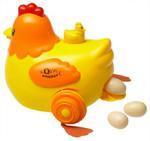 Bingo Deals is recalling about 2,700 egg-laying chicken toys.
The toys contain small eggs, and the chicken can break into small plastic pieces, both posing a choking hazard to children.
No incidents or injuries are reported.
This recall involves the Bump 'N Go Walking Egg Laying Chicken with light, sound and music. The battery-powered plastic toy is a yellow chicken with an orange head and orange wings. The chicken toy includes three white plastic eggs that are placed into...
More
Sort By