If the small toy is ingested, it can expand inside a child's body
04/13/2017
|
ConsumerAffairs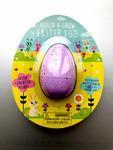 Target Corp., of Minneapolis, Minn., is recalling about 560,000 water-absorbing Easter and Dino toys.
If the small toy is ingested, it can expand inside a child's body and cause intestinal obstructions, resulting in severe discomfort, vomiting, dehydration and could be life threatening.
Surgery is required to remove the toy from the body, if ingested. There is a possibility that the toys might not show up on an x-ray.
No incidents or injuries have been reported.
This recall...
More
The toy trolleys can tip backwards
03/30/2017
|
ConsumerAffairs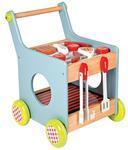 Juratoys U.S. of Fairfield, N.J., is recalling about 10,300 Bricolo by Janod Push toy trolleys sold in the U.S. and Canada.
The toy trolleys can tip backwards, posing an impact injury hazard to children.
The company has received two reports of trolleys falling backwards, both resulting in ER visits. One involved a tooth extraction the other a laceration to the child's nose.
This recall involves four Bricolo by Janod-push toy trolleys. The French Cocotte Cooker trolley is r...
More
Sort By