The knuckle that joins the wheel to the axle can break
01/26/2017
|
ConsumerAffairs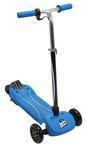 Pulse Performance Products of Santa Fe Springs, Calif., is recalling about 8,900 children's electric scooters.
The knuckle that joins the wheel to the axle can break, posing a fall hazard to the rider.
No incidents or injuries have been reported.
This recall involves Pulse Safe Start Transform electric scooters for children with manufacturing date codes between September 10, 2016 and October 11, 2016.
The date code is printed on a label located under the platform in format ...
More
The products contain excessive lead paint levels
01/12/2017
|
ConsumerAffairs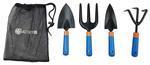 Active Kyds of Dassel, Minn., is recalling about 70 kids toy shovels and garden tool sets.
Excessive lead paint levels on the yellow shank and black blade on the shovel, and the black paint on the garden tool set violate the federal lead paint standard. In addition, the black plastic shovel handle and bag clip on the garden tool drawstring bag contain excessive lead content levels, a violation of the federal lead standard. Lead is toxic if ingested by young children and ...
More
Sort By