Consumer Complaints and Reviews

Only recently started using Yokohama last winter. I found their tires to be exceptional in snow and "Quiet" which really impressed me. Usually winter tires tend to be very noisy on the highway. My new Summer Yokos are quiet as well and do not seem to "squeal" as much under hard cornering. Great Price. Good Tire. Good Handling. I think I have already answered this above. Tires are long, wearing and easy on the ears and pocket book.

They have great tread. Bought my car brand new 2016 Mitsubishi Outlander in April and they don't even look like the tread has gone down and we hit bumps they don't feel like they are going to explode. You don't feel the bumps like some other tires and the tread is awesome. Love them better than my brand new tires on my Honda Accord.

Bought 4 brand new Yokohama tires. I got 14 miles from the dealership and the right rear tire sidewall blew out leaving a 15 to 20 inch split. Terrifying. Had to have the car towed back to dealership. Now they are saying since tires are now used, they can only issue a used tire credit to take them all off and put on 4 new Michelin tires. SO, I pay 700 for Yokohamas, and won't get the 700 back after only 14 miles on the tires before the blowout. I notified the Better Business Bureau in Des Moines Iowa and they advised I file a complaint against Clemons in Ottumwa, IA where I bought the tires. I am furious.

G056 LTR - Smooth, Comfortable, Quiet Ride with good Rolling Resistance. Better Gas Mileage versus previous set of tires. Like the Sidewall Appearance and the Tread Pattern Design. Wet traction is also good. Tires are mounted both my 2003 Toyota Tundra and my 2012 Toyota 4-Runner. Both vehicles are riding more comfortable than ever before.

Yokohama Geolandar A/T-S - Long-lasting, good looks. Work well off-road and in snow. Quite smooth ride on a A/T (aggressive) tread. I drive a Ford F-150 and even after 50,000 miles I still had plenty of tread left. You can't even get that type of mileage out of most small low weight vehicles!
How do I know I can trust these reviews about Yokohama?
673,068 reviews on ConsumerAffairs are verified.
We require contact information to ensure our reviewers are real.
We use intelligent software that helps us maintain the integrity of reviews.
Our moderators read all reviews to verify quality and helpfulness.
For more information about reviews on ConsumerAffairs.com please visit our FAQ.

About two months ago (Sept 2016), I fitted 4 brand new Yokohama Geolanders All Terrain tyres to my Land Cruiser. A few weeks later got a puncture in the sidewall in a dry river bed... By a twig!!! Yes a twig, tried a trail repair but the sidewall was so soft it did not hold the insert. There were others with me, none on Yokohama, but a variety of other brands, they covered the same ground and had no problems.
I contacted Yokohama, and was first told it was 'bad luck'. WTF??? I told the rep I was not happy about that comment and it should not happen to an A/T listed tyre. I eventually got the tyre repaired by a local tyre shop and am using it on road. So he was going to call me back to arrange a tyre shop to take the tyre off and check it out... Never heard any more!:x He has my mobile number and my email address. No excuses! So, I have a serious reservations about a tyre being called ALL TERRAIN. It should say SOME TERRAIN AS LONG AS THERE ARE NO TWIGS! And any company whether tyre related or not who does not respond to a customer complaint is not worth a light IMO!

Our daughter totaled her Chevy Impala (recommend this car for protection in an accident) 7 months ago, but thanks to God she wasn't scratched in the accident. We needed to purchase another late model Chevy Impala soon as her dad was going to need his truck for work and she would need her own car. Went to Rick Henrick Chevrolet in Duluth, Ga. Sales were nice and love the car, but they put a new set of tires on the Impala I've never heard of - Yokohama. It came time to rotate and change the oil in her car, and the dealer (I will not name) said the inner part of the tires were wearing very quickly and needed to replace very soon (actually showed me where the tires were wearing). Needless to say, very disappointed in the tires (I wished now I had asked them to put Goodyear tires on her car). I definitely would not recommend these tires (dangerous for high school or college students driving more than 15 miles to school).

Tire disintegrated on highway at 8K. No alert from Tire Pressure Monitoring System. Toyota forwarded me to Yokohama. Yokohama said take the tire to authorized dealer for inspection, and dealer will warranty if defective. Authorized dealer said tire is defective, but not available. (It is available for special order at high price.) Yokohama then changed the story... They acknowledge their dealer determined the tire is defective, but I have to buy a new tire, and they (Yokohama) will inspect the tire and may refund something. Maybe. Eventually. Unless the story changes again... Which I expect it will. SUMMARY: WARRANTY IS USELESS - If I have to buy a new tire, it won't be the OEM tire that exploded.

I recently bought 2016 Subaru Impreza sport and when I drove on the roads where I could go 30 miles a hour or more the tire noise became so loud that even the radio would not muffle the sound. I brought the car back to the dealer twice and contacted the official site of Subaru of America and nothing can be done. I wanted them to change out the tires but they won't do anything. I only have 463 miles on this car and I am very disappointed in how this is being addressed. I want something to be done. Can you help direct me to the best way to handle this.

Sent in on-line version of rebate including JPEG download of receipt. Received email kickback of submittal 10 days later. Called their center and Lindsey ** said she could not read the details of receipt. I needed to send in a clearer copy. I looked the version of the receipt on my computer and although difficult to read, when enlarged you could read "Yokohama" and the Serial # of the tires. This is an attempt to delay or avoid paying my $60 rebate. I now have to mail in a copy of my receipt so they can further delay my payment. It is not my job to read their documents. They can also request a copy from the reseller if they actually need to verify. The consumer is always the bearer of any excuses these companies throw at you to prevent from paying you.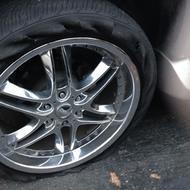 Yokohama Parada Tires frequently lose air. I have TPMS that constantly state to check tire pressure. The tires are low every month in at least 2 tires... Front two tires wore out within 25,000 miles. Replaced 2 of them 4 months ago and 2,000 miles later one original Right Rear tire with 27,000 miles on it exploded as I was driving 65 mph... Damaged my 22" wheel which is no longer made. I will have to purchase 4 new rims and tires... Yokohama's are crap and because of the destroyed tire and rim, I will be out $2500 on Monday. Dangerous tires.

I bought brand new 2015 Subaru FORESTER FROM DEALERSHIP with Yokohama tires on it. Around 10-15k miles the noise from tires became obvious. Subaru Dealership promised after rotation it will disappear. Nope. The terribly annoying noise still present with speed from 30 miles per hour. I complained again to Subaru Dealership during my next oil change and tire rotation appointment. They promised to check it. But mentioned that with my 2 years old /26k miles tires I don't have any warranty either from Subaru or Yokohama. It is a disappointed fact that company as a Subaru can't stand for their customers. NEVER BUY CAR WITH YOKOHAMA TIRES ON IT.

I have been punished by my car for installing Yokohama tires despite of other brands available in local market. I replaced 4 tires of my Skoda Rapid from Apollo to Yokohama Earth 1 series being convinced by the sales guys that these are the best tires & are meant for Indian roads. But, believe me within a drive of 200 Kms I have to replace 1 tire which has got a deep cut for which I paid 50% against a new tire & got it replaced.
After replacing this tire within next 2 days I have got a slight cut in my next (2nd tire) which Yokohama disagrees to replace & had asked to again pay 50% charge for the replacement & the case is still pending with Yokohama team which is still unanswered. My bad luck doesn't stops here. My 3rd new tire from the lot of all 4 replaced tire develops 5 punctures in 1 single grip track & I'm clueless what needs to be done... Still there's no answer from the dealer nor the vendor - Yokohama. I have 2 tires lying with me in almost worst conditions & theres no hearing for the same.

I purchased a 2014 Subaru Forester. Brand new with new Yokohama tires. I have almost 32000 miles on the car and need all new tires because the tread is worn on all four. I drive less than a 1000 miles a month just to work and errands and events nothing out of the ordinary. So obviously will not be replacing them with the same brand. If you buy these tires expect the same results.

I purchased brand new Yokohama tires for my Honda Odyssey van in 2011. The tires were rated for 80,000 miles and 5 year warranty. After driving 39,500 miles, the tires were completely worn out. When I called Yokohama they refused to honor the warranty or prorate the tires. Yokohama informed me that my warranty ran out few months ago, there is nothing they can do. The tires were rated for 80,000 miles with 5 year warranty. The customer service person stonewalled and gave me different excuses for not helping. I strongly advising people not to get this brand tires! Yokohama showed very poor customer service and don't care attitude.

I purchased four tires for my car from Yokohama dealer. But within a short span of 4 months my car got 3 punchers in different tires. The company claims "specially designed for India roads" but when you call Yokohama India team they say "It's not manufacturing fault so we will not replace or give compensation."

I drive a Toyota 4-Runner 2007. In July of 2015, I replace all 4 tires. The Discount sales person recommended Yokohama instead of the previous brand. So far I had 2 blown tires while driving on the Freeway and on country road in the middle of nowhere on our way to Colorado. In January, I had a flat tire and later on found out it had a t-nail so Discount tires patched the inside. On May 18, 2016 while driving on the Freeway the rear right exploded, thank God I was slowing down to get off the freeway. I believe that same tire is the one that blew up on the freeway. Altogether has been a horrible, expensive and time consuming bad experience. Do not buy these tires.

I purchased four new Yokohama AVID Touring S tires from my car dealership. With 34,588 miles on them, I learned there was 4/32" tread left on one tire, 5/32" on another, and 6/32" on the last two. These tires have been kept aligned, balanced, rotated on schedule, and inflated correctly. Soon after buying them I retired from work, so they haven't had the normal amount of wear and tear. Yokohama offers a 60,000 mile warranty if I drive on the tires until there is 2/32" left, but the dealer says anything less than 4/32" is unsafe to drive on, so I won't do that. I have been driving for many years and have never had tires wear out at this mileage. This is the first and only time I'll buy Yokohama.

I got 4 brand new tires from America's Tire Store to replace the Pirellis I had previously bought new. At the time, ATS did not have any Pirellis in stock and told me Yokohama was the closest thing. They wish! Guaranteed for 65,000 miles, by 28,000 two of them were bald and my mechanic basically told me they would go at any second and I should not drive on them. Crap!

This is the second set of tires... with only 22,000 miles on the second set of tires and are all evenly worn. All 4 tires shows metal on sides of tire treads. All 4 tires are almost up to the wear bars. The tires are junk. The car only has 36,000 miles. The tires are junk.

Purchased new 2013 Impreza with 4 Yokohama AVID tires. On first visit for service noticed that a road noise whine was developing which appeared at 40 mph and above. Service pointed to treads on tire making the noise so became nonissue. On subsequent visits and inspections Subaru service found nothing wrong, gave tires 4 passing stars. After 25K miles road noise became so loud that it started drown out radio. Took car in and was given 4 stars tires passing in August, 2015. Took car in February 2016 and pointed service to serious bearing problem. Service pointed to tires again. Took car to NTB and replaced tires with Sumitomo. Problem immediately gone and found the previous alignment was out of tolerance on three of four tires. Service missed problem because wear was only on inside surface of the tire while treads in middle and outside were normal.

I purchased a new 2015 Dodge Caravan with Yokohama tires. With only 120 miles on the vehicle I experienced a violent blowout on I-75 on the Peace river bridge in Florida while traveling 70 miles per hour. Fortunately I got the vehicle to the right lane and called police and highway road ranger. When the road ranger looked for the spare tire to install, there was none with this new vehicle. I had to drive off the bridge on the rim to a safe area. Not a great day, and will change the other 3 tires to Goodyears.

I purchased four Yokohama Geolandar tires (265/70R17) in September 2013 at Town Fair Tire in Attleboro, MA for my 2009 Chevy Avalanche. I live in the city and work in the city. I do NOT do any four wheel driving. Since that time, I have had five flats, two of which required new tires (I am not replacing the last failure).
The most recent flat was a violent blowout while driving 65MPH on the Interstate. Luckily, I did not roll the vehicle. These are the worst tires that I have ever owned. I do not have the order number, but they were purchased on September 25, 2013. I am having four new Goodyear tires mounted this weekend.

I purchased a 2013 Subaru Impreza in April 0f 2014. It was a dealer lease car with 3,000 miles on it and Yokohama tires. In the past 6 months I have had to service the tires frequently as they were losing air. I brought the car to my Subaru dealer 3 times to get the tires looked at. There is no damage, no punctures, no nails. I have only put 10,000 miles on the car since I bought it. Let's put pressure on Subaru to discontinue using these tires and on Yokohama Tires for selling an inferior product. Do people have to die before something is done? Subaru was helpful and want me to notify them the next time my warning light comes on. I will not let this go. I'm a pitbull when it comes to my safety and wallet!

In the past I was very happy with Yokohama Tires. Two years ago I bought a set of 4 YK580 for my Camry. They were rated 60,000-mile tires. At 27,000 they were bald. Even with the mileage adjustment I had to pay 3/4 of the original price to replace them. After 23,000 they are worn again. I will not buy Yokohama again. I will be replacing them with another brand next week.

Don't buy Yokohama tires. I bought a set of Yokohama tires HTS 2 years ago (2013). I did not even get 30,000 miles on the tires and I need a new set. When I went in to discount tires I was told that these tires did not have mileage warranty. I was not told this when I bought the tires. This is the second set of tires in 4 years. The last set I bought there was a roaring sound in the tires so they were replaced with the set I am now having problems with. They were of course prorated. I still had to pay $150.00 for each tire. Now here I am again having to buy a new set of tires.
How can I get in touch with the Manufacturer. Not getting any help from Discount tires where I bought the tires. Please help, I am a woman and I am not letting this manufacturer get over this time. What should I do. I was also told they are not making these HTS Yokohama anymore. They were replaced with the Yokohama HTX. Please advise me of what I can do.

To the people whose money is very valuable, this is a very important message to you. DO NOT BUY YOKOHAMA. Last year I bought the Yokohama Ice Guard tires, I spent around $1000. As soon as they were on, I noticed they were sliding. When I would drive, it skids. I had on my regular summer tires in the first snow the year before and they performed better than the Yokohama Ice Guard. This year, the same problem, I noticed my summer tires perform much better. I contacted Yokohama, they basically got my money so they were making me go back and forth to the shop and Yokohama, as being such a big company they did not care about the customer.
I would never buy Yokohama and I would always recommend people to not buy Yokohama because you can find better winter tires for cheaper. People, don't find out the hard way. Do your research from before. And to Yokohama, you have found a customer that will dedicate in making sure people don't from you. Also Yokohama, be prepared to find this message all across the world. "IN TODAY'S WORLD ONE CUSTOMER CAN MAKE A DIFFERENCE."

Oct 14th, new set of four Yokohama Earth 1 tires purchased. Just in three weeks hardly 600kms done, left (front) tyre gushed out air at the wink of the eye all of a sudden in Highway and the car was pulled towards the left side, driver unable to control, by the grace of God, not much vehicle in closer range averted a mishap.
On complaining local engineers took their own sweet time to inspect and after repeated calls mentioned "these type are regular side walls cuts due to bad roads". Surprising to understand that just brand new ones have side wall cut, having used cars for more than 16 years this was the 1st time stranded on road with family. Wrong choice of Yokohama Tires, will never use or recommend. Thank God.

Driving up in CT on vacation I had a blowout on I-95. Very sudden and very scary. It was a Sunday and had no luck getting a replacement that day. I had to go to a dealer the next day and was told it was a sidewall tear in the tire. I had 27,000 miles on the car. I was lucky. No real damage to the car but my passengers were very shaken by the experience. Totally unreliable product. All the reviews I've been reading are horror stories and lots of people spent a good bit of money fixing the problem. There should be a class action filed against these people. I have a 2014 Subaru Forester and now I have the expense of getting 4 new tires because of all the issues mentioned by others. I cannot afford to have an accident. I drive 200 miles all highway several times a month and don't want this to happen again. All dealers selling cars with these tires need to be made aware and not have their customers risk their lives for no good reason.

Let me start by saying I used to be a raving fan of Yokohama tires. We have several vehicles, and I purchased several sets and referred friends and family to them. The last set of tires I bought (October 2014) came with a rebate. I completed the form within 1 day, and sent it in. I quickly received an email to confirm receipt and an indication that the rebate would be processed soon. I waited a few months, and no rebate yet. I called in to the service line, and they indicated it was sent to me.
However, I received about 3 months after purchasing the tires, and the US postal service stamped the letter a few days before I received the letter. Yokohama was not willing to be honest and accurate with me regarding this very time consuming ordeal. Nor would they apologize or take responsibility, as the call center was very discourteous and unprofessional to deal with. I just received a survey from them and they called me after I gave a poor review. I got the same run-around. I went from a raving fan, to the opposite. I never plan to buy from them again and would loudly tell others the same.
Company Name:

Yokohama

Website:

https://www.yokohamatire.com/