Consumer Complaints and Reviews

Bought four tires from them through eBay. Within days the same tires were on their website for 30.00 each. When I complained, they just said they did not price adjust - not even their own. Reputable companies will adjust even if the lower price is from another company.

I wish I had read the ConsumerAffairs.com reviews before I did business with Tire Rack. Those reviews are absolutely the most horrendous collection of poor customer reviews ever assembled in one specific company's review! How does Tire Rack stay in business? And one more critical question: How is it that such a highly esteemed company such as Michelin would associate themselves -- and risk their reputation -- by teaming up with Tire Rack?
I bought Michelin Defender Tires for my Subaru from Tire Rack. They had a warranty for 90,000 miles and 6 years. These tires were performing like great tires UNTIL we returned from a 7,500 mile trip across the US and I discovered that one of the tires had worn through several layers of the steel belt! We had only 56,000 miles on the tires. This never should have happened since we followed the stringent Subaru rotation and balancing requirements every 7,500 miles. The owner of our local tire shop said that it was clear that the tire was DEFECTIVE because it separated – which is why it failed prematurely. BTW -- You can imagine my wife going bananas when she saw the STEEL BELTS! Two days prior, we were driving thru Texas at the posted 80 MPH speed limit – literally ALL DAY! A blow-out could have been fatal.
When I called Tire Rack about the defective tire's failure and my warranty, they said to send the tires back and they would determine the tire wear which would decide the amount of refund. After their examination, Tire Rack decided that they would give me a 19 % refund! I was shocked! So, I called Michelin's Warranty Dept and asked them to determine my Warranty compensation – which they did. They reviewed the pictures and my explanation and then they offered a 41% refund!! More than DOUBLE Tire Rack's refund!
Because Michelin's compensation was so much better than Tire Rack had offered, I asked Tire Rack to re-consider their Warranty compensation. Well, I guess they didn't expect me to go to Michelin -- and because I did -- they were stuck between a rock and a hard place. Although they resented it, they agreed to 41% BUT only if I was going to buy new Michelin tires from Tire Rack. That will never happen – especially when they tried to cheat me out of an honest warranty compensation! Nope -– I'm gone! Tire Rack will NEVER EVER see my money again!

I recently ordered four shocks online. I called Tire Rack and confirmed that they were in stock as the website stated. I completed my online transaction on a Tues. afternoon. When Tire Rack tried to charge my credit card, my credit card company denied the payment and then notified me the next day, Wednesday. I called my credit card company and OK'd the charge and was told to "contact Tire Rack" to resubmit the charge. A lady from customer service at Tire Rack happened to call me immediately after I talked to my credit card company and told me my credit card charge was denied. I asked her to resubmit it, which she did and the charge went through.
This occurred on Wednesday morning. I just received my shocks the next day, Thursday in the morning. The gentleman I spoke to, to confirm they were in stock was polite and helpful, the lady from accounting was polite and helpful and the shocks were delivered on time as promised. I will deal with them again. P.S. My son has bought wheels and tires from Tire Rack in the past and was very pleased and that is why he recommended them to me. And NO I am not affiliated with Tire Rack in any way, just a satisfied customer.

Ordered tires as recommended from Tire Rack - After two days - received e-mail that there was an "address" problem with their recommended installer - four days after order only two tires were received by installer. Ironically installer states he can get tires locally for more money! So instead of price quoted - I paid additional $50.00 for same tires to be installed (tires I had were bad)... What a classic bait and switch program!!! Had to contact credit card company to get credit - Tire company said my responsibility to return tires even though never received.

While searching for a good deal on tires I went to the website for pricing after seeing the ad on the TV and an ad online. Well they are no cheaper than the local shops prices like discount tires, firestone, Goodyear, Sam's Club, Walmart etc... On some prices they are $10 to $20 if not more higher. This is not "wholesale" nor what they claim to be "off the prices of retail" in the commercials online and on the TV. This place is a rip off and a joke. I did not buy from them. I will also tell everyone I know NOT to ever buy from them. They are overpriced and that just to get your tires from your LOCAL stores shop around.
How do I know I can trust these reviews about Tire Rack?
762,011 reviews on ConsumerAffairs are verified.
We require contact information to ensure our reviewers are real.
We use intelligent software that helps us maintain the integrity of reviews.
Our moderators read all reviews to verify quality and helpfulness.
For more information about reviews on ConsumerAffairs.com please visit our FAQ.

In August of 2015, my husband and I purchased 4 Sumitomo tires from Tire Rack. In September of 2016, not even 13 months later and not even 15,000 miles, all four tires were completely bald and one was showing thread. We contacted customer service, provided the information they asked for (number of tire rotations and alignments within that year's time) and as many pictures/angles as possible. Based on their "experts" opinion from looking at some images, our tires were deemed not warranty-able and that our alignment caused the issue. When I immediately provided proof of the alignment specifications that occurred in April of 2016 with before and after alignment specifications, they refused to respond.
My husband called them and I emailed them in December to ask if they were even going to respond to my email with proof of proper alignment specifications. As of January 29, 2017, we have yet to hear from them. We had proof of proper care and maintenance, documented oil changes, tire rotations and alignments and never even drove the car out of the state in the 15 months they were on our car. Worst customer service ever.

Tried to order 2 tires for my Honda Civic. The order was processed and the funds taken out of my account. I never received the tires and took me two weeks to get a refund from Tirerack.com They tried to encourage me to purchase again but I just went to Simpletire.com.

Bought a set of tires through Tire Rack specifically because the delivery was promised by a certain date. What a joke! No movement or update on the packages. The track my package function is laughable. I called Customer Service who was both rude and unhelpful, and automatically attributed it to the weather and said it was out of her control and didn't even bother apologizing or offer to expend any effort looking into the matter further or why the fourth package was not released. I mentioned I spoke with the carrier who did not mention anything of the sort and that when I bought the wheels I was promised delivery by yesterday so I could get these on my vehicle IN TIME which is why I bought them in the first place.
Weather has been weather all week long, if that were a factor it should have been reflected in the estimated delivery time. I asked her name and she HUNG UP on me. I just spent $1,600 with these guys and shockingly not how I expect to be treated. With customer service like that, I will be sure not to use them again or recommend them to friends.

In Nov. of 2016 I bought 4 Michelin Pilot Super Sport tires for my Mazda MX-5. After installation at my tire store, I noticed the ride was bumpy. Two tires were out of round. I got Tire Rack to send replacement, and it was no better. Anyone could see the tread surface rise and fall with each revolution on the tire machine. In all, three tires were sent but only one did not wobble. Now only one tire was needed, but TR Customer Service was getting impatient over the phone as soon as I gave them my invoice number and saw our growing record of failed attempts at coming to a solution.
Some reps were nicer than others. Two gave me their extension #'s but dialing them didn't work. I left one a message to call back, but she did not. Two reps said they had to get approval to send another tire. I heard from one, with a negative answer. Finally at rep. #5 seemed most helpful, instructing me to another tire store, which had the equipment needed, a road-force balance machine. If she knew from their system which one of their affiliated stores had what machines, why didn't the first four reps? An incredible waste of time for me, the customer.
Tire Rack has one way to measure out-of-round tires. The road-force rating has to be no more than 25 pounds for them to consider the tire bad. Two tires that they said they road-forced looked and felt wobbly. I took the latest bad tire to the new tire store and they did a great job at an impossible task. They tested all four of my wheels and all the tires. Wheels were round. One tire was without wobble. The three marginal tires measured 25, 26, 27 pounds. I would be OK with the 25, but two were bad by TR's own standard. The shop's tech said the compound on the tires was exceedingly stiff. By this time I was in email communication with someone who I think may be a supervisor. I sent her the good tire store's invoice with the results of their test. Her second email stated that I may be entitled to a different set of tires. After a week of silence, I emailed back for some status on my case. So far, I got none.
It's now Jan. 17. If they were working on a solution, they should be letting me know. It seems like they want me to go away. My newly balanced bad tires feel better, but like the store said, they couldn't get all the wobbles out. The head employee said I should go for the replacement set. I headed for the interstate for a test. Most highway miles I get a constant, mild thump, and about 40% of lesser roads I can feel the wobble. Sometimes it's worse, probably when the tires are turned so that the lumps happen together.
I have bought at least two sets of tires from TR in the past without problem - no need for returns. Discounted tires, fresh manufacture dates, yes, these are great advantages, as long as the tires are true. The problem with their business model is they are remote from experiencing the product as the customer sees and feels it. This is where customer service should make up the difference. They don't.
Tire Rack uses "feel" descriptions in their ads and online product listings. Talking about smooth ride and handling is how you sell tires. But in my case, after the sale, they completely ignore my complaint about the lumpy ride. They didn't think "feel" mattered any more if it cost them more replacements. All they could cite was their internal testing number of 25 pounds of road force they said the tires were clearing. Their description of my Super Sports claimed "unsurpassed handling". That's false advertising, because two of the tires ARE surpassed by the round ones they did send me.
I was polite but persistent over the phone with TR. I wonder if they thought I had nothing better to do than to cause them trouble or get constant new tires one by one! Unless I get satisfaction soon, I will consider this experience a rip-off and will spend the rest of my days testifying to everyone who may buy tires to stay away from Tire Rack.com. In my case, sending a photo would not help. All I have is a video of a tire wobbling on a balancer.

Ordered tires for my truck in CA three days ago. I used them because I saw next day delivery and needed the tires fast to drive back to Colorado. They said yesterday they would be delivered by 10:30 am. Didn't happen. I called and they had not even left the facility. At least Quinn was kind enough to refund freight.
Fast forward to today and again no delivery. I've called Tire Rack who said it was a priority, the tires should be here "soon" (that was 2.5 hours ago) but no guarantee. I've called the shipper and now sit with three cancelled appointments to get them installed and no idea when or if they will arrive and no way to drive back to CO on time. Here's hoping they get the tire size right IF they ever arrive.

DO NOT BUY A THING FROM THIS PLACE!!! I bought a set of American Racing rims. They were on the car from July to November and started to pit...ALL OF THEM not just one. Tire Rack said that is from road salt and weather. I am from NJ. We don't have road salt in the summer. Their solution was offering me 25% off another set of rims from them. Really!!! 4 months and less than 1500 miles on the rims and look like absolute **.

Purchased 5 sensors that don't work/defective. Paid $20 each wheel installation fee. 2 different tire service centers could not get them to read. Contacted Tire Rack customer service with no response. This company completely ignores complaint, and doesn't respond. I'm out $350.

Ordered 4 tires for my Ford F150. When they showed up one was damaged, Tire Rack blamed me and said I could not return. After much debate they agreed to take back but made me pay for shipping. Decided to try out other websites and found a better deal on www.simpletire.com. I wouldn't waste your time with Tire Rack!!!

I made a November 8th order using the TIRE RACK website. The reason I ordered tires was my son along with my mechanic have ordered tires for two of my son's vehicles from the company. Ordered tires while out of town without vehicle. Used the TIRE RACK website to look up tires for my vehicle. They shipped tires charging me for the UPS charges, took to my small town mechanic who told me they were the wrong size. He showed me three different manuals with the correct factory original listing for my vehicle, which means TIRE RACK website lists the incorrect size.
So I tried the web chat service, which was useless. I then called and spoke with an actual human, told her the error. She informed me that as a ''courtesy'' TIRE RACK would pay for the return shipping but I would still be charged for the original UPS freight charge. Again, I reminded TIRE RACK the website was in error. I also emailed TIRE RACK and received this email:
"Good afternoon, Thank you for your email. I see that you have already spoken to a member of our customer service team. If you need further assistance or have any other questions, please contact our Customer Service Department and we'll be happy to assist you. We are available at 1-888 981-3953, extension **.
Thank you."
So, they issued return shipping and UPS picked them up. Was told they would credit my account within 24 hours of receipt of wrong tires. Called them again today, Monday, spoke with **. Was told they received the return on Thursday and I would get a credit today. Asked, again, why I am paying for shipping on an error on TIRE RACK's end. No response. In fact, during this entire fiasco, no one at TIRE RACK has acknowledged the error or made any attempt at making an apology or telling me anything about my order for the incorrect tires. TIRE RACK and customer service? NONE! So as a ''courtesy'' to my fellow consumers, look for another place to purchase tires!

I have bought several tires from Tire Rack while living in Canada and have not had any warranty problems with premature wear. BUT I just did and only got 20,000 miles of tread wear out of a set of Bridgestone/Firestone Destination LE tires that had a tread life warranty of 60,000 miles. DO NOT BUY TIRES FROM TIRE RACK IN CANADA IF YOU EXPECT TO NEED A WARRANTY. I had the tires installed at a Tire Rack recommended installer in Calgary and had a full 4 wheel alignment. After only 20,000 miles I had hit a tread wear of 3 on one tire and all the other tires had severe wear. I went back to the installer and they said they do not handle warranties. I then called Tire Rack and they said to go through a Firestone/Bridgestone dealer in Calgary. The retail dealers said they cannot warranty tires not purchased in Alberta and since my tires were shipped from the USA they are technically USA tires.
Called Tire Rack again and they said to work through the Alberta Bridgestone/Firestone head office. They also said the same thing. "If you don't buy the tires here we will not warranty them." Went back to Tire Rack and they had me bring the car in 3 times to a tire specialist that confirmed premature even wear on the tires, that my car was fully aligned and to also complete a detailed tread report measuring several parts of the tire. All of this was sent to Tire Rack and all the data pointed to bad tires. Tire Rack dragged me along for 4 months doing nothing and saying they are still reviewing the reports. I gave up and bought new tires. For what you save it is not worth giving up the tire warranty. I paid $1120.00 to Tire Rack for tires that only lasted 20,000 miles and they did nothing to help compensate me. Stay away from Tire Rack if you are a Canadian.

Bought 4 Kumho 17 inch Solus tires for my Dodge Dakota from tire rack but only fitted 2 to the front. Got a bumping after 30,000 miles and find one tire has a large bulge in the tread. Called Tire Rack and service person says "you can send it back at your own expense but I can tell you, we will say you hit a curb and damaged it so you will get nothing." 6 months later second one does the same thing. I rang them but basically told them I wouldn't buy from them again. Today the third tire has done the same at less than half wear, so I will have to go and buy a tire locally.

Wheel problems and put air in tires, traveled 3 miles, tire went flat and damaged tire. Went to Monro Muffler and the cause of deflation was the cap that came with the new wheels (rims). When tightened they caused air to escape. Called Tire Rack to report the problem. Said they would send new caps but would not reimburse me for tires. From now on I will deal with Discount Tire Direct... better prices and no shipping charge.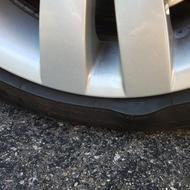 I bought four Michelin Pilot Super Sport tires last December and they've been very good. However, on a recent trip to visit friends in Toronto, I noticed a bubble on the side wall of the passenger side front. This was after we had arrived in Canada. I was frantic since it was a holiday weekend and we needed to return home on Monday, July 4th, and I didn't have a spare (my car came with run-flats that were horrible so I replaced them with these tires). We called several places but only Canadian Tire had a replacement and could install it Monday morning. However, I paid $281.95 Canadian for it, which is pretty outrageous, but what was I to do at that point? That price included $17 labor and $32.44 in taxes.
I contacted the warranty administrator for Tire Rack and was told they wouldn't cover it since it happened out of the USA. I told the rep that there was no way she could know that because I drove nearly 400 miles in the US and only 100 or so to get to Toronto, so it could easily have happened in the USA. She told me to contact Tire Rack and discuss it. I contacted Tire Rack and explained the situation and was asked if I kept the tire. I did not (why the hell should I?) but that I'd taken a photo of the bubble with my cell phone. She said she would speak to Michelin and ask if they would do anything and call me back later that day. She never called back so I called Tire Rack again today. The woman I spoke to said I had spoken to a supervisor and 'sorry she didn't call you back, but Michelin won't do anything unless they get the bad tire back'.
So a supervisor in the customer service department fails to call after getting this bad news and a multi-billion dollar corporation refuses to reimburse even a small part of this new tire cost? Yes, I had debated about bringing the tire back, but I couldn't call Tire Rack to ask because it was a holiday in the US. Yeah, I'm probably done with both and I've bought more than a few sets of tires from Tire Rack. Let's just say I'm very disappointed.

I have ordered at least 6 sets of tires from TR over the course of the last 6-8 years and to date have not had one bad experience! Customer service has been impeccable without fault! I have read numerous reviews of TR on this site to date and must say that while some consumers might need to look at their buying practices, I am disheartened by what I read! I need new tires for my latest vehicle purchase and cannot in good conscience move forward with TR! There ARE other options with better deals over the internet and I feel like it might be time to move on.

Purchased 4 new Dunlop tires on tirerack.com and I was experiencing my vehicle shaking and pulling to the left. After 3 wheel balancing and two 4 wheel alignments, a dealership finally diagnosed a faulty tire. I purchased the tires last November, but didn't install them until January. On April 23rd I finally got informed from Woburn Foreign Motors about the faulty tire. After contacting Tire Rack directly, I was told there was no warranty other than road hazard. And in order to get a replacement tire, I had purchase a new tire and was responsible for all shipping and handling and that I would only receive a credit after I shipped back the defective tire. I feel I was ripped off and will never purchase anything from Tire Rack ever!

I bought 2 sets of rims from them, my mechanic install them in the car. When went to see it, there was a scratch on the one of the rims. My mechanic said, "it was delivered like that." I called them. They said, "once it's installed we won't take it back". After buying 2 sets of rims? So my suggestion is buy rims from a place that you if you run into any issue you would be able to return them, like Overstock, or Amazon. No question ask. Don't waste your money with them. Not worth aggravation. Use Amazon.

Purchased 4 new sport Pirelli tires 8/2014 - These are highly rated tires for my wife's car, BMW X3. The company claims that they are good for some 60000 miles. We had number of problems with them from the beginning. The rear tire needed air every three to four weeks. We made Tire Rack aware of this situation. This occurred about five or six times. The in question was completely bald after only 16000 miles. I called Tire Rack to complain.
I was told that this normal wear & tear. The agent suggested I need to purchase two tires which did for a discounted price. It seems that the warranty claim is worthless. Both tires must be worn at the same thread length. I bring the car to their suggested installer & get hosed again. Warranties on these tires mean Nothing. Buy a cheaper tire every 15000 & save the money. Tire Rack did not help & I doubt if I will purchase again. Pirelli motto: Performance you can trust??? Purchaser beware.

We have a wholesale account with them and upon ordering a set of rims for a customer's car, they decided to send whatever rim they felt like sending. The car called for a 15 x 6 rim with 4 lugs and they sent a 16 x 6 with 5 lugs. Upon inspecting rim and invoice, we found several other charges for items not inquired and never received. When calling customer service, they advised that they will not refund us for items not received and that we'd have to pay for shipping. This is what we called a scamming company in decline. Order at your own risk from them.

The Tire Rack was absolutely no help in a warranty issue I had with Michelin. "Sent the tires back and we'll look at them".. Wait my car gets to sit on jacks for two-three weeks while you decide. Never again. Plus they were more expensive than buying locally. Don't be fooled.

I bought four tires from Tire Rack.com. 3 out of the 4 of the tires went bad. 2 of the tires had an eggs in them and the other one thread was sticking out of the tire. I contacted the company and they kept giving me the runaround and finally talk with the manager. He said he could not exchange them but he can give me a 30% discount and told the tires is only 2 weeks old and he said sorry it the best he can do so I reported them to the bbb and was told this company have lots of complaints against them for selling bad products. So I was told file suit against them and my attorney call them and he got me my money back. Thank to him.

I started using tirerack.com several years ago and based on my most recent experience, they are a company in decline. The interaction I just had with their customer service department was bad and similar to as others have described. If I had to do over again, I wouldn't use Tirerack.com. In my case, I would have been better off using my Amazon Prime account to order the tires. The cost difference was negligible but I would have had access to Amazon's superior customer service and shipping clout/skills. In my case the tires are 4 days late and I can't wait any longer. How's Tirerack.com propose to help me, "have the installer refuse delivery and Tirerack.com will charge me freight both ways." Obviously, I'll never use Tirerack.com again and will gladly pay more (if necessary) to shop online with companies that provide quality customer service and have the resources/desire to me as a returning customer.

Followed website dire directions to order tires for my truck. First set came damaged - returned. Second set that came didn't fit my truck! Ordered third set after returning second set - barely fit my truck & did not come the way I ordered them. They said the second set was used and I needed to pay shipping on the second set even though there was no way they could've been used because they did not fit on my truck! Ended up paying for shipping 2x and was only partially refunded for the second "used" set of tires.

In mid November 2015 I purchased a tire/wheel package from The Tire Rack. Today, less than 3 months later I had a weight come flying off one of my new wheels. I called The Tire Rack and they said very quickly that I was on my own and they would do nothing about the situation. He said I could take it to any tire shop and they could "throw another one on for me". I explained that the tire & wheel would have to be rebalanced and he basically said "Tough luck!" I have bought many tires from them in the past but saving a couple of bucks is not worth it when you have to go to the tire shop, that you should have bought from in the first place, and pay to have something fixed that The Tire Rack should have taken care.

Went to local repair shop with flat tire and foreign object in side wall. Unrepairable. Spoke with representative for "Sonsio". He told me we had to have a photo or specific info to support a legitimate tire replacement under their program. I had the work done at a reputable shop who provided proof the hole was in the sidewall and unrepairable. Tire rack will not pay it with the information we have given them. This is a scam to say the least as they promise road hazard and then don't follow through with the promised coverage.

I have an absolute blast abusing tires on road racing tracks and AutoX, and keep tires on 3 daily driver cars so I buy more than my fair share of tires. Almost always I buy from Tire Rack. Excellent support and intelligence. Excellent/quick delivery. Excellent pricing. You might squeeze blood out of some stone, but the Tire Rack price is always very good or better. I do not bother price comparison any more. I trust Tire Rack. Even if I just need one tire right now, I use the Tire Rack website for product information, bottom line pricing, installer referral and price negotiation for any urgent local in stock purchase. There is no doubt Tire Rack drives the market and forces most other businesses down to fair pricing.

Lauren FixAuto & Finance Contributing Editor
Lauren Fix, also called The Car Coach, is an automotive and auto finance expert. Her understanding of vehicles has made her the "go to" person on TV, radio, print media and the Internet. She has authored multiple books and writes a column for several outlets, including Parade Magazine, NewsMax and Car Coach Reports. She is a regular guest on major news and morning shows, discussing the latest updates on cars and car financing that will help drivers make smart decisions when buying, maintaining and financing cars. More about Lauren→

Tire Rack has over 2.2 million square feet of distribution center space across the country packed with inventory from 21 major tire and 58 wheel brands. Their prices are competitive and their expertise is unmatched. Tire Rack has its own track to put tires to the test lap after lap, so you know exactly how a tire performs.
Tire navigator: Search for tires by year, make and model as well as tire and wheel packages already mounted and ready to install.
Availability: Tires or tire and wheel packages are ready to deliver by the next day in most cases.
Major brands: BF Goodrich, Continental, Avon, Bridgestone, Dunlop, Firestone, General Tire, Goodyear, Hankook, Hoosier, Kuhmo, Michelin, Pirelli, Toyo, Yokohama and more.
Learning center: Tire Rack has an extensive area of their website dedicated to education, research and advice.
Installation: Can be shipped directly to the installer of your choice or one of their 8,000+installers. All you have to do is schedule your appointment and show up. Tires can also be shipped directly to your address.
Best for Sports car and high-end vehicle drivers, extreme performance, touring, winter, run-flats, light truck and SUV drivers and passenger vehicle drivers.
Tire Rack Company Profile
Company Name:

Tire Rack

Website:

www.tirerack.com