Consumer Reviews and Complaints

We own a 2005 Hyundai Santa Fe. Seven years ago we purchased a set of Michelin 235R 17 tires from Sears. The set lasted 98,000 miles and still had good tread on them but we're starting to crack due to age. Can't complain about that. They were great tires.

Purchased a brand new Nissan Rouge. Came with Michelin tires. Two separated at the tread. Emailed Michelin and was told to go to Tire Kingdom. Tire Kingdom said, "You must have hit something." I know I did not hit anything. I will not accept a high school kid telling me I hit something. So when I emailed Michelin and asked what better way they warranty their tires other than the opinion of a kid working at Tire Kingdom, I have received no response from Michelin in two months. P.S. Tire Kingdom has bought me 4 new wheels because they scratched them when I purchased 4 new tires on another car. This is the professionalism you get from Tire Kingdom recommended by Michelin. And the worst customer support from Michelin. These tires should be on a recall list before they kill someone.

I purchased 4 new Michelin tires in August 2016 from Tire Barn Warehouse in Johnson City, Tennessee, 423-283-9189. The air pressure light has come on 5 times and each time I take it back for correction I am told it is account of cold weather. I have used Michelin for over 40 years and have never heard this. The car is a 2015 Mazda 5. Is Michelin making a less than quality tire? I didn't pay a low price. The light goes off for about 2 weeks and then comes back on. Can you help? I am a loyal customer.

The tires on my Corvette have excellent adhesion and wear is good. Michelin's warranty could be improved... only covers 4 tire purchase if all tires are the same. My car has larger tires in the rear, but never had a warrantied situation arrive.

Replaced Firestones that aquaplaned and never felt stable during rough weather. The Michelins grip the road during heavy rain and winter weather, making the tire easier to handle and feeling more secure.
How do I know I can trust these reviews about Michelin?
765,713 reviews on ConsumerAffairs are verified.
We require contact information to ensure our reviewers are real.
We use intelligent software that helps us maintain the integrity of reviews.
Our moderators read all reviews to verify quality and helpfulness.
For more information about reviews on ConsumerAffairs.com please visit our FAQ.

I use these tires on my Superduty Fords, my 3 axle equip trailer, my dump trailer and my wife's car. I do not overload my equipment so I do not have to worry about overloaded tires. I also do not have to worry about most traction snow/mud conditions. I do not have weak and wobbly side walls giving me any instability. I get very good tread life so the tires are worth the money. I have used Michelin for years with minimal problems and no blowout or failure problems.

Michelin was the first radial tire available. The rest of the industry were slow to learn, and I do not believe they ever caught up. I have owned other brands of tires and worked in a Bridgestone tire mfg plant, so I know tires. Michelin are the best quality retail tires available.

I've always choose Michelin Tires, even though they are more expensive they are the best. One gets what one pays for.

I have always used Michelin tires on my automobiles. I highly recommend these tires. At first, one will be shocked at the price of the tires, but they are well worth the monies one invests. To know that no matter what the road condition, that these tires will by far outperform most tires that are being used for your car, it is worth it in the long run. The guarantee is (I believe) 80000 miles, but I have always surpassed those miles. I have driven in numerous weather conditions and these tires have ALWAYS surpassed any other tire.

I have owned B. F. Goodrich, Yokohama, General, Dunlop, and many other brands, but Michelin have outperformed all other brands in all categories. Yokohama tires were sold defective and caused an accident when the tires were on 6 weeks! They did not accept responsibility for the vehicle damage. Michelin lasted longer than expected. I do take care of my tires and have them rotated and balanced, and I make sure the tires are aligned.

I love cars, and to pay for college I worked as an auto mechanic, service adviser, and automotive service sales person (mostly tires). Now that I have been out of college for a few decades, I love fast luxury Sedans. But no matter what kind of car you drive, the most important thing is the safety of you, your loved ones, and the people you share the road with. And the second biggest factor in safe driving, right after driving safely, are your tires. And in my opinion, the best tires on the market are made by Michelin. They can not be beat for their combination of traction, low noise, and quality.

There are many levels of quality in every brand, so the tire distributor is very important for giving an honest recommendation for the right tire and tire rotation for your car. America's Tire has done that and the Michelin tires I have purchased have performed very well. I like the all weather pattern for handling and ride comfort. I would recommend America's Tire and Michelin.

My mechanic put Yokohamas on when I needed new tires but they were very unstable and unsafe on the highway. I went back for Michelins which had been on the Sprinter Van when purchased. They make all the difference on how the van handles. Their medium duty van tires have the most stable side walls available. It's well worth the price difference.

I want some Michelin tires from Sears. I rolled it over 80,000 miles and it still didn't blow. I used to race on it until the wires was showing and it still didn't go on the flat. Michelins are the best.

I have always bought Michelin tires since I was young and always buy the best model. My tires now are at 40,000+ miles and have very good performance. Over many years I have only had one problem with a tire that developed a sidewall leak and had to be replaced.

The tires have good stopping performance. I have more trust on them that's why I got them. They're on 9.000 miles and have great performance. I have been using Michelin tires for good over 30+ years. And I have depend on them more than any other tires in the market. I just prefer michelin tires.

I have Michelins on my RV and GMC Acadia. They cost a little more but worth the difference over their lifetime. They are section molded and will run smoother and therefore last longer plus balancing them uses fewer weights. I've had them for 40000 and the great thing in the case of tires is if you buy the best the only time you think about tires is when you buy them. Tire experiences infer problems to me but with Michelins there are no "experiences".

My tires are highway tread only. Its prior history, quiet ride, handling, good wear rate are why I got them. My 1st set has gone 45000, the 2nd set 34000 and the new truck 4000-. The tires is QUIET. I changed from all season to highway when truck was new and all the better!

I purchased Michelin Tires for 2 cars, Acura MDX & Lexus ES350. For the brand name, I thought they would be good and long lasting. So far, I've used them for 25,000 - 30,000 miles and the treads are worn. They don't last the 60k miles as advertised so I'm very disappointed. It's overpriced as well. I've switch to Goodyear and hope these perform well.

Winter tires are excellent for stopping on ice and snow. I tried a good name brand that I had checked online but they were not what I expected. It shook at different speeds after 3 balances by excellent business. It has 18K miles now. On wet, icy and snow covered roads they stop well, steer well and are quiet on bare roads for winter tires. These tires are so good that I don't have an experience where they may have saved a crash. Michelin X Ice is a premium winter tire that I will use every year.

I've been driving my truck for over 10 years and our truck has never handled the road so great. Yes it is noticeable. We have been through several brands but were disappointed time and time again. BF Goodrich is supposed to be a good tire but it left us very disappointed. We still have them on the front and it's only a year old but they are wearing out fast but we will have to wait because Michelin Tires are a bit more expensive and I bought 4 for the rear 6 months ago, and the very day we put them on I could tell the difference. When we put the camper on for our vacation it wasn't mushy like the BF Goodrich. I've been using them for 6 months now.
The price of the Michelin used to make me run but when compared to the price I was paying for BF Goodrich and the huge difference in quality I will never go back. Not to mention the fact that back there are tires for three years with road side service. I'm just bummed I didn't bite the bullet and make the switch sooner. If there was some way to describe how much better my truck handles with the Michelins on the rear it's amazing. I can't wait to get them on the front but will have to. After all they are pricey and I still have some miles left on the front.

I have a 1/2 ton truck and this is the 1st time I have been able to afford Michelin Tires, and I am not disappointed in them. I've been using them for 20000 miles now. They grip the road great and are very smooth riding. I have had several other brands of tires and these are definitely the best.

It's soft, comfortable and quiet, and they have quality reputation. It's expensive but don't lose pressure as easily as other tires we own. The quiet comfort is most important to us. There are better handling sports tires out there but these are more biased on low noise and softer for ride comfort. They have remained quiet for the 1st 10k miles at least and feel like they don't have any significant tire pressure loss issues even when the car is sitting.

I use Michelin's rain guard tires because of their great traction in wet conditions and they perform excellently. I have used them for 2 years now and it's a great tire. I have tried a lot of other brands of tire but I go back to Michelin. They just outwear the others.

I got the Premier LTX due to its traction and noise. I'm getting four new ones on 9/14. I ordered these based on published specifications and based on the satisfaction we've had with the four Michelins we've been running for the last four years. Simply overall satisfaction.

Michelin Tires works good in snow. It also has good tire wear on my Land Cruiser, but not good wear on my Tundra and may have something to do with limited slip differential. I've had them for 77,000, but on my 3rd set, they did honor tire warranty.

The Michelin Primacy MXM4 has a high rating and great ride. It handles very well all kinds of weather. Michelin has a great guarantee. If for any reason you are not happy in the first 30 days you can go back to the store where they were purchased and they will pay to have other tires installed including balancing. The amazing part is you can even select another brand.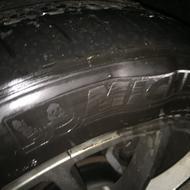 I purchased 4 Michelin Primacy tires in November 2015. In April I took the car to get service, and found that two of the tires had sidewall issues, and needed to be replaced. I contacted the place I purchased the tires and filed a claim for supposed road hazard damage. At the time I chalked it up to a possible road hazard, even though I had not hit anything with the tires. In September, we had yet again another sidewall issue, and again the supplier of the tires stated it was a road hazard. At that time, I had three newer tires and one older tire, so I replaced the two remaining tires.
Now I have a softball size bubble in my front passenger tire yet again! Let me preface this by saying, I have never in my life had a bubble in any tire, even cheap ones until I had these Michelin Primacy tires! So I contact the supplier yet again, and they want me to do yet again another road hazard claim. This is 4 Tires from April of 2016 to December of 2016. This is not normal, and these tires are not only poorly made but dangerous! I contacted Michelin today and I was basically blown off because they are stating that these were road hazard claims and it was due to hitting something. Tires should not blow out a sidewall for hitting small potholes. If I hit something against the sidewall I would understand that it would cause this type of issue.
If you are considering buying Michelin Primacy tires... DON'T! I don't know if I will ever buy Michelin tires again after the issues I had, let alone their terrible customer service. If they are pumping out tires that cannot withstand normal driving conditions in upstate NY then I don't feel safe driving with the tires they produce. I simply wanted them to get me into different style tire until I can afford a new set of anything else. After some research, I found that Michelin has numerous complaints on Better Business Bureau and large majority of these complaints they were able to wiggle out of without compensating for their poorly made tires.
There are also many message boards which explain the same type of sidewall issues that I have experienced. If I can save one person from wasting their money on these poor tires, this review was 100% worth it. A large company like Michelin should put their money where their mouth is, and stand behind their product, or be held accountable for the poor quality, and putting lives in danger.

I bought my 2015 Toyota Venza fall of 2015, in November. I am the first and only owner. I had Michelin Latitude Tour tires on car at purchase. # 2455020 as car is an all wheel drive. I was driving from Kansas City moving to Colorado on I 70W on December 27th. I experienced a blow out of the back driver's side tire. I was traveling 70 MPH. There was a loud boom and a thud and my car was shaking.
I was able to pull to the side of the interstate and slowed down immediately. I smelled rubber burning. It was pitch dark and I got out with a 4 inch flashlight and saw that the tire was torn up really, with gashes all along each side. Took one hour and 15 minutes for the tow truck to arrive and I Sat with semi-trucks racing past me. Some did go to the left lane, about half stayed in right lane. I had on my emergency flashers. I had called Geico my car insurance company to help me. My car was full of everything as I was moving and the tow driver and myself had to pull out every item that inhibited him from getting to the spare tire. All that stuff was placed on the exit lane I was sitting on.
Today I visited the Larry H Miller Toyota dealership in Boulder Colorado, the service manager had my tire examined today and informed me that inspection could not prove what happened to the tire. There were however no foreign items found in the tire. He faulted me and said I had driven on a flat tire and tire tore up. I had 16,500 miles on the tire. I had in late November had my 5000 miles maintenance check with Legends Toyota in Kansas City. At that time tires were rotated and pressure checked. Car was at 14,900 at time of maintenance check. The service manager today informed that Toyota was not responsible for the tires, and there was no warranty on them for sure. Also the Michelin Latitude tire was not being produced anymore and he could offer me no service except to sell me four brand new tires.
I called several tire distributors and was told that indeed the Latitude tire was still being produced but was out of stock at most warehouses. The tire I was told is large and not in demand really. I asked the manager to do better and replace the tire at no cost but he refused to admit any warranty. I found one at the Tire Warehouse online and one is being shipped me to arrive next Thursday, January 5th. I will be driving for over a week on a spare tire. I continue to ride on the spare which all tire distributors advised is not safe.
I am single and have one car. I am certain that the tire was defective due to fact regular maintenance was done routinely and tire pressure was checked and tires rotated each 5000 miles. The tire disintegrated and sounded like an explosion went off. I could have been killed by the way. I am requesting reimbursement for my cost to have to purchase the tire myself and that the Toyota dealer did not stand behind the tires nor did he help me and denied any defect of the Michelin product!!!

Horrible Michelin tires and retailer. The retailer should have replaced tires right after I said I had an issue with tire noise, but strung me along for 8 months. The warranty is useless even with complaining right away. Complaint Description: I visited Cedar Tire (Tireland) 8 times with the same problems and concerns. Not once in those 8 visits did they admit to a problem. Cedar Tire (Tireland) in Nanaimo has the slogan "it's worth the drive". I can assure you in no means is this true. This has been my worst experience with any business in 46 years. Once they have your money you are on your own. This was stated to me by the owner today December 19, 2016 (his exact analogy was once you buy the tires it's like ducklings leaving the pond - you're on your own). This was the worst experience ever.
I have 2012 VW with about 60,000 km on it and still under warranty. The original tires still had some life in them, and had no irregular tire wear, but wanted snow tires for the winter. But because here M/S are equal to just "snow" tires, it made more sense to me to just replace with new M/S than to have two sets of tires. The price was the same as everywhere. The tires were Michelin Pilot Sport A/S 3 91v bsw 225/45r17 - definitely not cheap tires.
The tires were noisy from the beginning but nothing major because why would Cedar Tire recommend them? The noise got worst but it sounded to be more like a wheel bearing (I have a co-worker with the same car but a 2013 and he already had to replace wheel bearings). VW replaced the wheel bearing but the noise continued. They then replaced the other side. This did not fix the problem and was told by VW that it is a tire noise (the Tires even looked as new as they were though). I took it right to Cedar Tire and told them this, and they rotated the tires (well under 10,000 km) and said there was nothing wrong with the tires. I left and the noise continued.
I brought it back to Cedar Tire within weeks and asked for them to please check the tires again. They checked the tires and said there was nothing wrong with them. The one tire guy (that works in the shop was super nice and even took it for a drive and said he definitely can hear the noise - but can not find any visible defects in the tires so they can not do anything). They sent me on my way unhappy, and saying their product was safe and there were no problems with my tires. Please note that never once did these tire experts say or make any comments that these tires were wearing unevenly etc. So I left again with Cedar Tire giving me no explanation as to what was going on, yet they confirmed there was excessive tire noise. By this time I was pissed.
My car was under warranty with VW, and they are not shy about fixing anything under warranty, or billing me for anything outside of the warranty. All they said was if it was broke they would fix it under warranty or not, but your new tires were the reason for the excessive noise. I drove the car as little as possible because the noise would drive me nuts. When I was finally fed up I took the car to a well known VW Mechanic (not the dealership) in the area to see if it was something mechanical. He said he checked everything out and it was nothing mechanical, and the noise is definitely from the tires.
So once again I drove to Cedar Tire. The tire guy came out and looked at the tires and said there was nothing wrong with the tires. I told him exactly what the mechanic had just told me. So this tire guy started to blame the make and model of the car. After bickering with him, he re-inspected my tires and "WOW', now suddenly my tires out of no where my tires have "Uneven Tire Wear and Cupping, and are at the Wear Bar, and that is the reason for the noise".
Five minutes before that he was trying to send me off again saying there was nothing wrong with my tires. How in the world do tires go from there is nothing wrong with them and letting the customer drive off to suddenly everything is wrong with the tires, and you need new tires. Now Cedar Tire says it's my fault, the mechanics fault but not their's. I tried to have Cedar Tire on multiple visits to resolve this problem (been there 8X). On this last visit my tires went from nothing wrong with them to you need new tires. These Tires have well less than 15,000 km. This shop is pathetic. Never again!!!
Your Desired Resolution: They claim to be tire experts. I went to this business 8 times, and in any of those 8 visits this could have been avoided or fixed. Tires do not go from nothing wrong with them to need replacing in 5 minutes. I repeatedly brought to Cedar Tires attention the fact that I was having problems with these tires. Each and every time they told me there was nothing wrong and sent me on my way. But then suddenly my tires need replacing in less than 15,000 km? My tires never got to the point they did over night, that is a fact. I had repeatedly brought these tires to them for inspection, and never once did they mention any noticeable problems with the tires while inspecting them, or rotating them.
You buy tires from a 'Tire Shop" because you expect them to be Experts with tires and all issues tire related. This is the stereo-typical type of service you would expect from buying tires from somewhere like Walmart. I did not buy tires from a place like Walmart because I wanted the Expertise and Service you are suppose to get from a Tire Specialist like Cedar Tire (Tireland). The owner talks a great talk but Cedar Tire (Tireland) has given me the run a round for 8 months on the same issue. Never once on any of these prior 8 visits did this so called Tire Expert give me any kind of Expert, or even Courteous help or resolution to this persistent tire issue. They literally passed the buck for 8 months.
No matter what the cause of the tire issues was, in none of my complaints, and bringing in of the tires for inspection did Tireland ever offer helpful, professional, or preventive advice. They actually told me there was nothing wrong, right up to 5 minutes before my tires suddenly became so bad they need replacement. Somewhere on anyone of these 8 prior visits to them they should have seen, noted, commented, or been aware of some issue with the tires. Tires do not wear out, or unevenly wear overnight. The fact is that on none of these prior 8 visits did they say or mention anything was wrong or unusual with these tires. Only after the last visit when I was once again told that the tires were good, but then after 5 minutes of me holding my ground and another inspection my tires were now suddenly cupped and at the wear bar, proves the inablity of this tire shop to professionally inspect tires.
I took my car for tires at Cedar Tire because they only sold tires and could expect the best service possible. I ended up with the worst service ever. They also gave me the run a round by not calling me back etc. Finally I catch up with the owner and I can tell you he is a piece of work. He has no explanation how his tire shop missed the problem with these tires over all these visits. But the most shocking thing is that he does not care that they did. He will not or can not explain to me how my tires went from nothing wrong with to need replacing in 5 minutes. What pisses me off the most is that once again, but this time in the ice and snow, they were sending me off saying nothing was wrong.
Michelin Tires Company Profile
Company Name:

Michelin

Address:

P.O. Box 19001

City:

Greenville

State/Province:

SC

Postal Code:

29602

Country:

United States

Website:

http://www.michelinman.com/