Consumer Complaints and Reviews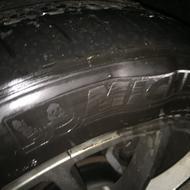 I purchased 4 Michelin Primacy tires in November 2015. In April I took the car to get service, and found that two of the tires had sidewall issues, and needed to be replaced. I contacted the place I purchased the tires and filed a claim for supposed road hazard damage. At the time I chalked it up to a possible road hazard, even though I had not hit anything with the tires. In September, we had yet again another sidewall issue, and again the supplier of the tires stated it was a road hazard. At that time, I had three newer tires and one older tire, so I replaced the two remaining tires.
Now I have a softball size bubble in my front passenger tire yet again! Let me preface this by saying, I have never in my life had a bubble in any tire, even cheap ones until I had these Michelin Primacy tires! So I contact the supplier yet again, and they want me to do yet again another road hazard claim. This is 4 Tires from April of 2016 to December of 2016. This is not normal, and these tires are not only poorly made but dangerous! I contacted Michelin today and I was basically blown off because they are stating that these were road hazard claims and it was due to hitting something. Tires should not blow out a sidewall for hitting small potholes. If I hit something against the sidewall I would understand that it would cause this type of issue.
If you are considering buying Michelin Primacy tires... DON'T! I don't know if I will ever buy Michelin tires again after the issues I had, let alone their terrible customer service. If they are pumping out tires that cannot withstand normal driving conditions in upstate NY then I don't feel safe driving with the tires they produce. I simply wanted them to get me into different style tire until I can afford a new set of anything else. After some research, I found that Michelin has numerous complaints on Better Business Bureau and large majority of these complaints they were able to wiggle out of without compensating for their poorly made tires.
There are also many message boards which explain the same type of sidewall issues that I have experienced. If I can save one person from wasting their money on these poor tires, this review was 100% worth it. A large company like Michelin should put their money where their mouth is, and stand behind their product, or be held accountable for the poor quality, and putting lives in danger.

I bought my 2015 Toyota Venza fall of 2015, in November. I am the first and only owner. I had Michelin Latitude Tour tires on car at purchase. # 2455020 as car is an all wheel drive. I was driving from Kansas City moving to Colorado on I 70W on December 27th. I experienced a blow out of the back driver's side tire. I was traveling 70 MPH. There was a loud boom and a thud and my car was shaking.
I was able to pull to the side of the interstate and slowed down immediately. I smelled rubber burning. It was pitch dark and I got out with a 4 inch flashlight and saw that the tire was torn up really, with gashes all along each side. Took one hour and 15 minutes for the tow truck to arrive and I Sat with semi-trucks racing past me. Some did go to the left lane, about half stayed in right lane. I had on my emergency flashers. I had called Geico my car insurance company to help me. My car was full of everything as I was moving and the tow driver and myself had to pull out every item that inhibited him from getting to the spare tire. All that stuff was placed on the exit lane I was sitting on.
Today I visited the Larry H Miller Toyota dealership in Boulder Colorado, the service manager had my tire examined today and informed me that inspection could not prove what happened to the tire. There were however no foreign items found in the tire. He faulted me and said I had driven on a flat tire and tire tore up. I had 16,500 miles on the tire. I had in late November had my 5000 miles maintenance check with Legends Toyota in Kansas City. At that time tires were rotated and pressure checked. Car was at 14,900 at time of maintenance check. The service manager today informed that Toyota was not responsible for the tires, and there was no warranty on them for sure. Also the Michelin Latitude tire was not being produced anymore and he could offer me no service except to sell me four brand new tires.
I called several tire distributors and was told that indeed the Latitude tire was still being produced but was out of stock at most warehouses. The tire I was told is large and not in demand really. I asked the manager to do better and replace the tire at no cost but he refused to admit any warranty. I found one at the Tire Warehouse online and one is being shipped me to arrive next Thursday, January 5th. I will be driving for over a week on a spare tire. I continue to ride on the spare which all tire distributors advised is not safe.
I am single and have one car. I am certain that the tire was defective due to fact regular maintenance was done routinely and tire pressure was checked and tires rotated each 5000 miles. The tire disintegrated and sounded like an explosion went off. I could have been killed by the way. I am requesting reimbursement for my cost to have to purchase the tire myself and that the Toyota dealer did not stand behind the tires nor did he help me and denied any defect of the Michelin product!!!

Horrible Michelin tires and retailer. The retailer should have replaced tires right after I said I had an issue with tire noise, but strung me along for 8 months. The warranty is useless even with complaining right away. Complaint Description: I visited Cedar Tire (Tireland) 8 times with the same problems and concerns. Not once in those 8 visits did they admit to a problem. Cedar Tire (Tireland) in Nanaimo has the slogan "it's worth the drive". I can assure you in no means is this true. This has been my worst experience with any business in 46 years. Once they have your money you are on your own. This was stated to me by the owner today December 19, 2016 (his exact analogy was once you buy the tires it's like ducklings leaving the pond - you're on your own). This was the worst experience ever.
I have 2012 VW with about 60,000 km on it and still under warranty. The original tires still had some life in them, and had no irregular tire wear, but wanted snow tires for the winter. But because here M/S are equal to just "snow" tires, it made more sense to me to just replace with new M/S than to have two sets of tires. The price was the same as everywhere. The tires were Michelin Pilot Sport A/S 3 91v bsw 225/45r17 - definitely not cheap tires.
The tires were noisy from the beginning but nothing major because why would Cedar Tire recommend them? The noise got worst but it sounded to be more like a wheel bearing (I have a co-worker with the same car but a 2013 and he already had to replace wheel bearings). VW replaced the wheel bearing but the noise continued. They then replaced the other side. This did not fix the problem and was told by VW that it is a tire noise (the Tires even looked as new as they were though). I took it right to Cedar Tire and told them this, and they rotated the tires (well under 10,000 km) and said there was nothing wrong with the tires. I left and the noise continued.
I brought it back to Cedar Tire within weeks and asked for them to please check the tires again. They checked the tires and said there was nothing wrong with them. The one tire guy (that works in the shop was super nice and even took it for a drive and said he definitely can hear the noise - but can not find any visible defects in the tires so they can not do anything). They sent me on my way unhappy, and saying their product was safe and there were no problems with my tires. Please note that never once did these tire experts say or make any comments that these tires were wearing unevenly etc. So I left again with Cedar Tire giving me no explanation as to what was going on, yet they confirmed there was excessive tire noise. By this time I was pissed.
My car was under warranty with VW, and they are not shy about fixing anything under warranty, or billing me for anything outside of the warranty. All they said was if it was broke they would fix it under warranty or not, but your new tires were the reason for the excessive noise. I drove the car as little as possible because the noise would drive me nuts. When I was finally fed up I took the car to a well known VW Mechanic (not the dealership) in the area to see if it was something mechanical. He said he checked everything out and it was nothing mechanical, and the noise is definitely from the tires.
So once again I drove to Cedar Tire. The tire guy came out and looked at the tires and said there was nothing wrong with the tires. I told him exactly what the mechanic had just told me. So this tire guy started to blame the make and model of the car. After bickering with him, he re-inspected my tires and "WOW', now suddenly my tires out of no where my tires have "Uneven Tire Wear and Cupping, and are at the Wear Bar, and that is the reason for the noise".
Five minutes before that he was trying to send me off again saying there was nothing wrong with my tires. How in the world do tires go from there is nothing wrong with them and letting the customer drive off to suddenly everything is wrong with the tires, and you need new tires. Now Cedar Tire says it's my fault, the mechanics fault but not their's. I tried to have Cedar Tire on multiple visits to resolve this problem (been there 8X). On this last visit my tires went from nothing wrong with them to you need new tires. These Tires have well less than 15,000 km. This shop is pathetic. Never again!!!
Your Desired Resolution: They claim to be tire experts. I went to this business 8 times, and in any of those 8 visits this could have been avoided or fixed. Tires do not go from nothing wrong with them to need replacing in 5 minutes. I repeatedly brought to Cedar Tires attention the fact that I was having problems with these tires. Each and every time they told me there was nothing wrong and sent me on my way. But then suddenly my tires need replacing in less than 15,000 km? My tires never got to the point they did over night, that is a fact. I had repeatedly brought these tires to them for inspection, and never once did they mention any noticeable problems with the tires while inspecting them, or rotating them.
You buy tires from a 'Tire Shop" because you expect them to be Experts with tires and all issues tire related. This is the stereo-typical type of service you would expect from buying tires from somewhere like Walmart. I did not buy tires from a place like Walmart because I wanted the Expertise and Service you are suppose to get from a Tire Specialist like Cedar Tire (Tireland). The owner talks a great talk but Cedar Tire (Tireland) has given me the run a round for 8 months on the same issue. Never once on any of these prior 8 visits did this so called Tire Expert give me any kind of Expert, or even Courteous help or resolution to this persistent tire issue. They literally passed the buck for 8 months.
No matter what the cause of the tire issues was, in none of my complaints, and bringing in of the tires for inspection did Tireland ever offer helpful, professional, or preventive advice. They actually told me there was nothing wrong, right up to 5 minutes before my tires suddenly became so bad they need replacement. Somewhere on anyone of these 8 prior visits to them they should have seen, noted, commented, or been aware of some issue with the tires. Tires do not wear out, or unevenly wear overnight. The fact is that on none of these prior 8 visits did they say or mention anything was wrong or unusual with these tires. Only after the last visit when I was once again told that the tires were good, but then after 5 minutes of me holding my ground and another inspection my tires were now suddenly cupped and at the wear bar, proves the inablity of this tire shop to professionally inspect tires.
I took my car for tires at Cedar Tire because they only sold tires and could expect the best service possible. I ended up with the worst service ever. They also gave me the run a round by not calling me back etc. Finally I catch up with the owner and I can tell you he is a piece of work. He has no explanation how his tire shop missed the problem with these tires over all these visits. But the most shocking thing is that he does not care that they did. He will not or can not explain to me how my tires went from nothing wrong with to need replacing in 5 minutes. What pisses me off the most is that once again, but this time in the ice and snow, they were sending me off saying nothing was wrong.

We don't put a lot of miles on our vehicles but like the performance and ride of Michelin tires on both our vehicles. Provide good control on wet or dry pavement. We have been using Michelin tires for decades even to the point of paying extra to trade in set of Bridgestone tires that came on a new vehicle because we did not care for the ride. We have never had a tire failure while using Michelin tires. Tires do not transmit too much road noise and provide good traction on wet or dry roads. Tire mileage is very close to what is expected. Over the years (60 years driving) have found Michelin tires to be the best for our driving habits. We have used Goodyear, Bridgestone, Firestone and some store brands but prefer Michelin especially for reliability and performance.

I have LTX m/s 2 tires on my F350. At 4 yrs old they are dry cracking on the sides and large cracks in the tread, about 25,000 miles on the tires. Contacted Michelin and they told me they MIGHT NOT be dangerous... seriously. When I pushed they offered $25 per tire credit towards new ones. Never buy a Michelin tire again.
How do I know I can trust these reviews about Michelin?
670,460 reviews on ConsumerAffairs are verified.
We require contact information to ensure our reviewers are real.
We use intelligent software that helps us maintain the integrity of reviews.
Our moderators read all reviews to verify quality and helpfulness.
For more information about reviews on ConsumerAffairs.com please visit our FAQ.

They're good, they stay balanced. Very good wear and stopping. I tried them once and that convinced me--I think they are the best tires. I have now had about 4 sets over the years and I am not sure what the mileage is but they are guaranteed for 80000 miles. All my experiences have always been good.

Had 43,000 miles on my Michelin's before I had to replace them. The smooth ride is outstanding. I am a repeat consumer. Fantastic handling, smooth ride, great all weather. Somewhat pricey Tire. However you can get them on sale. Michelin Tires have always been loyal to me. Warranty, wear and tear, complete durability.

They perform as advertised. The company has a good reputation for making good products. One tire was replaced by the company because of a road hazard and it was done with no squabbling and with ease. With regular tire rotation and maintenance these tires perform as any tire could be expected to.

I bought a set of Michelin LTX tires for my 3/4 ton truck. The tires came with a 70,000 mile warranty and after several years I had 40,000 miles on the tires and they were worn out. The tires were down to 4, 5, 6 and 6 32nds of an inch of tread left. Michelin requires that all the tires be down to 4/32" to be eligible for the warranty but I live in northern Utah and we get a lot of snow and ice. The tires were unsafe to run in the winter conditions. I thought there would not be a problem because Michelin has been around forever and is a good company, right? I started calling and it is unbelievable how much or a run around they have given me.
First, the rep for the dealer would not submit the tire inspection report to Michelin to be processed. This literally went on for months and got to the point that after 4 months, the dealer said there was nothing he could do to make the rep do his job. So, I called Michelin again and had to get mad about the warranty. I got a copy of the inspection report and we agreed on Michelin paying me 36% of the $1183 I paid for the tires. That was 3 months ago and I have not seen a dime. I even purchased new Uniroyal tires (owned by Michelin) and sent them the tire invoice.
After 9 phone calls, they admitted to receiving the invoice but told me it would take 6 weeks to process it. I called yesterday to check on the progress and now they are telling me they don't have my new tire invoice. This was after two different people told me they had the invoice and it had been uploaded into their system. I still haven't given up, but wanted to warn anyone else about a terrible company that make poor products and then will not honor the warranty.

I had purchased 4 pcs of Michelin 185/70 R14 ENERGY XM2 T vide Bill No. VAT51/4799 dated 29.10.2016 from Gupta Tyres, 77 B/B, Gandhi Nagar, Jammu. As explained to me, 6 years warranty was given to me. However, side wall of one of the tyre fixed on the rear side burst/torned due to some sharp object on 27th November 2016. After contacting the dealer regarding the poor quality of the tyres, I was given to understand that this is not covered by warranty and have to purchase a new tyre for the full value without any credit for the old burst tyre. I do not expect such a poor quality from a reputed brand like Michelin as my tyre didn't last for even one month as against the warranty of 6 years. May be the tyres are too soft to handle any sharp stone on the road.

These tires were recommended to me by a mechanic. 2nd pair 55 k miles on car. We have a lot of rain in the pnw. I feel safe with these tires. Good grip. No sliding even if I have to brake fast. I just want tires that make me feel safe.

They last. They were on the car when we bought it and my husband likes to stay with same brand. He replaced front tires last year and got a higher ranking quality than what was on back tires. 2007 vehicle purchased in 2013. Back ones came with car... 40,000 miles. Front ones a year old, 7,000 miles... Handle fine.

Wear and handle throughout their life span very well. Reliable cord and rubber. Drive in control and love to corner with gusto. Drove on the Michelins for about 130 miles... Actually my son was driving. Ate lunch, came out to find the tore down all the way and a huge screw stuck in it. Had it plugged. Drives great. No cord problems.

Michelin are expensive but reliable and durable tires. In my opinion they're the best. I wanted to save myself $12.00 per tire so I purchased YOKOHAMA. They are the worse tires. In less than one year, two blew up on the freeway and another had a small nail causing to deflate all the time. After only 9 month with Yokohama I change to Michelin again, three months ago. Everyone of my 4 cars had Michelin, and I never had type of safety issues with them. I truly trust them. Please do not purchase YOKAHAMA. They are the worst. After I returned to Michelin the Mechanic told me that I did the right thing by switching back.

Consistently safe, wear well, quiet - have had this brand for years. Tried Continental, Goodyear, those wore out twice as fast. Love Michelins. Great value for the money. I have an S550 '07 Mercedes and I love the feel of the road, no wandering, quiet at all speeds, cornering, no squeal. Stopping, acceleration, cornering are all great when you drive high quality. You just feel the difference and time and wear really emphasize you've gotten your money's worth in lasting, safety and quality all built in. And Michelin just keeps getting better.

Sure and safe stopping distances, handles well in many weather conditions, long tread life, low road noise. Currently I have 15,000 miles on this set of Michelin tires. Excellent all weather traction and braking performance. Michelin tires have always performed well for our vehicles. Good handling and braking with decent snow traction and EXCELLENT performance in rain. They last longer than other major brands we tried. In the long run we saved money buying Michelins.

They wear well, ride well, and have always performed well in any type of weather. I have been buying Michelin tires for over twenty years. They have provided good service for a reasonable price. I have never had a blow out with Michelin. I have lived in the mountains west of Denver where there were very cold winters and in Las Vegas where there were very hot summers. I now live in Georgia where it rains a lot. I have never had any performance problems. I put over 55,000 miles on set of Michelins where I was driving over 300 miles per day on the LA freeway system.

The tires make the vehicle feel as though the car is moving sideways. I believe there is not enough sidewall strength. Feels like the sidewall is giving whenever I hit large dips in the road or when I change lanes. I have always bought Michelin tires without problems but the tires I bought were smaller sized (16"). The tires I'm having problems with are 18" tires. Feels like I have no control over the car. Usually new tires really make the car perform better, but in this instance I feel as though I have no control and have to just wait for the vehicle to stabilize after changing lanes or when I go over a dip. Feels unsafe!

Tires are good in all seasons. Handle snow very well. Fairly comfortable tire. The tires handle well. The sidewalls are stiff, so the ride is often not as soft or smooth as other tires. I've had the tires rotated and balanced every 5,000 miles. Treadwear seems even, but the tires only have 13,000 miles. The only complaint I have is the tires make the ride a little harsh on my vehicle.

They seem to hold the road better and last the longest. The price was right and I got a 70.00 dollar gift card. They hold the road well and have saved me from an accident more than once. I used Goodyear tires for years but I switched to Michelin tires because I was told they lasted longer, and they do.

All weather radials - they stop when you need them to. I was one of the "lucky" ones years ago to have another name brand new front tire literally explode on me in rush hour traffic in the left hand pass lane of the interstate doing 70 mph. I did not wreck. I managed to get through the traffic on my right to the shoulder of the road and bring my car to a safe stop. I have no remembrance of how. I drive long distances and currently have over 329 thousand miles on my car which is now semi-retired. Since that day, I will never buy any other brand tire than Michelin. Newest set is about 12,000 miles old. Great stopping performance, no hydroplaning in heavy rains, great durability. I switched to Michelin tires approximately 30 years ago. I have only had one tire to ever puncture from something in the road. It gave me a safe deflate to pull off the road and Michelin stood behind their warranty on their tire afterwards with its replacement.

2 different sets, one are a/s suv tires, good wear, ride, grip. Cost high. Second set, summer ultra performance super grip, ride and wear considering type of tire. Trust and history with Michelin. 1st set 60,000K still wear on them, 2nd <10K. Both sets are superb performers in their class. All areas pertinent are better than other tires I have tried. Goodyear is my NEVER buy brand. Had a tire go out at less than 3k miles. Goodyear would not back the tire. Michelin I have not had a problem aside from a nail or other road hazard.

The Defenders are all season tires. Great handling, quiet, good gas mileage, great traction. Excellent steering response. I have a set of Michelin Defenders on both my Outback and my Mazda pickup. Love 'em.

215/60R16 Michelins. My last set of Michelins took me through six years before needing replacement (I live close to work, so I don't put large mileage amounts on them day to day.) I also did not have a single flat tire or any pressure problems with them, in six years of driving. It was worth the hefty price tag to me to buy another set of four this summer to replace my worn out ones. Solid, reliable tires. There are no "experiences" to report because my Michelins held my vehicle steady for years. Highly recommend.

Excellent response braking. I had other tires (tire size 195-50-16) and at any small pot hot that I took there goes a blown tire or had a big bulge on the tire. Also any minimal rain the car would skid off.

They are not all weather tires. Have a new car since March, and I believe that car dealers need to place all weather tires on new cars. Michelin tires are noisy, not pleased them. Tires placed on brand new cars should be all weather tires and all tires should be Quiet. I will never own another Michelin, but when change them out, I will put on GOODYEAR, ALL WEATHER TIRES... ONLY! Michelin tires are just plain noisy.

The Defender series, 195/70-14, they have worn well, still has tread but sidewalls starting to crack. Never had a problem. They have been real good in dry and wet, very limited snow and ice but easy foot on gas and brakes and tires did well.

Perform as advertised. Firm and trustworthy All season radials. Matches the Orig Equipment on my BMW X3. Had a cheaper brand on an MR2 spyder and handling was horrible!! Went back and returned them for Michelin.

Michelin 245X70X17.....(LTX...M/S 2). Just came from the tire shop in Rockdale, Texas. Left front tire. Technician showed me... the tire testing tank had crystal clear water. Leak(s) easy to see. He said..."I found your leak." Then he said...."You have more than one leak". Immediately, I thought... what is he talking about. He pushed about 20% of the tire into the water tank and bubbles started to appear. Small... very small. But not from one area, but about 5-6 different spots! He said the tire was disintegrating from within... spec. the cords. The tires only has about 33,000 miles on them. (This is a new Ford F-150 purchased last Dec.) Had to order a new tire. Totally unsafe.... 33,000 miles. This is not something I "ran over", but poor quality construction by Michelin.

Primacy MXV4 Tires - I purchased a 2015 Toyota Sienna in Feb 2016. At 15K mile apt at dealership I was told that I would need to replace the tires due to wear. These tires came on the vehicle, and are rated for 60K miles. Currently Michelin is willing to pay 30% of the cost of replacing these tires, even though I haven't driven them 1/4 of the life expectancy of these tires. Still trying to get Michelin to do the correct thing, and replace these tires with better tires at no charge.

Lauren FixAutomotive Contributing Editor
Lauren Fix is an automotive expert who earned the title of The Car Coach, and is recognized throughout all forms of media as a woman with in-depth knowledge on vehicles, technology, automotive finance, repair and trends. Founder of Automotive Aspects, Inc., her understanding of automobiles has made her the "go to" person on TV, radio, print and the internet. She writes a column for multiple outlets including Parade Magazine, NewsMax and Car Coach Reports. She is a regular guest on all the major news and morning shows discussing the latest updates on cars that will help drivers of all ages learn to about cars and make smart decisions. More about Lauren→

Michelin is a global company that produces tires in nearly every category. Michelin operates several tire plants in the United States and has been in the tire business for over 100 years.
Beyond cars and trucks: Michelin offers a full range of tires, including bicycle, motorcycle, agriculture and commercial tires.
Availability: Michelin tires are available through major tire retailers as well as through stores such as BJ's, Sam's and Costco.
Michelin Promise Plan: For light truck and passenger tires, Michelin offers a comprehensive satisfaction plan. It includes a 30-day satisfaction guarantee, 3-year flat tire changing assistance and a limited mileage warranty.
Find My Tires Tool: Michelin's search tool is easy to use and comprehensive, allowing search by vehicle, tire size, tire name or tire category.
Michelin Travel: Michelin has long been known for its comprehensive and global travel guides.
Best for Sports car and high-end vehicle drivers, extreme performance, touring, winter, run-flats, light truck and SUV drivers and passenger vehicle drivers.
Michelin Tires Company Profile
Company Name:

Michelin

Address:

P.O. Box 19001

City:

Greenville

State/Province:

SC

Postal Code:

29602

Country:

United States

Website:

http://www.michelinman.com/