Consumer Complaints and Reviews

Michelin 245X70X17.....(LTX...M/S 2). Just came from the tire shop in Rockdale, Texas. Left front tire. Technician showed me... the tire testing tank had crystal clear water. Leak(s) easy to see. He said..."I found your leak." Then he said...."You have more than one leak". Immediately, I thought... what is he talking about. He pushed about 20% of the tire into the water tank and bubbles started to appear. Small... very small. But not from one area, but about 5-6 different spots! He said the tire was disintegrating from within... spec. the cords. The tires only has about 33,000 miles on them. (This is a new Ford F-150 purchased last Dec.) Had to order a new tire. Totally unsafe.... 33,000 miles. This is not something I "ran over", but poor quality construction by Michelin.

Primacy MXV4 Tires - I purchased a 2015 Toyota Sienna in Feb 2016. At 15K mile apt at dealership I was told that I would need to replace the tires due to wear. These tires came on the vehicle, and are rated for 60K miles. Currently Michelin is willing to pay 30% of the cost of replacing these tires, even though I haven't driven them 1/4 of the life expectancy of these tires. Still trying to get Michelin to do the correct thing, and replace these tires with better tires at no charge.

I Just bought a brand new 2016 Ford F350 Lariat Platinum and it had LT275/65R20 tires on it. Have driven it for 1 week and am changing tires due to Hydroplaning twice on a wet road with temperature at 60 degrees. I was on Rt 95 in Maine where the speed limit is 75 and thankfully I was on a straight road. Have had F250 and F350's in the past and have driven over 400,000 miles on several sets of BF Goodrich All Terrain TKO and had never had the feeling of tires leaving the road. This is going to be expensive to change but my life matters.

I am very disappointed with my Michelin Defender Tires. I bought the best tire for my wife's crv. They only lasted 31k with a 90k warranty that michelin DID not honor. They are overpriced and overrated. Michelin dealer DID not honor warranty even though they mounted and balanced tires and lined car up which is not abused at all. They stated tires wore out, but would not honor warranty because I rotated the tires every 5k, not them. Poor excuse. They just lost a customer with three cars and one truck. Don't be fooled by warranty of 90k.

I do NOT recommend Michelin Tires to ANYONE! We purchased 2 tires for a GTO and went with the top of line for excellent performance and handling. We got NEITHER! The car drove awful. We purchased the tires in Oct 2014 and the vehicle is put away winters. In August 2016, about 2500 miles after the 2nd rotation, wire showed on the inside. (Yes, Rotations and Alignment were done.) We had 13,000 miles on a 60,000 mile warranty. Our Garage said the tires were soft garbage and to have them replaced by Michelin due to the uneven wear so quickly .So I took them back to Dunn Tire where the Tires were purchased for 250.00 each, and they said Michelin wouldn't honor the warranty because they were OBVIOUSLY never rotated or aligned. Yet, I had receipts for both. Hmmm.
I am still fighting this, but so far getting nowhere. Michelin does NOT like to honor warranties and I WISH I would have seen these reviews BEFORE I spent 500.00 on CRAP! (We just purchased Firestone Firehawks for GTO at 120.00 each, and the car handles better than EVER.) Will NEVER purchase Michelin again, and will tell everyone I know not to also! HORRIBLE customer service and they do NOT stand behind their warranty.
How do I know I can trust these reviews about Michelin?
633,474 reviews on ConsumerAffairs are verified.
We require contact information to ensure our reviewers are real.
We use intelligent software that helps us maintain the integrity of reviews.
Our moderators read all reviews to verify quality and helpfulness.
For more information about reviews on ConsumerAffairs.com please visit our FAQ.

I have had 2 Michelin Latitude Tour HP tires that were the original equipment that came on my new 2013 Lexus RX 350 SUV. They had significant premature wear at only 10,000 and currently only have 24,000 miles on my car and all the tires have had to be replaced due to premature wear. I have contact Michelin too many times to count with no resolution or even a return call from their customer service dept.
Each time I call the adviser has to put me on hold for about 10 min. to read any notes in my account then comes back on the line to tell me the same thing they tell me each time I call. They say that they never received my inspection fax, which I have confirmation of them receiving it plus the dealership has also faxed it to them and they have confirmation as well but they lie and say they never received it. Supervisors are never available and if you leave a message to have one call you back they never do. I would never buy a Michelin product again. They do not honor their warranties or stand behind their products. I have never dealt with a worse customer service department. They are clueless, robots that answer the phones.

My Michelin tire blew 2 weeks ago (2015 Equinox) exiting highway. Thank goodness for that part. 10 thousand miles on tire. They would not pay anything towards tire as they said I drove on the tire. Yes, I pulled off road and drove maybe 500 feet. Had tire replaced at my cost and again tonight when I left highway the same thing happened. The brand new tire. Towed car to dealership to ensure no mechanical problem caused this. If none found the tires will ALL be replaced with a different brand. You pay top dollar for garbage product that can kill you. Company should be held accountable for their negligence and inferior quality.

Bought Michelin LTX M/S2 tires and love them! Love these tires. Bought them for my Toyota 4runner before a cross country road trip. As a single woman with her dog, I'm so glad I paid more and went with these better tires as they literally saved my life during harsh weather conditions with wind, rain and flooding. Also, Michelin stood by their tire when I ran over a piece of road debris in rural Idaho. I called and they got me the right tire at the nearest Toyota dealer for free. Excellent product and excellent customer service. Now selling my car and the hardest part is that I want the tires!

Thought was to put a nice quality tire on it that would last. Pay top dollar for these tires. Bought a 60,000 mile warranty tire to get half the life of the tire. At 32,000 miles not covered due to I have had them 7 years. Truck I have is not used much, maybe 5,000 miles a year. It's kept in the garage all year with tires rotated regularly. LAST MICHELIN I WILL EVER BUY!!! And I will make sure the people I work with and all that I know not to waste their money on a Michelin. Poor quality tire. I could have bought a foreign tire for a lot less and got the same mileage.

I was in need of new tires so I purchased Michelin Tires for my Ford Explorer. Extremely happy with the quality of the tires and the 70,000-mile guarantee. I would recommend Michelin to my friends.

I bought a used car that came with Michelin tires and had a 60,000 mile warranty and needed replacement when I reached 40K. I was pissed off that I couldn't take advantage of the warranty because of the limitations on where to get the new tires. I ended up buying new Michelin tires from a wholesale club that offer a better deal but would not be able to take advantage of the Michelin warranty. I contacted Michelin telling them how disappointing it was and they sent me a check for more than the value of the original promised credit although I didn't even ask for any. This was my first time interacting with Michelin customer service and was very pleased with the way it was handled.

I like others paid over 700 for Michelin HydroEdge tires. I started seeing huge cracks where the side wall meets the tread. We took our car to Sears to show them. I rotate my tires faithfully as well as getting alignments. The middle tread was a 6, the sides were 3s all worn evenly. I thought getting a 90000 mile warranty would be good. Nope. My car only has on 4000 miles on these tires and the side walls are cracked to the point that they will fail inspection. I got a hold of Michelin and they will only give me a 35 percent credit on the tires which comes out to 47.20 on each tire.
I must replace them with defenders so out of pocket would cost me over 600.00 dollars (this is after their credit of 189.00). They are horrible. They wouldn't go with the tread of 6, only the 3s. What a damn rip off. This company should be sued. They should have a recall and replace their tires and have to pay for any damages that side wall blow outs have caused. I nor any of my family or friends will ever buy Michelin again. You people should be ashamed of yourselves.

Bought a set of Michelin Hydroedge in 2011. I paid a premium price of $600 for 90,000 mile tires so they lasted a long time. After about 30,000 miles, I've had three sidewall blowouts. One at 500 miles. Was covered warranty and replaced free. The second blew out at 10,000 miles, out of warranty. It cost me $150 to replace it. The third blowout occurred July, 2016 at 30,000 miles. So, I have to replace a set of tires that cost me about $750 that should have lasted me a whole lot longer than this. I've owned cars for 50 years and never experienced such tire problems. So, you can't blame it on me. It must be a manufacturer defect. All blowouts were about 1.5" and occurred at the same location, where the tread meets the sidewall. I've contacted Michelin but don't expect to hear from them.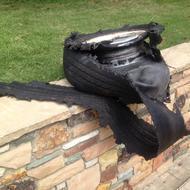 Michelin Tires: I had a set of four Michelin tire on my Chevy Van. They all had plenty of treadwear left on each tire. One day while driving at 55-60 mph the tread on the left rear tire unwound from the side walls on both sides. The tread wrapped around the axle housing, with the result that the wheel locked up and stopped turning. This caused the van to start to spin on the freeway. It was all I could do to maintain control. The photo shows what my tire and wheel looked like after the incident. One of the reasons I have always bought Michelin tires is so that these kinds of things won't happen. But, I guess I could have bought the cheapest tire made overseas, in a country not known for making good products, and nothing worse could have happened.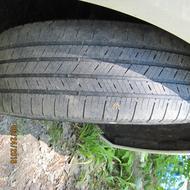 Similar to a previous reviewer, Joan of Morrow, GA on May 11, 2016, I purchased (over $700) a set of four Michelin Defenders for my VW SportWagen Diesel on December 23, 2014 that were warranted for 90,000 miles. The tires would not pass inspection due to wear in June 2016. Be advised that the tires are 2 1/2 years old and the wear was even wear (see photo). The car is mostly driven on highways. The 90,000 mile warranty is only effective if you have receipts for tire rotation every 5,000 miles according to Mavis. The tires wore out at 53,000 miles. The original equipment tires lasted longer than that. Michelin mileage claims are definitely overstated and belong in the marketing baloney bin. By the way, does anyone have the time to have the tires rotated every 86 days or less? That requirement is a bogus way to avoid warranty obligations. Michelins are not worth the price.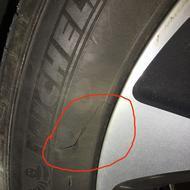 My Accord Hybrid has only 14K miles and couple of weeks ago while driving home had a front passenger side tire failure for no apparent reason. On close examination found a crack on the outside wall. Got the car towed to the local dealership. After some run around got to talk to Michelin customer service and she agreed to pay 75% towards my tire. Tonight once again while driving on a freeway I got a low tire pressure warning on my dash and was able to exit the freeway safely.
Upon checking for flat found another crack this time back passenger tire and a crack is inside wall. Is anybody else having similar experience??? Please do share. I am really disappointed with Michelin quality. All my previous Honda(s) had Michelin and over the years I have been religiously replacing the tires with OEM Michelin. With Hybrid I have serious concerns as the car doesn't come with spare nor does it has any tools other than air compressor and fix-a -flat that can't be use with a crack in the tire sidewall.

Worse tire & worse company I have ever dealt with. I bought these tire, put 5K miles on the tires & my side wall blew out. Right at that time, I read that Michelin was recalling tires for rupturing (8/29/15) in the newspaper. But they would not honor my ruptured sidewall... really?? Looked for a replacement tire to match, only to find out that they have been discontinued by Michelin. Tried to do a warranty claim, Michelin would not honor. So not only could I not find a match, I had to buy another tire, but Michelin would not credit me anything. When I talked to Cust. Svc. rep. he would not honor anything for the blow & out & when I asked to speak to Michelin Supervisor, they were too busy to talk to customers on the phone. Obviously, Michelin is too big for the small guy. I will never buy another Michelin product. I would suggest that other consumers do the same!

Anyone know if there is a recall or some type rebate on the Michelin tires that have over 50% tread but the sidewalls are weather checked badly? Not sure just how safe these are? I know some tire dealers are taking them off because of severe weather checking on the side walls. All the ones I have seen that where taken off have 50 to 70% tread.

In Sept 2013 I was informed by the Ford dealer that all 4 tires on my E-350 van had severe side wall cracking and were part of a recall by Michelin. The tires had 26,870 miles. They prorated the tires and covered 30% of the cost to replace them. Now I see that 2 of the 4 tires are again cracking badly on the side walls and they only have 8,141 miles on them. How can this be... My car has Michelin radials and we have never had any problems with those tires. I'm very concerned about driving long distances with these tires and will bring the vehicle down to the Ford dealer to have them check them out. If Michelin does not replace these tires at their cost I will never buy Michelin Tires again. This is a huge safety issue and they need to admit that they have a manufacturing defect here and need to fess up before lives are lost.

I bought $900 Michelin Tires with prediction of 90,000... I took car to Discount Tire for scheduled requiem rotation to be told, had to have new tires as my tires were dangerous at only 29,000. A Prorated amt was viewed but still cost in the hundreds to replace 4 tires... The reason for my review is that I want customers to be aware as to their purchase of Michelin tires.

Just had my 2012 Buick Lacrosse, equipped with Michelin energy saver tires, inspected. I was informed that one of the front tires would not pass inspection due to cracks that were exposing the underlying chords of the tire. I was also informed that the other tire on the front had similar cracking and would need to be replaced soon. The rear tires also had cracks but were not as bad.
I viewed the tires and saw for myself the cracks and the exposed chords. The tires do have 40,000 miles on them but the tread depth remaining was adequate to pass inspection. I get my car serviced at the required intervals and have the tires rotated when required. I was told by the service individual that a tire in this condition could easily fail if it hit a pot hole. I live in PA so if you are a resident of this state you already know how poor the roads are. My concern is that people with these tires may think they are okay because the tread depth is adequate but they could easily fail causing a catastrophic result.

I bought new Michelin tires that have about 10000 miles on them and they are cracked on the side wall. I called up the tire company and was told that they would NOT refund me my money but would give me 25% off a new set of. What a joke this business is.

I bought 4 Michelin tires at discount tire 2.5 years ago and now have 18000 miles on them. While on a trip I had to go to a dealership and they told me my tires had cracks on the sidewalks and I should have that addressed because tires were leaking air. This is the first time I've ever had tires do that to me. When I showed Discount Tire they wanted $400 to replace them. In my opinion the tires are defective and not safe, that Michelin should replace them at their expense.

Our daughter recently bought her "dream car" - a Jeep Grand Cherokee. It is about 6 months old. She was driving home from Los Angeles two weeks ago and she had the rear tire blowout. Her car went into a spin, was clipped by a big rig, she ended up in the carpool lane facing oncoming traffic. By a miracle, she was able to get to the shoulder of the road, unharmed, other than bruising. She is extremely fortunate in surviving this accident, but we are most unhappy with these Michelin tires. It sounds like the damage to her car will exceed repair.

I own a 2015 Honda Civic EXL. Love the car. The Car came with Michelin tires - these tires have 21,000 miles and have started to shake. Took the car for inspection last week and was told by the technician that it appears that all four tires have a wobble which indicates that the belts are near their breaking point. I am a very unhappy customer - will not ever buy another vehicle with Michelin tires. Was told by the Honda dealer that they do not do Michelin warranty work so I would have to contact Michelin myself and talk to a qualified service station for an estimate on what they could do for me. Sears was the closest qualified warranty service for the Michelin tires. Arrived at sears and the Technician confirmed that there is something wrong with all four tires - they then had to contact Michelin to see what they would do.
After approximately 1 hour time we were told that they would give us a credit of 45% or approximately $89 dollars per tire toward the purchase of 4 new Michelin tires. However we would have to get the car aligned at a cost of $89.99 and pay a whopping $115.00 labor to have the new tires installed. In the end it will cost us somewhere in the neighborhood of $500 + to get the new tires on the car. They will not give us the credit and let us choose a different type of tire which is what we wanted to do. Why would we want the same type of tire that only lasted 21,000 miles?
We did not have the tires replaced today. However, once getting home we contacted our local garage to get a price for four new replacement tires (another brand). We can purchase them from this dealer for less than $500. Why would I go through Sears??? These Michelin tires are JUNK. I believe they are producing an inferior product and should replace the tires at no cost to the consumer. I will Never purchase another vehicle with Michelin tires and also will never purchase a replacement Michelin tire. They are nothing but Junk...

My wife experienced a second tire failure today while driving down the road. Our 2015 Ford Escape has 11,011 miles on it. The first failure occurred in mid-January 2016 when the vehicle had 9,537 miles on it. The sidewall on both tires showed a large crack in it after the failure. Both failures were not the result of striking a road hazard. The tire deflation light came on right away when the failures occurred. The failures did not result in a collision since they occurred at a speed of approximately 25 mph and there wasn't any traffic around.
The first failed tire was replaced with the same Michelin tire. My wife and I have both been driving 40+ years and I've never experienced a problem like this with any of my vehicles or with a Michelin tire in the past. I strongly suspect there is a design issue or manufacture defect with these tires. It has been a rare instance when this vehicle has been operated on the highway. I am reluctant to do so with these tires on the vehicle, and equally reluctant to replace this second failure with a like Michelin considering the complaints I have found registered with the national highway traffic safety administration after researching this tire on the nhtsa.gov website. I do have photos of the second failed tire to document the damage and tire dot # since I will be replacing the failed tire today. One star is over rating these tires. I would steer clear of this product from Michelin.

I own a 2013 Cadillac ATS with Michelin MXM4 tires with about 28k miles. The first two years they performed well. The third year two tires split at the bead of the tire where the tire first touches the rim. The first instance was on the front passage side. The dealer said it was from a pot hole (although I don't remember hitting any large potholes) and paid for the repair. I called Michelin and they gave me 25% off the repair.
The second incident happen about 3 weeks later on the front driver's side. I had the car towed to the dealer because the car was unsafe to drive. This issue is still unresolved. However I did the following: Research online. I found hundreds of similar issue with Michelin tires. I've come to the conclusion the tires are defective and need to be removed from the road before someone gets killed, if it didn't happen already. Placed an incident with NHTSA, number **. Placed an incident with GM, number **.
The GM dealership and Michelin seemed unconcerned that the tire could cause serious injuries or death. The dealership said it was a pothole. Who gives them the right to assume how the problem happen. If a tire's sidewall is splitting at 2-3 years old with less than 30k miles then the tire is defective. It should handle a pothole. I believe, hypothetically Michelin's new process using sunflower oil is the problem. They use the sunflower oil to make the tire pliable. I believe after 2-3 years the tires are drying out and become brittle and making them more susceptible to splits and sidewall blowouts.
Sidewall blowout are one of the most dangerous occurrences that can happen while driving. Why is there not a class action suit or a recall for this problem. How many people have to die before something is done. It would be a miracle if something was done before a multitude of injuries and death. Although deaths don't seem to bother GM.

I purchased four Michelin Defender 90K on February 26, 2013 for my Town Car for Classic Ford in Columbia, South Carolina. I purchase them because for the 90K. I had 126,632 miles on my car and now I have 164,861. That's only 38,229 miles. The service center are telling me that I need to buy some new tires.

Michelin Defender - tread life claim is pure fraud. In 2012 purchased 4 new tires, 175/70 R14 for my tiny Hyundai Accent. The car is a lightweight. I have almost put 30k on the tires and they are just about done, maybe another 5k left (but no way for next winter). I do not remember precisely what the treadwear claim was when I bought them, I believe it was either 70k or 90k. For argument's sake, let's say 60k rating. There is no way these tires would last as long as claimed under any circumstance. Lessoned learned, do not pay attention to treadwear ratings, they are bogus and never work your advantage.

New tires. After 16000 miles worn out at front of my car. I mean tread almost gone! Michelin said maybe under inflated tires. Only thing I did wrong was not rotated for that distance. Something is wrong with Michelin. Never had this problem before. Tires are aligned. Discount tire said it is due to not rotating every 8k miles. B.S.! These are 90k mile tires. I can accept some wear but not worn bald!

Lauren FixAutomotive Contributing Editor
Lauren Fix is an automotive expert who earned the title of The Car Coach, and is recognized throughout all forms of media as a woman with in-depth knowledge on vehicles, technology, automotive finance, repair and trends. Founder of Automotive Aspects, Inc., her understanding of automobiles has made her the "go to" person on TV, radio, print and the internet. She writes a column for multiple outlets including Parade Magazine, NewsMax and Car Coach Reports. She is a regular guest on all the major news and morning shows discussing the latest updates on cars that will help drivers of all ages learn to about cars and make smart decisions. More about Lauren→

Michelin is a global company that produces tires in nearly every category. Michelin operates several tire plants in the United States and has been in the tire business for over 100 years.
Beyond cars and trucks: Michelin offers a full range of tires, including bicycle, motorcycle, agriculture and commercial tires.
Availability: Michelin tires are available through major tire retailers as well as through stores such as BJ's, Sam's and Costco.
Michelin Promise Plan: For light truck and passenger tires, Michelin offers a comprehensive satisfaction plan. It includes a 30-day satisfaction guarantee, 3-year flat tire changing assistance and a limited mileage warranty.
Find My Tires Tool: Michelin's search tool is easy to use and comprehensive, allowing search by vehicle, tire size, tire name or tire category.
Michelin Travel: Michelin has long been known for its comprehensive and global travel guides.
Best for Sports car and high-end vehicle drivers, extreme performance, touring, winter, run-flats, light truck and SUV drivers and passenger vehicle drivers.
Michelin Tires Company Profile
Company Name:

Michelin

Address:

P.O. Box 19001

City:

Greenville

State/Province:

SC

Postal Code:

29602

Country:

United States

Website:

http://www.michelinman.com/