Consumer Complaints and Reviews

I had a new prescription that was not covered by my insurance. It was outrageously expensive, so I asked the pharmacist for his expert advice and he lied to me and he overcharged me $650.00. When I found out about his lie, I returned to the RiteAid store #05727 on California Oaks Road in Murrieta, CA 92562 and talked with Atit ** who is the pharmacist who lied to me. He did not dispute my claims of deception, but he did deny my refund because it took me more than 7 days to find out about it. So I asked him how many days do I have to file a claim against his professional negligence?
What is RiteAid's policy on lying and overcharge honest folks who ask for their "expert" advice. What really shocked me is that nearly every sign and promotion in the pharmacy says, "ask our expert advice." I think I. We'd to sue in small claims court and maybe find a lawyer to sue the whole company for a class action suit. If they lied and overcharged me, then I know they have done it to many, many others.

I am here to collect a prescription for my nephew. I came, they told me I need to bring his insurance card, went back and got his card, give it to them. They very rude no explanation of what to do. When ask was told to go sit down and wait, they will call. Don't know why I am waiting, been here for over 30 mins. This is one of the worst way to treat a customer. It would be nice if someone could tell me why I am waiting and what is the problem, if I need to do something else or get something else. Please.

RiteAid is complete violation of their agreement with Medi-Cal by not filling patients prescriptions on time or in a timely manner, or at all. In other words, they broke the law and/or violated my civil rights. And the police are more than happy to come and arrest you for disturbing the peace when you raise your voice at the counter when all you're doing is trying to point out their mistake or mistakes. They don't want to hear that they did something wrong. Because they feel offended and would hate to admit that they were wrong.
In my situation, they entered the wrong payment approval code therefore I was denied my medication after calling Medi-Cal and obtaining my approval code and returning to the right. I tried to explain to them they entered the wrong approval code and that I had the right code with me, they asked me to leave. Called Medi-Cal again they said yes you're approved and then Medi-Cal asked me to give RiteAid another chance to fill the prescription because not to fill it would be in violation with the agreement that they have with Medi-Cal.
So I went there again and when I did, they call the police on me and refused to fill my medication a third time. After that I had to drive over 13 miles to the next pharmacy. I went to Walgreens with my prescription and approval code and they entered my information in their computer then told me are able to fill my prescription no problem and that everything was approved and that I was good to go and it will take about 30 minutes. Well 30 minutes later, I got my medication. I hear this a lot from other patients around the doctor's office and pharmacies, same problem exist throughout the RiteAid stores. I just think a class-action lawsuit to get these people to obey the law or pay every time when they violate the patient's rights. If anyone can help please feel free to contact me.

Thursday, Aug 25, looked online for the current week's ad, at the nearest RiteAid #02771. Found a seemingly great sale. 'Big Win' Paper towels/bogo, 8 ct. on sale $6.99 with card, which would yield 16 rolls. Sent my nephew. The manager could NOT find the ad in the circular. He also said, they did not have anymore. But he was quick to offer Viva/bogo at $12.79$4.80 at a whopping hike in price almost $5.00; he bought the substitute, without calling me. They got over with bait and switch. He gave my nephew a Raincheck with bogo for the Big Win. When my nephew got home I found the circular, it was there--on sale at $6.99. Honestly, it did not say bogo--but I looked it up online again and made sure I had the correct store/my store and there it was on sale with bogo.
Anyway, went in on Sunday, Aug 28 to get the bargain with the Raincheck, when I inquired, this manager in a RUDE-tone, says the store still doesn't have it. My nephew, went in today, Tues. Aug. 30, was told it is $11.20. My nephew called me on the phone. I told him do NOT buy anything else. When he came home, after taking a thorough look at the Raincheck, we noticed the manager NEVER filled in the price! This is bait and switch, fraudulently omitting the price on the Raincheck, and utter confusion: (bogo on the internet/not on the circular/manager can't find the ad). How small of RiteAid and the store manager.

I purchased ** from a local RiteAid in Brooklyn (Bay Ridge). The bottle was sealed and contained within a box. When I opened the bottle I noticed the pills were not ** but **.
How do I know I can trust these reviews about RiteAid?
608,728 reviews on ConsumerAffairs are verified.
We require contact information to ensure our reviewers are real.
We use intelligent software that helps us maintain the integrity of reviews.
Our moderators read all reviews to verify quality and helpfulness.
For more information about reviews on ConsumerAffairs.com please visit our FAQ.

I tried to obtain ** from my local RiteAid. It is a non-prescription product to help heal wounds. My doctor had written an RX for it and sent the RX to RiteAid. RiteAid did not notify my until a day later, that they did not stock it, and since it was not covered by my prescription plan, if they ordered it for me, the cost would be $86. I then called several other pharmacies. I ended up obtaining ** from the ShopRite pharmacy for $5. They too had to order it for me. What kind of mark-up was RiteAid trying to obtain??? 17 TIMES more expensive!

I walk into RiteAid and every item is overpriced. The cashiers are rude and the store managers will not take care of complaints.

My understanding of the legal timing of prescriptions was incorrect. "Day 1" of my prescription was actually July 6th, so Day 30 was August 4th.
I still believe their policy is overly strict as I have had other pharmacies fill Adderall on Day 27, which my insurance company was willing to cover.
Original Review
On July 5, 2016, I had my 30 day prescription for ** filled at the RiteAid Pharmacy in Conshohocken. On August 2, 2016, I received a new 30 day prescription for ** from my doctor and provided to said pharmacy at approximately 6:30 PM on that day. They informed me they would not be able to fill my prescription until August 4, 2016, which was 31 days after my prescription was filled on July 5. They cited their policy of not filling medications at high risk of abuse early. However, they denied me my legal right to obtain my prescription by 12:00 AM on August 4, 31 days after my July 5 prescription was filled, as their pharmacy does not open until 9:00 AM.
While I can appreciate their concern to help curb prescription drug abuse and reduce their liability, they are also increasing their liability by not giving customers access to their medications in a timely manner when they're legally entitled to have possession of them. My doctor's instructions were to take my medication when I woke up, which was before the pharmacy opened at 9:00 AM. Additionally, I would have had to use vacation time in order to have picked up the medication on August 4 prior to 6:00 PM. I went to another local pharmacy to have my prescription filled so I could take my medication as prescribed on August 4.

I went to pick up my refill and was told that I was given a three month supply when I was only given a one month supply. I was so angry that they charged my insurance for something I didn't get and I couldn't get what I needed because of it. I want nothing to do with that location or probably RiteAid ever again.

The manager of the local store informed me that senior citizens at all of their stores are being required to show ID to buy alcoholic beverages. Don't submit to this stupidity, there's nothing in R.A. that you can't buy elsewhere. If Walgreens buys R.A. & continues the policy boycott them too. Don't be a sheep to a moronic policy.

Prescriptions are never filled by the time they are requested for pick up and customer is never notified that medication is not in stock and is being ordered and may not be in shipment which is consistently late. They are unbelievably disorganized and have gotten worse. I requested my refill last Thursday for pick up today (Tuesday) and upon calling to assure that it would be ready by pick time requested, I got the same old song and dance as noted above. Tech said she would call me in when shipment arrives and that was at 9:30 AM. I'm pretty sure I won't hear a thing from them today and if I do, it will be by 5 PM as that tends to be what they have done previously. Going to find a new pharmacy and transfer.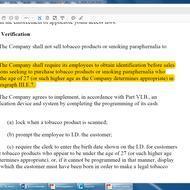 Took my son to buy ice cream at store #05815 in Bakersfield, CA. I asked for some cigarettes and clerk asked for my I. D. Btw, I am bald with gray beard and 50 years old. I asked why and he said "it's company policy regardless of age." This is ** crap to be embarrassed in public buying cigarettes. I called the complaint line, and she was less friendly than the jerk at the store. I am done with RiteAid, I will never go back for anything. I am also going to start a boycott of this place just like Targets. I checked their online policy and it says the card if you look under 27, see attached.

Very rude in pharmacy out of a medicine. Don't call my doctor for refill, unreal prices, got rid of the hometown pharmacy to rip people off. Really Obamacare, helps ripoffs, and had to pick a star.

Last week I had it set up where my medicine was order and it made it to RiteAid. Instead of them sending it to the nurse they gave it away to some other person. I'm disabled and had to track down a pharmacy which could get it. ** 410 mg. I had to call 5 pharmacies until one said their supplier had it and I ordered it. What makes me mad is they had my medicine there which was ordered for me and they gave it away instead of sending it to my nurse which is what they've been doing a few years now. I'm a week past the date when I was supposed to get the shot. RiteAid said it's out of stock when I called which is ** because they had it there. Thank god Walgreens was able to help or I'd be on my way to hospital if I couldn't get it.

I've had two separate experiences where there were issues with my son's e-script. The first incident I had called about it, they wouldn't let me explain anything, kept cutting me off and treating me rudely. I contacted corporate, complained and did get a call back so I gave one more chance. Second incident - Checked on my son's prescriptions to see if they were both ready and they said they had only one. So I was in the middle of Dr office and pharmacy calls and the Drs office said they sent it and pharmacy said they didn't. When my Drs office called the pharmacy the person they were talking to hung up! There are plenty of pharmacies, I terminated RiteAid today!

At about 7:15 this evening I went to store #00160, on North Plank Road in Newburgh, New York with my husband and 3-year-old son. We had just left Big Lots (in the same plaza) and so we had a single white plastic shopping bag from Big Lots with four items in it - a toothbrush, cough drops, children's body wash, and cookie mix - if you must know. We went in to Rite Aid to purchase antacids, as I am pregnant and have been dealing with terrible heartburn at night. We picked Up a package of ** and made our way to the front of the store when I decided Airheads sounded like a great idea too (hey, pregnancy...). We walked to the front of the store, no Airheads at the checkout. We walked to the candy aisle and found my Airheads, and we were looking for gummy bears for my husband as we were approached by an older store associate named Karen. Karen said to us "I need to search your shopping bag." Sure, no problem.. We handed it over.
Then she asked for the receipt for the items, again we handed it over. Then she said "security told me they have you on camera stuffing candy in your bag." Meanwhile the bag containing four items and receipt for all four items is in her hand.. Then she told us that we must have "taken the items back out and put them on the shelf" and that we need to "leave the store." I have never dealt with somebody so RUDE and UNPROFESSIONAL. And to accuse two ADULTS of stealing candy, of all things?! We placed the ** and Airheads on a shelf and left the store. Upset (and humiliated!), I walked back in and approached Karen at the register and requested to speak with a store manager about the incident. First she said "I am the store manager" which then changed to "there is no store manager here." I asked her for a phone number to contact her supervisor to which she responded "1-800-RITE-AID."
Seconds later another associate (in plain clothes, with nothing identifying her as a Rite Aid associate) walked up, then Karen said "she is a store manager." This associates name was Karen. I asked Karen for the store manager's name, as well as the store's phone number. She gave me the store's phone number and after asked repeatedly, finally said the store manager's name is Karen. Meanwhile Karen is mocking me, accusing us still of stealing candy, and that she will "call the cops!" Well, Karen will be receiving a phone call from me tomorrow. The behavior of the associates is completely unacceptable - degrading, disrespectful, and demeaning. All because a pregnant lady needed **! I will never utilize a Rite Aid store again - I will be sure our prescriptions are sent elsewhere. And I will be sure everyone close to me does the same. You should all be ashamed of yourselves, but especially Karen of your Newburgh, NY North Plank Road store!

To make a long story short, I put up with the rude, abusive, judgmental, demeaning, dismissive incompetent arrogant RiteAid for years. Then one of their "people" called my daughter a liar to my face. Not one of them could ever give me a good reason or excuse for that kind of behavior. Do they think they are the only ones who work in an abusive environment? And that gives them the right to be abusive to sick people? I hate RiteAid. A new independent pharmacy opened nearby and I left RiteAid without saying goodbye. I would urge you to do the same. The scariest thing about them is they could kill you or your kids and lie about it.
Because I'm on pain medication, they seem to think they have the right (or it's their sacred mission) to treat me like vermin. My doctor is very strict but they somehow have the right to refuse to fill my script in the rudest possible way, to lie to me and my doc and I am supposed to smile and thank them. Before I fired RiteAid, I went to the new pharmacy and interviewed the owner and staff. They are so nice! I will never set foot in another RiteAid again.

Re: RITEAID Pharm. Montclair Village, Oakland, CA - at 44 yrs old, I've been going to RiteAid Pharmacy since they opened! I've never had a problem filling Rxs there, until this tag-team of pharmacist / pharmacy tech started their employment there. I've been taking ** (50mg) / ** for about 2 years due to multiple issues, which cause me pain. I requested a non-narcotic pain med. and my Dr. advised **. It worked for me, so we stuck with it. I don't get drowsy, don't feel groggy the next day, no euphoria, etc. when I take it. In July (2015) I had surgery for torn ligament in my knee. Post surgery, the orthopaedist prescribed 100mg extended release **, per my request for non-narcotic. ** is a synthetic narcotic, that does not sit on your pain receptors all day (which is a big factor in addiction), but instead move around on them (thus not staining the sensor with the memory of relief).
2 months after my surgery, I requested a refill on the 50mg ** I'd been taking prior to my surgery. I still had some of the 100mg extended release, but once I started back at work, I didn't take them due to not knowing when the subsequent 'releases' of meds would occur and how severe. For me the 100mgs were fine while lying down at home recovering. However they were too strong for my other ailments I took the 50mgs for. My Dr. refills the prescription. Calls me to tell me he did. I get to the pharmacy, and was told I could not pick up my prescription, because they put a hold on it until they talk to my primary care physician, as they wanted to confirm that he knew the Orthopedist / Surgeon prescribed me ** already (2 months prior / 30 pills!).
I had gotten flak from these two hyper-hormonal pharmacy workers. The pharm tech is delivering the news about the confirmation, then calls the pharmacist over, after I tell her that the mgs are different and the previous prescription is too strong, as they are for two different causes. As the pharmacist approaches, with blatant disregard, she and the pharm. tech, exchange looks of dismay. They treated me as if I were a junky on **... Really? My Dr. not delving into the situation, automatically cancelled the Rx. The pharmacist never acknowledged the fact that I was prescribed two different doses of meds, for two different reasons. They then went to interrogate me: "Why don't you just use the ones you already have?" "Don't you still have more of the other ones." I reply "They are too strong."
After the tech rolled her eyes in the air, and 20 minutes of trying to get these idiots to realize what they're putting me through for no reason, I walked out. But not before hearing the lady behind me pick up her ** at the same time! OMG. I'm African American... The ** cocktail, was picked up by a middle-aged Caucasian woman. After that drama, I refused to take anything on the DEA list, as I don't ever want to experience that trauma ever again in life.
I went to my Dr. a couple of days later. He just suggested I go to another pharmacy, as he was willing to fill the script elsewhere. He also called them to speak with the manager, who to my knowledge has never called him back (6 mos later). I get the whole controversy w/ scheduled drugs and the pain-pill abuse epidemic, but the degree of unprofessionalism with pharmacists and pharm techs. when dealing with it, is absurd. There definitely needs to be a class-action suit against RITEAID (across the nation).

I have been using the Auburn, Ca RiteAid store # 06042 on Hwy 49 for the last 45+ years, basically almost all my life as my parents used it before me. I know pretty much everyone in the store and pharmacy and since I'm not an agro type of person, and most are great people - I really like them! Except for one, a pharmacist's assistant (due to her name) she's referred to as "Violent" in our house. If you catch my drift.
Anyhow, I am a chronic pain sufferer. I am trying to keep that part short and sweet because my conditions are many, enough for me to be permanently disabled which means, I only get worse. I don't get better. Since this pain started roughly 15 yrs ago, and I am rather young, I don't look the "part" of a invalid, but rather I still am. But regardless of that, it's not something I should have to prove to RiteAid, right?
I'm also very afraid of venturing out of my house by myself. I usually need accompaniment. I feel a little OK in R.A. #06042 because I have been shopping there for so long but I don't like to interact with people nor do I like being away from my home. It takes a lot to get me to go out if I must. It's torture and it hurts, to boot. I also suffer from anxiety and hbp due to the stress of these things. If you looked at my med list at R.A. #06042, anyone should be able to figure out I have major issues, and just WHY I need certain meds. I not just a 1 med a month refiller, I have like 12.
Recently they have new pharmacists in the line-up. I think they are both rather nice even if I disagree with their policies because I pretty much lay the blame of ALL my issues onto Violent. She is interfering with my meds fills. Not all of the many pills I take, usually it's only with just the class 3 ones which is my pain meds: **.
I know she carries an issue or grudge because besides making getting the refill done once a mo., she likes to make snide remarks about them when I am trying to drop off or pick up such as "that stuff kills" or when I picked up my ** patches. I just saw a special on those (as she shakes her head). I just want to know since when did she become MY doctor? Once she even said to me, (as we were counting the days together to prove I was past 28 days) "Well no duh"... WHAT!? WHAT DID YOU SAY? I was just in shock at her snotty response. I mean this woman HAS to be in her late 60's - 70's, a good 30 yrs older than me and she acts like a child.
The biggest prob I have with her discrimination towards my pain meds is that, legally through the state it says I can refill my pills every 28 days. My Dr. appt. is every 28 days as well (where I pick up my script) from the Dr's. I drive to R.A. #06042, where for the past 10 yrs. since I've been able to pick them up after they have filled my script. Only within the past 6 mos. when Violent gets my script now, she makes some fuss and mentions/reminds the new pharmacists that it's too early, that it's only 28 or 29 days and I MUST WAIT THIRTY DAYS and that I should have extra pills at home.
Now what I have at home is none of their business. I could have a hoard of pills that I roll around in on my bed, but I am still legally filling able to fill this script as allowable under law. So she says, "Your doctor says these have to last thirty days", and "Well, yes, they are lasting 30 days however I do not want to come back here tomorrow, so please refill them today!" Again she says I should have extra so why do I need a refill and I really feel I should not have to go into how I don't (and sometimes can't due to my fears) want to have to leave my house tomorrow. She really should just fill the meds, nothing else is her business! Oh and for some reason they don't bother with the day counting when it comes to refilling my **? They've filled those early before and I didn't request it. Why the discrepancy? They are both class C drugs!
I have two more minor issues and another story to tell but my hands are now hurting (I have CTS and Arthritis as well) so just know this - My R.A. #06042 pharmacy likes to make their own rules, regardless of the LAW of the land. I guess they are their own little country with a crazy dictator.
PS - The day they refused to fill me (only 29 days!). I took my script and left, went to Walgreens and they filled then and there, on the 29th day. No questions about what I may or not have at home or how horrid my meds are. I don't like Walgreens as much as R.A. but I probably am going to take all my Rx's and switch them to Walgreens to prove my point. I don't really like Walgreen's store selections AND it is further away from my house. I am also going to miss all the nice employees, too. It is a shame that one evil wench must ruin it all.

I live in one of the most liberal counties in California. I am transgender and every time I try to refill (the SAME) hormone prescription at Rite Aid, the pharmacy guys give me snark, whisper among themselves, ask what my diagnosis is, claim that they don't know if they can do it and will have to talk to [my doctor, insurance, anybody]. I have brought in numerous copies of paperwork and put them on the phone with people, but it keeps happening. I complained online and the reply was unsatisfactory and misunderstood (like simple reading comprehension error) what I had described. Never had a problem like this anywhere else in town.

I am writing to complain about Rite Aid in both NJ and PA. Today I received a phone call that my prescription was ready. My fiance drove 65 miles to pick it up because we are long distance commuters... My prescription was not ready and the pharmacist couldn't even tell me when it would be ready. Rite Aid continuously lies to its customers about the date my prescriptions are ready. I have been to 4 different Rite Aids in the NJ/PA area. I take a medication every month and as soon as the doctor writes my prescription, I take right away to the Rite Aid I am currently dealing with. I dropped my last script off on a Thur. and was told Tues. it would be ready. They have records of what I am taking and they should know enough to order ahead to have it in stock. But they continuously let me down. I AM TIRED OF THEIR LIES!!!
I have read other stories of people with the same problem with Scripts horror stories. YES you have to count in front of them. YES they make your day miserable. YES they blame it on the vendor. NO they don't care if you go somewhere else. This is a upper management problem. You'll never see an episode of "UNDERCOVER BOSS" with Rite Aid. Why? Because THEY DO NOT CARE!!!

So there have been missing meds among me and my 3 kids always seems to be the schedule 2 meds for ADHD. I could not prove it was the pharmacy and was told their counts are accurate. Yesterday I went to the pharmacy to get my sons ** 10mg, went home and set down to do the med containers for the week and pulled the prescription out of my purse. It didn't look right so I counted and there were only 15 of the 30 in the bottle. When I called the pharmacy they were rude and said their counts and logs say I got all 30. Well then please tell me what happened to 1/2 of the meds between your pharmacy and my home? SO DONE. Walgreens has gone back to accepting express scripts so I will be going there and counting all meds at the counter.

I have been going to this RiteAid a year and I am on medications I take daily. I would call or stop in at the pharmacy days ahead to inquire about the refills. They would say they would take care of it but never did. I would never get my medication in a timely manner. When I would question the employees monthly, they would look at me in a dismissive way. No compassion, no excuses to why my meds were late every single month. The most humiliating experience happen just last night. After telling them a day prior about a needed med, I was assure that they would call the doctor because they said they have to get an updated script. Mind you, that they could have done that weeks ago, seeing that my script is prescribe daily. They always had me wondering if I would get my medication at all.
They even one time transferred my prescription to another RiteAid store without my permission. I notice how they interacted with other customers and it was never the way they interacted with me. You could see in their faces that they didn't want me in their store, let alone treat me as a valued customer. I got upset last night and raised my voice, and the manager sneaked away and call the cops on me! I was so humiliated. As I was leaving the cops came and one stood in front of me and would not allow me to leave. Mind you I'm a middle age ** woman and the 3 pharmacist workers are **. He ask for my I.D. and ask me what the problem was. I explain my version, he said that they got a call. The manager states, "She was raising her voice at the workers".
So in comes another cop. He goes to the back where the 3 employees are. I proceed to go back also with the other cop. I ask him, "Is there a LAW for raising my voice cause of the disrespectful treatment that I had put up with a whole year that I have to be detained?" Mind you he blocked my way of leaving the store initially. So we are approaching the back and sudden silence, comes over cop 2 and the 3 employees who are all **. Cop 2 ask employees, do they want me back in their store? They said, "No." One of them that saw me faithfully even denied ever seeing me in the store!
So the Cop 2 says, if he catches me back in that RiteAid, I will be arrested! I was shocked and became angry at this point. This RiteAid does not value ** patronage. I was humiliated and plotted against by a bunch of racist. I have been to several RiteAid stores in my community and at no other time have I experience such a disregard from people who are suppose to SERVE the public! They need to be disciplined for their blatant disregard for my physical and mental health!

Bad store coupon experience. Ever since they got these hand held scanners, they are a headache. Don't know how many times my coupons wouldn't go thru. When try to contact customer service, can't get thru and wait on phone forever. So disappointed in RiteAid. Am considering boycotting it all together and going back to CVS. Worst service ever!!

I have been going to them for 8 years and never had one problem till the Pharmacist named David got there. Friday thru Sunday I think... I do not take any mood altering or pain meds but I get sleeping meds from my Dr. He makes you feel like a drug addict refuses to fill per Dr. orders and investigates you while calling your Doctor. He called my Doctor to try to get me in trouble when I told him I think it best if we parted ways. Ever since he has got there I have to rat whole my sleeping pills because of insurance purposes and the NAZI behind the counter named David. I thought I was the only one till I saw an old high school friend in line bitching. (They make money by frauding you and the insurance co's by only filling 30 on 90 day scripts of non-controlled meds). They have numbers they have to hit.
She was making a fuss when I saw her. She had been in there 3 times in one day and he still could/would not fill her scripts per Doctors orders. He even walked her to the front door so people would not hear her complaint. I never counted mine but would start if I stayed. He weighs 400+ pounds. If he is so worried about you being healthy he needs to rush to the closest weight loss center and then get a life. I do not know under what rock they found him under but he needs to go back or get an attitude adjustment. I wonder if they have a real count on how many customers he has run off. What was Rite Aid thinking? The rest of the crew is great, caring, and polite. Target here I come!

I am switching my prescriptions to a different pharmacy. First off all the staff is rude. I go through the drive-thru and they say "are you waiting or coming back?" I say "I am waiting" otherwise when I come back they never filled it. So I say wait and came back a couple of hours later and the pharmacy technician had a fit. This happened on a number of occasions.
Secondly my husband fell off a roof, broke his heel and was prescribed **. He got it filled a couple of times before but then had a new dosage which was 10 milligrams instead of 5 which they gave us 5 instead. I didn't noticed until I brought it home and he took one and looked at the bottle and said "this is not the right milligrams." Oh my gosh!!! Thirdly they messed up my prescription and I am now out of it and having a panic attack. I am never going there again.

Toledo Reynolds rd North Pharmacist Rude - I handed a tech my subscriptions and she told me there was going to be a 30-45 min wait. I waited very patiently for an hour, so I finally went up to the counter and asked, "do you know how much longer wait there was going to be on my meds?" The Pharmacist very rudely states, "you ain't gonna be rushing us, we'll get to you when we get to you so go ahead and sit down". I then told her to give me back my scripts I'll go somewhere else. She then gave me my scripts back and said, "take them I don't care". I took the scripts and got them filled at Walgreens and only took 10 min.

First of all, I don't have a receipt because I was refused service, so I left empty-handed. I walked into the store on Del Paso in Sacramento, CA 95835. There was a Caucasian gentleman standing behind the counter. It took me less than 2 minutes to grab the item I wanted to purchase. When I got to the checkout counter, no one was there. I stood there waiting for several minutes. The man who had been at the counter when I entered opened a door and looked out into the store. He clearly saw me standing there. I waited for several more minutes and then decided to leave. The man waited until I was on my way out the door to ask if he could help me.

Within the last few months I have gone to Rite Aid to fill my prescription of **. ** (for those unfamiliar) is a drug that helps break the opiate addiction people suffer from. ** is main drug used for this but due to the price I stay with **. My medicine has a reputation of being a drug exclusively used by drug addicts and for good reason. But, there are people who actually use this medicine to help them get over their crutch.
Rite Aid has purposely lied about carrying this medicine in the past few months. I would call ahead to make sure they carry it and they said yes. When I arrive with my prescription the pharmacist immediately tells me that they don't have the drug and don't know when they will get again. Mind you, I know many people who use the pharmacy to fill their own prescriptions. This seems to happen to many patients I know of. My doctor is extremely strict with his patients and if they abuse their medicine or lie about doing drugs they have a very short leash.
Rite Aid is turning away patients in need of medicine to help them stay clean from deadly drugs because the pharmacist may have personal vendetta against addicts in recovery. Great job Rite Aid. Your pharmacists are making a very useful drug extremely hard to get for the patient in need. You're not a part of the DEA, let the authorities handle the abuser and dealers. I strongly urge people to stay away from Rite Aid at all costs. CVS is a much better option even though they are very slow at times. And pharmacists, get over yourself. Yes you worked hard and earned your degree and job, but don't play cop with someone you have a personal problem with.

I have been a regular customer of the Hollywood RiteAid Store for 16 years! Never had any trouble until three years ago when the new ** Pharmacist came in! She changed all the schedules of the favorite Pharmacy techs! Brought in New rude and incompetent Pharmacy techs! She has been very rude and racist since I am a ** male! She has always seemed scared and uncomfortable when she is around me and some days she would not service my prescriptions at all! I tried to lighten up the mood and tried to make her laugh so I wanted her to get to know me better so she would not be uncomfortable! I invited her horseback riding so I could take picture of her to give to my movie agent to see if he would like her look! Although I did not tell her this in the beginning she became angry, annoyed and downright nasty like she was insulted that a ** male was trying to become her friend!
I informed her I did not want to date her but she likes to argue and have the last say! I told her why I wanted to become her friend to alleviate the racial tension I was feeling from her! She grew up in Beverly Hills and still lives there so I guess she did not grow up with much interaction of ** males! In fact I think she feels she is better than most races! She only runs to help young ** males that are attractive to her! I have seen her interaction with other ** male counterparts looking down, no eye contact like she cannot wait to get the transaction over with! Also her attitude has rubbed off on her pharmacy techs! One new one she adores since he is transgender has had one tell me with an attitude that "he will get my medicine when he gets to it!" I take over 15 medicines and ** and I do not need to be treated like this by anyone!
So about over a month ago I contacted corporate pharmacy department to complain about this 3 year racist treatment I have been experiencing! I have also a patron of Thrifty/RiteAid for 15 years before I started going to the Hollywood Store in the Rowland Heights area and my mother and I are still good friends with the Pharmacy and Pharmacy techs to this day! So I contacted Corporate and they contacted her District Manager who is Latino! He threaten me to be more professional and told me if I did not I would banned from the store! He did not really listen to my side of this matter! Then I told him I want to talk with the Regional Manager of the Pharmacy since he was talking to me like he was the Godfather and he had to protect his people! Moreover, he lied and said he phoned me 2 weeks before which he did not since I have a answer machine on my home phone!
So he gives me a cell phone number that does not return calls so I could not contact him! I track him down anyway and he is annoyed. I called across the country looking for him! So once I got to the Regional Level and talked to the Sr Regional Vice President I thought we came to a resolution. They talked to her but she still claimed she felt uncomfortable with the arrangement after I have continued to order my prescriptions for 2 weeks up to today. When I received a phone call from the Regional VP I was banned from coming into the store for life and a letter is coming to my residence stating I am banned! I think this is a miscarriage of justice since I am a longtime customer of this store! This is why we have the problems we have in this country today! All we needed to do was that both of us needed to sit down in a Arbitration Hearing to discuss the issues she had with me!
But now I want a Lawyer to sue RiteAid for their Racial Discrimination and Harassment! So if you know a Lawyer who will take my case do not hesitate to give them my details! Also I have had security guards follow me around the store like I am going to steal merchandise and when I check out I have had security guards stand over me like I am going to run out the door with the merchandise I am trying to buy! I have talked with other ** who have been followed around the store but they just became frustrated and vowed to never set foot back in the Hollywood RiteAid again! I do not need this treatment since I am medically disabled and I'll and I need a legal remedy from a competent lawyer who specializes in these discrimination matters! Hope to hear from someone soon!
RiteAid Pharmacy Company Profile
Company Name:

RiteAid

Website:

https://www.riteaid.com/