Consumer Reviews and Complaints

This Company is the worst Company I have ever encountered. I am forced to use them with my Husband's Insurance. I am on the phone constantly. They never do what they say they will do. I have not received Medicine that they say I have. I am on daily medicine for my Heart and I am forced to be completely out before the next refill. They say I received two months back which I haven't received as yet. So call them speak to a rep to release early for 3 Days straight, check every day not released yet. These drugs are not Opioids or Pain Killers. Every time I have to deal with this Company My Blood Pressure goes to Dangerous Levels!!! Please Someone do something with this Company.

I'm stuck with EXPRESS SCRIPTS as my prescription provider through BCBS. I recently went to see the dermatologist and was diagnosed with a case of Poison Ivy. Both arms, forearm on down, are covered with open sores and blood from scratching. I received an injection and was prescribed a topical spray to reduce the rash. I would later learn that the Doctor prescription was denied.
I called my insurance company and was forwarded to EXPRESS SCRIPTS, the source of the problem. To be honest, I was not very accommodating or polite when speaking to the operator. Again, I am bleeding from both arms and scratching. The operator, who obviously handles many complaints per day, immediately put my call through to an automated system which asked me to rate the quality of service.
I called again and again to see why I was denied relief but each time I entered my ID number or S.S the call was immediately put through to the automated system. So, I was never able to contact anyone to find out why the script was denied. Since, my 3 year old also caught the rash. (Explains why there is no email contact for EXPRESS SCRIPTS.) When the CEO's highest level of education is a BA, that says a lot. Tim Wentworth, here's to choking on your lunch, jagoff.

This company is a JOKE, my friend. We are being FORCED to have prescriptions filled by them to be covered by our insurance. They have overcharged, charged for drugs that were not authorized, charged for drugs that were not sent and worst of all, not sent drugs that are required life maintenance drugs. They are playing with people's lives for sure. It is crazy how you can be forced to use them and wonder exactly when Express Scripts will cost you YOUR LIFE.

I've never encountered a more incompetent company, and sincerely wish my employer/insurance company would go with someone else. They are completely inconsistent with their policies; they are virtually impossible to reach via phone; if you are lucky enough to talk to a real person, you'll wait on hold for up to an hour, then get rude treatment, inconsistent information, and, more than likely, will get lied to. Once when I asked for a supervisor, I got "Jerry" (ID **) who was actually worse than the initial rep (Virginia). Gerry flat-out lied to me twice, and then became abusive when I called him out on the lies. I honestly can't think of having ever encountered a more dysfunctional company.

On more than one occasion I have called Express Scripts, placed my order, and I have to call my doctor to get the script refilled, then Express Scripts calls me for a shipment date. They give it to me, the order is a day late, I get charged $49.00!! So now I have been waiting for cold storage medication for two days and NO ONE can tell you ** about it, they can't refund your money, can't give you the name or number of someone to help. They are just ridiculous to deal with and I am so sick of it!!! I would love to file a suit against them and the military for picking them for the country's veterans and their families. THEY SUCK!!!
How do I know I can trust these reviews about Express Scripts?
885,935 reviews on ConsumerAffairs are verified.
We require contact information to ensure our reviewers are real.
We use intelligent software that helps us maintain the integrity of reviews.
Our moderators read all reviews to verify quality and helpfulness.
For more information about reviews on ConsumerAffairs.com please visit our FAQ.

My prescriptions are on automatic refill and delivered by US Mail. Always delivered on time and if subscriptions are expired my doctor is contacted for direction.

I have been using Express Script for over 10 years. I was informed by Express Script last April that would not longer be covering two medication that I have been taking for 30 years. After they denied my prescription I called and they said they had change their Formulary and decided they would no longer cover the meds I take. I pay them every month for nothing. I found out that the service rep. that you talk to does not even work for Express Script but ES is using them as a vendor. I called my doctor. He called them and told them this was a medication that I could not just stop taking. They wanted him to prescribe ** as an alternative drug. Since when can an insurance company override a doctor's prescription and tell him what they want me to take. The people that do the Formulary are not even doctors and know nothing about medication.
I was taking ** for acid reflux and they started charging an out of sight amount because ** was still under patent and there was no generic drug. I found it cheaper to have surgery to correct the problem with my stomach. I have now received notification from them telling me I can only get my scripts either at Walgreen or CVS and not at Riteaid that is a quarter of a mile from my house. I used GoodRX to get my uncovered medication filled at the Kroger store and it was cheaper than when ES was charging me with their coverage or uncoverage. I talk to my pain management doctor and he told me that when Obama started the Obamacare that it opened the pharmacies to set their own price and what they would and not cover. I have to specify the drug store what generic I can take for my pain medication because all generics are not the same.
People keep saying it's the Pharmaceutical companies charging more but it is actually the Pharmacy Companies that supply the vendors that set the price. It is not the manufacturing companies making the money but they are the ones that pay for the research and development the drugs. I worked at a pharmaceutical company for years and the meds. we were manufacturing was sold to for 8, 9 or 10 cents per capsule depending on the mg. of the drug. By the time the drug hit the consumer they were from $1.20 to $1.50. Something needs to be done about the governments control over our medication and care and stop being paid off by the pharmacy lobbyist. For a country that is so advanced we should have the best medical care in the world but countries that are a lot poorer than us have better medical care than we do.
I will definitely be changing from Express Script when it come time to change prescription coverage insurance. They are nothing but a bunch of crooks with deep pockets and all of these fools that you spend so much time talking to when you call Express Script to just read a script about any complaint they get. They won't let you talk to someone at Express Script because they can't, they are nothing more than a marketing company contracted by Express Script. Just think about all of us that pay them because we are on a fixed income and we have to make a decision whether we are going to eat or get our meds. Can't blame your doctor because they are having the same problem with them and waste a lot of time talking to them when they could be seeing patients. They have doctors around the neck on how he or she can treat their patients.

I wish I had another choice. Thank you anthem for making getting medication a constant headache. I spend more time on the phone with Express Scripts than I do with my own family constantly having to figure out what has gone wrong with this month's order. Constant delay issues constantly running out of medication constantly having to call in to find out why my medications are not arriving constant problems. Usually their customer service is pretty decent but today I got a guy who just refuse to listen to me when I just wanted to give him the fax number for my doctor and wasted 30 minutes of my day only to talk to his supervisor who was willing to take the fax number and contact the Dr. I hate this company with a vengeance because they're unreliable and I'm constantly having to call them to fix things.

Called trying to find out where my daughter's medication is. She's at school - they "claim" I didn't give them her address as temporary. I have talked to no less than three people - 2 "supervisors" - all rude, dismissive and unhelpful. When I asked for an email detailing the fact that they would not do anything to resolve the situation I was told they couldn't do that. But they can sit on the phone and basically call me a liar and refuse to do anything to get my child's medication to her at school. I am being held hostage by these people - The only way to get 3 months of her medications is to mail it away to these unhelpful incompetent people who will not take ownership for any part of this screw-up.
I was told by one person that they called on the 28th and was told our home address was the correct shipping address. Really?! When I asked who they spoke to - they don't know or can't tell me. Now I've been palmed off to sending them a message online - which is not working either. This company sucks on sooo many levels. My daughter is without her medication that she needs and the people working there don't care and refuse to look for a resolution to any of it or take ownership for any part of the screw up.

I was told by my medical carrier that insists we use Express Scripts that it would be more convenient and save me money. It does not on either count. It is inconvenient (by mail only) and costs more than CVS because Express Scripts will not accept coupons. It takes longer to get my RX too! What a mess!

You don't find out the cost of your medication until they ship it. My doctor recommended that I try mail ordering my medication to save money and always have the medication I need. He sent a prescription for a new medication that I have been trying. It said 1-2 tablets a day however, my insurance pays for 1 tablet a day. I went ahead and emailed Express Scripts letting them know that my doc would resubmit for 1 tablet of the strength needed rather than 2. I got a return email which did not address that then I was notified a day later my medication was shipped. I was charged $134 for a 45 day supply. At a retail pharmacy I pay $10 for a 30 day supply. When I had estimated the cost of the medication using their tools it was supposed to be $15 for 90 day supply. Of course I called customer service and was put on hold for 20 minutes while she researched my case.
I had yet to even tell her what my reason for calling was but she would come back every 4 min to say she was still researching and would return. After 20 min she tells me my meds were shipped and the cost. Yes I knew that. She wanted to give me a number for an appeal on the price due to the meds costing less at my retail pharmacy. I was then able to ask if that number was where I called for a stop on payment or a way to return the meds or have them match my normal payment because it was significantly higher. She says she can refund me $75. So I am still supposed to pay $59 for something that would cost me $15?! No that doesn't satisfy me. I ask for her to get someone who can actually help me. Supervisor comes on and is repeating that it's my fault and the doctor's fault because of how the prescription was written. I explain the email. She says must have been a communication error.
I am supposed to pay the $134 because my insurance only pays for 1 tab a day. She says they don't call unless medication is over $150 before they charge. Under $150 they just charge and send. I tell her there must be a way to request a refund or stop the charge or have the post office rerouted it back to them. The prescription was just shipped 7 hours prior to my call to them. It was 2:02 am on Sunday when I received the email and I called them at 9:00 am that same day. She tells me to hold then returns to tell me that she can send out a return package and I return the meds once received and I will receive a credit for the cost once they receive and process the return.
I was on the phone for 45 min and the only resolution they could provide was a credit once item was returned. I'm surprised they tried to offer me a refund of $75, like I should have been happy to get some money back rather than none. Express Scripts advertises that I'll save money having home delivery medications and instead in this instance it ended up being exponentially higher. I would advise caution when using this method to receive medications. Unlike at the retail pharmacy you get to check the medication and price at the counter prior to paying, this company just sends and charges.

Again I beg of all of you to NEVER use this company. We are being held hostage to ES for our prescription drug coverage. I have spent 3+ hours on the phone today because we were supposed to have a prescription sent overnight on 8/24. It is now 8/28 and we have yet to receive the prescription. What should have been a simple phone call to locate the medication has turned into yet another nightmare. I have spoken with no less than 10 people including 2 pharmacists and the useless Presidential Escalation Office (pretty snazzy name huh???). So far I have been given 3 different names of the "medication that has shipped". How can different people in the same company look into the same computer system and get different medications??
I have asked over and over to speak to Mr. Tim Wentworth or Mr. George Paz so that I can inform them of my issues. It comes as no surprise that "they don't take calls". Today I have been called a liar and told of a supposed conversation that happened involving me and a pharmacist at ES... Said conversation never happened. Believe me, I keep explicit notes with names, dates, times, and conversations because someone has to stay on top of this mess. So again... DO NOT EVER USE THIS COMPANY!!! And by the way, Mr. Wentworth or Mr. Paz if you happen to see this I am more than willing to have a serious conversation with you but I just can't get past your incompetent bulldogs.

Express Scripts is the pharmacy contractor for Tricare. My Tricare coverage ended because of divorce over four years ago. Express Scripts sends me a letter stating I owe almost $8,000 because of overpayments made six years ago, which in fact I had Tricare coverage during that time period. Before harassing me about a debt I do not owe, they should have checked to see when my Tricare benefits actually ended.
Also, the pharmacy that filled the prescriptions in question verifies eligibility before every prescription is filled – they never would have filled a year's worth of prescriptions without my having current Tricare coverage. The tone of their letter is so arrogant, stating unequivocally that an overpayment has been made to me, not that it appears an overpayment was made, and what a big waste of taxpayer money. They should reimburse me for the cost of my time, copies, and postage, I wasted hours on this inaccurate claim by this incompetent agency.

I've been taking the same meds for 4 years and 2 years ago, my company started using this slow non compassionate vendor. I went to my monthly doctor's appointment and found out August 1 I had to get a prior authorization for a med that they have been covering. I was told I needed a Pala. They told me to have my doctors do that and since I was already on this medicine it would be covered well. They covered alright. Approved my prior authorization but only paying for 60 out of 90 of my meds. Then once I called the authorization department this lady asked me one question and acted like she hit a button on her computer and said my claim was denied.
Who changes the criteria of which medicines covered on August 1st without notifying customers but filthy your emails with bogus ** that really don't mean anything. EXPRESS Scripts. Had pneumonia a few months ago and once again I paid more than they did for my medicine. What's the use in spending thousands of dollars annually for insurance if they don't pay when you need them? This company is a fraud and I could go on about the lies the customer service representatives tell just to get you off the phone. You guys a fraud and a rip off.

They deliver prescriptions to your home. Got an email saying the package is shipped and delivered. They're saying USPS says it's delivered. Well I didn't get it. I call them, and two separate people tell me, "Oh sorry. We'll send you a new one you don't have to pay for that one." I wait almost a week, well I don't have it. I need my medication. I call again. Now they're saying because it's Tricare that the government won't allow them to credit or refund anything and since it says delivered I have to pay. Well no one told me that at any point.
I have an open investigation with USPS. It's hard to prove a negative that I didn't get the package, but I've already had a problem with misdeliveries in my building. Keep calling Express Scripts. No sympathy and they will do nothing to help me. Now I have an outstanding bill they want me to pay and they say it'll go to collections. I can't decide what to do. They have the absolute worst customer service, and the first few people I talked to were either lying or ill informed. I still can't tell. They WILL want to bill you for products you don't receive. That is theft.

Just add me to the list of thousands. Similar story with E.S. accepting prescriptions knowing they cannot fill them. Made no difference whether generic or not. Prescriptions sit in pending status with 'excuse codes' only to end up being cancelled with my having to scramble to have my prescriptions transferred and filled. Have decided to cancel all prescriptions and not do business any longer.

Due to my retirement I was pretty much told by Express Scripts that I had no choice but to use Express Scripts or my costs will rise. I have 3 prescriptions and my husband has 6 prescriptions on this mail order plan. We used them for 3 refills, 3 month supply at a time, without too much problems. I placed my order August 8th, they charged my credit card August 12th and said they mailed it August 11th. It is now August 22, the tracking number they gave me says not found.
I have called them 4 times and they don't know where it is either. I am going on vacation in 2 days but they cannot refill them for 12 days after I report that I have not got it. I have had to talk to 3 member service people, and 2 supervisors who all gave me different information. It is frustrating to say the least. I ordered them way ahead of time but because we are going on vacation there are 2 prescriptions that will run and and they cannot assist me in the least. They are rude, unprofessional and honestly do not give a rats ** what we will have to go through. I would never recommend this company to anyone!

Always good service, everything done on line. If you are a chronic script user (asthma / diabetes et cetera) they are very good. I get 90 days of my medicine at a time.

I have now been a member of Express Scripts for almost 1 year. They have screwed up most of my medications at least once, some several times. My recent experience involves getting a refill on a medication I have been taking for over five years. It is a class 4 medication so I can't get it refilled online. When I called to request a refill I was told that no refilled had been sent by my physician. Checking with the physician a refill request had been generated on May 19th. None of the customer service reps could find it. So the answer from them was - "So sorry, you will have to get your doctor to contact us with a request for refill." If you can't find one that was sent on May 19th, what makes you think you will see a new one? If you can't manage medications in a timely and professional manner why are you still in business?
The company needs to be closed down! I am contacting my state's attorney general office and filing a formal complaint. I am also contacting the HR department of the company I work for and requesting that they remove Express Scripts from their insurance requirements. (Yes, to get medication we are required to use this company or pay exorbitantly high prices at a local pharmacy.) I suggest that anyone reading this who is having similar experiences do the same.

In May 2017, I spent many hours on the phone with Express Scripts (ES). The problem originated because ES continually tried to process my order through the wrong account, which is a contraceptive account (I'm a male) which no one could explain why I had to begin with. This was despite my phone calls telling them which account to process it under. This nightmare to get my medications involved roughly ten of my own phone calls, 3 from my human resource department, 2 from my doctor's office, and 2 from my insurer. This literally took hours of my life. Every time I called, I got a different answer and assurance that the problem was resolved. I finally received my medication 13 days after the prescription was written despite informing ES multiple times that my prescription was running out.
We are back with another issue 90 days later. The prescription was written on 8/12 and I still haven't received it. I've spoken to express scripts since Thursday and was informed of the following. For some reason Express Scripts did a duplicate invoice for this medication which caused initial delays. Then I called on Friday to see when it was going to be shipped out and they told me they couldn't read or understand something on the actual script so I called my doctor's office who then called Express Scripts to clarify.
Then I called yesterday and they told me there was a "customer hold" on this medication which didn't make much sense. I was told yesterday that the medication isn't going to ship until Tuesday or Wednesday of this week which would make it 10-11 days before it is even shipped! I have been pleading with them because I am going away on vacation on Saturday 8/26. They did say when they ship it on Tuesday or Wednesday that they will overnight it but they are so undependable, I can't be sure.

Ordered my medicine 2 weeks ago and I still do not have it. They said it went out over a week ago, now they're saying it went out 8 days ago and it must be the post office at fault, when I track it the post office says they haven't got it yet. Every time I check the tracking from their site it says something different. This is heart medication which I am out of for two days now. Worst service ever.

I was a new customer and called in for information regarding the appropriate methods of getting my medication sent in a timely manner. However, I was misinformed and had to make another trip to the doctor's office. They waste so much of your time. Honestly, each service rep is not as knowledgeable as they should be - especially because they work in departments - There's only so much guidelines per department. Each time I call, I get a new or different piece of information. I will not do Express Scripts again. I don't see how they're still in existence.

Totally disorganized, non consumer friendly pharmacy company. Days go by without action. Calls get lost in customer service. People claim to be supervisors who don't return phone calls. Upsetting beyond belief. I hate the fact that I have to deal with them going forward as my life is in their hands with life assisting maintenance medication for my family members.

I looked in my bank account today and Express Scripts deducted $187.50 from my account. I called and they told me what medication they were sending. They said my Dr ordered this??? WOW since I was told this morning I was not to take this medication as it was not working for me. I later found they substituted on me. When looking at my CVS account the same meds were $24.99. In talking with several people there they said the best they could do is refund me $100... Well, this is NOT acceptable to me. I dont have 87.50 to throw out the window. I am not working at this time and on social security... Tomorrow I will continue the fight, I intend to WIN!

I have tried for 6 weeks to get safety caps on my medications, but Express Scripts has been unable to take care of this simple request. I have spent hours on the phone. Six phone calls to representatives, supervisors, and supervisors' supervisors. I've been told the safety cap bottles would be sent multiple times and they were not. Today I was told that they cannot send these. This is a simple request, bottles with safety caps. Absolutely, no accountability. Express Scripts could care less about safety.

This is the problem! Someone in Express Scripts needs to wake up and discover that we are now in the 21st Century. My last five claims were all rejected because they can't find data that is plainly written on the form in English right from the pharmacy. I am now on my third response written letter for each one of these claims. Are you kidding? I am out of pocket hundreds of dollars at this point and as frustrated as consumer. I used to watch those news reports about the poor Vets who were getting the runaround and kind of always thought "there must be more to the story"... Well, today it is now me who is getting the runaround and I am here to say, that "enough is enough." Congress needs to terminate this contract with Express Scripts and fire the whole mess. You can't make this stuff up.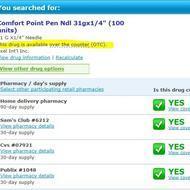 I have had numerous problems with Express Scripts. My latest problem is so ridiculous I just had to write a complaint. I am trying to get Insulin Pen Needles for my insulin pen prescription. These are just the needles that screw on to tip of the insulin pen and are sold in boxes of 100. It is NOT the medication. It took me 30 seconds to find them on the "Price a Medication" Express Scripts web page. 2 boxes (90 day supply for $12.06). Even though I gave the person the name from their web page it took over 20 minutes for her to find them and figure out how to order them. It was now a different brand NAME and was now $18 for 2 boxes. So now after about 30 minutes they claim I need prescription from my doctor.
The Express Scripts web page clearly states this is available over the counter. We both agreed that OTC means no prescription is necessary. She would not or could not put my order through without a prescription signed by my doctor. I have purchased these needles OTC numerous times from CVS, Walmart and other pharmacies all without a doctor's prescription. See the attached image from the Express Scripts Price a Medication website.

Was coerced into using this service as insurance prefers and threatens to cancel prescription service without using this service. I've read about the deal between Express Scripts and Anthem insurance. It sucks for consumers and benefits Express Scripts financially. Their service sucks. Filling a prescription takes 20 minutes. They store your credit card and re-use at their whim. After spending 20 min typing everything in and replying to their obnoxious electronic service, the woman on electronic svc cut me off and ended call. Seriously! I've ordered prescriptions electronically for decades with Walgreens. Your system is defective. Probably like your service overall -- cheap!!

Express Scripts filled and mailed a prescription without contacting me first to verify that I needed the medication and approved of it being mailed AND billed to me. They are holding me liable for the cost of the medication, as they do not accept returns. I don't understand how they can legally hold me responsible for something I never knew about (much less approved), but they will hold my legitimate medications hostage unless I pay for the medication sent without my approval.
I asked the representative repeatedly to direct me to a legal representative, or someone who could explain this policy (the representative kept saying it WAS policy, but would not provide any information on what gives Express Scripts permission to do this type of thing). I very much hope that a class action suit will eventually be filed if Express Scripts continues this type of behavior. If a representative responds to this, please tell me what authorizes Express Scripts to bill me for a medication I never ordered or approved.

I just tried Express Scripts and had a prescription made out for 90 day supply or longer (as advised). In fact, my Dr. gave me a 4 month supply, but ES took it upon themselves to process 3 months of refills and cancel the remaining. I am not sure how they can legally do this. In effect that are changing the Dr's prescription from 4 refills at 60 tablets a month to 3 refills. I am now missing 60 pills!!! I will not use this service unless forced to do so. I would rather pay my $10 a month for the correct dosage. I now have to go through the hassle of getting another referral just to get seen by the specialist, and then explain why I am missing 60 pills.

Jonathan TroutConsumerAffairs Research Team
As a member of the ConsumerAffairs Research Team, Jonathan Trout believes having access to free, comprehensive information on products and businesses is vital to making smart purchasing decisions. He focuses his efforts on researching and reviewing multiple brands across a variety of industries, with the goal of writing unbiased buyers guides to help inform consumers on impending purchases. More about Jonathan→

Express Scripts is the largest pharmacy benefit management organization in the United States. Acting as the middleman between drug makers and employers, it provides services such as home delivery, specialty pharmacy management and prescription benefits for self-insured companies. Express Scripts also publishes an annual Drug Trend Report that details prescription drug costs and utilization.
Online account: Express Script members can create an online account to manage their prescriptions. Members can schedule refills, review coverage and pricing information, check an order's status and find detailed drug information. Feature availability depends on each individual plan.
Home delivery: Home delivery through Express Scripts allows people who take regularly scheduled, ongoing prescription medication to save time and money with free shipping and handling. Consumers can add items with the "Transfer to Home Delivery" button to their shopping cart, and Express Scripts will reach out to their doctor for approval.
Medicare Part D: Express Script offers Medicare Part D plans with home delivery for members who receive Medicare. When choosing a Medicare Part D plan, customers should consider a plan with 24/7 access to a pharmacist as well as each plan's star rating, premium, deductible and copayments.
Mobile app: The Express Scripts mobile app provides convenient access to member accounts from any Apple or Android mobile device. Members can refill prescriptions, schedule ongoing home deliveries and view drug information from anywhere.
Accreditation: Express Scripts holds accreditation with the URAC for mail service pharmacy and pharmacy benefit management. It is also accredited with VIPPS.
Best for self-insured companies wanting prescription benefits for their employees.
Compare Pharmacy Benefit Management
Express Scripts Company Profile
Company Name:

Express Scripts

Website:

https://www.express-scripts.com/index.html