Consumer Complaints and Reviews

Don't even think of going there. Kays Zales and Jarretts are all one company. Poor quality and even worse service. Purchased a pair of earrings at the cost of 650 dollars. Six months later a clasp broke. Returned to store to find out they don't warrant or stand behind their products. Wanted a lot of money to repair earrings. I will never do business with these people again. Their employees attitude is even bad when you have a problem.

This ring is less than 1 year old. One of the accent diamonds fell out and Kay refuses to stand by their warranty to replace the stone. The store manager at the Coronado Mall store is a real **. Says, "Oh well". NEVER buy from Kay Jewelers unless you want to get ripped off.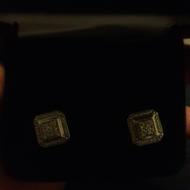 So I saw these earring online for sale for 64 dollars and decided I wanted to get them for my oldest son birthday. I went to the Colonie location in Albany and the manager Sharon was the one assisting me. I show her a pic of the earring I wanted on my phone. Right away she tells me they don't have it at that location but she can show me some others that on sale. I said OK. She then shows me the exact same earring that I show her on my phone. I then ask her what the difference between the two. She says one has more diamond on the side. I said OK even though they look exactly the same. So I ask what the cost. She says they 80 and with the 10% sale brings it to 74. Now their sign all over with a 20% sale going on. I ask why it not 20%. She says, "Oh the sale is up to 20%. Not 20% so some items are only a 10% discount." Mind you nowhere on the website or the signs says that.
Anyway I go ahead and purchase the item. Now she may not think that I know when you purchase the item the ski number on the receipt which yes matches the same ski number as the earring on the website that are 20% sale on it. I don't argue with her. Though I call Customer service and explain the situation to them and they reach out to her and yes she end up adjusting the price. When I went back to get the difference while she doing the transaction I'm waiting for her to apologize or something. She going to tell me the computers were lock why she wasn't able to give accurate information which is all bull from the beginning. I showed her the website and right away she stated they didn't have it. She never went and check any computers or anything.
In my opinion if you in the capital region of New York and want to visit a Kay Jewelry go to Crossgates Mall. Love the people there. Did a wonderful job when I needed to purchase my wedding ring for both me and my husband. They really work with me to get a price I was comfortable with Colonie mall. Though I won't be going back to that location. The manager Sharon can keep her apology I don't need it.

Christmas 2015 my bought me a ring at Kay Jewelry in Orlando. And I took it to Kay Jewelry in Mooresville NC to have it sized. When I showed it to the lady and she said that's a nice one. But after time allowed for them to resize it they didn't have no record of it; they could not find my work order. I guess she decided to help herself to it because they was an extended warranty on it. Then after a while they called and said they was replacing it. Long story short it wasn't the ring I took in. Feeling helpless I took what they gave me. I know in my heart that it was a different kind of ring, but since I didn't take a picture of it I couldn't prove it. Now it looks like a dime store ring. The luster has gone. Now I'm pissed again. I was ripped off and no one seemed to care. I will tell everyone and never shop there again.

I was engaged in December of 2010 and purchased a Neil Lane set. I work an office job and have taken care to be gentle with the rings, in addition to religiously taking them in for inspection every 6 months. In the 6 years since purchasing the rings have been sent out for repair no less than 20 times. EVERY time I take them for inspection one or both are either missing a stone or has loose stones. The bottom side of the bands have also had to be re-dipped multiple times after turning gold. In addition, I have had to take the set in multiple times in addition to the 6 month inspection. For instance, just two weeks ago my wedding band came back from having a loose stone tightened. Last night, I discovered that a stone on that same band has fallen off and I have to go back again. The worst part is, over the last year, I have noticed that the replacement stones are of much lower quality than the original stones. They are gray.
In reading online, several others have this same concern and one person had them independently tested to find that the replacement stones were not diamonds at all. I am sentimental and never thought I would do this, but I finally at the point where I am done with this and going to trade it in for another set. Enough is enough. Buyers beware, save yourselves the headache!
How do I know I can trust these reviews about Kay Jewelers?
761,264 reviews on ConsumerAffairs are verified.
We require contact information to ensure our reviewers are real.
We use intelligent software that helps us maintain the integrity of reviews.
Our moderators read all reviews to verify quality and helpfulness.
For more information about reviews on ConsumerAffairs.com please visit our FAQ.

I'm writing this review to let the consumers know that Kay or Shawn jewelers are the biggest ripoff company! I wish I never stop by at this store. On July 2014 I purchased a diamond engagement ring at this store, Shawn, which later found out owned by the same company! I was just looking for a bigger diamond. Anyway I end up trading my vs1 less than a carat for a bigger diamond. I did end up trading my diamond to a Tolkowsky brand, which she said worth the best brand, with the lifetime guaranteed. If in any case a diamond fell off the setting, crack diamond etc or whatever reason that no questions asked. I decided to think about it, discuss it to my husband. The saleslady called me back. She was very nice. I did come back, decided to upgraded my diamond with the warranty of a lifetime, free cleaning.
Well on December I was hysterical my diamond fell off the setting! I called the store, the lady answered she said, "don't worry we will replaced your diamond, just come in". I did come to the stores with all my receipt and then the lady made a phone call. After she talked to whoever she talked to, she said she can't replace my diamond, that their policy is for me to come in every 6 months for inspections? Are you kidding me. I paid $8,800 for that diamond that supposed to be the best diamond, now you telling me that my warranty are null because I didn't come in for inspection? Now I'm out of $8,800 I was devastated.
Anyway, I told her that the lady that sold me the ring never told me that I have to come in every 6 months for inspection, otherwise my warranty are null and void!!! This is a lie! If this was disclosed to me that I have to commit coming in to this stores, there is no way I will buy a diamond for this stores! Never will I agree to this stupid policy that she throw on my face! Another reason that I can't obligate myself to any kind of agreement. I'm a cancer patients, that I will have scheduled chemotherapy that I have to go to Va Beach out of town all the way to MD Anderson Cancer in Texas!!! This lying ripped off company which owned by the same Sterling!!!
I have made many attempt to get my diamond replace. This pathetic policy that I have not sign or agree with is the biggest lied that they tell their customers. A lifetime guaranteed that is not being honored by this company is the biggest misrepresentation! It's a fraud to mislead. I'm now out of $8,800 cash that I paid for the poor job of the setting! Beware for a lying salesperson! I'm at present trying to fight for my right! They have mislead and lie to their customers! At present my case still being review by the Consumers Affairs! I'm going to fight for this, for me and other people being ripped off by them misleading their customers of so called warranty for life! This is a lot of money for me to slide. That's basically they think they can get away of cheating the consumers! If I have to take this court, I will. All the way to Supreme Court!

I will try very hard to be respectful. It's going to be hard. I got engaged December 24, 2016. It is now March 20, 2017 I still do not have my ring. This whole experience started with a lie. Keep in mind I wear a size 5 ring. The lady told my now fiancé, it will be no problem sizing it to my ring size. It would only take about 1 week. BIGGEST LIE. Little did we know it had to special ordered and it would be put on a rush. Another lie. Vera Wang vendors do not do rush orders. ANOTHER LIE.
I went to visit the store in San Antonio Texas North Star Mall. The lady there said, "Oh it will be here right after Valentine's day." I keep waiting, go back and she says, "It hasn't passed quality control." Oh and BTW it's Valentine's day and what does that have to do with my ring we ordered way before valentines day. :( DO NOT BUY FROM KAYS. I usually don't like to complain but these guys deserve it. Awful. Awful. Please do your a favor buy somewhere else. My ring is suppose to be ready 3/30/17. If it's not we will get our money back and go somewhere else. Next time I will read the reviews. Well I couldn't on this one due to it was a surprise but if this doesn't work out I will read reviews. So again don't buy from KAYS. You will be sorry!!!

On December 15, 2014, my wife and I walked into the Newnan GA Kay's. On that day I was approved for a Kay's credit card. My wife and I was so happy, because we were to be married on Friday. December 19, 2014. Before today 3/15/2017, I had no complaints with Kay's, but on 3/15/2017, I found out that the credit department had closed my account without warning or written notification. I have had this account for almost 3 years, never late. Always paid on time or before the bill was due. This was the most embarrassing moment I have ever experienced. I called customer care services to get an explanation, but to no avail. The lady on the phone did not care about my concerns. All she said is that "you will receive a letter in the mail." Wow!!! After the fact. This is not good business practices. Something need to be done about how we as consumers are being treated. So hurt and humiliated. So, whoever reads this post, please beware!!!

Never shop at Kay Jewelers at least for what they call a certified diamond. In October, 2016 my husband upgraded my wedding ring to a Tolkowsky diamond. The ring and band had to be sized. The ring was sent off for the first time, came back in approximately 2 weeks - the ring was not sized right so at the suggestion of the salesperson, the rings were resized for a 2nd time and I had to pay extra $100 for bishop bumps to be added. This 2nd process took approximately 2 weeks so now it about a month.
Ring comes back. Not even a week the setting came out. At this point I am furious, take the ring back to the store, the assistant manager is looking crazy and states, "I will call you and let you know what we are going to do." Never heard a thing. So I took matters into my own hands and placed a call to the district manager. To date NEVER called me back. I then called the customer service and placed a complaint and a assigned care rep took on my complaint. We are now past Thanksgiving with no ring BUT they want their payment.
The customer care rep states that they will order me a new set already sized and so forth. In the meantime around January or so I get a call from the store manager to come pick my rings up. Those are loaner rings until my special order comes in. Finally the special order rings are ready for pick up on March 6, 2017. I pick the rings up. Not 24 hours the setting falls out.
At this point there is no fixing. I WANTED MY MONEY BACK! I am paying my billing every month and from the time the rings were purchased I might have had them a good week. This time around I am told that they had to be sent out from prong inspections. That is a bunch of CRAP. They have my money but I have no rings. I WILL NEVER BUY ANYTHING FROM THIS STORE AGAIN! This so called certified diamond is worth nothing.

I brought my diamond engagement ring into Kay Jewelers last March to be repaired, last month while washing my hands my ring cracked open and one of the small diamonds came out, so I went back to Kay and they said because six months had passed it wasn't under warranty. I argued that if had been fixed properly this would not and should not have happened, they said they would cover half the cost and were going to send it out for an estimate and would call me with the estimate. Three weeks later I get an email telling me my ring had been fixed. So. Called and asked "Is it fixed or do you have my estimate because I never authorized anyone to fix it?" She says it's fixed and tells me what I owe. I asked her why did they fix it without my permission. She said there are so many notes written on my paperwork that it's confusing and I could call the next day and speak to a manager.
I wasn't going to argue because it wasn't a lot of money but I spoke with another jeweler who told me the only way it could have cracked is if there was a flaw in the first repair. So I went to Kay to get my ring and was explaining to the women what had happened and I didn't feel I should have to pay because I didn't authorize them to fix it, she told me "No problem. I will just send it back and have them remove the diamond. The manager came over and I asked why I wasn't called with an estimate and she said they probably didn't feel the need as it wasn't going to cost that much, I said "But what if I had decided to have it fixed somewhere else?" And she told me the same thing. That she would just send it back and have them remove my diamond. So disgusted with this place, they are very rude and do sloppy work. I won't be going back.

Purchased cute side bands for my main diamond ring from them. They never gave a form to us for six month check. Every six months brought ring in for check and rhodium to be redone. Lost recently a chip diamond out if it. Was less than six months ago and they won't replace it. Said we have to be specific on both areas-- say diamond check and rhodium needed. They said we never did and now won't cover it. So what good is the warranty we got? They said yes you were here for rhodium every six months but not for diamond check. How silly is this? They are working on it and it was to be checked. Why wasn't bit done at the same time? Rhodium also is so thin, when required, it starts wear off after 2 weeks.

I need a Consumer Fraud Lawyer. I have been ripped off! I may need to have someone arrested before my diamonds are gone forever! Wow, can't believe "My every kiss begins with Kay" can rip hard working people off with their practices!

Gave my engagement ring back to them after having 3 past issues of wrong size given, no engraving, and no emerald as paid for--They requested that we give them a chance to fix their mistakes (as I spent 3 months of my 5 month engagement without my ring because of them fixing then refixing each issue) as they were to take my engagement ring and have the emerald placed within the band, after it fell out on my first day of the honeymoon.
Got a call 2 weeks later saying it was done, go into the store and they only have my wedding band. Made the excuse that they needed to order another emerald, and will be done Wednesday. Wednesday I called, no one knew where it was. Thursday came and they had it - gave it to my husband to pick up, and when I finally got home to see it - my personalized engraving does not exist, and the size of the ring does not match my wedding band. Though they have remained silent, Corporate has confirmed that my ring is incorrect, and may not even by my original ring. I have yet to have them respond to figure out where my ring is, and the steps moving forward. THE ring that my husband picked out individually, proposed to me and made a commitment of forever with me is nowhere to be found and I am devastated. Cannot believe that Kay Jewelers is not taking steps to resolve this issue.

My daughter bought me a beautiful diamond turtle. 6 months later the chain broke. They soldered it together and gave it back crooked. They should have just given me a fresh chain since it was so thin and cheap to begin with. Who wants to wear a glued together diamond necklace. The warranty wasn't worth the money at all. I've barely enjoyed the necklace and wouldn't dare buy another one. Who wants to keep running to the store at the mall, nobody. It should've been replaced and not "repaired". Especially when the repair work stinks. They should keep these chains in the store for easy replacement. It would probably cost more to solder than replace. Or just make a better chain for these necklaces.

I went in to purchase the ring they had on sale for 20.00 but they only have them in size 6 1/4 so I would have to spend an extra 18.00 to have it sized. Really they could not carry other sizes. So the ring they advertise for 20 is really 40 for those that don't have that one size they carry. They should carry other sizes or size for free.

Questionable sales tactics. I would really love to see their Corporate training manuals because 2 stores have pulled the same tricks with me. I would also have the DM looking for a new job especially since she was made aware of the situation at both stores! But folks that's commissions base sales for you... the buyer gets it in the rear end! Go somewhere else!

I purchased a pair of earrings at Kay's a few months ago and I have had to get them repaired three times already. Each time the sales person tried to tell I had to buy additional warranties to get them fixed (I had already paid for this when they were bought) and after some discussion they decided to fix them. They broke again last week and now they have told they replaced them each time, which is simply not true and if it was then why are they continuing to break? I have had a horrible experience with this store and will never buy anything there again. I have been lied to multiple times and cheated out of what should have been an enjoyable nice gift. The staff has been very rude and discourteous.

"The store is average cost and selections, easily located for convenience and the staff is willing to assist. The occasional sales make shopping for a last minute gift easy."

We bought a Ever Us ring in July. Special ordered the ring size, delivered wrong. Sent back and still sized wrong, sent back a 3rd time. After 3 1/2 weeks ring finally in, less than 5 months later I take it in for a cleaning and stone check. A diamond was loose, sent out for 3 weeks for diamond repair. I have had it back 2 weeks now and a Diamond has now fallen off and lost. I'm very disappoint in Kay, very disappointed in this ring I once loved. Kay states it will be 48 business hours before they can tell me how they can make this right. I do not want to send it back out again. I have read those horror stories and I do not want a exchange from Kay. I want a refund. I will never buy from this store again. I will never recommend this store to anybody looking for friendly customer service, a good quality piece of jewelry. Now that I look into it Kay does not have a very good reputation these days, now I know why.

I received a locket from this store but it broke within a year. It has a grungy look considering I rarely wear it and it was supposed to be sterling silver. The necklace was also flimsy. Their customer service was alright but I don't want anything from this store again.

On December 7th I went to Kay Jewelers to get a ring for my granddaughter for Christmas. I was told they had nothing in the store but I could order one from their catalog. We went through and I ordered a ring for her with 3 stones, set in a sterling silver setting. The price given to me was $241.50 written on the slip. The salesperson said it would take about 3 weeks, and sometimes they come in sooner. I asked if there was any discount and she said "no this is a special order," and I said "you do not have any here that I had to order out of the catalog, how does that make it a special order." Well no disc. She told me to call back on Christmas eve and see if maybe it had come in. When I got home that night I got online to see if I could get a picture of the ring so that in case it didn't come in I could at least give her a picture of her present.
Well I started checking out how much a ring would cost and it was an amazingly lower price than what I was quoted. Anyway the next day I get a call from Kay Jewelers and the lady said I had been online checking out a ring, did I want to cancel my order, and if I did not want to cancel I should call back the next day instead of ordering online. I called back the next morning and told the lady who answered who I was and that I did not want to cancel my order, she said that ordering online is a mass produced ring and not as well made as the one that was ordered. So I said go ahead and order it.
One week later I got a call from the first lady who called me and she said that I never called to go ahead with the ordering of the ring. I told her I called the next day and told the lady on the phone to go ahead and order the ring that was picked out. She said she never got the message. She said the ring would be in around the first week of January. I called again in January and spoke to a lady named Mary, I told her what was going on and she said she would look it up for me, I waited until she came back to the phone and she said the ring was back ordered and it would be here around the 10th of January. I told her I was never contacted about a back order and she apologized to me for no one calling me to let me know.
I never got a call until the 12th of January that the ring was there. I could not get down there until the following weekend which was the 14th of January because I live 50 miles away. My husband went down that day to pick it up for me on Jan. 14, I had paid a $50.00 deposit and I owed a balance of 191.50, I gave my husband the money and he went to get it. He called me from Kay's Jewelers and said I owed more money, I said look at the slip that I gave you from them with the quoted price of $241.50 written by the salesperson. The Manager got on the phone to apologize to me that the lady that took the order didn't charge the right amount so I had to pay $75.00 more to get my ring.
I guess at Kay Jewelers it must be my fault and not their fault that they quoted me the wrong price. I told my husband to give them the extra money and just get the ring. I will never shop at Kay's again and I am going to convince my husband not to go there anymore. He spends quite a bit of money there and we can go to a jewelry store up in our town and get a real jeweler to make any ring we want and in just a few days. I was very upset and disappointed it the way this was handled and I felt that I was taken for a ride.

I really chose this store because it is not in a large mall. The staff had time to spend explaining things to me. I mostly needed to know how to care for the bauble I was set on buying. I don't know much about jewelry except that some of it makes me happy.

Was very pleased with selection and especially all of the sales people. This is a very pleasant and well-organized jewelry store where you will find the perfect gift for your special someone.

I like the quality of the cut of the stones and I also like the clarity of them and I like the customer service. When I shop at Kay's I'm very interested in trend designers as well as price and I find that case they really do accommodate designers and trends which is very important with me. Many jewelers designers and newcomers so I liked your PR and I like their marketing strategies. It's a very cozy environment to buy in and they have great locations as well. Mostly the malls of America have them in them. Just excellent.

2015 purchased Leo engagement ring. Was told white gold. Ring faded in matter of months. Was informed rhodium plated and needs to be re-dipped. Did this 3-4 in 1 yr. with numerous complaints. Workers agreed ring looks horrible. This is a $3000 ring. Apologized for not being told about ring and the constant runaround. They have seen me in store over and over complaining. Finally my option return ring, repurchase something else or exchange mine possibly defected from being resized two times. We did the repurchase and was told if it happens again we can be refunded. They did a new slip even gave us award points. And assured us this can be returned, we also purchased warranty on both rings.
Picked up ring Oct 2016. By Dec ring is yellow and looks horrible. Went to return and they are refusing. Trying to explain to me what rhodium is?? I did my research. I told them and should have been told this at purchase. Spoke with customer service 800# was told ring should only be dipped 1 time between 16-18 months. After all this I tried returning and cannot. I am dealing with claims department and getting runaround. Trying to explain over and over on rhodium. I continue to tell them I was told white gold. I was told I can return and everyone is lying and not doing their job. Less than 2 months and it looks like a cheap $50 ring. I want my money and will fight to the end. Claims dept is going to speak with manager and workers?? I only dealt with manager this month and she has nothing to say... just following orders. Very tight lipped.
I asked claims woman if she really thinks anyone worker there is going to risk their job and acknowledge what they said?? This was all about them getting the money. I have seen way too many complaints on Kay Jewelers and I hope everyone follows through. This is a crooked business with nothing but deceit to get their money. I will not back down. This is my engagement! I will stand at their store with my ring and show customers what they sell and have done. I have contacted BBB and next is the news and lawyer!

The representative was patient and was trying to meet our needs. As a person who was a Retail Manager for 10 years I feel it is important to meet the customers need.

I have purchased several items from wedding ring sets to necklaces. The prices and quality are about average. They are also friendly and no high pressure sales. Most sales associates are friendly and knowledgeable about diamonds/gems.

I bought my husband-to-be a wedding band that was supposed to be nearly indestructible. Right away it had a black slash across it from him hooking up a trailer to hitch. Kay Jewelers looked at it and said it could not be cleaned off. Three years later the ring is discolored and wear marks all over it. They were not helpful. The band cost over $500 and it should be better than a $25 band I bought my first husband that still looked good after 44 yrs.

I bought a watch at Kay Jewelers. I am not happy with the color of the watch. The sales person led me to believe this is the only shade the watch comes in. My husband bought the watch for a Christmas present for me. The sales person asked me if I would like it sized to fit my wrist., I agreed. She did not inform me this would void a return. As we continued to walk in the mall, we saw the same watch at Zales only it was a much more vibrant blue and I fell in love with it.
The next morning I tried to return the original watch(I had the watch less than 24 hours) they accused me of scratching the watch and since the watch had been altered they could not take it back. I called customer service and they proved to be useless. She said that she would arrange for a return and call me back. Surprisingly I never heard from her again, I tried to call her several times, my husband tried to call her and she will not return any of our calls. I am very disappointed in Kay Jewelers, obviously I will never shop there again but I will spread the word through social media. Shame on you Kay!

I went to Jared Jewelers in the Loop and was ignored for an hour! I left and went to Kay Jewelers in the Loop and was immediately greeted by Lily and Beatrice with the most beautiful smiles. They took the time to show me various pieces and options - the result? I left after spending a little more than I intended, but feeling that I had received the best customer service ever! This is a also compliment to the Management for employing people who really care. Thank you Lily and Beatrice - you are the best!

ConsumerAffairs Research Team
The ConsumerAffairs Research Team believes everyone deserves to make smart decisions. We aim to provide readers with the most up-to-date information available about today's consumer products and services.
Kay is a jewelry company owned by Signet Jewelers that was founded in 1916, and the company is headquartered in Fairlawn, Ohio. It is one of America's biggest jewelry store chains with retail stores located in large shopping malls, and it also offers customers online shopping for a range of jewelry products.
Design-a-ring: Kay lets customers design their own rings so they can ensure their wedding or engagement rings are unique.
Personalization services: The company personalizes jewelry for customers, including adding monograms or engraving special messages into jewelry pieces to make them one of a kind or tailored for a specific person.
Style finder: Customers can take advantage of Kay's Style Finder, which helps them find the right jewelry product they are buying as a gift or for themselves.
Extended service plan: The company provides customers who purchase and own their jewelry a number of services, and by purchasing an extended service plan, these customers can take advantage of the jewelers' services for the life of the product. These services include cleaning, repair, watch tuning, damage checks, refurbishment and more.
Credit options: Kay offers customers credit options to help them finance their purchases.
Best for Couples getting engaged and customers looking to buy a luxury gift.
Kay Jewelers Company Profile
Company Name:

Kay Jewelers

Year Founded:

1916

Address:

375 Ghent Road

City:

Fairlawn

State/Province:

OH

Postal Code:

44333

Country:

United States

Website:

http://www.kay.com/