Consumer Complaints and Reviews

I have a Invicta Russian Diver that now has a broken band keeper on the replacement band. Dust has accumulated on the inside of the crystal. The bands cost more than the value of the watch. Very disappointing.

I own 25 Invicta watches. I recently have needed to contact them for service issues. The watches are OK but, they have the worse service department. If you call it is a one hour wait to talk to someone. If you email, they may or may not answer. I recently returned a watch which I purchased direct from them. It arrived in used condition with a scratched face. They have received the return item and over one week later, I have not gotten credit on my credit card. I now will have to file with the credit card company and fight for my money. Overall I would not recommend this brand because eventually you will need service and for the price, not worth the aggravation.

I have returned two (2) Invicta watches for repair all within one year. The first watch broke within 1 year and it cost me $28.00 for shipping and $68.00 for repair and it took 4 months to repair. The second watch lasted 5 months and again, I have to pay shipping $28.00 and who knows how much for repair. I mail in their warranty and apparently they claim they have not received. You can't speak to any customer service person. Whenever I call I am number 35 or 48 which is ridiculous just as their product.

I have about 30 Invictas. Unfortunately with two of them with rubber straps, the keepers just fell apart, literally. One is from the Leviathan and the other a model 0322. Now both these watches are useless. Can anyone point me in the right direction to buy new keepers as I cannot trust Invicta to help me out. I would not buy another rubber strapped watch from Invicta, but go for the stainless steel bracelets instead.

The watch stopped working after one week. Changing batteries made the watch working for another 2 days. There is no service, especially if you live not in the US. The warranty is for nothing. I would have to pay delivery cost to the US and to send them a check in the amount of USD 28 for the delivery back to me. I prefer to throw the rubbish away as this with is not worth the shipping amount. The original price was USD 1,085 for a watch worth less than USD 10. I bought the math as it was really nice and the appearance was like there was quality behind. The only positive thing was that I got a huge discount. However this was still almost USD 400. I hope to prevent other people buying watches from this zero service firm.
How do I know I can trust these reviews about Invicta Watches?
638,664 reviews on ConsumerAffairs are verified.
We require contact information to ensure our reviewers are real.
We use intelligent software that helps us maintain the integrity of reviews.
Our moderators read all reviews to verify quality and helpfulness.
For more information about reviews on ConsumerAffairs.com please visit our FAQ.

Simply put, this company is the worst I've ever had to deal with, regarding customer service and repair service. I only have two Invicta watches. One of them is an 1848 Russian Diver (left-handed) and the only problem I've had with it is the band. It has deteriorated and has cracked to the extent that I can no longer use it. This watch is listed on their site with an msrp of $1,395 but you can find it for much less online. I only mention the msrp because you'd think that a company selling a watch for that amount of money would be able to provide a replacement band for the watch with no problem, right?
After paying for the replacement band and waiting a month to receive the band, they sent the wrong band. The 1848 requires a 24mm band, that can virtually be found nowhere online. They sent me a 26mm band. Would a reputable watch company not know that this band is too large for my watch? Furthermore, and more related to customer service, I have called and literally waited more than an hour to actually speak to someone. The phone has been disconnected after waiting long periods of time. I've encountered rude customer service reps, and I've also encountered very friendly reps who make promises that never happen. I was told that I'd get a call back the next day, which I doubted when it was promised, and although no one called me back, the watch band did ship the next day, but it was the wrong band, as explained above.
Lastly, after registering on their website, I can no longer log into the site, using the username/password they sent me back as confirmation and as it is saved in my browser. When I used the "forgot password?" function on their site, I get emails back giving me the username but the password section is blank. I consider doing business with this company a tremendous risk. You might get a beautiful watch, but if it malfunctions and you need to send it back, good luck!

I placed an order online over the weekend for a specific model number (4898). At time of checkout after my card was charged I'm made aware this part is out of stock, I contact Invicta the very next business day. I was told that yes they were out of stock. I was then placed on hold then I was told "yes we do have it" and it would ship the very next day Tuesday. I check my order Tuesday night and it still showed sitting at Invicta, I call in the next day Wednesday and now I'm given the "I don't know why it wasn't shipped but it would definitely ship by close of business Thursday." Friday morning I trace it and again it was still not shipped. I call in again and I'm being told it will ship by close of business again.
2 whole weeks later after I placed the order I receive the part and it's the wrong one. Funny how the package is labeled with the correct part number I ordered, but the actual part is incorrect. I checked their website and it's for the same watch but different color. There are 2 different colors. I call in again to complain and I'm told 2-3 days for them to email me return instructions and once received up to 90 days for the correct one to arrive to me. This whole experience is absurd and funny that a company that purposes themselves on quality high-end watches has low-end quality and substandard customer service. Never again will I buy an Invicta watch. Invicta does not care about their customers. Just read all the negative reviews.

As I sit in my study contemplating my possible first ever purchase of an Invicta Pro Diver 22047 from Walmart I did my research as any experienced should do prior to buying anything. I have no need for a new watch and can't remember now how I ever came across the specific Invicta watch I'm considering but upon noticing the watch my interest peaked.
Walmart was successful at getting my attention by doing the oldest retailer's trick in the book which is list the "MSRP" next to or under the listed price. The practice of listing MSRP upwards of 300% or more above the list price should immediately alarm any educated consumer, or simply a person that has only basic common sense, that they need to be more diligent and determine what the underlying issue is resulting in the significant price differentiation. As adults we should have learned by now that if something is too good to be true then it probably is.
As a side note, and to provide a reference point that is intended to frame the purpose of this review/comment, I've had an obsession with watches for the last 35 years and I've owned watches from essentially every reputable manufacturer imaginable and ranging in price from free (it pays to have a friend who is the national distributor rep for Casio in the US) to several thousand dollars. Like anything else, there is typically a positive correlation between price and quality, however, I am not nor have ever been, a consumer who blindly buys the most expensive option available, instead, I do my homework and learn why price differences exist and then determine what features are important to me. I'll pay a high premium for a product or service if it provides a perfect solution to my need.
Said all that, I can share a personal experience for each of the reviewers that will hopefully give each of you perspective on what should or should not be assumed when it comes to owning a watch. The last watch I bought was a Tag Heuer Aquaracer Professional in 2005. Like every other time, I did my research and shopped for the best deal available. Buying online was out of the question and my search was focused primarily on independent, family or individual owned, high end jewelry retailers in my area. I screened the potential candidates by calling each asking very specific questions. I ended up with a final list of three retailers and devoted time to visit each. Long story short I was able to purchase the Tag watch having a market price of $1,250 essentially everywhere else for $845 (not including tax).
I share that to make a point now. Based on the reviews I've read, and I read virtually every single one, I see a recurring theme. Each of you, with only a few exceptions, convinced yourself that you actually discovered an amazing deal and were buying a "luxury watch" for and incredible price AND you convinced yourself that because the watch was so well made as you determined from its weight, size, appearance, and packaging that it will last an eternity and impress all those who notice it. You were completely wrong on every assumption.
There are specific measurable and defined characteristics of a watch, any watch, that determine its quality and which are responsible for determine price. The price of any watch is also no different than the price of anything else and it's a function of supply and demand. You may remember watches from the past that were a fad or fashionable for a finite period of time which were sold at a price that was in no way related to the quality and craftsmanship of the timepiece (Swatch watches comes to mind). It is very apparent from the reviews that each of you, again with only a few exceptions, are uneducated in terms of identifying the relevant quality characteristics for a particular watch, not to mention how to care for a timepiece.
As a point of reference, and going back to my Tag watch, I typically have to replace the battery every 13 to 18 months. To replace the battery I am required to physically take the watch to an authorized Tag Heuer, without exception, and the dealer must take possession of the watch and then mail the watch with relevant repair/maintenance instructions directly to the manufacturing/repair facility in Switzerland. For even the seemingly straightforward maintenance needs such as replacing a battery the watch goes through a long and meticulous process that includes removing the battery followed by a cleaning, inspection, and replacement of each part of the timepieces delicate and precise parts.
Following that, the new battery is installed, the case is carefully replaced according to specifications using specialized tools, and the watch is then pressure tested to ensure the watch is water tight and can withstand the force from pressure encountered by divers descending underwater to a maximum depth of 300 feet.
Regarding a watch's advertised water resistance you should all be advised that there is no such thing as a "waterproof" watch (furthermore, any watch manufacturer who markets a watch as being capable of tolerating the pressure at depths below 300 feet, AND prices the same watch anywhere below $10,000+, should become immediately suspect) and no watch that has ever been manufactured or that will ever be manufactured can withstand extreme and sudden variations in temperature regardless of the existence or absence of water pressure (i.e. the simple act of taking a hot shower while wearing ANY watch will result in it becoming extremely vulnerable and the watch WILL eventually fail causing it to malfunction and very possibly go beyond the point of repair).
All that said, essentially every reviewer of his/her respective Invicta timepiece was a victim without a doubt, however, you were not victimized by Invicta rather you were victimized by your own ignorance. Each of you allowed yourself to be victimized due to your significant desire to own something that, when worn, would send a message to the rest of the world that you were important, financially secure to the point of having discretionary income to afford the acquisition of high-end luxury goods, and that you lived an active, adventurous, and exciting life.
I did my homework on the specific Invicta watch I'm considering and on Invicta as a watch retailer. First of all Invicta is NOT a manufacturer of precision timepieces and they do not attempt to market themselves as such. Invicta is a fashion company that invests considerable resources in designing watch CASES that are attractive to a targeted consumer group comprised of primarily young price conscious individuals that are developing their unique image of themselves with which they desire the world around them to respond in a favorable and personally beneficial manner.
Additionally, every single part of every single Invicta watch is manufactured in Asia. Some of the timepieces have movement mechanisms that were "originated" by the "Swiss" which is an intentionally misleading marketing ploy to cause consumers to believe that the core functionality of select Invicta watches contain the working parts similar to that found in much more expensive watches (in reality every single watch ever made up to and including the present day includes Swiss originated movement since the Swiss perfected the art of creating fine timepieces that were precisely made and absolutely accurate to the smallest measurement of time possible).
Regarding Invicta's customer Service and Refund/Exchange policy Invicta is nothing more than a designer and wholesaler of fashion watches, period. Invicta only guarantees they will REFUND any product purchased from THEIR WEBSITE for any reason within 14 days of the purchase date. That's the only warranty or recourse available. Invicta is not a watch manufacturer with craftsman trained and experienced in the art of repairing fine timepieces in any way shape or form. Invicta is headquartered in Florida on a road named One Invicta Way in the city of Hollywood. Invicta is a nothing more than a wholesaler who contracts with Asian manufacturers to produce watches Invicta designs. Invicta has a network of Distributors who pay a negotiated fee to have the right to warehouse Invicta watches for resale to a retail distribution network within a defined geographic territory.
All that said, and the point in this 8,500+ word "review" is that each person who wrote a review complained about the same exact issues: poor customer service experience and disappointment in the quality of the watch. As difficult as this may be to accept Invicta makes no claims as to the quality of their timepieces AND they offer consumers access to a "customer service" contacts for no reason other than to serve as "brand managers" or, rather, damage control agents. If you've taken the time to read this post and can understand my message then perhaps your attitude about your experience owning an Invicta watch can be used as a learning experience.
One final point which, to me, seems obvious but I have learned that it is not; never buy anything while a guest on a cruise liner, from a TV mall or a shopping network, from a mall kiosk, from a street vendor, or from any vendor who operates a retail channel that is portable, mobile, temporary, or is at all transient. Established, experienced and successful online retailers can be trusted and do not fall within the definition of retailers who should be avoided due to the fact that with only a few exceptions they have brick and mortar facilities to warehouse product from which they have established efficient and complex supply chain operations to facilitate transportation of goods to end users.
Again, in case it needs to be said, BUYER BEWARE. Now, after this four hour investment I made typing this post I am now going back to Walmart.com to get the Invicta watch I mentioned and I expect nothing more from the watch I am buying beyond these few simple things: 1) arrive to my home in new, working, damage free condition, 2) possess the color, dimensions, and features it is advertised to have (and by the way I verified the features of the specific watch I'm buying from walmart.com by researching the model on both Amazon.com, Invicta.com, and two other large and reputable online retailers), and 3) be capable of withstanding an occasional indirect splash of water that may occur from washing my face or hands. That's it.
If the battery runs out I'll take it to a reputable local jeweler or boutique watch repair facility for a new battery. If the watchband breaks I'll take it to the same local shop. I'm specifically buying an all stainless steel watch (and that's all I ever buy) so that I avoid any issues that always arise with all other metal or nonmetal watches and bands. Finally, if the watch fails and the failure is in no way associated with mistreatment or abuse I'll be completely unaffected and simply throw it away because any watch that costs $65 (the cost of the model Invicta I'm buying from Walmart.com) is a DISPOSABLE watch in my opinion.
One final parting comment, and this is very important. You recall my Tag Heuer watch I mentioned earlier? Well, one day in late 2015 I looked down at my wrist to check the time and I noticed what appeared to be a crack in the sapphire crystal (sapphire crystal is standard for quality luxury watches and is scratch-proof. Sapphire cannot be scratched by anything OTHER than a diamond). The first thought I had was "WTF?" It's impossible for the crystal to crack and the force required to crack it would have been so significant that if it was on my wrist at the time I would have lost my arm at a minimum and I knew that hadn't happened.
So I took the watch off and carefully looked at it and what I saw was completely unbelievable. The second hand somehow detached itself and ended up wedged in the upper right hand area of the dial between 12 and 2 o'clock. For several specific reasons I could simply not remember to take it to the Jared's jewelry store that is literally around the corner from my home and after driving around with it for over a year I am in a position where I am unable to get it fixed.
Due to the fact that I have always worn watches and can't get by without a watch I did research and ended up at a local Walmart where I found a $22 Eclipse brand watch that is perfect for my wrist given the size of my hand, wrist, and arm. The Eclipse brand is made by Armitron and Armitron is a reputable company that has built a very successful brand based on providing watches that maintain accuracy, are affordable for anyone on any budget, and that have classic, stylish designs that are appropriate in any setting and look great no matter the attire being worn.
It should be noted however that I will continue taking the watch to Walmart when the battery needs replacing (and I had to replace the battery after only one month from the date I purchased it) and if the watch stops working other than the battery wearing out I'll be grateful for the time it worked and that I was able to enjoy it and immediately go back to Walmart and get another one just like it (assuming the worst case and my Invicta dies).

Several of the Invicta styles grabbed my attention and while they are not the least expensive watches, their affordable prices led me to purchase two watches ($125 and $240) within a few months of each other. I should have waited a little longer to purchase the second watch, since within days of that purchase, the winder knob on the first one popped completely off. When I called Invicta, I was told that I would have to mail the watch in at my expense and pay for the repair (which they wouldn't quote until they received the watch). They also said the repair would take up to 3 months. Within a few days of that experience, the clasp pin on my newly purchased, second watch fell off. Since I had only owned the second one for a few days, I physically went to the store to insist they fix it or refund my money. I was told again that, even though my purchase was only a few days old, I would have to send my watch off for 3 months to receive the repair.
After a little arguing and persistent persuasion, the manager gave in and offered to switch my watch out with one of the same models he had in stock, to which I quickly agreed. Now, eight months later, the replacement watch he gave me had the exact same clasp pin fall off. I returned to the store in hopes that this time I would receive a reasonable resolution to the issue. I was again told however, that I would have to send the watch off at my expense with the added caveat that I wouldn't know if the repair would be covered under warranty until they physically received the watch. The trained response of Invicta employees to deflect quality issues is unfortunate. But their policy that customers in need of repair meet a burdensome list of requirements to have a one dollar clasp pin replaced is an obvious attempt to dissuade clientele from submitting repair requests and ultimately skirt their responsibility to warrant their product.
Additionally, their revenue model of canvassing the market with hundreds (if not thousands) of retail locations while maintaining a single location incapable of handling quality and repair issues in a timely and affordable manner is irresponsible and dismissive of the needs of those who choose to trust them with their purchase. Lesson learned. Buyers beware.

I lost one of the Swarovski crystals in my Invicta watch. It was under warranty but it still cost me $28 to send in. After several weeks I received a watch back but it wasn't mine! After sending the wrong watch back, I finally received my watch with another missing crystal. I placed a call to Invicta customer service at 11:55 am. I was told that I was #12 in line. After 34 minutes, I was told I was #1 in line. After yet another 20 minutes I finally got to talk to a rep. She was very cold (and foreign). I asked for a manager after getting no satisfaction from the rep. I waited another 15 minutes to talk to a manager. I was finally told I'd receive an email with return instructions... the manager was very short with me. I haven't received the email. I'm DONE with Invicta. Will never buy another watch from them! By far, the worst customer service I've EVER received!

I personally own a # of Invicta watches, and also several other brands. All were purchased through Evine.live. I never purchase any of the extended warranties from Invicta or Evine.live, or shopnbc or whatever name they are using at the time. I have had minor problems with all my watches. Years ago my husband found a gentleman who does fabulous work on the watches. He will tell you straight up what the problems might be. He has always done a fantastic job, and no ridiculous prices to do the repairs. And the watches are done when he says they will be.

A year ago I bought an inexpensive Invicta watch. I just wanted something nice looking to wear when I went out. I haven't worn it in about 6 months so I was disappointed to find that the watch was dead. I took the watch to my local Invicta store where they told me that they didn't do battery replacements and didn't know of any Invicta store in the area that did. I called Invicta and spoke to a woman that told that I could get my battery replaced at any watch repair shop...but...if they didn't use Invicta tools or seal kit, moisture would enter the watch and ruin it.
Of course I didn't want that so I asked her how much it would be if I sent the watch in. She said that it would be $32.00 to replace the battery and $28.00 for shipping and handling. When I told her that I had only paid $89.00 for the watch and that $60.00 for a battery was kind of high, she just said, "Oh, well." Again I know that I didn't buy a $500.00 watch but paying $60.00 for a battery replacement just because they use Invicta seals seems a bit excessive to me.

I've owned as many as 7 Invicta watches at one time. I have 3 presently. One very nice one, that I've literally worn 5-6 times in the past 3 years, is in need of service. The hour hand won't pass 2 smaller dials. This I received re. getting repairs: "Please follow the instructions to send us your watch for repairs: Include a Copy of your purchase invoice with the date on it. Include a Personal Check/Money order issued to Invicta Service Center for the amount of $28.00 (for S&H) for each watch if sending more than one. For international shipping the shipping charge is $45.00 and money needs to be converted into U.S. dollars. Include a note describing the malfunction, as well as an email address for swifter response times. Include a return address, daytime telephone number and e-mail address."
"We suggest you insure your package with the shipper. If your watch is not cover under INVICTA warranty, you will be charged for the repair cost. We warranty each repair for one year. The warranty applies to that repair only. Prices do not include sales tax. Please DO NOT include your Gift Box when sending in your watch for service. It will not be returned."
"Please note that if submitted in for repairs, it may take 30-90 days to receive back. When sending your watch in only send the cost of the shipping of $28.00. Once we receive this watch you should be contacted with case number and to approve your repairs. If you don't receive any notification within 1-2 weeks from sending your watch please call our service center to get more information. Once you have sent your watch in make sure you have the tracking number with you." 30-90 days? If this isn't enough, check their BBB ratings. My 2 cents, buy an Invicta watch knowing that if it breaks, you'll spend more than you expected to have it repaired or throw it out.

I am writing to complain about a watch I purchased in April through Evine. Wore the watch 3 times. The clasp buckle snapped right in half like a cookie. I call customer service at Invicta watches. They told me to send pictures and a copy of my receipt which I did... I contacted them after a week of no response either by email or phone by them. I was told that I had to pay for buckle 85 dollars. I am still making payments on my Evine account for this watch. I feel that this is inappropriate because it is supposedly Titanium and should not just snapped when putting it on. I should not have to pay anything it is a manufacturer defect. I am an Invicta watch collector for over 15 years this is the first time something like this happened - customer service was no help at all. I think this should go to Mr. Lalo himself.

10 days ago I bought a band for my Invicta watch from invictawatch.com. They stated that it takes from 3 to 5 business days to. I didn't receive the band, so I tried to log in the site to check the status of the shipment, I couldn't although I am sure the password is right so I choose the forget my password option every time I receive an email with the password part blank. So I started sending them emails. Seven email up till now without any responses. It's like a scam or something. They don't respond to any of their social media accounts. I tried every single account, tried to call them. The phone rings once and then give me the busy tone.

After 6 months, my Invicta watch stopped working. I took it to a very good local jeweler to get the battery checked. The battery was fine but the inner mechanism was in question. I called World of Watches where I had purchased the watch and they informed me that they do not handle returns of Invicta watches. I called Invicta and was given instructions to send the watch along with $28 for shipping and allow 90 days for the process. Reviews show it can take months. Totally unsatisfactory! I will not deal with either company again and do not recommend them to anyone!

Horrible, horrible experience. Received an Invicta watch for Christmas and set the time to Mountain Standard Time. Mid-Feb flew east so reset the time. Flying back, tried to reset the time (so just the 3rd time ever), the pin / spoke thing broke off. I was then dismayed to find that not only would it take up to 3 months for it to be repaired, but I had to pay for insured shipping to Florida plus $42 CDN return shipping. Under warranty - really?
3 months come and go. Nothing. Early July, so almost 5 months later, Fedex arrives at the door with the watch and a COD bill for customs payment of $18. This because someone at Invicta has put a watch value in excess of $100 on the waybill. Why would you do that? I was not buying the watch again, it is used - it was a repair, but you have now cost me another $18. Thanks a lot. Several emails sent - not a single reply. Disgusting customer service. So we have effectively bought this watch twice. To add insult to injury, the watch has been returned to Invicta and I have tried contacting customer service, but there has been no response. CAN I HAVE MY WATCH AND MY $80 IN SHIPPING / CUSTOMS FEES BACK PLEASE?!!!

I have 4 Invicta watches, all work fine. These are 5 to 8 year old watches. I don't know why you folks say the Invicta watches are no good etc. When you buy watches off of cruise ships, watch dealers etc. nine times out of ten they are already in poor condition and fakes. Invicta makes good watches and great customer service... You think you're buying brand new when really they are refurbished second hand watches. Give me a break!!!

Greetings. I purchased my son one of Invicta's higher end diver series watches. When my son initially tried it on, it slipped off his wrist. Hitting the floor where the carpet meets the wooden floor, the crystal cracked. OK - accidents happen. When I sent in the watch for repair, I was advised that the cost to repair would be significantly more due to it being a diver's watch and therefore would need a vacuum pulled to ensure it did not leak when submerged. My response - OK, completely understood. Little did we foresee that it would take over five (5) months to receive his watch. Five months!
Unfortunately - NOW THE REST OF THE STORY. My son recently completed his open water scuba training. So this was to be the first time for his watch to get more water on it other than just from washing his hands. During his first dive, as we were descending past the 10 foot mark, out of the corner of my eye, I noticed the crystal on his watch change appearance. I motioned him back up to the surface to take a look. It was immediately clear that albeit Invicta had charged me additional funds and had possession of his watch for 5 months, they in fact did not pull a vacuum on his watch!
When I informed Invicta of our experience, not only did I not receive any type or attempt of an apology, I was told I would have to pay to have the watch mailed to and from the company. Their mistake but my expense and Lord know how long it would take to get it back. The lady I spoke with assured me that due to the nature of the repair, she was confident it would be handled in a timely and proficient manner. OK. My thinking was - this is INVICTA. But she worked there and she assured me, so I thanked her - and believed her. OMG! What I didn't expect is, as I am typing this review, that we would yet again endure yet another five (5) month wait for the watch. And still counting days, weeks, months...
All efforts to date in e-mailing the company and being on hold up to 53 minutes before having to hang up, all while hearing that I was currently a particular number in line waiting to speak with a customer service person - have been in VAIN. Especially when I heard I was #25, later hearing I was down to #11, the next message I heard was that I was #16! This occurred a number of times while I was on hold! I ask you, how in GOD's name does that happen? The representative informed me she had no idea but it must be an internal issue. Then I reminded myself - it's INVICTA. Anything of a depreciatory nature can & will occur.
I personally alternate between wearing my Rolex and my Tag Heuer. Albeit I've never had a reason to send my Rolex in for repair, I have sent my Tag. Sending it overseas to the corporate office for repair was a wonderful experience and took less than two (2) weeks. Taking into consideration the little cost difference in what my Tag cost, when purchased, and what I paid for my son's watch - the Invicta Watch Group is at best - DISCONCERTING.

I collect watches. LOTS of watches. Every watch company I've ever dealt with makes it rather easy to buy (or even get free) a couple of extra metal band links. This is especially important for me, having an XXXL (8-3/4") wrist size. But after waiting forever and a day on hold, I was told they don't sell individual links! They want me to buy a NEW BAND just to obtain ONE more band link! Say WHAT? I own FIVE - and they are all very nice - working Invicta watches. But, I won't be buying any more.
The combination of no available links, and terrible - I mean totally rotten - customer service, sends me elsewhere. Far too many watch companies actually care about their customers, to consider me doing business with these rude folks ever again. I haven't had any bad experiences with my Invicta watches, like I've seen in other reviews here. None fell apart, none ever stopped working, none ever broke. The quality seems fine to me! But the customer service blows. I'd stay away from this brand, unless you don't ever want or need customer service in your lifetime.

After seeing so many negative reviews I thought I would share my positive experiences. I received a Sea Spider for Christmas and after almost a year I lost one of the screws in the band. I called Customer service and can't recall how long the wait was but my experience was great. I explained one of the screws came off and they sent me a replacement at no charge. I did not even have proof of purchase or had registered it for warranty. I also have a Leviathan Reserve that I purchased and sat on my dresser for the dresser for months before I wore it (I purchased it and was unsure if I wanted to keep it at 1st). I love it now and wear it almost everyday. I just recently had to change the battery and it's been 3 years.

I purchased this watch through Walmart and they went through area trend out of Canton, Ohio, which has over 19 bad reviews over the last few months. BBB was also brought into the subject. Anyway I bought this July 3, 2016. Got it in about about a week and a half, upon opening it, setting it all up, I put it on and noticed the big second had would stop. In order to get it going again I have to press the A button which is at two o clock, and keeps doing this. I thought maybe I didn't set it right, so I had all dial set at zero, set the time and pressed in the winder button, still doing the same. I named this watch part-time and for Walmart to go behind my back and buy it from someone else was just wrong!
I live in Ohio and area trend is also in Ohio, Canton, and it took this long to get a defective watch. I called Walmart, they gave me area trends number. I'm done, BBB is the next step. I'm gonna take this watch as a lesson learned, I will no longer do business with Walmart. I have bought over 50 items online from them. This is the first issue I had, but I don't like buying something from Walmart and they get it from someone else, like the middle man, that's just plain wrong. Lost a good customer, and for area trend. Shame on you, how do you sleep at night? You need to be shut down with all the negative reviews you have... make me sick!!

Just an update to my review concerning the Excursion model 13081.After several more weeks of back and forth e-mails with Customer Service, they finally agreed to send the needed hardware to re-attach the band to the watch no charge. The items arrived yesterday and the watch is as good as new. I've updated my star rating to 3 for the satisfactory resolution although only 3 due to the headaches and delays it took to get there.
Original Review
I have long been a fan and collector of Invicta watches but with my recent experience, I am no longer a fan and don't even feel like wearing the watches anymore lest they become an advertisement for the company. I came to this site to describe this experience, concerning a problem I'm having with a Reserve Excursion model 13081. I didn't realize there were so many others in the same boat. Recently, the pin holding the band to the watch came out and was lost. I went to a local jeweler to have it re-attached and was told I would have to get the pin from Invicta and they would install it. They also pointed out that, since the pin was held in place by two small screws, it should never have come out. Like other reviewers, I called Invicta and was placed on the "hold from hell" with a wait time of 40 plus minutes.
After giving up, I put my request in an e-mail. Two weeks later...no response. Followed up with another e-mail and finally received a response a week later. The response... "Please send $155.00 for a new band." Nothing was mentioned about my request for the pin and screws. The watch only cost $255.00 with the original defective band so I believe this was a bit exorbitant. I reiterated my request for the pin and screws and have heard nothing from the company. As a side note the batteries in two other Invicta watches recently died within three months of purchasing, so they've obviously been on the shelf for quite some time. With this kind of quality control, I think it's time to shop for a different brand.

I was initially pleased with my Invicta pro diver auto. I liked the stainless steel, and the automatic function. However my watch is consistently 6 minutes slow every week. I would love to buy an affordable accurate watch, but I don't feel like putting myself through the pain of the non-existent customer service... so I will just never buy an Invicta again and encourage others to avoid Invicta.

I'm echoing the experience of so many reviewers on this site and others like Yelp! My Invicta Divers Watch was given to me as a gift and after a few years quit working. I tried navigating the customer service section of their website, which was obtuse to say the least. I followed directions and packaged the watch and sent it off to Florida, and was happy when I received an email after a week with a repair estimate, consistent with what the site said to expect.
I had previously called customer service and went into the much-mentioned telephone "Hold From Hell." In my case, I started as caller #32 with a 40-minute wait, but my call was actually answered in "only" 22 minutes! Today the repair estimate email said to either reply to the email with my credit card information to start the repairs, or "call our service department..." Uh oh. I really did not want to send my CC info by email so I screwed up my courage and called. Sure enough, I was caller #24, wait time 45 minutes; and this time that's exactly what it took.
What really ticked me off though is that when I finally got to speak to a representative and explained I wanted to approve repairs and provide my CC info, Samantha said "one moment" and then the next thing I knew I was in yet another queue, this time caller 4 with a hold time of 42 minutes! I thought it had to be a mistake, but it was not. After all that I spent a total of one hour and 40 minutes just to approve their repair estimate and give them my CC info.
How inexcusable can it be to treat customers like that? I WILL NEVER BUY AN INVICTA WATCH. I WILL TELL EVERYONE I KNOW TO NEVER BUY AN INVICTA WATCH. I will tell everyone I know to never give an Invicta watch as a gift - What a terrible thing to do to a friend. I will do everything I can to spread the word about how terrible Invicta customer service is.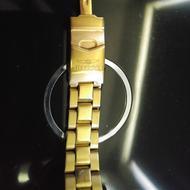 03/19/2016 I purchased a ladies Grand Diver Watch mod. #19817. 03/25/2016 the item was received. 05/14/2016 the pin holding the safety clasp came out and was lost. The bracelet separated and is no longer usable. A few days later I contacted Invicta Customers Service. I was informed only the internal works are covered under warranty. However the customer service rep did advise I could return the watch with $28.00 to have the bracelet replaced with a new one for which I would be charged in addition to return postage. I presume this is the Invicta idea of customer service. A bracelet breaks on a watch which is 50 days old and it is the customers problem. Truly buyer beware! If you want a good inexpensive watch don't buy Invicta. They aren't inexpensive watches - they are overpriced CHEAP watches. There is definitely a difference between inexpensive and CHEAP. The lack of product support makes the difference.

I bought a watch in the $70 to $80 price range. The second hand fell off the following day. It jammed between the minute and hour hands, locking up the watch later that week. They want you to pay to ship it back, then they want $28 for return shipping. Fortunately I drive past the repair facility in Hollywood, Florida. Unfortunately, they refuse to receive watches from a consumer. I'm not spending half the value of a watch on warranty work, especially on a watch that broke the first day. Last time I saw the watch was sitting on the call box at the front gate of the repair facility. I consider it a $70 lesson.

Invicta Reserve watch1446 - When I first purchased the watch, it was a great timepiece. Nice weight to it and the appearance of quality. Boy was I wrong. Both knobs fell off after 6 months and chronographs stopped working. I'M GOING BACK TO SEIKO for better quality and peace of mind.

Recently I ordered an Invicta Watch (50mm Aviator) from a television shopping channel. The sale price was very attractive and I liked the looks and style of the watch. With that being said the watch arrived at my home in a timely manner but it was dead on arrival. It just wouldn't work. Now before I talk about Invicta's response I have to tell you how hard it is to get in touch with them. I tried calling on Friday April 22, 2016 and couldn't get through so I emailed them. I still haven't received a reply or my email.
I did call again on Monday and got through. I tried calling again today for information regarding a different Invicta watch and again I can't get through. Same message as Friday, "Our offices are currently closed. Please call back during normal business hours." Well I was calling 1 hour after their normal business hours started. So now on to my dealings with Invicta.
I contacted Invicta and explained the situation. Their response? We are sorry for your inconvenience. The watch is under warranty so just send the watch back to us along with a check for $28 and we will take a look at it. Now I understand a fee for return shipping if I had a watch that at some point worked but not in this case. So I then contacted the seller of the watch and their customer service was great. Unfortunately the watch I purchased was sold out but they did give me a full refund and even paid the return shipping. No longer an Invicta customer.

I wanted to leave a review regarding my experience with Invicta. My son receive an Invicta watch for Christmas. I sent it to have warranty work because one of the dials was loose. My experience with the Invicta warranty process was top-notch from start to finish. Yes I had to pay $28 for return shipping, which I considered reasonable. Just because a product comes with a warranty doesn't mean everything is covered. With most watch purchases wear and tear items will never be covered, such as bands, pins, etc. Consumers need to review their warranty in full so that they know exactly what to expect when placing a warranty claim. That warranty list of covered items is available on Invicta.com. Fortunately for my case everything except the return shipping was covered. FYI the $28 return shipping fee is for overnight shipping to ensure your watch returns safely. Very happy customer here!! Thank you Invicta.
Invicta Watches Company Profile
Company Name:

Invicta Watches

Website:

https://www.invictawatch.com/