Consumer Complaints and Reviews

Placed an order on Invicta's website on 3/14 and the order seems to be stuck in processing limbo. Customer service is garbage. They either don't pick up the phone, hang up on you, or simply disconnect. Have not been able to speak to anyone at this awful company. They didn't have a problem processing the payment which has now cleared. Will be contacting a lawyer buddy now to deal with these ass clowns. BUYER BEWARE... STAY AWAY FROM THIS COMPANY!

I had been a customer of Invicta for several years and currently own Invicta 15 watches. An Excalibur (model no. 18602) which in March 2016 started to show signs of a problem with the winder. It felt and sounded like it was skipping every few notches while winding. Mind you, I could still wind the watch, but I wanted to get this corrected before it got worse. I followed Invicta's instructions for repair, paying the $28 for shipping, and mailing the watch to the service center on 22 December 2016. I tried following up with the service center via email but never received a return email. Then I received a letter in the mail from IWSC stating that I owed $112.09 for needed repairs of the watch for "Movement Repair" and "Mainspring". Surprised that I was getting a bill at all, much less for movement which I expected to be a warranty covered item.
I made calls daily to IWSC for several weeks until finally reaching someone on 13 February 2017. The IWSC rep informed me that the movement wasn't a covered item because the watch "probably suffered some type of trauma"... "even as light as dropping onto carpet or hitting a wall while being worn". I asked for an email explaining this and told him to return the watch because it didn't make sense to pay that much for the repair, especially given Evine Live puts this watch on sale periodically for $129.80.
I got the watch back in the mail on 17 February 2017, but in total disrepair, not in the usable condition that it was when I mailed it to IWSC! The winder now does not wind at all, and to make matters worse, the hour and minute hands are no longer connected to the movement! It's like service center took it apart to assess the damage and then threw the parts back into the watch housing before closing the back!
I'd been a Invicta customer for many years and have on numerous occasions been an unpaid advertiser, highly recommending the style of the watches to others. I can no longer do so in good conscience. To the contrary, I will from here forward recommend against buying Invicta watches unless the purchaser is willing to accept the fact that these are expendables to be worn and used until a problem arises at which time they should be thrown away.

I ordered two watches from the Today show deals. Received my watch and it was defective. I immediately sent an email stating what happened and they did reply back to me along with a return label and stated that they would ship out a replacement. This was on December 27, 2016 and it is now March 16, 2017. I would never buy from this company ever again and I would be sure to double check any purchases from the Today show deals.

I was a fool to listen to someone. I bought my first overpriced Invicta watch on a cruise ship. Then started buying online at Evine and world of watches. I purchased 3 watches that fell apart within a couple of months, the first one, my Bolt Chronograph, ironically I got a hold of customer service, the strap was out of stock, surprise surprise, now a year later still out of stock. But this is the warranty. The other watch is a Venom, a month after having it, the crown fell apart. I sent it to customer service, they want to charge $185 for repair plus shipping back even though it is under warranty, they can keep it. It is more than I paid for the watch.
Today's latest. My coworker and I ordered watches on the Invicta site 9 March 2017. They screwed up and charged, 0.0 which was posted on their site for quite a while and charged only shipping and handling. This morning I receive an email that they cancelled the order because they do not charge that price for any of their items. It seems like someone in the company messed up and consumers should not be penalized for poor management or marketing. Yet when I emailed and asked for the policy I was ignored. My next step is to drive to Miami when get a chance to visit home and go to the company itself and look for their CEO unless he will throw me out the building if he is even there or his representatives. Is this the company that JT a great Football player, philanthropist, and humanitarian wants to be associated with or Mr. E Lalo run a company that will tarnish his name? What is the logical explanation?

Purchased a watch from Invictawatch.com on 3/4/2017. Got a tracking # to follow up on delivery. I kept calling to track movement of pkg. Today is 3/8/2017, pkg has not been shipped. Called only to find out it's not in stock. This watch company is the absolute worst. Would not recommend this to anyone!!!
How do I know I can trust these reviews about Invicta Watches?
720,415 reviews on ConsumerAffairs are verified.
We require contact information to ensure our reviewers are real.
We use intelligent software that helps us maintain the integrity of reviews.
Our moderators read all reviews to verify quality and helpfulness.
For more information about reviews on ConsumerAffairs.com please visit our FAQ.

I purchased 2 Invicta watches thru the Today show Steals on December 2, 2016. When I received it and when I tried to set the time on the watch it stopped working. I finally was able to contact someone and sent it in for repairs. I received the watch back and it wasn't working again so I sent it back again for repairs and when I got it back, it still didn't work.
Now I am having the hardest time getting thru to anyone and when I called the Florida location I spoke to a Marlla and when I asked for a supervisor she said I had to speak to customer service, which I did the other day and was told I had to send it in again in order for them to request a refund or a new watch. Marla put me on hold a few times and would not let me speak to a supervisor. I have left several emails, and voicemails and no one has called me back. The customer service is terrible and trying to resolve issues with this company is nearly impossible. I will never order from Invicta again regardless of how much of a deal it is. I still want a refund or a new watch that works.

I am trying to get the customer service dept for inquiring on watch band loops, and can't get any help. This is outrageous and unheard. Was on the line on hold for 2 hours, and still no answer. This is my second bad experience with Invicta customer service. The first one was when I purchased the watch. And to pay $28 for shipping of watch that cost $75, in my opinion it does not worth it. This is how they get you. Never again.

I have purchased several Invicta watches. Recently one of the reserve timepieces I own started to malfunction. When I call the warranty repair phone number, it was suggested that I send the watch in. To my surprise, my full warranty was not what it was cracked up to be. I was told I had to pay $28.00 to have someone inspect the watch before any repairs would be done. Well, in my case, it was the battery. I just received the bill $49.00 to replace the battery. All total my battery replacement cost over $80.00. Invicta just lost a loyal customer. Buyer beware.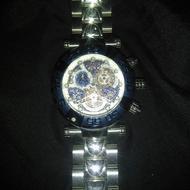 Very dissatisfied with this watch. When I first received this I loved it. Only wore it a few times and forgot I had it on in the 2 foot pool with my kids and killed my watch. Said was waterproof up to 1800 feet and tried multiple calls to talk to someone now. After spending 31.00 dollars for shipping and insurance now just spent another 6.95 to mail this back for repair.

I received a JT S1 Rally watch in September 2016. It did not work. Sent it to Invicta for repairs under warranty. They received the watch on September 29. They have not acknowledge receiving it and I have had no luck in contacting them. I have over sixty Invicta watches and have a second one that needs warranty work. I am afraid to send it since I have heard nothing about the other one for almost five months.

Very poor service from Invicta Collections. Same experience as "Autumn of Roseville, CA on Jan. 25, 2017" Posted. I purchased a watch from the NBC Deals from Invicta Collections. Watch does not keep time and I have emailed them repeatedly requesting watch be replaced. Have not received any response from the company. Buyer beware!!! No receipt came with purchase.

I received an Invicta diver's watch (model #13930) as a Christmas gift. Just got around to having the bracelet adjusted and trying the watch this past week. It loses time. Set it twice to time.gov to make sure. It's an automatic watch that loses time. None of my other watches, automatic or quartz do that. Well, the watch is well under warranty and Invicta will fix it free of charge, right? WRONG! Invicta imposes a $28 dollar fee for ALL warranty returns. They say that includes RETURN POSTAGE, charged to the customer, and something they call an "EVALUATION FEE". NO other watch manufacturer I know of does this. In my case, the $28 is about ONE-QUARTER the price of the watch!
I have several Citizen watches. Had to send one back when power cell failed. (5 year warranty on Citizens) I paid for the postage to their service center. They paid for everything else. No charge for "evaluation." Believe Bulova and Seiko have the same policies. ONLY INVICTA charges to look at and supposedly fix a manufacturing defect that THEY created in the first place. Anybody thinking about purchasing an Invicta watch should strongly consider this. Invicta clearly does NOT back up what it sells.

I have been buying Invicta watches for over ten years and the last 5 I have ordered the band metal wears out, the gold rubs out. I have ones that are old and the band coloring never wore off. They are making them cheap now. I had one I wore for a week and the gold wore off for no reason, so it's no longer any use to me. I am very disappointed in Invicta now, made cheap and getting expensive!!!

Was on hold for over an hour before I was connected with a customer service representative. Placed me in touch with the technician working on my watch (the hand on the 6 o'clock subdial had detached for the SECOND time). Technician accused me of being too rough on the watch. I had only worn the watch a few times and the watch was never subjected to any blows or dropped. He stated something as minor as playing golf while wearing the watch could cause the hand to detach. Really?
When I asked him for a consideration on the price, he offered to place to watch in a sonic cleaner for a "deep" clean at no charge. I guess a sonic washer would be less harmful to a watch. This is utter BS! If you're considering purchasing an Invicta watch, save yourself a TON of aggravation and consider taking it elsewhere for service. IWSC will only try to rake you over the COALS and accuse you of abusing your watch. The only reason I gave this company 1 star is because it is the lowest review available.

I ordered an Invicta watch after watching the Today Show advertising a Christmas sale, a selection of watches for $69.00 + 9.95 shipping. Unfortunately they sent me the wrong watch, which was a Christmas present for my husband. Tom ** a customer service specialist emailed me back who wanted me to confirm the item #, I confirmed the item # by email the next day letting him know I had ordered the black watch but had received the brass one that also shares the same item # that was advertised with 2 optional colors. I did select the black watch, when I had ordered the watch online December, 2.
I asked for a refund if he could not send me the correct Black one. I waited a week, emailed again asking to get my issue resolved as my husband won't wear the brass watch. I emailed again keeping composure but requesting further assistants. 4 times I emailed this customer service rep., and I still have this new watch in the box never even tried on, wanting to return and get my $ back.

I have had an Invicta Excursion watch for about 2 years. The watch runs fine however the band recently wore out. Tried to order a new one that was shown as in stock online only to find out after I ordered it, it was not in stock... Order cancelled... No stock, no eta for new stock... Then I tried to order a different watch altogether. This order came back confirmed only to be cancelled because I did not reflect International Shipping on the order. I then checked the order and it did in fact reflect international shipping. That was enough. I will take my business elsewhere. Poor customer service.

I have a Baby Lupah watch. I was so hopeful it would be a great watch that I purchased three other sets for family members. I love the watch but don't wear it often. The many assorted bands are very stiff leather and don't conform to the wrist well. I purchased the watch from Amazon and the Amazon purchase was of course smooth and pleasant.

I have been collecting Invicta Watches for 2 years and have about 150. I have never ever had any problems with their watches or service. For the money, there is no other brand that gives the variety, and build for the money. Invicta! Smarter by the second.

I received Jason Taylor watch. It didn't work at all. No movement whatsoever. Read the instructions. Even got online. Nothing. Called the main office. Was told to call the 800 number. No one ever answered. Was told to call back. Stayed on the phone for 50 min. No one answered.

They are well balance jewelry store - customer service, pricing, reliability and the professionalism that they show their customers that they do care and they do matter and go out of their way to satisfy any or all unsatisfied customers. There is a vibrant atmosphere every time you walk in the store. Everybody dress nice and smells good. You never hear swear words or make you feel like a tough job is an easy job with confidence and professionalism. They let each individual employee has on their shift. The store is also kept clean, bathroom is well kept that means that they care and are concerned about hygiene in the bathroom. They're always willing to go the extra mile to bring a smile on the :-(. They know their jewels and they know a lot about their product and products that they repair.

I purchased an Invicta Pro Diver watch. Within two months after receiving it moisture started to form on the inside of the watch lens. It would clear up then fog up over time. I found this quite disturbing for a Diver watch promoted to be waterproof to 200 meters. Eventually the problem got worse to the point where droplets formed inside the watch after swimming in a hotel pool. It stopped working. I sent the receipt with watch to Invicta for warranty repair. Invicta called me today stating that water damage is not covered under warranty. It's a Diver's watch which should be waterproof? THIS WATCH COMPANY IS A JOKE. I am hoping Jet.com can assist in making this right.

Invicta does not support their 5 year warranties. Once the watch is sent into them, they will give you a lame reason why the issue is not covered under warranty. I'm done with their false claims and will never purchase again.

I began purchasing Invicta watches two years ago and have four in my collection. Great value and product craftsmanship. Excellent price points especially on Evine.com. They run special event programming a few times per year and I have been able to purchase elegant as well as daily go to watches at reasonable prices. Their online watch registry is quite simple and provides five year warranties. Only negative is accessing their customer service - two stars there. Their phone/email customer service needs a great deal of improvement. Buy with confidence!

I purchased an Invicta watch and it stop working. I tried call numerous time and was never able to get through. I was left on hold and the message said I had 40-52 people ahead of me with a wait time of 220-204 minutes. This is after a week of trying to call at various times throughout each day. Horrible customer service. After selling me the watch Evine Live claims to have no responsibility for the watch.

I am genuinely surprised to see so many negative reviews. I have been collecting Invictas for the last several years and now own over two dozen, and have had problems with exactly two. One of the issues is my own fault as I overwound a mechanical mechanism, and the other I wrote off as it was one of their cheaper watches. I rotate them and pretty much wear a different Invicta on a daily basis and, aside from the two mentioned, I've never had any issues whatsoever with function, durability, or overall quality.

We are not able to use any of the watches, the hand wrist just keep falling into pieces. And I have called the number. Supposedly they were special watches and were warranty for 5 years. I have spend 2 days 6 hours at the time in hold waiting for my turn and when my turn, there is a recording saying "Leave a message. Someone will call you within 24/48h." That was a month ago. I paid over $2,000.00... and I'm stuck with useless watches. Cheap, I'm just livid and need someone to make he/she responsible for all our monies. I call Evine and they wash their hands and said nothing they can do, that they will never do business with them in the future. I want my money. Take your useless watches. I'm looking for the best of the other orders because I was buying them couple days at the time. Customer #**... #** I will keep digging for the rest on my emails. I need someone to call me back asap.

I bought one watch. When I received it, it came with humidity inside, but didn't complain. When I decided to send it back for repair, the warranty was expired, but decided to pay for the service. Since I live in Chile, I decided to send it for drying and battery change. When they received it, they said the watch was OK and need money for delivery back. I replied to their email, but then didn't get an answer and it is impossible to get hold of them through the phone. After reading the complaints, I decided to abandon it.

Invicta has terrible customer service: I called their customer service number 4 times (1-800-327-7682). On all occasions informed on recording 40+ customers ahead of me and waiting time anywhere from 120-170 minutes to speak to a Customer Service Rep. I sent them 2 e-mails: 1. 1 e-mail to service@invictawatch.com (December 7, 2016). 2. 1 e-mail to sales@invictawatch.com (December 140, 2016). They never replied. They sent me the wrong watch that I purchased for my brother. Between my brother and I have purchased over 20+ Invicta watches. I will never again buy an Invicta watch. I'll prefer to buy Croton and Swiss Legend. They provide professional customer service where you don't have to wait over 2 hours to speak to someone. Also within 2-3 days they reply to your e-mails regarding customer service issues.

I have 28 Invicta watches from "Luna" to Reserve brands and I like the brand overall. However, my love for the watches is very much diminished by the fact that customer service is so bad. I've ordered 3 bands in March 2016, I finally got one of them in September but that one was defective with broken links... I was seriously up! I call them back to tell them a few days later when I had time to switch the bands out. I expressed disappointment and they hung up on me... called back on. Girl said she would email me back but never did and today I tried again to call customer service, which you have to do early, it ringed once, then a busy signal... what! I love these watches, but it seems they put all their energy into design and promotion but not work on advancing their customer service. I still waiting for help on my issues.

I recently from Invicta. When I received my watch it came in a box that was completely water-soaked. When I tried to call customer service for some type of answer why they would ship a box that was completely submerged in water. I waited on hold for approximately four and a half hours when I got to be caller number seven after being online starting out at 65 the call immediately disconnected. When you do get in contact with them they are trying to get as much money out of you as possible. This was another incident I had as far as a watchband which cost $100 and then $28 to ship it and then that one broke less than a year after me replacing it and it took them 5 months to send my watch back.
They make good looking watches but that's all they do. I am so done with Invicta. I cannot do this again. They have no customer service really because if you have to wait 4 to 5 hours just to speak to somebody that makes no sense. If you don't want to be frustrated I suggest you do not buy an Invicta watch. Their customer service is horrible. Their watches are not as good as they claim to be so my suggestion to anybody stay away from Invicta.
Invicta Watches Company Profile
Company Name:

Invicta Watches

Website:

https://www.invictawatch.com/