Consumer Complaints and Reviews

Normally I do not give negative online reviews. I ordered $180 worth of shoes from DSW. I filled out the shipping information correctly, however their system read my address wrong (it was "too long" for the address field) so my order was undeliverable and auto shipped back to sender. When I called, the CS rep was not helpful. I then called right back to try my luck with a different CS rep. Slightly better, but still very unsure of how to handle the situation. The pair of shoes I had ordered turned out to be the last available pair. They were being returned to sender and I was to be refunded for the shoes once they received them. If I wanted those shoes (which I did), I would have to quote, "check to see once they were restocked online and order them again." Remember this is the last pair available, so I also would have to compete with potential other buyers to get them! This seems like a very very terrible policy.
Why couldn't they simply receive them, update the address and resend them? That would make too much sense. In DSW's defense, they offered to send my other pair with a $10 discount on next day shipping. However, by this point I was pretty upset and decided to buy shoes elsewhere. DSW, business starts with Customer Service. The CS reps I spoke with were borderline clueless. Even the floor manager I spoke with, not helpful, slightly rude and not understanding (Tina). Your policy is terrible and needs to be more customer centered. ESPECIALLY when I am not at fault. The root of this starts with the address, which was entered correctly (I can show my original order confirmation). Somehow your system passed the address incorrectly to FedEx. Disgruntled (no longer) customer.

I haven't had much luck in buying online so EVERY time I return my purchase, I personally pay the return shipping myself yet DSW continually deducts $8.50 from my return instead of taking the time to see I did NOT use their return shipping label. Happens EVERY time. I have to call for the credit as I'm not paying 2x in shipping returns. Getting the credit has never been a problem but I shouldn't have to continually call about this recurring issue. I'm done w/ DSW!

I do order a substantial amount online from this company because they never seem to have the sizes in stock at the store. This time I realized after I hit "submit" for my latest order that I ordered the wrong size. Within minutes I was on the phone to try and correct this. I was previously told that an order can be cancelled within the first hour. After 20 minutes waiting for someone to answer, I hung up and sent an email. Several hours later, I received an email response. I was also able to reach someone on the phone. Both of their responses said that "the order is too far along the process" to do anything. They can try and put a cancel on the order, but there is no guarantee this will happen. I feel taken advantage of, and will be looking to take my business elsewhere.

Was placing my order for my daughter's items for the first day of school. Decided to do in store pick up since they had been advertising quite a bit. Little did I know that they treat those orders as if you placed them on hold. They will send you emails to say, "Pick up ready with the date in which you need to pick it up by and the next things you know in a day or two" - send you a, "Oops we no longer have your item!" I have never experienced anything like this! I purchased the items online assuming they were mine, never thinking if I don't get there as soon as they send me that email they will sell my order off. I highly recommend to everyone to NEVER use this as you will not get your things. Now my HS daughter will not have your shoes and other items to start the first day of school off right. DSW, I have no idea what you were thinking but this is not how you keep a customer!

I bought a pair of Bjorndal slip-on wedge leather shoes and the wedge leather is peeling after just wearing them four times. HAVING PROBLEM SEND IMAGES. I CAN SEND THEM TO YOU IF YOU SEND AN ADDRESS.
How do I know I can trust these reviews about DSW?
635,598 reviews on ConsumerAffairs are verified.
We require contact information to ensure our reviewers are real.
We use intelligent software that helps us maintain the integrity of reviews.
Our moderators read all reviews to verify quality and helpfulness.
For more information about reviews on ConsumerAffairs.com please visit our FAQ.

I purchased a pair of Bjorndal clogs during a previous season. That particular brand of clog is one that until now I had always considered to be top quality merchandise, because of their durability. Some other Bjorndal shoes that I own I have had for YEARS and they still have good tread on the soles and fine leather uppers.
However, for whatever reason, the clogs that I called DSW about are defective. The clog is designed with a one-piece molded sole that has narrow fissures across the bottom for non-slip traction. With the equivalent of just a few months wear, the soles split all the way down through one of the fissures to the depth of the arch of the shoe itself! Given the good experiences I have had in the past with Bjorndal brand shoes, I tried to locate contact information for the company to report the issue. I no longer have the original shoebox they came in, so I called DSW customer service ONLY TO FIND INFORMATION ON THE MANUFACTURER.
I knew full well when I called that I have had those shoes longer than for the term of DSW's return policy (2 months) and WAS NOT in any manner, way, shape or form looking for a refund or adjustment from DSW. I called asking for help to locate the manufacturer. The customer service representative was cordial in taking the information found on the shoe itself to try to locate manufacturer information. She was unable to find any manufacturer information when looking by brand or style number. She informed me that since it was past 2 months, there was no way that she could find any information on the manufacturer! Say what??? She said that I could bring the shoes back to the store, but unless they still had the same exact shoe still for sale (highly unlikely), that they probably couldn't help either.
Huh??? They still sell product by this manufacturer and they can't locate contact information for them? I mentioned to the customer service rep that most people keep their shoes for longer than 2 months, so how do you handle a problem when it occurs after that time? I really take no issue with the fact that DSW and companies like them set limits on returns. What I take issue with is the fact that it sounds like they just don't give a rat's carcass about whether they are selling trash merchandise or not.
My impression of the merchandise offered at DSW has been that it is generally the same good merchandise available at other major retailers, except that it can include overstock. I did not think that maybe they would be selling inferior stock, like manufacturers' seconds or irregulars. But perhaps they are? Based on the conversation I had today with their customer service rep, it doesn't seem like they are much interested in upholding the integrity of their brand or the merchandise they sell. I haven't decided whether I want to buy the same brand of clog again. Given prior good experiences, maybe that company deserves a second chance. But, if I do decide to buy that brand again, it would be interesting to buy it a different store to increase the chance that I would not be buying an inferior product.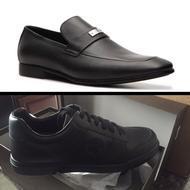 Shoes were purchased and business sent wrong shoes in the right box. DSW did not accept responsibility for the error, though did accept the return. The service person indicated that DSW receives shoes from outside vendors and does not, at any level, verify that the shoes sent match the box. They were unwilling to obtain the shoes purchased, stating the shoe was out of stock. Links were sent to the company for which the shoes were available and DSW refused to pursue these options. They were poorly responsive to emails and did not accommodate a request to talk with a more senior customer service representative or manager.
To make matters worse, the day after I received confirmation that the shoe return was received and being processed, DSW re-posted the shoe to their website. Though someone else ordered and I was unable to confirm the size, it is curious to see this and raises concern that the identical error was made and the wrong shoe was restocked (as that shoe was not in stock at any point during the prior week).

The reason for this review is due to customer service. I have ordered with them over the past three years and have always given away the shoes or boots after I buy them. The website needs to be updated to specifically note their policies. I have spoken to rude Customer Service Reps who when I asked for a supervisor, they put me on hold for an extended period and then, they offer you rewards and this affects the shipping costs. If you get free shipping, and then try to use your rewards, the shipping charges apply. Then the "processing" and "shipping" window dates are a joke.
One thing is posted on the website, and then another thing is explained when you call. I guess it depends on which shift is working in the Customer Service Unit... but after three years... I have had it. I was doing Live Chat on the computer at the same time I was on the phone with Customer Service and really thought this was the show "Punk'd". I got two different responses to the same questions. Quick to take your money, slow to correct the cancellation of the order.

I purchased shoes in October 2015. I used my bank debit card to make the purchase. I am not sure the reason, but the funds were not debited from my card the day of purchase. I checked my bank account on yesterday, 01/27/2016 and saw a purchase that I didn't make. Well wouldn't you know, after some research, it was the charge from my purchase in October. I immediately called customer service. I was told an attempt to debit the funds was made several times with no luck. That was a lie. I never disputed the fact that I make the purchase. I have a rewards card and you have my information. Why didn't someone contact me and let me know the payment was never processed?

I tried to purchase boots online with gift cards. There was a problem with the website accepting my gift cards with an insufficient funds issue although I had never used the card before. I tried the following day to place my order on my computer instead of my phone because they said it might have been an issue with an older browser. When I entered the gift card # in, it said that there was $0.00 on both of my gift cards. I had to wait on hold forever until I talked to a person who finally placed my order for me. This was one of the worst customer service experiences I have had in my life and I will never purchase anything from DSW again.

My wife ordered a new pair of wedge heel boots from the DSW website. when they came in they were defective. Returned them to the local store and they reordered a new pair. The "new" pair arrived and it was very apparent that they had been worn and returned. Soles were dirty on both along with dark spots (these were Taupe color). Returned them to the local store and local store agreed they looked used. While there they ordered another pair which arrived in two days which was suspicious since the other two pairs took 7-10 days to arrive. The pair that arrived in two days were the same exact pair that we returned to the local store.
Contacted DSW customer service, informed them of the situation. They agreed to send a "hand picked" pair and once we received them and were satisfied we could take the used pair back to the store. Two days later order was cancelled, "no longer available." Called DSW customer service again, they searched and said they have 36 pairs available. Once again promised we will receive new pair sent to our house. Once again two days later order is cancelled "no longer available." DSW has become the worst mail order business to deal with and we will no longer use them for anything.

Never, ever again will I place an online order with DSW. Placed an order for some wedge tennis shoe. The shipment was sent timely but the box of shoes ripped and the shoes looked like they have already been used, however I let that pass but the problem was the shoes were too big for me. So because on their website it said free shipping and free returns I gave a try. I sent the shoes back AND they send me an email saying it was being processed and it was free of charge FOR RETURNS. The next week I check my bank statement, they deducted $9.00 off for shipping. I should have gone with Foot Locker where I never have a problem.

Over two months ago, my wife and I entered the DSW store in Tyler, Texas. There was a faulty lock corner plate on the front entry door, and my wife's thumb was caught by a corner. The door was being opened, and, with her thumb caught, she was thrown backward and landed on the back of her head on the concrete outside the store. The skin on her thumb was also torn off. We went inside the store, and employees provided initial first aid. My wife was then taken to a local emergency medical facility, where she received attention for her head and hand injuries. A claim form, as provided by DSW, was filled out. Although a claim form was filled out, in the two months since the incident, DSW has not once contacted us to determine my wife's condition or to make any attempts to settle the claim. They have demonstrated an extreme disregard for the well-being of their customers.
UPDATED ON 01/22/2016: A short time later, we received a telephone call from a representative of CorVel In Baltimore, Maryland. He said that he would be handling our claim. His manner was condescending. We explained to him the events as described above. He stated that he had not yet seen the surveillance video of the incident. He was not present at the time of the incident. Baltimore is about 1400 miles away from Tyler, Texas, where the event occurred. Nonetheless, he stated that "you probably just slipped and fell." In other words, he took the position that we lied about how the injuries occurred.
After we spoke with the CorVel person, and provided medical release forms, we expected that we would be contacted by either CorVel or DSW within a reasonable time. That was not the case. Two months passed, and we had no further contact from either company. We can only assume that DSW and its claim partner, CorVel, simply let our claim sit idle because, after all, we were only two older people who would probably forget about the incident.
I finally had a telephone call from DSW, after waiting two months. I had written to various people at DSW, and that apparently prompted the call. The DSW manager told me to talk to CorVel. I told him that, because of the fact that CorVel had called us liars about the manner in which the accident occurred, we needed a DVD of the surveillance video to prove our description of the events surrounding the accident. To date, we have not received that DVD. DSW has not, at any time, inquired as to the health and recovery of my wife. They don't care. Neither DSW nor CorVel is a member of the Better Business Bureau. To learn more about DSW, google "EEOC DSW". For more on DSW's claim partner, google "CorVel Maze of Pain", and a video is found at "CorVel Red Tape".

NEVER ORDER FROM DSW UNLESS YOU WANT TO BE INVOLVED IN A TOTAL NIGHTMARE. Ordered shoes that I never received. Tried email, no response. Called customer service 5 times, connected with a computer and was disconnected after being on hold for about 20 minutes the first 4 times. The fifth I was on hold for over an hour. I finally got someone who used the "it's busy here" excuse, did not resolve my problem but told me I had to call back tomorrow so they can start an "investigation". So I guess I need to take the day off to call DSW so I can be on hold all day. DSW needs to be held accountable for taking money out of my account and never sending me the product. They should also be held accountable for their terrible customer service. Telling everyone I know about this horrible experience to save them from the same fate.

I always had good experiences with DSW. Within the last two years, I purchased at least 8 pairs of shoes from them online and never had a problem. But when I do have one problem... it's the worst problem I could think of. I ordered a pair of black heels two weeks early since I need them for a party. I did not get free shipping, I paid for shipping. The heels arrived by the Thursday of the first week and I was excited as it only took them two days. Unfortunately, these people don't even check the shoes twice before shipping. The box and everything else says 6M, but the heels themselves were 7. I was really aggravated at that point.
I called a store closest to me and was told the heels were not here. I attempted to call another close store in Manhattan, and the call kept repeating the menu in a loop no matter what button I pressed. I finally decided to call CSR on DSW website and the wait was too long; I hung up. Finally, after 40 minutes in one call, I finally got to speak to someone who told me I have two options, do an exchange online, in-store, or return to a store. The location she suggested to exchange didn't have the shoes available after I wasted my time going there. I decided to just return it to the store since I don't want to deal with their online exchange as I was told it's a nightmare.
Of course, even with their mistake, a return to the store means you lose the shipping cost. They did not refund me the money for the mistake they made. On top of that, ordering a brand new pair from their website cost me shipping again, which means I am paying extra for something I shouldn't even have to. Great shoes and options, but poor customer service. It is now week two, and the replacement heels still haven't shipped. I'm never ordering from their website ever again... I rather go to the store now.

I wanted to buy shoes and a pair of socks online. After I submitted the order I received an email according to which I had only placed order for socks. The order total did not even make any sense. Why am I paying $7.95 shipping if I have $20 off? I called the customer care which was another bad experience. I was on waiting for almost 20 mins. The lady on the phone said she cannot cancel my order. The solution she offered me was to return my order to a store. I was given no explanation as to why I was charged for shipping.

I ordered 2 pairs of boots for 30% off. 4 days later I was notified that one pair of boots was unavailable. I had already received one pair. # days after that, I was billed the full price for the first pair of boots. I called and had to wait about 15 minutes on hold. When I spoke to someone, they immediately agreed to refund the 30% off. I understand they resolved the issue, but I had to keep checking my credit card to see what they charged and have the time to call and wait for them to answer. I assume they rely on people not being able to follow up on the details of the purchase. When I asked about the other boots, I was told the inventory online isn't up to date. No apologies. Would not recommend shopping online with DSW. They don't appear to be trustworthy.

For the most part DSW has had wonderful employees. Ordering is another story due to the long wait time. I have now learned that the Sketcher shoes they get have to be seconds. Anyway, after getting several bad fitting shoes, returning them to the store, where this time I was not treated well, and losing my points I notified the company and got a UPS special delivery letter from their legal dept that I am banned from the store, banned from Shoe Euphoria and so on and so forth. I actually am not upset, just disgusted and will let my friends know. This is pretty sad. Also there is no accommodation for handicapped, like any sort of carts manual and electric. It's the most inconvenient store ever. The bathroom is at the back. I am 80 years old and disabled.

I put in the initial order for my Sorel Tivoli High II Snow Boots (item 306582) on 10/29/2015, over a month ago. I have yet to receive these shoes. The initial order email said that the shoes would ship between 4-7 business days, and that I would receive a email once shipped. After two weeks not having received an email, I called the customer service line and the automated service line confirmed that the order would ship in a matter of days. A week later, I called the customer service line again on 11/23 and the automated service said that my order was scheduled to ship on 11/21, a date which had already passed. I asked to speak with a customer service representative and was connected with Donna.
Donna was an excellent customer service representative, she was polite and friendly and offered to help with this issue from start to finish. Donna determined that for some unknown reason, because I had purchased the shoes using two gift cards, the order was in a "pending" status and had never officially processed. She said that she would need to speak with someone in their back office, which was closed at the time I had called, and give me a callback the following day on 11/24. Donna called me back 5 times the next day and left 2 messages while I was at work. I tried reconnecting with her during my lunch break but she was not available. The customer service representative I spoke to said that Donna did not leave detailed notes on my account but would ask her too once she finished the call she was currently on.
My second voicemail from Donna stated that my initial order needed to be cancelled, and then reprocessed, and that she would re-credit my gift cards so that I could rerun the transaction, or call and provide permission to do so. She also said that she would go ahead and overnight the shoes to me. I called the customer service line back on 11/24 and spoke with a different representative, Danielle.
Danielle looked into the transaction and came to the same conclusion as Donna - it needed to be reprocessed. She checked the notes on the account and saw that Donna has recredited my gift cards. However, this was only partially true. Donna did recredit 1 out of my 2 gift cards in full, however the second one's balance had been zeroed out, and had not been recredited whatsoever. After another long hold time, Danielle was able to recredit that gift card as well - and eventually did reprocess the transaction as initially requested. I was never offered any sort of explanation as far as what occurred or caused the issue. Danielle assured me that the shoes would be overnighted, and that I would see the shoes by Friday since Thursday was a holiday and delivery would not be available.
It is Monday, November 30th, and I have now waited over a month for these snow boots! It has since snowed twice in Denver, Colorado - which is the reason I bought the snow boots in the first place! Having worked in customer service for years, and retail as well, I tend to have a greater appreciation of patience for situations in which delays occur, etc. However, I can't believe that I paid close to $150 for snow boots that I have yet to see a full 32 days later.

I order an item to be shipped to an APO, it took almost a week for them to process the order and then to state that the item was no longer available. I know it is available I have always known that, BUT THE email stated otherwise "that the item was NO LONGER AVAILABLE". I mean this is a complete LIE. It never stated that it was a problem with shipment. The problem is simple, it's that it's an APO address. If it would have stated that, it would have completely been ok, but they used another excuse and that's where it makes me upset as a consumer. 1 of the thousands of consumers of live abroad in Germany, Italy, and Korea and so on. I am in the military and this is the most insulting thing I have come across while buying online. I have reorder it using a different address, because I really wanted the shoe but it is completely upsetting to not get an honest response.

I bought the shoes through the online DSW store as a Birthday gift and shipped them to my friend in Hawaii at the end of October. When I was placing my order, I was told that the shipping to Hawaii will take 4-7 business days. Lo and behold: After DSW has processed my payment and sent me the FedEx tracking number, I was suddenly informed that the shoes would be delivered by the end of November--a month later!! This means that my friend will not be getting the shoes in time for his Birthday. I called DSW and all they told me was "well, if you don't like it, just return the shoes". They didn't even bother to apologize! I am very pissed off and will never do business with them again.

I work across the street from the Holyoke mall. So at lunch I walk over to see what shoes I am going to use my coupon on. I had a lady follow me around the store. Then I have employees come to me and ask me if they can help me find something. But they never look me in the face. They always looking down at my feet. They take the joy out of shoe shopping. Not everybody steal.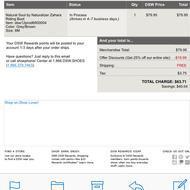 I order some shoes online and after looking at them closer, I decided I didn't want them. So, within 10 hours of ordering, I called the customer service number on the order confirmation. After waiting for 40 minutes, I finally hung up without speaking to anyone. Just thought I would share for anyone thinking about making an online purchase with DSW. I believe this is the longest I've ever had to wait to speak with a customer service representative for any company.

About one week ago, my husband and I went to Virginia Beach, Virginia where my daughter and son-in-law reside to celebrate my 70th birthday. My daughter took us out to DSW there (along with my sister from Ohio) and my husband saw shoes that he wanted. Shoes were on sale and didn't have his size. However, Katrell went over and beyond to call the DSW in Ocala, Florida (our nearest location), talked with an associate there in a professional manner, shoes and size was available, plus honor the sale discount, and put them on hold (3 days) until we were able to pick them up. I truly can honestly say that Katrell is an asset to your company and a SOAR Award (Service Over And Above Requirements) she should have.

I wish I could give them 0 star!!! I posted a comment on Facebook regarding to my bad experience at DSW store located at Northbrook, IL. Unfortunately, I just realized my post never got published and it also got removed because I can't see it anymore. I've always had good experience at DSW but it seems like they are not hiring responsible people! I've got an email that there is a $10 coupon for new store opening at Northbrook. Sadly, I deleted the email because I'm working full time and I don't have time to shop so often.
To make a long story short, a week ago I went to that new store to buy a gym shoes and I remembered they offered that coupon recently, so I asked if they're going to honor the coupon for me even though I don't have a coupon with me, they said YES! So I picked a shoe I liked and she honored the invisible coupon and I gave her another coupon which I got couple days ago. She said she is NOT ABLE to honor that! I couldn't believe how she can say this is not valid when I have the coupon in my hands!!! She said she can only honor one coupon because I don't have the other one.
Then she gave me the worst attitude. I told her, "I'm gonna write a review and tell your company that you are not doing your job and this is not the way you should treat your customers!" She said, "Yes do that, thank you!!!" Her name was ** and she was a manager. She ruined my day. I sent couple emails to DSW Customer Service and I've never heard back from them!!! Terrible!! Terrible!!!

I went to DSW in OKC to hand a manager a physical copy of my resume and let her know I was interested in a sales associate position. Both managers seemed nice at the time, although the fact that I didn't see any non-white employees (and I'm not talking about a token black girl just so they get away with "not being racist" lol) did register. She told me to finish the online application that night. Lo and behold, I go back to glassdoor to return to the application and the full-time position had been taken down. Assumed it was racism because of my middle-eastern background. But then I thought to myself, maybe I'm overreacting. I mean, she seemed like a nice person. So I went ahead and submitted an application to a part-time position instead. I almost feel like the manager typed out the instructional email herself just to screw me over.
I emailed "dsw jobs" about a technical problem related to the application. Got no response from them, but I did get an automated email telling me that the store would be going ahead with "other (white) candidates". The irony is that middle-eastern men (the ones with the actual bad reputation) have a much easier time finding jobs because men don't discriminate as much against one another. It's sad.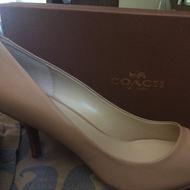 I purchased a pair of "Coach" ladies pumps at DSW in Riverhead New York. When I got home I decided that I really liked the shoes and wanted a second pair. I checked DSW online site and made several attempts at finding the shoe using the item number, description and searching for Coach by brand name. After all attempts failed, I called the Riverhead branch to ask if they could order the shoes online for me. I explained that I was unable to locate the shoes online.
Additionally I checked the official Coach website and failed to find the shoe in question. However, I noticed that the DSW "Coach" shoe does not have Coach stamped or engraved on the sole of the shoe. Authentic Coach shoes do have Coach engraved on the sole of their shoes. Needless to say the customer representative who was helping me via the telephone was unable to find the shoes on DSW's website, and stated that they don't sell Coach online. I will only assume that they are not selling them online because they are not Authentic Coach shoes, but they are selling these knockoffs as the real thing in the local outlets.

I ordered two pairs of shoes from DSW (I had previously owned the same but I had bought them from Macy's). When I received them the heel had small bumps, they didn't fit the same as the ones from Macy's. They felt tighter. One of the pairs had scratches like they were worn or had been returned. I complained. They did not want them back so they offer me a $20 discount on each pair. The shoes still in my closet. Did not use them. They are uncomfortable.

I went into the Augusta store just to kill time. However, I was greeted by a very sweet and polite lady. I decided to look for some flip flops since I've never owned any. The same young lady was very helpful. Upon checkout, the cashier was very friendly and when I asked if they had my particular shoe choice in another color she offered to go online and check for me. Great selection, great prices and a wonderful staff. From reading previous reviews, I did not feel ANY racism all. Will buy from again.

Willowbrook mall NJ I got a pair of Puma and in 2 weeks the front part glue came out. The sneaker is now looking like it talking to me. Can you help me please!!!!

ConsumerAffairs Research Team
The ConsumerAffairs Research Team believes everyone deserves to make smart decisions. We aim to provide readers with the most up-to-date information available about today's consumer products and services.
DSW Designer Shoe Warehouse is a retailer with more than 400 brick-and-mortar locations across the United States and an online store, dsw.com. They sell a large selection of shoes for women, men and children.
Store locations: Customers can purchase shoes online at dsw.com and then pick them up in their local DSW store. There is no charge for this service, and consumers can instantly return their purchase if they don't like it or it doesn't fit properly. Some items are available the same day.
Discounts: DSW offers discounted prices on popular name brands. The store has regular sales and clearance items, and it offers consumers a rewards program for other special discounts.
Selection: The store's website offers an even wider selection of shoes than is available in the company's stores. This selection is much better when it comes to extended size options. Customers can search for women's sizes 3.5 to 13, and they can find an ample selection of sizes 5.5 to 11 on the site.
Returns: Customers can return orders to any DSW location for free. They can make exchanges by mail for free as well.
Best for DSW has shoes for adults and children and is best for fashion lovers, budget-conscious shoppers, deal lovers and hard-to-fit individuals.
Company Name:

DSW

Website:

http://www.dsw.com/