Consumer Complaints and Reviews

I ordered online and was sent the wrong size. When I called to have the problem corrected there was no "Oh, we're sorry, let us fix that for you". Instead the customer service woman acted like it was my fault for having the wrong size foot. She didn't offer to send me a postage paid return sticker or ship out the correct size immediately. Instead I had to pay to have the wrong sized shoes returned and place a new order for the correct size. Not only would this have tied up my money a second time, I had no faith that they wouldn't send the wrong size again, since we were basically starting the purchasing process over. I can't remember if there was a restocking fee. This was my first, AND LAST EVER experience purchasing from Payless online.

I was very disappointed with the manager at the Owensboro KY Payless. There really were 3 associates working, 2 ladies and a nice young man. The man immediately came to me, asked if he could help - he was very kind. As I continued to shop, I heard the manager having a conversation with him that should have been behind closed doors. She spoke of his "slacking" even though he was the only one working when I arrived. She spoke about other behavior concerns she had with him and told him she was a blunt person and that is just how she is. He looked terrified. I should not have been exposed to his counseling and he shouldn't have been humiliated like that. She needs to be held accountable for HER poor leadership.

I was excited when I first walked into Payless because it was a brand new store opened up down the street from me and the first thing I saw was a beautiful black and white bestanne satchel... I decided to wait until after Christmas (because that was the time) for it might be on sale... Sure enough I go back December 28 to final purchase it. It happened to be the only one not on sale, which didn't bother me so much because I was getting it anyway, and since I am of status, due to being first nations, I was saving a little money that way, and I could also use my SPC for an addition of 10%. Well, once I go up to the cashier and show her my card, she told me I couldn't use it because there was no more paper for me to fill out, and I therefore wasn't able to use my status card... which I have the right to do!
So she sensed my frustration and called her manager but instead of being concerned with my situation, she told her manager to get her a coffee then turned to a co worker and asked her if she wanted anything!!! I don't know about you, but this is bad customer service... from the get-go! After that she offered to give me a 10% discount with SPC, which I was already going to get anyways, being an SPC member... so really it did me no satisfaction. Not wanting to cause a scene with people around iI simply and maturely accepted the offer and left, with the intention of returning because I still wasn't happy about not getting tax exempt.
The following day (December 29) I returned with my mother for some help, and walked up to the same lady. From the start she gave us attitude because she remembered who I was from the previous day and started to argue, saying that she offered me a SPC discount which was more of a discount than the tax exemption I should be happy with that... And then tried to tell me that I wasn't eligible for both, because I wasn't an SPC member; well I took out my card and she had nothing to say after that. And once my mother got talking, she magical had the papers for me to sign and was very much silently giving attitude by rolling her eyes and sighing... I got my 15.99 back... BUT, this is THE LAST time I will go to Payless... I was not impressed with the girls working there and not impressed with how this situation was handled. I expected better customer service from a place that sells good products.

I went to purchase a gift card. I swiped my card and the clerk went to swipe the gift card. It took my card, but would not take gift card. It froze the computer, or at least that is what the clerk thought. She called tech support. They could not figure it out but said my card had not gone through, so they could shut down the computer and restart. They did this. After waiting for it to reload, they started the process again. My card was swiped, then they tried to swipe gift card. Again it froze. Called tech support and they passed clerk on to someone new. This person told them how to enter the gift card and this time it worked. So after 25 minutes, I had my gift card.
Three days later I looked at my account and found I had been charged twice. I called the store and the asst manager told me to bring the receipt and a copy of my account info showing the charges and they would credit me. So 3 days later we made another trip (1 1/2 hour drive) and went to the store. This time I see the manager. The clerk I had had was there also. They acknowledged that it was their error, but after calling someone, told me they could not do anything to help me. I was to go to my bank and have them contest the charge. If it is their error, they should make it right. I am not a happy customer.

Get it right! When someone places an order, MAKE SURE that their name is spelled CORRECTLY by reiterating how it is spelled. Don't just assume that you know how to spell their name. It just might put a delay on the consumer getting their paid for item!!! And we don't want that!
How do I know I can trust these reviews about Payless ShoeSource?
743,097 reviews on ConsumerAffairs are verified.
We require contact information to ensure our reviewers are real.
We use intelligent software that helps us maintain the integrity of reviews.
Our moderators read all reviews to verify quality and helpfulness.
For more information about reviews on ConsumerAffairs.com please visit our FAQ.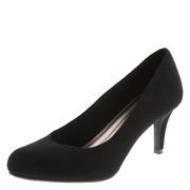 I had a black-tie event to go to so I went online and found a beautiful pair of black suede Comfort Plus pumps. They had a sale going on where I could get another for half, so ordered the black and a navy blue suede. I shopped until I dropped to find that perfect "black dress" to go with my perfect black suede shoes. But in a few days I got a notice my order was canceled. When I called Customer Service they said, "No, there are 20 pair in your size, I will reinstate the order." Every truck that stopped near my house I looked to see if my shoes were coming. A few days later I received the navy suede, but the next day I got another email that said "Your order has been canceled AGAIN!" (which was the black suede) I called them and AGAIN they said they have 16 of them left. I called two stores in two cities w/in 40 mins of me and it said they have 20 online available.
So I called to speak to a manager and he told me that the "online" operators only have 3 warehouses to get their items from" and the 16 left must be in stores and they aren't going to call two thousand stores to find out where they are!!! I have purchased the Comfort Plus pumps in EVERY color that Payless offers which means I'm a GREAT customer, however this manager told me that he can't do anything about it... and too bad. So there are 16 customers going to get the shoes I can't get (even tho they are out there in Payless fairy land).
The ad for these shoes is still popping up on computers where you can order the black suede which means it's a HOOK AND BAIT fake advertisement for you to buy more of their items like car dealers do!! I am so upset! My "perfect look" for the event was ruined and the customer service manager was uncaring, condescending and harsh... He just didn't care. I even asked said to him "so, that's that???" and he didn't answer... I said, "No consolation prize for my time, effort, disappointment?"... and he just didn't say anything but "Have a good day," and hung up. Payless...you should be ashamed!!!

I am writing this because of the horrible experience I encountered with the employees and manager of Payless Shoes. I bought shoes from Payless at Portage Mall in Winnipeg, Manitoba,Canada but they were biting my feet so I have to replace them. I took the shoes to the Payless Mall in Polo Park, Winnipeg, Manitoba, Canada (At different location) for return. One of the employees there was nice and she took the shoes back and helped me in finding the another pair of shoes.
I bought a second pair of shoes from there and went back. Just after 5 minutes of my purchase I started experiencing the same trouble. The shoes started biting my feet again and I went straight back to the shop to return them. To my surprise, there were still 5 minutes to close and as soon as I was about to enter the shop another employer pointed her hand to my face and said me to leave as she said she can't entertain me because the tills were closed whereas the the door of the shop was still open. I asked her that why she hasn't closed the door if you have shut down the tills. She had no answer for that and said me to leave. I said her that I can barely walk with the shoes and I need the replacement but she didn't listen. She was rude and mannerless employer that I had encountered in my life.
Next day I went back to return back the shoes and explained the manager the entire situation. She listened to me as I am dumb and that nothing matters to her. This whole incident is of the Payless shop in the Polo Park, Winnipeg, Manitoba, Canada. Initially I thought to just let it go but my husband forced me to write the review to let them know how rude and mannerless employees they are hiring. I am attaching the picture of blisters that I got due to shoe biting and also the receipts of my return. I encourage people not to buy shoes from here and have told my friends and colleagues too.

I had lost a coupon for a $10 off of a $30 purchase so I called to the company directly to the store and it was to them what it happen but let them know that I still have the receipt proving that I had made a purchase during the timeline when they are having a promotion. The girl that I spoke to said that would be fine and to come in with receipt they give me the $10 off my $30 purchase. So I get there and apparently it was a different girl than the one I spoke to over the phone. I went ahead and got the item that I wanted to purchase and went to the register. I explain to the girl at the register what had happened when you called earlier. She said she refused to honor the coupon that the girl said she would do and then she looked at me and said "are you going to purchase this item or not". Before I even had anything to say back to her she told me that she was needing me to get out of the way so she could help the other people on line.
I then walked out of the store and decided I would come back to at least get her name. So I called back for a manager. I would know who she was when I walked back into the store. The customer behind me had asked what was going on and the girl to register said that I was a desperate woman trying to get $10 off of a purchase. As I stood there they didn't know that I was there waiting and she said that I was an irate customer which I never said one thing to her and then she continued to say that I must be pretty sad to have to try and get a coupon just to get a pair of shoes. The fact is that I do use coupons quite a bit and I actually don't purchase items at their stores simply due to the fact that I don't like the policy of the items, that they only carried a certain style boot which my son liked. I will never go to the store again. They should be sued for how they treat people.

The manager at Payless ShoeSource at 13440 Boulevard, Jamaica, NY 11434 wrongfully accused my husband on 6/18/2016 for stealing. My husband went to the store to buy a gift for my niece, he sends me a picture of the bracelets, I do not liked the bracelets. He places the bracelets back and leaves the store. He then goes to a supermarket and makes purchase. When he is going to the car at the parking lot, he is handcuffed. The NYPD lets him leave because they SIMPLY DID NOT find anything on him because he simply did not steal anything. We want to know the name of the manager and placer a lawsuit against Payless.

When I arrived to the store it was very quiet. I noticed that there were only two people working. As I was looking through the shoes I couldn't find the exact color. So when I tried to get one of the two sales associates and it seemed like she ran away from me while pulling out her phone into the little room where there are extra shoes in the back and she did it numerous times. She must be new because I come there all the time but I haven't been since April but the other sales associate was a guy and he was very helpful.

Whenever I go visit the mall, I always drop by the Payless shoe store. They always have some promotion going on and I have lots of shoes to choose from (different brands ranging from casual, formal, sports shoes). I also like that they arrange the shoes according to sizes so you can readily try the shoes on. I like standing in the aisle looking around and seeing all those shoes around me, lol. The only reason I gave four stars and not five is that one pair of shoes I bought there was very low quality. I only got to use it about five times. A friend also had a similar experience. But anyway, I believe that if you would carefully choose the brand, since there are a lot to choose from, you can always get a good deal with Payless. And you can never go wrong because there are lots of promotions so that you can PayLess.

WHAT IS THE PURPOSE OF A WEBSITE IF THERE IS NO WAY TO CHECK OUT ONLINE IF YOU DONT HAVE A US ISSUED CARD/US PAYPAL? It seems as though the payless.com website caters only for US residents. Not sure if the hundreds of Payless stores are not enough but what about the rest of the world who shop online because there is no Payless location nearby? I honestly DO NOT get the point of payless.com. For sub-par quality footwear you really expect customers to go through the process of creating a US Paypal account/issuing a new credit card just to be able to check out. What a JOKE. The logistics of the site is beyond archaic. Not to mention customer service reps who I'm certain are "SO SORRY for the inconvenience."

The last time I purchased some shoes from Payless Shoe Store, they had a buy one get the other pair at 50% off promotion. It was at the Lucky Chinatown Mall in Manila and me and my friends took this opportunity to do a haul given that the quality of their shoes were fair enough for their price. We managed to cop out 10 pairs of shoes that day.
However, we were greeted with a very long queue at the cashier. We didn't mind it at first since it was the sale season and there were too many people in the mall that day, but 30 mins later, it turns out that their POS/register was not working. They cannot accept card payments and they could only issue manual, hand-written receipts. Then there was only one cashier at the counter which further delay everything. We spent almost an hour and a half just waiting for our turn at the counter and making our payments. I hope they'd readied themselves better especially on sale seasons where everyone is at the mall looking for really good bargains. Other than that, we still think they have fairly good products at a cheaper cost.

I bought a pair of sandals over ONE week ago and I was told that they would arrive within 5-7 business days. It's been almost TWO weeks and I need those sandals for my Mother's Day gift. WHAT THE HELL PAYLESS? Corporate stop sitting on your fat asses full of our cash and start doing your job! From a VERY unhappy customer who will NEVER come back and order from your company EVER AGAIN. Thanks to you guys. My mother will not receive her Mother's Day present! HOPE YOU'RE HAPPY!

October 2015 when walking in a wedge by Mandalay Bay Club the bottom part of the shoe totally fell at the construction of the shoe with only glue which dried out leaving a heavy weighted base separating from the sole which resulted in me breaking my right foot resulting in permanent foot pain. I stand for a living, owning my own business. The pain is getting progressively worse as the years go on. If they are constructed properly for the weight of the sole another means of attachment should be considered like stitching or even staples. When glue is the only connection keeping the sole connected to the heel deterioration must be kept in consideration. When constructing these shoes weight and balance also must be considered. I would have never purchased the shoes if I knew that glue was the only means of the connection to the heavy weighted sole.
I am now contacting an attorney because of loss of wages and loss of time at my business and for the excruciating pain. I am in trying to raise two children and deal with this aching bone in my foot from the cheaply made shoe that they neglected to put Quality Construction into considering the weight of the shoe was ridiculously heavy. This was only a one and a half inch heel. A wedge style. This is separated while walking resulting in me collapsing and hitting my head and breaking my foot. I have tried to notify Payless Shoes regarding this issue without any kind of response. I also tried to contact Mandalay Bay Club who constructed the poorly made shoe to inform them about other incidents that may occur after the glue has dried out and for them to consider a different way of construction for the shoe because of the ridiculous weight of the heel. Please contact me regarding this issue. My information is provided in the beginning of this review.

I bought a bag which was half off plus a 15% off discount on March 5. The total was $26.19. I checked my bank account and realized I was charged twice, adding up to $52.38. I contacted the customer service by e-mail, still no reply. I am also setting up a dispute because my order was suddenly cancelled and there was no email to notify me that they cancelled it. If I cancel my order, will I receive my full money back?

I ordered three pair of shoes online. I received one pair delivered by UPS. I contacted UPS and told them I only received the one box and entered a request for an investigation. Then I started calling Payless -- and calling, and calling. To date, 2 months later, can't resolve the problem and no one is willing to help. I am out $55.00 and still calling!!

Purchased 3 pairs of shoes. Each 1 had sale slips on box. When got to register did not come up on sale. Associate said she DID have authority to give discount, but wouldn't. She said call corp and report her manager for not giving her enough time to pull slips off box. Called Corp, NO HELP!!! This was a price difference of $27.00. Corp then said for me to go back to store and ask (beg) for the correct sale price. Hmmm let's see, on phone for 20 min, then want me to travel to the store where they said they wouldn't in first place give me sales price??? I work 50 hours, raise 2 kids and want me to go back to point A. Corp said THEN if they don't give sale price call and they will do a 3 way conference call. Who runs this corp, kids??

I ordered two pairs of shoes online for my daughter as a Christmas present. When I ordered these items the website stated that if you ordered by the specified date and time, your order would be shipped in time for Christmas, and that had me sold. A day or so later I receive a email that only part of my order has shipped. I wasn't too worried about it at first. The website stated that sometimes items will ship separately. I received another notification that the same item will arrive by 12/23/15, and that the other pair of shoes have shipped and I'll receive them 12/26/15 (yes the day after Christmas). This is where my blood starts to boil. It's now the end of the day (around 8:00 pm 12/23/15) and still no package. I check the tracking and it says "no estimated arrival, delivery date unknown".
I called Customer Service bright and early the next morning to see what is going on. She states that they got backed up w/ orders for the holiday season and that's why orders are taking a while to ship. I can understand that, but when you state that I am able to receive a order before Christmas if I order before a specified date and time, then as a company you need to honor that, or compensate me somehow. This is your error, not mine. She said she couldn't do anything and told me the "good news" is one of the items was rushed and I'll receive it by today, but there is still a wait on the other shoes and her system doesn't tell her when those shoes will arrive. I asked to speak w/ a supervisor and when she put me on hold we conveniently disconnected.
I would've called back but had to go to work, but they'll receive another call from me when I get off, and any other day until I'm satisfied. I wouldn't have cared so much if this wasn't a Christmas gift. I'm just really disappointed and upset. I wish I would've read all these reviews prior to ordering online. Hopefully, I'll have shoes at my home once I get off work. I'll leave an update once all is said and done. Merry Christmas everyone.

I placed an order online for 4 pairs of shoes for my daughter (for Christmas) and, according to my email, the products were shipped on Dec. 8th. On Dec.18th, I still had not received my order. I made several attempts to call customer service and was unsuccessful. The last time I called I waited @ 45 minutes before my call was answered. The representative looked up my order and discovered that the order was never shipped out and/or was lost. I received an apology with an offer to resubmit the order or refund my money. The problem... all the shoes were not available anymore, so I requested a refund. I told the representative that this was the first time shopping online with Payless Shoes and it will be my last.

I recently found the exact shoe I was looking for and went to order online. It appeared my credit card was not working so after a few tries, I called my credit card company to see what was wrong. My credit card company stated that the transaction had come off my card 4 times; even though Payless website stated otherwise. I then contacted Payless to sort this out. I was never put through to a representative and on hold each time for over 20 minutes with ** barely audible music.
I had emailed customer service expressing my irritation. Her reply showed that she either had the education of a 12 year old or that she clearly did not read my email. Instead of explaining why the error happened she told me Payless does not accept Canadian credit cards and then thanked me for considering Payless and that I would have to go through my bank to deal with the transaction. Idiot, I thought. I reminded her that this was not my bank's issue and that Payless had made the error. I explained that the money HAD IN FACT come off my credit card and that I had mentioned that in my previous email. And now I wait. Worst customer service ever as clearly the staff is not well trained to read or handle customer issues; no one answers the phones; and their website gives false information such as stating your payment has not gone through when in fact it has. Do not order from this company. It will only cause you more issues.

Had ordered 2 pairs from Payless.com on Nov 15, 2015. Till date, there is no update on my order. Every time I contact customer service, I do not get a proper response. They just beat around the bush. Highly unacceptable. Wasted my time and effort in ordering. On top of that, wasted valuable time to get an update on the order. Neither of them is fruitful. This is not what I expected!! Never ever will buy again from them!! Also, will never ever recommend to anyone!

I placed an online order 4 days ago... it has not shipped nor will they respond to my emails regarding the order. After reading all of the bad reviews on this company I fear I'll never see my shoes... wish I had read the reviews before I ordered.

I paid for overnight shipping and it's still being processed. I've read all the reviews and this seems to be a common problem. Wtf is going on? I needed these items immediately. I paid 20$. I have somewhere to be this weekend. This is crazy!

I placed my order on 10/20/15 & paid $11.95 for 2-day expedited shipping. The order didn't arrive until 10/28/15. When I called their customer service number, I was told that shipping charges are non-refundable. Shame on Payless for charging for upgraded shipping, not delivering as promised, & then refusing to correct the situation.

I bought a pair of shoes online and paid with PayPal. The shoes did not fit, so I took them back to the store. The first Payless would not take them back. So I went to another store and she said they do NOT give refunds if you pay with PayPal and they have to be sent back to the company. So therefore I would be out the $5.95 to ship the first time and $5.95 to ship back. The second store gave me a store credit (which I will not use) and then proceeded to tell me she would refund part of my sales tax to make me feel better. Their return policy is awful and their customer service at both stores was awful.

I have shopped primarily at Payless Shoes for the last 35 years. I have managed to find some really high end, good quality shoes. However, I recently purchased a pair of tennis shoes there, Champion, which are just garbage. I mentioned that I had worn their brand before and noticed that most all of the tennis shoes were this brand. Salesperson stated, "We have sold mainly Champion ever since I have worked here." I hate that patronizing comment. As I stated, I purchased most all my shoes for 35 years at Payless Shoes. Never had I seen primarily Champion brand. After making the comment she turned and walked out of the store.
Suffice to say, I probably won't be shopping there at all anymore, since Champion is definitely NOT a quality shoe and a major WASTE of my money. The salesperson seemed to be a manager as she spouted off some directions to someone at the register on her way out. The worst customer service I have ever received at Payless Shoes as well.

Okay so I ordered a pair of special occasion shoes for my daughter for homecoming. It was over a week and the order was still "being processed". I had called payless customer service a few days before and was told it could take up to 7 days. I asked them if I could return the shoes to the store if they do not get here and was told I would only receive a gift card because I payed through Paypal. I paid through Paypal to protect my information but it still came out of my checking. She also told me I could not cancel my order even though it was still being processed.
So I waited until the 7 "business days" were up and finally got someone on the phone again. She said some of the orders were delayed but I got no real explanation for that but asked me if I wanted her to cancel the order and I replied "yes please" because at that time I had already purchased a different pair of shoes for my daughter. As of right now the order has not been cancelled and is still "being processed" which means my funds are still tied up as well. This is my first and last time dealing with Payless.com.

I ordered two pairs of shoes on 10/5 then paid for the two day shipping. I was expecting the pair no later than 10/8. On 10/9, I called in to 877-474-6379 and the woman relayed to me this information: That both pairs of shoes I wanted could not be found in the factory, and that they had to then go store to store looking for a pair in my sizes, and color preferences.
When I was told this information, I was obviously upset. No one had notified me about any sort of delay in shipping. She said that although it would take about a week for my sandals to get here, the shoes were already shipped, and would be arriving the next day which was Saturday, or at the very least Monday. It is now Wednesday; nothing was delivered, and no updating notification has been sent to me. The woman, who I now really wish I got the name of, then told me that I would be reimbursed for the two day shipping, and that a gift card would be sent for my trouble. I considered the matter closed. I knew that the sandals might be about a week, but eagerly anticipated the arrival of my shoes.
Today, 10/14, there are still no shoes. I called in to the same number, and I believe I talked to Gabby. (Customer Service Rep wasn't speaking clearly.) Now, I'm going to assume that my phone accidentally disconnected us, because basically telling someone tough luck, and then hanging up on them is incredibly unprofessional. (It was more of a, "We are waiting on the shoes to be made in the factories and shipped to us, so when we know something we'll let you know.) and then we were disconnected.
To sum today's interaction up, the woman I spoke with today told me that neither pair could be found, and that they needed to be made in the factory. She had no idea when they would be made, much less sent to me before we were disconnected. That time frame is beyond unacceptable. Nothing on the website suggested to me that this would happen, and that no one would update me at any stage of this entire mess unless I actively bother them for information. I wasn't mad before, I was upset. Now I'm pissed. Like I told the first woman. Payless, the company, normally provides a wonderful product at incredible prices, so it's not like I'm planning to take my business anywhere else, but to receive little to no consideration after having been wronged 4 times in one purchase?
So to recap: This company... Did not making the agreed upon expedited delivery date. They did not promptly inform me there was an issue with my delivery. They lied to me and said the shoes (not my sandals) were days away, and to expect them Saturday or Monday. Then after failing to make the delivery again, I was told that I was again lied to, and that my shoes haven't even been put together in the factory as of today 10/14/15. 9 days after ordering, and I had to pursue the information myself. I wasn't updated at any stage of this fiasco.

I placed an order with Payless Shoes online on Friday 10/9. I needed the items by the following Friday 10/16 so I paid an extra fee for expedited shipping. I got a confirmation email stating I would receive another email when the items ship. Now I shop online often & while processing to ship turnover time varies, it normally happens in about 1 business day. I noticed on Sunday I still had not receive an email with shipping details so I gave customer service a call. The rep then informed me that my order was placed too late Friday evening to be processed and that Payless does not process orders over the weekend (So you can place an order and they will gladly take your money any day of the week but the processing center only operates on weekdays). RIDICULOUS. So the order would be processed and shipped by the end of the day Monday.
I still felt confident my items would arrive on time with the 2-day shipping I had paid for but Monday night I checked my order status on the website and it still read "Being Processed". Again I called customer service. This time I was told the items had been packaged and labeled but had not been picked up by the shipping company and because of this they still had no tracking information. I even requested a supervisor who also attempted to reassure me my item was just waiting to ship. "It's in the last step of processing" she claimed.
Today is Wednesday 10/14. My order status is still "Being Processed". No shipping confirmation has been emailed. Once again I called customer service and finally this rep explains that Payless is undergoing a "system change" of some kind and that thousands of orders have somehow fallen through the cracks and he can't explain what stage of the process my order may be in. I am livid because I requested to cancel the order and I was told it's too far in processing to cancel (how could that be) if technically it has not been processed. I have been in store Payless customer for many years but this online experience will be my last with the chain. Waiting on a resolution.

ConsumerAffairs Research Team
The ConsumerAffairs Research Team believes everyone deserves to make smart decisions. We aim to provide readers with the most up-to-date information available about today's consumer products and services.
Payless ShoeSource was founded in 1956 and is headquartered in Topeka, Kan. The shoe retailer has nearly 4,500 retail locations and an online store, and they sell shoes for adults and children.
Customer service: Consumers with questions or problems can reach a customer service representative by phone or email. Representatives are available between 7:30am and midnight every day of the week.
Store locations: Consumers can have their payless.com purchases shipped to their local Payless store and pick them item up in as little as 3 days. They can also return items ordered online to a brick-and-mortar location.
Selection: Payless has boots, dress shoes, sandals, sneakers, heels and other styles for women, children and men. Consumers can find most styles in some extended sizes. Women's sizes 5 to 13 are available on payless.com.
Sole Style Blog: Consumers can read about fashion and see tips on styling their purchases on Payless' Sole Style Blog. They can also follow the blog on Twitter and Facebook.
Deals: Payless offers inexpensive shoes and frequently has sales and other discount events. Their prices mean fashion lovers and budget-conscious shoppers can purchase multiple pairs for the same amount they might spend on a single pair elsewhere.
Best for Payless ShoeSource has shoes for adults and children and is best for fashion lovers, budget-conscious shoppers and deal-lovers.
Payless ShoeSource Company Profile
Company Name:

Payless ShoeSource

Website:

http://www.payless.com/