Consumer Complaints and Reviews

I will NEVER Buy from Dillards again! I received my order of 7 polo shirts. I received shirts that were TOO BIG and I used the sizing chart, 4 were faded and looked NOTHING like the pictures. I was told the pictures they put online are from the vendor and the colors on the site are usually off, had I known that I would not have purchased them. I received 7 too big, 4 faded with,1 with a string hanging from the Polo sign and was told there is NOTHING that could be done by Jeff at corporate and Araceli manager of Dillards Direct. I was then told to send pictures of my items to Araceli. Sent the pictures and a week later no reply. I called and was told the pictures would be sent to Jeff. Then I was told to send the items back to the warehouse for inspection and I have to pay shipping! I will NEVER shop at Dillards and will make sure to let EVERYONE know about this experience.

I am a new customer to ordering at Dillards online. However, I will never order online with this firm again. I ordered three articles of clothing of which I had to return two due to needing a smaller size. This firm does not have shipping returns labels for you to send back their clothing. Therefore, I had to send back the clothing at cost. And upon receipt of the merchandise I am now being informed that I must pay for the exchanged items to be shipped to me. Just to ensure everyone reading this message understands I have paid 50% in shipping cost to the cost of the items exchanged and could not return on of the two items due to no returns are permitted, only a size exchange is permitted.
When I asked why I could not return one of the two items which clearly I did not like upon receiving it did not look like the picture online, the customer service person reported they want to get rid of the inventory in stock. What a fortunate insult for me to have a dress that I do not really want but must keep and now pay to have this dress shipped to me. I have transitioned to purchasing merchandise online for the past three years and many companies have shipping/returns policies that far surpass this company's policies and they're not a big box retailers. I will never order online from you. Please note that I spend at least $1,000 a month on online orders and your firm will never see any of the proceeds from my transactions.

For many years I have shopped at Dillards because I am in my 60's and my Mother who was 82 in 2010, taught me about the best clothing stores because she shopped there when she taught small children for over 44 years in public schools. Back then, very few Mothers had jobs or had to work outside of the home or even held degrees. I love their leather purses and shoes. I just bought two pairs of shoes yesterday. Dillard's is the best store in Wichita Falls. Texas and in Bee Cave, Texas at the Galleria no matter what anyone says.

My wife purchased a Louis Vuitton handbag at the Woodlands, Texas Dillard's store. She has shopped here for many years. She speaks and understands limited English as she is a resident in South America and has a vacation home in The Woodlands. When she got home her daughter noticed that the handbag was clearly defective, i.e. it would not stand by itself, and if you put anything into it it would topple over. I told her she should return it and I accompanied her to the store to help her as I speak fluent English. Much to my surprise the salesperson told me that there was no returns and pointed to a sign in the store which said VINTAGE HANDBAGS ALL SALES ARE FINAL.
My wife of course not speaking the language had not seen much less understood the sign and thought she was purchasing a new handbag. Called the store manager who gave us the same answer and further advised that this was a preowned and used handbag, which only made matters worse. We repeatedly told her that the saleslady had not even attempted to make my wife understand the fact that this was a used handbag, in a program which we were told just started three months ago. Have looked up the definition of VINTAGE and the word pertains to wine age and even the dictionary says the word has been abused in other contexts. Finally I got fed up and decided to leave and my wife handed over the bag to the clerk and told her to keep it, she did not want it.
We started walking out of the store and the saleslady practically followed me halfway to the door and asked me courteously to please hang on to the bag and come back the next day to speak to Mr. Tai ** store manager, who had the authority to make a decision. Went back the next day to customer service and asked for the gentleman and he was paged and called in and was told I was there and wanted to see him. He asked the lady in customer service to ask me what it was about and I went through the long process of explaining the whole situation to her. She briefly advised the store manager and after some two or three minutes of conversation with her she hung up and simply told me again the same story.
I asked if at least could pick out a different handbag or get store credit but everything I asked came back as a flat NO. I am frustrated that this gentleman did not even have the decency to show himself and explain personally. My wife and I have been good customers of Dillard's for 15+ years, you can understand my frustration... By the way VINTAGE definitely does not mean or imply DEFECTIVE.

If you take out a Dillard's charge card you may eventually find yourself in consumer hell. Service can be OK for a while but forget your password or change something and you are unlikely to be able to use the card again. I spent hours trying to get this fixed without success. You can call but instead of help you are curtly referred back to the nonworking internet site. I finally gave up and tossed my card in the bonfire.
How do I know I can trust these reviews about Dillards?
854,137 reviews on ConsumerAffairs are verified.
We require contact information to ensure our reviewers are real.
We use intelligent software that helps us maintain the integrity of reviews.
Our moderators read all reviews to verify quality and helpfulness.
For more information about reviews on ConsumerAffairs.com please visit our FAQ.

Here are the two order numbers: first order # ** and the second # **. I returned back two dresses to Dillard's that I bought online to their Arizona warehouse on March 13th with the FedEx label they provided to me. The return arrived at their Arizona warehouse on March 20, 2017 at 6:00 A.M. Three days later, I checked my credit card's account but there was no refund. When I called their customer service line to find out why they have not refunded me the full payments. I was told it takes three to seven business days to process the refunds. Up till this date I have yet to receive a credit on my credit card account. THIS IS NOT A GOOD customer service on their part. This is poor as customers expect to receive a refund promptly when returning items. I will not order anything from Dillard's again.

I love shopping at Dillard's and have always enjoyed their quality merchandise. However, I am very dissatisfied with the way they handled a canceled transaction. They ran my card to pay for some items I purchased and the transaction supposedly didn't go through because they said the ZIP code was not correct. So they ran it through again and it worked the 2nd time. However, the first transaction that they canceled is still pending on my account and they have not released the funds as of yet.
This is not the first time this has happened, the last time they held my funds for about 7 business days before the pending charges were finally released. So I called their Customer Service Department to see if they could release the hold and was told it normally takes 3-5 business days, and that there was nothing they could do about it. The manager at the store location told me the same thing. I told them I was not returning any merchandise, which does sometimes take a few days to be credited back to a card. My situation was that the transaction supposedly didn't even go through and was declined because of the ZIP code, but yet the $$ is still pending as if it were a valid charge. So now I have to wait until they decide to release the hold on my $$. I know I have the option of paying cash, or with a credit card, but I should be able to use my debit card if that is my preferred method of payment. As much as I enjoy shopping at Dillard's I'm not sure I want to continue to do so.

I sent back 2 dresses to Dillards online in Arizona on January 25th. One has not even arrived back to them as yet using their FedEX label they provided to me. The other dress has been back to them since January 28th and I have yet to receive a credit on my credit card account. THIS IS POOR Customer service on their part. When I called they said they closed down the warehouse to do inventory. This is poor as people expect to receive a refund promptly when returning items.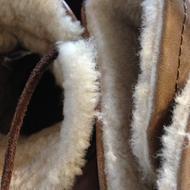 Bought a pair of Ugg's at Dillard's via online. Ordered the following: UGG Kona Elastic Toggle Leather Boots Item #04531627. To my disappointment the product received looked nothing like the Ugg Boot advertised. The wool lining on the picture looks thick and comfy. I was expecting it to be just like the ones I had previously purchased. Because I purchased them on sale, I am now unable to return them. The reason why I bought them, was because they look just like the one I had purchased in 2010. I was duped!!! Arghhhh.
I am attaching a picture of my 2010 Ugg's in comparison to the one I just purchased. You can see the huge difference. What a scam. Take a look at the picture that is advertised on the Dillard's website and you will see for yourself that the boot look like it is fully lined with wool. When I buy a product, I want to pay for what is advertised, whether on sale or full price. Completely DECEPTIVE on how the pictures looks from the product you receive. Ugg's and Dillard's are completely aware of the product that they are selling to consumer. Will never buy Ugg's again.

Dillards is a extremely fine shopping experience. I find their employees and service at the A+ level every time I shop in their stores, whether it is in Las Vegas, Scottsdale or California. The high quality of retail goods is wonderful and reminds us of how the traditional department stores were laid out, very organized and with beautiful, quality clothes. I have shopped Dillards for years, and always go there first for everything. Our family always has had a wonderful, friendly visit each time and I wish to thank Dillards for hiring such lovely employees.

Bought a MK Hamilton Satchel online and was thinking I got a good deal on it. The website at the time advertised an extra discount of up to 40% on already discounted items. This item was in the list and if I remember it correctly, on the second page of the list was where this was. I hurried and purchased it because I thought it's a really good deal and didn't want it to run out of stock! Now looking back into my credit card statement, I just realized that I didn't get the extra 40% off discount. I emailed customer service about it and she just told me that there's nothing they can do about it.
Now, today, (01/13/17), I called them and explained what happened and the reps were all VERY RUDE and was raising their voices on me, EVEN the supervisor! Saying that there's nothing they can do about it. And told me that I can just return the item if I didn't want it. Of course I want it! I just needed them to honor the sale advertised on the website! Now I wish I took a screenshot of it! Now when I asked her what I need to do to return it and if I get a full refund including the shipping, she told me they don't refund the shipping! I told her I would really like to get it back because it was false advertisement on their part that got me to making the purchase and getting me in this trouble I'm in now. And then few moments later after putting me on hold so many times, she came back and told me that they'll refund the shipping also but that I'd still be responsible for shipping the item back.
I was just shaking my head in disbelief that this company and these people I spoke with are so VERY incompetent and VERY rude! I even told her a lot of other online stores have free shipping even if you buy only $25 worth of items and free returns! That's not it, after our conversation, they emailed with the mailing address I asked for and said "please return the boots to the warehouse". This is after I spoke with them for 33 minutes! Again, shaking my head! This isn't the only problem I have. I went to the store on the 1st of this month to find a good deal since they're having a sale. I bought these shoes that was supposed to be discounted and that was supposed to have another 40% off discount after it. When I got home, I realized I didn't even get the discounted price on it that was supposed to have been only $53.99. They charged me full price on it!
This, to me isn't as big of a problem because I can just go to the store and not have to pay for the shipping. But with everything Dillard's has put me through with my shopping experience, I don't know if I'll ever buy from them again even if I have a credit card from them. The shoes was partly my fault for not checking the receipt firsthand. But it was very packed that day and the sale was what everybody was there for! People stood in line for hours before they opened!

Informed Dillards credit card services I had been laid off right before Christmas and receive a response that was very cold. I will no longer shop at any Dillards and will advise all friends and family to do same. Discover card actually gave me a $100 gift card to ease the difficulty of the holiday season. Please consider a Discover card if you ever find yourself wanting to get a Dillards credit card. The rewards are almost non existent. Discover gives me a reward I can use to pay my bill!!! Dillards could learn a lot from Discover. I've cancelled my Dillards and will never get a card associated with Dillards or Wells Fargo and I will never shop there again. With these kind of customer service standards I expect Dillards to be bankrupt in 10 years at the most. I will be a lifelong Discover card member.

I ordered a dress that cost $520.00 dollars and not only did they charge me $11.95, they charge for returning and insist that you buy insurance too. I had a computer freeze up that made me order the wrong size accidentally and I literally realized it as I pressed the order button. There was no recourse on their site to change or cancel it and when I called they were not answering even though it was within their stated hours of business. When I finally got a hold of them first thing the next morning I was told there was nothing they could do and that the order was placed and sent to the warehouse. I am livid that they had such outdated and mismanaged policies and that their customer service was absolutely awful.

I recently visited Dillards in Slidell LA Fremaux - to be precise on 11/26/16 around 4 pm. I love to find a good sale any day regardless of the not so great service at this specific store. I stopped by the ladies footwear area, as usual you can feel the "staring" as if they are trying to guess out, by your appearance, whether I will be spending $$$ or not, and well, I had just been to the gym so my sloppy gym look probably didn't impress them much, not a "welcome to Dillards" sound at all although there were at least 6 associates roaming around the floor, only one very sweet (must be new) associate approached me.
BUT THE WORST WAS ABOUT TO HAPPEN: To MY surprise one associate very disrespectful reached out from behind me and pulled on my PURSE which was hanging on my shoulder. I felt the pull! I was in shock to say the least! When she abruptly says (while pulling my purse) "That's my purse! You got my purse!" Thankfully I am a very mild mannered lady, and I softly pulled away simply said "what are you doing?" Another person would've probably reacted much worst to think someone might want to pick it or else.
My question is why on earth would the associate invade my personal space and dare to touch my belongings? I felt violated, exposed, harassed, embarrassed and very uncomfortable, she asked me "where did you get it!? That is my purse", I beat myself up for not replying: Did you buy it or pay for it?! Well it's NOT yours! Show some manners! But I didn't, and perhaps it was best not to lower myself to her level. Yet I spoke with an attorney friend of mine and she suggested I leave a review, hopefully this behavior will never repeat with any customer. Just beware of disrespectful associates - lady shoes area only - men's clothing shoes and beauty products associates have been very courteous.

I ordered a pair of shoes on Dillard's website on Friday. This morning (Monday) I received an email that my order had been cancelled because it's Dillard's policy to only accept credit cards issued in the US. I often shop international and I always read company policies before placing any orders. According to their policy on their website they accept Visa credit cards which is what mine is. NOWHERE do they say anything about not accepting international credit cards. Instead there's a whole section on international orders and shipping so it really didn't make sense to me.
When I call the customer care line they can't give me clarity on this situation. If it's their policy not to accept foreign credit cards then surely it should say so at checkout or the order should at least bounce. They took my money, $272.37 to be precise. When I ask when the money will be back in my card they say I must go to my bank and find out. Is it my bank's fault or their lousy system? I am extremely disappointed and angry! I have never experienced such shopping on international websites.

Two years in a row... I order online at Dillard's Elizabeth Arden purchase. I waited for the sale and free gift. For two years in a row I have ordered the same items. Dillard's adds my free item to my cart and I complete my purchase. I am given my order confirmation by email and then sent a cancellation email stating they have removed my free items as I do not qualify. They have two years in a row, charged my card and then changed their mind. This is a fraud practice that has been allowed to go on. Who in the federal government is allowing this. When I asked to speak to a manager; Ariel spoke to me and confirmed that this was Dillard's rule.

I purchased a dress in the Jackson, MS store. It was shipped and arrived damaged. I returned it with no problem. Ordered the same dress and it arrived damaged. I called the District Manager's office. Heather in her office went out of her way to help find this dress in the Nashville store. Danielle from the store called and was very helpful in handling the proper way to ship a dress. I am appreciative of their professional and prompt handling of my issue. Thanks ladies!

Purchased dress for my daughter for homecoming. 10 percent was taken off for broken waist belt. Upon arriving home dress looks as if 5 year olds cut into it. I reached out to Dillards who told me to bring dress back but dance was in 3 hours. I had seamstress fix what she could. I'd like more than 10 percent off.

My very first shopping experience at the new Dillard's located in Slidell, LA at the Fremeaux mall was horrible. A male sales associate basically followed me all the way to the check out line. HMMMM... I was being watched and couldn't figure out what was his purpose. My second experience was last night shopping for my son's homecoming attire. A woman sales associate offered her assistance which was fine, she stayed glued to our sides the entire time. HMMMM... My son needed a navy tie and the boys department did not have one so we decided to go to the Men's department and the sales associated basically told me I needed to check out the items I wanted to purchase before I could bring the shirt to the men's department. So now I get it... She actually thought I was a theft.
I was offended. I am many things but a theft is not one of them. Then I figured out that was the problem when the man followed me. Now, I'm furious and just want to send a message to the security department. Common sense tells me if I wanted to steal anything and get away with it the best thing to do is BLEND in. So I would have dressed all fancy and wore a bunch of Jewelry instead I go in there like most working class Americans and wear blue jeans and a blouse. So maybe you would actually cut down on your theft rate if you would focus on appearances are very deceptive. STOP targeting your average American.

I purchased a formal dress on dillards.com that cost over $200.00, and they charged me $11.95 in shipping. I'm an avid online shoppers, and I've never paid shipping for any purchase over $50. I ended up returning the dress, because the color was different than the item pictured online. Well my refund was about a $1.00 short, so of course I called to find out why. I understand that the shipping would not be returned, but they charged me taxes on the shipping costs! What a ripoff! My first and last time buying anything from Dillards!

About two weeks ago, I was shopping in my favorite section of what once was my favorite department store. I found a sweater that I adored, but did not love the price tag. I asked the employee of that department if there were any upcoming sales. The lady informed me there would not be any sales until November. To my disappointment, I went ahead and paid full price for a $100 sweater. Not even two weeks later the whole section went 40% off within the beginning of October (today to be exact).
My first inclination was to get my receipt and unworn sweater (tags still attached) and try to get a price adjustment. I was informed they are unable to do so per policy. This is understandable. However, when I asked if I could refund the sweater and then repurchase since I had been mislead by a previous employee, I was told this is still a price adjustment and they would then remove the item from the floor so that I could not repurchase. I couldn't even go to the rack and buy another one. I was treated in such a poor manner and felt convicted as a criminal for even asking.
On top of it all, I keep the sweater and decided to check out the sale rack and was watched by this employee for much of my visit. I even heard her gossiping about what had just happened with another employee. Tomorrow I will return the sweater and order from another company online. I spend hundreds of dollars a month in that department, but this is one customer they have lost. Poor policy and rude employees. Knoxville, TN West Town Mall.

Associate very helpful but my Visa card would not go thru so I wrote a check. Noticed this morning on bank line it electronically did go thru. So now I have been charged twice. I really needed those funds to purchase other items for a wedding Oct. 1. Hope this will not take long to get back in my account. Customer service said 7 to 10 days. Not one apology though! Your system may need updated.

Purchased a Michael Kors crossbody purse as a gift. Wow what a mistake. I went in to return it before 30 days and with receipt in hand, and because I did not have the "tags" they RUDELY denied the return... this purse was NOT used unless putting your stuff in it and realizing it was way too small is USING they were physically digging in the corners trying desperately to find something wrong. That purse was in its original state.
The store manager said it had to have original tags, which I stated I was not aware of but had my receipt. She picked up the receipt and said as RUDE as possible that it states it on the back, like anyone goes home & reads the back of their receipts. Just their BOGUS reason to not return an item which had a receipt. They act as if because you don't have a tag you stole it. Never ever had this issue with any retail store and never will again will NEVER shop there again. Poor customer services at its finest. No wonder they are closing stores...

I ordered a dress from Dillards online that I was supposed to wear on a friend's wedding. Dillards sent me an order and shipping confirmation. They provided a tracking number. However I found out 10 days later that the order was never shipped, because the item was not in stock. No one has ever notified me. They had no clue this happened and when I contacted them, they said "sorry, we will give you your money back". How can you run a business not knowing what's going on in your own warehouse and giving fake tracking numbers so customers that actually rely on you. Now I have no dress to wear to the wedding and I could have ordered something else if I wasn't lied to.

I bought a top and skirt in the dress department. The sales lady told me if I opened a new credit card with Dillard's I would get and additional 30% off the first purchase. Because I was spending about $175.00, I said sure. On my way home I realized there was no discount on the ticket. I called customer and they told to bring it in and they'd fix it. I went back and was told they would not discount the purchase because the merchandise I bought was not on sale. I was never told anything like this when I bought and got the new card.
After talking to 2 different store managers, they told me I should have seen the signs about the policy. Doesn't matter that their employee told me I would get the discount if I opened a credit card or that I called and they told me to come back. I really don't understand their company policy. I am 73 and I have never run into anything like this with any store. When Dillards was Joske's this would never have happened. After reading all the reviews on this site, I can see that this is common practice with Dillards. I mostly shop online with them, but I think this is my very last purchase with them ever!!! Macy's has never treated me like this. They are always glad to give discounts even when you don't have a coupon. I certainly didn't need another credit card. I guess I can't blame the managers for the policy, they probably don't have any other option if they want to keep their jobs. Shame on the Dillards corporate attitude.

On July 28, 2016 my 16-year-old granddaughter and I went school shopping at Dillard's in Monroe Louisiana. Upon entering the store I quickly noticed we were being followed around by an Asian male. Every department we entered, he came and stood directly in front of us watching our every move. He followed us until we made our purchases. Were it not for my very naive granddaughter I would not have spent a dime in that store! This is not the first time this has happened. And yes, we are African Americans who work hard and give back to our community. I would rather spend my hard earned dollars on Amazon!

Dillards Store, Northpark Mall, Dallas Texas - I have a nephew who was racially profiled and escorted out of the Dillards store here at this mall. He and some friends were there, he was trying on clothes and the security guard asked him if he was stealing. No, he was not stealing, he was trying on clothes. The store then called the police and was banned from this mall. All ** people do not steal, just like all ** people don't. I have called the store manager and Shannon and she has yet to call me back. I call the home office of Dillards and no one has returned my call. This type of behavior will not be tolerated by anyone. Civil rights were violated and I intend to press charges against this mall and store!

Dillard's, what a scam. This store lets you buy something and does not tell you about the 30 day return policy? 30 day return policy! What? This is so far from the norm at other Department stores that I feel like they are really trying to trick you and are being very dishonest. I know I will not shop there anymore because of this and I will tell everyone I know to do the same. They should put on the front of the receipt with a stamp in RED letters, "30 DAYS TO RETURN"! I bought a pair of Coach heels for a wedding and I could not wear them, the right shoe was the display and had been tried on and walked it and was stretched out. I had tried on the pink shoes and was happy with the size but I took the nude instead in the same size without trying them on. What a mess. Don't shop at Dillard's!!!

Beware when ordering a gift card from Dillards. I ordered a gift card online for a wedding gift, and my card was debited twice for the full amount. When I called to question this, I was told that one was a "preauthorization" and would drop off and be credited to my account in 3-5 days. That's 3-5 days that Dillards is holding my money. There is nothing in their web ordering site that mentions this. If I had known that this was their practice, I would have ordered a gift card from Amazon.com.

On Friday the 20th of May I walked into Dillard's in Monroe, LA to return an item that had never been worn before from the card that someone had stolen my information from. I explained to the girl that was working that my bank closed the account due to someone else stealing my identity. She stated that she could not give a refund but she could give me a store credit. I stared. I didn't want a store credit because I planned on not returning to that location to shop and it was only fair that I get a cash refund being that before the misuse of my card from someone else I'd purchased it from my check debit card. I even went as far as calling my bank and putting them on speaker phone speaking on my account stating the same thing I tried to explain to her in the first place. So with all the back and forth she finally went and asked her manager Crystal for assistance as what to do for me.
So the customer service associate comes back and tells me that she can give me the gift card, refund my item off the gift card and turn around and redeem the gift card to give me cash back from my purchase. Like I said I frequently shop at Dillard's but just as much as I buy I find myself returning. I walked in again in Dillard's Sunday, May 22nd with another return, took up to customer service again like I'd done before. The same lady was working that was working that Friday. This time I had an Internet order to return. The customer service associate (Beatrice) then tells me that the manager Crystal who never came and showed her face that Friday of me coming in the store stated that I could not get a refund anymore until I get my new card from my bank. I told her I received my new card that Saturday in the mail but was unable to activate it.
She then calls the active (Steve) the shoe dept manager and explains to him what the Crystal lady said without giving me a chance to explain myself the problem that was going on. So (Steve) in the Monroe, LA location says too that he doesn't have the ability to override another manager decision in which I found out Crystal was not the store manager. So he could have return my jumpsuit but that's not the real problem. The real problem was when I explained to him what happened and he bluntly said "I'm not giving get you your money back" and in return I said to him "what good is it for you to be a manager if you can't authorize anything in return". He tells me "I am authorizing something good. I'm authorizing that you're not getting your money back". So I said "ok". Then while I was boxing my item up he stood there as if he was patronizing me...
I then told him that he was an unprofessional **. Then retreated and told me that I was the ** and an **. Then as if that wasn't enough, threatened me and said to me that he wasn't what I wanted and that he wanted me to try him. I asked him his name, he asked me what was mine. I tell him I asked what was his and he stated Leonard and turn around and said "sike". It didn't matter anyway because I knew his name from dealing with him in the women shoes dept. He was rude then as well but I let it slide that time but not this time. I have never been cursed, threatened and treated so rudely as well as unprofessional in my life by anyone. But even are the kids do of people Dillard's hire. And you would der why so many prior Dillard's customer order from offline to not have to deal with extreme disrespect from management or their associates.
I was a loyal customer to the Dillard's in Monroe, LA at the PecanLand Mall location but after this experience, they can have it... They want to get the commission from your transactions then treat you like ** when you need to do a refund. Their return policy stinks and their management team is a no go. Think twice if you want to do your shopping at this Dillards!!! I've not only contacted the store manager about this matter I've also contacted corporate as well. I refuse to be treated this way especially when I'm spending my hard earned money with the same who needs your commission in order to bring good, a decent check home... No way, not having it!!!
Company Name:

Dillards

Website:

http://www.dillards.com/