Consumer Complaints and Reviews

Two years in a row... I order online at Dillard's Elizabeth Arden purchase. I waited for the sale and free gift. For two years in a row I have ordered the same items. Dillard's adds my free item to my cart and I complete my purchase. I am given my order confirmation by email and then sent a cancellation email stating they have removed my free items as I do not qualify. They have two years in a row, charged my card and then changed their mind. This is a fraud practice that has been allowed to go on. Who in the federal government is allowing this. When I asked to speak to a manager; Ariel spoke to me and confirmed that this was Dillard's rule.

I purchased a dress in the Jackson, MS store. It was shipped and arrived damaged. I returned it with no problem. Ordered the same dress and it arrived damaged. I called the District Manager's office. Heather in her office went out of her way to help find this dress in the Nashville store. Danielle from the store called and was very helpful in handling the proper way to ship a dress. I am appreciative of their professional and prompt handling of my issue. Thanks ladies!

Purchased dress for my daughter for homecoming. 10 percent was taken off for broken waist belt. Upon arriving home dress looks as if 5 year olds cut into it. I reached out to Dillards who told me to bring dress back but dance was in 3 hours. I had seamstress fix what she could. I'd like more than 10 percent off.

My very first shopping experience at the new Dillard's located in Slidell, LA at the Fremeaux mall was horrible. A male sales associate basically followed me all the way to the check out line. HMMMM... I was being watched and couldn't figure out what was his purpose. My second experience was last night shopping for my son's homecoming attire. A woman sales associate offered her assistance which was fine, she stayed glued to our sides the entire time. HMMMM... My son needed a navy tie and the boys department did not have one so we decided to go to the Men's department and the sales associated basically told me I needed to check out the items I wanted to purchase before I could bring the shirt to the men's department. So now I get it... She actually thought I was a theft.
I was offended. I am many things but a theft is not one of them. Then I figured out that was the problem when the man followed me. Now, I'm furious and just want to send a message to the security department. Common sense tells me if I wanted to steal anything and get away with it the best thing to do is BLEND in. So I would have dressed all fancy and wore a bunch of Jewelry instead I go in there like most working class Americans and wear blue jeans and a blouse. So maybe you would actually cut down on your theft rate if you would focus on appearances are very deceptive. STOP targeting your average American.

I purchased a formal dress on dillards.com that cost over $200.00, and they charged me $11.95 in shipping. I'm an avid online shoppers, and I've never paid shipping for any purchase over $50. I ended up returning the dress, because the color was different than the item pictured online. Well my refund was about a $1.00 short, so of course I called to find out why. I understand that the shipping would not be returned, but they charged me taxes on the shipping costs! What a ripoff! My first and last time buying anything from Dillards!
How do I know I can trust these reviews about Dillards?
611,030 reviews on ConsumerAffairs are verified.
We require contact information to ensure our reviewers are real.
We use intelligent software that helps us maintain the integrity of reviews.
Our moderators read all reviews to verify quality and helpfulness.
For more information about reviews on ConsumerAffairs.com please visit our FAQ.

About two weeks ago, I was shopping in my favorite section of what once was my favorite department store. I found a sweater that I adored, but did not love the price tag. I asked the employee of that department if there were any upcoming sales. The lady informed me there would not be any sales until November. To my disappointment, I went ahead and paid full price for a $100 sweater. Not even two weeks later the whole section went 40% off within the beginning of October (today to be exact).
My first inclination was to get my receipt and unworn sweater (tags still attached) and try to get a price adjustment. I was informed they are unable to do so per policy. This is understandable. However, when I asked if I could refund the sweater and then repurchase since I had been mislead by a previous employee, I was told this is still a price adjustment and they would then remove the item from the floor so that I could not repurchase. I couldn't even go to the rack and buy another one. I was treated in such a poor manner and felt convicted as a criminal for even asking.
On top of it all, I keep the sweater and decided to check out the sale rack and was watched by this employee for much of my visit. I even heard her gossiping about what had just happened with another employee. Tomorrow I will return the sweater and order from another company online. I spend hundreds of dollars a month in that department, but this is one customer they have lost. Poor policy and rude employees. Knoxville, TN West Town Mall.

Associate very helpful but my Visa card would not go thru so I wrote a check. Noticed this morning on bank line it electronically did go thru. So now I have been charged twice. I really needed those funds to purchase other items for a wedding Oct. 1. Hope this will not take long to get back in my account. Customer service said 7 to 10 days. Not one apology though! Your system may need updated.

Purchased a Michael Kors crossbody purse as a gift. Wow what a mistake. I went in to return it before 30 days and with receipt in hand, and because I did not have the "tags" they RUDELY denied the return... this purse was NOT used unless putting your stuff in it and realizing it was way too small is USING they were physically digging in the corners trying desperately to find something wrong. That purse was in its original state.
The store manager said it had to have original tags, which I stated I was not aware of but had my receipt. She picked up the receipt and said as RUDE as possible that it states it on the back, like anyone goes home & reads the back of their receipts. Just their BOGUS reason to not return an item which had a receipt. They act as if because you don't have a tag you stole it. Never ever had this issue with any retail store and never will again will NEVER shop there again. Poor customer services at its finest. No wonder they are closing stores...

I ordered a dress from Dillards online that I was supposed to wear on a friend's wedding. Dillards sent me an order and shipping confirmation. They provided a tracking number. However I found out 10 days later that the order was never shipped, because the item was not in stock. No one has ever notified me. They had no clue this happened and when I contacted them, they said "sorry, we will give you your money back". How can you run a business not knowing what's going on in your own warehouse and giving fake tracking numbers so customers that actually rely on you. Now I have no dress to wear to the wedding and I could have ordered something else if I wasn't lied to.

I bought a top and skirt in the dress department. The sales lady told me if I opened a new credit card with Dillard's I would get and additional 30% off the first purchase. Because I was spending about $175.00, I said sure. On my way home I realized there was no discount on the ticket. I called customer and they told to bring it in and they'd fix it. I went back and was told they would not discount the purchase because the merchandise I bought was not on sale. I was never told anything like this when I bought and got the new card.
After talking to 2 different store managers, they told me I should have seen the signs about the policy. Doesn't matter that their employee told me I would get the discount if I opened a credit card or that I called and they told me to come back. I really don't understand their company policy. I am 73 and I have never run into anything like this with any store. When Dillards was Joske's this would never have happened. After reading all the reviews on this site, I can see that this is common practice with Dillards. I mostly shop online with them, but I think this is my very last purchase with them ever!!! Macy's has never treated me like this. They are always glad to give discounts even when you don't have a coupon. I certainly didn't need another credit card. I guess I can't blame the managers for the policy, they probably don't have any other option if they want to keep their jobs. Shame on the Dillards corporate attitude.

On July 28, 2016 my 16-year-old granddaughter and I went school shopping at Dillard's in Monroe Louisiana. Upon entering the store I quickly noticed we were being followed around by an Asian male. Every department we entered, he came and stood directly in front of us watching our every move. He followed us until we made our purchases. Were it not for my very naive granddaughter I would not have spent a dime in that store! This is not the first time this has happened. And yes, we are African Americans who work hard and give back to our community. I would rather spend my hard earned dollars on Amazon!

Dillards Store, Northpark Mall, Dallas Texas - I have a nephew who was racially profiled and escorted out of the Dillards store here at this mall. He and some friends were there, he was trying on clothes and the security guard asked him if he was stealing. No, he was not stealing, he was trying on clothes. The store then called the police and was banned from this mall. All ** people do not steal, just like all ** people don't. I have called the store manager and Shannon and she has yet to call me back. I call the home office of Dillards and no one has returned my call. This type of behavior will not be tolerated by anyone. Civil rights were violated and I intend to press charges against this mall and store!

Dillard's, what a scam. This store lets you buy something and does not tell you about the 30 day return policy? 30 day return policy! What? This is so far from the norm at other Department stores that I feel like they are really trying to trick you and are being very dishonest. I know I will not shop there anymore because of this and I will tell everyone I know to do the same. They should put on the front of the receipt with a stamp in RED letters, "30 DAYS TO RETURN"! I bought a pair of Coach heels for a wedding and I could not wear them, the right shoe was the display and had been tried on and walked it and was stretched out. I had tried on the pink shoes and was happy with the size but I took the nude instead in the same size without trying them on. What a mess. Don't shop at Dillard's!!!

Beware when ordering a gift card from Dillards. I ordered a gift card online for a wedding gift, and my card was debited twice for the full amount. When I called to question this, I was told that one was a "preauthorization" and would drop off and be credited to my account in 3-5 days. That's 3-5 days that Dillards is holding my money. There is nothing in their web ordering site that mentions this. If I had known that this was their practice, I would have ordered a gift card from Amazon.com.

On Friday the 20th of May I walked into Dillard's in Monroe, LA to return an item that had never been worn before from the card that someone had stolen my information from. I explained to the girl that was working that my bank closed the account due to someone else stealing my identity. She stated that she could not give a refund but she could give me a store credit. I stared. I didn't want a store credit because I planned on not returning to that location to shop and it was only fair that I get a cash refund being that before the misuse of my card from someone else I'd purchased it from my check debit card. I even went as far as calling my bank and putting them on speaker phone speaking on my account stating the same thing I tried to explain to her in the first place. So with all the back and forth she finally went and asked her manager Crystal for assistance as what to do for me.
So the customer service associate comes back and tells me that she can give me the gift card, refund my item off the gift card and turn around and redeem the gift card to give me cash back from my purchase. Like I said I frequently shop at Dillard's but just as much as I buy I find myself returning. I walked in again in Dillard's Sunday, May 22nd with another return, took up to customer service again like I'd done before. The same lady was working that was working that Friday. This time I had an Internet order to return. The customer service associate (Beatrice) then tells me that the manager Crystal who never came and showed her face that Friday of me coming in the store stated that I could not get a refund anymore until I get my new card from my bank. I told her I received my new card that Saturday in the mail but was unable to activate it.
She then calls the active (Steve) the shoe dept manager and explains to him what the Crystal lady said without giving me a chance to explain myself the problem that was going on. So (Steve) in the Monroe, LA location says too that he doesn't have the ability to override another manager decision in which I found out Crystal was not the store manager. So he could have return my jumpsuit but that's not the real problem. The real problem was when I explained to him what happened and he bluntly said "I'm not giving get you your money back" and in return I said to him "what good is it for you to be a manager if you can't authorize anything in return". He tells me "I am authorizing something good. I'm authorizing that you're not getting your money back". So I said "ok". Then while I was boxing my item up he stood there as if he was patronizing me...
I then told him that he was an unprofessional **. Then retreated and told me that I was the ** and an **. Then as if that wasn't enough, threatened me and said to me that he wasn't what I wanted and that he wanted me to try him. I asked him his name, he asked me what was mine. I tell him I asked what was his and he stated Leonard and turn around and said "sike". It didn't matter anyway because I knew his name from dealing with him in the women shoes dept. He was rude then as well but I let it slide that time but not this time. I have never been cursed, threatened and treated so rudely as well as unprofessional in my life by anyone. But even are the kids do of people Dillard's hire. And you would der why so many prior Dillard's customer order from offline to not have to deal with extreme disrespect from management or their associates.
I was a loyal customer to the Dillard's in Monroe, LA at the PecanLand Mall location but after this experience, they can have it... They want to get the commission from your transactions then treat you like ** when you need to do a refund. Their return policy stinks and their management team is a no go. Think twice if you want to do your shopping at this Dillards!!! I've not only contacted the store manager about this matter I've also contacted corporate as well. I refuse to be treated this way especially when I'm spending my hard earned money with the same who needs your commission in order to bring good, a decent check home... No way, not having it!!!

I purchased a Bare Minerals eyeliner from Dillard's at Volusia Mall. I do not use make-up every day, usually only around three times a week, and I had this product for about a month when I noticed that all the product was gone. This is a crayon type product that is used like an automatic pencil that allows you to twist out the lead as needed. On several occasions, the product broke off when I was using it so apparently it was not well designed to gently draw a line on eyelid skin.
When I returned to Dillard's to get the product replaced, I was asked for my original product box and the original sales receipt. Really, after 30 days who keeps sales receipts and boxes for cosmetics? I asked to speak to a manager. The on-duty manager came and refused to provide a replacement or refund for the defective product without a receipt. While discussing this absurd policy regarding defective products the manager started boasting about "this policy is the reason Dillard's is making a profit while Macy's is not". As for me, I will never again shop at Dillard's and Macy's has always treated me fairly and respectfully. No more Dillard's in my life!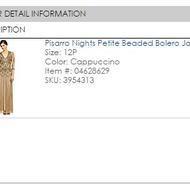 Dillards: if you are going to sell "mother of bride" and other event-related apparel, you should check your return policy against that of your competitors. I bought a dress online from Dillards, along with two others from other stores. I left them hanging up to see them for a while in order to make a final decision. Meantime, I started shopping for another dress, and to my surprise, the dress I had purchased from Dillards was now $60 less than what I had paid. I called and asked if I could return the item, and was told that their policy is 30 days! I asked if they could offer a price reduction, and again was told "no." Seriously? I was able to return the other two items, purchased at Nordstrom and Macy's at the same time, with no trouble - as long as the tags were intact, which they were.
Finally, after asking to speak with a supervisor, they offered me the ability to return the item - for store credit only! I don't want store credit. I don't want any of the dresses that they are offering now - I found one I like at another store. I don't shop often enough to need a store credit of that amount! How dare they "hold me hostage" like this - particularly since they don't even have a store near me. I will never shop Dillards again. I will also be sharing this warning of the unfriendly return policy with my friends - many of whom have sons and daughters about to be married, and whom will be soon looking for "that special dress."

I went in today to purchase some clothing items for my son. I have a 14 year old trapped in an almost 6'3" body. I have a kid that likes dress shirts, slacks and suits. We shop in the men's section. I have never had a problem with this store before and have asked for and received help before. I was approached by two sales associates and told them we were just looking. A female sales associate yelled across the room asking if we needed help and then marched over halfway across the room. I felt like I was being escorted out. I went to the desk and paid for the items. I told her I would not be back. I found her to be quite condescending and overbearing. She just laughed and smiled. I will not step foot in a Dillard's again. I am not obligated to shop in this store or any store.

BUYER BEWARE: I'm 65-year-old man going on vacation. Purchased 2 pair of Levi Jeans. Tried on one pair, fit perfect and purchased another pair identical to first pair. Spent almost $200 cash with the store that day. Got to vacation spot, pulled tags and put on 2nd pair (those not tried on in store). The outside seams to legs were twisted around toward the front of the pants and looked horrible. As I only had these 2 new pants with me, I had to wear them. (No retail stores where I was.) When I returned back to Shreveport, LA, I immediately attempted to return the DEFECTIVE jeans (along with the cash receipt) for a nondefective pair. I was told I could not return them cause I wore them. Whatttt? Does your company resell defective merchandise??? I guess so.
In any event I attempted to reason with the Men's Dept Manager who was a complete idiot. The only words out of his mouth were that the pants were not defective and were made that way. Really?? I asked if he wanted me to try them on and show him the defect and he said, "It won't matter. I'm not taking them back." So I was very shocked, humiliated and sad. He's living in the '70s and does not realize $ from folks like you & I keep his store out of bankruptcy and Blane in a job. There are a few other retailers I can visit to spend cash. I, my wife, my family, my friends and anyone else I can convince will never spend another cent with Dillard's and will be better off for it. If you work hard for your money, I would advise whomever is reading this to spend it wiser than I did last week. Hope you're smarter. Don't spend your 1st cent!!!

Dillards in The Mall of GA has no customer service at all. I'm a retail manger therefore when I shop I expect certain service, especially in a retail location. I was interested in purchasing my boyfriend a few Polo items. Due to their lack of interest in helping me, I chose not to spend my money with them. This location just lost my business and the $400 I plans to spend.

I wish that I had read the reviews before shopping at Dillard's. I tried to return a pair of unworn boots. The soles were perfectly smooth. There was a small spot on the soles of both boots where someone tried them on carpet. Again, no scratches. If you ran your hand over them, you would not feel a thing. The 'shoe manager' refused to return them. He said they were 'not sellable.' I was shocked. They looked better than the shoes on the display. He said those had been tried on and that was why. He was unsympathetic and on a power trip. I never felt that a store wanted my money and not my business until then. He did not care about customer service or satisfaction but about keeping my money. I was floored.
As I was leaving, a nice associate told me to take them to the perimeter Dillard's. She said, "they are more helpful." She was right. The super nice lady who kindly returned my boots never questioned them and hoped my time at Dillard's was enjoyable. I said that my time at Perimeter's Dillard's is. I give them 3 stars because it's an average. 1 star for the Atlantic Station and 5 for the Perimeter store! If you shop there in Atlanta, go out of your way and go to the Perimeter store. You will be glad.

Just prior to relocating from Atlanta to Florida, my car was broken into and my purse stolen with all my credit cards. I did not replace my Dillards card because I was about to move and didn't know if there was a Dillards nearby. Some time after moving to Florida, I visited a Dillards in a nearby town where the clerk asked if I had a credit card. I told her my purse had been stolen and she informed me that she could look it up and take care of me.
A year later, having never once hearing a word from Dillards either by phone or email which they had from the application, I received a phone call at 7 am in the morning from a bill collector. I might add that he reached me on the same cell that was provided on the application. Having been busy with building my new home and receiving all my mail forwarded except for the Dillards bill, I never thought about the Dillards bill. The total I owed was $147. My near perfect credit score is now ruined over $147 and for a store that is certainly not worth it. I will NEVER shop at a Dillards again. The saddest thing is I was telling this story at work and one of my co-workers said the same thing happened to her. Thanks Dillards!

Yesterday I lost my iPhone in your Dillard's Crestview Mall store. I was in a panic retracing my steps on both floors looking for it. Your employees, including Nancy, and a blond lady on upper level, and a lady on the first floor in cosmetics COULDN'T HAVE BEEN MORE KIND AND EFFICIENT in helping me to find it. Finally my husband drove to the store with his phone and we used the Find My Phone app to locate it. Thanks so much! Please pass this on to your employees. I love shopping at your store! And I highly recommend the iPhone Find My Phone app!

I bought a Steve Madden coat for me from Dillards. I found it at very good price, I didn't found it warm enough so I decided to return it. I had my TAGS and the RECEIPT and it was worn just for an hour. It was in the same condition as mentioned in the return policy. I went to return it to Rogers, AR. The lady at the customer service was the rudest lady I have ever met in my life. She wanted me to wear the coat with tags hanging on it, how could she expect that. I never meant to return it. I bought it for me and it was not warm so I returned it. This is not what return policy says of Dillards, it just took a second for her to hang the tags again. A very bad experience on customer service. I will never shop from Dillards.

I've been shopping at Dillard's for years. On January 1, 2016 I bought several items. I guess that day the store was so crowded due to the sale, and the salesladies did not have time to check the security tags. They left 2 on a pair of Gianni Bini pants and a Michael Kors top that I bought. So I had to make a trip next day to ask them to remove the tags. That's when Dillard's salespeople really irritate me. First stop: upstairs; the saleslady plainly told me, "I don't have anything to take them off. You'll have to go downstairs or the women department somewhere around here (pointing around the floor to me) to do it." Second stop - where the 1st person pointed: the 2nd saleslady then informed me, "We don't have anything upstairs to remove them for you." Huh?! I wish the first salesperson told me this so I didn't have to go around upstairs. Third stop: downstairs and at the exact department I bought the pants.
So I thought I was good. Nope - I was so wrong! She started asking me where I bought them, and showed surprise that this is the first time she saw a security tag on Gianni Bini line as she said, "We never had security tag like this." I explained to her that I got them at a different Dillard's and that might explain why. Then she asked me to show her my receipt. I was shocked as I rarely keep Dillard's receipt for a long time because Dillard's has a return label that it traces down when/how I paid for it.
So I asked her why she wanted to see my receipt. She said it's due to some policy of Dillard's. But I still don't see the point of it. I felt insulted as if I were a shoplifter. But it still doesn't fit as she knows for sure the items are not from her store. So the policy does not make any sense. Luckily this time I had my receipt with me. But I feel really irritated being asked to show my receipt. It IS the store's fault to cause me make the whole trip to the store to remove the tags. And I had to show my receipt! I do not understand Dillard's policy. I'd really hesitate to shop at Dillard's ever again.

I have been shopping at Dillards for many years. I have spent hundreds of dollars. On 01/01/16 I went with my family to buy some home items. I was quoted the wrong price by one of their associates. To make matters worse I found out after waiting in line for 30 minutes and the store manager was very loud and rude to me. This will be my last trip to this store. At the end of the day a customer who spend $100 and one who $1000 has one thing in common. We all work hard for our money and deserve to be treated with respect.

On Dec 23.2015 I went to Dillard's to look for a handbag. I had one of a kind experience and to make more upset I had my young sons. I been shopping at Dillard's for decades but I will never ever shop there again due to the rude MK specialist with the talking so loud, cursing she was doing on the sale floor. I was very shock to hear this. She was very pretty. Dress nice but how she was using profanity on the floor made her ugly. I wrote her name down. It stated Nikko MK specialist. I will never come or shop in this Dillard's ever again cause of her. I went to another sale associate. She said, "Yes, that's nothing new for her. That's how she act." What made it more hurtful, I had my 2 young son so please beware of her.

On Wed. Nov. 25th, my sister (from out of state), my DIL and I went shopping. My sister had never been in a Dillard's so we went in. I have shopped there for a few years and have spent thousands of dollars there. We were more or less browsing since we were coming back on Black Friday. My sister and I both bought some cute women pajamas on sale as gifts. Two days later, on Black Friday, we came back and saw the pajamas were an additional 50% off. So later that day we brought them back expecting either a price difference or to refund and repurchase the same items. OH NO!!! We were told we wouldn't get the price difference and they would refund the money but we could not repurchase the exact same items and they had to be turned over to a review team the next day. What??
They called over Jose, the manager(?) on duty. He said "Go ahead and get a refund but you can't have these pajamas. If you can find the exact size on the sales floor you can buy them - but not the ones you already bought". He was rude and certainly did not possess any customer service skills. By this time we were very irritated but almost laughing at the absurdity of the situation. How hard was it. Refund the items and repurchase it at the sale price. NOPE... Can't do it. OMG!!! I was a Director in Retail for 39 years. This scenario was the poster child of what not to do while dealing with the public. We finally got our refund, left the PJs and as we were walking out we witnessed Jose mistreated another customer on our way out.
This store is in Lake Havasu City, AZ and is one of their loss stores. It is virtually empty at all times. You would think the store, the company would be trying to get customers in their store and then keep them coming back and not shoving them out the door. So our trio simply went next door to JCP where we were greeted and treated with friendliness and respect and spent over $700... and we will be going back!! But not to Dillard's. I am still flabbergasted by the lack of professional courtesy shown by Jose at Dillard's towards their customers - their guests. As a Retail Director for 39 years, I would never put the reputation of my company into the hands of someone who is not capable of handling the responsibility.

It has been twice already that I buy shoes at the Dillards in Vero Beach, FL and they refuse to refund because they state they have been used. I bought boots Sunday night, went to return them on Monday morning because they did not go with my outfit that I had at home. And the salesperson said they were used. I put up a fight and she brought the manager over who did the return without a problem. The same thing happened last time when I bought a pair of heels. This Dillards is horrible. It just doesn't feel good when you're accused of something you did not do. I then took those heels over to the Dillards in Melbourne, FL and they took care of me and returned them without a problem. They are wonderful.

Today Nov 15, 2015, I attended the Cielo Vista Mall in El Paso, TX Christmas gala along with my mom, who as a matter of fact happens to be an ex employee of yours, who was under the tyrant, cruel and unjust management of Patrick **. I know this through my mom, acquaintances who have worked under such individual as well as public complaints I have read. I thank God every day my mother does no longer have to tolerate the ignorance and unprofessionalism of this man. She left your store with dignity and her head up for the many years she worked there and the amazing customer service rapport she provided. Anyhow, this is a different issue that brings me to you all but it just feels good to mention it.
Today, we attended your gala as customers, which by the way did not have the same quality and amount of attendees compared to other years. Very disorganized. With this, I tell you my complain. Here we are days in advance doing a presale, so you sales employees as well as your company can secure a sale for the event. This only benefits you all. Also, we are paying with the Dillards credit card which again it benefits your company. Your store was advertising the give away gift of a black clutch purse for each customer. As we picked up our merchandise, we were told that only I got a purse because they ran out of them and there were no more. I told my mom I was going to talk to the general manager Patrick **. No one send me to him. I knew who he was and neither my mom or I owe absolutely nothing but totally the opposite. I was spending my money at the store he manages.
I saw how Lancome still had purses, and this individual was standing at their counter with two other young men looking around. I came to him directly and made my complaint. He admitted to me the store ran out of purses. Ironically, I joined my friend to the gala the previous night at Sunland Park Mall, and funny thing they also ran out of purses. What kind of such corporation are you all that you promise a gift to your customers just to make a sale and do not comply to it. This Patrick guy told me that he was expecting a shipment of purses next week that I could come and claim mine but that it was not going to be the same purse. Never intended to get my information. I asked him how would he remember me, he answer me back that he has a good visual memory. I told him it was not enough for me that I needed his card. He took a card out of his wallet and gave it to me.
I really dont give a damn about the purse. I have plenty and you can all tell him he can keep it. It just felt good to come to him, confront him, and look directly in his eyes as a brave customer who does not care who he is, who protects him but did it on behalf of all the injustices he has committed against many former employees. I know this might not mean anything to you all, but as a customer I can tell you it is a shame that your store is managed by such people who do not demonstrate any interest on their customers, and neither does your store when you all promise a gift and give nothing. Both my mom and I together spend about 520 dlls at your event tonight. This amount might not be nothing but it sure would have been 520 dlls less on Patrick ** end of the day profits.

ConsumerAffairs Research Team
The ConsumerAffairs Research Team believes everyone deserves to make smart decisions. We aim to provide readers with the most up-to-date information available about today's consumer products and services.
Dillard's Inc., a publically-traded company, was founded in 1938. It now has more than 270 retail locations in 29 states as well as an online store and is headquartered in Little Rock, Ark. Dillard's sells men's, women's and children's clothing, accessories and shoes in addition to home goods.
Selection: Dillard's online shoe store offers extended sizes. It stocks women's sizes 3-13, and hundreds of women's shoes are available in sizes 5-12. The store offers styles for women, men and children.
Returns: Unsatisfied customers have 30 days to return merchandise. They may make exchanges and returns in their local Dillard's store for free.
Trending: Dillard's website has links to view shoe categories that are currently trending. Categories may represent seasonal changes or general popularity.
Extended sizes: Hard-to-fit consumers can easily browse all styles available in their size. The website has a special extended-sizes section to make searching faster; however, shoppers can also browse all shoes and then select their size.
Best for Dillard's carries adults' and children's shoes and is best for professionals, fashion lovers and hard-to-fit individuals.
Company Name:

Dillards

Website:

http://www.dillards.com/