Consumer Complaints and Reviews

I bought an entertainment center with a fireplace. I went to put it together and there was some missing pieces. I called the manufacturer and they told me they couldn't get it in until December! I called the store I purchased it from and all they had was the display. I do not want the display. I called another Big Lots and they have 4 more in a box. I asked them if they could just give me the pieces I need. They said I had to bring it back. I have it already out of the box and I cannot get it in my car or back in the box.
The pieces are small and I don't know why they can't just give me the parts out of another box. If I took it back they would still have a box with missing parts. They don't seem to be very cooperative. I have my receipt. And all I want is 4 small pieces. If I got another box, I would make them open it to make sure all the parts are there. The stores are in Greenfield and Indianapolis on East Washington St. I don't want to wait until December. I want to put it together now. Thanks!

I bought two Simmons sofas around three years ago. They are junk. I paid $400 a piece for them. The one sofa's cushions are flat now and the other sofa completely sunk in on one side. I have to buy new ones now and can't sell the old ones. I should have gone to a reputable dealer and paid an extra buck. This is now hard earned money going down the tubes. Buyer beware.

Online ordering - what a disappointment. I guess I'm used to Amazon's amazing service. I ordered a few things online that totaled over 100 dollars but with the online discount it fell right under and I was charged 11.99 shipping instead of free shipping. I called to see if I could cancel the order or add to it for free shipping and they said... "Nope. It can only be cancelled within 10 minutes of ordering." Even the customer service agent couldn't cancel my order. That said, it was in "processing" status for over a day. One might think it could have been cancelled within 20 minutes of ordering.. but no. I subsequently sent an email and had no response from them. I take responsibility for not rechecking the shipping free after the discount, but disappointed I was unable to cancel at all. Particularly within such a short time. Amazon.. I will never stray again.

Purchased a new sofa made by Simmons. Paid 320.00. Haven't had it a month cushions already collapsing. I have no children. It is a worthington in pewter. Stay away. Spend a little more. Quality is worth the price. Bringing my sofa back.

I enjoy shopping at Big Lots and have never had a complaint before. We saved up and bought a whole collection of the outdoor wicker-look furniture with bright red cushions. Very pretty. Well after the first month, the red cushions had sun-faded into an ugly, dirty-looking color. Then after the second summer, the resin wicker is all broken apart and just deteriorating so bad. I have had some Plow and Hearth furniture for 15 years that is still perfect. Of course it was more expensive, but worth it I guess.
I am so disappointed that I bought the couch, love seat, ottoman and wicker chair and now the second year it is awful and unsafe to sit or lay on. I called customer service and they said they need the original tags, which I don't have after two years. I guess I just don't want anyone else throwing their money away buying the substandard outdoor furniture. Perhaps if kept on an indoor porch it would be fine though. Now to start saving for better quality outdoor furniture and cushions. This review in no way reflects the workers at Big Lots stores, who are always very nice.
How do I know I can trust these reviews about Big Lots?
854,137 reviews on ConsumerAffairs are verified.
We require contact information to ensure our reviewers are real.
We use intelligent software that helps us maintain the integrity of reviews.
Our moderators read all reviews to verify quality and helpfulness.
For more information about reviews on ConsumerAffairs.com please visit our FAQ.

I purchased a Simmons made sectional sofa from Big Lots in Ft. Oglethorpe, GA on 1-21-2017. I began to notice that on the end of the sofa that I sit on (I live by myself) that there was a large sunk in place in the cushion and it would not pop back up when I got up. I called Simmons and they informed me that I should get back in touch with Big Lots that they had a 12 month warranty on the couch. I went to the store with pictures in my phone and spoke with the store manager (who just happened to be the person who sold me the couch). She was very kind and said that I had two options. One was to let them replace that section of the couch and the other was to refund my money (even though she explained that I was almost 2 weeks over the 4 month limit in order to get a full refund). She said that she had the ability to refund my money if that's what I wanted.
I went home and thought about this was a few hours and then called her and stated that I wanted my money back. I returned the couch and was refunded my money on a Credit Card. I lost money on this transaction because I had to pay someone to pick up and return the couch because Big Lots does not deliver or pick up. I am not sure that if I had not purchased this item from the store manager that anyone else would have returned my money. I was never told about the four month thing but I was told that the furniture had a 12 month warranty. My conclusion is that the quality of the Simmons furniture is not good at all and I would not recommend that anyone purchase that brand and especially from Big Lots. Maybe they should consider posting a large sign in their furniture section that says "No money refunded on furniture returned after 4 months". I will still shop there for smaller household items but not ever again for furniture.

Bought a recliner on 5-6-17, paid in full. Told rep I will pick-up on 5-7-17. Returned to pick-up and was told my purchased had been sold to another person. They tried to make me take the worn display model on floor. No way I take that one at paid priced of 212.00$. Agent responded I can come back next week and get same chair at over 300.00. Why? When I have paid receipt a purchase that belong to me. I will contact the BETTER BUSINESS people as soon as possible for recourse. BIG LOTS salespeople in furniture dept. are poorly trained and unprofessional. This occurs regularly at the WINSTON-SALEM, NC STORE ON UNIVERSITY PARKWAY. STORE# 1013.

We bought a Simmons loveseat recliner from Big Lots in Ephrata, PA. Neither is worth the room they take up. Big Lots didn't want to help with a return of this item and Simmons built a pile of junk. It was ripped from day one and now the recliners won't close properly. I'm not a rich man. This is why I shopped Big Lots but 529.00 for a recliner didn't come easy so I was hoping it would last longer than 6 months. But I guess I got what I paid for.

I purchased a gazebo in the summer of 2016 for $500. When you go to use the zippers they don't work. Because the gazebo is left open the majority of the time when you want to close the screen and be outside in mosquito season you quickly realize their zipper quality is garbage and don't work. I contacted customer service and they sent me out replacement panels for free but the zippers don't work. It's still the cheap fine clothing quality! (I know, I used to sew for many years!) Look at Walmart $200 gazebo with netting and you'll see what a sturdy an outdoor vinyl zipper should be!! I'm now going to order Walmart's 10x12 mosquito netting and use it for my 10x12 Wilson Fischer! Quality scam gazebo. (The overall size should work just fine.)

I purchased my sofa on March 7th. It is only March 29th and the seam on the one cushion is already ripped. All of the cushions are saggy the sides are pulling apart from the arm rests. So upset with this purchase. It has only been sat on a few times at night. There is no reason this couch should look years old instead of 3wks old. Just glad I noticed it now before the 30 day return limit. I have my receipt and will be returning tomorrow!! I will pay a little bit more somewhere else for something that will last a lot longer!!!

Today was the worst day experience. I went to Big Lots trying to return an electronic. The Manager and customer service accuse me of being a thief in front of my daughter and more customer, ONLY because the electronic that I purchased was White and the wire connection was Black, they accused me to stole the wire cable in color white just because the Bluetooth was white. I explained to them that was the original wire and the color was black. I say, "Can you go and open a new one and check." She went to double check. When they confirm I was saying the true they tell to another one with bad attitude "you can do the return."
When the cashier finish with my return, I went to speak with the manager and the customer service was involved in the problem and I requested an apology for call me a thief, and I received a bad attitude. Why she has to apologize well I told her she was wrong to call me a thief so she did a false accusation of myself in front of more people. Well in the end I left the store they not apologize. They proved to me the lack of the education of this 2 people the manager and the customer service that work in the store # 1420 in Phillipsburg NJ.

My father recently suffered several life-threatening issues that caused him to no longer care for himself. Recently I purchased him a television and he advised that Big Lots store #1155 would be the best place to purchase his stand as he was satisfied with his prior purchase however the service we received today was nothing close to what he had experienced in the past. Christian was our sales rep and he knew very little of what was to be done. He advised myself, my sister and our father that the stand was sold out and it would be at least two weeks before any additional ones would be in.
He then told us that selling of the display would need to be approved by the manager but he was off. I explained to him that I came in from out of town and wouldn't mind waiting for him to contact the manager for approval. He walks away and returns about 10 minutes later to tell us that he contacted the manager however he's not on call and only works when he's at the store. I then asked him who was in charge when he wasn't in store and he said Sarah **. I asked him would he please grab her and he advised us that she said she was busy and had other tasks that she was responsible for and would not come over.
At this point I told him that it would behoove him to have Sarah come speak with us. I asked him and the front cashier for the district managers name but it wasn't given. I often shop at the Sugarland location on hwy 6 and have never experienced such disrespect and disregard to a customer. My father was so irritated and disappointed with the service that he asked us to leave because he felt as though no one there wanted to assist him. I plan on making a BBB Complaint as well as any other reviews that can be made regarding today's experience.

My wife and I purchased a leather sofa and loveseat in brown leather. We had purchased a recliner before and it is still very nice shape. The sofa and loveseat made by Simmons started to lose the outer coating after less than 2 years. I feel it must be a defect because our recliner is older and has no issues... Same material on both. It is a large purchase to buy living room furniture that only lasted 2 years!!!

I bought a large sofa from Big Lots back in 2006 and just put it out for the dump yesterday 2-9-2017. The couch is 11 years old. It has been slept on, feet on it, etc. and the only problem the couch had was that the springs had started wearing out and the cushions sagged. Since the cushions could be removed I just took some pillows from another old couch (because we had two) and placed them under the pillows. But they didn't start sagging until about 5 years later. I am talking about a couch with 11 years on it, countless after countless small children and teenagers sitting on it, and it still held up. I paid 350.00 for that couch.
The one thing I liked was it was made in the USA. I have also bought damaged floor models for cheap and had a friend fix the small issues and never had a problem at all. I have a leather (faux) oversized recliner that we got last year and have never had any problems with it at all. Also bought a broke dual recliner love seat with middle console that charges your cell phones etc., and my friend fixed the small problem and the only issue with that is one of the recliner feet area bent but that was my teen's fault she put her legs to the side of it. Furniture with any amount of wear and tear is going to come apart or tear up... but people up until yesterday still slept on that couch, still sit on it without any complaints etc. so I would say 11 years is pretty darn good... so thanks Big Lots for getting American Made furniture.

I recently and stupidly left my purse in a cart at the Big Lots Store in Lancaster, NY. I returned to the store after a frantic search. My purse, cards and a rather large amount of cash was intact. Kudos to their employees and my huge gratitude, as I am retired and on a fixed income. They were and always have been both friendly and helpful. Again a huge Thank you to all!???

I was very impressed at the furniture that was on display. I purchased two identical recliners and paid $600. Two months later the back of one side broke. The other leg rest was stuck in the upright position. I thought it was just the recliners that were poor quality. So $600 went into the garbage. My Husband suggested that we get one of their 2 piece sectionals. Well the closest Big Lots was out of the one side. We drove to the other side of town to "purchase" it at another Big Lots. We paid the extra to have it delivered. It was just that, delivered. Not cut out of the plastic, not set up... just delivered.
Two months later the cushioning has collapsed because the "S" shaped metal seating that is attached from the back to the front came undone. My Husband ended up just cutting off the entire black undercloth and reconnected it multiple times. We spent $900 for this sectional. When we sit down our knees are at the same level as our chest. We now have blocks underneath to hold up the cushions. We are on a fixed income so until we can recoup the cost we are stuck. Big Lots manager said I has 30 day return policy but I should contact Simmons. Simmons said to return it to Big Lots... Hello, this is a sectional sofa. After all of this, I find out from my friend and my Father that they had the same thing happen to them. Never again will I buy for Big Lots.

Purchased a couch and chair. Got the couch home. A few months later decided to put the legs on the bottom of the couch. On the back part of the couch there is no wood frame to put leg on. This is what we ended up with after paying close to 1000.00 for the two pieces. I would not recommend purchasing this cheap made furniture!! Photos are of the under back side of the couch.

I went into the Big Lots in Portsmouth, NH on Friday, January 6, 2017, at approximately 8:45 pm. I was immediately greeted by one of the employees. That was fine. I was then asked by another employee if there was anything she could help me find, to which I replied, 'No'. Little did I realize that she most likely asked me that because the store was closing at 9:00 pm, which I didn't realize until I heard an announcement made at 8:55 pm. Two things: the temperature in the store was so uncomfortably cold, that I don't know how anyone would want to even be IN the store. Also, I was looking at the Christmas clearance items: only 50% off Christmas items (gift bags, Christmas cards, decor, etc), and only 25% off Christmas-themed food items!!! Are you kidding me?!?
ALL other retailers by this time have at LEAST 75% off Christmas items!!! And only 25% off food items?!? Give me a break! They had their Valentines stuff out, but only 25% off Xmas candy??? And to top it all off, I found out they did away with the Scrapbooking department - the reason why I went in there in the first place. Again, very disappointed from such a quick visit. And what large retail store closes at 9p on a Friday night anyway?!? No reason to go back - Ocean State Job Lots is just down the street and they keep the heat on for customers!

My husband and I purchased the Simmons sunflower couch and chair and ottoman from Big Lots located in Peoria IL. Not even a year later it was coming apart at the seams. I called the store and after arguing with the manager they decided to come and pick it up and replace it with a new one. Once the delivery guy brought it to my house I had noticed that the top of the cushion didn't match the rest of the couch. I called the store back and they told me that they would give me money off and that I could buy the extended warranty if I wanted to. So of course I did.
I haven't had the replacement couch 2 months and it is doing the same thing. Called customer service and they told me that it would take 48 hours for the District manager to contact me. I contacted the store and got transferred from 1 manager to another and was told I have to wait until the other manager came in tomorrow. This place is a joke. I will never never buy from this store again. Can't wait to see what they are going to do about not 1 but 2 defected couches. I asked for the District manager's phone number. Was told "Sorry. We can't give you that information. He will contact you when he can."

I don't normally complain about a store but this is too much. I bought a loveseat from Big Lots last week Friday and was told that if it went on sale within a week, I would get the sale price and a refund. So yesterday it went on sale for $50 less. I called today and was told I had to call the day of the sale to get the refund. They didn't tell me that part of it. They also advertised free shipping over $75 on their website. Well they didn't say that if you bought something from the store, not online, the shipping is NOT free. Lesson learned: DON'T SHOP AT BIG LOTS!!!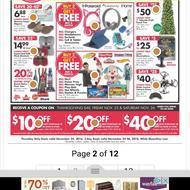 A friend & I visited the BIG LOTS! store in West Columbia, SC on Black Friday 2016 (yesterday), to purchase Monster High dolls & Fisher-Price Play School toys that were part of the advertised "Buy 2, get 1 FREE" (3 day Sale- includes Monster High, Fisher-Price Play School, Nerf, Hot Wheels, Play-Doh & ALL games & puzzles). I grabbed a sale paper upon arrival & double checked the sale, as well as to see what (if any exclusions) there were. The ad paper in the store was different than the circular in The State newspaper, as far as size; it was a long newspaper like ad with 3-4 pages instead of the typical store circular that's a multipage 11x17" half fold as well listed exclusions. Fisher-Price Play School toys, specifically "Preschool" were listed as the "Buy 2, get 1 FREE", as well as Monster High dolls priced $8- $20.
Once I made way towards the "toy area", most items on sale in that part of the store were placed in the middle of the main aisle with sale signs. I chose all 3 "F-P" toys from 1 of 3 places (an end cap, an entire Isle that was 1/2 "F-P", 1/2 "F-P" knock-off- attached to the end cap, & in the center of the main aisle) with sale signs stating "Fisher-Price Toys Buy 2, get 1 FREE" along with logos of all the brands included in the sale. I chose all 3 (different) Monster High dolls that were priced $8 from 1 of 2 places, (in the aisle along the back wall of the toy section & in the center of the main aisle) with signs stating "Monster High Dolls Buy 2, get 1 FREE" along with logos of all the brands included in the sale.
I continued shopping, browsing other toy sales, when I began having an anxiety attack (I have PTSD, the reason is personal, involving another shopper & wasn't related to staff) & chose to quickly leave. My friend and I headed to the front of the store when 1 of 3 cashiers had only 1 person with 2 items that was in process of being checked out; so she asked did I wanna run thru the line or leave. Since she had only 2 small items (not on sale) & I had 6 (sale items), I said sure. The cashier scanned all 6 of mine quite quickly & gave me the total price of $32 & change I believe. I stated to her that all 6 were "Buy 2, get 1 FREE" & the total seemed incorrect. She very rudely (& continued to be rude throughout the entire transaction/conversation) said, "I don't know anything about that, I do not work that area so what would you like for me to do?"
My friend spoke up & said "Yea, they're supposed to be on sale" & we both said at the same time basically, "They're in the ad." The register was directly right behind the "3 Day Thanksgiving Sale" sign & basket of ads so, I grabbed one. As I opened it to the toys listed & handed it to her, she said again "Do you want me to get a manager?" I didn't answer yes or no but mentioned I have 3 of each, then pointed to each item while counting "1-2-3"; the Monster High dolls in 1 bag & then the "F-P" toys in the 2nd bag. She hesitated going into saying something else while realizing I in fact had 2 of the brands listed on sale & went back to another screen. She looked at the item description & price then back at the ad.
She then says "You have to have 3" so of course I said "Yes & I do, see" & pointed while counting again. She responded by saying it took $1 & something (can't remember exact change amount) & then $3.33 off. I said, "That makes no sense being that all 3 of these (pulling down the bag exposing all 3 "MH" doll boxes) are $8 each", with no response from her after about 2 seconds I added "can you just void it out, I'm sorry I've gotta leave." She told me she would need a manager. On her ear piece, she put the mic to her (while continuing to be rude & if not increasingly, while not grammatically correct, "more" rude) & said "I need a manager to come void a transaction".
Waiting literally 3 seconds she said it again then finally after another 3 seconds says "Hello! If anyone can hear me, I need a manager!" Within about 2-3 minutes of her 1st request a manager comes up & asks what the issue is. I state that the items were to be on the "Buy 2, get 1 FREE" sale, they weren't ringing up correctly & that I would just go to Walmart whenever I could later because I needed to leave & couldn't wait. He voids the transaction & I thanked them both while again saying I was sorry. My friend looked at me & knew I was panicked (my hands were shaking & my entire body was starting to) so she handed her items to the cashier & said "I'm sorry, I really am" & we left.
I was not being rude in any way at all but was clearly trying to leave quickly. On a normal basis I would have asked the manager to see what was going on, given I had in fact grabbed the right toys. I would have also pulled him aside after completing the transaction to inform him about the cashier being very rude, more or less condescending (as I asked my friend later was she being sarcastically polite while being a rude **, or was it just me?), but again I had to get out the door.
I did however call the store today & asked to speak to a store manager, which he said he was. The same older gentleman who voided the transaction yesterday is who I spoke to. He stated he remembered me, ("yea you said you were going to Walmart" to quote him) after I said the approximate time I was in & the issue with the sale. He said had he had more time he would have explained that it takes off a third & ends up the lesser value item is free. I told him I had an emergency that resulted in me having to promptly leave. I then explained what I had, where I got them from in the store (he said he was the one who set up the sale displays including the items in the center main aisle), & for instance all 3 dolls were $8; so the $1 & change plus the $3.33 it took off did not add up.
He explained it takes a third off all items & if I were to return an item, assuming it's the lesser item or not but treated as a lesser value free item, I wouldn't get any money back. I responded that it again made no sense as to what was taken off, (as amount mentioned by the cashier) based solely on the 3 dolls priced $8 each; it wouldn't matter which was free they're all the same price. The $3.33 plus $1 & whatever, even if it was 2 cent short of $2, didn't add to $8 off. He tried to explain again, repeating what he had said about a third off. I said "ok, thank you very much" thus ending the conversation. He said that the cashier was new, not familiar with how to do things but that the sale ended at midnight tonight. I thanked him again & hung up.
I thought that the manager's response & tone was at times also rude & uncalled for. I didn't bother to mention the cashier yesterday due to his attitude wasn't very professional either nor could he produce/explain the issue with the sale & price taken off not reflecting "1 FREE"; as well as ultimately stating "I don't know" in response to it not making sense then using "the only issue" they've had has been 1 customer who grabbed the knock-off play-doh instead of Play-Doh brand play-doh. The comparison was completely irrelevant as I clearly didn't have knock-offs. Needless to say I don't visit Big Lots often & I don't think I will ever again. After not only dealing with a rude cashier but dealing with a manager who I expected to say "come on in, ask for me & I'll work it out"; instead was rather rude himself & was not very helpful at all.

Bought a gazebo and outdoor furniture from Big Lots 6 months ago. All of it rusted out and fell apart. Spent over 500$. When went back to store they told me it was out of warranty after the salesman told me it would last. Very poor.

December 2015 my 7 yr old daughter wanted a deluxe Cupcake maker. Much to my surprise and delight I found one at Big Lots in highland square in Inverness FL For $20! She also got an easy bake oven that year so it took a few months before she decided to open it and use the cupcake maker. When she began making the cupcakes they weren't mixing very well and had a weird smell. She informed me that her friend's cupcakes maker batter smelled the same way. So she continued to make the cupcakes. When finished she took a bite and immediately vomited into the kitchen sink. I then noticed that some of the batter packages were dated Jan of 2011 some Feb of 2012. 4 1/2 yrs old these were and had the potential for salmonella poisoning! Very disappointed and angry!!

I always buy the most sturdy and wood furniture so all the beds, couches and rocker recliners I've ever bought from Big Lots have been fine. This time I used same day delivery which was fine. Delivery guy said he could also assemble. Assembly was awful! At least my Alzheimer's Mom slept thru it all. He assembled: small dresser, drawers won't open; assembled kids' desk & chairs, red dents & damage on top of desk; daybed trundle, didn't finish trundle... He was in my home for 6hrs! And wanted to return at 10 am next day to assemble 60' tv stand. I called and informed him I'd already finished bed & tv stand and he didn't need to return. Informed him of dresser drawers not opening, he said it'll just take small adjustment. "No, I'll fix myself." He charged about what Macy's furniture delivery charged but Macy's guys assemble most items outside & are lightning fast and take all the trash.

Whatever happened to the customer is always right? I just finished paying off my new living room set, as told, I gave a month notice, and a 2 week notice. To my surprise when I made my final payment, I was told "you didn't give a notice". I am being told I have to wait 1-2 week for the rest of the Living Room Suite to arrive. I have names and dates, but all of that fell on deaf ears, even called the District Manager, who never even bothered to call me back. The person who answered the phone was rude and told me I needed to wait until all my pieces were there before scheduling delivery (an outside delivery person).
I repeatedly told her, "that's my problem, I did what I was supposed to do", she just kept telling me to wait to have my furniture delivered. Since no one seems to care about customer service, I will just take my money elsewhere, already found a new Living Room Suite, I love even more. I will be making another call to the District Manager to let him know, just exactly how I feel.

I bought a sofa and a recliner from Big Lots... BIG MISTAKE! This is the Verona Simmons Brand and it is garbage! I have had it 3 months and is already sagging in on one side, just poorly made. Also I paid $80 to have it delivered down the street and the moving guy broke the leg off the back of the couch, he said he would be back with a replacement and have not seen him since. This was bought at the Spokane Washington Store.

I hadn't bought greeting cards in quite a while in Big Lots and was very disappointed to find that they do not discount them at all anymore. Why would I want to go to a discount store to buy greeting cards and pay full price? Will not be doing that again.

Single mom with two, going through a divorce that just moved to the area last year. I couldn't afford or had the credit to purchase newer furniture. Bought a Simmons brand, being told by the furniture manager that it was a great sofa that could withstand and last many years. I was told it had a three year warranty. I also thought Simmons was a reputable brand! Paid over 3000.00 after finance charges. My couch started sinking in May and progressively got worse! Called today and Big Lots in Knightdale along with the district manager told me it was only covered under a year warranty! Wanted to give me a 20% discount on a new set! Warranty information on leasing at time was three years, now only 1 year! I feel misled, lied to, and taken advantage of!

This is for Big Lots at 22nd Street Plaza Shopping Center 17w714 W 22nd St, Oakbrook Terrace, IL 60181-4402. Me & My husband received a gift from a friend bought from the same place and since we wanted to exchange it to something else we visited the place with the item (as it was) and the gift receipt. We let the cashier know that it's a gift and we want the gift receipt. Cashier on duty seems to be a new employee and asked help from another employee (Who said it's gift or whatever it is a receipt). Then the cashier went ahead with the return and handed over a return receipt.
My husband asked the cashier that we can use the receipt as store credit to buy something that we wanted. Then she called the same employee (looked like her supervisor, ** with short hair) who ended up saying NO. She said that your system won't allow them to give us store credit and the return will go back to my friend's credit card and they cannot give us cash. So my husband asked then, "What's the point of giving a gift receipt?" She replied as reason for giving a gift receipt is only then we can return damaged goods with that. I hope she knows how stupid she sounded.
First thing is we never asked for cash as we only wanted to get store credit. Not only that I went through the huge embarrassment of calling my friend to say that we returned the gift, and it will show back in her credit card as a return (I hope you know the feeling if this happens to you). So if the system issue is true (Which I know it is not), please let your customers know about the absurd thing you are doing when they ask for a gift receipt and make sure you tell the process before anybody comes for returns with a gift receipt. Anyways this will be the last time I visited this place and will be the last of many friends I have. I hope you will reply me on this.

Discriminates - only services ** and Hispanic customers. Sunday 8-14-2016 around 540 pm I walked over to line one. I asked a (Hispanic) lady in a pink shirt if she was going next. She said no she didn't need to yet she was standing around next to the register so I waited in line. I was standing there waiting and the lady at the register told the lady in the pink shirt that the lady at the OTHER register was open. I stood there as she was helping the Hispanic man at register one. She then called to open the restroom for whom so ever. When she was done with the man she flicked me off and told me someone else would help me even though she didn't close the register. She helped the other Hispanic customer yet I am being helped by someone else.
So as I'm leaving I asked, "Is this what this is about? You didn't want to help me because I was too **? You only help the Hispanic customers?" So the Hispanic customers get all in my face calling me names and threatening to jump me. I walk outside of the store to try to see the location so I could find their phone number while Hispanic customers are STILL threatening me and the whole time the employees do not call a manager. I stood in front of the store to see a store code to find a phone number to ask to speak to the manager. I see the employee's ** friend on the phone - she says that she is the manager. I said "Is that you? I'm standing right in front of your store." So I said "I'm right here." So when I tell her the issue she says "I will forward that to the manager." So I said "Well here is my name and number." She lied about being the manager - her name tag did not say manager on it.
Company Name:

Big Lots

Website:

http://www.biglots.com/